Get ready for the biggest food holiday of the year with my 50 delicious and MAINLY Healthy Vegetarian Thanksgiving Dishes! This is THE GUIDE to cooking your best Thanksgiving meal yet.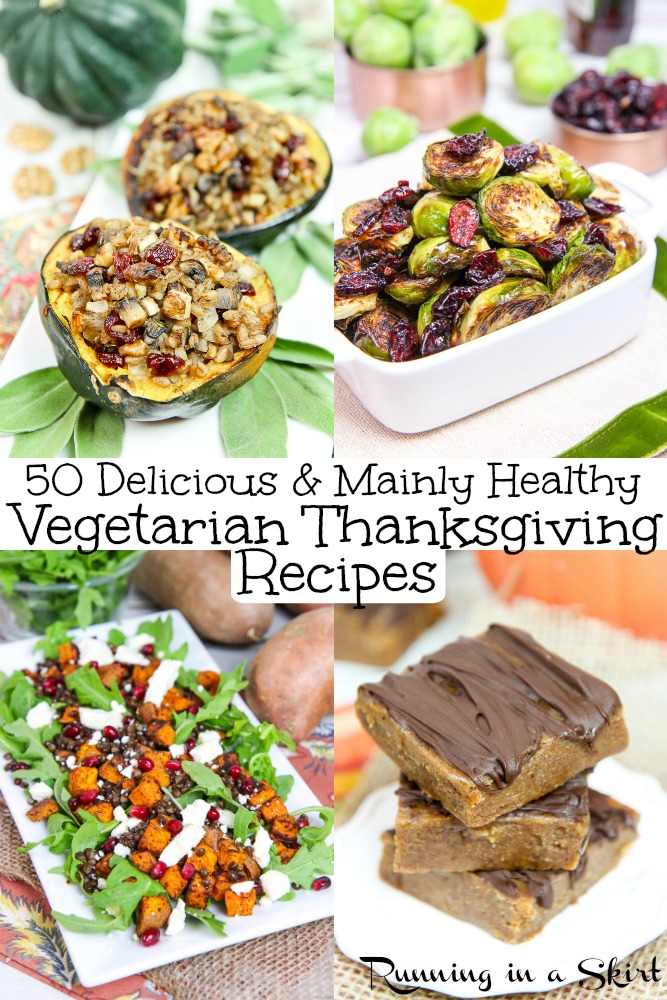 Hi everyone!
Thanksgiving has become such a big deal in my family. It's turned into the one time that a big chunk of both the Hubs and my family all get together and have an epic weekend of fun. This is part of the clan from a few years ago and this just warms my heart. While we aren't doing the big party at the house this year I'm hoping to get back to the kitchen next year when the boys are a little older.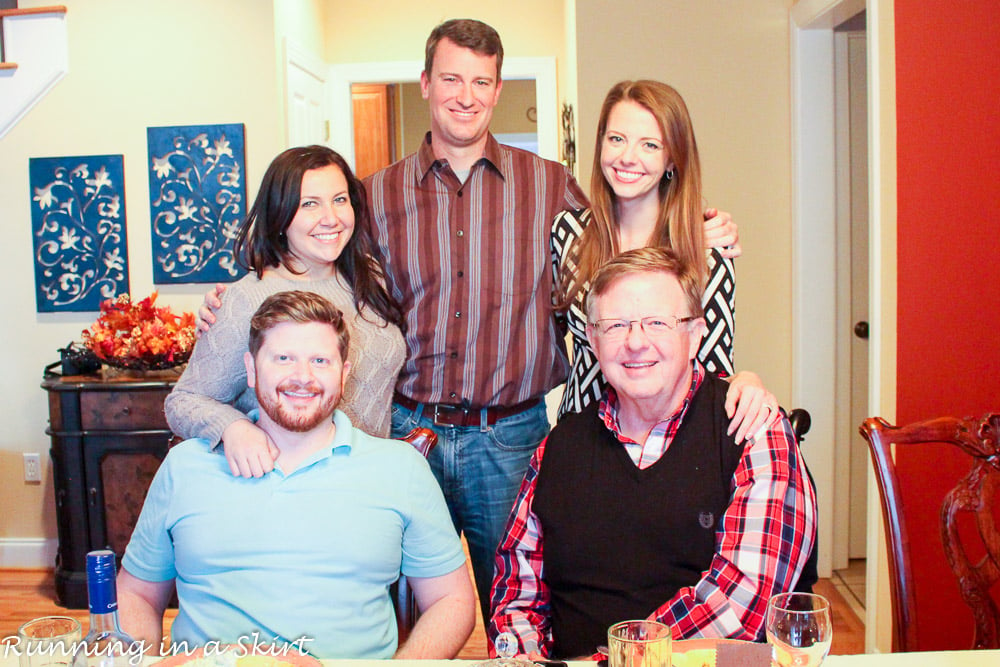 Since I'm the only one at our Thanksgiving who doesn't eat turkey, our meal is not entirely vegetarian. The Hubs does cook two turkeys for everyone; one smoked and one fried. But since I'm in charge of the rest of the meal I make sure the sides are the star of the show, are all meat-free and give me plenty to eat! I've never once felt like I was missing out on anything with my vegetarian dishes for Thanksgiving. Need some tips on hosting? Make sure to check out my How to Host Thanksgiving Guide! Between this recipe collection and my hosting Thanksgiving guide you have everything you need to host a vegetarian Thanksgiving.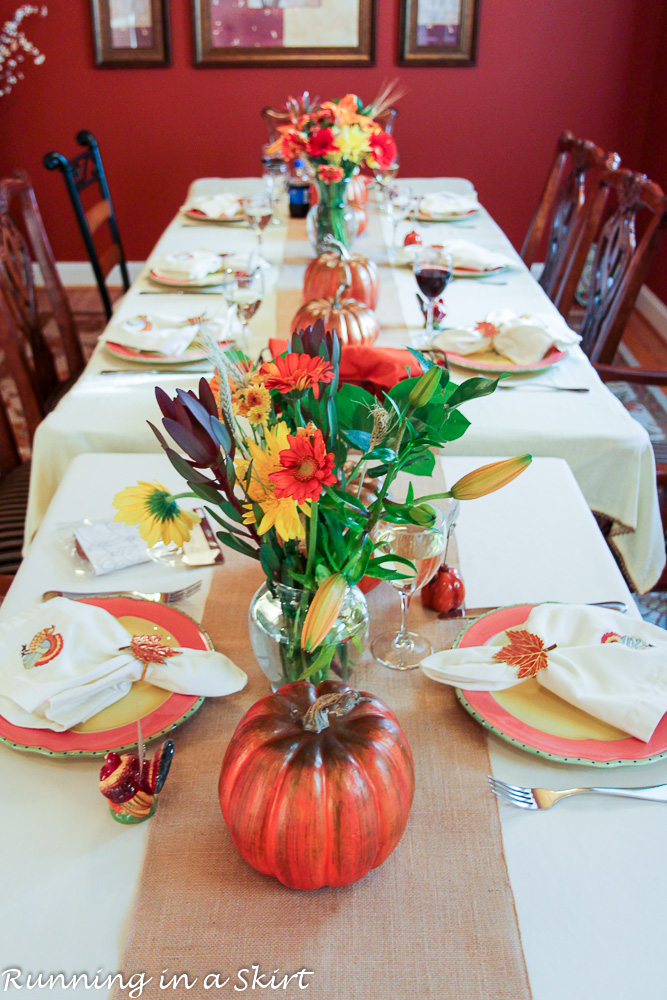 This year I've even added a few vegetarian "main courses" to make the menu even more well rounded.
Now about that "mainly" healthy part. I'm a firm believer in balance and have no problem with a little butter on Thanksgiving. I like to balance it out with dishes that are nutrient-packed, light and healthy! You can find a little bit of both in these 50 amazing healthy vegetarian Thanksgiving dishes! I've put a * next to the dishes that are more health-conscious, which this list is full of!
My two favorite dishes that aren't as healthy are my Apple & Sage Vegetarian Stuffing and my Mom's Famous Sweet Potato Casserole. These are tried and true family favorites that are totally worth the splurge. Balance them out with some of the stared dishes!
50 Delicious and Mainly Healthy Vegetarian Thanksgiving Dishes
Main Dish - The Star of my Vegetarian Thanksgiving Dishes
Apple & Sage Vegetarian Stuffing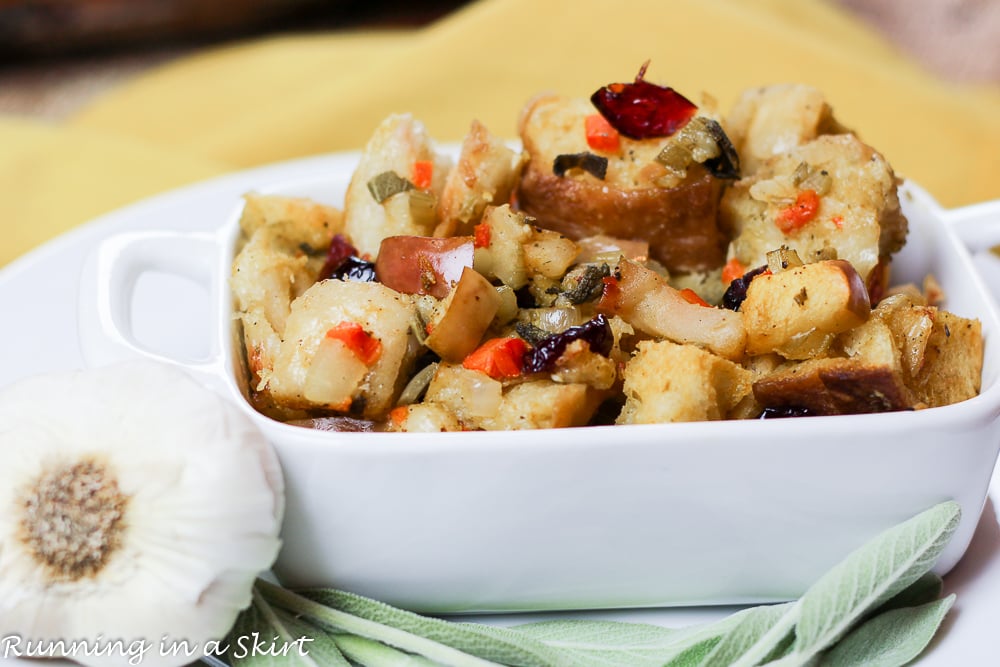 Hidden Veggie Baked Cauliflower Mac & Cheese *
Lightened UP Spinach Stuffed Portobello Mushroom Caps *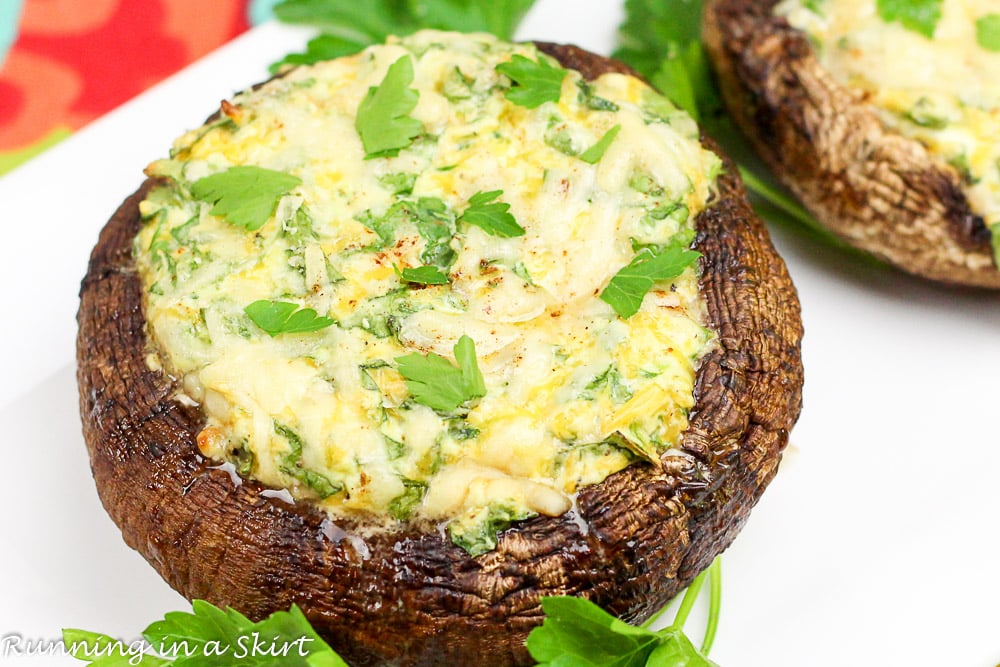 Red Pepper and Goat Cheese Stuffed Mushroom Caps
4 Ingredient Maple Rosemary Delicata Squash *
Farro, Mushroom and Cranberry Stuffed Acorn Squash *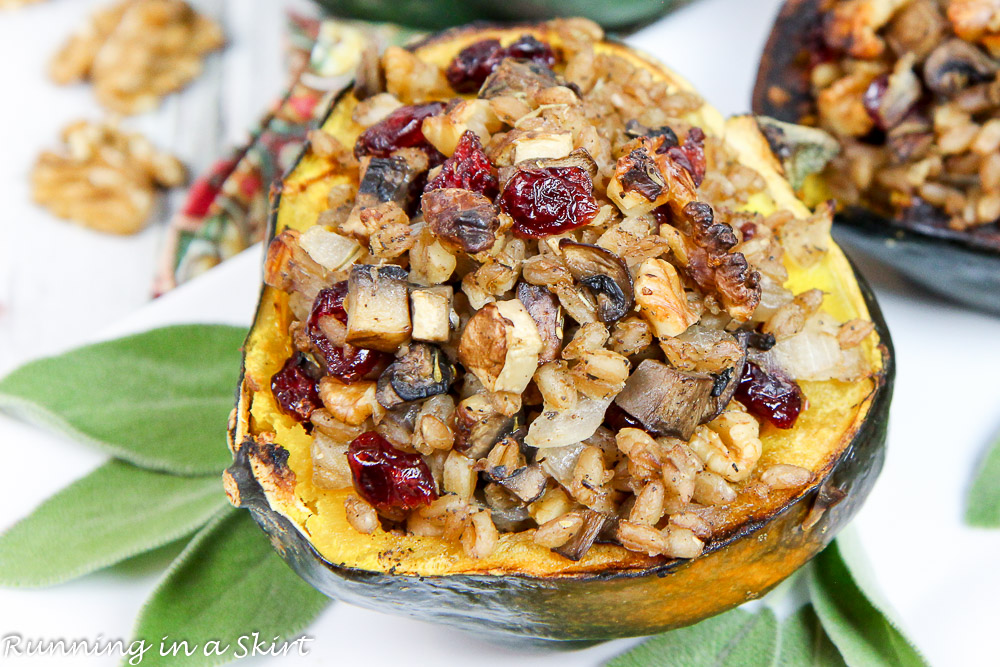 No Butter or Sugar Acorn Squash *
Lentil, Sweet Potato and Feta Salad
Harvest Farro with Apple Cider Vinaigrette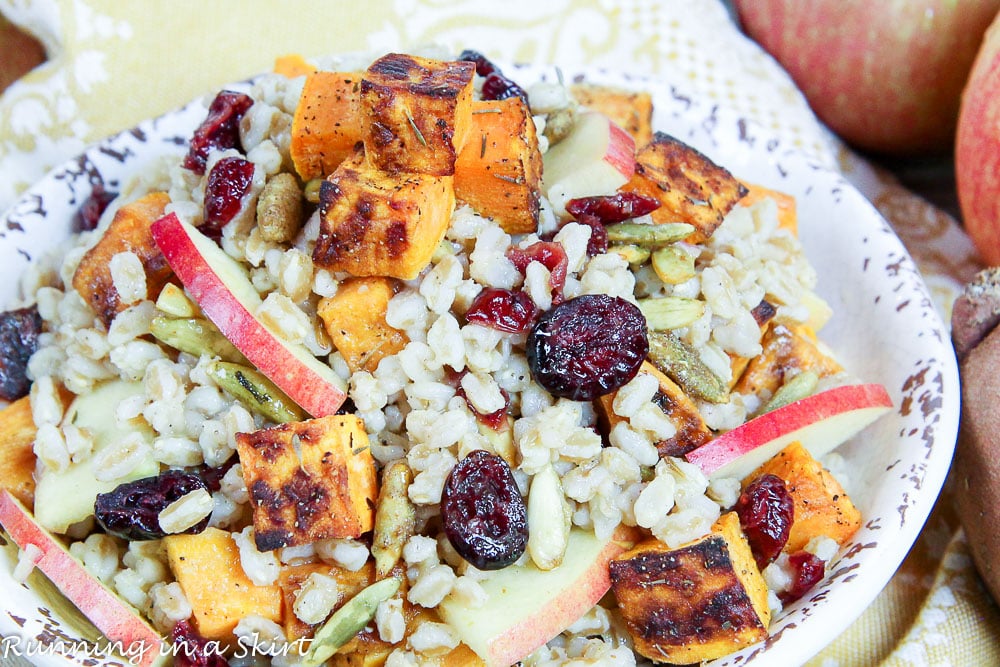 No Noodle Vegetarian Zucchini Lasagna *
Sensational Sides - The Best Vegetarian Thanksgiving Dishes
Mom's Famous Sweet Potato Casserole (Use vegan marshmallows to make completely vegetarian!)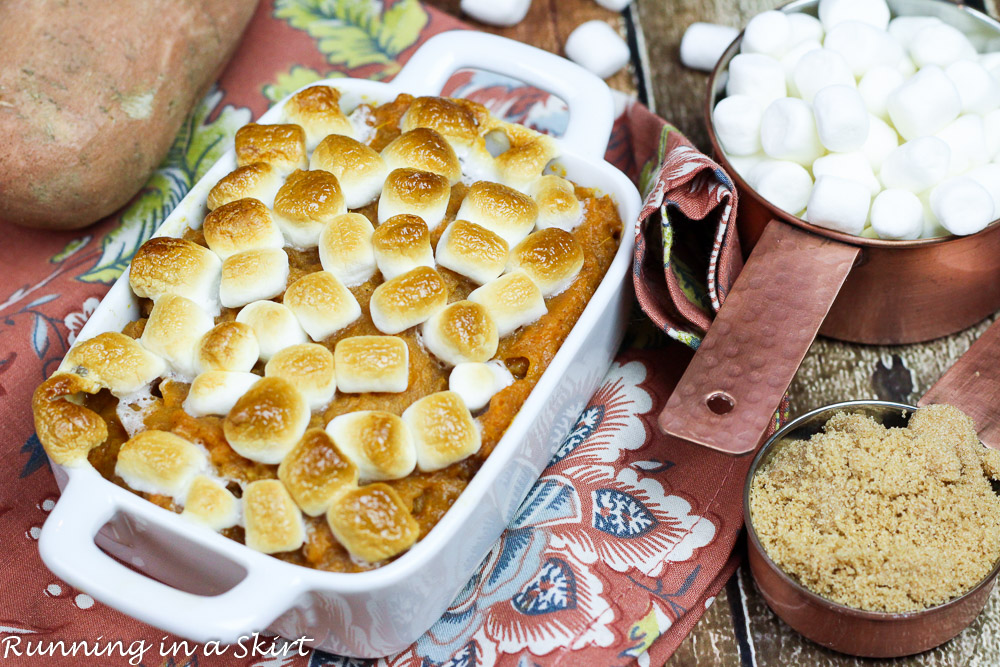 Crock Pot Loaded Mashed Potatoes
Oven Roasted Sweet Potato and Brussels Sprouts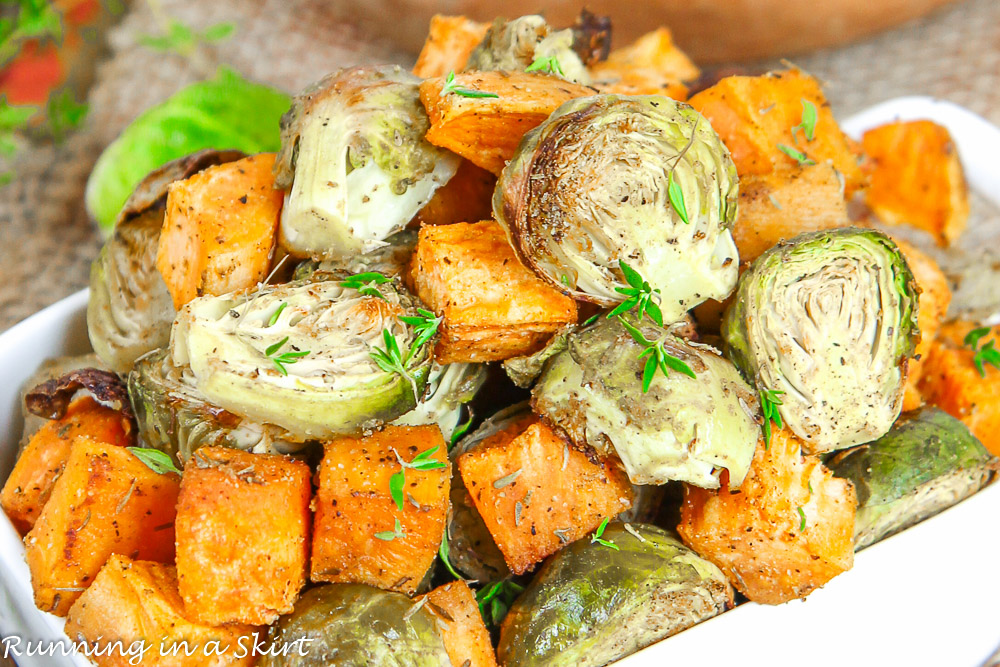 Crock Pot Honey Cinnamon Glazed Carrots *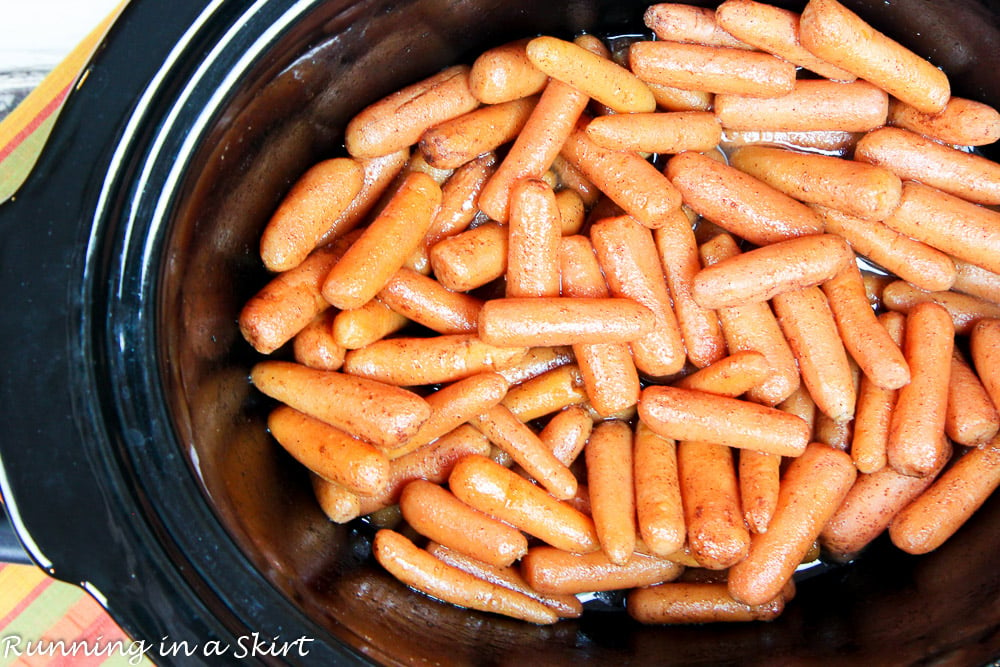 Honey Balsamic Rainbow Carrots *
Parmesan Garlic Mashed Cauliflower *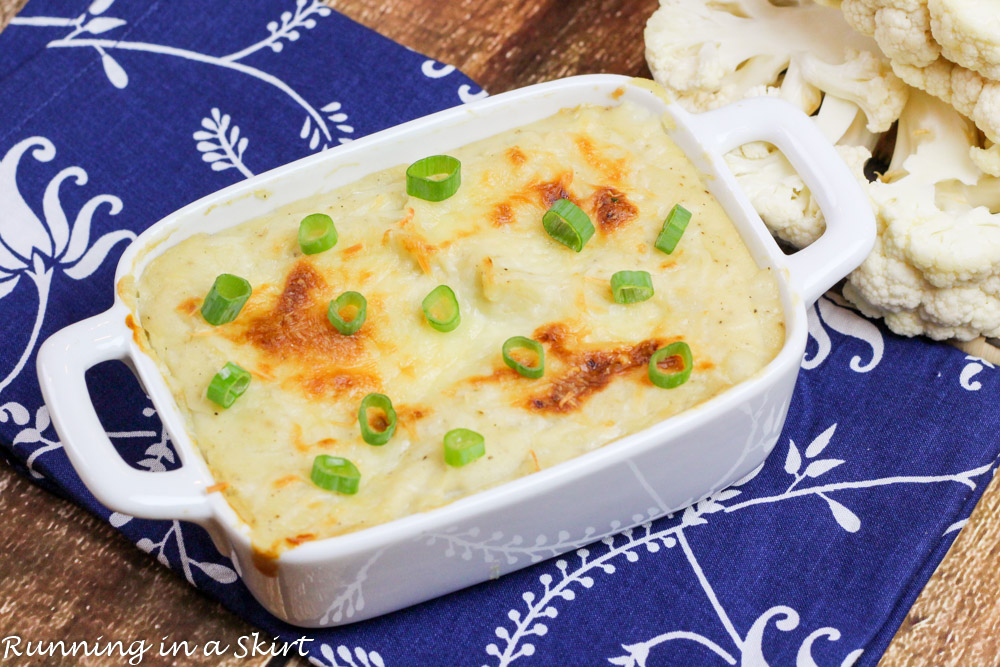 4 Ingredient Sweet Potato Bites *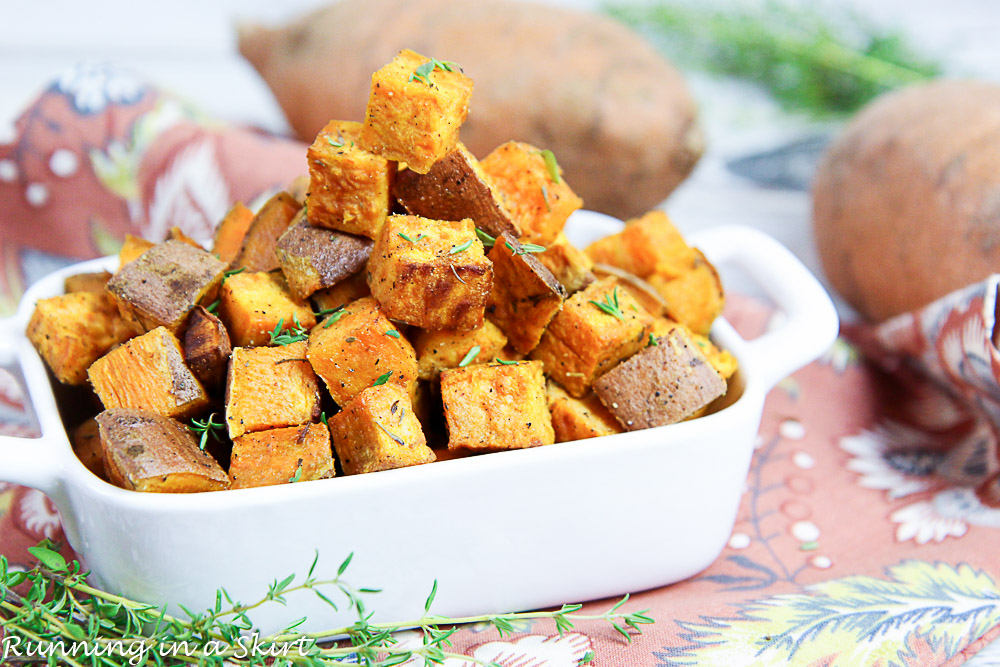 4 Ingredient Maple Cinnamon Sweet Potato Bites *
Maple Balsamic Brussels Sprouts and Cranberries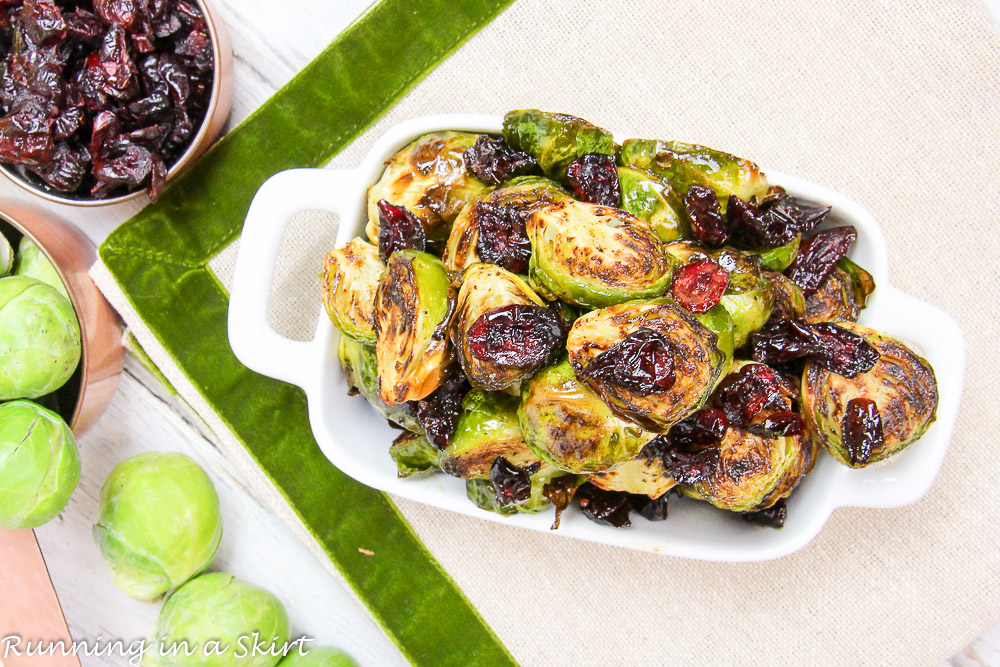 5 Ingredient Parmesan Roasted Carrots *
Healthy Honey Mashed Sweet Potatoes *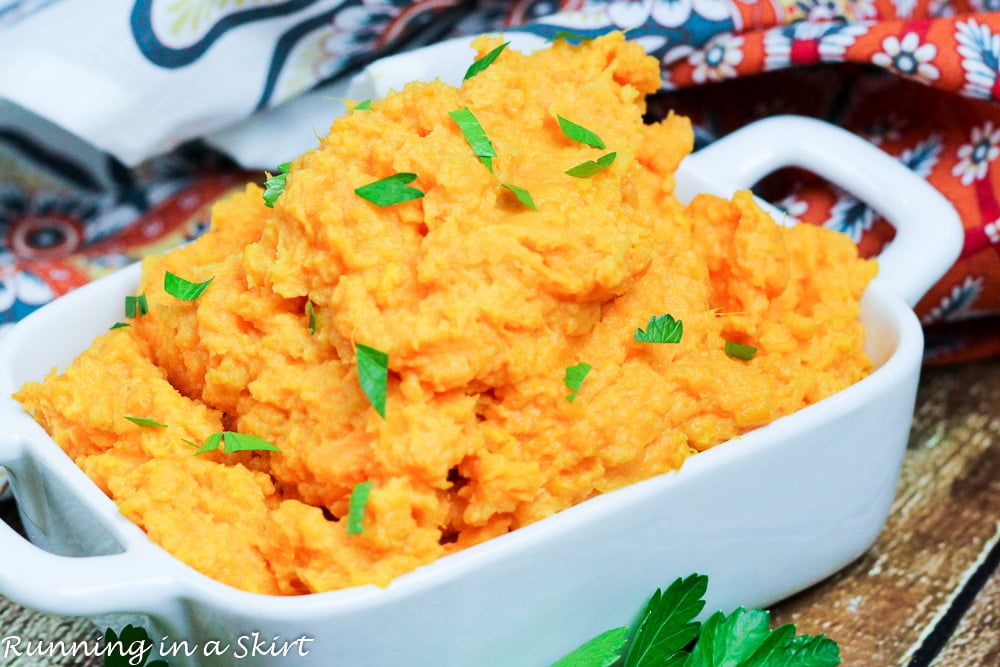 Skinny Crock Pot Creamed Spinach *
Roasted Garlic Brussels Sprouts *
Pumpkin Cornbread * (publishing Monday!)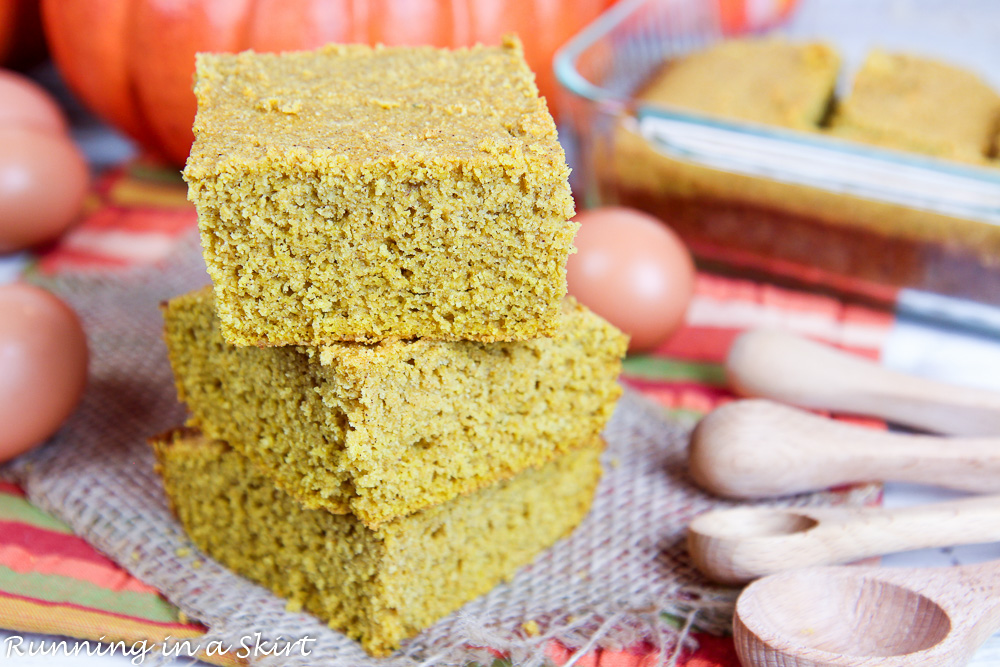 Soups & Salads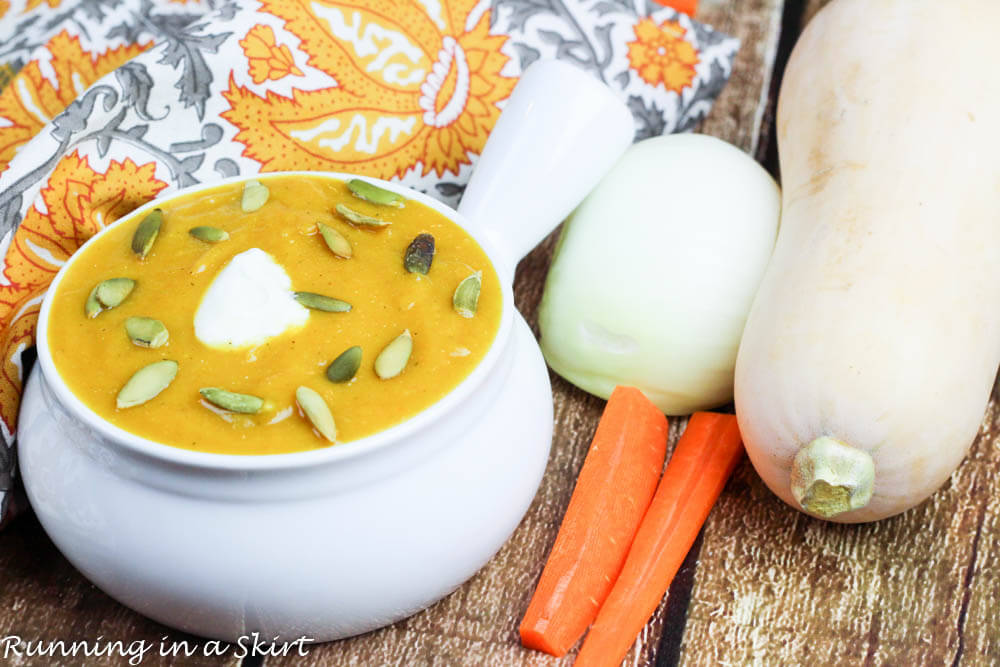 Greek Yogurt Simple Pumpkin Soup *
Chopped Kale Salad with Almonds and Cranberries *
Appetizers and Snacks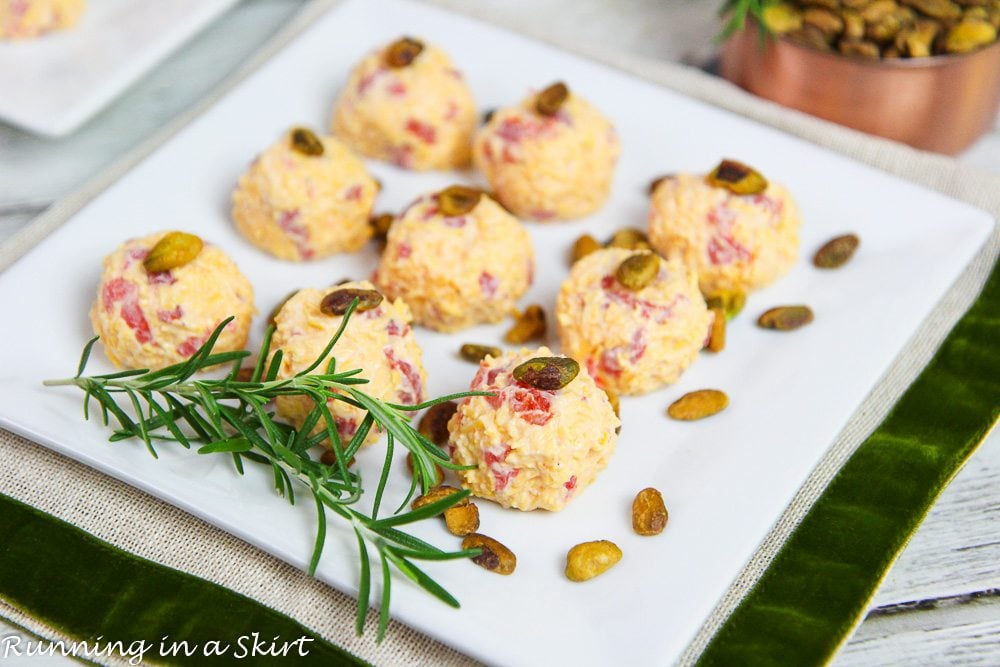 Pomegranate Goat Cheese Crostini *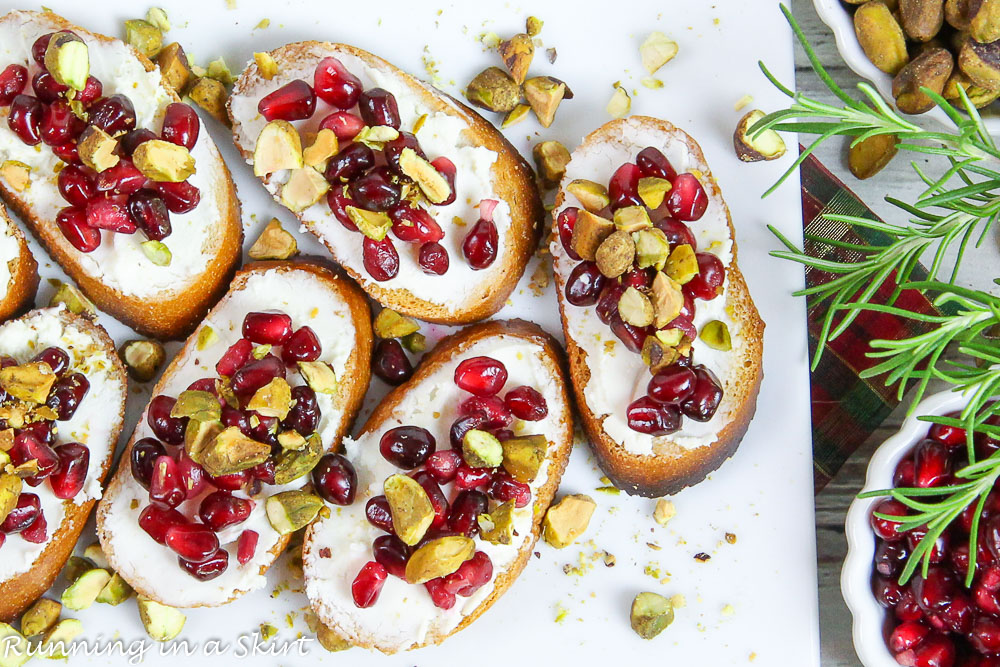 5 Ingredient Pomegrante Salsa *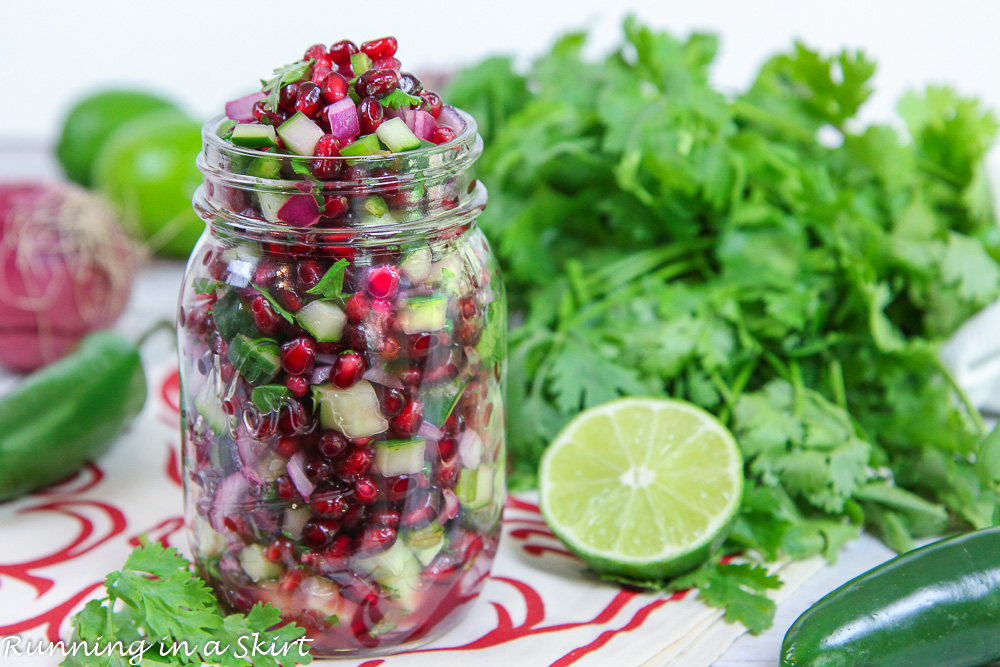 Sweets
6 Ingredient Healthier Chocolate Covered Pumpkin Fudge *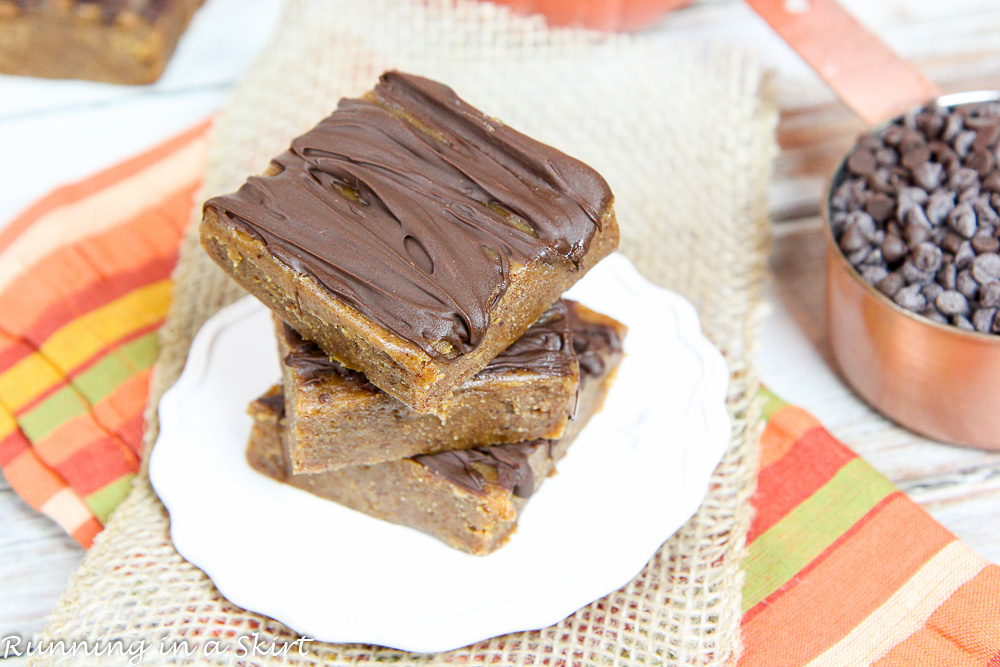 Easy & Healthy Sweet Potato Chocolate Chip Muffins *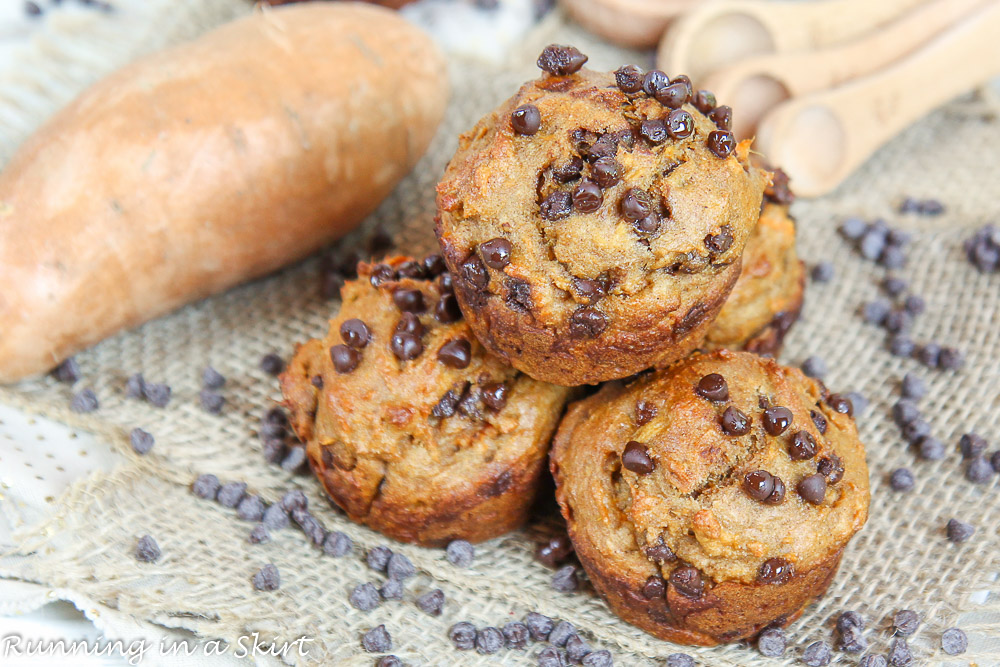 Pumpkin Oatmeal Sweet Potato Bars *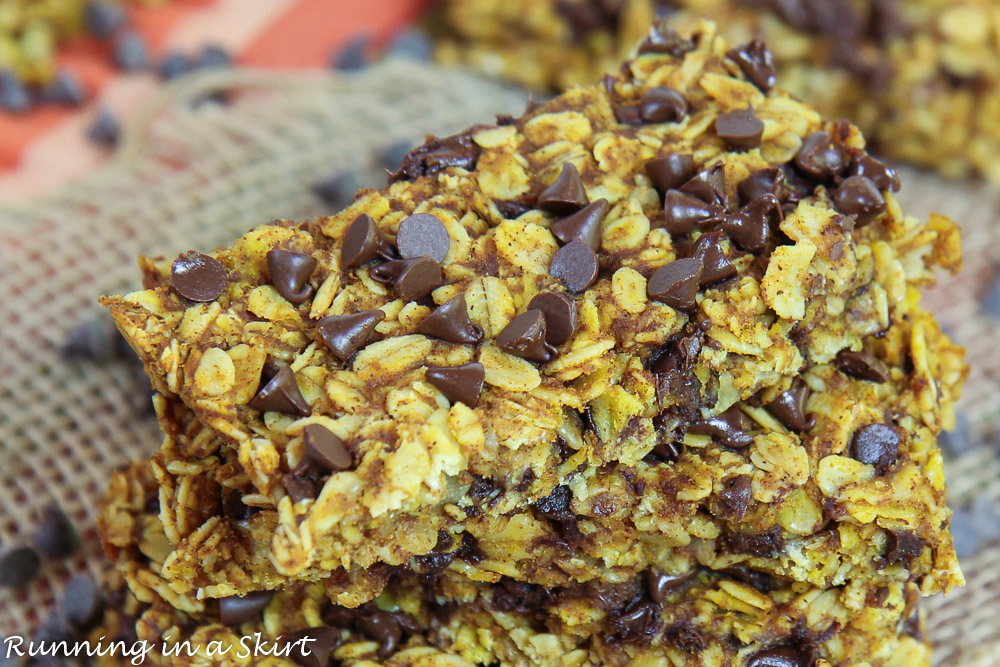 Thanksgiving Morning Breakfast Ideas
Vegetarian Crock Pot Breakfast Casserole
Vegetarian Breakfast Casserole * <---oven version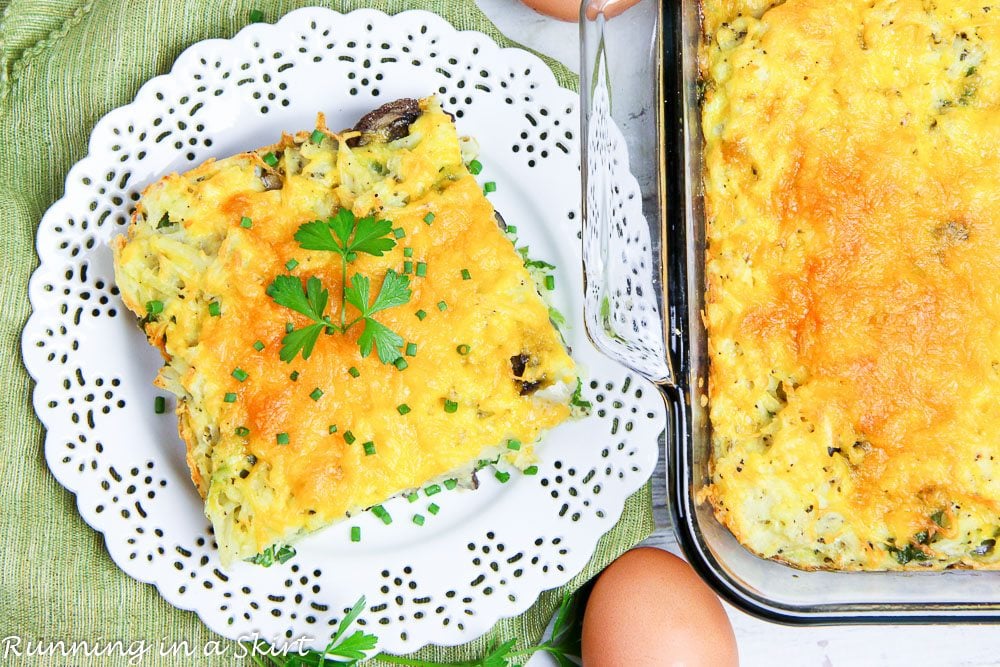 Apple Cinnamon Baked Oatmeal *
Crock Pot Healthy Apple Pumpkin Butter
Crock Pot Healthier Pumpkin Pie French Toast Casserole *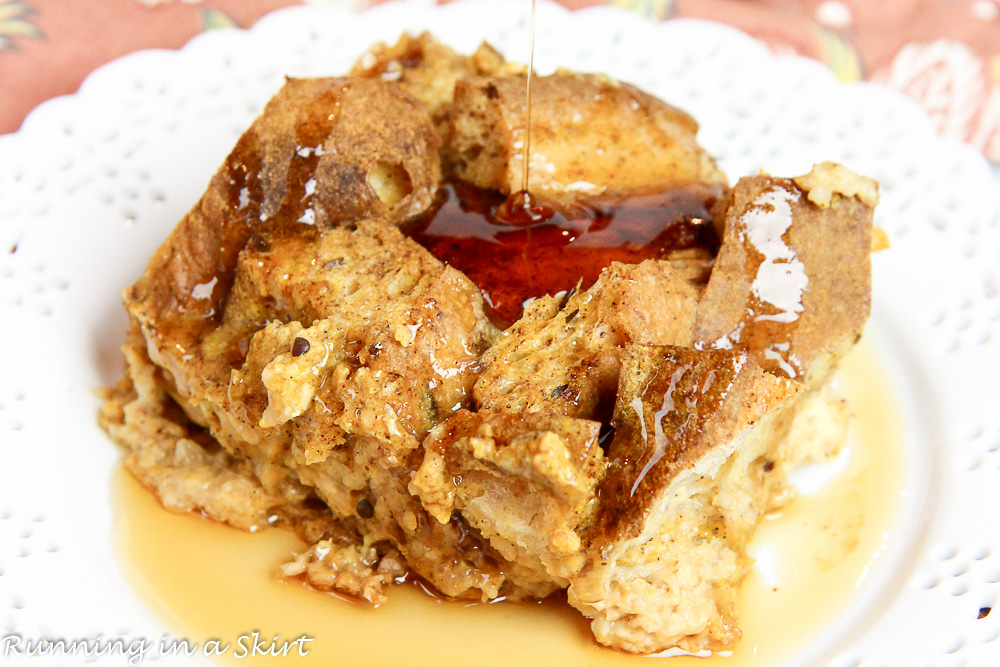 Crock Pot Pumpkin Pie Steel Cut Oatmeal *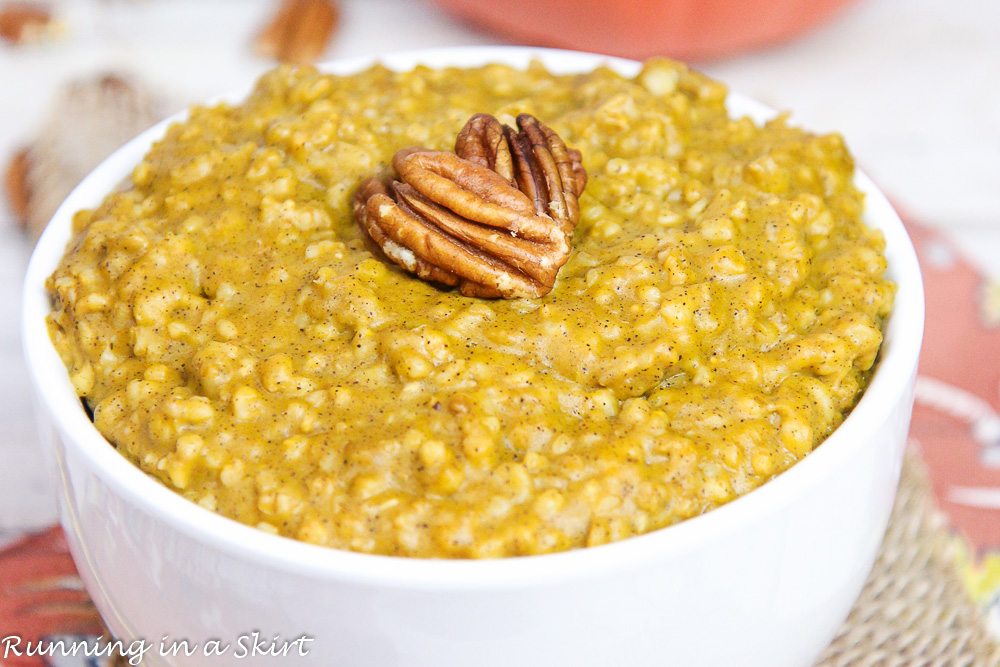 Healthy Greek Yogurt Pumpkin Bread *
Hope you enjoy these fabulous healthy vegetarian Thanksgiving dishes!
Pin for later!
AND! Don't forget to check out my How to Host Thanksgiving Guide.
Your turn!
What's your favorite Thanksgiving dish?