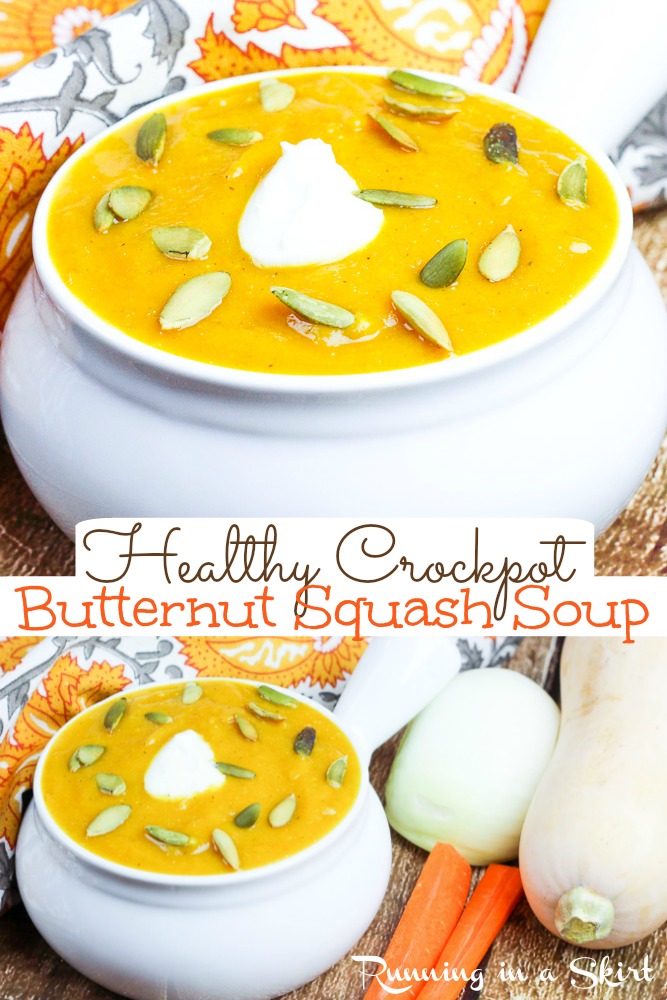 The BEST Healthy Butternut Squash Soup recipe Crock Pot is a cozy autumn soup that's easy to make, creamy, and delicious. This healthy and vegetarian slow cooker soup is filled with butternut squash, apple, and carrots for added sweetness and texture. It's finished with creamy greek yogurt keeping the flavors high and calorie count down.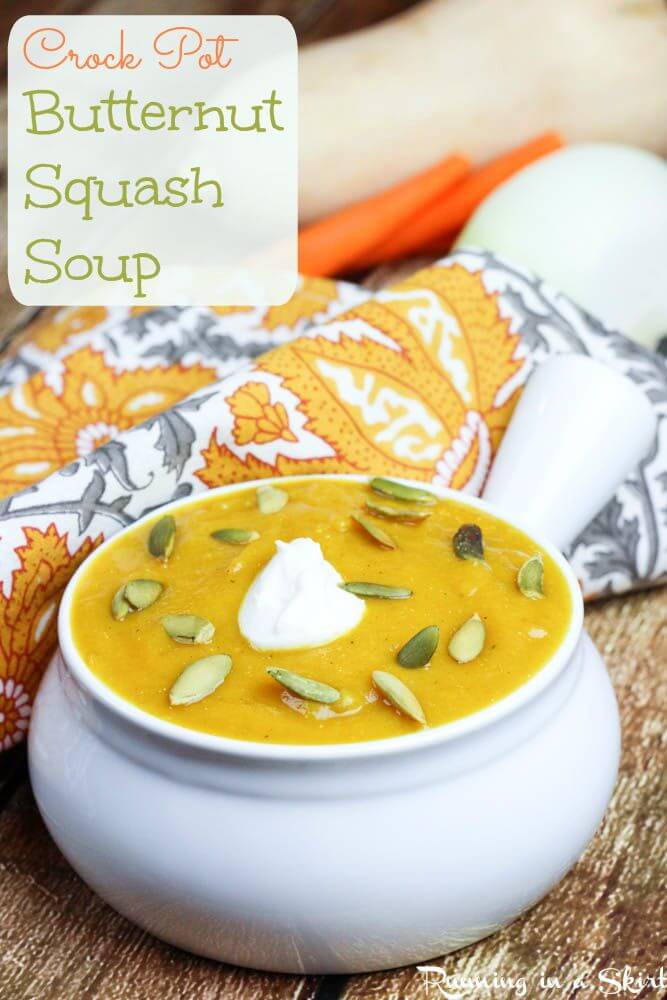 Butternut Squash Soup recipe Crock Pot
Do you ever shy away from making something because you think it will be too hard? Crock Pot Butternut Squash Soup was one of those things for me.
I used to think.... those hard winter squashes are too challenging to cut up. This soup has too many ingredients and it will never taste as good as the restaurant!
Turns out I was totally wrong. Cutting up a butternut squash isn't THAT hard and if you make THIS Butternut Squash soup recipe is will taste even BETTER than eating out. My Butternut Squash Soup recipe is also surprisingly healthier than your favorite restaurants too.
This is one of those times I'm happy I wasn't right. 🙂
This Butternut Squash Soup recipe Crock Pot is smooth and velvety celebrating all the savory flavors of autumn. My version is special because it includes a few surprises like apples and carrots to naturally sweeten the fruit and add to the flavor profile.
Make a big batch of this soup with your favorite crock pot, slow cooker, or instant pot for a meal your family will simply love.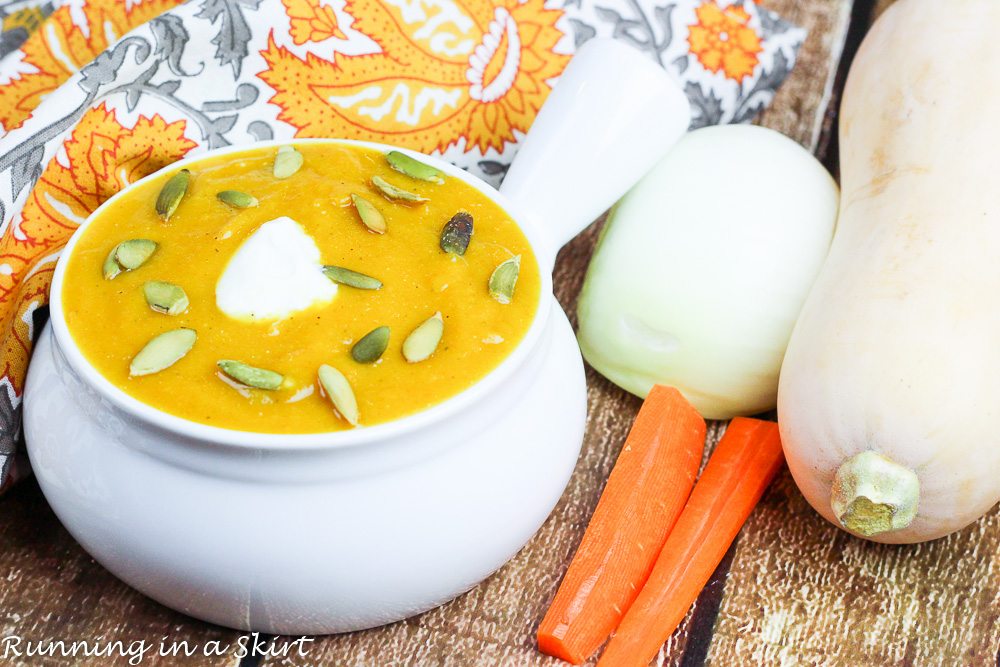 What's the Easiest Way to Cut a Butternut Squash?
Before we dive into the Crock Pot Butternut Squash soup let's start with cutting up that pesky squash. If you are curious what the easiest way to cut a butternut squash is... here we go!
MICROWAVE IT!
YES, my first trick is to soften the entire squash just a bit in the microwave so it's not so challenging to cut. Here's how you do it.
Pierce the skin with a knife like a baked potato, then microwave the squash for 2-3 minutes whole. This step allows the squash to soften just enough to cut it easily. Just be careful when you pull it out of the microwave, it gets hot fast.
Cut the top and bottom off of it to it will not roll around when you are using it. Next, you take a vegetable peeler and clear off the skin.
You can then cut what's left in half, scoop the seeds out like a pumpkin, and chop as the recipe calls for.
Turns out it's actually pretty easy to cut up a whole butternut squash! If you still don't feel comfortable doing this they do now sell cut up butternut squash in most grocery stores' produce departments. Look for it near the cut up and prepared fruit.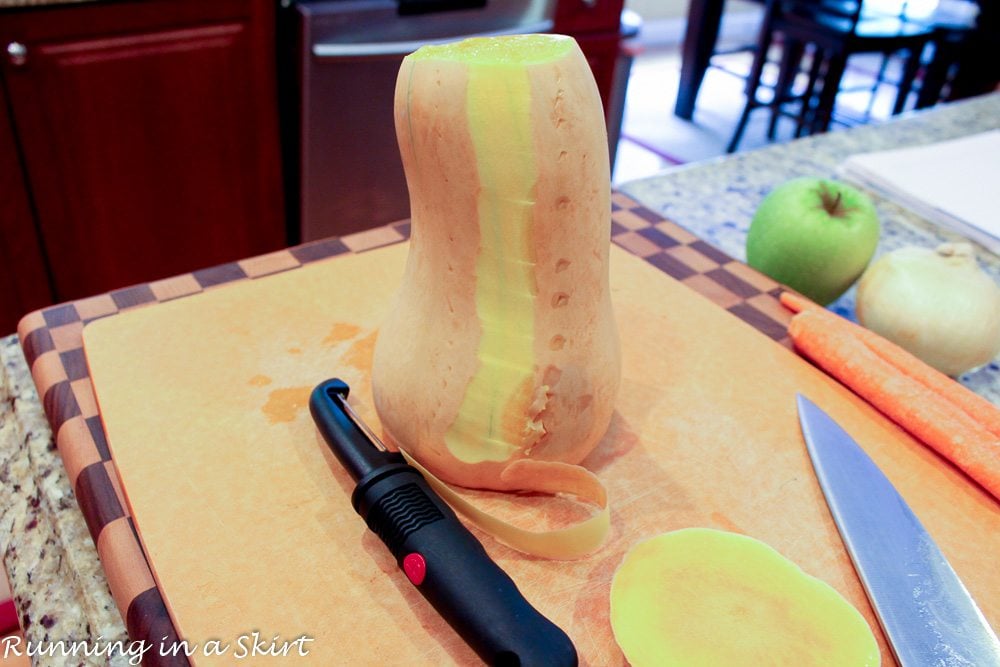 Healthy Crock Pot Butternut Squash Soup recipe
The other secret to this Crock Pot Butternut Squash Soup is packing with lots of flavors but still keeping it on the light side.
To boost the nutritional value of the soup I added tart green apples and carrots. The pair also adds lots of flavors and a touch of sweetness to the soup without an actual sweetener.
My other healthy swap for my Slow Cooker Squash Soup is using greek yogurt instead of heavy cream to get that smooth creamy flavor at the end. It keeps the recipe so much lighter than cream but still gives it that velvety texture you long for in a creamy butternut squash soup.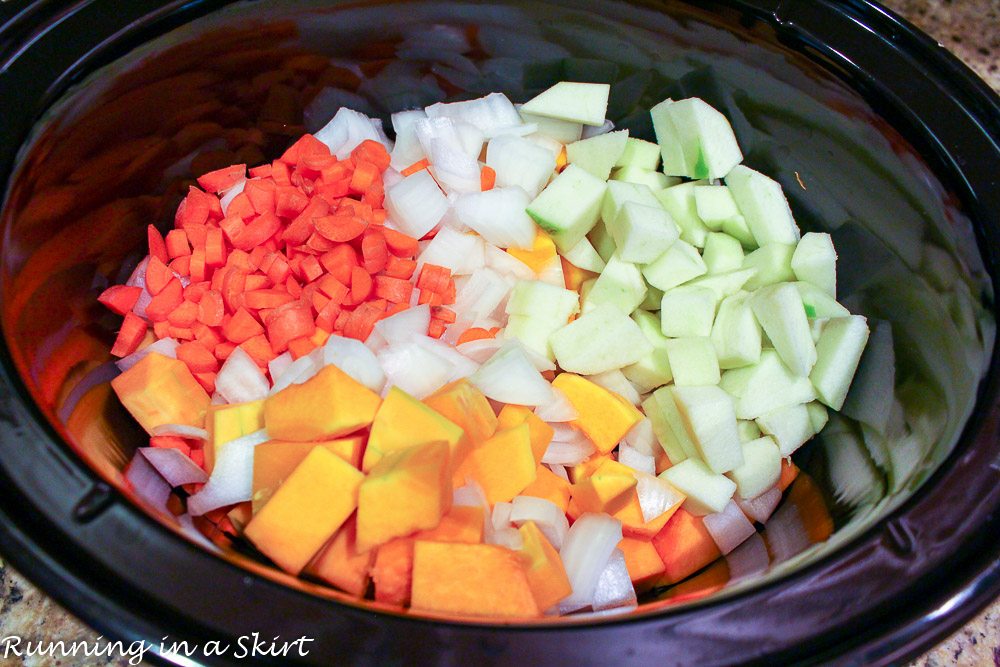 Ingredients:
This might look like a long list for this Butternut Squash Soup Crock Pot, but all of these ingredients are easy to find including spices you probably already have in your spice cabinet.
Butternut Squash: Butternut squash is a nutty and sweet vegetable that's the perfect base for this creamy fall soup. Cut up a whole large butternut squash like described above or take a shortcut and buy the precut squash in the produce department of your favorite grocery store.
Carrot: I added a whole carrot to this recipe to give the soup some sweetness and texture. Cut it up into cubes.
Green Apple: Green apple brings out an extra touch of sweetness to the soup. You can use any kind but I love a tart Granny Smith one for my recipe.
Onion: Use a sweet or Vidalia onion if you can find it. A freshly chopped onion adds lots of savory flavor to the Butternut Squash soup.
Vegetable Stock: Use a high-quality, low sodium vegetable stock to keep this soup savory AND vegetarian. If you aren't vegetarian you can add chicken stock.
Greek Yogurt: I add creamy greek yogurt at the end of this recipe to give the soup a velvety texture without adding heavy cream. You can use 0% to full fat but the soup will be creamier the higher percentage of fat greek yogurt you use. 2% is a nice compromise.
Spices: I use a combination of sweet and savory spices for my squash soup... Nutmeg, cinnamon, sage, bay leaves.
Garnish: To garnish this soup use your favorite pumpkin seeds and a dollop of extra green yogurt.
How do you know if a butternut squash is ripe?
When shopping for your butternut squash for the soup look for one that has no green spots. The skin should be hard, not glossy at all, and even in color. Good winter squash should be hard and tough to pierce.
Health Benefits of Butternut Squash...
Butternut Squash is another superfood that's low in calories and fat. It's high in fiber and filled with vitamin A. It's also a great source of vitamin C, magnesium, potassium, and calcium. Its bright color is a vibrant food that's full of antioxidants and perfect for this healthy butternut squash soup recipe.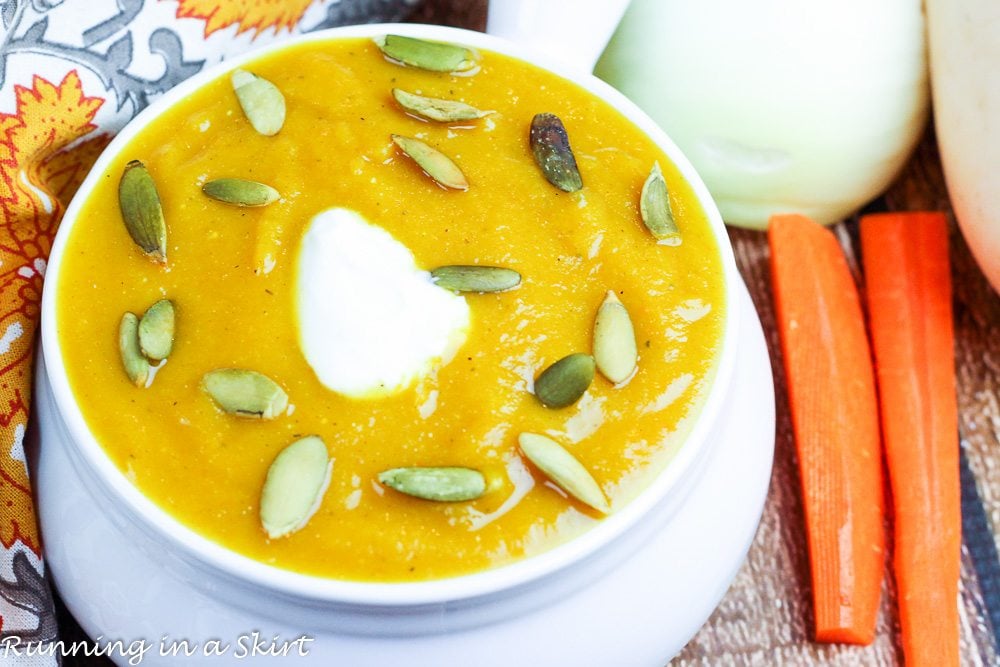 How to Make Butternut Squash Soup recipe...
Put the vegetable stock, onion, carrots, butternut squash, apple, and spices in your favorite crock pot.
Cook for 3-4 hours on high or 6-8 hours on low until the vegetables are tender.
Remove the bay leaves.
Blend the soup.
Stir in the greek yogurt at the end.
Serve with your favorite garnish.
How to blend the soup...
You can use a traditional blender to blend your soup in batches or use one of my favorite kitchen tools... the immersion blender! With an immersion blender, you can blend the soup right in the crock pot by putting the blade into the soup and turning it on. You simply slowly move the blender through the soup until it is creamy.
This is a great immersion blender if you don't have one already.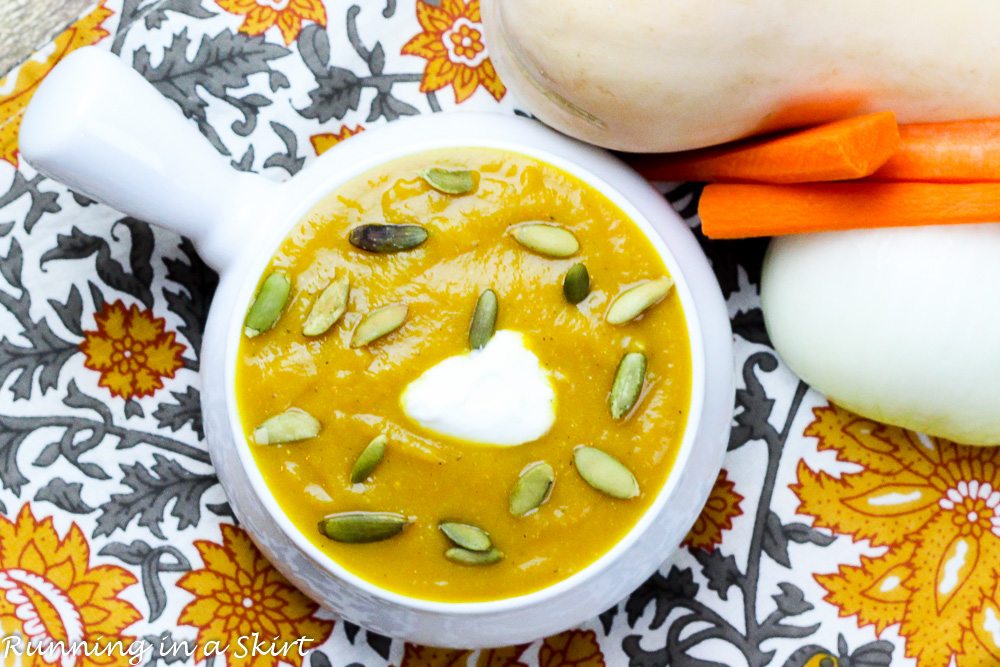 Soup Variations and Pro Tips:
This simple Butternut Squash Soup recipe is great as it is but here are a few variations that you might also love.
Curried Squash Soup: To make it a curried butternut squash soup add 1-2 tablespoons or a red curry paste and a ½ teaspoon of dried ginger.
Make it Spicy: To add some heat to your soup ad a pinch of cayenne pepper or red pepper flakes.
Mix up the Squash: Butternut squash is great but you can mix it up with kabocha or acorn squash.
Add Rice: To make the Butternut Squash Soup a more filling meal add rice or quinoa to your bowl.
Make it Vegan: Use coconut milk instead of greek yogurt to easily make this soup vegan! The coconut milk has a lovely flavor that also compliments the butternut squash.
Is Butternut Squash Soup Healthy for you?
Often Butternut Squash Soup is filled with heavy cream making it high in calories and not the best choice when eating out. If you make my version I use greek yogurt instead of cream. The greek yogurt is lower in calories and higher in probiotics. This soup has all the nutrients of the butternut squash I listed above PLUS the added bonus of having carrots and apples in it.
Can I make this soup ahead of time?
Yes! This soup is wonderful made ahead of time and reheated. You can reheat it easily in the microwave or oven.
How do I store the leftovers?
Store any leftovers in an airtight container in the fridge for up to 5 days. This recipe is great to make ahead and tastes great the next day. You could even use it for meal prep.
I hope you love this Crock Pot Butternut Squash Soup recipe as much as I do. It's a family favorite I've made over and over again. Give it a try and let me know what you think.
More Healthy Crock Pot Soups to Love:
Find more healthy slow cooker soups here...
16 Easy & Cozy Vegetarian Crock Pot Soup Recipes
If you make this recipe, I'd love to hear what you think! Leave a comment and a star rating ★ below. Make sure to follow me on Instagram, Pinterest, and Facebook too!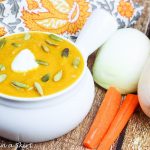 Crock Pot Roasted Butternut Squash Soup
Ingredients
2 ½

cups

vegetable stock

1

medium sweet onion

,

diced

1

carrot,

diced

1

large butternut squash

,

peeled, seeded & cubed (about 6 cups)

1

small green apple

,

peeled & cubed

¼

teaspoon

nutmeg

½

teaspoon

cinnamon

¼

teaspoon

sage

¼

teaspoon

salt,

or to taste

½

teaspoon

pepper,

or to toast

¼

cup

Greek yogurt,

plus additional for garnish

garnish: roasted pumpkin seeds
Instructions
Put the stock, onion, carrots, butternut squash, apple, nutmeg, cinnamon, sage, salt, pepper and bay leaves in a large Crock Pot.

Allow the soup to cook on high for 3-4 hours or low 6-8 hours until all the vegetables are completely tender.

Remove the bay leaves.

With an immersion blender, blend the soup well. Alternatively, you can blend the soup in a standard blender in batches.  If it's too thick add more broth.

Stir in the Greek yogurt!

Serve with a dollop of greek yogurt and pumpkin seeds!
Notes
This soup is great with pumpkin seeds on top!
Nutrition
Calories:
158
kcal
Carbohydrates:
39
g
Protein:
4
g
Fat:
1
g
Saturated Fat:
1
g
Cholesterol:
1
mg
Sodium:
763
mg
Potassium:
874
mg
Fiber:
6
g
Sugar:
15
g
Vitamin A:
22816
IU
Vitamin C:
46
mg
Calcium:
128
mg
Iron:
2
mg
Pin for later...