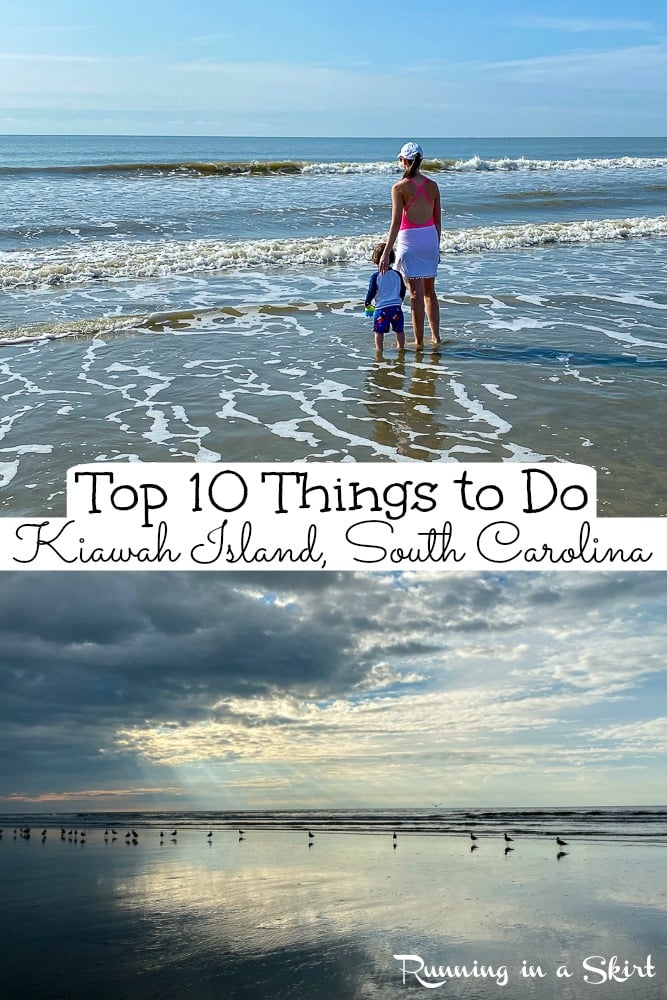 Curious about Kiawah Island? Here are my Top 10 Things to Do in Kiawah Island including the best beaches and restaurants in Kiawah Island SC!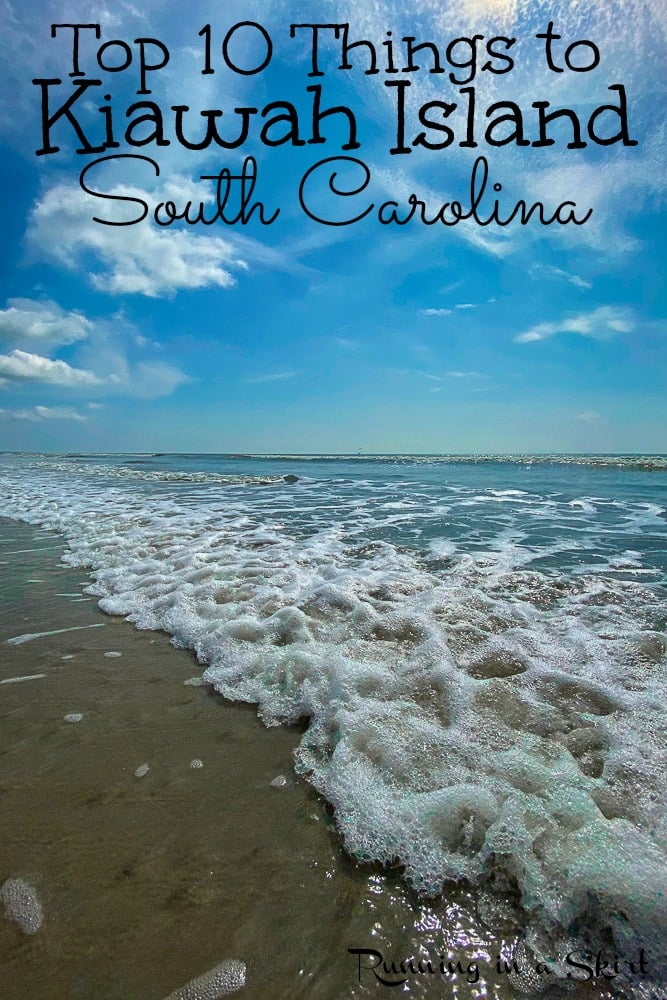 Hey y'all!
We spent last weekend on Kiawah Island for a little family getaway. Kiawah is a low-key and beautiful island just 35 minutes from Charleston known for its natural beaches, nature sanctuary, high-end championship golf, and fancy resort village. Kiawah is actually known more for what they DON'T have. Unlike most beach destinations you will not find obnoxious signs, mini-golf, or even chain restaurants. It's all very natural and relaxing. We had a lovely time on the island.
What are the Things to Do in Kiawah Island?
In addition to sharing some of my favorite vacation photos today, I put together a travel guide if you wanted to take the journey to this gorgeous seaside island yourself. If you've been curious about Kiawah and things to do in Kiawah Island... I hope this post helps you out a bit.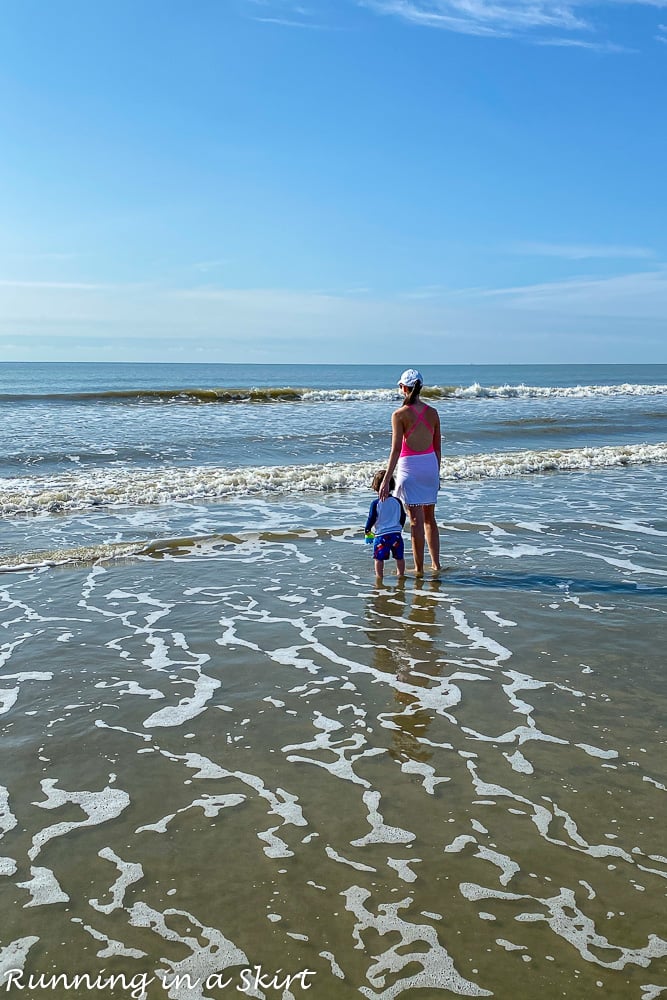 If you want to go you can find a rental through the resort on the island which gives you more amenities like pool access than VRBO. There is also a fancy resort hotel on the island but with the boys, we find a place with multiple bedrooms a lot easier to stay at.
It's a smaller island so there aren't as many choices as other popular vacation destinations like Hilton Head.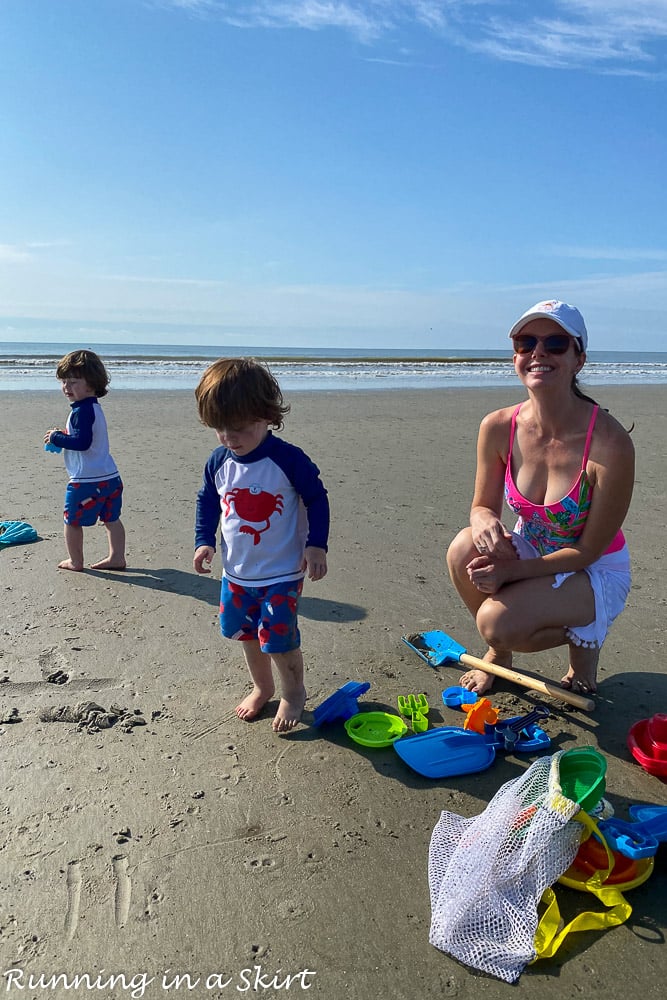 We stayed in a rental on the beach and loved walking straight out onto the water to let the twins play. To say they are beach babies is an understatement.
We all find a bit of peace on sandy shores regardless of where we go.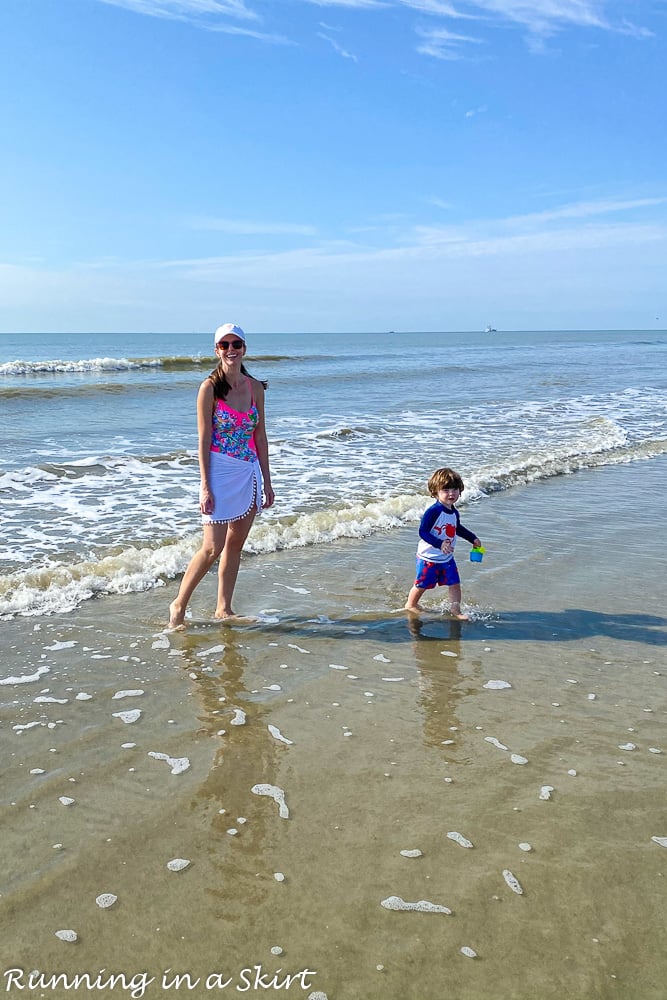 Here are some of our favorite things to do in Kiawah island!
Top 10 Things to Do in Kiawah Island
Beaches
It's probably no secret that the beaches are one of the top things to do in Kiawah Island along the South Carolina coast. The beaches are very similar to Hilton Head and other South Carolina beaches and have huge tidal variations. At low tide, there is endless sand and at high tide, there are shallow waves that seem to crash forever. You can walk straight into the water for quite a while before the water even hits your knees.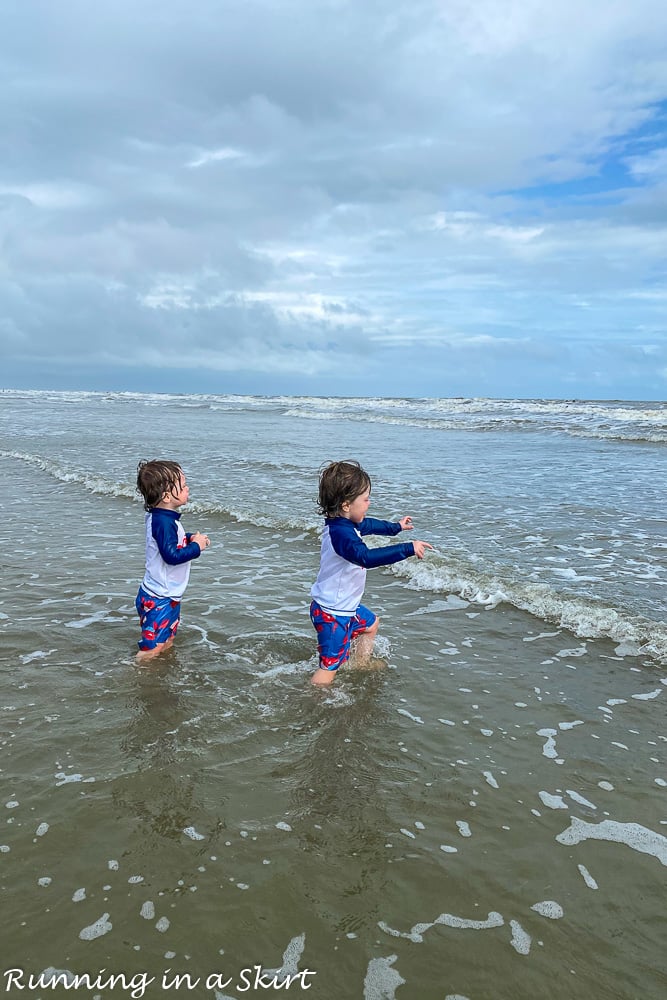 I think this kind of beach is great for toddlers and the twins, especially Hunter, were in their element. They ran in and out of the waves and splashed around with sheer joy.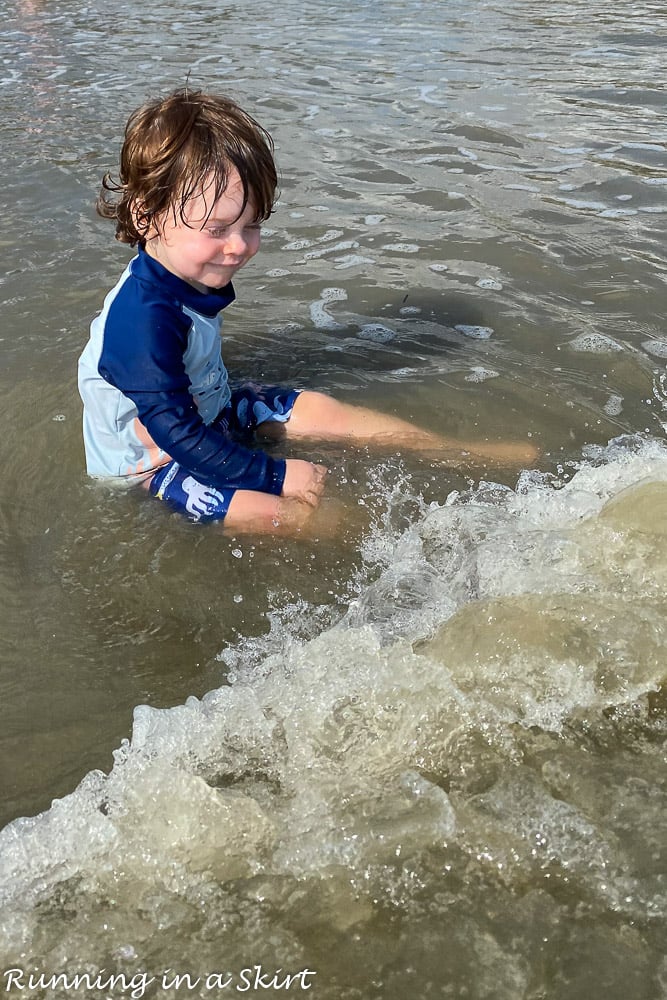 It's really one giant natural playground!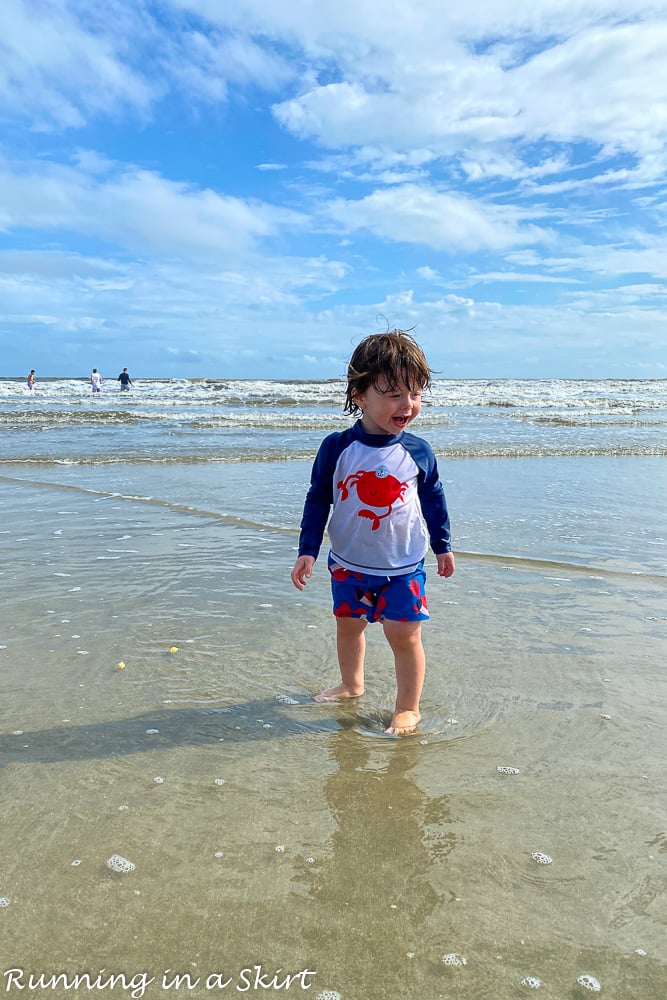 The sand is packed but we brought shovels so they could dig and play in the sand.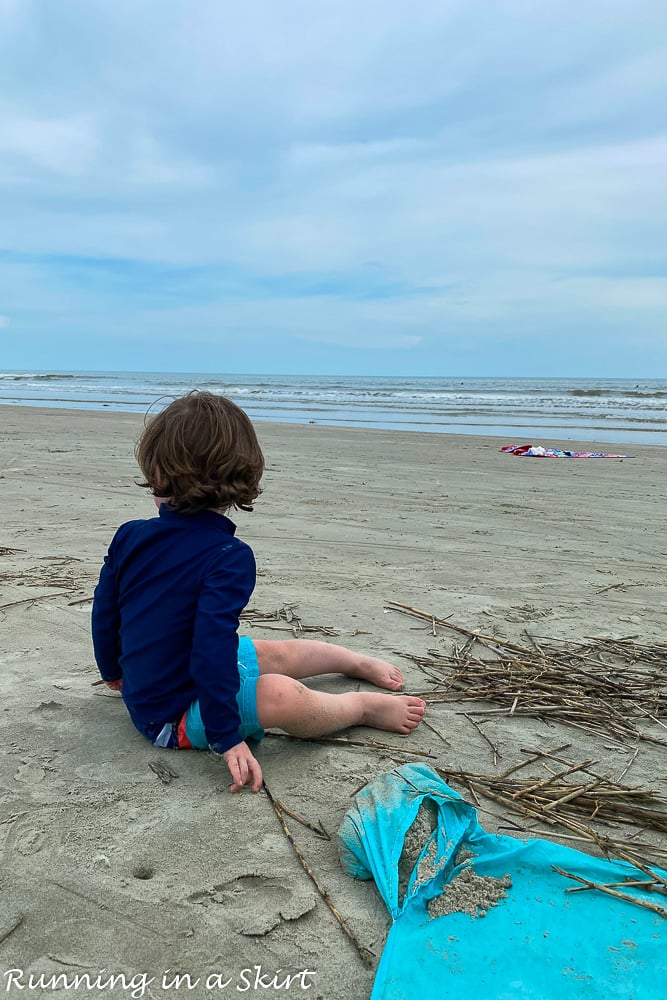 Hunter played so hard he even turned our tent sandbags into pillows for a rest. I hear how some kids don't like getting sandy but mine seem to love it.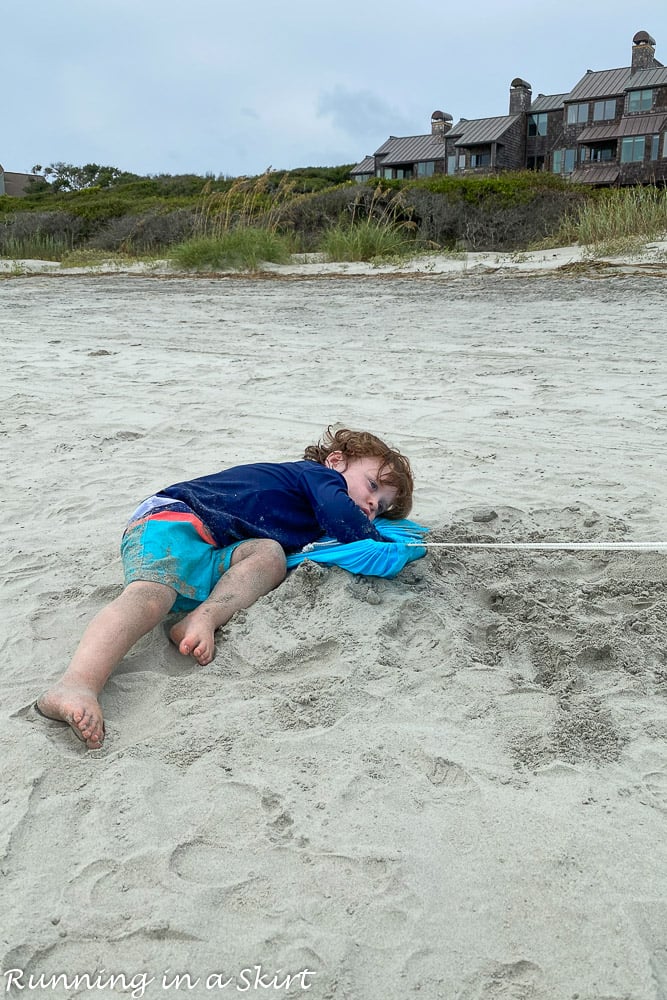 There are over 10 miles of gorgeous, very natural beach in Kiawah making it a great place for kids and adults.
Walking Paths
Kiawah is lined with endless miles of paved, tree-covered walking and bike paths. They are great for getting places without messing with a car and exercise.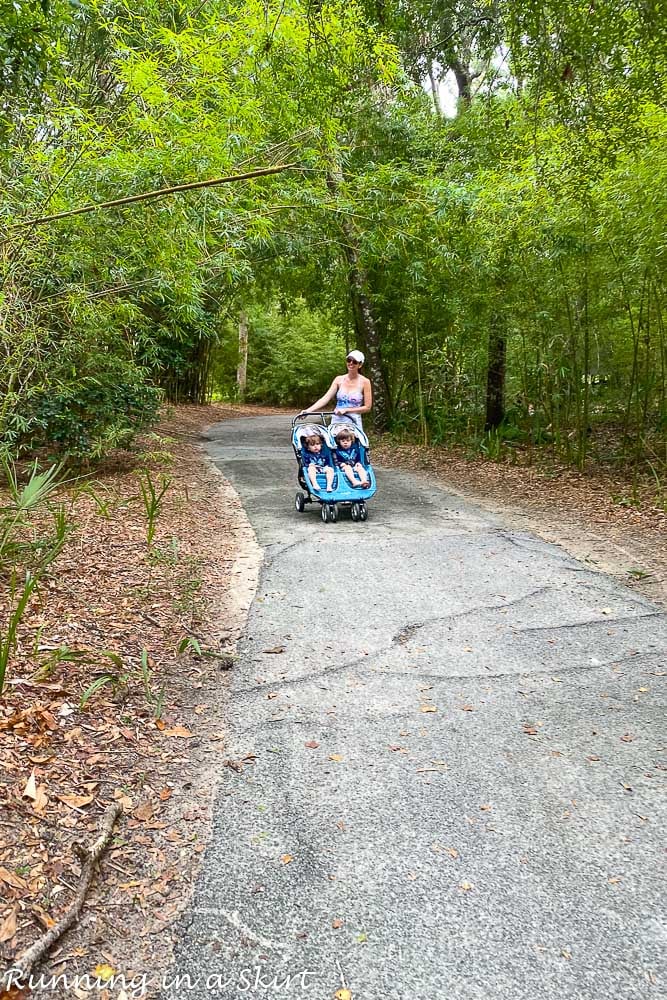 We spent most of our time at the beach but did take a nice walk one afternoon to explore.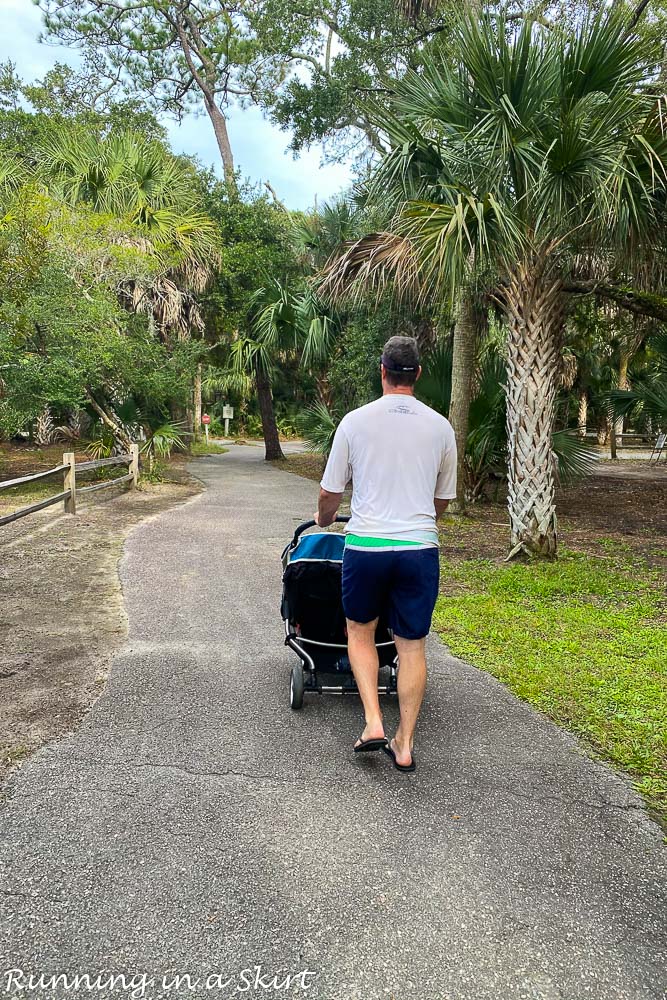 These shaded paths are definitely one of the highlights of Kiawah.
Beach Running & Biking
You can run and bike on the shaded paths or go straight to the BEACH! The beach has lovely packed sand making it ideal for running and biking.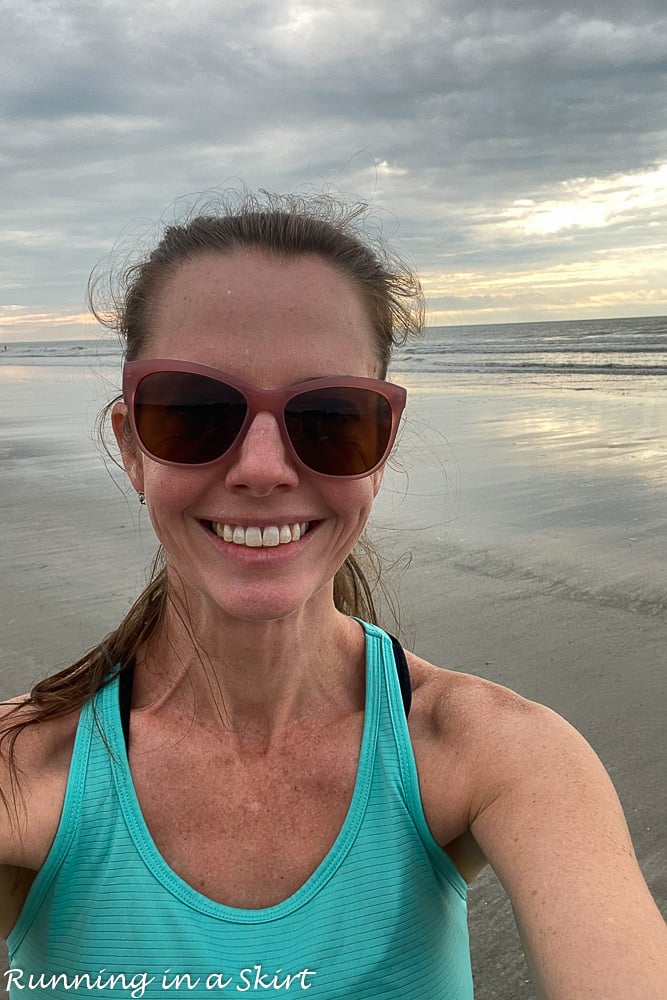 They rent bikes on the island and it's a very popular way to get around!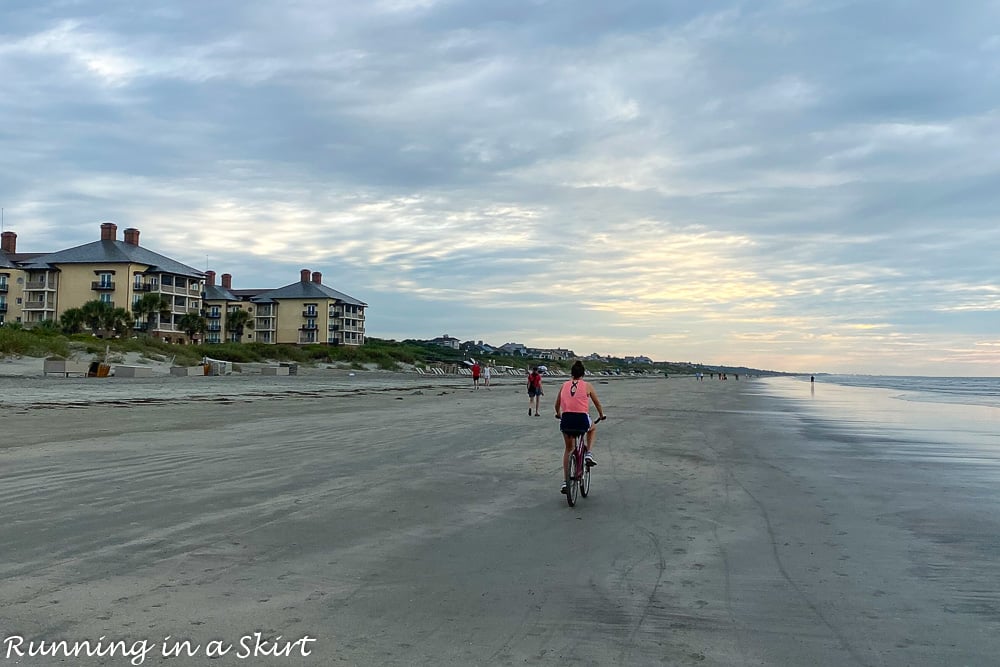 I love a good beach run and it's the perfect unexpected thing to do in Kiawah Island.
Pools
The island has gorgeous beaches, private pools, and the coolest collection of resort pools I've ever seen.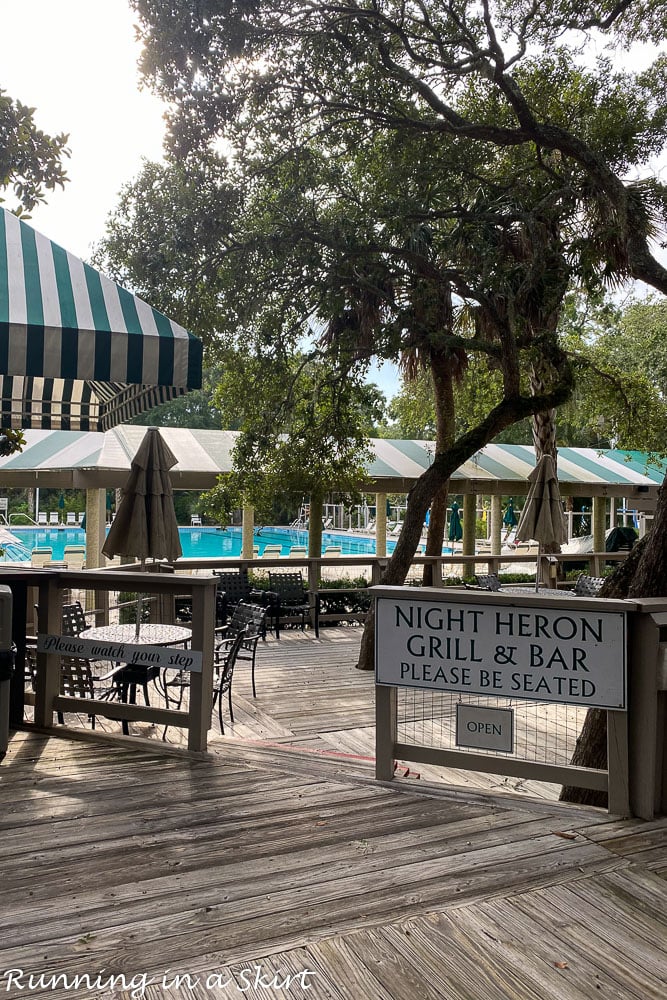 Look at this toddler pool!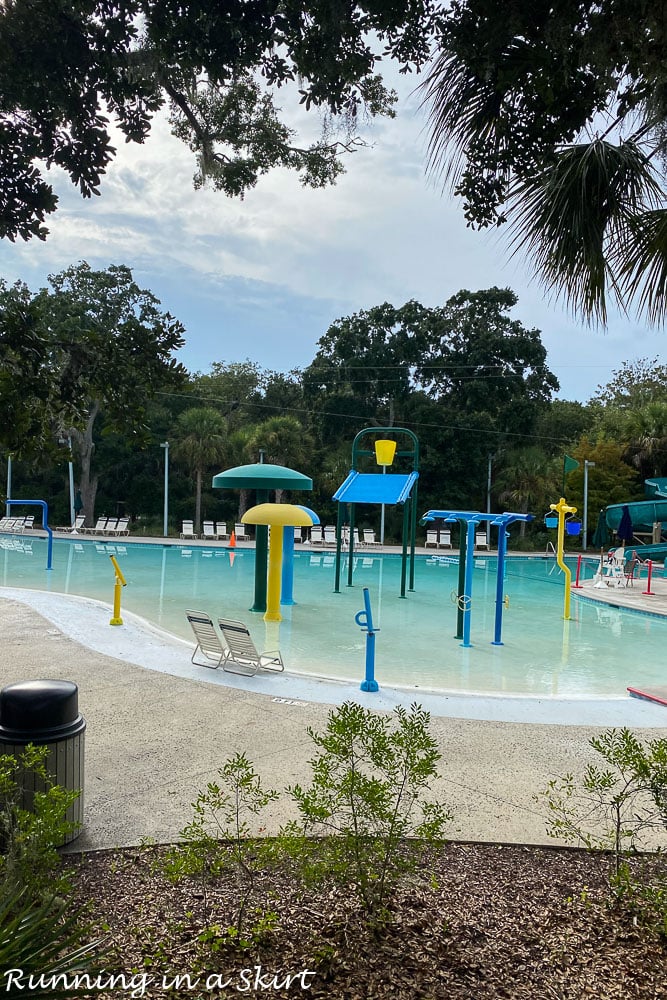 We walked over to see the pool but decided that since the boys were having so much fun at the beach we'd just let them play there, especially considering the current health crisis. They are limiting the number of people at the pool right now, but for our family, it still felt a bit more comfortable at the beach.
Wildlife
Since Kiawah is not filled with crazy development it's actually full of some gorgeous wildlife. I saw all kinds of birds, deer, and alligators while we were there. I even spotted a white deer!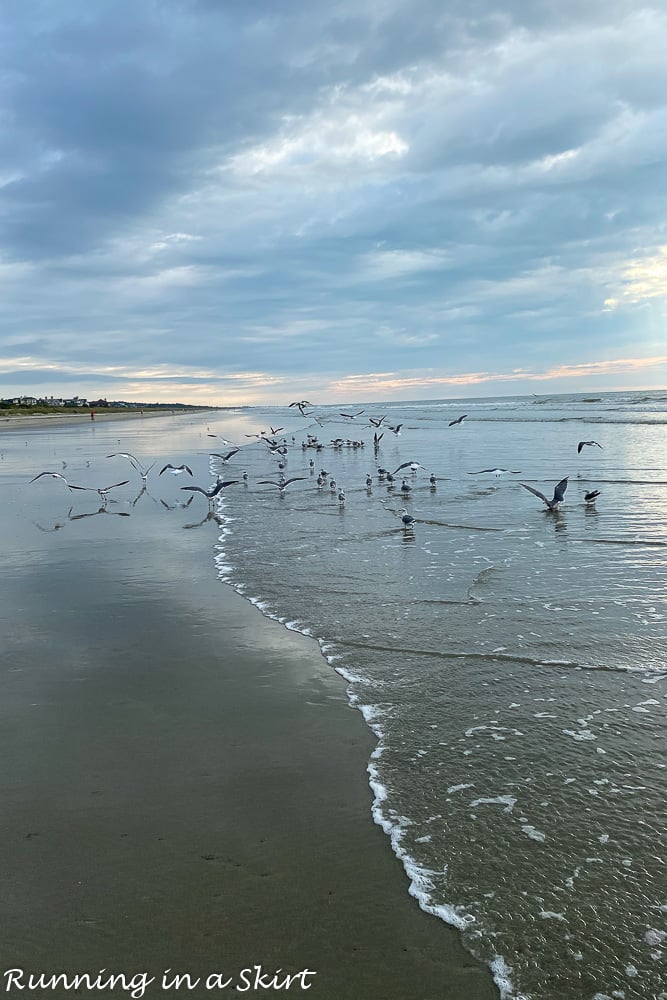 Plus the beaches are lined with shells and starfish.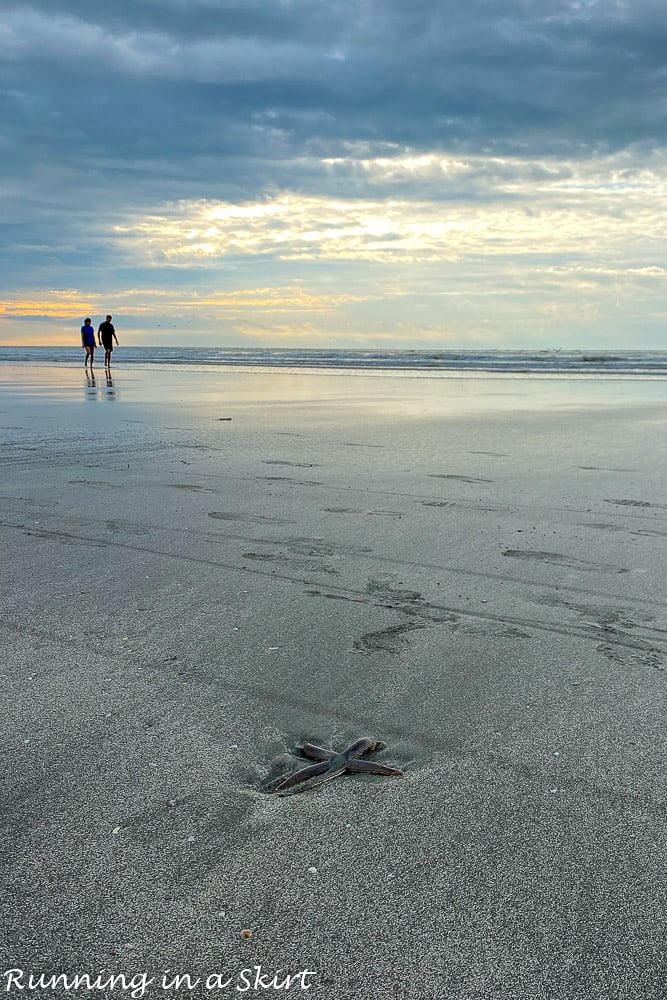 Much of the island has been preserved as a nature sanctuary so you really feel like it's a lot more natural setting than a lot of beaches.
Sunrise & Sunset
Sitting on the East coast Kiawah Island is bound to give you some gorgeous sunrises.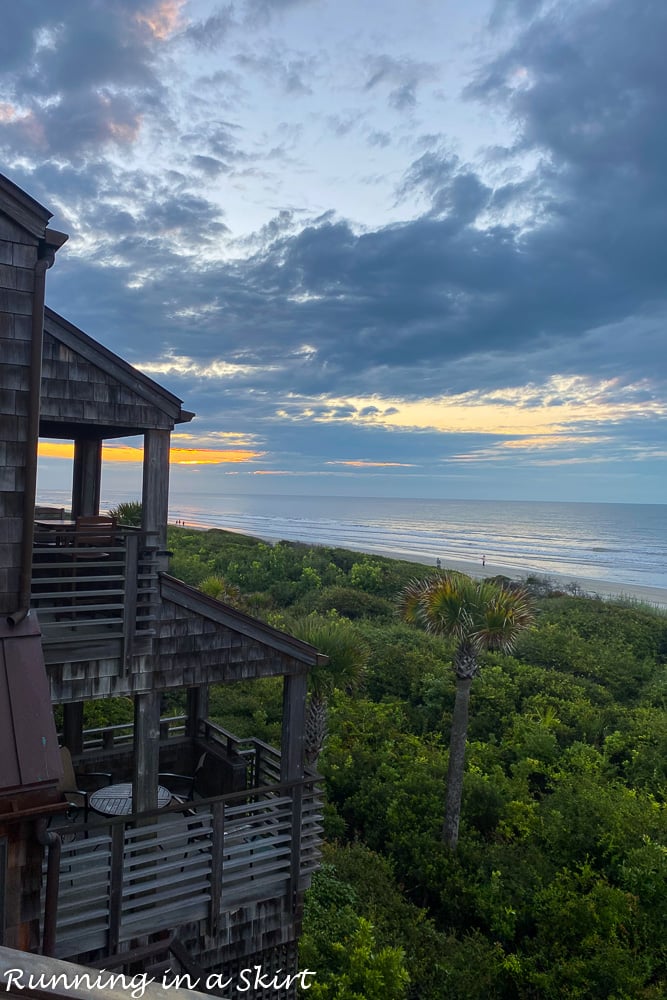 I saw several from the balcony of our condo.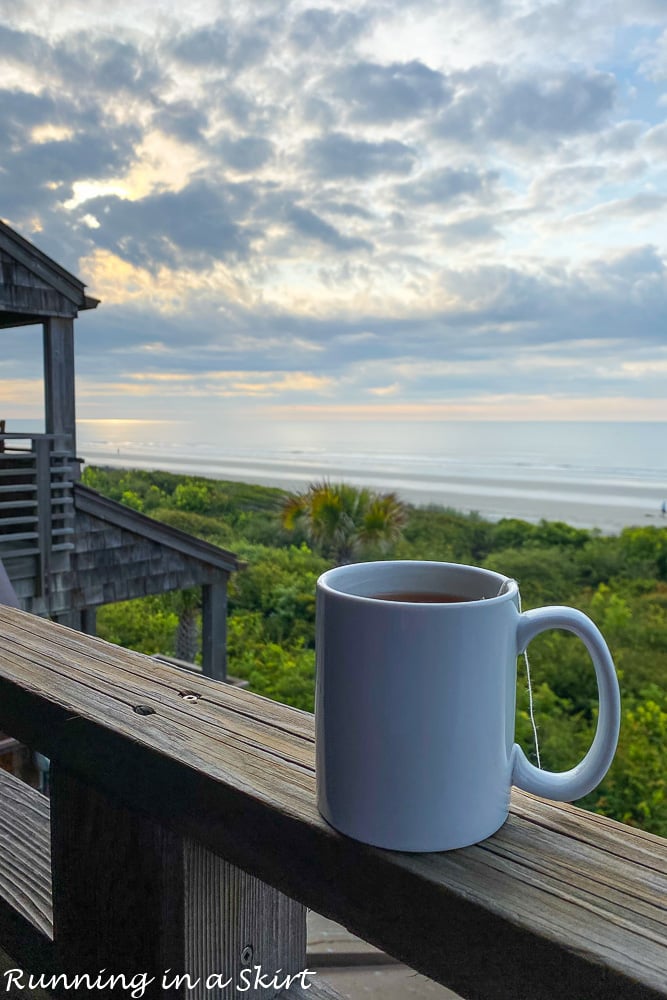 BUT there are several spots on the island you can also catch a sunset including over the marshes at the famous The Ocean Couse. I picked up dinner one night from one of the restaurants at the clubhouse and was able to catch the very end of this sunset. This would be an amazing location for dinner when the kids are older. If you are able, I'd definitely include dinner here on your itinerary... it just wasn't in the cards for us.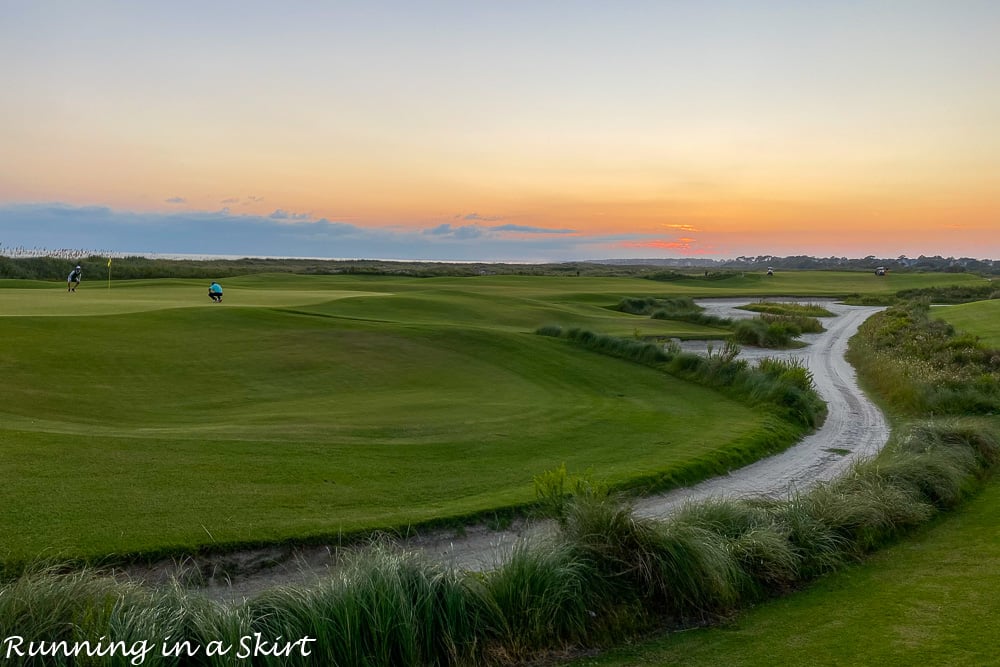 I love islands that give you the chance to see the sunrise and sunset in such gorgeous locations.
Photography
I adore taking pretty photos. It's been a long love of mine to snap photos and Kiawah is a photographer lovers' dream. The natural setting makes the perfect backdrop for photos for anyone who loves to have pretty pictures.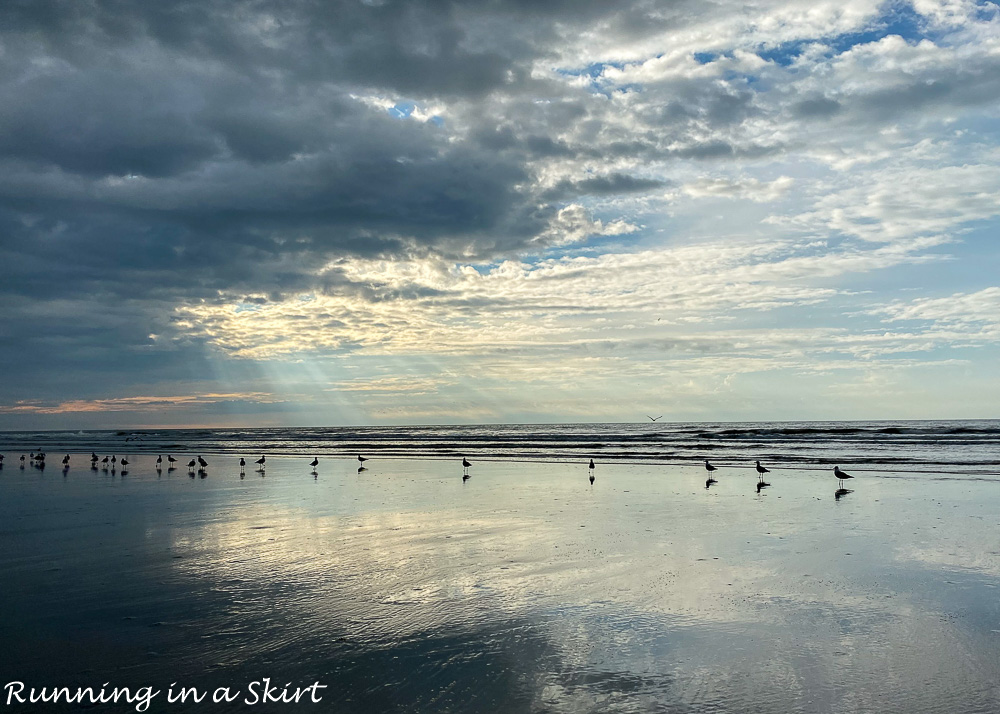 Explore the Marsh
I love beaches but the marshes in the Low Country are also pretty magical. They have their own beauty and are great for kayaking and paddleboarding.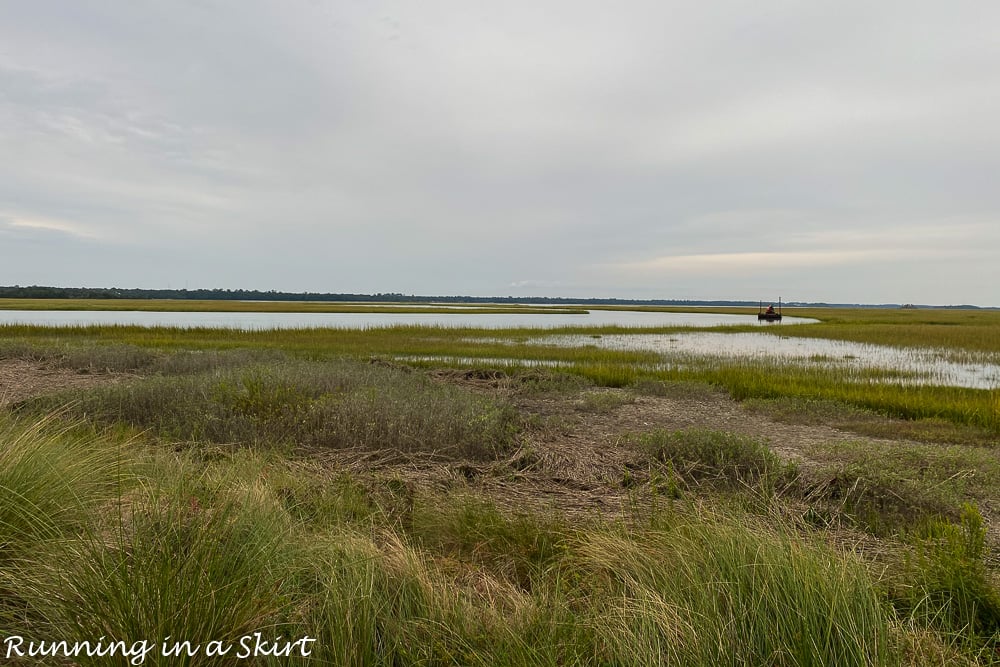 You can do both of these on Kiawah Island also catch a gorgeous sunset over the marsh too.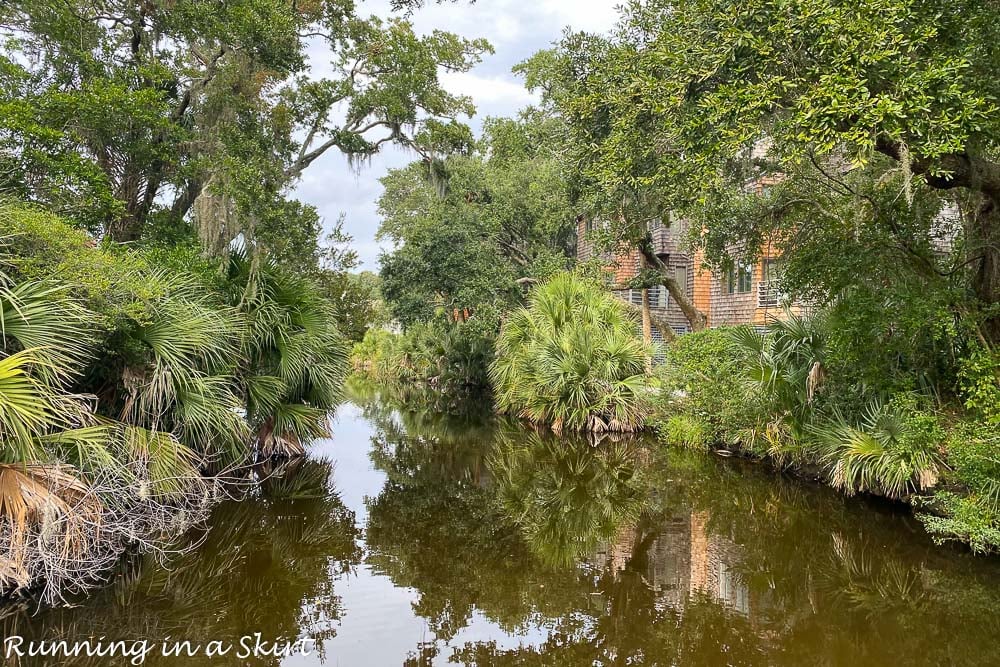 Family Time
One of the best things to do on Kiawah Island is to spend time with family.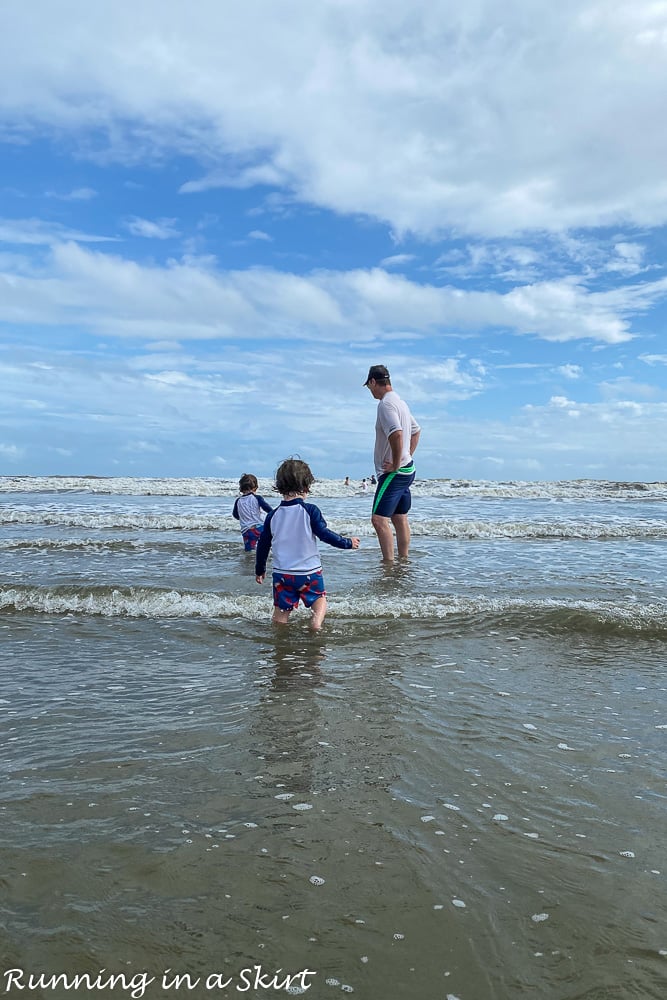 Since there aren't as many traditional beach attractions or distractions you can really focus on spending family time together which is what we did. The boys soaked up the family time and we all had a lovely long weekend.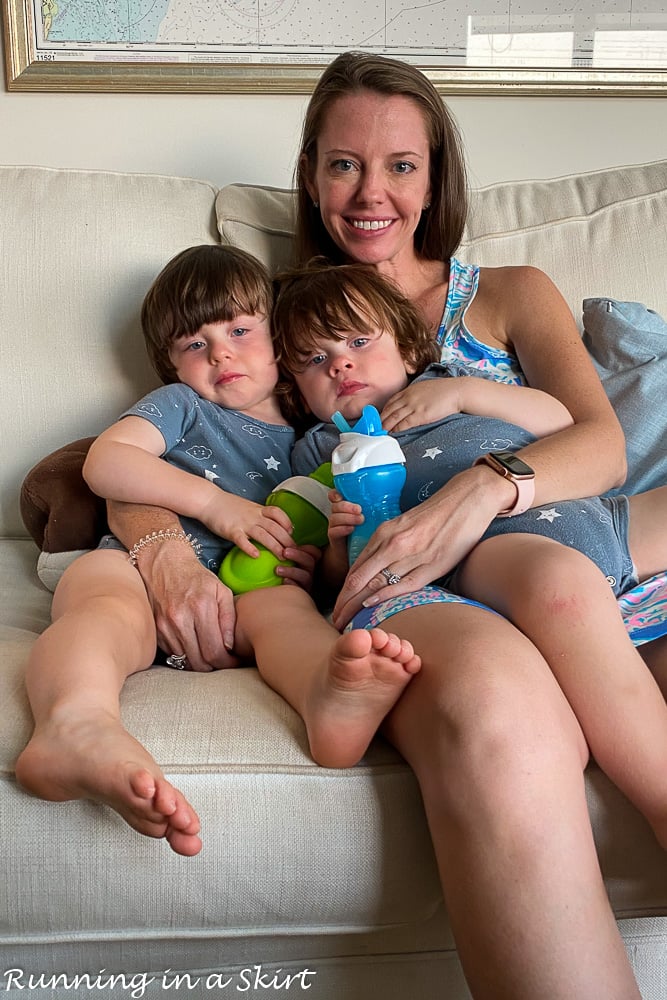 Food
I've got to be honest with y'all, I was not super impressed with the food on Kiawah. There was only one very limited food delivery option through the resort (which they will only deliver if you book through them) and most restaurants we tried to call wouldn't even offer us takeout if we went to pick it up. As a family, we have decided to still just eat takeout and the options were super limited which is disappointing considering I'm high risk and we have two toddlers. I sadly didn't even take any photos of the food we were able to try because it wasn't that great.
I did do some research before the trip though and these were some of the restaurants that looked good to me.
Hege's - no takeout
FourtyEight Wine Bar - the website says they do takeout but they wouldn't when I called them
Ryder Cup Bar - they offer takeout but picking it up was a circus
Jasmine Porch - no takeout
The Atlantic Room - no takeout
Fat Hen - actually on John's Island
Fuji's Sushi Bar & Grill - great takeout option!
Many of the restaurants are located just outside Kiawah at the charming shopping center called Freshfields Village, which is another great thing to do in Kiawah.
Kiawah or Hilton Head?
Many of you guys know that as a family we love Hilton Head. It's my personal happy place and we visit there many times a year. Since we were just in Hilton Head we decided to try something new this around. Kiawah has lots of great things about it but honestly, the food in Hilton Head wins me over any day. I love GOOD seafood on a beach trip and there really weren't many options at all on Kiawah. I'll probably pick Hilton Head over Kiawah because of that reason.
That being said, the boys had a blast and didn't know the difference. When they are a bit older and can go out to eat, ride bikes and explore we might try it again.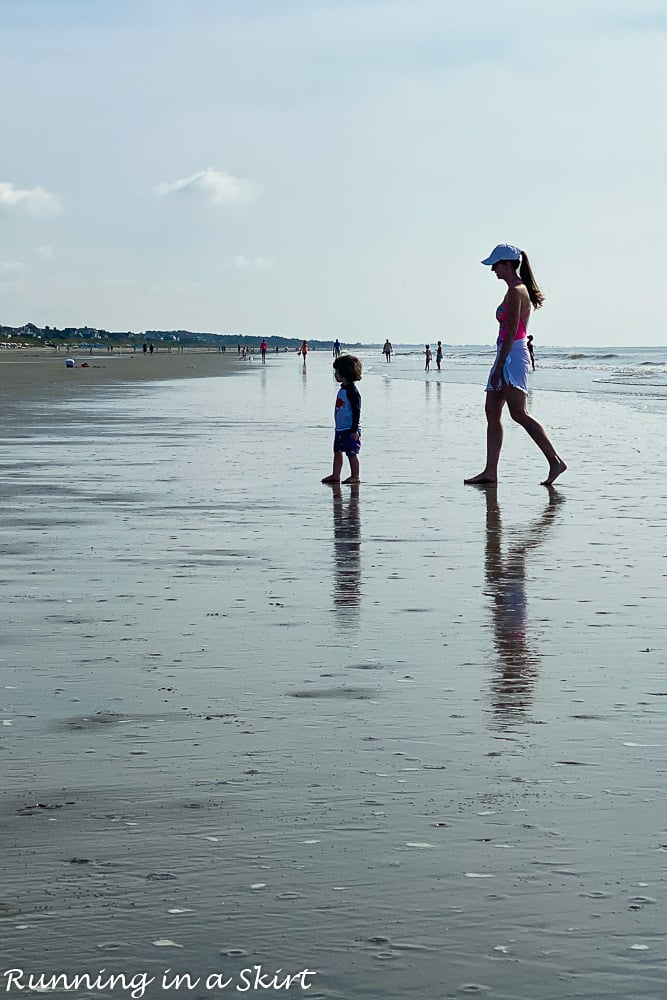 Regardless though I am so happy and lucky we got to take this trip. Kiawah is a gorgeous island and I love getting to explore someplace new to us.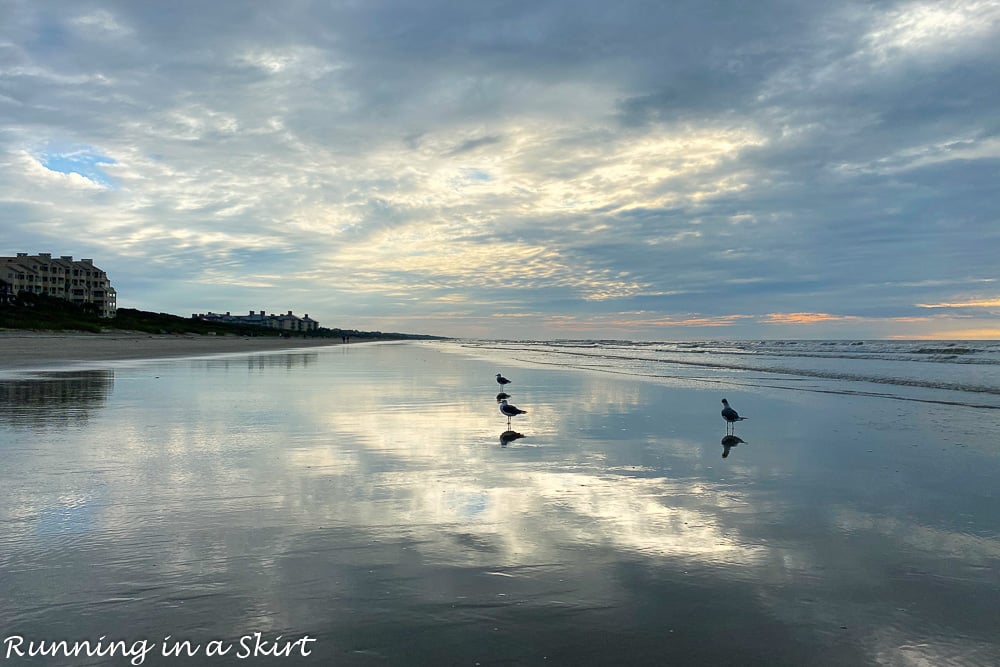 I hope you enjoyed our photos and this little Kiawah Travel Guide. If you are looking for things to do on Kiawah Island this quiet island offers a surprisingly long list to keep you busy or you can toss it all out and do nothing at all!
Pin for later...