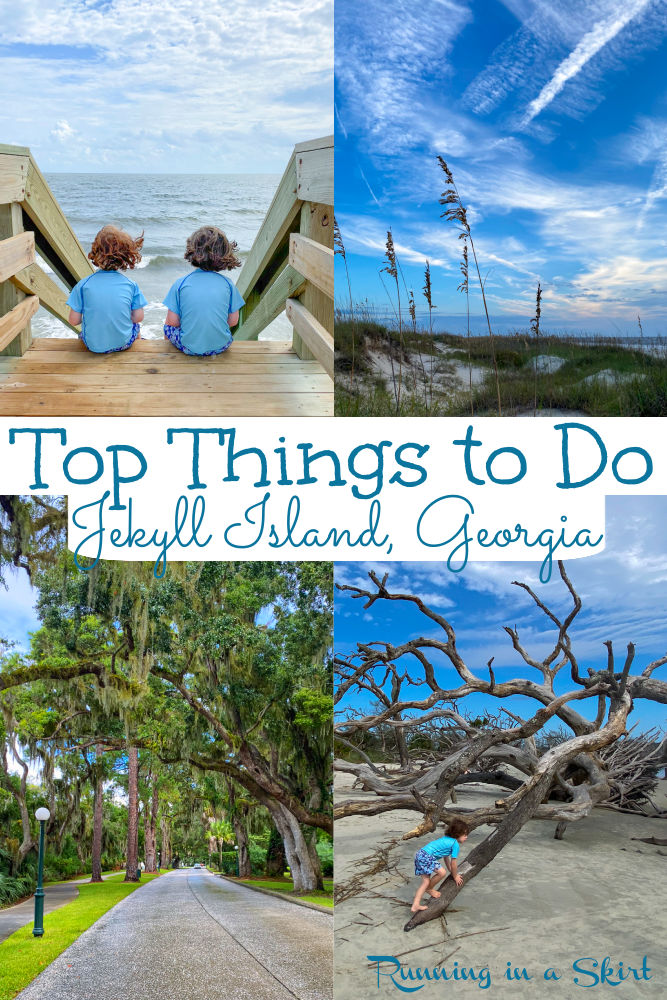 Curious about the best Things to Do in Jekyll Island Georgia? Jekyll Island is a must-stop location along the Georgia coast if you are considering visiting the Golden Isles. This guide breaks down the top attractions on this charming and low-key barrier island near St. Simons Island. Keep reading for the best beaches including the famous Driftwood Beach, historical sites, and the Georgia Sea Turtle Center.
Planning a trip? Also, read my Jekyll Island Restaurants Guide, Top 15 Moments from Jekyll Island Vacation, Georgia Sea Turtle Center Visitors Guide & Guide to Visiting Driftwood Beach.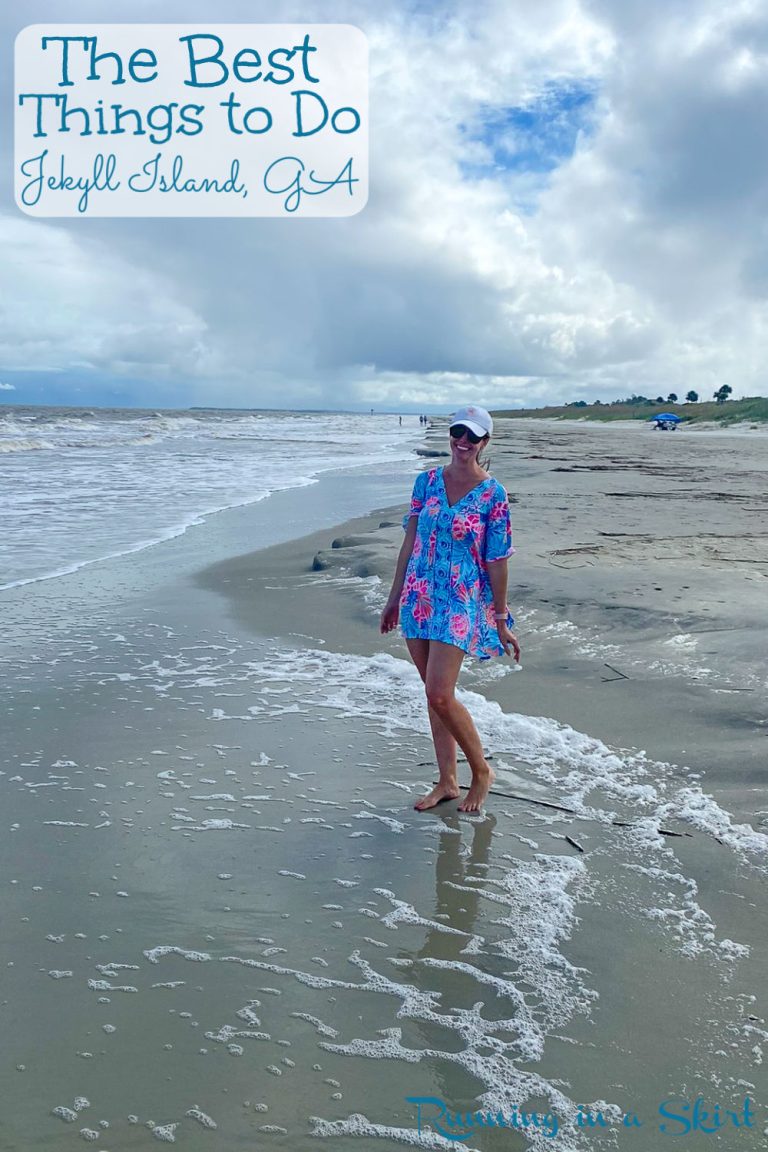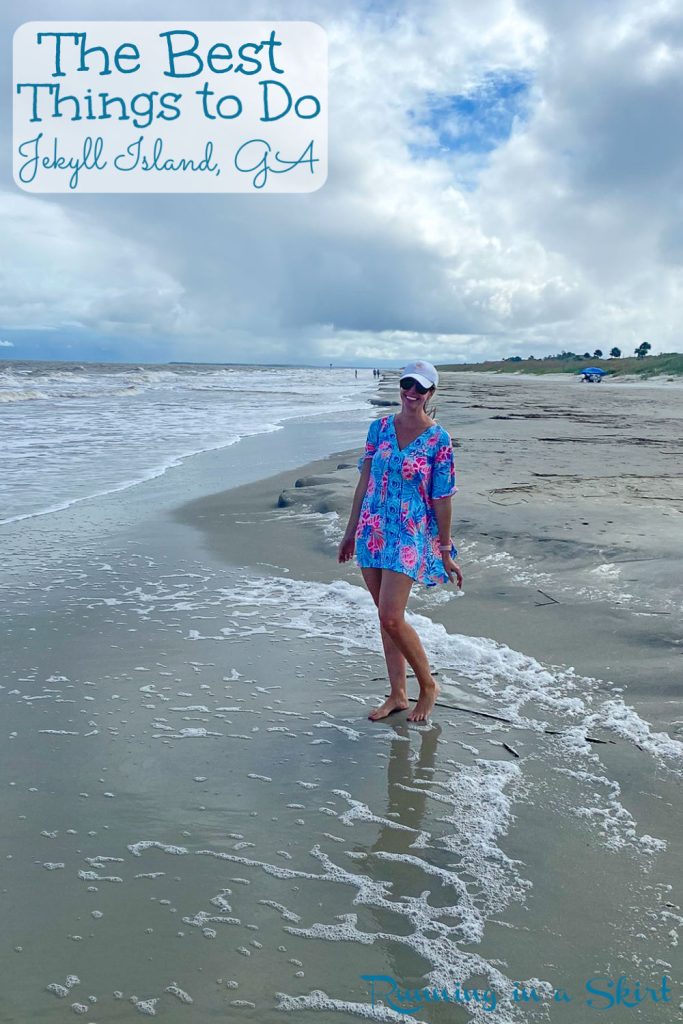 Things to Do in Jekyll Island Georgia
Trying to decide about which things to do in Jekyll Island Georgia? This guide is here to help! This unassuming and small barrier island along the southeast Georgia coast has an irresistible laid-back vibe. The island is only 5,500 acres but is filled with all sorts of fascinating history, natural wonders, and cool attractions that can keep kids and adults happy. There are as many golf carts and bikes on the island as cars, and there are no stoplights on the entire island. No high-rise condos or flashy beach shops either means this spot feels like a retreat from the mainland.
Jekyll Island is the kind of place where natural beauty shines and any development has been done with care. There are gorgeous marshes with birds, wide beaches, and even a hauntingly beautiful and famous Driftwood Beach. There is also a rich history, with a famous historical resort - Jekyll Island Club- that was once home to names like Rockefeller, Vanderbilt, and Pulitzer. The rich history combined with the natural beauty gives Jekyll Island a truly unique and interesting vibe.
Many people visit Jekyll Island for a day trip from nearby St. Simons Island or Brunswick, but you can also stay on the island and fill your days with some of these wonderful activities below. There are lot's of things to do BUT it's also the kind of place where you can really do nothing at all other than enjoy the beautiful beaches.
If you are a history fan or a beach fan... or both... I can't recommend adding this charming island to your travel bucket list.
Check out other things to do on nearby islands: Top 10 Things to Do in Kiawah Island, Top Things to do in St. Simons Island, Top Things to Do at Isle of Palms, Top Things to Do in Hilton Head Island and Top Things to Do on Amelia Island.
Top Things to Do in Jekyll Island
Click To Tweet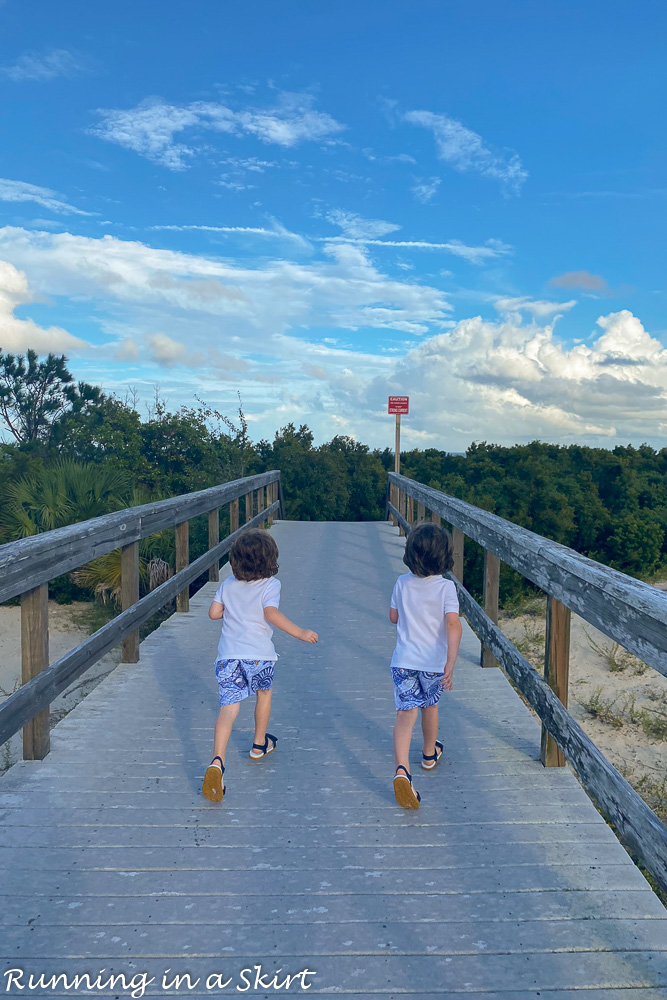 Jekyll Island Georgia is a State Park
There are lots of things to do on Jekyll Island including brushing up on history. One of the most interesting things about Jekyll Island is it is a state park that's been completely owned by the state of Georgia since 1947. The island first became famous in late 1800 when a group of millionaire businessmen formed the Jekyll Island Club. The men built a gorgeous clubhouse and nearby mansions (which they charmingly called cottages) which gave them a place to vacation in the winter. With names like Rockefeller, Vanderbilt, and Pulitzer on the roster, it was named the richest and most exclusive club in the world.
The club flourished through the 1920s but got hit hard by The Great Depression and World War II. The final blow to the elite residents who remained at the club was the island getting evacuated during WWII due to a threat of attacks from enemy submarines off the coast. Many of the families never returned after that and the island fell into disrepair.
In 1947 the state bought the entire island and turned it into a state park. It wasn't until 1985 that someone bought and renovated the original Jekyll Island Club building turning it into a historical hotel, which reopened in 1987.
Because Jekyll Island is a state park only 35% of the land on the island is developed and it is protected by the state of Georgia, making it a special place for ocean and nature lovers. It's a spot that feels a bit frozen in time, in the best possible way.
Logistics
Jekyll Island is off the coast of Georgia and is about an hour and a half from Savannah, 5 hours from Atlanta, and an hour and 15 minutes from Jacksonville. You can get there via i-95 taking exit 29 toward Brunswick/Jekyll Island. Turn left on GA-520 E and continue for 5.5 miles. Next, turn right onto GA-520 E and continue to Jekyll Island. You'll see a sign.
Because the island is a state park, there is an $8 fee to visit the island for the day. When you cross the bridge you'll have to pay a fee. That fee is technically a daily parking fee for the island. If you are staying more than one day enters the number of days you are staying, you'll need to pay for each day in advance.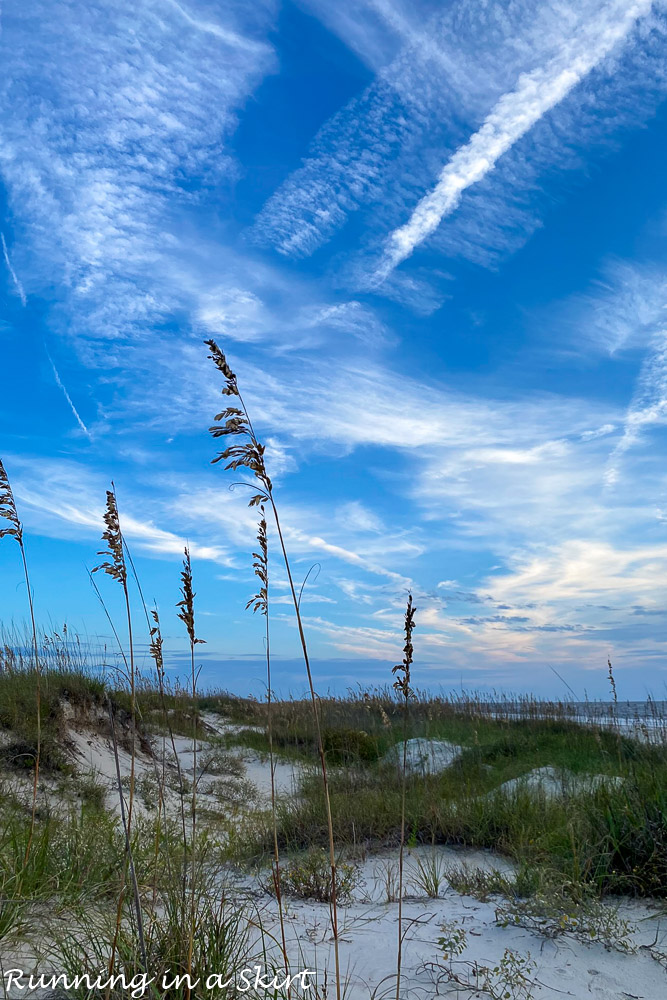 15 Fun Things to Do in Jekyll Island Georgia
Enjoy the Jekyll Island Beaches
One of the top things to do in Jekyll Island Georgia is to explore the beaches. There are seven public beach access points and each is a bit unique. The 10 miles of shoreline on this island are vast and gorgeous. The beaches are especially gorgeous because they aren't lined with huge condos.
The natural beauty of this island really shines when on the waterfront. The beaches vary in size and type depending on where they are on the island. Generally the farther south you head the wider the beaches.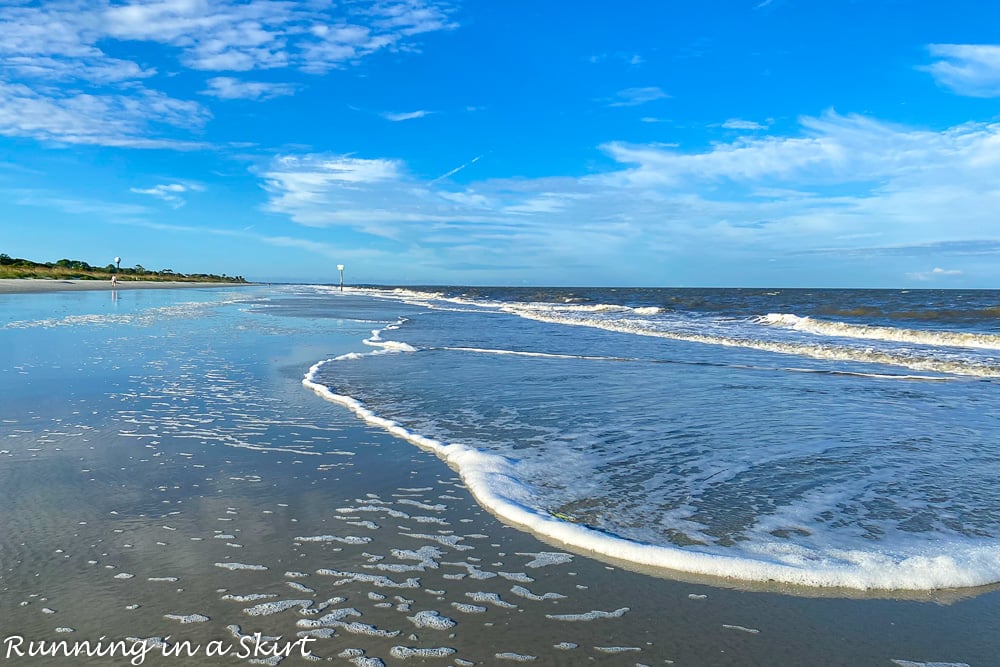 Jekyll Island Beaches
If beaches are on your list of the top things to do on Jekyll Island, here's an overview of which ones to visit. Even in the summer, these beaches aren't that busy. They are listed here starting at the northern end of the island and heading south.
Driftwood Beach - This famous beach is such a top thing to do on Jekyll island, it has its own category below. This incredible spot is a must-visit on the island.
Oceanview Beach Park - A mid-island beach park with a wider beach and gorgeous Atlantic views. There is an ADA overlook and beach access, restrooms, and showers. Lots of parking too!
Great Dunes Beach Park - This is one of the largest and most populated beaches because it's close to several hotels and the entrance to the side. There is a lovely 20-acre beachfront park with picnic tables, pavilions, an activities deck, a play area, a bocce ball, and a volleyball court. There is also parking, ADA beach access, restrooms, and showers. The coolest part about this beach is if you enter on the left side there is a boardwalk path that leads you through a cool tree tunnel before you pop out to the beach. The photo below shows how cool this spot is.
Corsair Beach Park - This is the beach park near the "downtown" area of Jekyll Island or Beach Village. It is close to shopping and dining, which makes it a nice choice. There are also picnic tables and showers.
South Dunes Beach Park - This park has an interesting elevated boardwalk with an observation deck and freshwater pond. There are picnic tables, grills with open-air and screened-in pavilions for families.
Glory Beach- This beach is close to the south side of the island and is lined with sea oats and sand dunes. It's a wide, gorgeous beach where they filmed parts of Glory.
St. Andrews Beach Park - This beach at the southernmost tip of the island is a great spot for watching migratory birds and dolphins. There is a picnic area, ADA beach access, and a two-story wildlife viewing platform.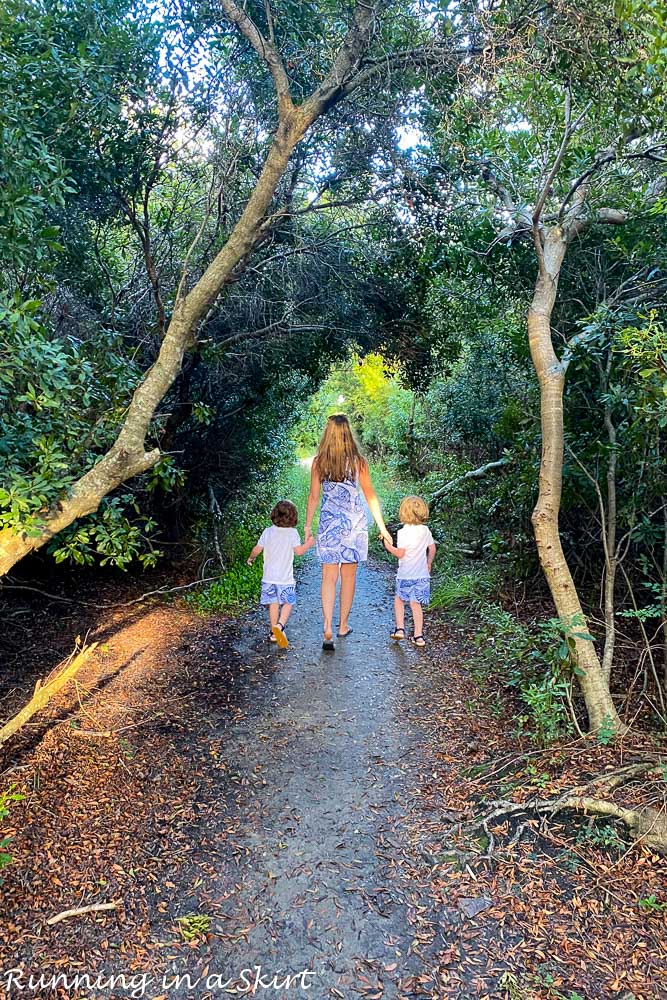 Jekyll Island Beach Rules
Since the beaches are state parks, there are some beach rules to follow.
No motorized vehicles.
All personal belongings must be removed by the end of the day.
Pets must be leased.
No cooking, grilling, or open flames.
Fill in all sandcastle holes.
Take only empty shells and dead sand dollars.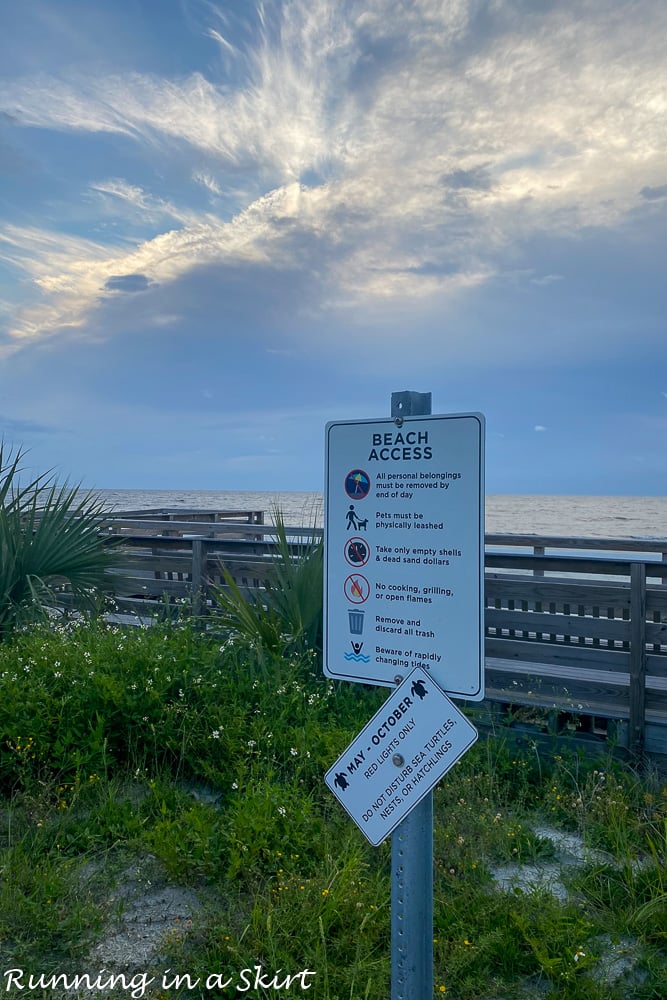 One thing you have to watch in this area is the changing tides. Jekyll Island has two daily high tides and two daily low tides. The tides can range from 6-9 feet, so you can end up in a dangerous situation if you aren't familiar with the tides.
This sign at Great Dunes Beach Park helps explain the situation. The tides change slowly, so it's not something that will rush up on you but you do need to be aware.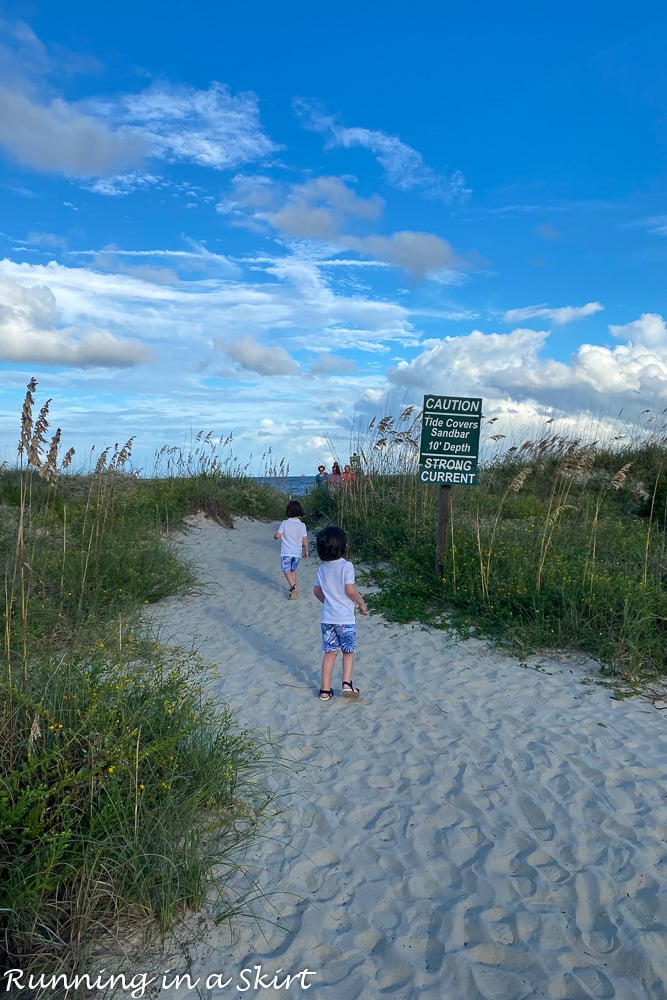 The beaches at the Northern end of the island are also a bit narrower and in some areas come right up to a rock wall at high tide. It's something to plan for if you are staying on the Northern end of the island and want to use the beaches.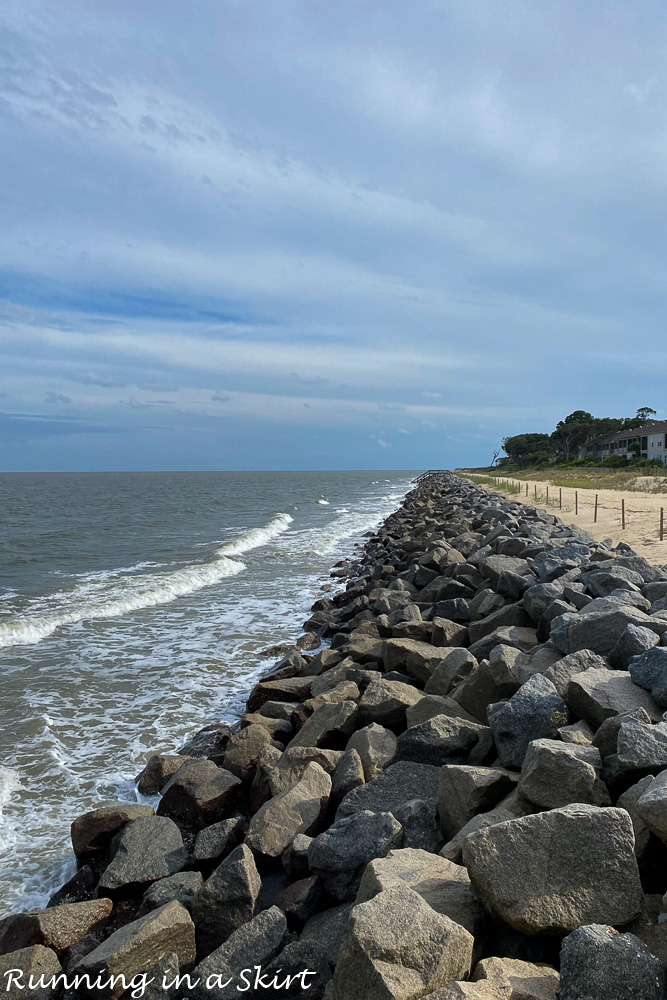 Visit Driftwood Beach
Visiting Driftwood Beach has to be at the very top of your list of things to do on Jekyll Island. This magical spot used to be a maritime forest, but it is now a beach with giant driftwood trees dotting the land.
It's mysterious, eerie, and hauntingly beautiful. It's a great spot for walking, hiking, and photography and is even fun for kids to use as a natural playground.
Make sure to check out my entire Driftwood Beach Visitors Guide before your visit. It includes the best times to go, how to get there and where to park. It's an absolute gem of a spot to visit on the island. In fact, if you only have time to do one thing about Jekyll... this should be it.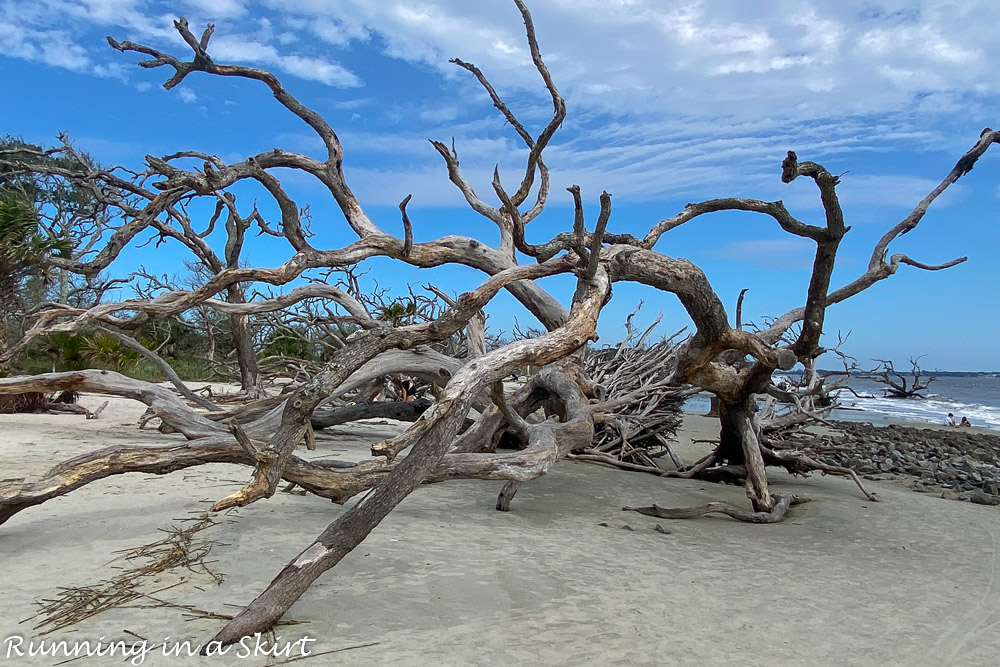 Explore Historic District & Trolley Tour
Love history? Exploring the historic district is one of the best things to do in Jekyll Island. One of the most unique things about Jekyll Island is its rich history. Because it was developed by wealthy businessmen and then turned into a state park there are lots of charming historic buildings that remain over 100 years later.
One of the oldest sites still standing is the Horton House, which was built by William Horton who was the first documented Europen to live on Jekyll Island. It's on the National Register of Historial Places and is one of the oldest tabby buildings in Georiga.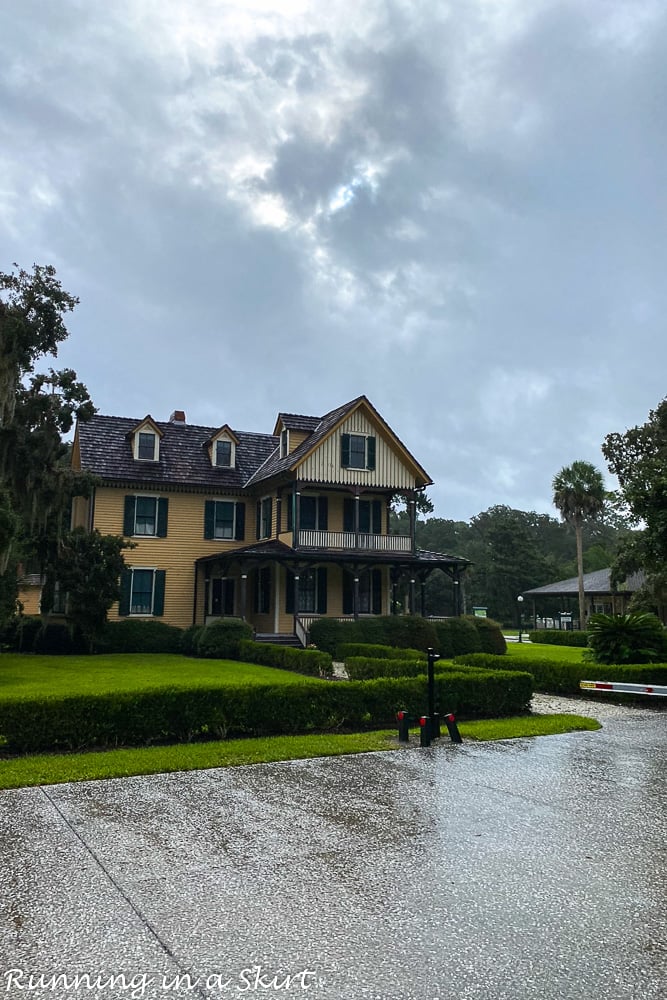 The historic district of the island is 240 acres and all clustered in the central part of the island on the western or riverside. The district has over 33 structures and can be explored on your own or you can take a trolley tour, which helps explain the history. There are also horse-train carriage rids.
You can see the entire historic district by foot or by bike, but taking a guided tour is a wonderful way to learn more about the fascinating history of the island. The tour includes entrance into a historic cottage, the Mosaic Gallery, and the Faith Chapel, which is a beautiful spot that has brightly colored stained glass windows telling biblical stories.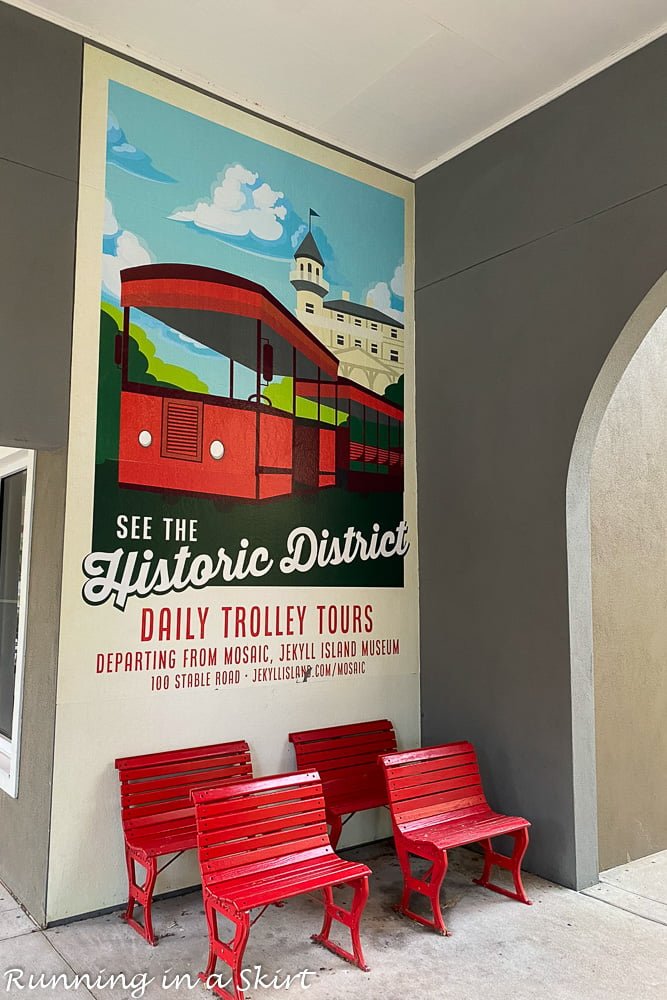 See Jekyll Island Club Hotel
Seeing the Jekyll Island Club Hotel is another top of the list of things to do in Jekyll Island. The spot is now a historic hotel but was once the home base for all of the millionaires who were part of the club and visited the island.
The hotel is the centerpiece of the Jekyll Island Historic District but deserves some time to explore on its own. If you have time make reservations for breakfast in their charming historic dining room.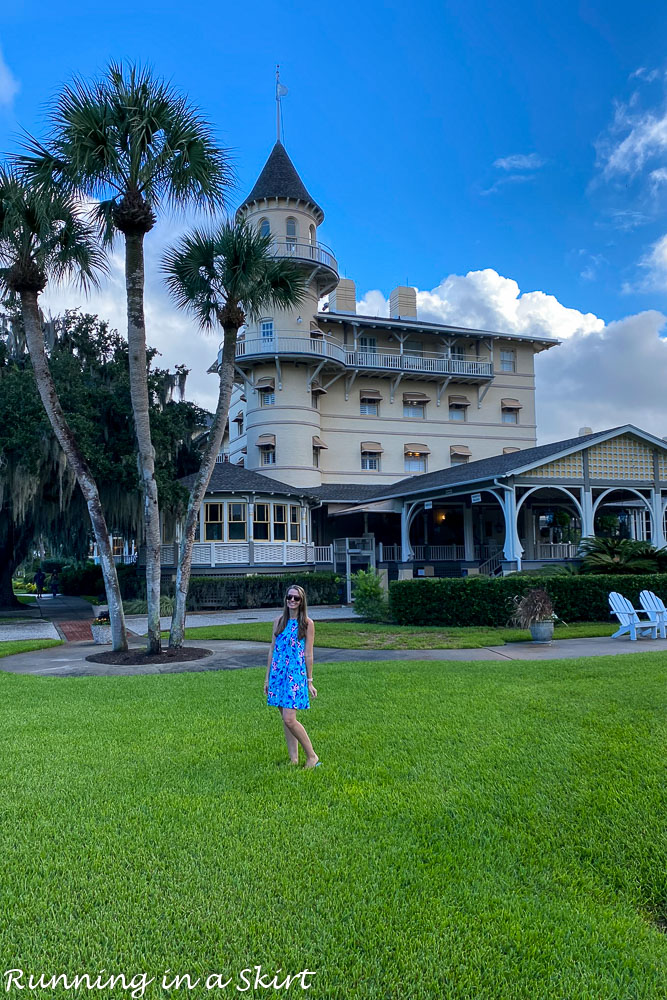 Georgia Sea Turtle Center
Looking for more things to do in Jekyll Island Georgia? You have to add the Georgia Sea Turtle Center to your list. This spot is an educational center that actually helps and treats injured sea turtles with a rehabilitation center. They also do natural preservation and sea turtle research. This is such a fun and educational family activity.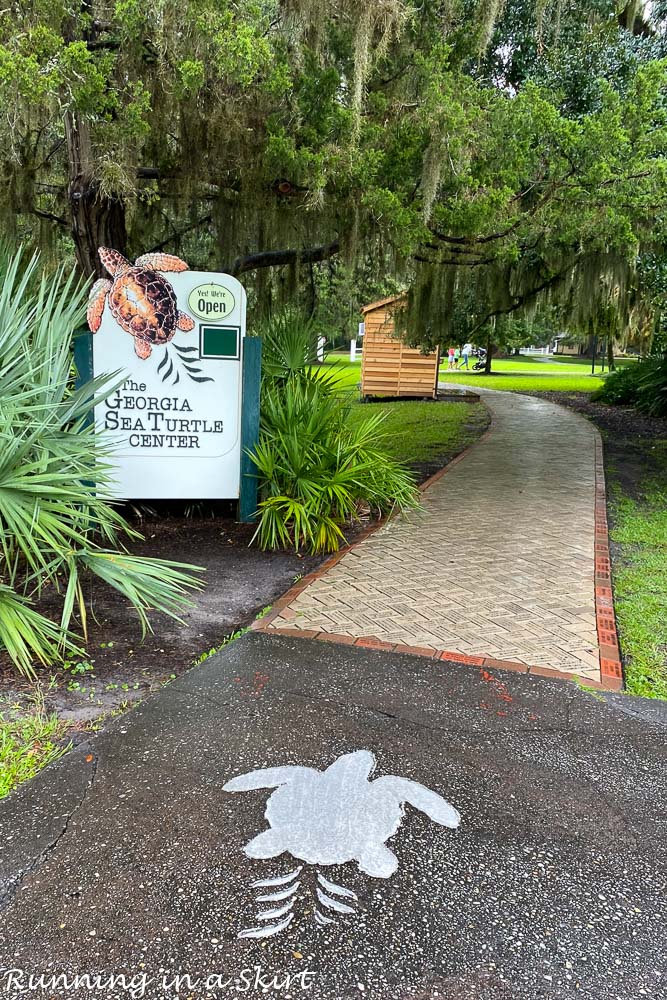 It's a great place to learn more about sea turtles and you can actually visit the hospital and see any sea turtles they are currently helping. It's another fascinating spot on the island and well worth the time to see. If you are planning a visit, check out my Georgia Sea Turtle Center Visitors Guide.
Ride Bikes
Riding bikes is another on the top of the list of things to do in Jekyll Island. With over 20 miles of bike trails, many of them lined with gorgeous Spanish moss lines and live oak trees, this is a spot you have to try getting around on two wheels.
The island's small size, low traffic, and slow style make it a perfect spot to enjoy a bike ride for an afternoon or just get around this way.
Bike rentals are all over the island and here are a few to try.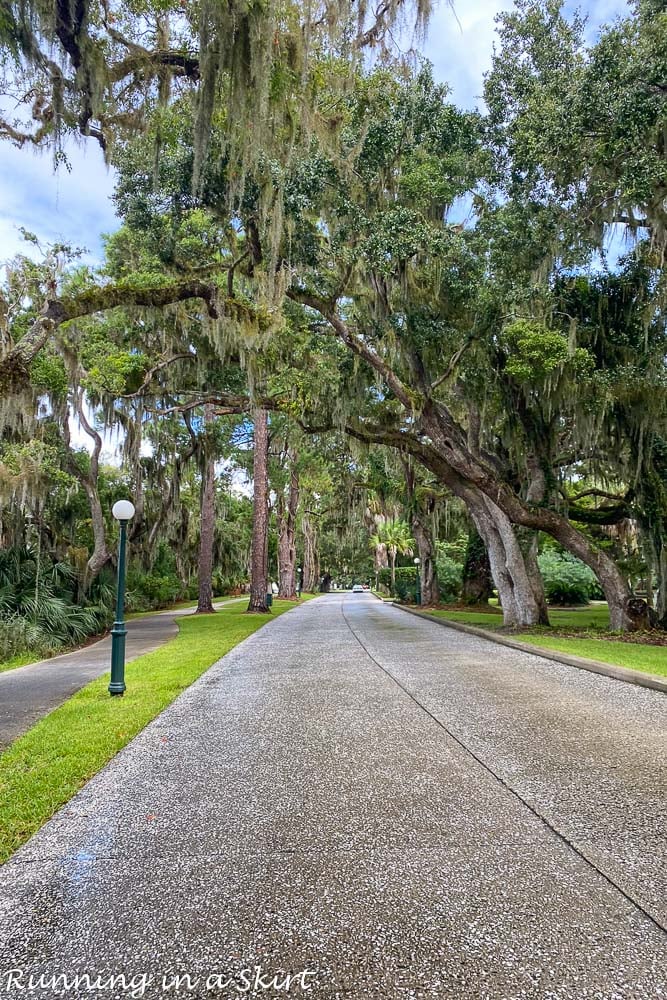 Summer Waves Water Park
The Summer Waves Water Park is another item to top the list of things to do in Jekyll Island. This 11-acre fun spot is perfect for kids and families. It features a lazy river, a wave pool, a dozen water slides, and a water playground. Favorite slides for older kids are the Pirates Cove and Man O'War waterslides. There is a Larry's Giant Subs onsite to get lunch while you are enjoying the park. It's open seasonally, so it's a fun place to visit in the summer when the kids need a break from the beach.
Visit Beach Village
Looking for more things to do in Jekyll Island? Try visiting Beach Village. This area is kind of like the downtown area of Jekyll with a few streets of shops and restaurants. There is also a small grocery store - Jekyll Market - and a pretty beachside pavilion that hosts shows. Many of the events on the island are held here.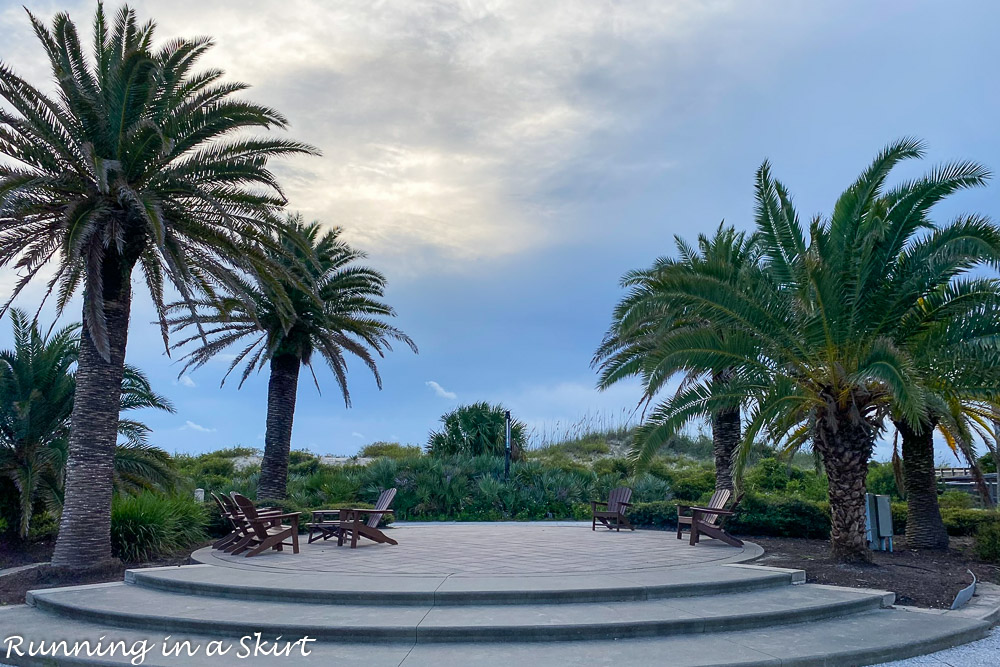 It's a great place to walk around, buy a souvenir, let the kids run around, and get some food to eat.
It's conveniently adjacent to several island hotels including The Westin Jekyll Island, Jekyll Ocean Club, and Home2 Suites by Hilton.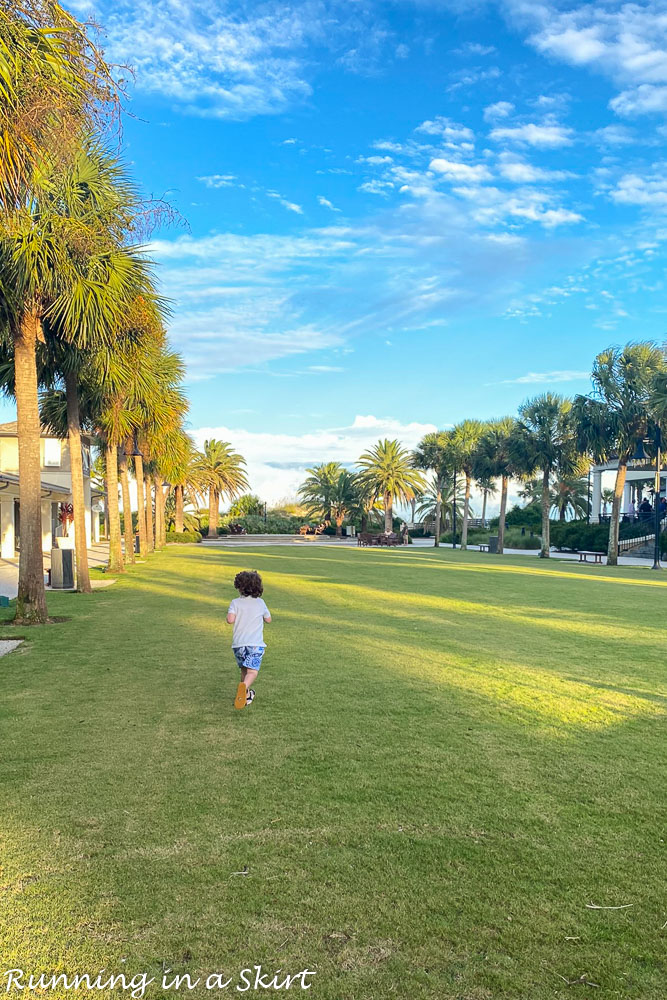 Horseback Riding
Horseback Riding is another bucket list item to add to your things to do in Jekyll Island list. Three Oaks Farm offers beach horseback riding on the island and is considered one of the most romantic things to do on the island. They offer sunrise, sunset, beach, and forest rides.
Play Golf or Mini Golf
Add playing mini golf to your things to do in Jekyll Island. They don't have the flashy, touristy mini golf courses many beach locations have BUT Jekyll Island has a small mini golf course with its own kind of old-school charm. The course is conveniently located next to the Great Dunes Beach Park, making it a great activity to do before or after the beach.
This charming activity is great for kids and is another family-friendly activity on the island. There is a pizza restaurant- Red Bug Pizza - adjacent to the course.
If you love to play regular golf, try the Jekyll Island Golf Club which has three scenic 18-hold golf courses - Oleander, Indian Mound, and Pine Lakes - near the center of the island. There is also the historic Great Dunes 9-hole course located near the ocean. They are all known for its natural beauty.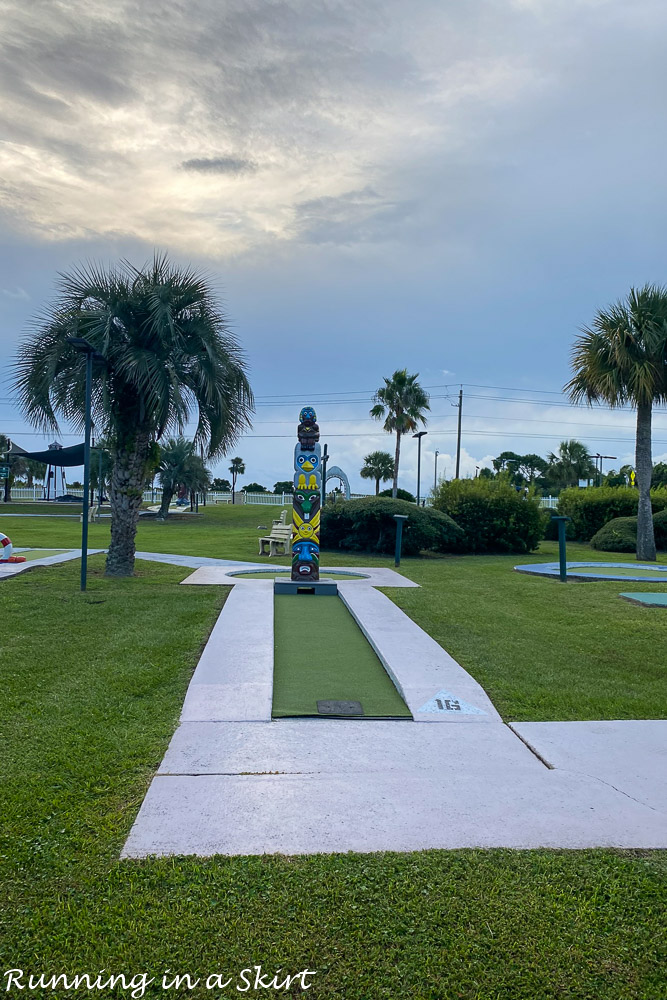 Playground
Looking for another thing to add to your list of free things to do on Jekyll Island? If you have kids, you'll want to visit this great playground which is conveniently located next to the mini-golf course.
Playing mini-golf, visiting the playground, and getting pizza is a great ways to spend an afternoon on the island.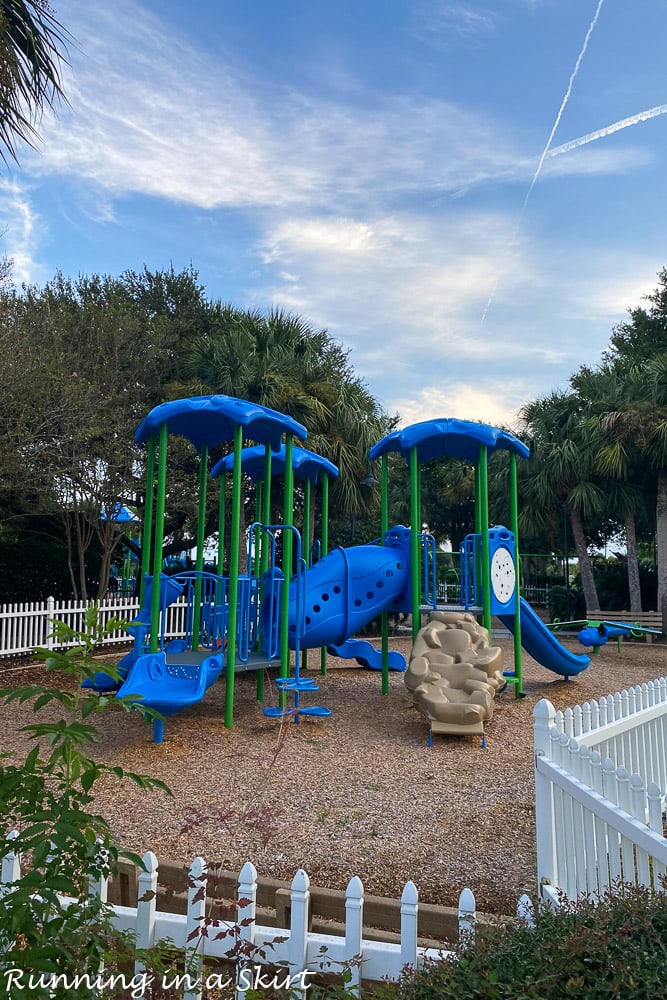 Boating
Looking for more things to do on Jekyll Island? You can't visit a barrier island without boating? The island offers boat tours, airboat tours, kayaks, and paddleboards. You can do everything from exploring the marsh and river to dolphin tours and sunset rides. Here are a few places that rent equipment and offer tours.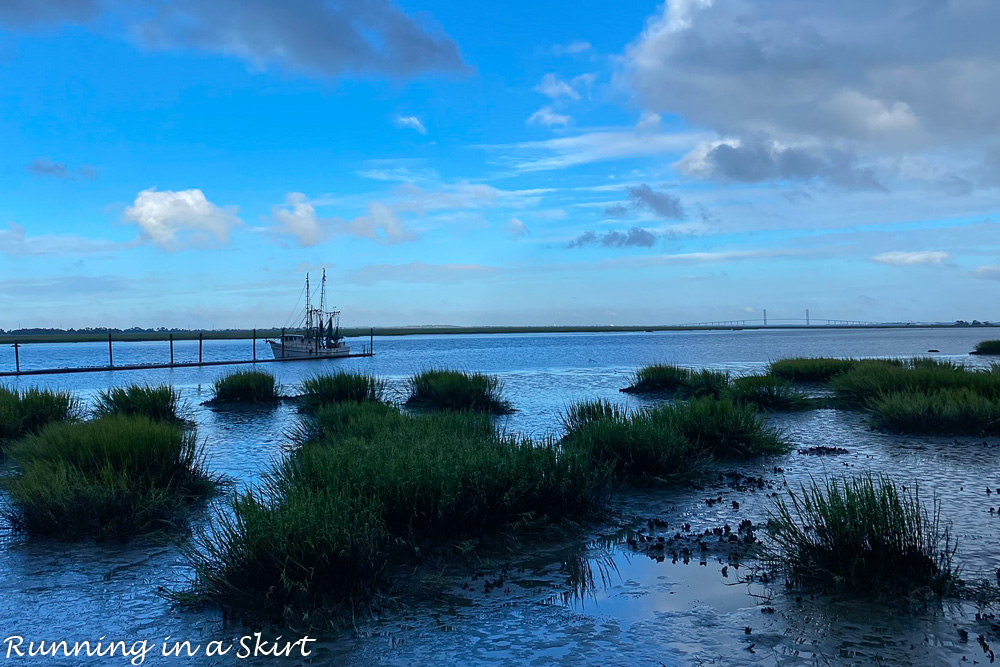 Tideland Nature Center
The 4-H Tideland Nature Center is another unique things to do in Jekyll Island. This spot is run by the Georgia-4H and has hands-on ecology programs, native wildlife including touch tanks, and guided tours of the salt marsh creeks. It's a charming nature center that has turtles, fish, crabs, and other critters. It's a must-visit for kids!
Visit St. Simons Island
If you are staying on Jekyll Island, consider a day trip to visit St. Simons Island as something to add to your list with things to do in Jekyll Island
St. Simons Island is larger and more developed but still oozes charm and history. They have a historic downtown, a lighthouse, and some absolutely delicious seafood restaurants.
To help you decide what to do on your day trip, check out my guide on Things to Do in St. Simons Island Georgia.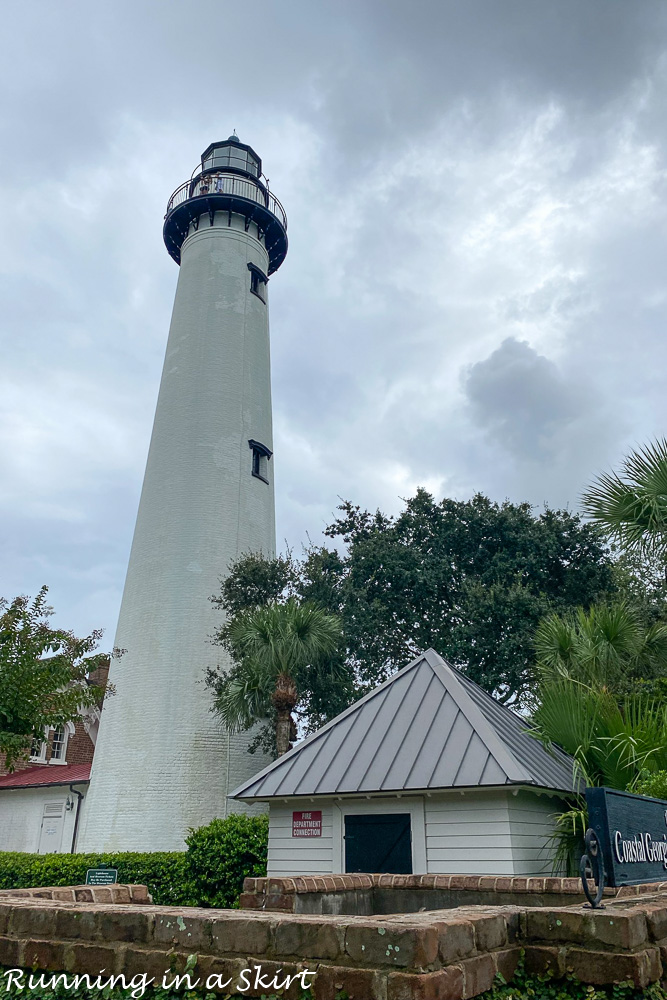 Dine with a View
Jekyll Island has some great waterfront restaurants and is a must-try thing to add to your list of things to do in Jekyll Island. Waterfront dining is a must on the island and here are the best spots to dine with a view.
Tortuga Jack's Baja Mexican Restaurant- This beachside spot adjacent to Great Dunes Beachpark is a favorite spot among visitors!
The Wharf Restaurant- This historic spot is part of the Jekyll Island Club Resort and is in on the local pier. It has unparalleled views, delicious seafood, and charming decor.
Zachry's Riverhouse - Located along the river, this gorgeous spot has delicious seafood and American food with river and sunset views.
If you are looking for where to eat on the island, I also published my Jekyll Island Restaurants Guide which breaks down all of the options for dining on the island. It's a must-read before planning your trip.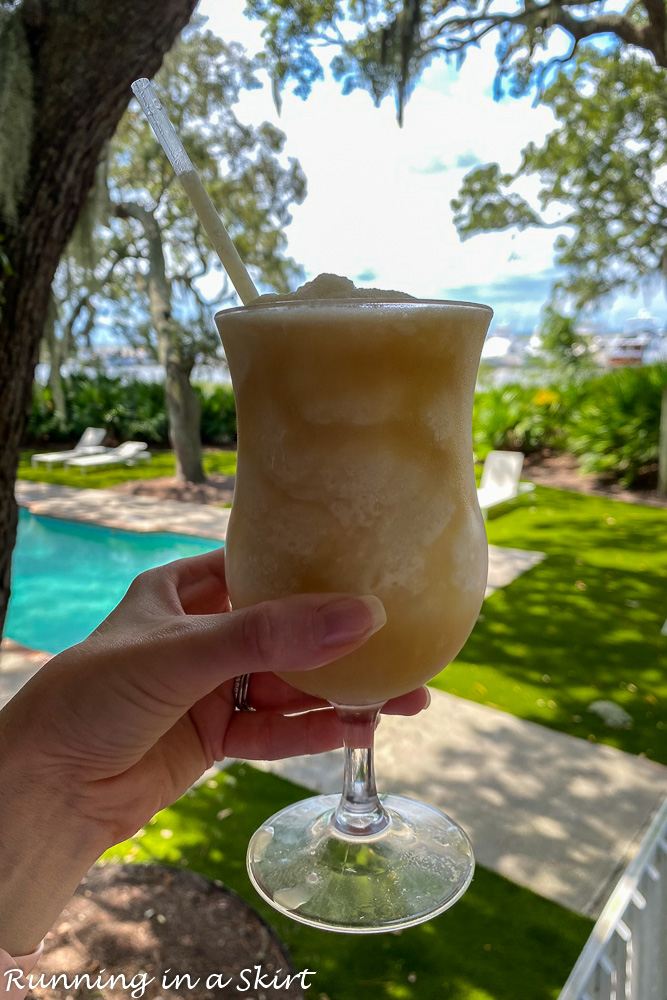 More about Jekyll Island Georgia
Weather & When to Visit
Jekyll Island is a year-round destination, but summer is by far the busiest and most popular season. If you are looking for warm, sunny beach weather, this is your time to come. Summer weather ranges from the upper 90s to lows in the mid-70s.
The shoulder seasons of late spring and early fall can be lovely, with fewer crowds but still getting mild weather to enjoy the beaches. Temperatures can range from the '70s to the low 80s for highs.
The off-season is from November to March and is much slower. Temperatures can range from the mid-60s with lows in the mid-'40s. Although it might not be warm enough to just sit on the beach, it's still great weather for walks, boating, and biking.
Is Jekyll Island worth visiting?
Jekyll Island is a fascinating barrier island with a unique and rich history that is totally worth visiting. I've been to many of the barrier islands along the coast of this region, and Jekyll is a spot that can't be missed. The rich history, historic district, driftwood beach, AND turtle center make it a spot worth at least a long weekend. If you love a slower spot, without high-rises or development, you will adore this island. It's also super fun to get around on golf carts.
How do you spend the day on Jekyll Island?
If you have one day on Jekyll Island I would go to Driftwood Beach in the morning and then explore the historic district including a quick visit to the Georiga Sea Turtle Center. Make sure to make time for a quick meal at the Wharf or Zachry's Riverhouse.
Is it better to visit Jekyll Island or St. Simons Island?
Both Jekyll Island and St. Simons Island are truly unique places with the time to visit. They are both super unique and I would make time to visit both.
If you like a slower pace, no traffic lights, and very little development, try Jekyll Island. It's a sleepy spot that's oozing with charm. To get eh full experience get around by golf cart or bike.
While St. Simons Island is still a very small spot, it does have more activity and restaurants. If you need good food, St. Simons Island restaurants were more numerous and overall better. Check out my guide to visiting St. Simons Island here.
More Jekyll Island Travel Infromation:
Top Things to Do in Jekyll Island
Click To Tweet
Travel Guides for Nearby Islands:
Pin for later