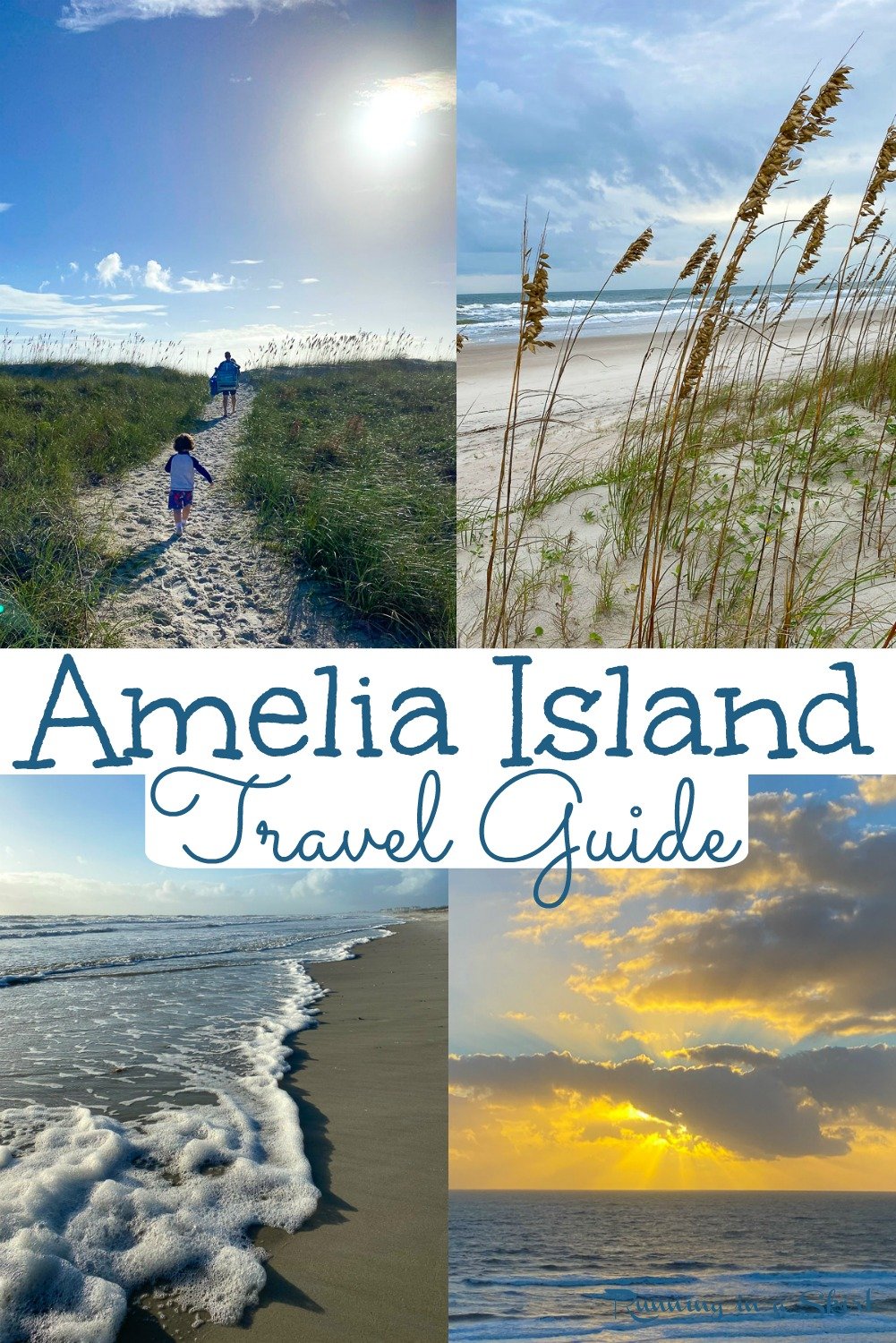 Curious about what to do in Amelia Island Florida? If you are thinking about visiting Amelia Island and Fernandina Beach I'm sharing my favorite things to do in Amelia Island including the best beaches and adventures on this charming barrier island along the North Florida coast.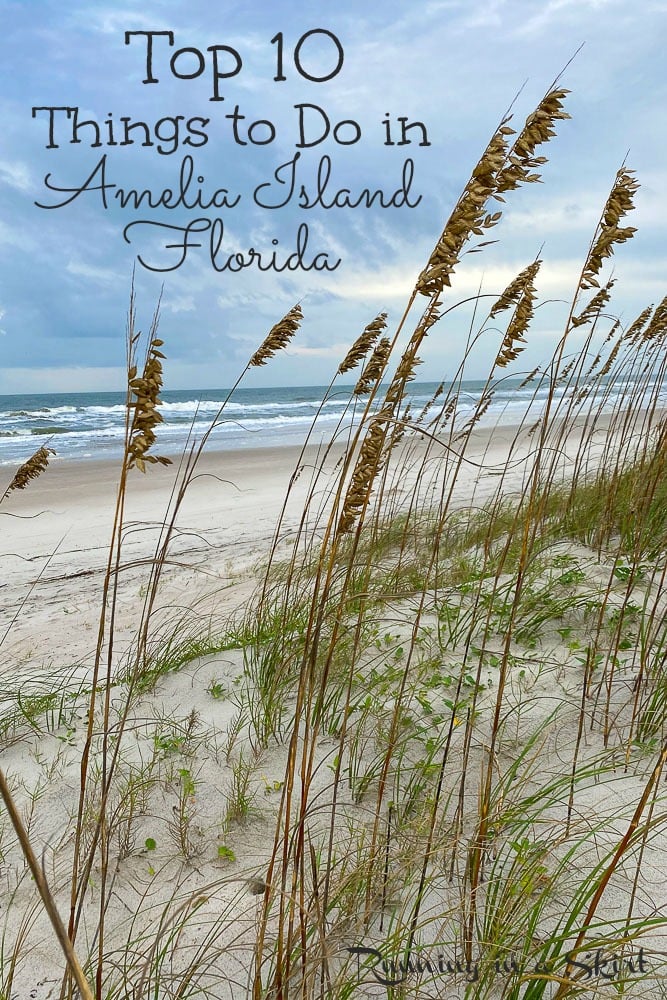 Amelia Island is a special place. It's Florida's northernmost Atlantic Ocean barrier Island and part of the famous Sea Islands barrier island chain which stretches north into Georgia and South Carolina. It has the perfect combination of a quirky but quiet beach community AND a historic small town to make it a bit different and unexpected. The beaches are pristine, the historic downtown area, Fernandina Beach, is ridiculously charming. Plus the food is absolutely delicious and memorable making this a must-visit spot.
Even though it's small there are still so many things to do in Amelia Island. I already shared my Top 15 Moments from Amelia Island but today I'm breaking down the details with my post about what to do in Ameila Island.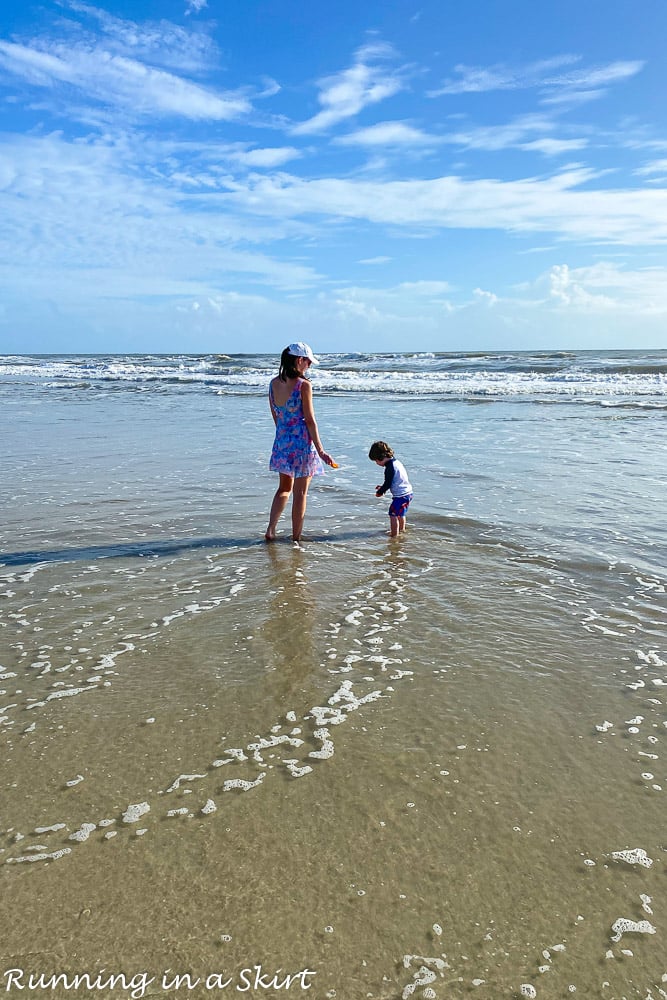 The best part of Amelia Island is it's very laid-back not quite as busy as some of the other barrier islands and is really known for its natural beauty. You will not find as much development here and it definitely feels like a bit more of a secret spot.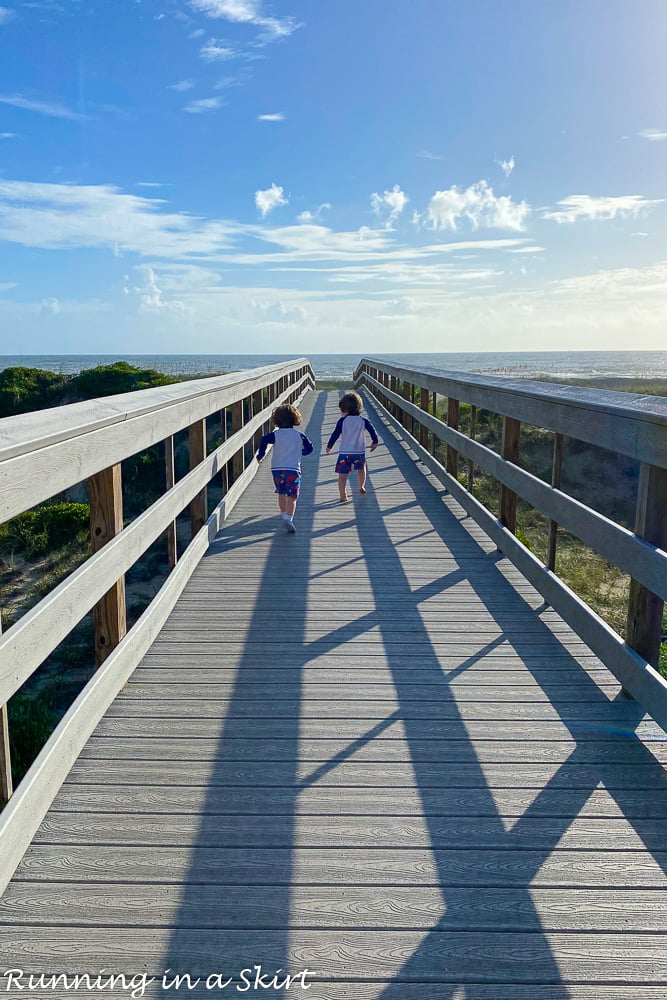 And just look at these beaches! The twins had the run of them and enjoyed every minute.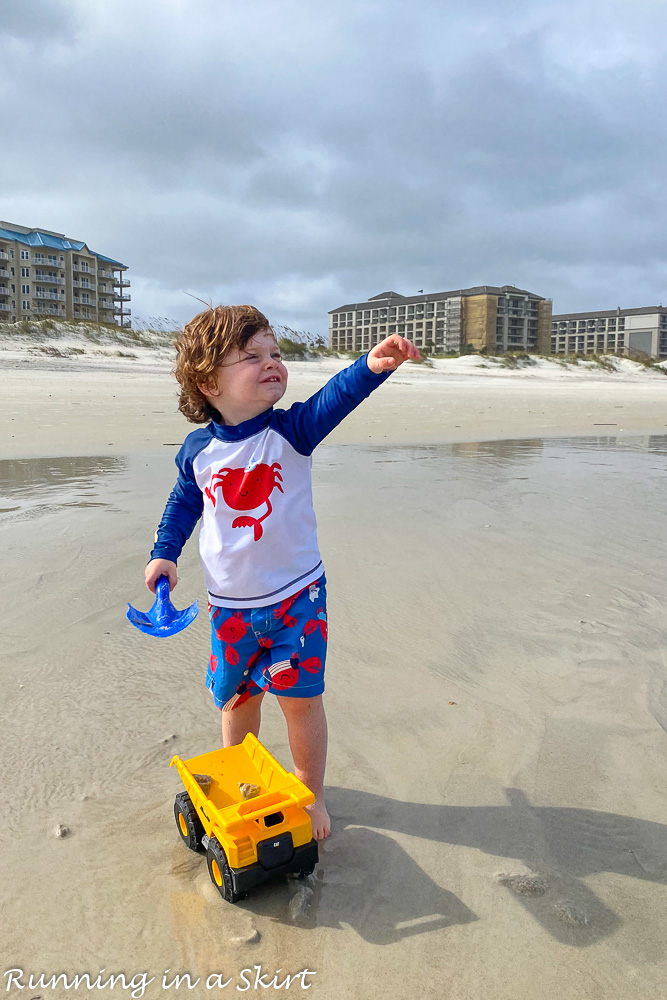 While it doesn't have the traditional attractions of many beach towns, It's the perfect location for adults and kids of all ages. It's one of my favorites spots we've vacationed at over the years. It's hard to narrow it down because there are SO many lovely things to do in Amelia Island but here are my favorites.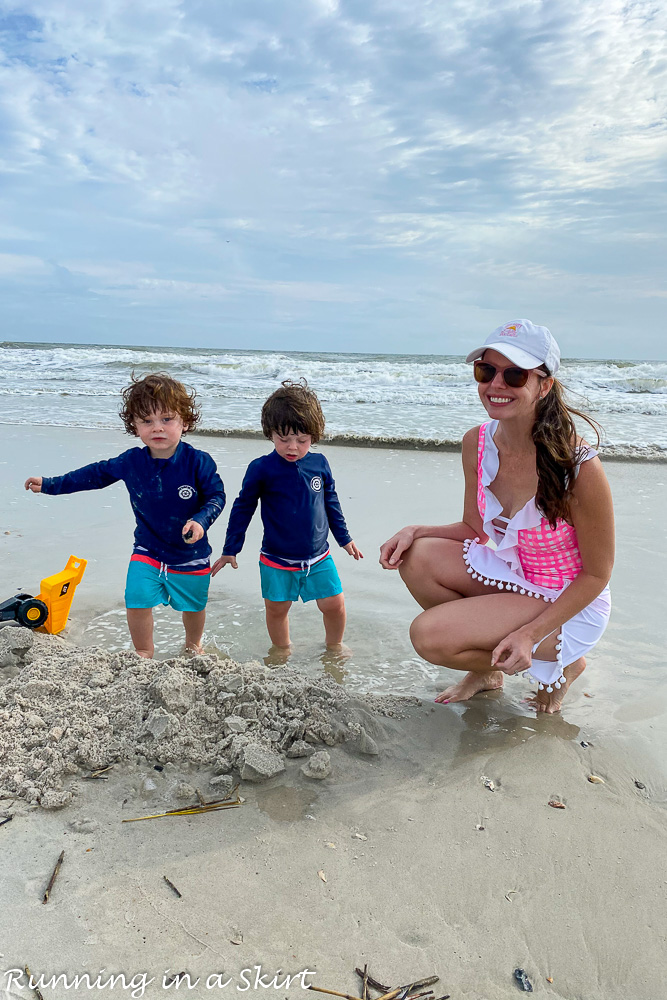 If you are curious about what to do in Amelia Island start here.
What to Do in Amelia Island
Enjoy the Beaches
Amelia Island is lined with gorgeous natural beaches. The beaches are wide with lovely sand dunes. If you want to know what to do in Amelia Island... the BEACHES are at the top of the list.
They are filled with white and golden sand that is irresistible for both kids and adults.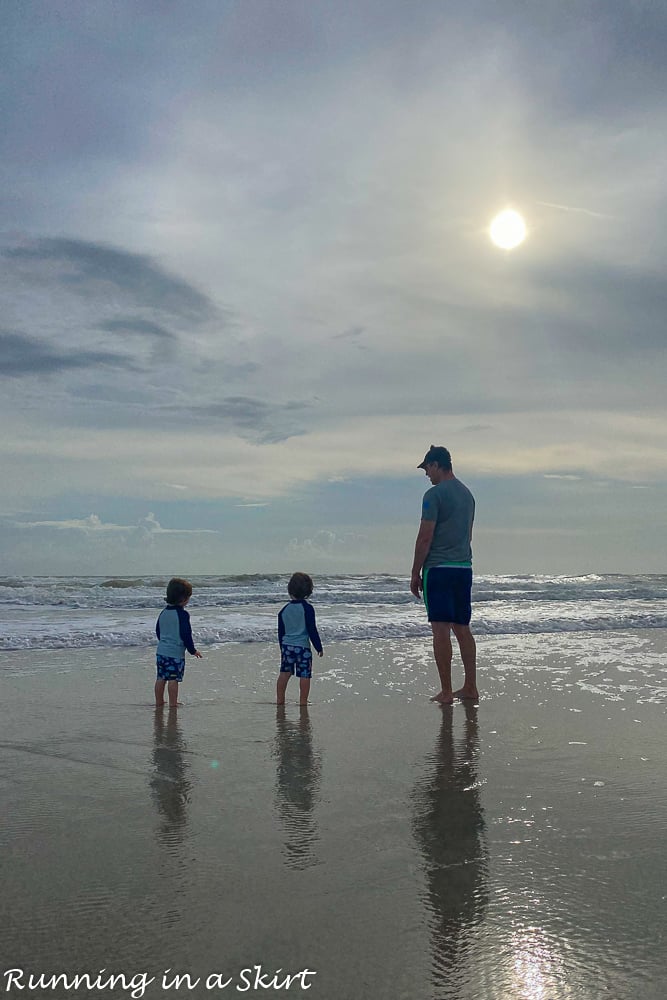 There are 40+ public beach access points making it a wonderful thing to do for the day even if you are just passing through. There are over 13 miles of gorgeous shoreline to explore.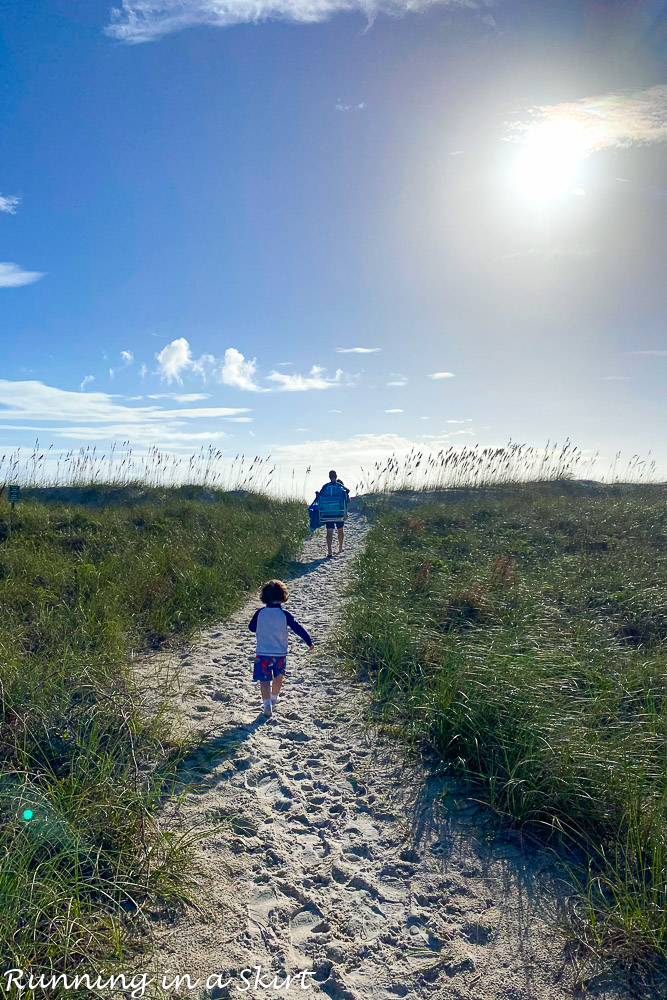 Shelling & Sharks Tooth Hunting
Amelia Island's beaches lend themselves perfectly for shelling. There are lots of shells to find from scallops, moon snail, or whelk.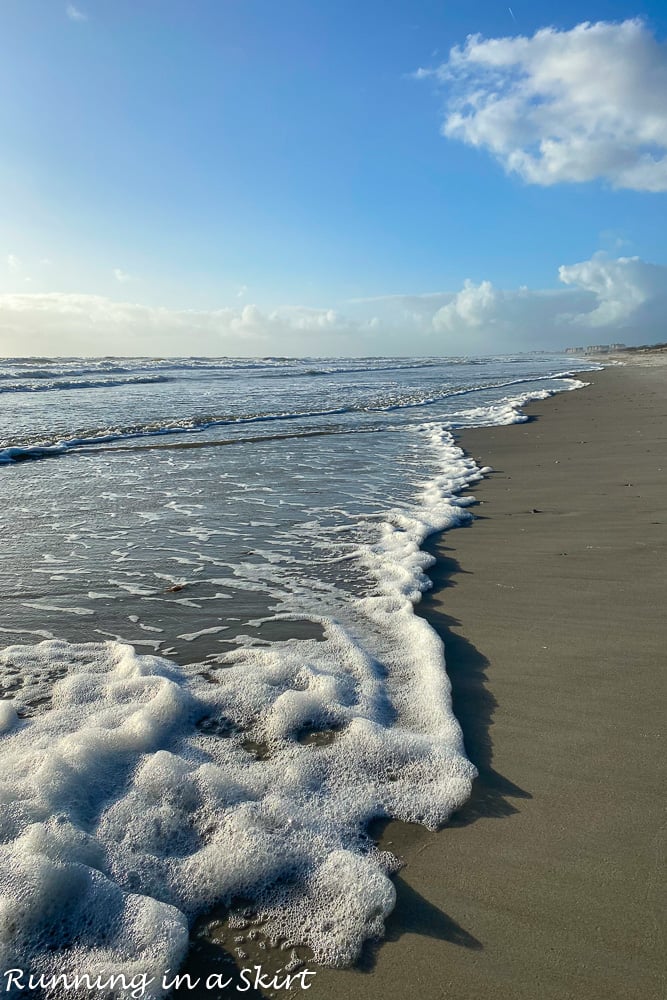 One of the coolest things about the area is there is an abundance of sharks' teeth along the beach. You can often find them when the tide is going out and there are several hands-on classes you can sign up for the help you find them.
With the twins running around we couldn't take the time to focus on finding them BUT we are excited to come back in the future and go shark tooth hunting when the boys are older.
Explore Downtown Fernandina - Downtown Amelia Island Historic District
Fernandina Beach is the beach community connected to Amelia Island and is where the downtown historic district is actually located. It's a short 15-minute drive and is technically Fernandina Beach but is well worth the trip. The 50-block historic downtown is full of lovely independent dining options, shopping, and charming tree-lined streets.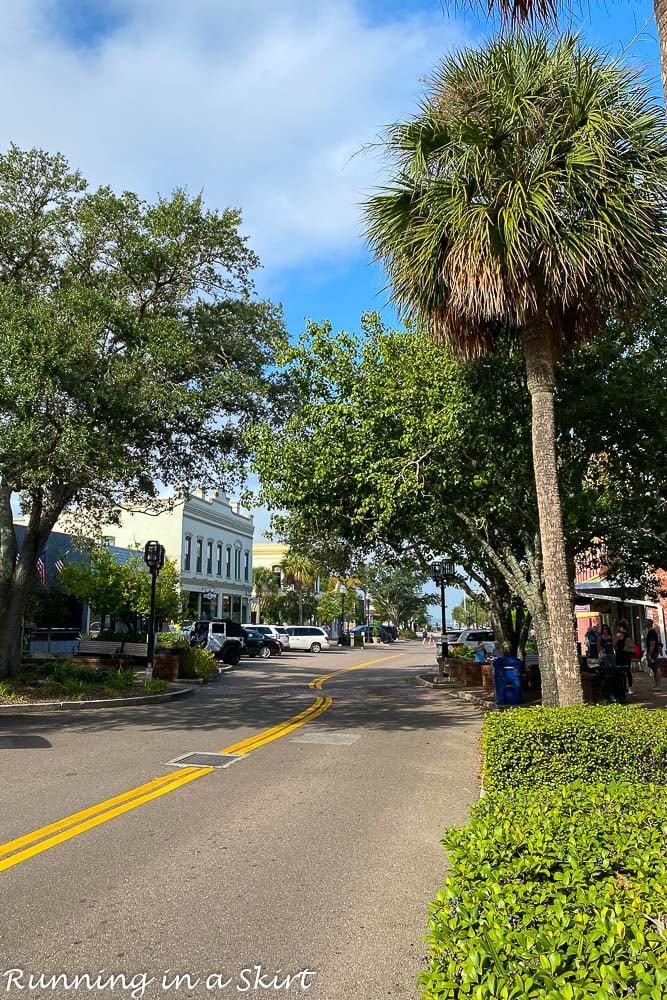 We went early one morning to avoid crowds. We walked around and simply loved it! I would have loved to stop for lunch and shop but we are still being super careful with the virus and only walked around where we could mostly be by ourselves.
The entire downtown is on the National Register of Historic Places including this fun spot, Palace Saloon, which is Florida's oldest bar that's been in business since 1903.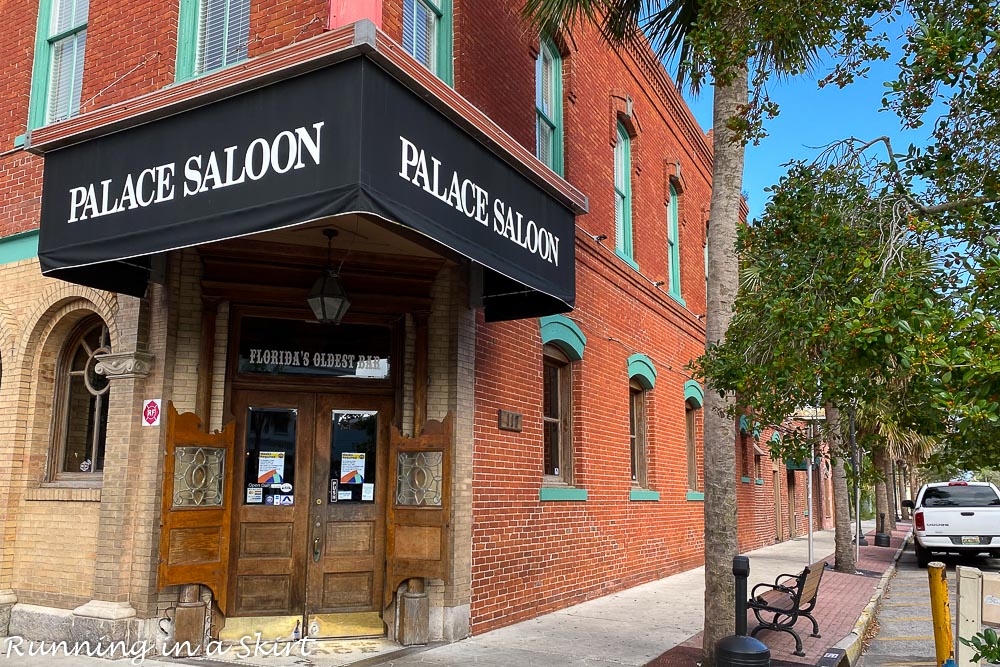 There are also fun treasures that pay homage to the town's spirited coastal history with pirates.
My boys also loved the harbor with lots of boats. The only reason they look mad in this photo is because I turned the stroller to get this photo and they could not longer SEE those boats.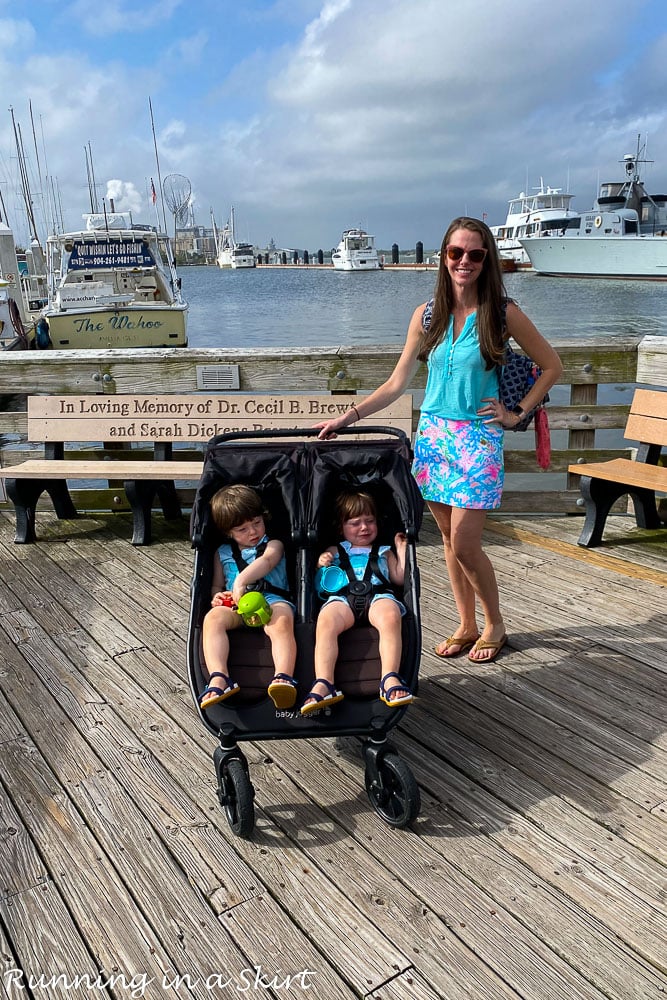 Explore by foot or there is even a sight-seeing trolley tour that shares local history. I can't wait to spend more time in this charming city on future trips. This is a must-stop on any what to do in Amelia Island list.
Visit Fort Clinch State Park
Fort Clinch is the island's largest state park and has beach access, a fishing pier, and is home to the Civil War-era fortress. It's a total GEM for both history and nature lovers.
We went right after a storm and had the place to ourselves!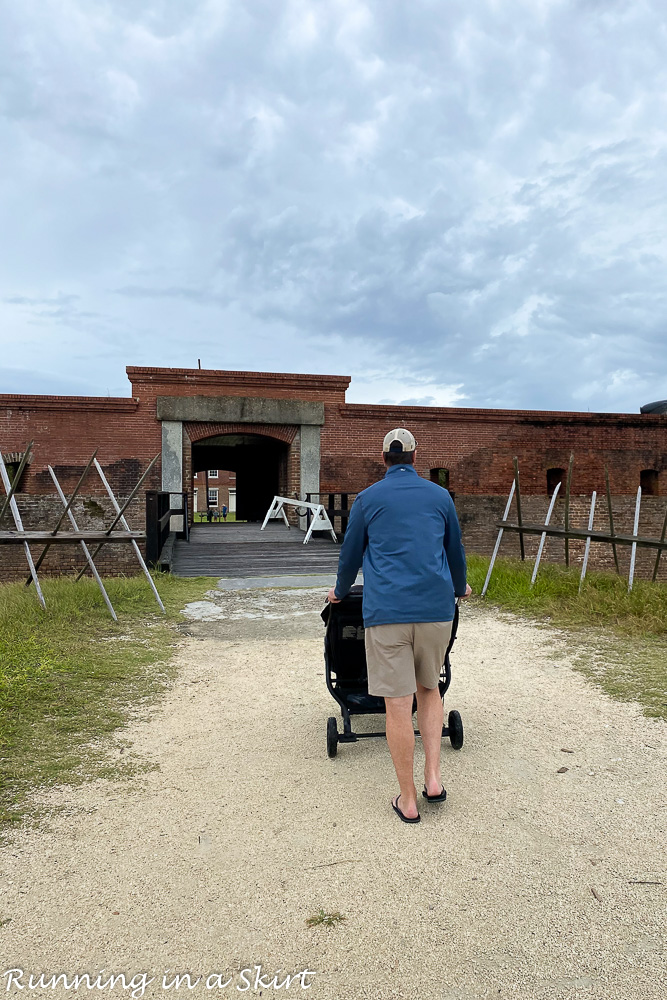 The fort itself has a fascinating history and gorgeous water vistas making it a great place to stop and learn a few things. There are normally re-enactors sharing history and doing tours, but with the current situation, they aren't doing that.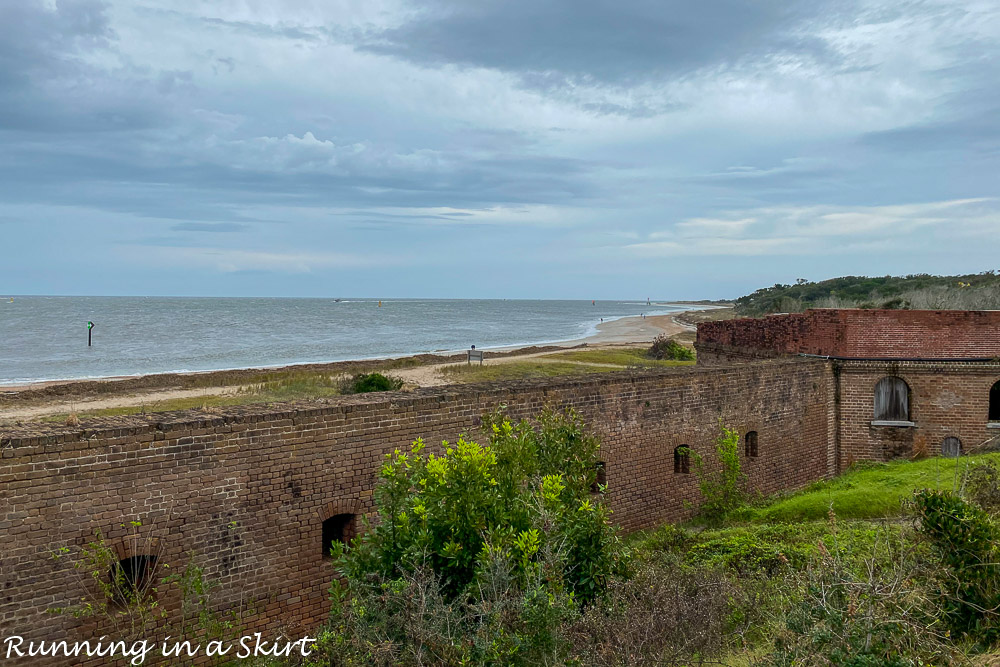 We still really enjoyed walking around and sharing a bit of the history we knew with the boys.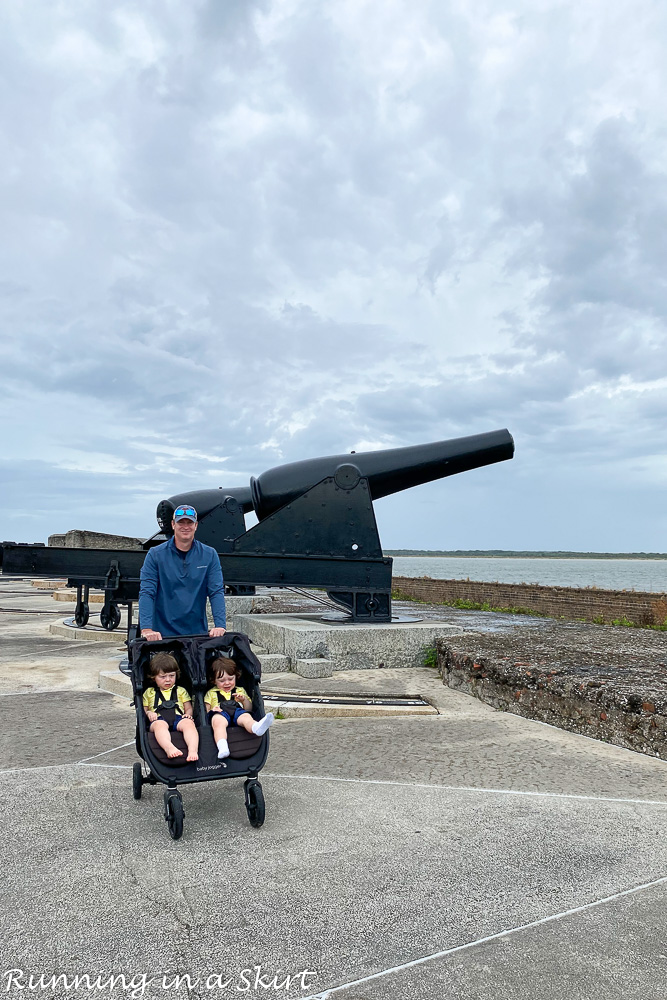 They loved looking in the windows to see the furnished old rooms and most importantly splash in the puddles.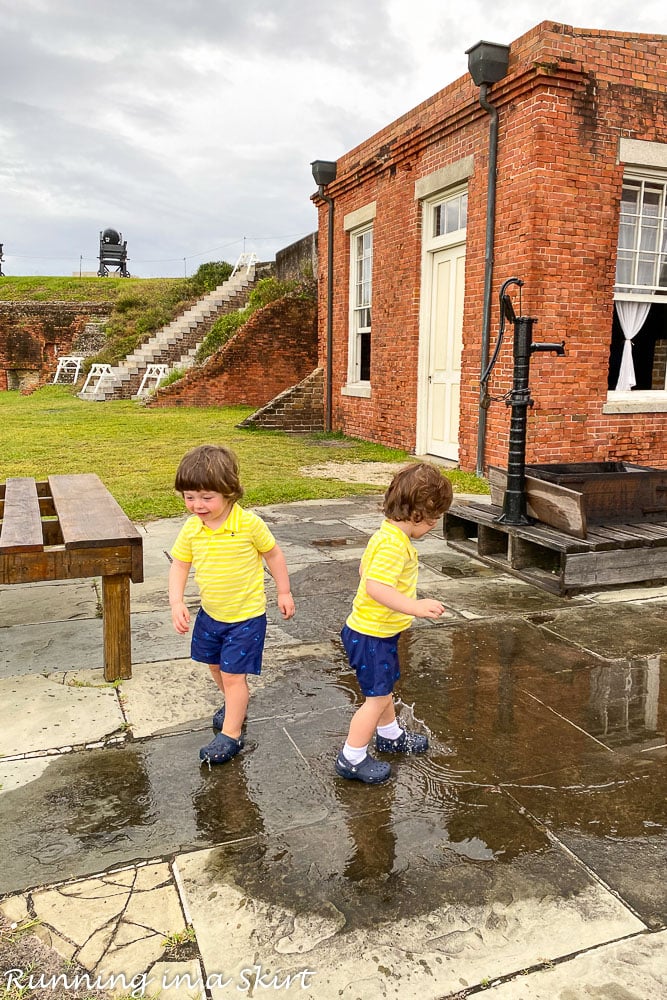 And if history isn't your thing the park is home to gorgeous outdoor vistas along the marsh and beaches. Isn't this one stunning?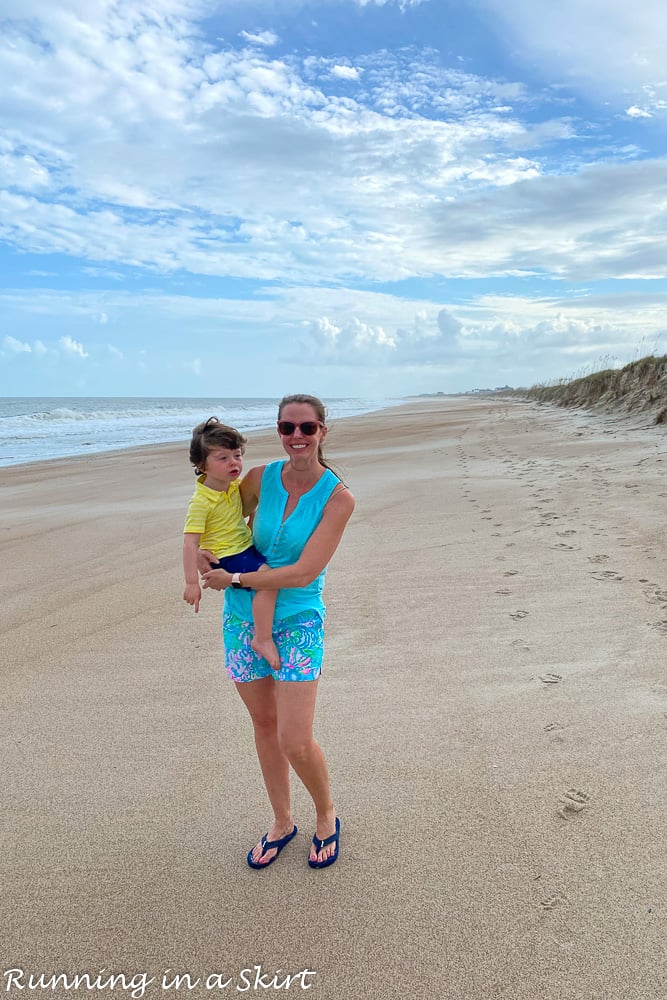 Shop at The Shops at Amelia Island Plantation
We had a super windy day on our trip that made going to the beach a bit rough so we decided to take that time to explore The Shops at Amelia Island Plantation. It's another super charming and relaxing area on the island.
And once again Hunter was having a nice time he was just upset he couldn't see the water again.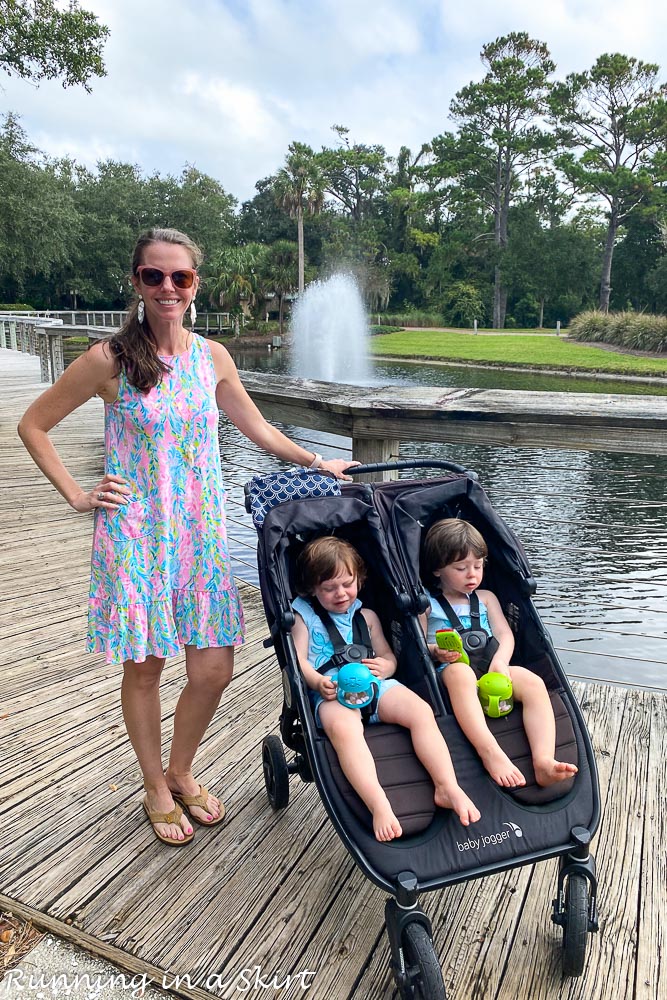 The area is very walkable with a fountain, palm trees, and lots of cute places to sit. The individual boutiques are all in cute little cottage-style buildings.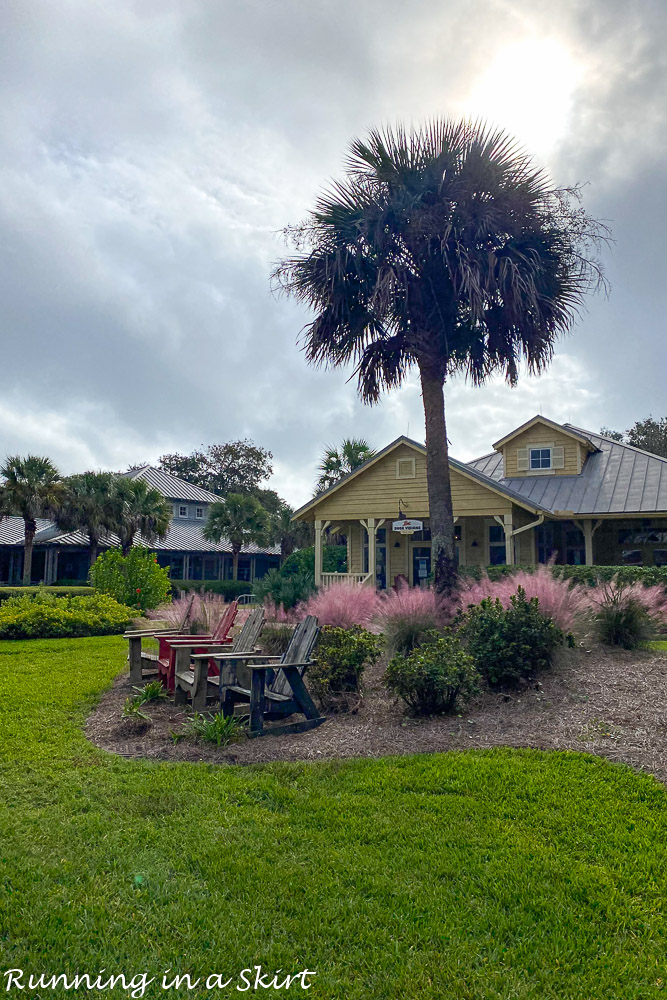 We also walked back to the Nature Center which looked great for kids.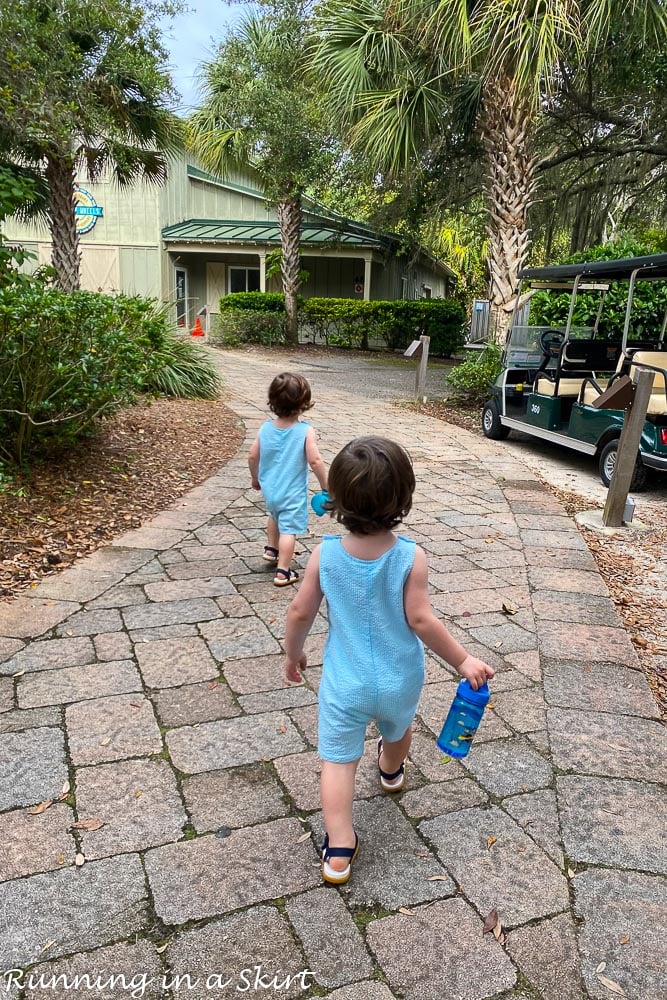 Once again we just explored the outdoor areas but it was really cute and there were lots of places for the twins to safely get out of the stroller and walk around.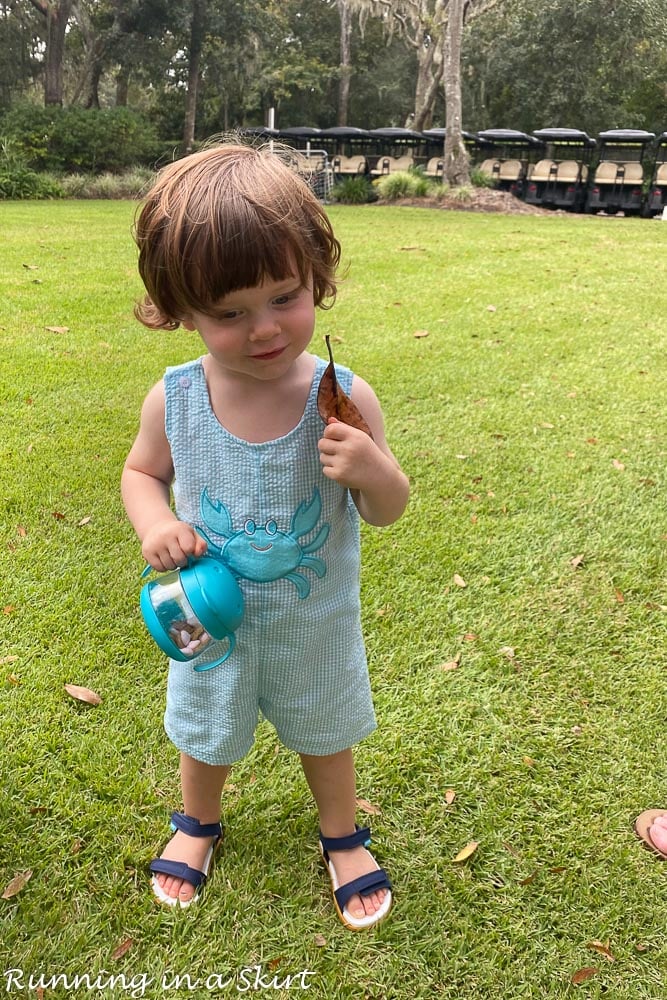 They also rent bikes and have a few restaurants in this lovely area. It is definitely worth a morning or afternoon on any trip.
Walking & Biking Island Trails
One of the best parts about Amelia Island is the shaded walking and biking trails. It makes the area really walker-friendly and fun to get around. I ran on the beach most days but the one day it was really windy it was nice to have a shaded path to enjoy.
The paths reminded me of the ones on the other Sea Islands of Hilton Head and Kiawah.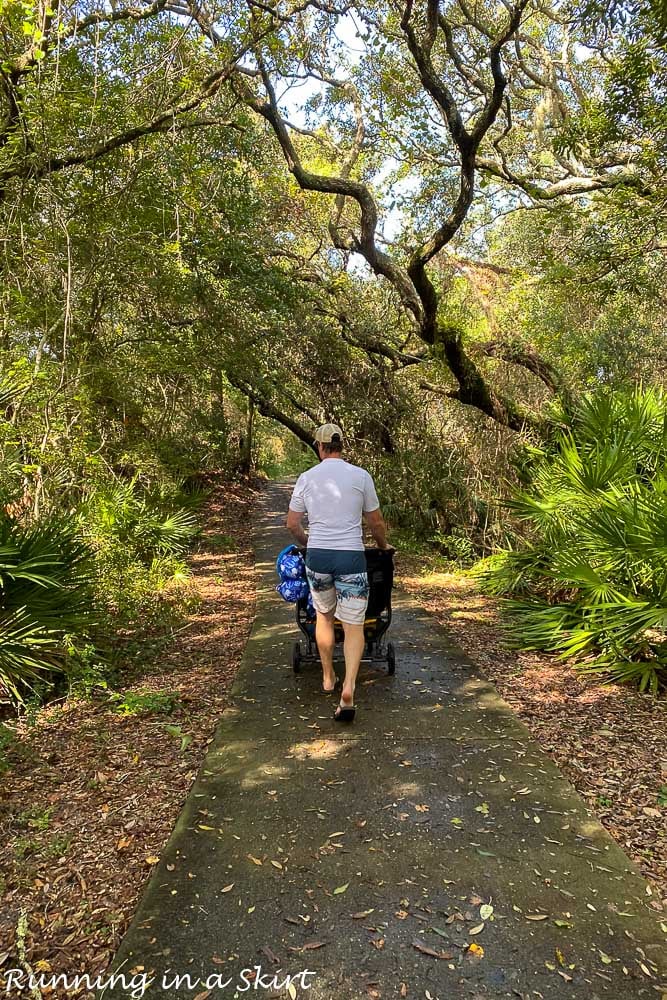 Hit the Pools
We had some cloudy and not so Florida-like weather on our trip BUT that actually worked out for us because that meant we had the pools all to ourselves. We weren't planning on using them with the current situation but when they were completely empty, we could not resist.
It was a bit cold but the Hubs played with the twins and they adored it.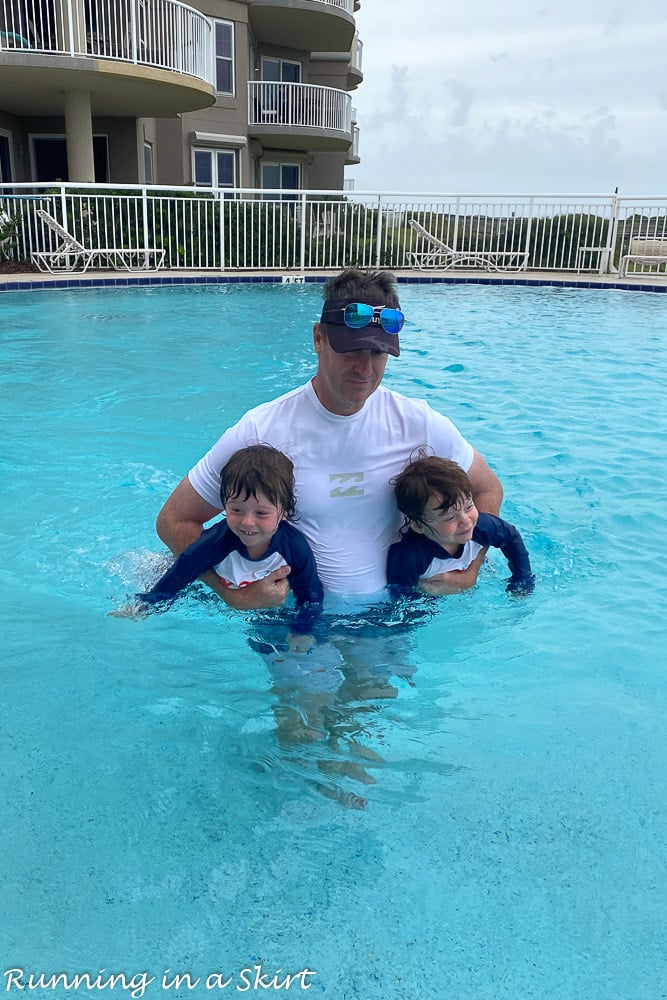 We also got to use the amazing toddler pool at the resort my Dad stayed at and the boys had the BIGGEST smiles the entire time. It was so fun to be able to do something so normal and I'm actually kind of glad the weather wasn't perfect or we wouldn't have felt comfortable doing this!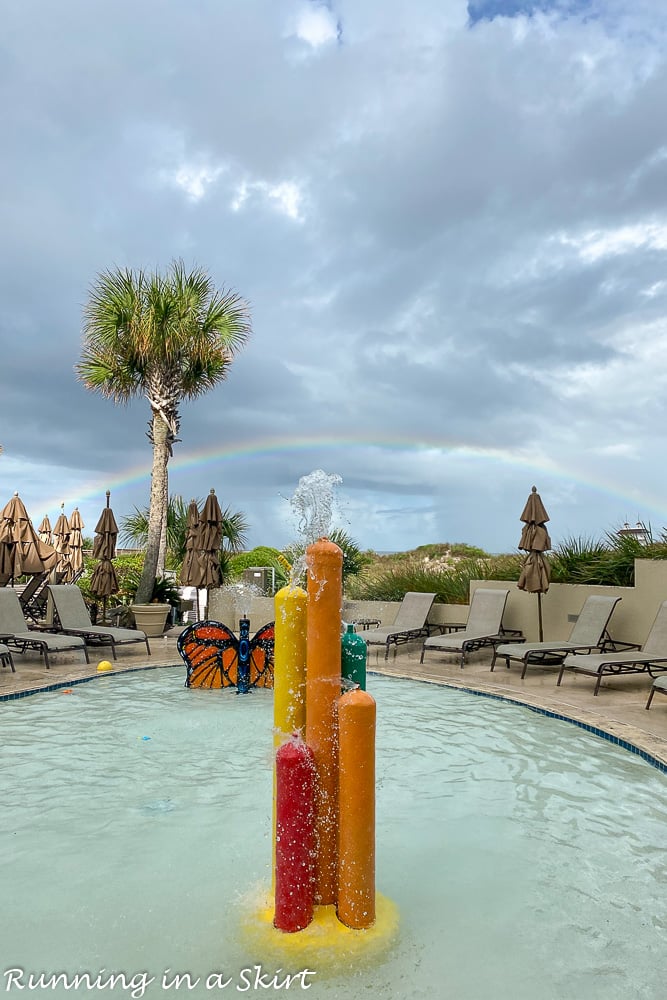 AND we even saw a rainbow. 🙂
Spot Wildlife
Amelia Island isn't as developed as a lot of beach communities so there is lots of wildlife to spot. You can see all sorts of sea life, deer and even turtles! We spotted these in the dunes each day and the boys had to stop and say HI! from a safe distance each time we walked by.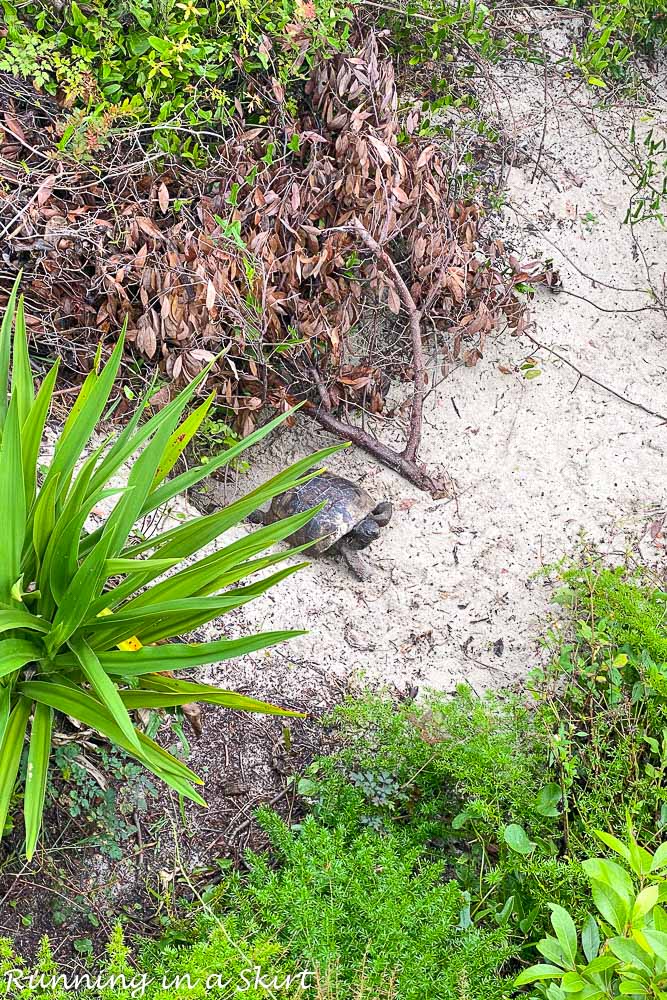 Watch the Sunrise
Is there anything better than watching the sunrise at the beach? Not much in my opinion.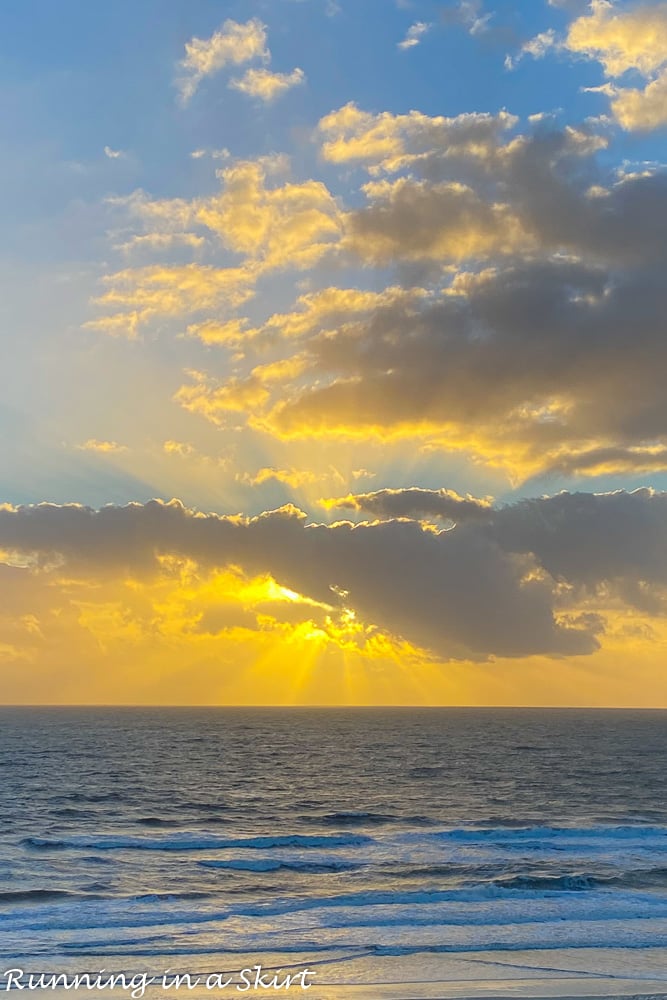 The sunrise coming up over the water is gorgeous and is the perfect reason to visit this gorgeous Atlantic coast beach.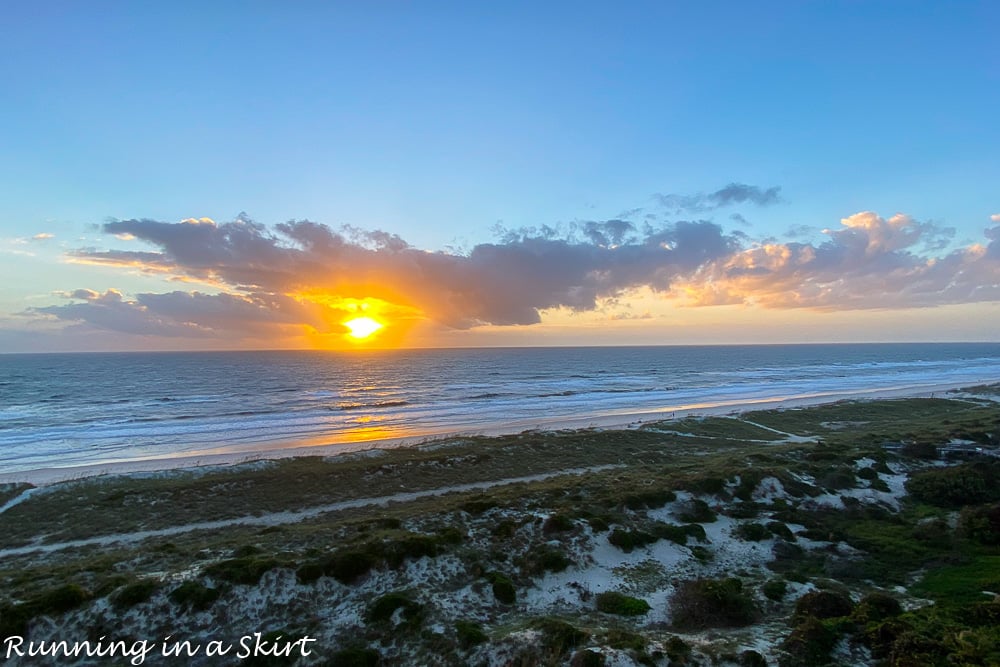 If you are curious about what to do in Amelia Island... this is it!
Eat at Amelia Island Restaurants
We REALLY enjoyed the food on our trip. We still aren't eating at restaurants and got takeout BUT enjoyed the food each night. We had loads of fresh seafood that was all so good. One of my favorites was Timoti's Seafood Shack. We got this irresistible Lobster Roll among some other seafood goodies.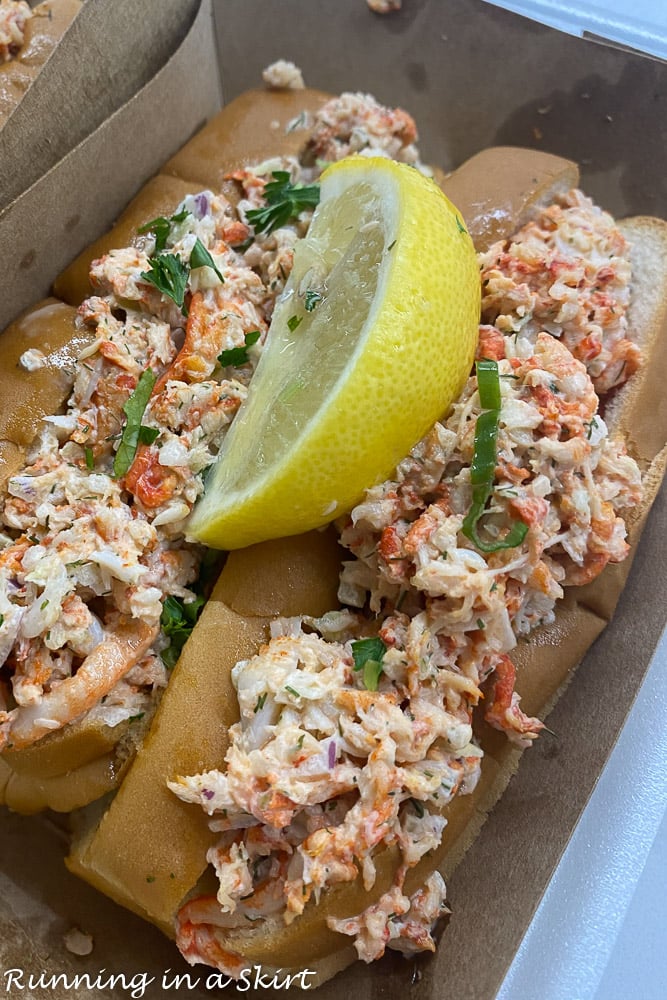 If you aren't eating your way through this town you are missing out.
Of course, I have lots of wonderful FOOD photos to share with you guys! There were so many I put it in a separate post which you can read here.
Other Amelia Island Activities
We certainly couldn't do EVERYTHING in a week but here are some fun adventures and things to do around Amelia Island FL that caught my eye. We'd love to try some of these on future trips.
Water Sports - Enjoy all sorts of water sports like renting a kayak, surfing, or even paddleboarding.
Amelia Island Horseback Riding - The area is known for its beach horseback riding which is a bucket list adventure for many!
Amelia Island State Park - In addition to Fort Clinch there are also several other well-loved state parks to explore.
Fernandina Beach Market Place - The area weekly farmer's market in the historic district has vendors selling food and crafts. It's held on the second and fourth Saturday of the month.
Boating & Fishing - The ocean and intercoastal waterways make boating and fishing a perfect pastime on Amelia Island.
More About Amelia Island FL
Where is Amelia Island?
Amelia Island is in north Florida on the East coast right at the Georgia border. It's just 45 minutes northeast of Jacksonville. There are two bridges that connect the island to the mainland making it easy to get to.
Is Amelia Island Worth Visiting?
YES! Amelia Island is a charming place and is absolutely worth the visit. I love going to Hilton Head but this was a lovely change of pace and has a slightly different feel. The beaches aren't as crowded and the food is also really good making Amelia Island a location we plan to visit again.
Things to Do in Amelia Island with Kids?
Amelia Island is VERY toddler-friendly and we did all these activities with the twins! It doesn't have a lot of the typical beach development teenagers might crave but it's the perfect destination for younger kids and adults.
More Amelia Island Resources:
We loved our trip to Amelia Island I hope you enjoyed me sharing with you what to do on Amelia Island! I hope you get to plan your own trip sometime soon.
Pin for later!