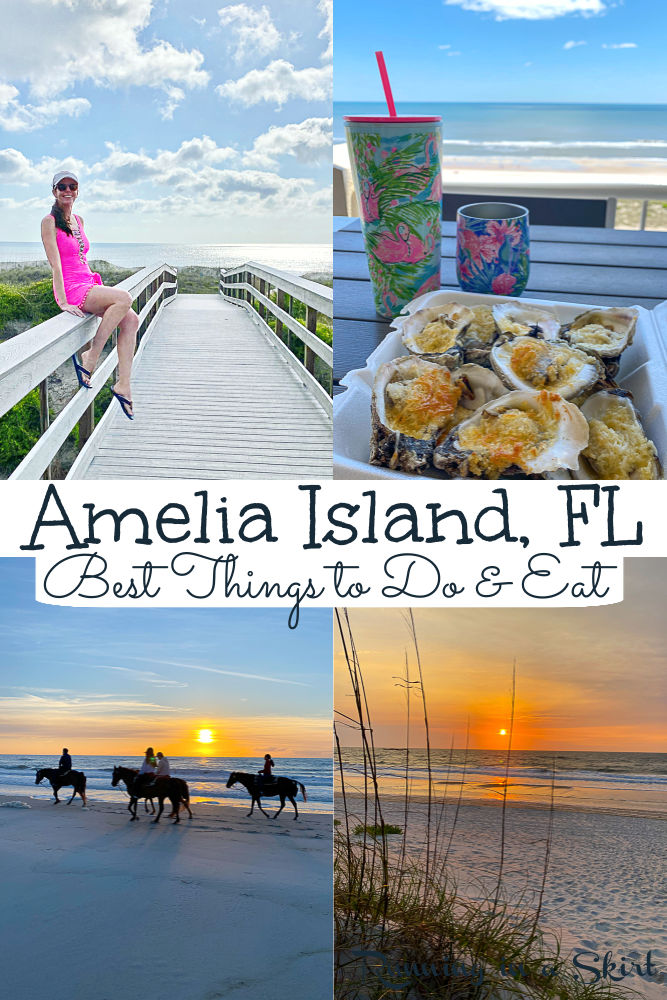 Curious about visiting Amelia Island Florida? I'm sharing my top tips to visit this gorgeous nature lovers paradise in Northeast Florida in my Amelia Island Travel Guide. You'll find the inside scoop on what to do, including the best beaches, state parks, where to stay, and the best places to eat.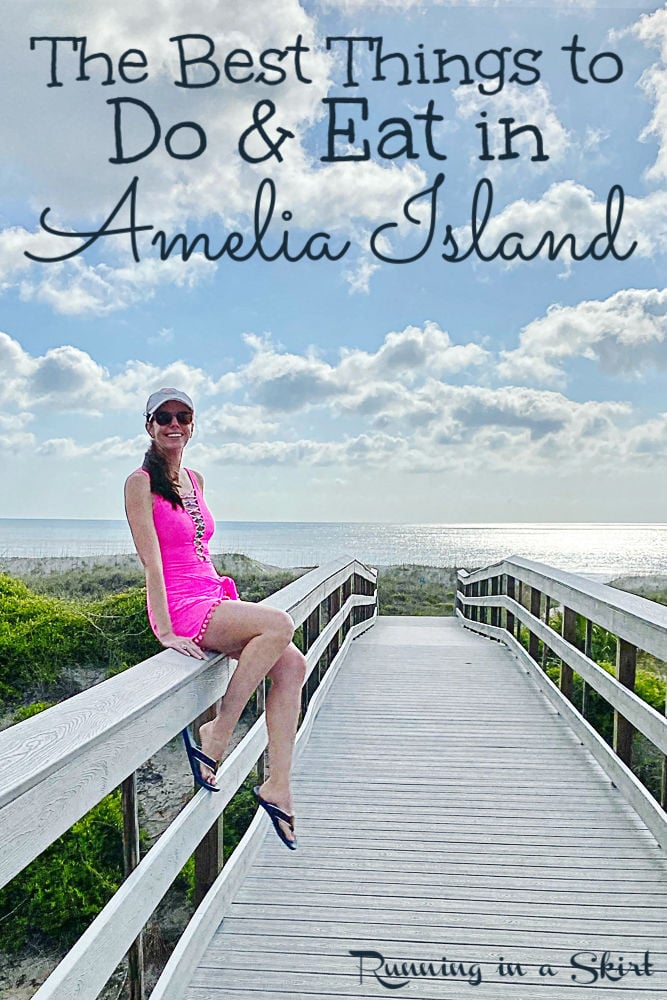 Amelia Island Travel Guide
Amelia Island Florida is not your typical Florida beach town. There are no neon signs, obnoxious hi-rise hotels, or overgrown development. In fact, this dreamy location somehow managed to keep much of its natural beauty making it a beach and nature lover's paradise. There are nearly 13 miles of uncrowded beaches and a general sense of calmness everywhere you go. If you are looking for a place that's a bit quieter, more tranquil beach vacation, this is your spot. In fact, I'm a bit hesitant to write this Amelia Island Travel Guide because the destination still feels a bit secret to me, and I selfishly kind of want to keep it that way.
BUT, I know many of you would love this island so much too so I just can't keep it to myself. I'm sharing some of my favorite things about this lovely island located along the North Florida coast.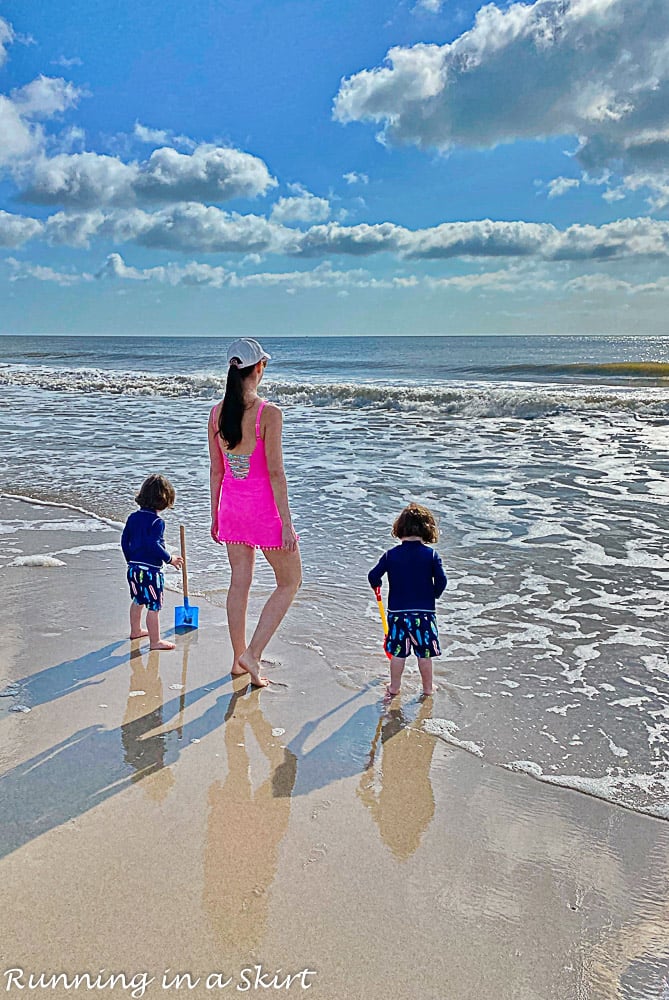 Unlike many quiet beach locations, there is still lots to do on the island including amazing restaurants, captivating state parks, historical downtown Fernandina Beach and even luxury hotels. This 13-mile by 4-mile wide island might be small, but it packs a big punch.
Plus, the un-spoiled golden-hued beaches can't be beaten.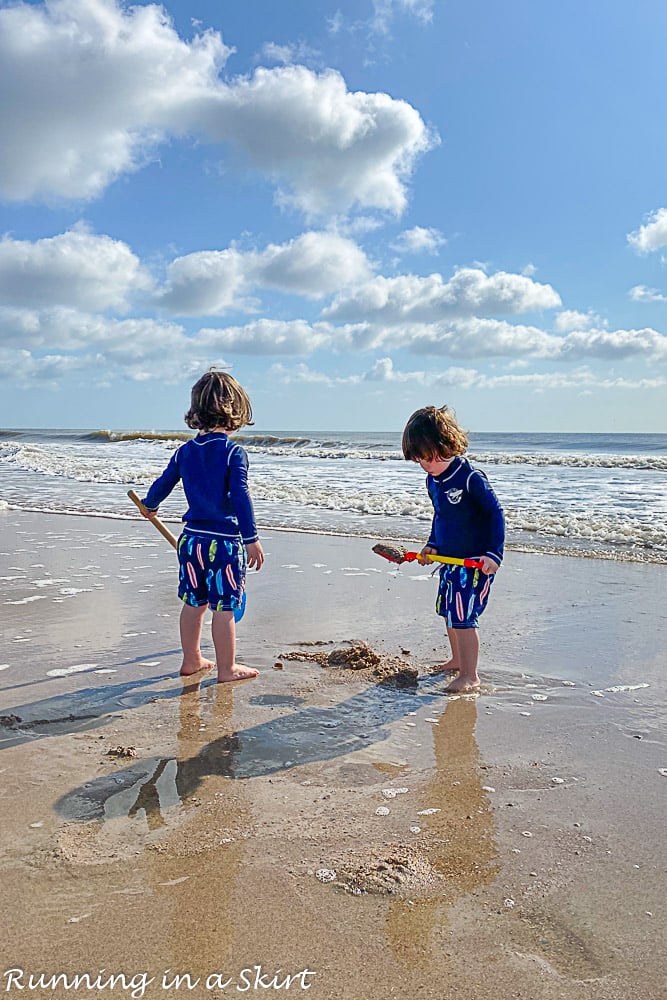 Where is Amelia Island?
Amelia Island is part of the Sea Islands chain that stretches from South Carolina to Florida and includes other popular tourist destinations like Hilton Head, Tybee Island, and Jekyll Island. It's the southernmost island in the chain and is located in the Northeast corner of Florida just over the Georgia border. It's often grouped together with Fernandina Beach is just to the North and includes a historical downtown.
The airport near Amelia Island is the Fernandina Beach Municipal Airport which is a general aviation airport, which we fly into. If you fly commercial it would be most convenient to go into the Jacksonville Airport and rent a car. Jacksonville is just 30 miles away.
Directions to Amelia Island:
From Jacksonville, you take I 95 North for about 20 miles until you reach FL 200. Go East on FL 200 until you reach Amelia Island.
When is the best time to go?
Amelia Island is a lovely place to visit year-round. Even during the winter months, average highs are in the mid 60's making it perfect for doing things outdoors. The best times to go to the beach would be spring, summer, and fall when it's generally above 70 degrees.
I've visited in October and April and both visits had temperatures between 70-85, which an occasional cooler day in the 60's.
It can be very hot from June to August with the average high temperature hitting near 90.
Depending on the type of weather you like for your beach vacation, there is something for everyone!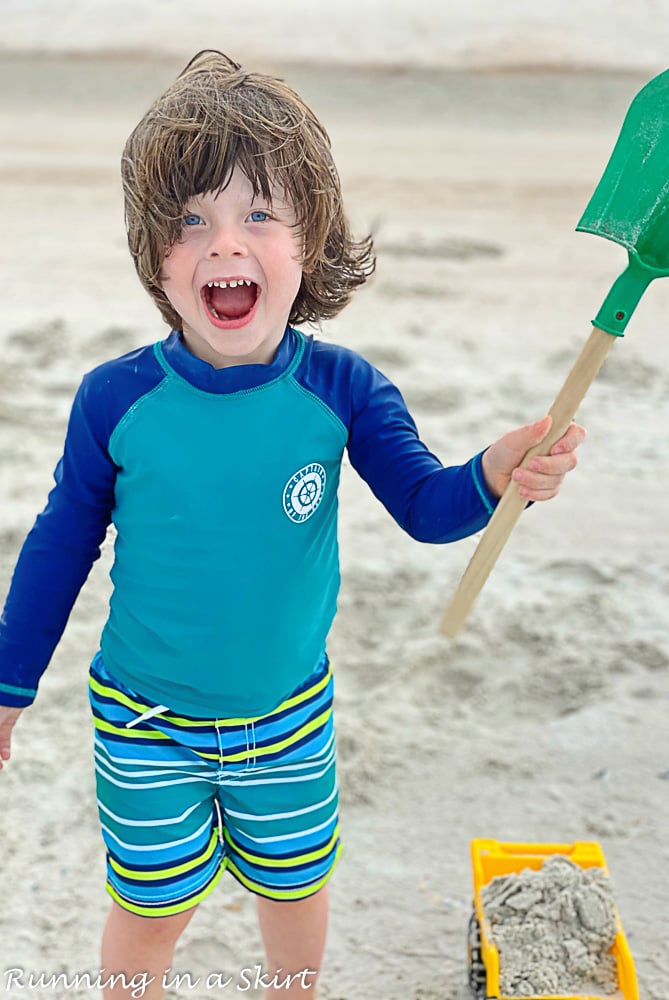 Best Places to Stay on Amelia Island
This island might be small, but it's filled with lovely places to stay. From condo-style rentals, homes, bed and breakfasts, and luxury hotels... there is something for everyone.
Amelia Island Rentals
I've stayed in oceanfront condo-style Amelia Island Rentals during my visits to Amelia Island and have really enjoyed it. It allows us to be close to the beach, but have a little more room than a traditional hotel with the twins. I've found our rentals through VRBO.
Amelia Island Oceanfront Hotels
There are two main Amelia Island Oceanfront Hotels. There is a Ritz Carlton and Omni Amelia Island Plantation Resort. The Ritz is a bit more high-end, but the Omni is located in the charming Plantation style community that will remind you of Hilton Head neighborhoods like Palmetto Dunes. Both have resort-style amenities, spas, and restaurants.
Fun Fact: Amelia Island was originally developed by the same people who developed Hilton Head's Sea Pines in 1970s. Parts of the island have a very similar feel!
What is there to do on Amelia Island?
Beaches
I must start my Amelia Island Travel Guide with the gorgeous beaches. You can't go wrong with golden beach lines with sea grass-filled dunes. The dunes are remarkable and in some places reach nearly 40 feet! The unspoiled coast is a bit different than most Florida beach towns.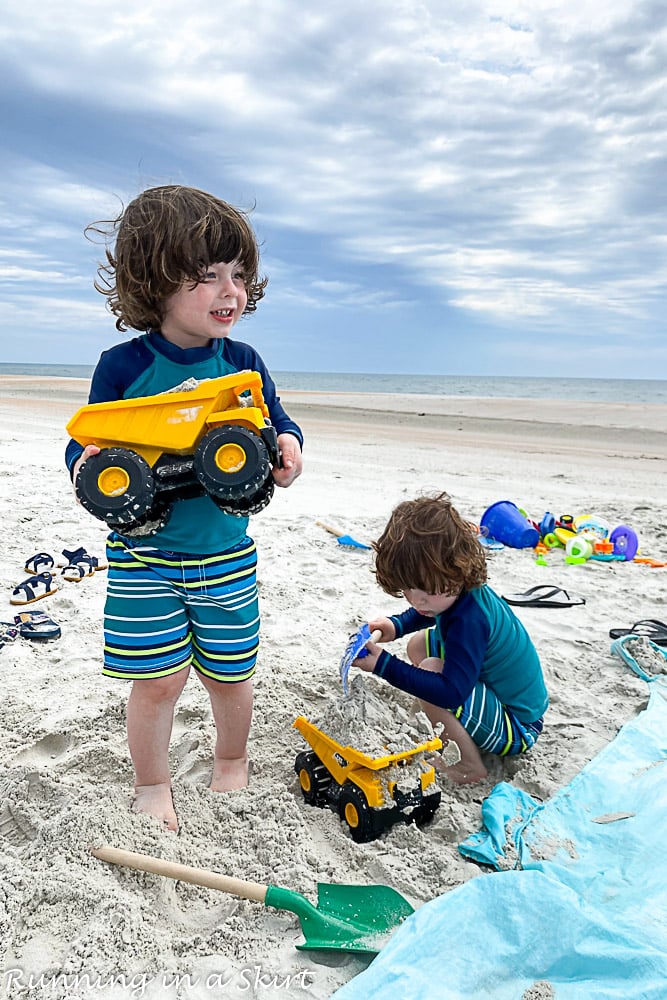 The beaches are wide and expansive, similar to the ones in nearby Tybee or Hilton Head. I don't think they are quite as wide as Hilton Head beaches, but they are still really nice. They often fill with fun tidal pools, which are a joy to small kids.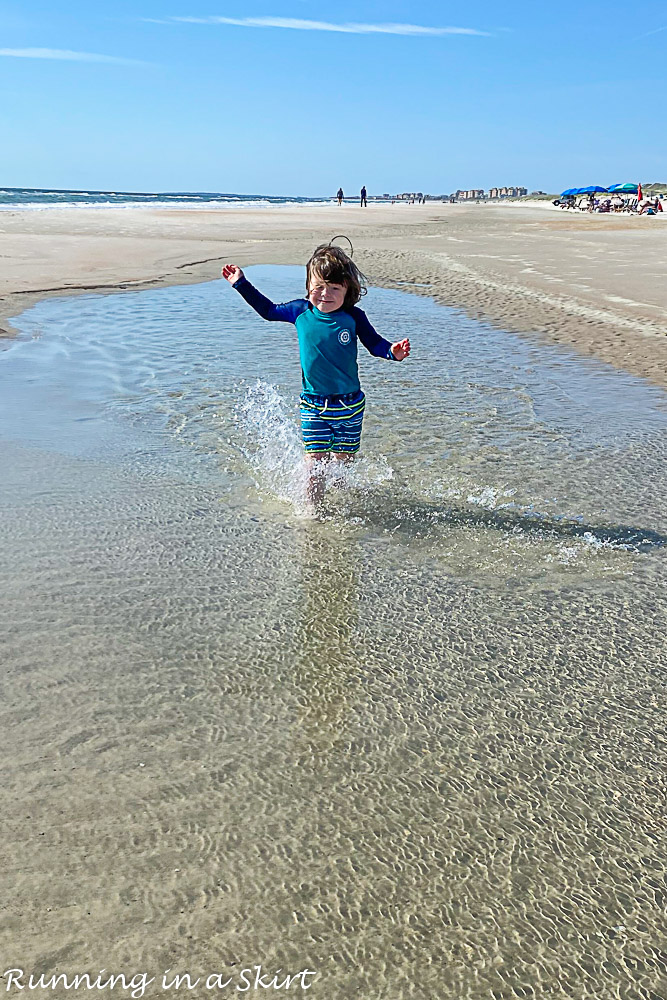 The open spaces at the beach make them great for flying kites, especially during spring and fall.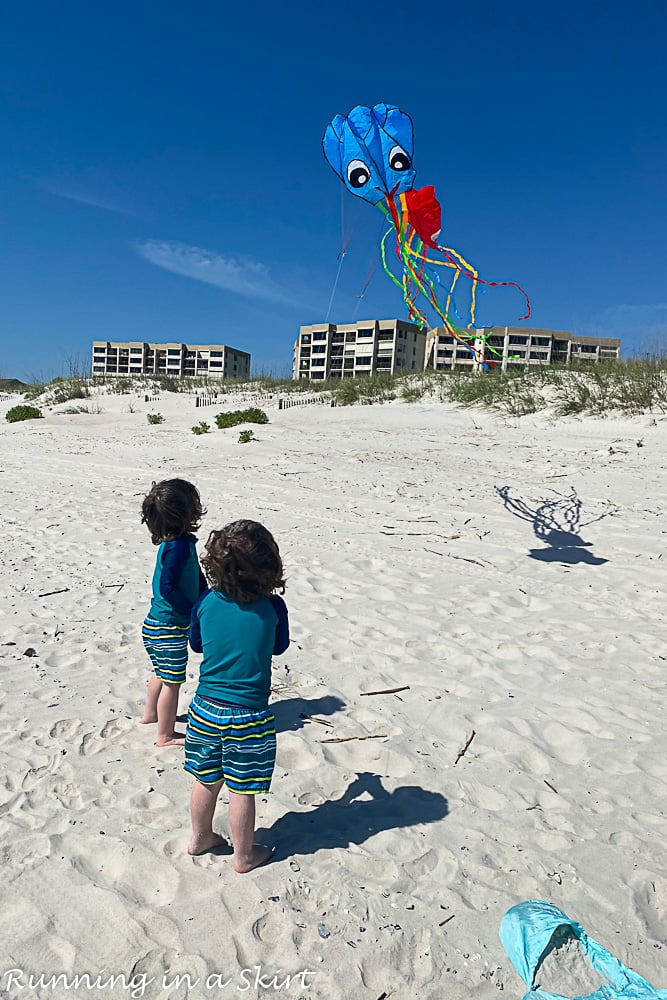 The beaches are good for shelling but one thing that's unique is they are also known as a great place to find sharks' teeth!
If you aren't staying in a beachfront condo and need public beach access you can find the public beach access points here:
Pools
Amelia Island is filled with some great pools that are perfect for kids and adults! During our visit my Dad was also there and staying at the Ritz, so we got to enjoy their pool.
It was a lot of fun and the perfect multi-generational family activity.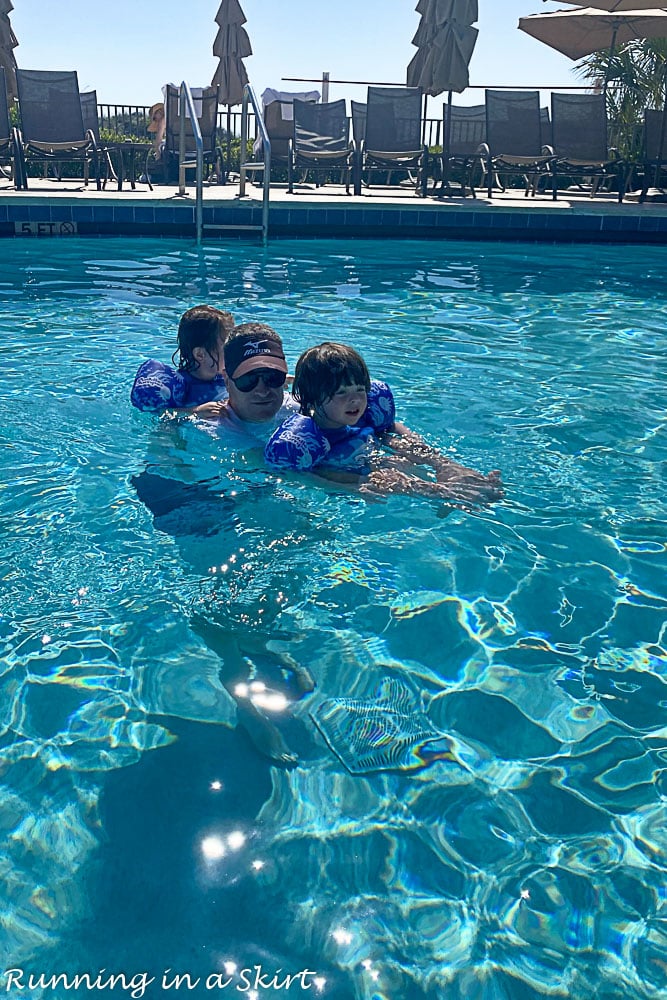 Running & Walking
If you are looking for a healthier vacation, Amelia Island is the perfect place to exercise. The expansive and harder beaches are ideal for running and walking. There are also tree-lined trails that are super pedestrian-friendly.
Plus, you can't beat these views!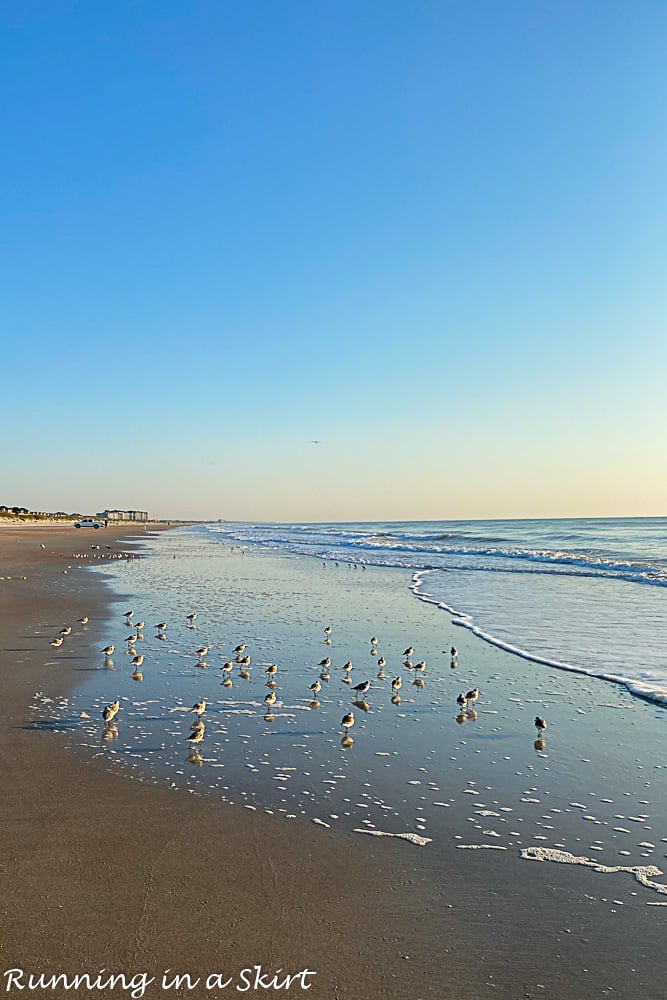 State Parks
Amelia Island is really a nature lover's paradise and is filled with gorgeous natural preserves and state parks. Three of the biggest ones are Amelia Island State Park, Fort Clinch State Park, and Big Talbot Island State Park.
Amelia Island State Park is special because it's the only one in Florida that has horseback riding on its beaches.
Fort Clinch State Park is worth visiting because of the history and an old fort with cannons. Plus, it's filled with gorgeous beaches and marshes.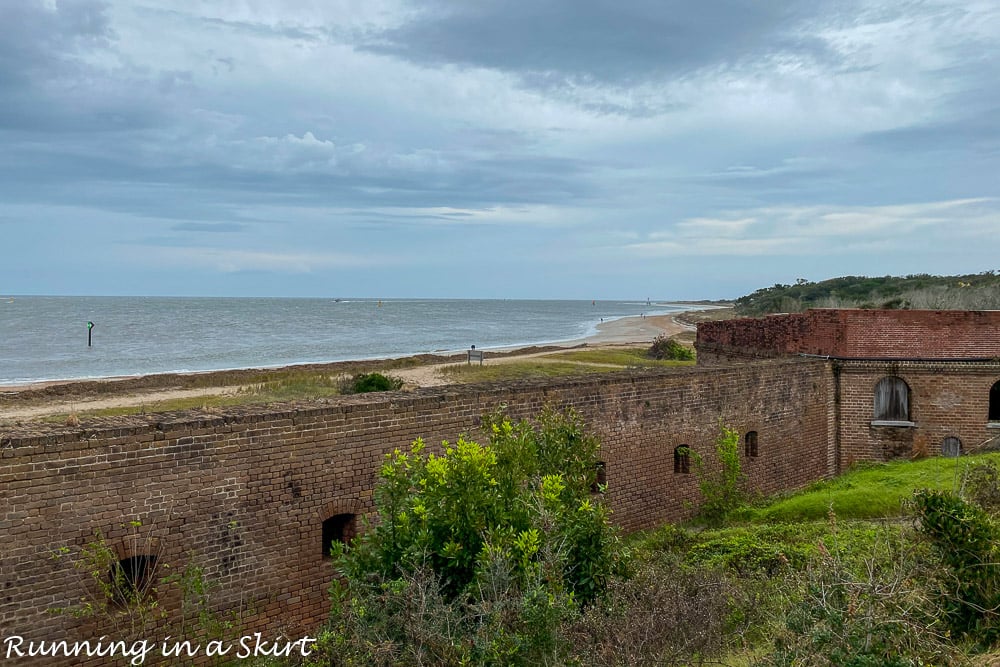 Big Talbot Island State Park has lots of unspoiled beaches including this gem called Boneyard Beach with gorgeous driftwood trees lining the shores. I wrote an entire post on how to get there!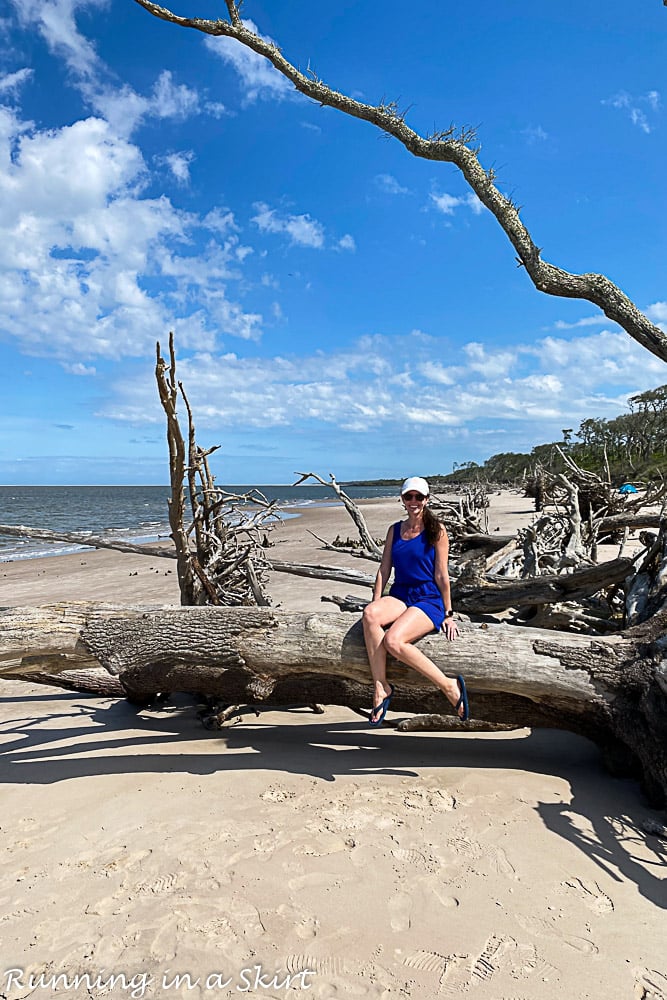 The Florida State Parks website is a great place to explore everything there is to do in the nearby state parks.
Amelia Island Horseback Riding
If horseback riding on the beach is on your bucket list, Ameilia Island is the place to do it. Amelia Island State Park offers rides plus there are many other companies offering guided tours and rides with the horses. Here are a few of them:
Just look at this sunrise view!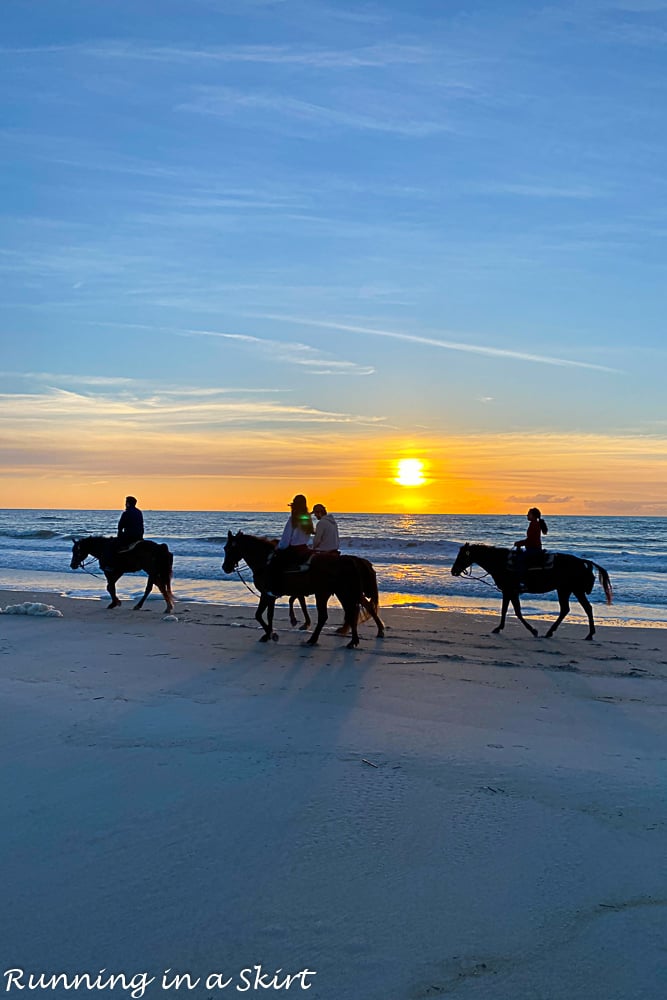 Biking
With over 18 miles of trails, biking is the perfect pastime on Amelia Island! It's part of the East Coast Greenway which goes from Maine to Key West.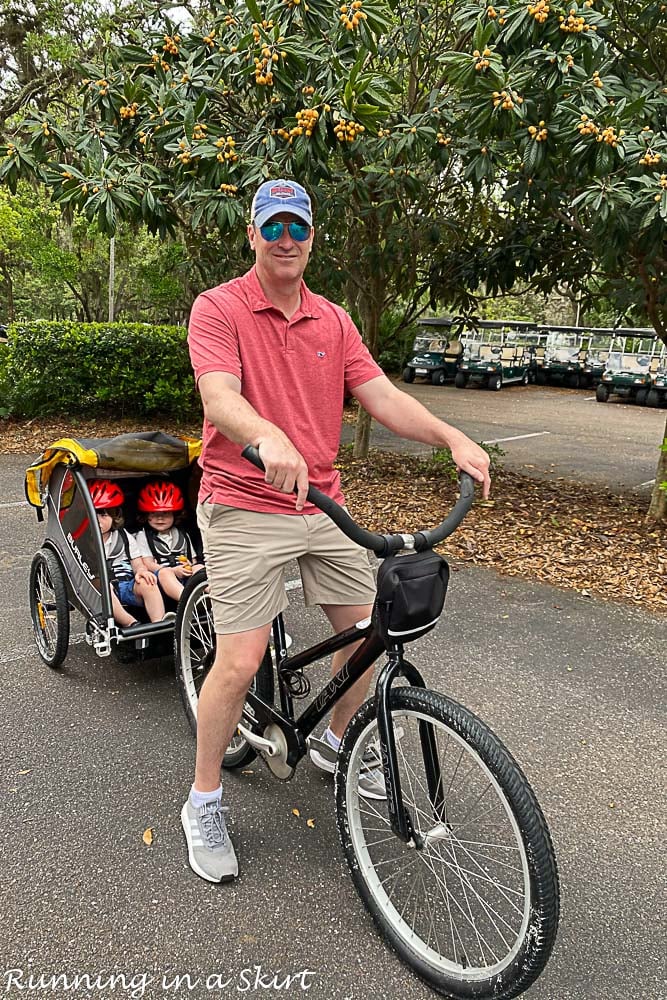 Watch the Sunrise & Sunset
The perfect addition to any Amelia Island Travel Guide? Watching the sunrise and sunset. You can catch a gorgeous sunrise over the Atlantic each morning and then cross the island to see the sunset over the marsh in the evening.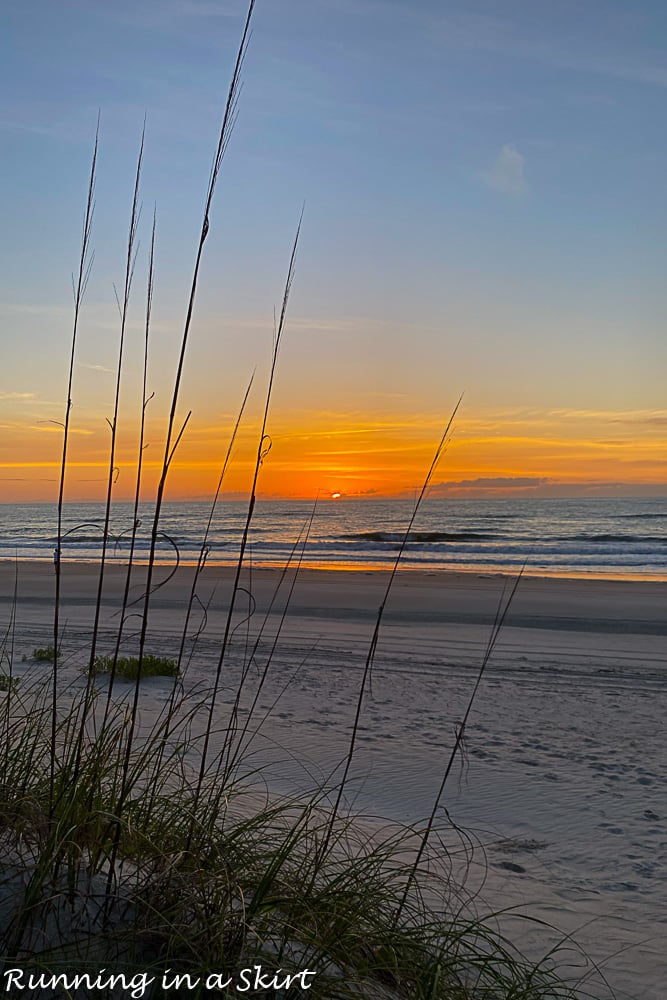 These gorgeous views never disappoint, are free and different each and every day. It's a bit of nature's magic.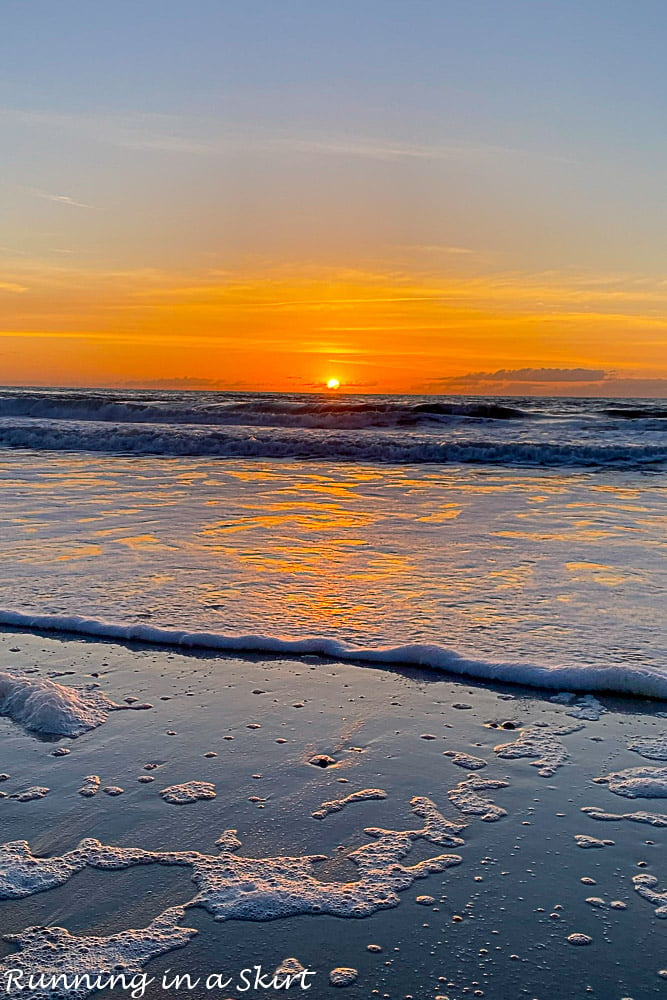 Historic Downtown Fernandina Beach
Fernandina Beach is a charming and endearing small city connected to Amelia Island. The historic downtown area is a must-stop on any trip to the area. It's filled with local restaurants, shopping, and historical sites. It's also on the harbor, so it has pretty water views.
This smaller version of a Charleston or Savannah will definitely win you over.
I loved it so much that I wrote an entire guide just to Historic Downtown Fernandina Beach including the best restaurant and shopping options.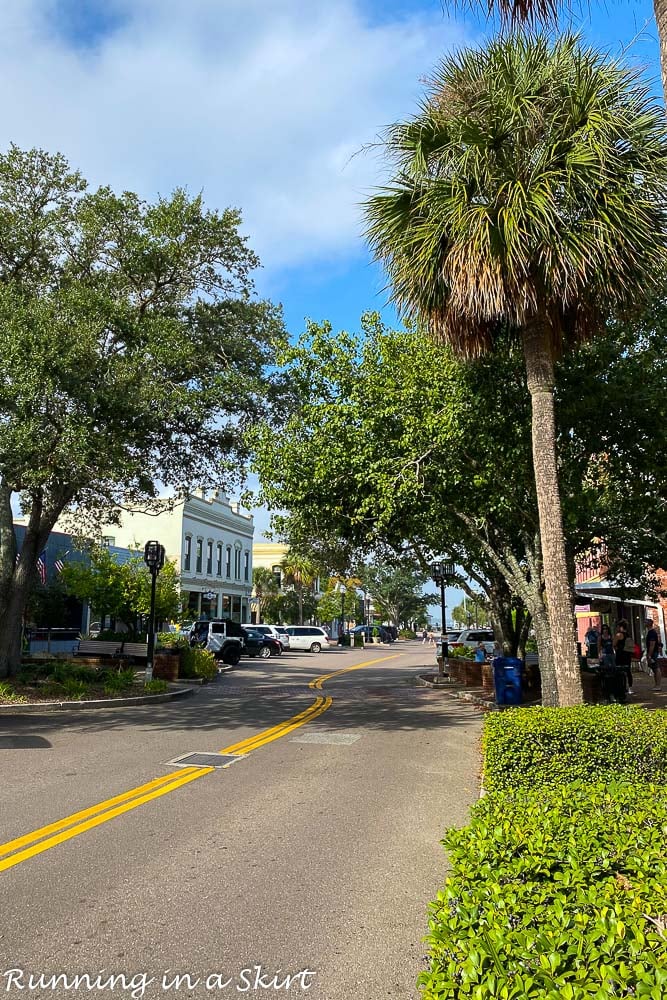 Looking for more things to do during your trip? Check out this guide: What to Do in Amelia Island Florida
Best Places to Eat in Amelia Island
The food is one of the things that won me over about this lovely vacation destination! There are so many delicious and creative local restaurants that you can't go wrong with eating your way through this charming beach town. I have an entire post sharing the Best Places to Eat in Amelia Island, but here are a few of my favorite meals from my visits.
Best Meals...
Chargrilled Oysters from Shuckers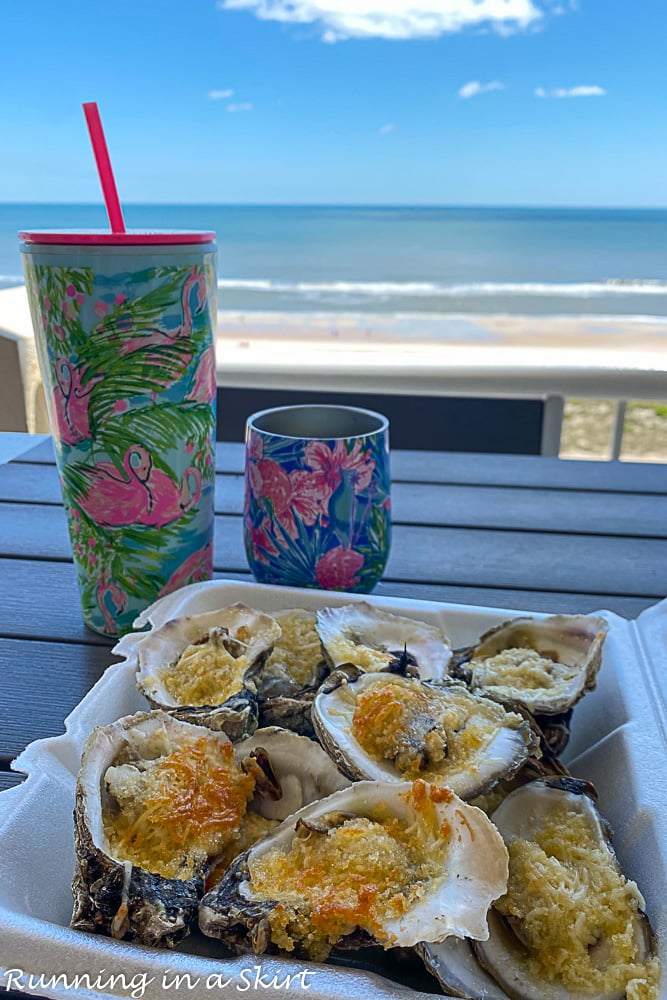 Linguine and Little Neck Clams from Cucina South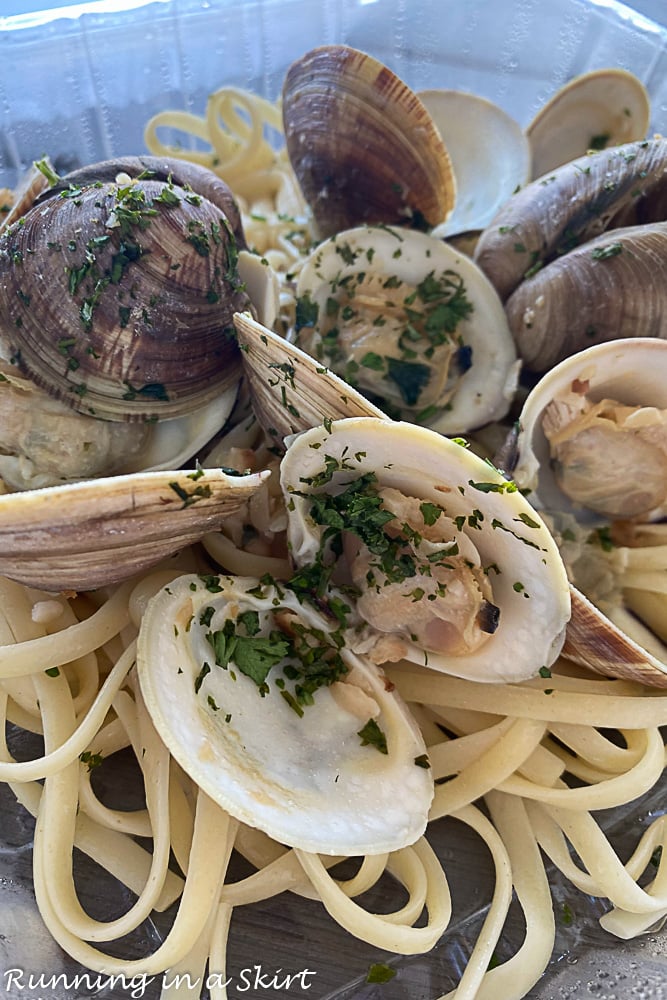 Blackened Redfish with Fried Oysters from Lagniappe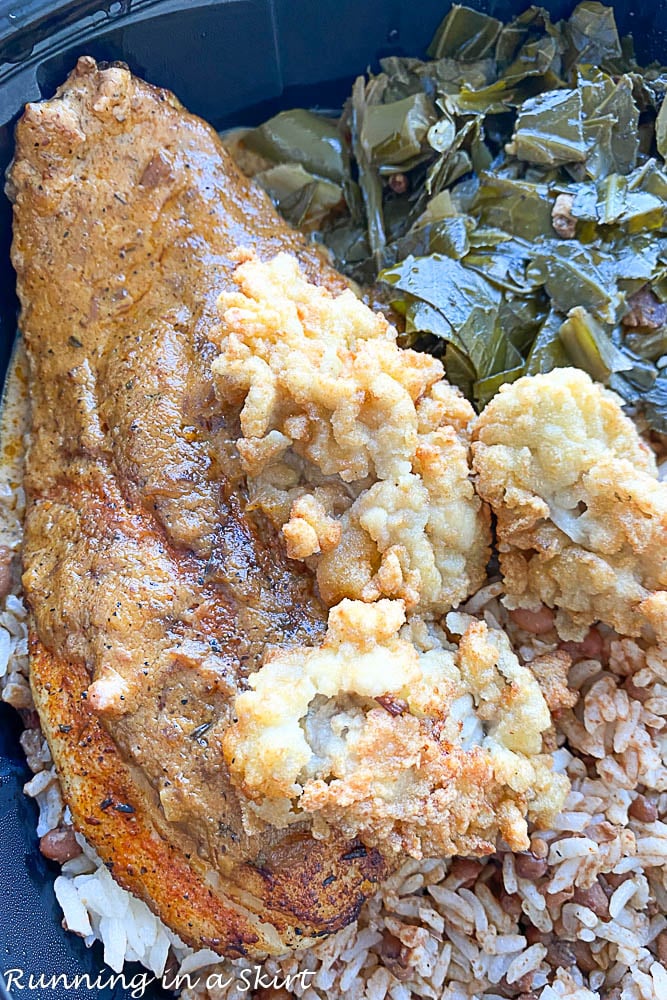 Salmon Poke from Pogo's Kitchen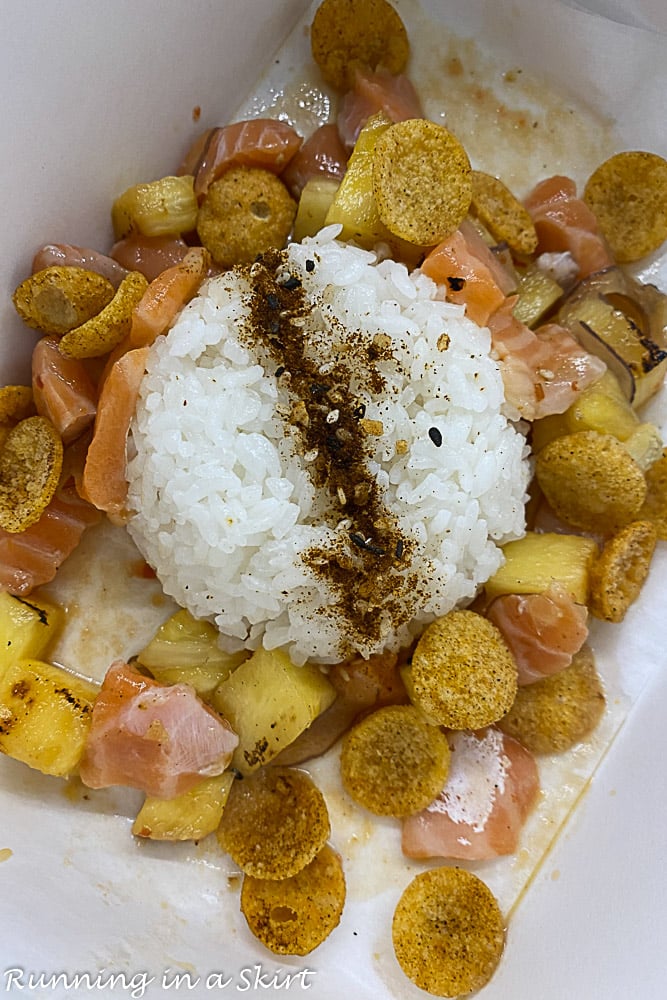 Lobster Roll from Timoti's Seafood Shak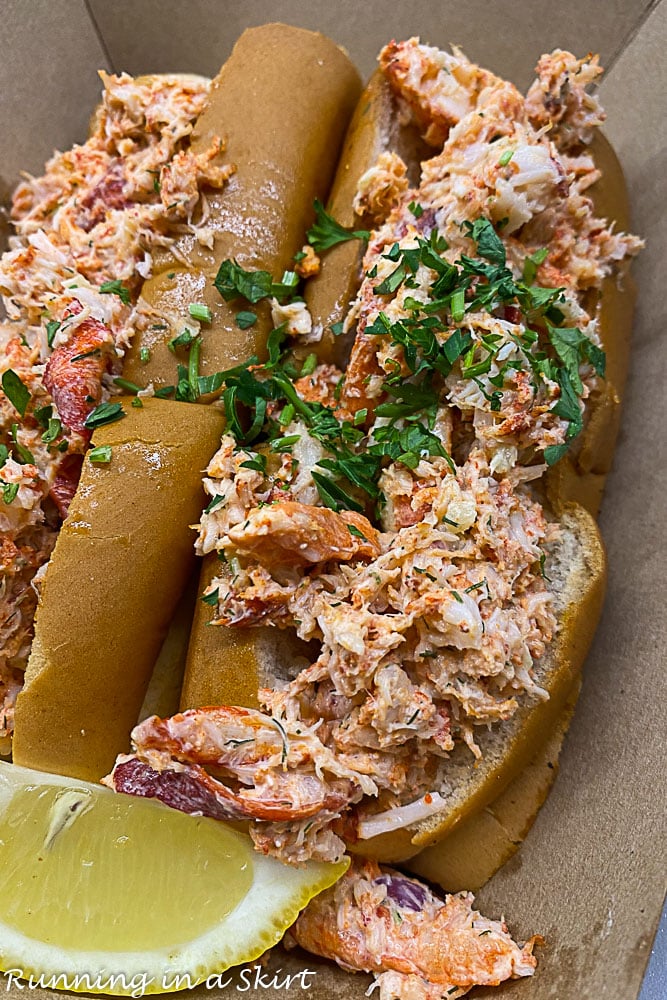 These are just a few of the amazing meals I tried! Share your favorite restaurants below and make sure to check out my full Amelia Island Food Guide too.
Amelia Island Shopping
If you like to do a little shopping on your trip, there are several charming options for local shops. We love the shops at Amelia Island Plantation because of the gorgeous outdoor scenery and charming boardwalk.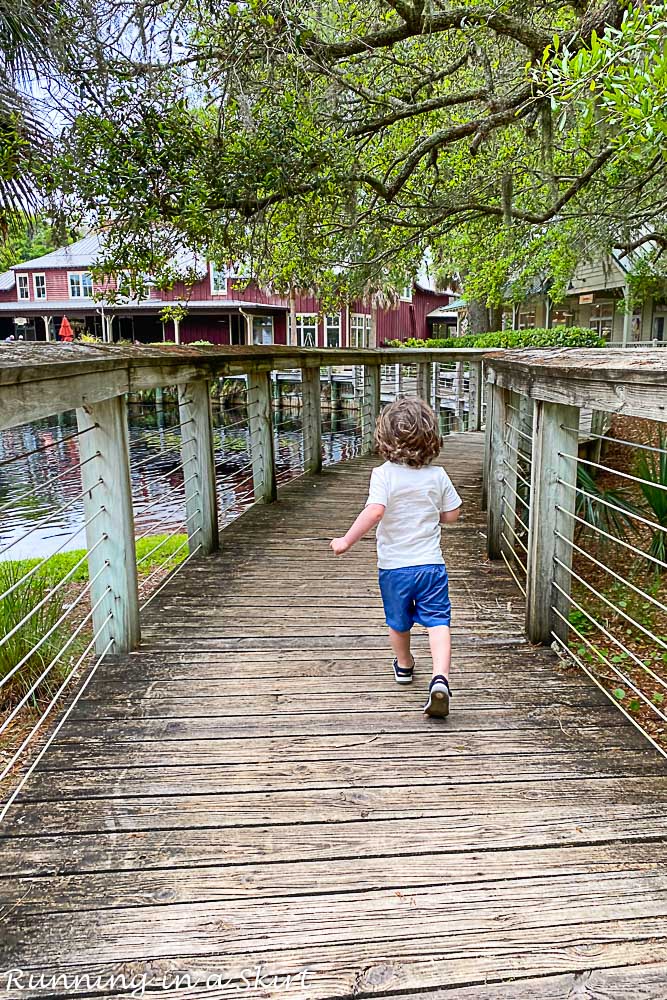 The boys enjoyed walking around this area and it's full of local shops and restaurants.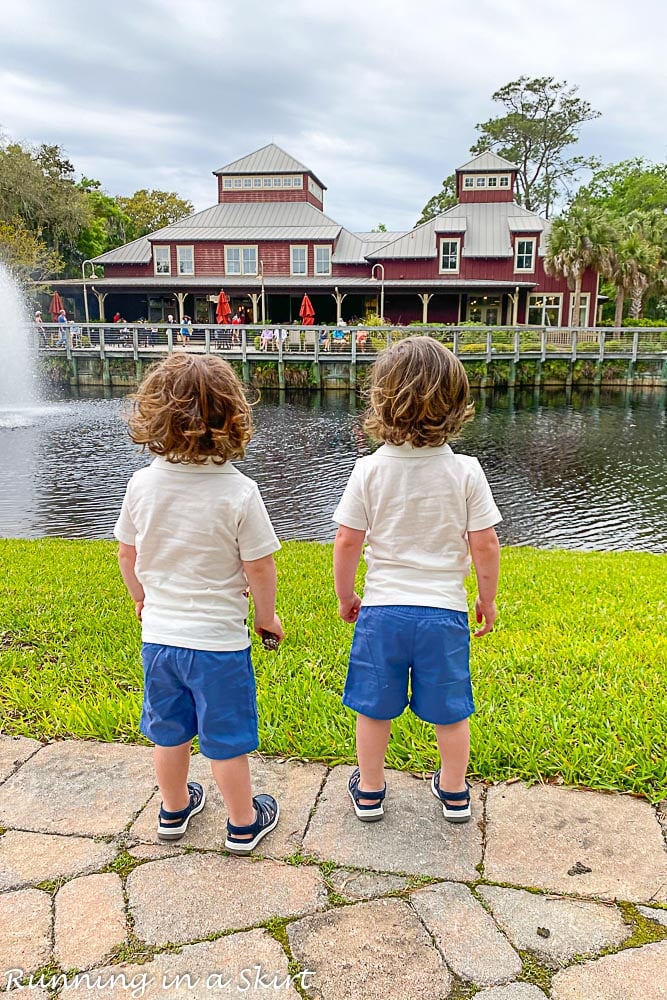 Other Shopping Options:
The Perfect Easy Island Escape
Amelia Island is the perfect easy island escape! It's close to home but feels special with its wide beaches and charming local shops and restaurants. Plus, you can't go wrong with enjoying the beautiful nature in the state parks!
If you love Hilton Head, Kiawah, or Tybee and are looking for something different to do this year, this just might be your new favorite spot.
I hope this Amelia Island Travel Guide has been helpful in planning your next adventure.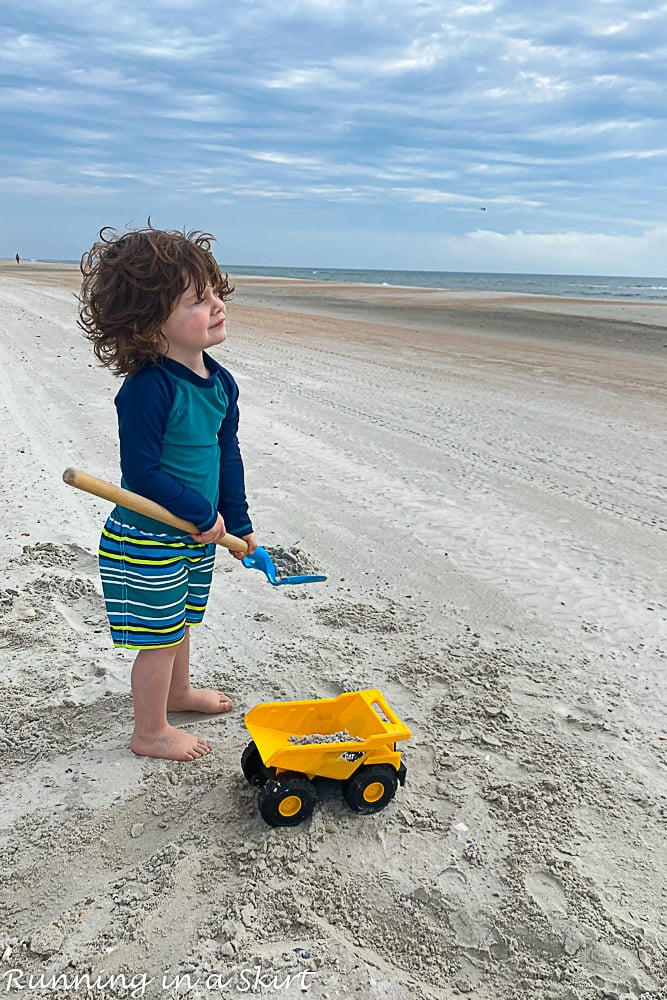 Do you also love Amelia Island? Please feel free to share your favorite tips and restaurants in the comments below! And if you want more information and photos from the island, keep reading the articles below.
Pin for later...