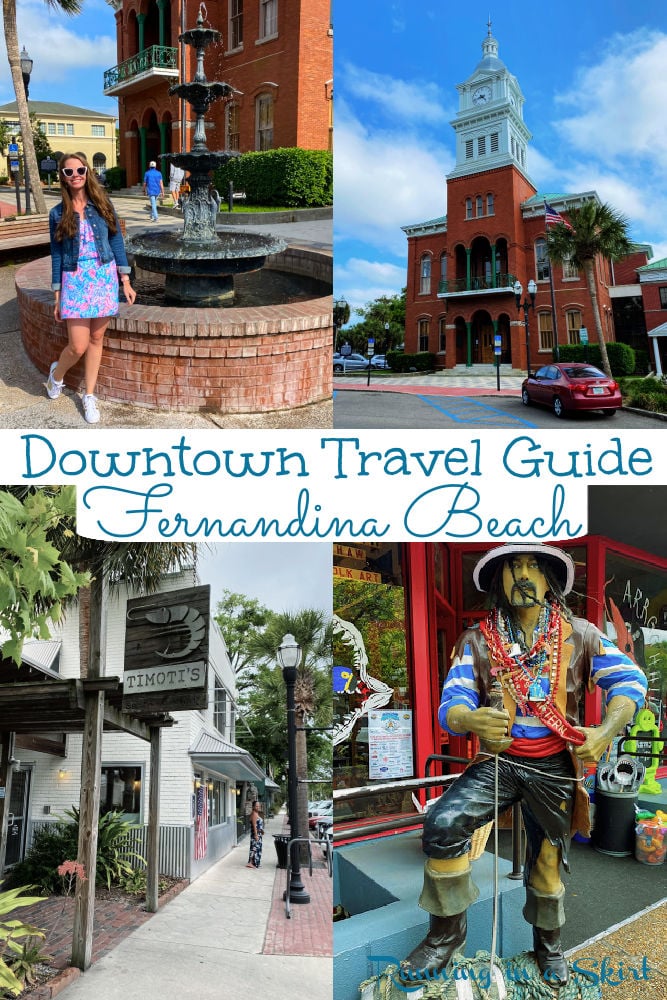 Planning a trip to Downtown Fernandina Beach? Here are the best things to do in Fernandina Beach FL including the best shopping, historical sights, and restaurants in this charming historical downtown.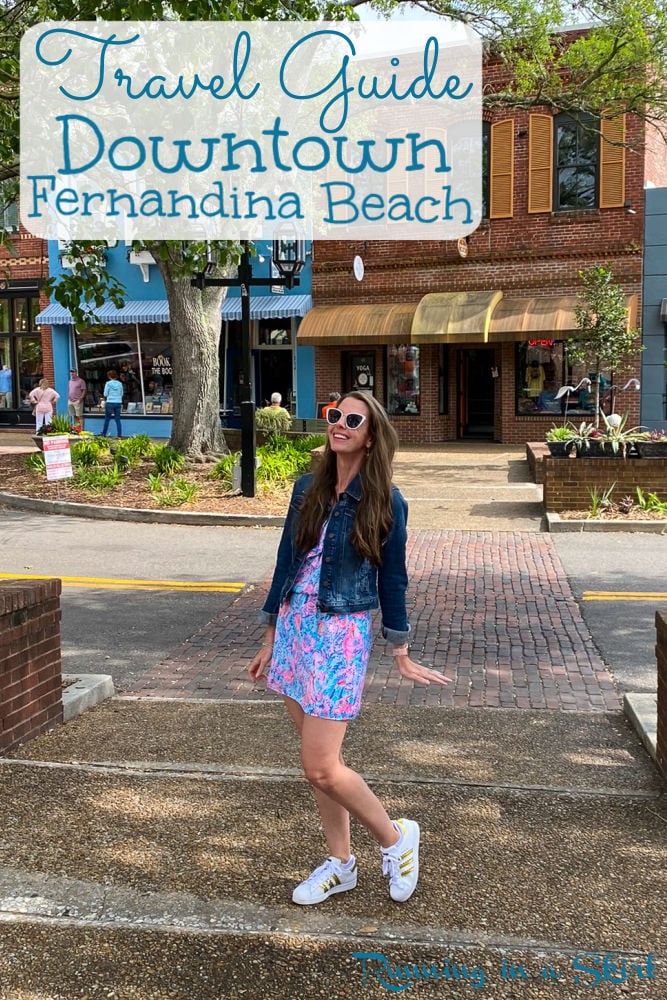 Things to Do in Fernandina Beach FL Historical Downtown
Curious about the best things to do in Fernandina Beach FL including the historic downtown? I've got you covered with my guide to exploring this charming, walkable and historic downtown. If you are curious if Amelia Island has a downtown area? It does! And this is your guide to exploring it.
Start planning your trip with my Amelia Island Travel Guide and Best Restaurants in Amelia Island & Fernandina Beach.
Amelia Island and Fernandina Beach are often thought of as the same place, but they are actually two separate places. Amelia Island is the entire island but is also thought of as the most southern section of the island including the upscale resorts near the Amelia Island Ritz Carlton and the Amelia Plantation which has the Omni Amelia Island. Fernandina Beach is the actual town on Amelia Island immediately to the north. The downtown area is on the west side of the island near the harbor along the Amelia River.
If you are looking to explore areas outside of downtown check out these posts: What to Do in Amelia Island Florida & Things to Do in Amelia Island With Kids.
This article explores the lively and lovely walkable Downtown Fernandina Beach on the coast of Northeast Florida. The downtown area is unexpectantly and surprisingly vibrant and fun. It's full of local shops, coffee shops, restaurants, victorian-era architecture, and even historical attractions. The city also hosts events like the Isle of Either Flags Shrimp Festival, Independence Day Festival, and weekly farmer's market.
It's a fun place for both adults and kids! This is a unique Florida spot to explore.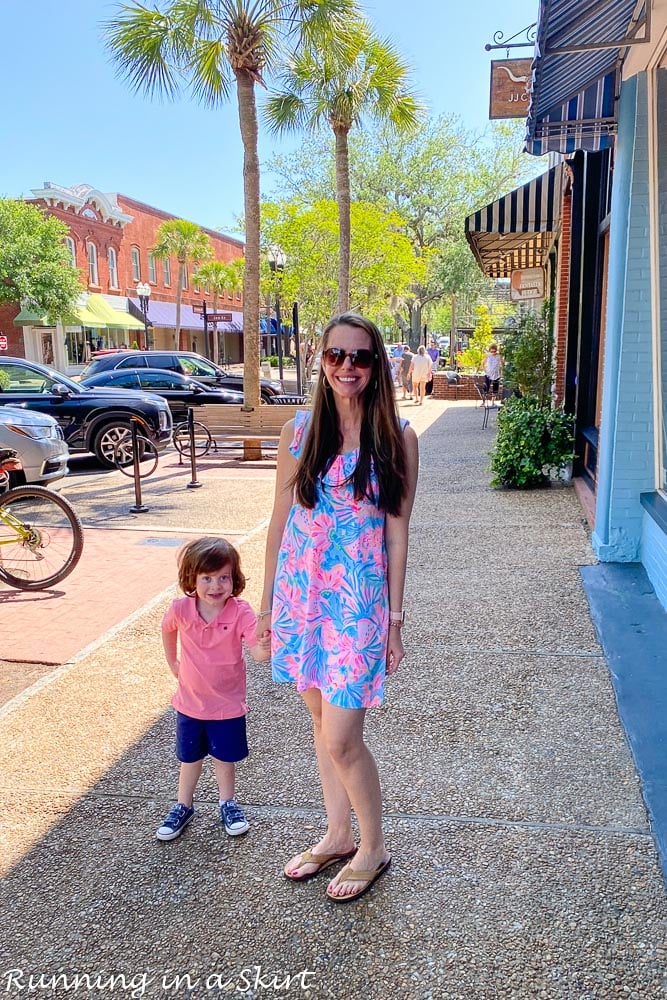 Facts & History of Fernandina Beach
Before we dive into the things to do in Fernandina Beach Downtown let's chat about the history. Fernandina Beach and Amelia Island have a rich history because it's been inhabited for centuries and has been under the rule of eight different countries' flags since the 16th century. The shrimp festival is named Isle of Eight Flags in honor of those different flags flying.
You'll see lots of pirate memorabilia around town because the island has a history of having pirates around. There was also a time when bootleggers and shrimpers reigned over the island.
The island itself is considered part of the Sea Island Chain and is the barrier island along the Florida Atlantic coast that is closest to Georgia. It's very close to Jacksonville.
The downtown area spans 50 blocks and has 400 structures on the National Register of Historic Places. It has a vibe that reminds me of the way Charleston or Savannah used to be years ago.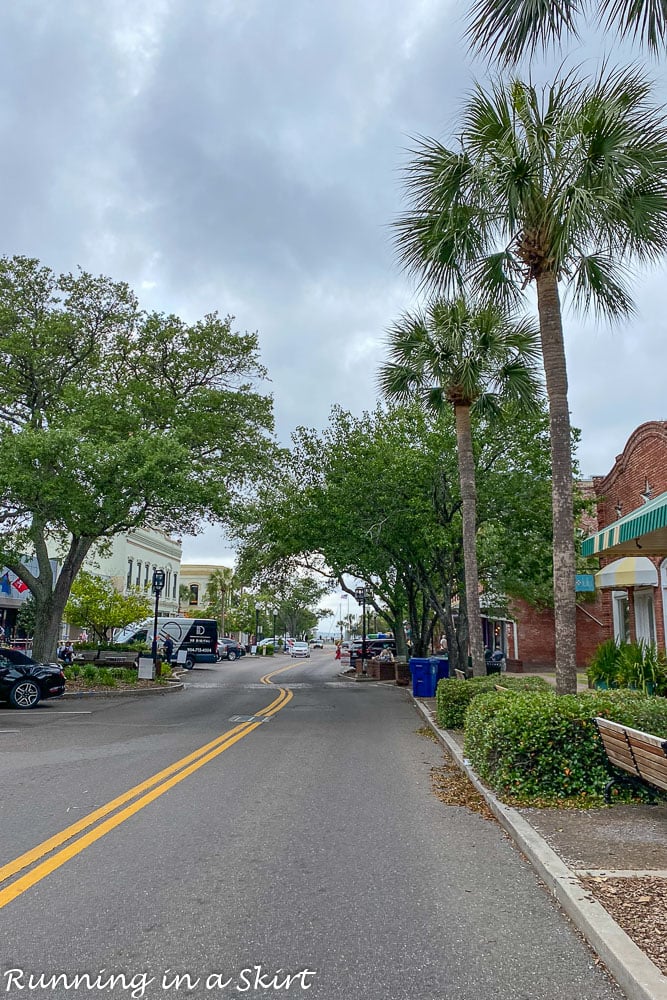 Basic Tips for Downtown Fernandina Beach
Downtown Fernandina Beach is full of things to do! The area is very approachable and walkable. Parking is available on the street and is free. Most of the time you can find a spot, but busy summer weekends can be a bit tricky. We've gone in April and October and never had trouble.
The main street is called Centre Street and is a hub for many shops, restaurants, and historic buildings.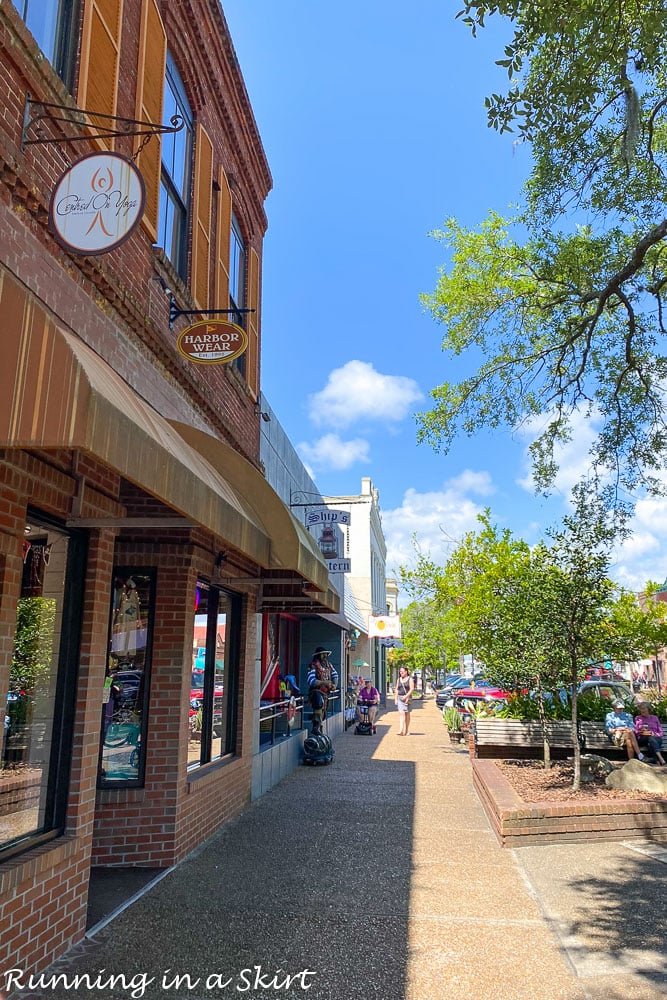 Downtown Historical Fernandina Beach Travel Guide
Click To Tweet
Things to Do in Fernandina Beach FL Historical Downtown
Curious about the best things to do in Fernandina Beach FL, here's your guide to all the fun history, shops, tours, sights, and restaurants.
Historical Highlights & Notable Sights
Nassau County Courthouse
The Nassau County Courthouse is a gorgeous late- 19th-century Florida courthouse located off Centre Street. It's just one of the historic buildings that make this area a historic destination. It was built in 1891 and is one of the few remaining buildings like it in Florida. It remains the hub for the county's judicial and government needs.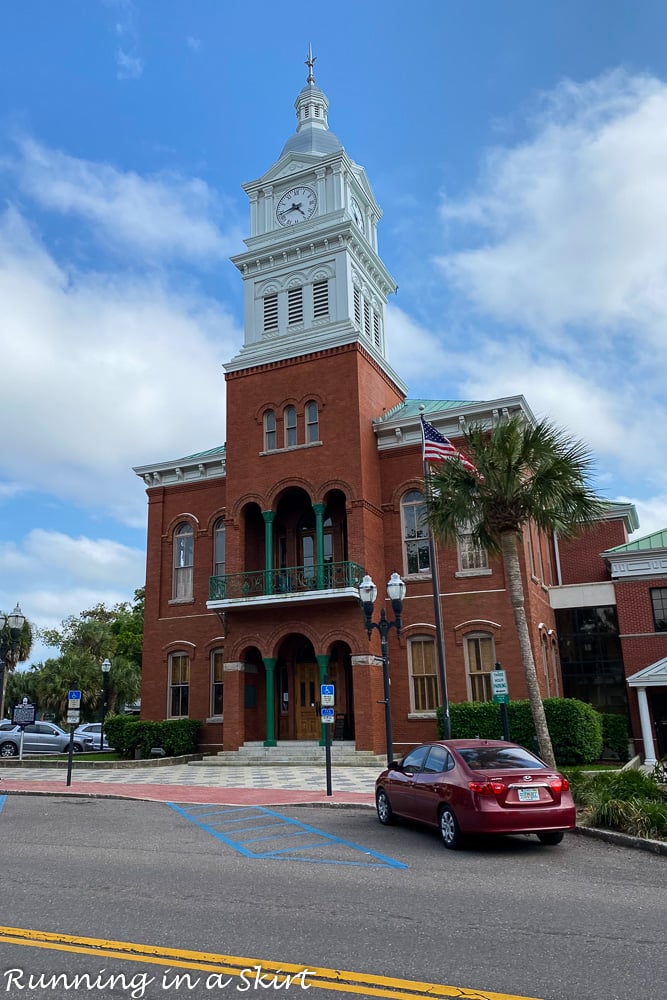 There is a cute fountain in front perfect for a photo op.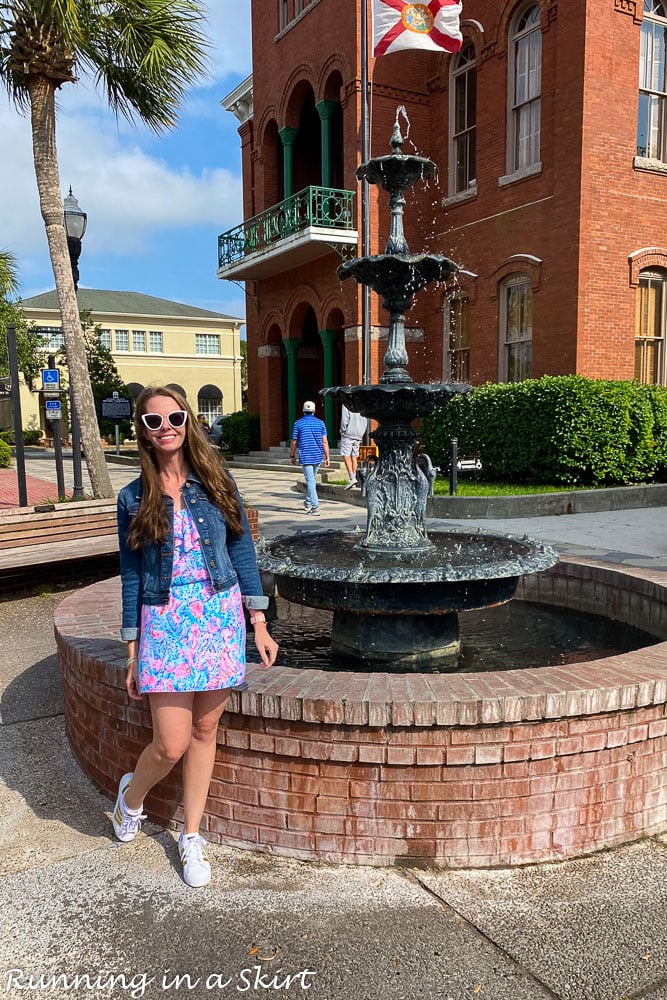 Lesesne House
Also on Centre Street, across the street from the courthouse, you'll find the Lesene House. It's a classic Revival Style Home that was built in 1860 and is one of the oldest homes in the region. This charming house is still a private residence but is worth a peek at from the road, especially if you appreciate old homes.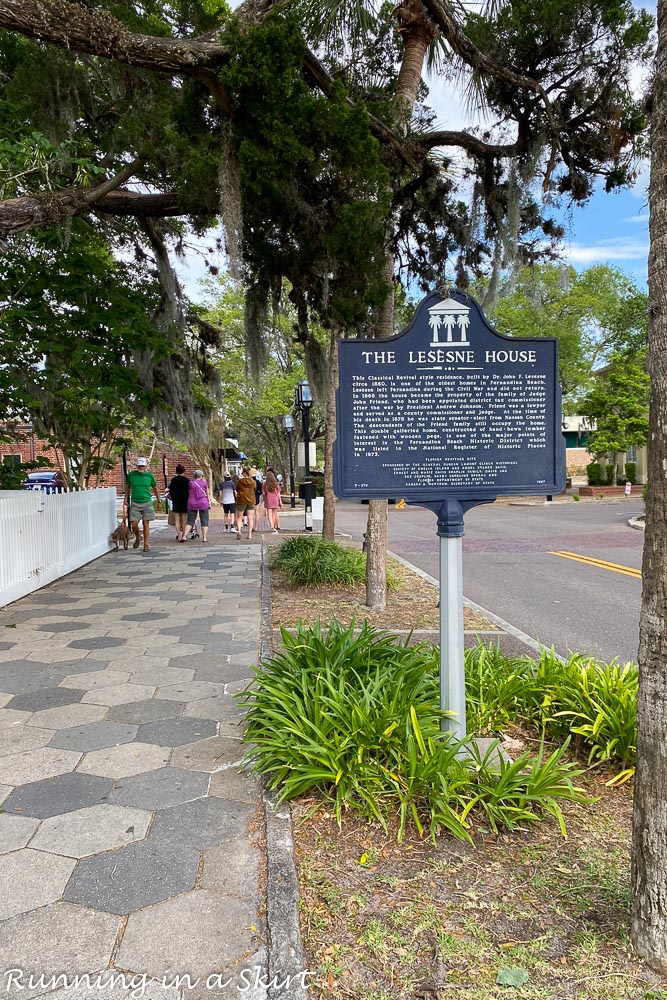 The Palace Saloon
Opened in 1903, The Palance Saloon is the oldest continually operating drinking establishment in Florida. Local legend says it was the last bar to close before prohibition. The bar was designed by Adolphus Busch, the founder of Anheuser- Busch. The bar is still a popular nightlife spot.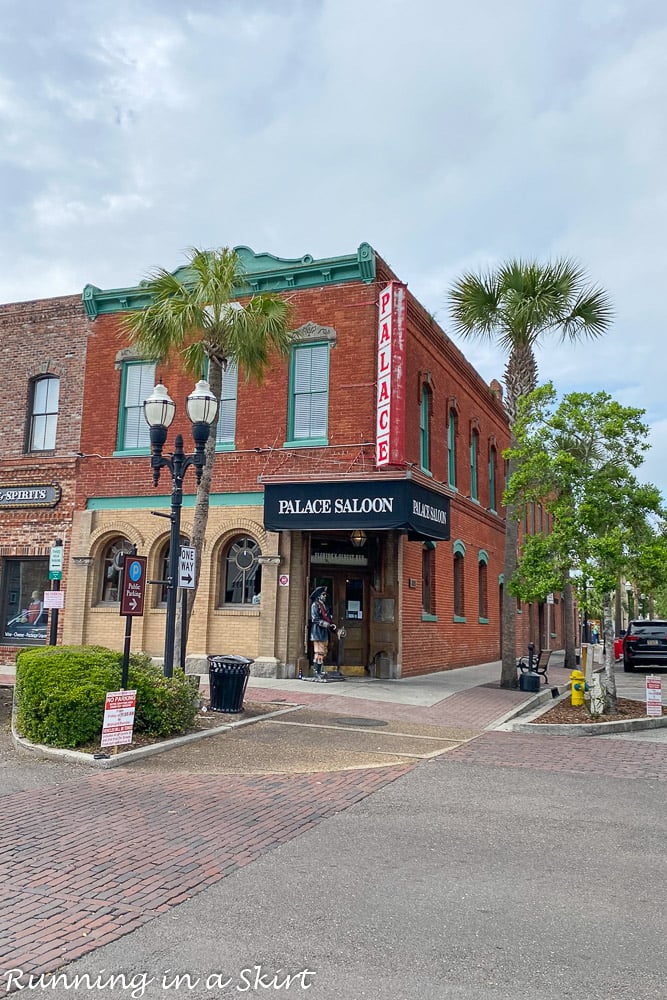 Old Train Depot
The old train depot is now home to the Amelia Island Welcome Center. The depot was Florida's first Atlantic to Gulf railway. It's a cute place to visit and has this fun pirate statue for kids of all ages.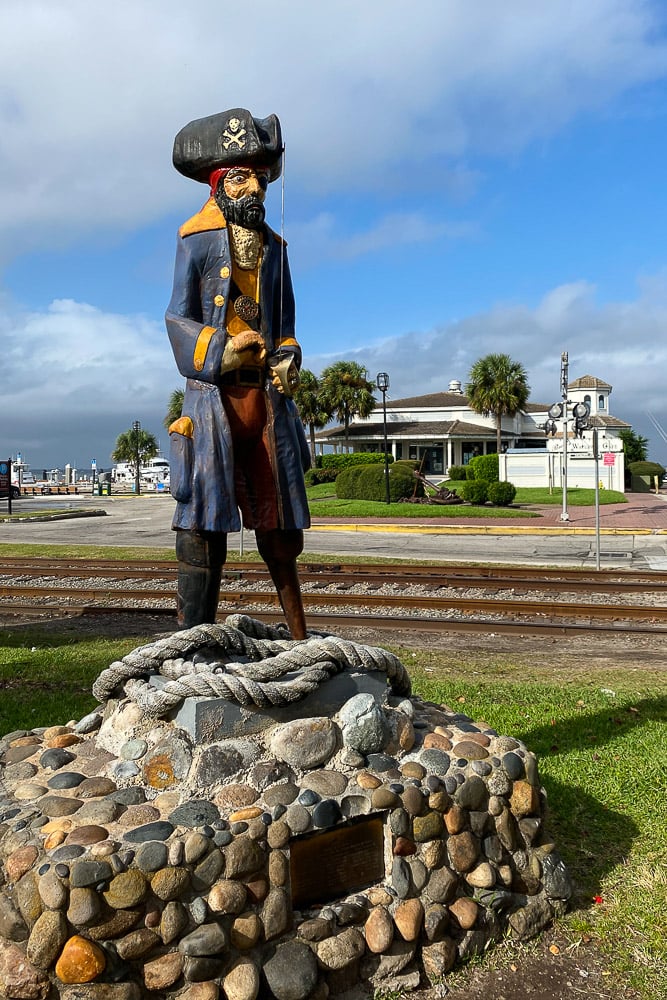 Fernandina Harbor Marina
The Fernandina Harbor Marina is located right off Centre Street and is a cute place to walk around and see some boats along the Amelia River. They are located right on the Intra Coastal Waterway right at the Florida- Georgia border.
Several boat tour companies are based in this area.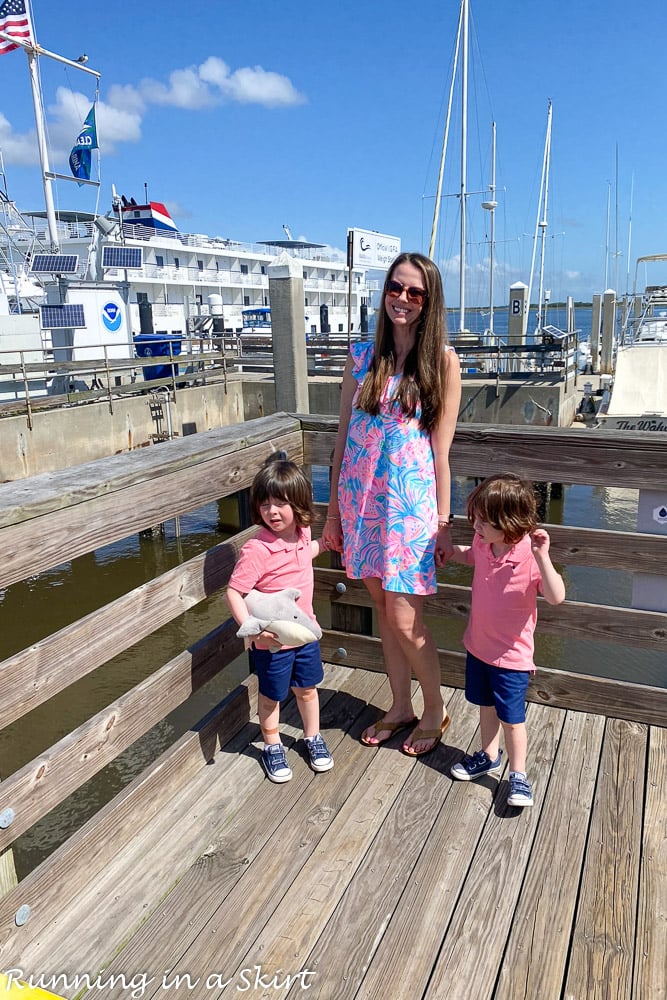 Downtown Fernandina Beach Restaurants
Eating out is one of the top things to do in Fernandina Beach FL downtown. There are so many delicious restaurants and eateries featuring everything from fine dining to homemade desserts and casual eats. The downtown area is made up of nearly entirely locally-owned restaurants and is a delightful place to grab a bite to eat. I have had so many great meals from this area. Here are a few of the more popular ones.
Amelia Island Coffee
Amelia Island Coffee is located right on Centre Street and is the perfect first stop on your tour of downtown. They are friendly and have super delicious coffee drinks.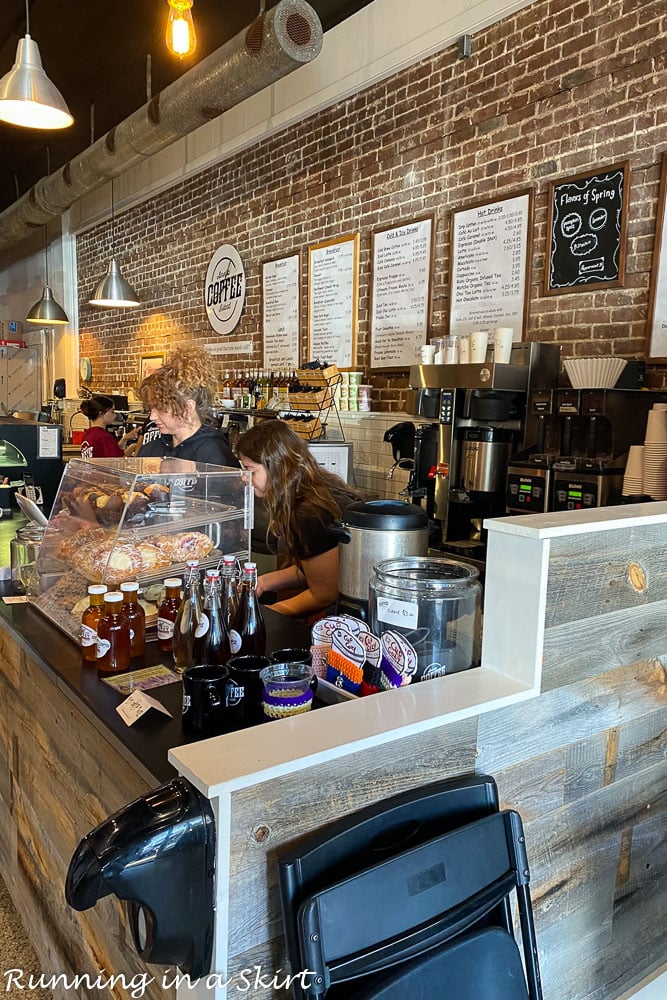 Nana Teresa's Bake Shop
Nana Teresa's Bake Shop is a must-stop place on your trip to Historic Downtown Fernandina Beach. It's one of the best bakeries I've ever tried.
They have everyone from cakes, cookies, cheesecake, and a classic 1950s soda fountain inside.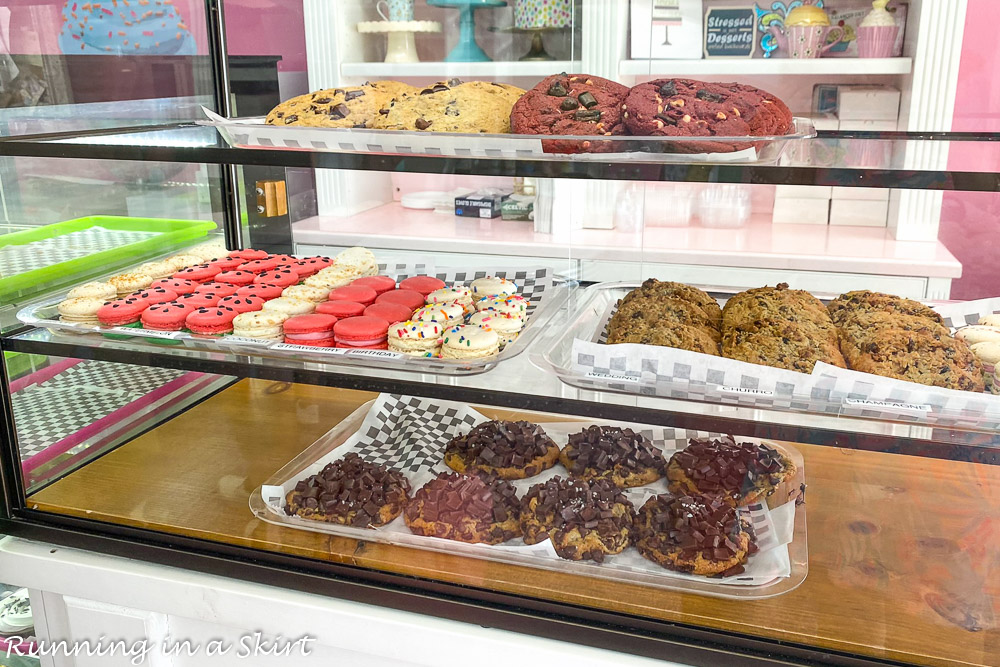 My personal favorite is the macrons which tasted like little pillowy bites of heaven. Don't miss it!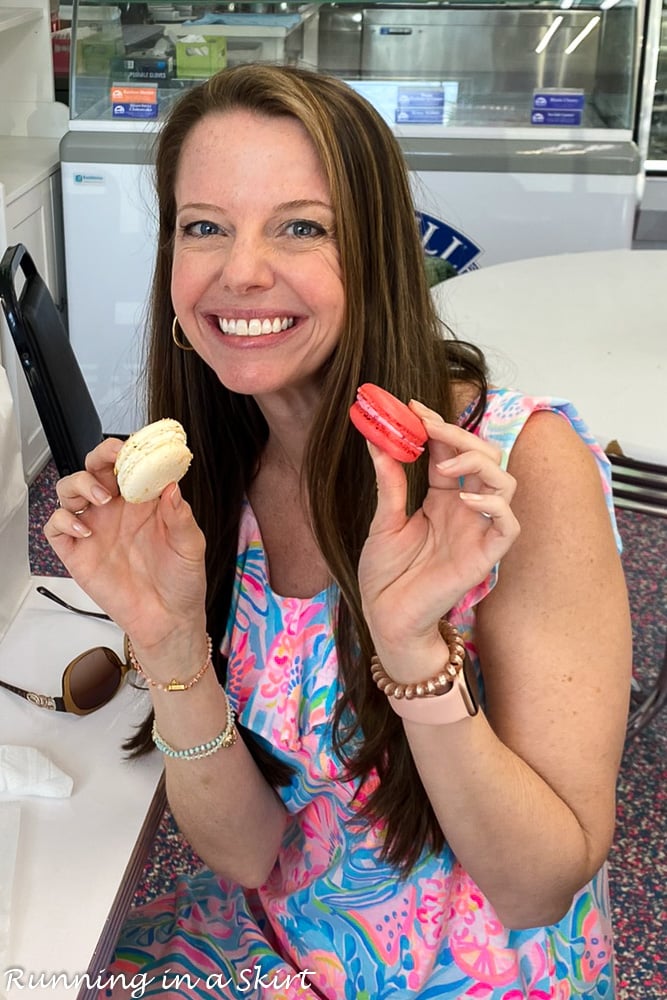 The Boat House
The Boat House is a delicious seafood restaurant in downtown Fernandina Beach with a fabulous outdoor stage for music. Don't miss their Seafood Nachos.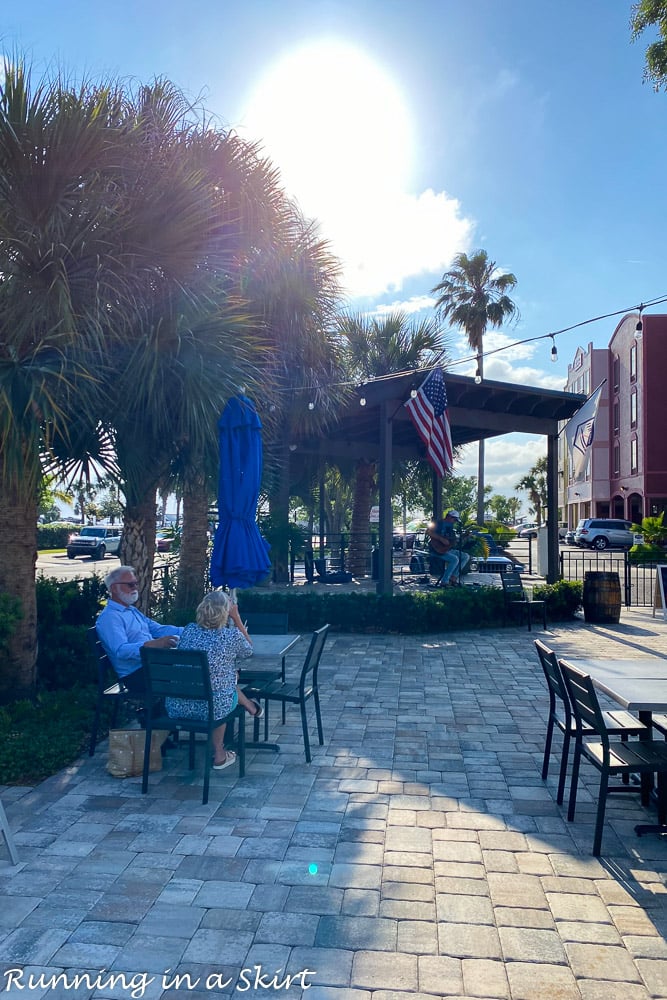 The Tavern by Amelia Island Brewing Company
The Tavern by Amelia Island Brewing Company is a great spot to enjoy a local beer with delicious eats.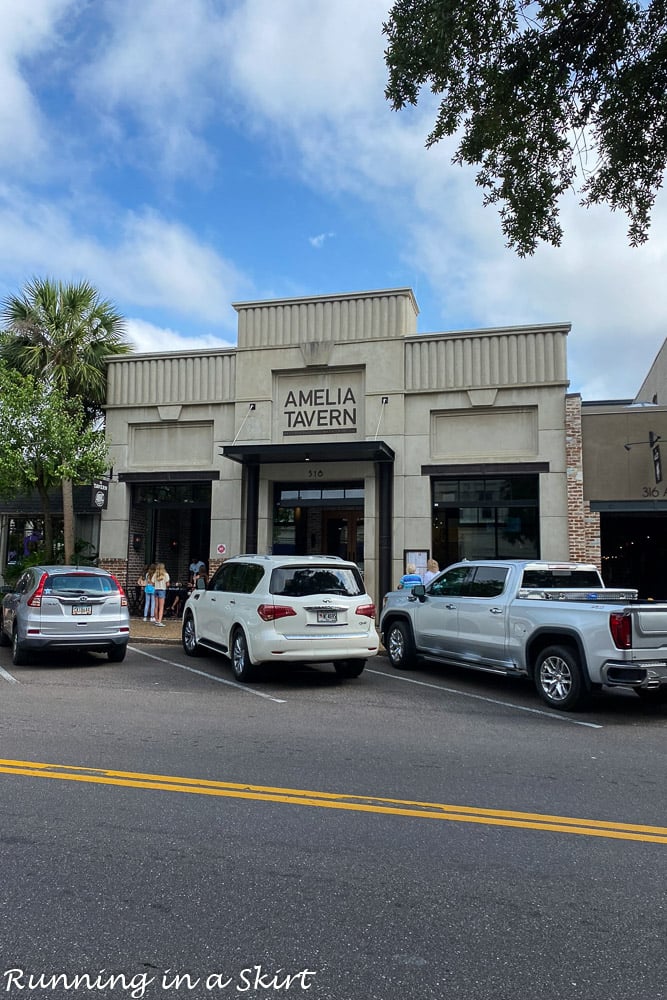 Timoti's
Timoti's Seafood Shak is another Fernandina Beach institution. They feature fast and casual seafood eats like fish burgers, poke bowls, and lobster rolls. For kids, they even have a playground on site.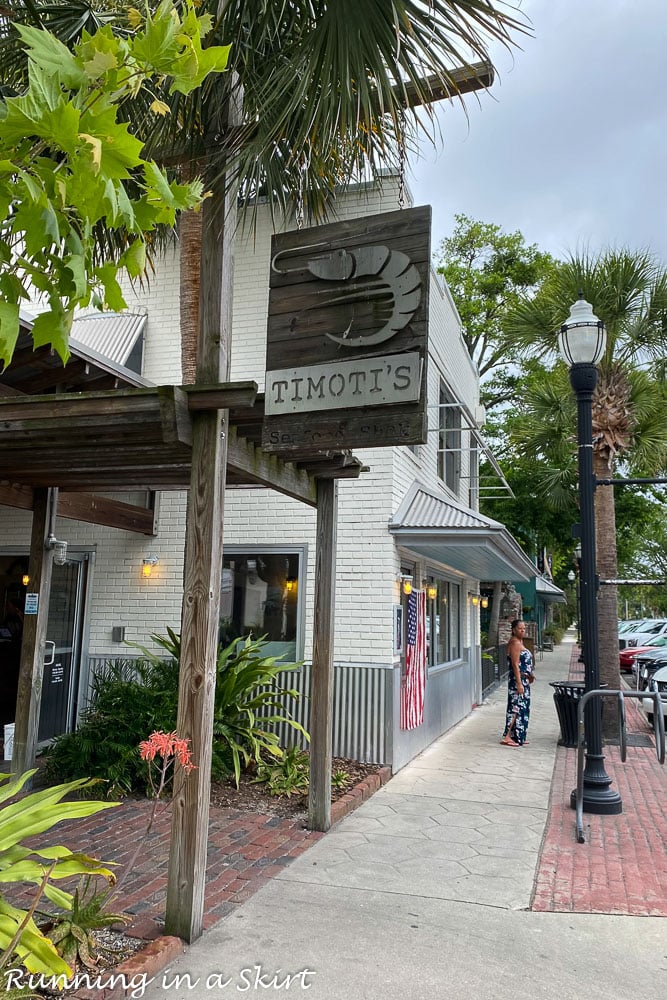 Fernandina's Fantastic Fudge
Fernandina Fantastic Fudge is a classic beach town fudge shop that also features hand-dipped ice cream.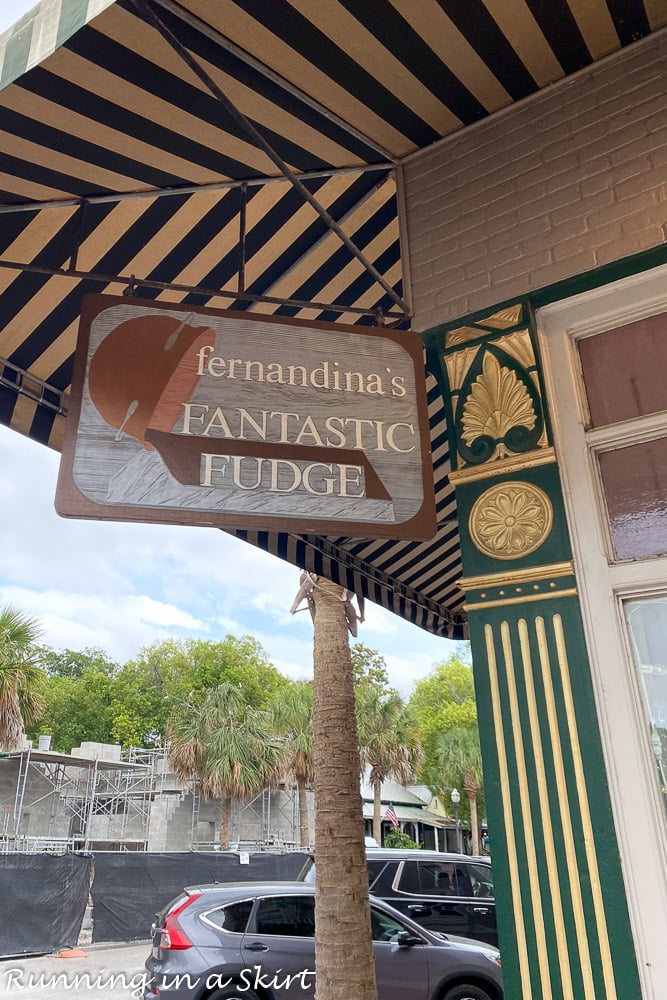 More Downtown Fernandina Beach Restaurants to Try:
Looking for more restaurant reviews? Check out my Amelia Island Restaurant Guide.
Downtown Fernandina Beach Shopping
Shopping is another top thing to do in Fernandina Beach FL. You'll find everything from the expected tourist souvenirs to high-end boutique shopping. The shops are mostly local and super charming! Here are a few highlights.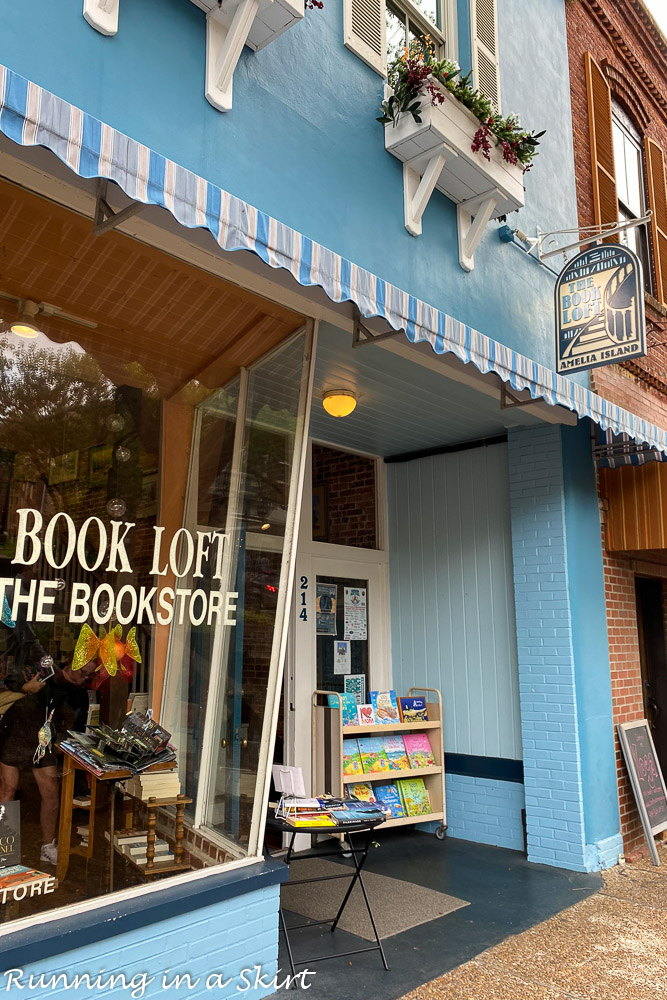 Where to Stay in Historic Fernandina Beach
Historic Fernandina Beach's downtown district is home to just one traditional hotel and several smaller inns, breakfast inns, and b&bs. Here are your choices. You can also find VRBO or AirB&B rentals.
Downtown Fernandina Beach Special Events
Exploring some of the annual special events is one the of top things to do in Fernandina Beach FL downtown.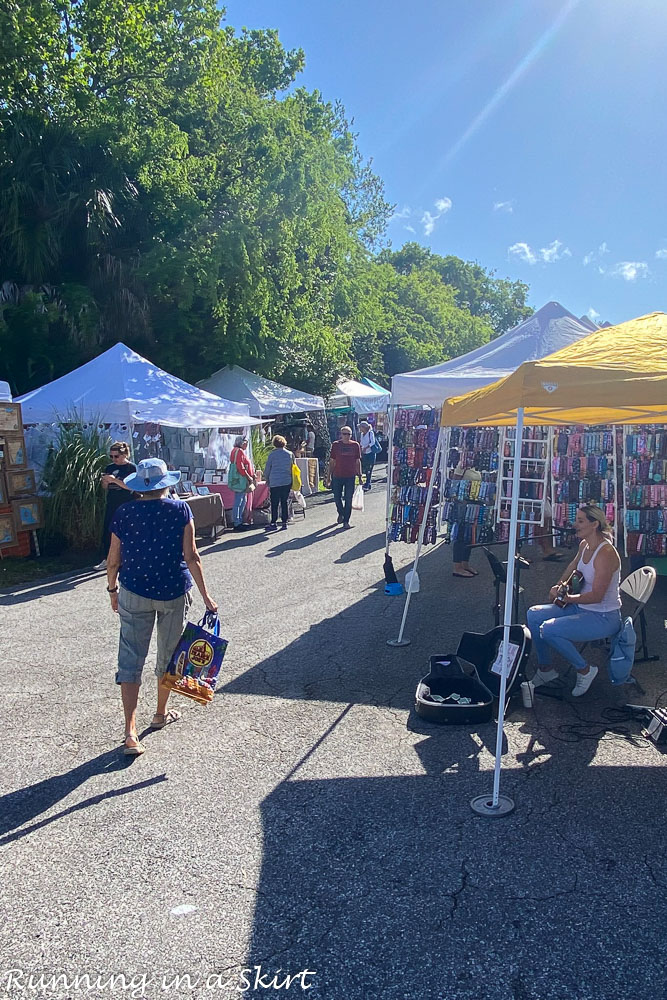 Fernandina Beach Downtown Tours
If you still want more information and things to do in Fernandina Beach FL, you can also try these locally run tours.
Things to Do in Fernandina Beach FL Downtown
There are so many things to do in Fernandina Beach FL Downtown. I hope this guide gives you a helpful place to start planning your trip. I also have lots of guides on the surrounding areas including Amelia Island and the town of Fernandina Beach. Continue planning your trip here.
More Amelia Island Travel Information:
More fun moments from my family vacations to Amelia Island:
Downtown Historical Fernandina Beach Travel Guide
Click To Tweet
Pin for later: