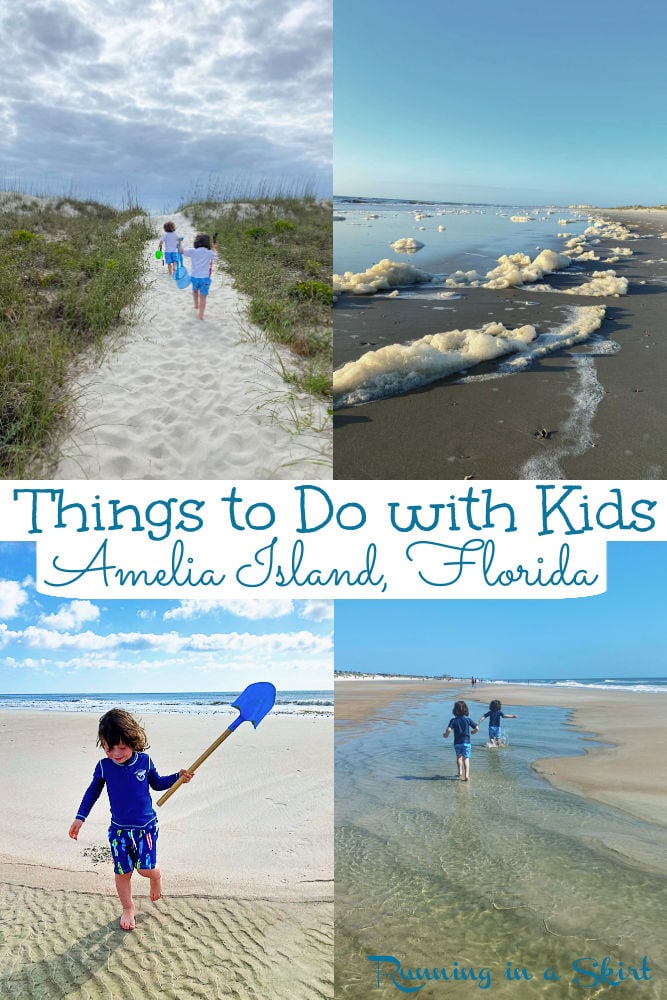 Curious about Amelia Island things to do with kids? Here are the best family-friendly things to do on Amelia Island and Fernandina Beach, Florida including beaches, state parks, activities, and where to eat with kids.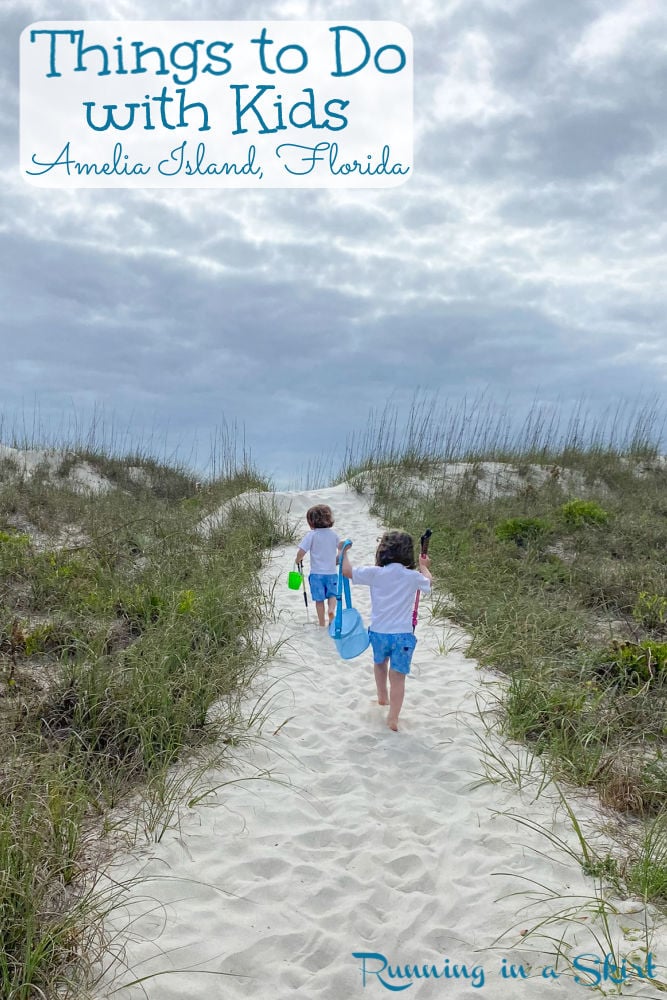 Amelia Island Things to Do with Kids
Amelia Island is full of things to do with kids. This gorgeous, beach lovers' paradise is packed to the brim with family-friendly adventures for kids of all ages. This is one of my favorite family vacation spots.
Before we dive in, be sure to also check out my Amelia Island Travel Guide and Best Amelia Island Restaurants for planning your vacation.
I discovered Amelia Island a few years ago and fell in love with the island's chill vibe, historical charm, wide expansive beaches, and delicious restaurants - many of them kid-friendly. We've visited three times since with my two kids, so I wanted to share with you some of the top things we've done on Amelia Island with kids.
This island is a special place for families because it has so much to do BUT it's not your typical beach stuff. Don't expect large neon signs and overgrown development like you see in so many beach towns. The charm of this place is that it's not your typical beach town. There is a lot of nature to explore!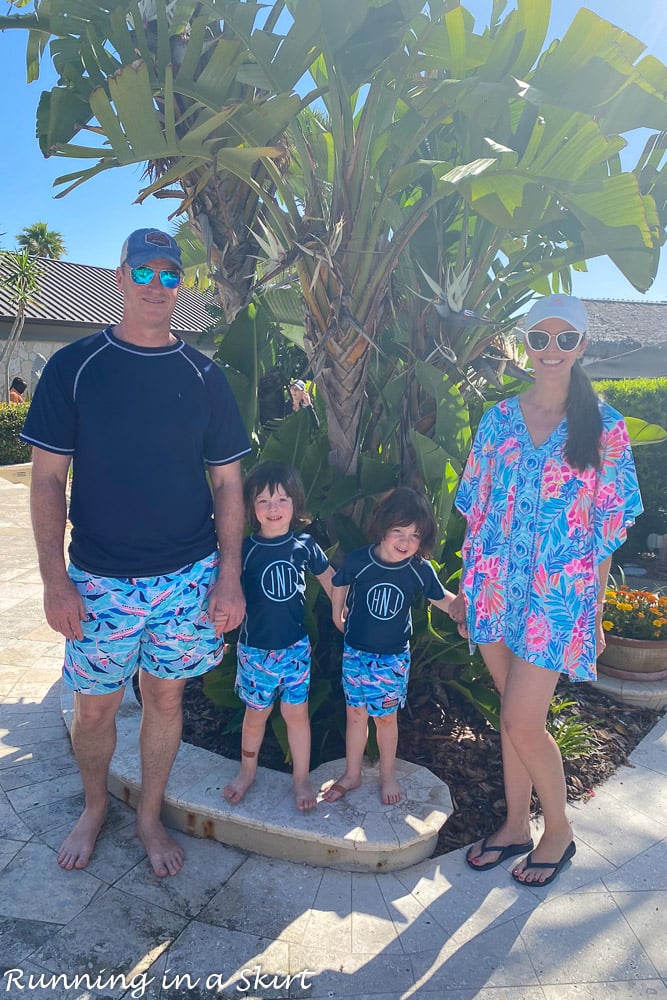 Why Amelia Island with Kids?
Whether you love spending your days on the beach or exploring a historic and charming downtown, there really is something for everyone here even when you are traveling with youngsters! I love that Amelia Island seems to cater to both adults and kids with lots of playgrounds, kid-friendly menus, and parks.
Amelia Island is located near Jacksonville along the Atlantic ocean. It's a smaller island that is often combined with nearby Fernandina Beach and Historic Downtown Fernandina Beach. The island is chill but also has lots of high-end amenities that appeal to many travelers. There are lots of beachfront condo rentals that give families plenty of space.
And of course, with kids, you can never go wrong with wide expansive beaches like these. This really is a paradise for visitors of all ages. Plus if you kids are early risers, you'll never miss a gorgeous sunrise over the ocean.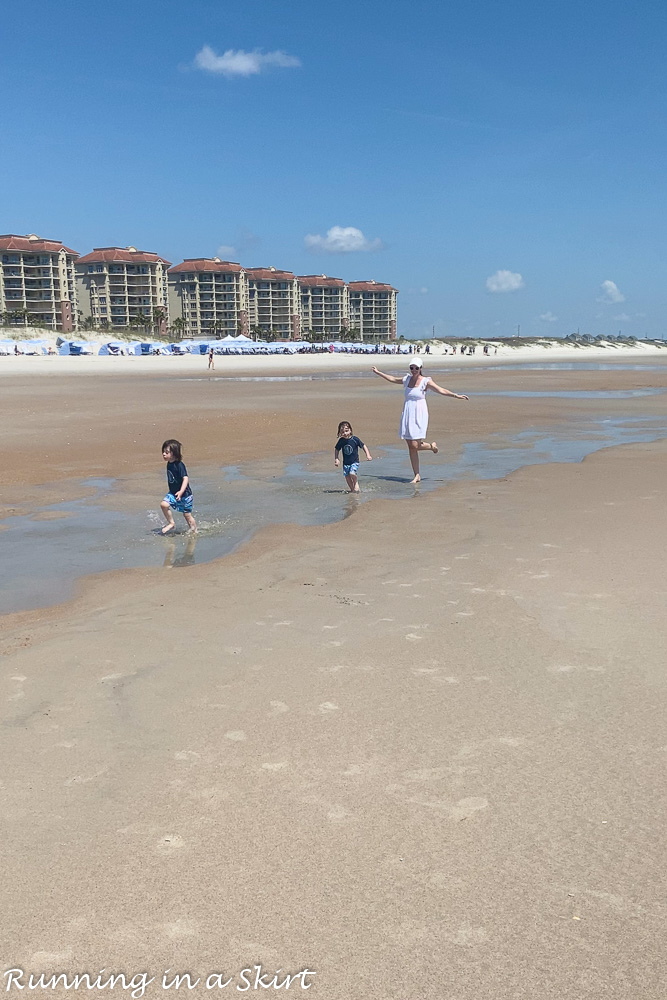 Top Things to Do on Amelia Island with Kids
Click To Tweet
Top Amelia Island Things to Do with Kids
Beaches
Amelia Island has 13 miles of uncrowded and unspoiled beaches. They are wide and flat that giving kids plenty of space to play and frolic. You really can't go wrong with a beach day with kids.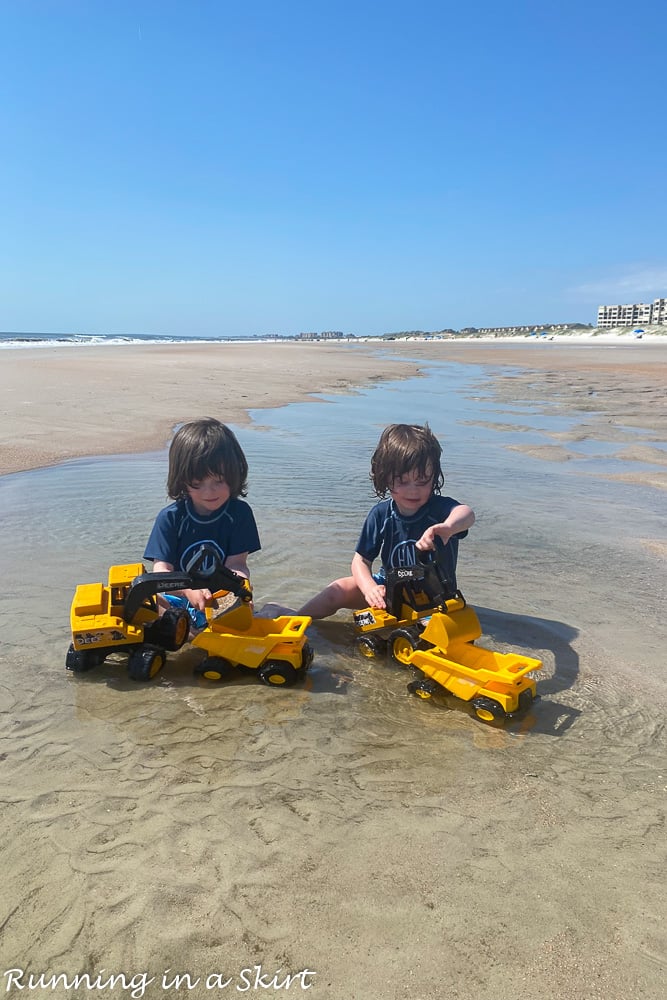 One of my favorite things to do with kids on Amelia Island is to watch for tidepools. They often form as the tide is going out and make these magical natural pools for kids to play in. During our visits, we've even seen a starfish in them.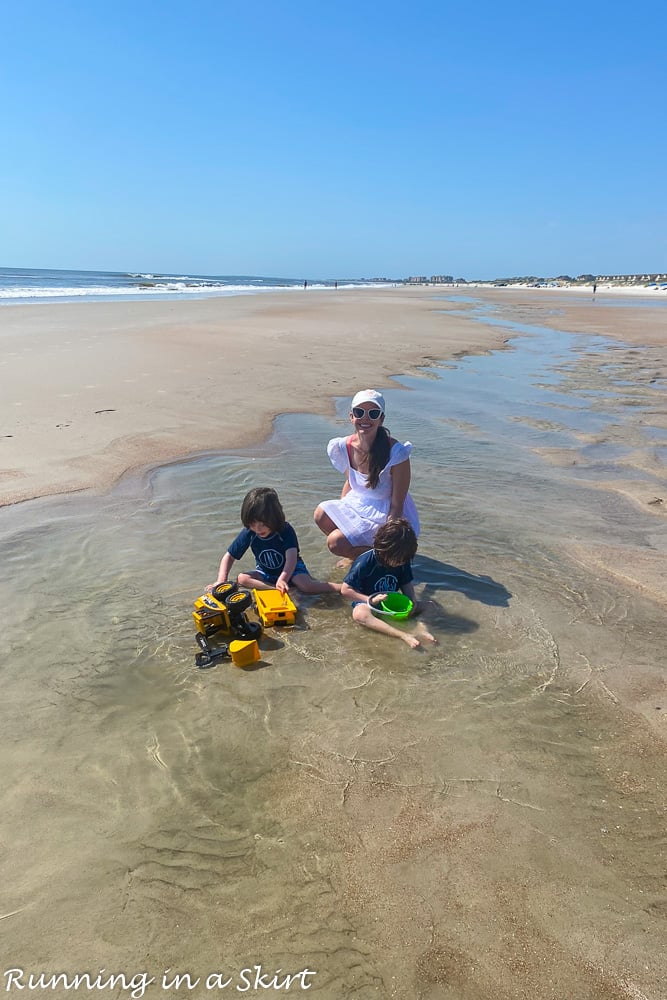 Amelia Island is also known for shelling, and looking for seashells, and sharks teeth! Hunting for the elusive shark teeth is a great activity for older kids. Many of the resorts offer a quick class on the best places to find them. They are not white like you might think, they are smaller and black.
If you aren't staying at a condo or resort with beach access, Peters Point Beachfront Park is a great place to get public beach access with showers and a picnic area.
Do be aware that some parts of the beaches allow driving on them including some of these state parks. There are no cars on the beaches in front of most of the major resorts.
Pools
Swimming is one of the top Amelia Island things to do with kids. Most resorts and condo rentals have pools and they are the perfect way to spend a day or afternoon.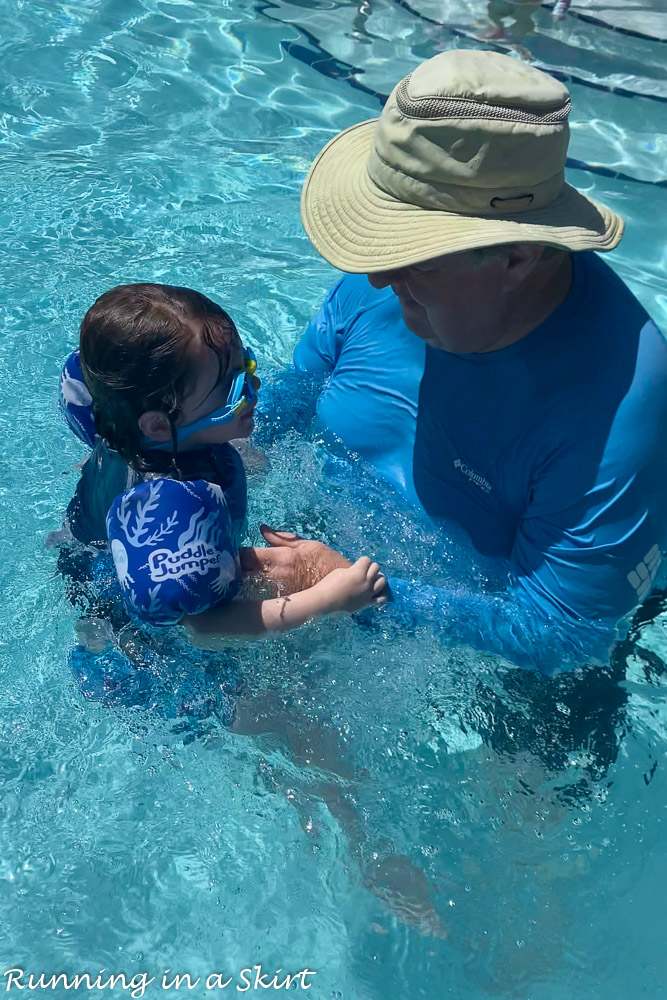 My kids spent hours playing and swimming around and are basically fishes.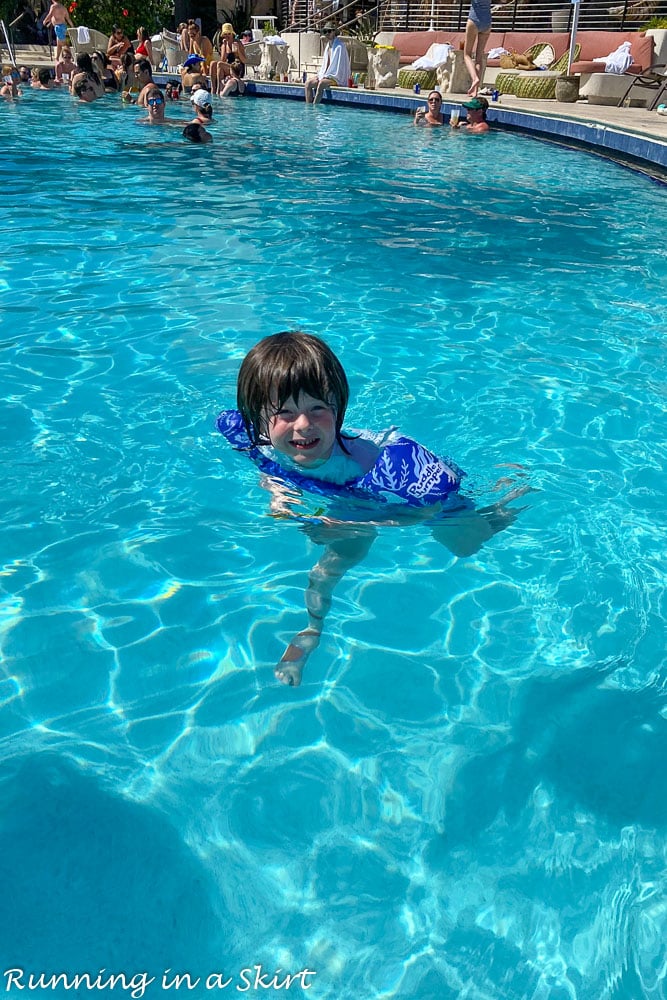 Explore Downtown Fernandina Beach
Amelia Island is immediately adjacent to Fernandina Beach, which has the most charming historical downtown. It's small, walkable, and filled with fun stuff for kids to explore. It's small and kind of reminds me of the way Savannah probably was many years ago.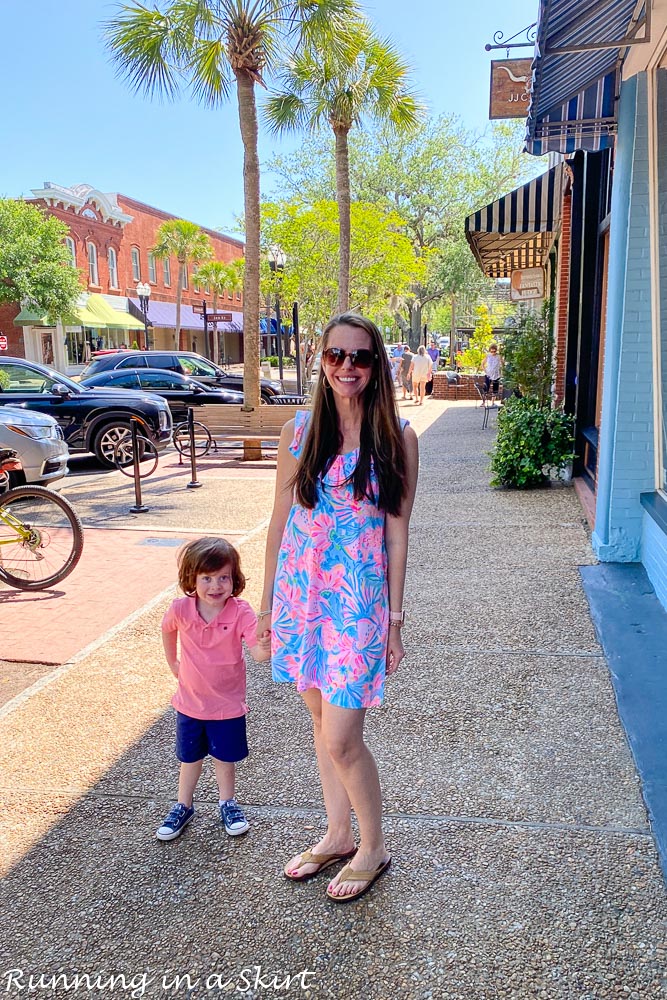 My boys loved to walk up to the Fernandina Harbor Marina and look at the boats. Older kids would enjoy a boat or ferry ride, which takes off from there. The group tours are sold on-site.
You can also stop in some kid-friendly stores. There is a super charming toy shop, Toy Shop, Villa Villekulla Neighborhood Toy Store which has more specialty toy items. They had a small train table inside.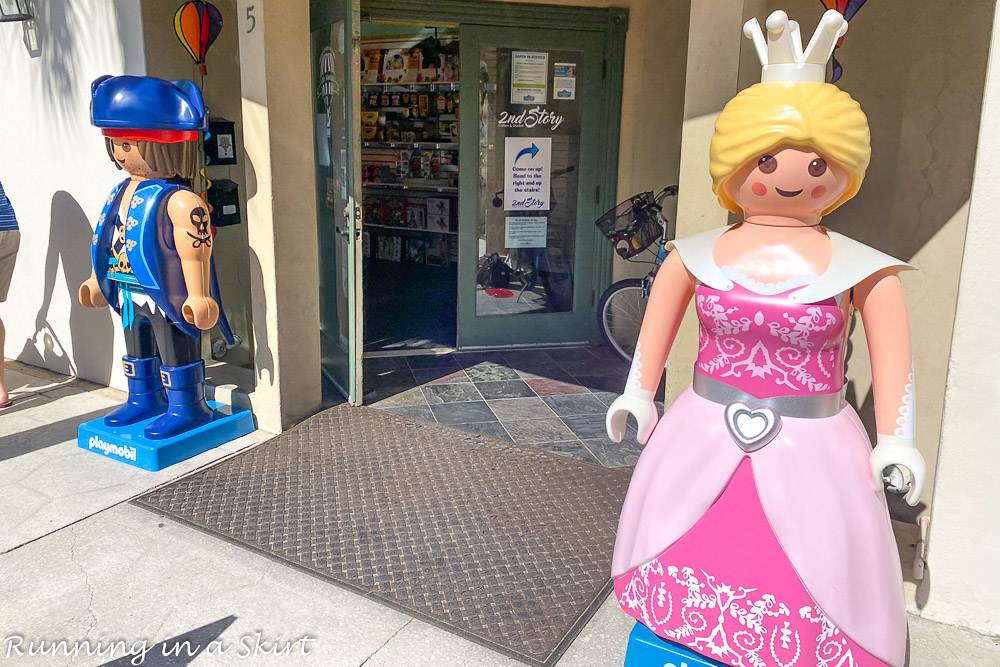 There is also The Book Loft, which is a classic book store with a children's section. They also have a small play area with a train table.
The streets are also lined with fun souvenir shops to find stuffed animals or shirts.
Watch out for the koi fish tank on Centre Street.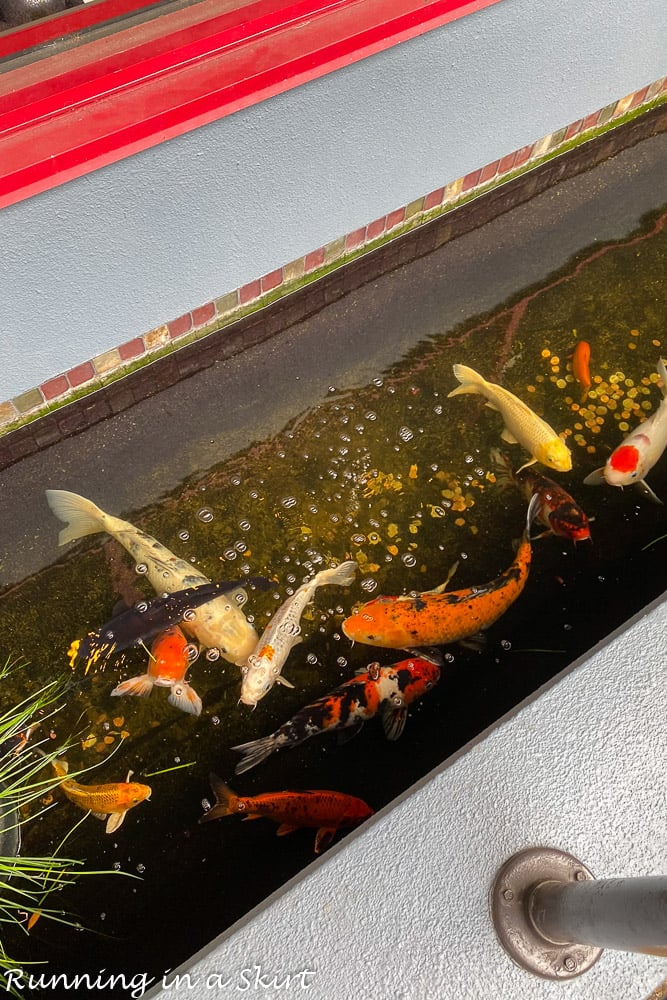 You can also find lots of kid-friendly restaurants (keep reading for my favorites,) treats, and goodies.
Embrace Pirate Culture
Amelia Island has a rich history of pirates, which they fully embrace with fun statues and costumed characters. If you have kids who love pirates, you are in the right place! Have the kids spot the pirates statues downtown and buy them a fun pirate hat before you leave. It's a swashbuckling good time.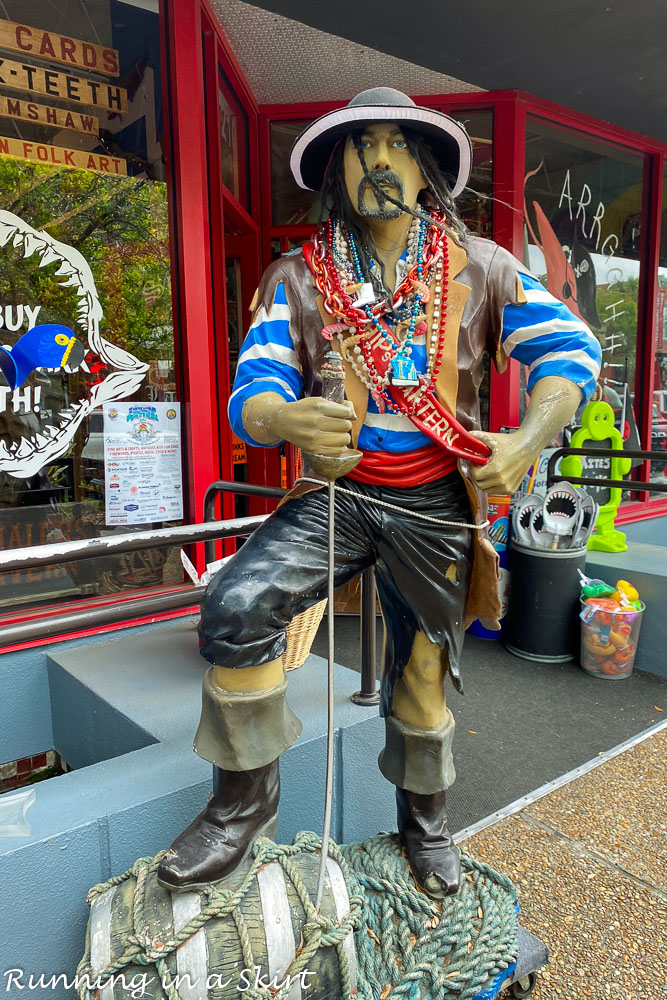 If you are staying at the Ritz-Carlton they have a pirate's toast for kids each night.
Boneyard Beach
Boneyard Beach is a beach filled with driftwood at Big Talbot Island State Park. It's downright magical and the large limbs on the beach give kids of all ages a perfect place to explore. It's the perfect way to spend a morning or afternoon.
I share all of my tips on how to get to Boneyard Beach here.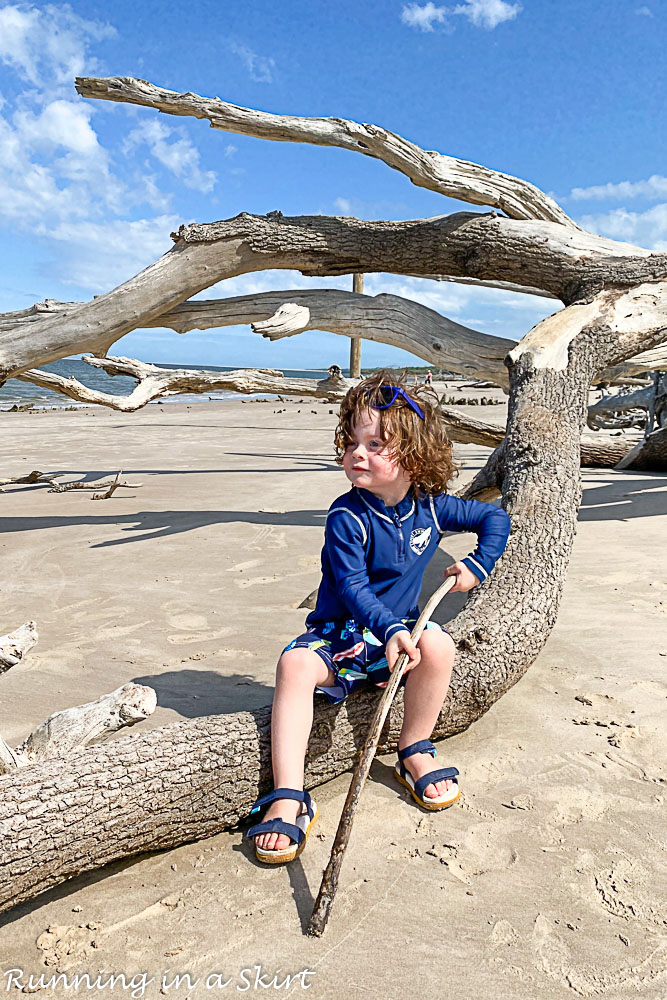 Fort Clinch State Park is a charming state park with a historic fort dating back to the civil war, beautiful beaches, and a view of the Cumberland Sound. It's super interesting and surprisingly kid-friendly. You can take the kids to walk around the fort and explore the beaches for shark's teeth.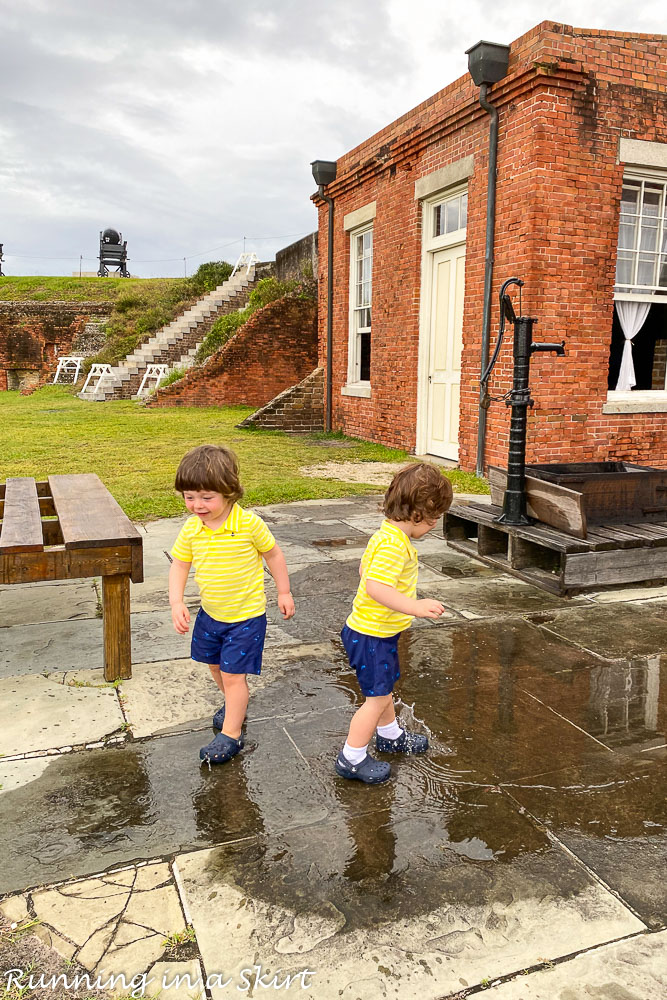 If visiting Fort Clinch with kids I'd recommend arriving early as there is no shade inside. You can bring a stroller in and it is stroller-friendly. I was surprised at how interesting the entire experience was for kids!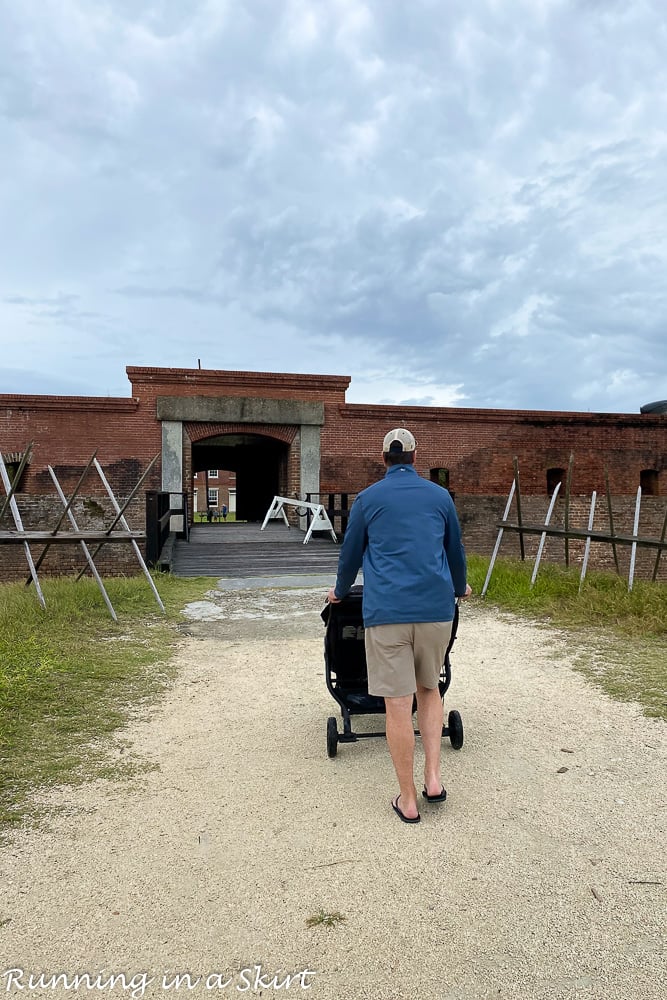 There is a playground nearby to hit up after exploring the fort. To get to the playground look for the path directly across from the parking lot of the fort entrance. There are picnic tables.
Amelia Plantation Shops
Amelia Plantations Shops is on the outside of the Omni Amelia Island Plantation. While the plantation is closed to the public, the shops outside are free to explore for anyone. It's actually a fun place for kids to walk around. We saw lots of turtles there and did a little shopping. There are also a few restaurants.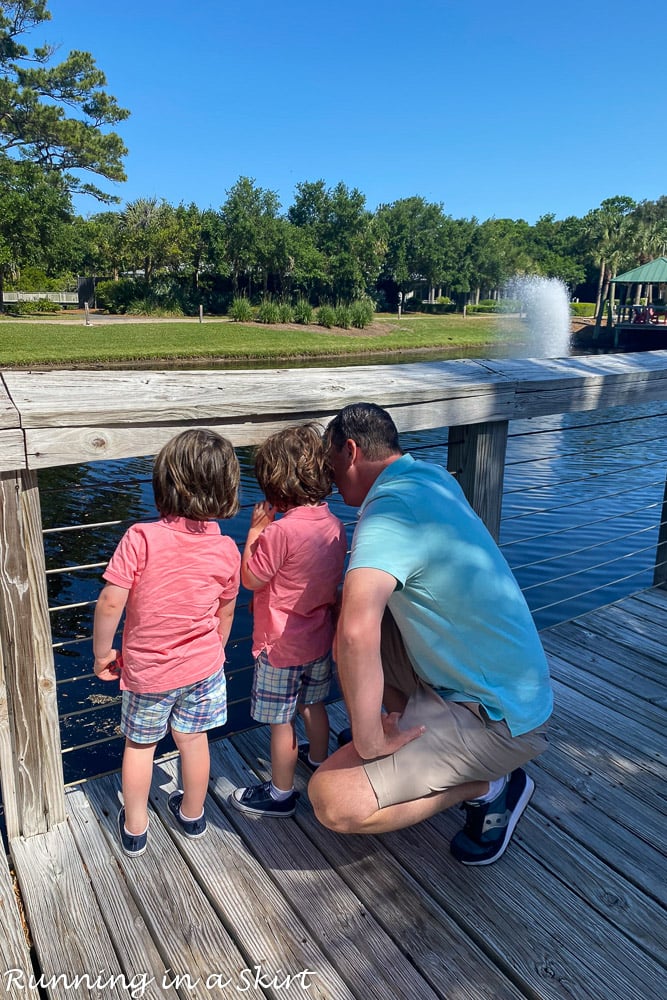 If you walk past the shops there is the Amelia Island Nature Center which is part of the resort, but open to the public. Peek around back to see a creek with lots of turtles. They have activities and a cute shop inside. Older kids can rent kayaks or paddle boards.
Egan's Creek Greenway
Looking for something unexpected for Amelia Island things to do with kids? The Egan's Creek Greenway is the perfect activity for an afternoon if your kids need a break from the beach and pool. There is a nice shaded trail. It's over 300 acres of protected land. There are grass-covered trains and lots of wildlife including alligators, marsh rabbits, and birds.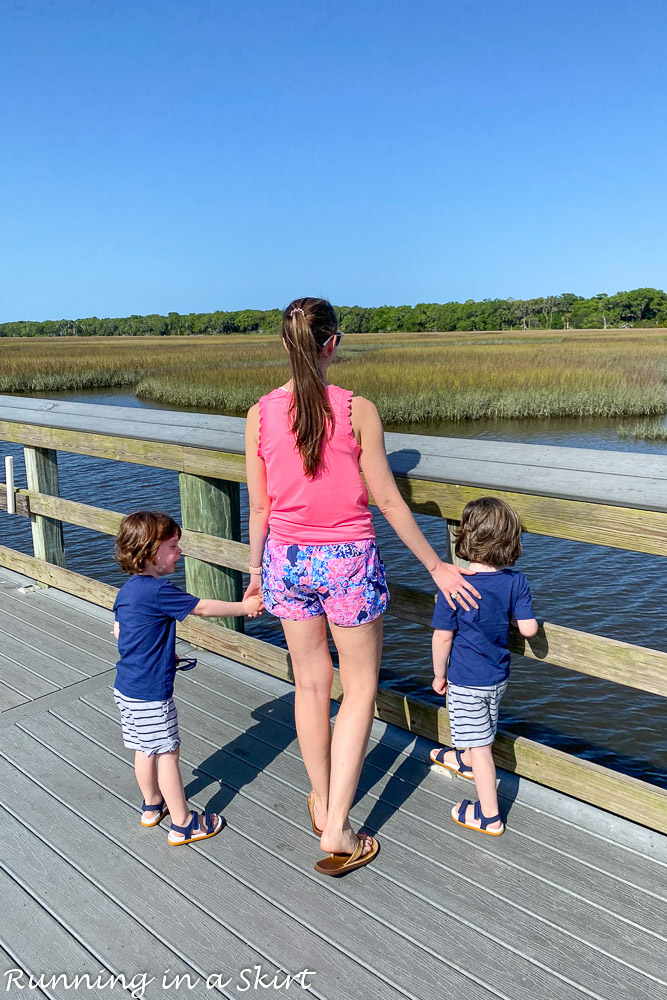 There is even a cool play structure for older kids.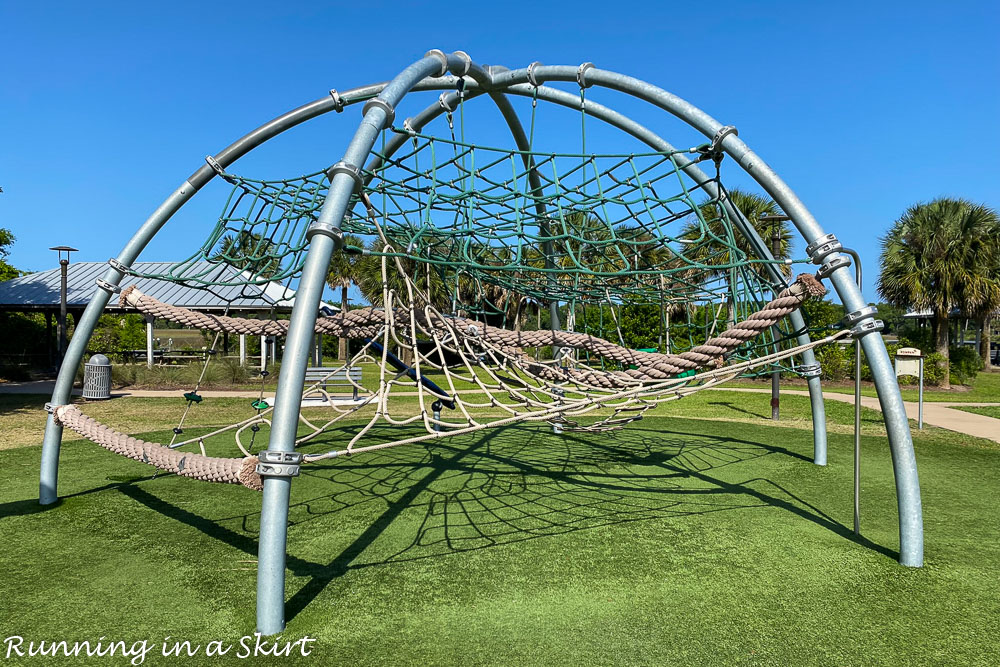 Jacksonville Zoo
While not technically on Amelia Island, the Jacksonville Zoo is just a short 30-minute ride away. Skip the highway and travel along A1A for a gorgeous ride through maritime forests, marshes, and tidal creeks.
The zoo is along the banks of the Trout River and has over 1,500 animals. The highlight for my boys was the train! It's a kids' paradise and the perfect day trip from Amelia Island.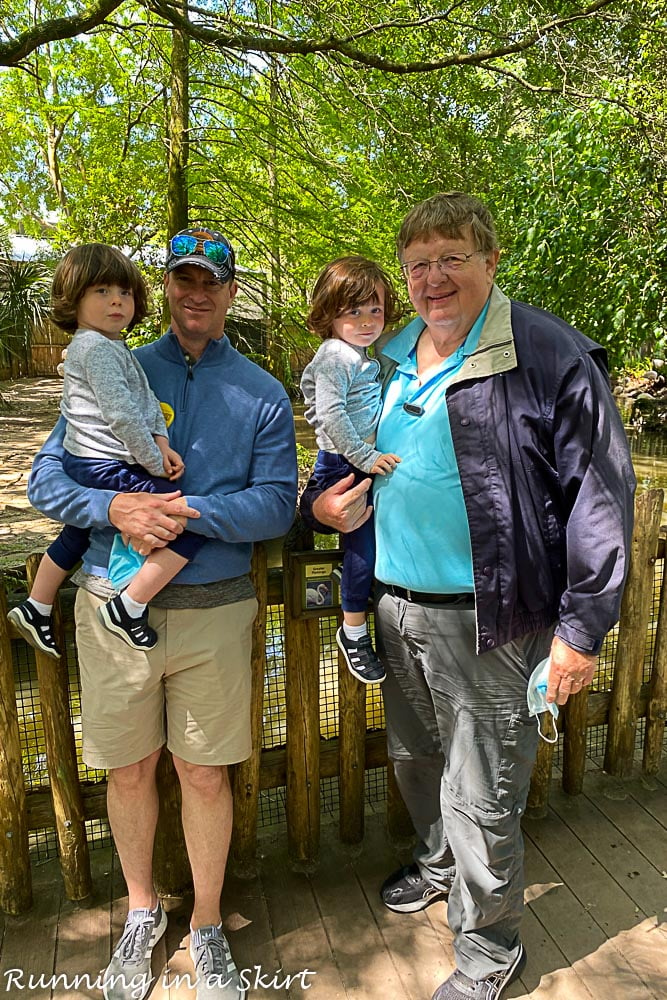 Get Ice Cream
What's a beach trip for kids without ice cream? Getting ice cream is one of my favorite things to do with kids on Amelia Island. There are shops around town and several charming ones downtown. Here are a few top picks: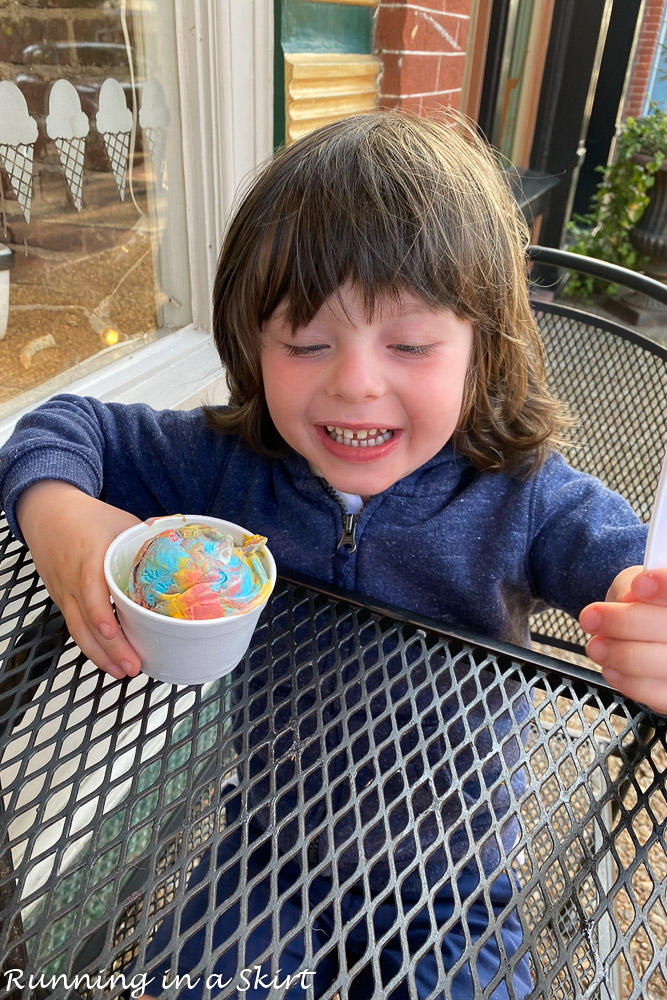 Kid Friendly Restaurants
Kid Friendly Restaurants on Amelia Island and Fernandina Beach? YES! You'd actually be surprised that this resort town has lots o great places to eat for kids including several restaurants with playgrounds! The food on the island is really tasty, so don't be afraid to take the kids out.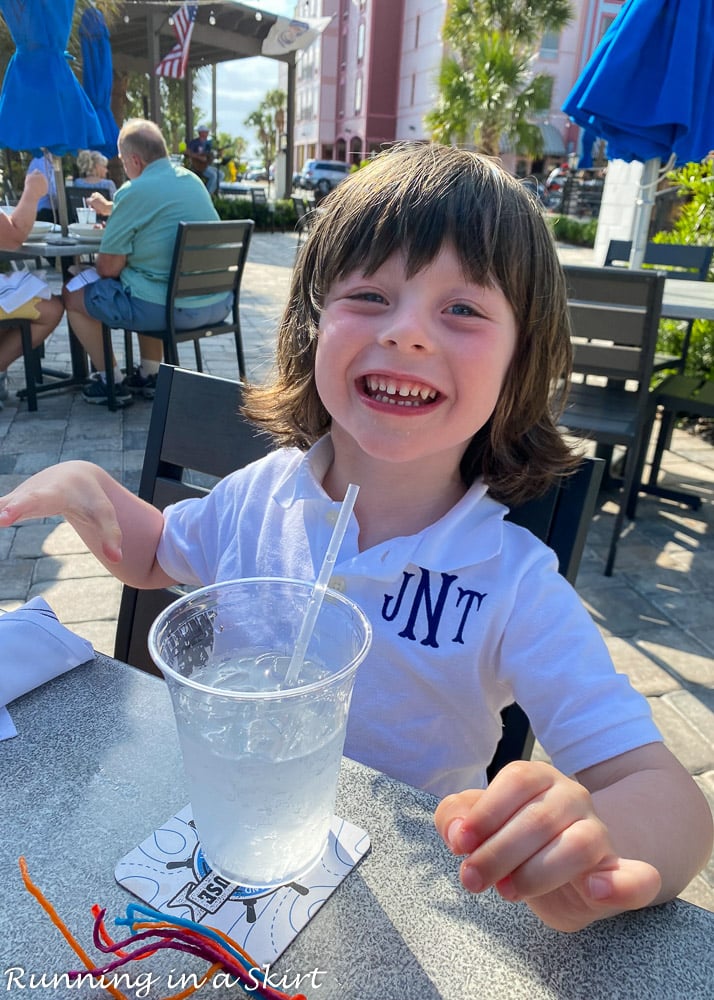 Where to Eat with Kids:
The Boat House - A cute new restaurant in downtown Fernandina Beach with a large outdoor seating area and a stage for singers. It's a great place to take the kids to eat and enjoy some live music.
Sliders Seaside Grill - A local favorite with a gorgeous beachfront location and delicious, fresh seafood. There is a playground right in the sand along with the tables, so you can't beat it for dining out with little kids.
Timoti's Seafood Shak - Another Amelia Island and Fernandina Beach institution with casual counter service seafood. The food comes out fast and there is a pirate playground with tables! Order the lobster roll and let me know how much you loved it.
Shuckers - A waterfront restaurant that is great for kids and adults.
Those are just a few options but Amelia Island is FULL of delicious restaurants for kids. Make sure to read my Amelia Island Restaurant Guide on the best places to eat on the island.
Other Things to Do with Kids Amelia Island
Putt-Putt Amelia Island - There are two Putt Putt Golf courses on Amelia Island for families. Check out the Putt-Putt Fun Center and Island Falls Adventure Golf.
Rent Bikes - Renting bikes and exploring the miles of shaded bike and walking trails is one of the best things to do in Amelia Island with kids. There are lots of bike rental options including Bike Amelia and Amelia Rentals.
Amelia Island Museum of History- Older kids would enjoy the history lessons including learning about real pirates. They also offer walking tours and ghost tours.
Kayaking Tour- Amelia Island is a great place to kayak. It is a great activity for older kids. Several companies offer tours including Amelia Island Kayak and Amelia Island Adventures.
Boat Ride- Amelia Island offers lots of options for boat rides and tours including tours of nearby Cumberland Island with wild horses, and sunset cruises. You can also watch for dolphins. Amelia River Cruises is one of the more popular options and includes offers from the day and sunset cruises.
Horseback Riding - Amelia Island Horseback Riding is popular because it's one of the few places you can ride on the beach!
Isle of Eight Flags Shrimp Festival - A charming festival in late April celebrating the town's shrimping history and culture.
Amelia Island is full of wonderful things to do with kids for family vacations! This destination is one of my favorite places to take my family. When planning your trip don't forget to start with my Amelia Island Travel Guide.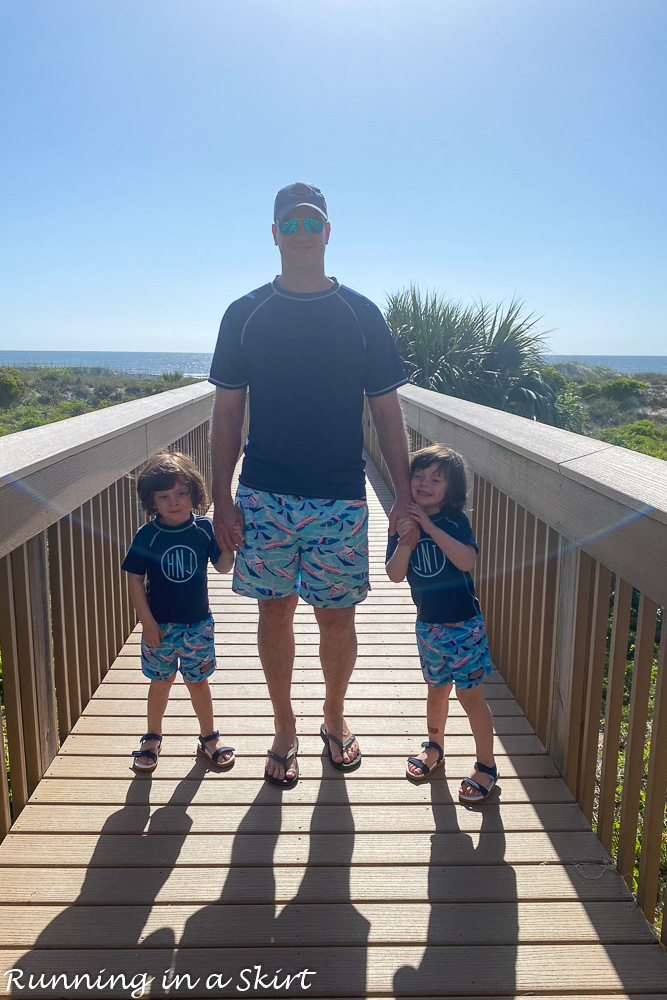 More Amelia Island Travel Information:
More Beach Town Travel Guides:
Pin for later: