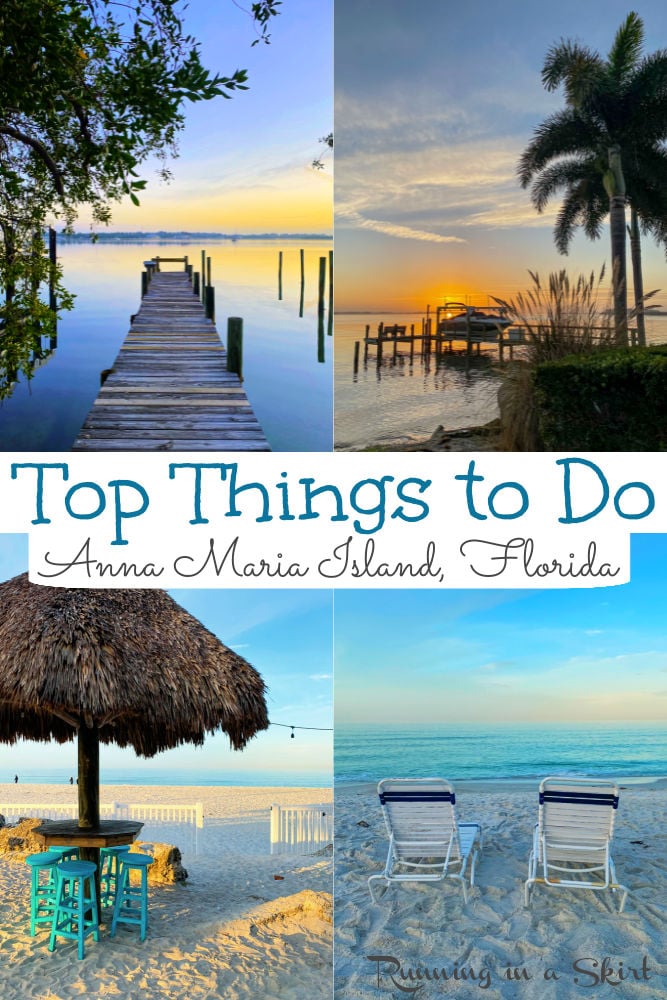 Curious about the top things to do Anna Maria Island, Bradenton Beach, and Holmes Beach? From gorgeous beaches, epic sunsets, charming small towns, and historic charm, this Florida barrier island is filled to the brim with low-key beach-town activities. This small island community, known as AMI by locals, will quickly win you over with its Old Florida Charm and swoon-worthy views.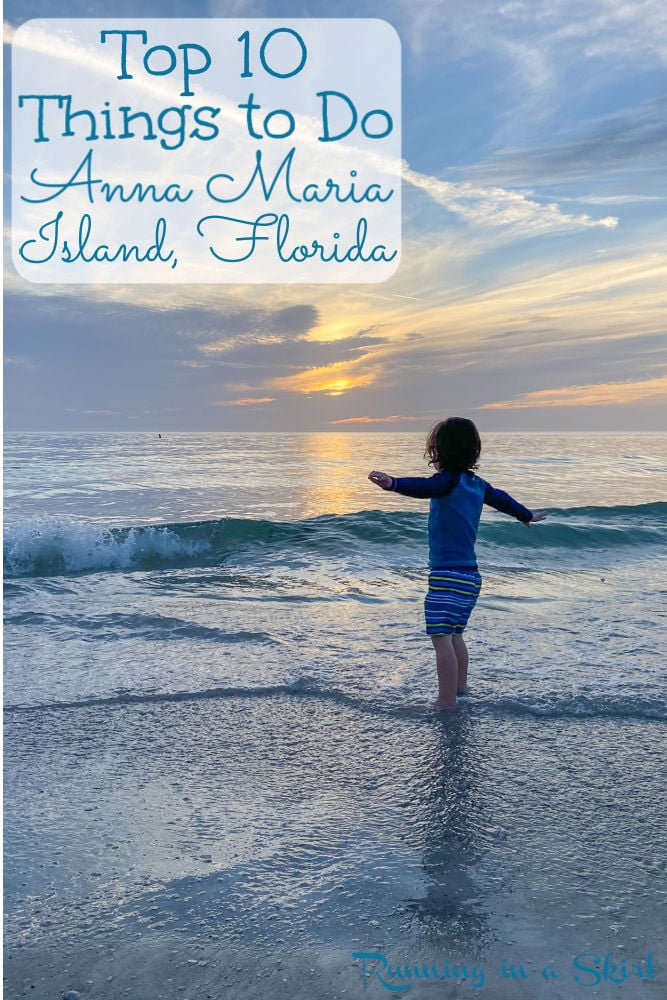 Anna Maria Island Things to Do
If you are looking for Anna Maria Island Things to Do, you've come to the right place. I'm sharing my favorite activities on the island including top beaches, historical sights, delicious restaurants, and charming hidden gems. Keep reading for details on my favorite adventures on Anna Maria, Bradenton Beach, and Holmes Beach.
I've shared my Top 10 Favorite Anna Maria Island Moments from my trip, but today I'm sharing all the fun details to plan your own trip.
If you are just starting to plan your trip or curious about the island, Anna Maria is the kind of place you go to not officially do much. The island has a low-key and relaxed vibe that's a far cry from much of Florida. There are no high-rises, no huge chain hotels or restaurants, and just a few stoplights. It's oozing with a small-town Old Florida charm that's hard to find these days. There may not be a lot of official attractions, but there is still so much to do. This island is beloved by locals and visitors alike.
It has gorgeous Caribbean-style beaches with powdery white sand and aqua water. They absolutely live up to the hype!
Where is Anna Maria Island?
Before we dive into the best things to do on Anna Maria Island, let's learn a bit about it first. Anna Maria Island is on the west coast of Florida near Sarasota and Bradenton, which is south of Tampa. It's a small seven-mile island that connects to the nearby Bradenton mainland by two bridges. It's part of Manatee Country, Florida.
You can drive there from Tampa in about an hour.
The closest airport is the Sarasota airport. Depending on traffic it can take about an hour to get to the island from there.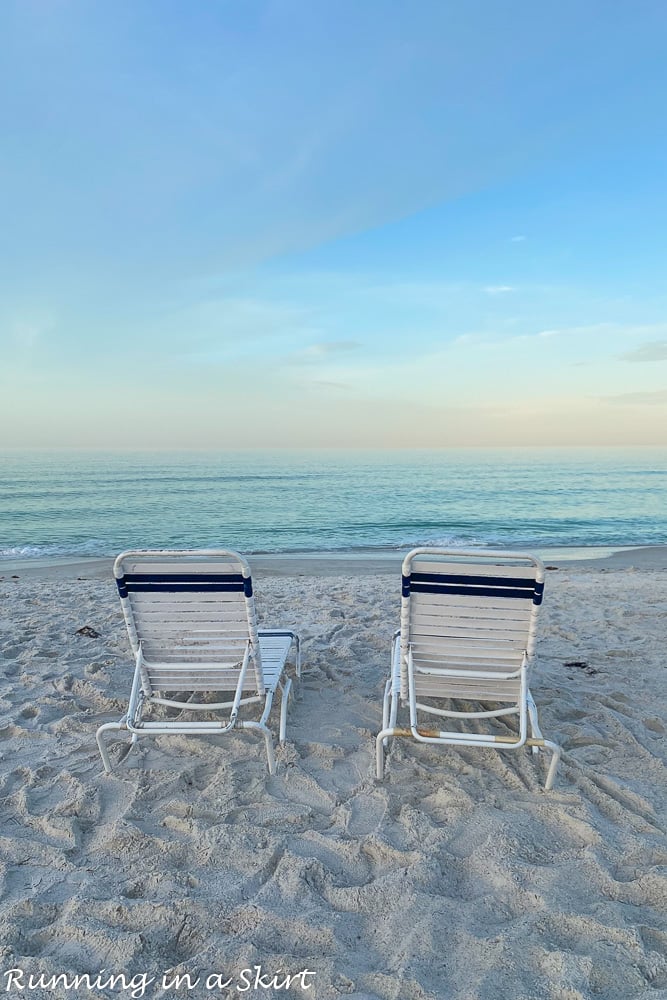 Three Communities: Bradenton Beach, Holmes Beach & Anna Maria Island
When researching Anna Maria Island you might be a bit confused because several different community names come up. Anna Maria Island is actually made up of three communities Bradenton Beach, Holmes Beach, and the municipality of Anna Maria Island.
They are all on Anna Maria Island Island but have different names and different vibes.
I found that Anna Maria proper was the most charming at the end of the island farthest to the North. Bradenton Beach is farthest to the South. I thought it would be fun for a girl's trip or a younger group who would enjoy walking to the nightlife on Historic Bridge Street. Holmes Beach is a bit more residential and sits in the middle of the two.
All three are lined with gorgeous beaches that are within walking distance, so if that's what you came for, you can't go wrong. They are all still very family-friendly.
There is a free trolley that runs nearly the entire length of the island to help with traffic and connection. Check out the schedule here.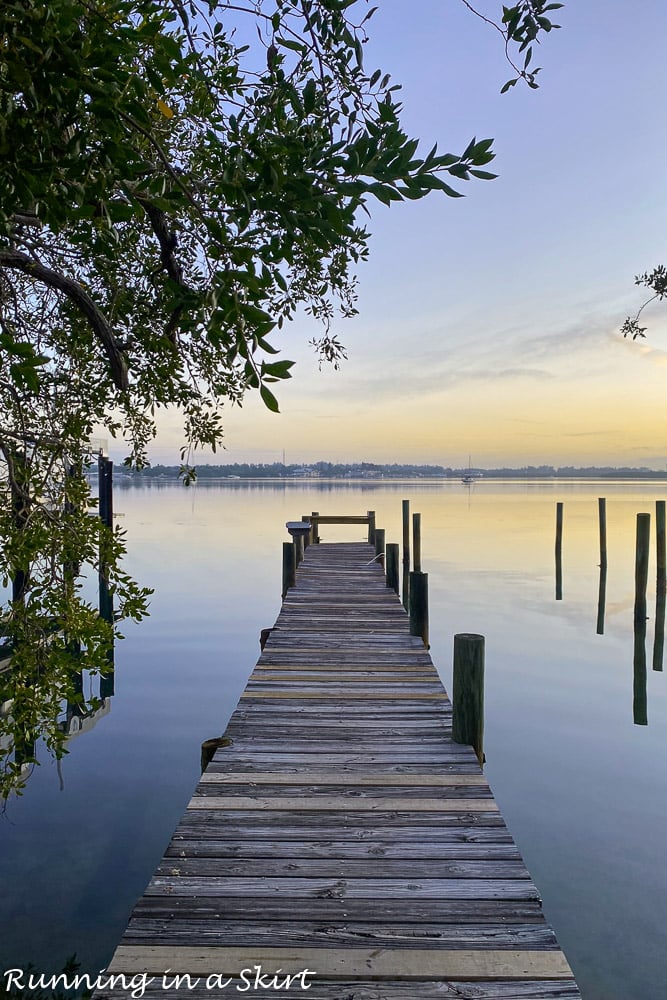 Anna Maria Island: Essentials to Plan Your Trip
Parking is limited: If you aren't staying on the island with your own parking get there early and/or plan to bike or take the trolley. Public beaches have parking but they fill up quickly. This is a popular island, so the universal advice is if you aren't staying on the island - go early.
Winter is Peak Season: Like many Florida beach towns, their peak season is actually not summer. Late winter and spring can be very busy on the island. Hurricane season runs from August, September, and October.
Vacation Rentals: There aren't a lot of hotels on the island and no huge resorts, so you'll probably need to find a vacation rental. Houses make up the majority of the rentals on the island.
AMI: Is short for Anna Maria Island. You'll see this acronym all over the island.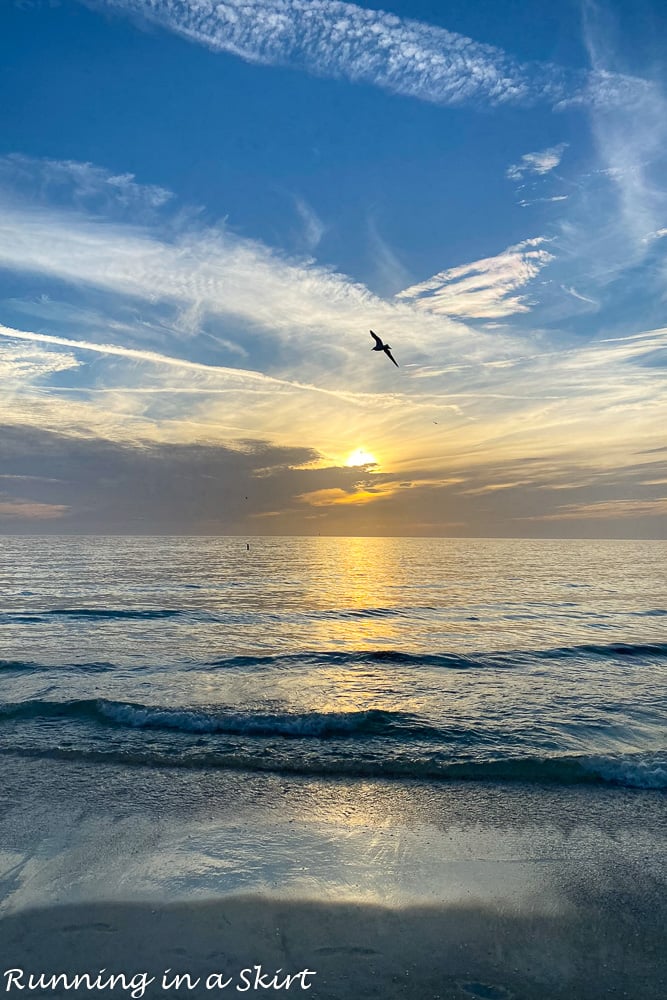 Now that's we've broken down some of the things you need to know about Anna Maria Island, let's dive into the top things to do!
Top Things to Do on Anna Maria Island
Click To Tweet
Top Things to Do Anna Maria Island
Anna Maria Island Beaches
Anna Maria Island Beaches live up to the hype and are at the very top of the list of things to do in Anna Maria Island for a reason. The beaches are filled with white powder-soft sand and the water is an inviting teal color that was warm enough to step in even in January when we went.
The water slopes very slowly out to sea giving kids of all ages the perfect water playground. My twins loved playing in the water.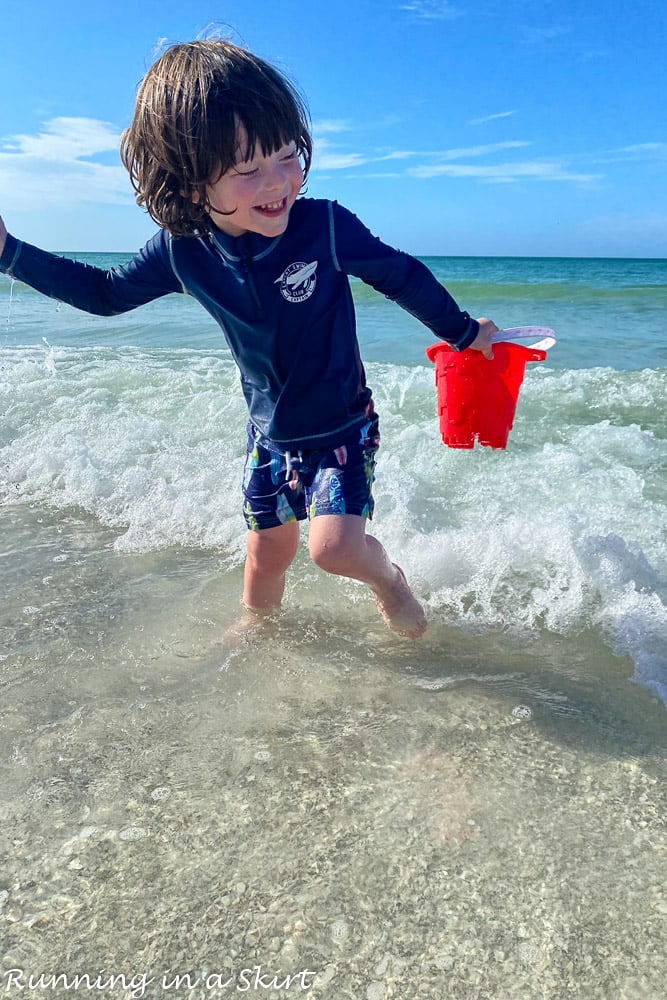 And the powder white sand was perfect for all of their beach toys. They spent hours playing in the sand each day.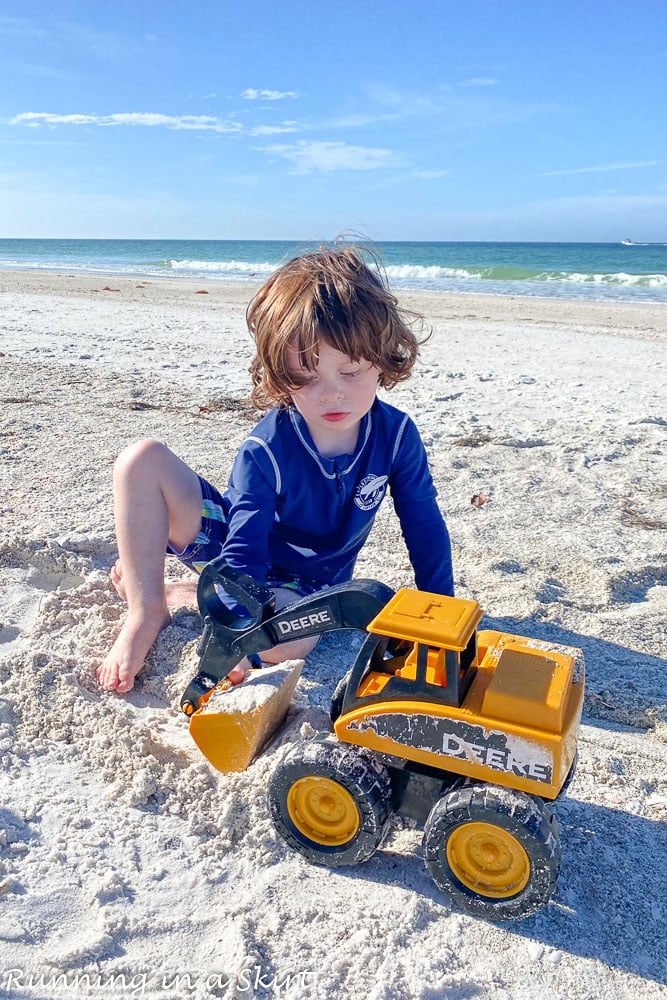 Any beach on Anna Maria is lovely, but here are the specific ones to look for. If you are lucky you might also spot some dolphins.
Anna Maria Island Beaches
Anna Maria Bayfront Park
Manatee Public Beach
Cortez Beach
Bradenton Beach
Holmes Beach
Coquina Beach
Bean Point Beach
Whether you go during the day or evening as the sun sets, you can't go wrong with spending lots and lots of time at the beaches.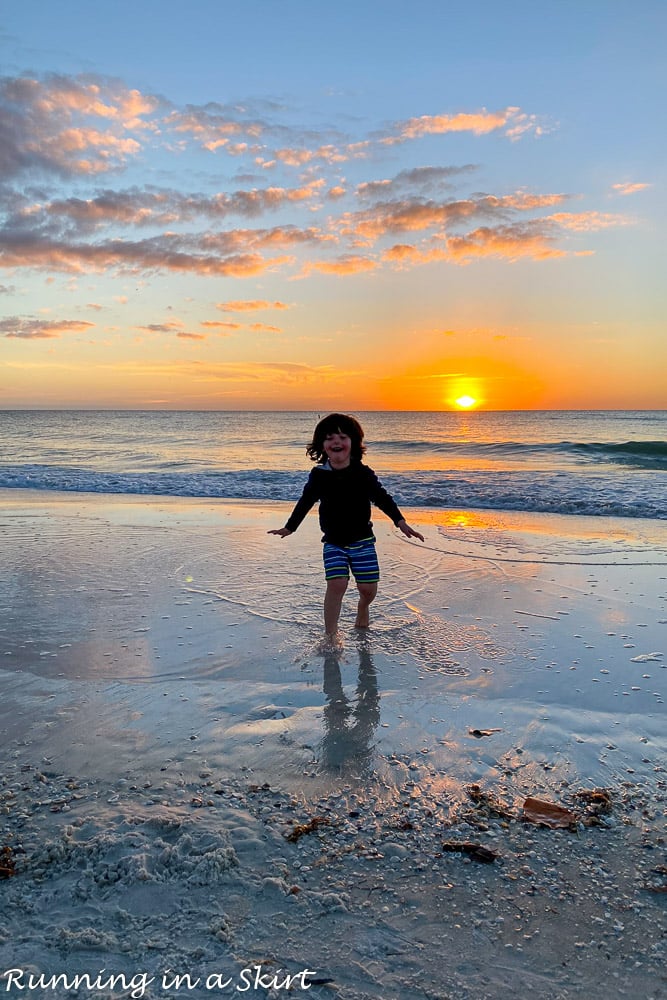 Beach Gear for Anna Maria Island
Search for Shells
Anna Maria Island is actually another great beach for shelling. It doesn't have nearly as many as Sanibel, but you can still find some gems.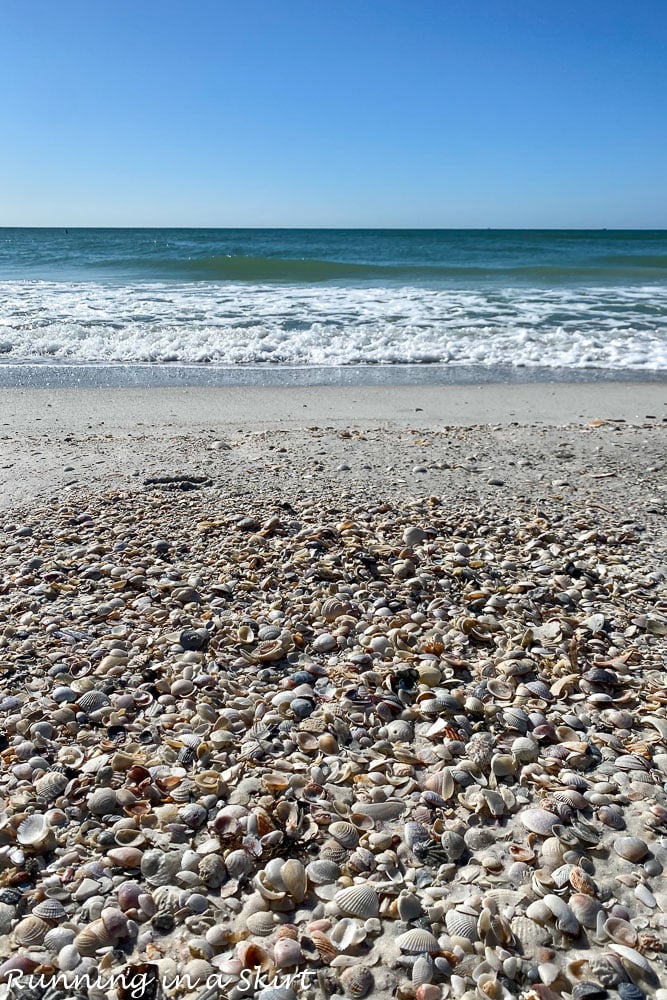 The twins even found some starfish on our trip. They loved exploring the shoreline for shells and so do we. You can also find sand dollars too.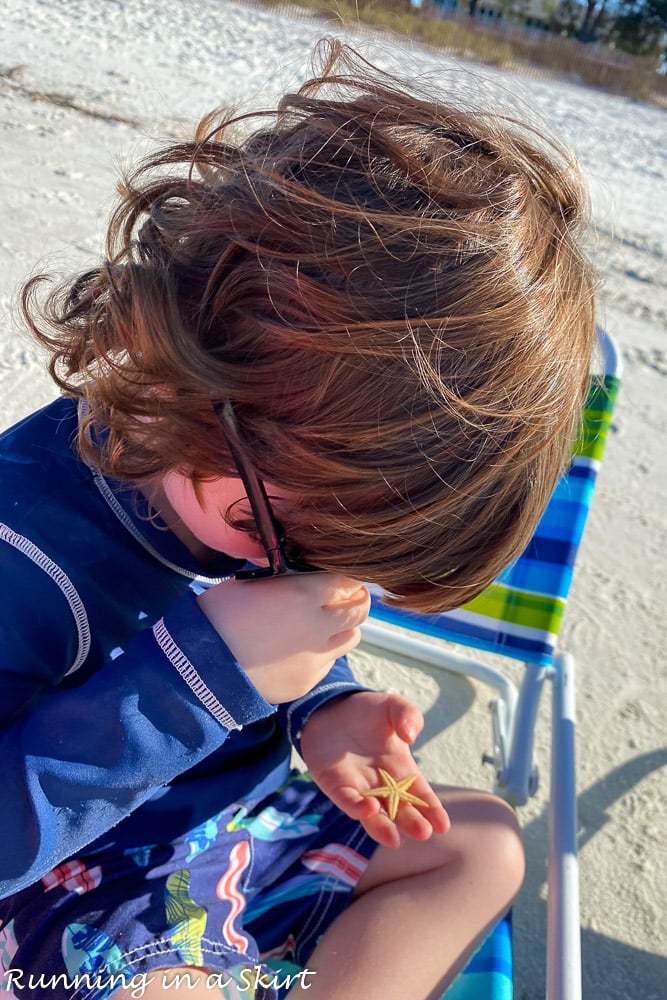 Watch the Sunset
Island sunsets are nothing short of awe-inspiring Instagram-worthy magic. They are by far one of the top things to do Anna Maria Island.
Because of the island's location on the Gulf Coast of Florida facing west, you can take a short walk to watch the sunset into the ocean every night.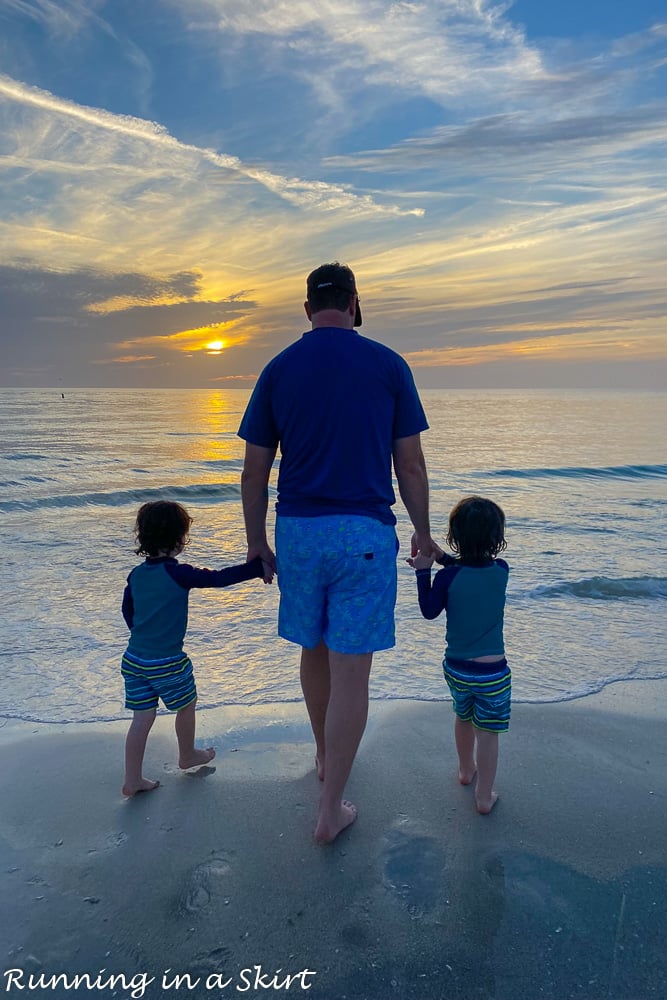 As a sunset lover, my family took a "sunset beach walk" every night of our trip. Each day we saw something different and spectacular.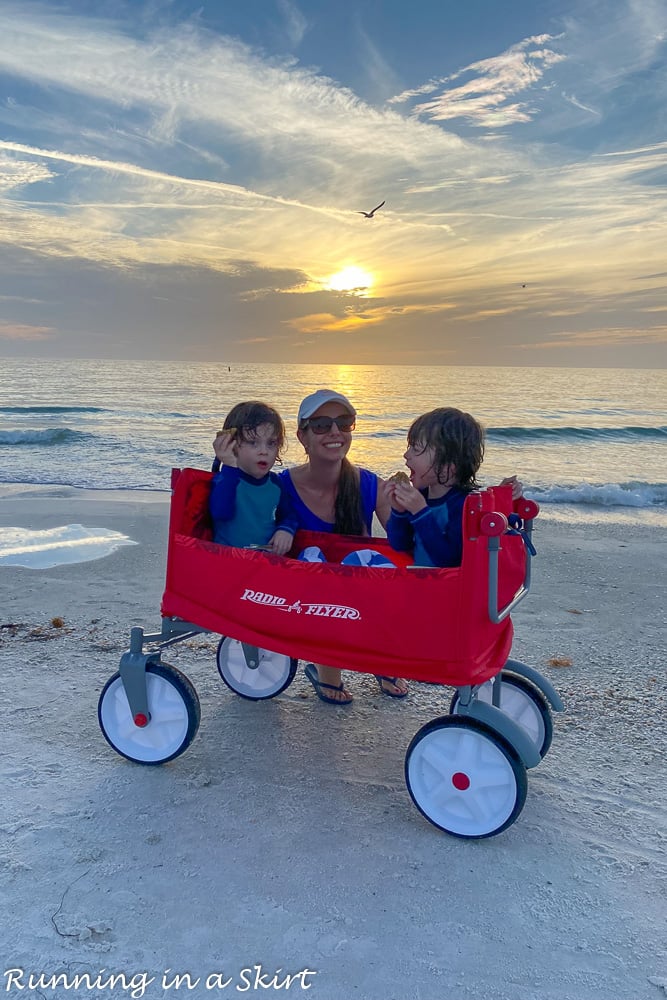 One night we even got this special pink sunset. Can you believe this color?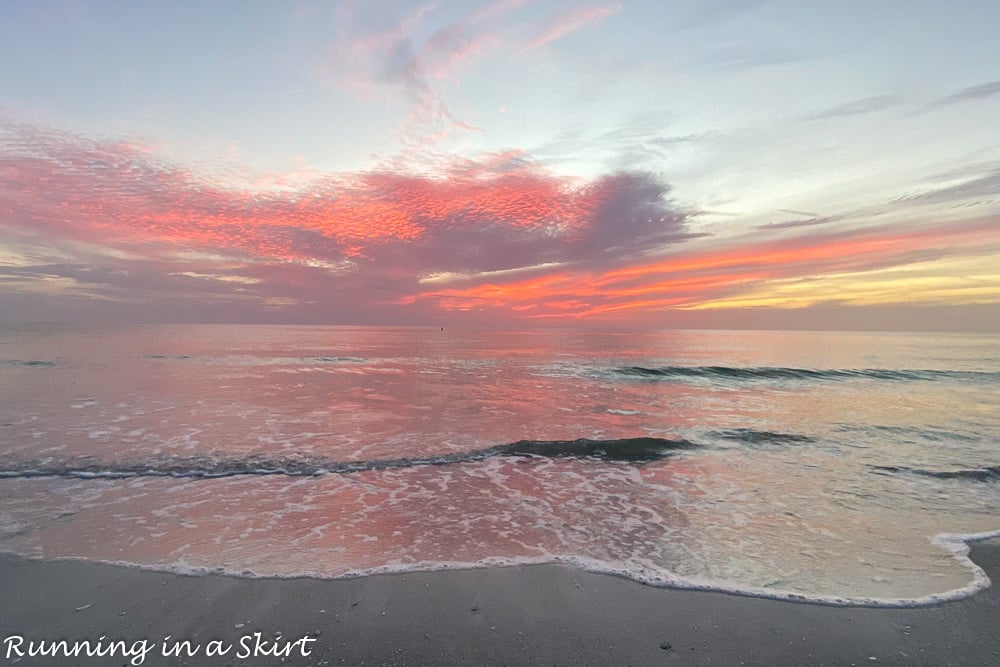 Our twins frolicked in the sand and waves and it was by far my favorite memory of our entire vacation.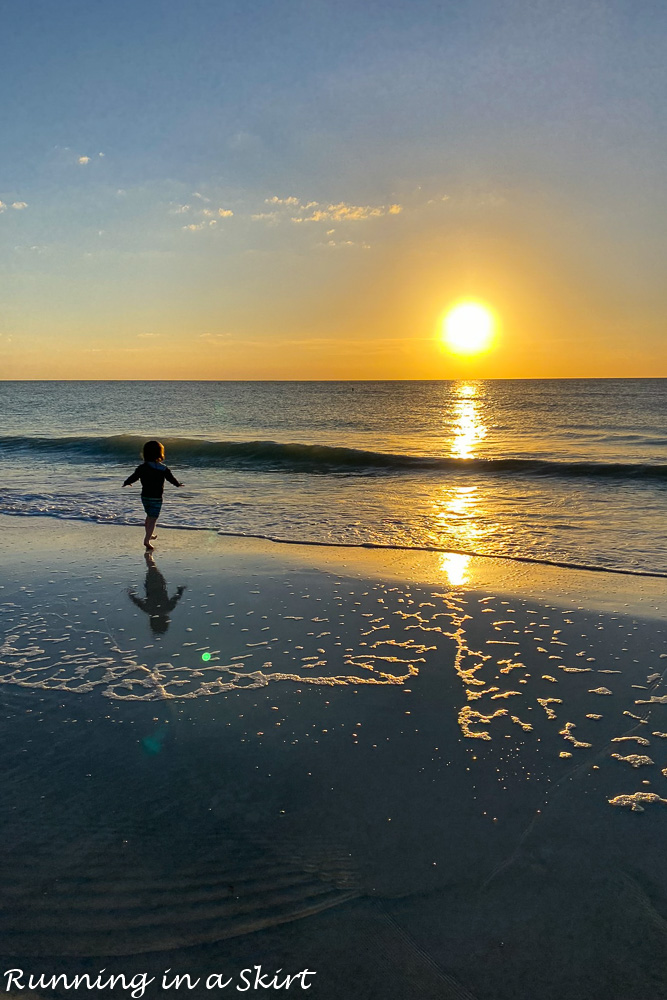 These sunsets are spectacular. I challenge you to watch one each night of your vacation. It's the perfect way to slow down and enjoy the island vibe.
Sunrise
You've got to love a small island where you can watch the sunrise and sunset over the water on the same day. Anna Maria Island might be famous for its sunsets, but I'd like to put out a campaign for their beautiful sunrises too.
Check out this view! The island was super quiet and peaceful in the morning and watching the sunrise was one of my favorite things to do on Anna Maria Island. I love the gorgeous colors and peace you get at this time of the day.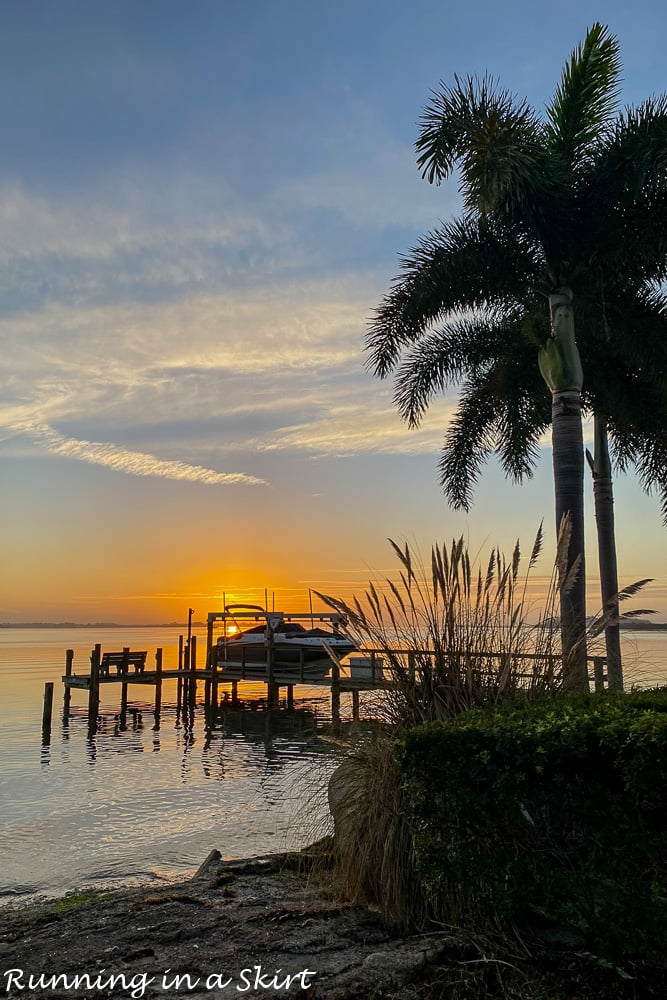 Visit Bean Point
Bean Point is at the northern tip of Anna Maria Island. It's a more secluded beach with no facilities. But it's special because it's where the Gulf of Mexico meets Tampa Bay. There are a few public walkways like this that lead out to the sand.
Parking is an issue as you have to find street parking in this more residential part of the island. There are a lot of no parking signs so look out for that. We were able to find a spot on a side street, but do be aware that it can be tricky.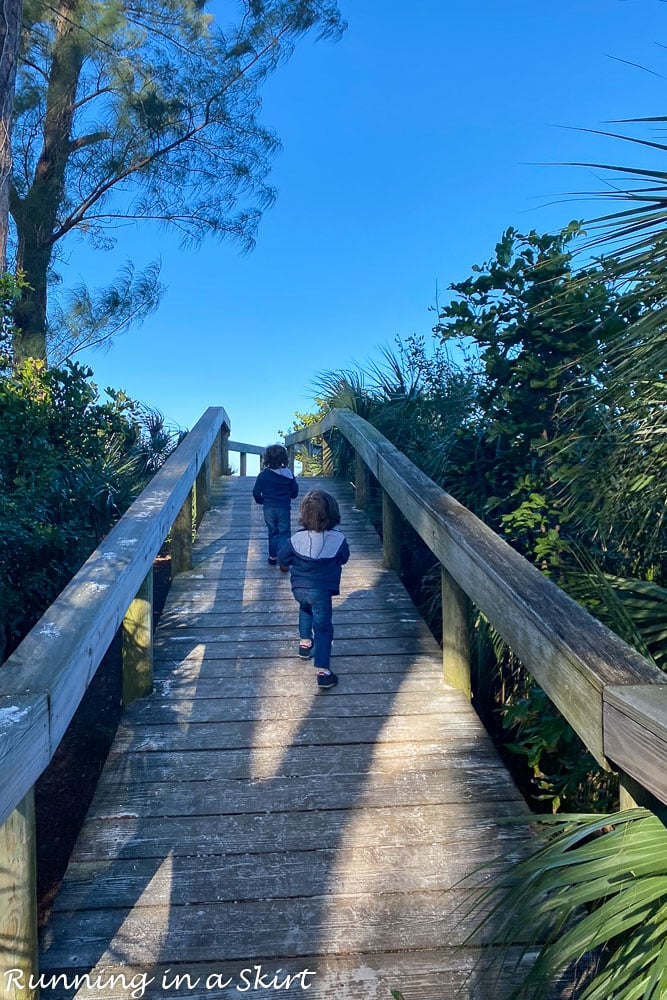 This beach is a gorgeous site for playing and watching the sunset.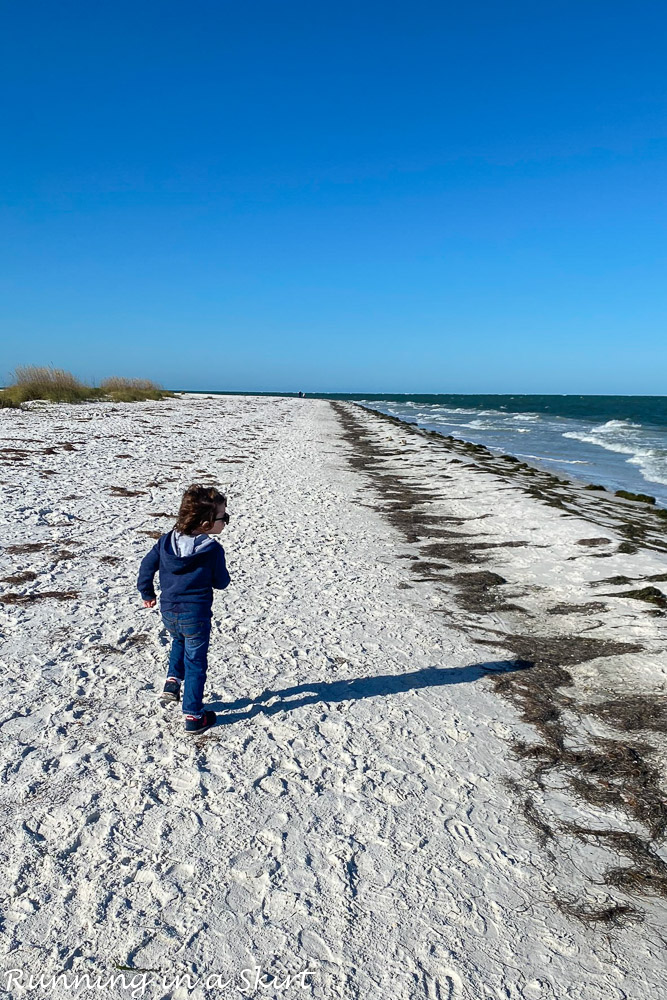 Plus it's fun to see the far end of the island. In the summer it's not uncommon to see turtles.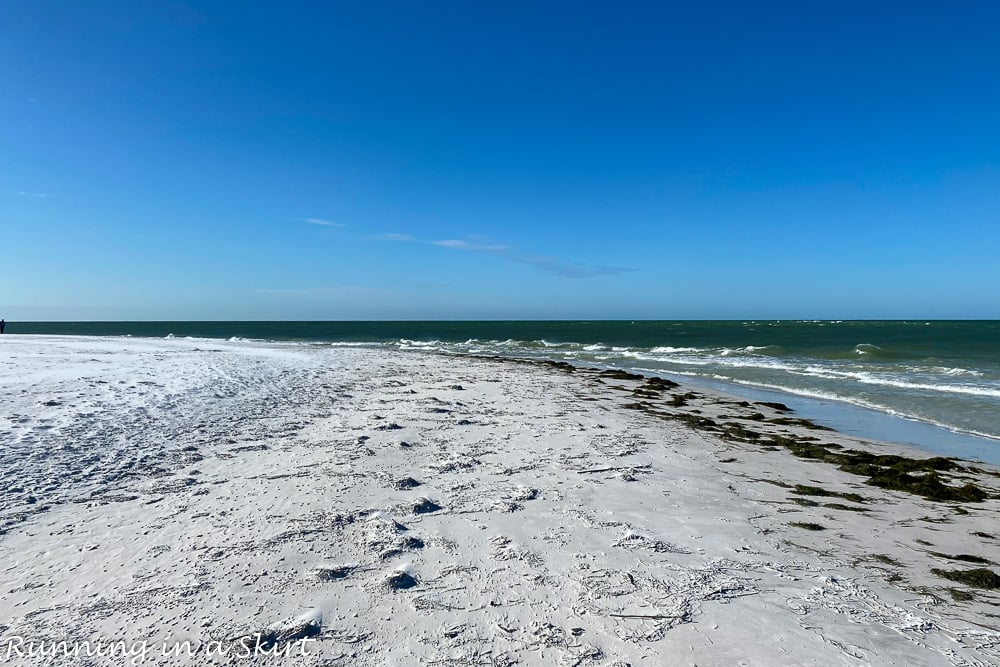 If you go also be aware that this is not a swimming beach because it has rough currents and dangerous riptides.
Explore Historic Bridge Street & Bridge Street Pier
Historic Bridge Street is a unique shopping street in Anna Maria Island on Bradenton Beach near the southern tip of the island. It's the only really touristy part of the island, but if you are looking for charming shops and restaurants in a centralized location, this is it. You'll find shops, bistros, coffee shops, ice cream shops, mini putt-putt golf, and even a fine dining option. This is a great spot to find souvenirs.
There are also some fun bars that have some nightlife. Check out the full list of restaurants and shops at Bridge Street before you go.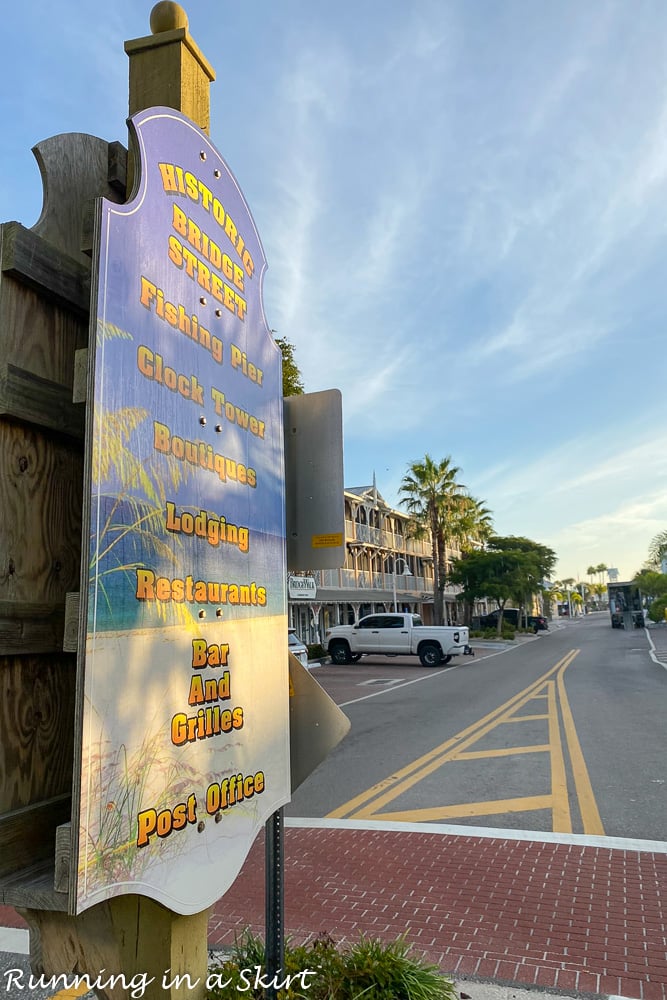 The street runs out to a charming fishing pier with an oyster restaurant - Anna Maria Oyster Bar- and lots of spots for public fishing. This is the perfect spot for oysters with a view.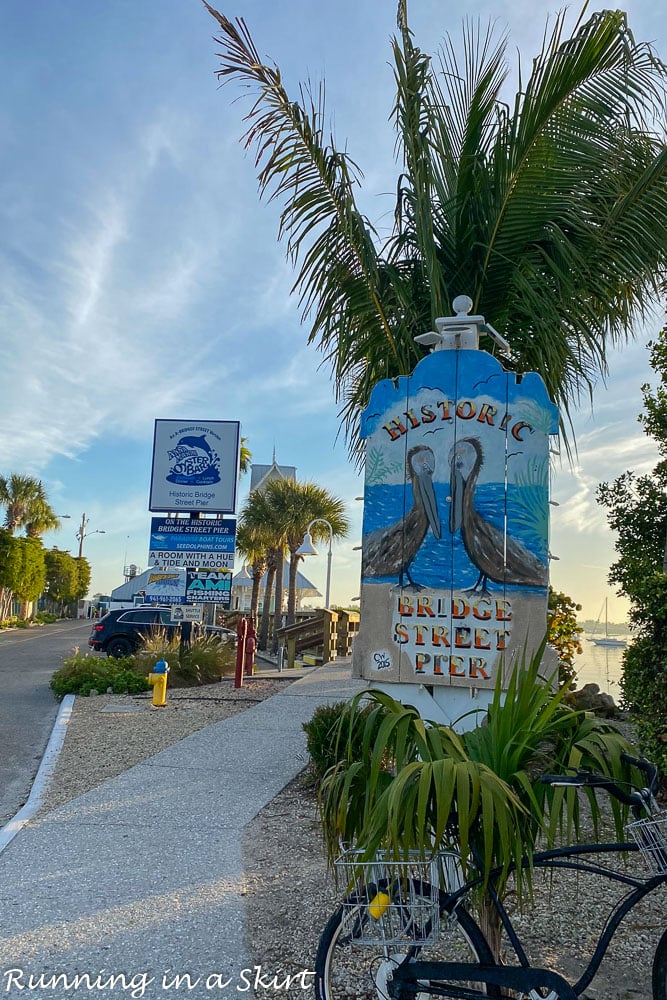 Coquina Baywalk - Leffis Key
Leffis Key was a total hidden gem and one of my favorite things to do Anna Maria Island. One day of our January trip was a bit cool for the beach, so we were looking for something still outdoorsy to do with our twins and found Leffis Key which is also called Coquina Baywalk.

It's a short hiking trail that takes you for a mile loop around a hill which gives you pretty views of the island.
The loop also has these gorgeous walkways on boardwalks that have mangrove tunnels that lead you to Sarasota Bay.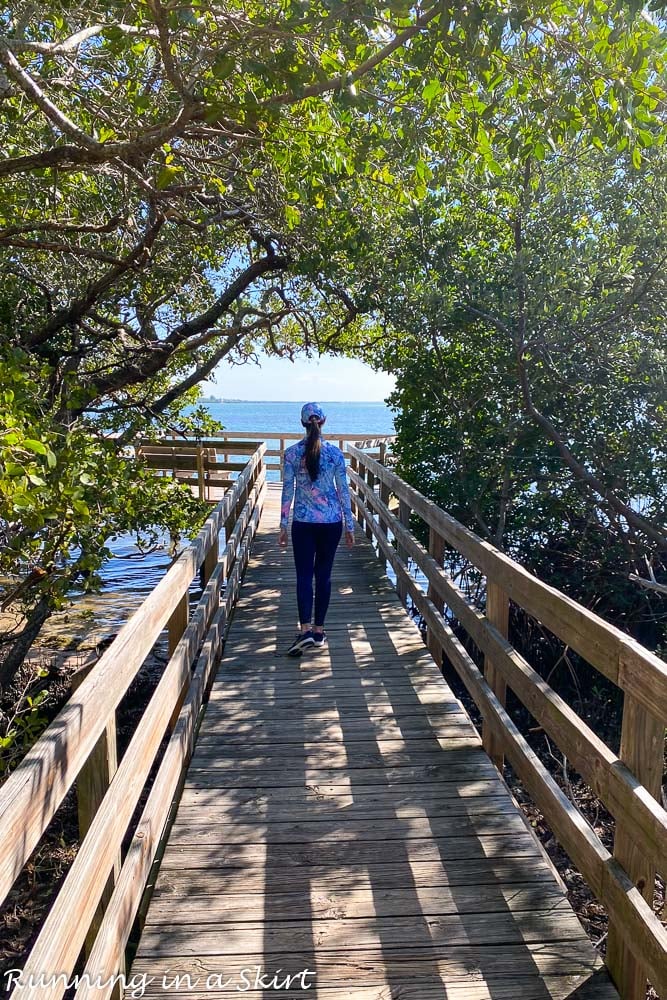 My twins LOVED this adventure and ran and played nearly the entire time. It's stroller-friendly too! We spotted all sorts of the local wildlife here. I highly recommend this fun place for a break from the beach.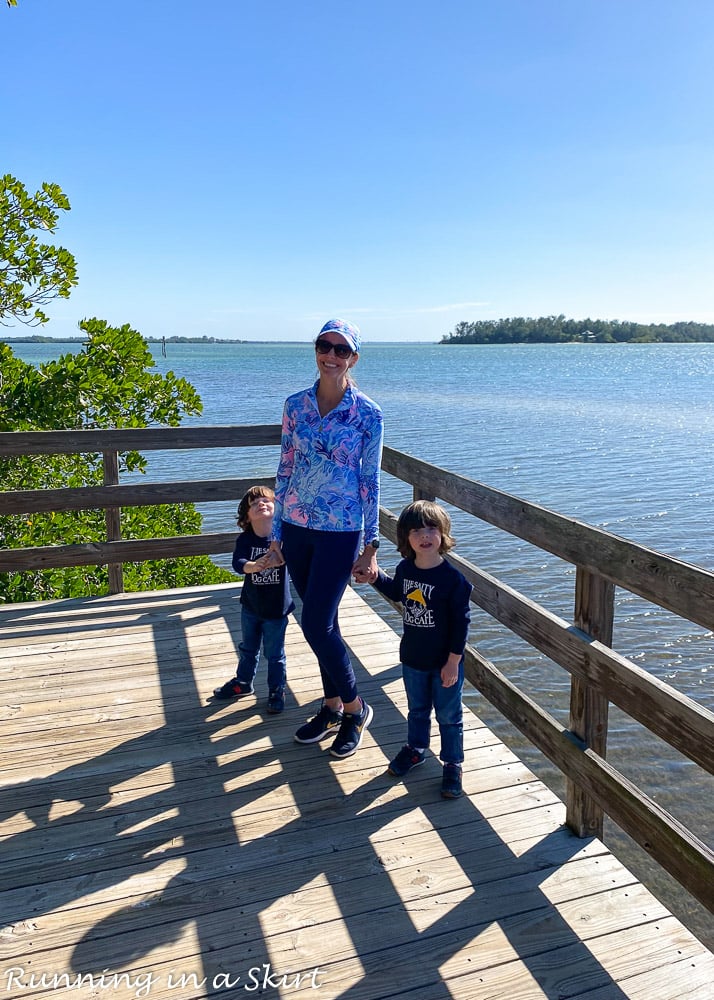 Check out all the details on Leffis Key Preserve before you go.
Explore Anna Maria Downtown
I use the words Anna Maria Downtown closely but there are a cluster of shops on Pine Avenue that make up a more downtown area in Anna Maria proper. It's a great place to shop and get a bite to eat. It's another perfect place to spend an afternoon picking up souvenirs or locally made goods.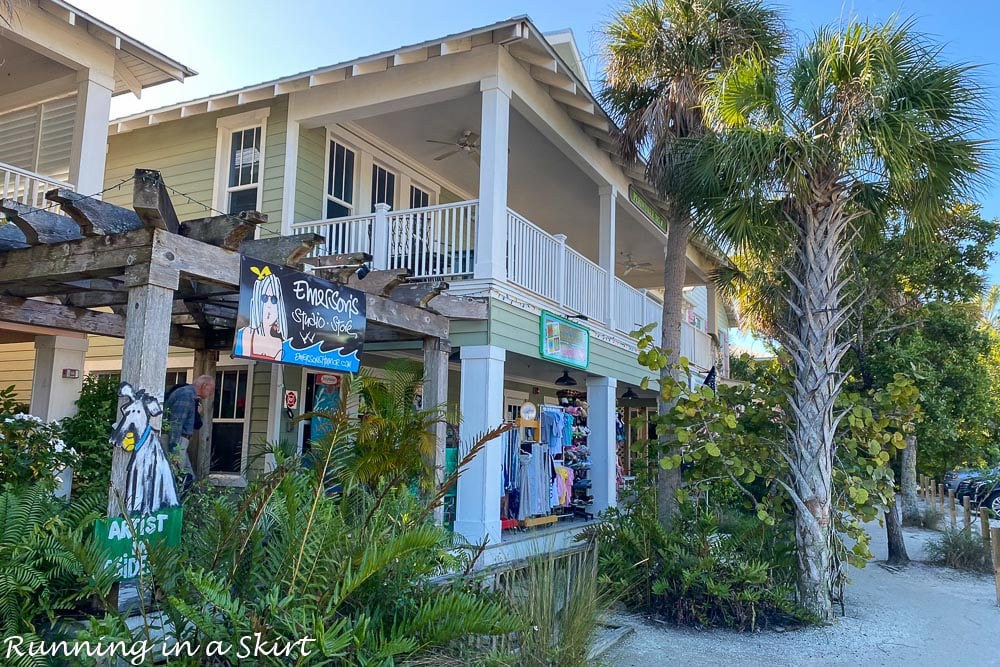 Anna Maria Island Historical Park
This area on Pine Avenue is also home to the Anna Maria Island Historical Park. There are a few outdoor exhibits and a museum. You'll learn about the first settlers on the island that came in 1845. The island also has a unique fishing and baseball history.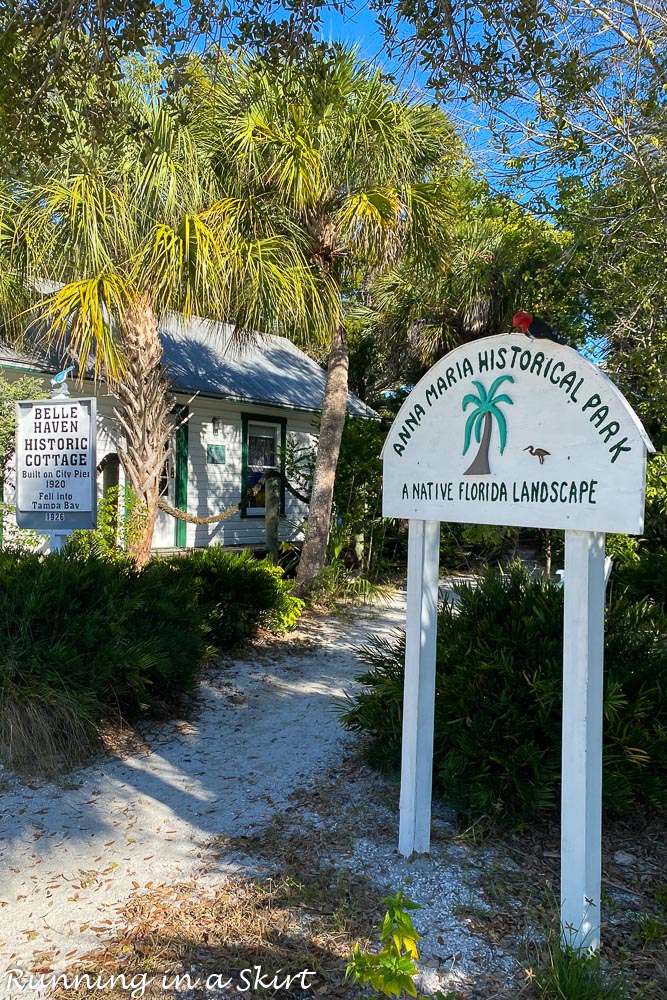 One of the charming photo ops on the island is of the Anna Maria jail.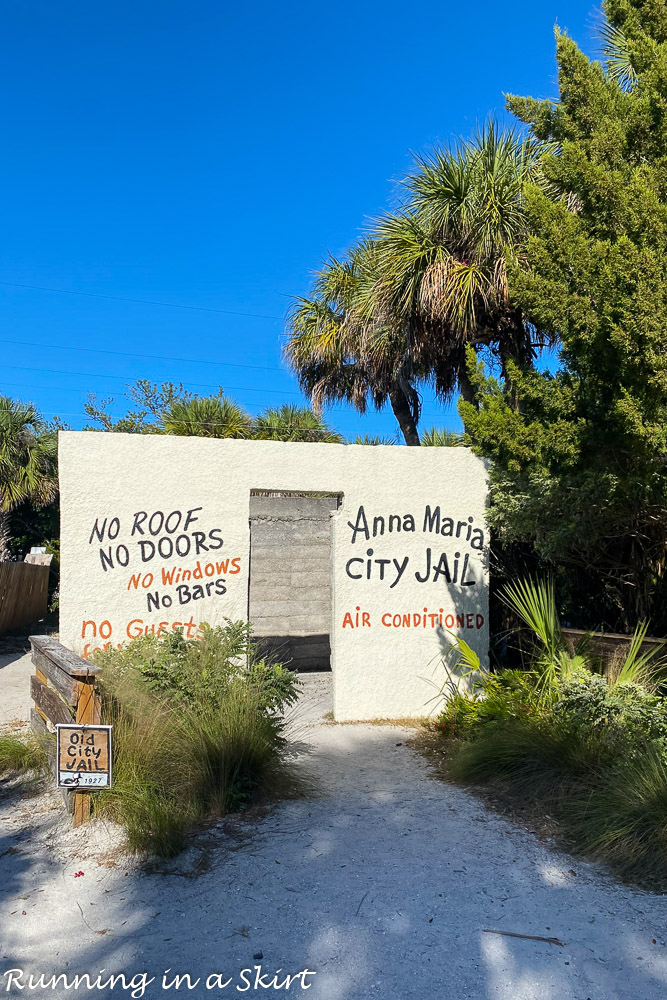 This is a fun stop on your tour of the island.
Beach Run or Walk
Even with the powdery sand, there is still enough packed sand near the water for a good beach walk or run. Go early in the morning to catch the sunrise or in the evening and watch the sunset for a truly special experience on the island.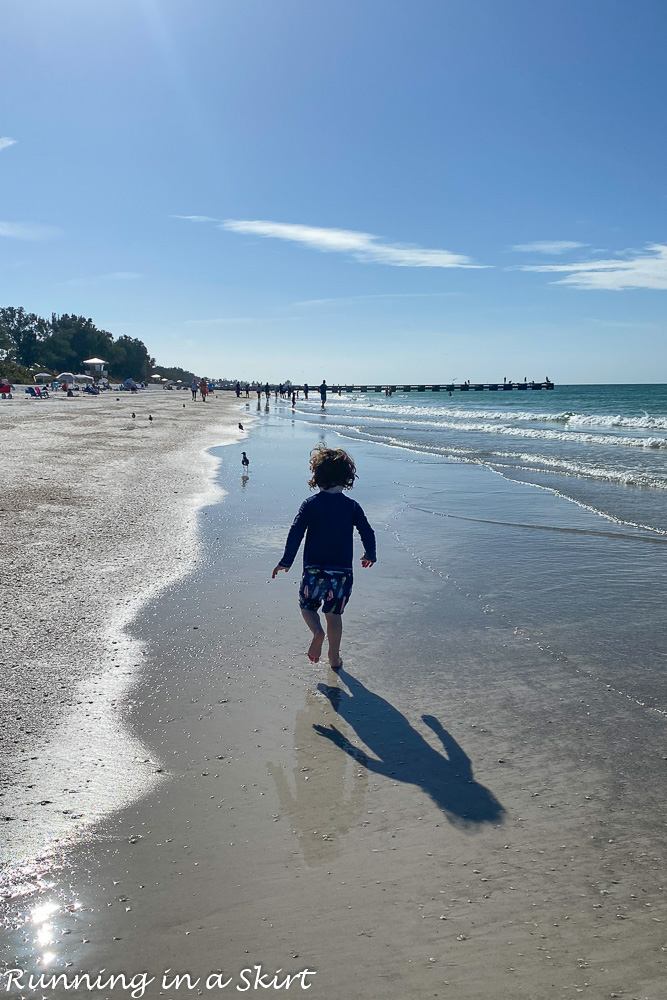 Rent Bikes
Anna Maria Island is the perfect place to rent bikes and one of the top things to do on Anna Maria Island. Since parking is at a premium on the island, it makes perfect sense to get around by bike. There are bike paths and bike parking.
The island is only 7 miles long, so you could even explore the whole thing. Here's a list of a few of the more popular bike rental shops. Many of these places also supply scooters and golf carts too, which are also a great way to get around.
Anna Maria Bike Rentals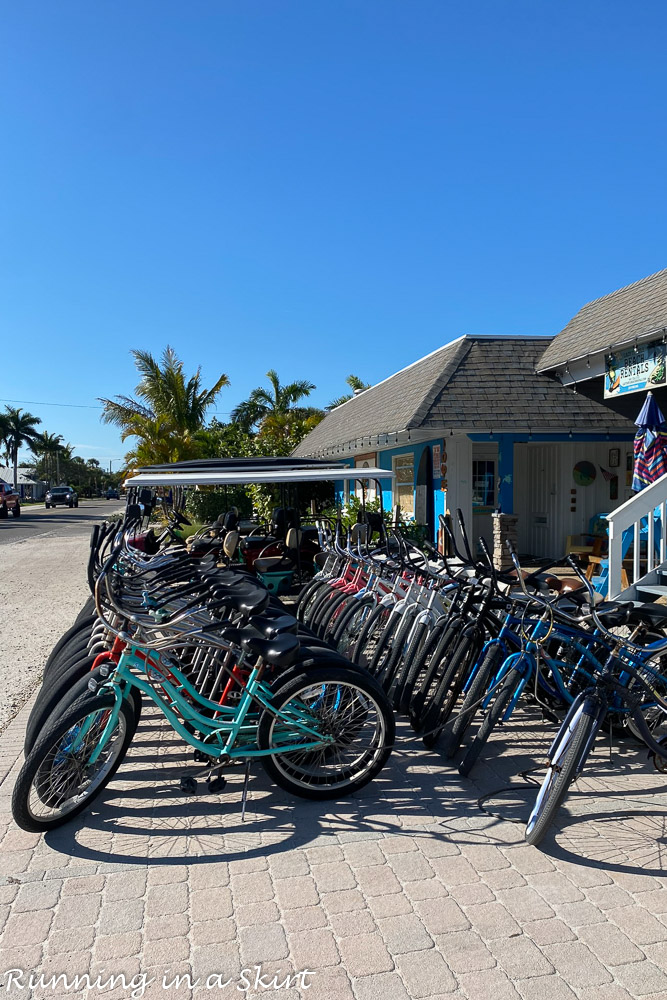 Boating
Boating is another wonderful thing to do on Anna Maria Island. You can't go wrong with everything from renting a charter fishing boat for a day, going on a sunset cruise, or even taking a Hobie Cat out for sailing.
The crystal blue water is so inviting and makes the perfect place to explore. Spend the day out in the water for an unforgettable day on the island.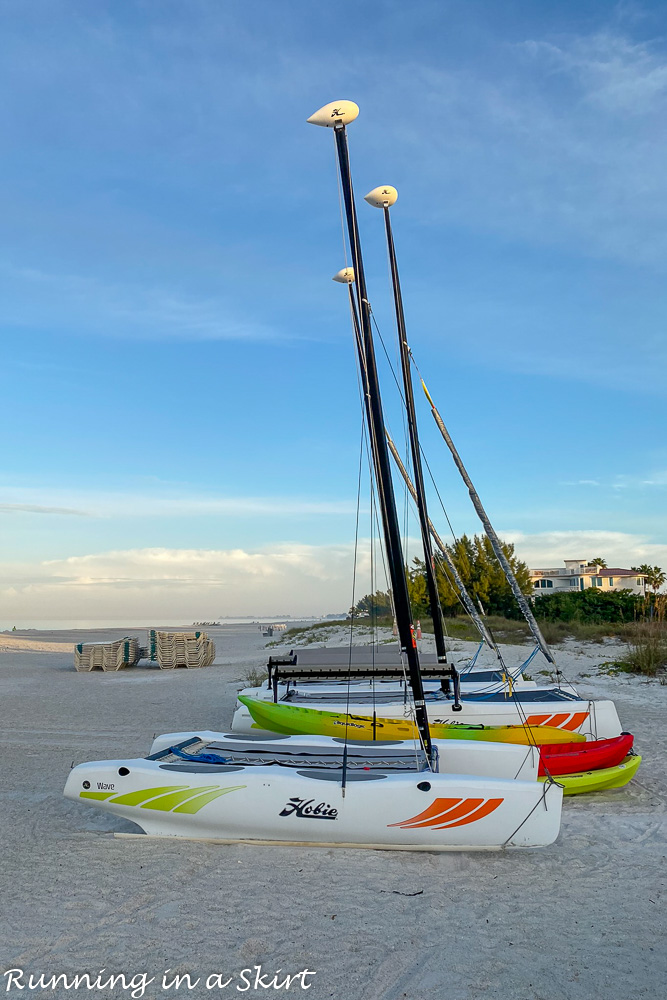 Coquina Beach and Park
Another can't miss spot is Coquina Beach and Park. This popular beach spot is at the southern end of the island and has gorgeous beaches with amazing facilities including restrooms, changing facilities, great playgrounds, picnic tables, hammock hanging spots, rental shops, and even a restaurant. It's one of the best beach parks I've ever seen with amenities.
Don't miss the southern tip of the island where you can watch boats go out from the bay to the sea. The waves crash into the rocks here with palm trees in the background and it's a pretty sight.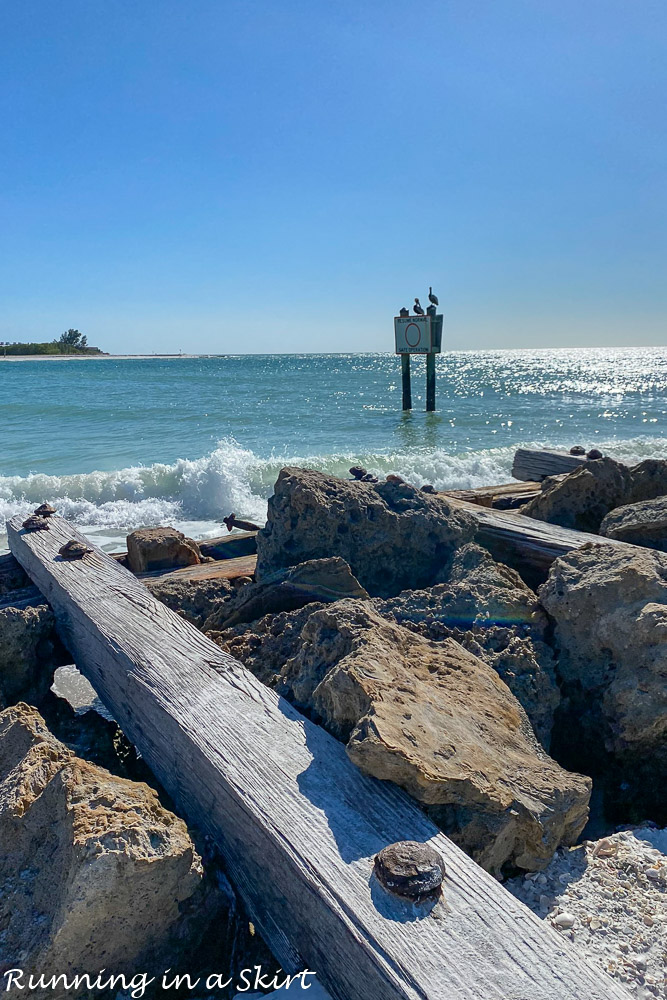 This park also has some wonderful shaded walking paths. In the very hot summer months, this is the perfect place to walk or run outside of the beating sun.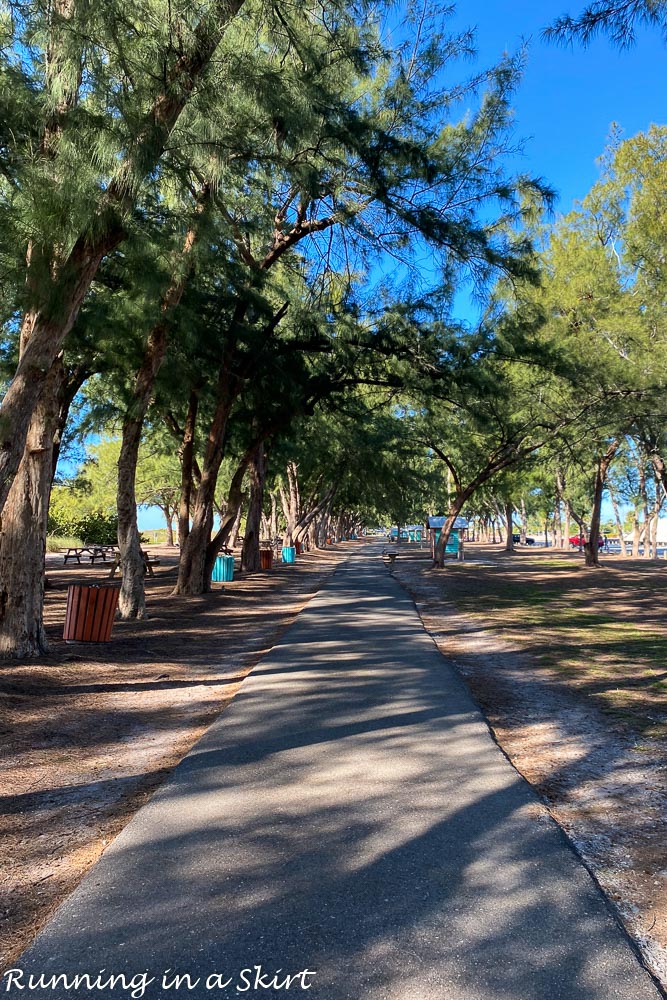 Dine in the Sand
Dining in the sand is special and one of the top things to do Anna Maria Island. There aren't a lot of places with nice restaurants right on the beach, but they have them here. You just can't beat a view like this with a fruity cocktail in your hand and seafood on your plate.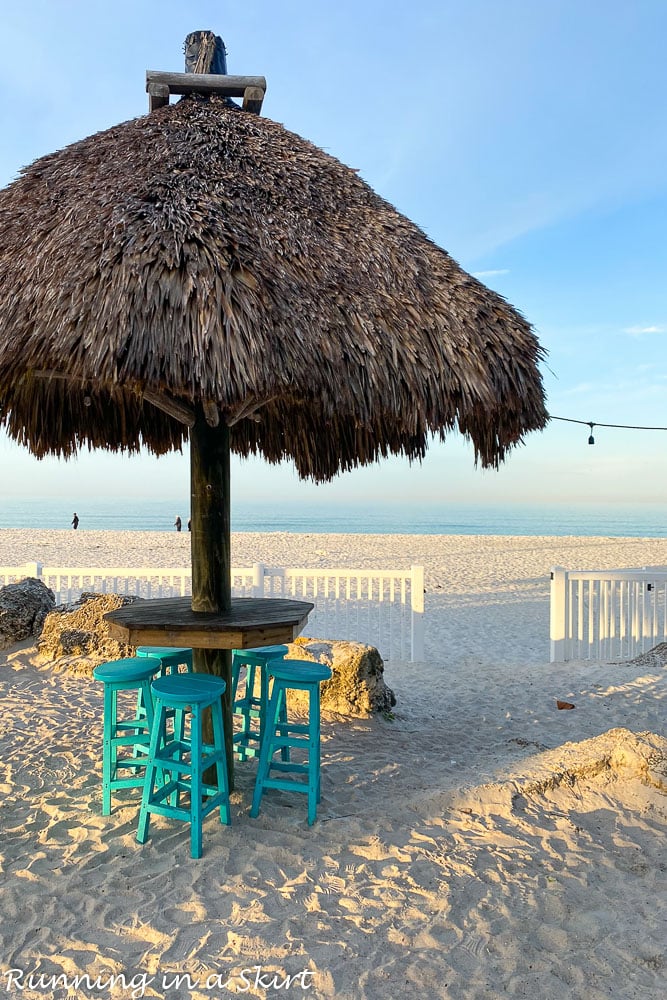 Here are a few of the more popular restaurants that are literally on the water.
If you want to learn more about the best Anna Maria Restaurants, be sure to check out my Anna Maria Island Restaurant Guide for a complete list of restaurants on the island.
Other Things to Do Anna Maria Island
Here are some other top things to do Anna Maria Island that have to make the list. This island is filled with lovely activities for kids and adults.
Anna Maria City Pier - At the end of Pine Avenue is a charming pier with Old Florida Charm. It's also home to the Sandbar Restaurant.
Kayak & Standup Paddle Board - The calm bay is a perfect place to kayak. Check out Happy Paddler Kayak Tours for rentals.
Horseback Riding - Anna Maria Island is a popular beach for horseback riding on the sand. CPonies and The Real Beach Horses are two highly-rated local companies.
Beach Market - Coquina Beach is home to a charming beach market. You'll find local crafts, art, jewelry, and food. It's open on different days depending on the season so check their Facebook Page before you go.
Fishing - Fishing is a great thing to do in Anna Maria. There are lots of spots including the Anna Maria City Pier, Road, Reel Pier, and Bridge Street Pier. The beaches in Bradenton Beach have some piers that go out into the ocean. Just make sure to get or update your fishing license first.
Dolphin and Manatee Tour - Several different companies offer boat rides to see the dolphins and manatees. Don't miss this amazing thing to do on Anna Maria Island.
Snorkel - Take a snorkeling tour or bring your own snorkel gear to explore the beautiful clear water! This is a great place to try snorkeling in Florida.
Get Ice Cream - Is it really a beach vacation without getting a frozen ice cream dessert? There are lots of cute local ice cream shops including Dips Ice Cream, Island Scoops, and Two Scoops Ice Cream.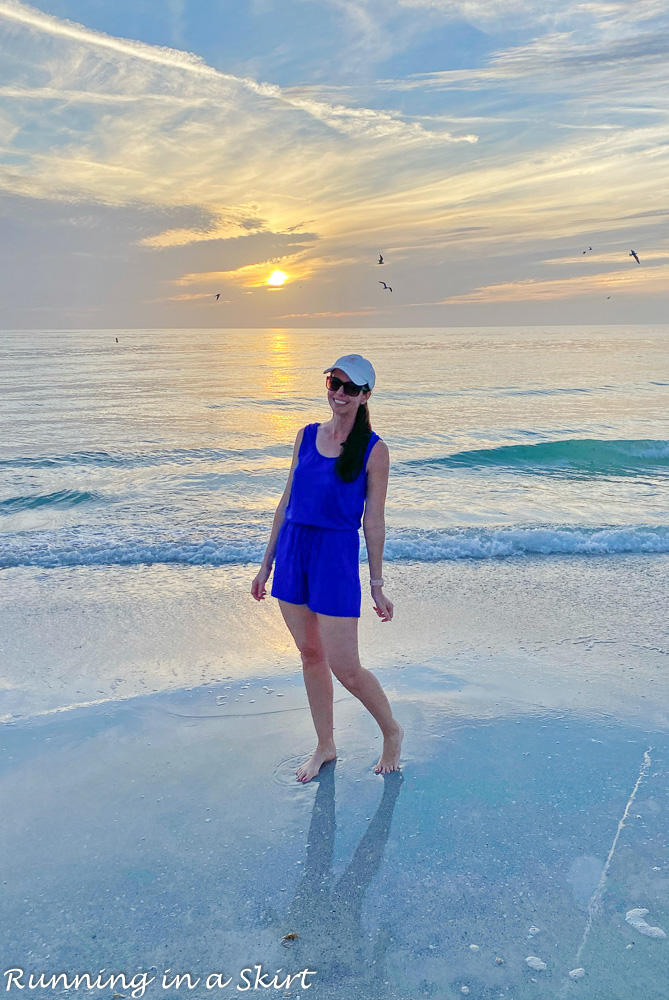 Anna Maria Island is a Wonderful Vacation Destination
Anna Maria Island FL is full of things to do and is such a wonderful vacation destination along Florida's Gulf Coast. If you are looking for a trip that's not typical Florida, this is your spot. As you watch the sun dip into the ocean, it's hard not to embrace the magic of this place.
Whether you want to spend all your time on Anna Maria Island beaches, enjoy the nightlife on Historic Bridgestreet, fish your mornings away or dine and drink cocktails in the sand, this island has something for everyone. It's chill, low-key and so lovely.
It's a great place for nature lovers and those who love the charms of a small beach town island. Plus you'll love the mild weather and sunny skies year-round.
I hope thing Anna Maria Island Guide helped you plan your trip to this special corner of Florida.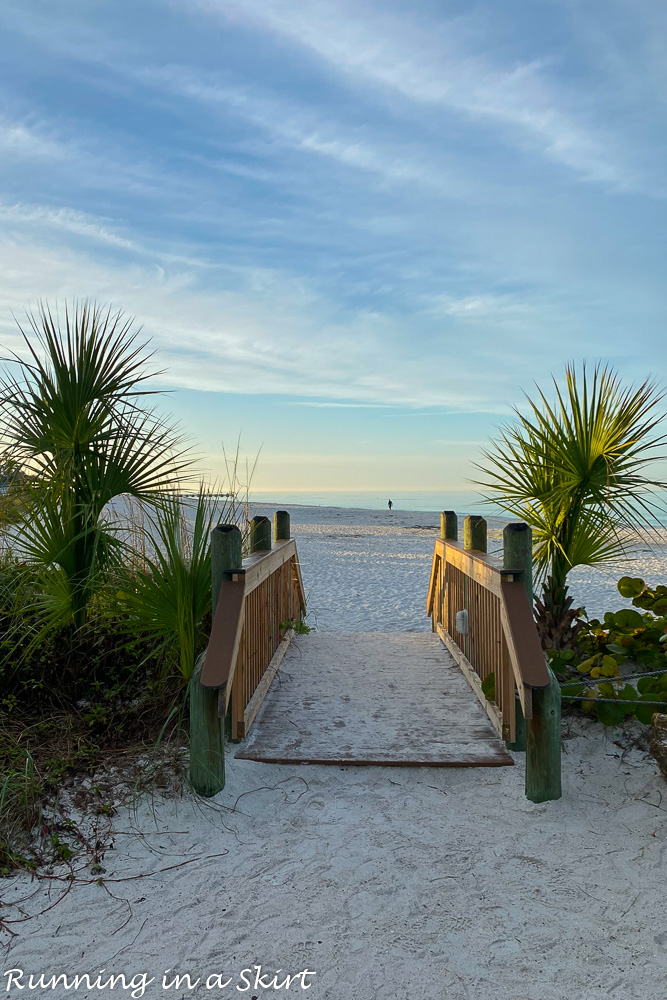 Starting Planning Your Anna Maria Trip Here:
Top Things to Do on Anna Maria Island
Click To Tweet
More Florida Beach Travel Guides:
Pin for later: