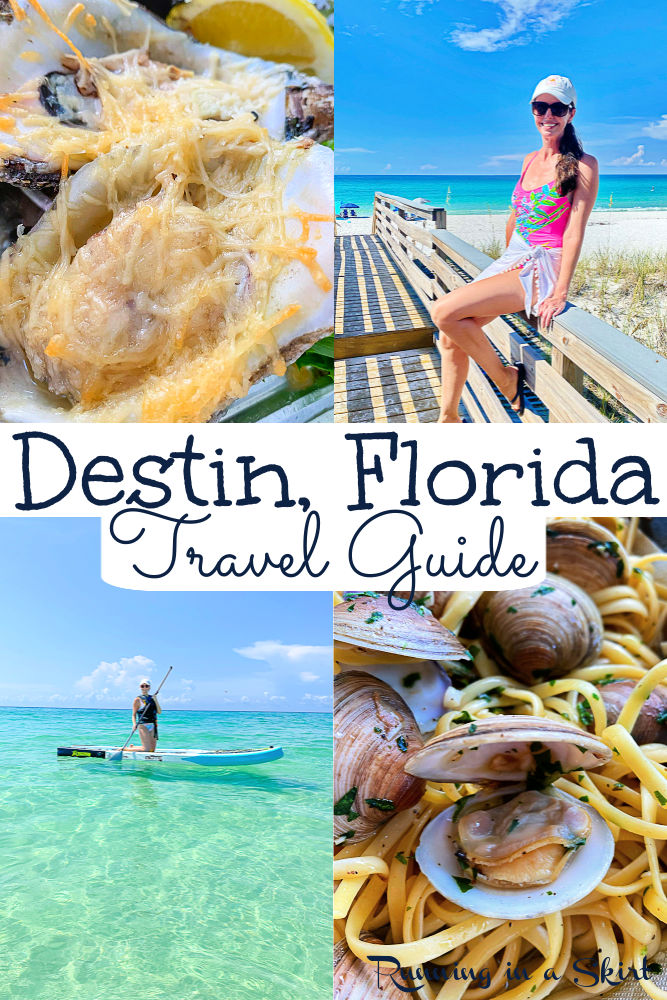 Curious about Destin, Florida? This Destin Florida Travel Guide has everything you need to know to plan your trip to this vibrant FL panhandle beach town including what to do, what to eat when to go, and where to stay.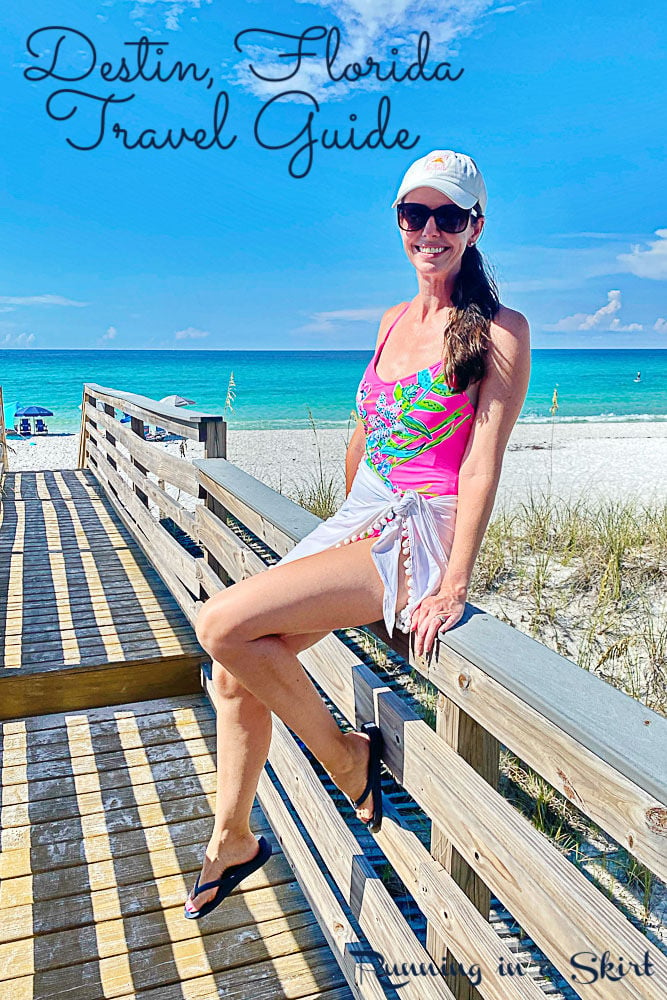 Destin Florida Travel Guide
Destin is a fun, and vibrant Florida beach town along the Florida panhandle with lots to offer visitors of all ages. I recently got back from a trip to Destin and shared my 15 Favorite Destin Moments from my big family vacation but now I'm diving into a complete Destin Florida Travel Guide. I'll be sharing some of my favorite parts of this beautiful Emerald Coast community.
Destin is known for its stunning white powder sand beaches, gorgeous emerald blue waters that are so clear you can see to the bottom. If you are used to visiting East coast beaches, you will be shocked that this gorgeous water is here. The beaches alone are what draw me back.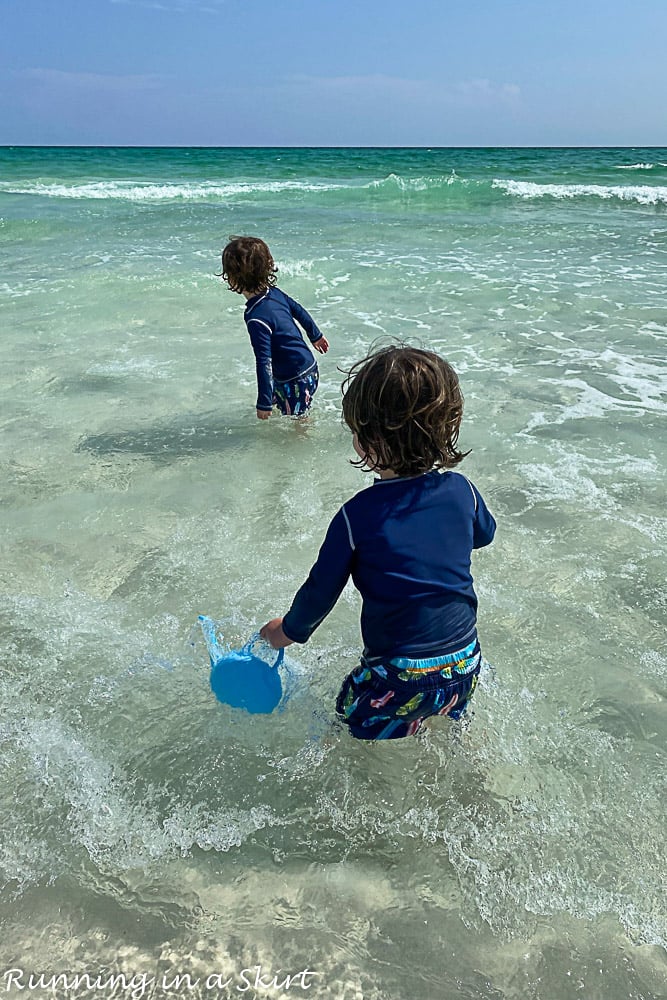 Beyond the beaches though, it's a great place for family vacations because it's the quintessential Florida beach town with lots to do. There is plentiful food and experiences for adults and kids of all ages. We recently had a family vacation there with 18 people including grandparents and nine grandchildren from 2-16 and everyone had a wonderful time.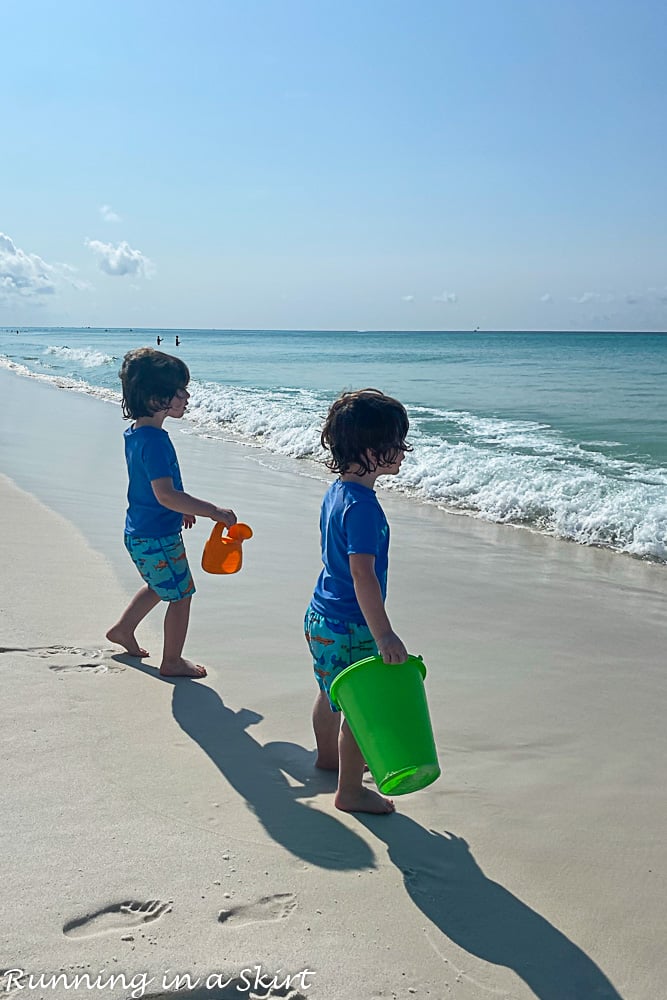 It's the kind of place you can spend an entire day watching the waves or pack your itinerary full with everything from boating, paddle boarding, parasailing, and shopping.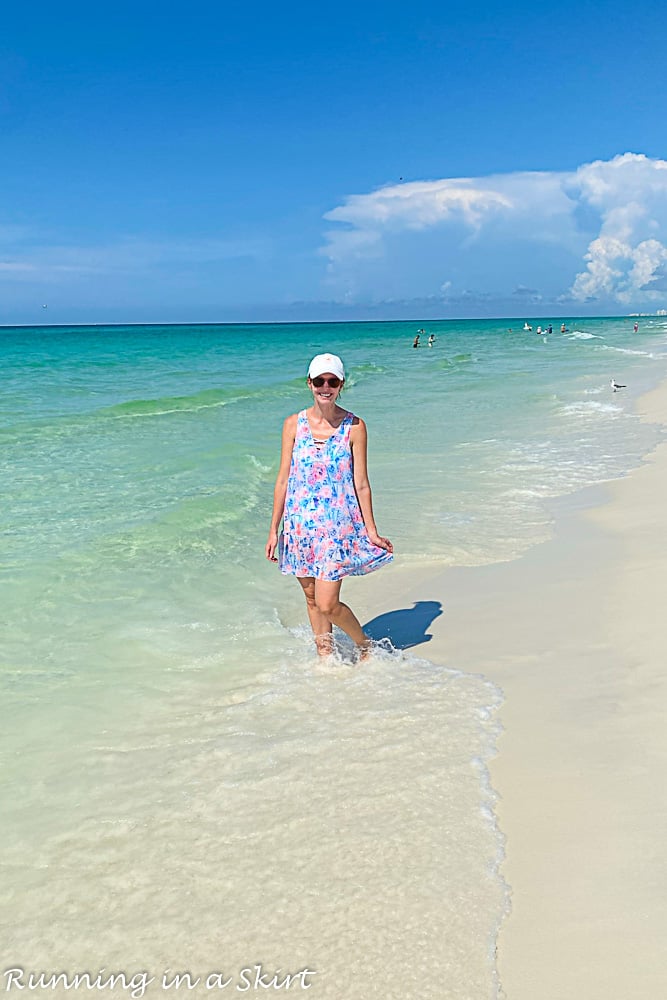 Let's dive into this Destin Florida Travel Guide with everything you need to know to plan your trip.
Where is Destin FL?
Destin FL is in the panhandle of Florida between Panama City Beach and Pensacola. It's on a stretch of the coast called the Emerald Coast known for its emerald green waters. It's part of Okaloosa County and part of the Fort Walton Beach area.
How to Get There:
You can easily get to Destin via driving or plane. I-10 is the major highway running North of the city but you can also travel along the scenic 30A along the Florida coast to get there.
What airport is closest to Destin Florida?
The closest airport to Destin is the Destin-Fort Walton Beach Airport (VPS), which has many direct flights from American, Delta, and even Allegiant Air. If you are having trouble finding tickets for the right time or price you can also try nearby Pensacola or Panama City Beach.
I'd recommend renting a car to get around when you arrive. Traffic can be bad in the peak summer months though. You can do biking and golf carts to avoid traffic and parking troubles.
When is the best time to go to Destin?
Destin is a fun year-round destination however the best time to visit for beach activities is from April to October. A visit during summer is when there are the largest crowds and it is hottest with high temperatures averaging around 90. In the late spring and early fall, you can expect highs in the upper 70's to low 80's with slightly fewer crowds except during spring break weeks. In the winter highs can only be around 60 making it a bit too chilly for full beach days.
What to Do in Destin FL
Are you wondering what to do in Destin? Start here with my Destin Florida Travel Guide!
Beaches
Destin is lined with 6 miles of spectacular beaches. Visiting the gorgeous beaches is one of the top things to do in Destin. I've been to beaches all over the world, and the sand and water along this stretch of the Florida panhandle are special. It has the look and feels of being in the Bahamas with the gorgeous white sand and crystal blue water that simply sparkles.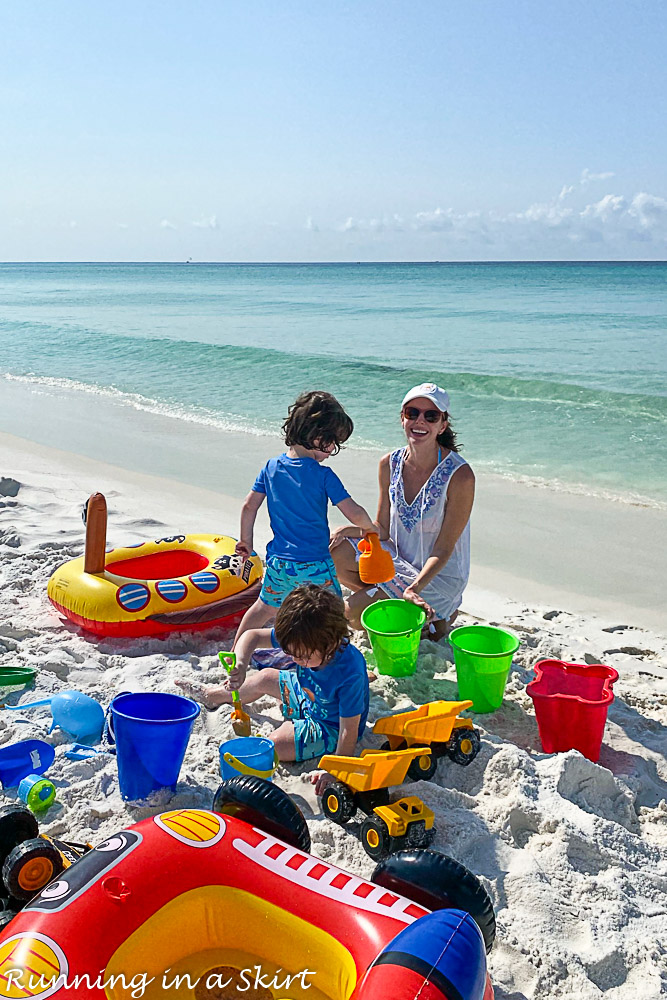 It's a great place to relax or play with kids of all ages.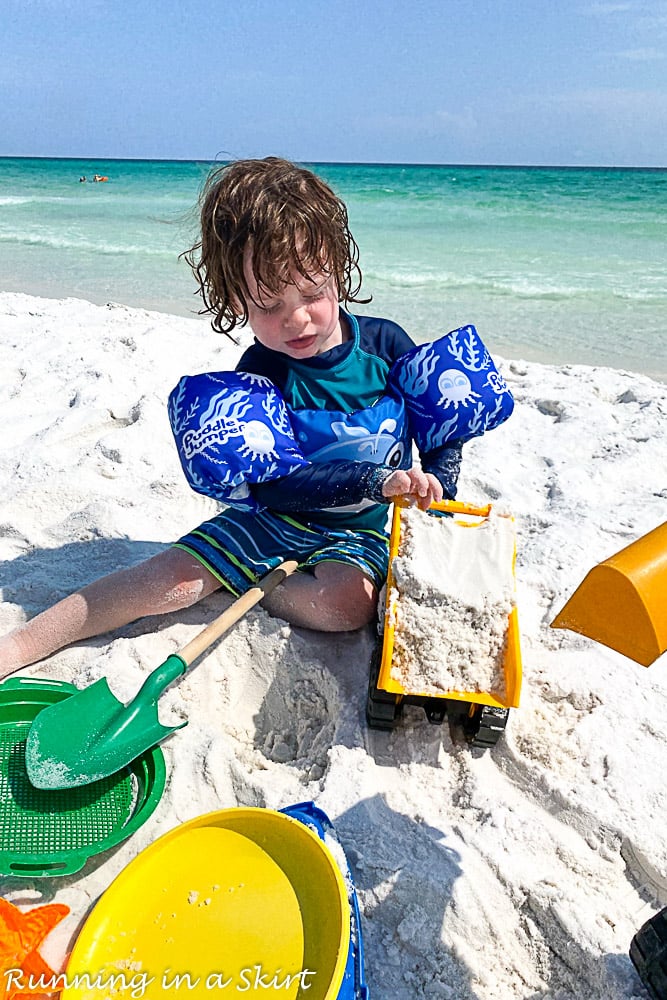 The water temperatures in the summer are so warm that you'll want to spend lots of time floating around in the ocean. And because you can see to the bottom, it's a great place to have a raft!
One thing to note is that many of the beaches are private and owned by whoever has the house near them. If you have a rental property make sure it comes with beach access and book chairs ahead of time to secure your place. If you are visiting without it you might want to consider a public beach. This is one of my least favorite parts about Destin.
Henderson Beach State Park
Henderson Beach State Park is one of the best places to visit the beach if you don't have beach access. It has a mile of gorgeous beach that's state-owned. You can carry in your own chairs and umbrellas and enjoy a gorgeous day in the sand. It's also very nice because it's not lined with typical Florida hi-rise condos.
Pools
Destin in the summer can be quite warm and the pool is the perfect place to hang out! Grab your favorite unicorn float and spend some time in the water. It's the perfect place to play and connect with family.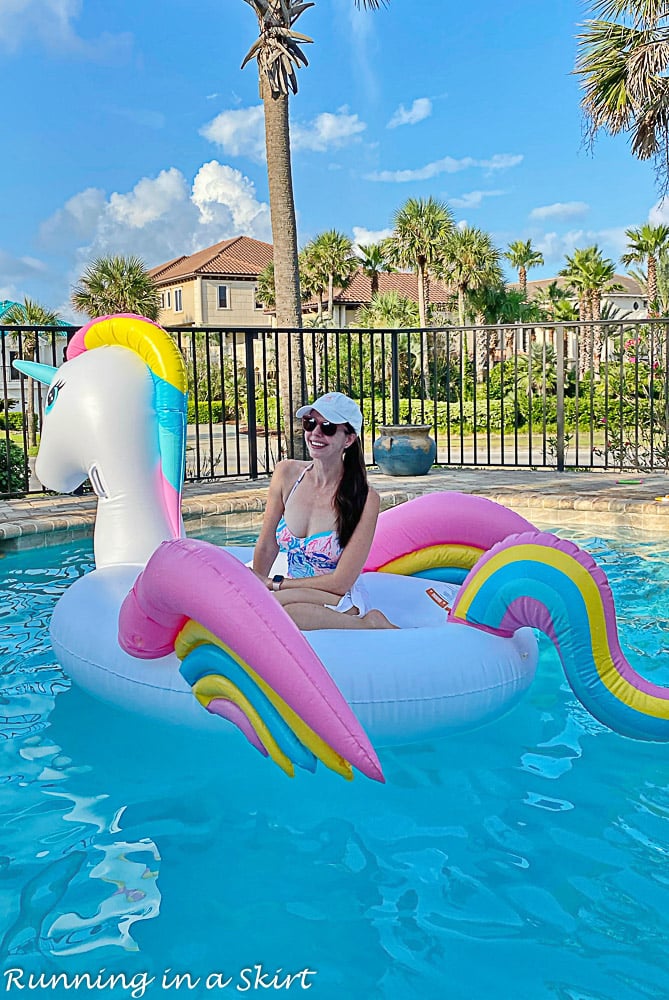 Parasailing Destin
Destin is the place to go if you love traditional beach activities like jet skiing and parasailing! A group of us went parasailing on my last trip and it was a blast. It's actually very gentle and a super peaceful thing to do and being up in the sky is gorgeous. Our group even saw dolphins!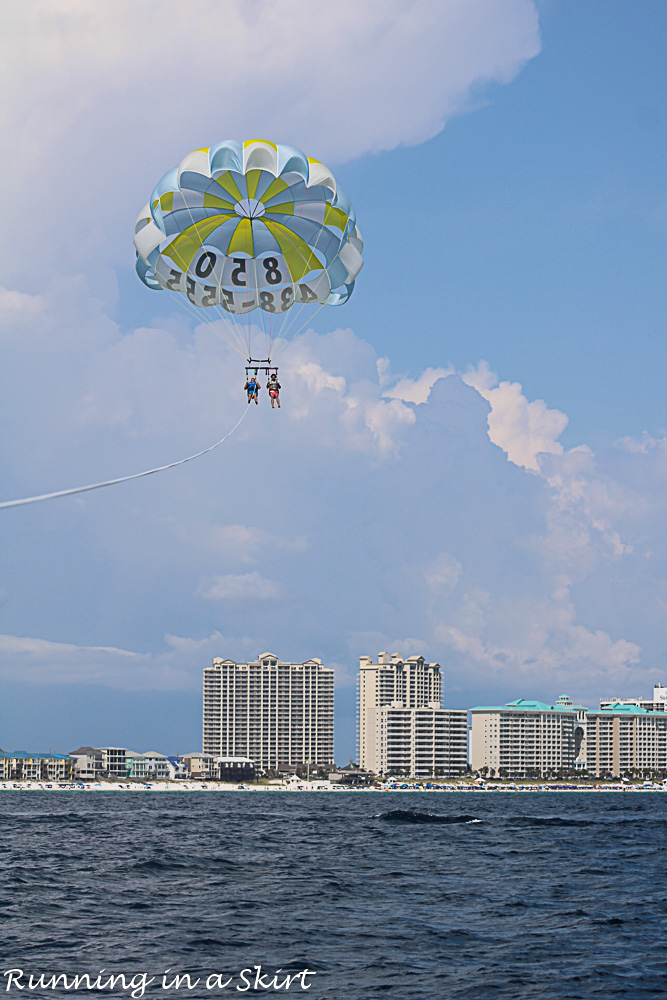 It was a great way to connect with my teenage nieces and nephews!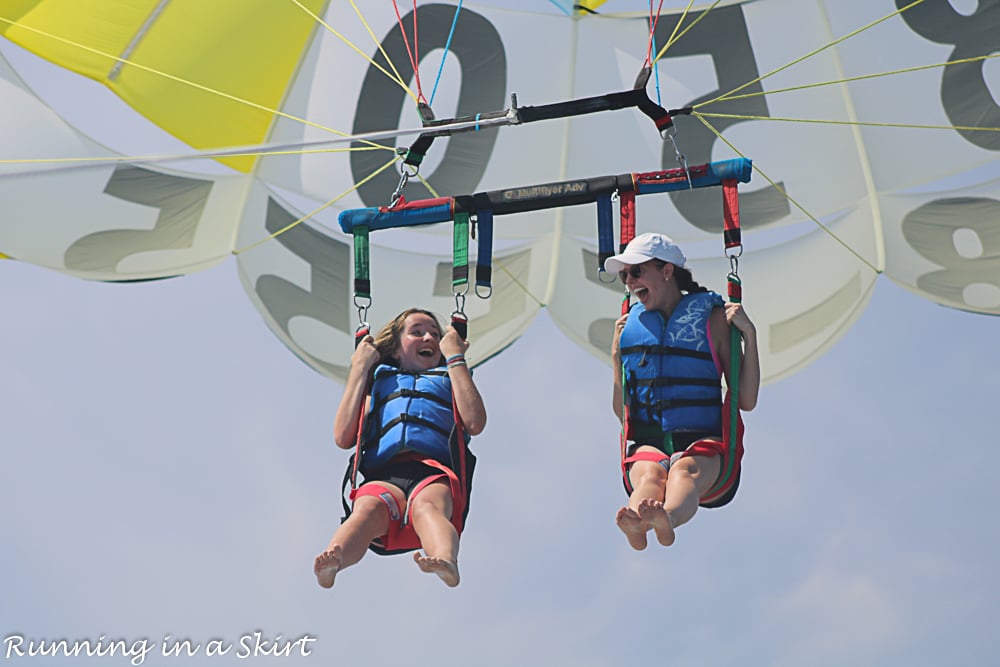 Parasailing Companies:
Many of these companies also rent boats and jet skis!
Paddleboarding
Since the water is so clear and generally calm in Destin it's a great place to paddleboard! My SIL rented a giant family size one for the day on our trip and we all really enjoyed using it. My BIL was able to take it out far enough to see dolphins.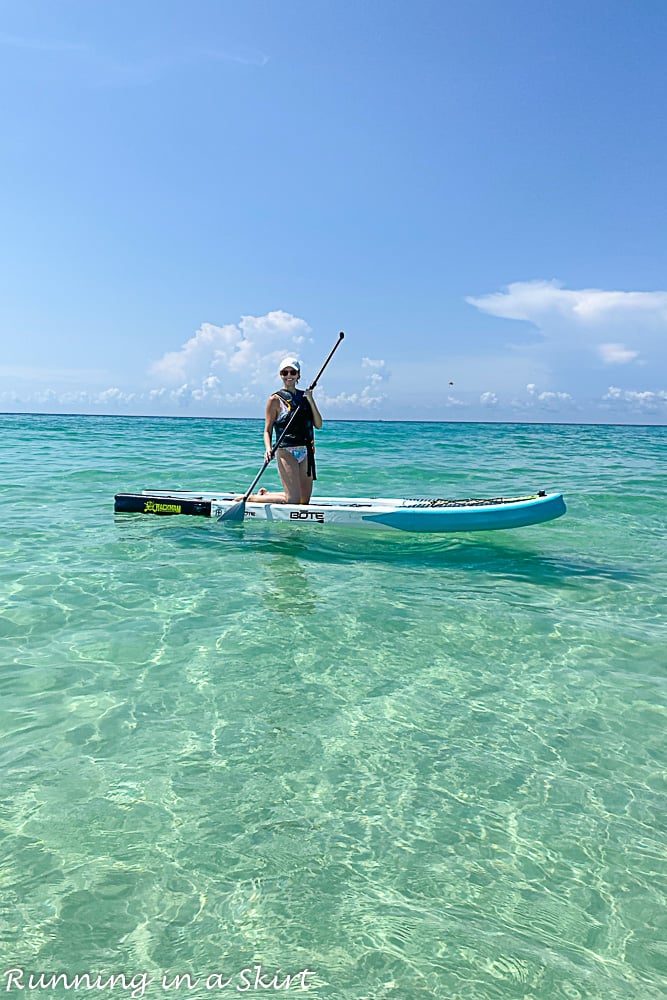 She was even able to take the twins for a little spin on it.
The small kids even enjoyed using it as a boat on the shore.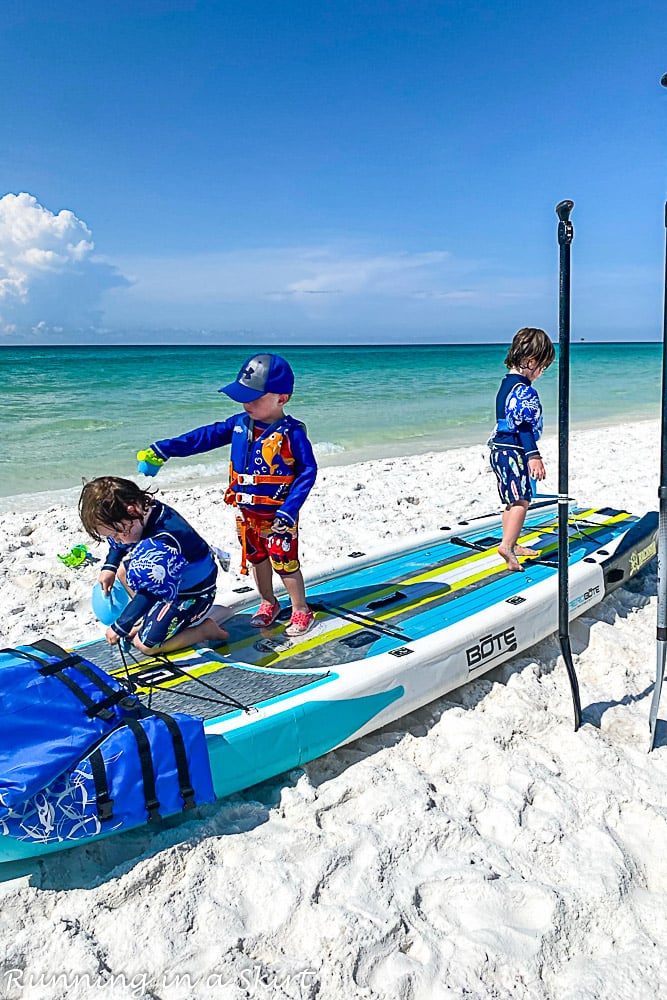 Paddleboarding is one of my favorite activities in Destin. If standing is not your thing, you could also rent a kayak and have a similar experience.
Destin Paddleboard Rentals
Sunsets
With the position of Destin along the Florida panhandle, you can see some gorgeous sunrises and sunsets from the beach. The sunsets over many of the buildings but the colors still pop with vibrancy.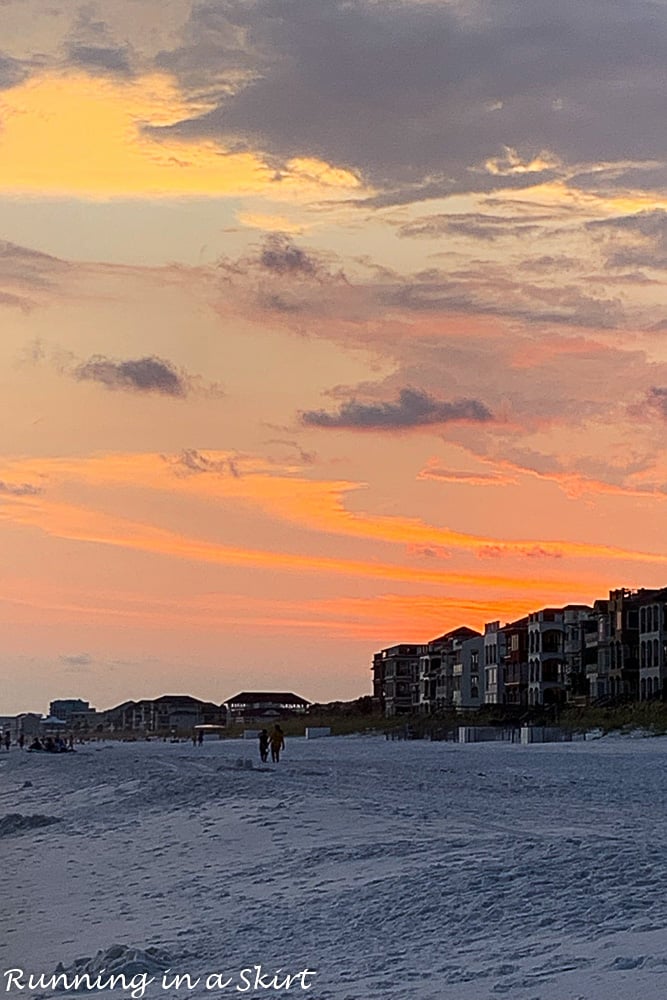 It's a gorgeous pastime that makes for a great dinner view or photo.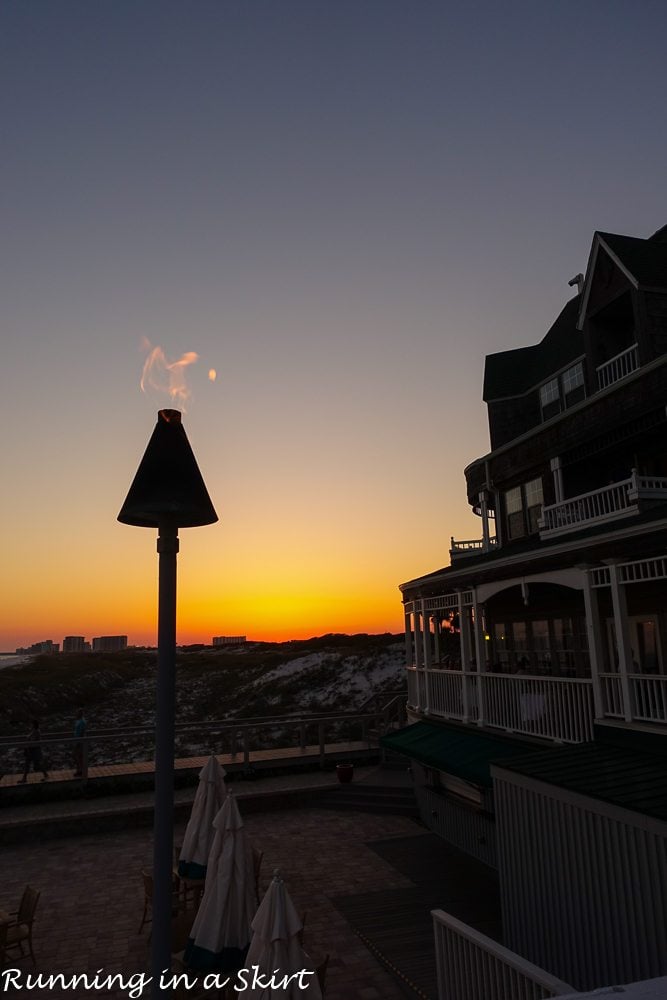 Explore 30A
Destin is at the end of the 30A scenic highway which is lined with charming smaller upscale beach towns with the same white sand and crystal blue water.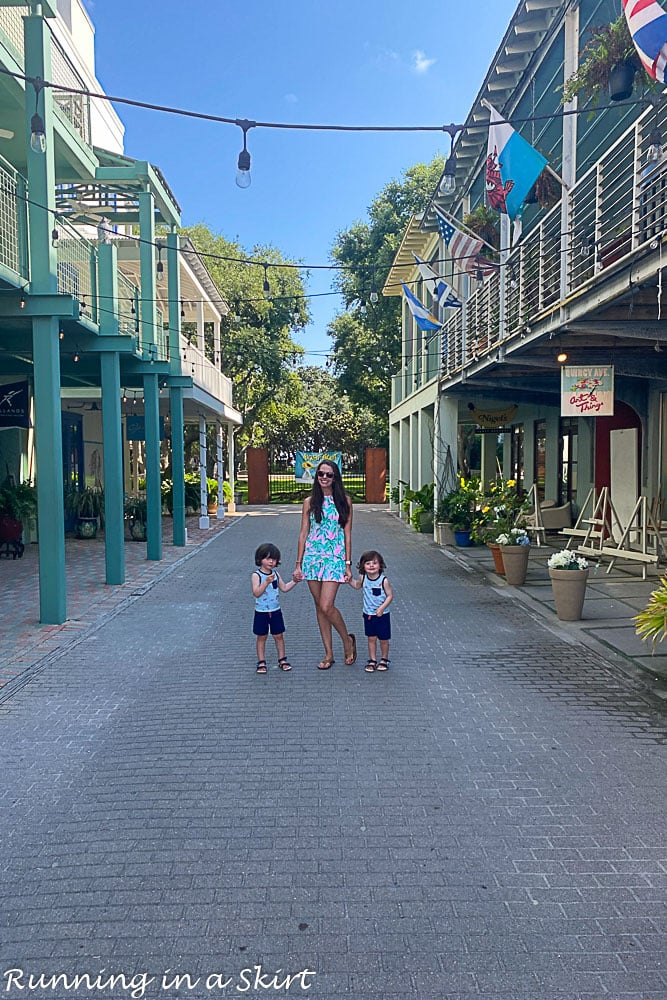 One fun thing to do while staying in Destin is to take a day trip down 30A to explore them. You'll hit charming spots like Blue Mountain Beach, Watercolor, Seaside, Alys Beach, and Rosemary Beach. You'll also see rate coastal dune lakes.
One of my favorites was Seaside.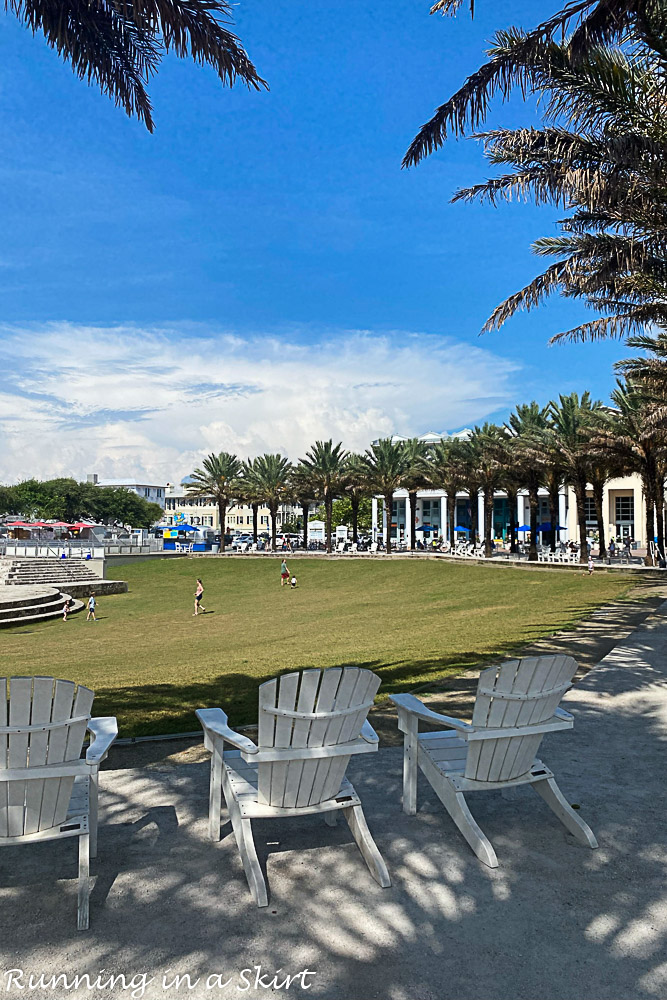 This is a fun day trip and a great way to get a feel for the area.
Boating
You can't talk about Destin and not mention boating. Whether you are fishing, have a family pontoon boat, or just taking a water taxi, getting out of the water is part of the charm of this beautiful place. There is the ocean as well as a protected harbor to explore.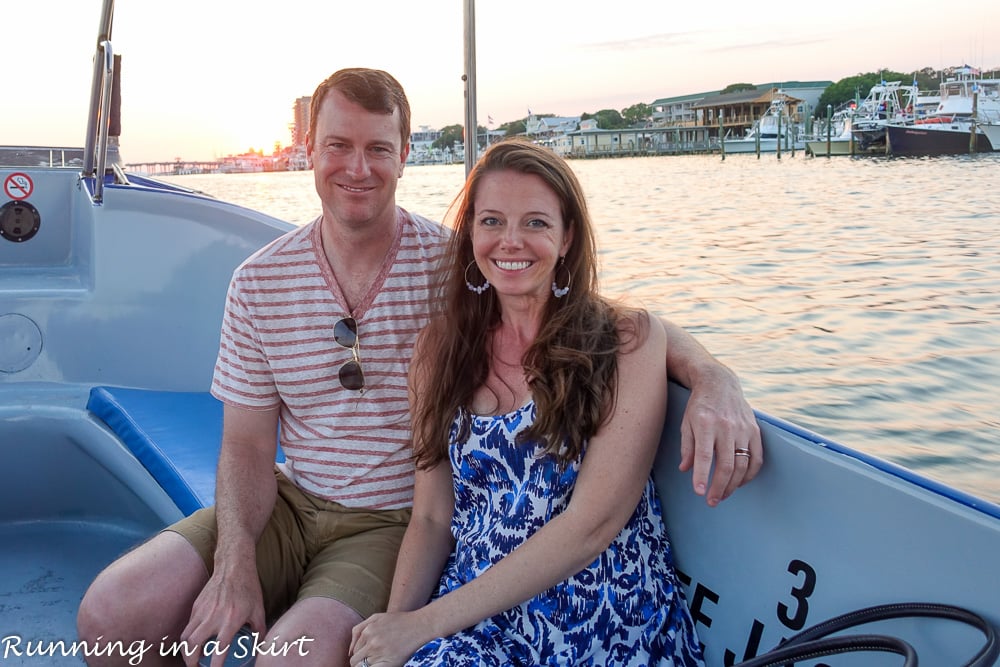 The water taxi serves Destin Harbor and is a great easy way to enjoy a short boat ride without a lot of fuss.
I'd also recommend renting a boat for your family or going on a boat tour. One of the most popular places to visit on a boat ride is Crab Island, a sandbar just south of the Marler Bridge where boats gather to spend the day. It's a great place to wade in the water and also a popular social area for young adults.
Destin Boat Rentals & Tours
More Things to Do in Destin
Where to Eat in Destin Florida
Curious where to eat in Destin? Make sure to check out my guide to the best restaurants in Destin, but here are a few to get you started.
Boshamps is a Destin institution and for a good reason. The food is incredible and the views are also stunning. One of my favorite things to get is Oysters Bienville.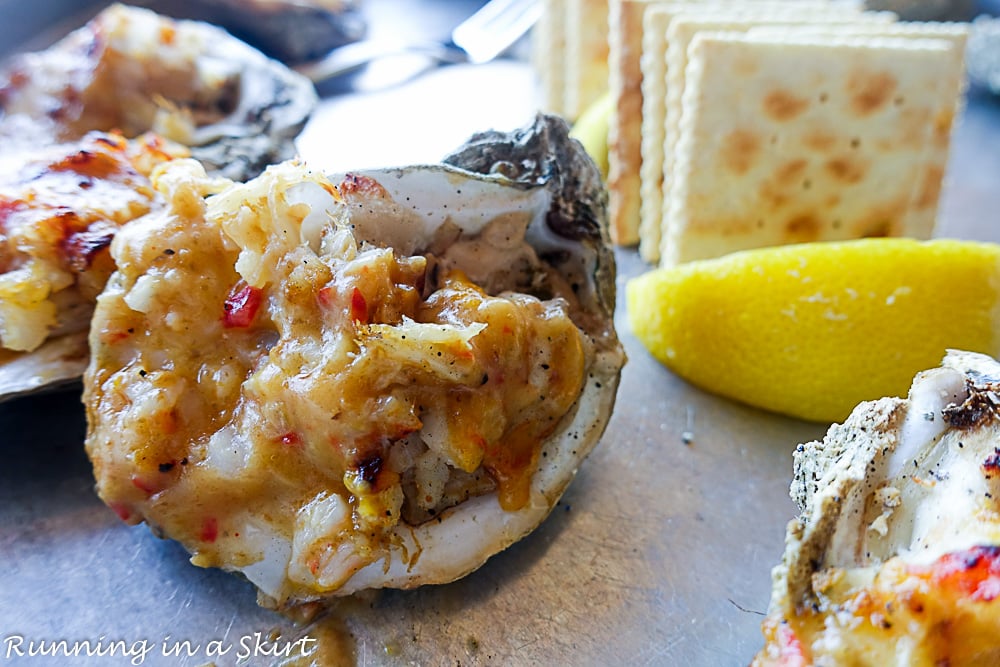 Beach Walk Cafe is a gorgeous upscale restaurant right on the beach in Destin. If you are looking for a special meal, this is it! Order any of their fresh seafood dishes and you will not be disappointed.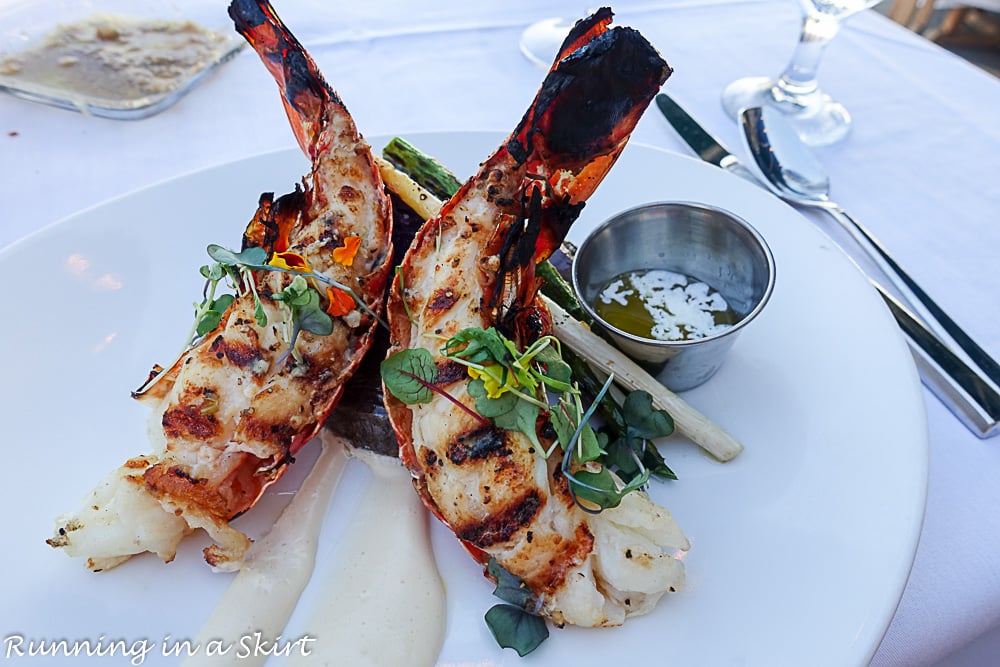 The Wine Bar is a cute and charming place to get wine, cheese, and a delicious casual fine dining meal in Destin. I loved their Manchego Crusted Fresh Catch.
If you are looking for a good Italian restaurant with a menu to please everyone... Mimmo's is it! Their Clam Pasta is one of my favorite dishes.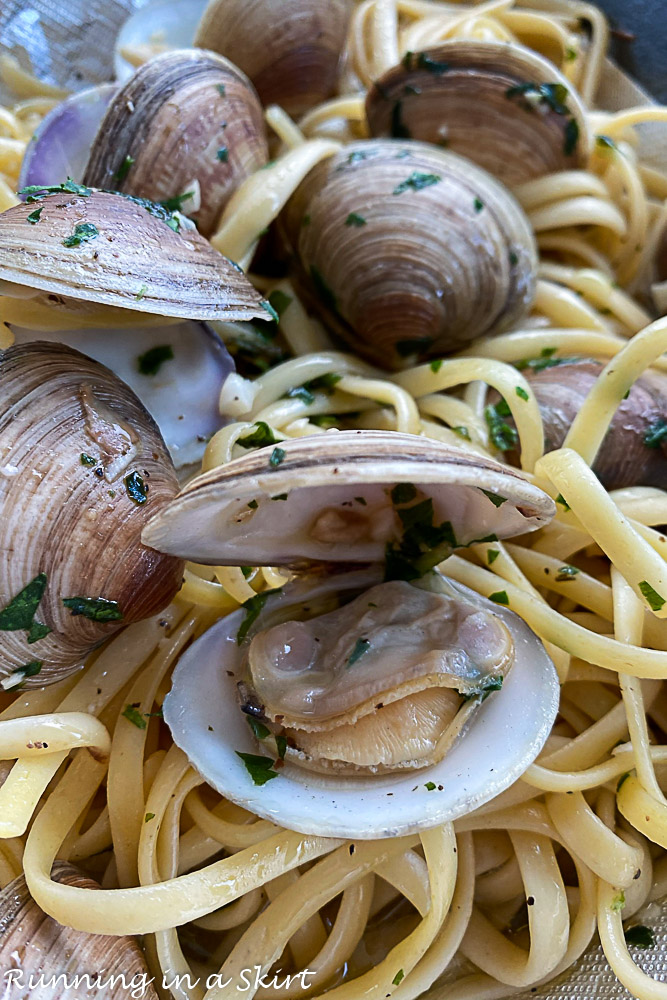 These are just a few of my favorite restaurants in Destin, but check out my Destin Food Guide.
Where to Stay
Wondering where to stay in Destin? My Destin Florida Travel Guide can help you out.
Destin has a large variety of accommodations to suit any taste from budget condos, luxury hotels, and large home rentals for families. VRBO or Airbnb are great places to rent condos and homes. You can find anything from small high-rise condos on the beach to homes that fit 20+ guests for a large family reunion. I've found you'll have the best luck finding a nice beachfront property through private rentals.
There are also plenty of hotels and resorts. Here are a few of the more popular ones.
Shopping in Destin
There is a lot of shopping in Destin! There is a huge variety of stores from outlets to high-end retailers. Start with some of these more popular shopping areas.
Destin Florida Travel Guide
I hope this Destin Florida Travel Guide has everything you need to know to plan your trip to the Emerald coast! If you love a good beach town with stunning beaches and lots of to... this is your place.
If you love Destin too be sure to leave any additional travel tips below.
More Destin Travel Information:
Save for later...