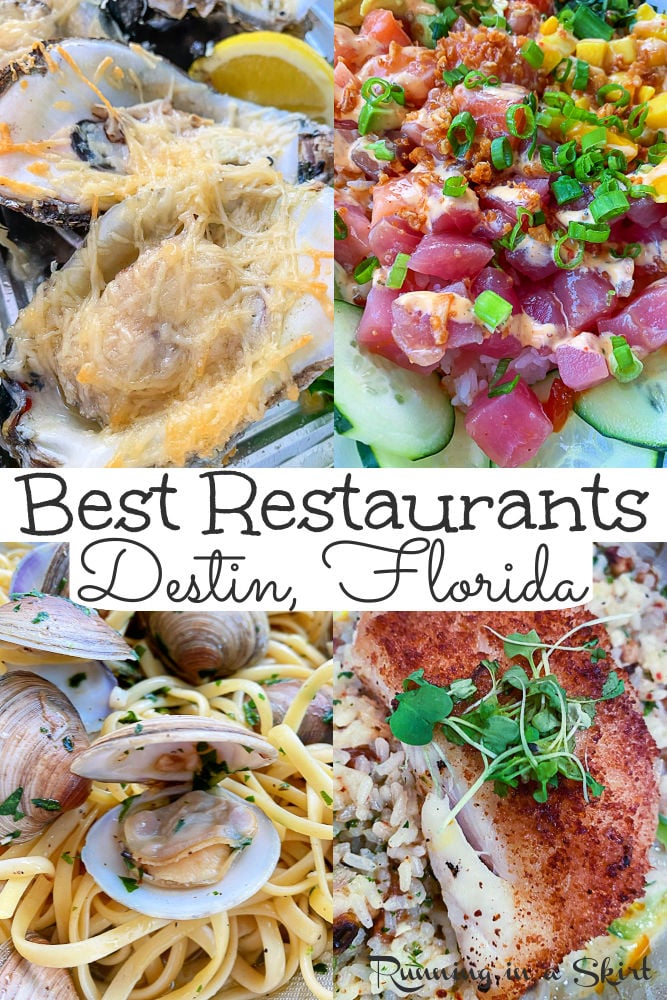 Looking for the best restaurants in Destin FL? From local favorites, seafood, and restaurants with a beach view, here's you'll find the most delicious places to eat in this dynamic and fun Florida Panhandle beach town.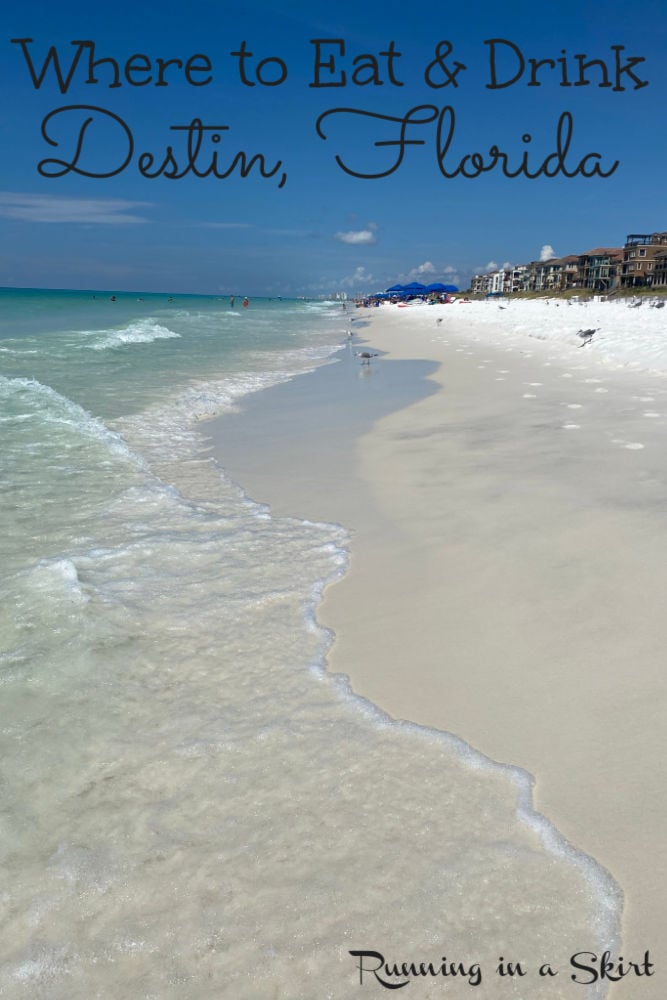 Best Restaurants in Destin FL
Curious about the best restaurants in Destin FL? I'm sharing some of the most fabulous restaurants and places to eat that you'll find in Destin, Florida along the Emerald Coast.
I've been to Destin FL several times and each time have loved the gorgeous white powder beaches and crystal clear water along the Gulf Coast. In addition to having one of the prettiest beaches in the country, I've had some delicious food including lots of fresh seafood during my trips. I love rounding out gorgeous beach days like this with a fabulous meal and Destin is certainly the place to do that.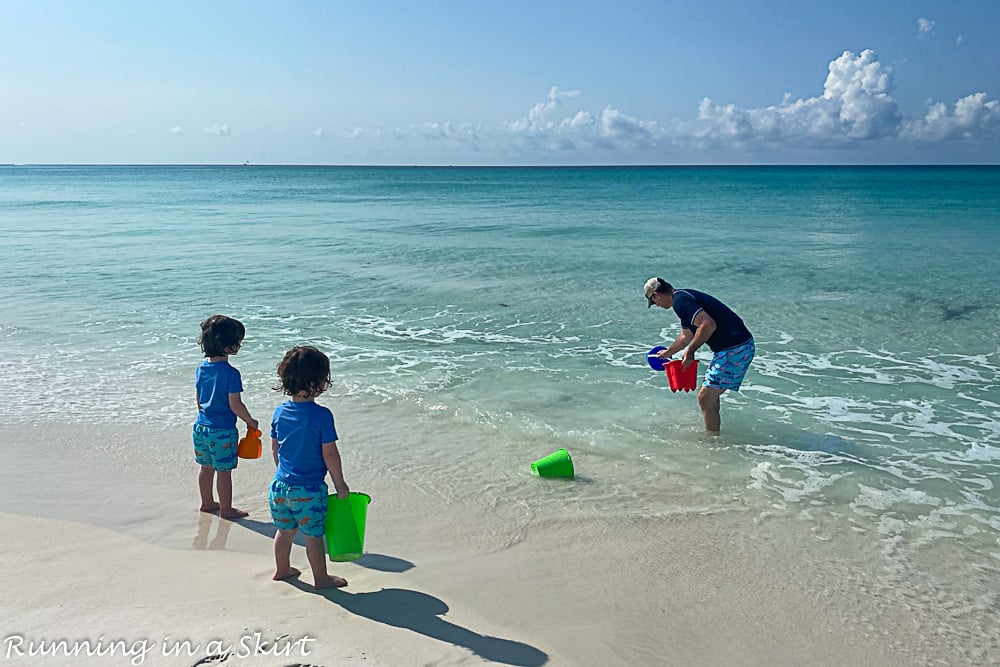 There are so many delicious places to eat in Destin varying from local seafood shacks, steaks, pizza, chef driven fine dining, and even delicious fast-casual fish tacos! I've shared the Best Things to Do in Destin and my Destin Travel Guide but the FOOD is often my favorite part of the trip so I thought we'd dive into sharing some of my favorite places to eat from my trips.
Let's get eating!
What Are the Best Restaurants in Destin FL?
I'm sharing my favorite restaurants in Destin from my trips below! That includes trips where I ate out pre-twins and one trip with our family where we got takeout as a group.
Boshamps is an institution in Destin. When asking where to eat among locals, Boshamps comes up again and again because it's such a tasty place to eat and has a gorgeous view of the harbor. It's a vibrant and popular restaurant where you can have a drink, cocktail or a meal. It's a great place for the whole family.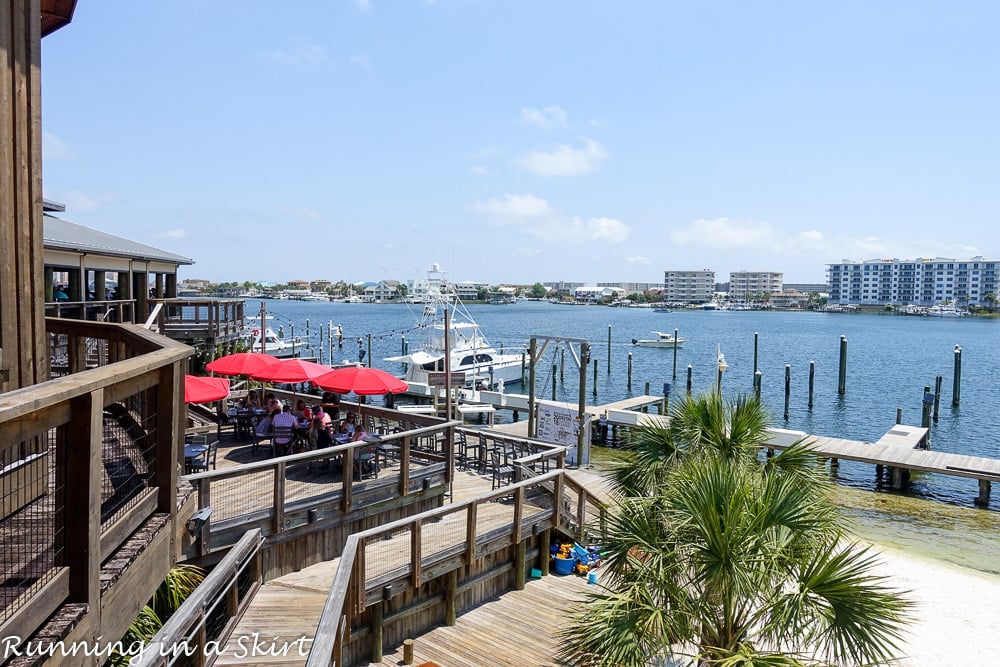 I've had several delicious meals there and my favorites are the True Alabama Feta Cheese Dip.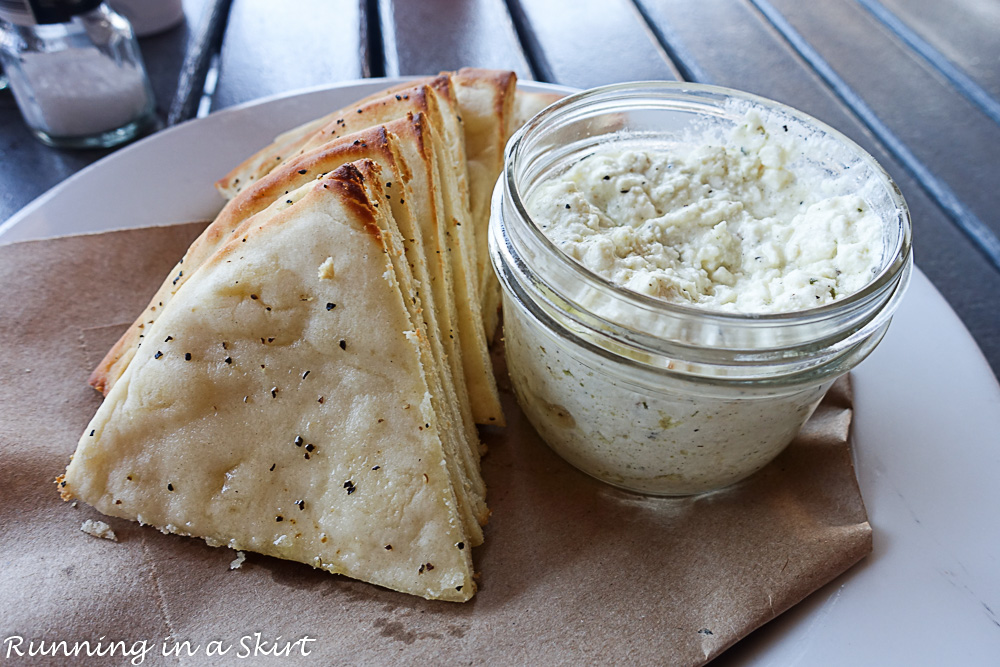 The Oysters Bienville can't be beaten. This is one of their specalties.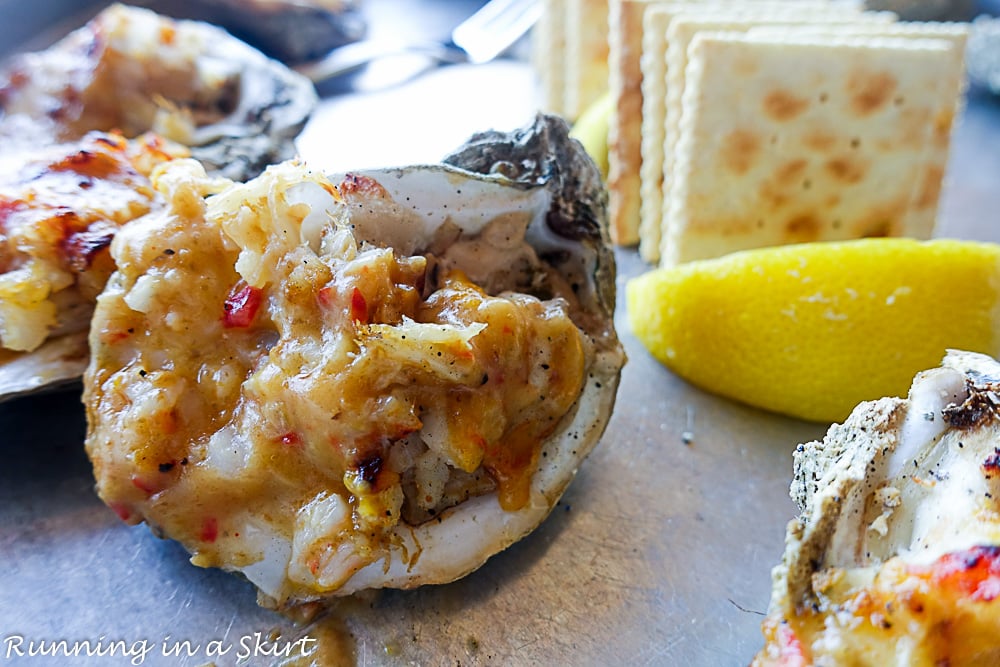 And they also make a mean Blackened Grouper Sandwich.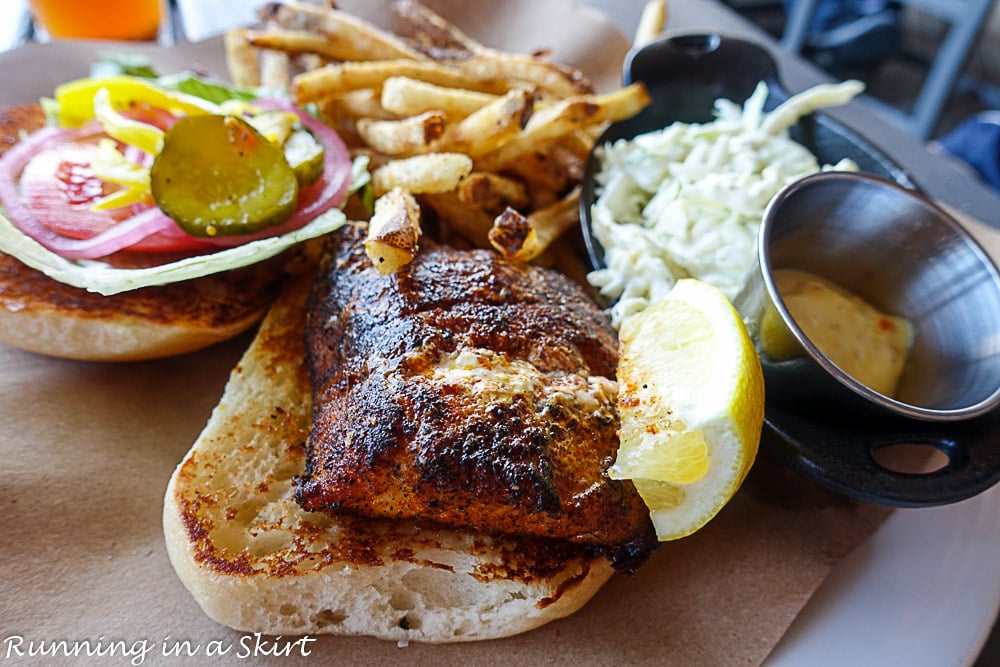 And here's a sample of their more elevated dinner menu which comes with delightful plated fish dishes.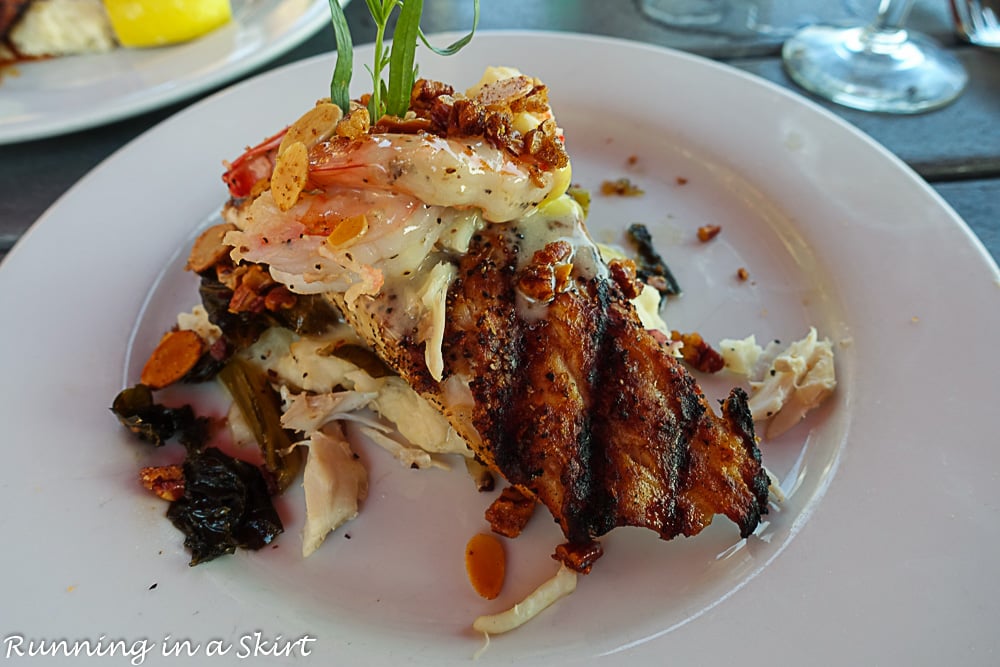 You seriously can't go wrong by visiting this best restaurant in Destin FL. The food is incredible and the view is equally gorgeous. The only problem is it is a popular place and often has a wait. Go early if you can or go expecting to get a drink at the bar and enjoy the view while you wait.
If you are looking for a fine dining experience on the water, Beach Walk Cafe is it. It's located right at the edge of the Henderson State Park at the Henderson Park Inn and has a gorgeous view of the water and if you are lucky you'll see this at sunset.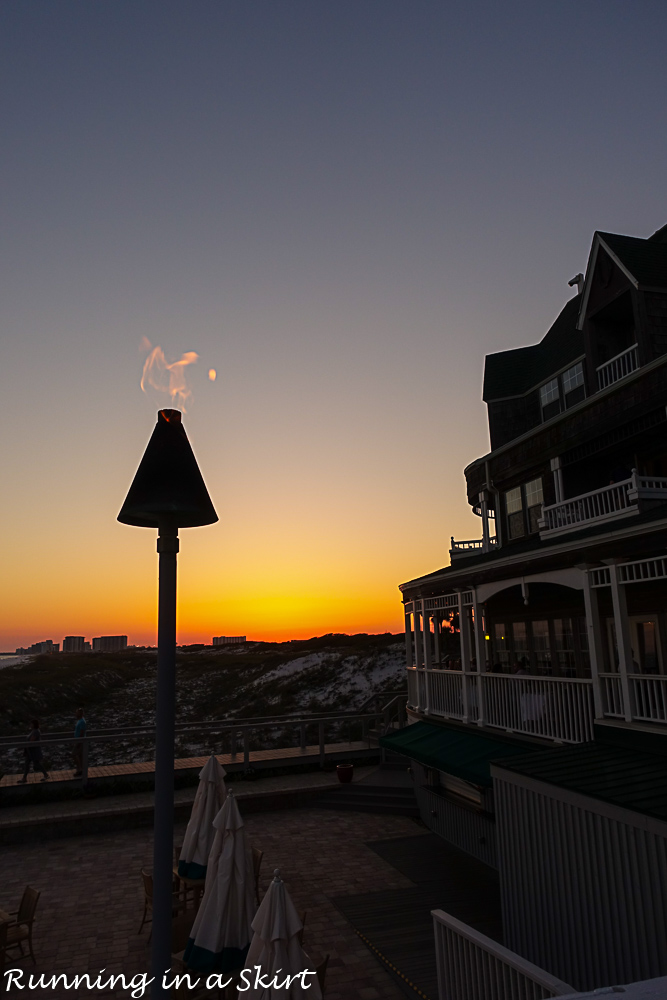 The dishes are gorgeous and taste equally as good. This is their shrimp appetizer.
I also got their lobster tails, which were incredible.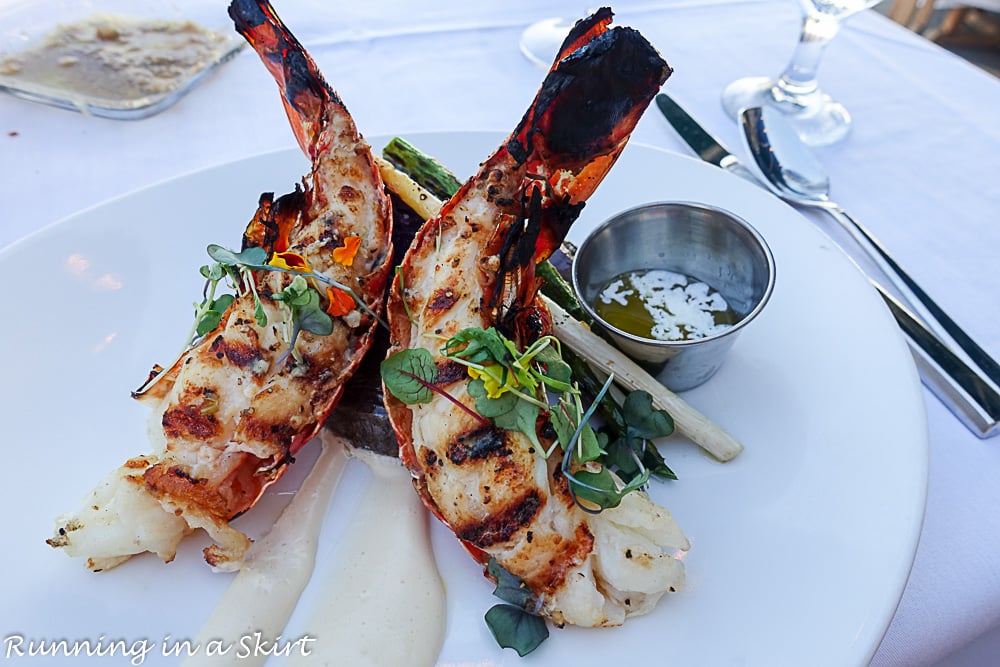 My meal here was first class and I enjoyed every minute of it! I'd highly recommend this beautiful restaurant and consider it one of the best restaurants in Destin FL especially for a special occasion.
The Wine Bar has several locations in Destin and in the 30A community. I got takeout from them on my most recent trip and it was one of my favorite meals on the trip. The food was prepared so well and the vibe in the restaurant was super cute.
We started our meal with a cheese course. The restaurant is part of a cheese and wine shop and it was delicious.
The highlights were this Manchego Crusted Fresh Catch.
I also loved the Gulf Shrimp on hand-cut pappardelle pasta. It was such a lovely meal that looked and tasted incredible.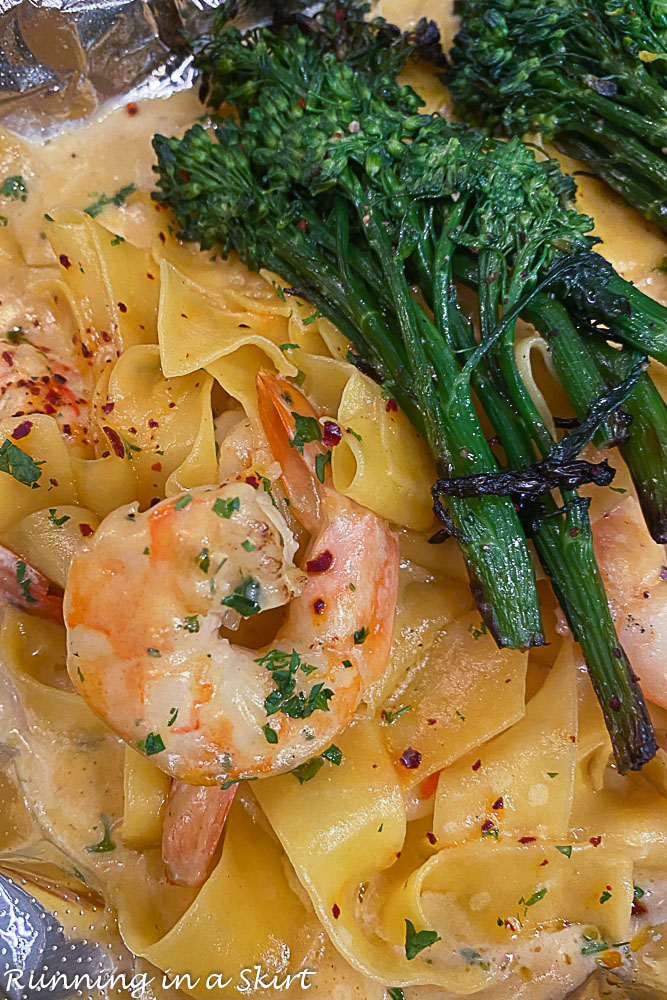 I'd definitely recommend eating in or taking out from The Wine Bar! This was one of my favorite places to eat in Destin.
Mimmo's Ristorante Italiano was another one of my favorite meals from my recent trip and certainly the best restaurant in Destin. We were so grateful they did takeout (many local restaurants did not offer that option) and got meals for about half of our group one night. I love an when Italian restaurants at the beach feature lots of seafood options on their menu and Mimmo's did just that! They also had lots of options for non-seafood eaters too.
We got the Calamari which was thick and chewy with just a light breading. So tasty!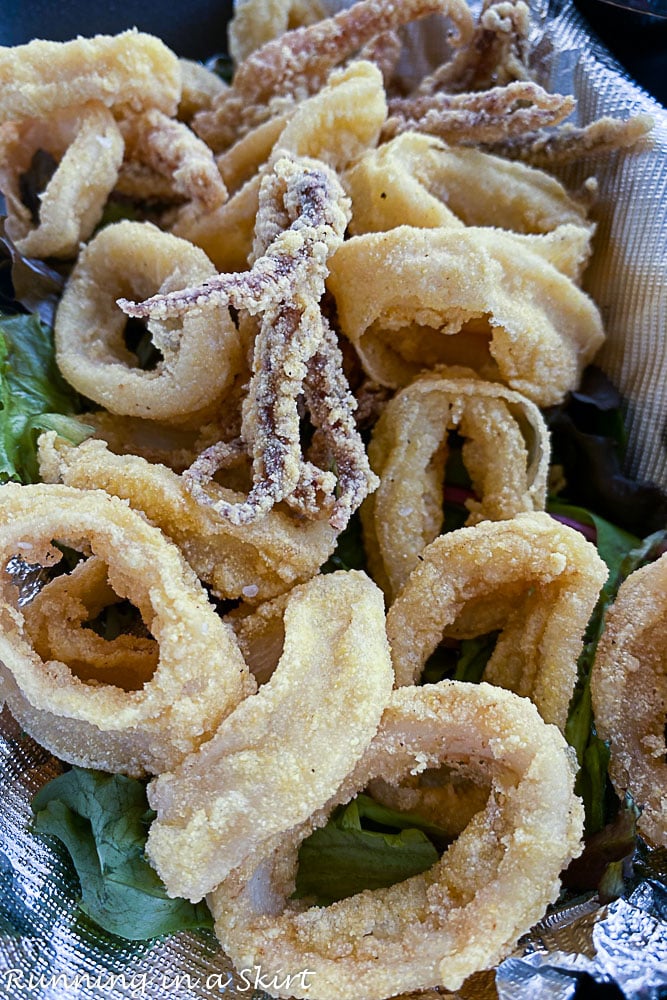 I also couldn't resist trying their famous garlic knots, which totally lived up to the hype.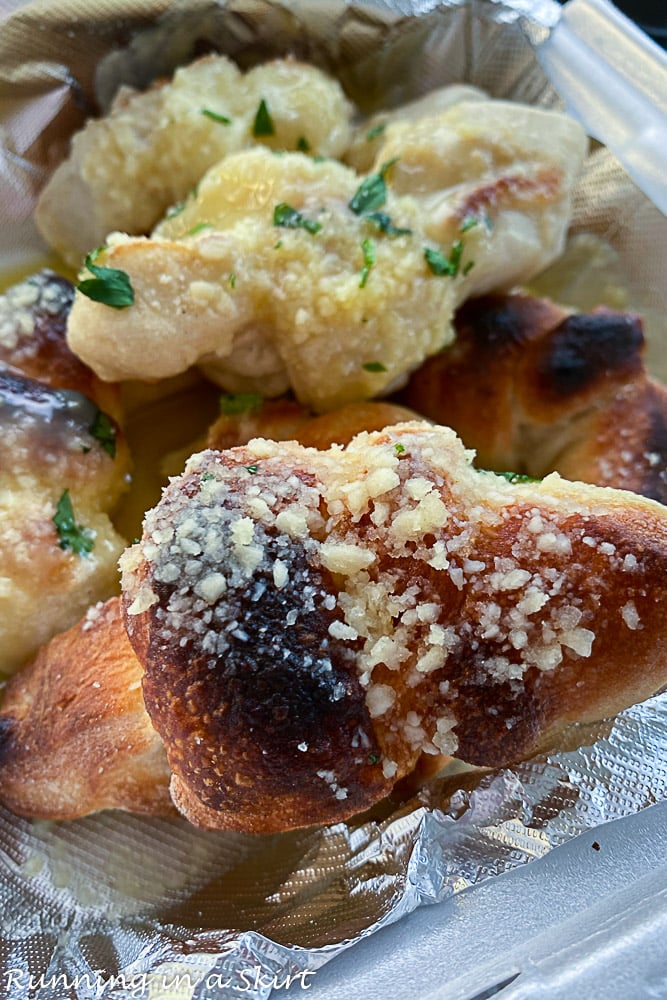 For our meals, I shared the Clam Pasta which was so good.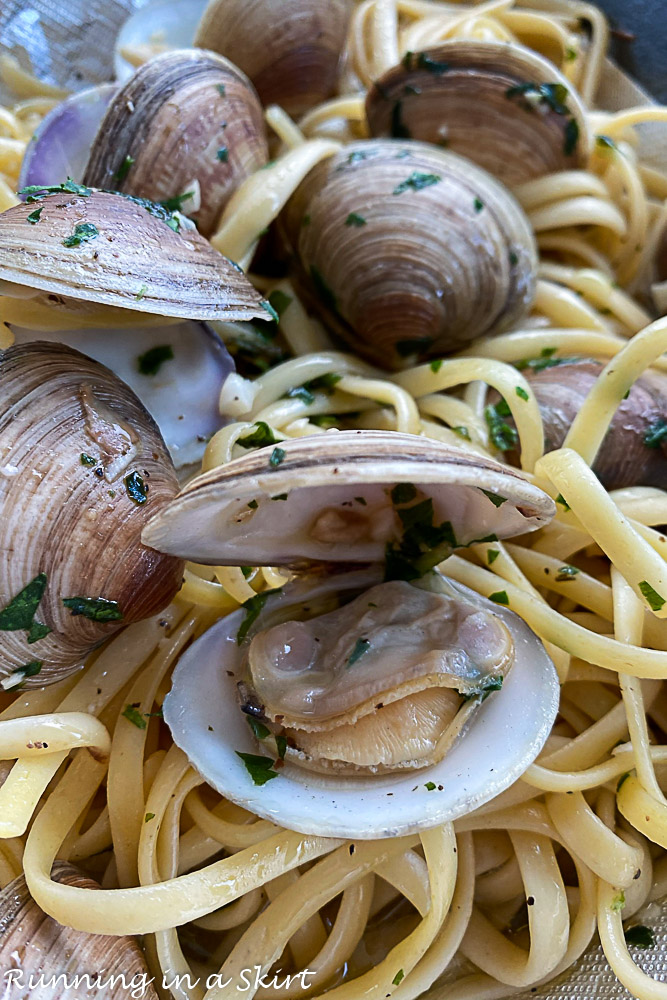 And we also tried the Shrimp Risotto. It was also super tasty.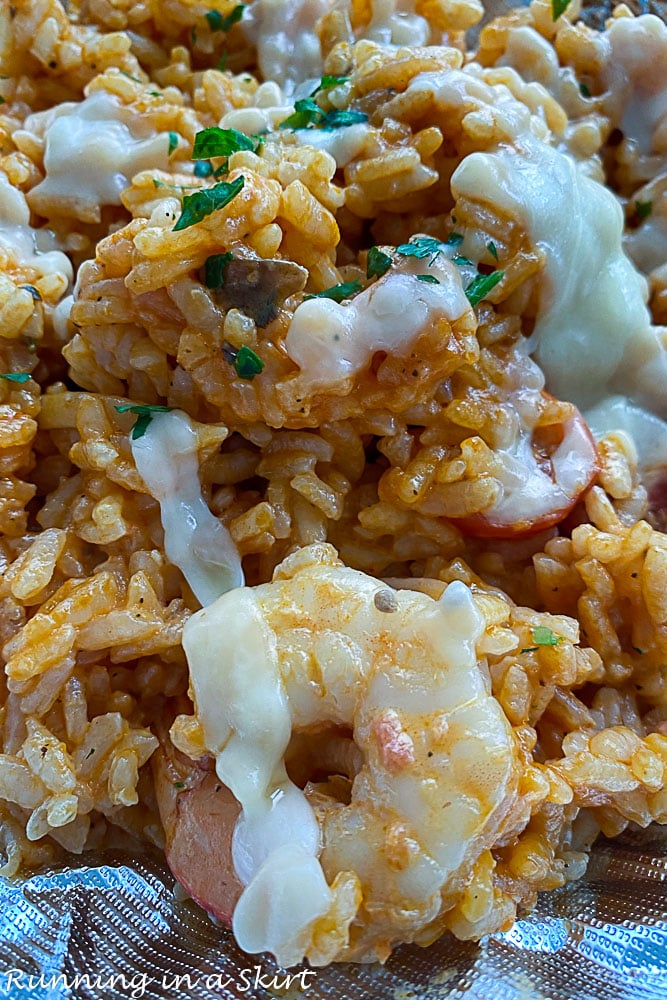 Everyone enjoyed their meals from Mimmo's and I'd also recommend it!
I was looking for an easy place to get a quick meal from when we first got to Destin and Burrito Del Sol fitted the bill perfectly. They have everything from quesadillas, burritos, and TACOS! We got Blackened Fish and Blackened Shrimp tacos and loved them both. The twins got a quesadilla that got gobbled up. They had an easy takeout option where you could order online or nice indoor and outdoor seating.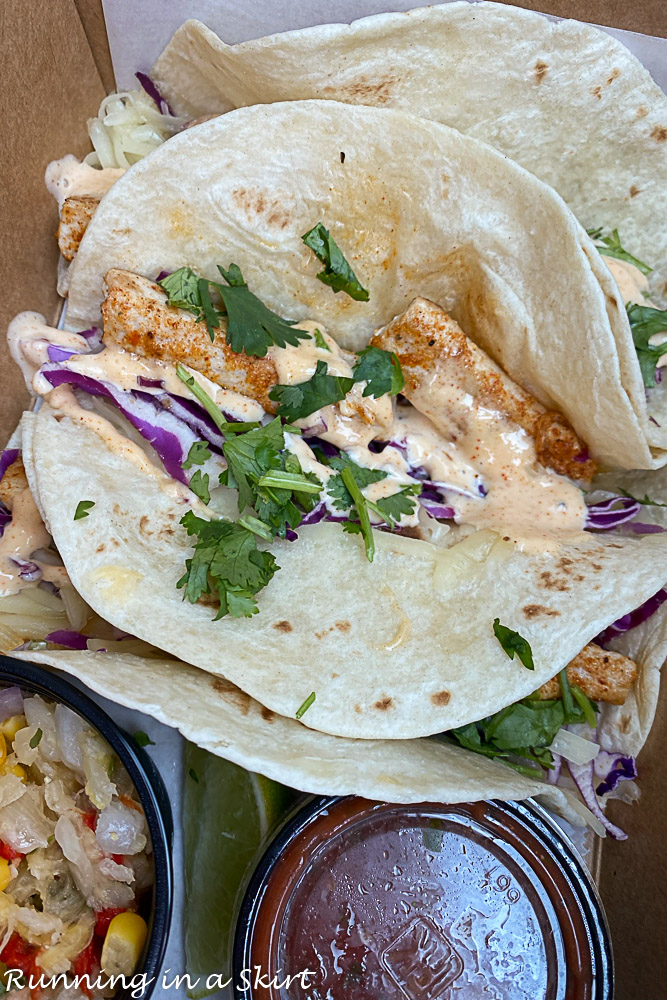 For a fast-casual meal, Burrito Del Sol is one of my top picks for places to eat in Destin!
Kenny's D's was just a few tenths of a mile away from our beach house on my recent trip and we loved walking there to get takeout! Most of the beach restaurants around us didn't offer that and it was so refreshing that they did.
It has a charming dive bar vibe with an oyster bar with super delicious food to go along with the superb location right across from the beach.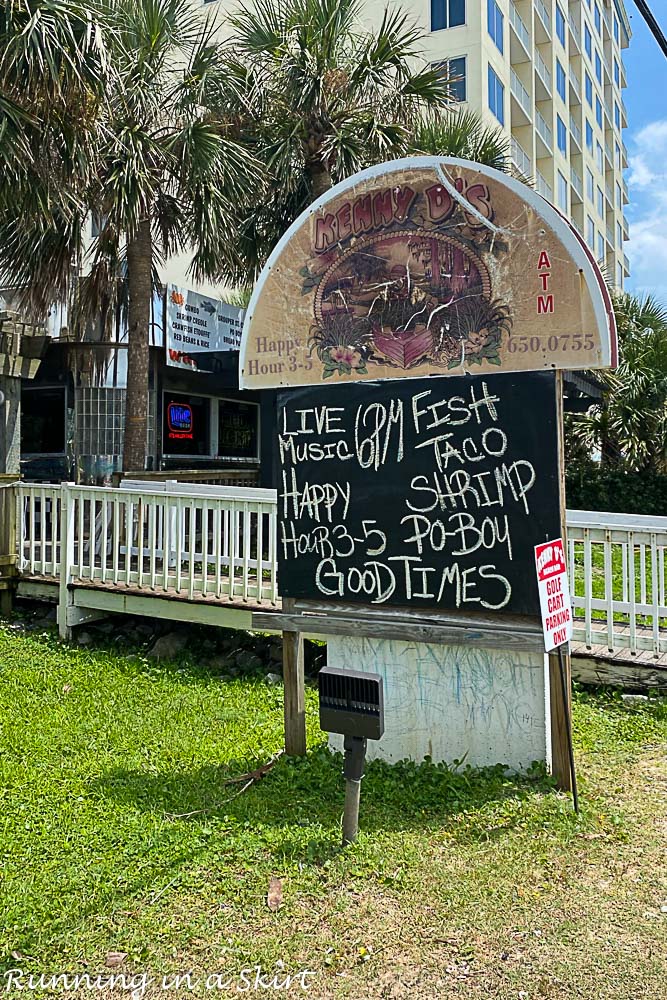 We got their Garlic Parmesan Oysters which were incredible.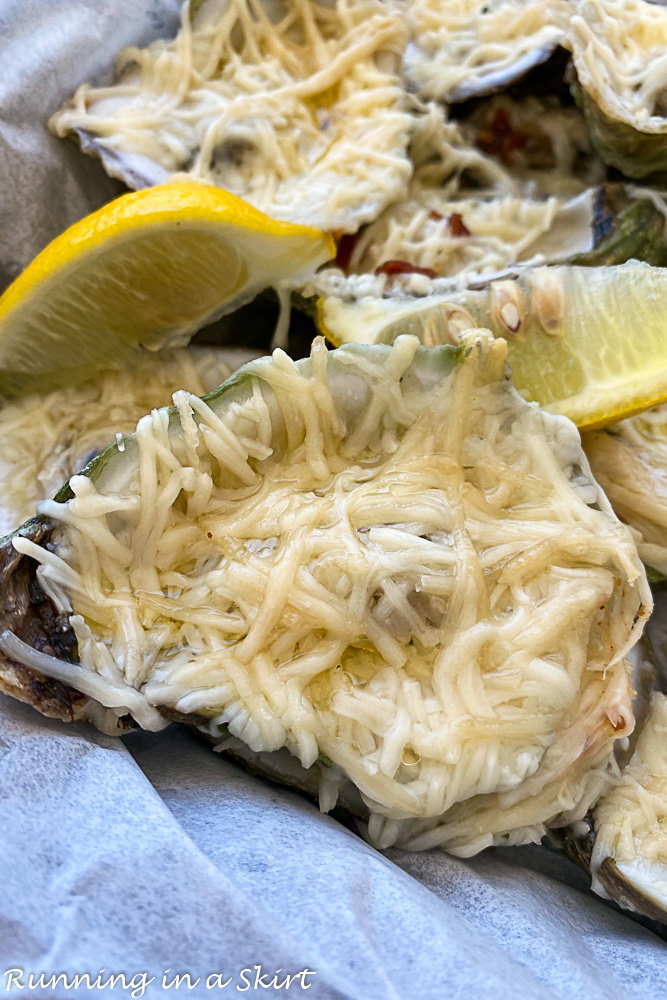 They also had a great Blackened Grouper Sandwich that we liked so much we got several days for lunch.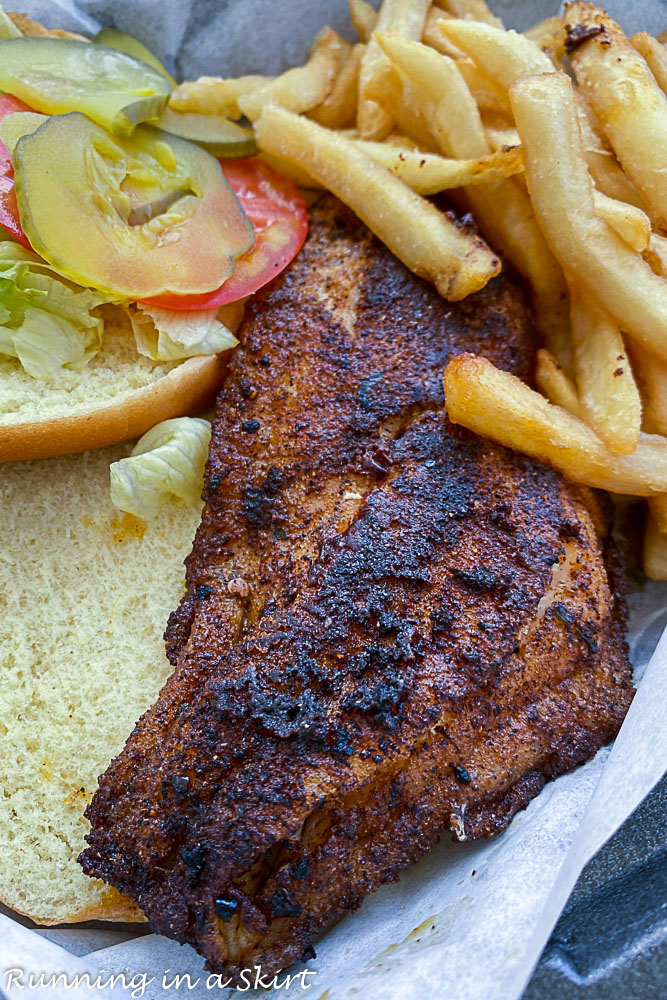 Our group also ordered burgers from Kenny D's and said they were great! This would be a super fun place to eat in person and I loved they gave us the option for takeout too. If you are looking for great restaurants in Destin... this is it!
We ordered Jackacuda's Seafood & Sushi our first night of the trip and loved they offered delivery and online takeout ordering. They have a fun restaurant that has lots of options from sushi to more traditional fish dishes. They also offered plenty of non-seafood dishes for our non-seafood eaters.
We started off our meal with (shocking, I know!) Chargrilled Oysters. They were so good!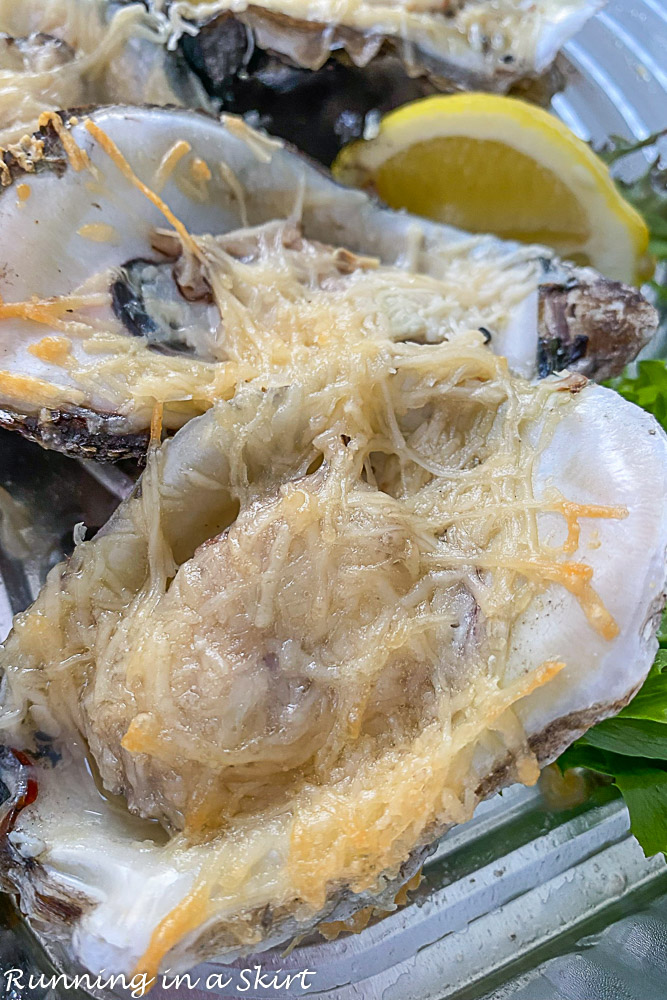 We also really love their Tuna Poke Bowl.
And the round out the meal we got the Baked Cobia.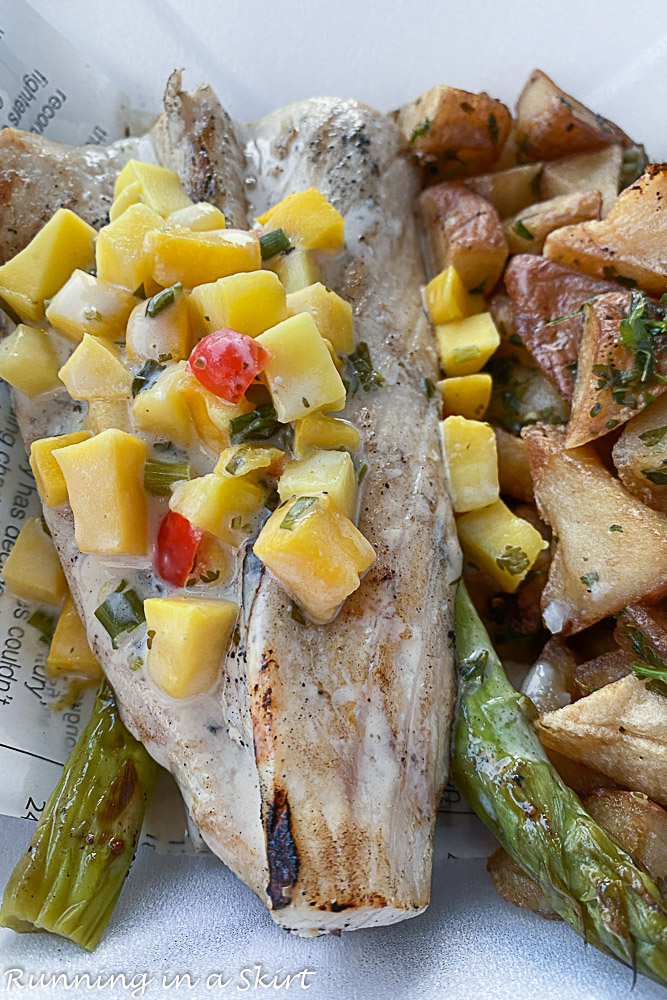 I do think I liked their sushi and poke bowls most. If you are looking for a solid delivery option in town Jackacudas is it!
If you have a group that enjoys all different types of food, Island Wing Company is a great place to pick! We ordered from them through Door Dash and they got our entire HUGE order correct and everyone liked their food... which is hard to do!
I'd recommend the Smoked Fish Dip.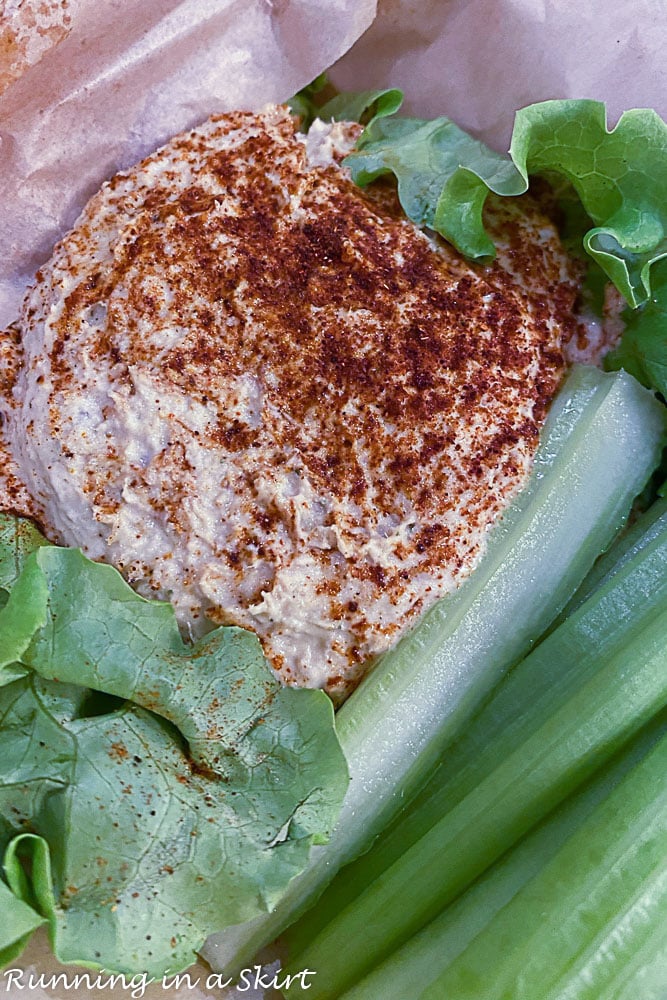 We also liked our Buffalo Shrimp Tacos.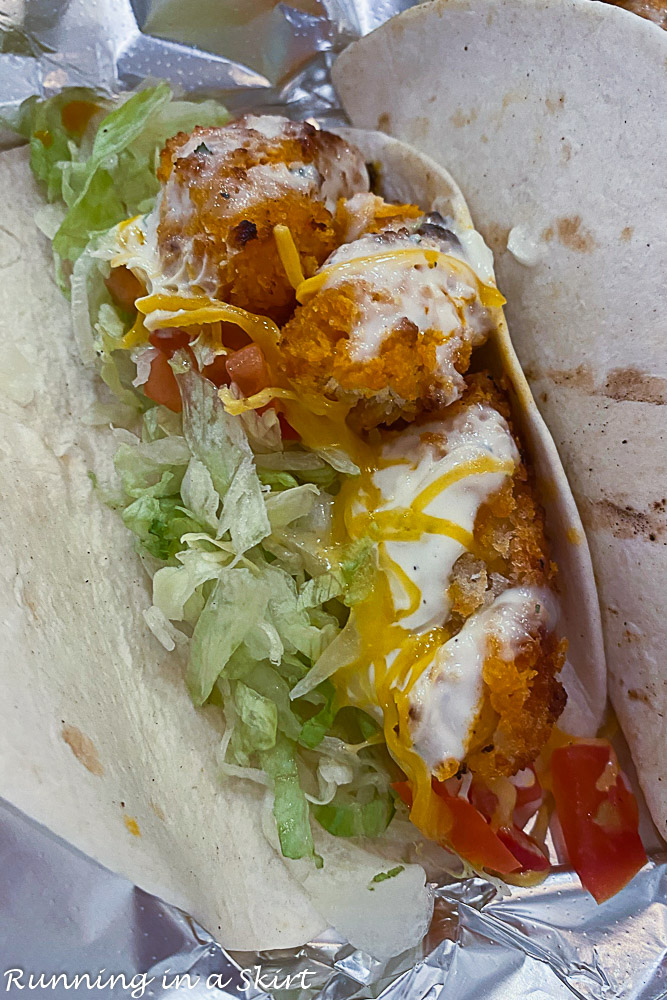 And our Blackened Fish Sandwich was also really tasty.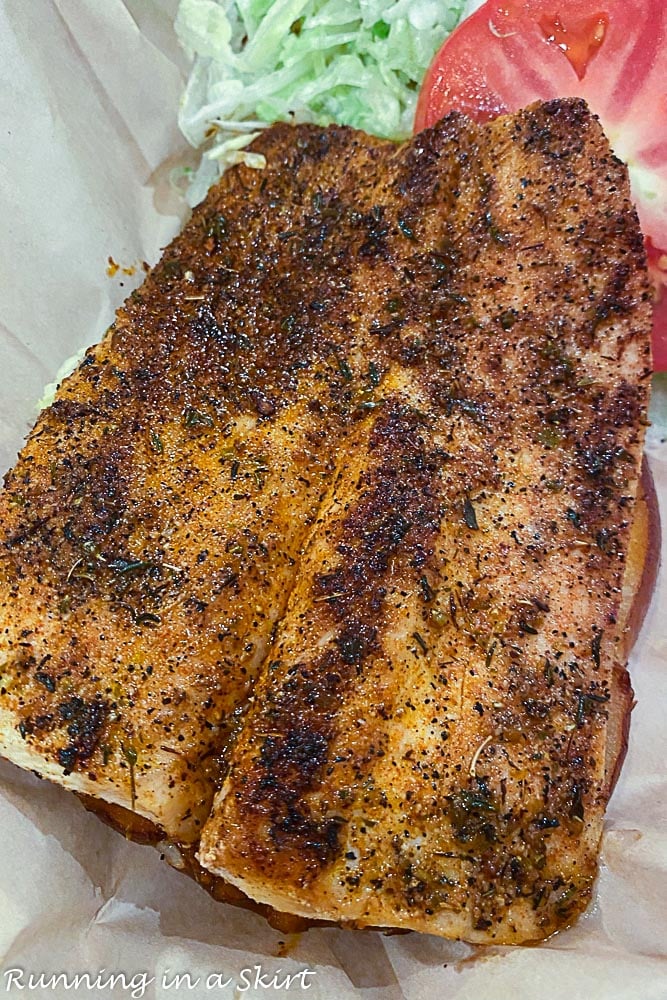 The boys enjoyed wings and others even like their salads. This menu was great for a crowd and their service was fabulous.
If you're looking for a great more local Destin pizza option for the whole family, Landshark pizza is it! Our group got a stack of pizzas from them and everyone loved them. The Hub's and I ordered dinner from another restaurant that night and didn't like it and ended up chowing down on some of this pizza because it was so good.
I didn't get a photo, but trust me it was great! This really was one of the best restaurants in Destin FL.
I really tried NOT to eat at Joe's Crab Shack on my trip to Destin because it's a chain. I was looking for a great local seafood option for our crowd for the last night and nearly every restaurant I called would not offer takeout. I finally gave up and did online ordering through Joe's Crab Shack and the yummy collection of steam pots I picked out for everyone was a HIT!
We got a big collection of clams, mussels, shrimp, and crab legs for a crowd and it was fabulous. They even do family-style meals for takeout.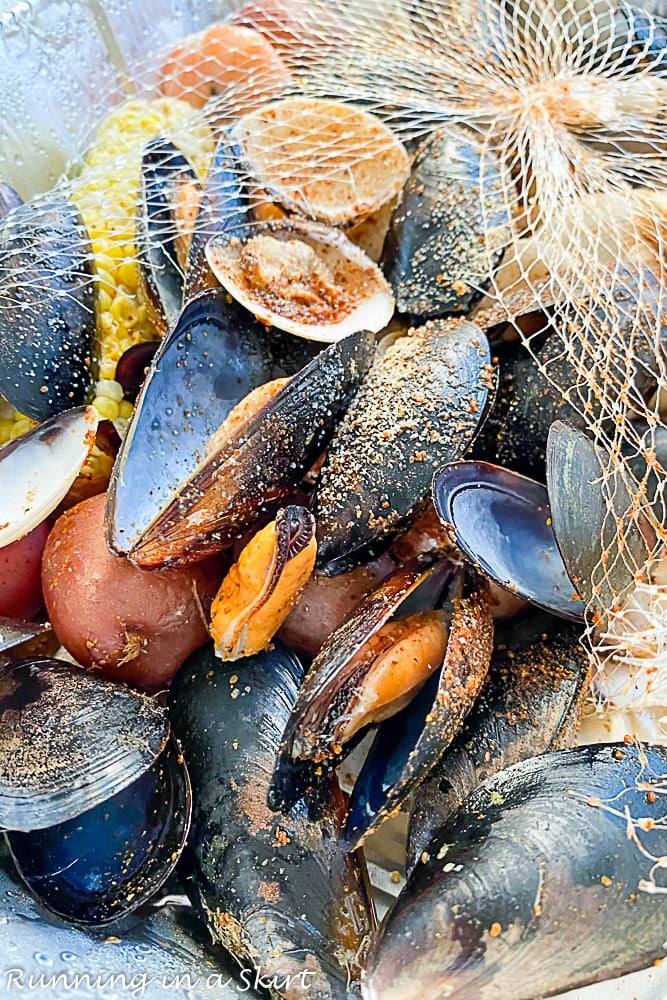 I wish we could have tried something more local, but if you need a good takeout option this is it. If you eat at the restaurant they have a fun playground for the kids and a great vibe inside.
First Watch is another chain, but they have delicious consistently tasty breakfast food. It's always one of my favorite places to eat in Destin. They offer eggs, omelets, waffles, eggs benedict, and everything for a lovely breakfast or brunch.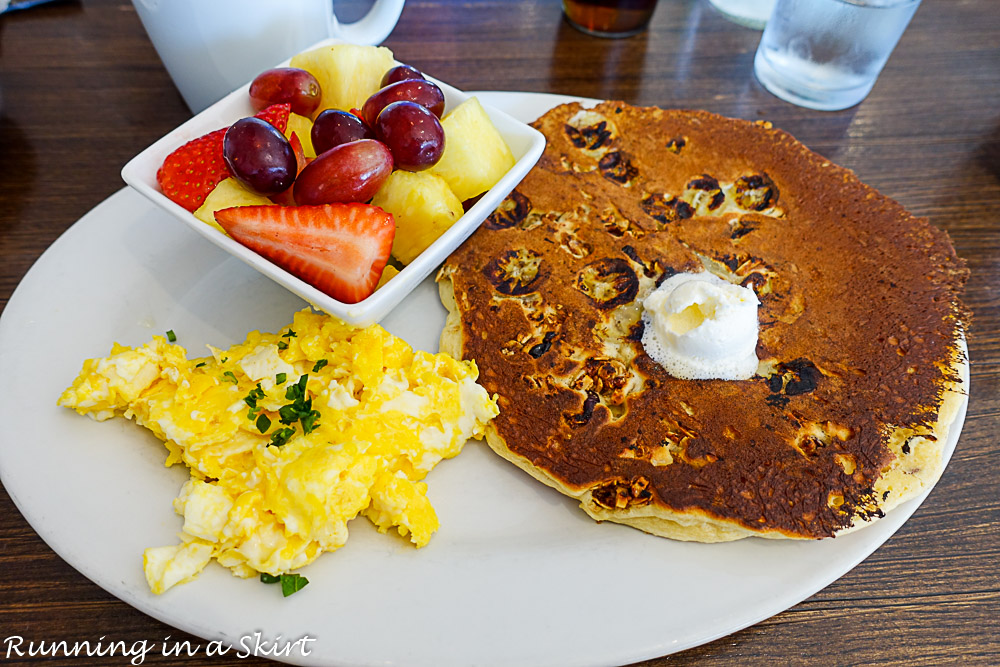 It's another great and easy option for dine-in or takeout in town. They offer online ordering and easy pickup.
More Best Destin Restaurants
There are so many fabulous places to eat in Destin. Here are a few more of the best Destin restaurants. All of these are highly rated with great reviews.
Dewey Destin Seafood - The original Dewey's Destin is another institution restaurant in Destin. It has a casual beach shack vibe right on the water with a gorgeous view of Crab Island. The casual menu includes steamed seafood, fried and grilled baskets, and fish sandwiches. This place is a must-try on your trip!
Brotula's Seafood House & Steamer - Brotula's is another locally owned family-friendly casual seafood restaurant in Destin Harbor on the docks. Their menu features steamed and broiled shellfish platters as well crab legs.
Pompano Joe's - Pompano Joe's is right on the beach with Gulf of Mexico views, live music, and features a daiquiri bar outside! It's a fun and popular location where the experience is as good as the food. They offer lots of fresh local seafood with an island twist.
The Back Porch - The Back Porch is one of the original restaurants in Destin right on the beach. The views are gorgeous and you can expect fresh oysters and Gulf seafood.
Louisana Lagniappe - They are known for Gulf Seafood with a Creole flair! This casual, yet upscale restaurant is another favorite in town.
The Crab Trap - The Crab Trap is another beloved Destin restaurant right on the beach with open-air windows. The views are gorgeous and you can't beat the fresh crab legs and seafood. There is also a fun playground on the beach for kids. They are known for having a wait some come prepared to linger for a while.
Harbor Docks - Another family-friendly waterfront restaurant that has delicious seafood, sushi, and steaks. They also serve breakfast and Sunday brunch.
Marina Cafe - Here's another more upscale dining experience with a candlelight dining room that has views of the Destin Harbor. They have everything from fresh seafood, sushi, pasta, and steaks. They even have an early bird special.
McGuire's Irish Pub - If you are looking for something a little different, this steak house is it! The pub features views of Destin Harbor and live Irish entertainment.
Fudpucker's Beachside Bar & Grill - Another truly unique Destin experience is at Fudpucker's. The restaurant features a family atmosphere with casual food, fun stuff for the kids, and even live alligators on display. It's a restaurant that is perfect for a full family experience.
Destin is a fun and vibrant beach town with so many good restaurants and different types of cuisine! I hope this food guide will help you pick the best restaurants in Destin FL for your trip.
More Destin Travel Information:
Pin for later!