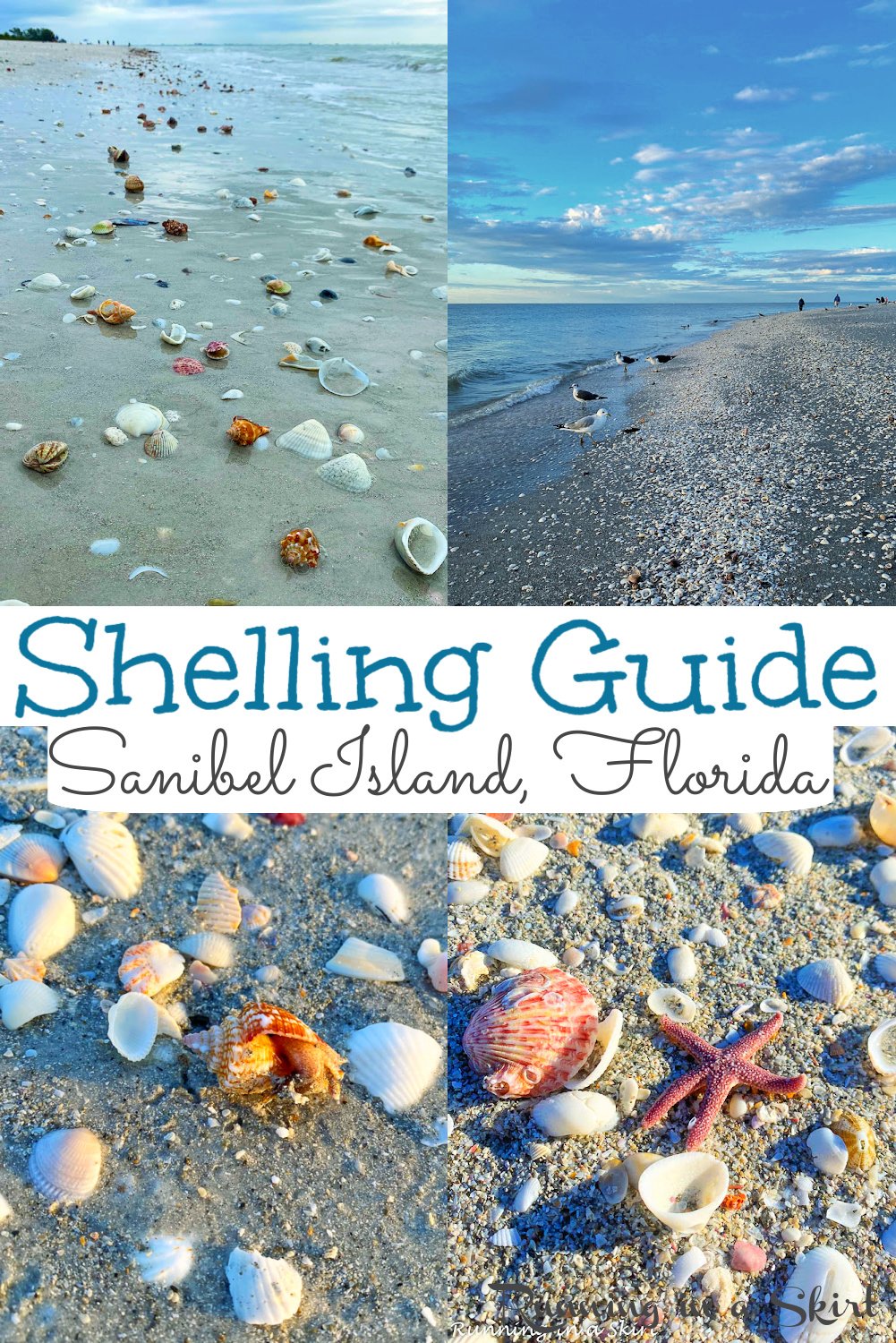 Curious about Sanibel Island Shells and Sanibel Shelling? This island paradise is world-famous for having some of the best shelling beaches. Find out what shells you might find on Sanibel Island, where to find them, and some special shelling tips I've learned from my trips to the island.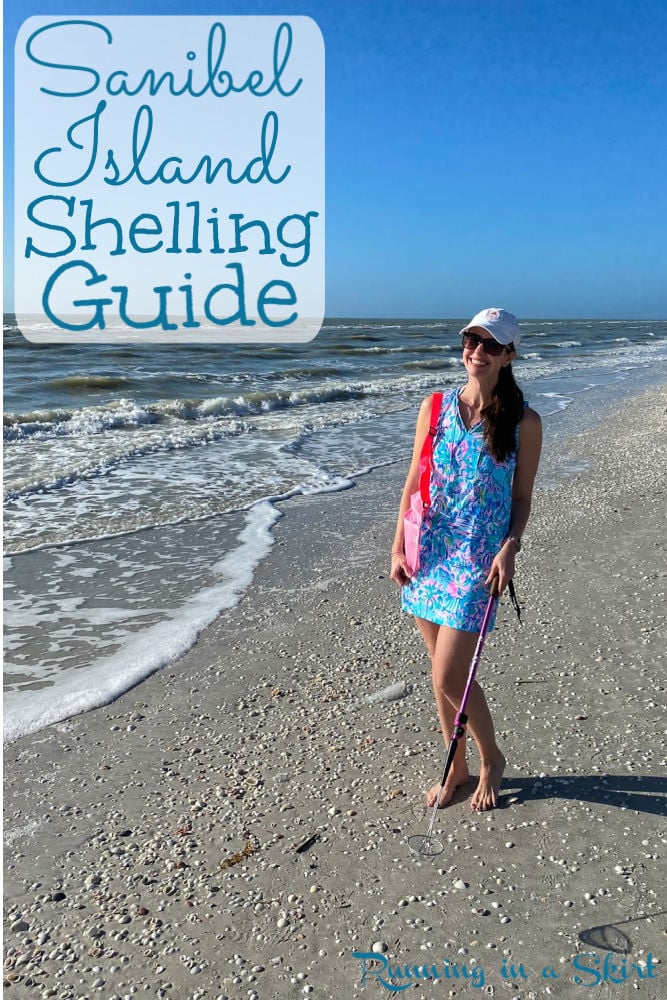 Sanibel Island Shells
There are SO MANY Sanibel Island Shells. Sanibel Shelling is one of the most popular pastimes on the island and for good reason... it's spectacular. Even if you've never been into shelling before, if you go don't be surprised to find yourself sucked into finding these sea treasures.
If you're looking for shells anywhere else you might have found a few cool ones here and there, on Sanibel you literally see hundreds of the best shells you've ever seen over and over. On your first day you'll pick up a bunch for your bucket, only to throw them back because you find 10 more perfect ones the next day. It's like nothing you've ever seen before. You'll never believe the shell collections you can get here.
Officially there are more than 400 species of shells on the island and it's world-renowned for shell lovers. This little island is a sheller's dream. The coastline looks like this.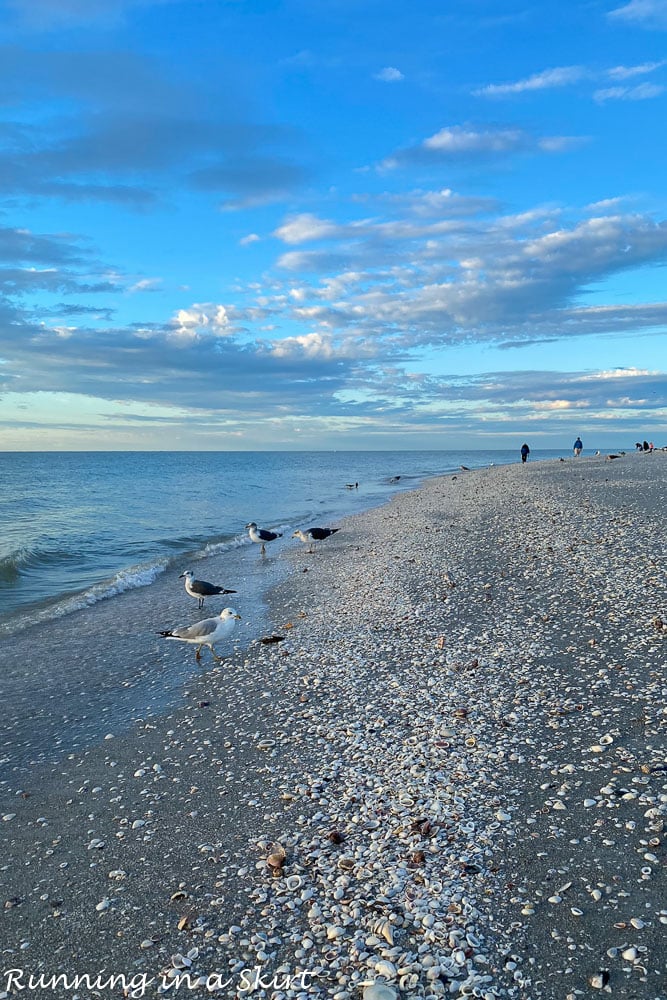 If you are just learning about Sanibel, it's a small island in Southwest Florida just off the coast of Fort Myers. Its sister island, Captiva Island, is known for being a beach lovers paradise. The islands take you back to a slower way of life with no stoplights are high-rises, which is a rarity in the over-developed Sunshine State.
For more information on Sanibel start with my Sanibel Travel Guide and then keep reading all about Sanibel Shelling.
More Sanibel Travel Resources: Sanibel Travel Guide, What to Eat & Drink on Sanibel, The Best Things to Do on Sanibel, The Best Things to Do on Sanibel with Kids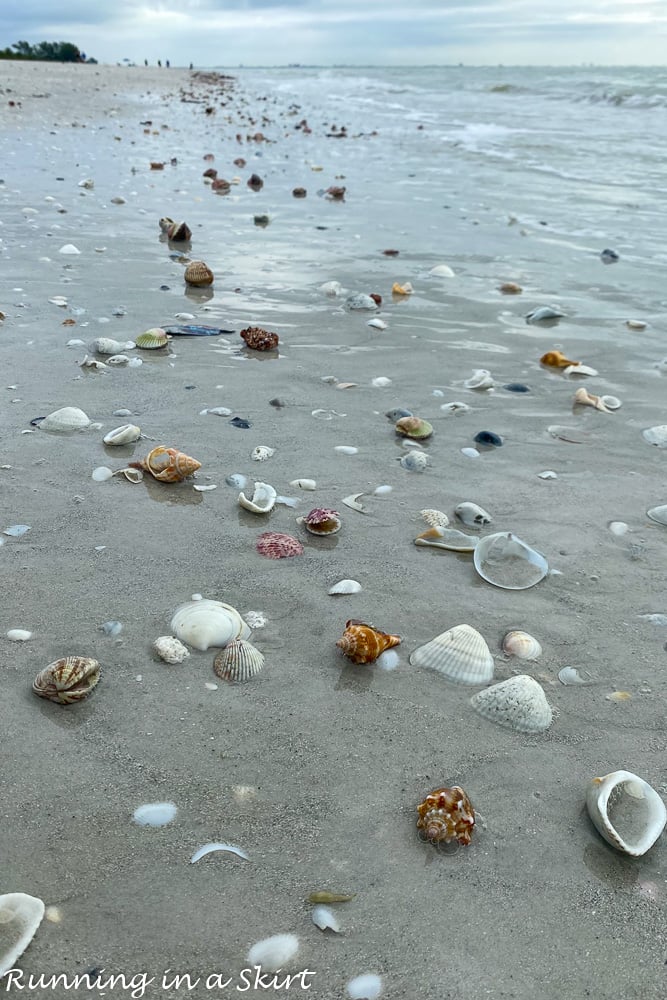 Why is Sanibel Shelling so good?
Sanibel Island Shelling is so good because of the unique orientation of the island. It actually faces east-west skirting the Gulf coast of Florida. Plus, the island is surrounded by an underwater shelf. It doesn't have an extreme dip off as you'll see on the Atlantic side of Florida.
That allows the shells to be collected like a dustpan as the Gulf of Mexico current pulls over it.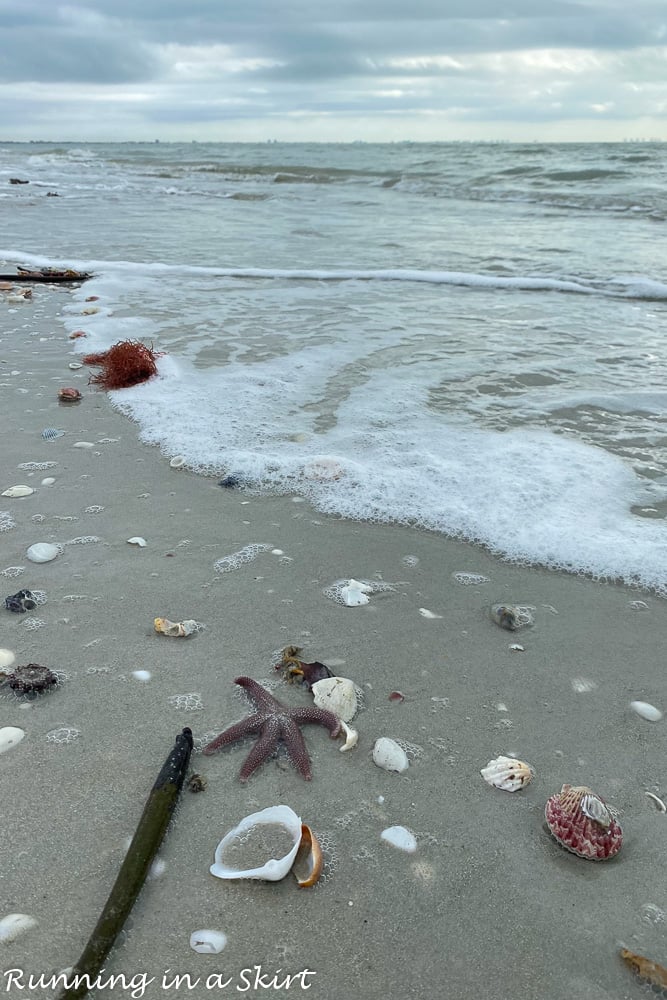 What Shells Can You Find?
The shells you can find on Sanibel will wow everyone from an amateur beach walker to a master collector. You can prepare to be seriously amazed. Here's shell guide showing the types of shells.

Here's what I find in just one morning on the beach WITh my boys.
Here are a few of the shells you can easily find. There are over 400 varieties of seashells on the island, so this is a short list.
Scallop Shells
Conch Shells
Lighting Welk Shells
Cockle Shells
Tulip Shells
Cerith Shell
Olive Shell
And here are some of the more rare shells found on Sanibel.
Junonia Shell <--- This is the most prized shell found on Sanibel. If you find one called the local newspaper!
Lion's Paw Scallop
Scotch Bonnet Shell <---I found one of these!
Lace Murex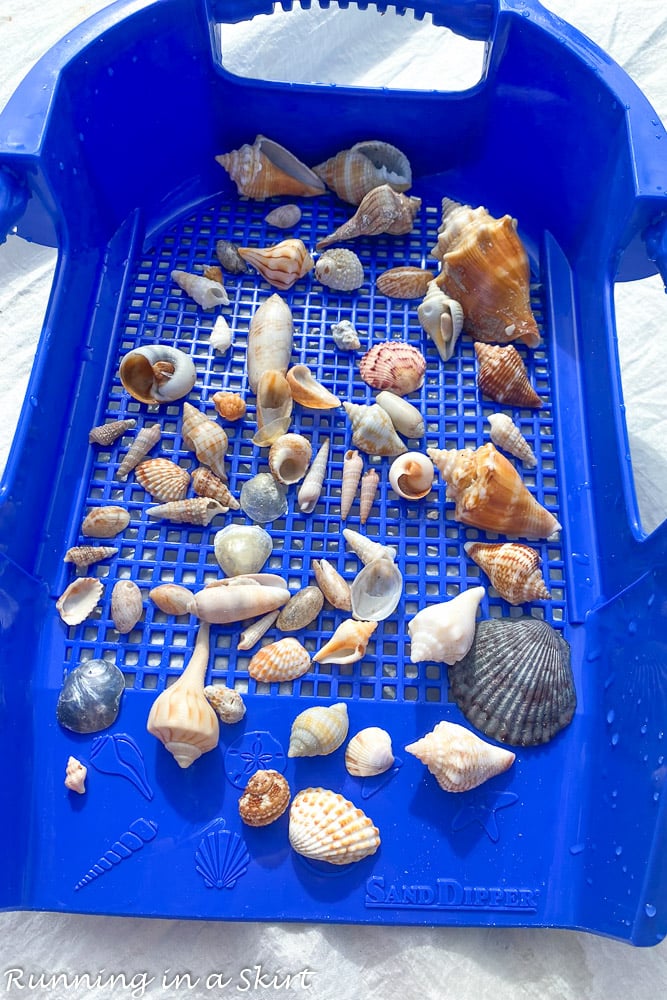 What is the Sanibel Stoop?
Shelling on Sanibel Island is a very popular pastime. Because of that, you will see lots of visitors and locals bend over while walking. The stride has become so infamous that it has its own name: the Sanibel Stoop. You'll see lots and lots of people on the beaches doing the same thing you are.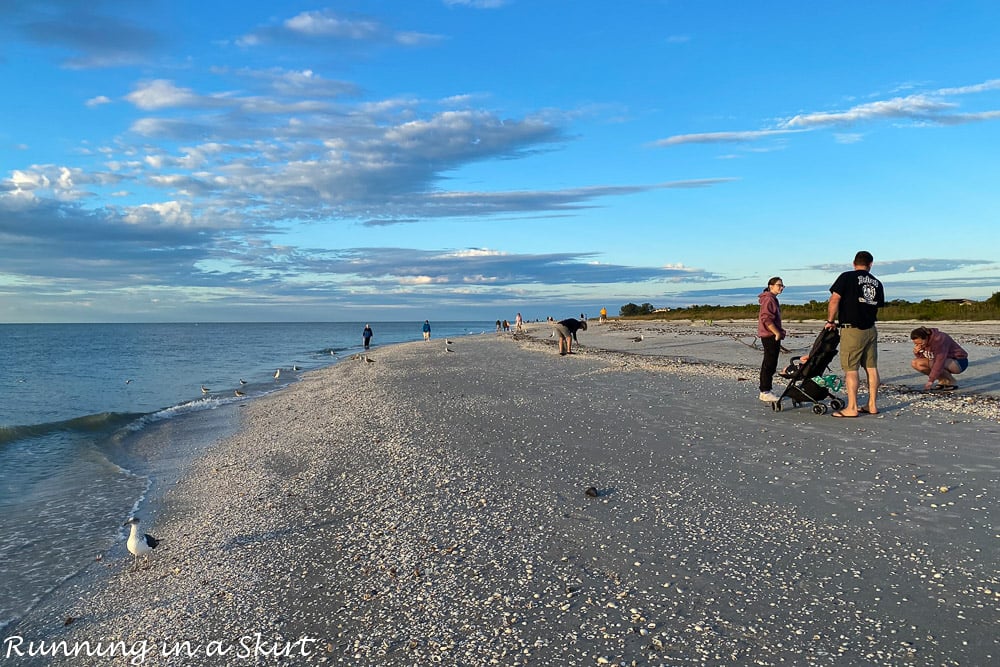 5 Sanibel Shelling Tips
Go at the Best Time
Sanibel Shelling is better than most beaches even at its worst time but there are definitely times of day or year where it's a lot better. So what is the best time for shelling?
The cooler months from December through April are generally better. That's high season on the island as well. I've been in early January three times and each time has been filled with shells.
Shelling is best at low tide and at sunrise while sunset can also be a good time. Don't be surprised to see folks out looking with flashlights right as the sun comes up.
If you happen to be on the island after a storm, that's when you can find the most!
Find the Right Beaches
Sanibel and Captiva are often lumped together but Sanibel is the better place for shelling. The beaches of Sanibel Island are over 14 miles long, so there are lots of places to look.
Beaches with round corners or small sandbars tend to collect more shells. Here are a few other beaches that tend to have the best Sanibel shells.
Lighthouse Beach
Blind Pass Beach
Bowman's Beach
Turner Beach
Captiva Beach
Tarpon Beach
Get Some Gear
You don't need a lot to go shelling, but there are some fun things to get that can make your experience a little more enjoyable. On our last trip, my Hubby got the family these cool shelling sticks kind of like a shell scoop and special mesh or net bag. It got our boys excited about the trip and involved in the shelling.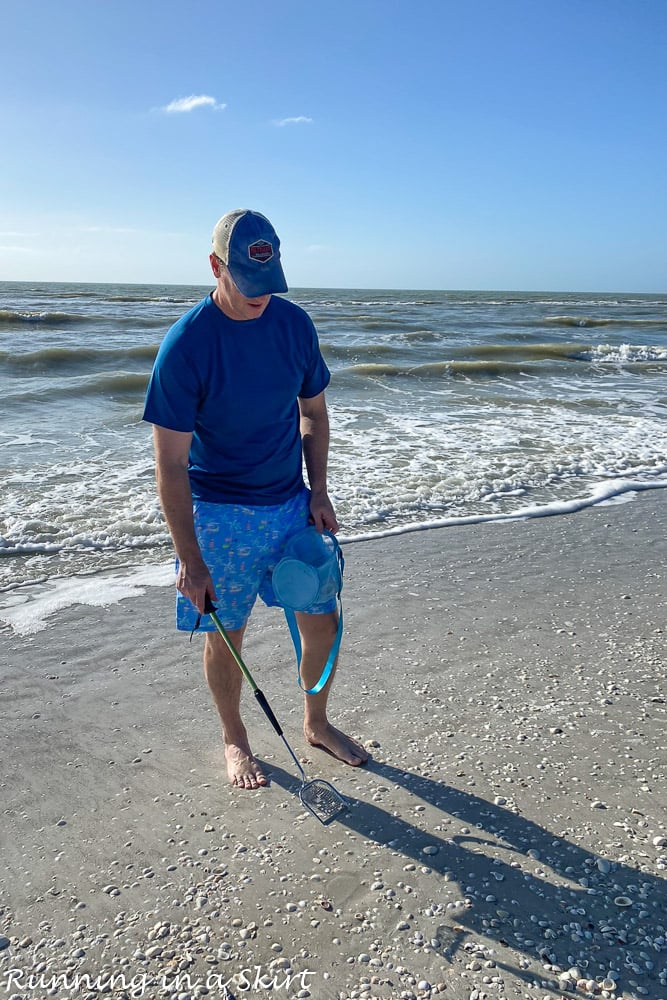 Here are some other Sanibel shelling items I recommend.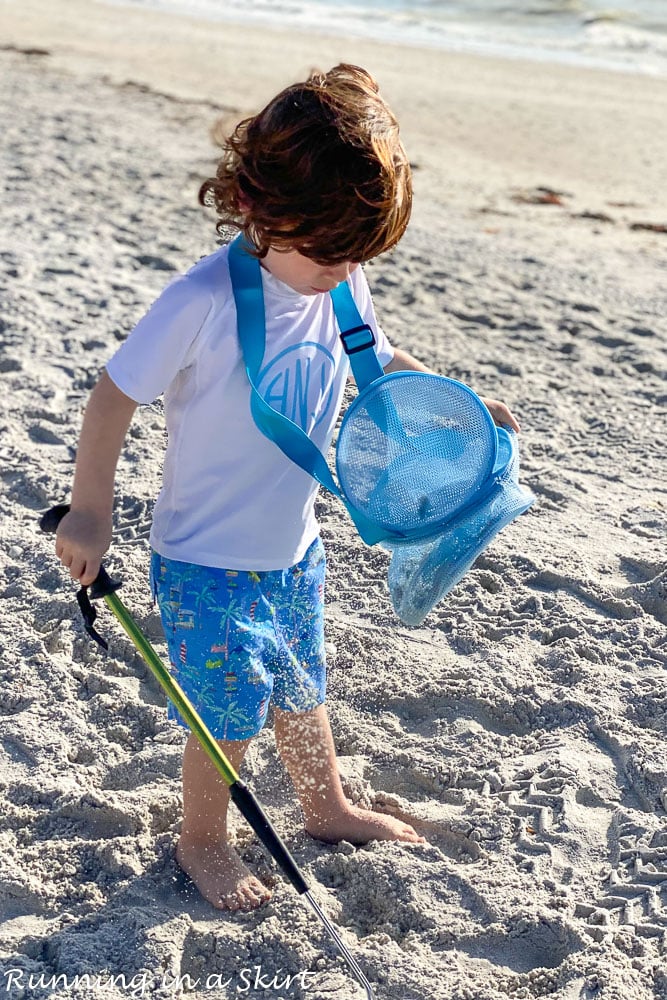 Dig for Shells
You'll find lots of treasures washed up on the beach, but if you really want to get in on the action dig! There are two places you can dig including some of these big shell piles that naturally form.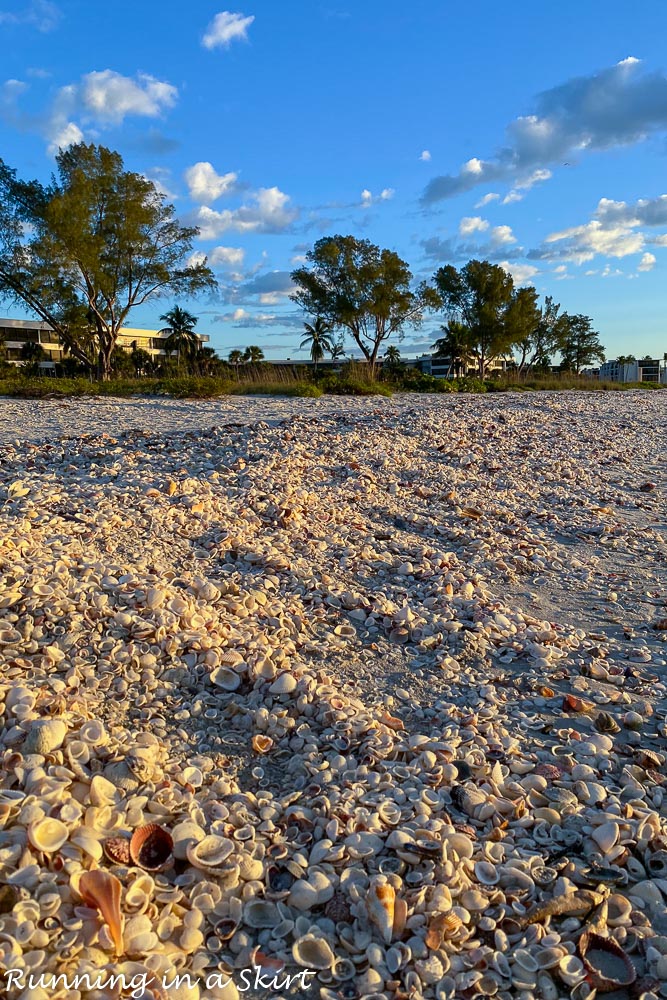 BUT if you really want to find something fun take that Sand Dipper Treasure Digger Sifter a couple of feet out from the water's edge. Dip it in the water and pull up some sand and see what shells you find. I was widely successful in doing this and found some treasures this way. That's my tips to find more rare shells.
Leave Some Behind
Some shells still have live animals in them. It's imperative to give any shell you find especially closed ones, a good look to see if an animal or inhabitant is still inside. If it is, it's only right to leave it plus it's actually illegal on the island to take a live shell. Collecting of live shells is prohibited. Help protect the ecosystem of the island and just leave them alone.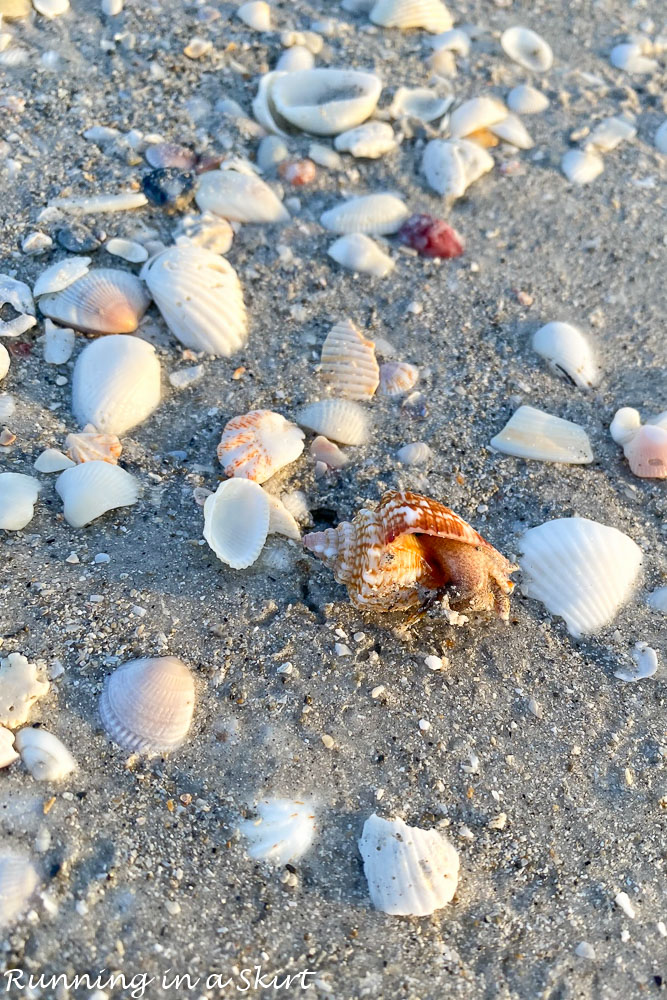 You'll also probably find some live sand dollars, crab, starfish (sea stars,) or sea urchins. Leave them alone or carefully place them back into the water. My twins carefully put this one back!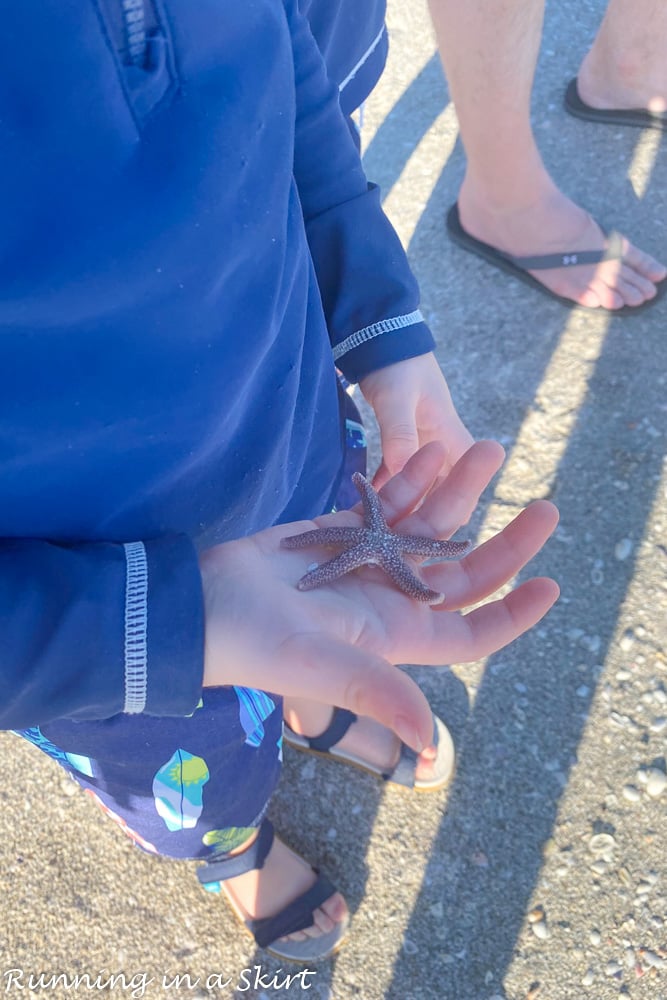 It's also important to remember to not take ALL the shells. Find your favorites and keep the most treasured ones.
How to Clean Sanibel Shells
So now you've found ALL the shells you could ever dream of. How do you clean them to get them home?
I put my shells in a colander and then filled a large bowl with water. I put it in the bowl and changed the water several times allowing them to soak overnight. Putting the shells in the colander allowed any of the sand that was still inside to fall out.
I then put my shells in a freshwater bath with just a splash of bleach. I let that sit for just a short 10 minutes and then rinsed them off. They were clean and not smelly to take home.
Sanibel Shelling is Magical
Sanibel Shelling is pure magic. I've always picked up a few shells on the beach on other beach trips, but three trips to Sanibel has sucked me into the art of finding seashells. There really is something magical about watching the tides change, the sun coming up, and getting a prized shell.
Even my boys got in on the action and had their favorites to find. It was a great way to teach them about the ocean, tides, and nature too.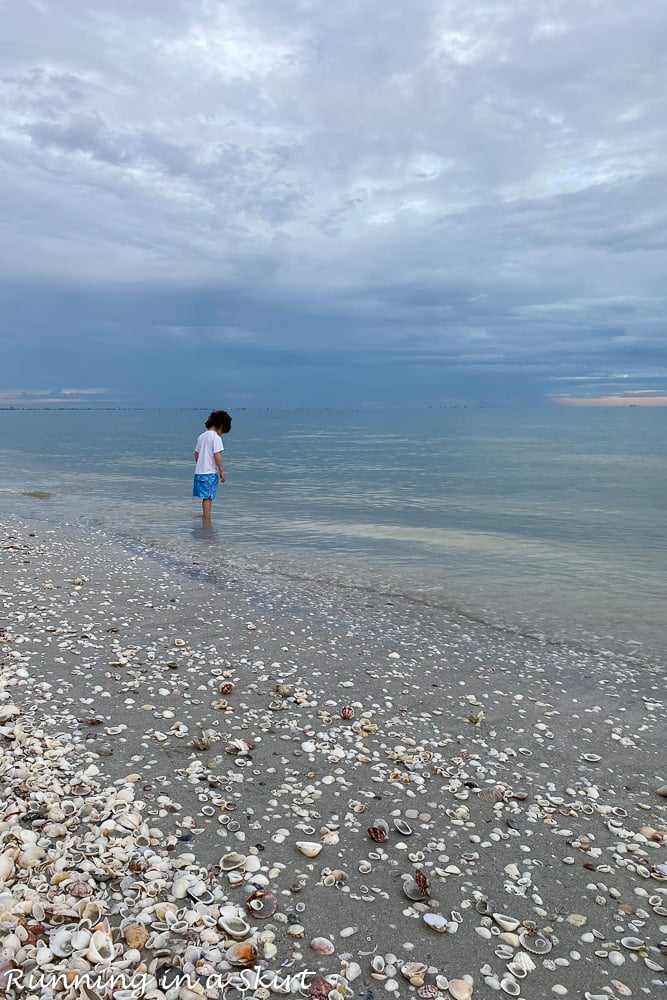 Even if you've never been into shelling don't be surprised to find yourself sucked into finding Sanibel shells. It's a completely addictive and fun way to pass some time on your vacation. You'll find yourself not being able to stop after you find a few good ones.
If you really get into the shell game make sure to check out the Bailey-Matthews National Shell Museum during your trip. It's a great way to learn even more about shells.
Sanibel is a lush island paradise for so many reasons, but the gorgeous shells are just one! I know you will love searching for them on your next trip. Happy Sanibel Shelling!
Planning Your Sanibel Island Trip? Start here!
Pin for later