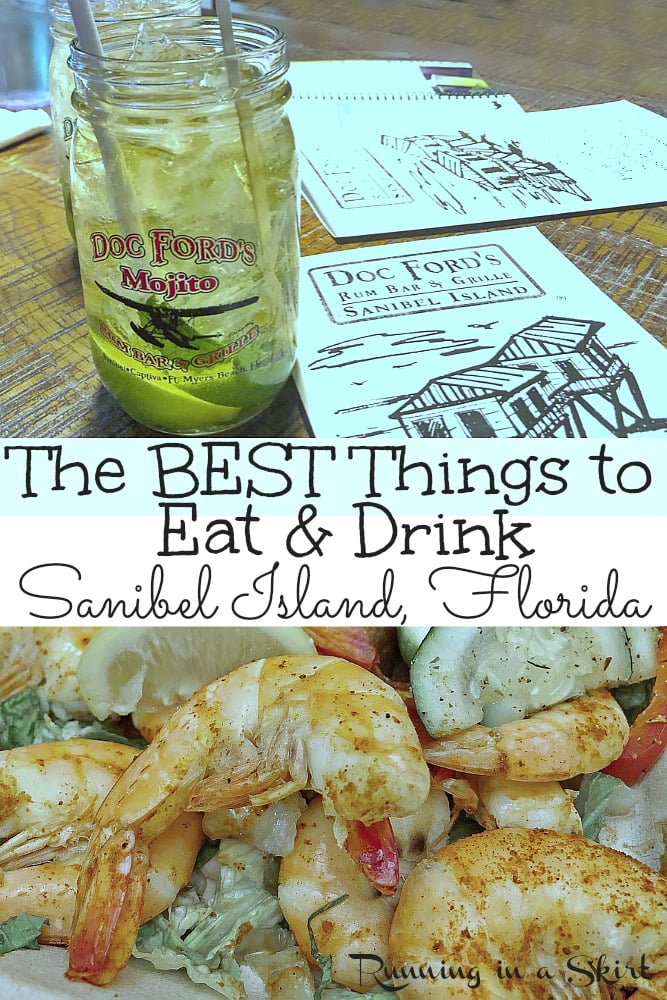 Curious about the best places to eat in Sanibel, Island Florida? Here are the best restaurants in Sanibel including where to eat for breakfast, lunch, and dinner! Plus the best Sanibel restaurants for seafood and restaurants with a view.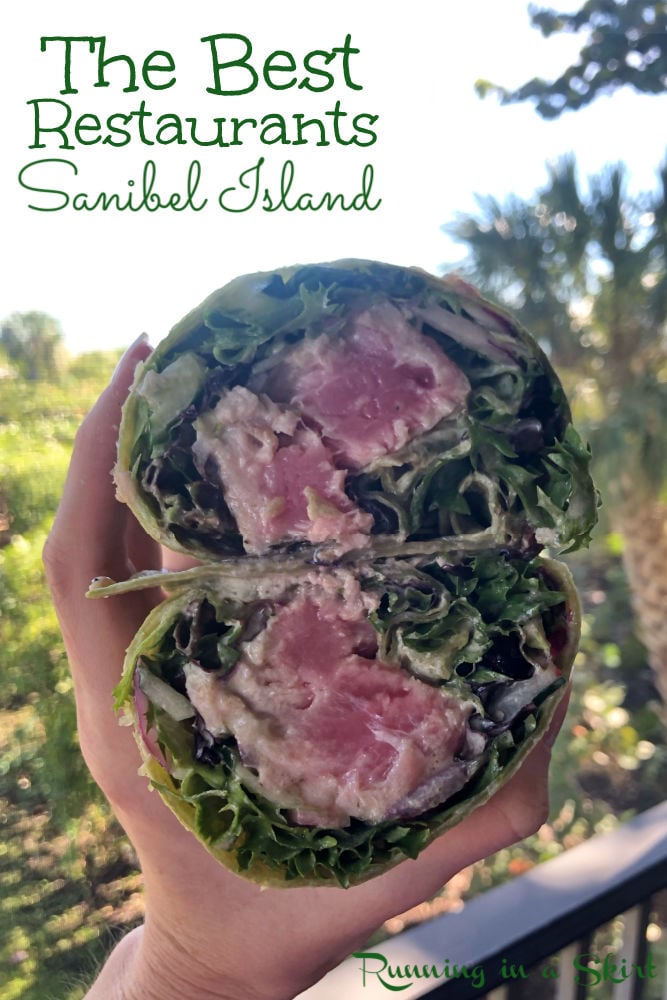 Places to Eat on Sanibel
Look no further for the best restaurants in Sanibel! Sanibel Island is a magical place with no high-rises or even stoplights that's near Fort Myers. The island is a nature and beach lover's paradise with miles of unspoiled and uncrowded beaches that are shell-lined. Even though it's known for its gorgeous nature, this island paradise also has delicious food and cuisine. There are so many tasty Sanibel restaurants and the charm of the island is there are no chains, so it's all ones that you don't have at home. Considering what a small place Sanibel is, I think you will be pleasantly surprised at how good the food tastes! I know I was.
From scrumptious seafood feasts, the BEST Key Lime Pie, casual breakfasts, and fancy fine dining Sanibel have it all when it comes to food. The dining here is incredible and over three trips have been one of my favorite parts of going to the island.
Over the years I've shared my Sanibel Travel Guide, The Best Things to Do in Sanibel, What do in Sanibel with Kids but today we're taking a deep dive into one of my favorite parts of vacation.. the food!
Also Read: Best Sanibel Takeout Restaurants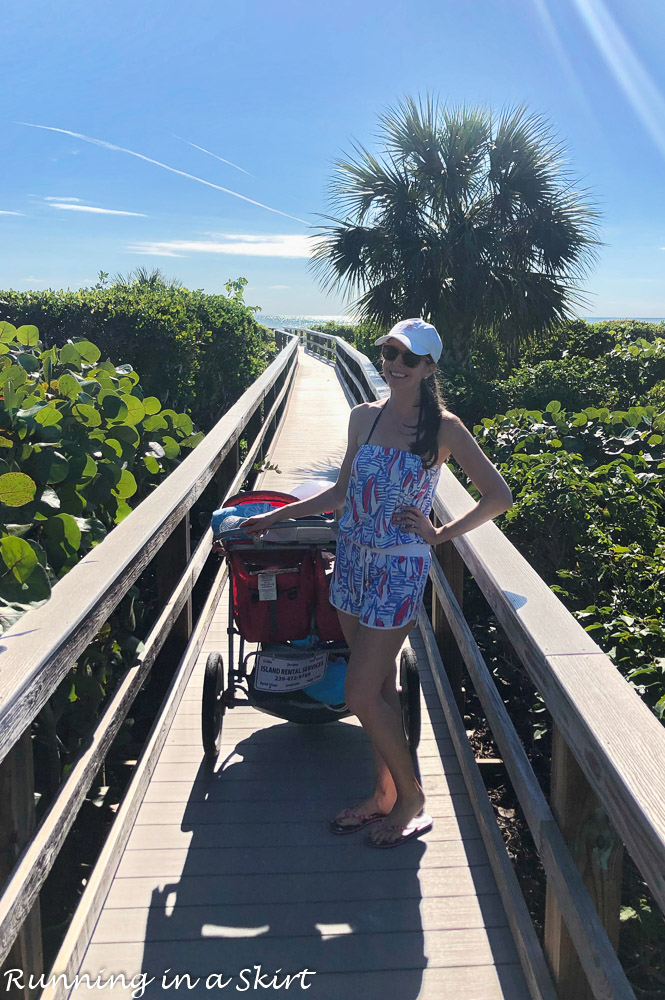 So What are the Best Restaurants in Sanibel?
Considering the size, there are a surprising number of Sanibel restaurants so today I thought I'd sort through the big list you'll find on Yelp and share my picks for the best restaurants in Sanibel. This list is one I've updated over the years and features my recent favorites and pics.
I also share my picks for top seafood and the best Key Lime Pie!
And if you are just starting to do your planning for your trip to Sanibel make sure to start with my Sanibel Travel Guide.
Places to eat on Sanibel Island
Doc Ford's Rum Bar is my top pick for best restaurants in Sanibel. This is a 3 restaurant mini-chain in Sanibel, Captiva, and Ft. Myers. It's charming and the menu is filled with seafood and RUM. Two of my favorite things. 🙂
Go for their drinks like a fresh mojito and twist on seafood favorites.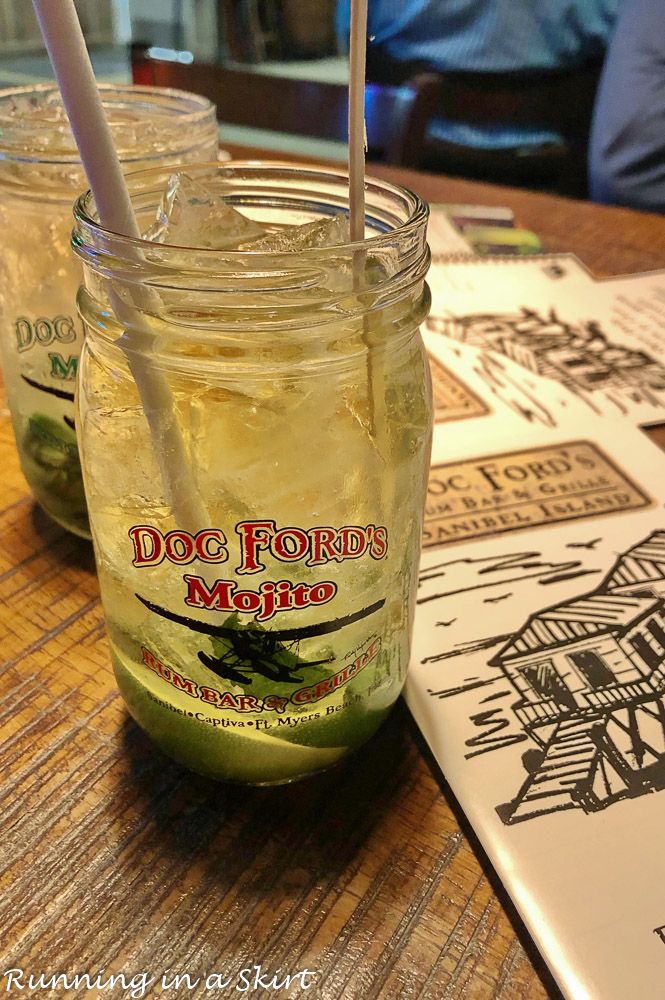 The Shrimp Ceviche is another one of my favorite dishes. It's super flavorful and lime-filled. It tasted even better than it looked.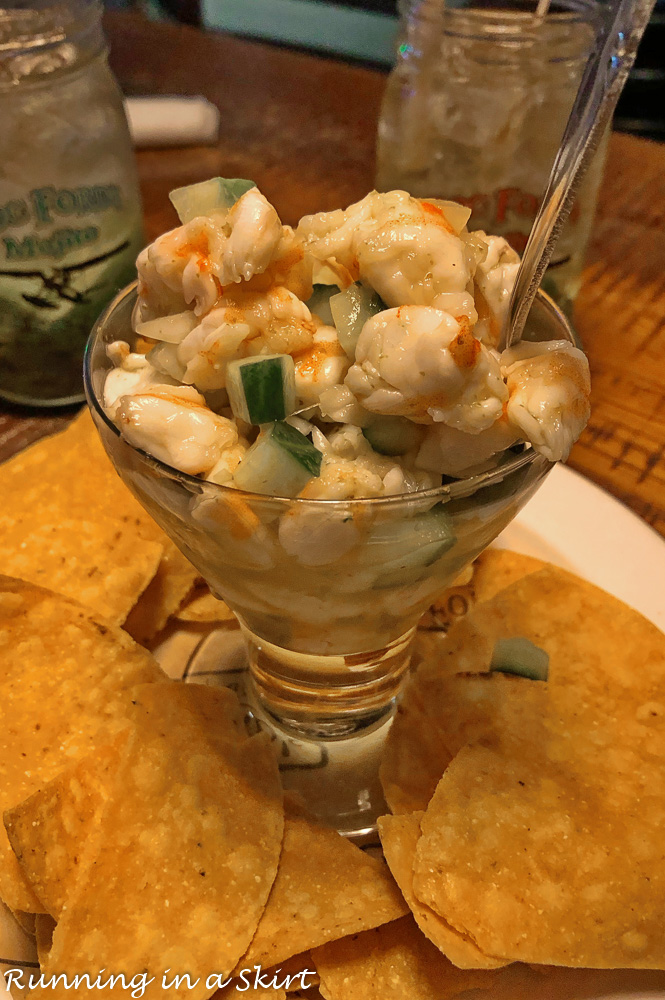 My favorite dish by far though is the Yucatan Shrimp which are steamed in butter, garlic, Colombian chilies, cilantro, and key lime juice. They had just a hint of spice and I am craving them again as I'm writing this. They are now one of the most memorable things I tried on my trips. Total flavor bomb!
These shrimp are usually the first thing we get when we arrive on the island now.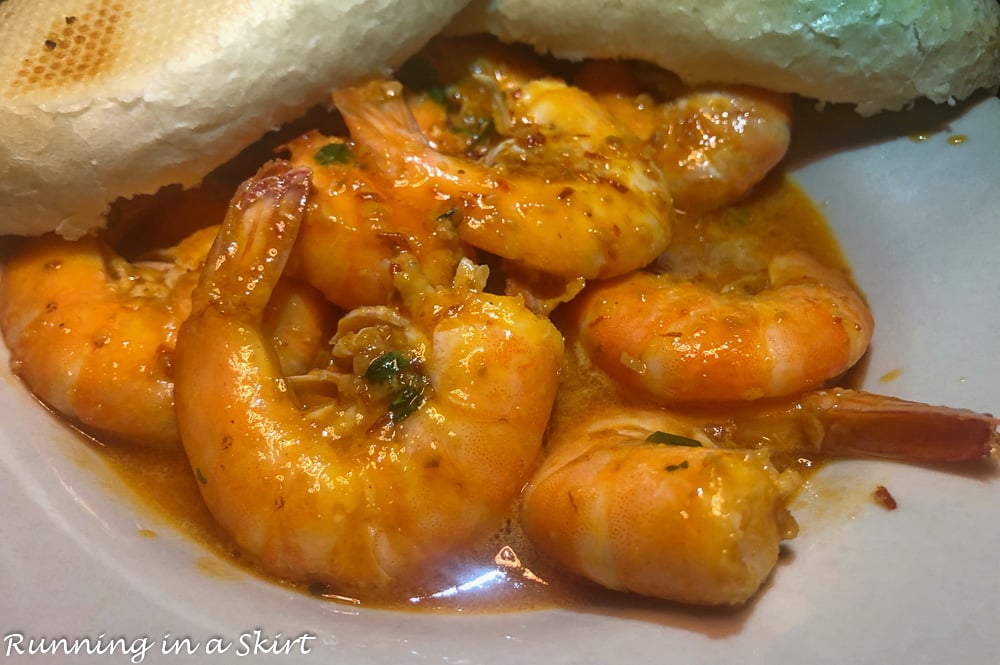 The key lime pie at Doc Ford's is ok. I tried the pie at nearly every place I went to so I could pick the best key lime pie in Sanibel. There's was very, very good but not our favorite on the island.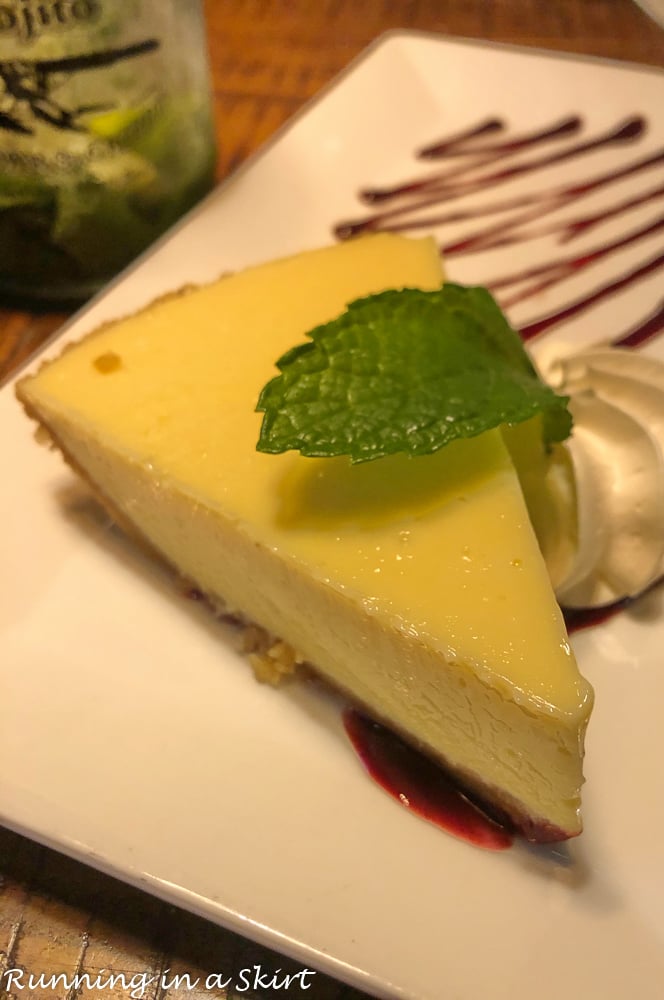 I love Doc Ford's so much I usually get it TWICE in a week-long trip to the island. They have a fun dining room and outdoor patio.
The Clam Shack is an adorable Sanibel restaurant that I visit year after year and is one of the best places to eat on Sanibel on the main drag, Periwinkle Way. I adore their fresh clams and lobster rolls.
One funny story from my first Sanibel trip is I called them on the first night we arrived and the babies (only 13 months at the time) were having a moment and screaming their heads off. The guy on the phone was super nice and sympathetic. When the Hubs got to the restaurant to pick up our order the same guy had a small beer on the house waiting on him in addition to the food. It was such a kind gesture and made us want to support this lovely restaurant!
I LOVED the clams from there. I got two orders for the second night and have ordered them every trip since.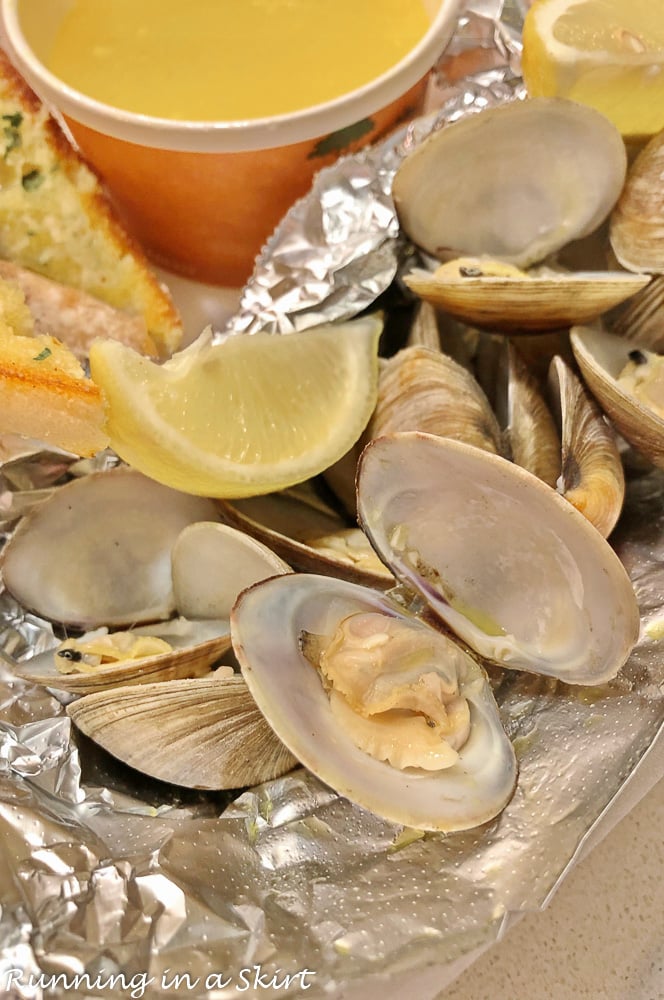 I also really enjoyed the scallops encrusted with parmesan. I also got the lobster roll, which was incredible but didn't take a great photo.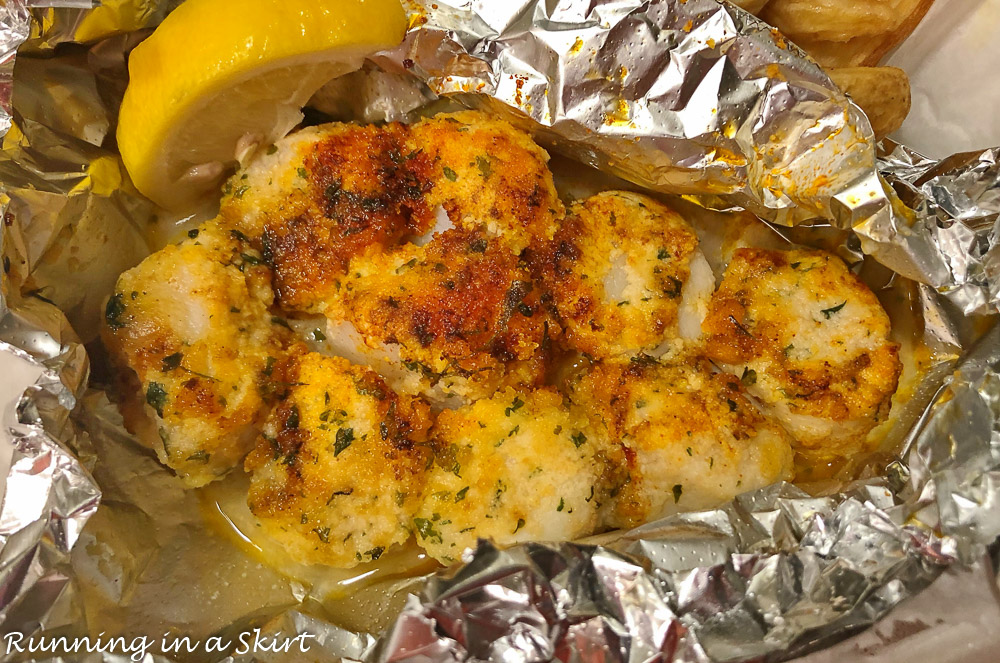 The Clam Shack is a New England-style seafood restaurant so they also have all sorts of delish lobsters, lobster rolls, and even a big clam bake. I didn't want the lobster to go but the next time we go I'm totally getting it! I loved this place.
There are two locations of the Lazy Flamingo on Sanibel and I've visited them both. They ended up being one of my favorite Sanibel Island restaurants.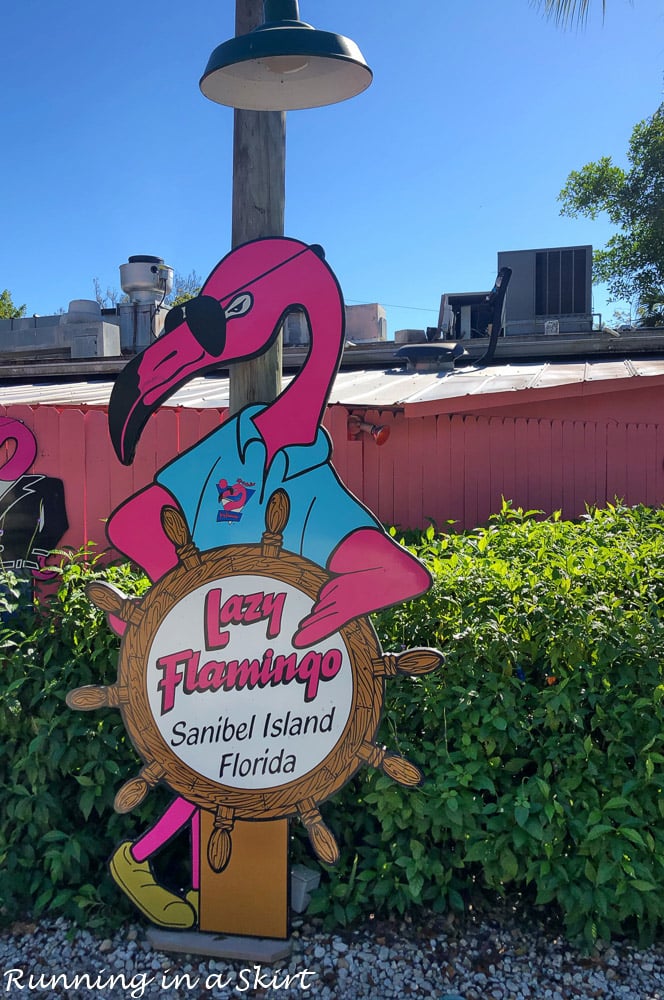 Both have that total dive bar feeling with a menu to match. I used the location near the bridge to Captiva as a place to eat before we watched the sunset at Blind Pass beach.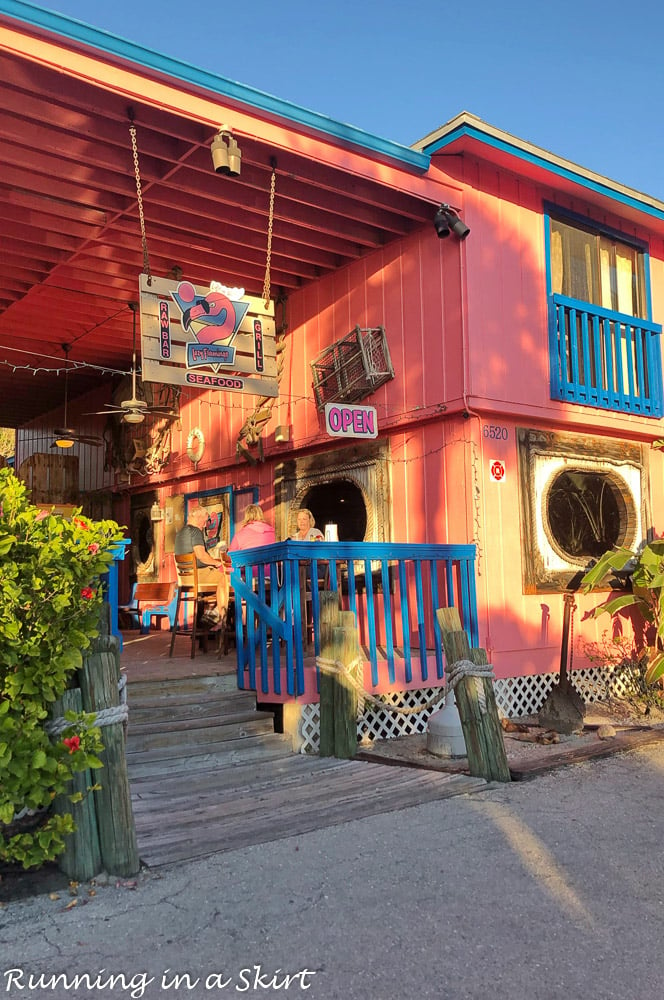 My favorite things to eat were the gulf oysters.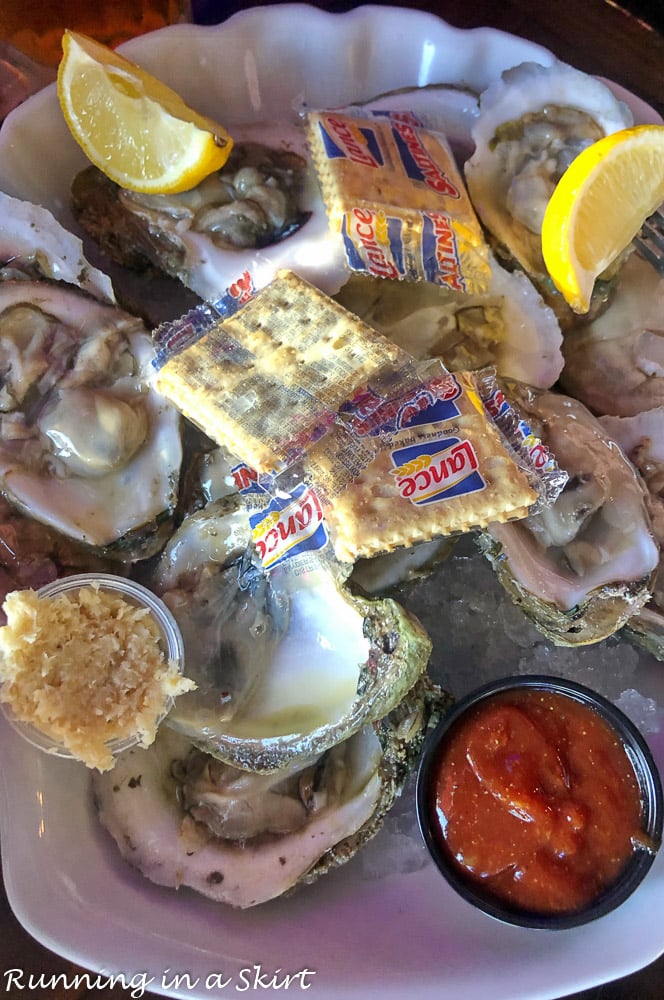 The Hubs and I both LOVED their grilled grouper sandwich. It was one of the best fish sandwiches we'd had in a long time!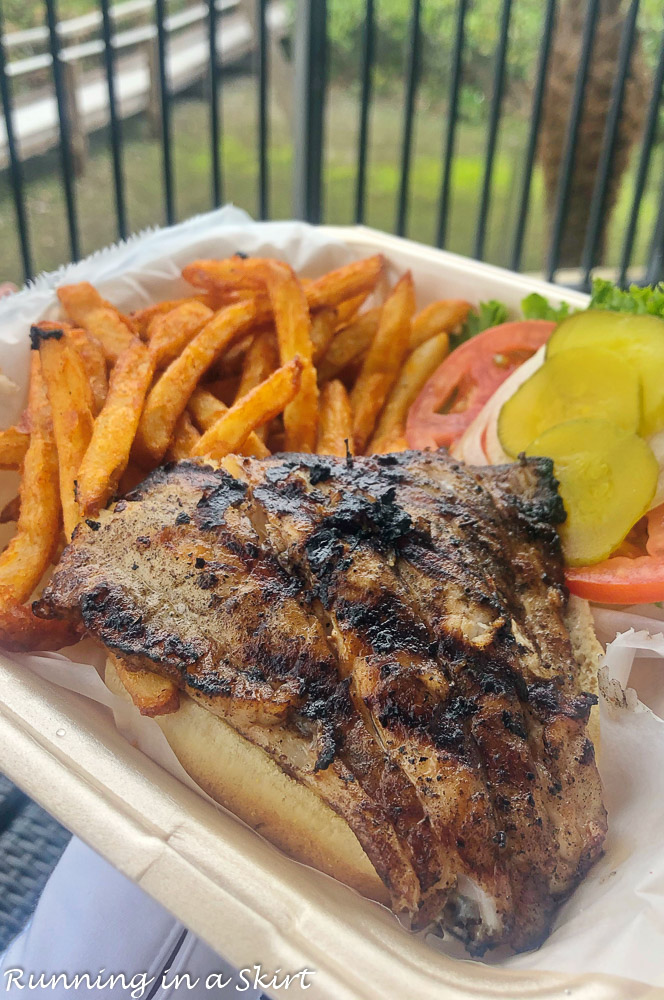 Sanibel Fresh is a cute place to stop in for breakfast or a light lunch including salads making it an unexpected pick for one of the best restaurants in Sanibel. My two favorite things from them were this amazing tuna wrap.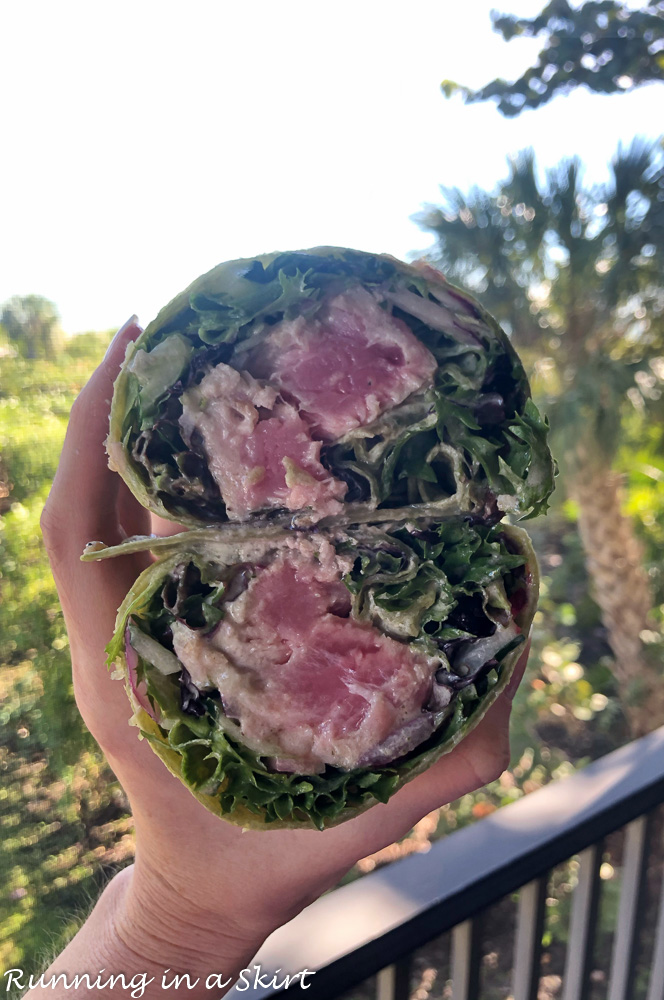 I also picked up acai bowls from them one day and they were super tasty.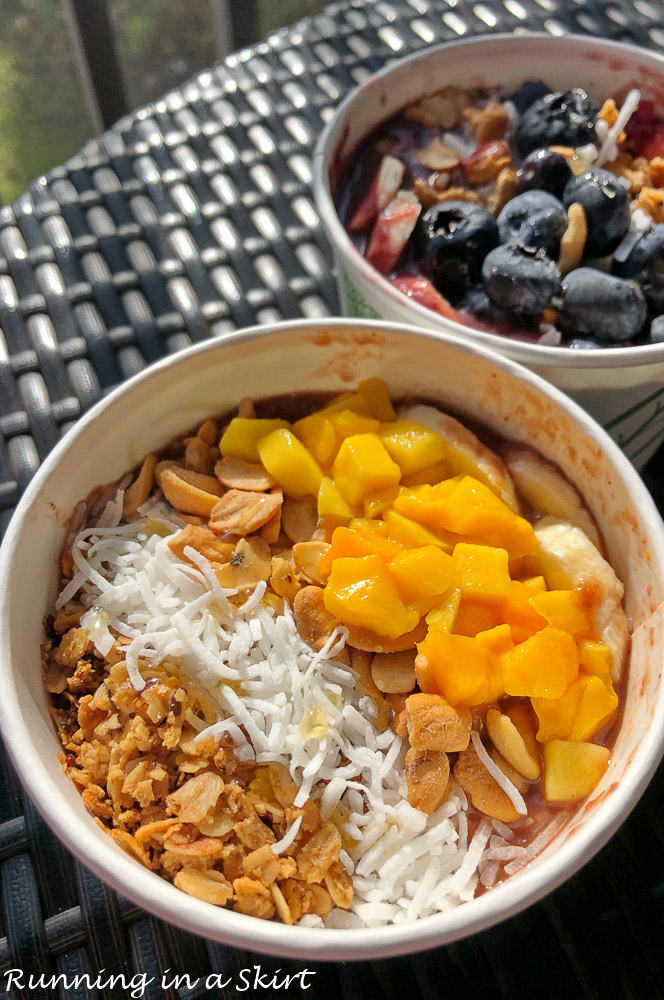 I was not a big fan of their ahi poke bowl though.
Gramma Dot's is a charming waterfront restaurant at the Sanibel Marina. If you are looking for dining with a view, this is it.
We got takeout from there and really enjoyed it. This unique place is another one of our favorites out of the places to eat in Sanibel. The clam chowder was packed with flavor and clams.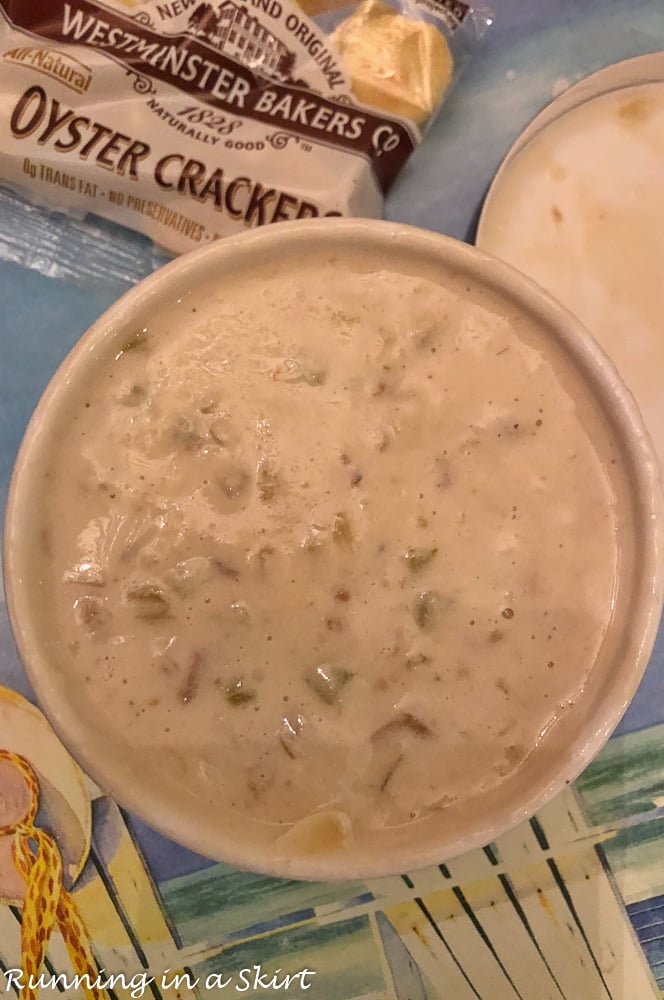 I also got the fresh Florida peel and eat shrimp which were super plump and sweet.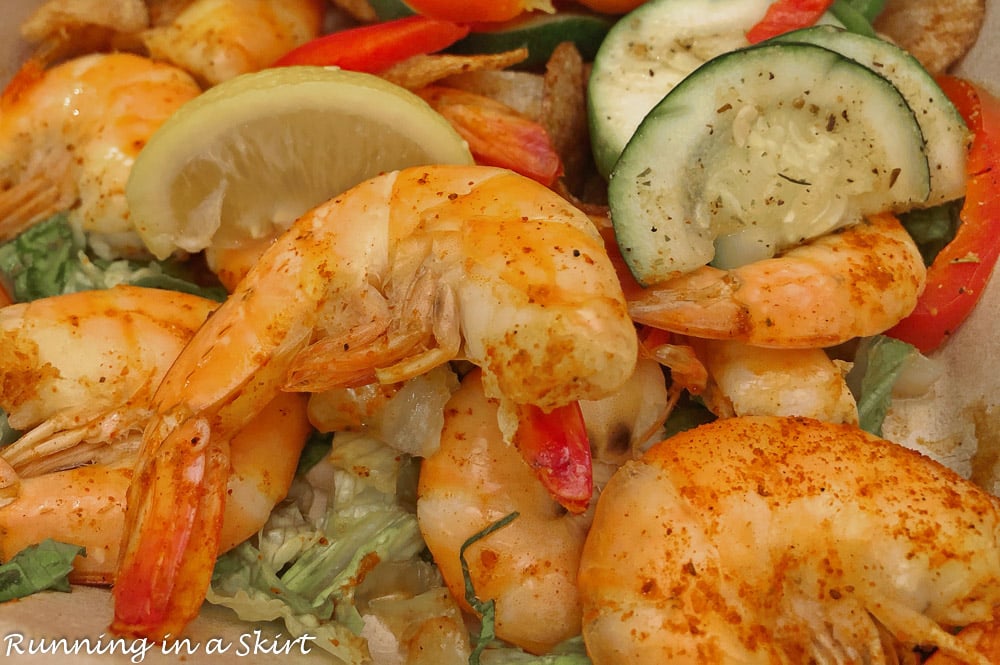 All of their meals came with a chocolate cup filled with fruit and an orchid, which I thought was a super charming touch.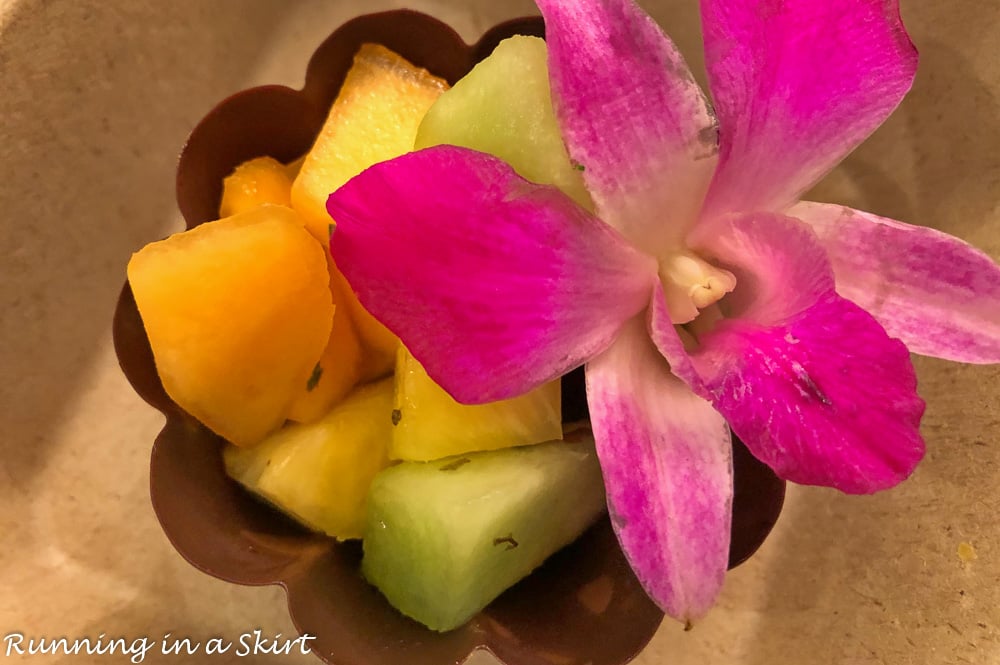 They also had key lime pie on the menu and it was BY FAR the best one we tried on the island. The crust was classic and the flavors were tart. I should have known it was a good one when I saw online that they sell theirs by the whole pie. Don't miss this pie!
If you are looking for BEST Key Lime Pie on Sanibel Island this is it.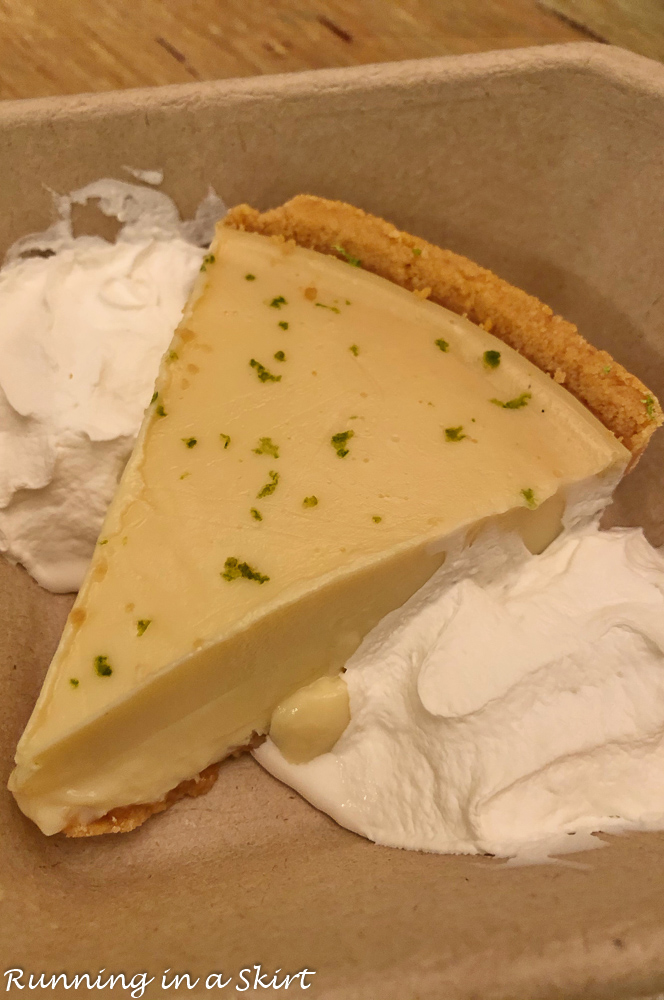 Cielo was probably my second favorite overall Sanibel Island restaurant. It was in a swanky new building, had super stylish decor, and live music and live entertainment with a piano player entertaining everyone in the lovely dining room. Cielo is known for its full bar and craft cocktails. The menu had all sorts of unexpected twists on traditional drinks that will make your taste buds pop.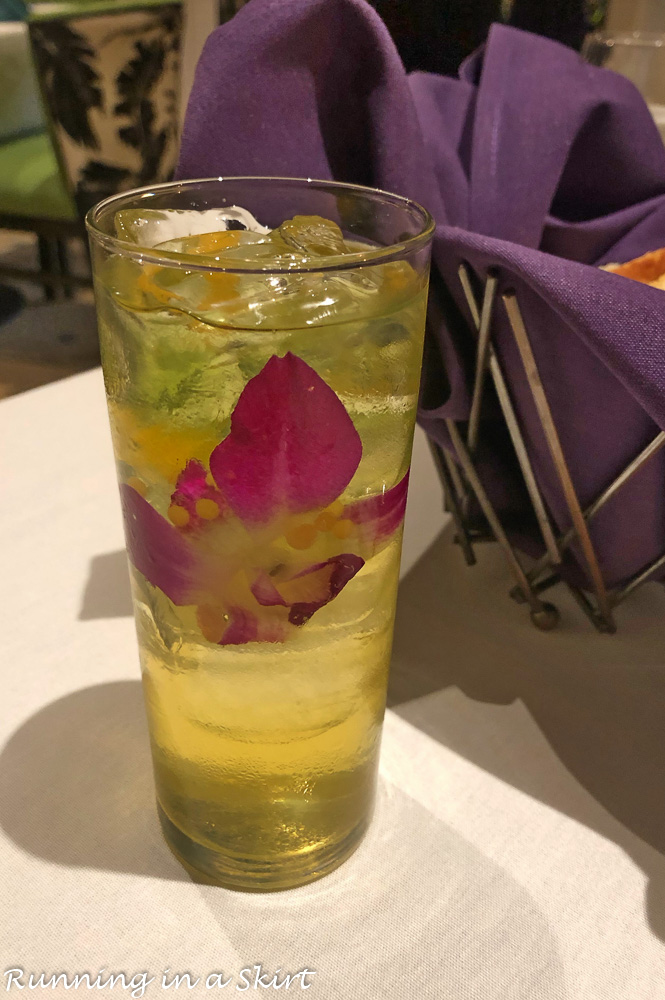 I got this tropical rum drink and it was delish... plus it matched my dress.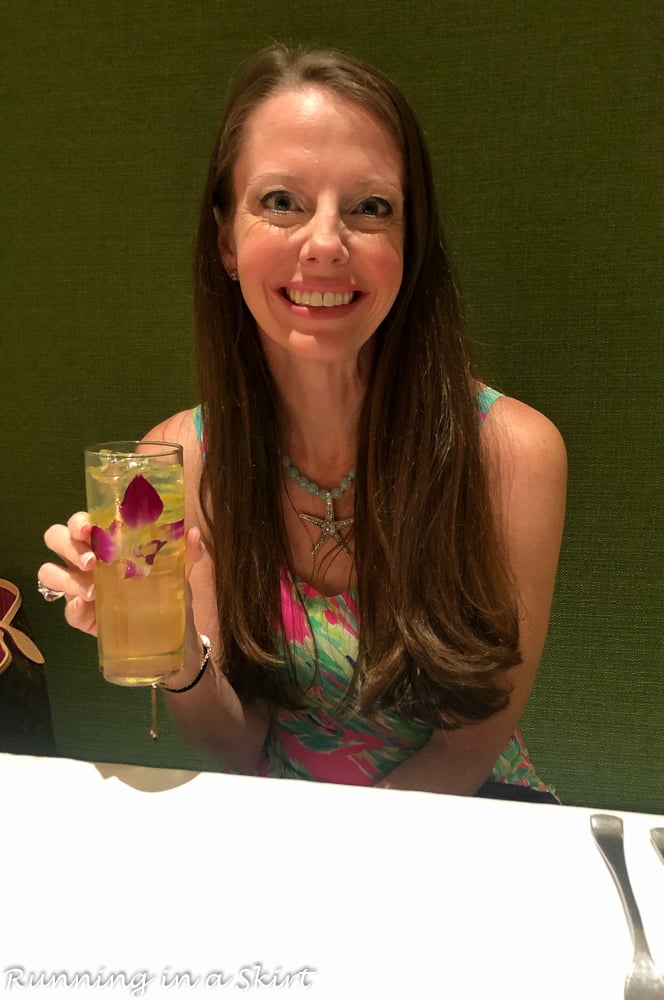 We ordered the mango calamari... which was one of the tastiest calamari dishes I've ever had.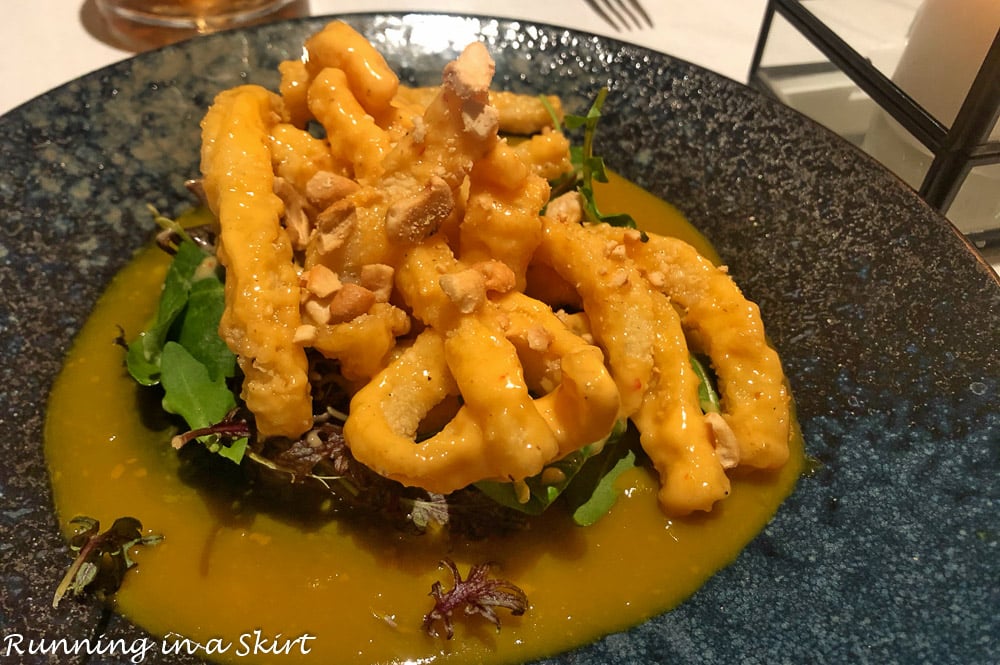 We also split the tomato and burrata salad.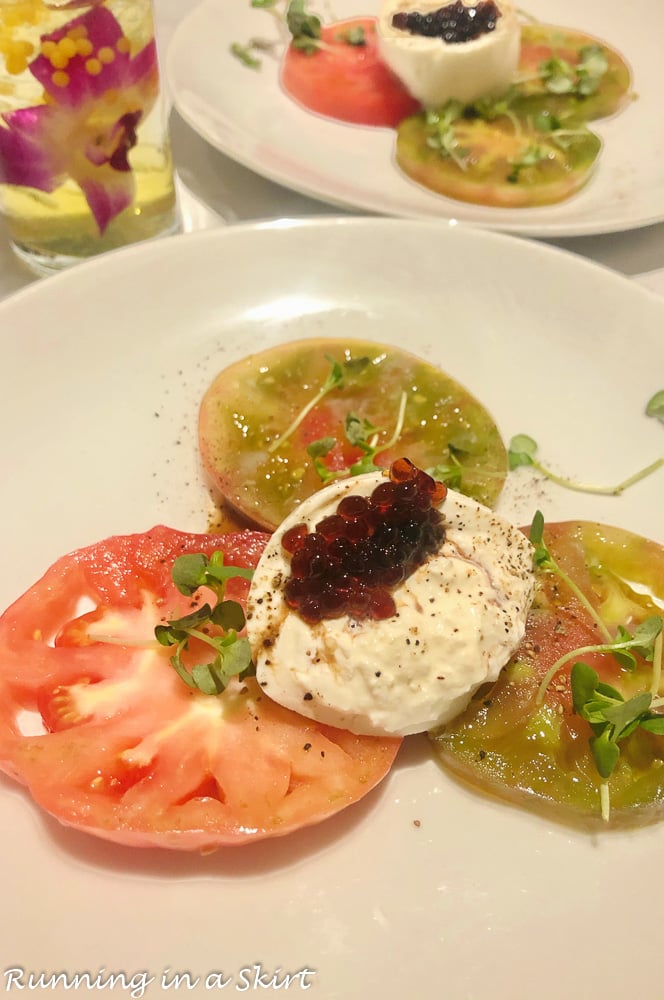 For dinner, we share the redfish special. The fish was cooked perfectly.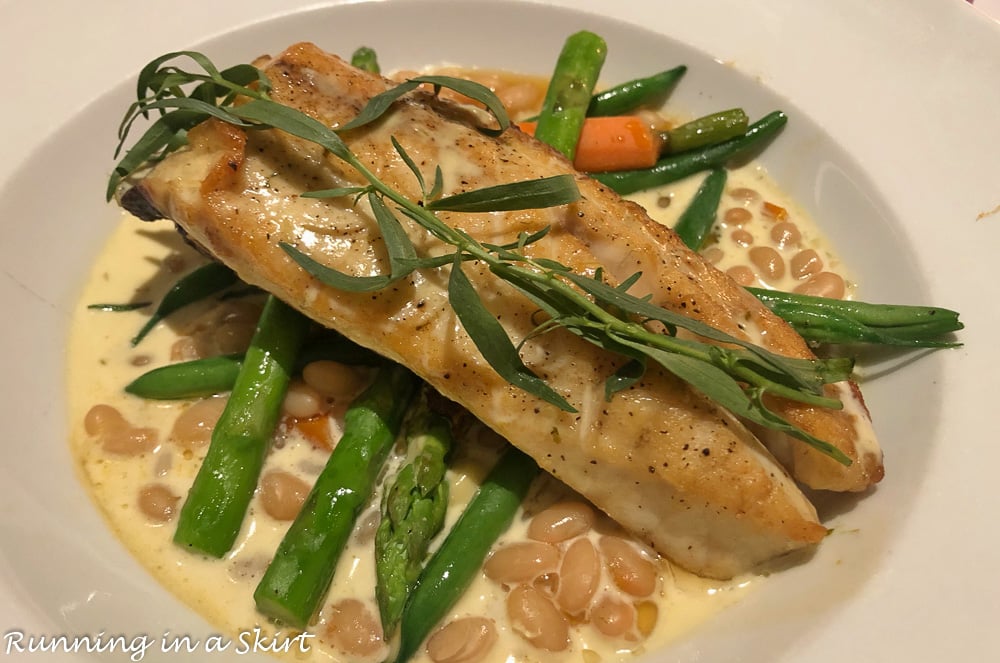 We also got the seafood pasta which was made with squid ink pasta. This dish was so incredibly tasty. You have to try it if you go!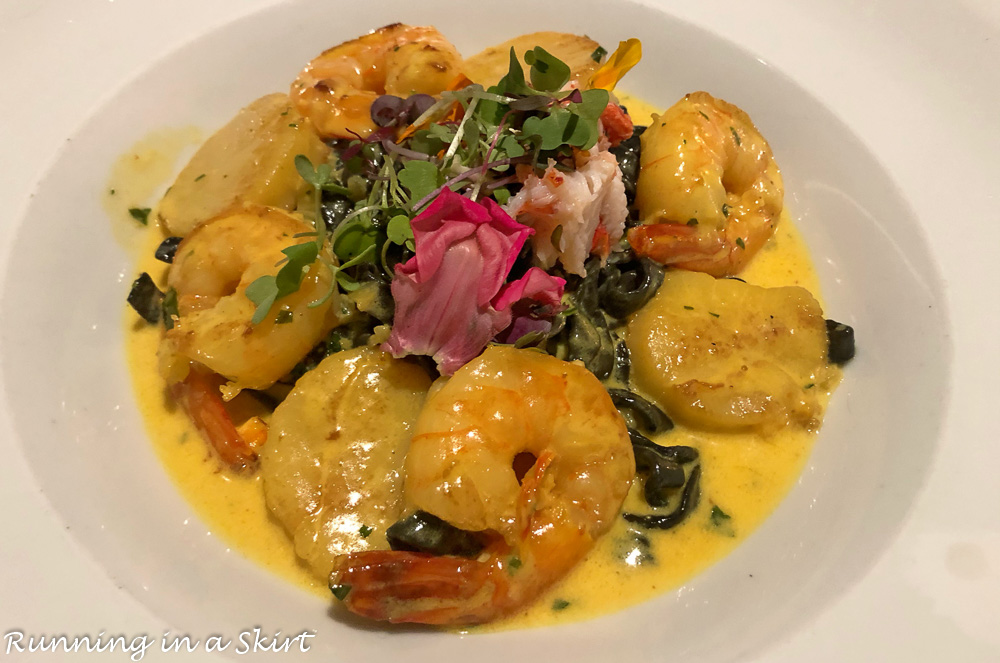 Finally, we finished with their version of key lime pie. It was once again tasty... but we prefer a more traditional style.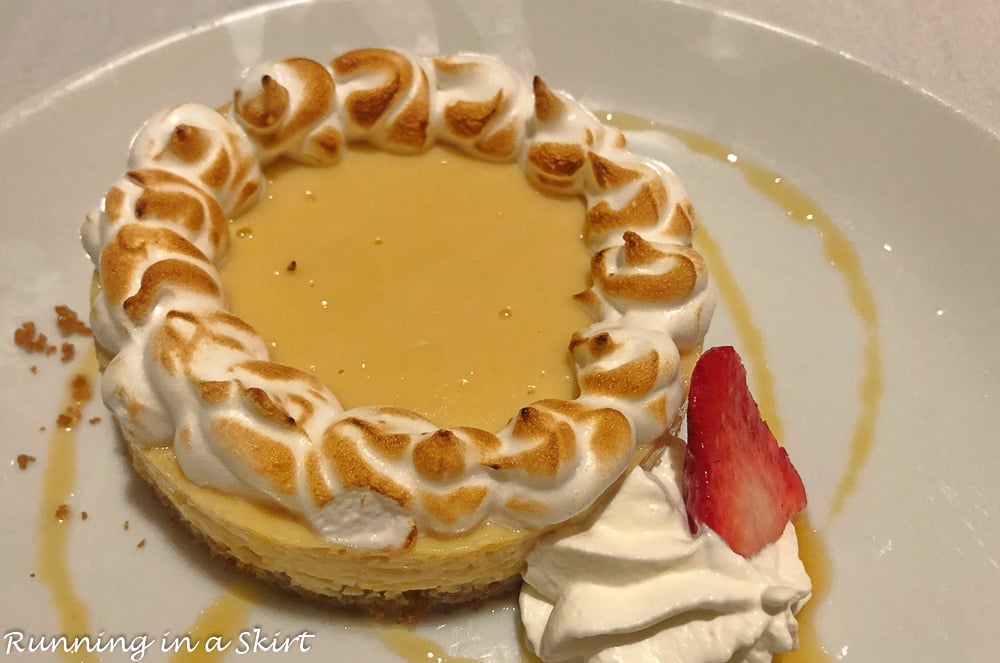 If you are looking for a more refined, upscale dining experience on the island this is it!
Timber's Restaurant and Fish Market is fun and absolutely delicious. The large seafood-filled menu will have your mouth watering and the food does not disappoint. This is the second Sanibel Island Restaurant I like so much that I end up getting twice when I visit. For that reason, this has to be on my list of the best restaurants in Sanibel.
Here's the takeout spread we got from Sanibel on a recent trip! A few of my favorite dishes are the chargrilled oysters and tuna. If they happen to have fresh Triple Tail, order it and you will be in love.
They are also famous for their "crunchy" dishes like the Crunchy Grouper and Crunchy Shrimp which feature a crispy cornflake breading. I personally prefer non-crusted blackened fish BUT It is delicious and very popular. If that's your jam, it's totally worth trying.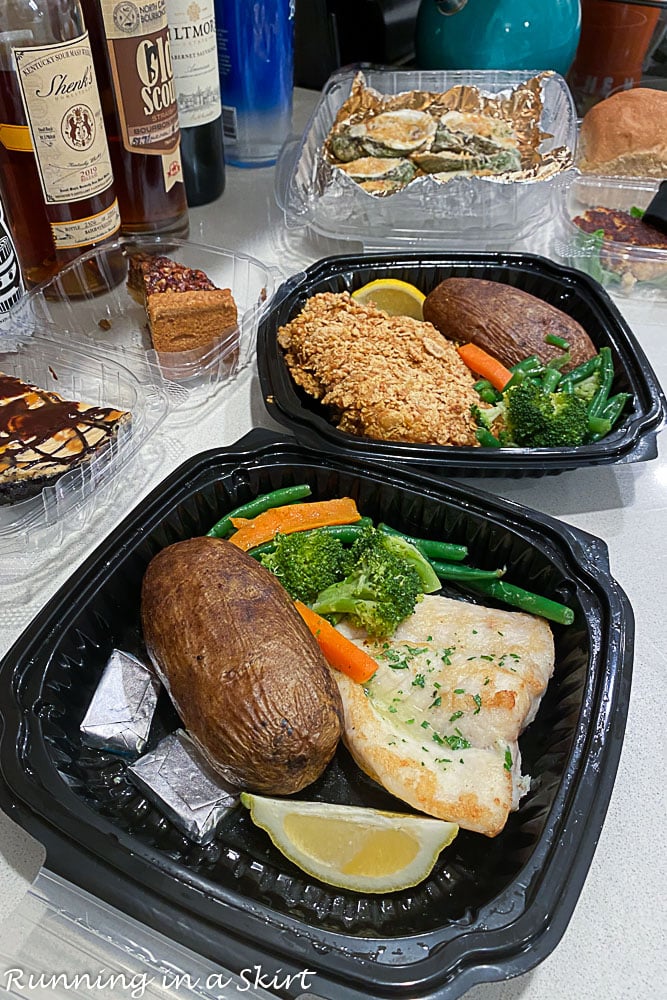 They also have a sushi night, which is delicous.
Mudbugs is a surprising find in the list of best Sanibel Island restaurants! It's actually a Cajun-inspired kitchen that is really, really good!
They have a huge assortment of tasty oysters. I'd highly recommend the cajun flavored Bayou- Style Chargrilled.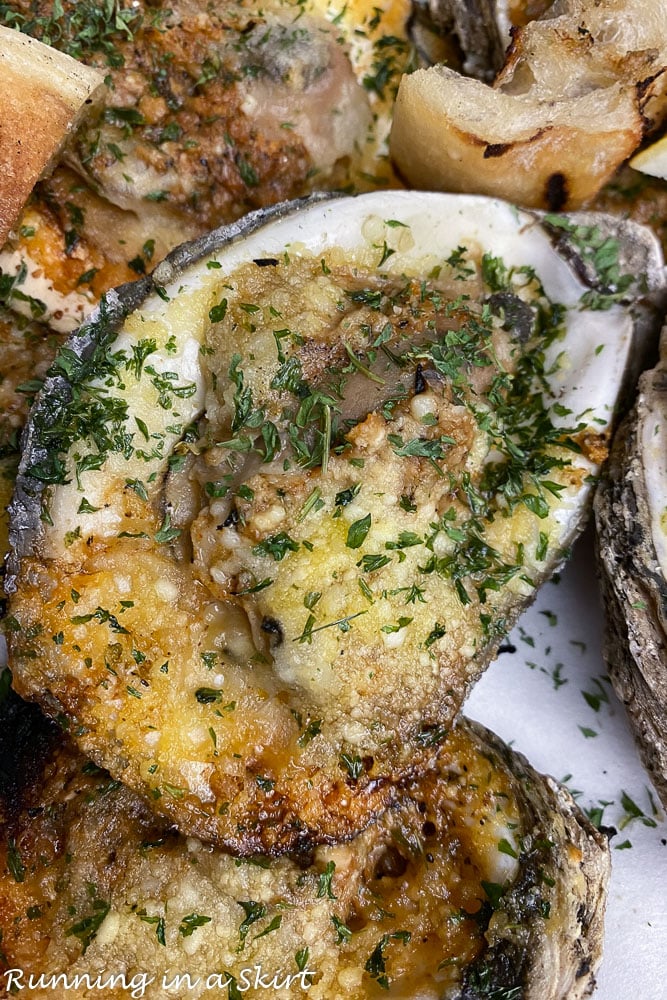 I also LOVED the Crawfish Mac & Cheese. They have the year-round, but in the season they have FRESH crawfish.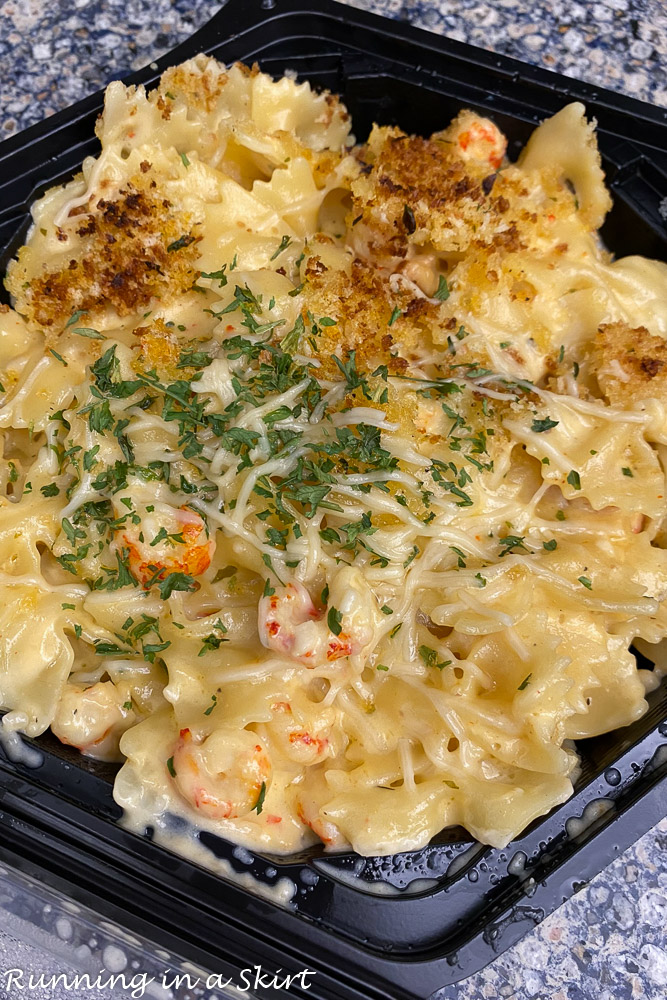 This Fresh Catch Creole was also incredible. The red sauce was just a touch spicy and totally delish.
This is one of my favorite more unique places to eat on Sanibel.
Sweet Melissa's Cafe is another lovely choice for a more fine dining experience in Sanibel. It's run by the locally famous chef, Chef Melissa Talmage. We got takeout, so don't judge their plating by this but the flavors in their food are on point and prepared so nicely. Plus the restaurant oozes ambiance.
Try their cheese plate... it's dreamy!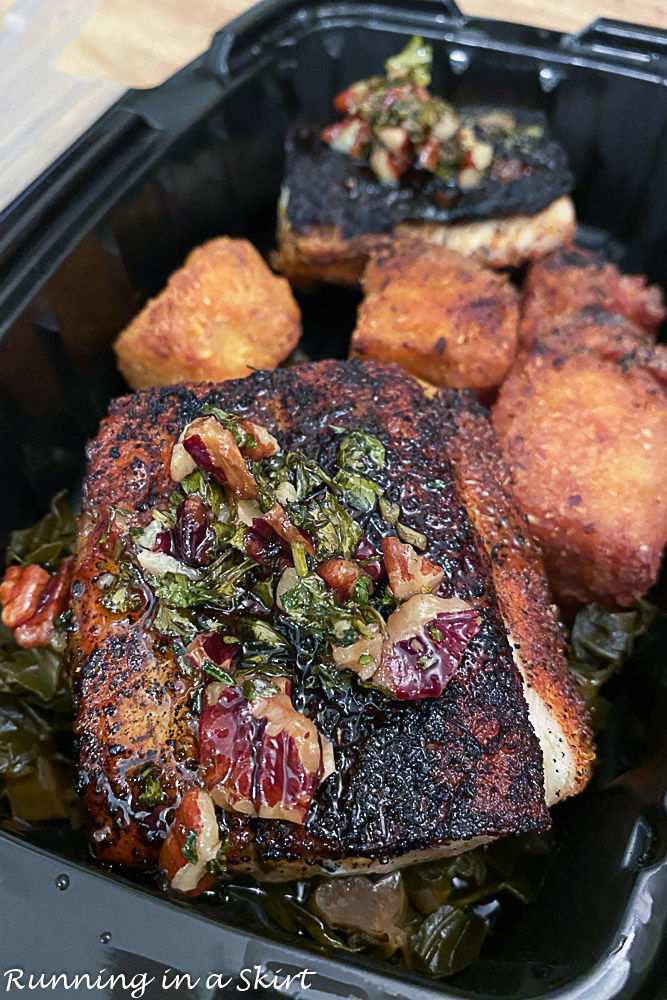 With all the places to eat in Sanibel, Sweet Melissa's should be on your list.
I normally would never think that a restaurant bar would have great food, but Turtle's Tiki Bar at Sundial does! It's a delicious pick whether you are staying at the resort or not.
I ended up ordering it a few times because it could be delivered to our condo at Sundial, and I was so surprised at how tasty it was. They are a great place for casual dining. One of my favorite dishes was the Sundial Beach Chips That crab on top of those homemade chips.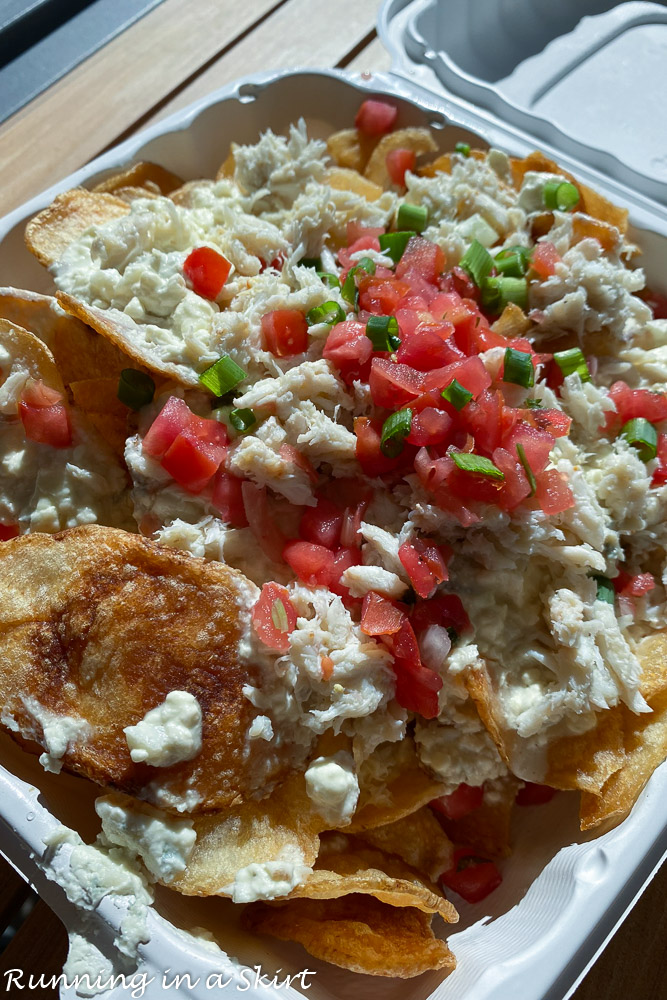 The blackened Fish Tacos were also super tasty.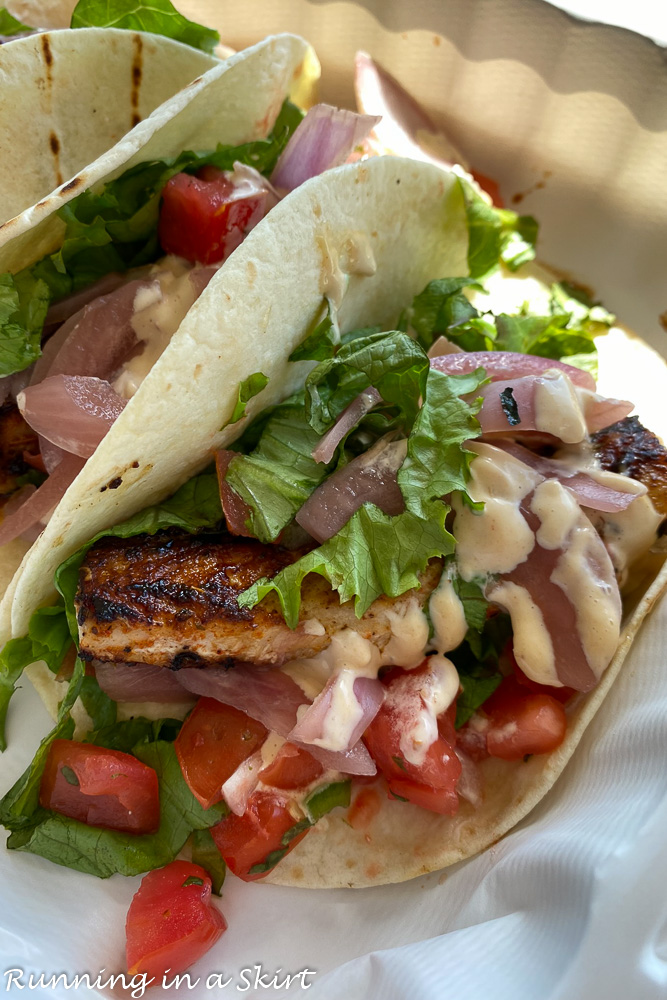 Finally, their Grouper Grab was my second favorite fish sandwich on the island... second to the Lazy Flamingo.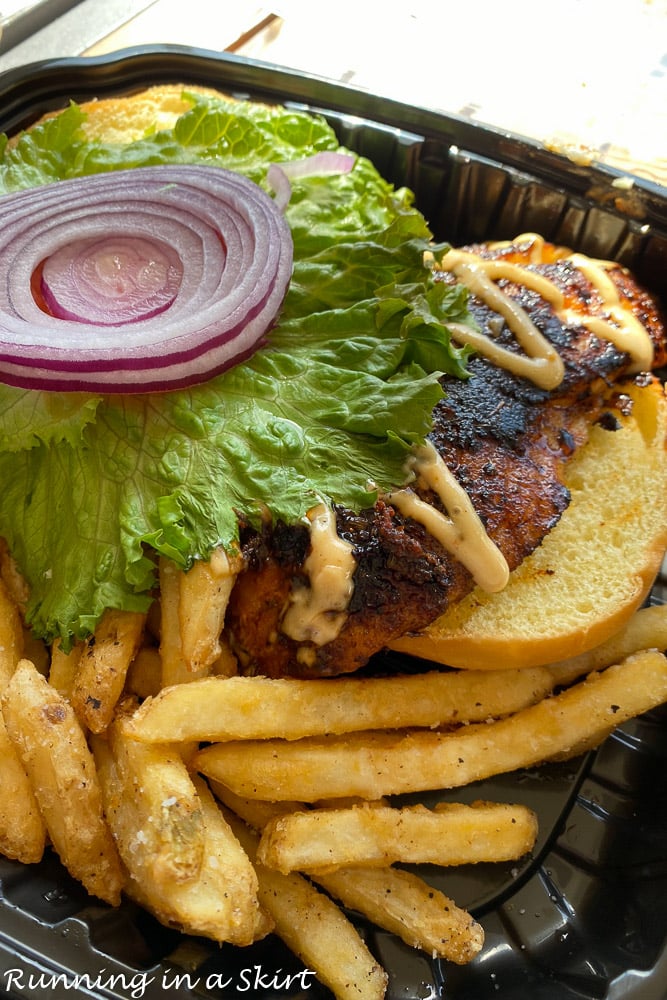 They have a fun poolside location with a beach view at the popular Sundial Resort and Spa and offer a classic selection of tiki cocktails. You can't go wrong here.
I was so excited to eat at the historic, oceanfront restaurant but since we at after dark it didn't seem that special once we got there. If you eat at this Casa Ybel Resort restaurant during daylight they have a gorgeous ocean view.
Luckily the food was really good though... which totally made up for it! For the cool ambiance, Thistle Lodge Beachfront Restaurant was one of my favorite places to eat on Sanibel.
We loved the tuna appetizer.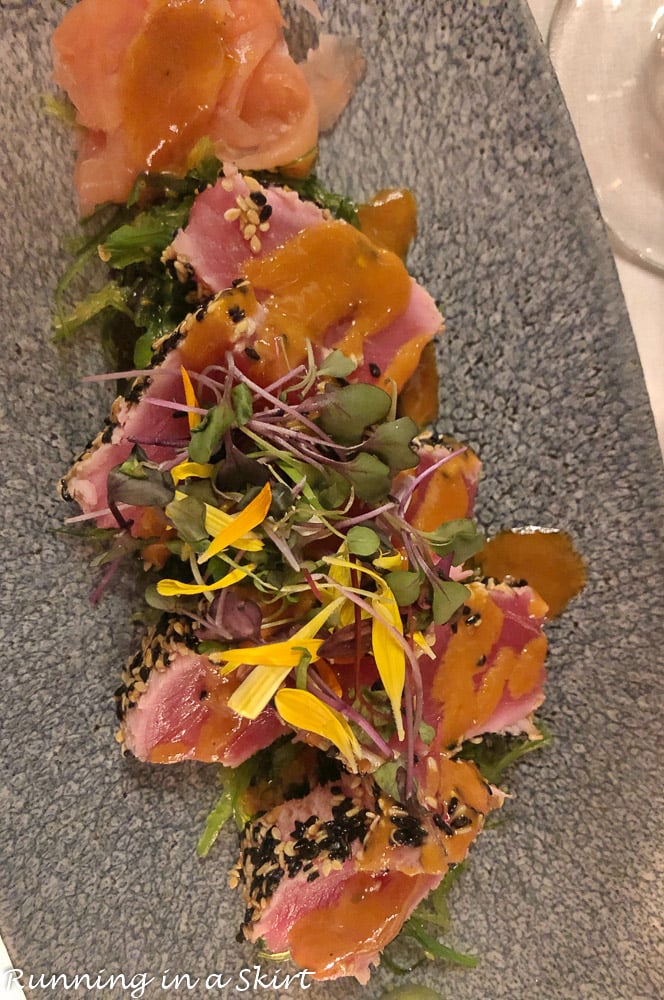 We shared two fish dishes this time and both were so classically good.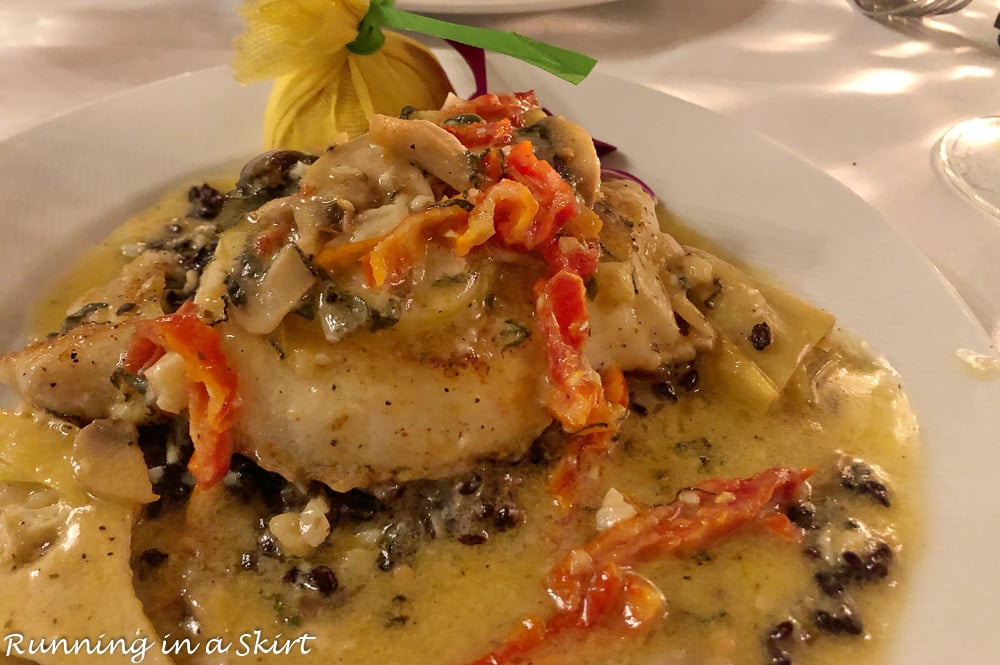 They were full of flavor and so well presented! If you go... just visit during the daylight so you can enjoy the view.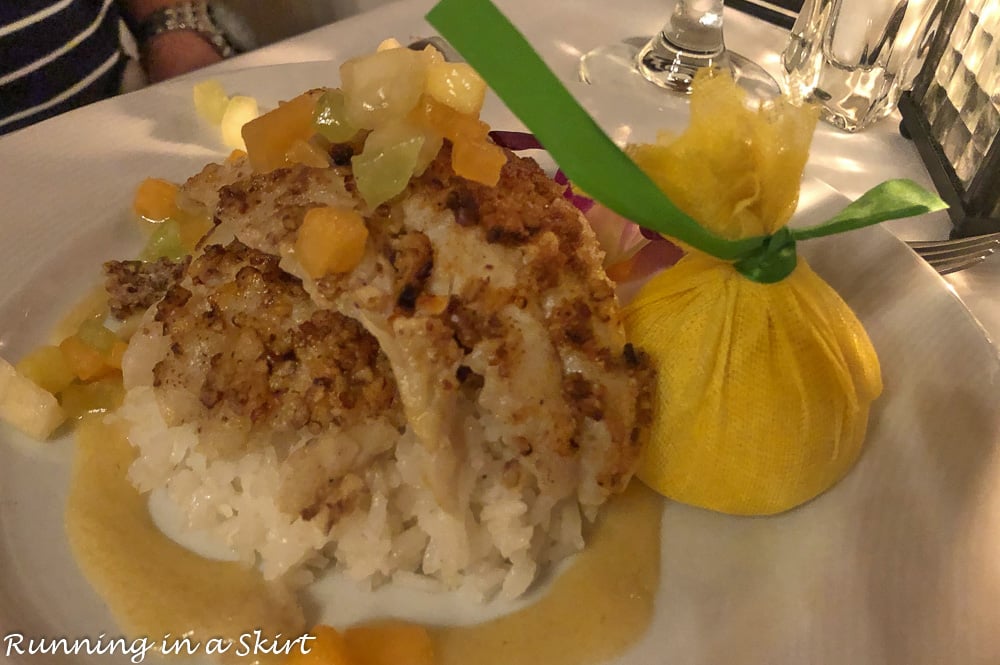 We tried their key lime pie too and it was once again tasty but lost the contest. 🙂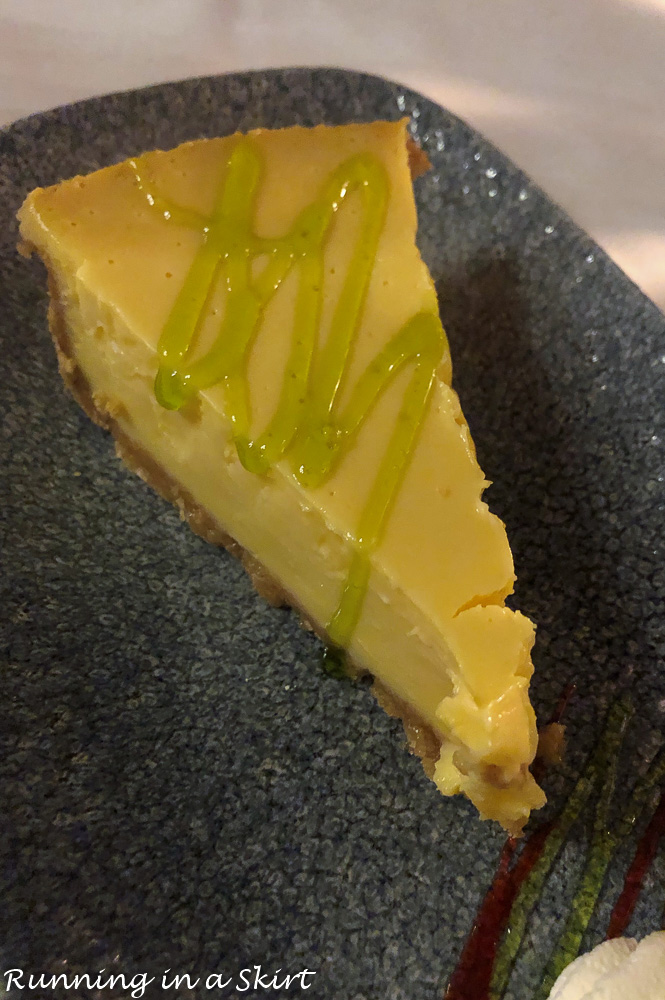 Sanibel Fish House was another one we picked up for takeout. We loved their clams too... although The Clam Shack was better.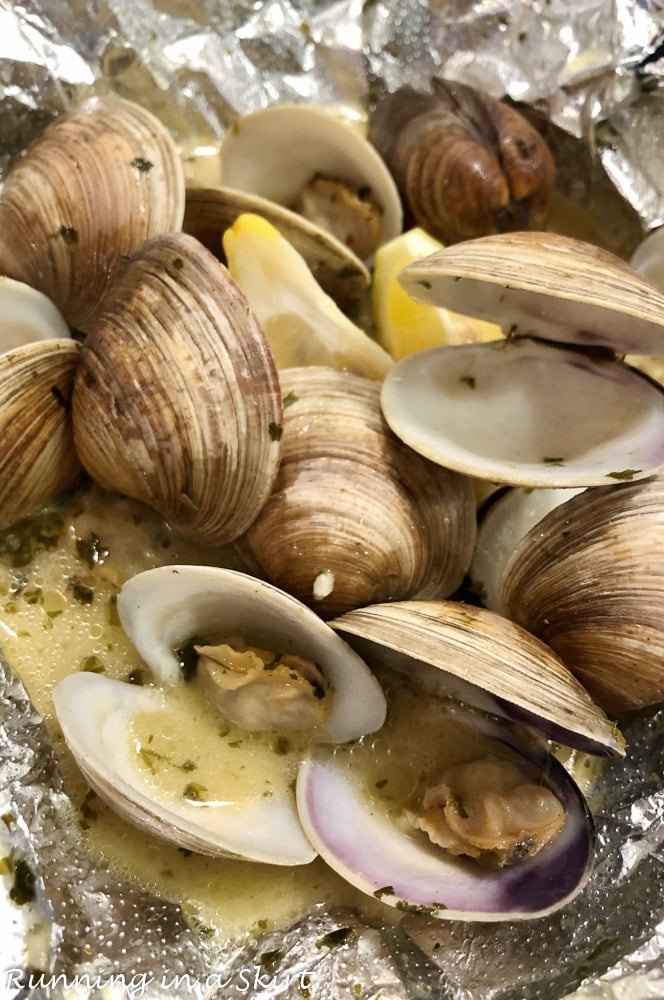 This hogfish was super tasty and I think it would have been even better eaten fresh in the restaurant.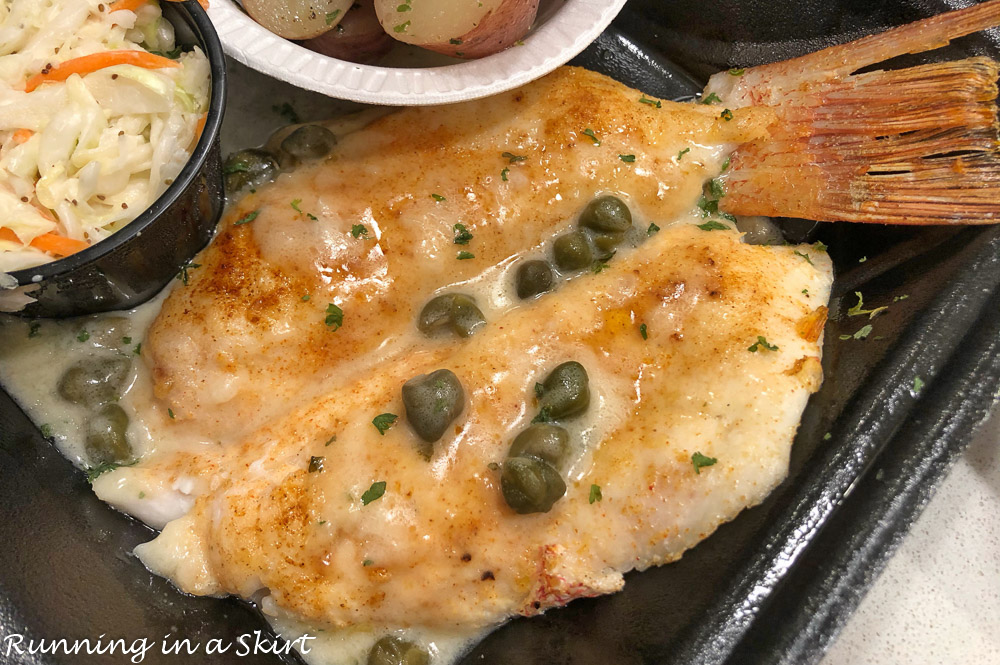 We also got the crab cakes!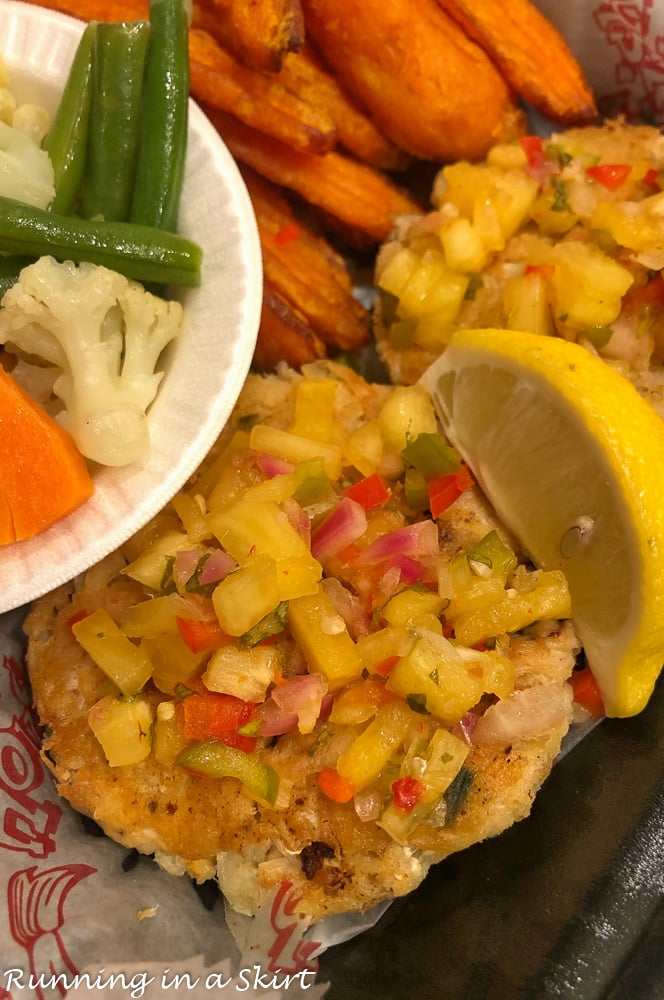 Looking for fun and casual brunch or breakfast in Sanibel? Over Easy Cafe has you covered with a huge menu to please everyone. I got a huge assortment of breakfast classics for takeout and they did not disappoint.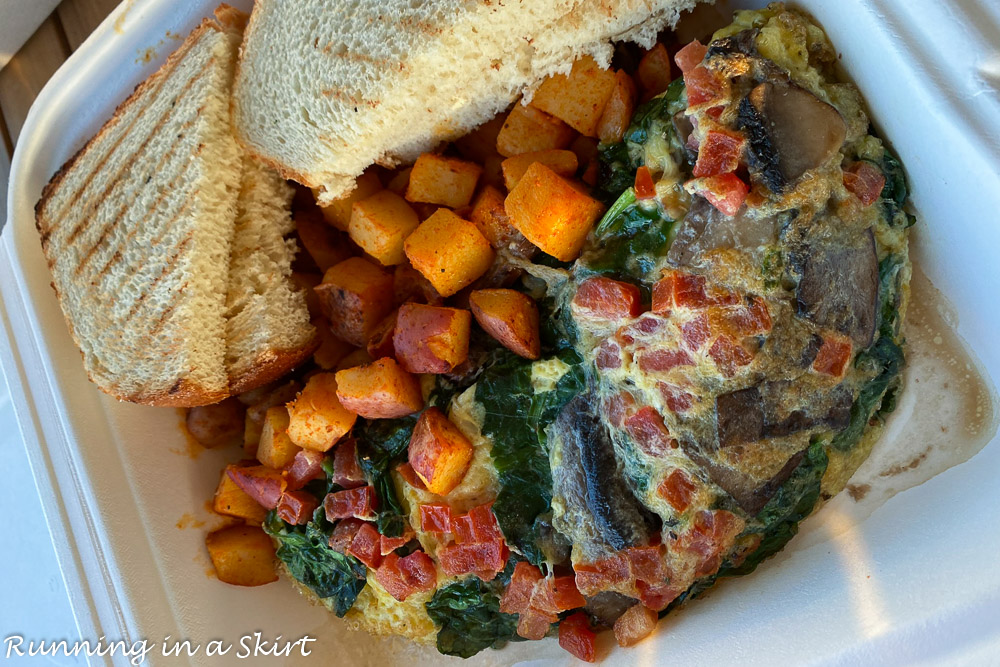 Everything I had was good, but the pancakes are something special! They are light, fluffy, and super flavorful. I got the banana coconut combo and I'm still thinking about it. So good! If you are trying to pick between the French Toast and pancakes, go with the pancakes.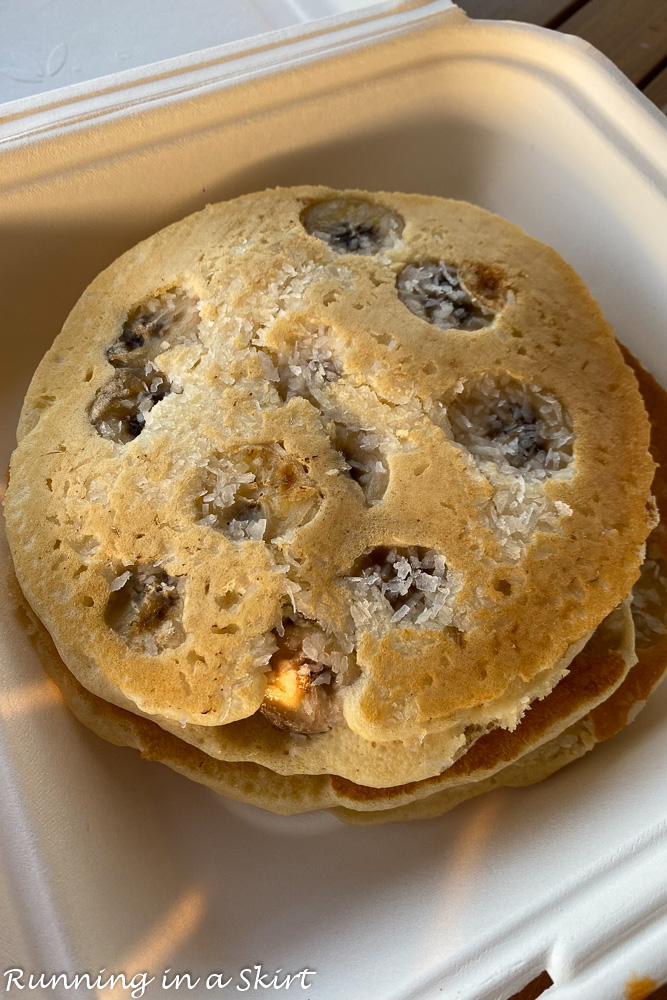 I also picked up some delicious food at the Farmer's Market. They had all sorts of prepared food including soup, lobster rolls, fresh bagels, bread, and even fish. We love the Island Seafood Market smoked fish dip.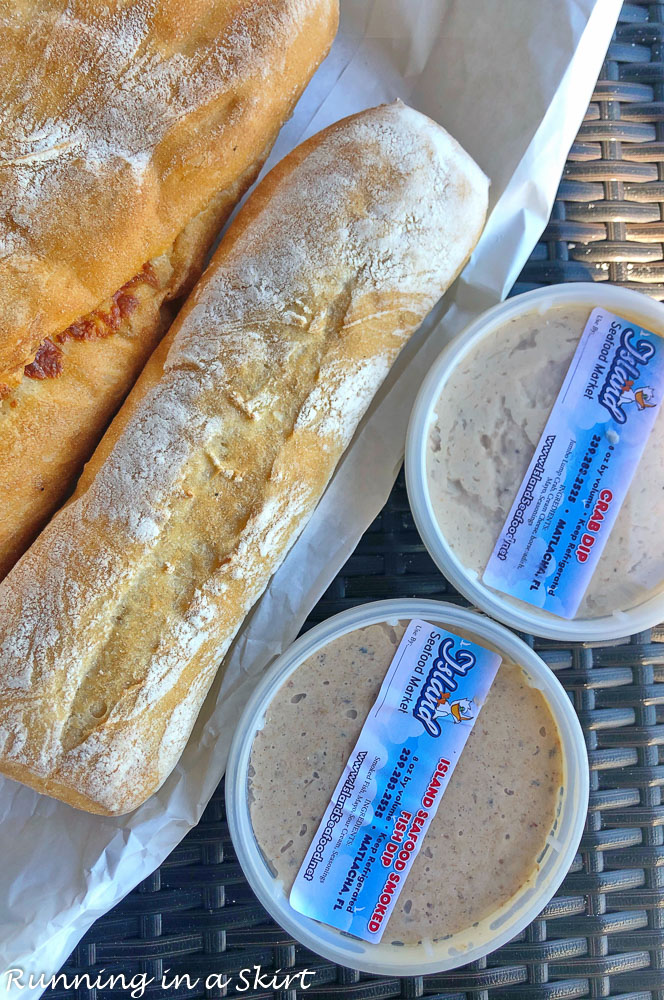 I also picked up fresh tropical fruit including passion fruit and honey mangoes... which we both incredible!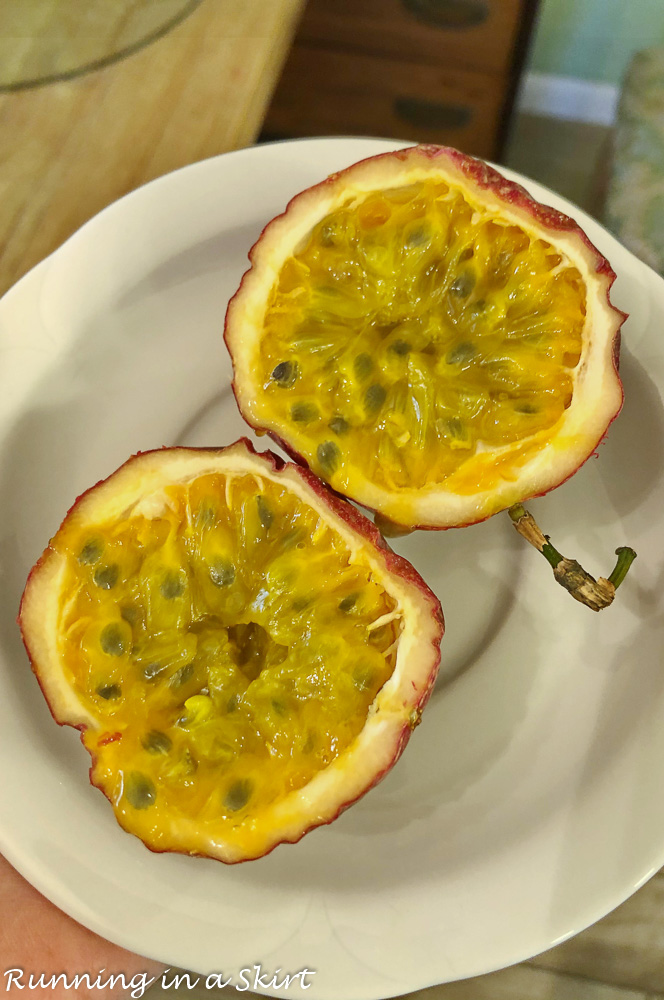 If you are looking for a more unique place to eat on Sanibel, the Farmer's Market is it!
What About the Best Takeout Sanibel Island Restaurants for Takeout?
What about takeout? I also have reviewed the different Sanibel Island Restaurants for takeout! Our favorites were similar but we added some other fun options. Check out those options here:
A Few Other Places to Eat on Sanibel
There are so many places to eat on Sanibel! Here are a few other favorites from locals and tourists. Diners love these Sanibel Island Restaurants too.
We had such a great time in Sanibel and nearby Captiva Island. I love a place with so much great food! If this makes you more curious to visit Sanibel, make sure to check out my Sanibel Travel Guide. This special place is one you have to add to your wanderlust list. 🙂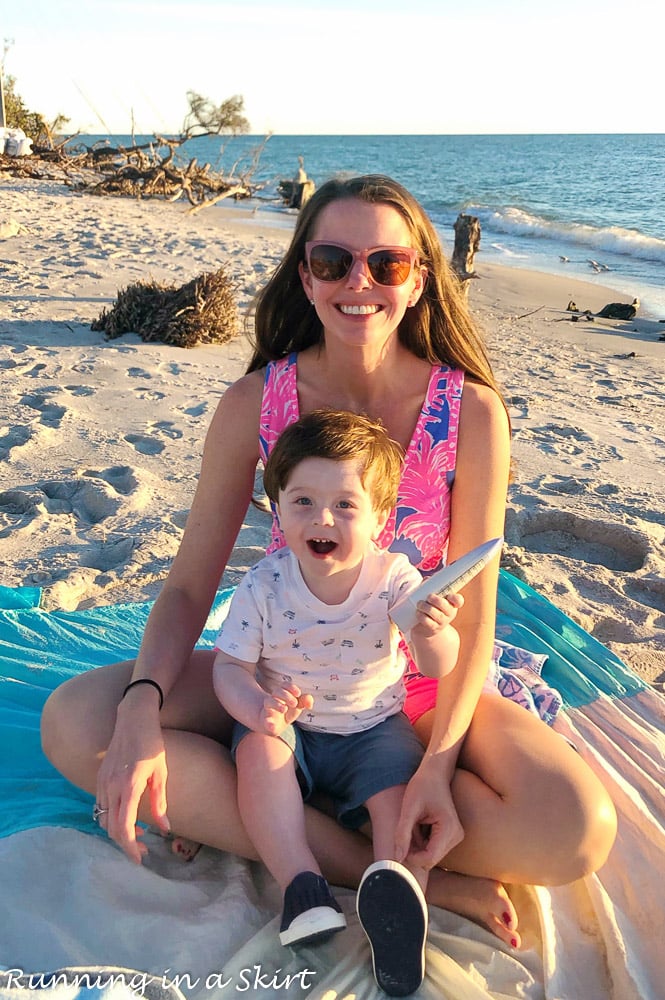 More Sanibel Travel Information:
Best Things to Do in Sanibel with Kids
Pin for later