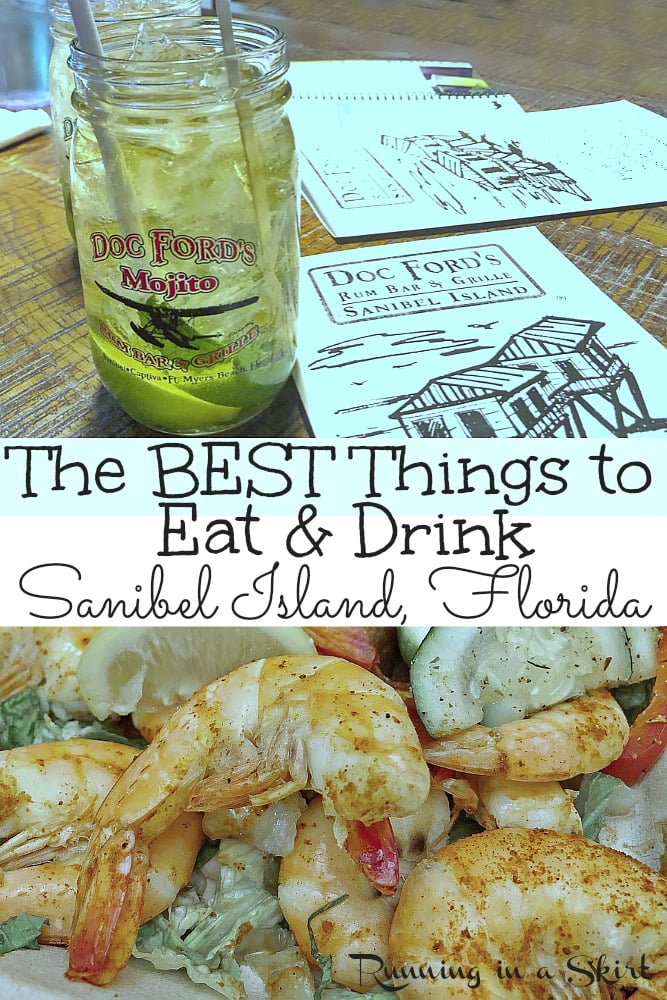 Sanibel Island, Florida is full of amazing EATS! Here are the best places to eat in Sanibel including the best restaurants in Sanibel.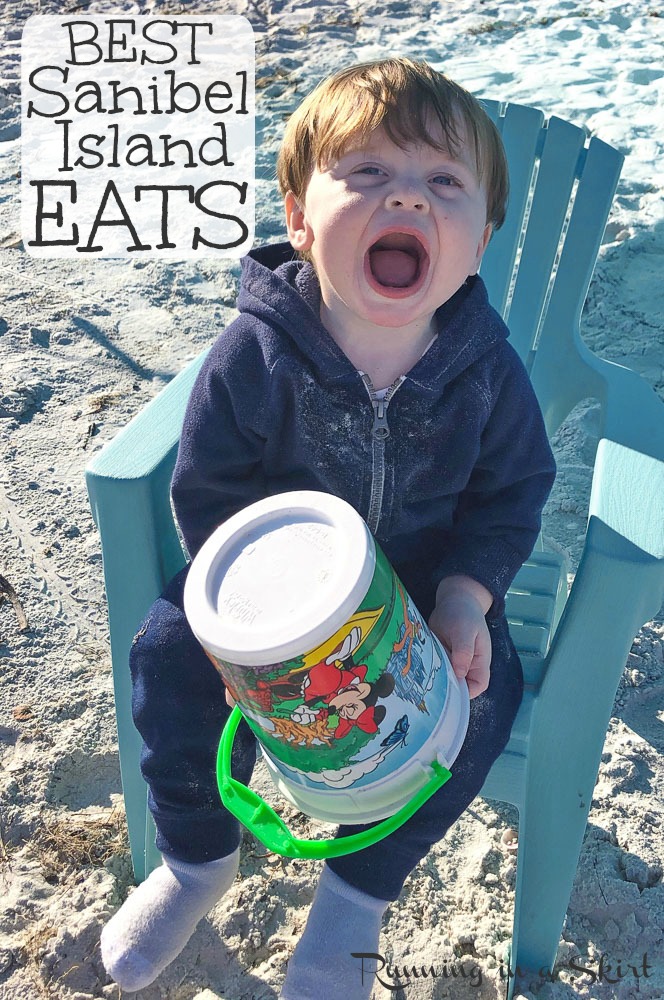 Best Restaurants in Sanibel
I'm so excited to share the second part of my Sanibel travel guide today with y'all including the best restaurants in Sanibel. If you missed the first part, I spent a week on the island in early January for our family vacation and we loved it. I'm still dreaming of this gorgeous beach path.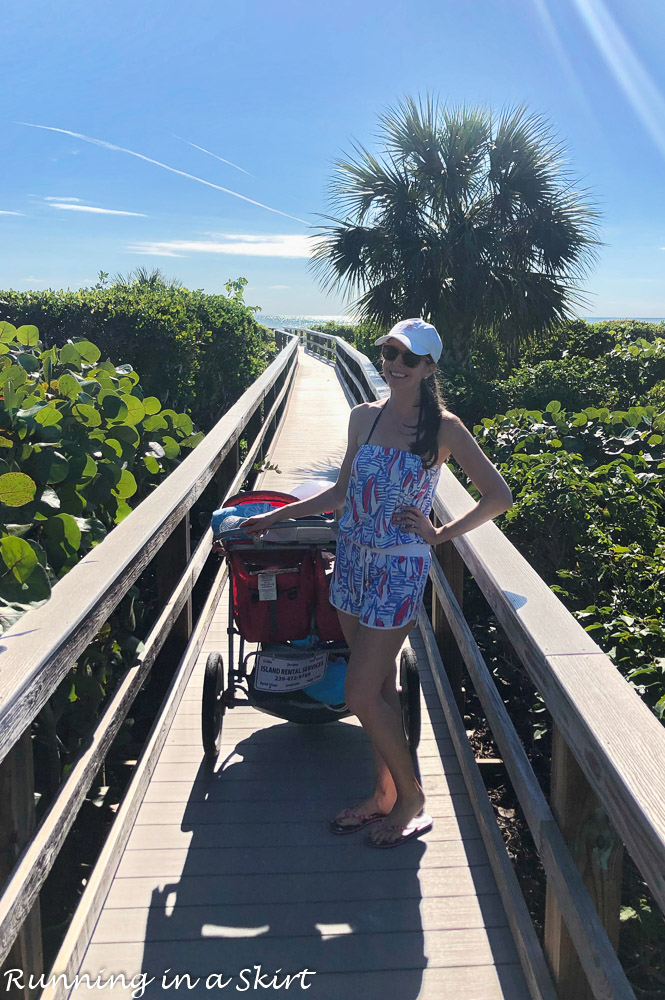 Sanibel is a special place because it has no high-rises or even stoplights. The island is nature and beach lovers paradise with miles of unspoiled and uncrowded beaches.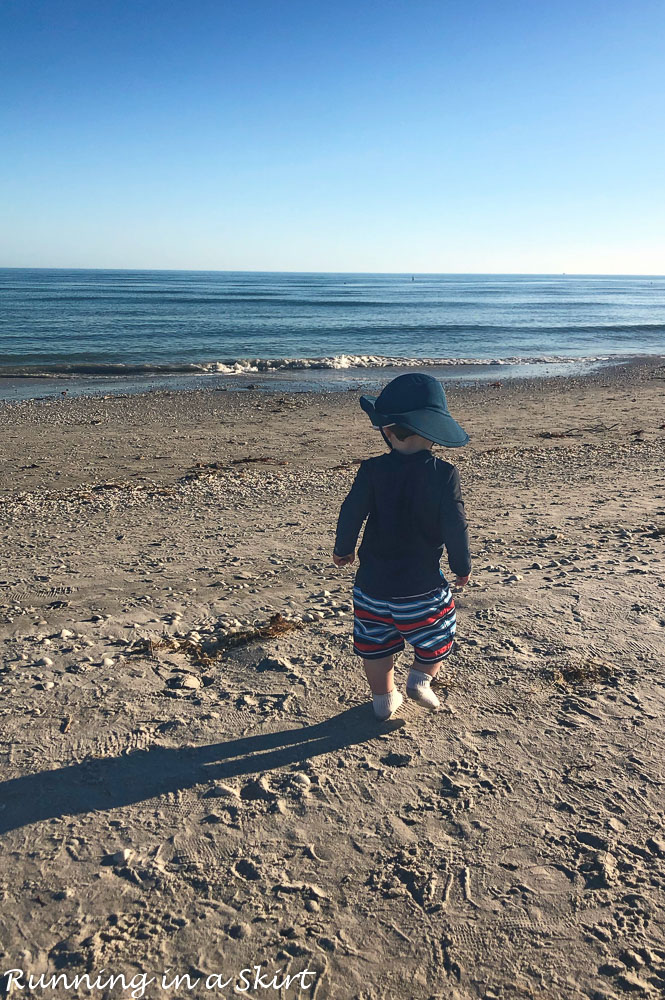 It's known for its spectacular sunsets and shelling.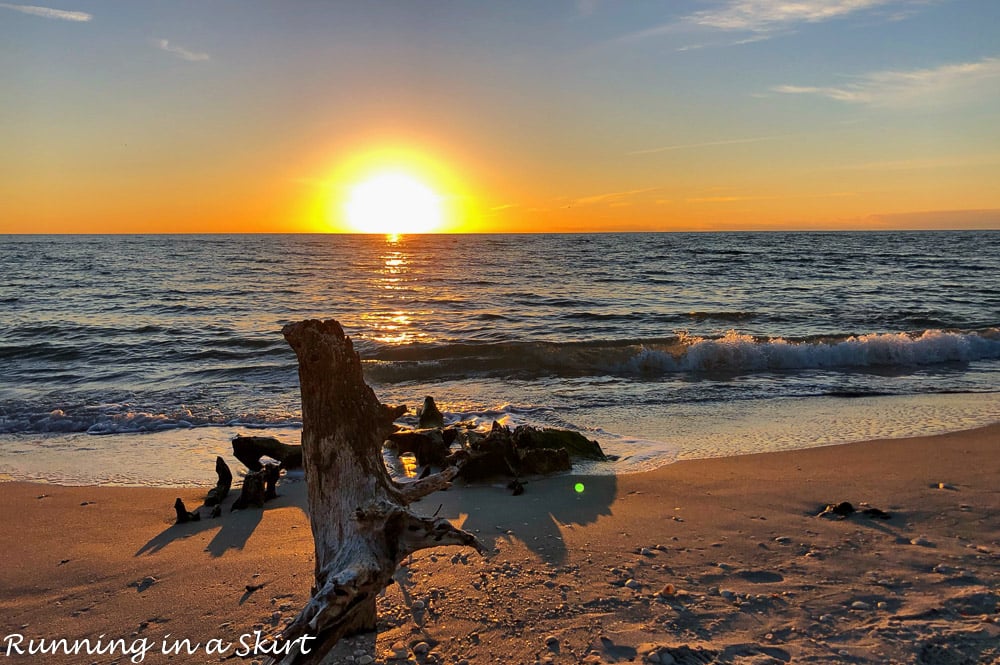 I even got caught up in the shelling craziness and found some pretty ones myself.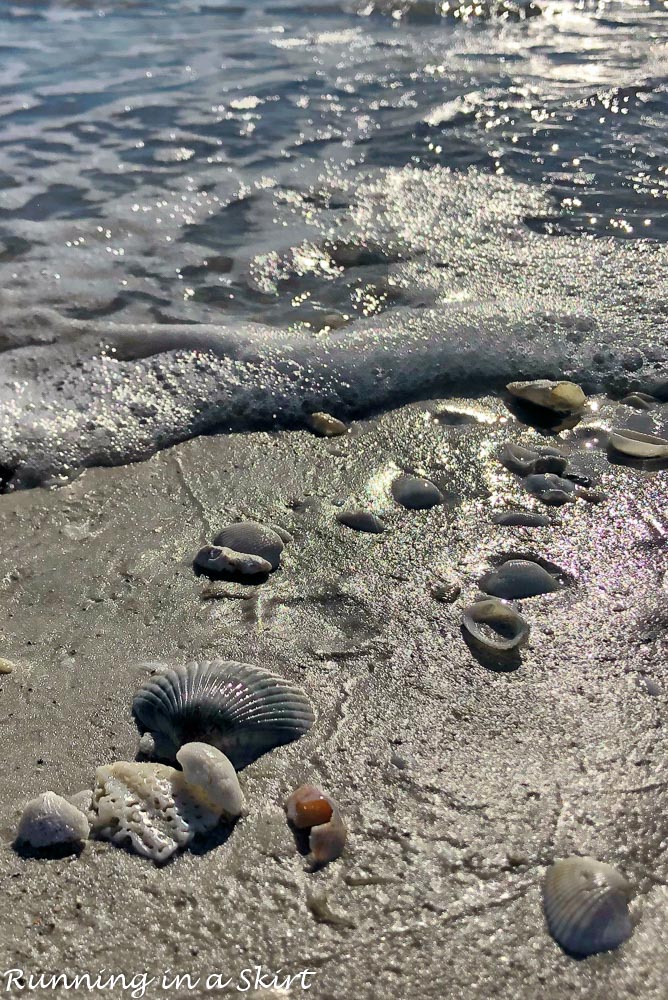 In the first part of my travel guide, I focused mainly on the things to do on the island including a lot of our fun family photos.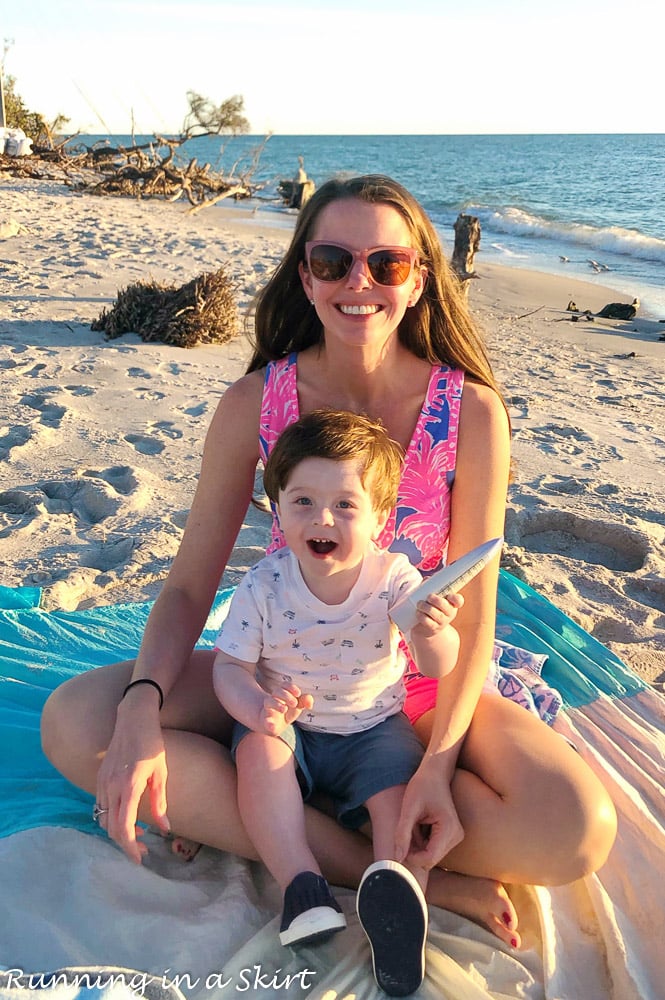 For an island that is known for being pretty laid back, we still found lots of stuff to do and enjoy! We also ATE some wonderful food including lots of great seafood. Sanibel Island restaurants are in a class of their own. Any GREAT vacation has to have some EPIC EATS... in my humble opinion. 🙂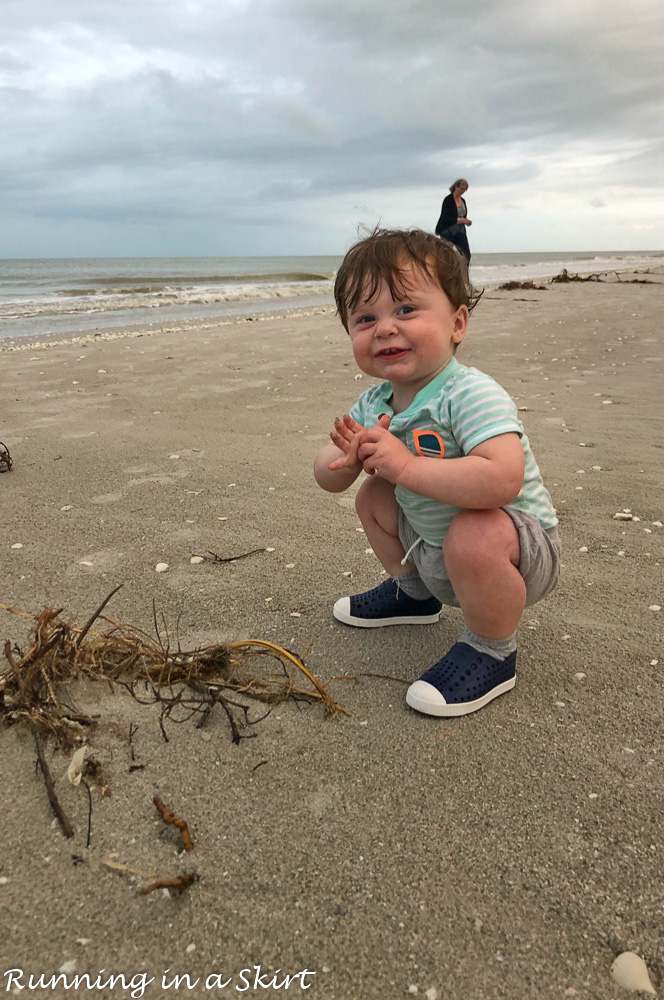 So the second part of this travel series focuses on the food! I'm sharing the BEST places to eat in Sanibel Island including the best restaurants.
You are not going to believe all of these DELISH food photos.
Places to eat in Sanibel Island
Doc Ford's is a 3 restaurant chain in Sanibel, Captiva, and Ft. Myers. It's charming and the menu is filled with seafood and RUM. Two of my favorite things. 🙂
I tried their mojito, which was amazing.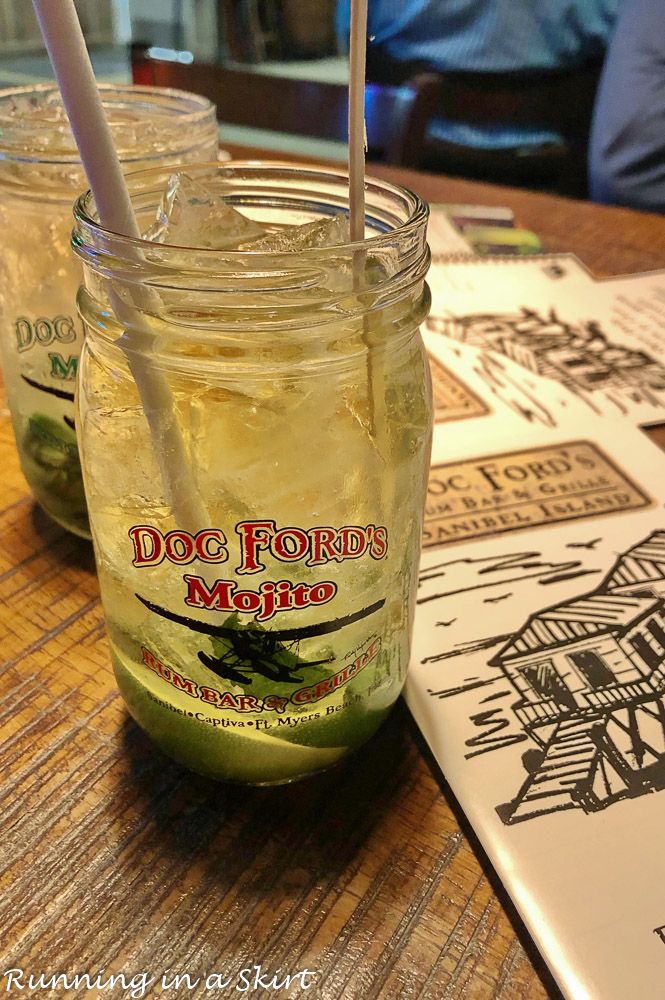 We also got the ceviche, which was super flavorful. It tasted even better than it looked.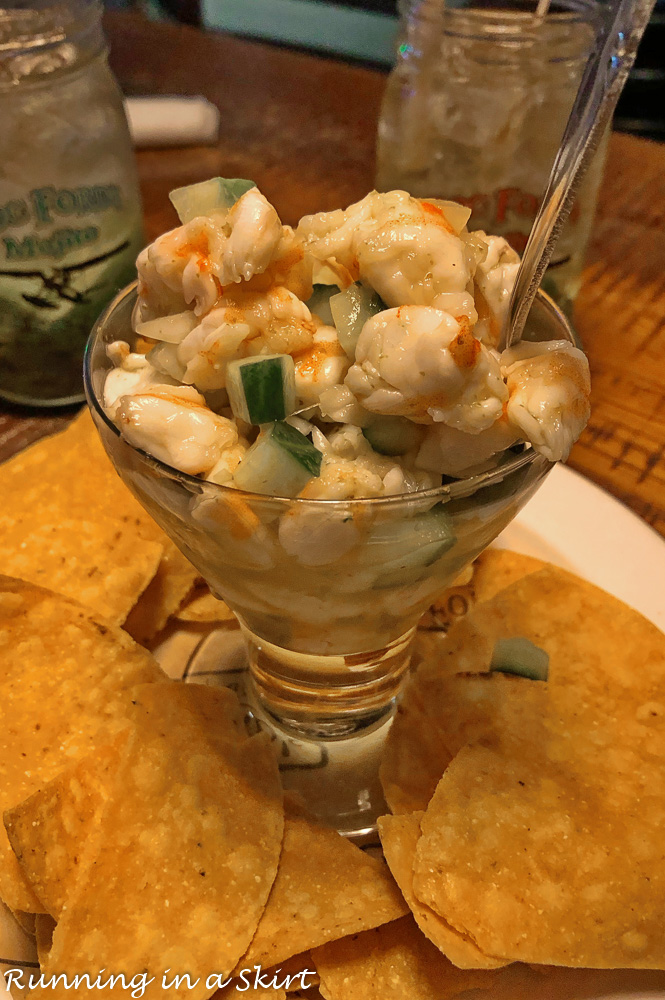 Our favorite dish by far though was the Yucatan Shrimp which are steamed in butter, garlic, Colombian chilies, cilantro, and key lime juice. They had just a hint of spice and I am craving them again as I'm writing this. I have to try to make these at home because they were one of the most memorable things I tried on the trip. Total flavor bomb!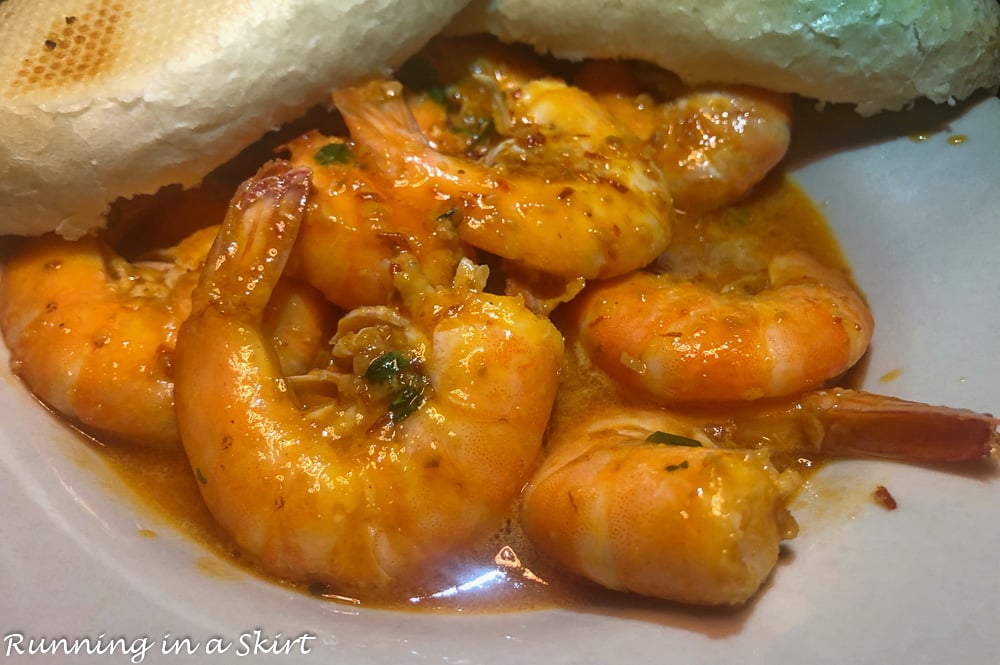 We tried the key lime pie at nearly every place we went to so we could pick the best key lime pie in Sanibel. There's was very, very good but not our favorite on the island.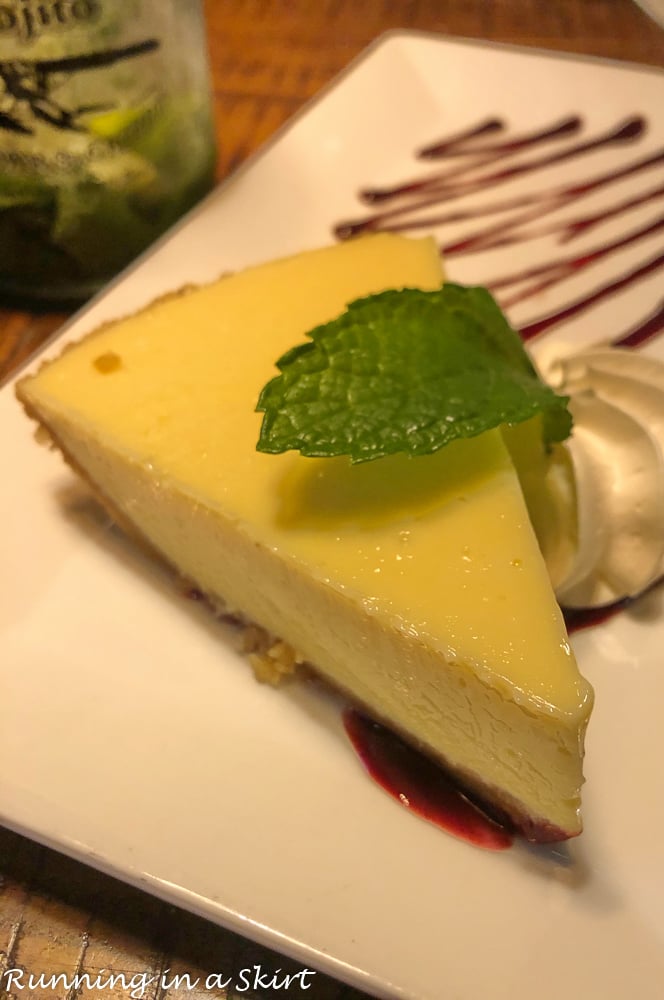 The Clam Shack is an adorable restaurant that we liked so much we ended up getting takeout from them twice. I called them on the first night and the babies were having a moment and screaming their heads off. The guy on the phone was super nice and sympathetic. When the Hubs got to the restaurant to pick up our order the same guy had a small beer on the house waiting on him in addition to the food. It was such a kind gesture and made us want to support this lovely restaurant!
We LOVED the clams from there. We got two orders for the second night.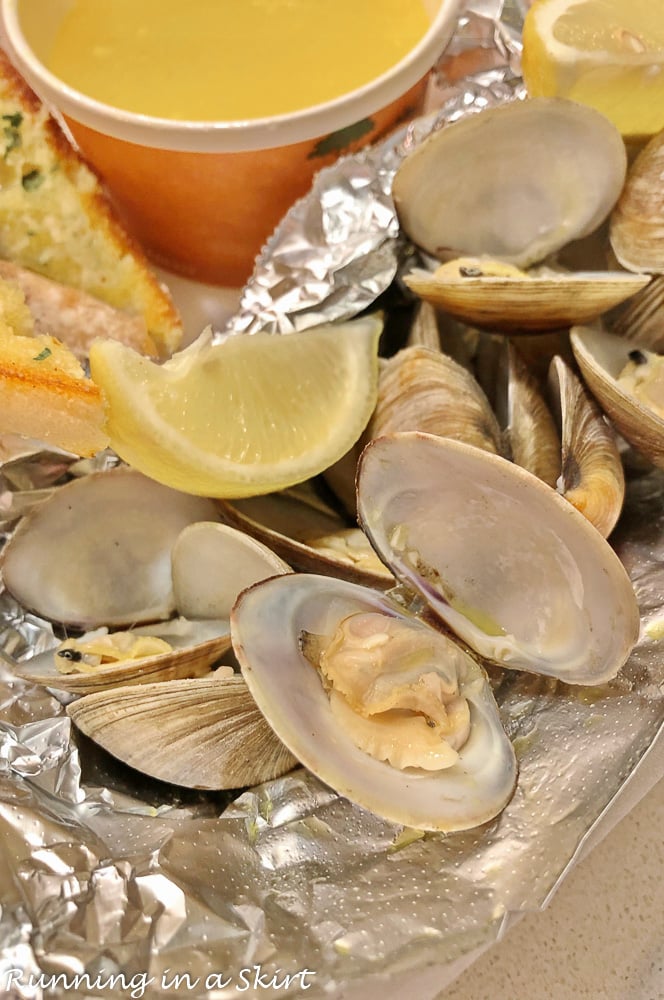 We also really enjoyed the scallops encrusted with parmesan. We also got the lobster roll, which was incredible but didn't take a great photo.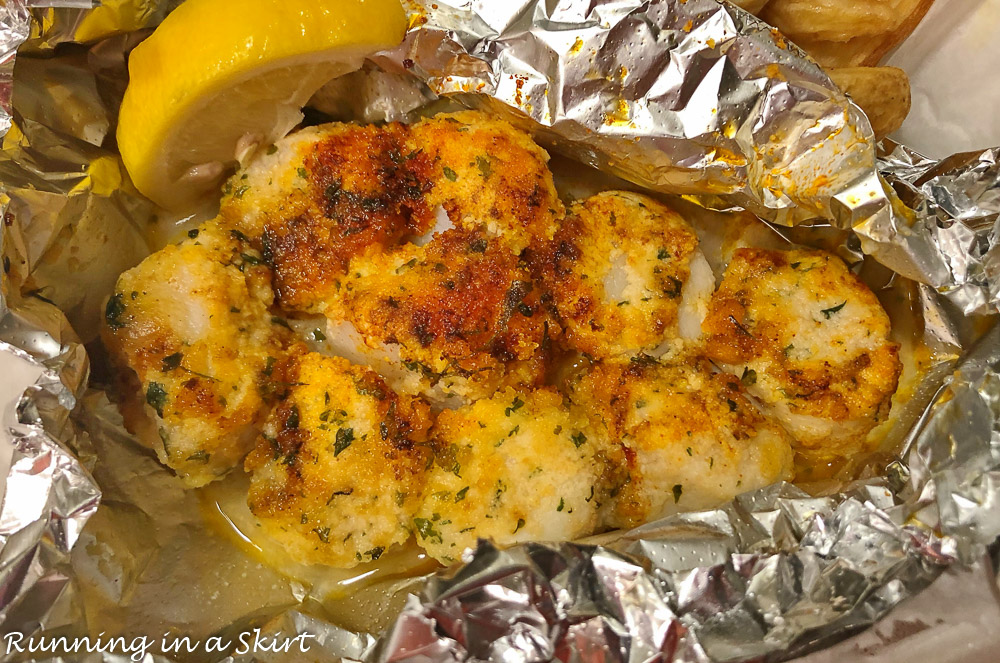 The Clam Shack is a New England style seafood restaurant so they also have all sorts of delish lobsters, lobster rolls and even a big clam bake. I didn't want the lobster to go but the next time we go I'm totally getting it! I loved this place.
There are two locations of the Lazy Flamingo on Sanibel and we visited them both. They ended up being one of our favorite Sanibel Island restaurants.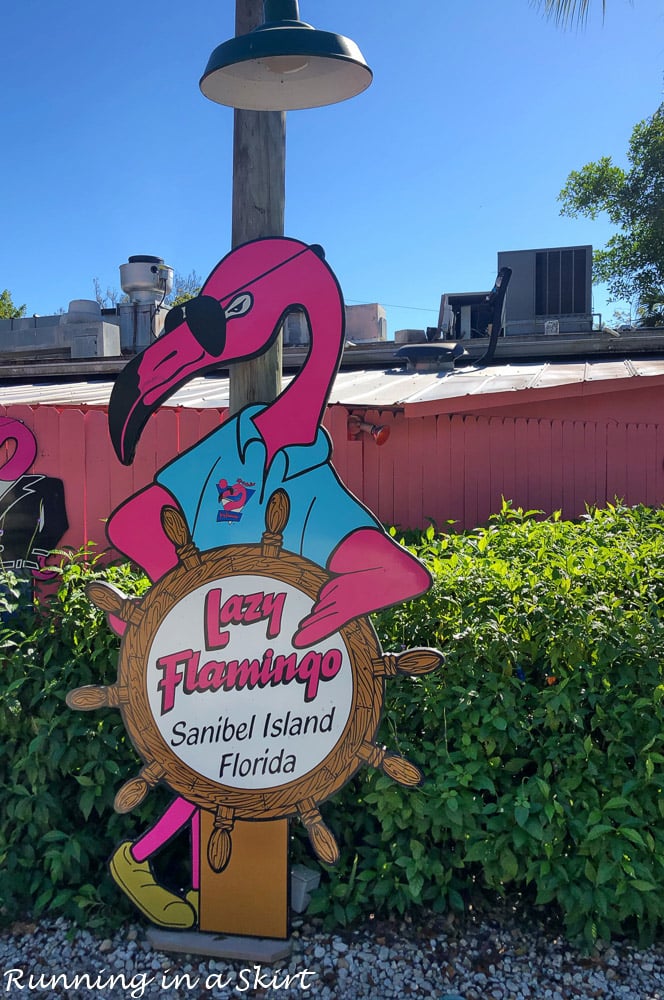 Both have that total dive bar feeling with a menu to match. We used the location near the bridge to Captiva as a place to eat before we watched the sunset at Blind Pass beach.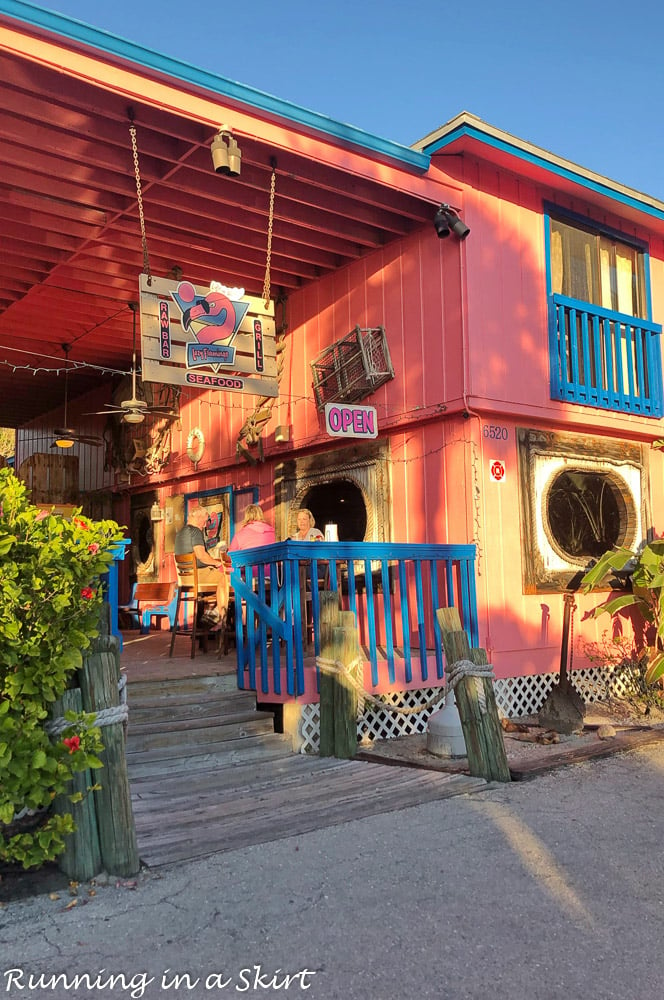 My favorite things to eat were the gulf oysters.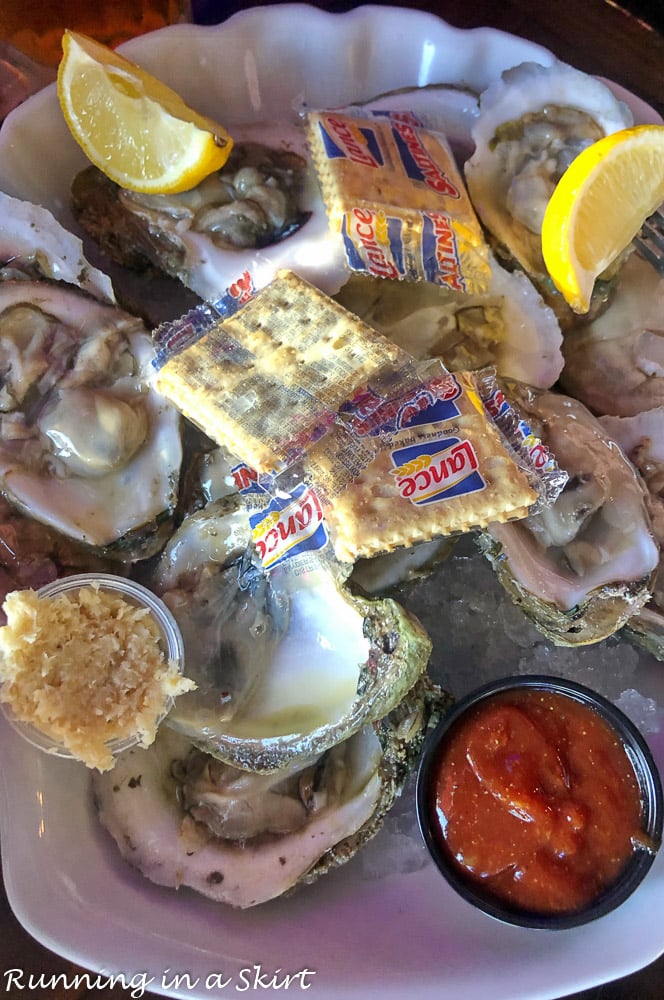 The Hubs and I both LOVED their grilled grouper sandwich. It was one of the best fish sandwiches we'd had in a long time!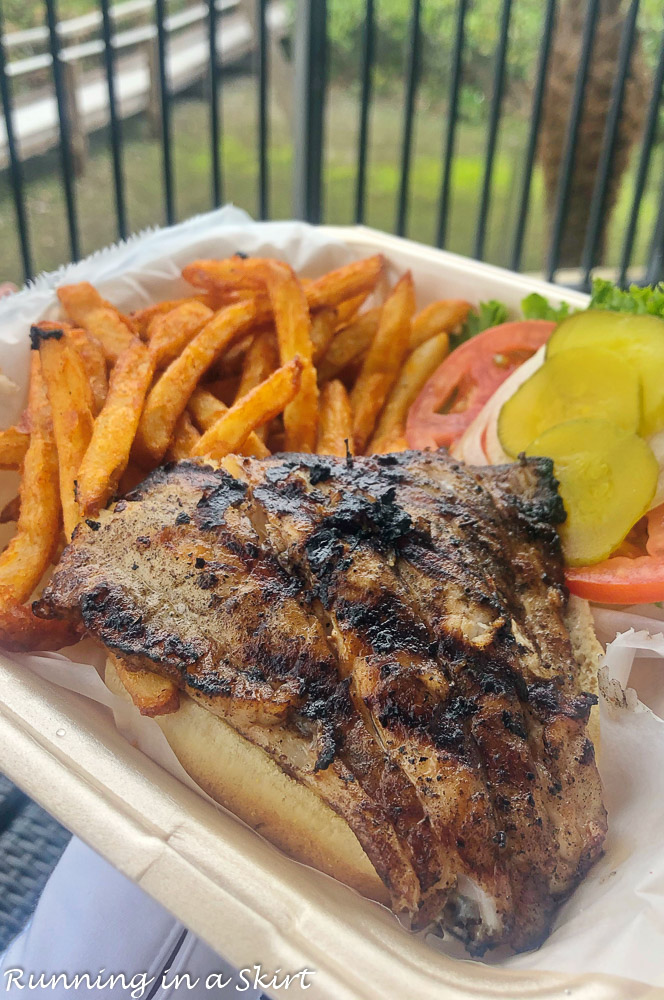 Sanibel Fresh is a cute place to stop in for breakfast or a light lunch. My two favorite things from them were this amazing tuna wrap.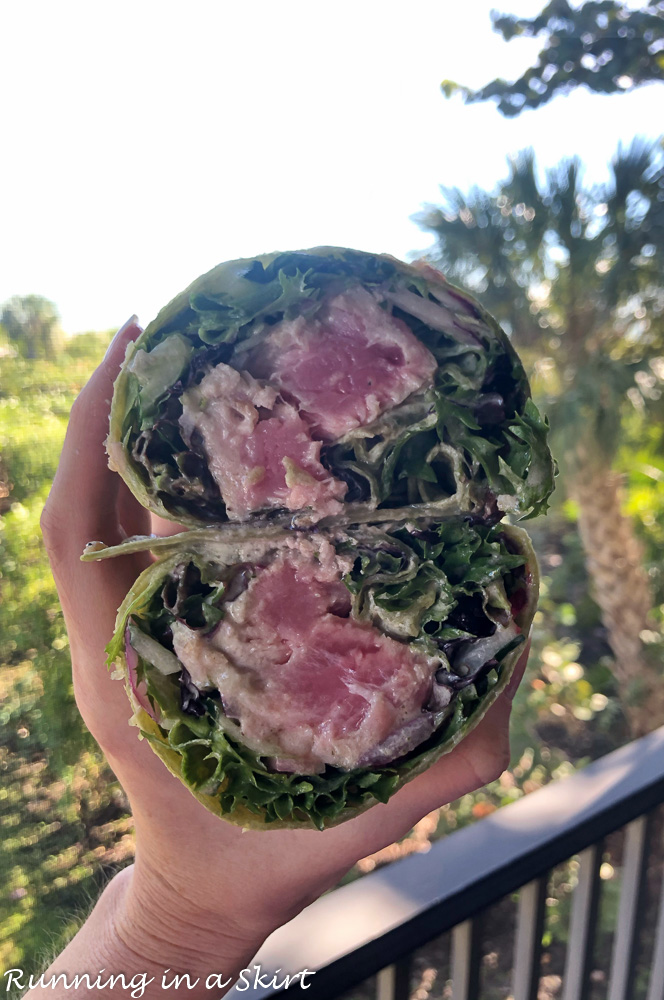 I also picked up acai bowls from them one day and they were super tasty.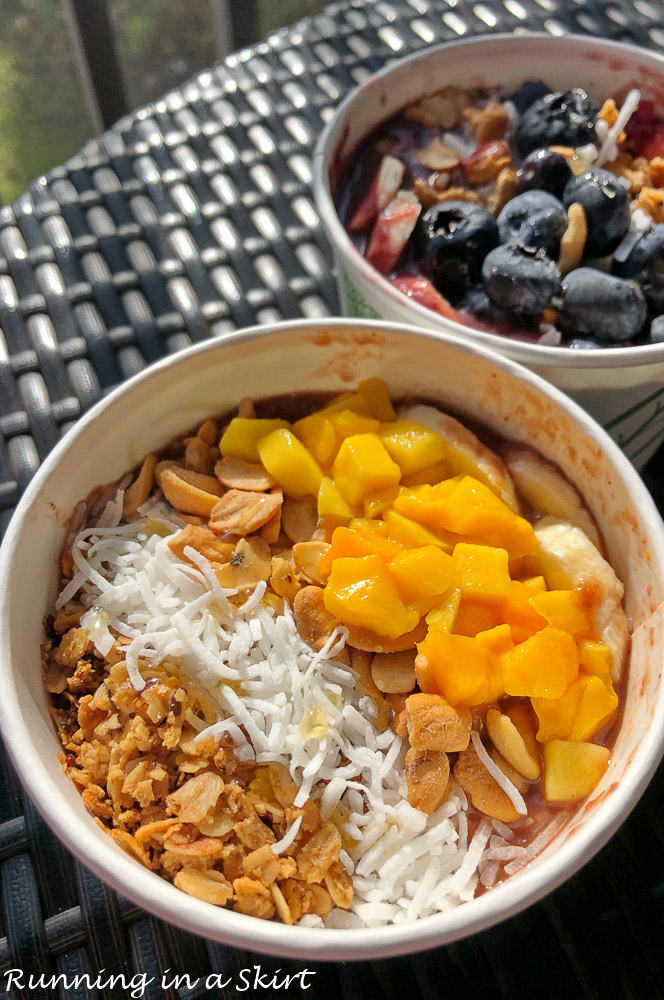 I was not a big fan of their ahi poke bowl though.
Gramma Dot's is a charming waterfront restaurant at the Sanibel Marina. We got takeout from there and really enjoyed it. This unique place is another one of our favorites out of the places to eat in Sanibel.
The clam chowder was packed with flavor and clams.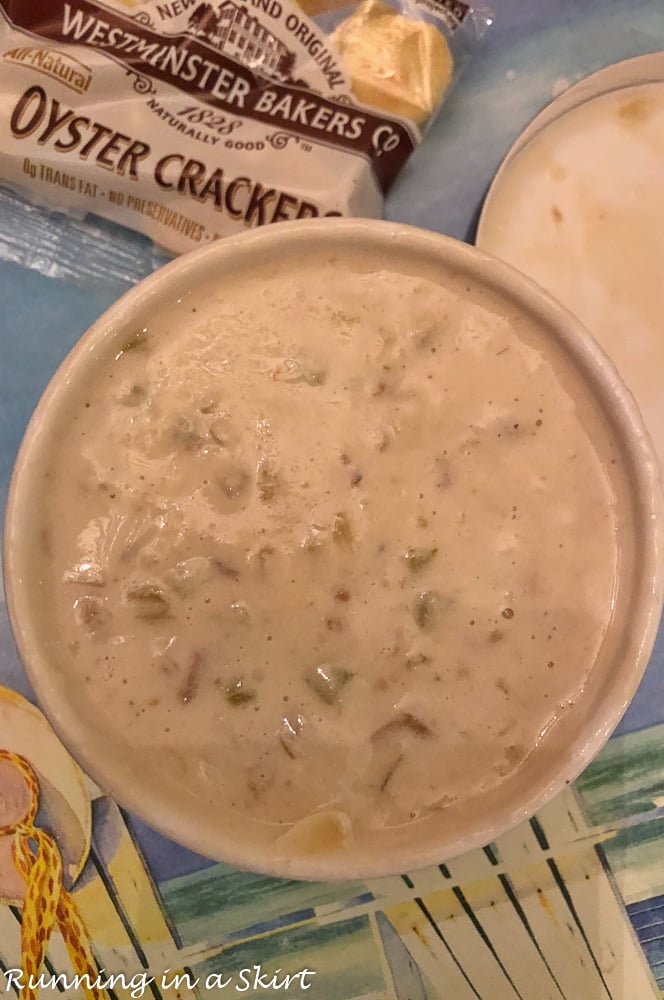 We also got the fresh Florida peel and eat shrimp which were super plump and sweet.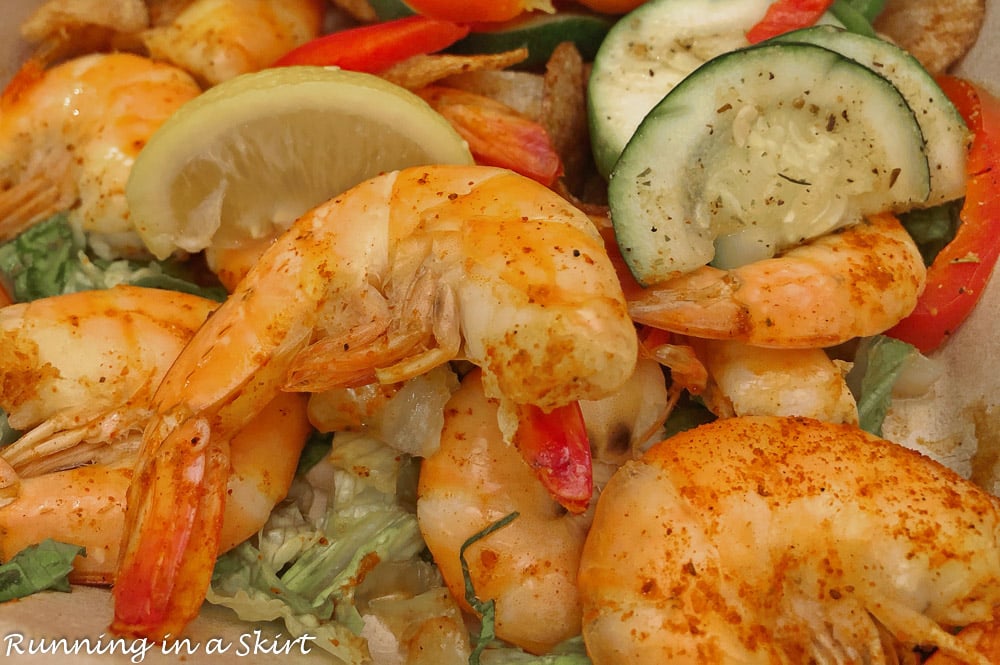 All of their meals came with a chocolate cup filled with fruit and an orchid, which I thought was a super charming touch.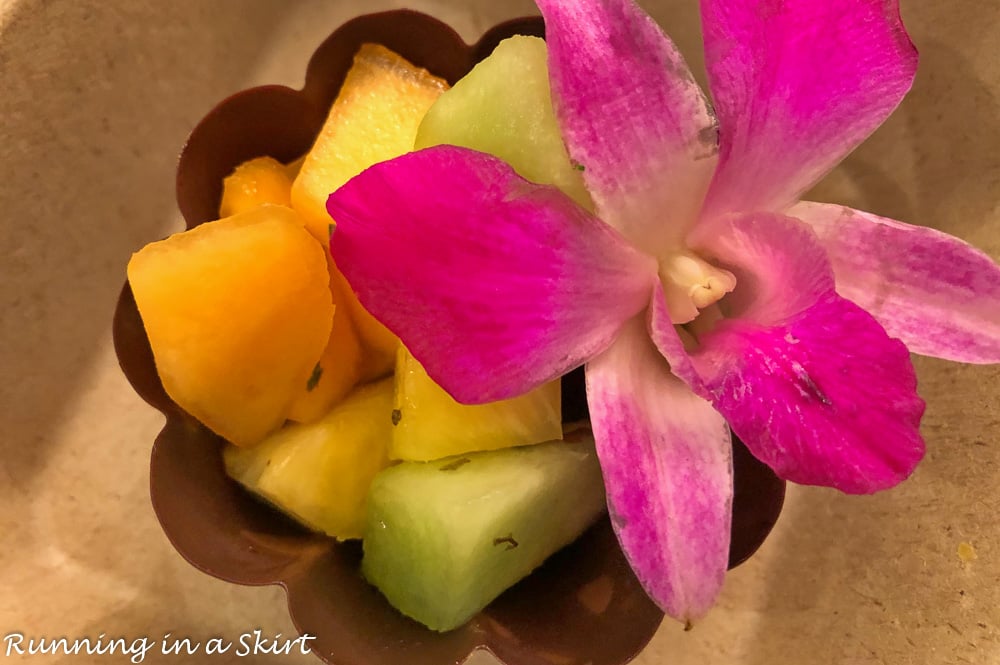 They also had key lime pie on the menu and it was BY FAR the best one we tried on the island. The crust was classic and the flavors were tart. I should have known it was a good one when I saw online that they sell theirs by the whole pie. Don't miss this pie!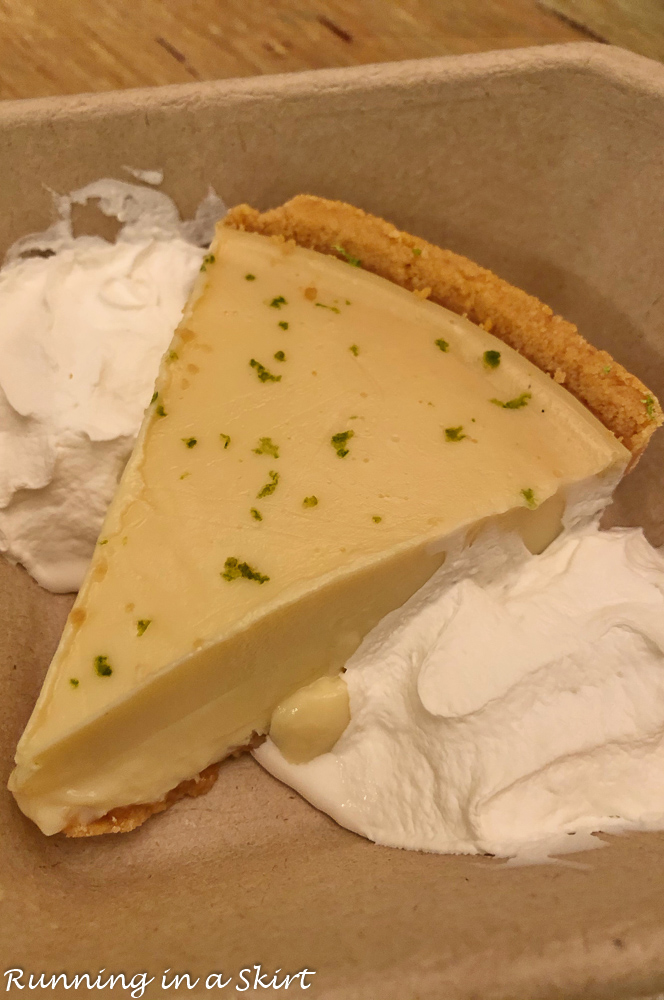 Cielo was probably my favorite overall restaurant on the island. It was in a swanky new building, had super stylish decor, and a piano player entertaining everyone. Cielo is known for its craft cocktails. The menu had all sorts of unexpected twists on traditional drinks.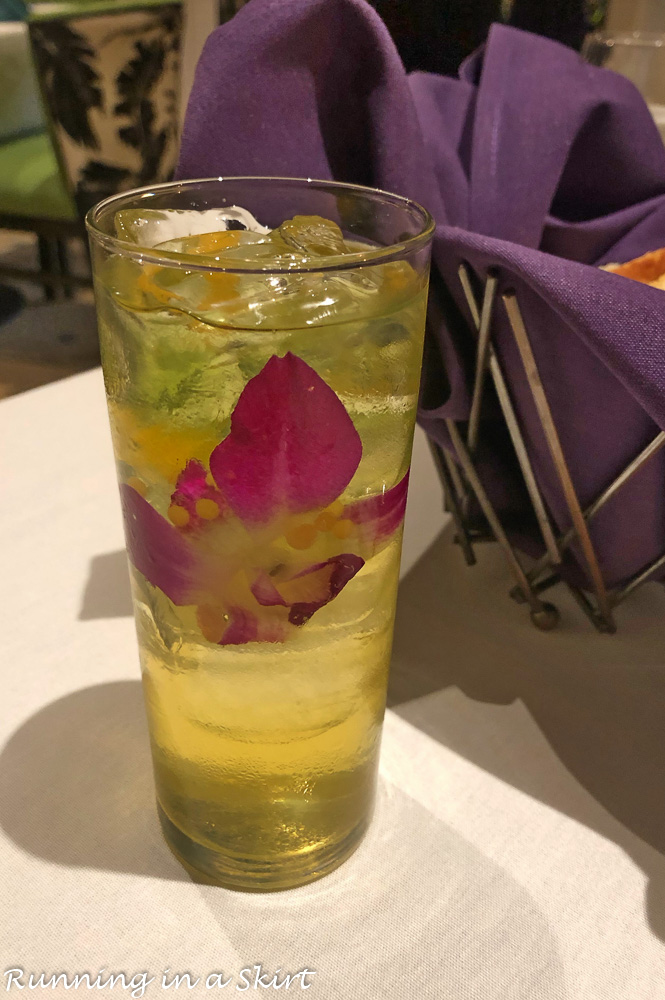 I got this tropical rum drink and it was delish... plus it matched my dress.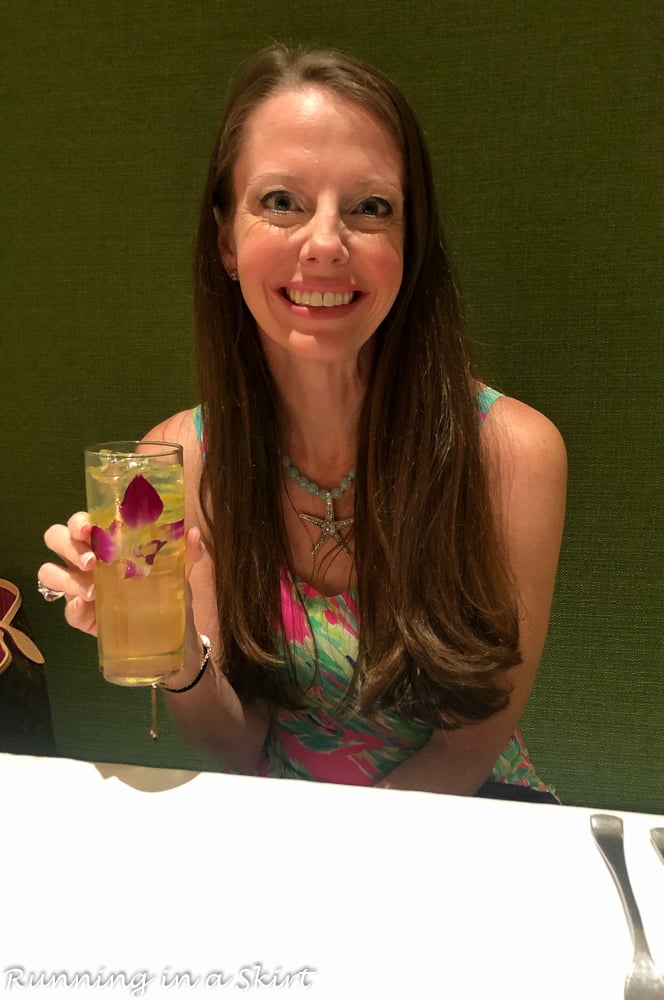 We ordered the mango calamari... which was one of the tastiest calamari dishes I've ever had.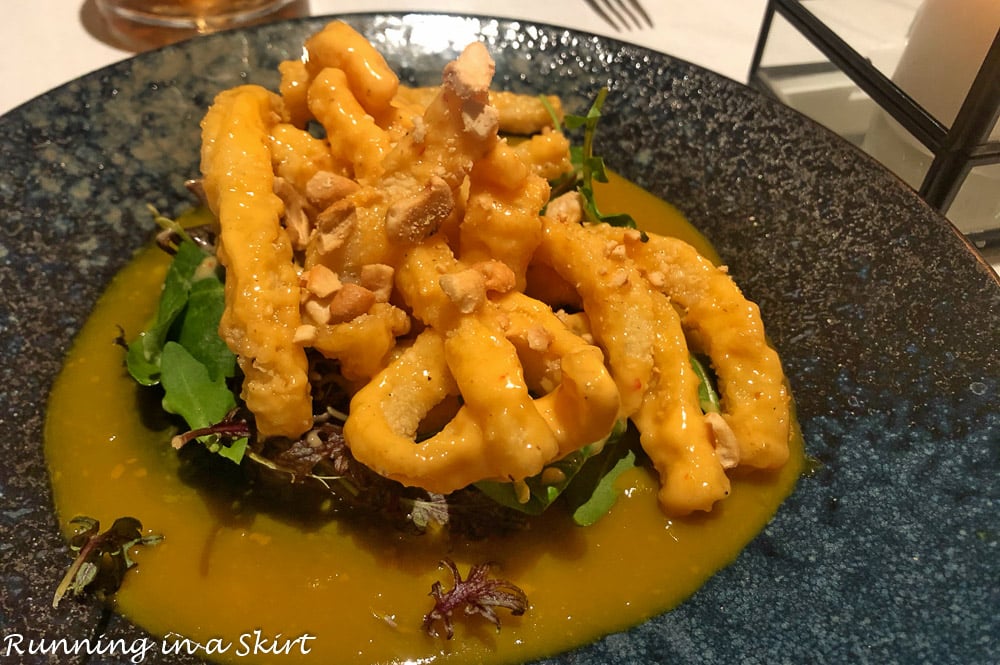 We also split the tomato and burrata salad.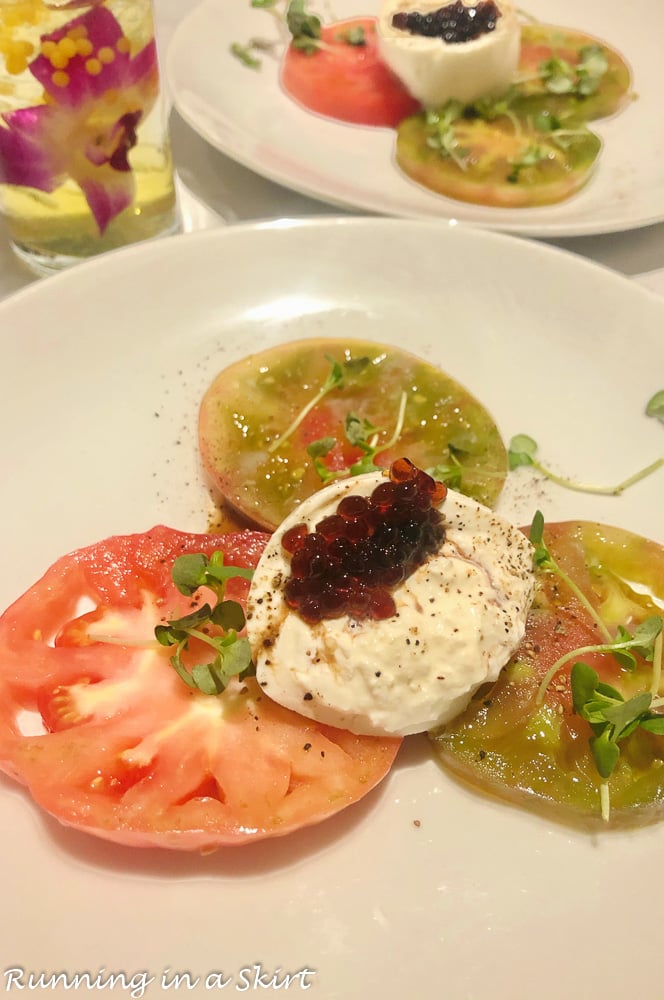 For dinner, we share the redfish special. The fish was cooked perfectly.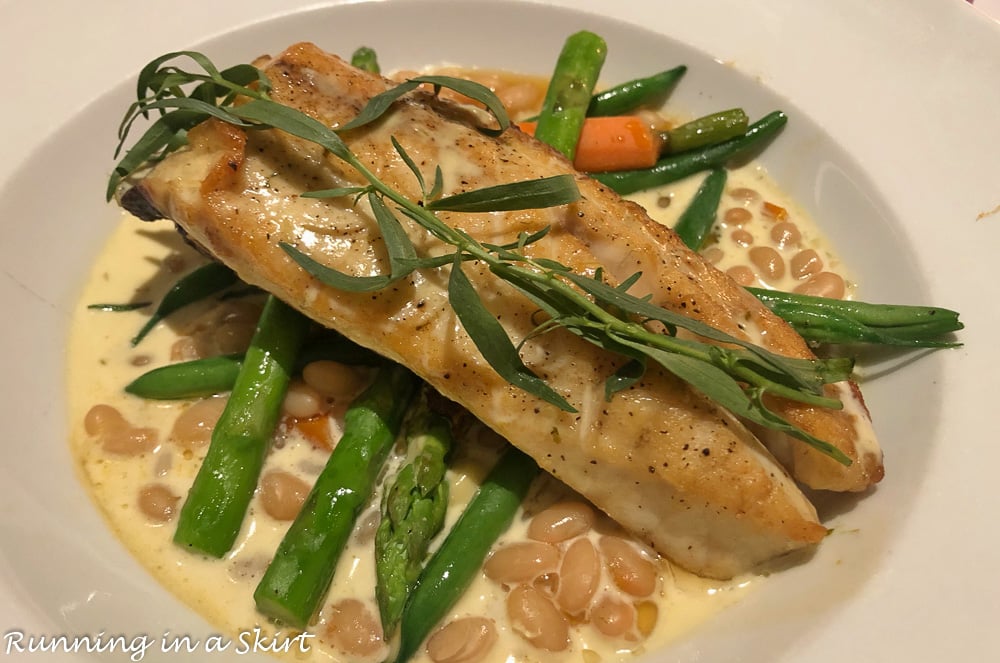 We also got the seafood pasta which was made with squid ink pasta. This dish was so incredibly tasty. You have to try it if you go!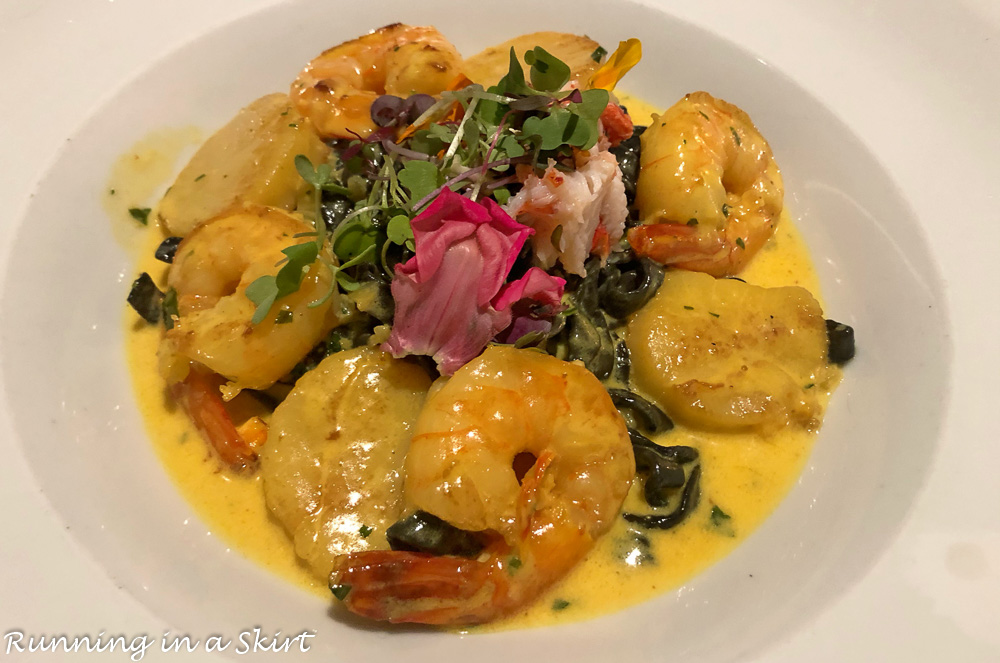 Finally, we finished with their version of key lime pie. It was once again tasty... but we prefer a more traditional style.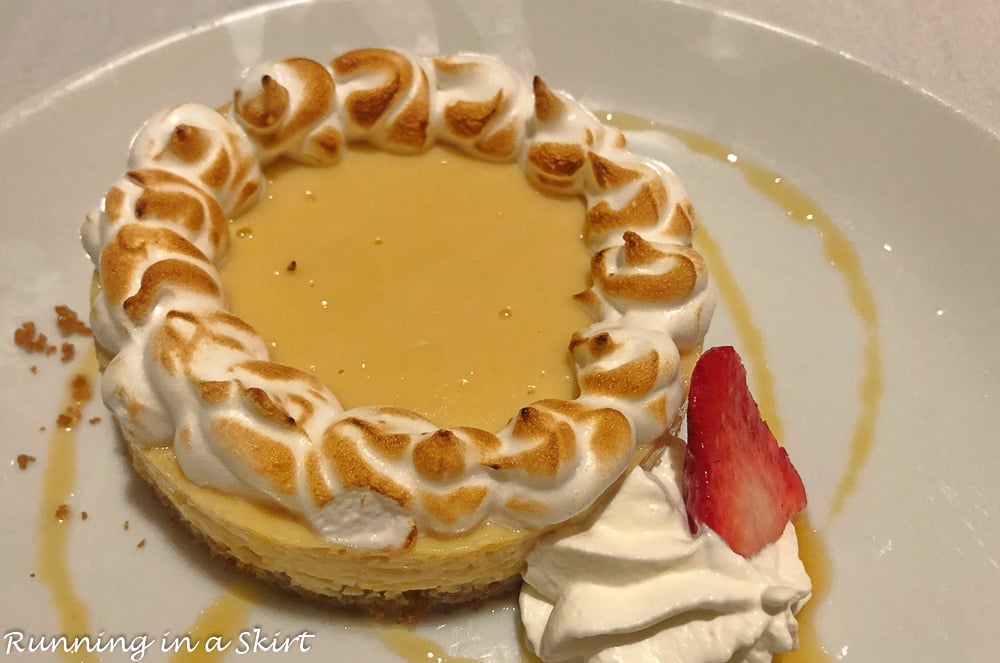 I was so excited to eat at the historic, oceanfront restaurant but since we at after dark it didn't seem that special once we got there. Luckily the food was really good though... which totally made up for it!
We loved the tuna appetizer.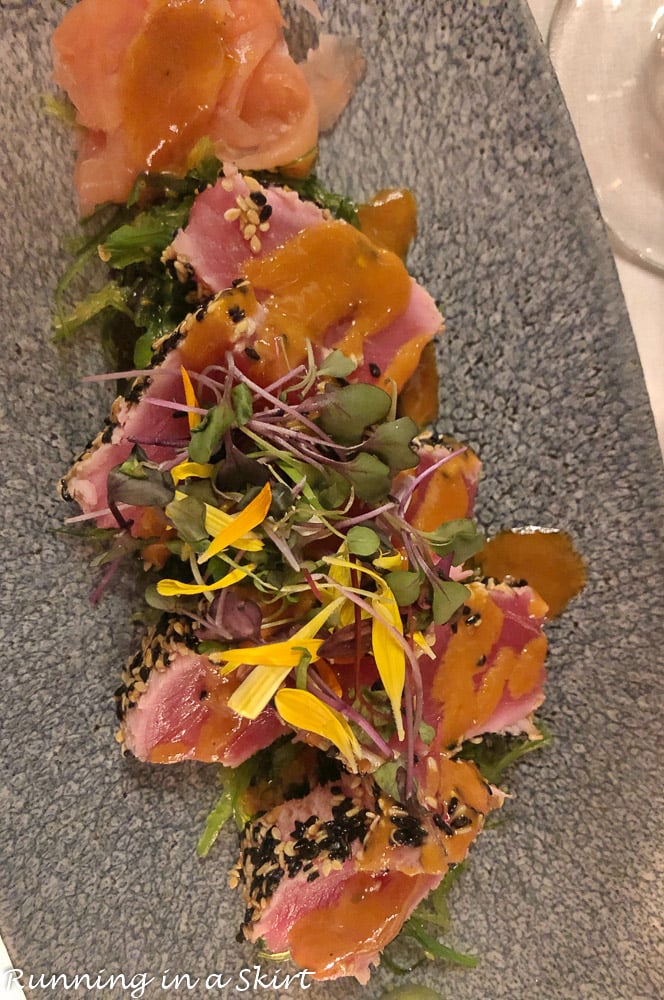 We shared two fish dishes this time and both were so classically good.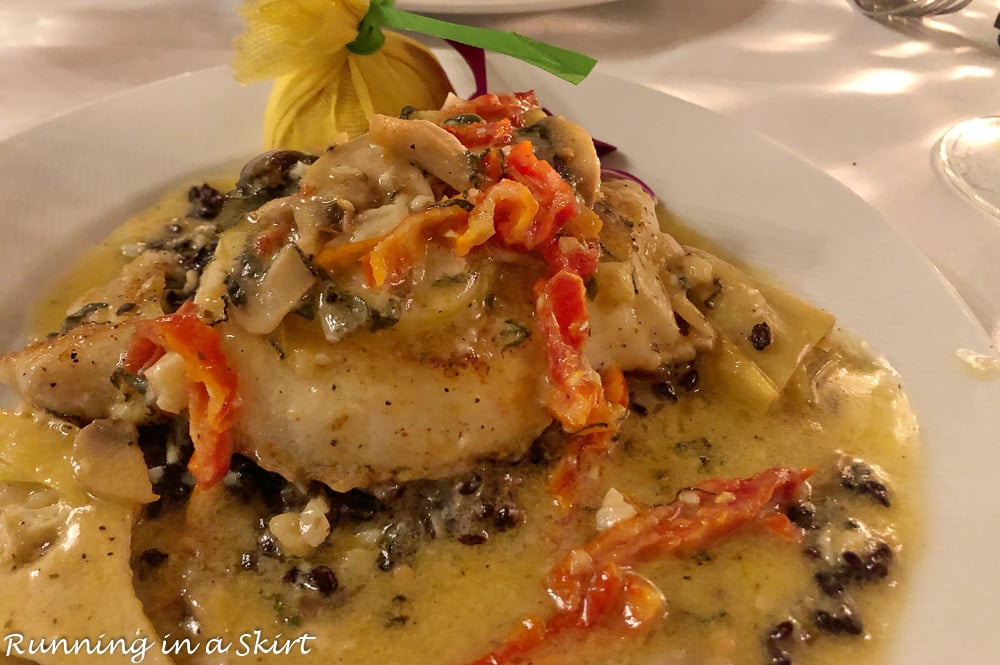 They were full of flavor and so well presented! If you go... just visit during the daylight so you can enjoy the view.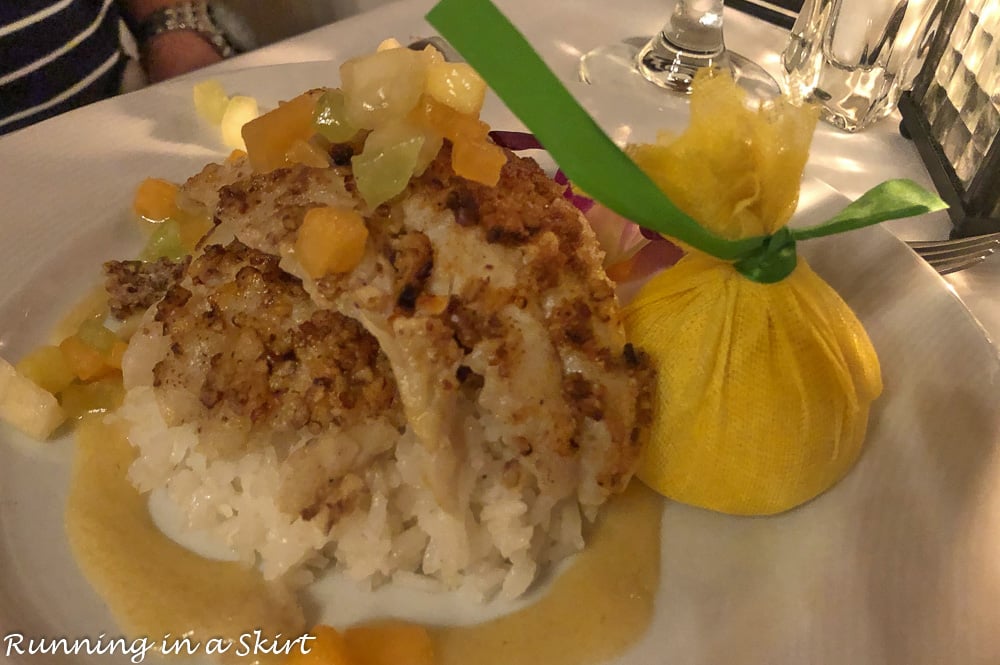 We tried their key lime pie too and it was once again tasty but lost the contest. 🙂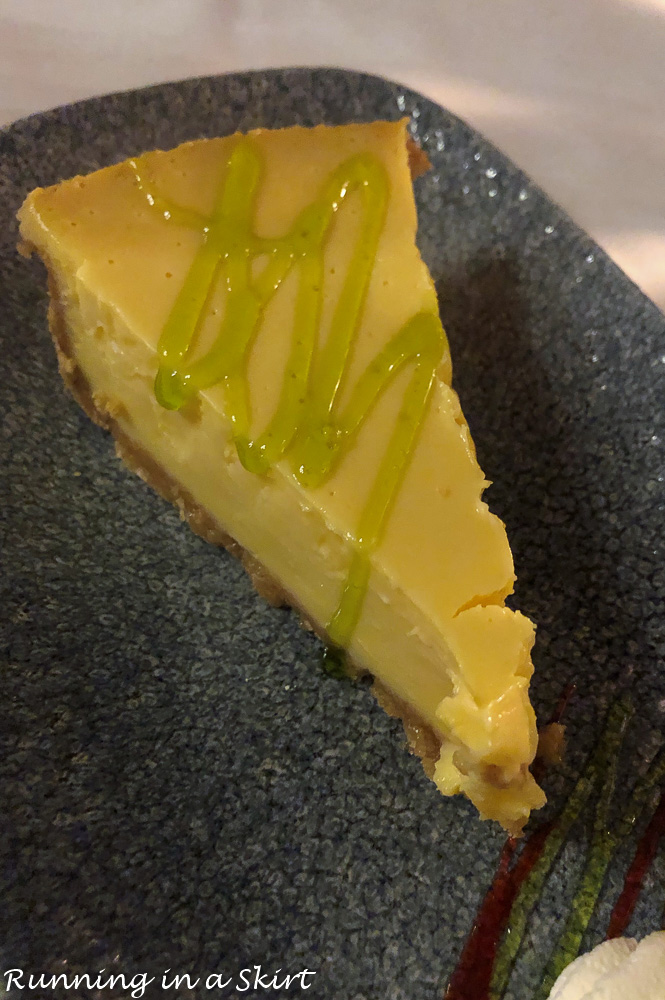 Sanibel Fish House was another one we picked up for takeout. We loved their clams too... although The Clam Shack was better.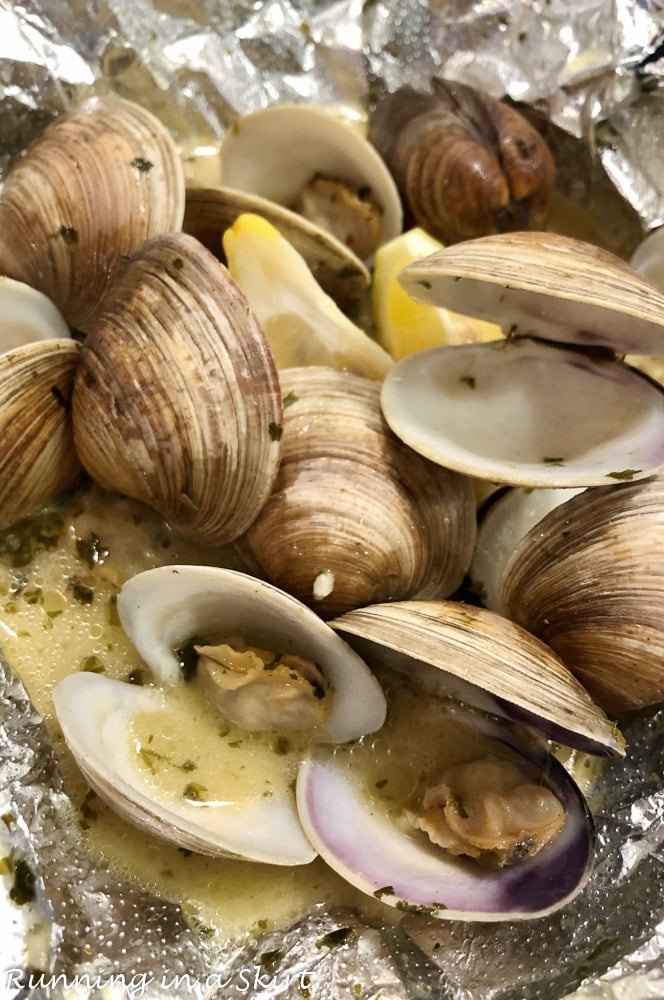 This hogfish was super tasty and I think it would have been even better eaten fresh in the restaurant.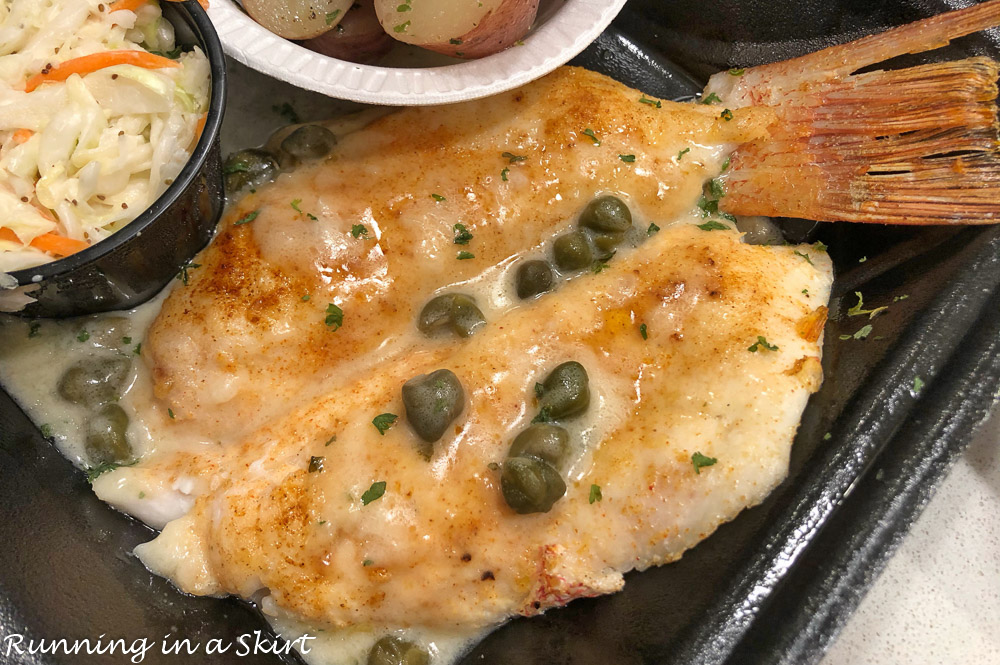 We also got the crab cakes!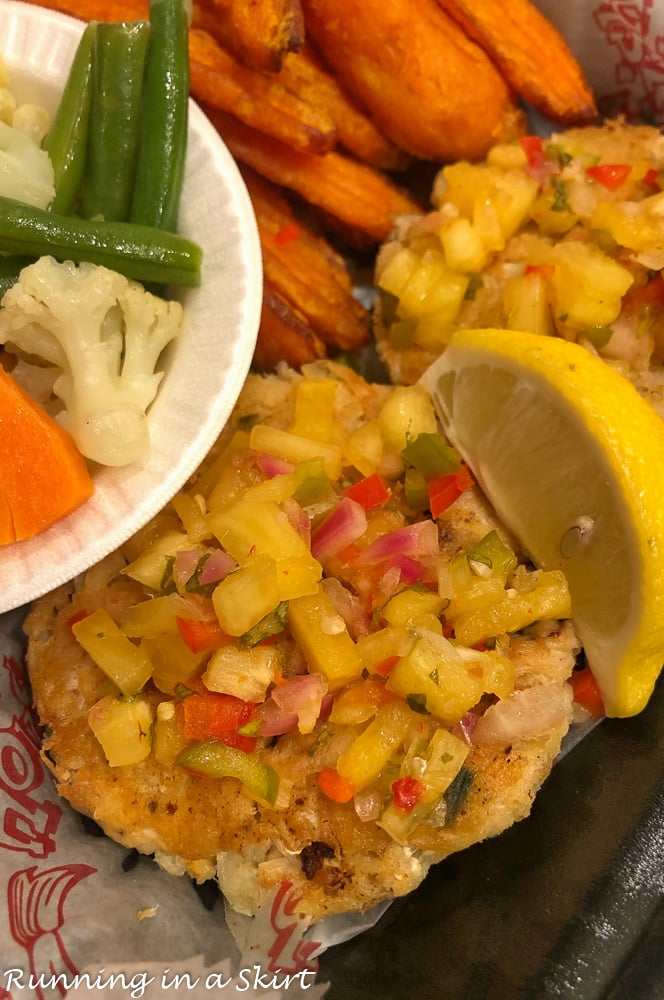 We also picked up some delicious food at the Farmer's Market. They had all sorts of prepared food including soup, lobster rolls, fresh bagels, bread, and even fish. We love the Island Seafood Market smoked fish dip.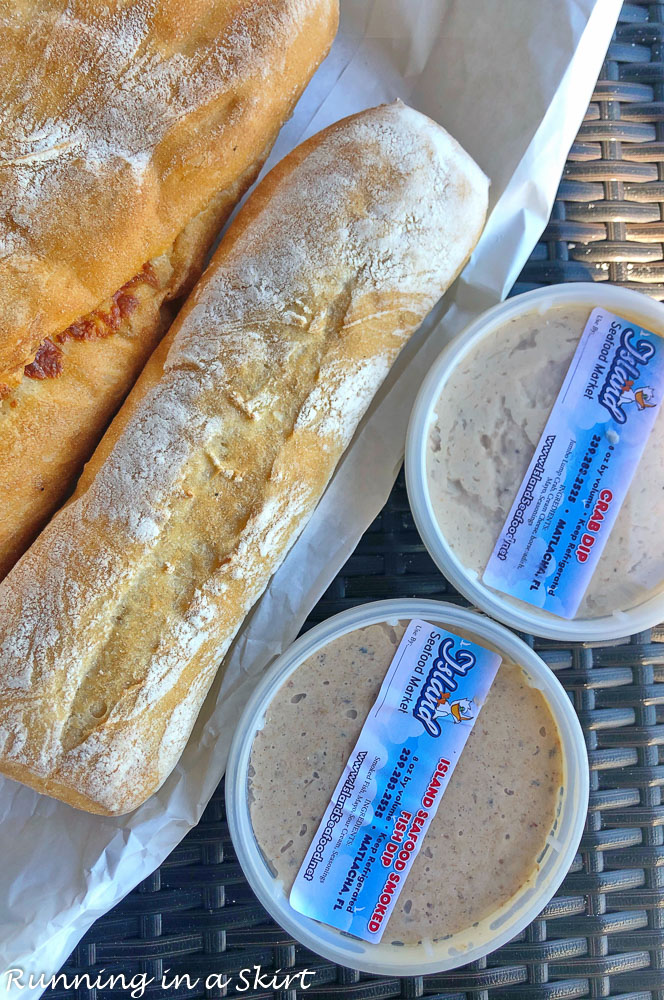 We also picked up fresh tropical fruit including passion fruit and honey mangoes... which we both incredible!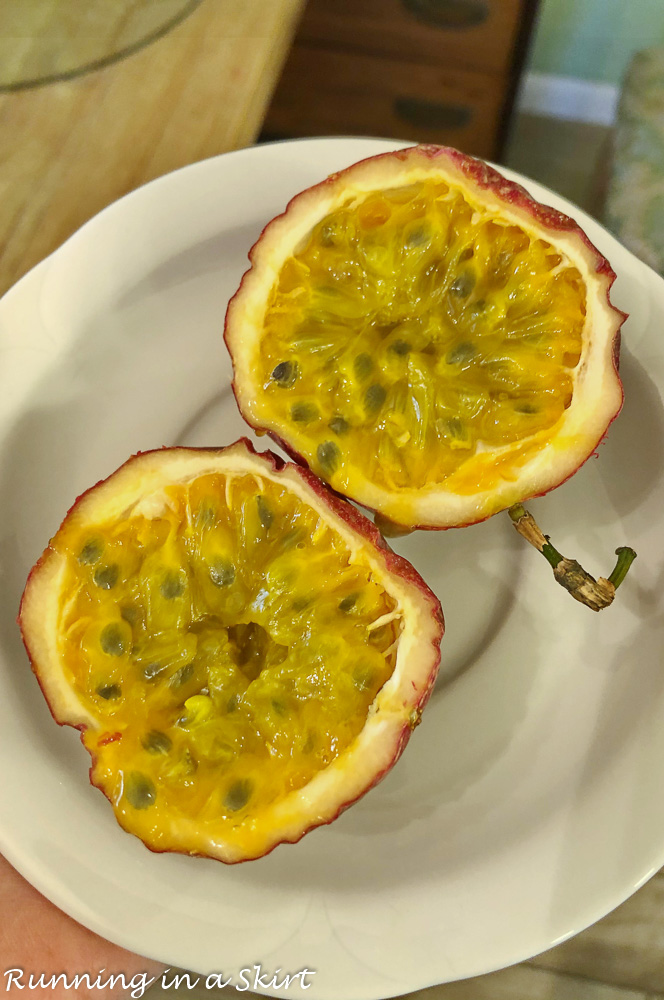 What About the Best Takeout Sanibel Island Restaurants for Takeout?
What about takeout? I went back to Sanibel the following year and did a lot more takeout to review the different restaurant options! Our favorites were similar but we added some other fun options. Check out those options here:
A Few Other Places to Eat in Sanibel
In a week we didn't get to try everywhere I wanted but here are a few other island favorites that caught my eye! I'd love to try these if we are lucky enough to visit Sanibel again.
We had such a great time in Sanibel with so much great food! I hope my little Sanibel travel guide has inspired you to put it on your wanderlust list. 🙂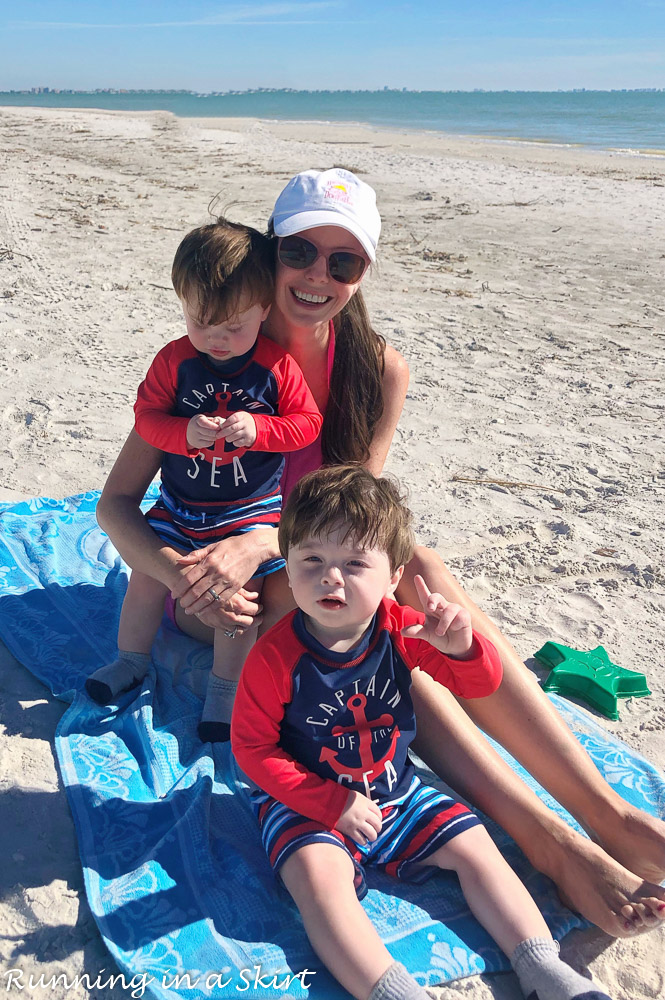 Also read...
Pin for later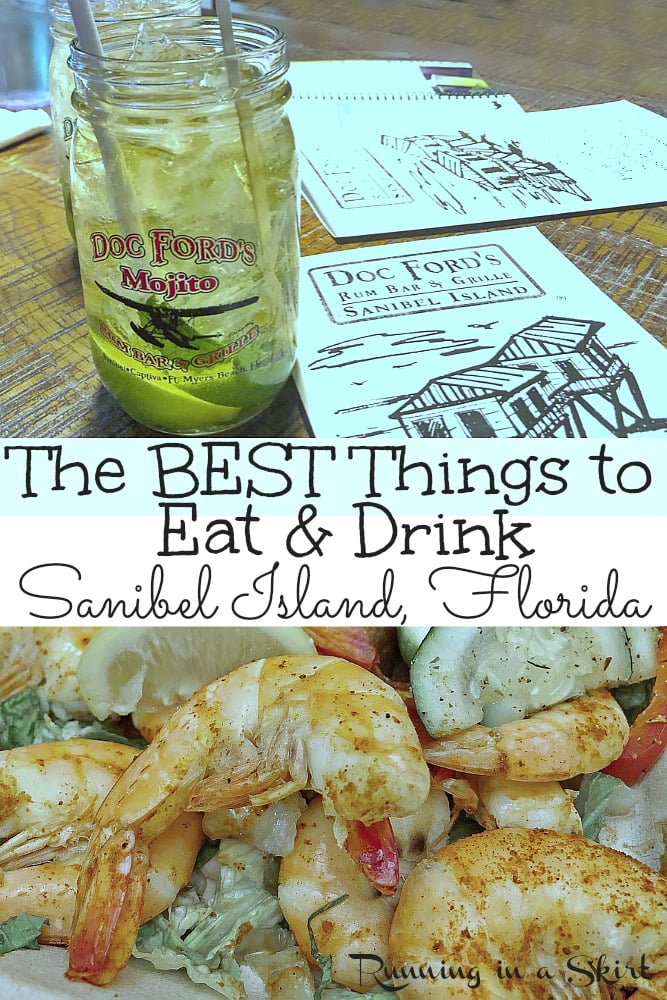 Your turn!
What would have been your favorite thing to eat?