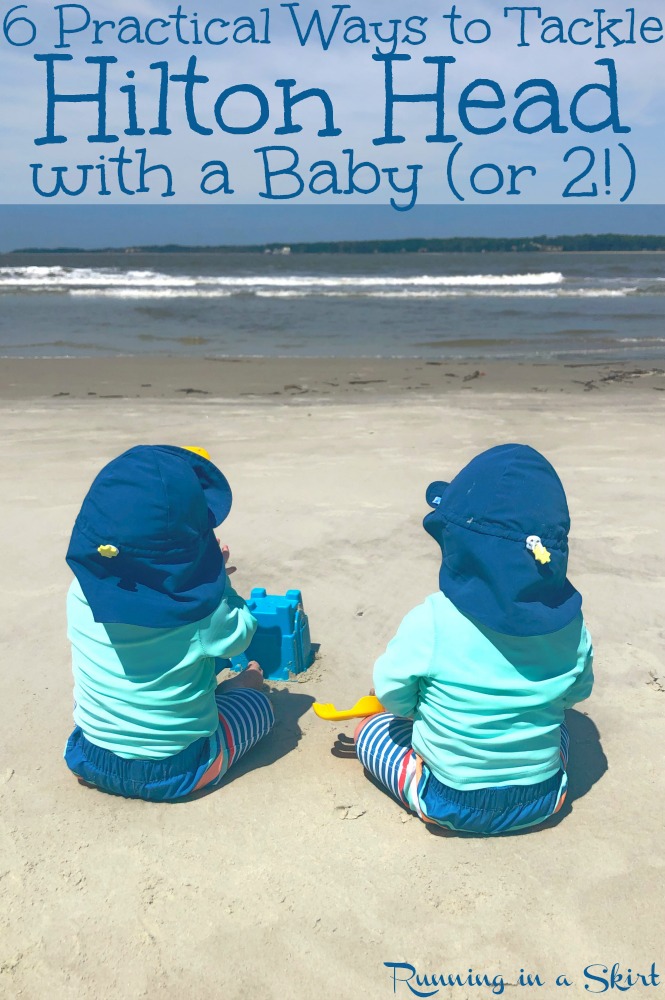 Going to the beach this summer with your new babies? Here's my best advice to tackle Hilton Head with a baby!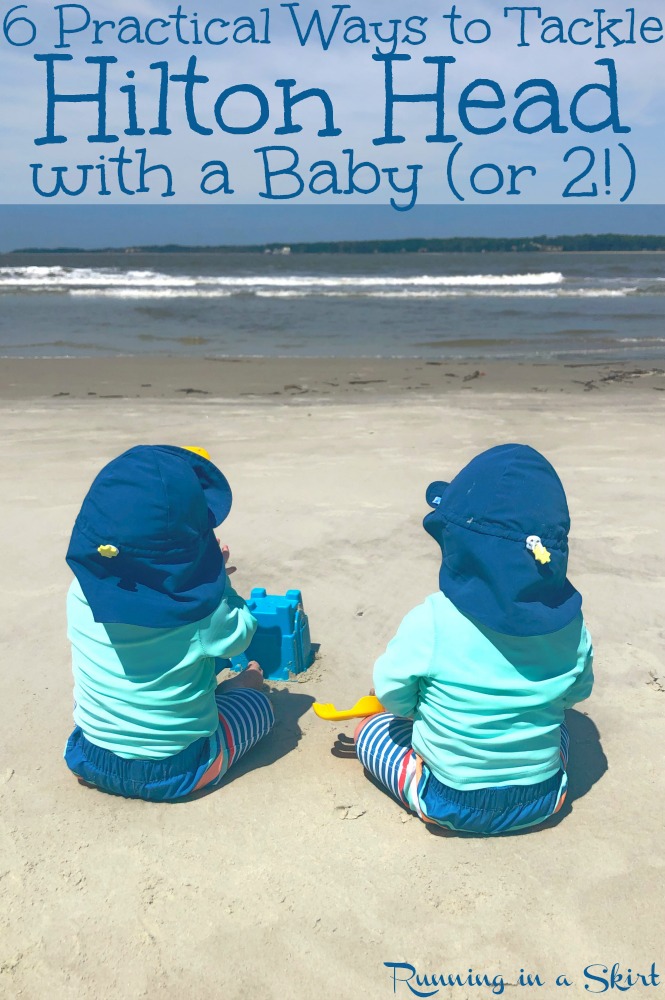 Hello! Hello!
We've been back from the beach for a week now and I've gotten some questions from friends and readers about how we handled the twins at the beach. On the surface, it was a little overwhelming to figure out the logistics of how to get the babies to the beach, have shade for them, have toys for them and actually have fun with them. However, we worked through a lot of it ahead of time, made a few key purchases that allowed us to make the most of our time there.
I wrote a post about the trip with the best photos and highlights, but I also wanted to do more of practical logistics post. I decided to share some of the things we did that really worked for us, to hopefully make trips easier for some of you in the future. I wrote this with our trip to Hilton Head with a baby in mind, BUT many of these tips will work for you no matter what beach you are taking your baby (or babies!) to. In fact, I'm already working on some of these things for our August beach trip to Deleware.
Going to the beach with babies requires some work, but it was also a lot of fun!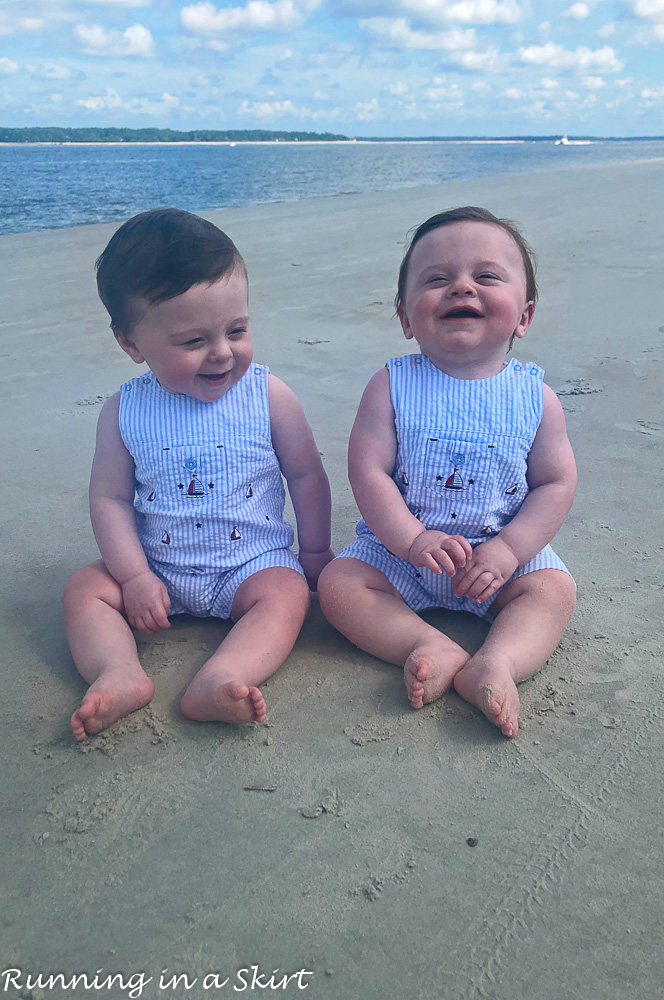 This post does contain Amazon affiliate links!
How to Tackle Hilton Head with a Baby (or 2!)
Pick the Right Place to Stay
One of the best things we did for this trip was to find a condo with a full kitchen and multiple bedrooms right on the ocean, near shaded walking paths and near food. Since we felt like it was important to keep the babies on their routine on the trip, we were basically stuck in the condo for about three-plus hours a day while they napped. They also go to bed at seven, so we spend the evenings there too. Because of that, I felt like this was the year to splurge on a place with a great view that we really liked.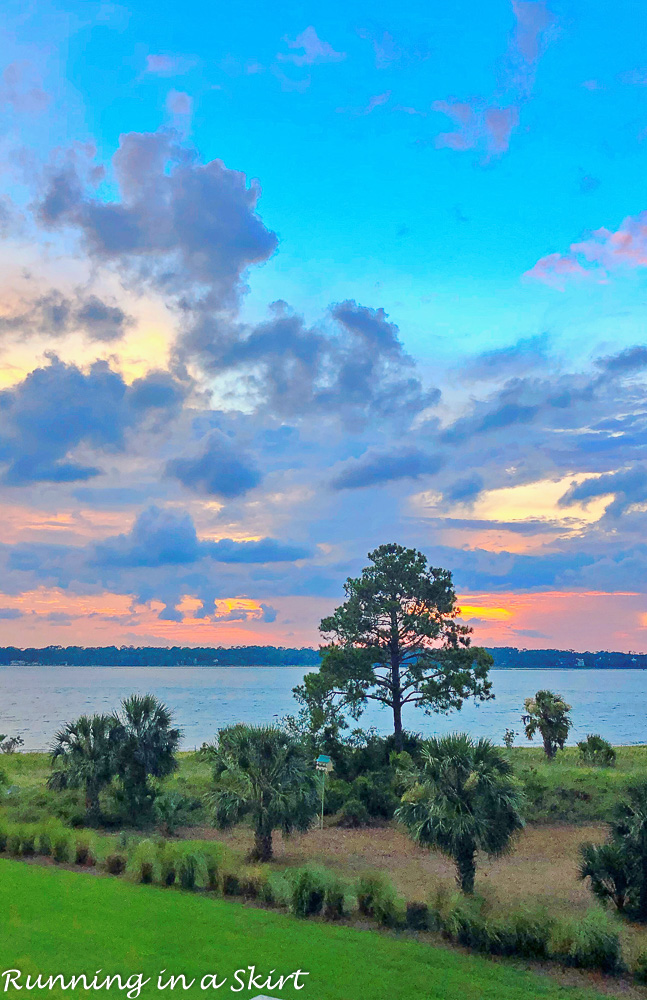 Since the babies had their own room, we could still enjoy ourselves during the big chunk of the day they were sleeping. We got these very portable, lightweight and easy to use travel cribs for them so they would have a familiar place to sleep when we travel.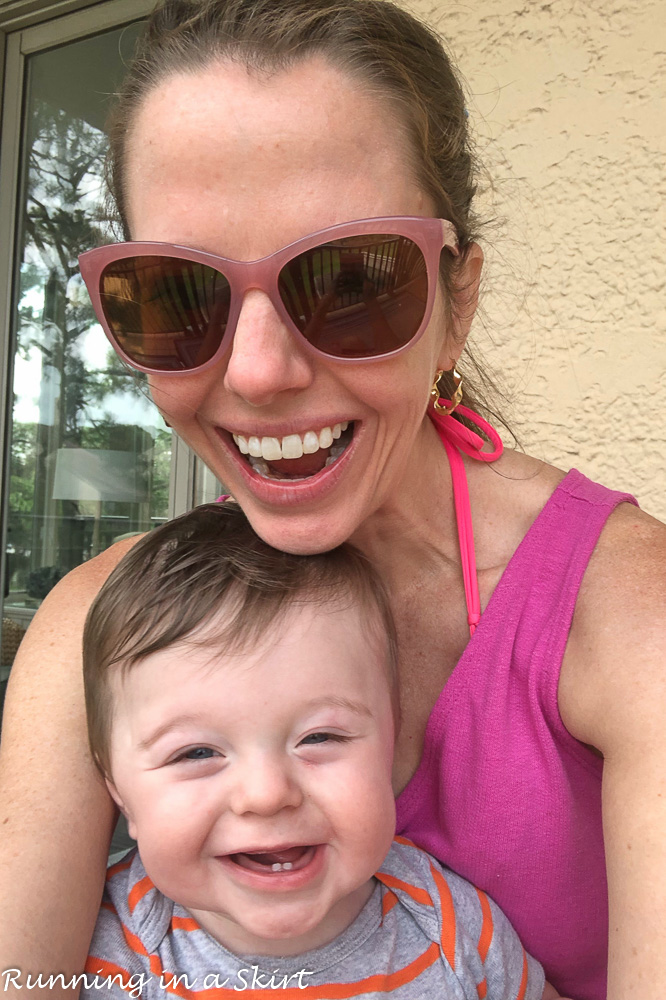 I spent a lot of my time outside on the pretty lanai watching dolphins and reading. So even though I was doing a lot of work when the babies were awake, I still had some of my own moments to relax and watch the water.
As the boys get older and we're spending most of our time actually at the beach, I don't think the view and place we stay will be as important but for now, it felt like it was worth the expense.
Beach Logistics
The Hubs and I have always taken our own shade to the beach because we are fair-skinned, but we knew our two-person umbrella set up just wasn't going to cut it anymore with our even more tender skinned babies. Since we take our own small plane on these trips, we are very limited in the amount of stuff we can bring and how much it weighs. That meant buying a big traditional beach tent was not an option for us. I imagine even if you are just packing a car for the beach space will also be a problem for you. Babies come with A LOT of stuff!
After some research, I found these beach canopies online that weigh less than 5 pounds. They are held down with sandbags you fill on the beach. They even fold up into a small tube including the polls. They could fit in a suitcase if you needed them too. I decided to go with the original brand and was so pleased.
The Hubs could easily set it up in less than 10 minutes. It was a bit tricky at first because we had to take into account the sun angle AND where the wind was coming from, but once we got that, it worked great. We are considering buying an extra pole for it for the next trip, but you don't need it. I also got us a beach blanket/tarp which is also held into place with built-in sandbags. It is made of a fabric that sand doesn't stick to. If you are doing Hilton Head with a baby... I'd totally get these.
I had a few people ask me about it so here are the Amazon links (affiliate links) to what it is...
Tent <--- folds up TINY and weighs only 5 pounds total. I bought the largest size.
Beach Sheet <--- has pockets to fill with sand so it doesn't blow away and sand doesn't come through or stick to it!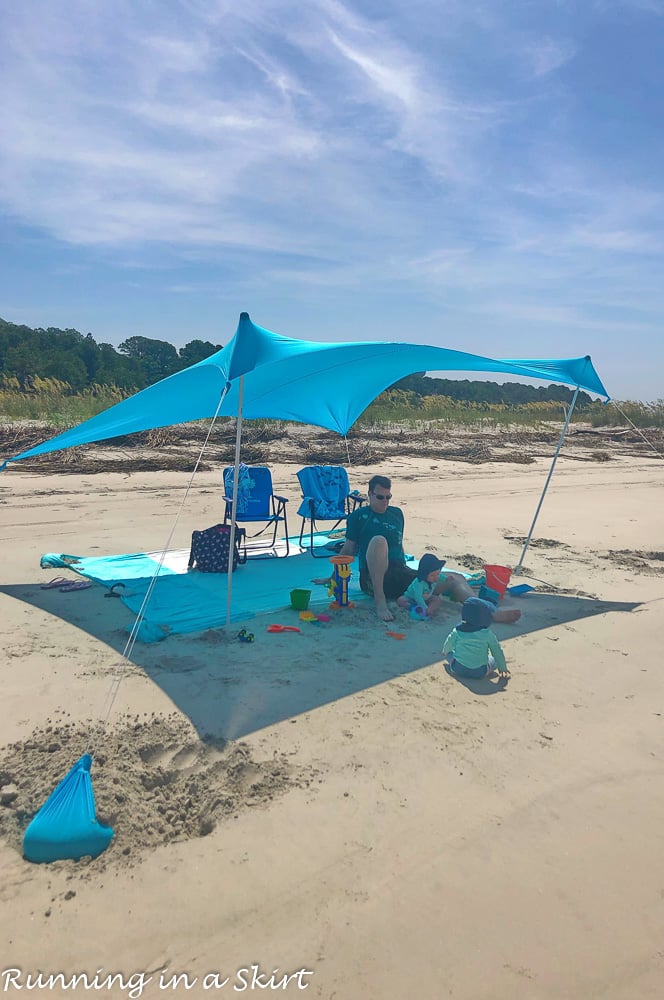 We also got the babies these super practical, but not so cute, beach hats. So even when they crawled out of the shade, they were protected.
The babies also LOVED the beach toys and highly recommend you get some!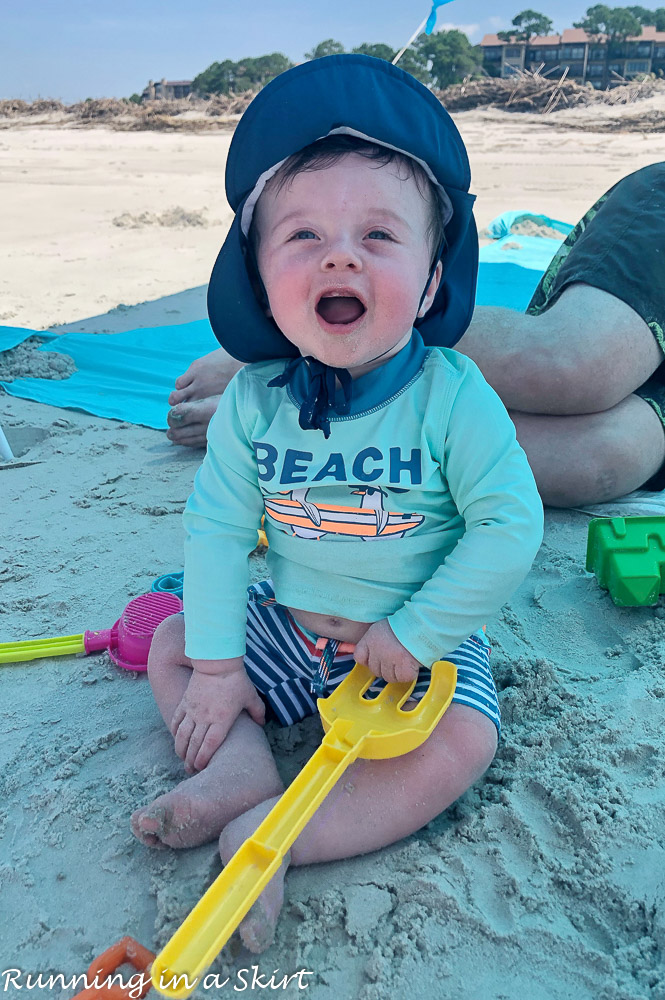 Rent a Jogging Stroller
One of the best things we did to prepare for our trip to Hilton Head with a baby was rent a jogging stroller. We could only fit one stroller on the plane and decided to bring our traditional stroller and rent a jogger to take out to the beach.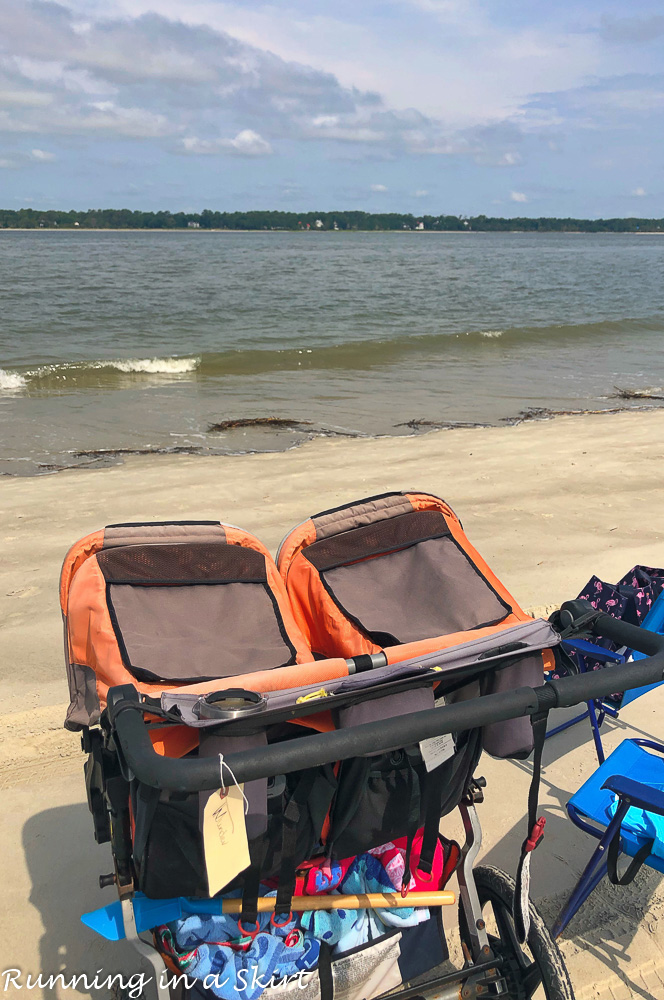 It allowed us to take the boys out easily, carry some gear and keep everyone contained while the Hubs put up the beach canopy. The sand at Hilton Head is nice and packed, so rolling them out to the beach wasn't a problem.
The rental got SO MESSY and sandy and I was so glad that I didn't bring our brand new one. Even if I had space to bring ours in the future I will always rent at the beach just because of how messy it gets. The boys loved it too. It made doing Hilton Head with a baby so much easier.
Not sponsored in any way... but we had good luck with this rental company. It was so easy and they delivered it to us by locking it up on a nearby bike rack. To return it all we had to do was lock it back up, so it was really no fuss.
Pool Logistics
Taking two babies to the pool? That requires some planning! 🙂
I ordered two different pool floats for our trip to Palm Coast and one of them they babies liked so much more, that I ended up ordering a second one. The other one was super cute and looked like a giant fish, but it just didn't work as well.
This pool float held them up with ease, allowed them to kick, had shade and came with a collection of pool toys they thought were amazing.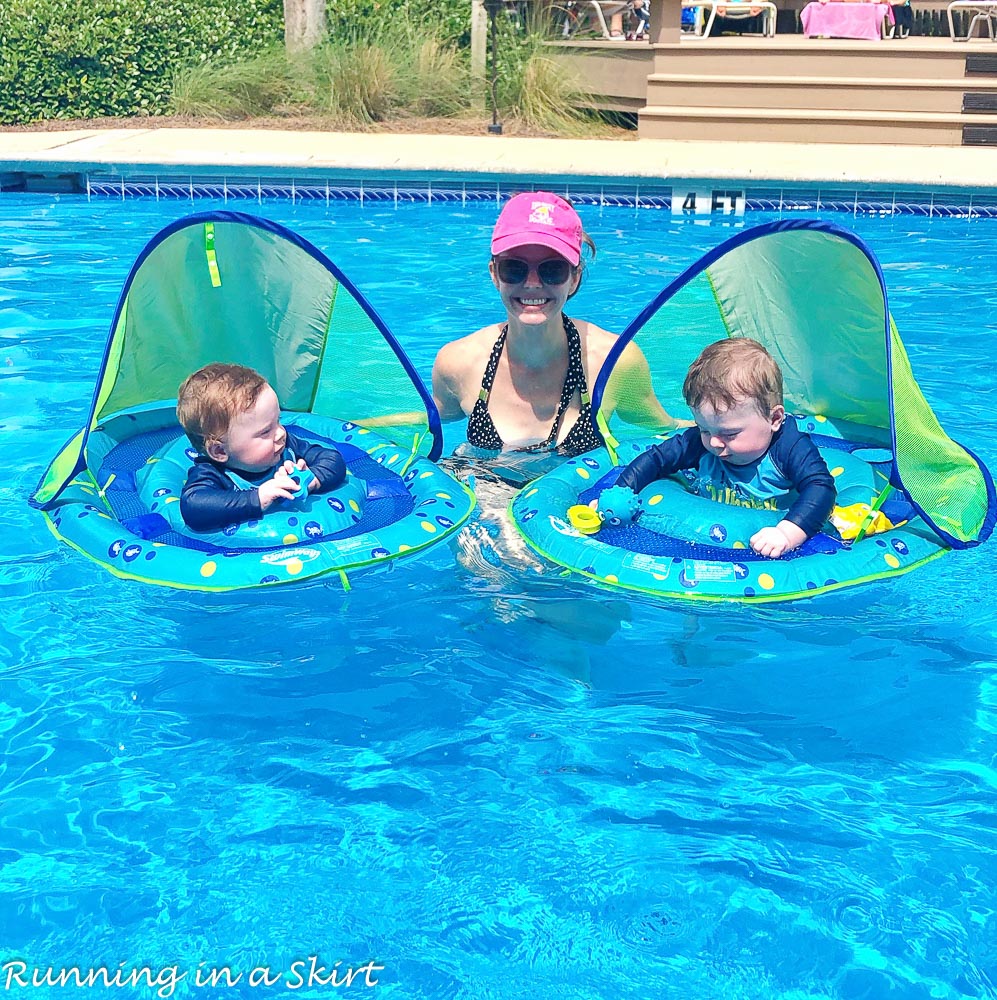 The babies seemed to love the pool almost more than the beach so it was worth the effort for us to do both.
Shaded Walks
Going for walks is a daily part of the babies routine, so we continued the tradition in Hilton Head. Getting the babies cleaned up from the pool and beach before naps was an ordeal, so we only did that once a day. Filling the rest of the day with a family walk was perfect.
It was really hot in Hilton Head, especially for our mountain boys who are used to cooler temps, but the shaded walking paths seemed to really help.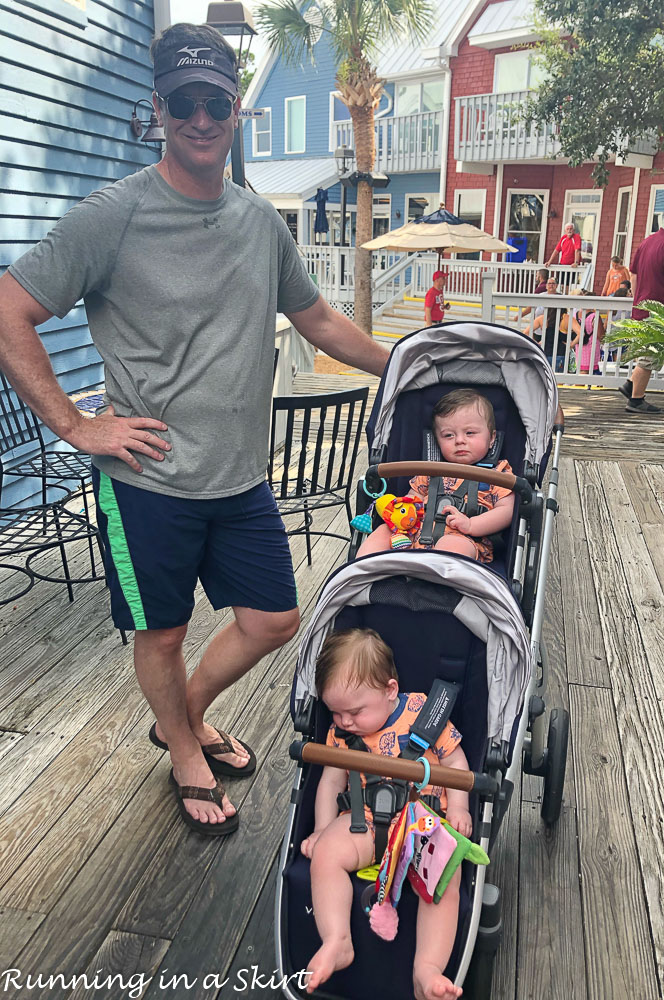 Our condo was near the South Beach Marina and The Salty Dog so we also walked there to get an evening cocktail. 🙂 An evening cocktail is another great way to manage two babies at the beach.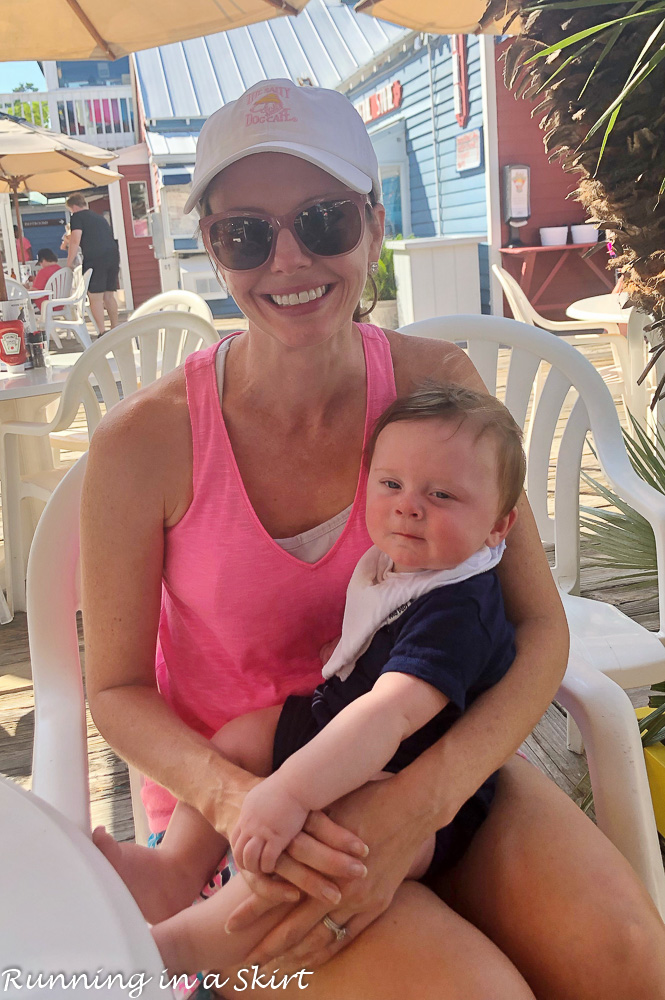 Order Dinner Delivery or Takeout
The way the babies schedule is right now it is really hard to take them out to dinner. They go to bed at 7, so at this point, it's just easier to wait and eat an adult meal after they go to bed. We ended up ordering takeout for most of our meals and it worked great. We got to have a nice meal from some of our favorite restaurants with our gorgeous condo sunset views.
On the weekend nights when the restaurants were busier, we had trouble getting anyone at the actual restaurants to pick up the phone so we opted to use the dinner delivery service in Hilton Head. Hilton Head Delivers worked great and they even brought our favorite, Skull Creek Boat House, all the way across the island to South Beach.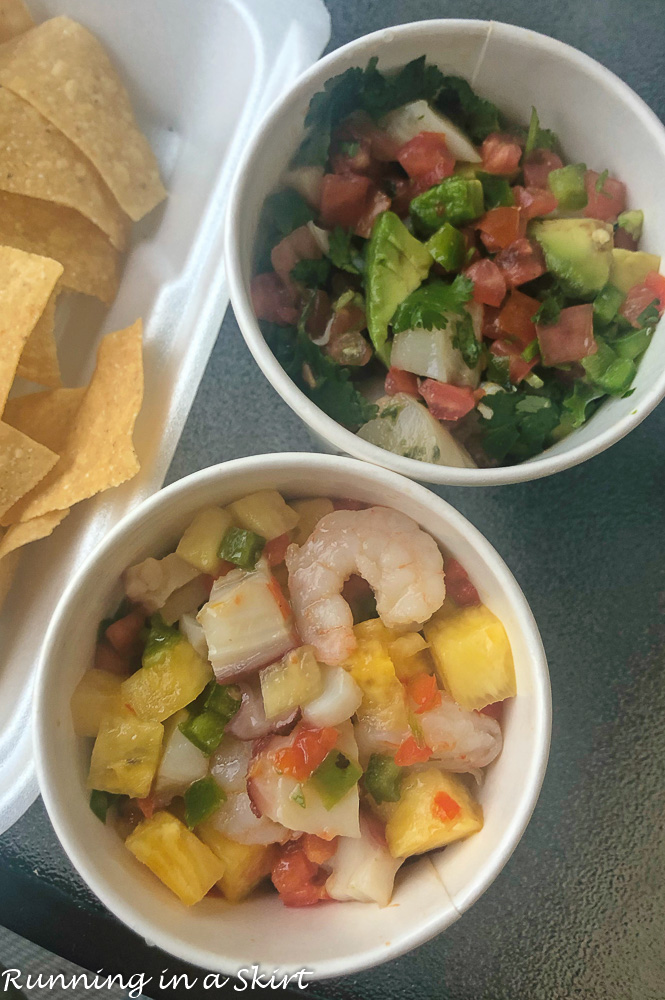 It cost a little extra, but if you don't feel like driving out to get the food, I think it was worth the extra expense! We ended up using it twice and loved it.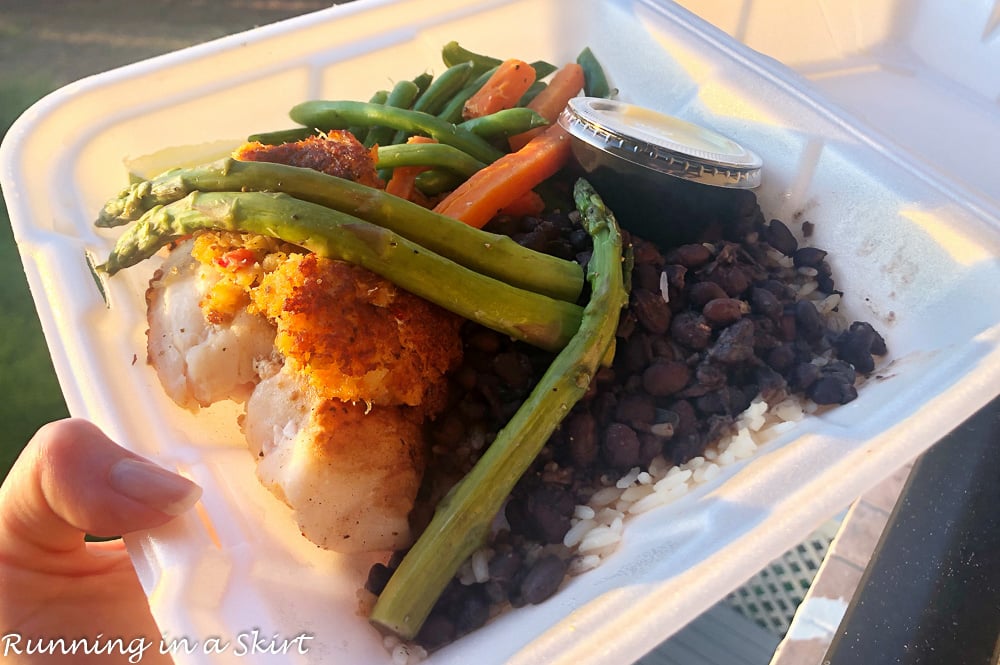 Hilton Head with a Baby
The babies are still pretty young, so there is only so much they can do. The two naps and all the feedings kind of keep us close to home, but the beach, pool, gorgeous walks and fancy delivery meals were more than enough to make us feel like we were on vacation. The evening sunsets from our condo were just icing on the cake.
I hope these small tips help you do Hilton Head with a baby or inspire you to take your young family on a beach trip.
Other Kid-Friendly Things to Do on Hilton Head
As the babies get older, these are some of the things I'm looking forward to doing!
The Sandbox - local children's museum
Adventure Cove- mini-golf
Coastal Discovery Museum - interactive nature museum
Coligny Plaza- Shopping and kid-friendly stores, also home to a splash pad near public beach entrance!
Lawton Stables - horseback riding in Sea Pines
Dolphin Tours - go out on a boat to see dolphins
Harbor Town- Gregg Russell sing-along evenings
Shelter Cove - weekly fireworks shows
Pin for later!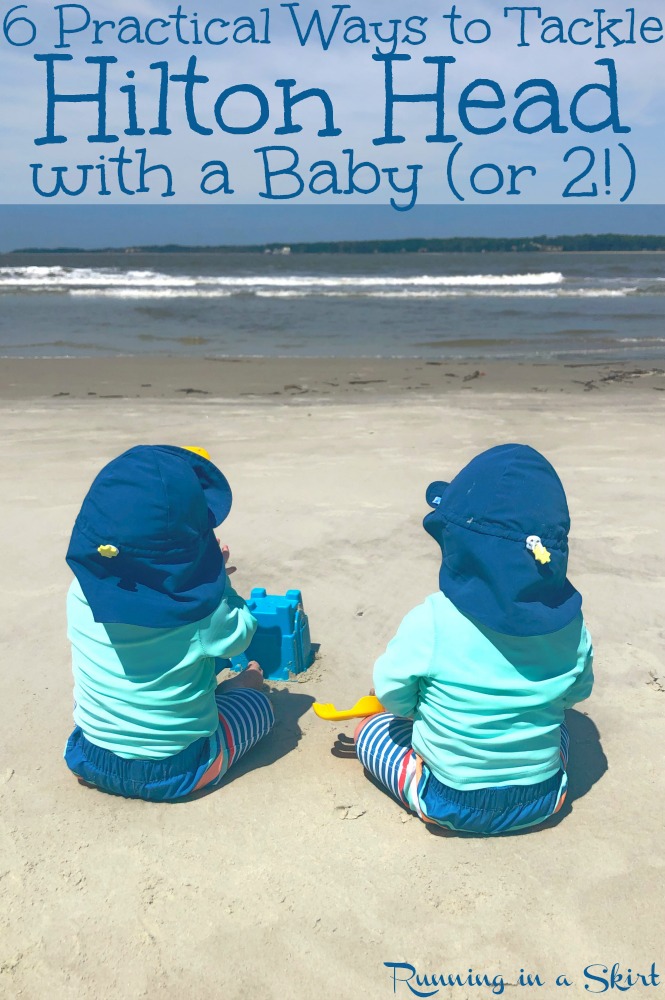 Need More Hilton Head Tips?