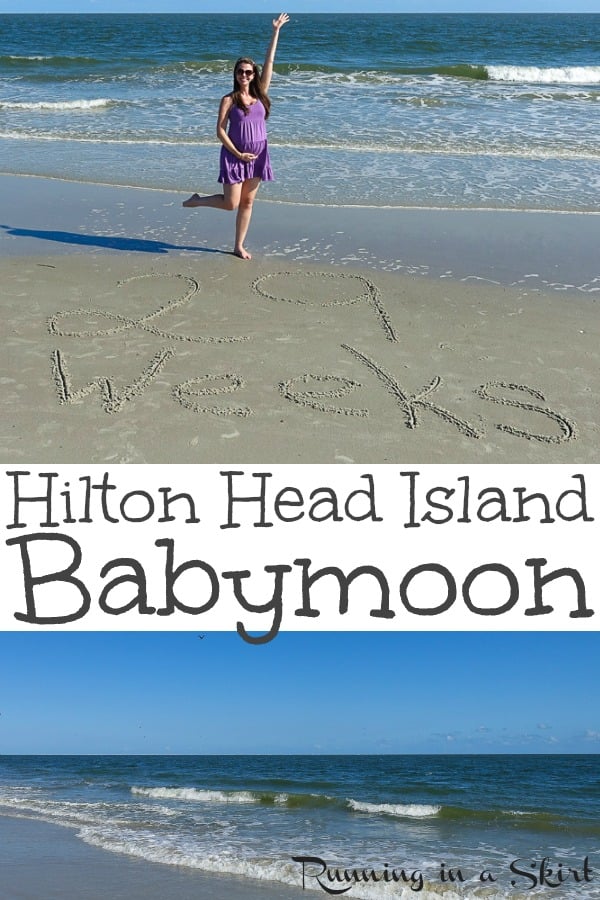 My Hilton Head Babymoon was the perfect last getaway before the twins arrive!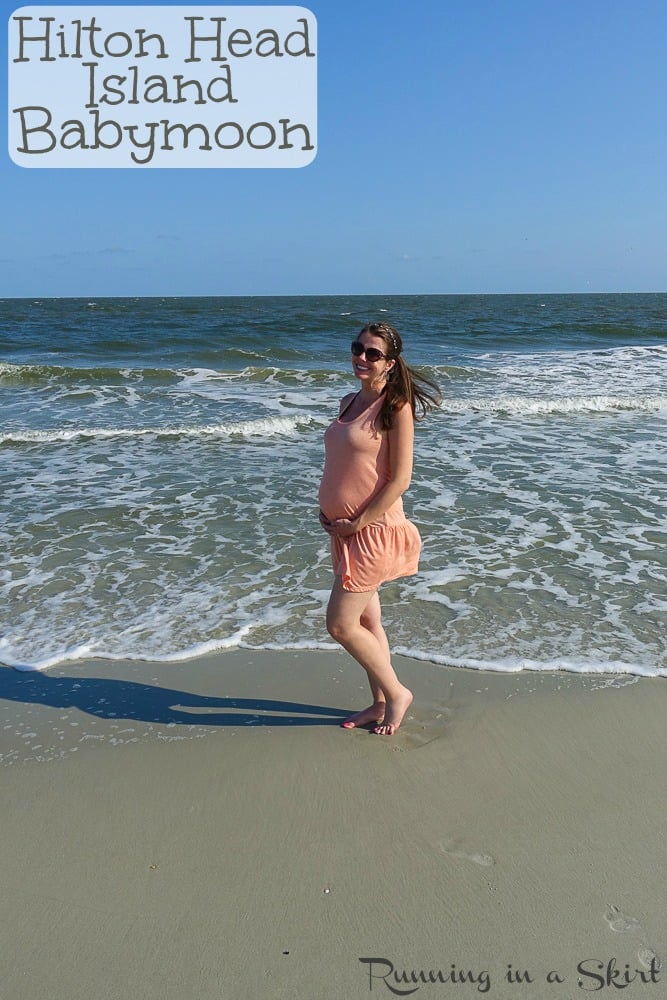 Hi everyone!
Early on in my pregnancy, I wanted to know at what point the doctors didn't advise me to travel. As a travel lover, I knew being grounded for a while was going to be hard. They gave me a date and the Hubs and I looked at the calendar and decided to take one last mini getaway before that date hit. Since I knew I'd be pretty uncomfortable by then we decided to do something fast and familiar... Hilton Head Island. I know we are creatures of habit... but at least we know what we like... right? 🙂
We had already done one mini-babymoon to Niagara Falls and this Hilton Head Babymoon was the perfect, more relaxing compliment to that trip. Here are the highlights....
Hilton Head Babymoon
Friday
The Hubs and I got to the island for our Hilton Head Babymoon last Friday and immediately made our way to the beach. We only had a few hours to enjoy the surf, so we soaked in every last minute we could. We basically did nothing and it was perfect.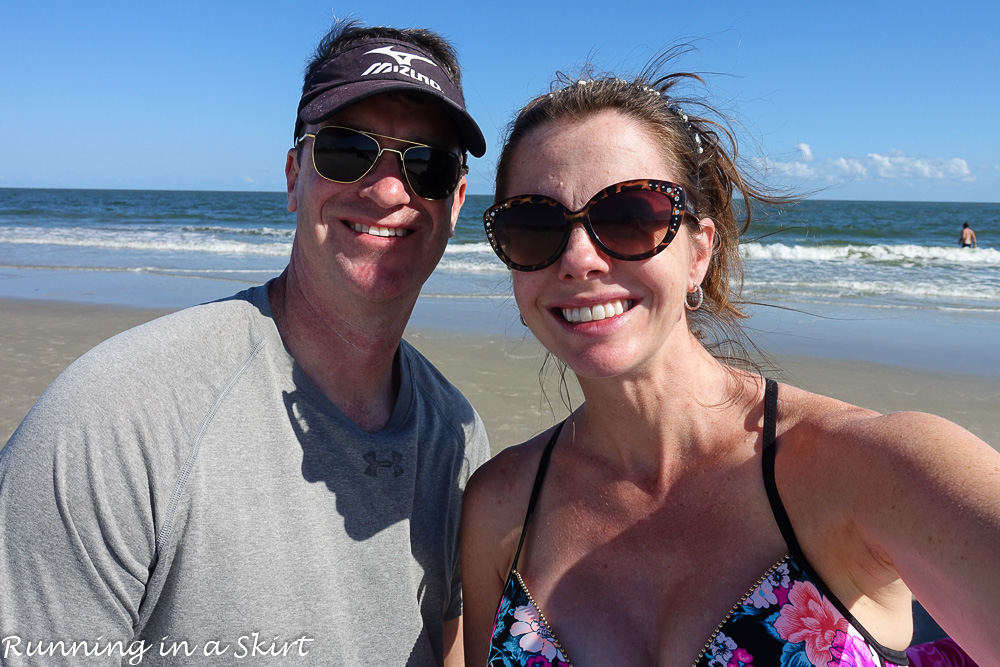 As the sun was setting we packed up our gear to get ready for dinner. We were lucky and got a gorgeous ocean view upgrade and caught the edge of the sunset colors from our room.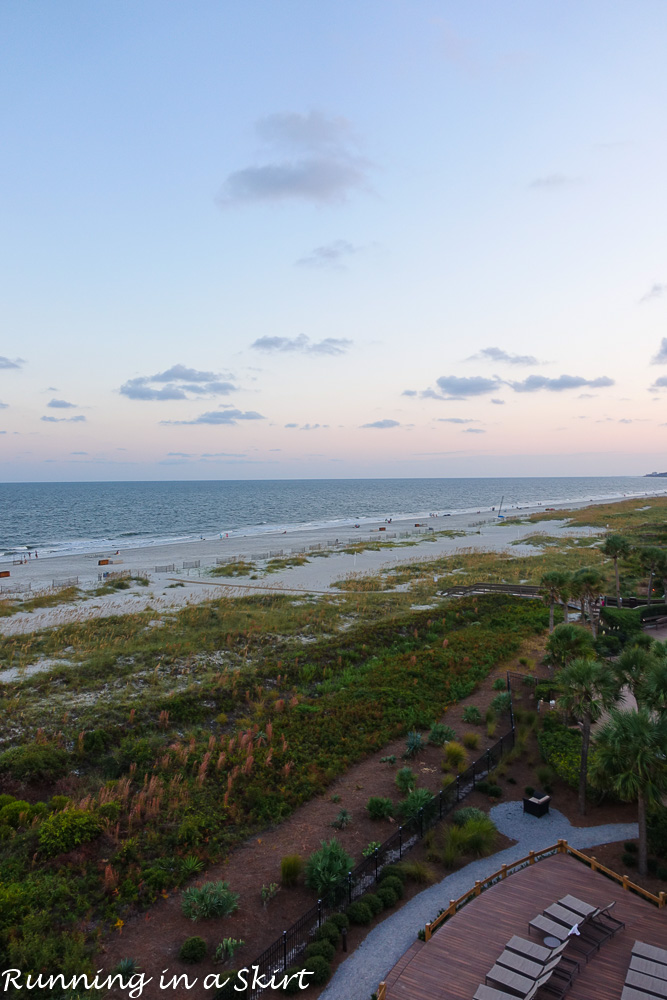 For dinner, I made reservations at our favorite place, Charlie's
*Check out my favorite restaurants in Hilton Head HERE.*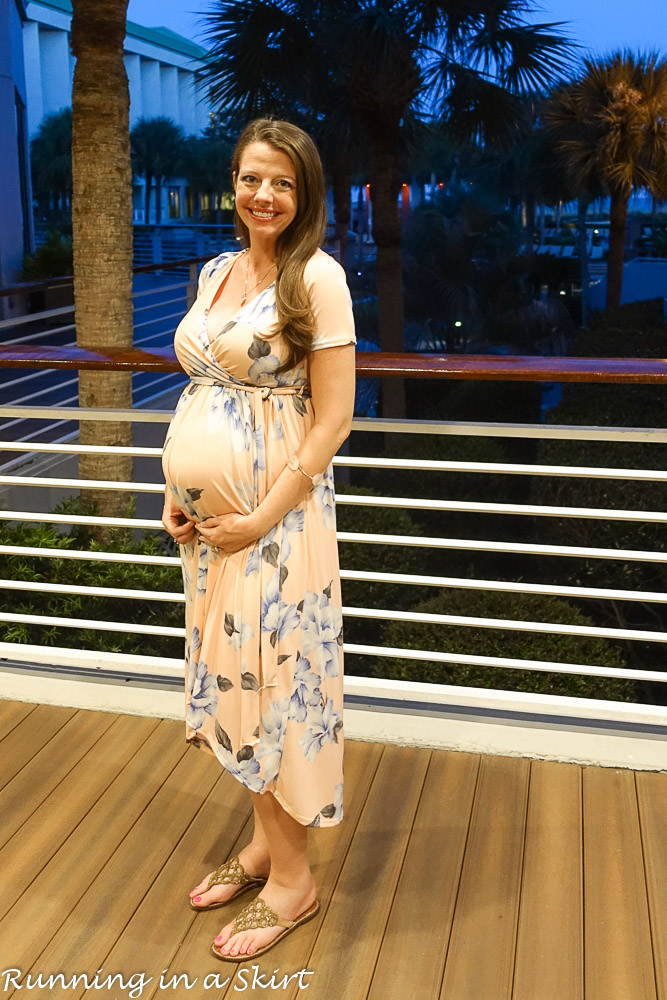 The Hubs and I enjoyed a quiet dinner and lingered over the table. We know dinners like this are going to be hard to come by in the next few years so we are trying to enjoy them while we can.
We shared a Caprese salad and shrimp soup.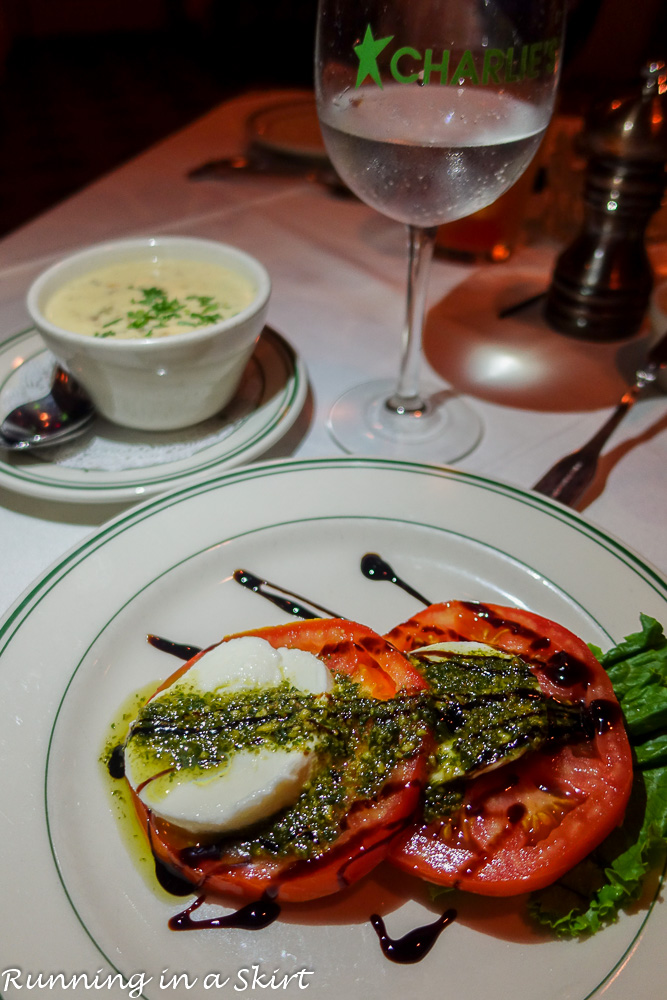 I got the grouper with mushroom sauce for my dinner and the Hubs got a blackened triggerfish. They were both incredible.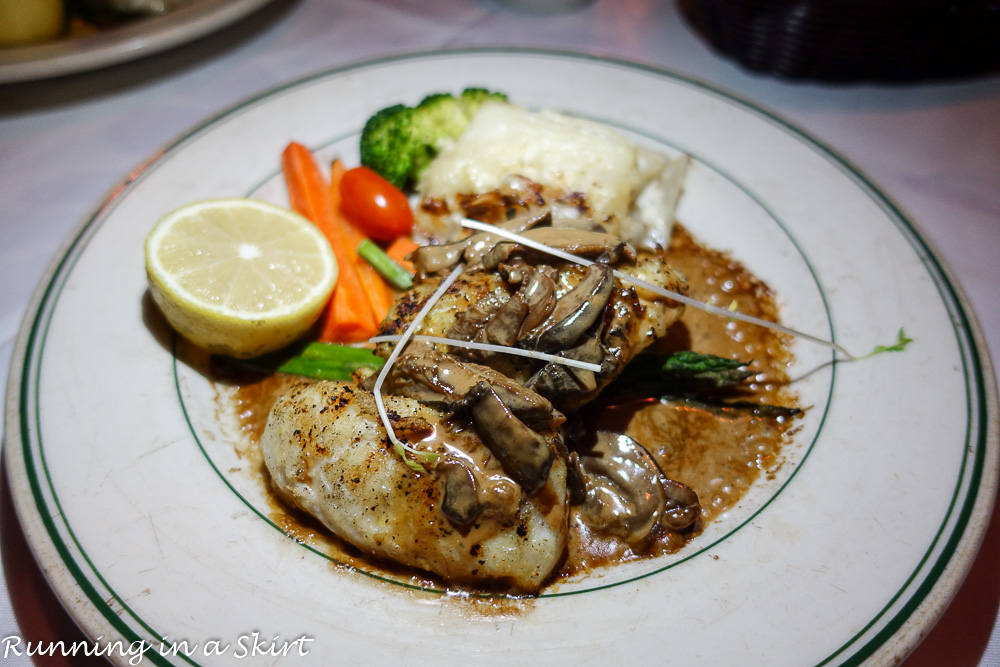 We took a piece of our favorite caramel cake back to the hotel room and called it a night.
Saturday
Saturday was the only full day of our Hilton Head babymoon. It started off slow with a long breakfast before heading out to the water. The skies were perfectly blue without a cloud in the sky and the water was so smooth.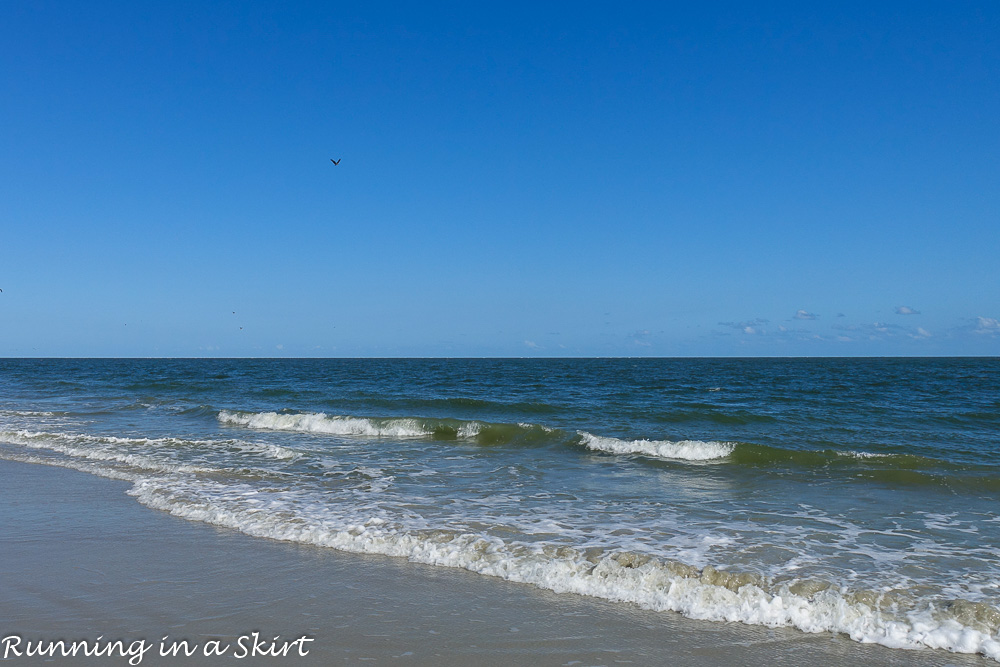 For lunch, we got food from the hotel and brought it out to the water and we basically spent the entire day on the sand. Once again we know relaxing beach days are going to be a little more hectic in the near future so we were just soaking it in.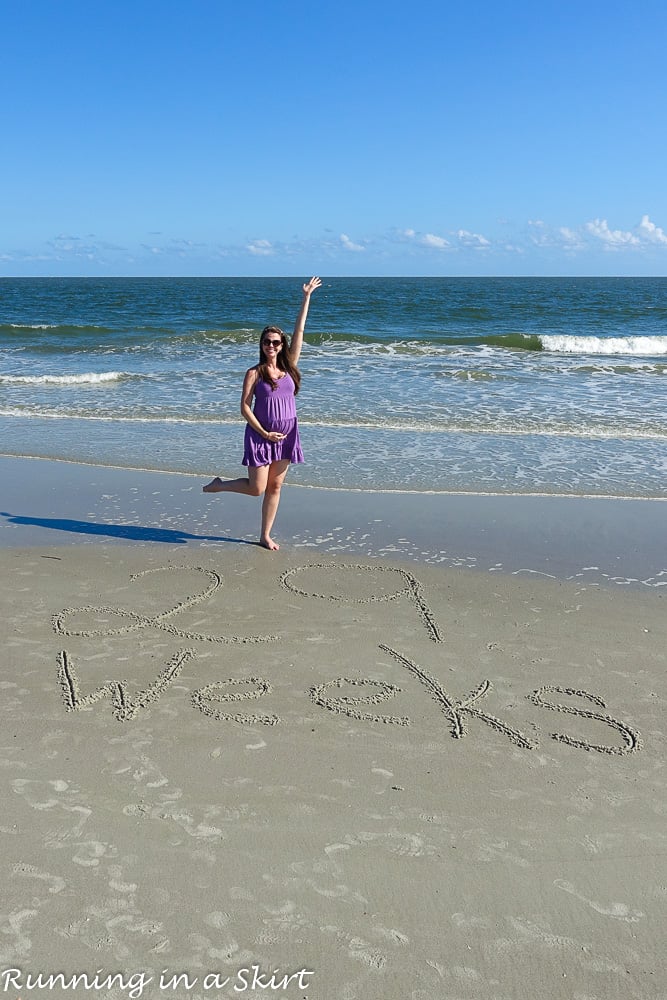 After a near perfect beach day, we got dressed up for dinner at Hudson's.
Yes... you've seen these dresses recently but I only have a few to wear right now! lol 🙂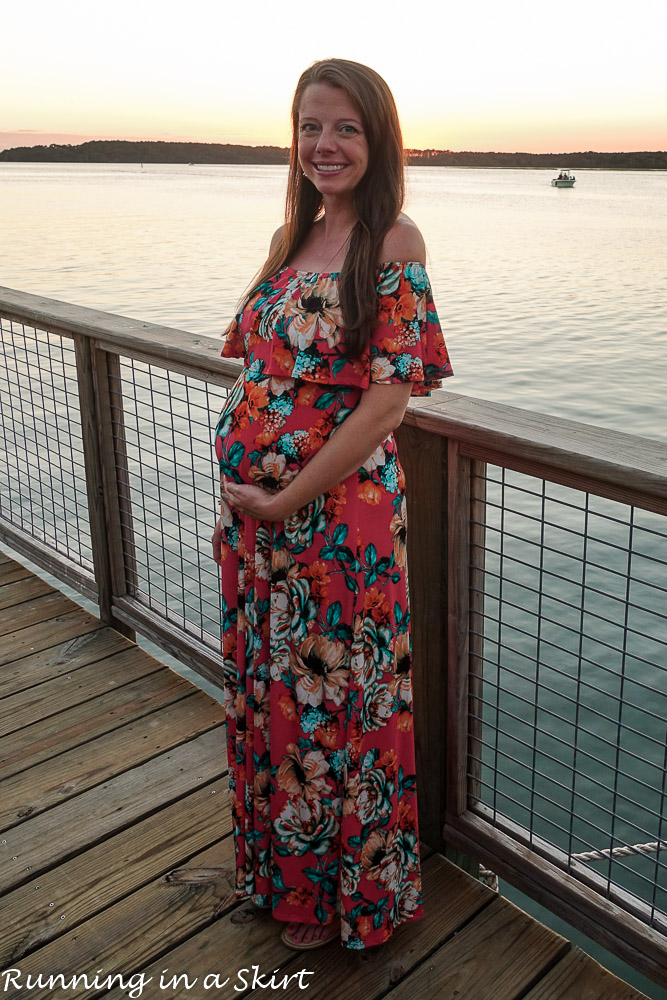 The clear skies made for a beautiful beach day but clouds normally help a sunset sparkle a little more.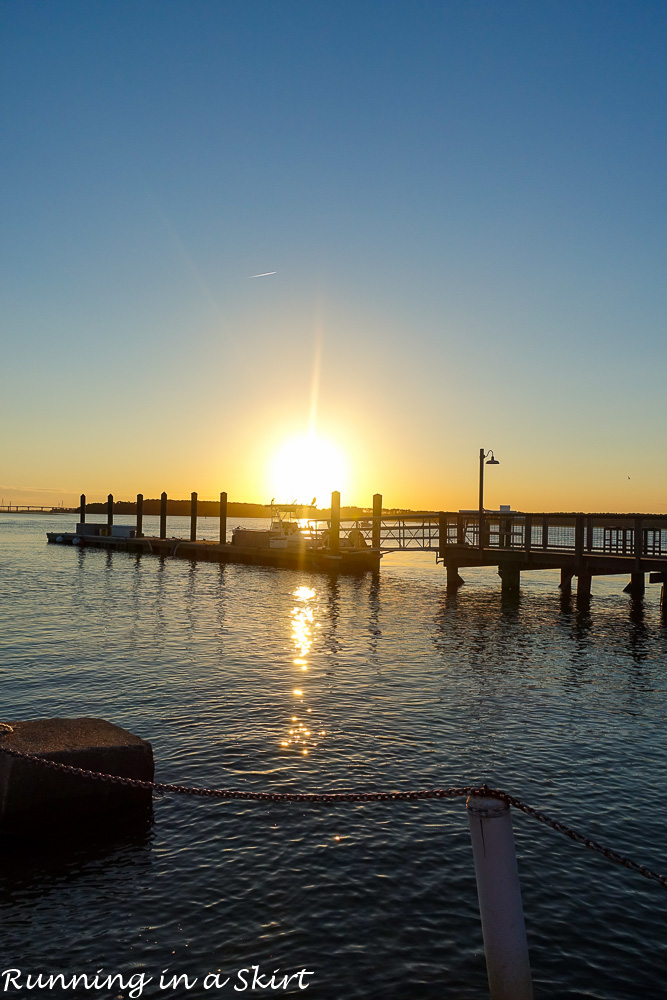 I still got a few pretty pics as the sky nearly glowed as the sun went down.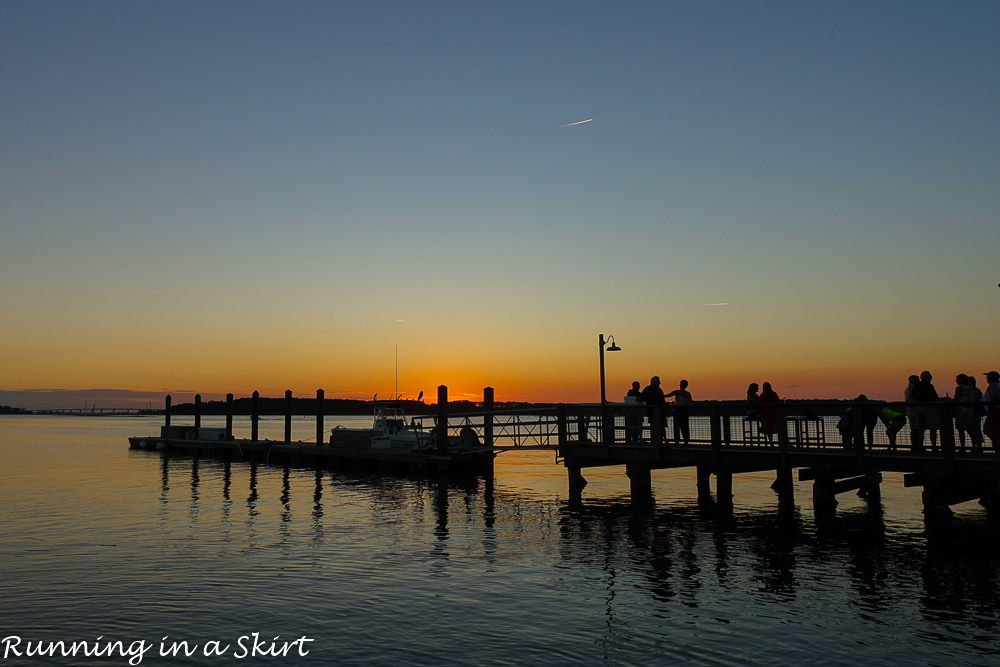 It was the perfect ending to a near perfect day.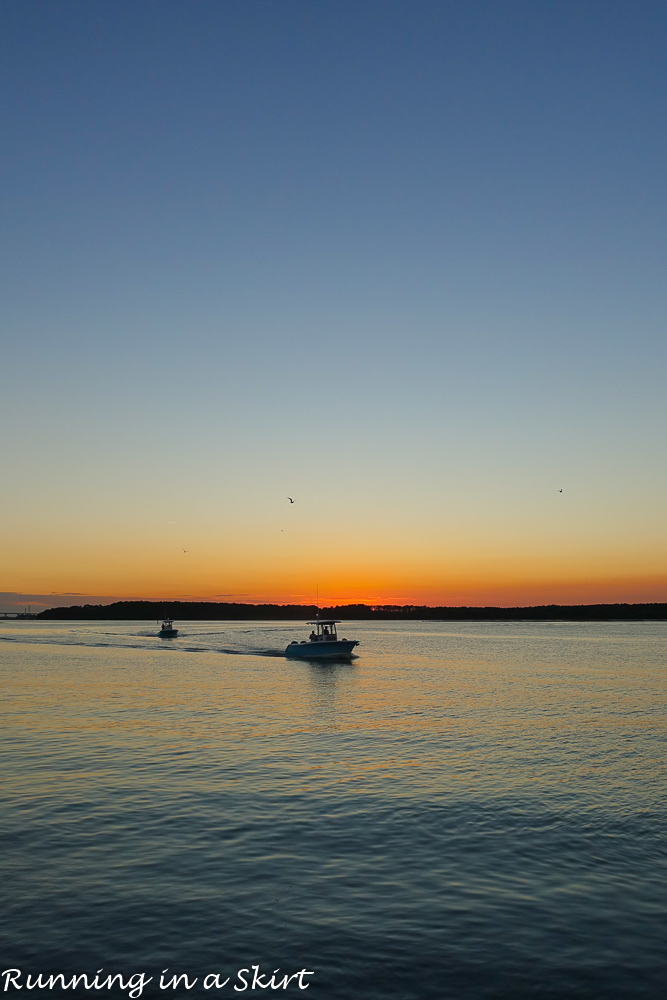 While we waited for a table the Hubs and I shared some shrimp and watched some of the Gator game on his phone. Hudson's has THE BEST shrimp anywhere. The catch them within hours of serving them.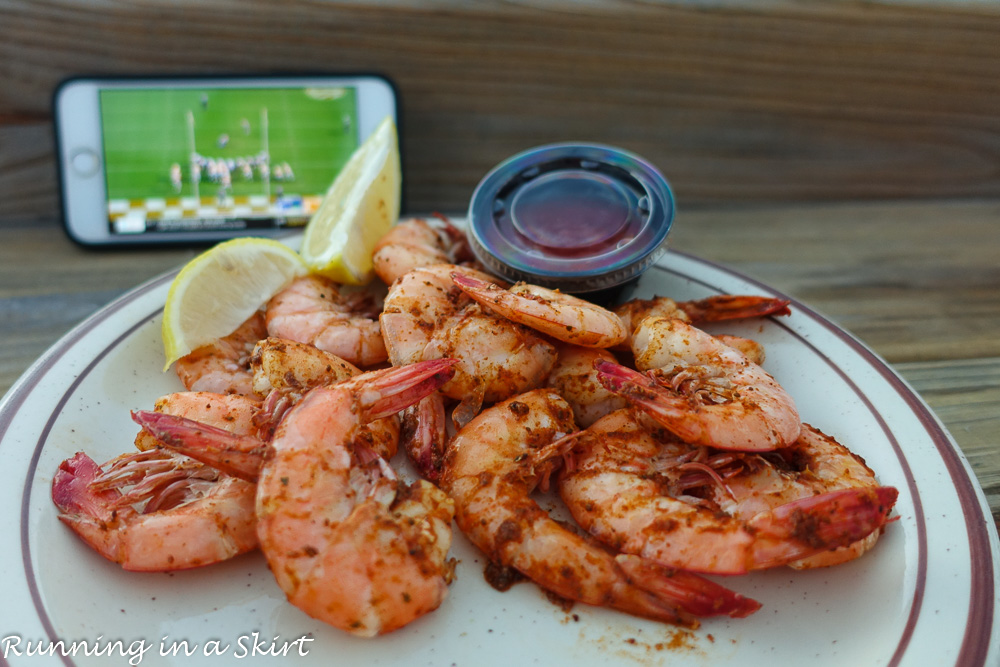 Once we sat down we shared some grilled oysters and clams.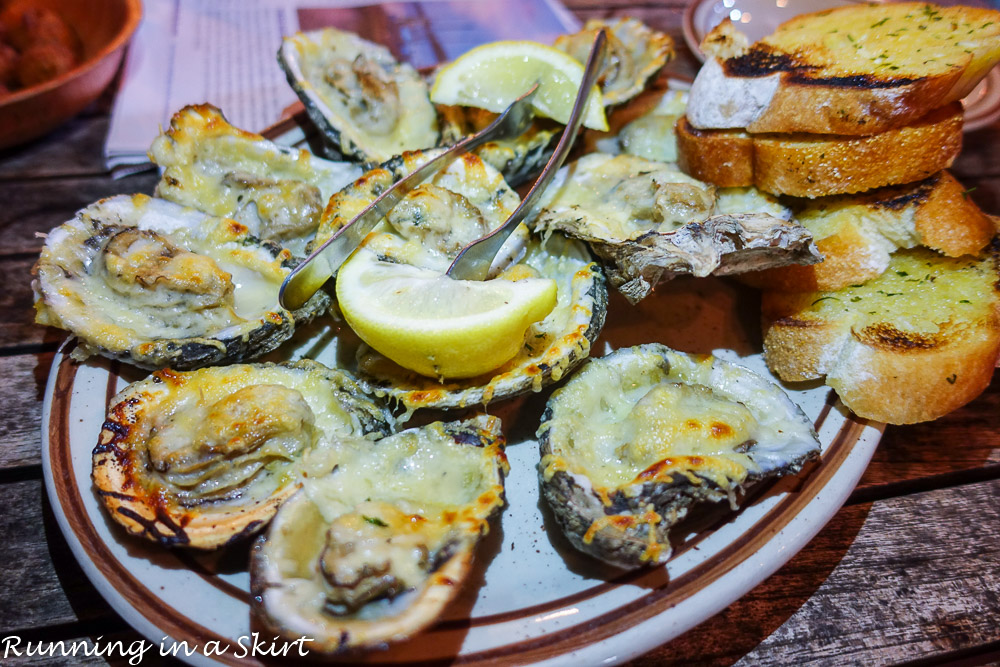 Don't worry they both were fully cooked and pregnancy approved. 🙂 We also shared an entree and I mainly ate the veggie sides because I was so full by this point. I can't seem to eat nearly as much these days.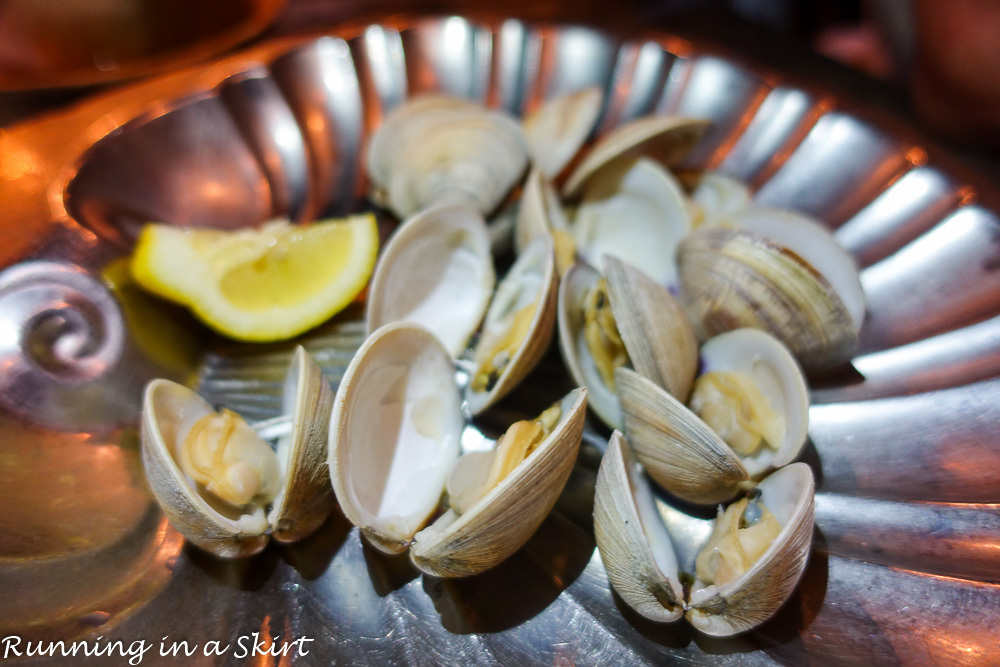 We took some Key Lime Pie home to enjoy in our room and went to bed very full and happy.
Sunday
On the last morning of our Hilton Head Babymoon, we had a slow start to the day again. We ate breakfast outside and I enjoyed some oatmeal, eggs, and fruit.
The clouds had moved in overnight so it was actually really pleasant in the morning and perfect to eat outdoors. I actually think clouds at the beach can be pretty sometimes.
After breakfast, we went back to the beach to soak in a few more hours before going home. By this point in the trip, my feet were not loving the heat and travel and had BLOWN up to a crazy size. Even my big flip-flops didn't fit. The Hubs rigged me a footrest to help! I can see why the doctors want me to stay put after this weekend because my body honestly didn't respond well to travel.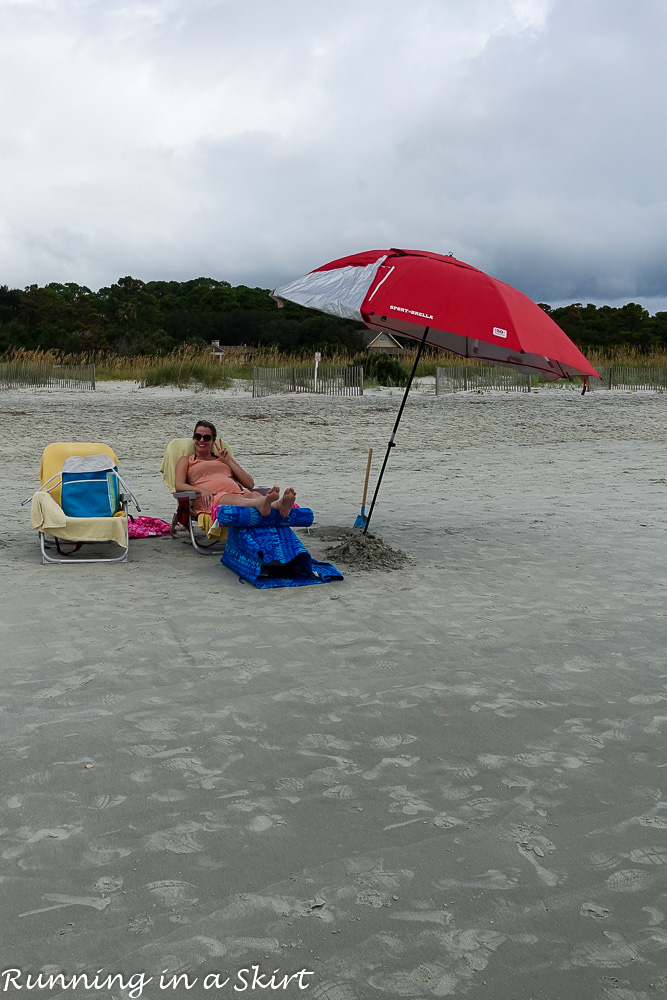 Just as we were getting comfortable those innocent looking clouds turned darker. We stayed outside as long as we could, but eventually called it and packed up to go home.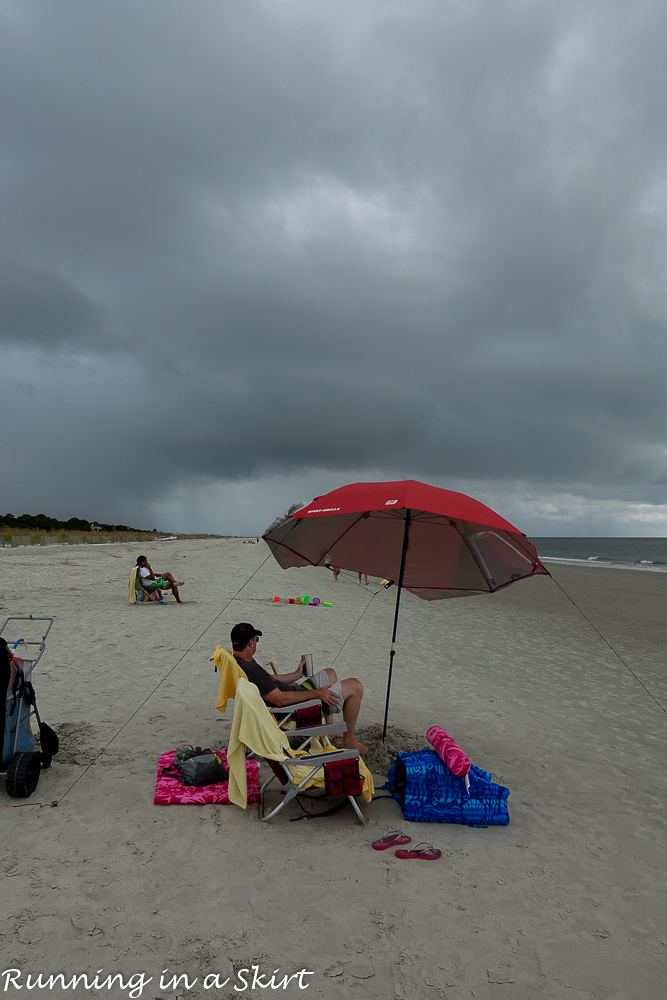 On the way out of town, we tried a new to us restaurant, Dockside at Skull Creek. My favorite dish was the shrimp nachos we shared. They were really tasty.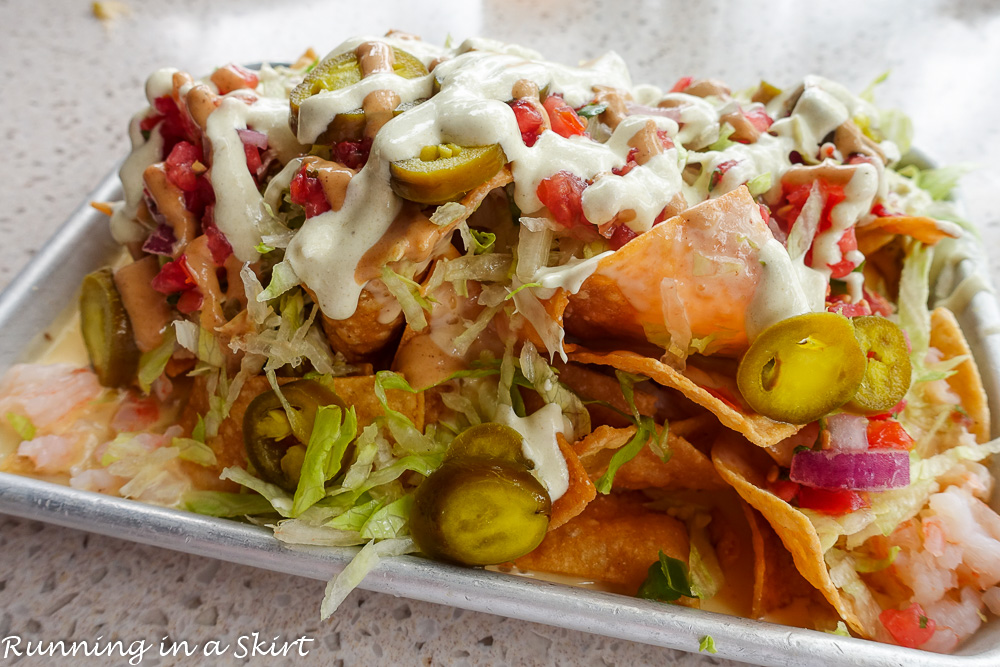 The view was also gorgeous and gave us a little more time with the water before we left.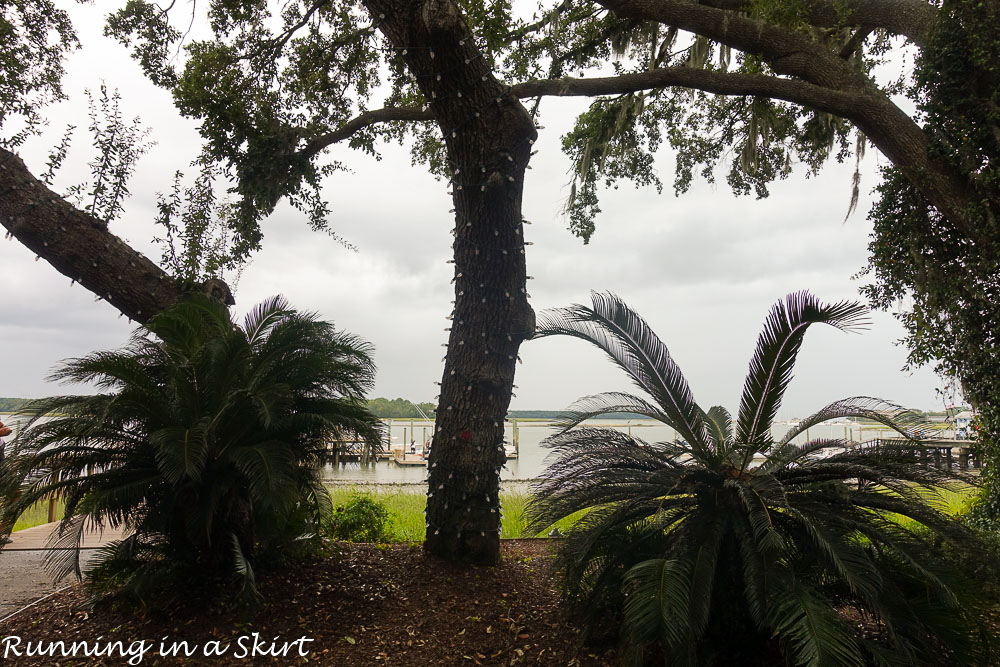 We left Sunday relaxed and happy... the perfect Hilton Head Babymoon. I loved every minute of our getaway and am glad we got some quiet beach time in before everything changes. I'm looking forward to years of chasing two sweet boys in the sand. I just hope they love this place as much as I do.
Love Hilton Head?
Pin for later!

Your turn!
Did you take a babymoon?
Parents- any tips for taking babies to the beach?? 🙂