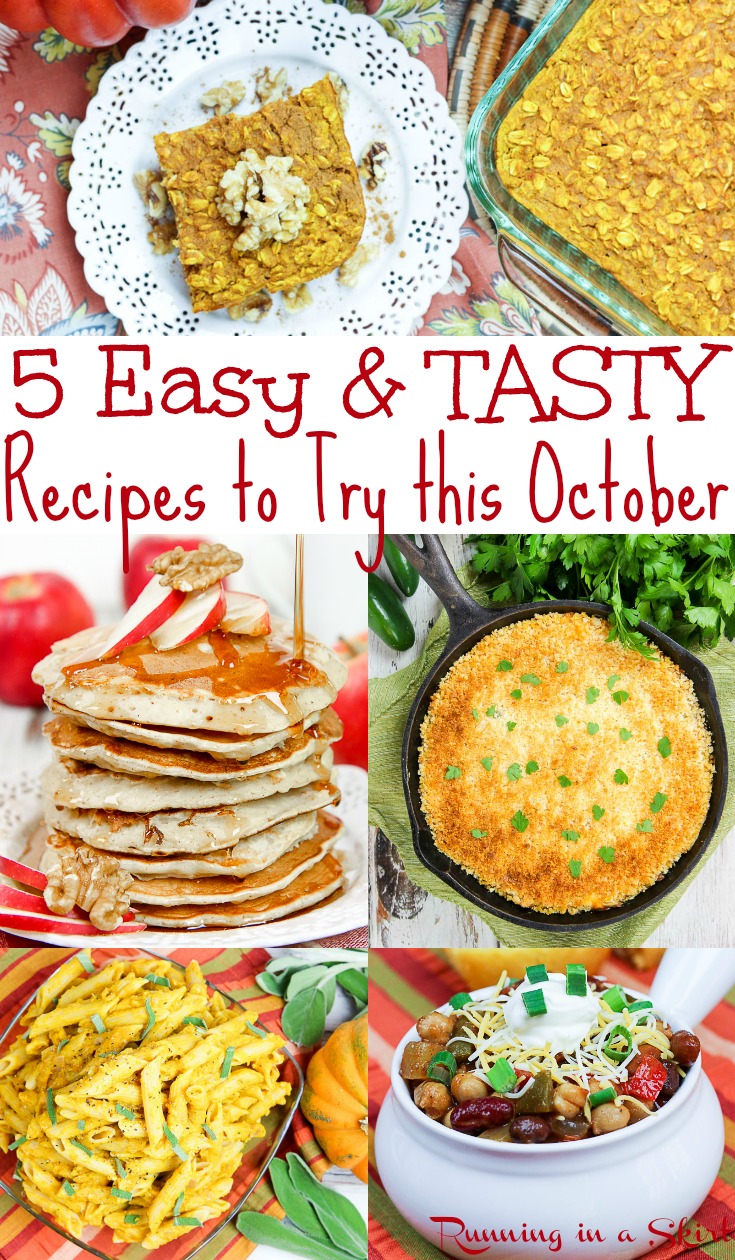 Mix up your meal planning this month with my 5 recipes to try this October!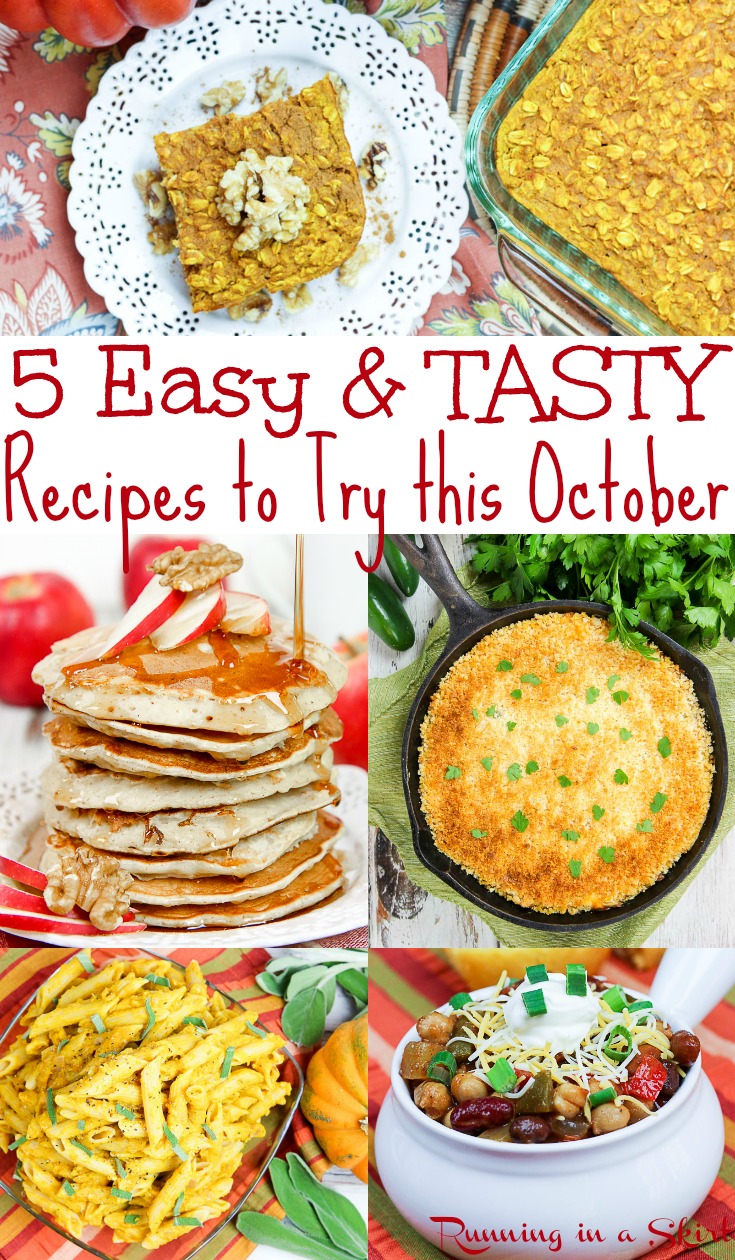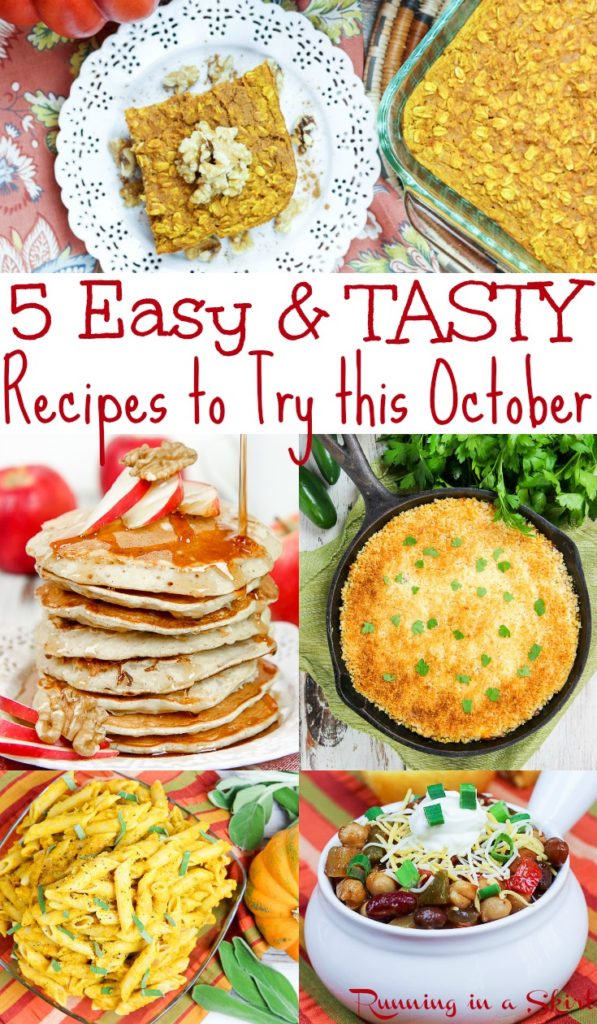 Hi everyone!
I'm so excited to be starting a new blog series today where once a month I'll dive into the Running in Skirt archives and share five recipes that you can try this month. I've been creating new recipes for the blog for nearly six years, so there a lot to choose from and some of my best ones you may or may not have seen before depending on how long you've been reading! I'm hoping it will give you a chance to be creative with your meal planning and mix up your cooking without doing all the planning yourself! I'm also hoping this will be easier for you so you don't have to search for ideas yourself!
Each month I'll focus on recipes that are seasonal and easy to make. These are all practical real-life recipes that don't involve a lot of fuss. Since my site is mainly vegetarian, most of the recipes will be plant-based... although I might include some seafood recipes along the way. Let me know if you'd like to see those too! This is a great way to add more plant-based meals to your life. All my recipes are meat-eater approved by the Hubs so vegetarian or not, I know you will love them. I'm going to pay special attention to easy dinner ideas because I know first hand how hard it can be to cook a creative dinner each weeknight. I picked five recipes because I feel like that's an actual attainable amount of recipes to try without being too overwhelming!
I'd love to know what you think of this series idea and if you have any requests for future posts! I challenge you to try something new this month.
So without further ado, here are 5 Recipes to Try this October!
5 Recipes to Try this October
This baked oatmeal recipe is so easy to make! You just mix up oats, pumpkin, milk, eggs, and spices in a bowl and bake. It's packed with pumpkin flavor in a nourishing, tasty and satisfying breakfast. You can make a batch and enjoy it all week!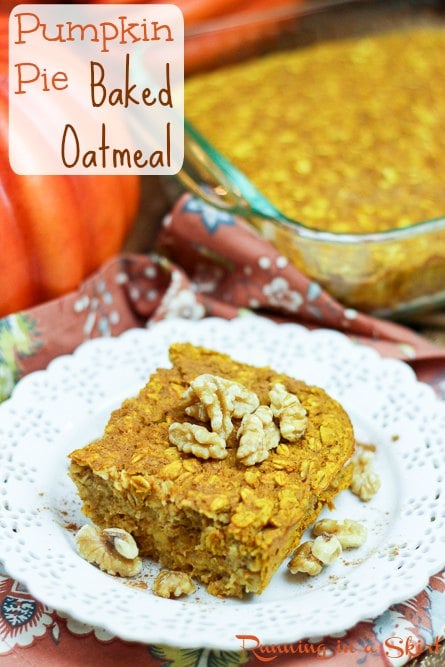 This is more of a weekend breakfast idea, but these pancakes are worth the effort! You get extra nutrients from grated apple and greek yogurt cooked inside.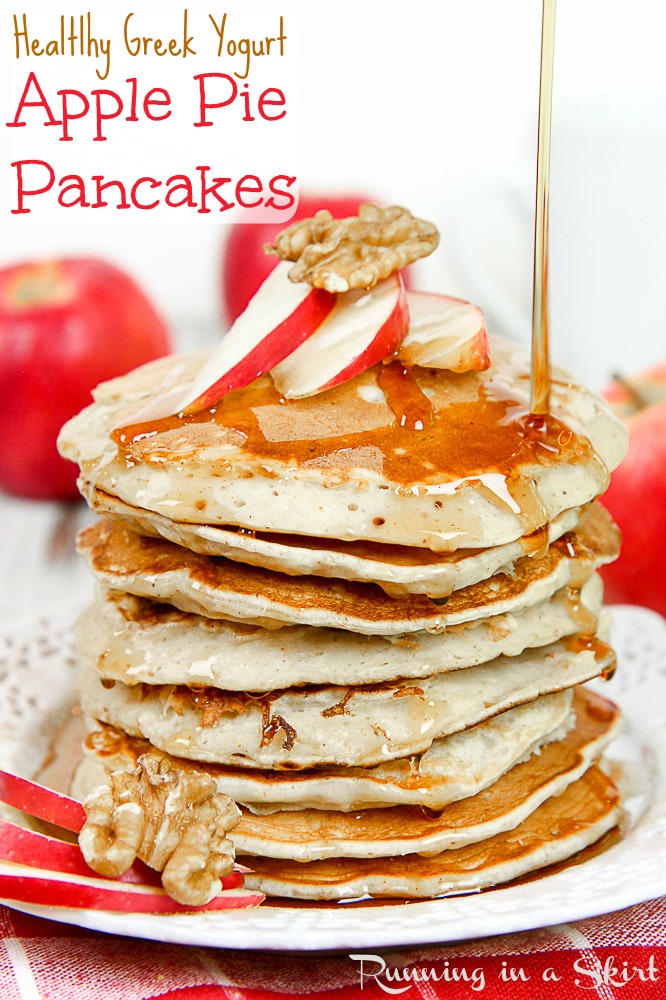 For those of you who don't know, I grew up in Florida and attended the University of Florida. It's hard to go to a school like that and not turn into a football fan. Despite the team's lackluster performance lately, I still enjoy watching a Gator game on fall weekends. This Healthier Jalapeno Dip is a total CROWDPLEASER for an easy appetizer for any event or just a random weekend. It's SO easy to throw together and is completely addictive. Football fan or not, you should give it a try this month.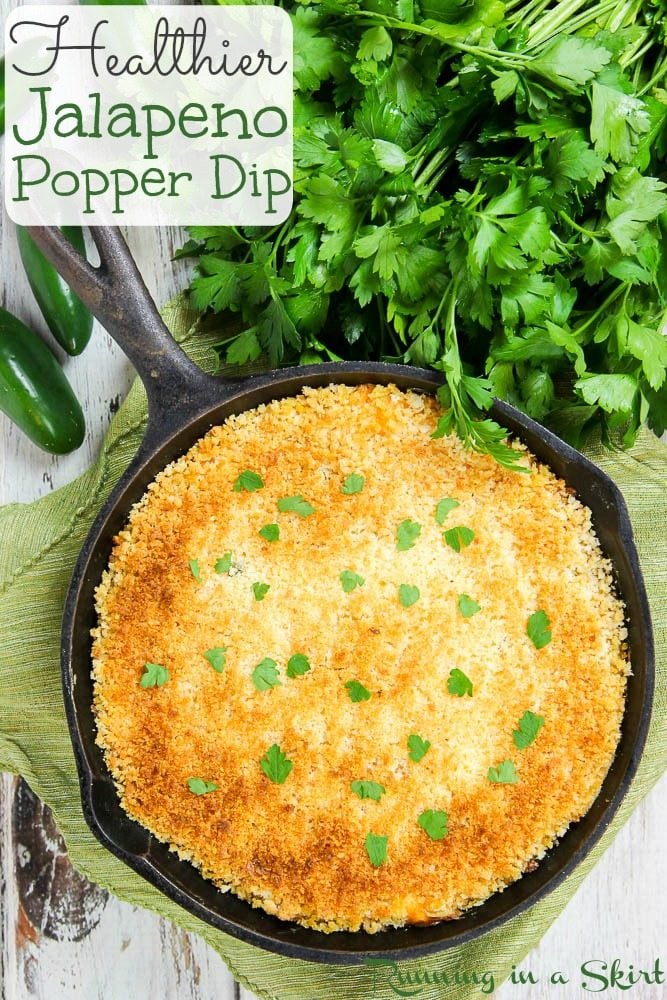 This pasta dish the perfect easy fall dinner! Instead of playing off the sweetness in pumpkin I used savory spices to create a simple, healthy and creamy pasta dish. It can be on your table in 15 minutes! To make it a more well-rounded meal choose a whole wheat or protein pasta.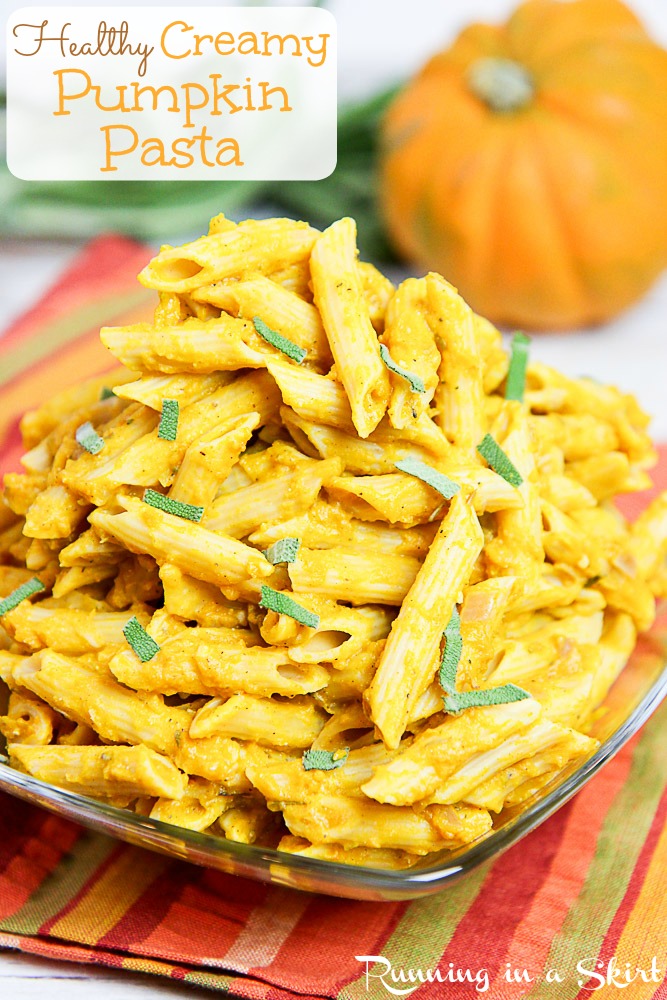 I once entered a chili cookoff with friends from the TV station with my vegetarian chili. I was definitely an underdog, but somehow pulled off a win! This recipe is a family favorite that I make at least once a month in the cool season. It also happens to be the FIRST recipe I published on Running in a Skirt. I gave the post a makeover with new photos a few years back, but it still has photos from the actual cookoff. I know you'll love this chili too, so I hope you will give it a try.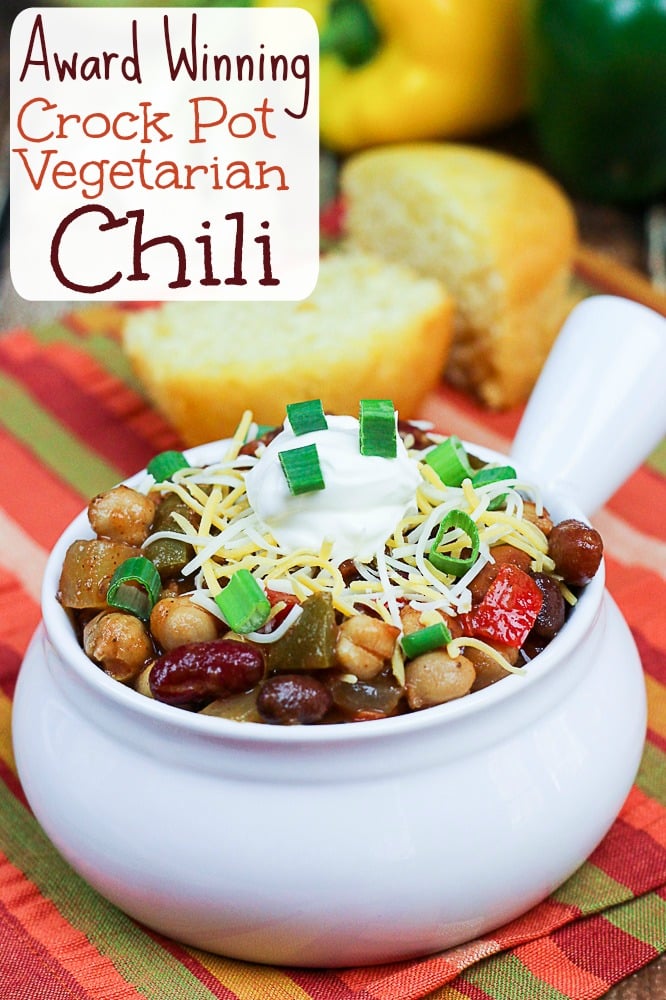 Happy cooking beautiful readers! I'd love to know if you try any of these 5 recipes to try this October and any suggestions you have for the series going forward.
Pin this for later!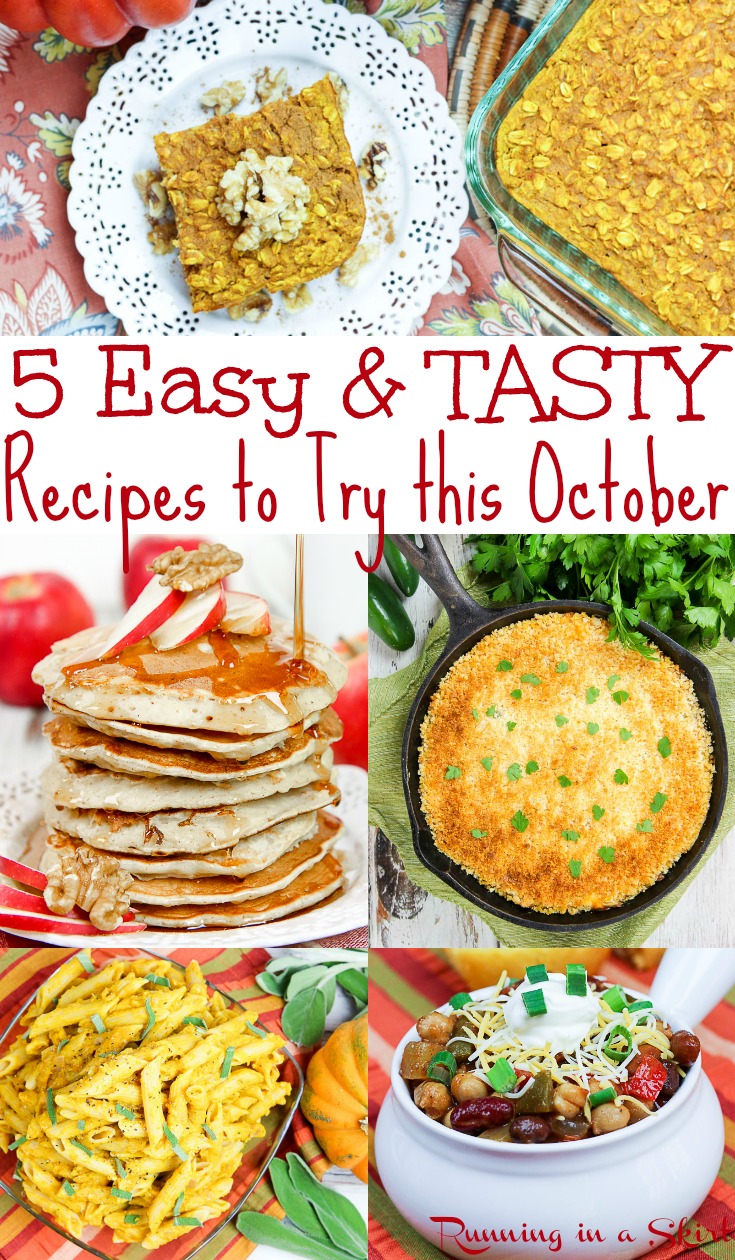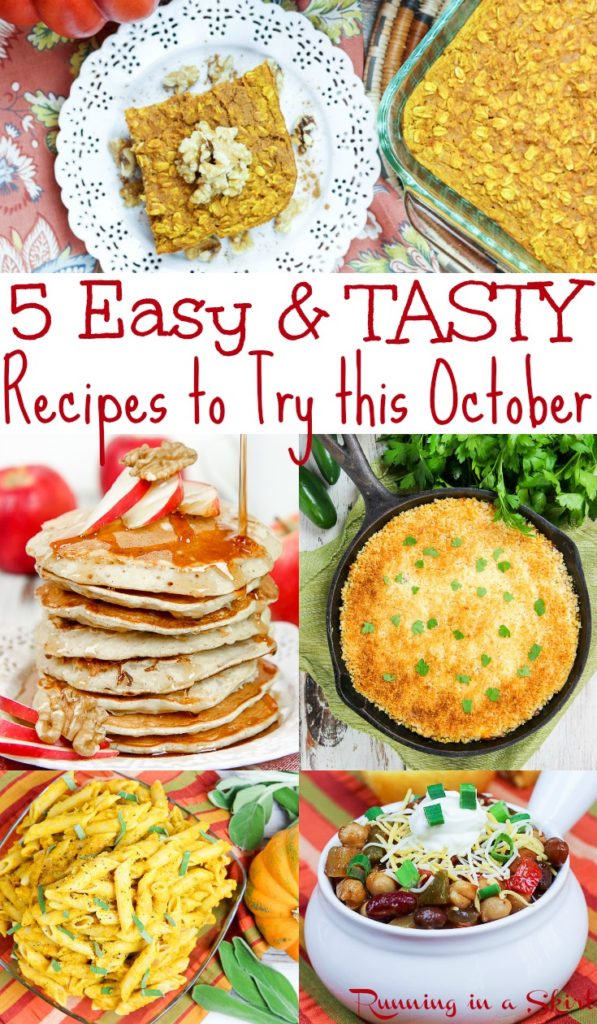 Your turn!
What's your favorite recipe to make this time of year?
Which recipe would you like to try?