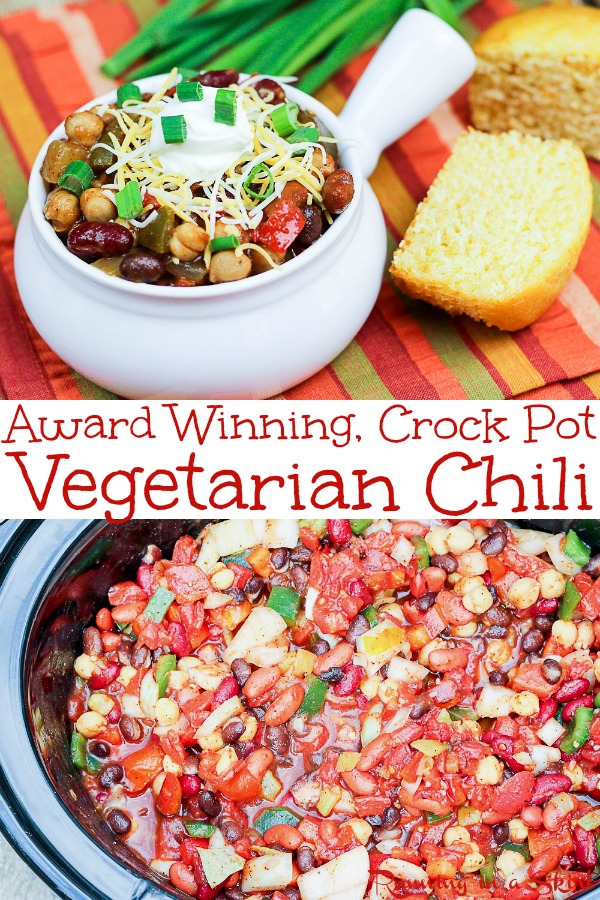 My Crock Pot Award Winning Vegetarian Chili Recipe is so good you will never miss the meat! This healthy Crock Pot Vegetarian Chili just happens to be vegan too and actually WON a chili cook-off against classic meat-filled chili and has become a tried and true family favorite.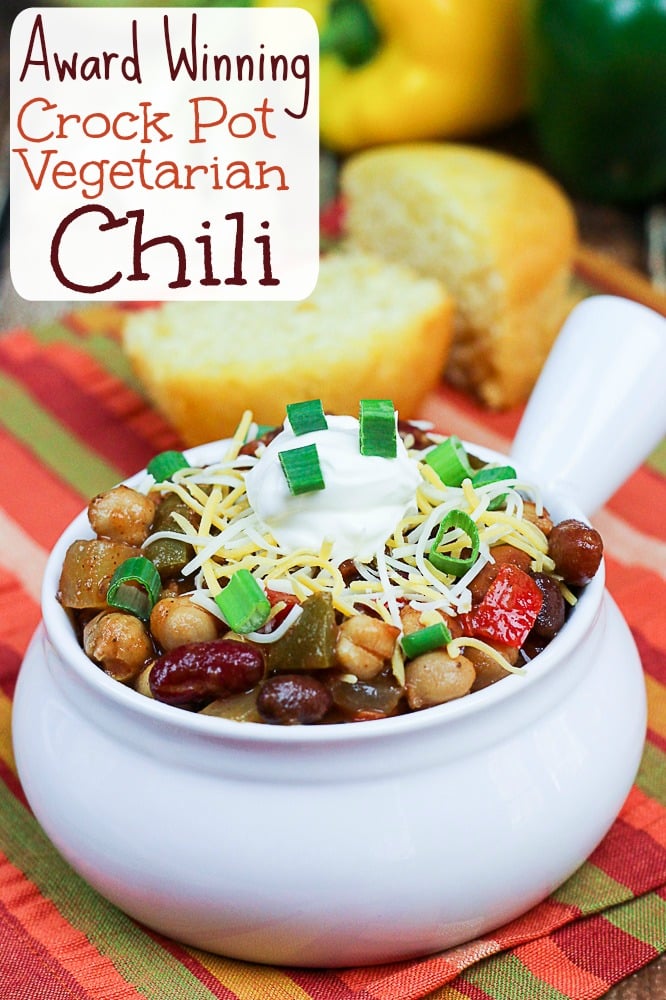 Crock Pot Award Winning Vegetarian Chili Recipe
This Crock Pot Vegetarian Chili recipe is the VERY first recipe I ever posted on Running in a Skirt and it is hands down my most famous, most loved family recipe.
I have made my Crock Pot Award Winning Vegetarian Chili for years... ever since I WON a chili cook-off with it against some of my friends at the TV station I used to work at. And all the other competitors were meat-based chili and I've got to say that I'm still pretty proud that I won.
The Hubs even says he prefers Award Winning Vegetarian Chili to regular chili! Now if those two things aren't a vote of confidence, I don't know what is.
On a side note, this chili can also easily be vegan. The toppings shown here are dairy-based, but the entire recipe is vegan and dairy-free.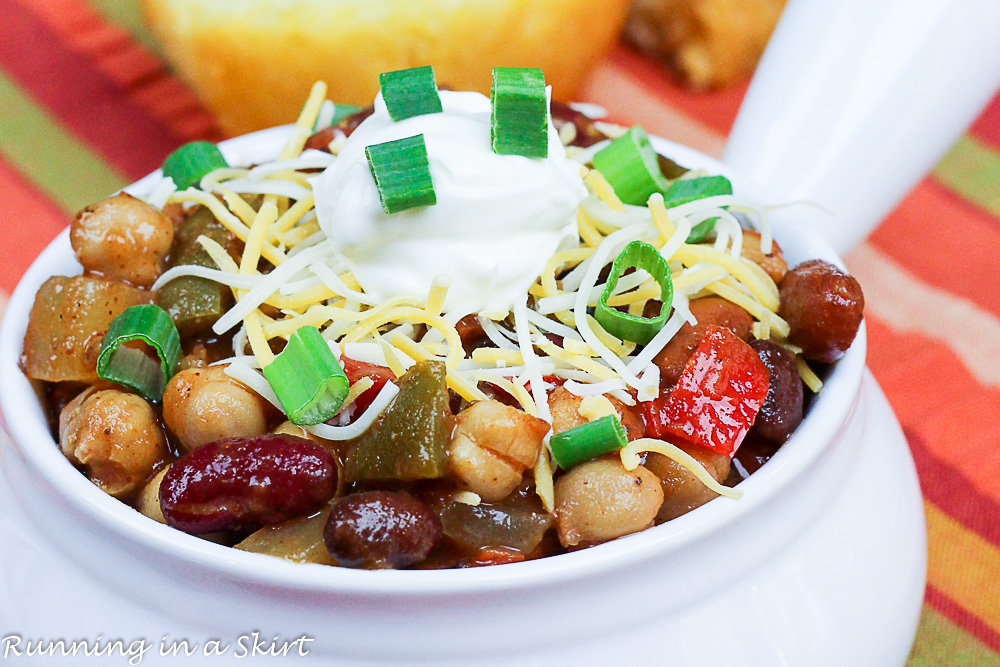 The Story Behind My Award Winning Vegetarian Chili...
So before we get to the details of the chili, let me take you back to the night I won that cook-off.
I only have a few, small and sad pictures because it was circa 2008... but hopefully, you will get the idea.
I was in my 20's working at a local tv station and my friends and I often spent our time planning over-the-top parties and food competitions like rib contests and port cook-offs.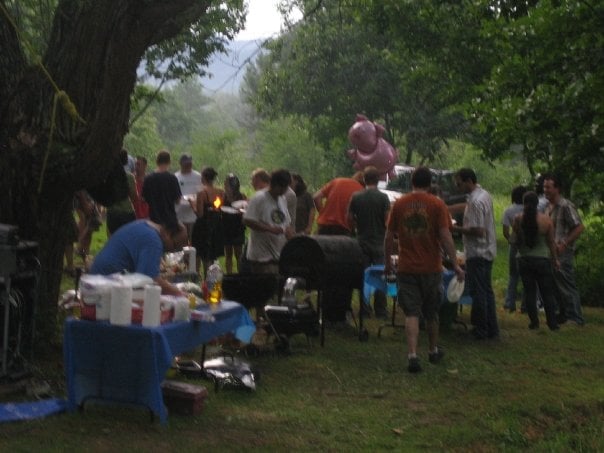 2008 Chili Cook-off
I wasn't planning on cooking for the contest because at that time cooking wasn't my thing. I found out there were about a half dozen chili entries, but none of them were vegetarian. I asked the organizers about representation and food for the "meat-free" crowd. Next thing you know my name is on the list to cook.
I had no idea what I had gotten myself into. My competition all had tried and true recipes that they had made for years. I was fighting an uphill battle when all the other stews had beef, pork, or chicken in them. I didn't let scare me though and I dived into creating my own chili. I then recruited my girlfriends to put together a GIANT batch for the cook-off that we made in a turkey fryer size pot.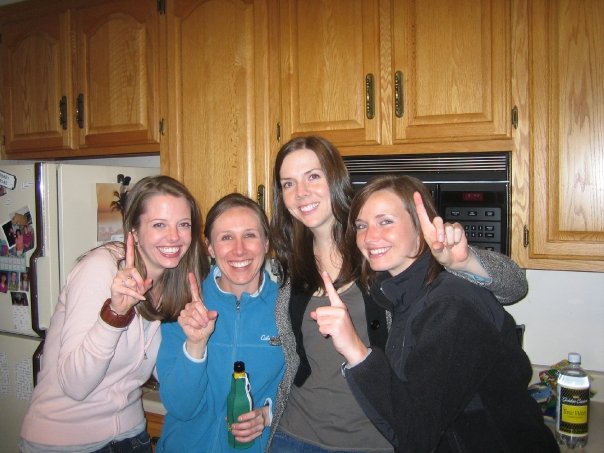 Since I knew I was fighting an uphill battle with vegetarian chili, I decided I needed a little publicity. I launched a full-fledged campaign for my chili with stickers and flyers.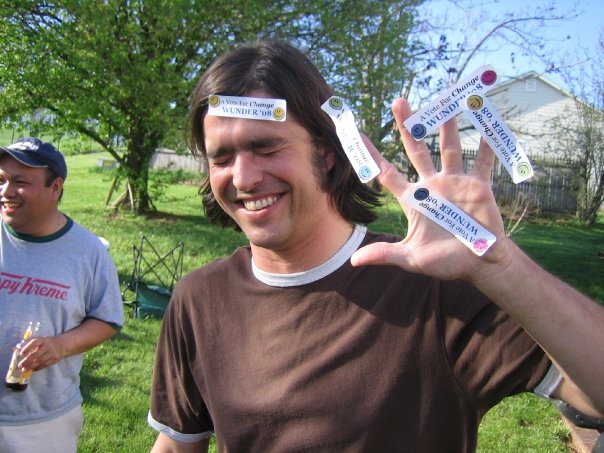 I even covered the competition, Eric, with my propaganda.
Even though I focused a bunch of time on my gimmicks, the actual chili I made turned out really, really good. I served bowl and after bowl of it. It was a crowd hit and at the end of the night, I won!
There was no prize; just bragging rights. But that was more than enough to start my cooking career.
Over the years, I recreated the chili to be cooked in a Crock-Pot in a reasonable size portion. It's changed and adapted a little over time, but it has truly become one of the go-to recipes that I can call all mine.
We've come a long way since those days, my friends. 🙂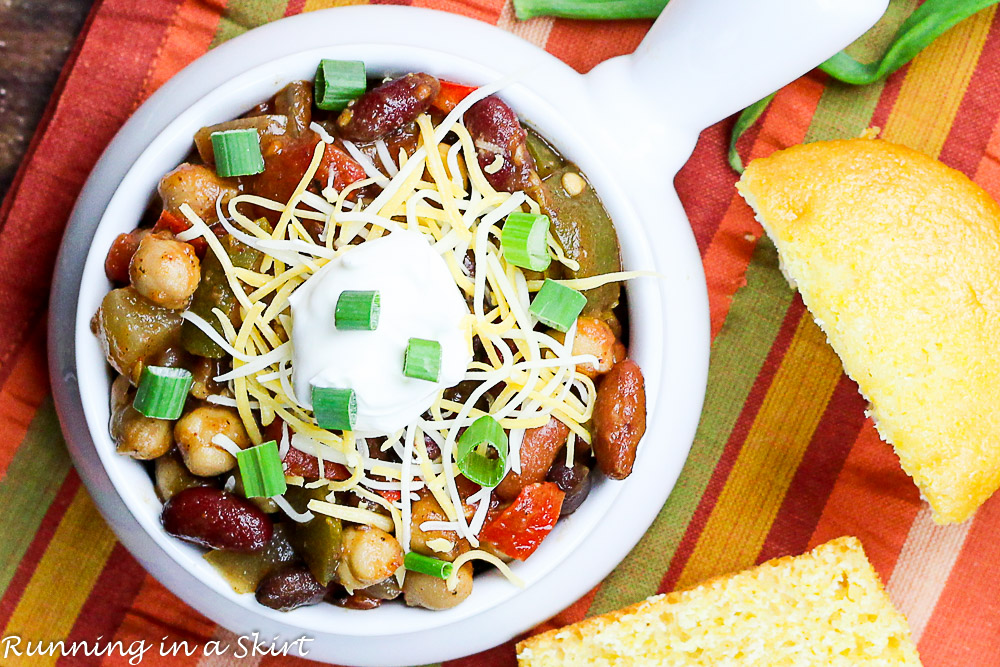 Why this Crock Pot Vegetarian Chili is the BEST...
It has lots of different bean types. I included light kidney beans, dark kidney beans, black beans, AND garbanzo beans to give this variety and texture. It makes my Award Winning Crock Pot Vegetarian Chili more interesting to look at AND taste.
It has lots of colors. The different peppers and beans make it a pretty dish.
It does NOT have "fake meat." I like tofu but so many people are turned off by the possibility of "fake meat" that they will not even try it. This chili is packed with so many ingredients, you will not even miss it. You also have plenty of protein from the beans.
Chipotle Cholula is my secret ingredient. Need I say more?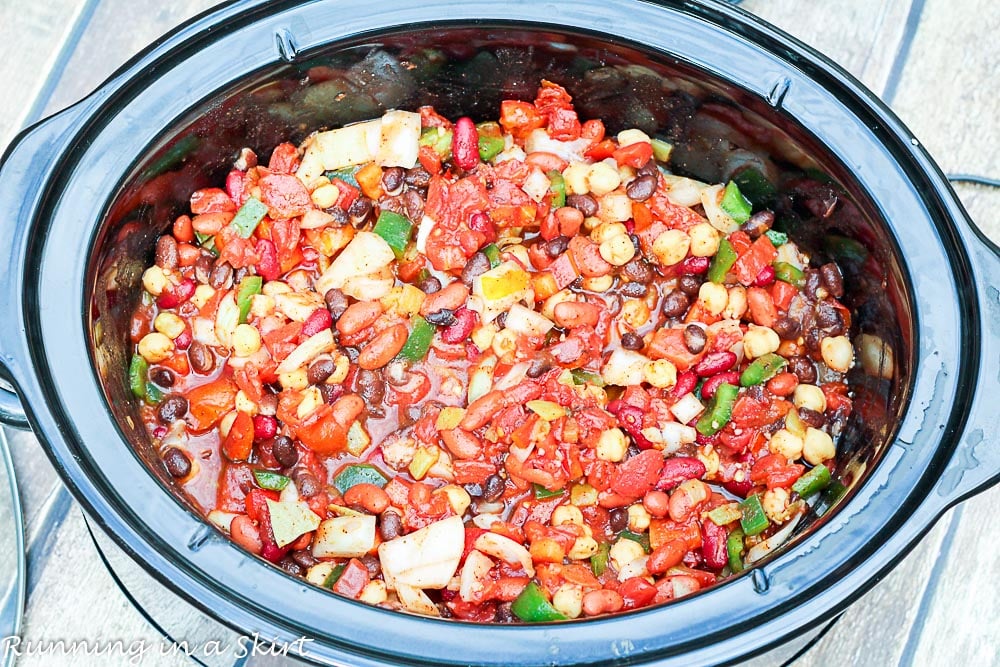 Ingredients in my Award Winning Crock Pot Vegetarian Chili:
This is a bit of a longer ingredients list than most of my recipes but most of this is canned goods that are shelf-stable and easy to keep around. I actually always keep enough of these items in my pantry to make my Crock Pot Vegetarian Chili in a pinch.
Canned Beans: I use canned dark kidney beans, light kidney beans, garbanzo beans (chickpeas,) AND canned black beans for the most flavor and texture. You can use any combination of beans you like, but this is my favorite.
Canned Tomato: I like the fire-roasted tomatoes with garlic to add even more flavor without a lot of fuss.
Diced Green Chilis: Those little cans of diced chilis add a lot of flavor to the mixture and just a small touch of heat.
Canned Tomato Sauce: Use your favorite kind!
Bell Peppers: Chopped bell peppers in any color work for this.
Onion: I prefer a sweet onion for my Crock Pot Vegetarian Chili but any type will work.
Garlic: You can't have a good chili without garlic! Feel free to add extra if you love it.
Spices: My spice blend is chili powder, hot chili border, cumin, and bay leaves.
Chipotle Cholula: This is my SECRET ingredient! Chiplote Cholula has just a touch of heat and chipotle flavor that makes this dish irresistible. You can substitute canned chipotle in adobe sauce but I love the Cholula for this. Not sponsored, I just love it.
You'll notice that the recipe for the actual chili is vegan. The topping your pick can keep it vegan or make it vegetarian.
What goes with vegetarian chili?
Sour Cream, Plain Greek Yogurt, or Dairy Free Yogurt
Shredded Cheese
Sliced Green Onions
Chives
Corn Bread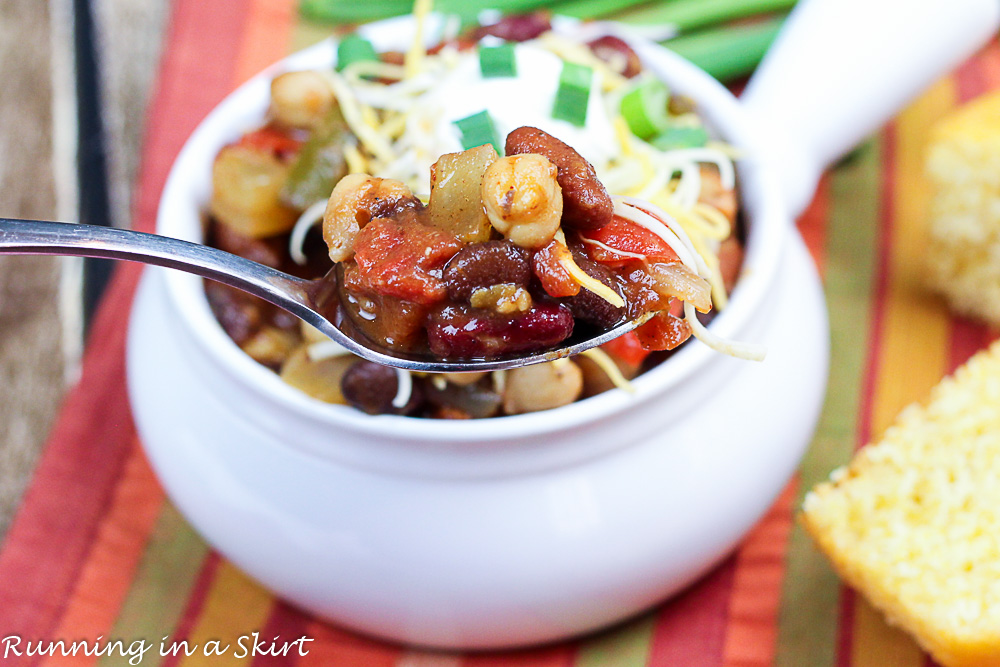 How to Make Vegetarian Chili in a Slow Cooker or Crock Pot:
Rinse and drain the canned beans.
Chop your peppers and onions.
Open the rest of the cans and dump it all into a large slow cooker or crock pot. <--- Amazon Affiliate Link
Cook on high for 3-4 hours or low for 6-8 hours.
I love to serve my chili with toppings like shredded cheese, plain greek yogurt, and green onions! I also can't resist cornbread on the side. Pick your favorite though.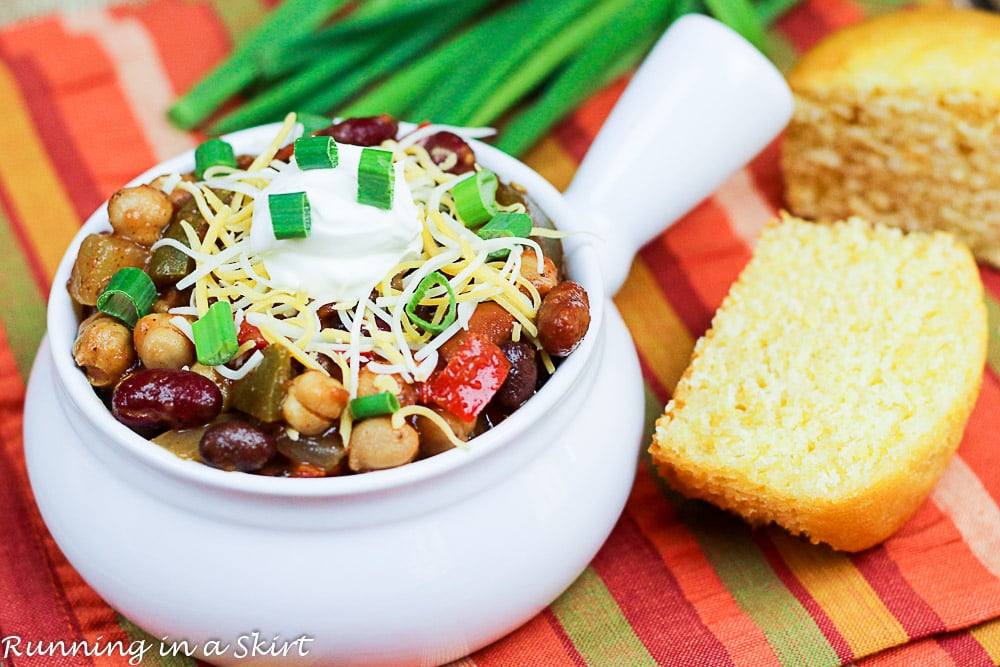 Variations & FAQ
You can use any combination of beans for this vegetarian chili.
If you don't like any spice just use regular chili powder. This is NOT a spicy recipe though at all it just has a tiny bit of warmth.
If you like to save time you can use pre-chopped or even frozen peppers and onions.
Can I use fresh and frozen vegetables in this recipe?
YES! You can use a bag of frozen peppers and onions although I prefer the texture of the fresh. You could also add some frozen corn at the end for a colorful twist to this recipe.
How do I serve vegetarian chili?
I love serving this Award Winning Vegetarian chili in a bowl with cheese, plain greek yogurt, and green onions on the top. I serve cornbread on the side. You could also serve it Cincinnati style over spaghetti or over a baked potato. Other great toppings are avocado, cilantro, or even chives.
How do you store the vegetarian chili?
Store the chili in the freezer in an airtight container for up to 5 days.
Does vegetarian chili freeze well?
YES! You can freeze this recipe in two different ways. You can mix all the ingredients in a large freezer style ziplock bag before cooking. Put the entire bag flat on a cookie sheet and put it in your freezer. Once frozen this is a fabulous freezer meal! When you are ready to enjoy the vegetarian chili you pull it out of the freezer and allow to thaw. Once thawed just put everything back into the crockpot and follow the same cooking instructions. It will last 4-6 months in your freezer.
You can also fully cook this vegetarian chili and freeze it in individual portions for later. This recipe does make a large batch!
So without further ado HERE is my Crock Pot Award Winning Vegetarian Chili! I really hope you will try it and enjoy it as much as I do.
Love Crock Pot Vegetarian Soups? Try these too!
If you make this recipe, I'd love to hear what you think! Leave a comment and a star rating ★ below. Make sure to follow me on Instagram, Pinterest, and Facebook too!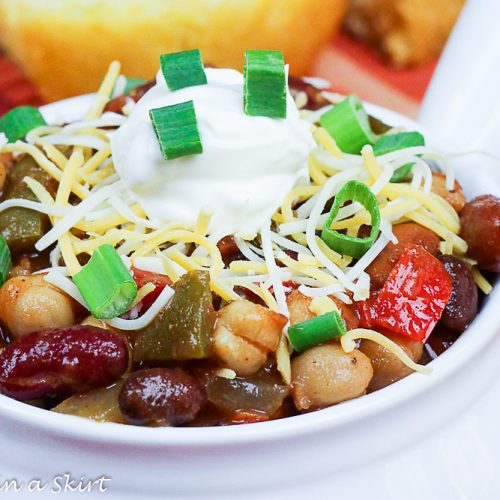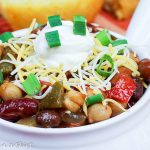 Crock Pot Award Winning Vegetarian Chili
My Crock Pot Award Winning Vegetarian Chili Recipe is so good you will never miss the meat! 
Ingredients
1

14.5 oz

canned dark kidney beans

,

rinsed and drained

1

14.5 ox

canned light kidney beans

,

rinsed and drained

1

14.5 oz

canned garbanzo beans

,

rinsed and drained

2

14.5 oz

canned black beans

,

rinsed and drained

2 - 14.5

14.5 oz

canned diced fire-roasted tomato with garlic

1

4 oz

canned diced green chilies

2

8 oz

canned tomato sauce

2

bell peppers,

chopped

1

sweet onion,

chopped

2

minced garlic cloves

1

tablespoon

chili powder

½

teaspoon

hot chili powder

½

teaspoon

cumin

3

tablespoons

Chipotle Cholula

Salt & Pepper to taste,

½ teaspoon each
Instructions
Put all ingredients in a large Crock Pot.

Cook on high for 3-4 hours or low for 6-8 hours.

Serve with cornbread, cheese, sour cream and an additional splash of Cholula.
Notes
You can adjust the chili spices to match your own taste. This does not have a LOT of heat. Add more hot chili powder and red pepper flakes instead of regular chili powder if you like it hot.
I buy reduced-sodium cans when I can find them because they are so much healthier. You can then add just as much salt as you like to taste.
If it's the middle of winter and peppers are hard to find, you can buy bags of frozen chopped peppers and onions. It's not quite as good, but it is a great substitute. It can also make it easier to stock all the ingredients.
Nutrition
Calories:
339
kcal
Carbohydrates:
63
g
Protein:
20
g
Fat:
2
g
Saturated Fat:
1
g
Sodium:
1089
mg
Potassium:
1352
mg
Fiber:
21
g
Sugar:
9
g
Vitamin A:
1610
IU
Vitamin C:
60
mg
Calcium:
142
mg
Iron:
8
mg
Pin for later!