Hello! Hello!
Twenty members of my family and friends I consider family met at Hilton Head Island this past holiday weekend for some family fun. As much as I love hosting at home, it was nice to do something different this year and take a break from all the cooking. We ate well, spent time together and enjoyed the water. It was a bit untraditional, but we made memories to last a lifetime.
Wednesday
The Hubs and I and our good friends arrived to Hilton Head midday Wednesday and our first stop was Skull Creek Boathouse. The weather was gorgeous and we all instantly relaxed soaking in the views.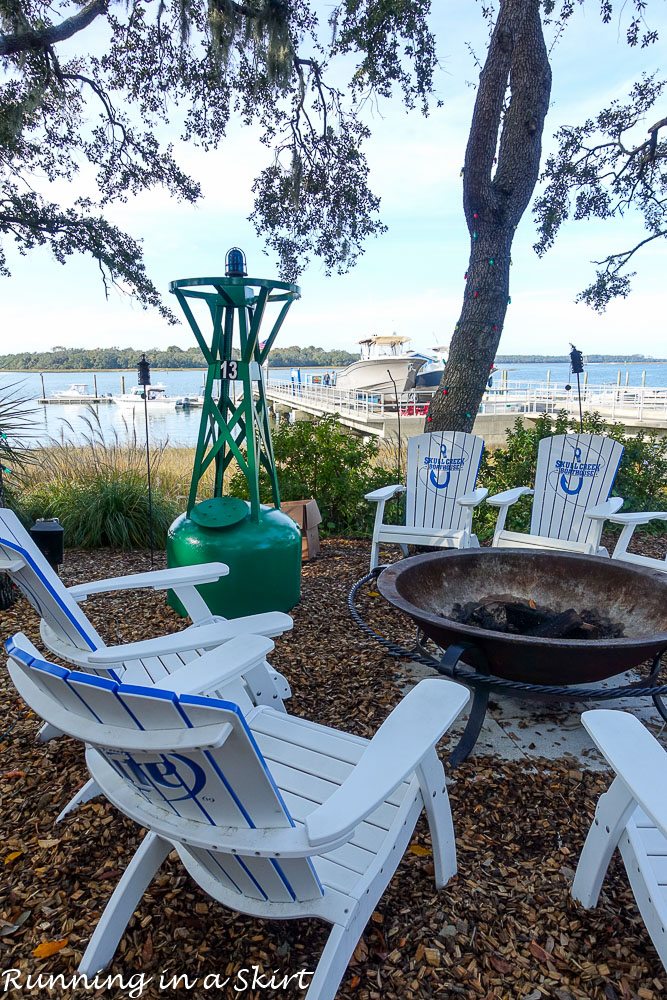 We started our weekend right with some delicious shrimp and ceviche.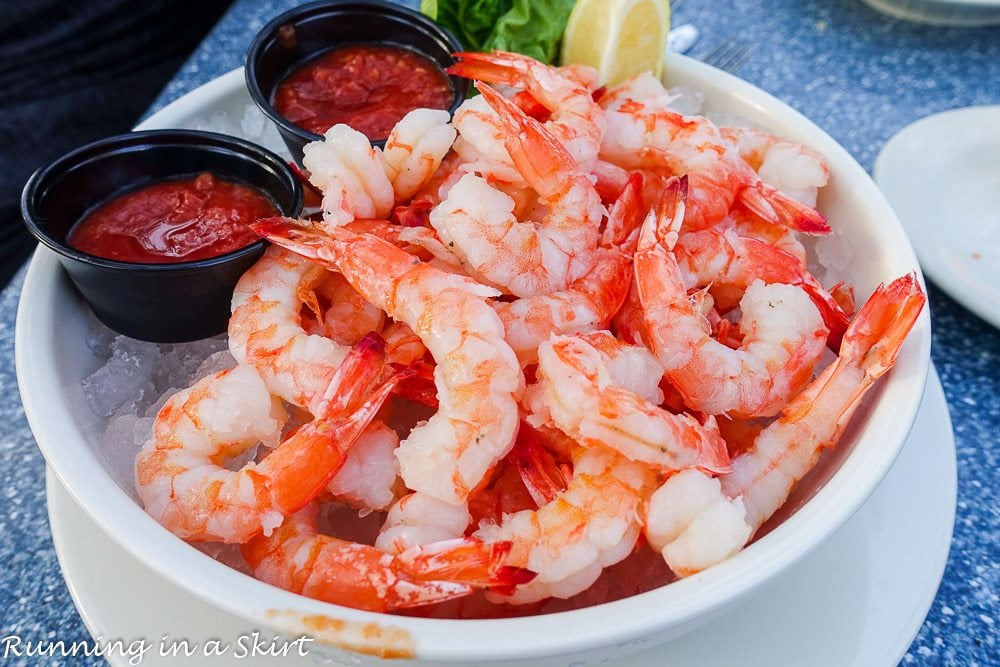 After lunch we picked up a few groceries, our race packets for the Turkey Trot and got settled into our houses and condos. The rest of the crew arrived a short while later and we hung out and chatted for a while before a small group of us got dinner at A Lowcountry Backyard. The atmosphere was super charming and the food was delicious. The Hubs and I split this shrimp burger and their fish special.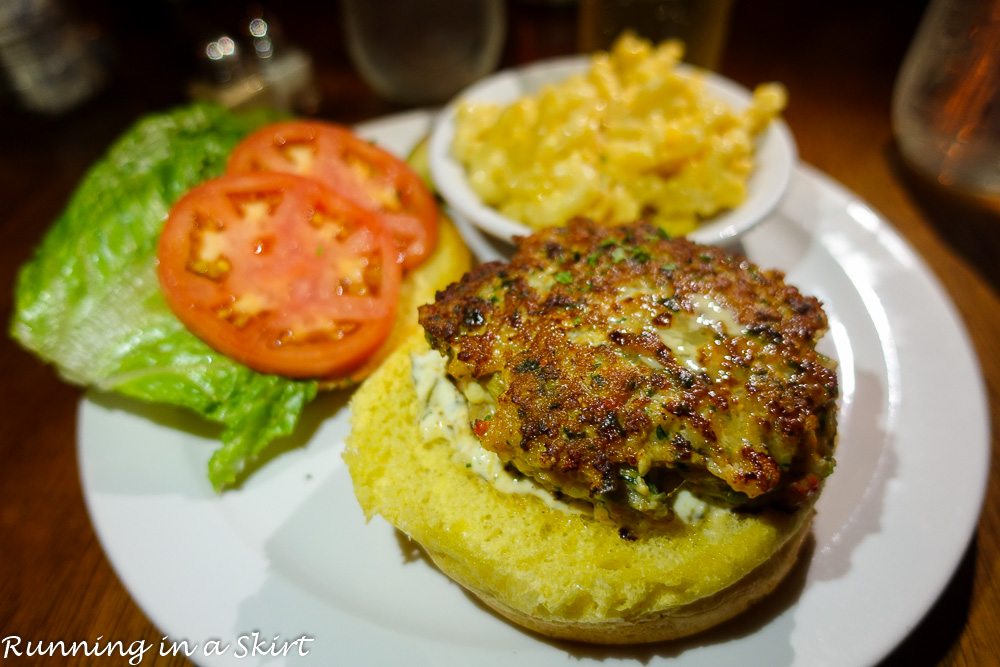 Thursday
Thursday started bright and early with the Turkey Trot! A group of us went to run it and had a blast, despite it being a cold and rainy morning. I'm going to share all the race details in a post tomorrow, but here's a sneak peek at my outfit. It was the first race I had done in years and I had way too much fun. And yes, I always take things too far!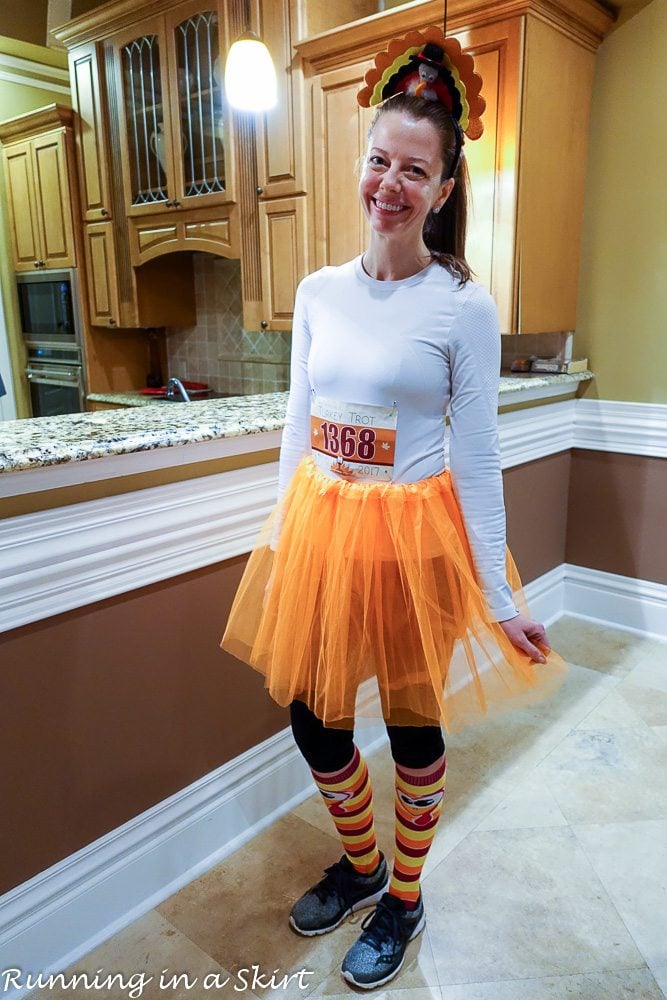 After the race we took hot showers to warm up and got ready for Thanksgiving dinner.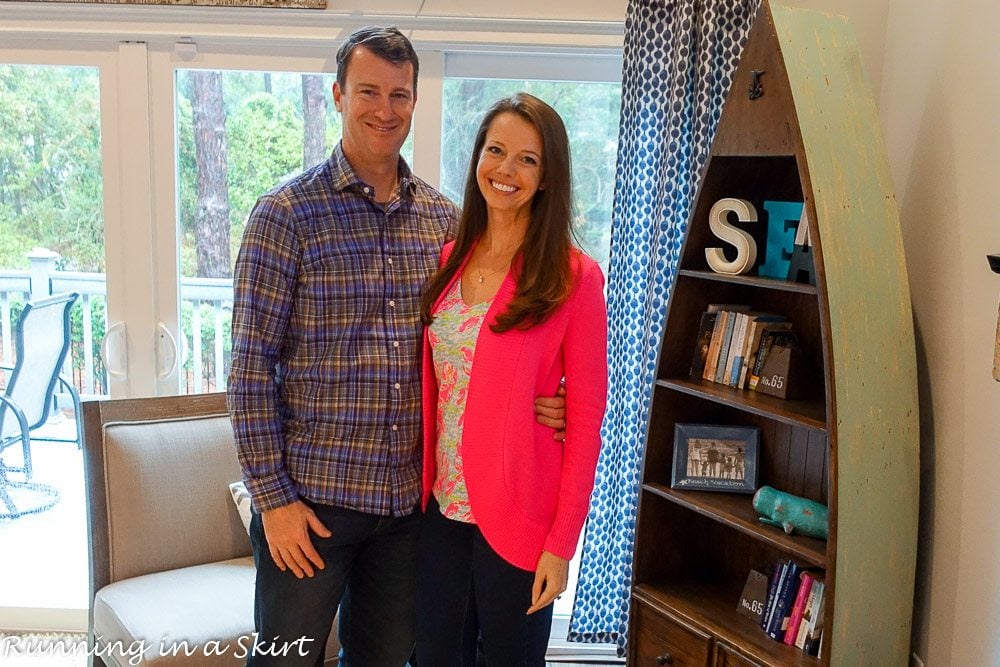 My SIL Megan arranged and planned the meal which she picked up at a local store.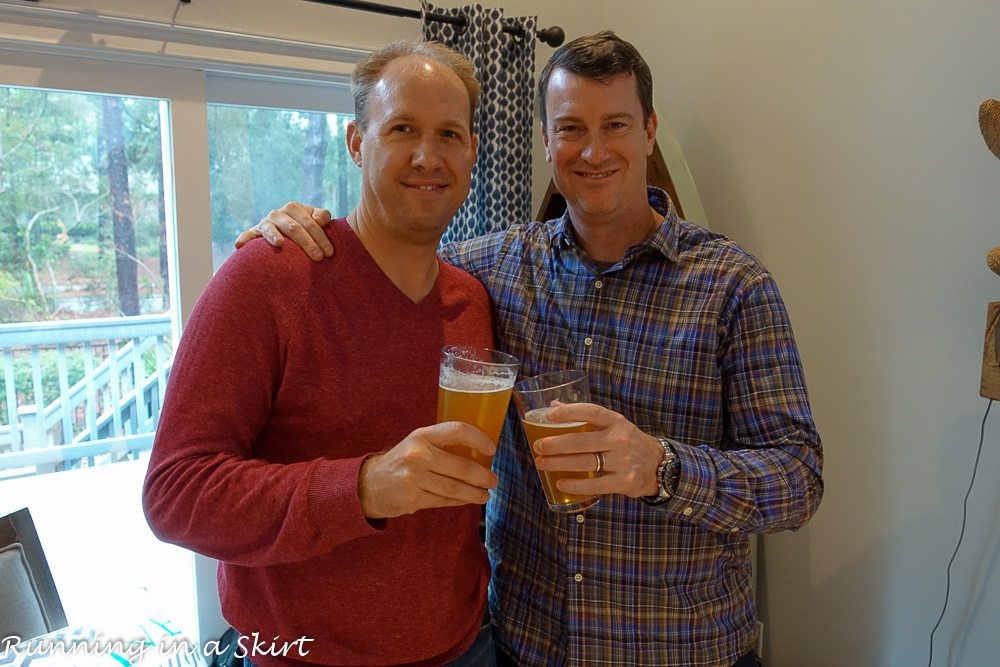 My plate was so delicious! I missed some of my traditional dishes, but this was SO much easier and still really, really good.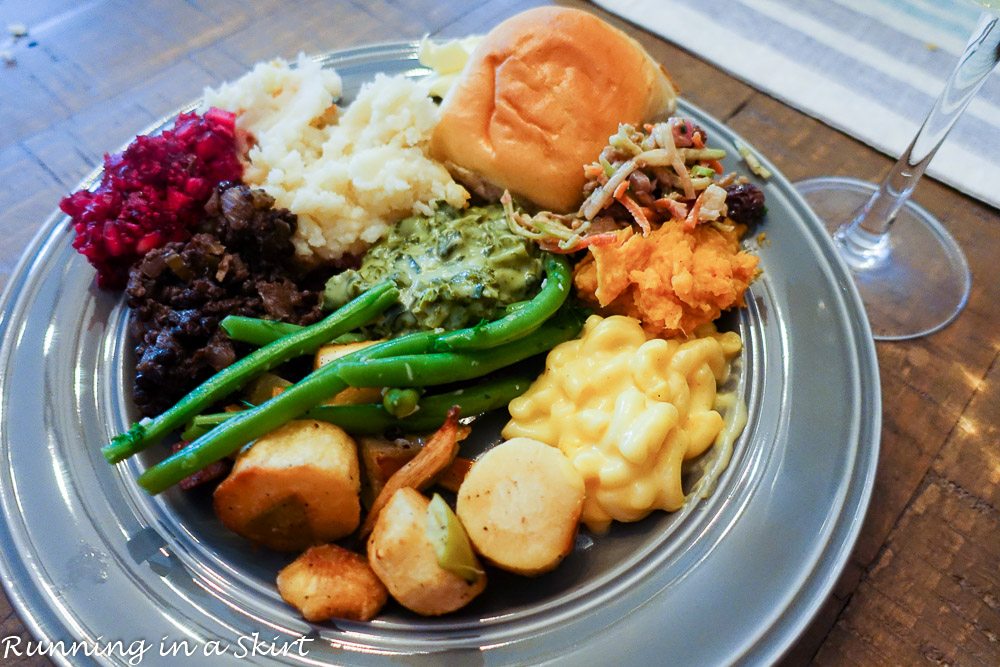 We had a great time hanging out with all our nieces and nephews.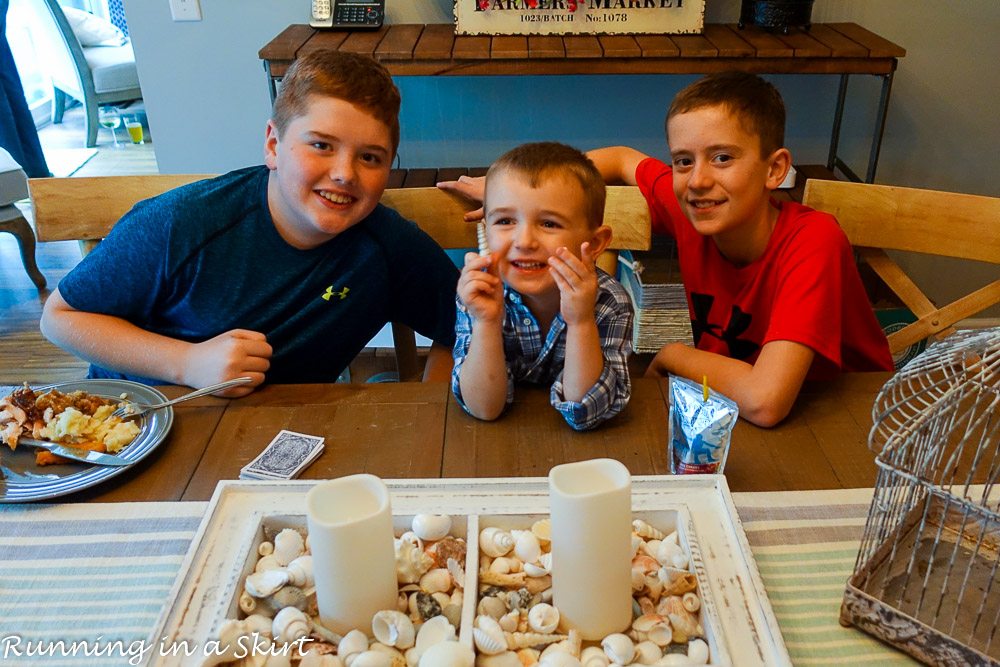 I even played an epic game of cards after dinner. Despite it raining ALL day, it was an absolutely perfect Thanksgiving day.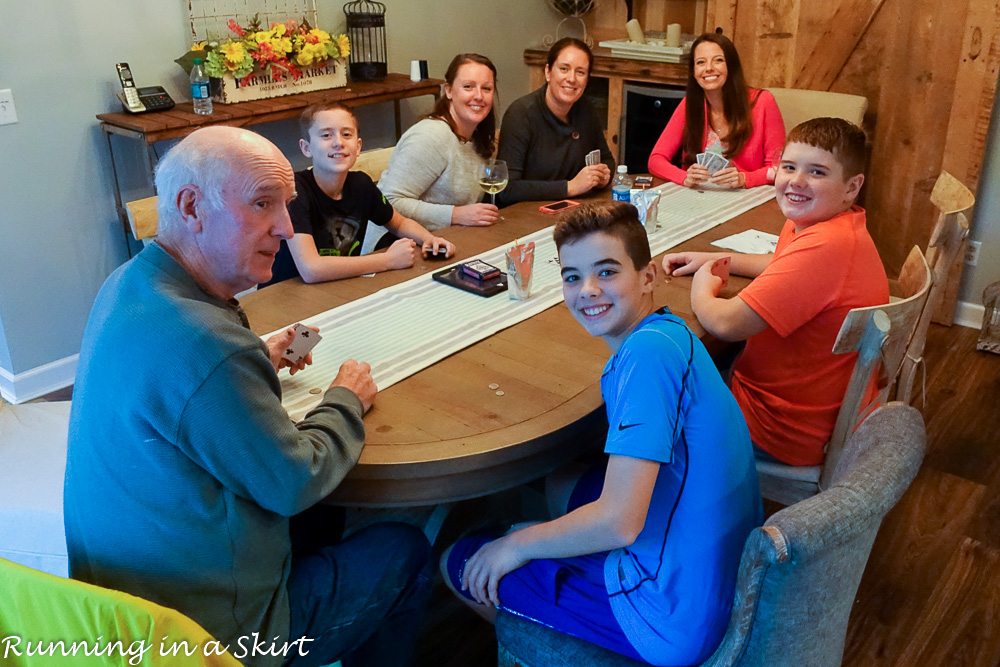 Friday
Friday I woke up early and the skies were clear again! Sunrise from our condo was gorgeous. Sometimes it pays to be an early riser.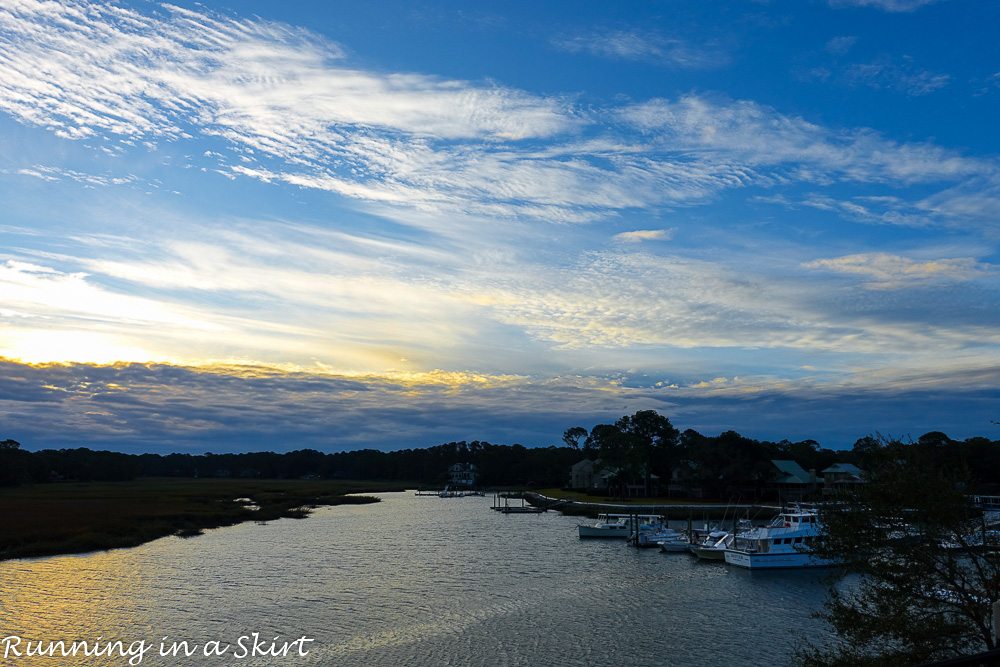 A small group of us snuck away for breakfast at the Palmetto Cafe. There was a wait so our breakfast kind of turned into brunch, but when we finally sat down the waitress gave me my tea in this mug and I was instantly hooked.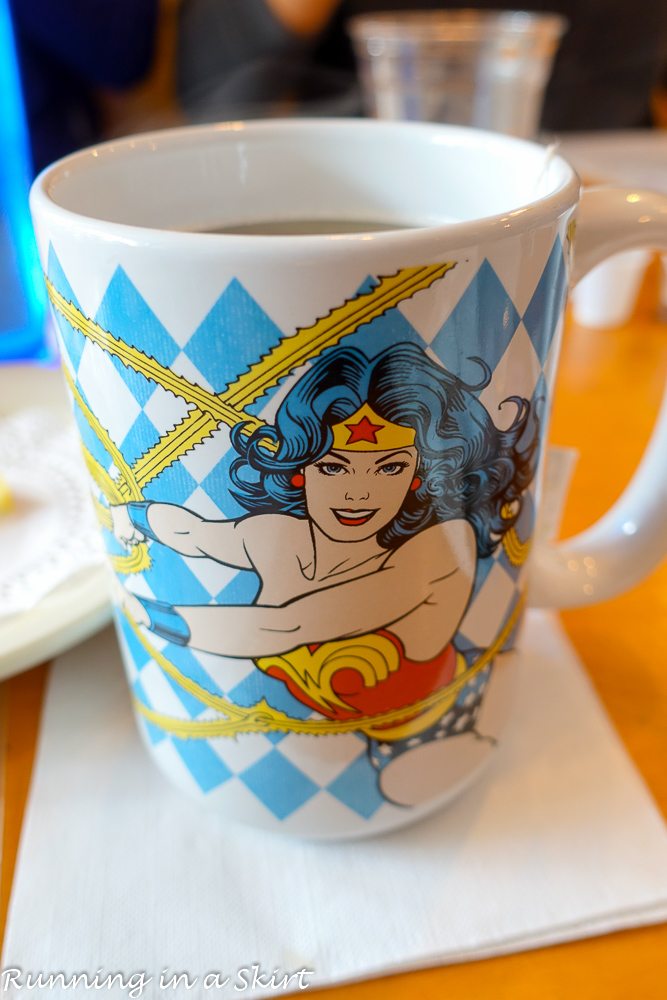 The Hubs and I shared a Breakfast Burrito....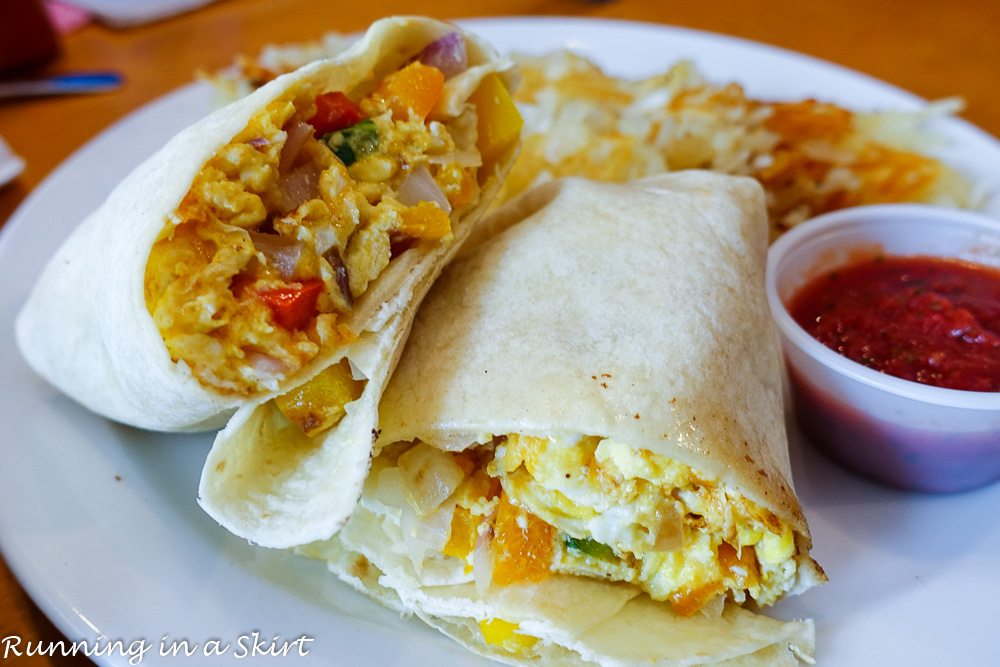 ... and Stuffed Blueberry French Toast. And yes, it was as good as it looked.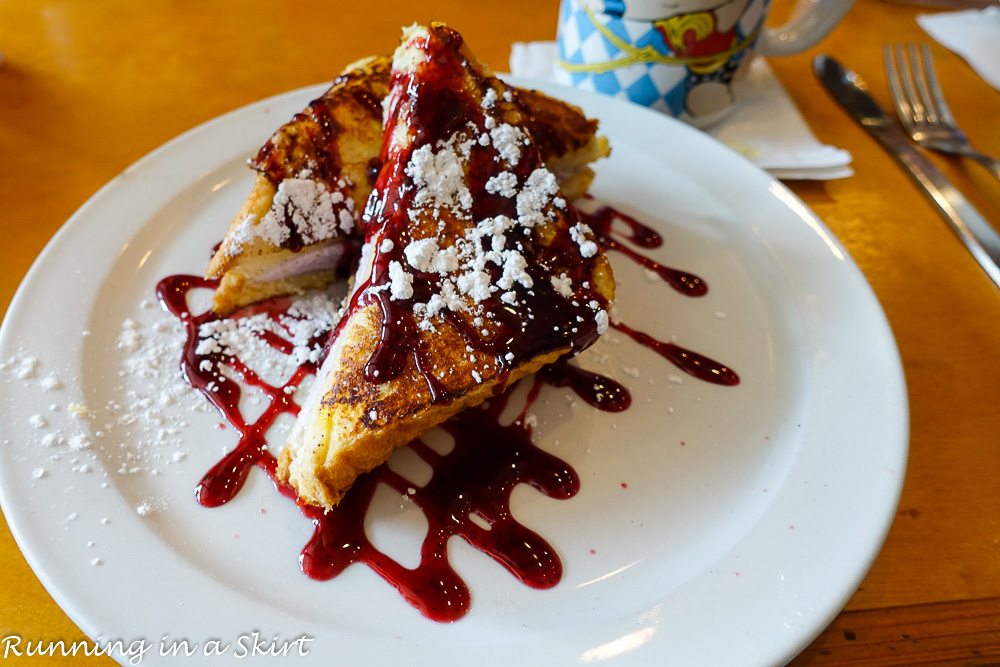 After brunch I toured the island with my Dad and then spent some time on the beach with the Hubs.
For dinner the entire group went to Harbor Town. (Photo of just the Hubs side of the family... not the entire crew.)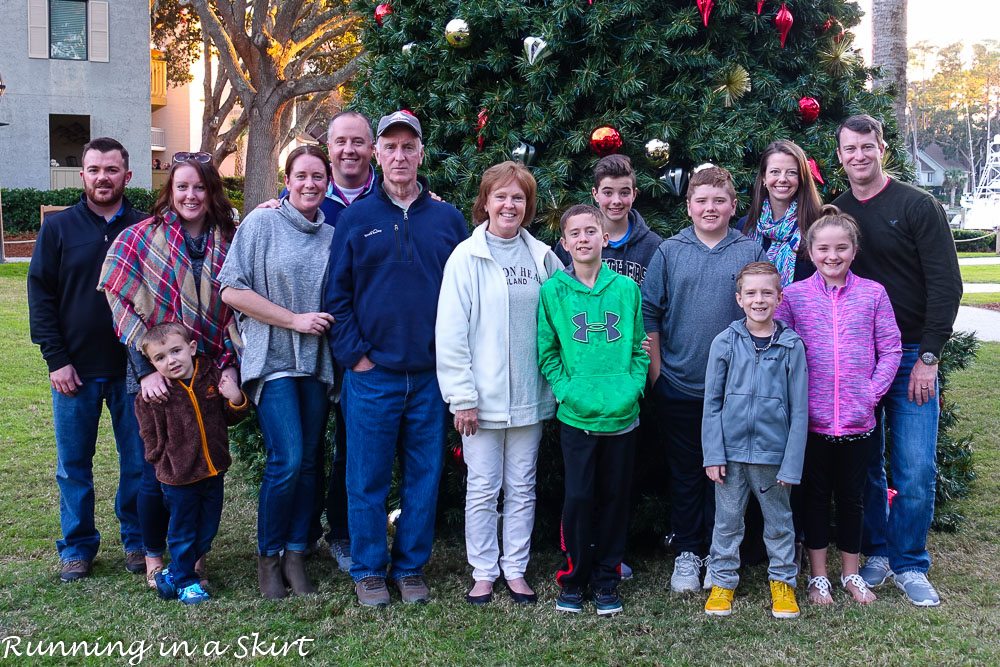 We watched the sunset and it was just as glorious as sunrise. Don't you love a day where you see sunrise and sunset over water?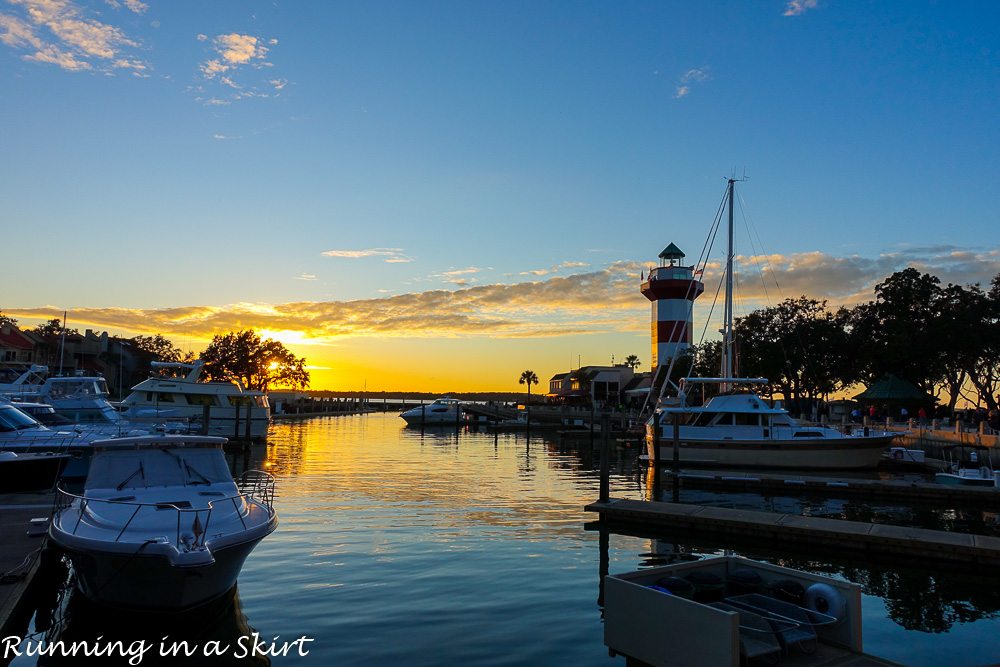 For dinner we ate at the Crazy Crab. It was kind of a nightmare trying to sit that many people, but we got it done!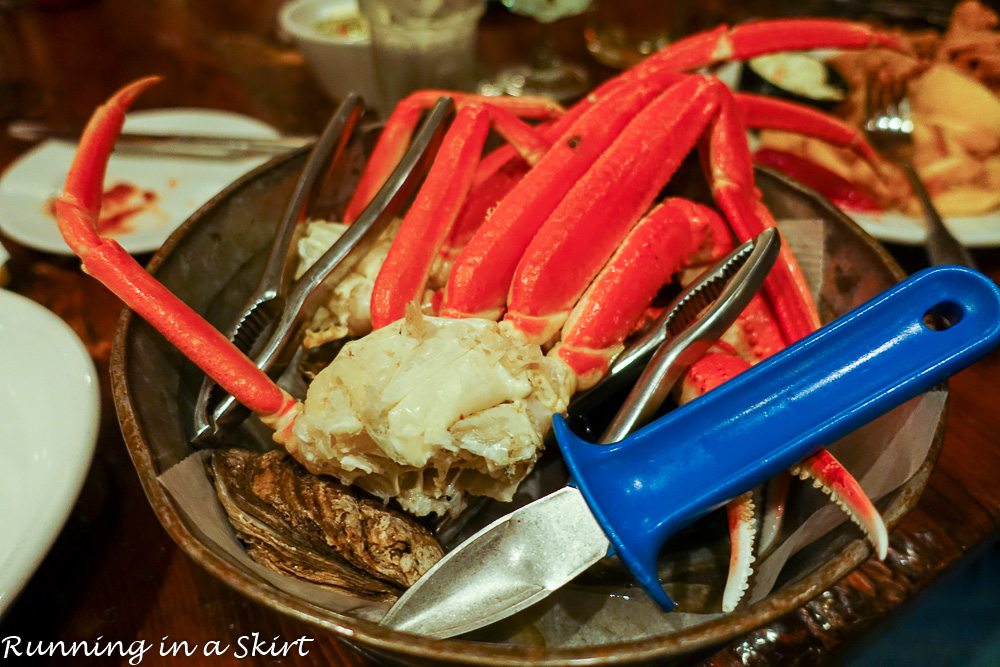 Saturday
Saturday started off with a nice beach run with our friends. After showering the entire group met at The Salty Dog Cafe for lunch. It was the first time I had actually eaten there and I was so surprised how good the food was. Such a cool place. They also handled our big group like champs.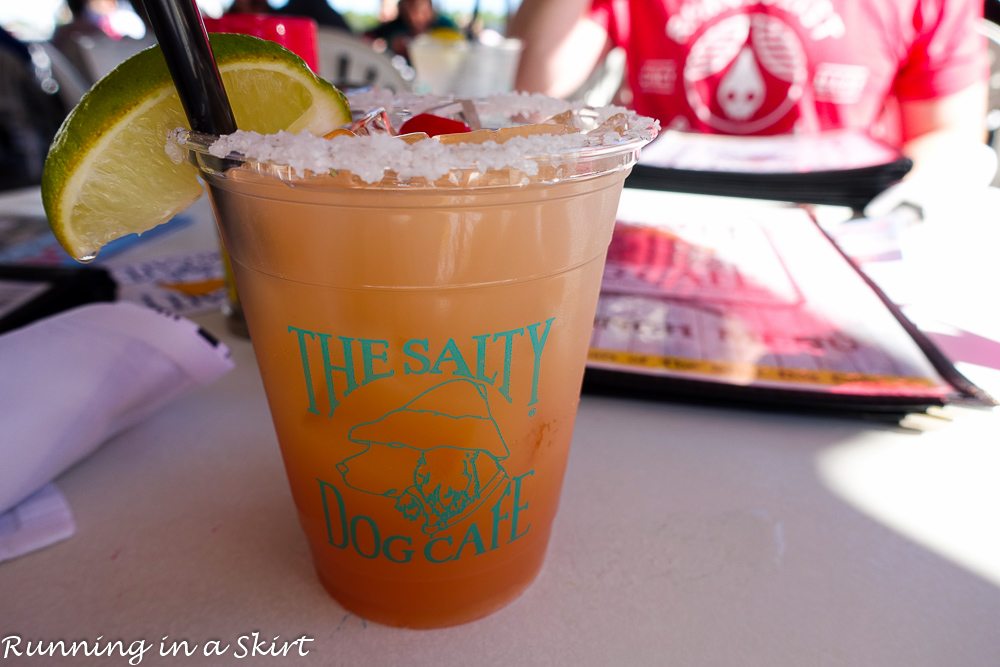 After lunch our entire group went out on our own dolphin spotting cruise! I booked the boat ahead of time so I was really nervous that everyone would like it.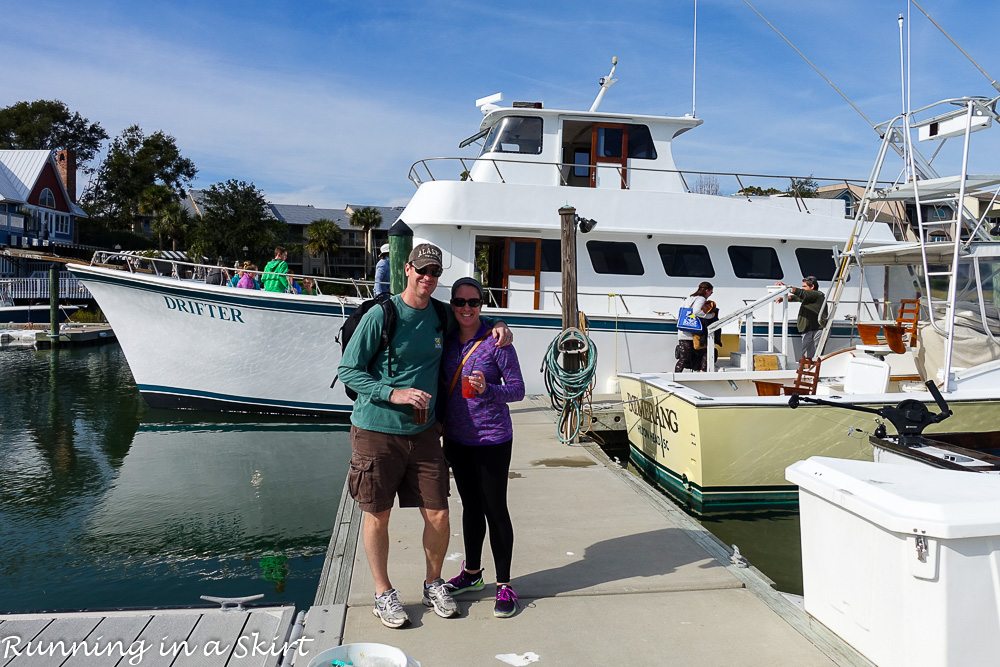 No need to worry though, the kids seemed to love it.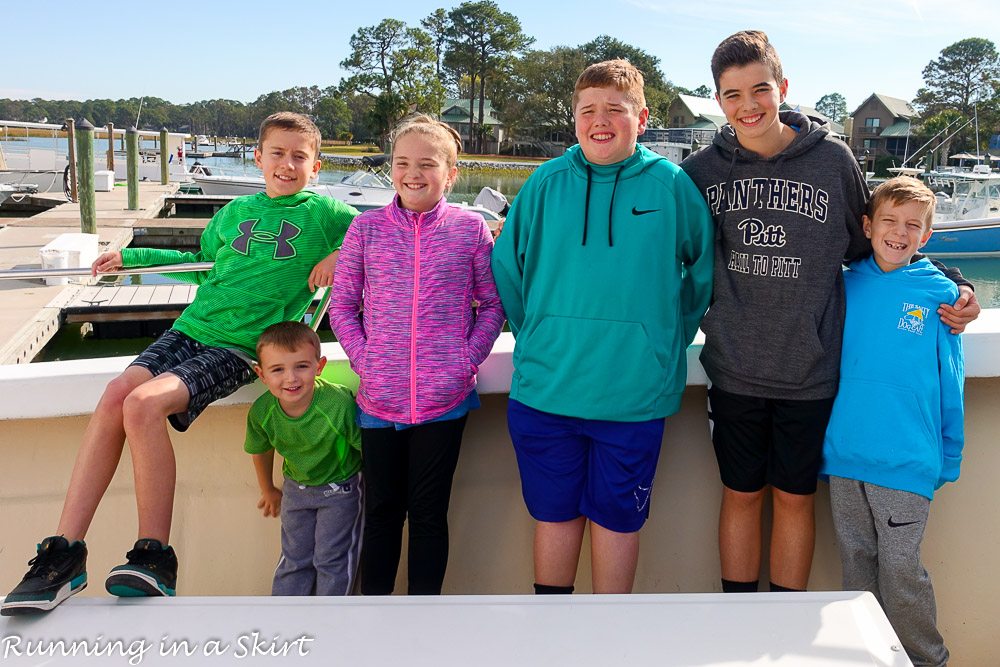 We saw dozens of dolphins.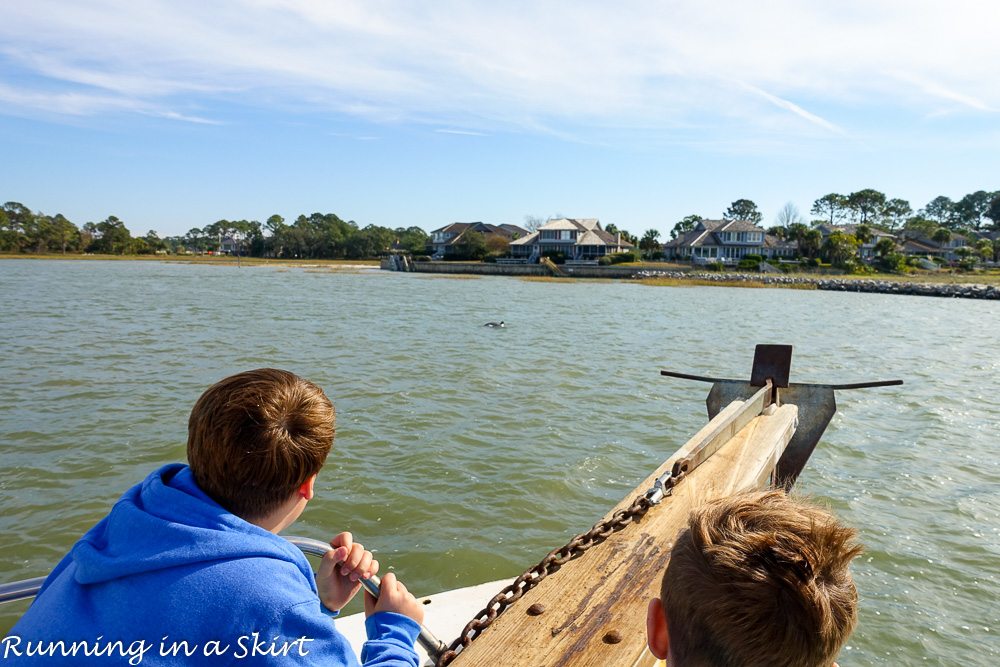 The entire area was filled with them, so it was a really exciting adventure.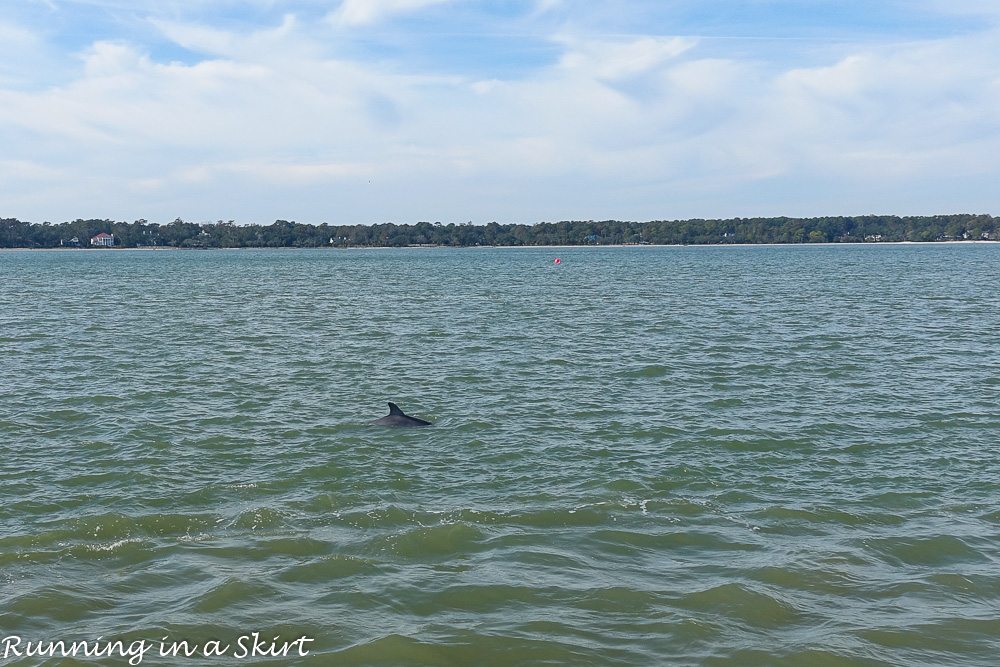 There is nothing more beautiful and relaxing than getting out on the water.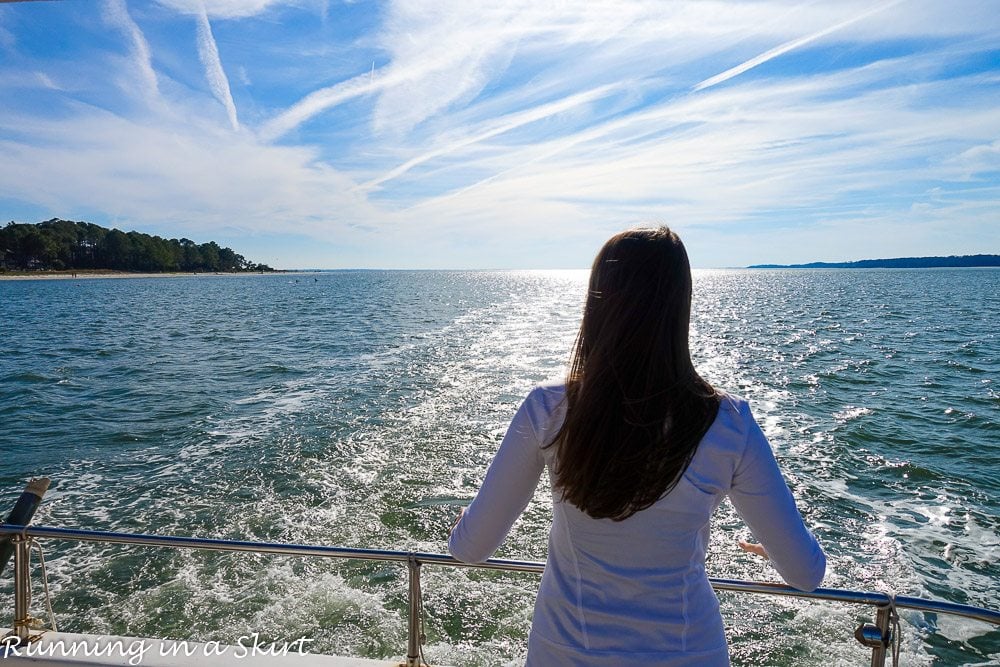 After the boat tour we went back to the beach to watch sunset.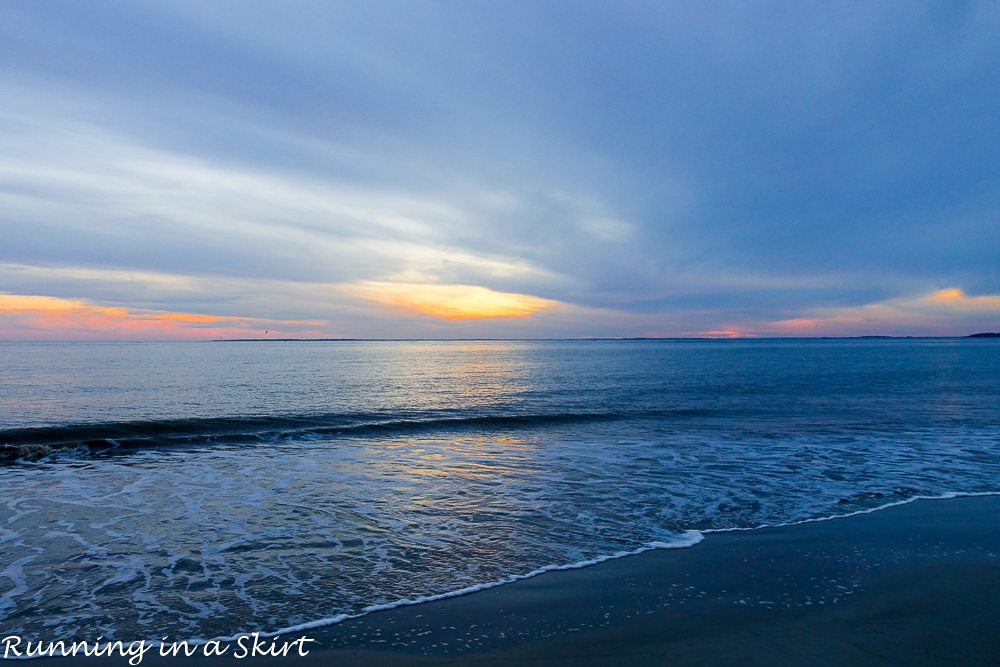 For dinner my Brother, Dad and I went out by ourselves to one of my favorite Hilton Head restaurants, Redfish. We then had a nightcap at The Salty Dog.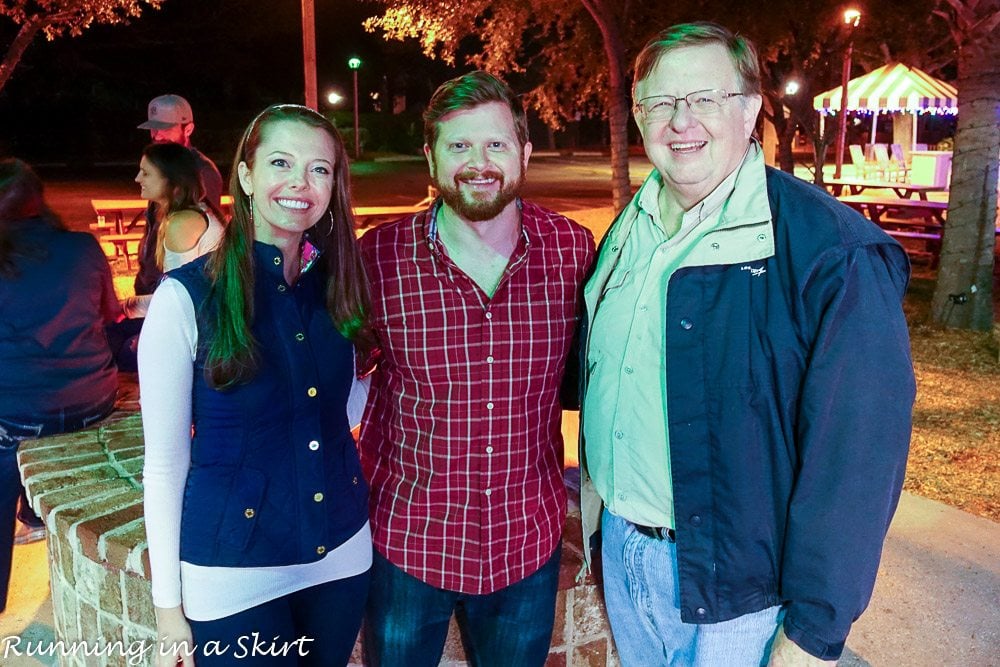 Sunday
Most of the group left early Sunday, but a small number of us decided to stay for half a day before heading back.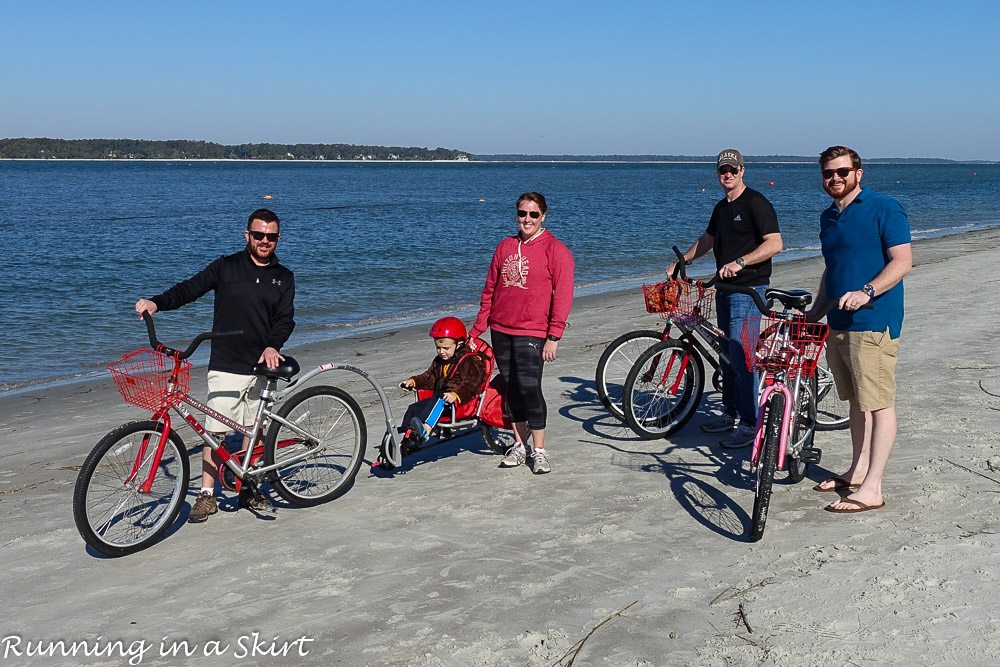 We rented bikes and rode along the beach, which was one of my favorite parts of the entire trip. We practically had the beach to ourselves.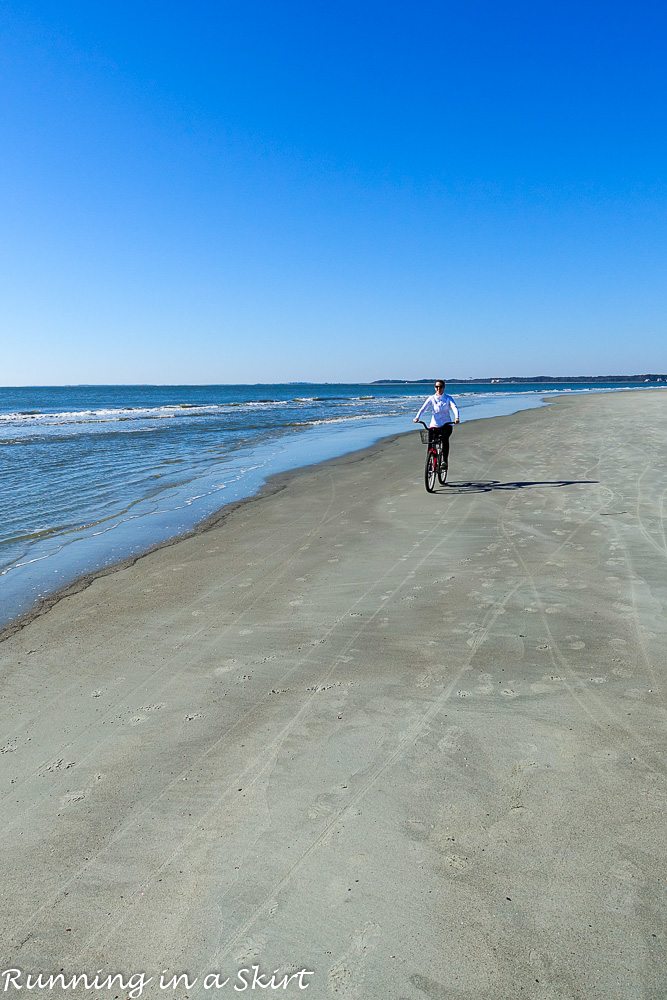 We also snagged a quick lunch at Hudson's before leaving.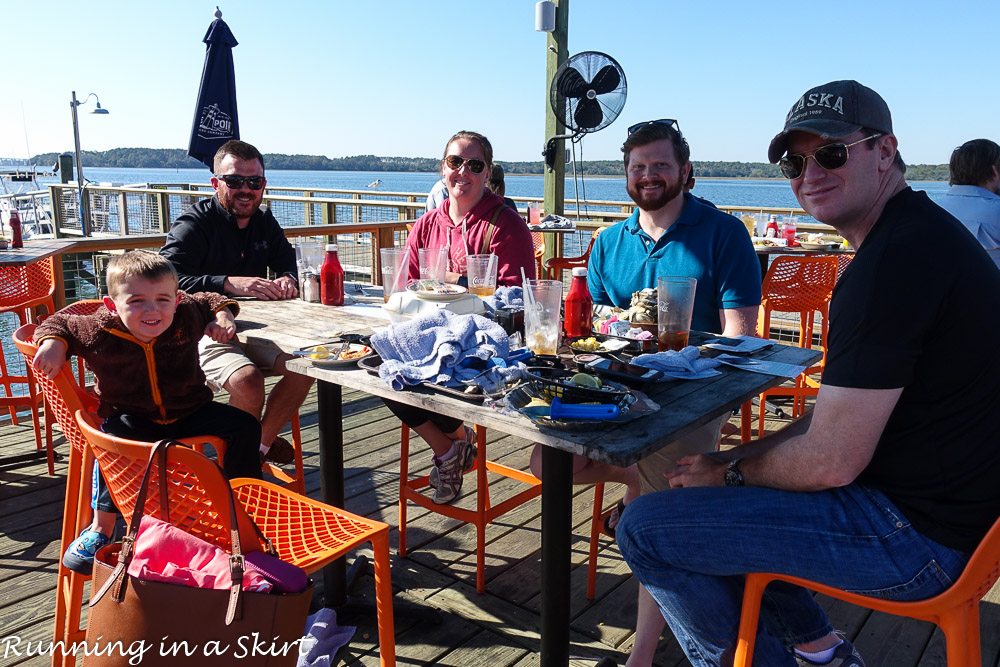 This was my tray and I was in oyster bliss. I love going to the beach in the winter and getting trays like this.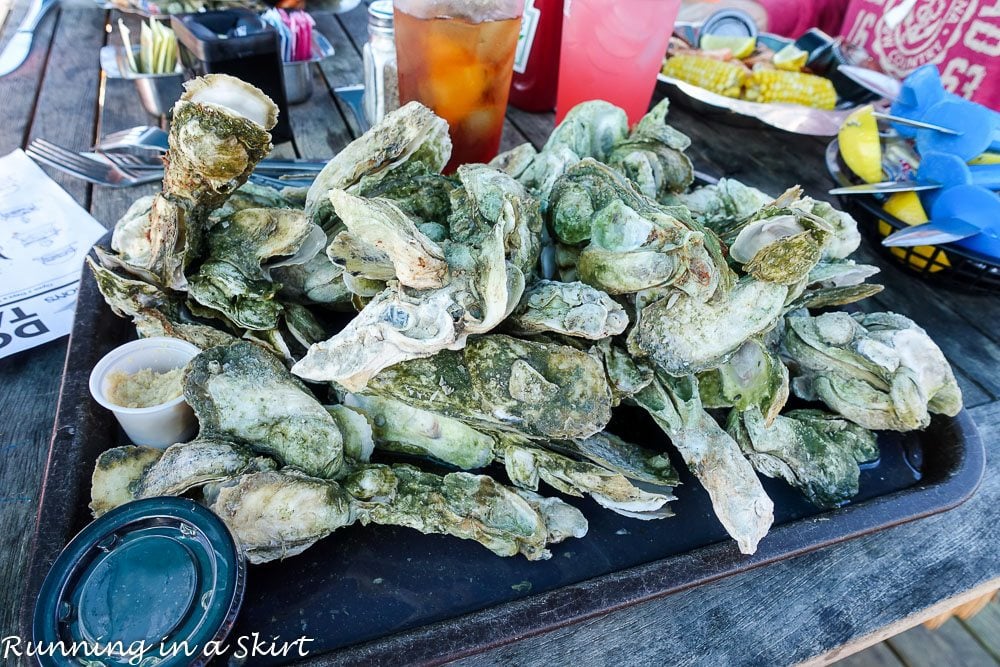 After eating we all went our own ways and I already miss everyone.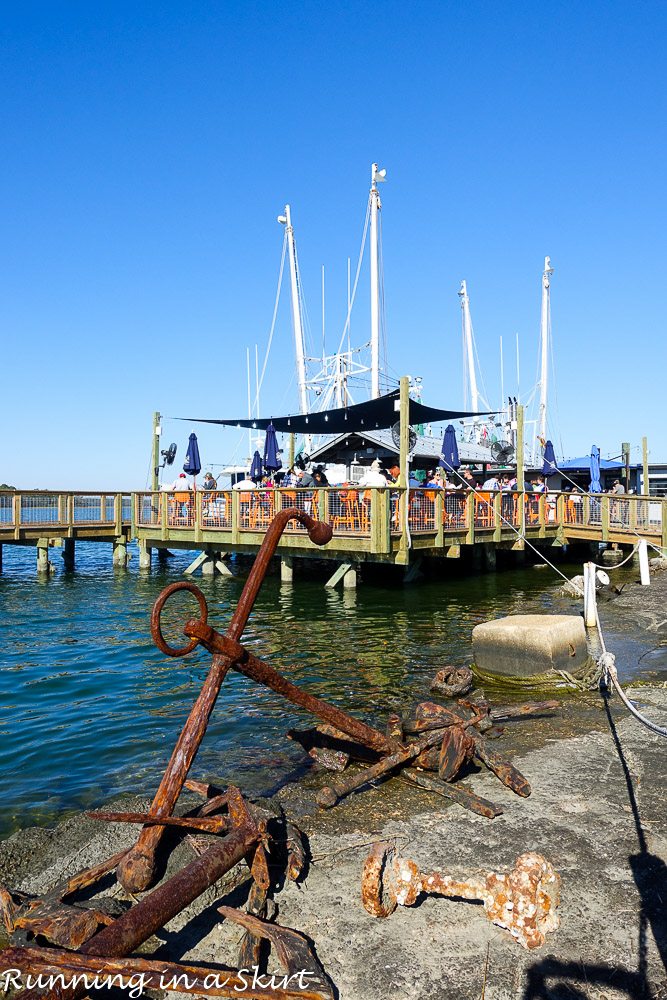 What an amazing few days on the beach filled with family, fun and way too much seafood. <---is there such a thing as too much seafood? It was a bit untraditional this year, but such a welcome change of pace. I'm I hope y'all had just as nice of a holiday.
Your turn!
What did you do for Thanksgiving?