Hello! Hello! With tax season over the Hubs and I escaped away to our favorite regional island for our own version of a Hilton Head Island Spring Break. No... we're too old to actually get a spring break... but we pretended we did and had a great time recharging after all that work.
The trip was dampered a bit by the news that after several serious health battles in the past few weeks, my Grandfather passed. He was 94 years old and had a long, beautiful life... but it's still hard to lose him. I'm very worried about my Grandmother, who has developed significant memory problems in the past few years. They were married for nearly 73 years. We're heading up to Dayton late this week for the funeral. I want to share more about his life and legacy next week as he deserves a lot more than these few sentences... I just need a few days to gather my thoughts. He was a remarkable man and we will miss him dearly. Thank you all for prayers for my family during this time.
Not to change subjects so quickly, but I also know my Grandfather would not want me to wallow... so I'm going to go on and share the highlights from the weekend. He actually loved Hilton Head and we spent countless summers vacationing there as an extended family when I was a kid so it was nice to reminisce while I was there.
Hilton Head Island Spring Break
Wednesday
The Hubs and I arrived to our Hilton Head Island Spring Break late Wednesday afternoon. We got upgraded to a gorgeous ocean front room, so we enjoyed the view and got ready for dinner. For dinner, we had reservations at Red Fish and it did not disappoint. The Hubs and I shared the Lobster Mac & Cheese with Scallops...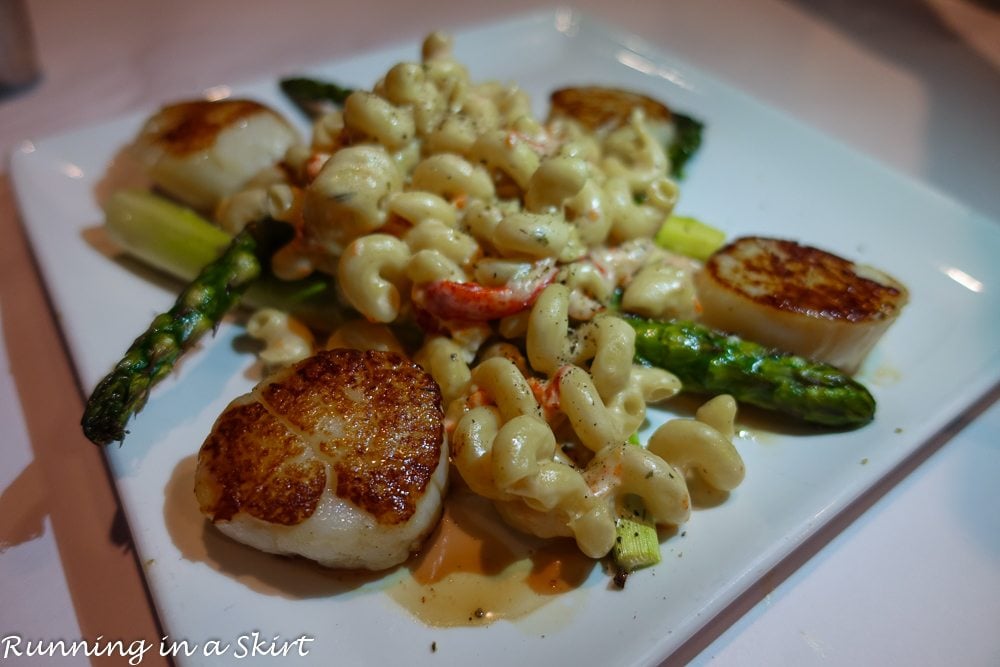 ... and the Cajun Shrimp and Lobster Burger. It is just as good as it sounds.
If you are newer to the blog, many moons ago I did recreate a healthy version of this burger (just with shrimp) and put the recipe on the blog.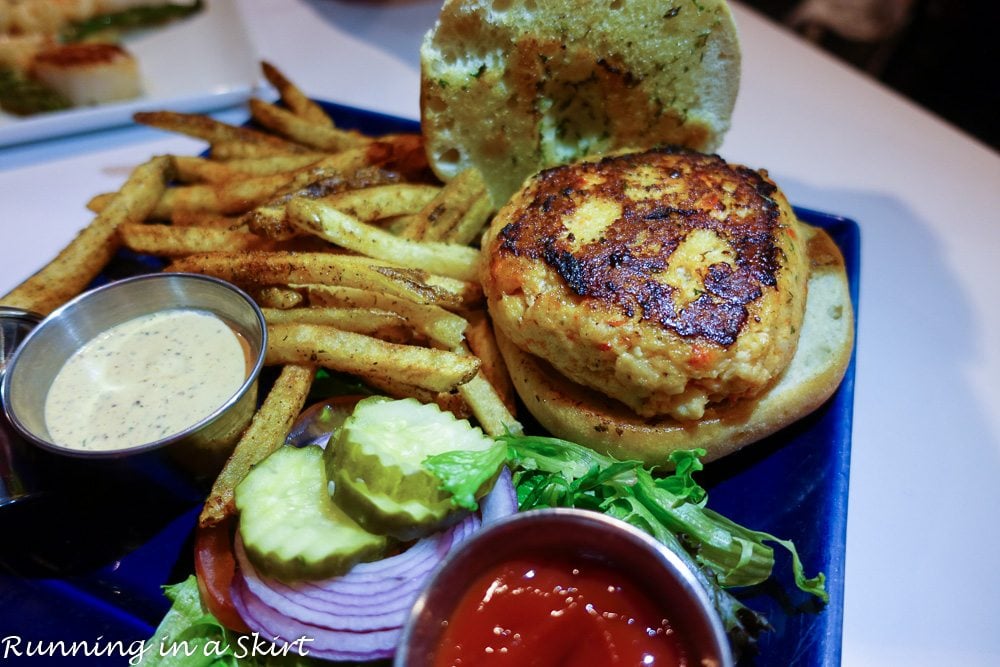 We were both pretty tired so we went to bed early and had a great night's sleep.
Thursday
Thursday was supposed to be the prettiest and warmest day of our trip, so I got up ready to GO! I think the Hubs was a little annoyed I didn't let us sleep in... but he's used to it. We enjoyed breakfast at the hotel with a gorgeous view.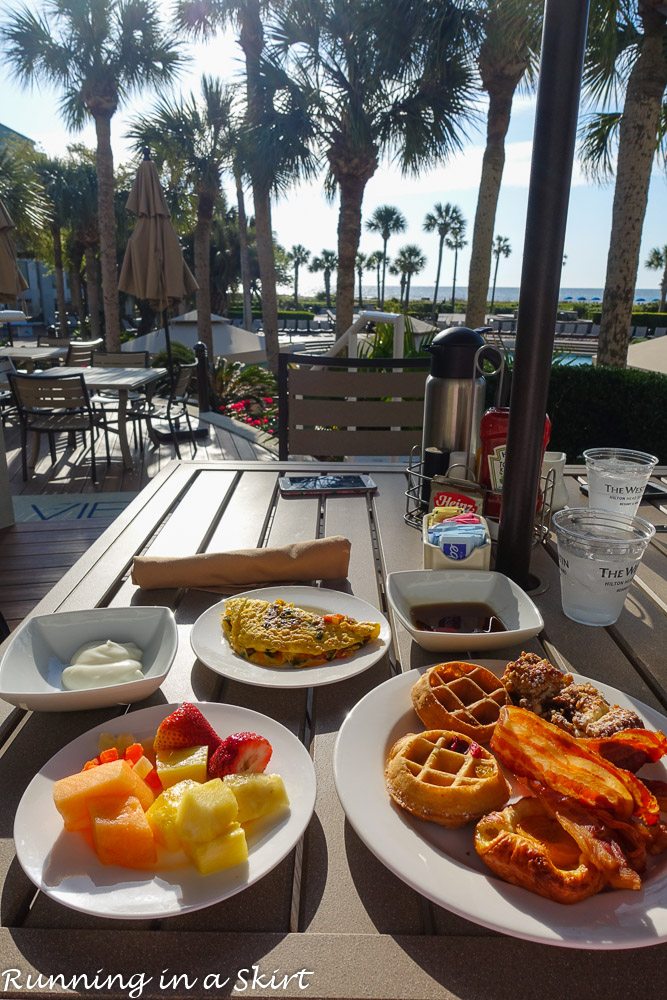 After breakfast the Hubs set up our beach spread. He looks at the sun and burns, so we need this crazy umbrella even this time of year. He's so good at getting it all set up.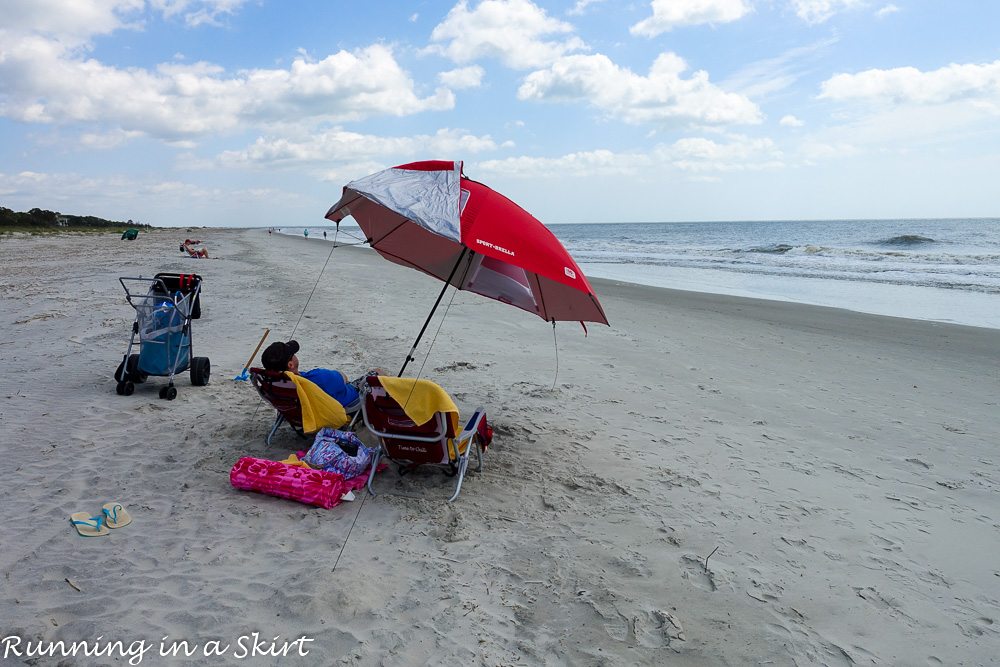 There were these crazy jellyfish dotting the shores. It was too cold to get in the water, but I'm not sure I would have wanted to with these guys staring at me.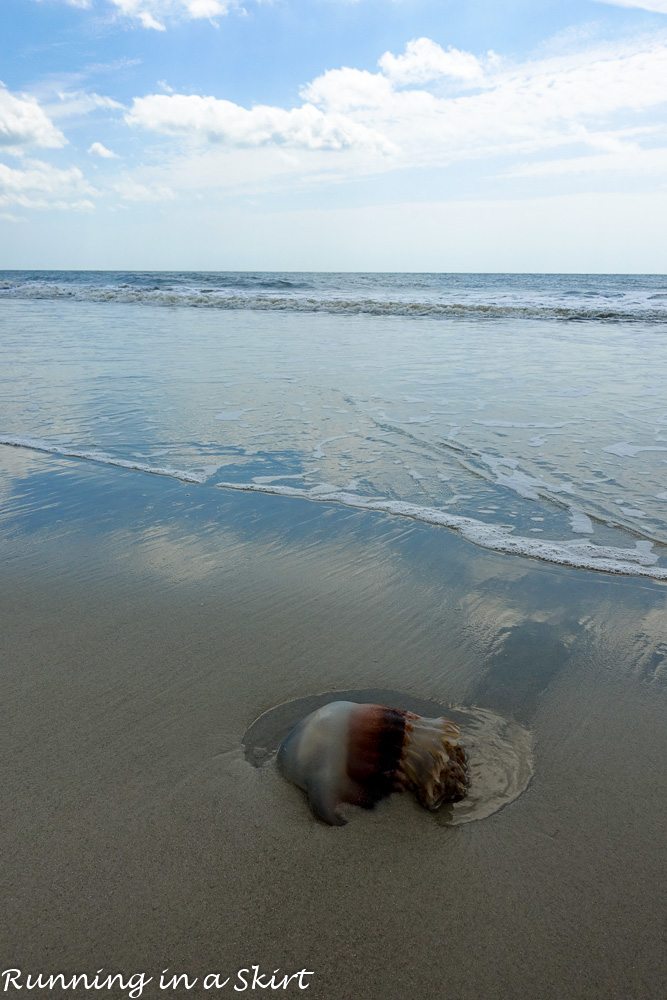 We spent nearly the entire day at the beach. I read my book and we listened to music. It was such a lovely, lovely day. I'm such a beach girl at heart. A Hilton Head Island spring break is plenty relaxing.
By late afternoon we went inside to get ready for dinner. It was pretty windy, so sand was EVERYWHERE... even in my hair!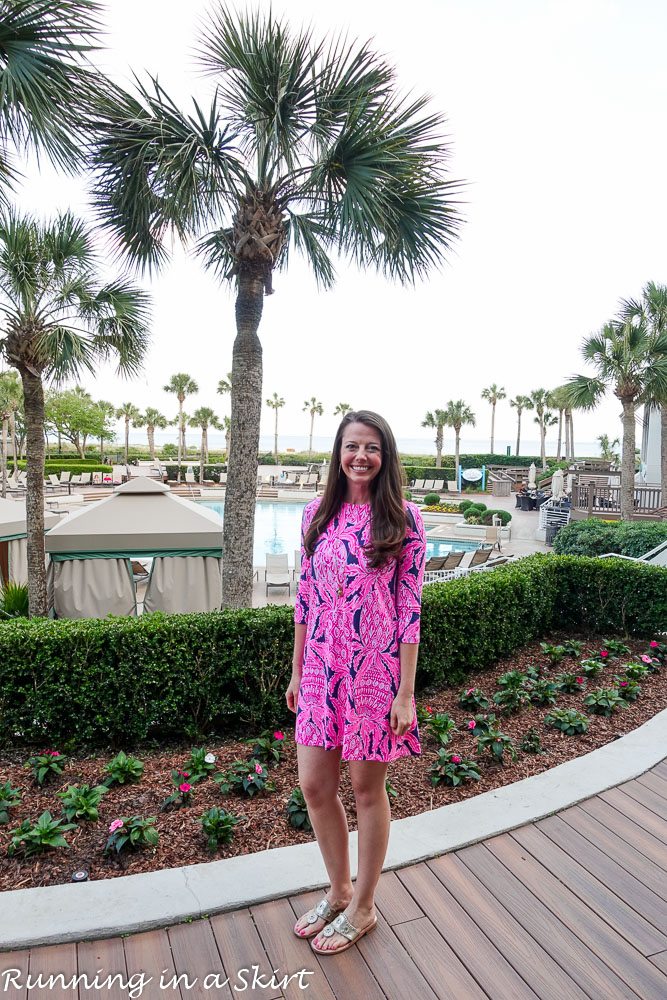 Dinner Thursday night was at our favorite Hilton Head restaurant, Charlie's. My MIL had sent us a gift certificate and we were so excited to use it. It's a French inspired seafood restaurant.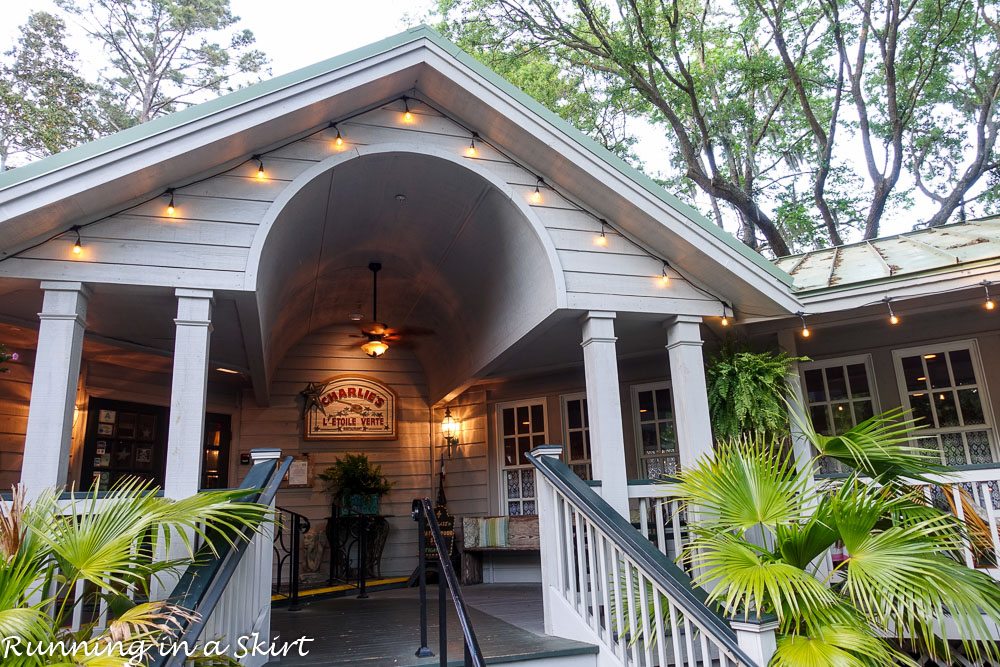 We got a crab soup, which was spectacular.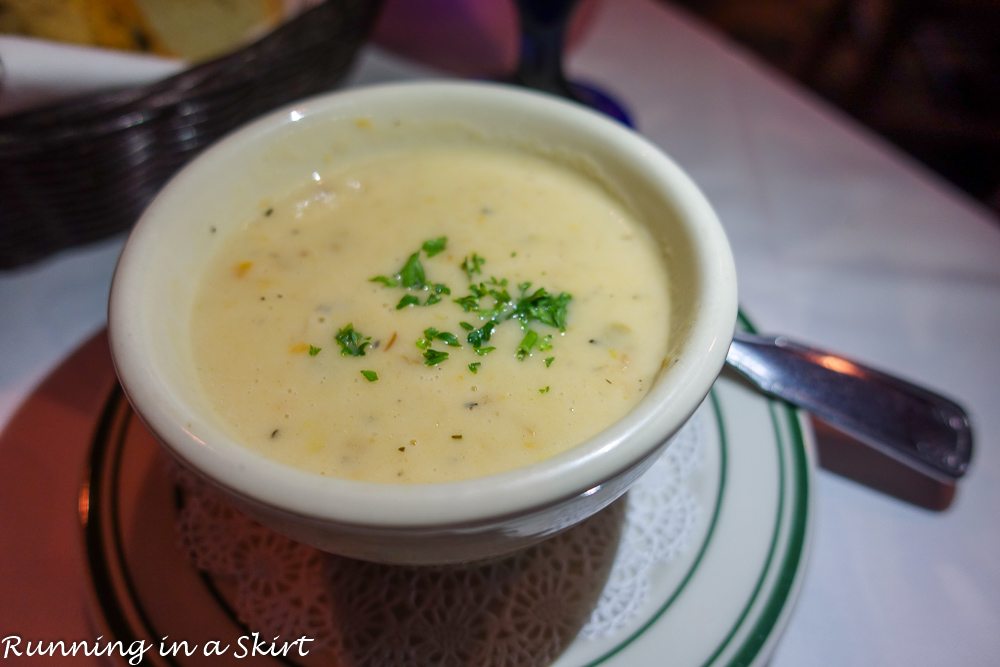 For my entree I got the grouper with mushroom sauce. It doesn't look like much, but it is one of my favorite dishes ever. It is beyond delicious.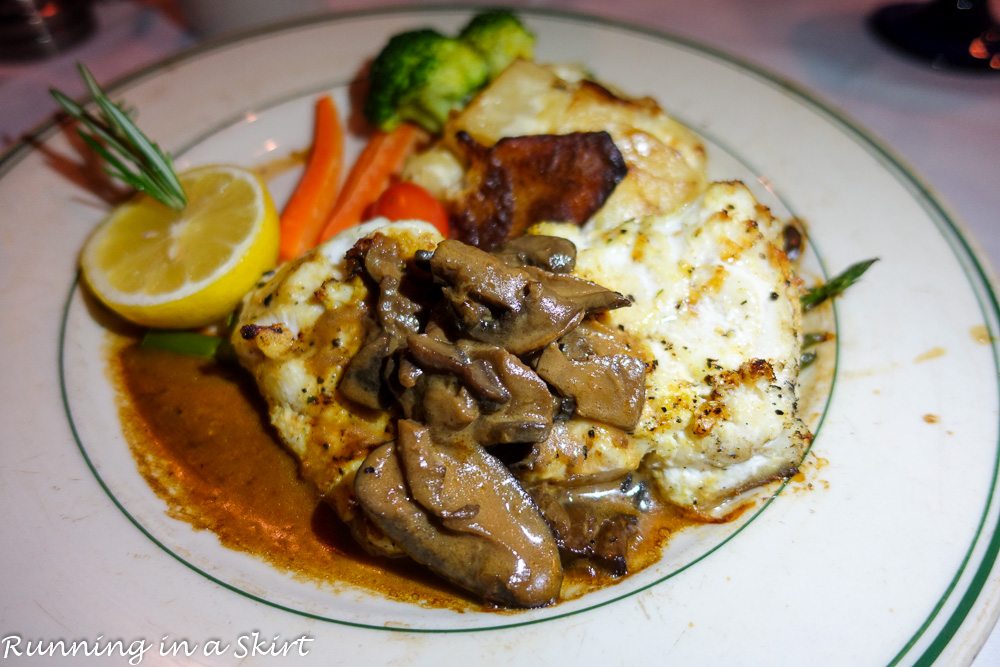 For dessert we got the caramel cake, which is also sinfully good. We got two pieces because sharing this never works... it's that good.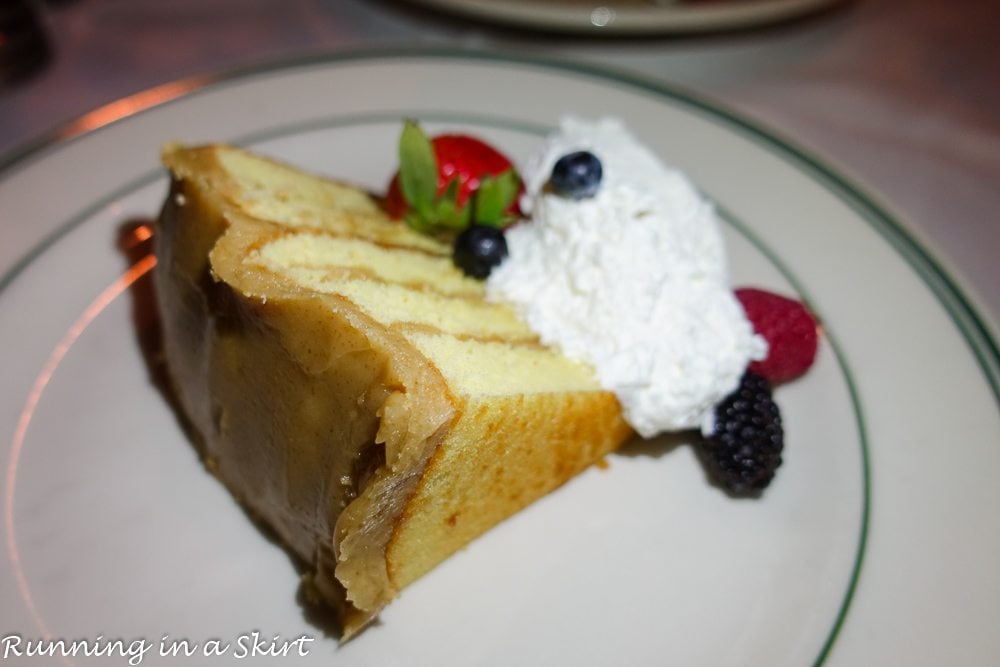 Friday
Friday was supposed to be a bit cooler (in the low 60's with lots of wind), so we decided to have a slow morning. We even ordered breakfast in the room, which was a fabulous splurge. I loved my oats and fruit!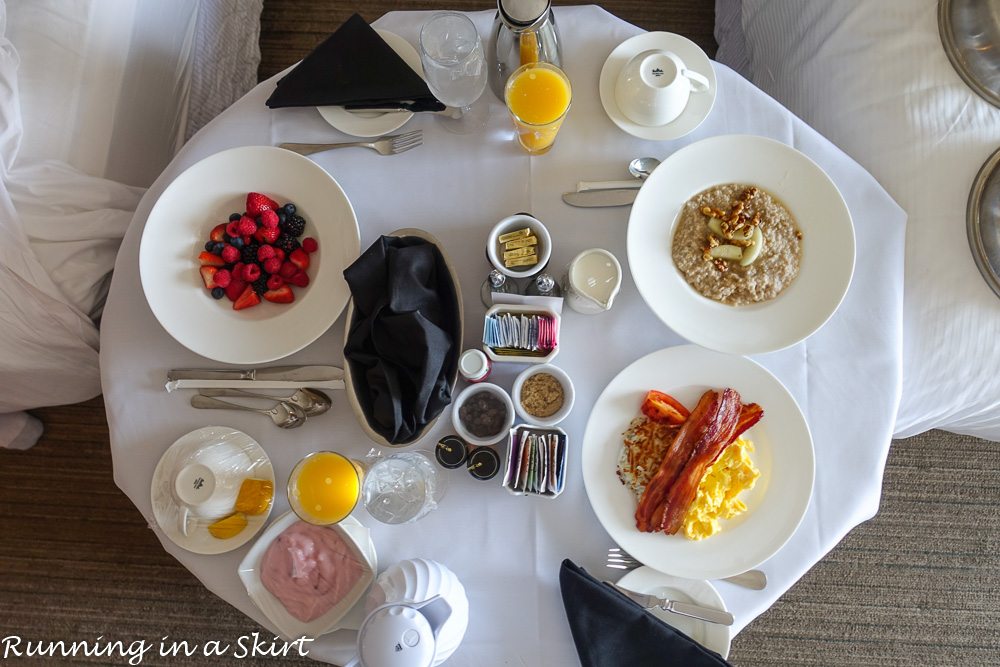 After breakfast we went for a beach walk. It was crazy windy, so we ended up meandering away from the water and explored some of the gorgeous shaded paths near our hotel which were sheltered a bit from the wind.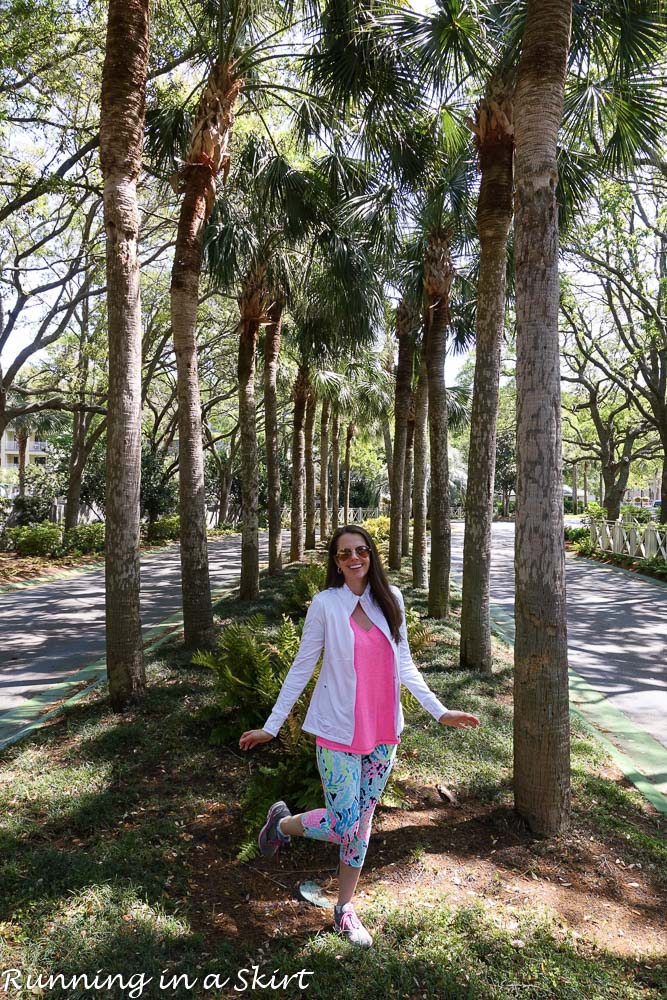 After our walk we drove to the other side of the Island and went into Sea Pines. I love how beautiful South Beach is, and we had it all to ourselves for another beach walk. This place would be packed in summer, so it's nice to have some space during a Hilton Head Island Spring Break.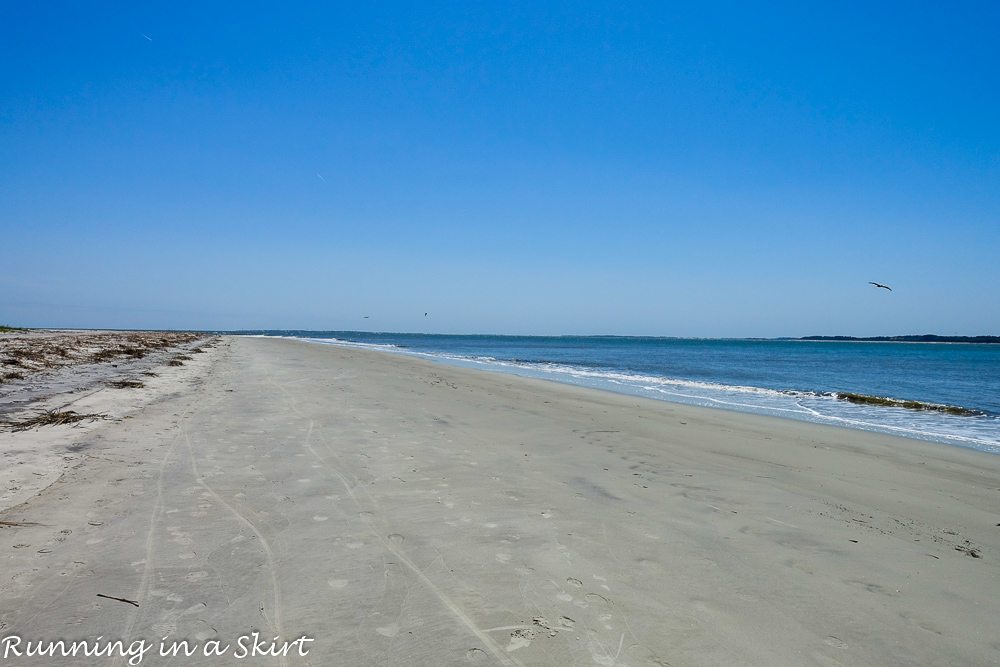 We were then starving, so we popped into Salty Dog for a fabulous lunch. The Hubs and I shared a Shrimp Po-Boy...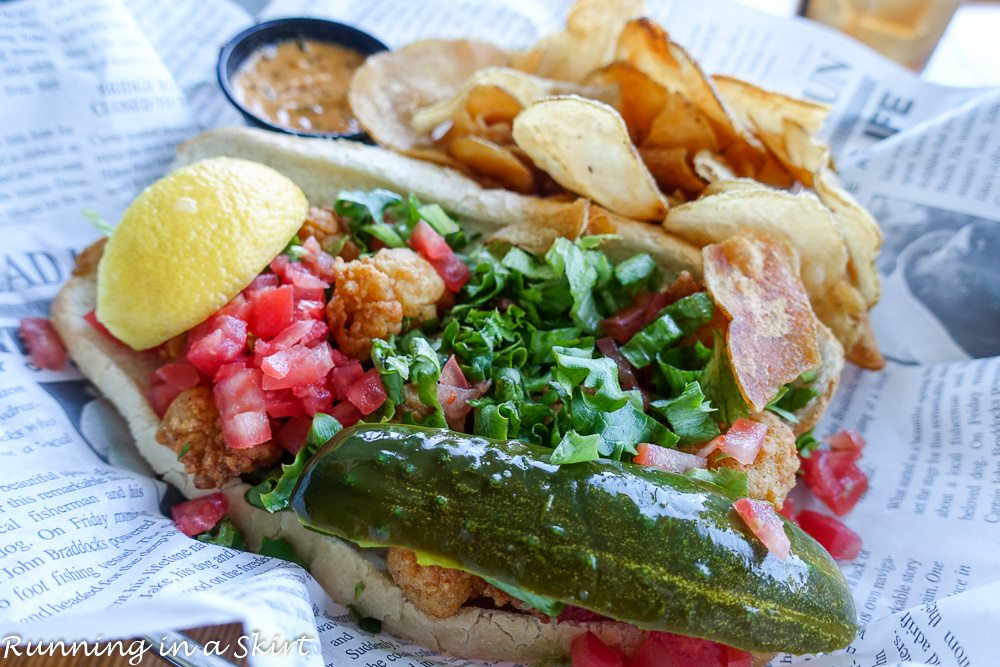 ... and a Shrimp and Lobster Roll. They were both just as good as they look. I'm not much of a fry fan, but I did love the homemade chips.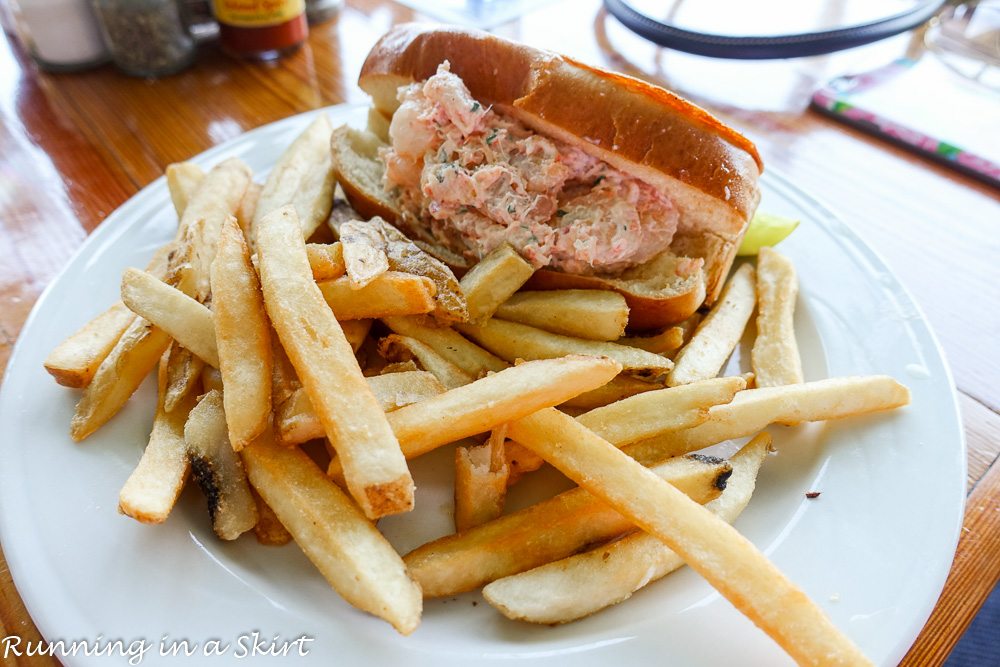 After lunch we walked over to Harbor Town to explore and shop.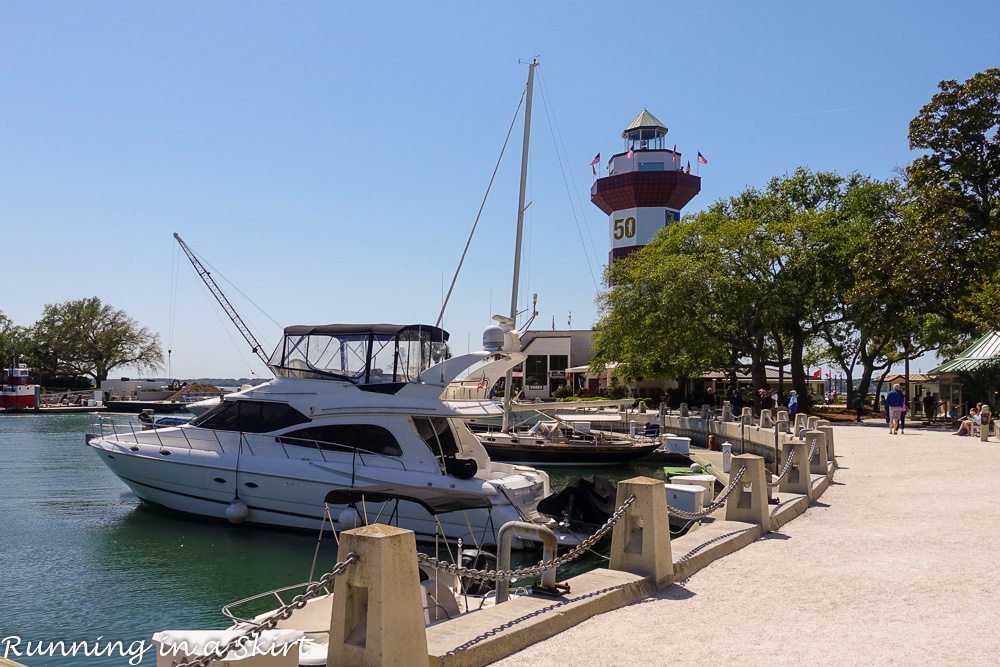 The Harbor Town pier, which was destroyed in a hurricane several years ago was finally back open.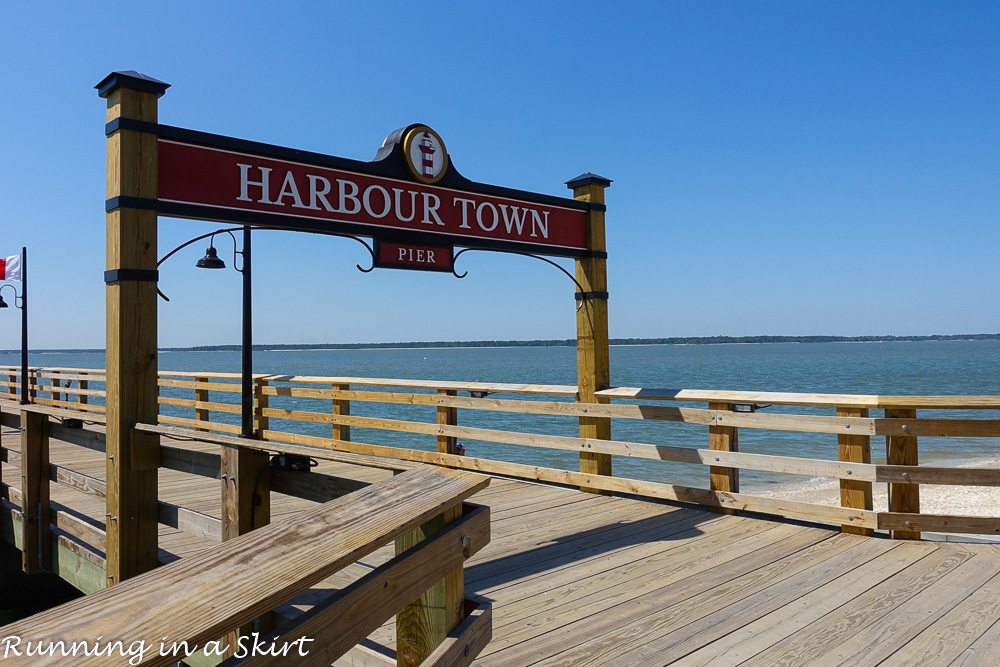 It was so nice! I can tell it's going to be very popular this summer.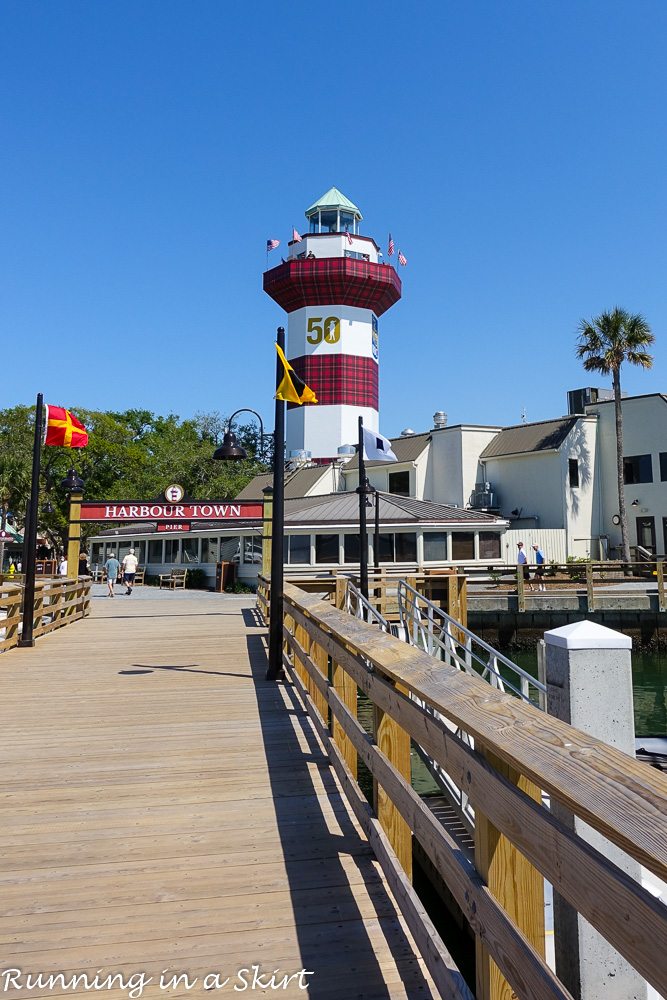 After exploring for a bit we went back to the room and relaxed on our balcony.
For dinner we went to a new to us Italian restaurant, OMBRA Cucina Italiana. I got out more Lilly. 🙂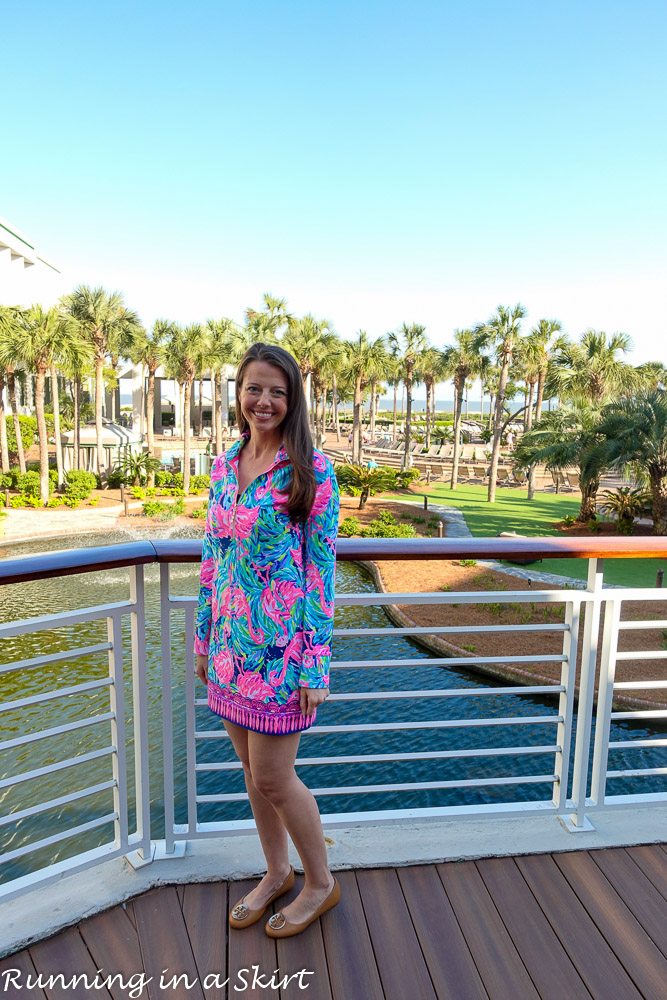 I got this ravioli, which doesn't look like much, however it was homemade and tasted incredible. They were filled with ricotta and spinach. They were light, fragrant and fabulous. The Hubs got a steak. 🙂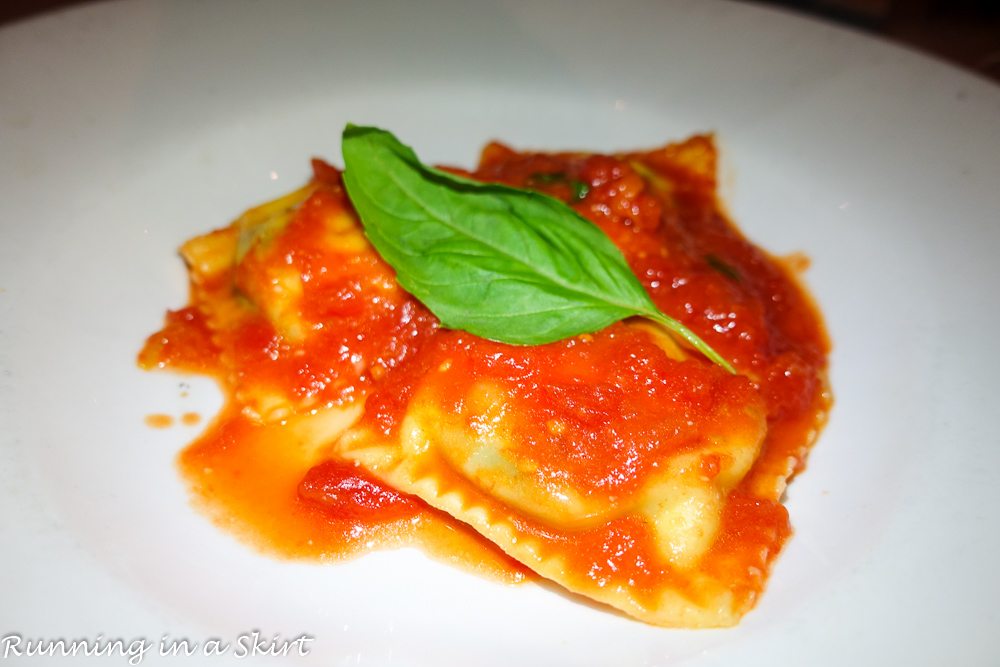 For dessert we shared this gorgeous cannoli, which looked and tasted incredible.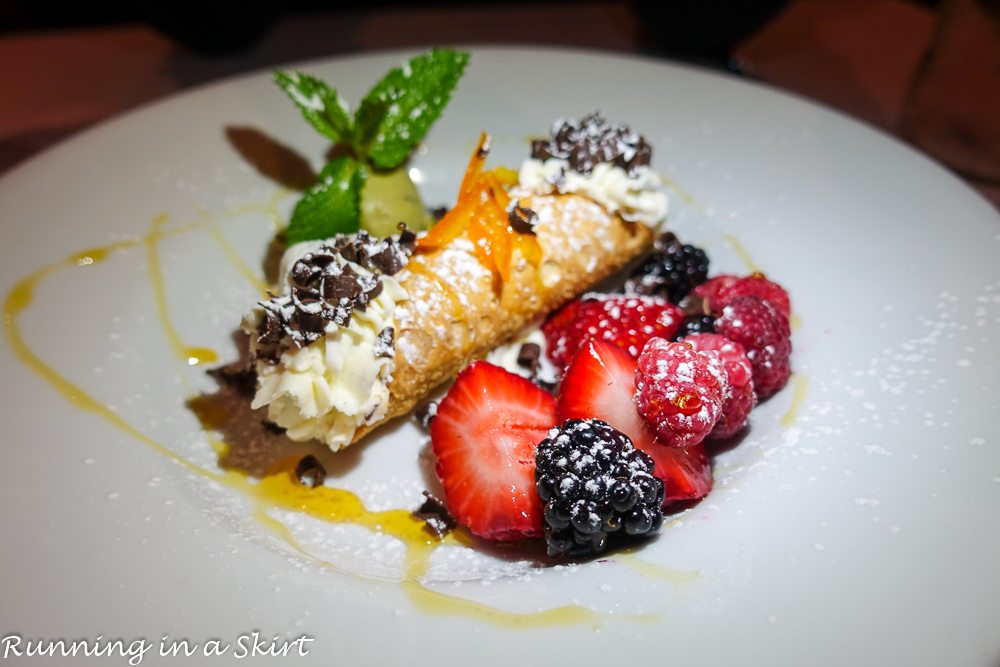 Since we had an early dinner, we realized as we were driving home that the sun was setting. We pulled off to road and stumped on the most gorgeous sunset!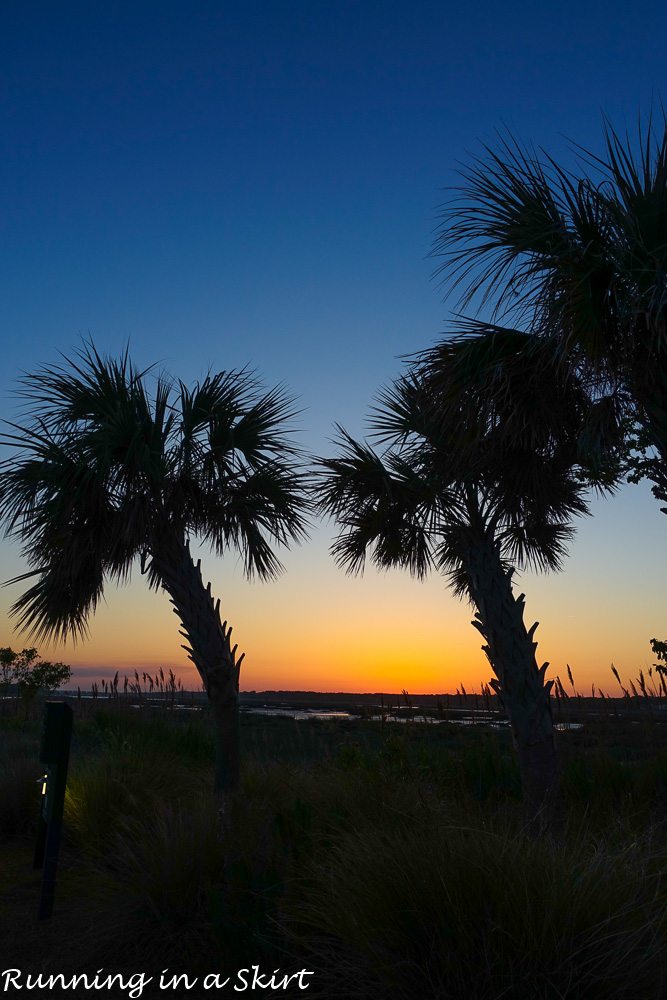 There wasn't a cloud in the sky and the sky turned gorgeous shades of orange and blue. It was the perfect ending to a lovely Hilton Head Day.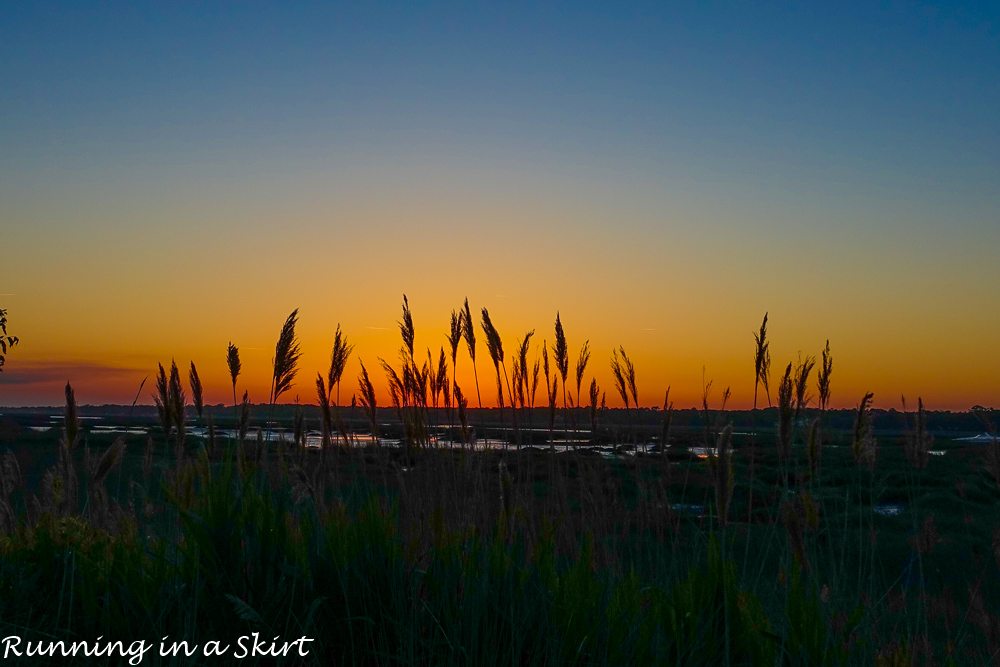 Saturday we decided to head back home early. It was still chilly to actually sit out at the beach and our closet got installed right before we left, which meant if we went home we'd have time to finally move back into our bathroom and closet. With the remodel, we haven't been in our space since January, so it was a pretty easy decision to make.
Before we left though we picked up some killer bagel sandwiches at Island Bagel and Deli. Their bagels taste just like New York Bagels to me!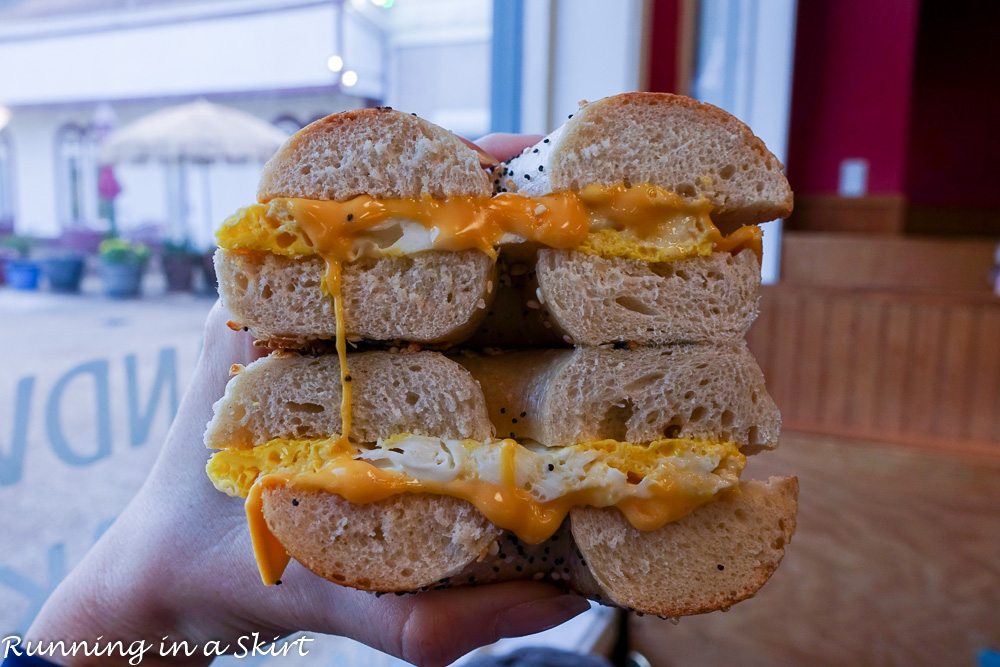 What a fabulous Hilton Head Island Spring Break! I wish it would have been a touch warmer the second day, but it was snowing in so many other places that 60's really wasn't that bad. We had some great eats and it was beyond wonderful getting to spend time again with the Hubs. Plus I firmly believe that a cool day at the beach is better than no beach day at all!
Want more Hilton Head Island?
Thanks for stopping by today! Come back tomorrow for some of my favorite healthy kitchen gadgets I actually use.
Your turn!
Did you take a spring break this year?