Hi guys!
I spent last weekend in Dayton, Ohio visiting my Grandparents. It was so nice to see them and some of my aunts and uncles who also live in the area. My Dad met me up there, so it was also great to see him as well. The Hubs stayed behind because he is busy working on ALL THE TAXES (He's a CPA.)
The fun started Friday night when my Dad picked me up from the airport. We met my Aunt Patty and Uncle Bob and had dinner at Outback. It was pretty dark in the restaurant, so the picture turned out wonky... but you get the idea. It was lovely to have a family meal!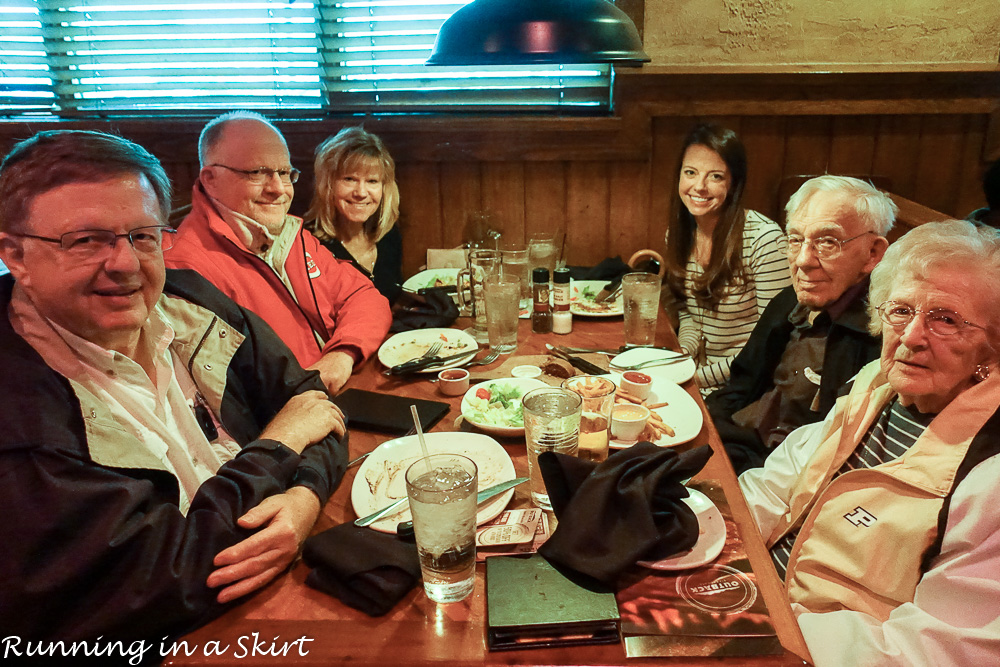 I got the Crab Stuffed Tilapia! Yummy.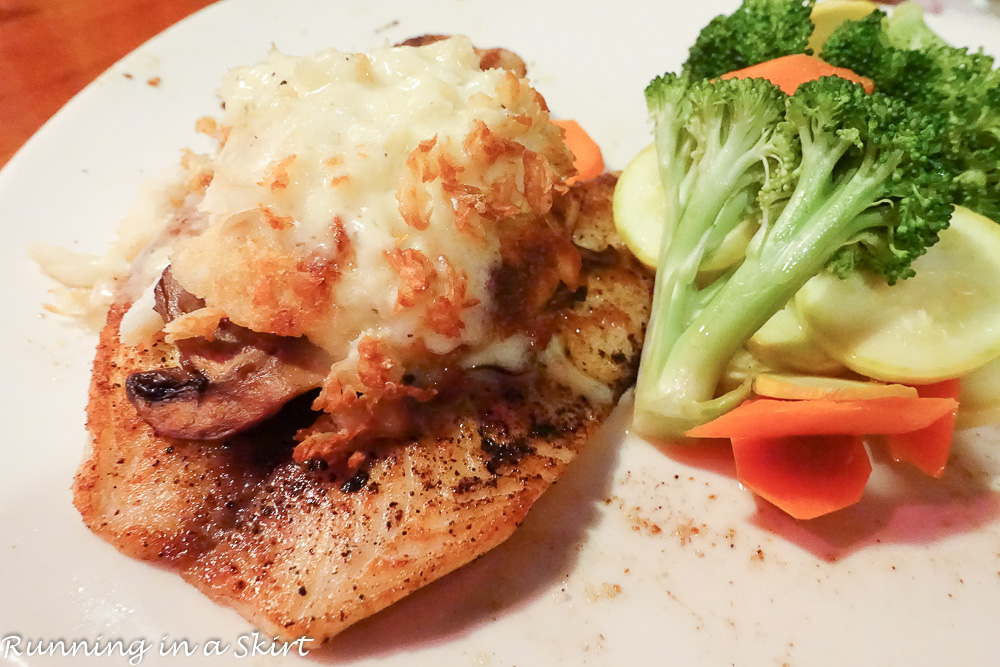 Saturday my Dad and I went out to get brunch. We ate at First Watch, which is actually one of my favorite chains from Florida. This superfood salad and roasted vegetable sandwich tasted dreamy.
It was strange eating what I identify at Florida food in Dayton... but I went with it. I'm totally craving this again so I'm going to have to recreate it.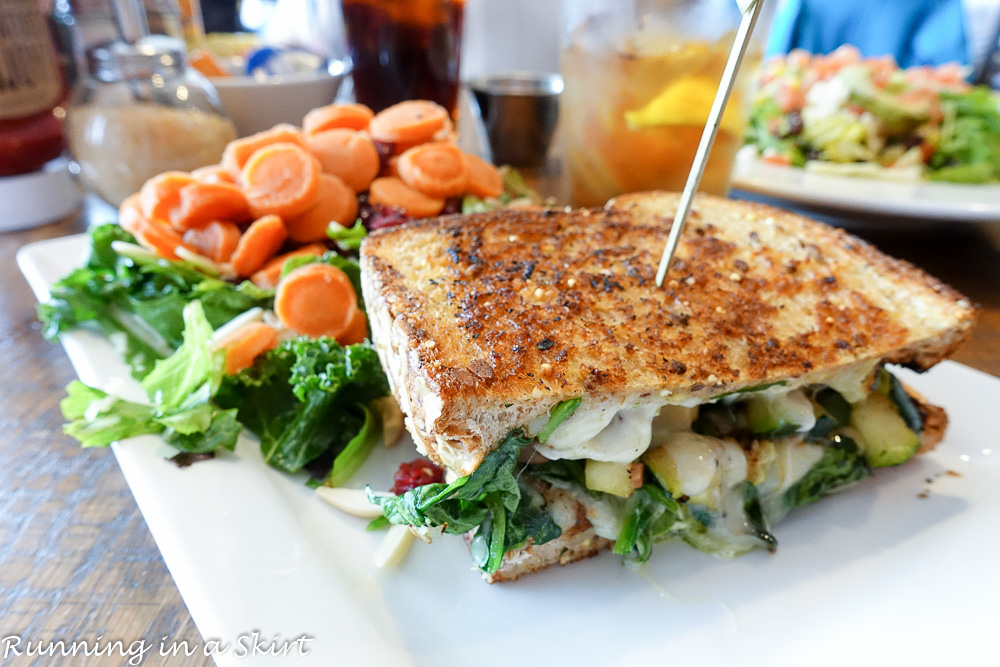 After brunch we picked up my Grandparents at their new home in the retirement village and got in the car to go see my Aunt Rachael who lives in Columbus. She was dog sitting and couldn't leave her house, so we went to her!
This might be my Grandmother's first selfie... I'm not sure :-).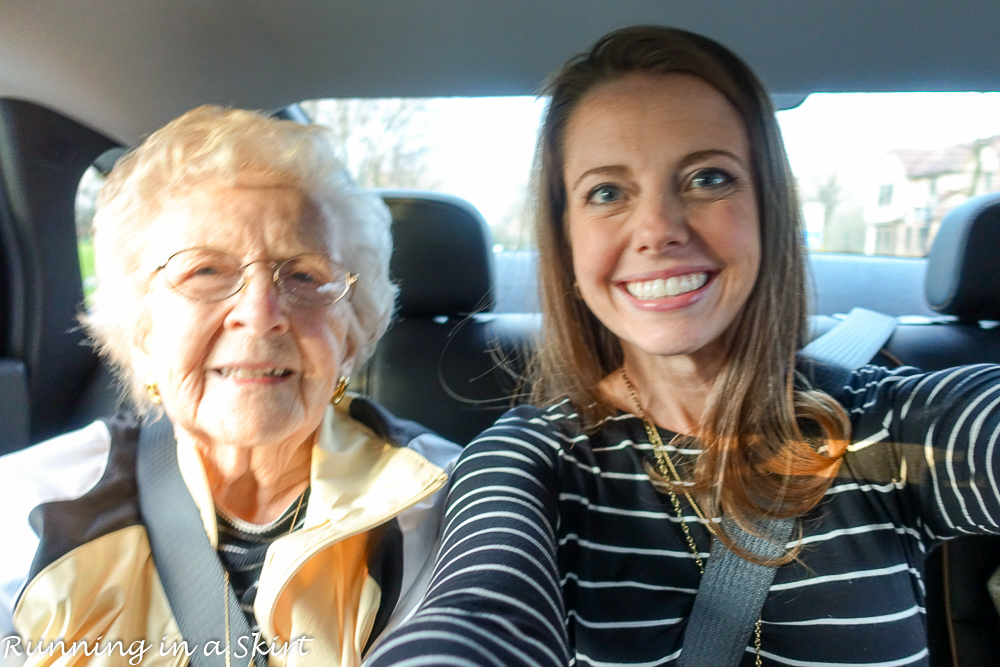 My aunt cooked us a delicious meal including her famous ribs (salmon for me!) with vegetables and fruit! It was so nice to see her and her beautiful home. She made me want to come home and re-decorate because her house was so cute.
Isn't her dog Stoli adorable too?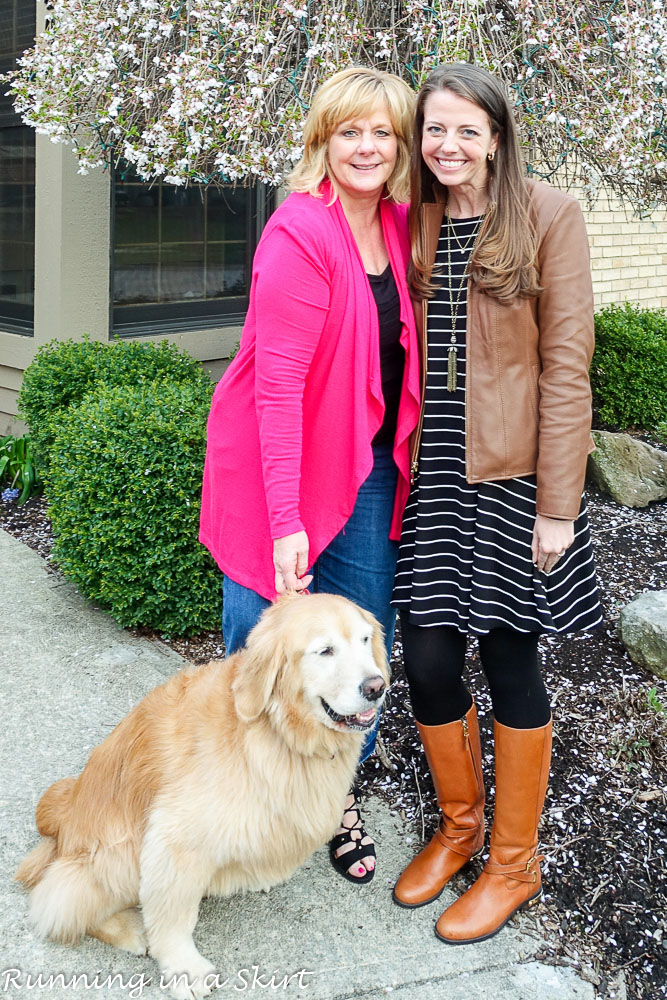 Sunday morning started off with a nice long run along the river that runs by the University of Dayton campus. I didn't track how many miles, but I ran for about 45 minutes... which felt amazing.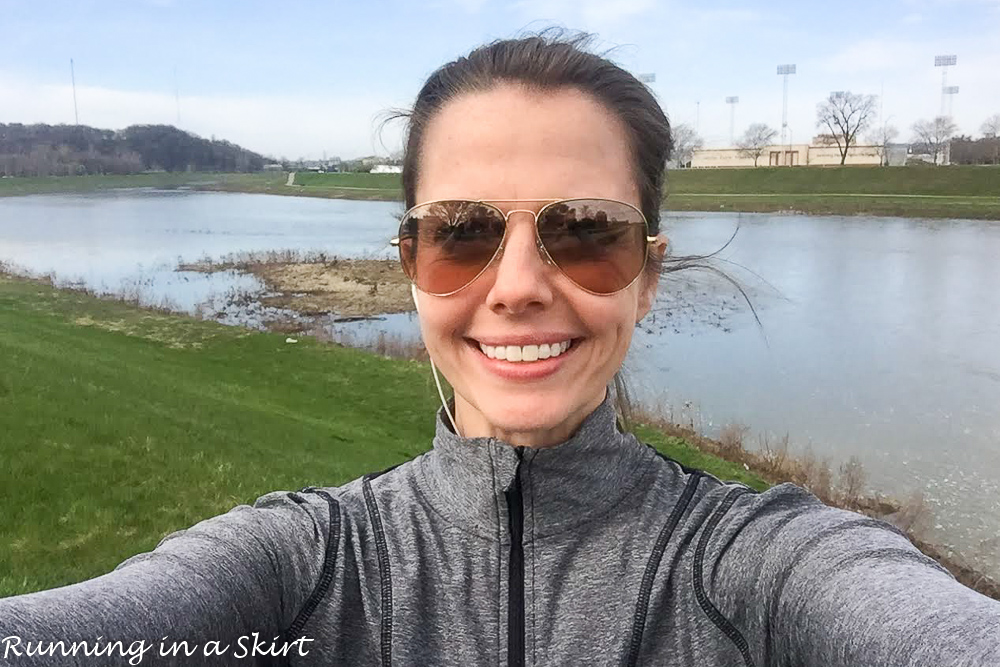 I even ran through a park with some Wright Brothers ties. Next time I go back, I'm totally taking the Hubs here.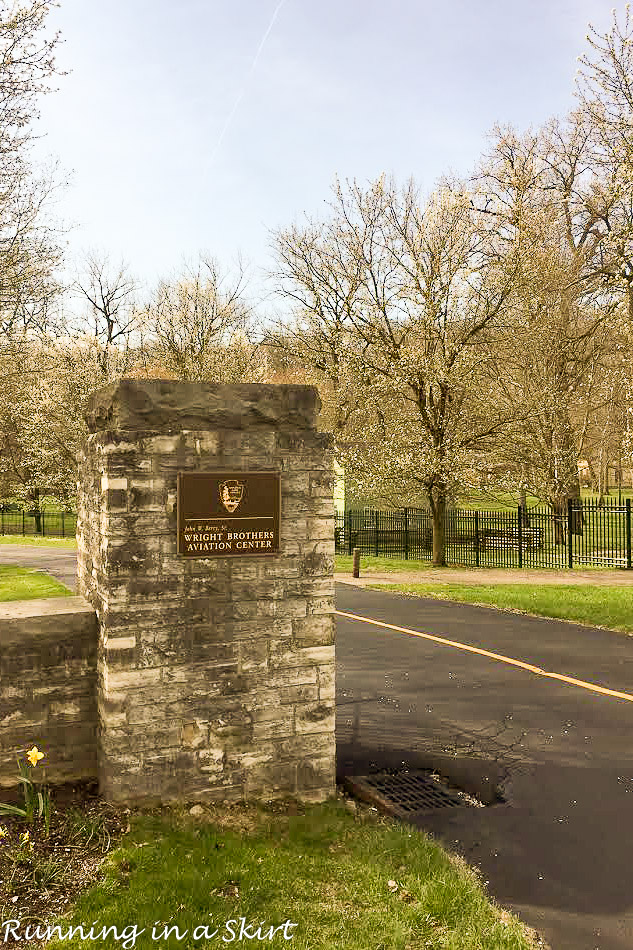 Sunday we went back over to my Grandparents retirement village to hang out with them for the afternoon. We caught up and watched some tv.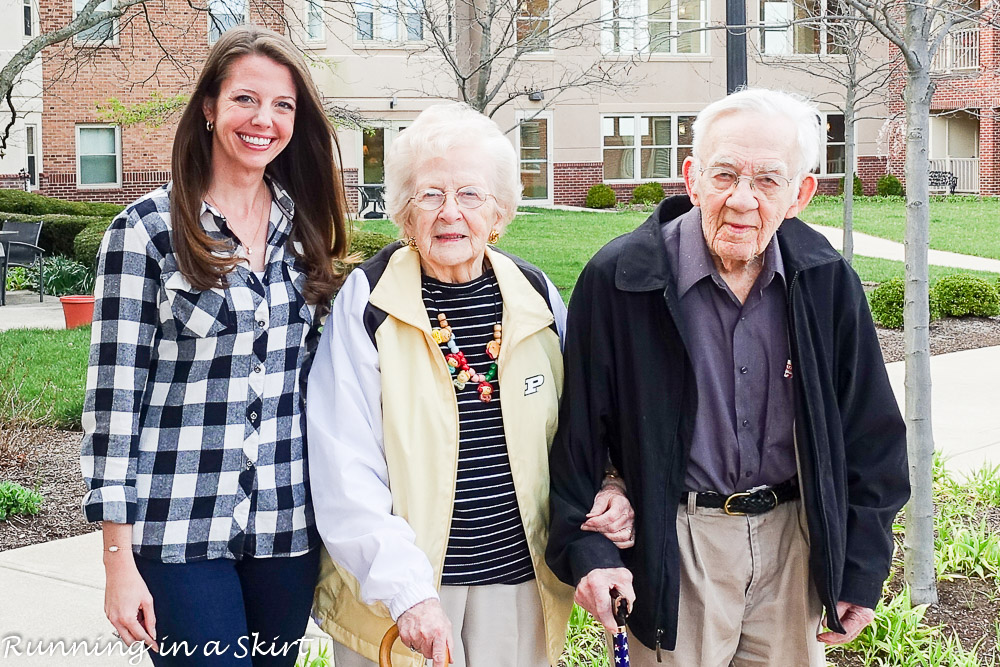 We also made sure my Dad got in some of his steps for the day! He tries to track over 10,500 each day on his fitbit. Luckily the weather was perfect for a walk.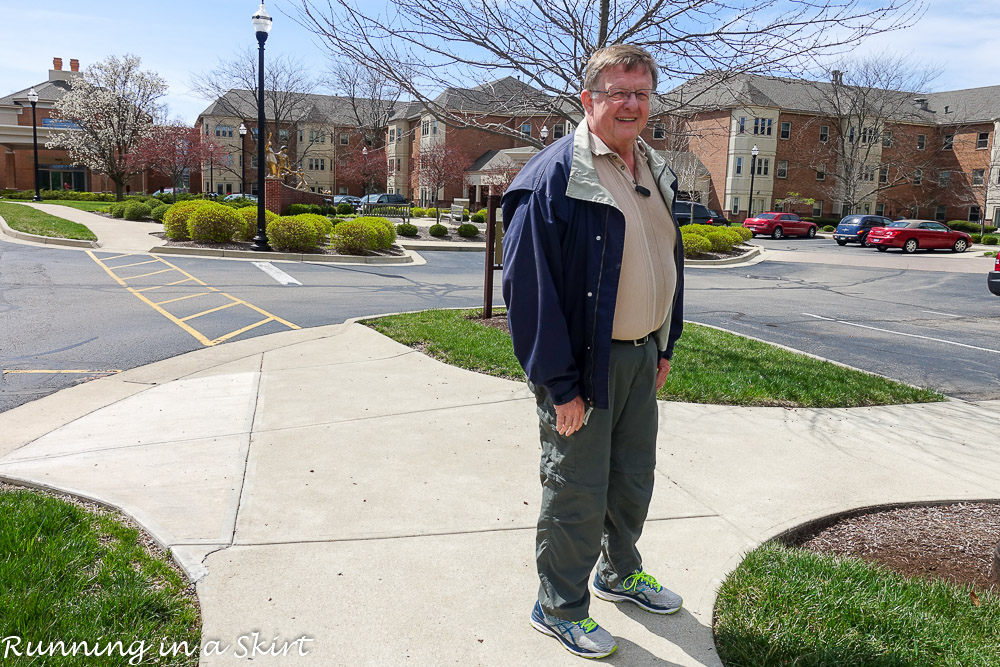 For dinner Sunday the family got together at Marion's pizza, which is a long standing Sunday night Wunder family tradition. My Aunt Patty and Aunt Beth were also there.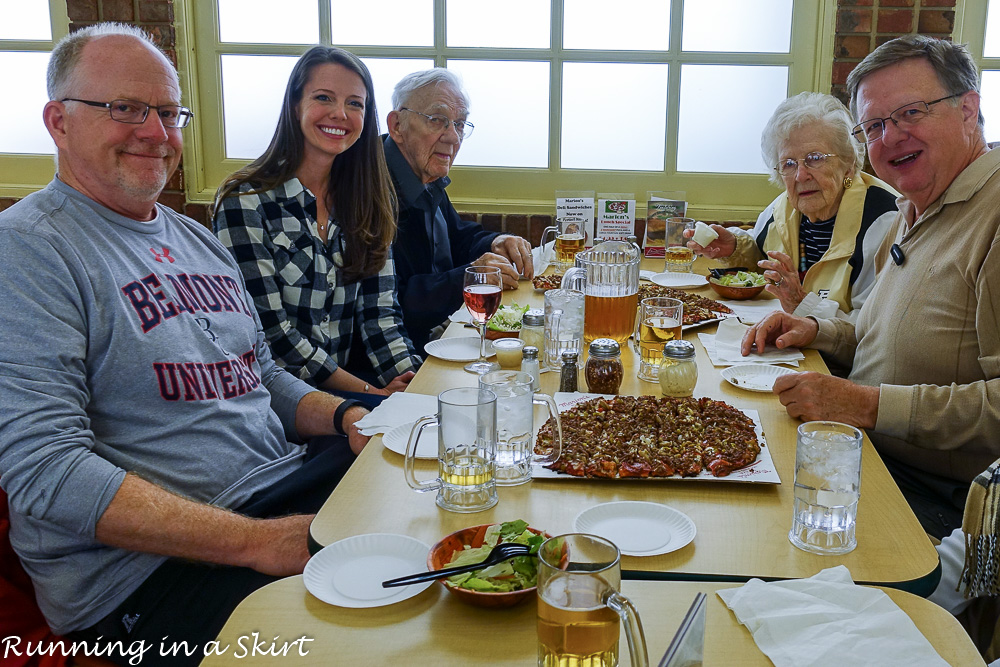 The pizza was crispy and comes in bite sized pieces. They all got the super meaty combo, but I ordered half with veggies. It's pretty tasty and one of those things that is comforting because it never changes. I've been eating this every time I visited Dayton for as along as I can remember.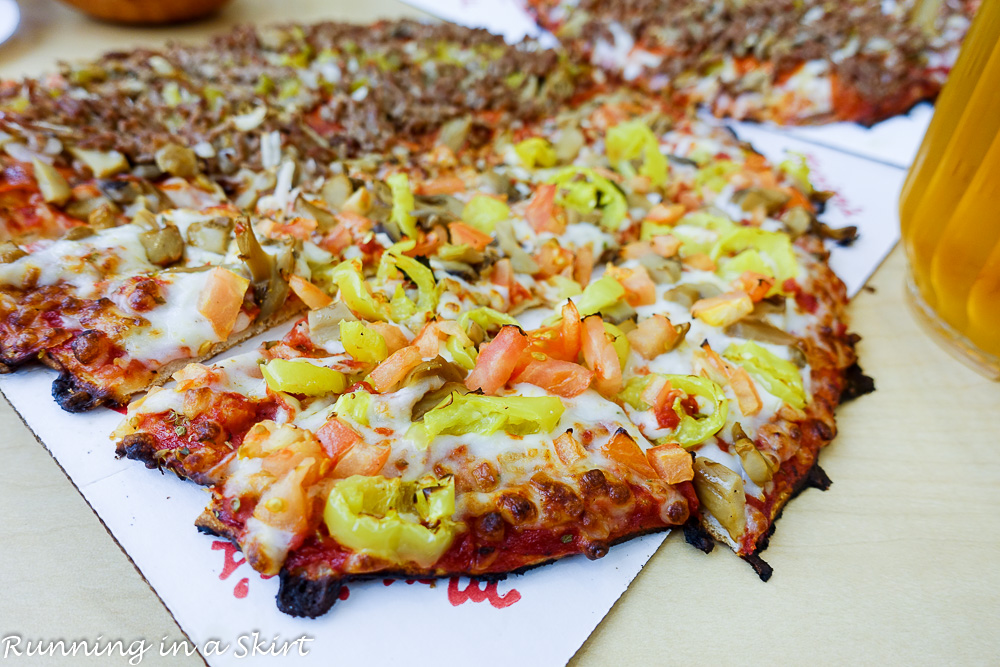 Monday my Dad and I both had some trouble getting home with severe storms in Atlanta, but we both finally got back. You should have seen the Atlanta airport though... it was crazy.
This trip was a little hard because my Grandparents closed on selling their house the day before we arrived. It was the first time either of us had visited without having the family home as a base (we stayed in a hotel.) Regardless, it was so wUnderful to see my Grandparents settled into their new condo in the retirement village and making the most of it. They are both such positive and inspiring people, who never seem to complain no matter what challenges are thrown their way. I could sure learn a lesson or two from them!
Regardless, we had a lovely trip. I am so blessed to have so much family and loves and cares for me.
Thanks for stopping by today! Tomorrow I'm sharing my Easter Popcorn!
I'm linking up with Thinking Out Loud Thursday.
Your turn!
What did you do this weekend?
Where is your family?