Get ready for warm weather cooking with these healthy spring and summer kitchen gadgets!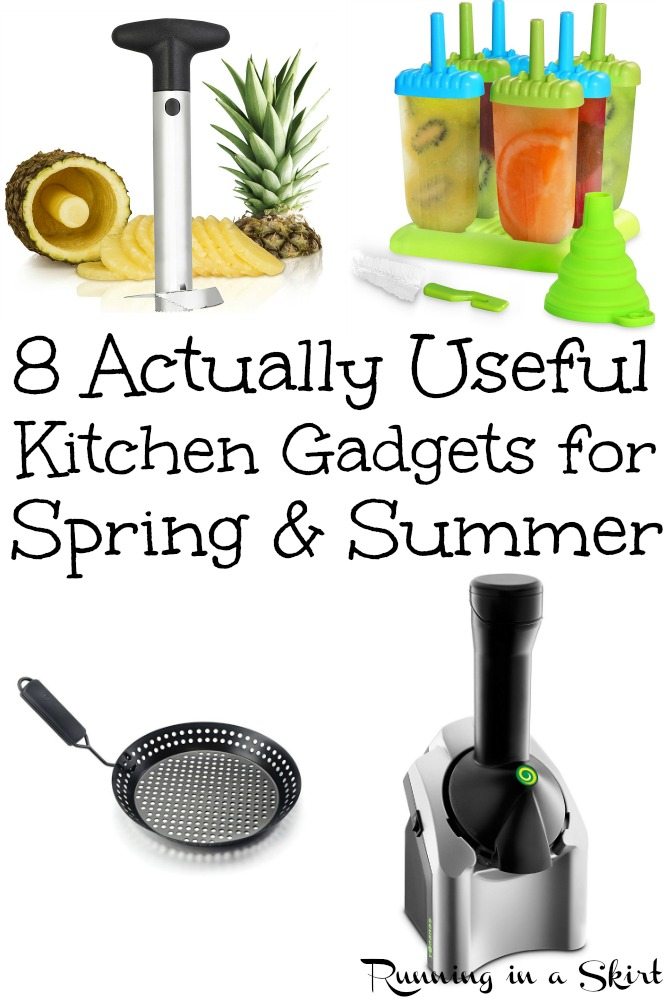 Hi guys!
May is rapidly approaching and for my neck of the woods, that often means finally getting more consistently warm weather. After one of the coldest springs I can remember, I'm ready!
I'm totally one for seasonal eating so I often start changing up my dinner routine this time of year. That means lots of light salads, grilling, fruit and frozen deserts in my world. Over the years I've accumulated some a collection of actually useful kitchen gadgets to make sure you summer healthy eating goes as easy as possible. To help you get ready for the season I thought I'd share some of them. These are the kind of gadgets that actually get used.... instead of just collecting dust!
These are affiliate links and I get a small commission from purchases made. It costs you nothing! Thanks for supporting Running in a Skirt.
8 Actually Useful Spring & Summer Kitchen Gadgets
Pineapple just screams warmer weather to me! Take the guesswork and possible injury out of cutting one open with this easy to use pineapple stem remover. It cuts the pineapple in pretty rings!
Is there anything more summery than homemade popsicles! They are beyond easy to make and these molds with get you started. Make my Watermelon Mint Popsicles or Chocolate Covered Strawberry Protein Popsicles.

I got one of the these for Christmas and LOVE it! I've had several spiralizers and this one is by far my favorite. Spiralized veggies are the best way to lighten up pasta dishes for summer - this is a must have summer kitchen gadget. Use it to make my Baked Crispy Sweet Potato Fries or Sheet Pan Shrimp & Zoodles.
After struggling to get juice out of one too many limes on mojito night, the Hubs talked me into getting this juicer. I thought it was one of those things you didn't really need... but I'm so glad I caved and got it. This simple juicer allow you to get some much more juice out of limes and lemons without getting the seeds in your dish. I just it ALL the time now.
Sure you can cut your watermelon and cantaloupe into cubes, but aren't balls so much prettier? Make my Watermelon, Blueberry Feta Salad with one to WOW your guests all season with this summer kitchen gadget.
I got a Yonanas as a gift many years ago and we love it! It turns any frozen fruit into "nice" cream. It is EASY to use and so healthy. Use it to make my Strawberry Mint Nice Cream, Double Dark Chocolate Nice Cream or Mango Nice Cream.
As much as I like nice cream, I love the real deal too! Make your own (and control the ingredients) this summer with this relatively inexpensive one. Ice cream is obviously not the healthiest treat, but if you make your own you can add less sugar.
I got two of these for the Hubs when we moved into our house and we use them non-stop in the summer to grill vegetables and fish. I love cooking outside in the summer because we work together to make a delicious meal in no time!
Happy cooking! I hope these spring and summer kitchen gadgets will have you enjoying all the fresh food of the next four months... bring on summer!
Like this post about Healthy Spring & Summer Kitchen Gadgets? Pin this to your favorite Pinterest board.


You might also like...
Your turn!
What's a summer kitchen gadget you use all the time?