Recreate Thai take out flavors at home with my Vegetarian Crock Pot Red Curry recipe.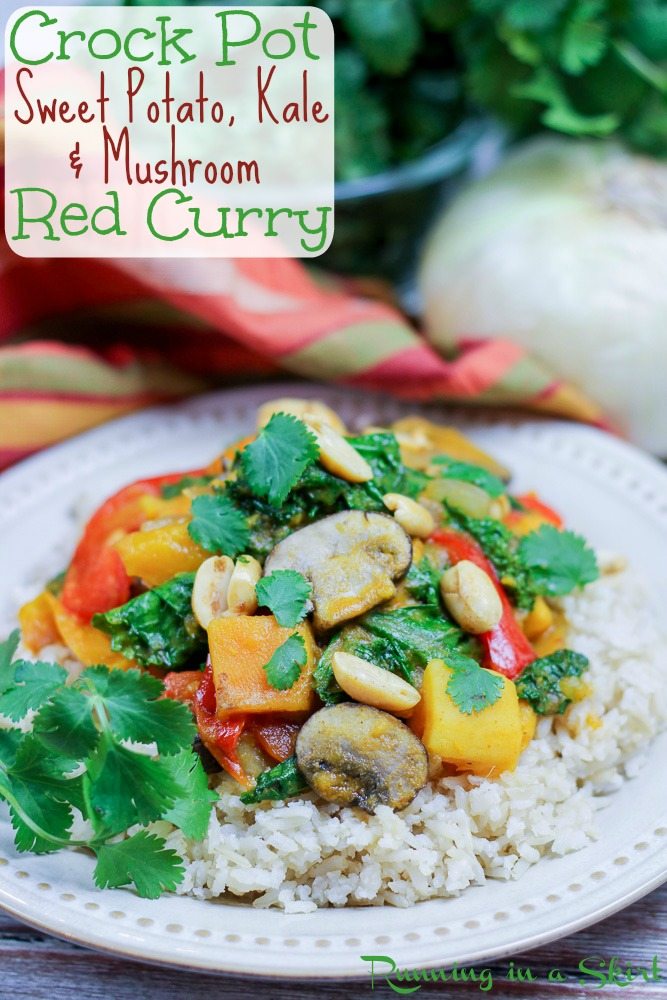 Hello everyone!
It's been a hectic few days in my little world... so I decided to pull out my trusty ole Crock Pot for a meal this week. I love getting dinner ready early in the day, knowing I'll have a healthy meal ready in the evening with little to no stress.
Since the weather is slowly warming, I wanted to make a vegetarian crock pot recipe that isn't soup. I came up with this delicious Vegetarian Crock Pot Red Curry recipe... complete with sweet potatoes, mushrooms and kale. It has all your favorite takeout flavors, but in a much healthier package.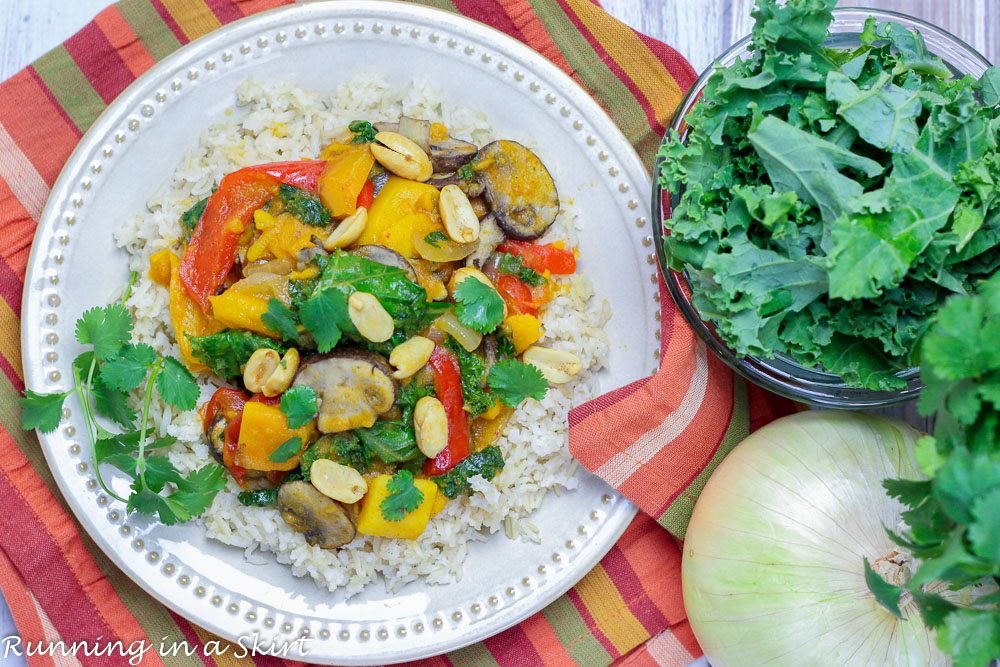 This Vegetarian Crock Pot Red Curry recipe is also vegan and dairy free!
Takeout is great, but you often don't know what's actually in the food. Making it at home can give you more nutrients and you know what's in your dinner.
This takeout at home meal is delish! The sweet potatoes give the dish body and substance, making it filling with healthy carbs. The mushrooms might not be traditional, but they really taste delicious and our family is huge mushroom fans. I stirred in some kale at the end of the cooking to really brighten up the dish and add oodles of nutritional value. It's a unique, but delightful combination.
The real flavor comes in with the coconut milk you stir in at the end. 🙂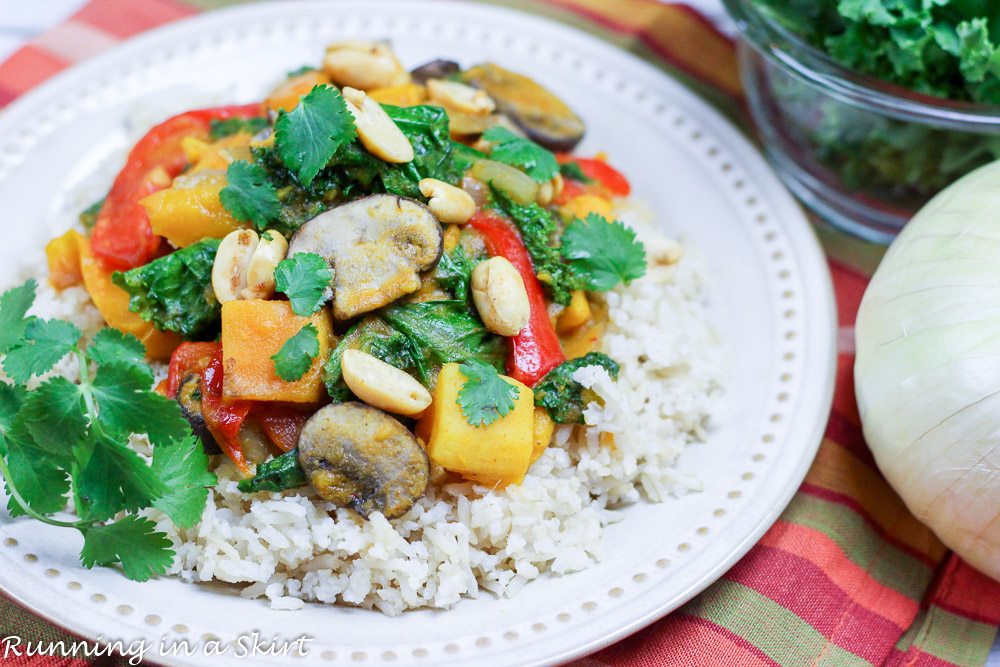 This dish cooks up in about four hours on high, so you can make it at lunchtime and have it be ready in just a few hours.
I served the Vegetarian Crock Pot Red Curry recipe on top of some brown rice I made in my rice cooker and garnished with fresh cilantro and a few peanuts. It would also be delicious on quinoa flavored with lime!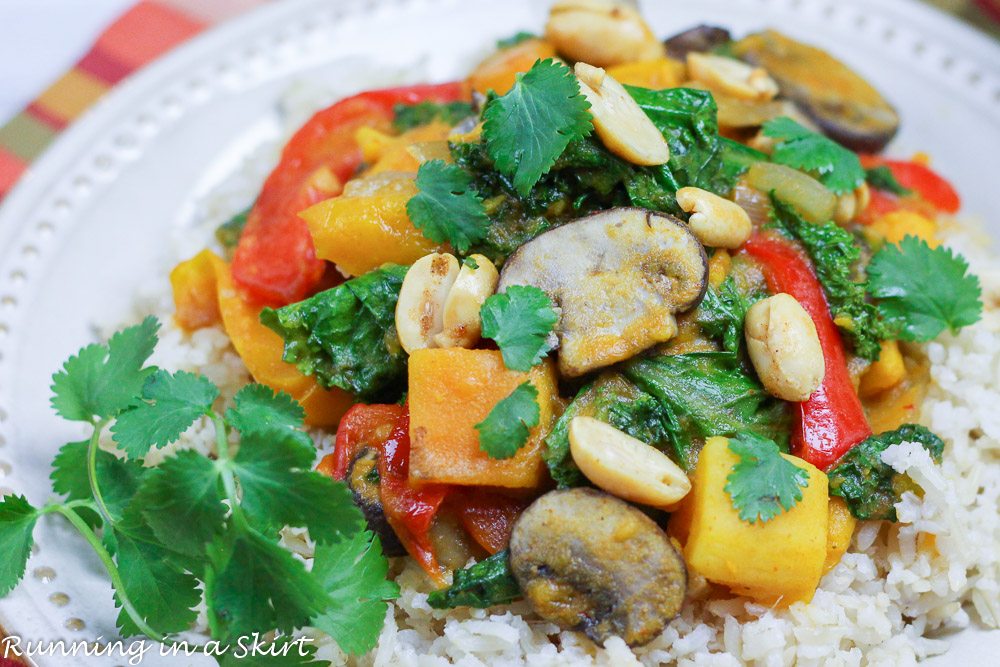 This dinner comes together with little effort and is totally unique, filling, healthy and comforting. I hope you'll give it a try!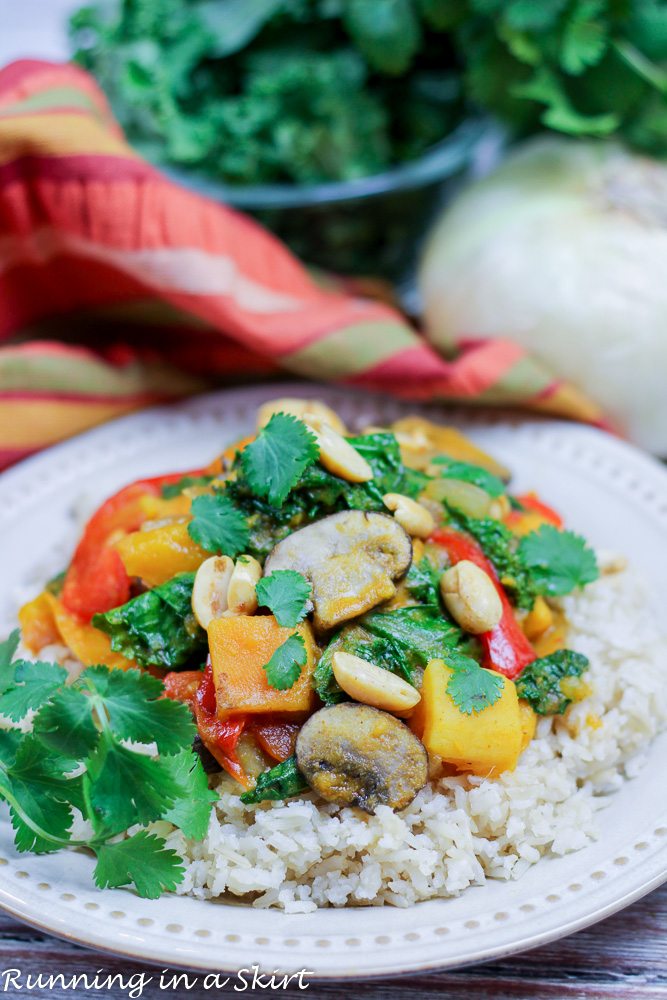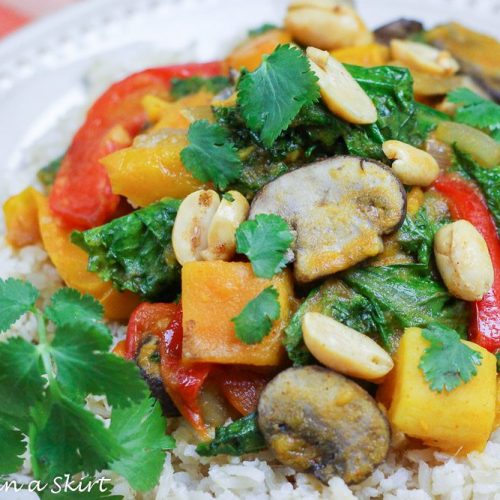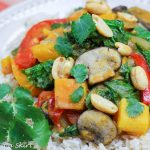 Vegetarian Crock Pot Red Curry recipe
Recreate Thai take out flavors at home with my Crock Pot Sweet Potato, Mushroom & Kale Red Curry.
Instructions
Mix the broth, ginger, sriracha and red curry paste in the bottom on the crock pot.

Add the sweet potatoes, onion, red pepper, yellow pepper and mushrooms to the liquid and stir.

Cook on high for 3-4 hours until vegetables are tender. Careful to not overcook them.

Stir in the kale and allow to wilt for 15 minutes.

Reduce the heat to warm and stir in the coconut milk until smooth.

Serve over cooked rice and garnish with peanuts, fresh cilantro and lime wedges.
Nutrition
Calories:
471
kcal
Carbohydrates:
66
g
Protein:
13
g
Fat:
18
g
Saturated Fat:
9
g
Sodium:
665
mg
Potassium:
1116
mg
Fiber:
9
g
Sugar:
10
g
Vitamin A:
22461
IU
Vitamin C:
141
mg
Calcium:
144
mg
Iron:
3
mg
Like this Vegetarian Crock Pot Red Curry recipe? Pin this to your favorite Pinterest Board!


Also try these healthy vegetarian crock pot dishes...
Thanks for stopping by today! Come back tomorrow for Weekly Happenings.
Your turn!
What is your favorite crock pot dish?