Let summer flavors shine with my 3 Ingredient Strawberry Mint Nice Cream or Vegan Strawberry Sorbet!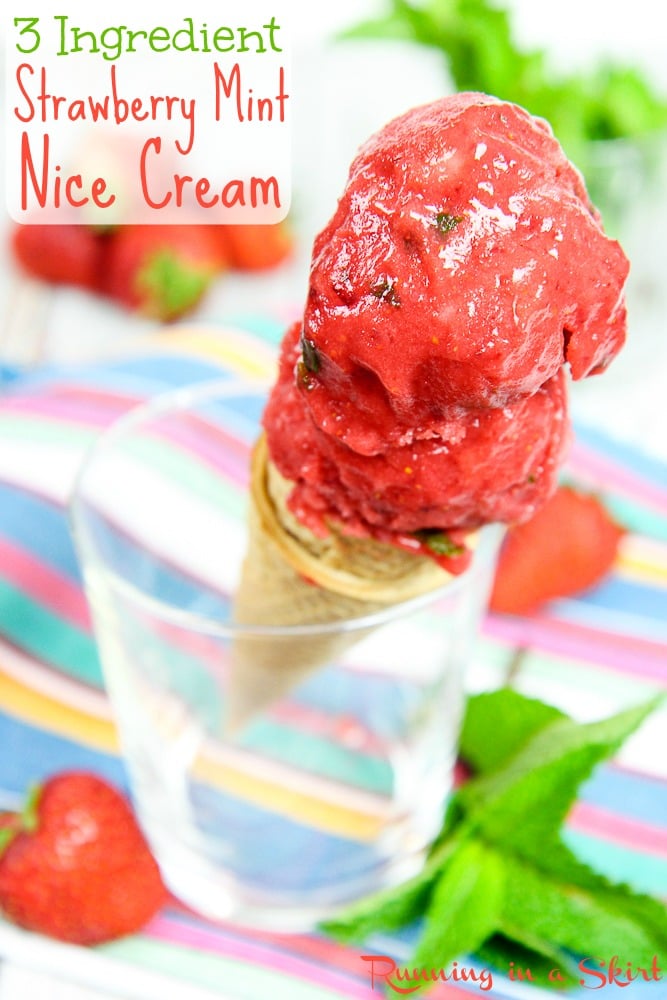 Hi guys!
There is no doubt about it... I'm a full blown fruit-a-holic. I seriously can't get enough. And honestly strawberries are probably one of my biggest victims.
Strawberries are grown in South Carolina this time of year and the growers send these large white plastic tubs up to our local farmer's market. We're talking about pints on pints of juicy, perfectly red strawberries. One summer I remember going through one basket a week for about a month. It was a real problem that called for an intervention. I believe the hubs brought it up asking me if I knew how much I'd spent in berries that month. So the next time I went back I did the only reasonable things I could do.... buy a huge watermelon instead of the berries! Haha! You've got to balance your fruit consumption, right?
I'm imagining I'm not the only one who's love of berries runs deep, so I thought y'all would enjoy my 3 Ingredient Strawberry Mint Nice Cream or Vegan Strawberry Sorbet.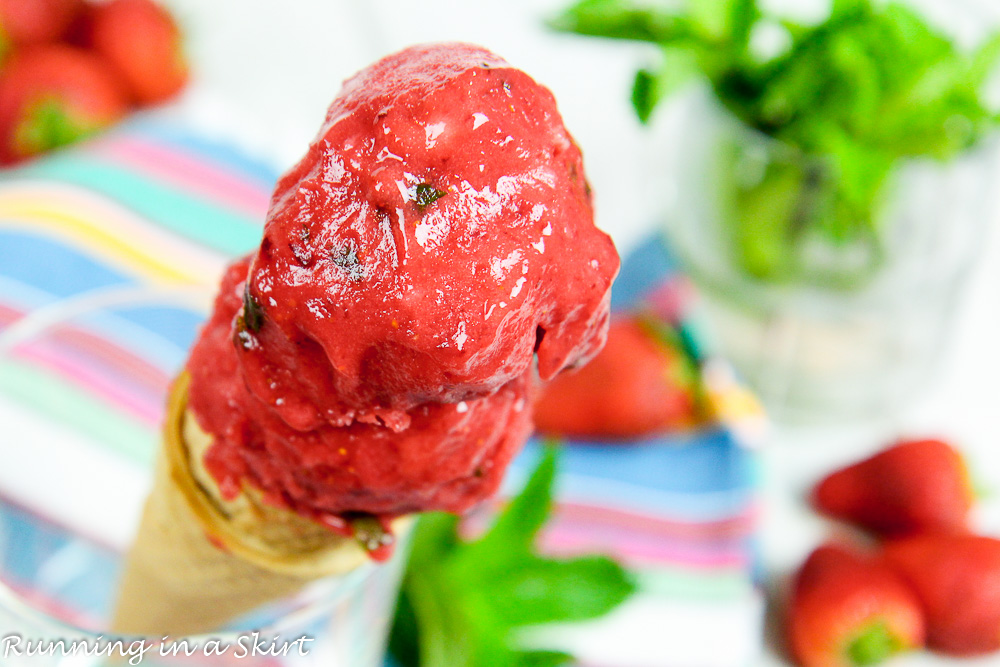 Summer desserts really don't get pure-er OR more delicious than this. My recipe is kind of like a banana nice cream... but instead of the infamous nanners I used straight up strawberries.
And yes, it worked the same way... blending it together with just a little non-dairy milk created the most delightful nice cream you've tried this of Labor Day.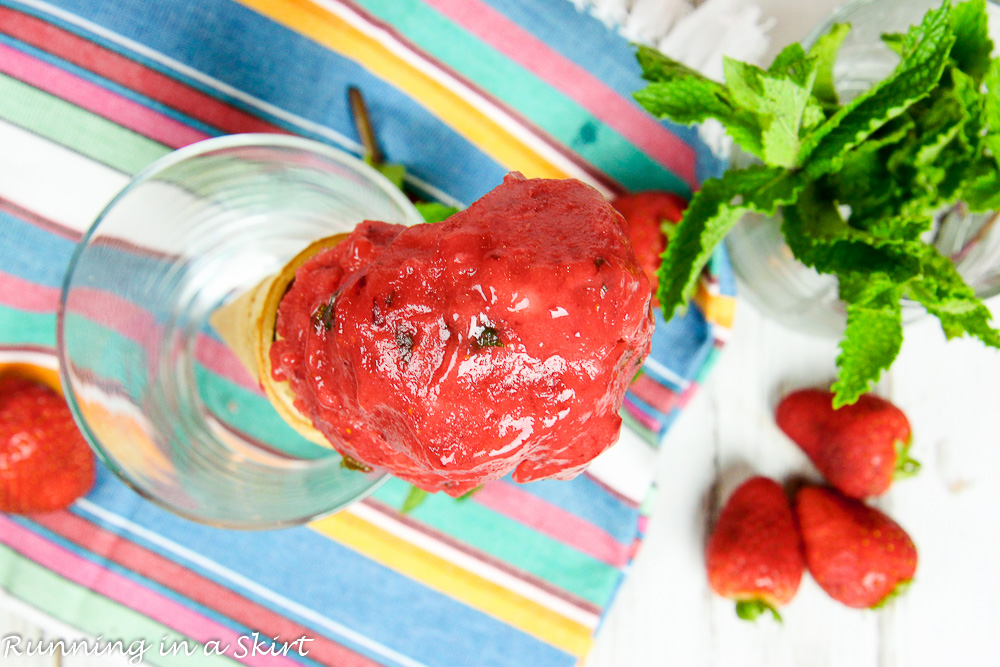 I added mint to the recipe because in my opinion it goes with everything, but if it's not your jam leave it out.
Another way to make it is to use my trusty Yonanas. It's my FAVORITE healthy living kitchen gadget that basically turns any fruit into a "nice cream" Buy one here. <---Not sponsored I just love mine. It is an affiliate link though.
You don't get much healthier, pure or clean eating than this! And yes, it tastes as good as it looks.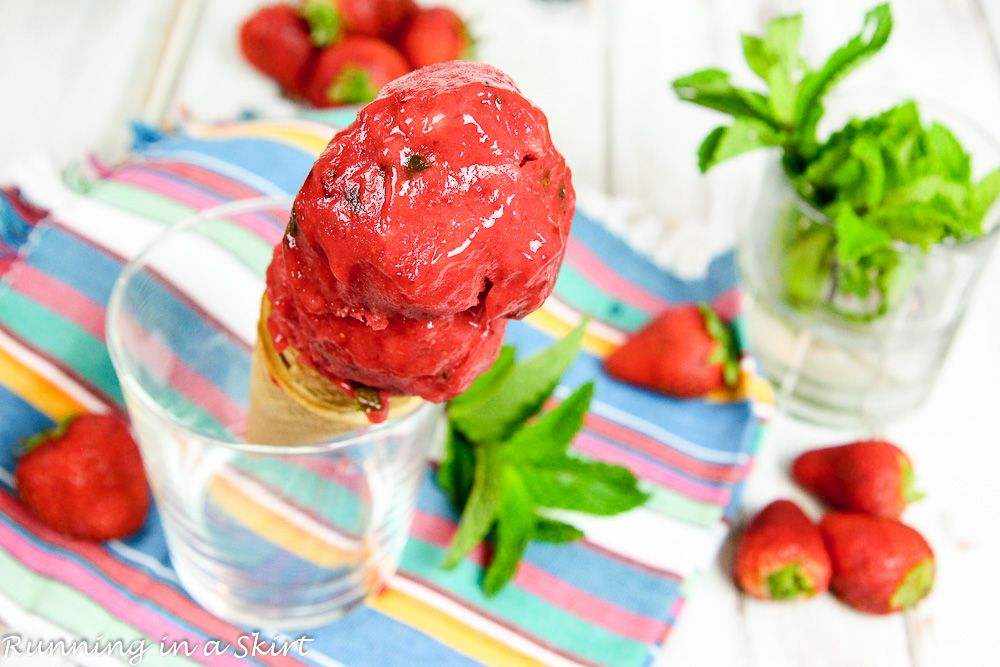 So serve up two scoops guilt-free... just eat it before it melts!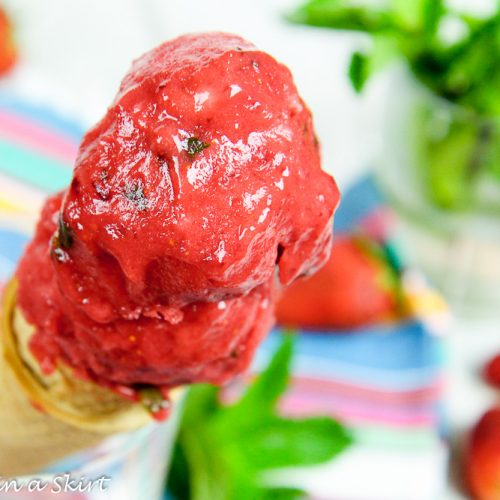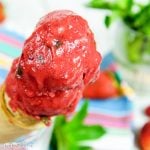 Strawberry Mint Nice Cream
Clean eating and guilt-free this Nice Cream is the perfect dessert!
Ingredients
4

cups

strawberries,

frozen

splash unsweetened almond milk

1

tablespoon

fresh mint

,

chopped
Instructions
Put the strawberries and almond milk in a food processor and blend until smooth.

Remove and carefully fold in the mint.
Nutrition
Calories:
47
kcal
Carbohydrates:
11
g
Protein:
1
g
Fat:
1
g
Saturated Fat:
1
g
Polyunsaturated Fat:
1
g
Monounsaturated Fat:
1
g
Sodium:
2
mg
Potassium:
227
mg
Fiber:
3
g
Sugar:
7
g
Vitamin A:
70
IU
Vitamin C:
85
mg
Calcium:
26
mg
Iron:
1
mg
Like my Vegan Strawberry Sorbet? Find this recipe later by pinning to your favorite Pinterest board! Thank you so much for the support.


Also try...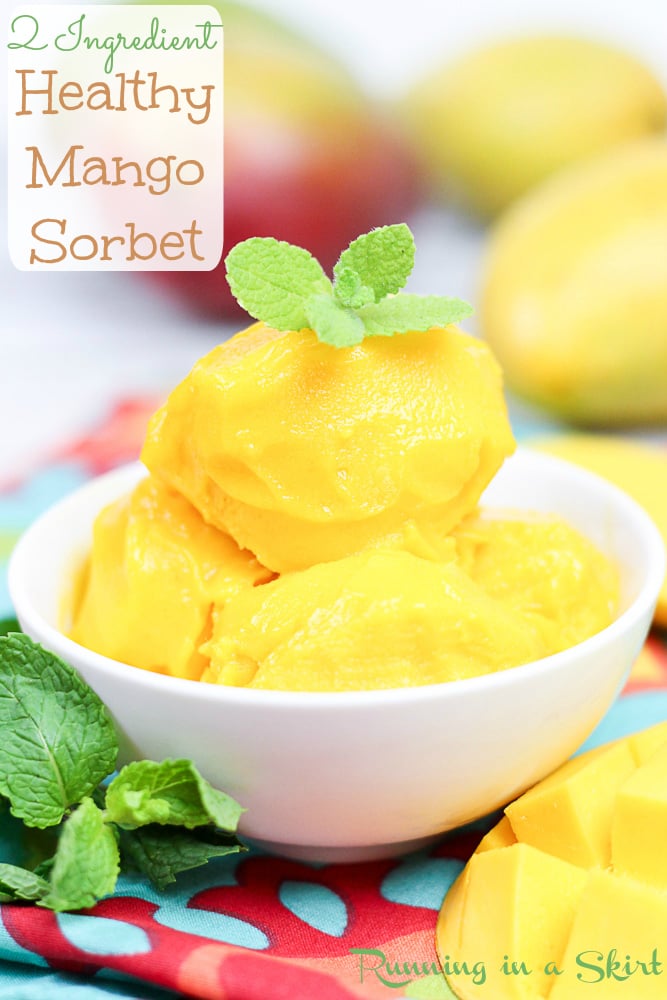 Double Dark Chocolate Nice Cream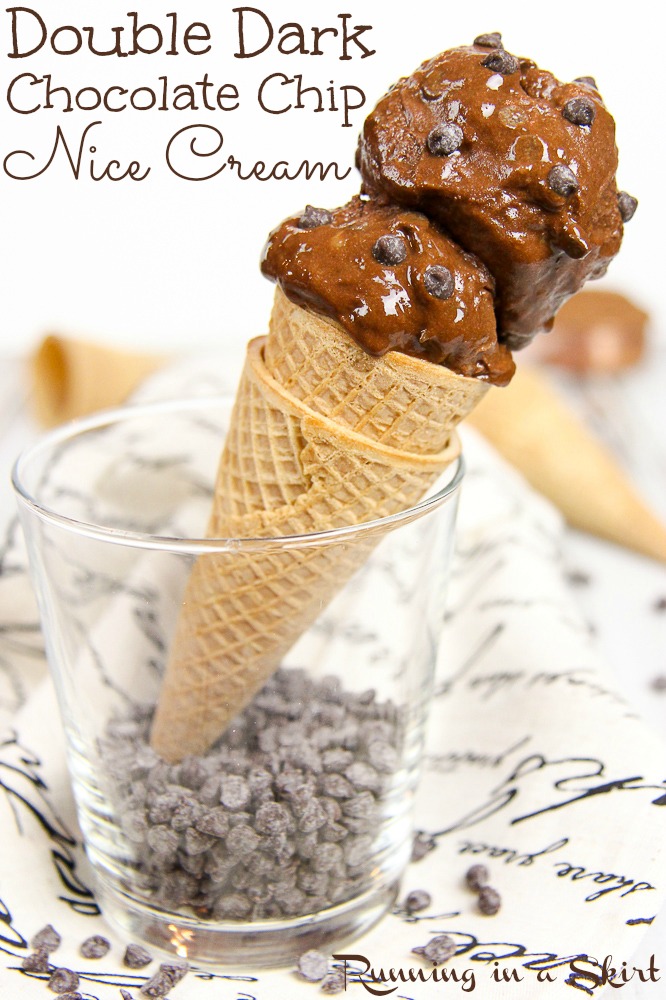 I need a scoop! Clean Eating, 3 Ingredient Strawberry Mint Nice Cream #healthy #recipe
Click To Tweet
Thanks for stopping by today! Tomorrow I'm sharing some of the best summer recipes on Running in a Skirt.
Your turn!
What's your favorite berry?
I'm linking up my Vegan Strawberry Sorbet with: Meatless Monday with Sarah and Deborah, Meatless Monday with Annmarie and Rachel, Delicious Dish Tuesday, What's Cookin' Wednesday, Full Plate Thursday with Miz Helen, FoodFriDIY, Foodie Friday, and the Weekend Potluck. Thanks so much ladies for the link up parties!