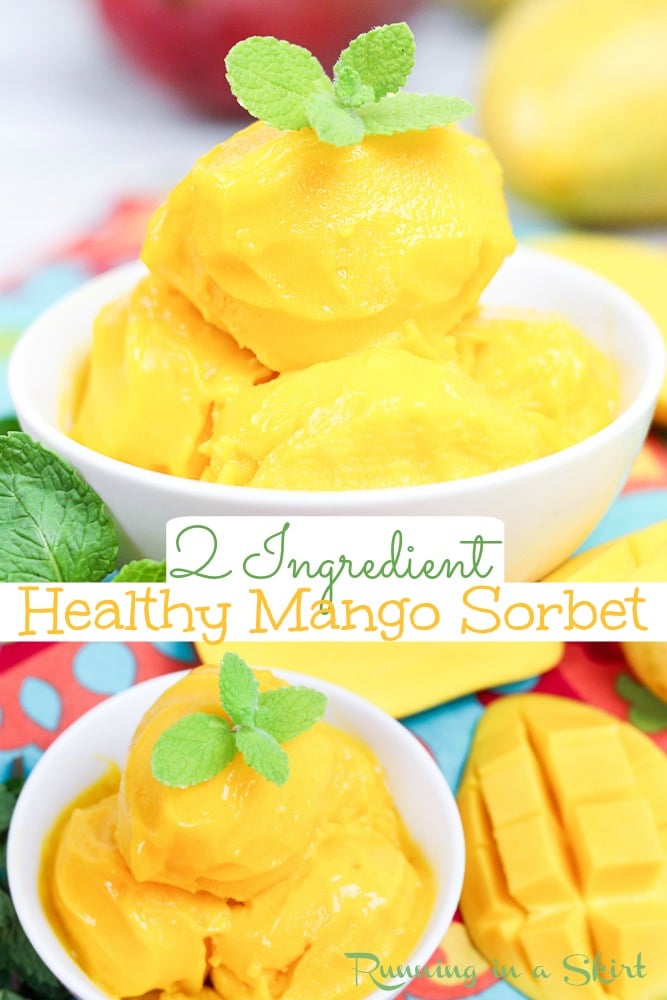 This healthy Mango Sorbet recipe is the perfect way to cool off on a hot summer day or after a workout. Made with only frozen mangos and coconut milk, this 2 ingredient sorbet is naturally sugar-free, vegan and dairy-free.
This is a sponsored conversation written by me on behalf of National Mango Board. The opinions and text are all mine. Thank you for supporting Running in a Skirt.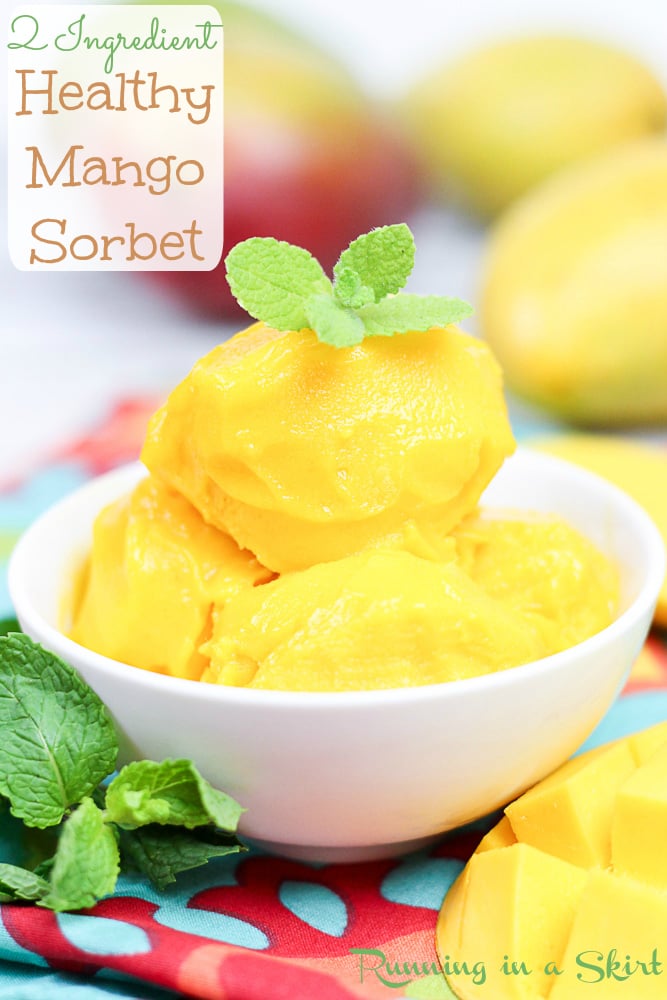 I have a mild obsession with all fruit. When I want a snack... it's almost always fruit and Mangoes top my list of favorites. I've been known to eat just mango for a meal before. The love runs deep. I even made a video of my favorite way to peel a mango using a cup! It makes eating mango SO much easier.
Mangoes are sooooo good anytime... but don't they look even more delish turned into a totally clean eating 2 Ingredient Healthy Mango Sorbet? If you are looking for mango snacks this is the perfect combination of fruit turned into a creamy and cool healthy treat.
We'll get to the homemade healthy sorbet recipe in a minute, but first I want to talk mangoes with you so you can join my team of mango lovers.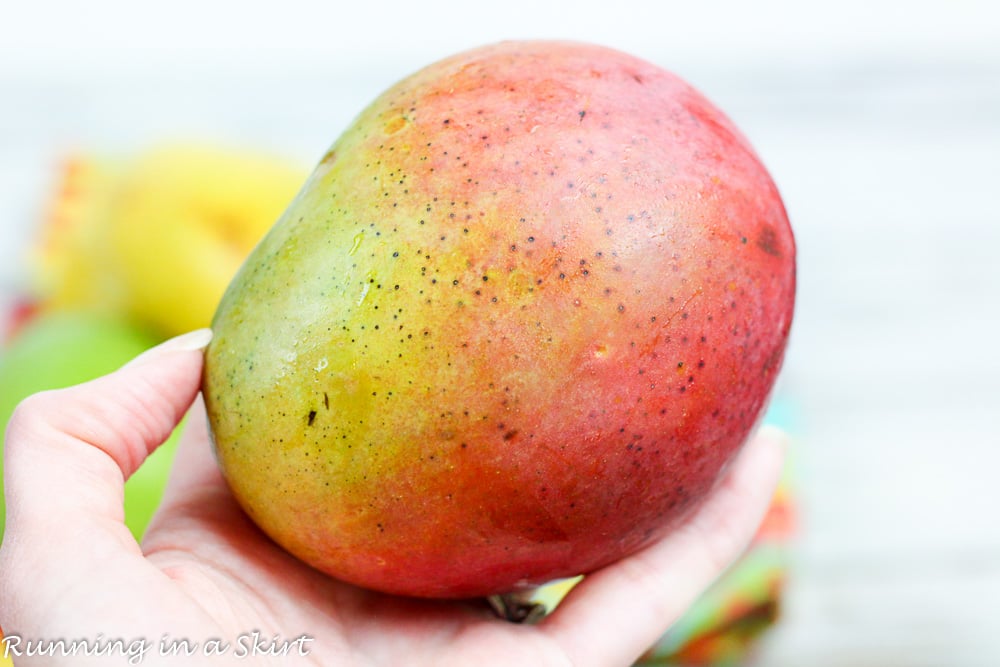 Are mangoes a superfruit?
Mangoes are actually a superfruit! They are bursting with antioxidants and contain over 20 vitamins and minerals. One cup of mango has only 100 calories. So basically one of my favorite "indulgences" is 100% healthy for me. I feel like I'm winning at life since I found that out. It's the perfect base for a healthy Mango Sorbet.
What are the benefits of mango?
Mangoes are also the perfect fruit for athletes because of all those nutrients! The Vitamin C is good for our immune system and the Vitamin A is good for healthy skin, immune function and bone growth. There's also Folate, Vitamin B6 and copper in those sweet tender fruits.
All that healthy foodie goodness makes a mango the ideal post-workout snack either raw or in a healthy sorbet.
How to you pick a good mango?
Mangoes actually come in a variety of colors... green, yellow, and red. The ones below are just two of the many varieties. When ripe mangos will often be a golden yellow color.
When picking out a mango, it's actually not the color that will let you know if it's ripe, you must choose by touch. You want a mango that has a slight "give" and will be soft. If you want to eat it today, choose a fruit that is slightly softer. If you want one to eat in a few days, choose one that is slightly firmer.
This healthy sorbet recipe calls for frozen mango. You can either buy that in the frozen food section or make your own by freezing fresh mango.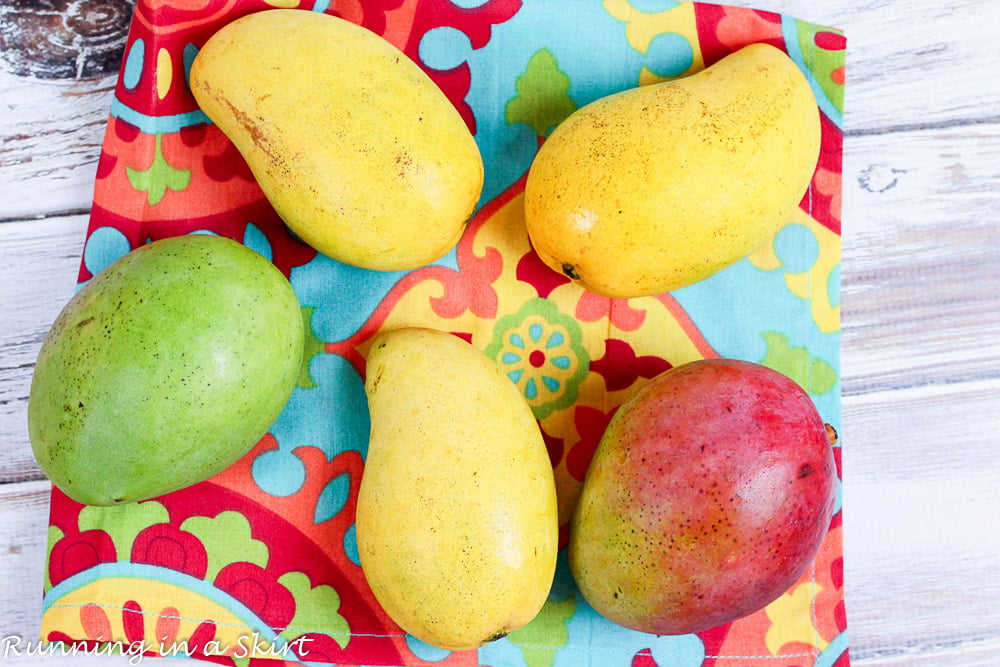 How to Peel a Mango
To get to the fruity goodness... just slice off either side of the fruit leaving the seed behind. The mango "cheeks" will come out with a knife and spoon. I've been known to eat the center like an apple to not leave any fruit behind. I have no shame when it comes to my love of mangos. If you need step by step instructions, watch my mango peeling video here.
Mango is wonderful raw, in smoothies, as a salsa or even a simple sorbet like this healthy Mango Sorbet! If you are freezing your own mango just take those cubes and put them on a baking sheet in the freezer. Once frozen you can use them or transfer them to a ziplock bag for storage.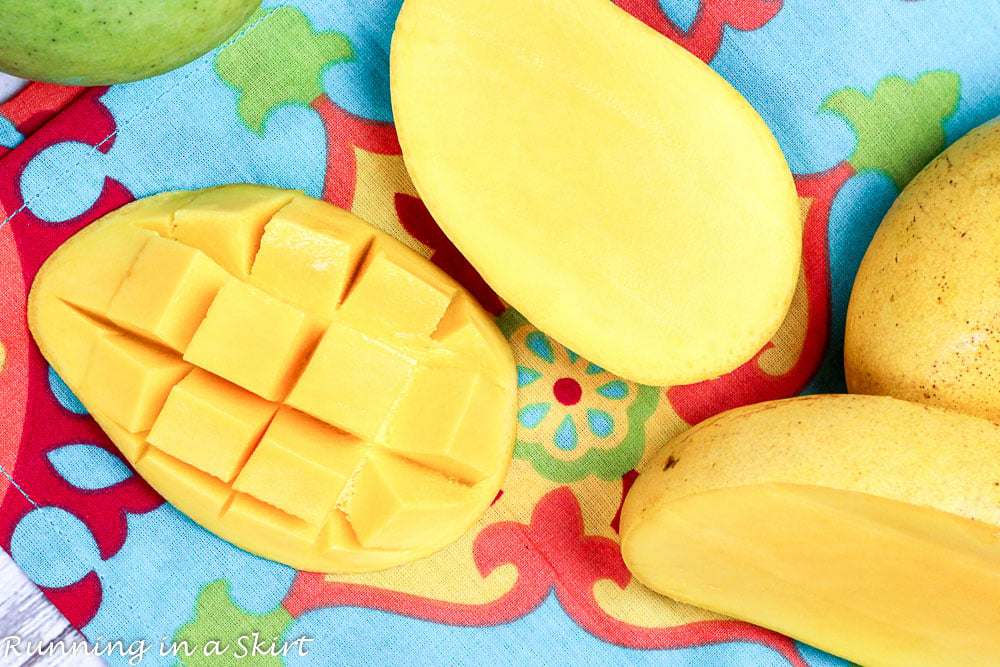 What is Mango Sorbet made of?
Sorbet is traditionally made of fruit and a sweetener, but since most fruits (like mangoes) are naturally sweet I decided to skip the sweetener in this recipe. That makes this a mango sorbet without sugar! That makes this sorbet healthy.
Is sorbet healthier than ice cream?
Sorbet is healthier than ice cream in the sense that it is dairy-free and fat-free. On the other hand, sorbet usually has more sugar than ice cream, but my healthy mango sorbet is sugar-free making this a perfect mango snack.

Ingredients in Healthy Mango Sorbet
Mangoes: You'll want to make sure you choose a ripe mango following the tips above. You can also buy already frozen mango cubes at the grocery store with the other frozen fruit.
Coconut milk: Coconut milk gives the sorbet a nice creamy texture with a slight coconut flavor.
How to Make the Homemade Sorbet
To make the Healthy Mango Sorbet you just blend frozen mango and a splash of coconut milk in a high-speed blender like a vitamix or food processor until smooth. Or you can also use just the frozen mango with this machine.
To get the pretty scoops, just smooth it out in an airtight container and pop in the freezer for 30 minutes. You'll then be able to scoop it out like ice cream.
It's so naturally sweet and delicious, you'll never believe it's so healthy. It's also surprising how simple a homemade sorbet can be!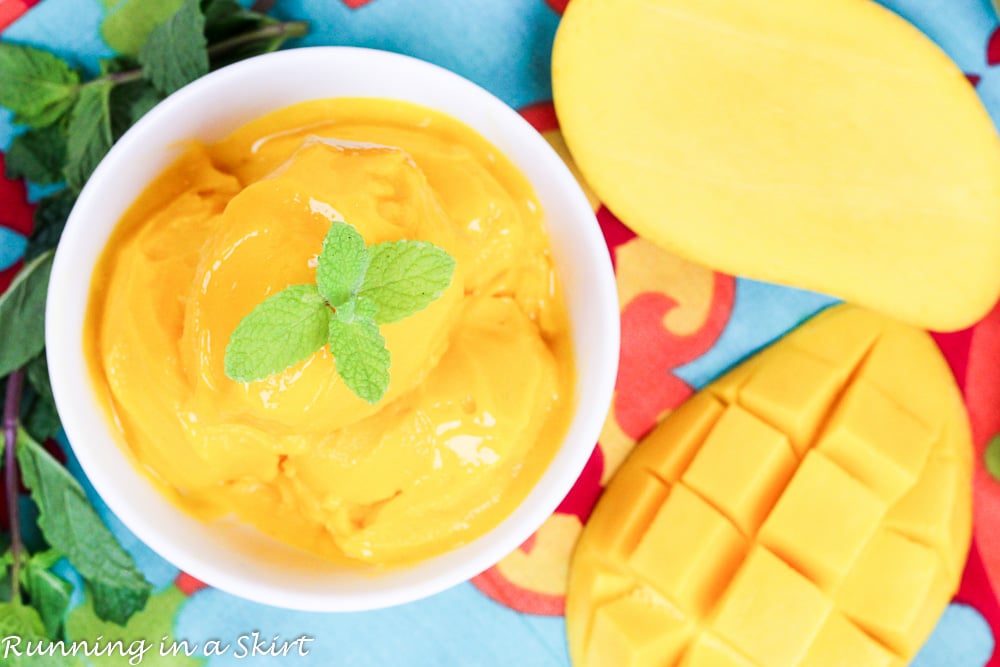 Can you just imagine how delicious, healthy, and satisfying this Healthy Mango Sorbet recipe would be after a hot and sweaty summer run? I know first hand it hits the spot!
Make sure to check out the National Mango Board's site to learn more about Mangos! Enjoy.
More Healthy Mango Recipes...
Also try these other dairy-free desserts…
If you make this recipe, I'd love to hear what you think! Leave a comment and a star rating ★ below. Make sure to follow me on Instagram, Pinterest, and Facebook too!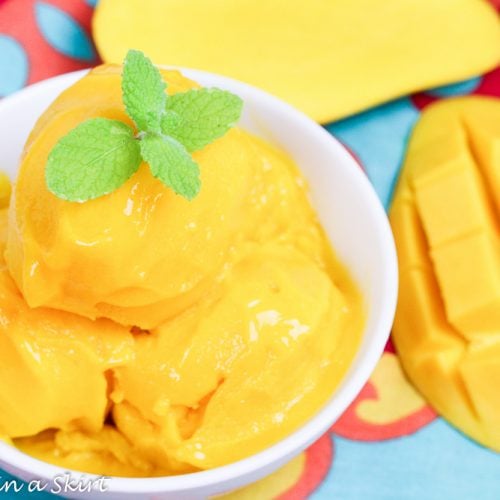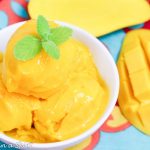 2 Ingredient Healthy Mango Sorbet
This healthy mango sorbet is the perfect way to cool off on a hot summer day. Made with only frozen mangos and coconut milk, it's naturally sugar-free and dairy-free.
Ingredients
2

mangos

,

cubed and frozen

splash of coconut milk
Instructions
Blend or process the mango and coconut in a high-speed blender or food processor. Serve immediately or smooth out in an airtight container. Store in the freezer.
Notes
Serve immediately for the best texture or store in the freezer.
Nutrition
Calories:
248
kcal
Carbohydrates:
62
g
Protein:
3
g
Fat:
2
g
Saturated Fat:
1
g
Sodium:
4
mg
Potassium:
696
mg
Fiber:
7
g
Sugar:
57
g
Vitamin A:
4479
IU
Vitamin C:
151
mg
Calcium:
46
mg
Iron:
1
mg
Pin for later!