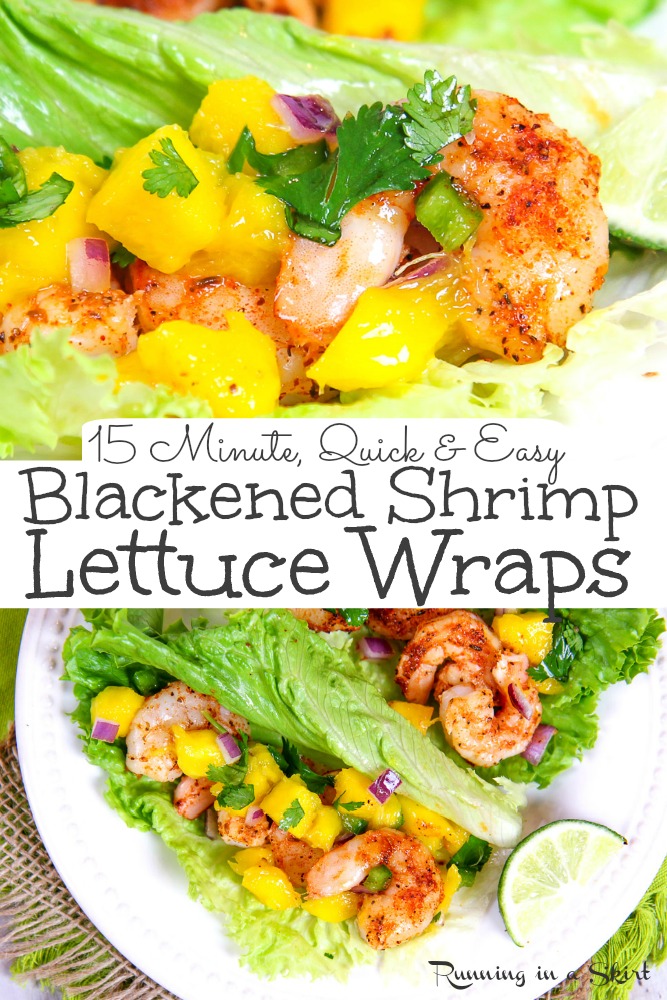 This EASY Lettuce Wrap Shrimp Tacos recipe is healthy and fast with 5-minute sheet pan blackened shrimp and fresh mango salsa. It's low calorie, low carb, gluten-free but still totally delicious.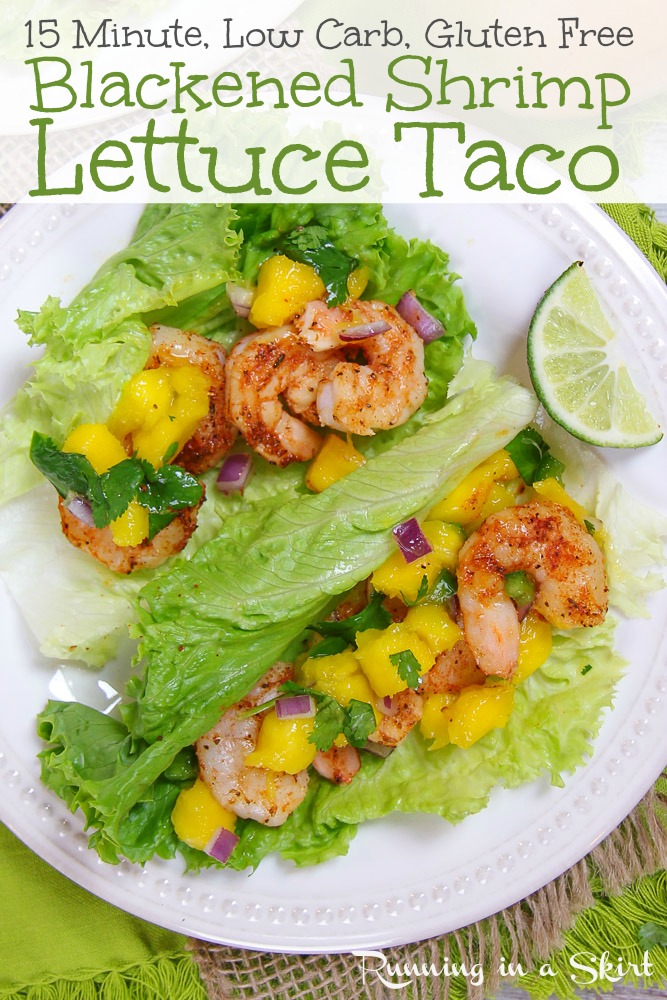 Bring on SUMMER because this Lettuce Wrap Shrimp Tacos recipe will make your tastebuds feel like they are at the beach even if you can't go. I love shrimp tacos but this fun twist on tacos takes away the tortilla and replaces it will cool crisp lettuce. I love a tortilla as much as anyone but the lettuce is a great way to add some crunch and freshness to your meal. This twist is fabulous if you are looking to mix up dinner or following a diet like low-carb or gluten-free. If you are looking for the perfect LIGHT meal for summer... THIS IS IT!
This shrimp lettuce wrap just happens to be made with simply made Blackened Shrimp and Homemade Fresh Mango Salsa. The blackened shrimp have a touch of spice and the sweet mango salsa perfectly compliments it. These babies may look fancy but they can come together in less than 10 minutes with just a few ingredients!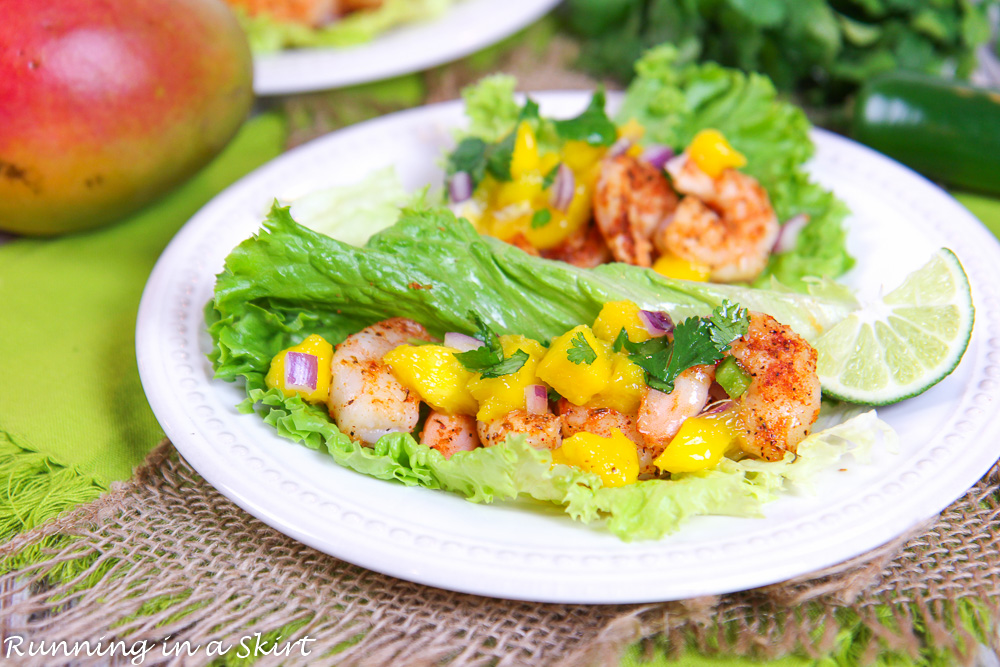 Lettuce Wrap Shrimp Tacos recipe
This zesty and light Lettuce Wrap Shrimp Tacos recipe is everything perfect about summer. They have delicious shrimp which are one of my favorite things to enjoy in the warmer months AND a nice helping of my homemade Mango Salsa. If you take a bite and squint your eyes you can almost imagine the waves crashing in the background.
I can never get enough of this flavor combination. It's bursting with beach flavor without a lot of fuss.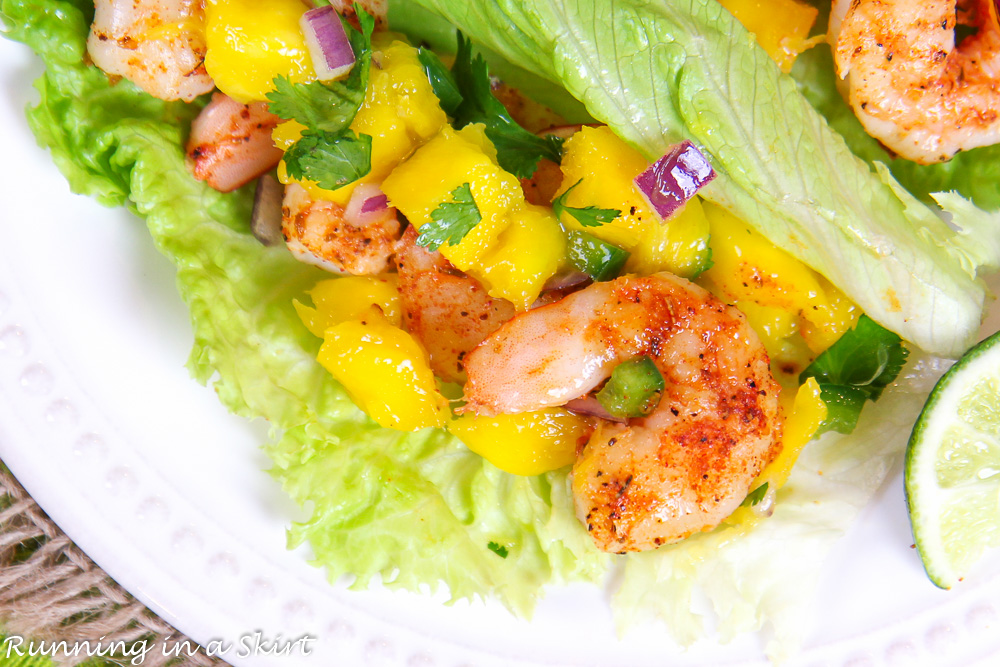 Low Carb Shrimp Lettuce Wraps
You could always make traditional tacos with tortillas but a quick swap to a lettuce wrap makes these low-cal, low-carb, and gluten-free. If you are looking for Low Carb Shrimp Lettuce Wraps these are popping with flavor and taste.
I used green leaf lettuce for these photos but feel free to use romaine or even butter lettuce. Iceberg, although never my top pick, is also great in a pinch.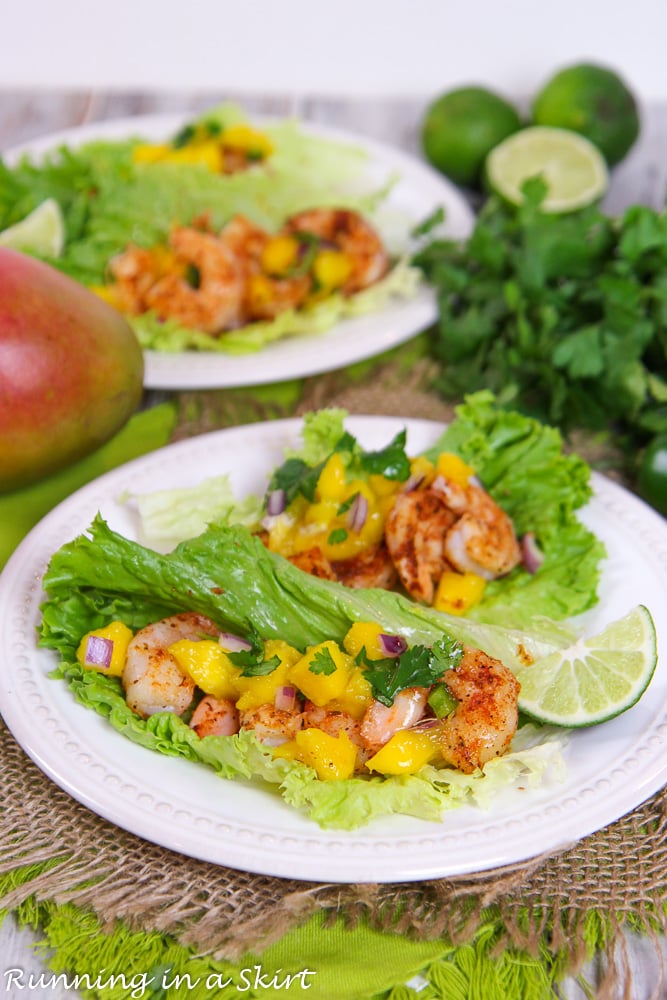 Shrimp Lettuce Wrap
For this Shrimp Lettuce Wrap, I used already peeled and deveined shrimp. I popped the tail off so they would be simpler to eat in the wrap. You could use any size but the large ones are the photo.
The flavor for the shrimp comes from my favorite blackening seasoning. My favorite beach restaurant uses THIS one on their seafood and I've been a convert ever since. It is just a touch spicy, but mainly just super flavorful.
I used frozen shrimp since it's hard to get fresh shrimp where I live. I usually suggest people buy frozen shrimp and thaw them when you are ready to use them unless you are one of the lucky ones who can get your hands on never frozen shrimp. Most shrimp in the seafood counter has been frozen and just dethawed by the seafood counter workers.
The best part about cooking these shrimp is I use a foil-lined sheet pan so they are done quickly AND have very little cleanup. The shrimp take only minutes to cook so watch them carefully. They are done when they turn pink and JUST start to curl. Don't overcook them or they will be rubbery.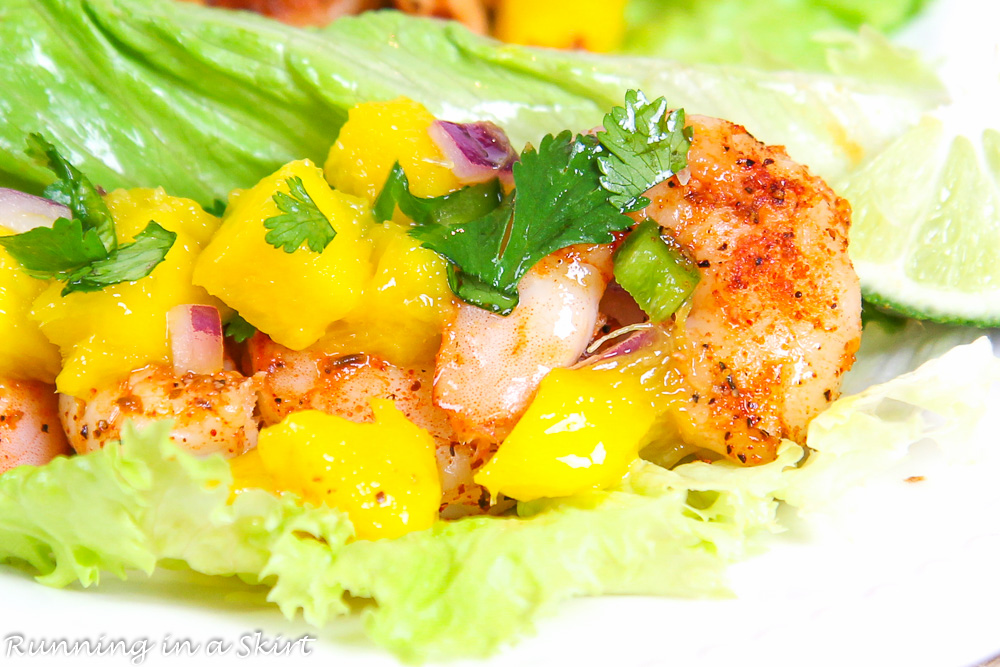 Ingredients in this Lettuce Wrap Shrimp Tacos recipe
So what's in this recipe? This list is a little longer than many of my recipes, but it all comes together quickly... I promise!
Shrimp: Use peeled, deveined, and tail off shrimp to make the process faster. I like larger shrimp for more substance. But you could do more smaller ones.
Olive Oil: Just enough to coat the shrimp. You could also use your favorite lightly flavored cooking oil.
Blackening Seasoning: I love this one!
Mango: A fresh mango provides lots of vitamins and flavor.
Cilantro: Cilantro makes the mango salsa pop!
Red Onion: I love the crunch and color red onion adds to my Mango Salsa.
Jalapeno: You can leave this out if you don't like spice. I suggest removing the white part and seeds.
Lime: Lime goes in the salsa and on the side.
Lettuce: Use green leaf, butter, or romaine!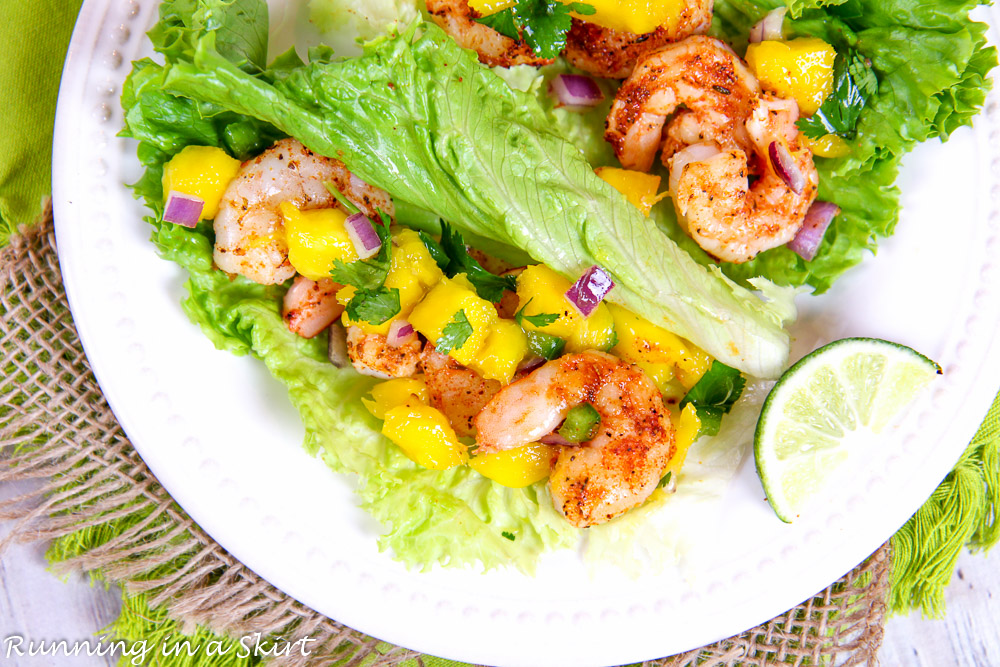 How to make this Lettuce Wrap Shrimp Tacos recipe...
Make you Mango Salsa using my mango cup trick to peel it.
Toss the shrimp in the olive oil and blackening seasoning.
Cook the shrimp on a foil-lined sheet pan.
While the shrimp and cooking prep your lettuce leaves and extra lime.
Serve while the shrimp are warm or chilled!
Shrimp Wrap Variations
You could mix up the salsa you use with these! Try Mango Avocado, Pineapple Salsa, or a jar of your favorite pico de gallo.
Avocado would be a great addition on top. If you are trying to make a low-calorie meal though, use a smaller portion.
If you don't like blackening seasoning, use my homemade Mexican Spice Blend for a flavorful and simple swap.
What to serve with shrimp lettuce wraps?
You can eat these shrimp lettuce wraps alone for a light lunch or try one of my favorite Mexican inspired summer sides.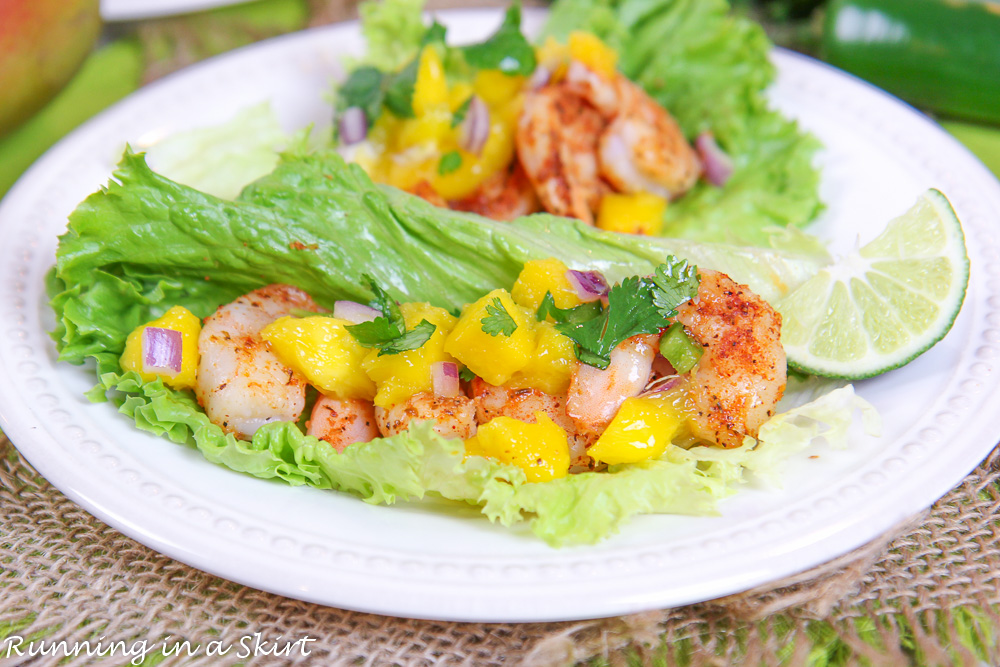 These Shrimp Mango Wraps are a perfect meal for summer! Light, healthy, and totally DE-LISH. Give them a try and let me know what you think.
Love light and healthy shrimp dinners? Try these!
If you make this recipe, I'd love to hear what you think! Leave a comment and a star rating ★ below. Make sure to follow me on Instagram, Pinterest, and Facebook too!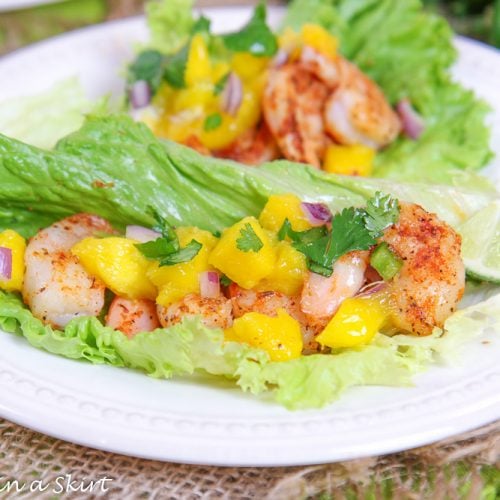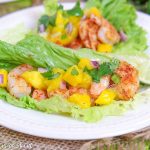 Lettuce Wrap Shrimp Tacos
With blackened shrimp and fresh mango salsa, this Lettuce Wrap Shrimp Tacos recipe is perfection!
Ingredients
1

pound

large shrimp,

peeled and deveined

1

teaspoon

olive oil

2

teaspoons

blackened seasoning

one recipe of mango salsa

8

green leaf or butter lettuce leaves
Instructions
Preheat the oven to 400 degrees and line a baking sheet with foil. Spray with cooking spray.

Place the shrimp in a single layer on the baking sheet. Drizzle with a small amount of olive oil and sprinkle both sides with the blackening seasoning.

Bake for 3-5 minutes until the shrimp turn pink and start to curl. Do not overcook.

While the shrimp are baking prepare the mango salsa.

Spoon the shrimp into the lettuce and top with the mango salsa. Serve immediately.
Nutrition
Calories:
244
kcal
Protein:
46
g
Fat:
5
g
Saturated Fat:
1
g
Cholesterol:
572
mg
Sodium:
2295
mg
Potassium:
181
mg
Vitamin C:
9
mg
Calcium:
329
mg
Iron:
5
mg
Pin for later!