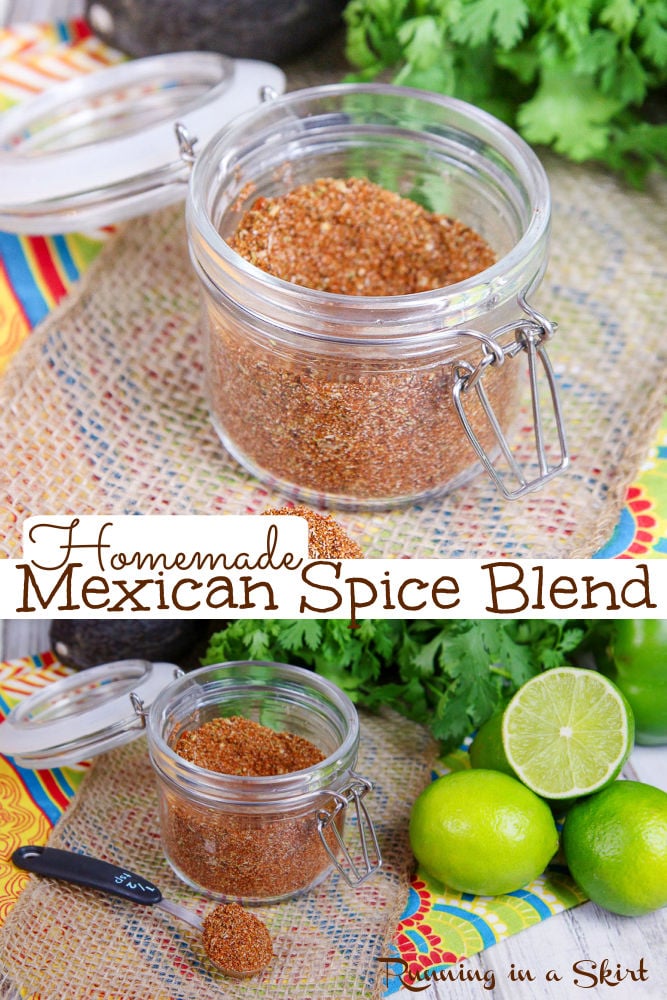 Stop buying the packet of high sodium taco seasoning and try my perfect Mexican Spice Blend to make your favorite dishes like tacos and enchiladas. My Mexican Spice Mix recipe is the best homemade spice blend with just six flavorful ingredients. Healthy and delicious!
Love DIY spice blends? Try my 10 Healthy Homemade Seasoning Mixes to Spice Up Your Pantry.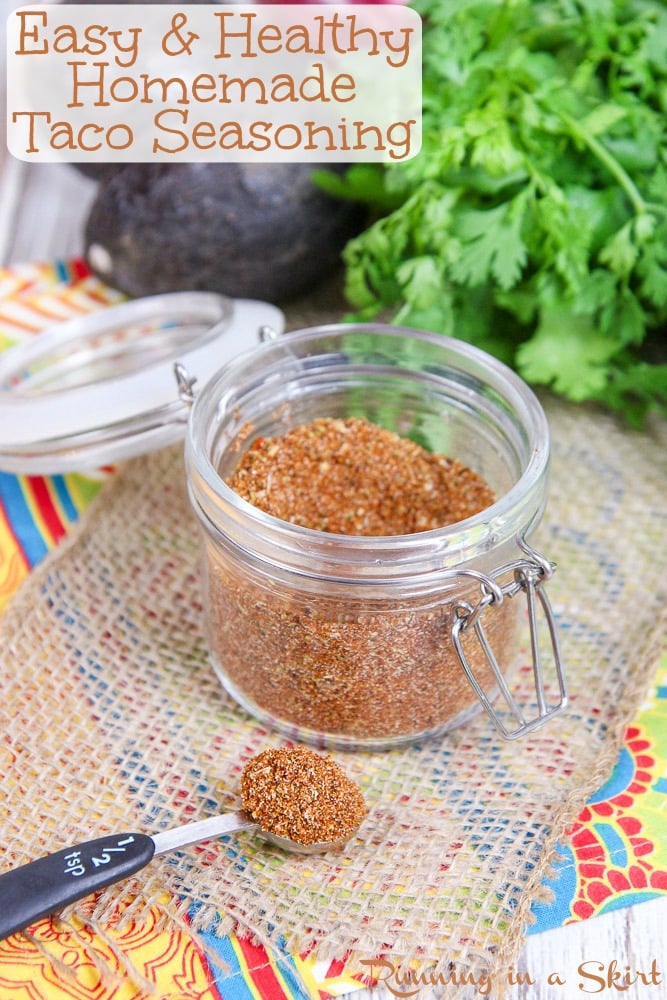 Homemade Mexican Spice Blend Mix Recipe
There is nothing like a good Mexican Spice Blend Mix. I love making healthy Mexican food at home and making them with good Mexican Seasonings makes all of the difference. I make it so much that I got tired of constantly blending my favorite spices together for that PERFECT Southwest flavoring in dishes. Sure I could buy a taco seasoning packet at the store, but it often has extra sodium or preservatives that aren't really necessary.
My version is the perfect blend of familiar flavors you love in a much healthier and homemade package. This simple Homemade Mexican Spice Blend recipe comes together with just six easy-to-find ingredients you probably already have in your pantry- chili powder, cumin, garlic powder, onion powder, smoked paprika, and cayenne or chipotle pepper.
Plus it just happens to be vegan, vegetarian, gluten-free, keto, and low-carb.
I love mixing up a big batch of my favorite Mexican spices. Whether I use it on tacos, enchiladas, fajitas or other fiesta inspired dishes, it always amps up the flavor of my meals with practically no work. I use this homemade blend in my kitchen every couple of days and adore it.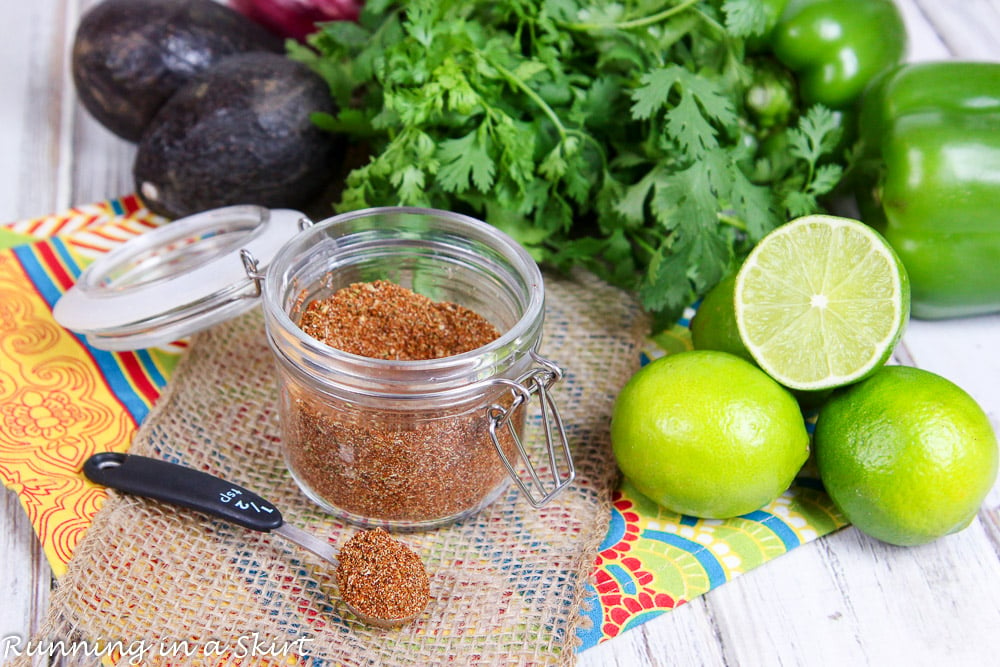 Why you'll love this Mexican Spice Blend recipe...
This Mexican Spice Blend recipe is super easy and uses only 6 spices that you most likely already have in your pantry. The base is chili powder but I add cumin, garlic powder, onion powder, and SMOKED paprika. It's super simple!
It's healthier than packaged taco seasoning. No high-sodium seasonings here.
The smoked paprika gives the mix the perfect subtle flavor and is my secret ingredient. BOOM!
This Mexican Spice Mix is a flavor bomb like no other- way better than a package of Mexican Seasonings and taco packets.
To kick it up another notch I add chipotle pepper. The smokiness of the paprika and the chipotle pepper is sheer perfection. If you can't find chipotle you can also do any hot pepper you like or leave it out if you want it mild. This is a fabulous recipe because you can customize it to your taste.
This version has just a tiny kick of flavor... nothing serious at all. If you like your food spicy add more cayenne pepper for some easy heat!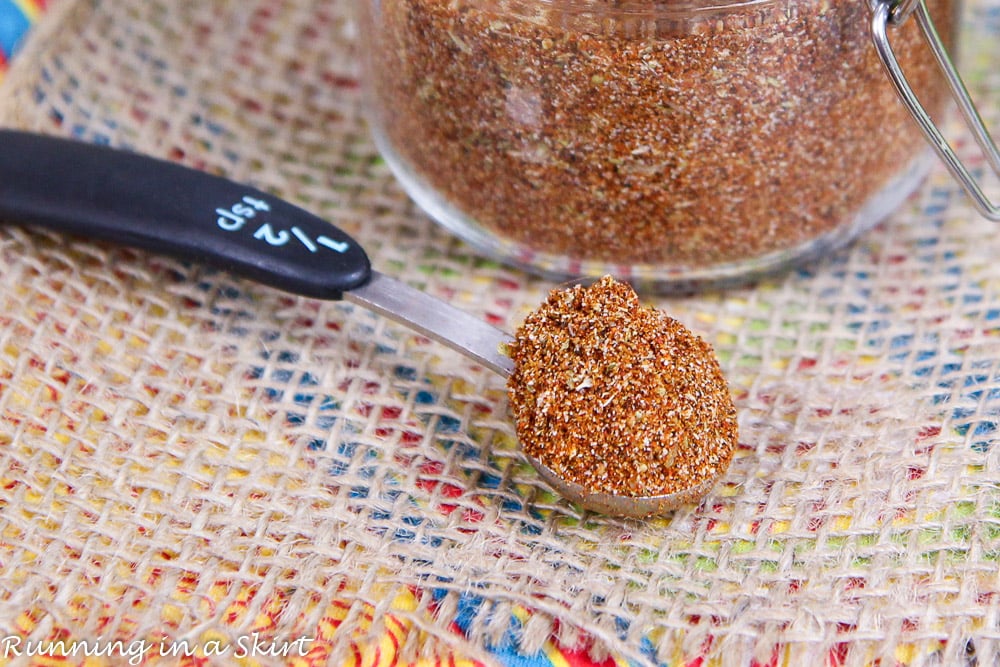 What is Mexican Spice Blend?
Here's an overview of what you'll need to make this Mexican Spice Blend. Keep reading for the full amounts.
A Mexican Spice Mix is like a homemade taco seasoning but without the added sodium and preservatives. It's a great spice blend to make at home because it's super versatile and goes with any Mexican or Latin inspired dishes. For the best flavorful spice blend, be sure to use spices that are fresh and haven't been sitting in your pantry for years. Here's what's in my version.
Instructions:
This is an overview of the recipe instructions for my Mexican Spice Blend. Keep scrolling for the full printable recipe.
Find the spices in the cabinet or buy them on Amazon.
Measure the spices.
Put all the spices together in a mason jar and mix or stir until well combined.
Store in an airtight container or old cleaned-out spice jar in your pantry for up to a year.
Substitutions and Variations
You can use granulated onion or garlic instead of powder.
If you can't find smoked paprika you can use regular paprika but I like smoked so much more.
If you don't have chipotle powder you can also use cayenne pepper powder.
If you like your blend spicy, add more chipotle or cayenne pepper.
Oregano, bay leaves, coriander, and cilantro are two other common herbs in Mexican Seasonings. You can add that to this mix.
I didn't add kosher salt and black pepper to my blend, but you can add it into the mix to keep your meal prep time down.
If you want more of a powder consistency to the spice blend, use a mortar and pestle or spice blender to grind it down.
You can easily double or triple this recipe to make more. Store it in a glass jar or old spice container for safekeeping.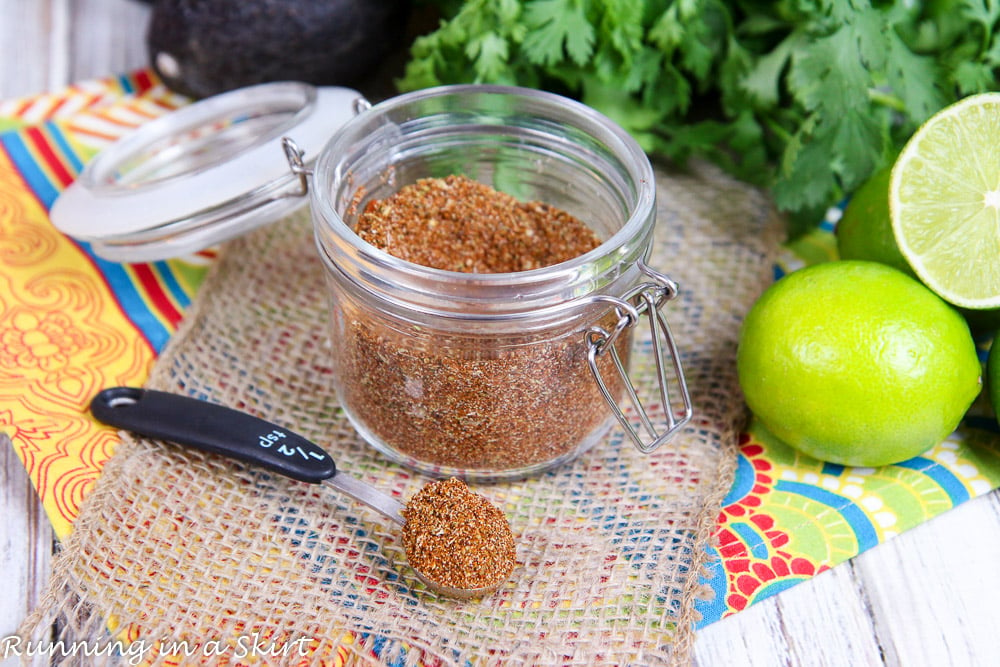 This Mexican Spice Blend is the BEST Mexican Seasonings!
If you are looking for a tried and true family spice mix- this Mexican Spice Blend is it. I use it all of time and always have some in my pantry. It's super versatile from adding it to meat, chicken, beef, pork, fish, shrimp, roasted vegetables, roasted potatoes, and more. Use 1-2 tablespoons per pound of meat or vegetables. You can also make this into a marinade by adding it to olive oil and lime. It also can act as a dry rub.
It will also work in any dish where you want homemade Mexican seasoning.
There are literally hundreds of recipes you can use this blend in including my Sheet Pan Shrimp Fajitas I shared just the other day... but I thought I'd leave you with a few to inspire your cooking! I even sprinkle it over my black beans when I'm making a simple Black Bean and Avocado Quesadilla.
I promise this Mexican Spice Blend will become something you reach for often. Enjoy!
FAQ
How do I store leftovers?
After you make this Mexican Spice Blend, you can pour it into an airtight container and store in it your pantry - away from heat and water- for up to six months.
You can also freeze homemade spice blends for up to a year.
Is Mexican Spice Mix the same as taco seasoning?
Yes! This recipe is the same as taco seasoning and can be used in the same way. Often taco seasoning is made with salt and pepper though, so if you are used to adding to a packet, you'll have to get back in the habit of adding salt and pepper to your food individually.
Ways to Use It
More Homemade Spice or Seasoning Blends to Try:
If you make this recipe, I'd love to hear what you think! Leave a comment and a star rating ★ below. Make sure to follow me on Instagram, Pinterest, and Facebook too!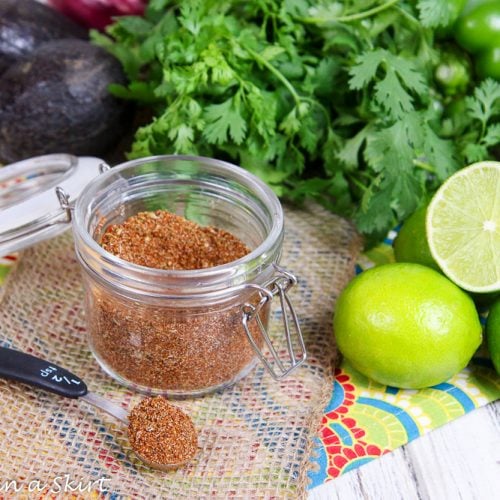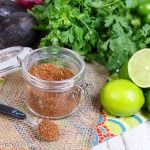 Mexican Spice Blend recipe
The perfect Mexican Spice blend for all your recipes. Move over taco seasoning, this is the best Mexican Spice Mix recipe!
Ingredients
2

tablespoons

chili powder

2

teaspoons

ground cumin

1

teaspoon

garlic powder

1

teaspoon

onion powder

1

teaspoon

smoked paprika

¼

teaspoon

cayenne pepper or chipotle pepper
Notes
You can easily double, triple or quadruple this to make a big batch to store in your pantry.
Store any leftovers in an airtight container in your pantry -away from light or water- for up to six months.
Nutrition
Calories:
83
kcal
Carbohydrates:
15
g
Protein:
4
g
Fat:
3
g
Saturated Fat:
1
g
Sodium:
274
mg
Potassium:
465
mg
Fiber:
7
g
Sugar:
2
g
Vitamin A:
5780
IU
Calcium:
90
mg
Iron:
6
mg
Pin for later: