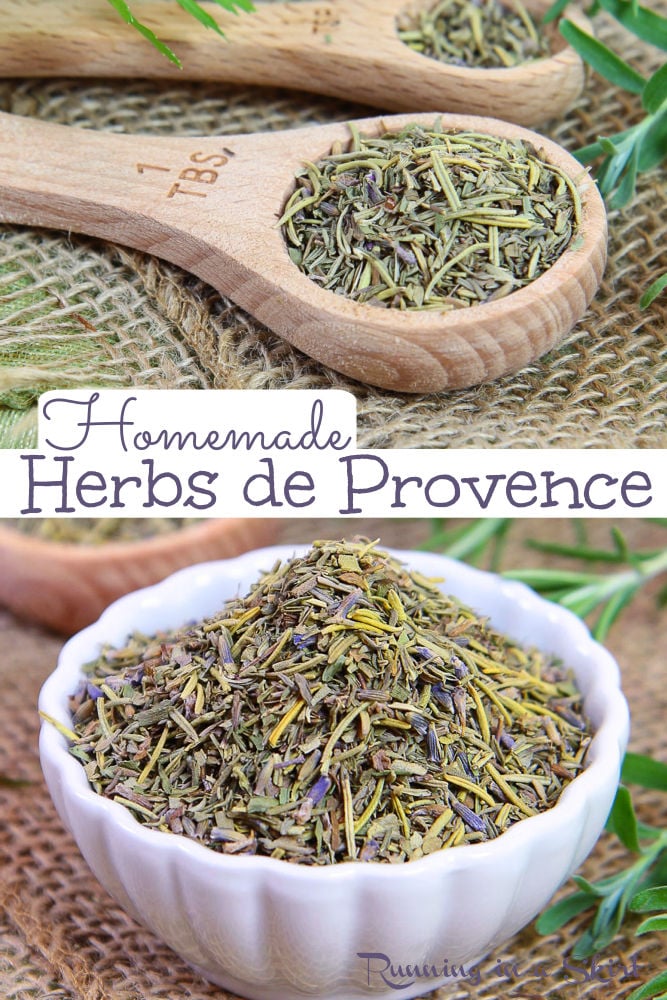 This Homemade Herbs de Provence recipe Spice Mix is easy to make with spices you probably already have in your cabinet. This classic blend of herbs is common in French cooking and goes great with everything from roast chicken, potatoes, and fish.
Love DIY spice blends? Try my 10 Healthy Homemade Seasoning Mixes to Spice Up Your Pantry.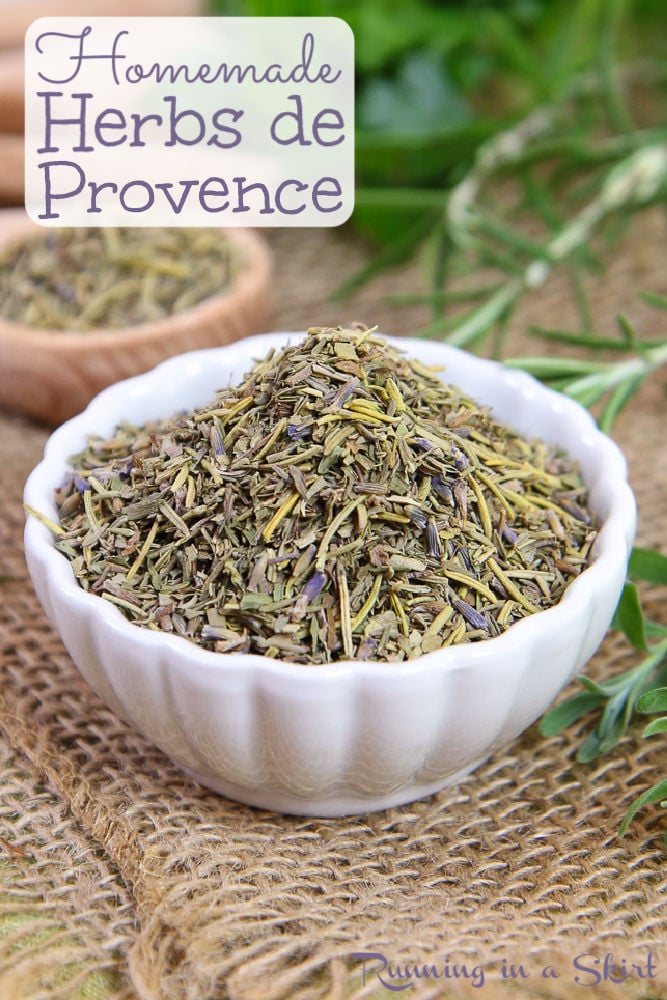 Herbs de Provence Recipe
This Herbs de Provence recipe is one I have loved for years. This classic blend of herbs is most commonly used in French cooking but translates well to so many dishes made in a healthy kitchen that let fresh ingredients shine. It's a staple in my pantry and something I always have on hand because it elevates so many dishes to another level of yumminess.
I've always had a soft spot for French culture and French cuisines and using this blend of spices makes me feel like I'm being fancy in the kitchen even when I'm not. I'll probably never perfect a souffle or French omelet... but I'm pretty good at sprinkling some of Herbs de Provence on my roasted potatoes or salmon making these very basic meals feel gourmet. This spice mix is also fabulous on everything from chicken, prime rib, soups, stews, or pork! The light herbaceous flavor of this spice blend makes me dream of the trip I want to take to Provence in the South of France one day to frolic through lavender fields.
Sure you could buy your own Herbs de Provence at the grocery store but making your own mix lets you control the ingredients (like adding a little extra pretty lavender!) You also probably have most of the items to make it in your pantry anyway and it's a great way to save a few dollars. Plus you know that your mix is healthy without any preservatives!
This recipe also happens to be vegan, vegetarian, keto, and low carb.
Do you love making homemade spice mixes? Also try my Italian Seasoning Mix, Cajun Spice Mix, Homemade Everything Bagel Seasoning, DIY Pumpkin Pie Spice Mix & Homemade Taco Seasoning Mix.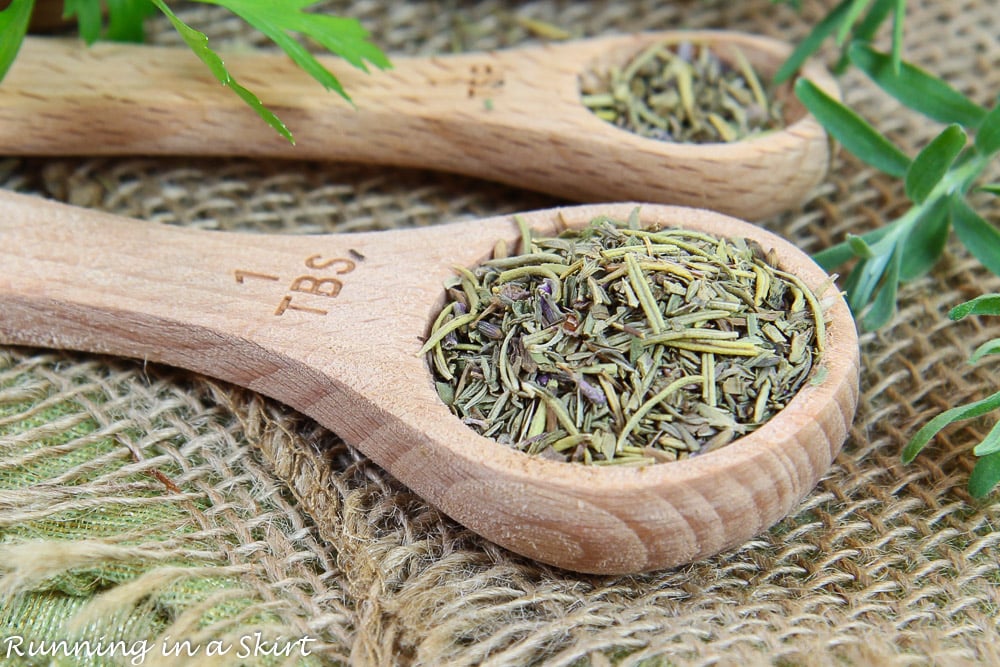 What is Herbs de Provence?
Herbs de Provence (or Herbes de Provence in France) is a blend of herbs that comes from the Provence region of southeastern France. It's a delightful blend of spices that elevate so many dishes including savory, marjoram, thyme, rosemary, tarragon, oregano, and lavender flowers. Some recipes include bay leaves or chervil. This blend of spices makes flavoring dishes like fish, chicken, potatoes, or vegetables super simple.
Unlike a lot of spice blends, this one actually varies pretty widely from one version to another. While most modern commercially sold mixes in the US include lavender, not all mixes in France do. It's actually not historically part of the mix. Many Americans associate Provence with lavender fields (including me!) so it's thought it was added to appeal to Americans. Some blends include fennel seed and some do not. My blend includes lavender because I feel like it's the key flavor to this spice mix but it does not include fennel.
Herbs de Provence is relatively new to the culinary world and became popular after Julia Child starting showcasing French cooking on tv in the 1970s. Her book the Art of French Cooking and the show, introduces this spice as well as French cooking to America.
The blend is aromatic, herbaceous, and fragrant.
What do Herbs de Provence taste like?
The two most dominant flavors in most Herbs de Provence blends are thyme and rosemary so this spice blend has strong notes of that. You can also taste hints of lavender, savory, basil, and tarragon. It has a similar flavor to Italian seasoning but it is lighter, more herb forward, and more complex due to the higher number of spices in it.
What is the difference between Italian Seasoning and Herbs de Provence?
Herbs de Provence comes from southern France while Italian Seasoning was actually created in the US. Italian Seasoning has a similar flavor profile to Herbs de Provence but it's missing the floral taste from the lavender flavors. Italian Seasoning often has a strong basil flavor where most Herbs de Provence blends do not include it.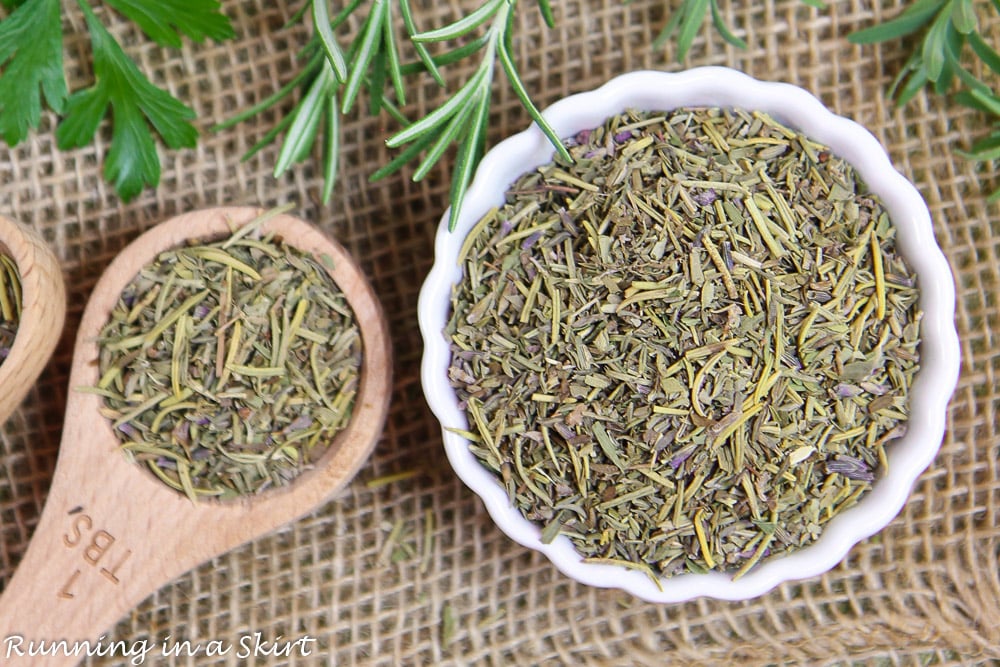 Ingredients:
Dried Thyme: Dried Thyme is one of the strongest flavors in this Herbs de Provence recipe. The spice is key in Mediterranean cooking and has an earthy flavor with notes of lemon and mint.
Dried Summer Savory: Dried Summer Savory is another aromatic herb with a light Thyme-like flavor and a peppery bite. I prefer the bright green summer savory but if you can't find it, you can use Ground Savory which is often easier to find. If you are having trouble finding it and want to try it, I linked to it below.
Dried Oregano: Dried Oregano has a robust flavor and peppery bite. It's slightly sweet and minty.
Dried Rosemary: Rosemary has a very distinctive piney flavor. It's a strong addition to this herb blend.
Dried Marjoram Leaves: Marjoram is another herb from the Meditteranean area that is similar to oregano but with a slightly sweeter and more delicate flavor.
Dried Tarragon: Tarragon is another distinctive herb with a bittersweet flavor that is common in French cooking making it a perfect addition to this Herbs de Provence recipe.
Dried Lavender Flowers: Light and floral, lavender leaves are the shining star of this herb blend. Look for culinary lavender that is produced for eating.
For the best results in making this Herbs de Provence recipe use the freshest spices. If you need to replace any of yours, here's where to buy them on Amazon.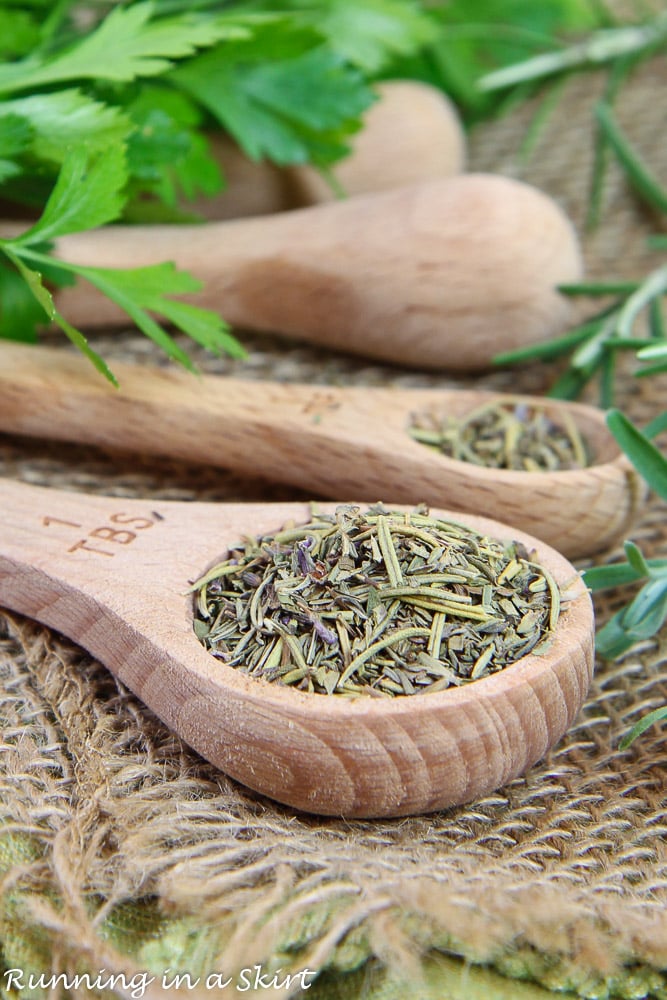 How to Make Herbs de Provence:
Gather all your spices and check for freshness.
Measure out the spices.
Toss spices into an airtight container and toss until well combined. You could also mix them in a mixing bowl.
Use a teaspoon at a time in your favorite recipes.
Store in a dark pantry or dry place for up to a year.
Recipe Tips:
Check the dates on your herbs to make sure they are still fresh. Fresh herbs will give your homemade Herbs de Provence recipe the best flavor.
You can adjust the ratios of the spice blend to your own personal tastes. If you don't like one of the spices leave it out! You can substitute dried parsley, thyme, oregano, or marjoram for one you don't like. This is a pretty forgiving spice blend.
You can easily make more or less of this mixture by doubling and halving the recipe. If you want to double it just click on the 2x or 3x on the recipe card.
If you want a more refined spice blend or powder for your recipe you can all of the spices to a spice grinder and crush them into a powder. This works well if you are using the blend as a meat rub.
You can add salt or pepper to the mixture to make it complete but I like to keep it plain to keep the sodium counts down.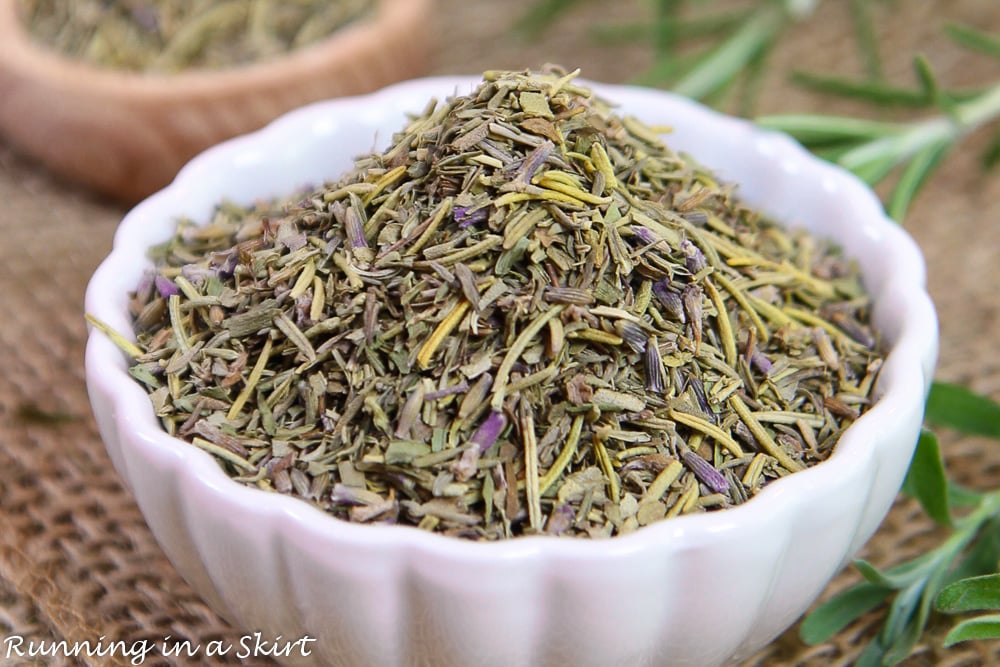 FAQ
How long will the spice mix last?
Dried herbs can keep their flavor in a dark pantry or cupboard for up to two years. They don't go bad, but they just don't taste as good after that. Your spice mix will last for about a year in the pantry depending on how old the spices are that you made it with.
How do you store dried herbs?
Store all dried herbs, including Herbs de Provence, in an airtight container in a dark pantry. These glass jar or jars are a great way to store them.
Is lavender part of Herbs de Provence?
Yes! Lavender is a key component of the spice blend and gives it a mild floral flavor. Don't overdo it on adding the lavender buds to your mixture though because is can give your food a soapy flavor. A little goes a long way.
Recipes Using Herbs de Provence:
More Homemade Spice Mix Recipes to Love:
If you make this recipe, I'd love to hear what you think! Leave a comment and a star rating ★ below. Make sure to follow me on Instagram, Pinterest, and Facebook too!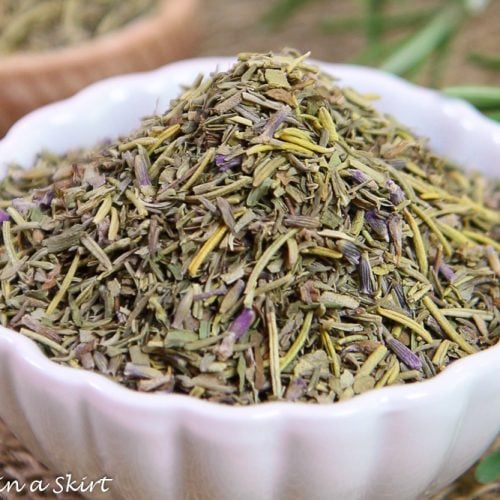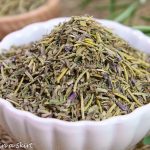 Herbs de Provence Recipe - Easy Homemade Spice Mix
This Homemade Herbs de Provence recipe Spice Mix is easy to make with spices you probably already have in your cabinet.  This classic blend of herbs is common in French cooking and goes great with everything from chicken, potatoes, and fish.
Instructions
Get all the spices out of the pantry and measure the ingredients.

Toss the spices together in an airtight container.

Store the spices in an airtight container in a dark pantry for up to a year.
Notes
For the most flavorful Herbs de Provence recipe use fresh spices. Check the dates on yours before you blend this!
Nutrition
Calories:
10
kcal
Carbohydrates:
2
g
Protein:
1
g
Fat:
1
g
Saturated Fat:
1
g
Polyunsaturated Fat:
1
g
Monounsaturated Fat:
1
g
Sodium:
1
mg
Potassium:
45
mg
Fiber:
1
g
Sugar:
1
g
Vitamin A:
121
IU
Vitamin C:
1
mg
Calcium:
56
mg
Iron:
2
mg
Pin for later...