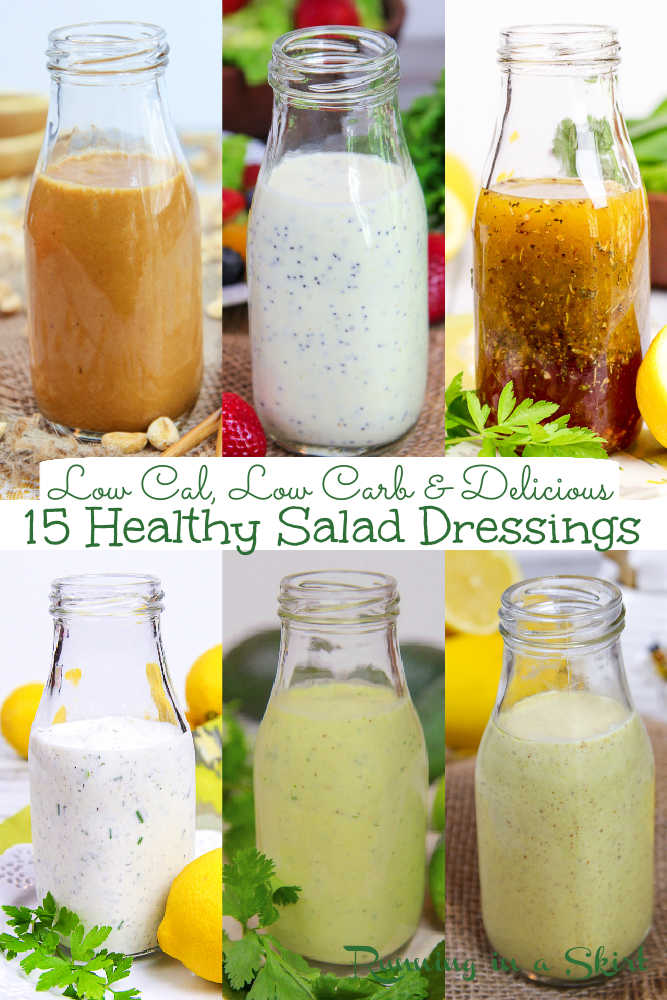 Look no further for Healthy Homemade Salad Dressing Recipes! This is the ultimate guide to making healthy salad dressing at home and 15 of my favorite healthy salad dressings. You'll find the best low calorie, low carb, and low fat salad dressings ever!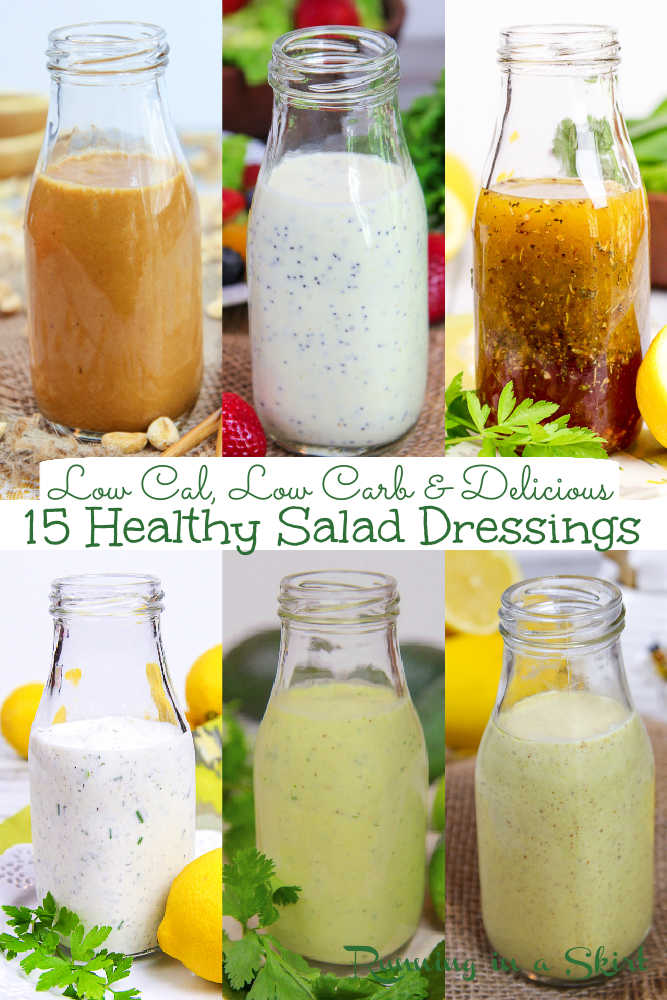 Homemade Healthy Salad Dressing
You just can't beat the fresh flavor of a Healthy Homemade Salad Dressing. They are surprisingly simple to make and taste so much better than most bottled salad dressings. Plus you can control the ingredients and make them as healthy, sugar free, low carb, and low calorie as you'd like!
I've been making and posting healthy salad dressings on Running in a Skirt for years and wanted to give y'all a place where you could easily find them all in one place. In all, I've created 15+ healthy salad dressing recipes covering a huge spectrum of tastes and cuisines. There is something for everyone! If you are looking for the healthiest salad dressings... start here!
I've got the basics covered like a Healthy Greek Yogurt Ranch, Healthy Greek Salad Dressing, Greek Yogurt Caesar Dressing, and Healthy Red Wine Vinaigrette. You'll also find some unique options like an Apple Cider Vinaigrette and Creamy Thai Peanut Dressing.
In fact, I feel like this is the ultimate resource for making your own healthy salad dressing!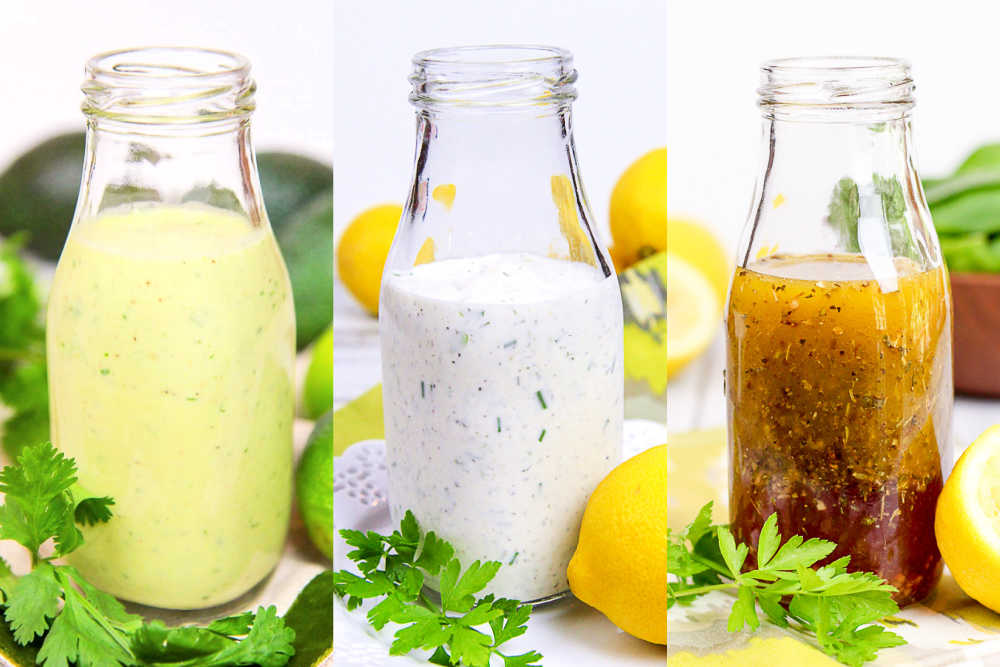 Low Calorie Salad Dressing Recipes
On top of being healthy salad dressing, these recipes are all low calorie salad dressing recipes that are much healthier than the bottle! I used less oil and no sugar to make these dressings healthy. In my creamy dressings like my Ranch, Caesar, and Poppyseed I used a base of greek yogurt so they would still taste amazingly creamy AND have some health benefits.
What makes a salad dressing healthy?
I consider a salad dressing healthy if it is made with fresh ingredients, low oil, and has a reasonable amount of calories. Some bottled dressing has 100+ calories per serving which is too high in my opinion! All of these salad dressings meet that criteria and can be considered healthy.
What's the healthiest salad dressing?
Often a light vinaigrette or olive oil and vinegar-based salad dressing is the healthiest. I have several light vinaigrettes below to choose from if that's what you are looking for.
But because even my creamy salad dressings are based on greek yogurt instead of mayonnaise, they are all pretty darn healthy!
You can drizzle all of these healthy homemade salad dressings knowing they taste amazing and are good for you!
What salad dressing should I put on my salad to lose weight?
All of these healthy salad dressing recipes are great for weight loss! The lightest ones tend to be the ones made with simple olive oil and vinegar like the Red Wine Vinaigrette, Zesty Italian Dressing, or Healthy Greek Salad Dressing.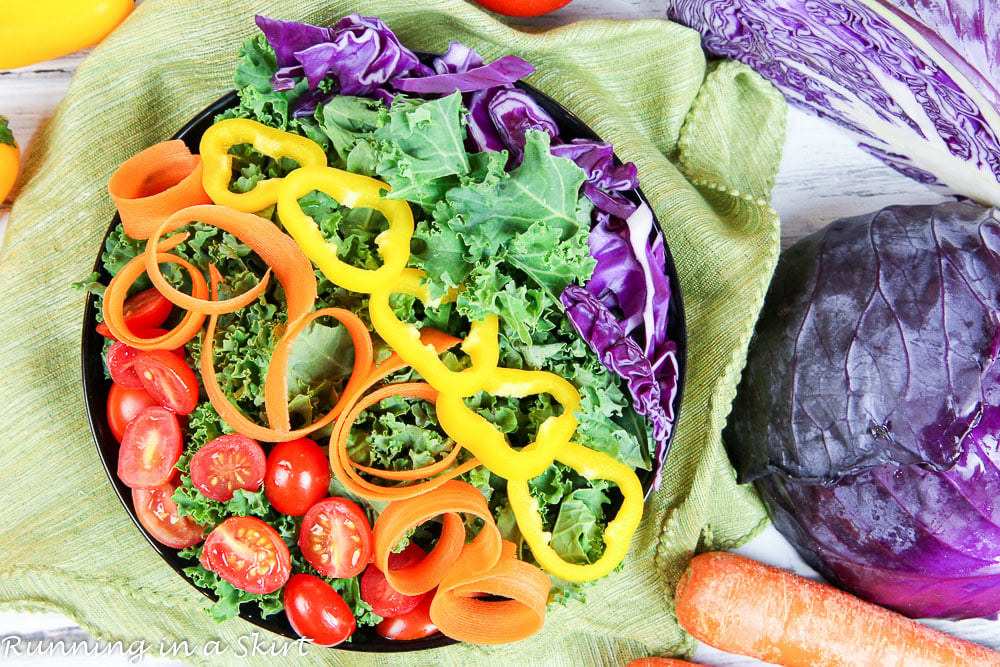 How to Make Homemade Healthy Salad Dressing:
I have full instructions for each salad dressing recipe in my individual recipes but here's a basic idea of how to make them.
Gather your healthy ingredients like oil, vinegar (balsamic vinegar, red wine vinegar, or white wine vinegar) greek yogurt, and seasonings.
Measure and mix or whisk together.
Use a mason jar to store and shake the salad dressing before serving.
You can also use a blender or food processor to mix up the creamy dressings.
You can keep them in your fridge for up to a week!
What is the best extra virgin olive oil for salads?
Before you start making these salad dressings it would help to have a pantry of some quality oil and vinegar! Here are a few of my favorites.
These Homemade Healthy Salad Dressing recipes are super tasty and can brighten up so many salads! I hope you enjoy making them and now finding them in one easy-to-find resource. They are so much better than store-bought dressings.
15 Homemade Healthy Salad Dressings to Love
This classic Greek Salad Dressing is inspired by the salad at my favorite Greek restaurant. It's made with zesty lemons, lemon juice, and familiar greek style herbs like oregano. It has a slightly higher vinegar to olive oil ratio making it a bit lighter in taste and calories. It goes great on everything from a classic greek salad to a summer pasta salad. You can also use it as a marinade for fish, vegetables, or meat.
You can also serve this dressing with so many things including my Greek Tortellini Pasta Salad.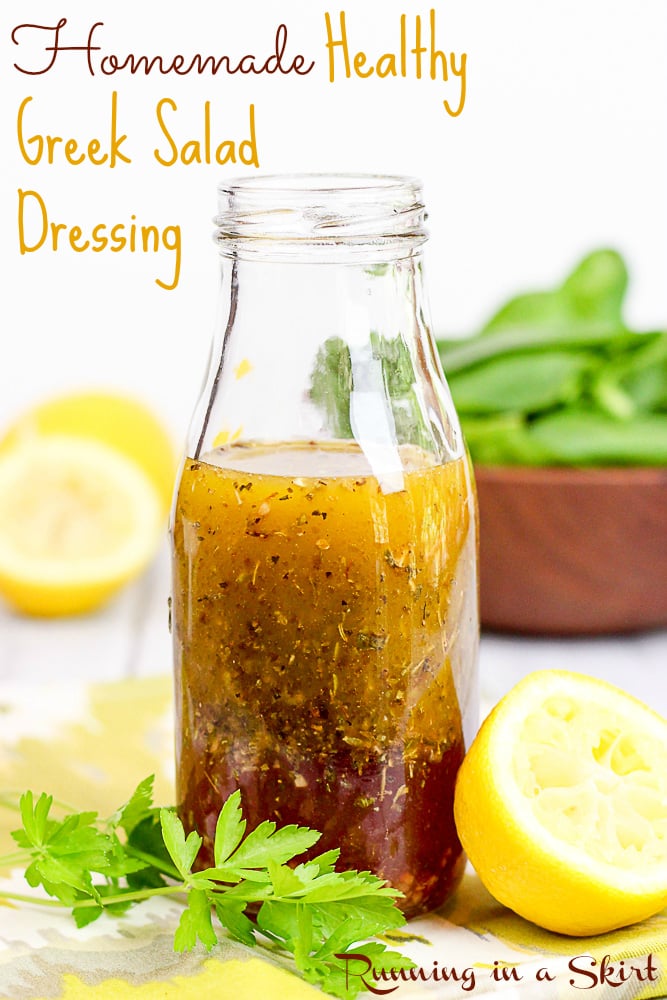 This twist on classic Ranch dressing tastes so good you'll never realize it's good for you! Instead of being made with mayo, the base is greek yogurt making it a rich and creamy dressing without the calories. It's even filled with probiotics from the yogurt. This healthy ranch dressing is dreamy.
The Healthy Homemade Greek Yogurt Ranch Dressing can be used as a dressing or a dip and is great on any salad you'd normally serve with ranch. Try it with my Vegetarian Cobb Salad. It's also great as a dip for my Baked Zucchini Fries.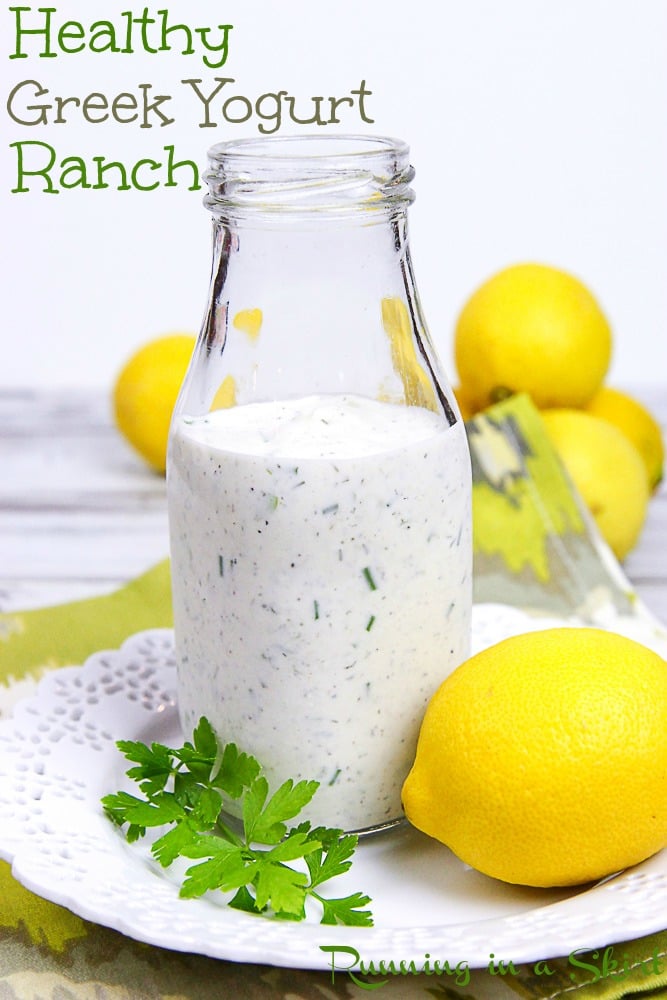 Love Ceasar salad but not the unhealthy dressing on top? Try my version! My Healthy Greek Yogurt Caesar Dressing is so tasty that you'll never know it's better for you. The flavors are the same and it's just a bit lighter and brighter.
Serve it with my Kale Caesar Salad or Kale Ceasar Pasta Salad.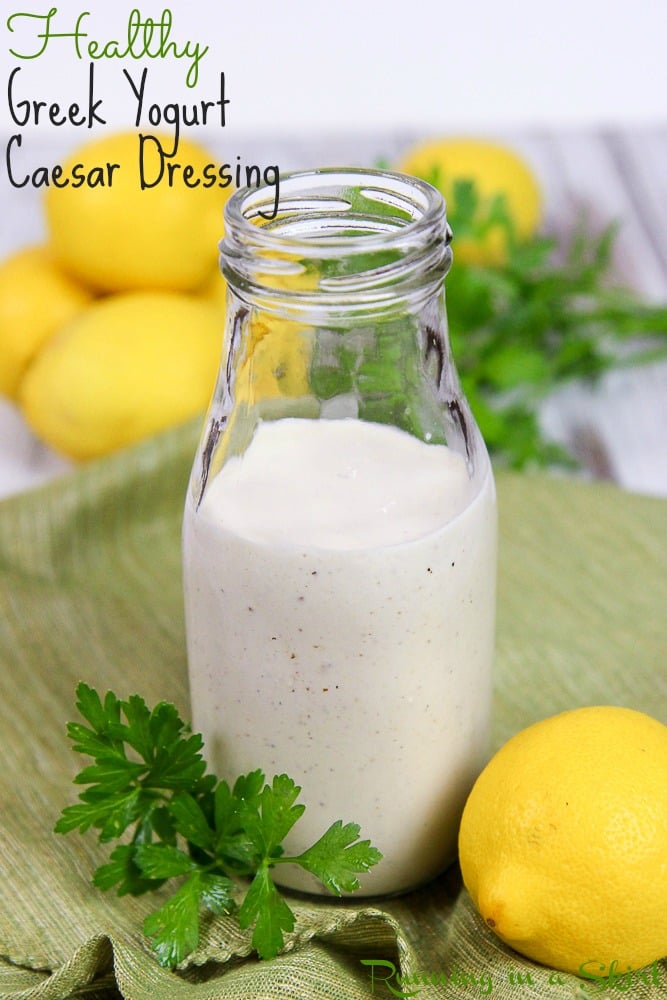 Looking for another healthy salad dressing? Try my Healthy Zesty Italian Dressing with bright herbs from a homemade Italian Seasoning and parmesan cheese.
This traditional dressing is perfect on so many salads but especially my Italian Chopped Salad or Zesty Italian Pasta Salad.
Honey Mustard is often filled with sugar but my version is not! It's light, bright, and creamy thanks to the mustard and greek yogurt. My Healthy Honey Mustard Dressing does have honey but no added refined sugar. It uses yummy dijon mustard too.
Serve it with my Fall Harvest Salad or any other salad you'd normally like Honey Mustard with. It also works great as a dip!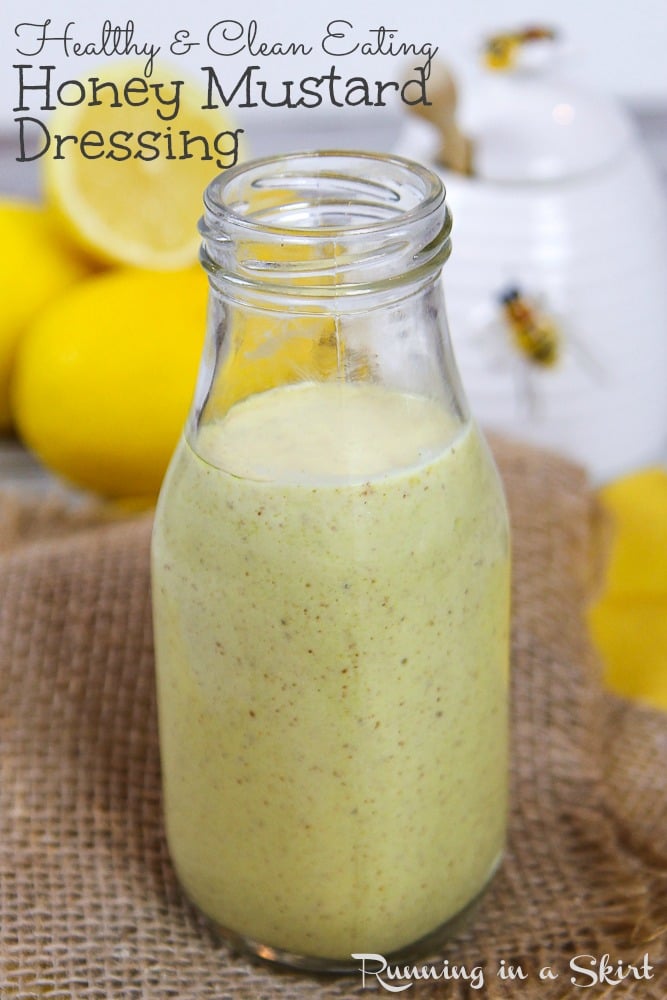 This healthy salad dressing is nothing short of dreamy! My Healthy & Creamy Avocado Lime Dressing features all the flavors of guacamole but in a healthy salad dressing package. If you love avocado, lime juice, and cilantro... this is for you.
Serve this dressing with any salad or even as a drizzle on top of tacos. It's also great with my Vegetarian Taco Salad.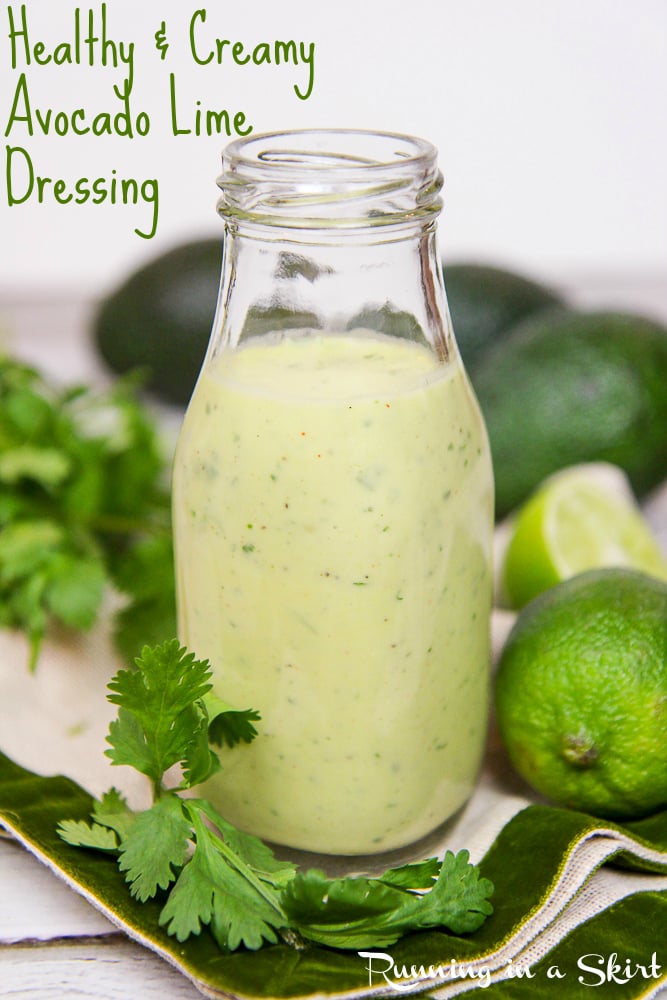 Here's another classic salad dressing you need to have in your recipe book. My Healthy Red Wine Vinegar Dressing is a bit heavier on the vinegar to keep the calorie count lower. It gets lots of flavor from lemon and more herbs.
Serve in almost any salad where you'd use a vinegrette. It's also the perfect addition to my Mediterranean Quinoa Salad.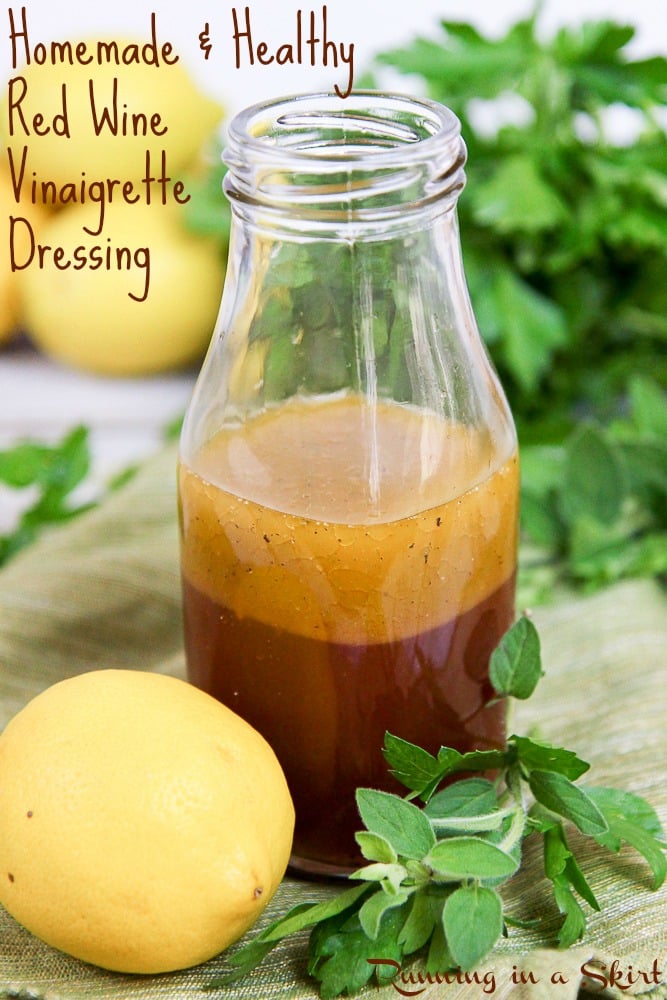 Poppyseed dressing is often filled with mayonnaise and refined sugar making it a not great choice. My Healthy Homemade Greek Yogurt Poppyseed version once again uses greek yogurt to get the creamy base and is sweetened by a touch of honey. If you like a sweet salad dressing, this is it!
Serve it with your favorite fruit salad or my Copycat Panera Strawberry Poppyseed Salad.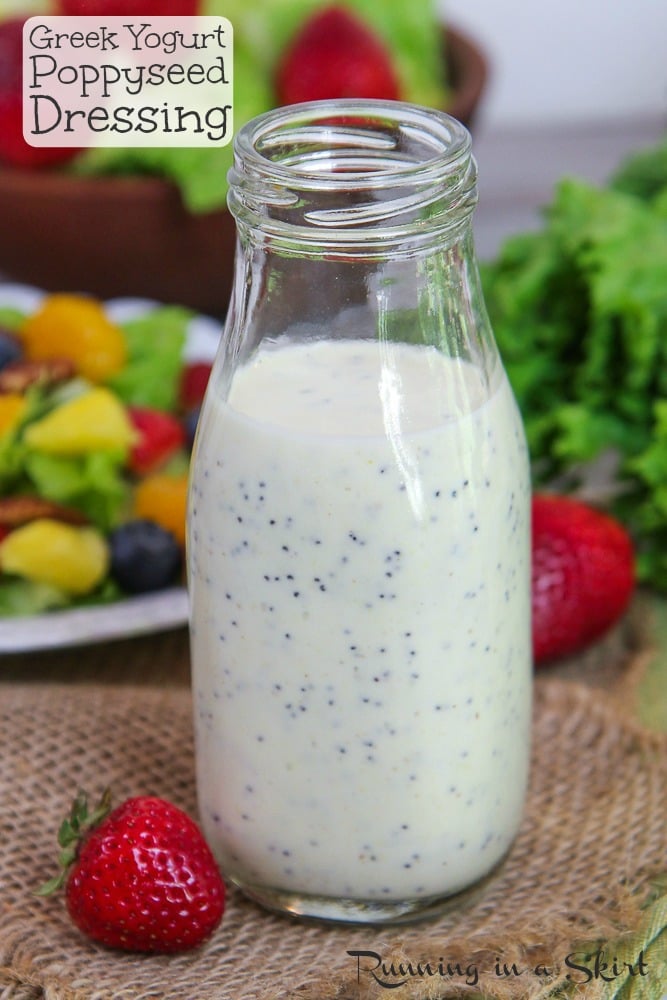 This one is unique! My Healthy Basil Vinaigrette features only 5 ingredients including fresh basil, bright citrus lemon, garlic clove, and olive oil. I love it in the summer to bring out the flavors of fresh greens and tomatoes.
It's also the perfect dressing for a Caprese salad. Serve it with my Grilled Peach Caprese Salad.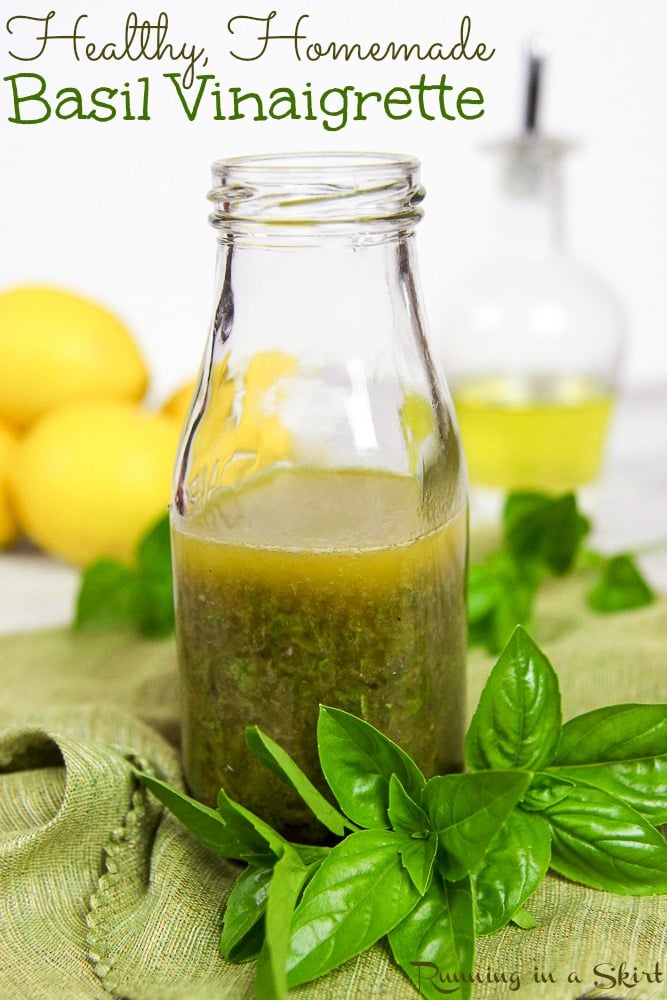 This salad dressing is SO addictive. My Healthy Homemade Lemon Tahini Dressing is one you'll want to make again and again. It's great on any salad greens OR the ideal topping for a Buddha Bowl.
I love it with my Baked Salmon Kale Salad with Lemon Tahini Dressing.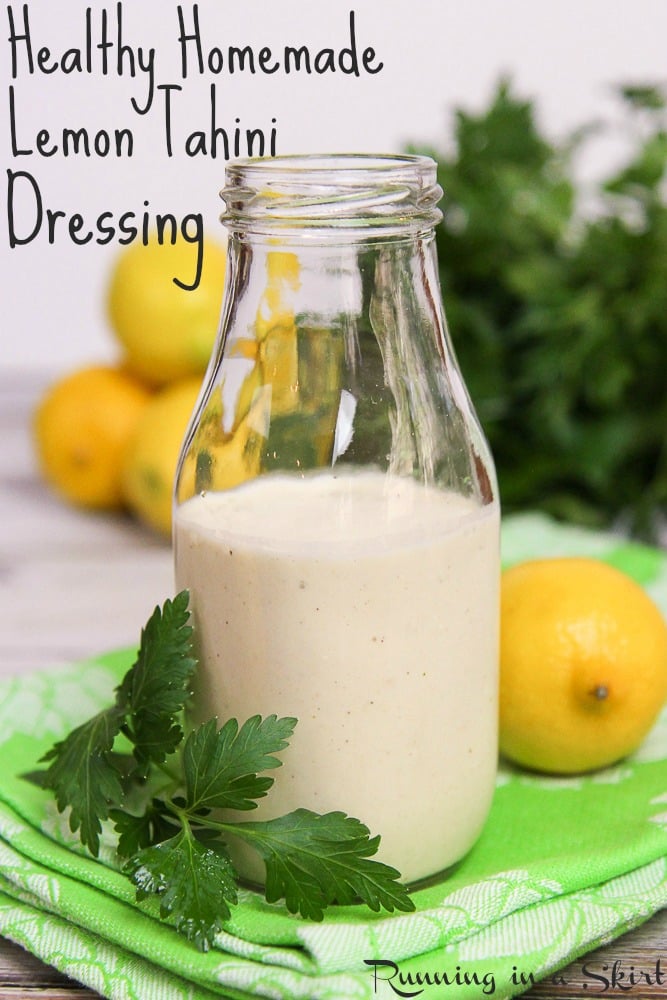 This is another unique salad dressing! My Healthy Green Goddess Dressing features a bright combination of fresh green herbs, olive oil, and greek yogurt. The combination of chives, parsley, basil, and garlic is simply dreamy. It's also great on any bowl of salad green, as a dip, as a buddha bowl sauce, or as a drizzle on fish or vegetables. This very versatile sauce is one you have to try!
Serve it with my Greenest Green Salad or as a topping for my Grilled Cauliflower Steak.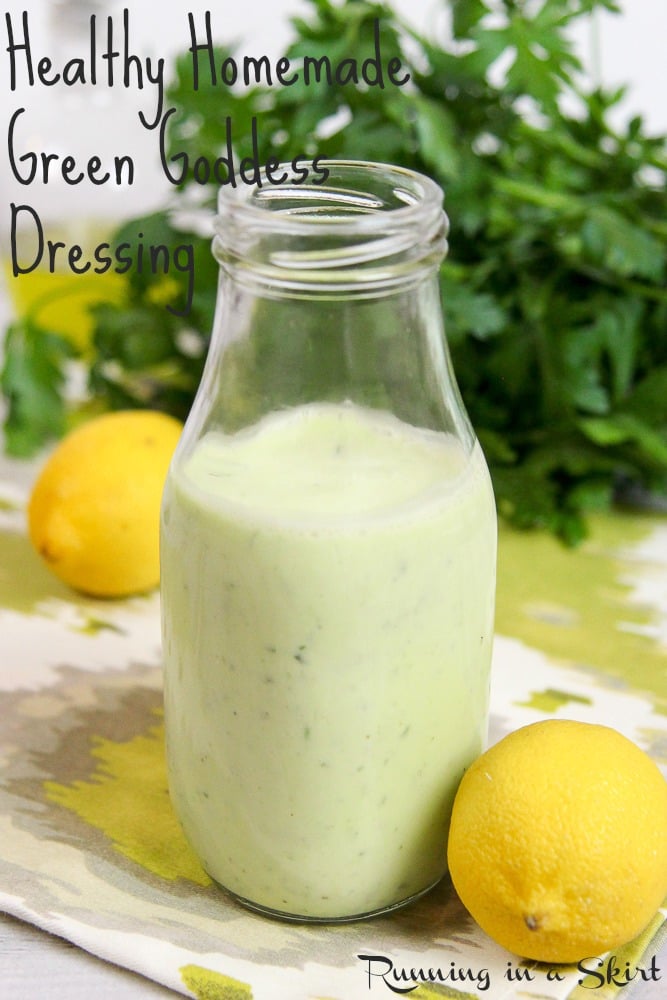 Do you love that peanut sauce at Thai restaurants? This salad dressing tastes JUST like that but in a salad dressing form. My Creamy and Healthy Thai Peanut Dressing is so good you'll want to drink it out of the bottle! It's great on any Asian-inspired salad, as a dip, and even as a pasta sauce. It's a great blend of ginger, peanut butter and soy sauce.
Serve it with my Thai Peanut Noodle Salad.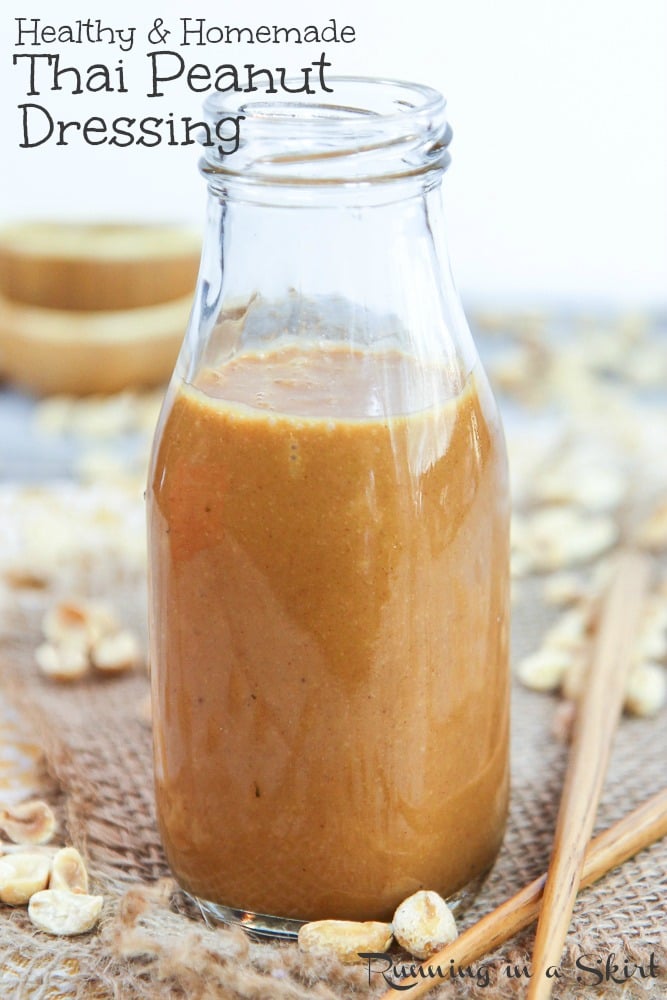 This healthy salad dressing is inspired by the apple orchards near where I live. The apples are bright and fresh and so is this Homemade Apple Cider Vinaigrette. It uses a combination of apple cider and apple cider vinegar and a touch of maple syrup for a super light dressing. Serve it on a fall-inspired salad or buddha bowl.
I love it with my Fall Harvest Farro.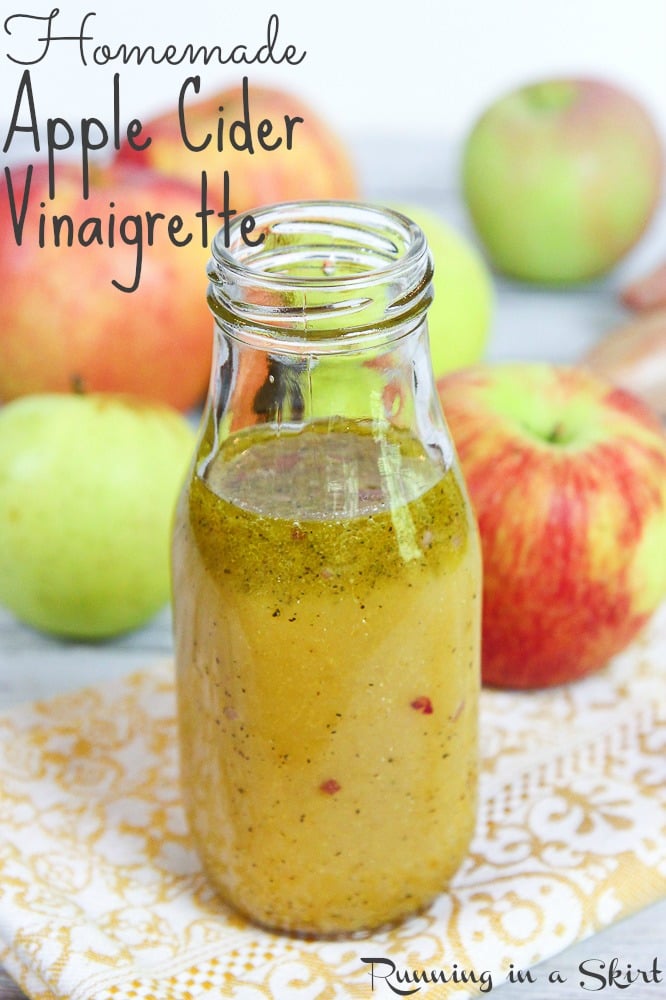 What's better than a healthy ranch? How about a Healthy CHIPOLTE Lime Ranch! I used my Greek Yogurt Ranch dressing base and bring in more Mexican-inspired flavors with lime and canned chipotle. This is SO good! Serve it with any Southwest-inspired salad, as a dip, or even with pasta salad.
I love it with my Tex Mex Pasta Salad.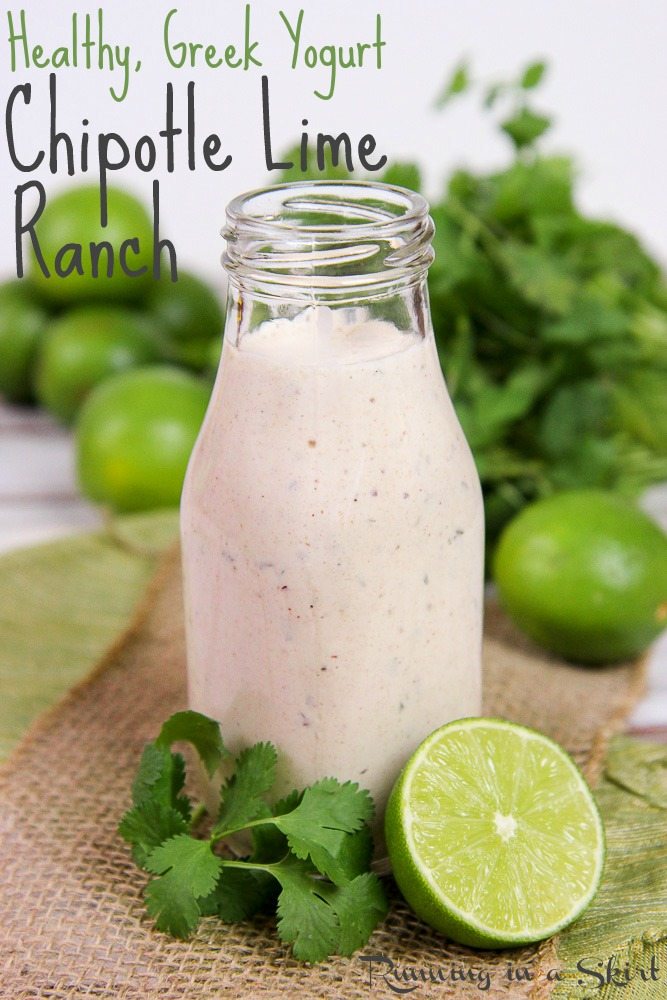 Love Mexican flavored dishes but want a lighter healthy salad dressing? This Cilantro Lime Vinaigrette is for you! It's also great on any Mexican-inspired salad bowl. You'll love the fresh herbs like cilantro in it.
Serve it with my Shrimp Avocado and Lime Salad.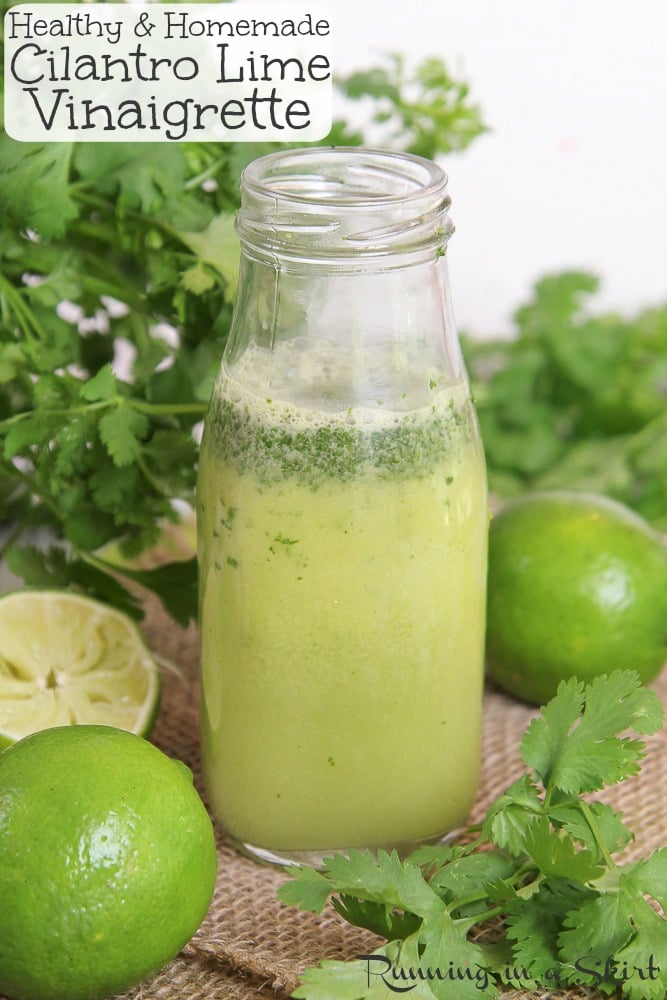 My last salad dressing is the salad dressing you can make when you really don't have much time! This is what I do when I'm making a fast lunch just for myself and don't have any other dressings on hand. It's basically the perfect combination of lemon, olive oil, and vinegar over fresh greens.
Click over to see my demonstration video to make it.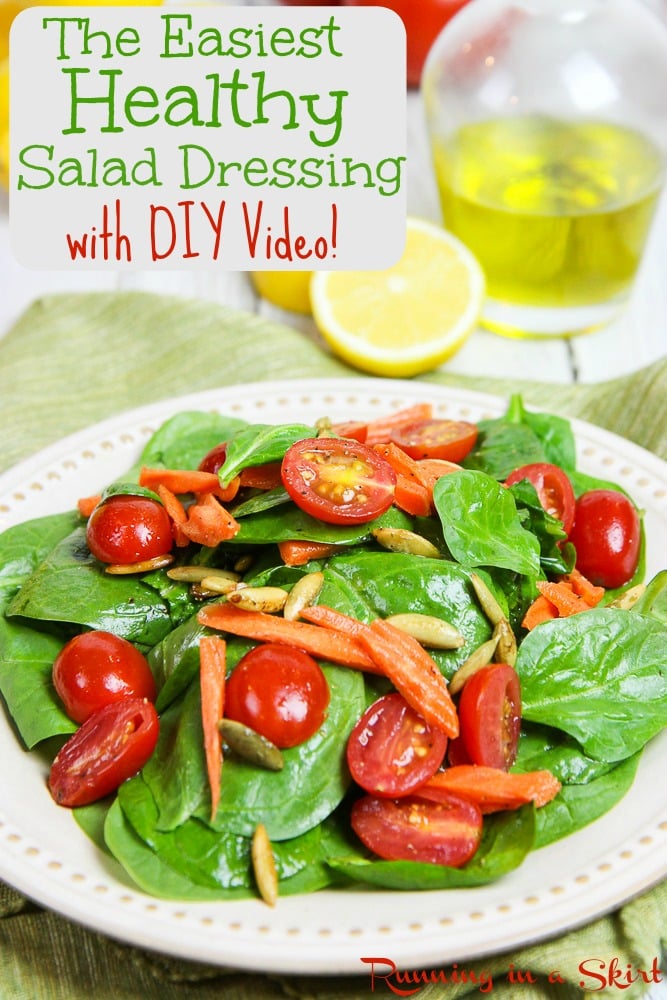 Make These Homemade Healthy Salad Dressing Recipes at Home!
I hope you'll give some of these Healthy Homemade Salad Dressings a try at home. They are all so tasty and unique. With this variety, you'll never have to buy the bottle again.
If you make these healthy salad dressing recipes, I'd love to hear what you think! Leave a comment and a star rating ★ below. Make sure to follow me on Instagram, Pinterest, and Facebook too!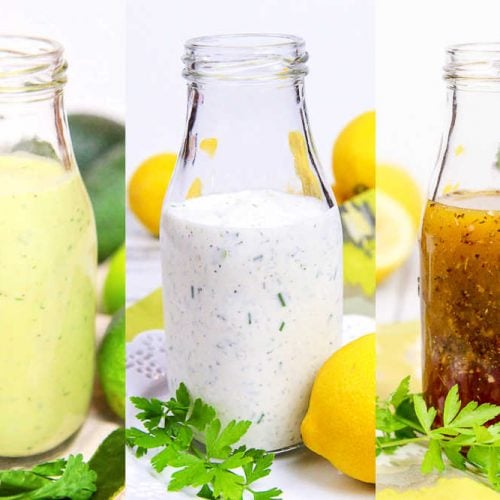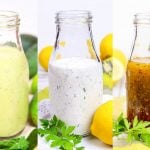 Homemade Healthy Salad Dressing
There are SO many Homemade Healthy Salad Dressing recipes! Here's a template recipe to make your own at home.
Instructions
Get out your ingredients and measure them.

Put the healthy salad dressing ingredients in a bowl and whisk together or put in a mason jar and shake.

Serve immediatly or store in the fridge for up to two weeks.
Notes
This is a basic recipe to make any type of healthy salad dressing! 
Nutrition
Calories:
86
kcal
Carbohydrates:
1
g
Protein:
1
g
Fat:
9
g
Saturated Fat:
1
g
Sodium:
2
mg
Potassium:
25
mg
Fiber:
1
g
Sugar:
1
g
Vitamin A:
3
IU
Vitamin C:
7
mg
Calcium:
4
mg
Iron:
1
mg
Pin for later!