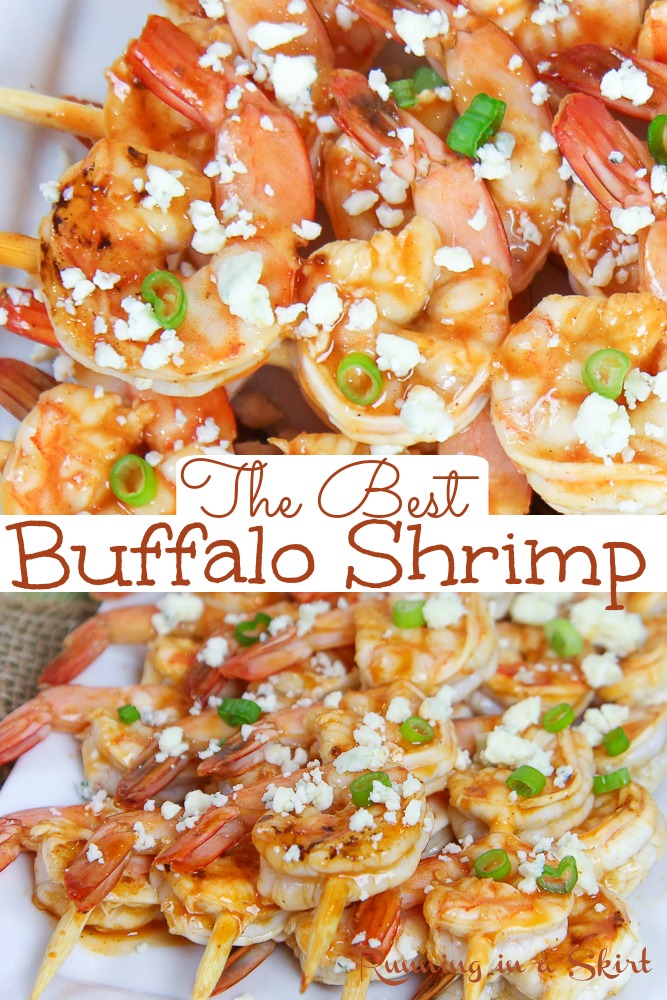 This irresistible Buffalo Shrimp Skewers recipe is loaded with buffalo hot sauce flavor and topped with creamy blue cheese crumbles. You can dip them in your favorite blue cheese dressing for the best way to make a Buffalo Shrimp recipe at home. This healthy pescatarian recipe just happens to be low carb, gluten-free, and keto!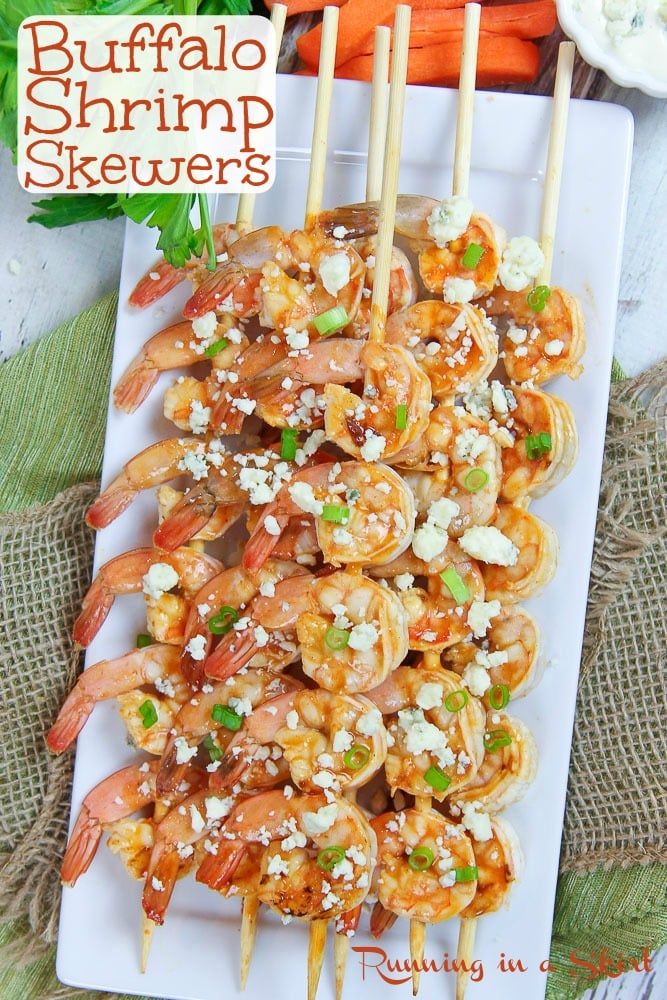 Buffalo Shrimp Skewers
I love cooking healthy shrimp recipes at home including these Buffalo Shrimp Skewers. Shrimp cook fast, are crazy easy to make, and taste absolutely delicious. Plus they are easy to keep in the freezer for a fast weekday or weekend meal. I probably make some sort of shrimp recipe for the family (YES! The twins love shrimp too) every week or two.
I try to mix up my recipes so no one gets bored and wanted something new for summer. That's where this irresistible Buffalo Shrimp recipe came from! My attempts to keep shrimp night interesting were a total victory with another simple to make a meal that everyone loves.
These Grilled Buffalo Shrimp are coated in buffalo sauce, simply grilled and sprinkled with creamy blue cheese and crisp green onions. I dip mine in my favorite Blue Cheese Dressing for a flavor explosion you'll try again and again.
Many Buffalo Shrimp recipes are coated and fried in breading... but not these! This recipe is high in flavor and low in calories. My version is super light, healthy, and delicious.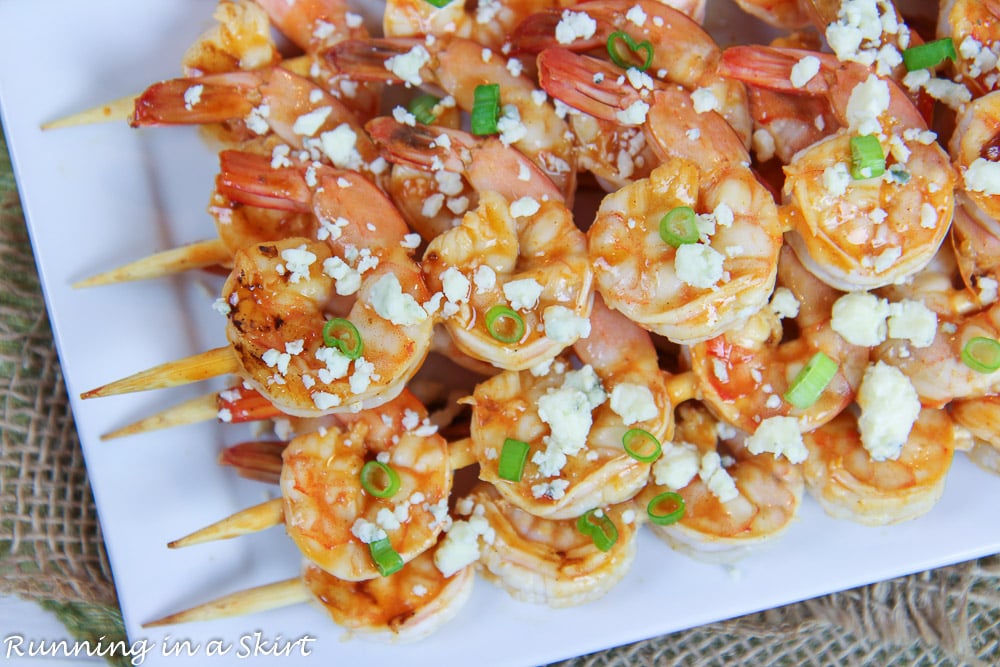 These Buffalo Shrimp Skewers are 4 Ingredients!
These Buffalo Shrimp Skewers are special because they are made with only 4 ingredients and come together in less than 15 minutes. With two toddlers running around my dinners NEED to be that fast and simple. I'm sure you feel the same way.
They are just spicy enough with a marinade and toss of hot sauce and a creamy Blue Cheese Dressing dip or ranch dressing adds a lot of flavor without a lot of work.
You are honestly going to wonder why you haven't been making these gorgeous shrimp for years! They work great as a main course or even a wonderful appetizer or snack. This is a great healthy, protein rich recipe that you can make again and again.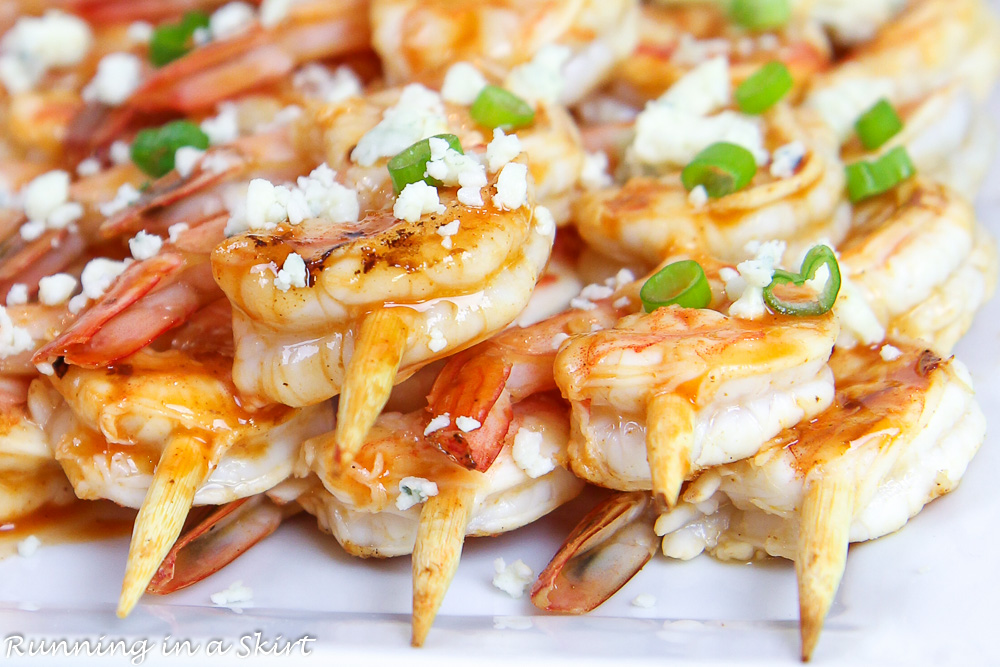 Grilled Buffalo Shrimp
These Grilled Buffalo Shrimp can be easily made outside on your grill, on an indoor grill OR you can pop them on a sheet pan and cook them in the oven. In summer though you can't beat healthy grilled shrimp and cooking outside.
I like the way they look on the skewers but if you are short on time you could easily cook the Buffalo Shrimp Skewers in a grill basket.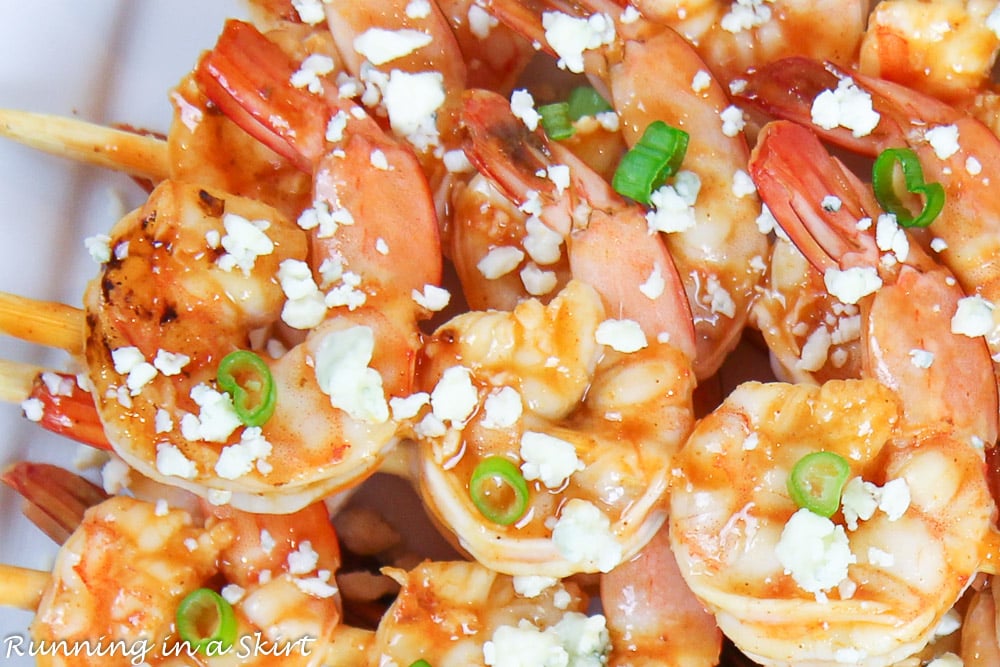 Ingredients:
This buffalo shrimp recipe is SO simple. Here's what you need.
Raw Shrimp: Use large or jumbo shrimp for the best results. You can use fresh or frozen. Be sure to clean and devein them before tossing them into the sauce.
Frank's Buffalo Sauce: I love the flavor of THIS hot sauce for this recipe. It's not TOO hot and has lots of flavors. If you want to make your own homemade buffalo sauce it's a combination of hot sauce and butter.
Blue Cheese Crumbles: The blue cheese crumbles is the perfect creamy topping for the shrimp.
Green Onions: I love adding a touch of green onion for texture, flavor, and color.
Use your favorite Blue Cheese Dressing as a dip for your Buffalo Shrimp Skewers. You can also serve it with storebought ranch or my Healthy Ranch Dressing. They are also great with a side of celery sticks and carrot sticks just like Buffalo wings.
What size shrimp are best?
This recipe works best with large shrimp which are the 21-25 count. That means there are 21-25 shrimp per pound. The less shrimp per pound, the larger the shrimp. You can use any size for this recipe though. If you buy larger shrimp it will take a little extra time to cook. Smaller shrimp with a larger count will take a little less size.
I like the buy frozen shrimp and thaw them when I'm ready to cook them. Unless the shrimp you are buying says "fresh, never frozen" the shrimp at the seafood counter is often the same stuff that comes frozen in the bags. If you happen to find "fresh, never frozen" shrimp BUY them! They are always more delicious. They are hard to find if you don't live near the coast.
How do you make this Grilled Buffalo Shrimp recipe?
Put your grilled buffalo shrimp in a ziplock bag and use Frank's Hot Sauce as a marinade.
While that is marinating, soak your skewers in water. That keeps the wooden kind from catching on fire.
Skewer your shrimp carefully.
Heat your grill to medium heat.
Cook the shrimp for 2-4 minutes on each side. The shrimp are done when they start to turn pink and just start to curl.
Put the shrimp on a plate and brush with extra hot sauce.
Top with blue cheese crumbles and green onions.
Serve with your favorite blue cheese dip.
Alternative Cooking Methods
Cook the Buffalo Shrimp Skewers on an indoor grill by turning the heat to medium and cook for 2-4 minutes on each side.
Cook the shrimp on a sheet pan by turning the oven to 400. Cook the shrimp for 4-6 minutes.
Skip the skewers and cook the shrimp in a grill basket or on a sheet pan.
You can also even saute them in a large skillet without the skewers.

What to Serve with Buffalo Shrimp:
I like serving the buffalo shrimp with celery and carrots like traditional Buffalo Wings but you could also try it with these delicious side dishes.
FAQ
What's the best way to grill shrimp?
The best way to grill shrimp is to heat your grill to medium. Once it's warm grill the shrimp for just 2-4 minutes on each side, flipping once. The shrimp will cook very fast.
How do you not overcook shrimp?
Shrimp overcook really easy! Stay with them because they only need to be cooked for a few minutes on each side. The shrimp will be done when they start to turn opaque pink and JUST start to curl. The best-cooked shrimp are caught before they curl up too much. Remember they will keep cooking once you pull them off the grill, so often it's best to pull them off sooner than later.
Can I make this ahead of time?
Although the shrimp tastes best right off of the grill, you can make these ahead of time. Shrimp overcook easily though so be very careful reheating them. You could also serve them chilled so you didn't have to worry about overcooking them.
How do I store leftovers?
Store any leftover in an airtight container in the fridge for up to three days.
This really is the BEST Grilled Buffalo Shrimp. The flavors are perfect and it comes together in a flash. I hope you enjoy it as much as I did.
More Buffalo Recipes to Love:
Love Healthy Shrimp Skewers?
If you make this recipe, I'd love to hear what you think! Leave a comment and a star rating ★ below. Make sure to follow me on Instagram, Pinterest, and Facebook too!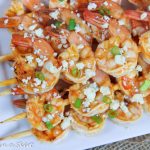 Buffalo Shrimp Skewers recipe
This irresistible Buffalo Shrimp Skewers recipe is loaded with buffalo hot sauce flavor and topped with creamy blue cheese crumbles.
Ingredients
1

pound

large shrimp,

peeled and deveined

½

cup

Frank's Buffalo Hot Sauce

,

divided

2

tablespoons

blue cheese crumbles

2

green onions,

sliced
Instructions
Put the shrimp and half of the hot sauce in a ziplock bag. Make the the shrimp are all covered. Put in the fridge and marinate for 15 minutes. If you are using wooden skewers, soak them in water while the shrimp are in the fridge.

Preheat the grill to medium heat.

Pull the shrimp out of the bag and thread them onto the skewers. Sprinkle the skewers with salt and pepper.

Grill the shrimp 2-3 minutes on each side. They are done when they just start to curl and turn pink. Don't overcook them!

Brush the shrimp with the extra hot sauce and put them on a plate. Top with the blue cheese and green onions.
Notes
If you don't want to mess with the skewers you could easily cook these in a grilling basket.  They'd taste the same but be a little less fun.
Store any leftover in an airtight container in the fridge for up to three days.
Nutrition
Calories:
128
kcal
Carbohydrates:
1
g
Protein:
24
g
Fat:
3
g
Saturated Fat:
1
g
Cholesterol:
288
mg
Sodium:
1851
mg
Potassium:
116
mg
Fiber:
1
g
Sugar:
1
g
Vitamin A:
87
IU
Vitamin C:
6
mg
Calcium:
187
mg
Iron:
3
mg
Pin for later!