Jackson and Hunter turn 21 months old on August 14th! I can't even wrap my head around the fact that they will be two in a matter of a few short months. They have once again grown and changed so much and are morphing from babies to full blown toddlers before my eyes. Their vocabulary and understanding has grown exponentially in the past few months and they seem to learn something new every few days. They are constantly surprising me and making me laugh. They love to read books, run outside and are such loveable little boys.
They are also at a hard phase because they physically able to do so much but still working on communicating their needs. I'm already getting some fits and temper tantrums which is challenging to say the least... especially with two toddlers to take care of. We are doing our best though and even when they are acting nuts they bring so much joy to our lives.
Like the rest of the world we are still working though the challenges of living in an unsettled world. When I envisioned being a toddler Mom I thought I'd be taking them to parks, story times, play dates and classes so it's been hard to not be able to do any of those things. I've had to let go of some of those dreams and expectations. We've done our best to be creative at home though and find some things to do. We were able to sneak in a few trips which made the time go by faster.
I'll kick things off with my second Mother's Day and despite this photo we had a nice day. Getting these two to cooperate for photos is totally hit or miss. This was an epic miss.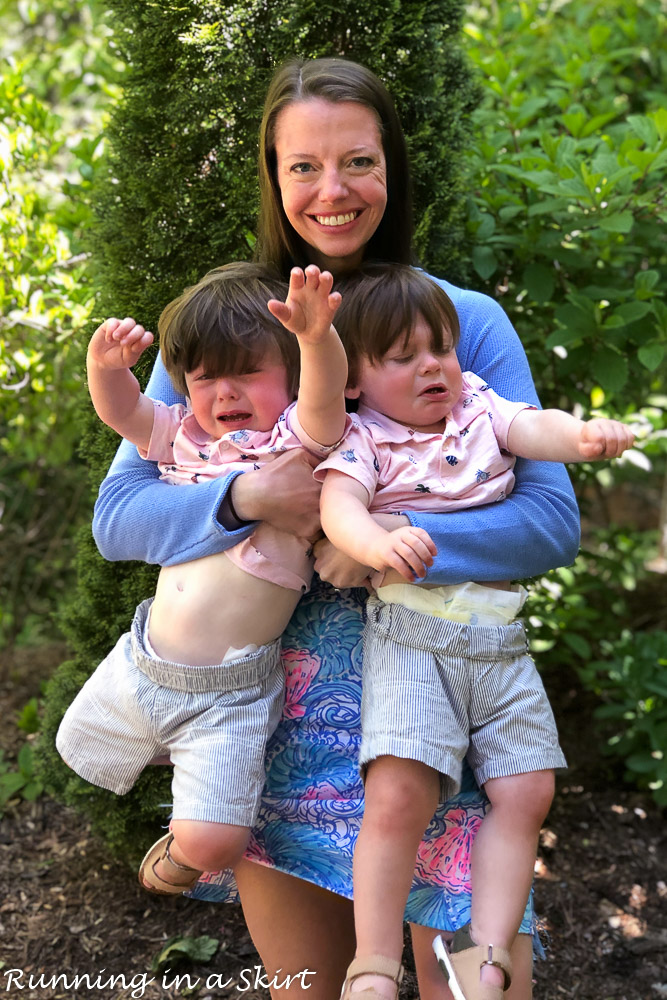 We've been trying to fill our day with random fun. One thing we did was painting... I'm happy we managed to not destroy my floors or furniture.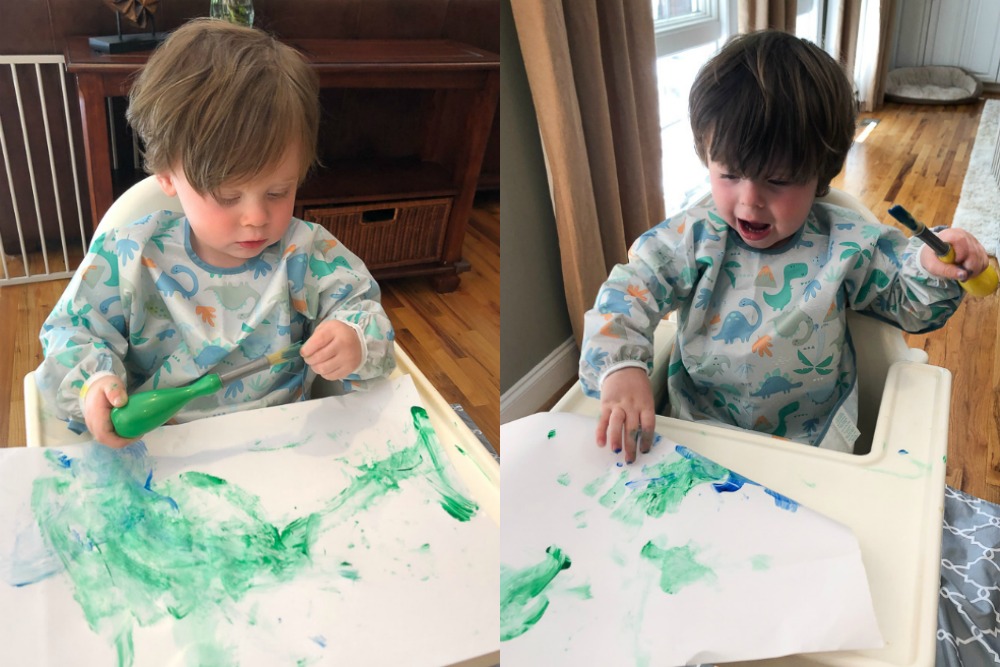 As the weather turned warmer we spent a lot of time in the water. Both Hunter and Jackson enjoy splashing around in the baby pool.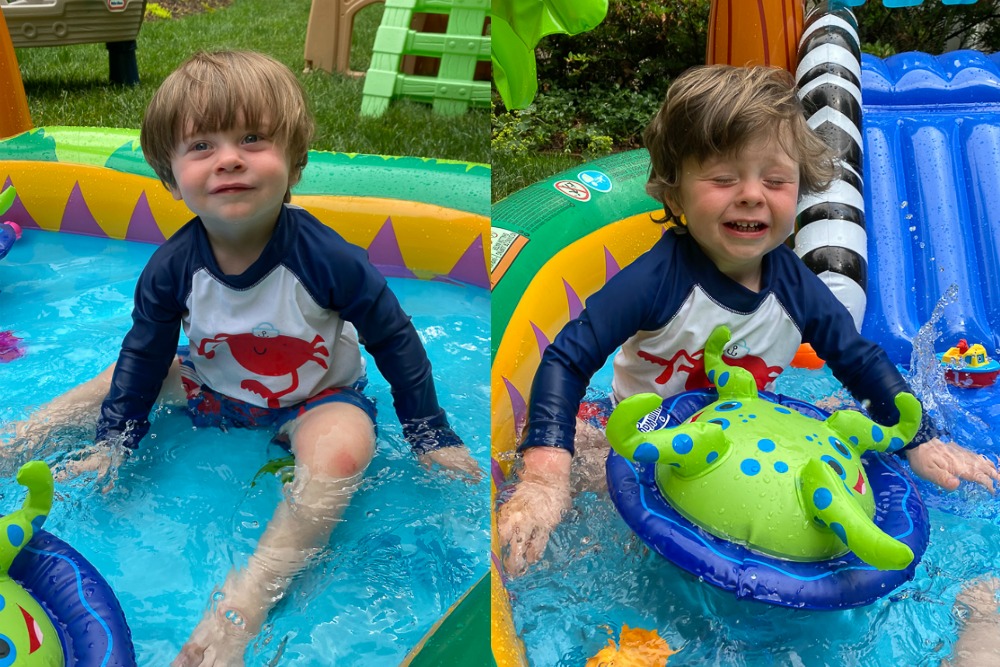 But as much as they love the pool they have found equal joy in random stuff around the house and yard. I can't tell you how many times we've drug hoses around the driveway and lawn.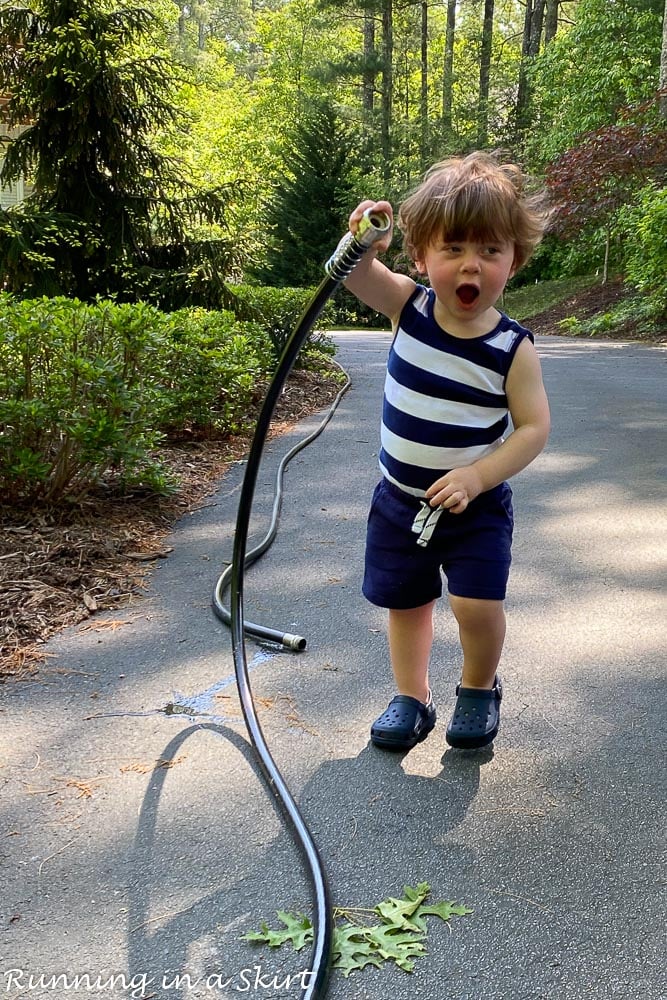 They also seriously love sticks.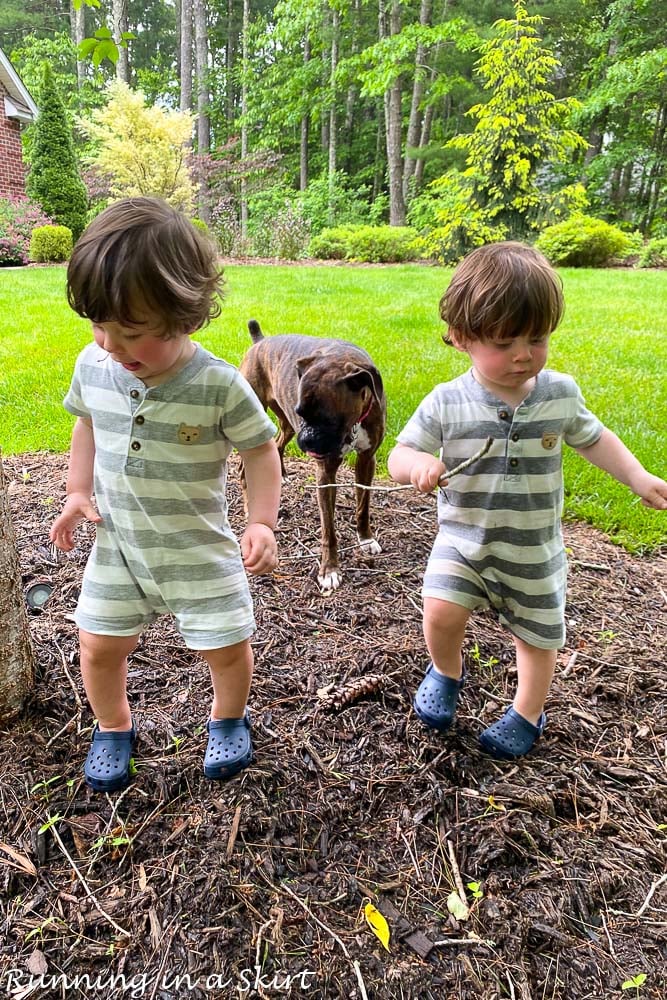 And rocks are pretty amazing too.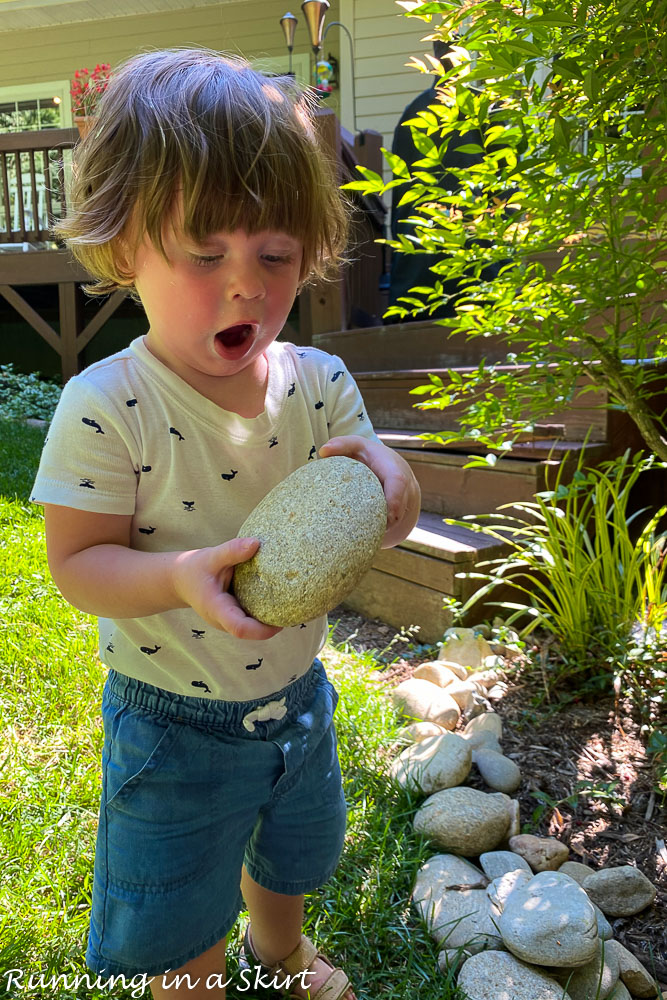 When South Carolina opened back up we took a last minute trip to Hilton Head. We found a stretch of beach the boys could enjoy alone and it was so good for everyone.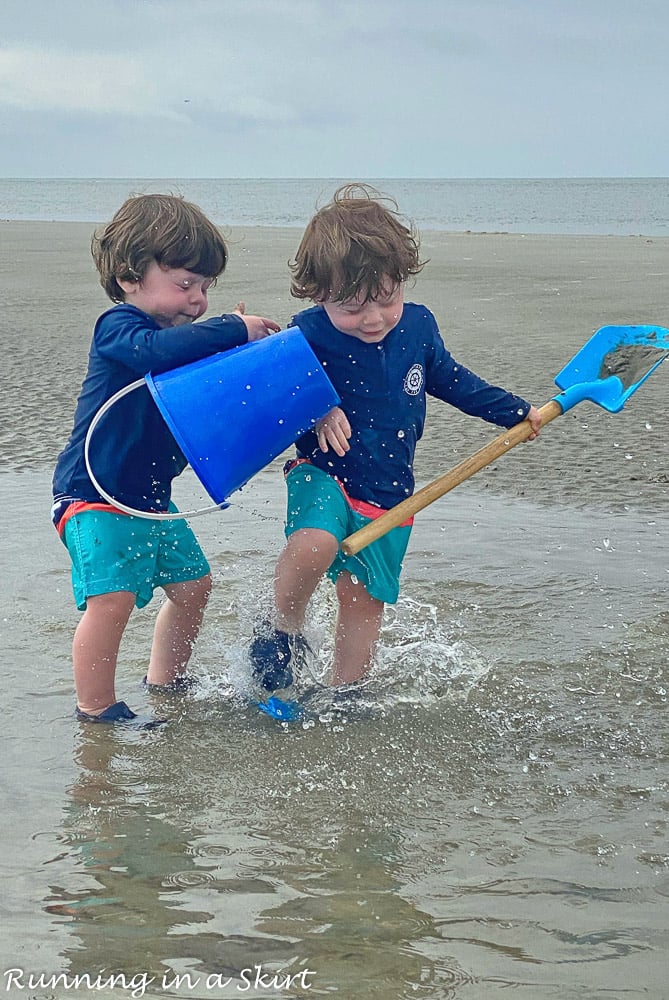 After not even leaving our yard for month, this was exactly what my beach babies needed.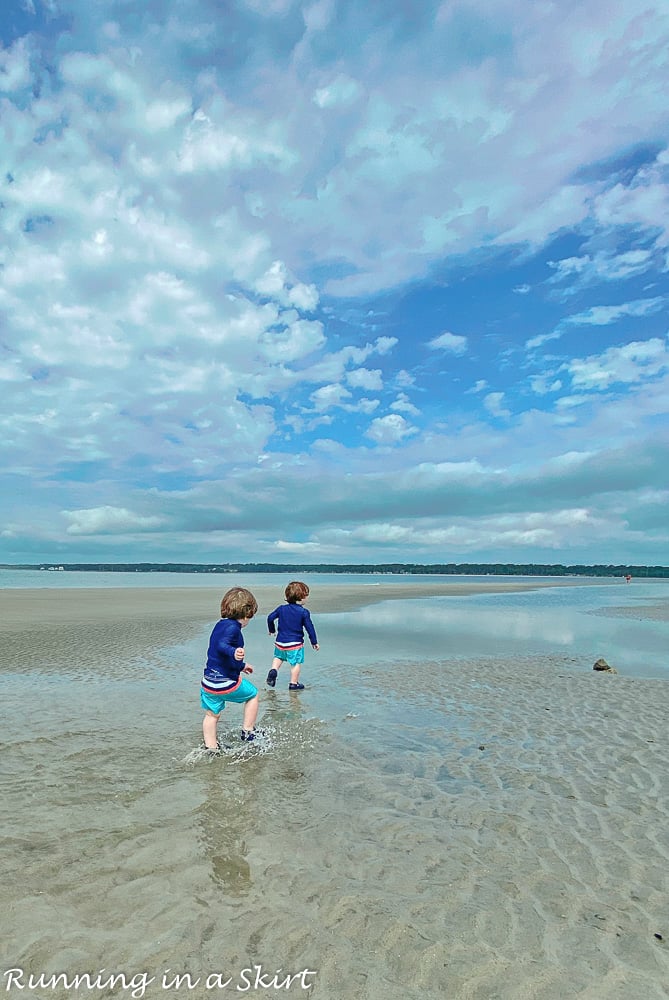 We also went to Chapin to see the Hub's sister Megan and the boy's cousins. It was the first time they were around other kids in months and they all had such a nice time. They have a boat so we were able to take the boys on their first boat ride.
Hunter was especially in awe because of his recent obsession with boats he discovered at the beach.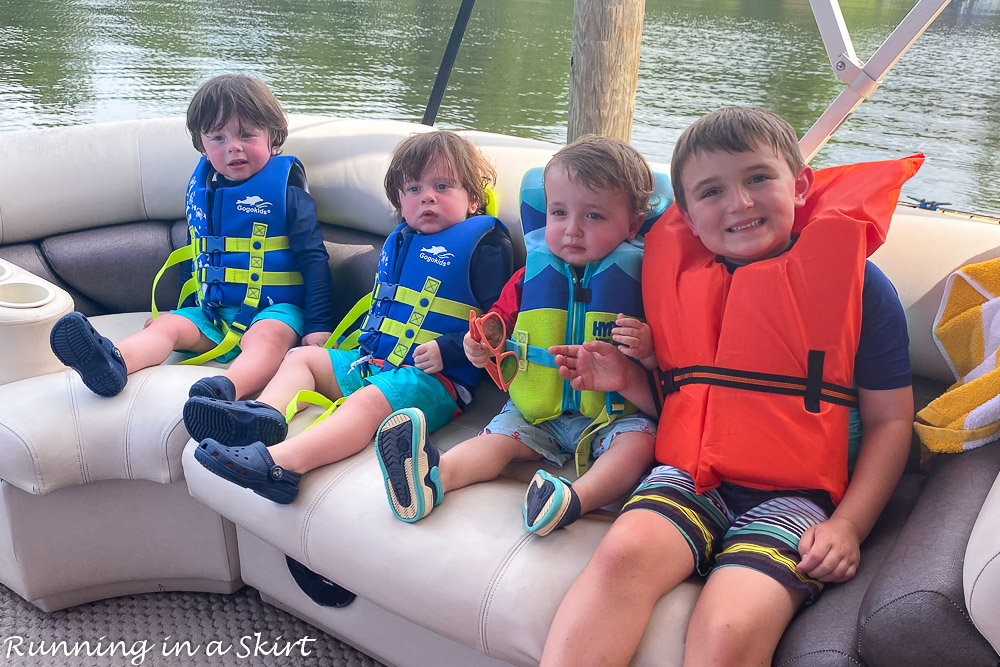 In June we also went to Pittsburgh to see the Hub's family. Bobby (Grandma) had so many fun toys for the boys to play with.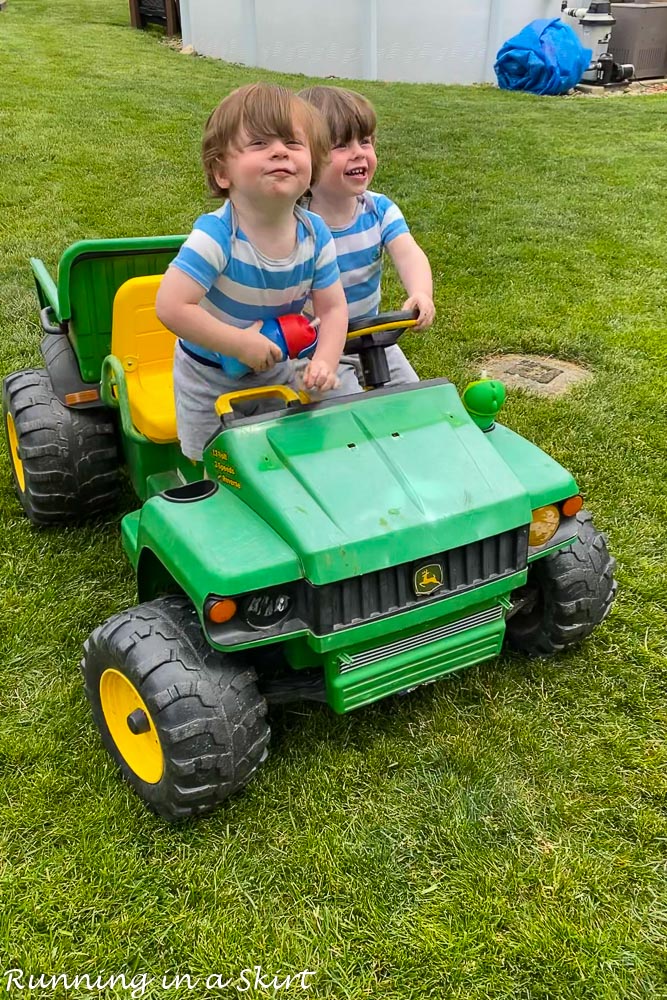 They even had a little baby roller coaster.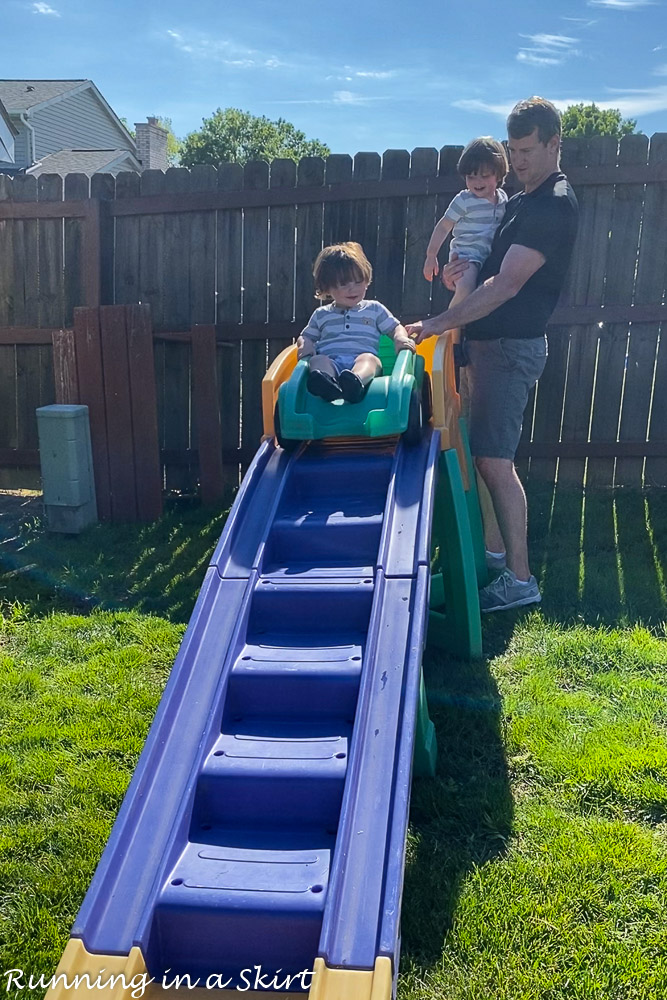 We also got to visit a small private farm behind their house and the boys got to see all sorts of fun animals for the first time. We had three cancelled beach trips this spring so it was nice to be able to at least get out of town some.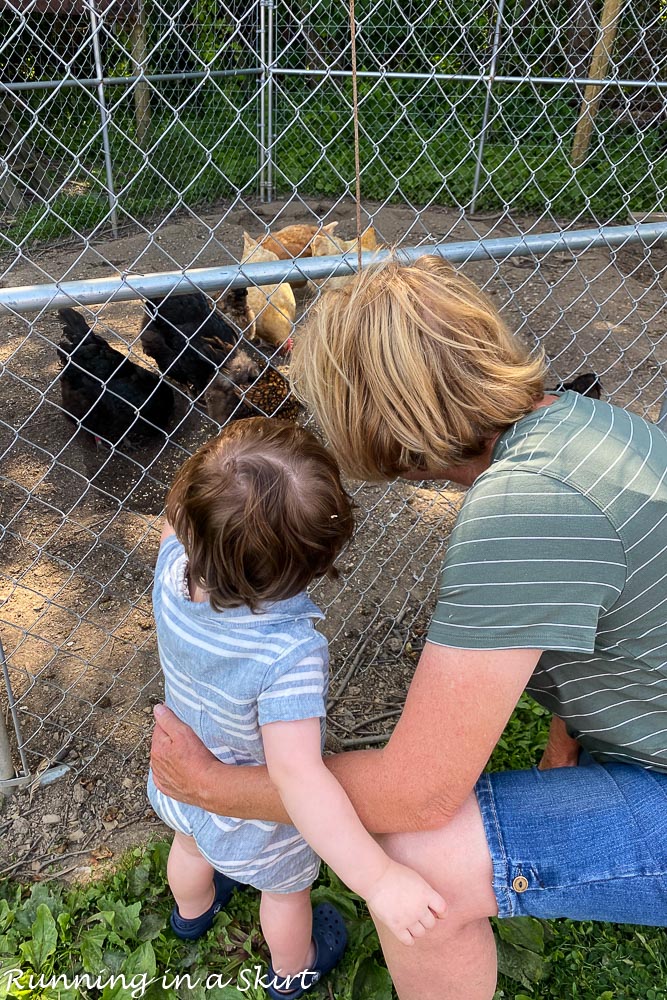 When we got back we played with a lot more water!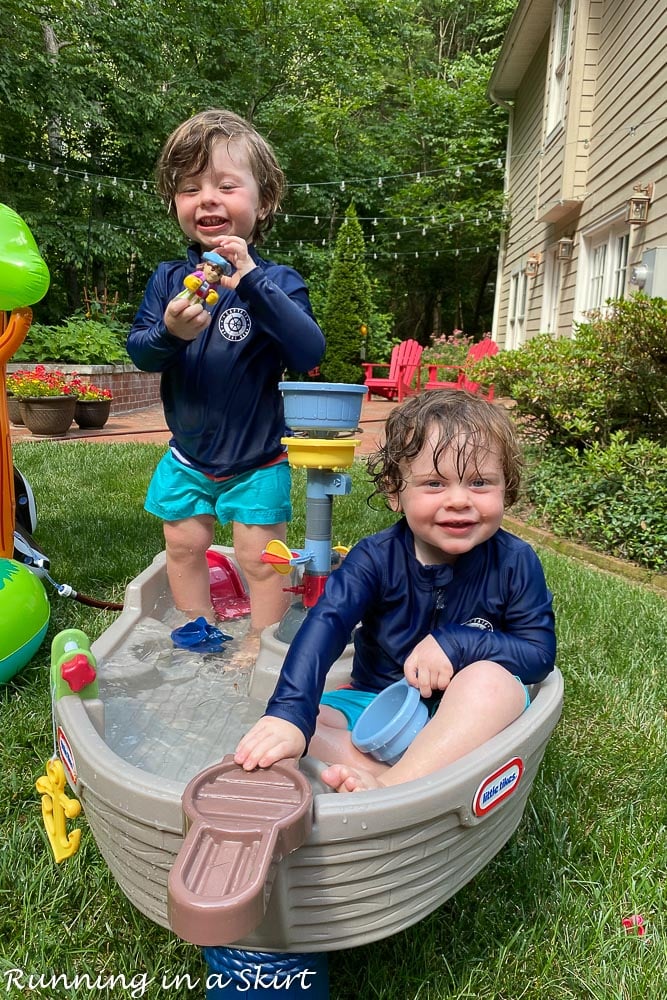 And also spent as much time outside as possible.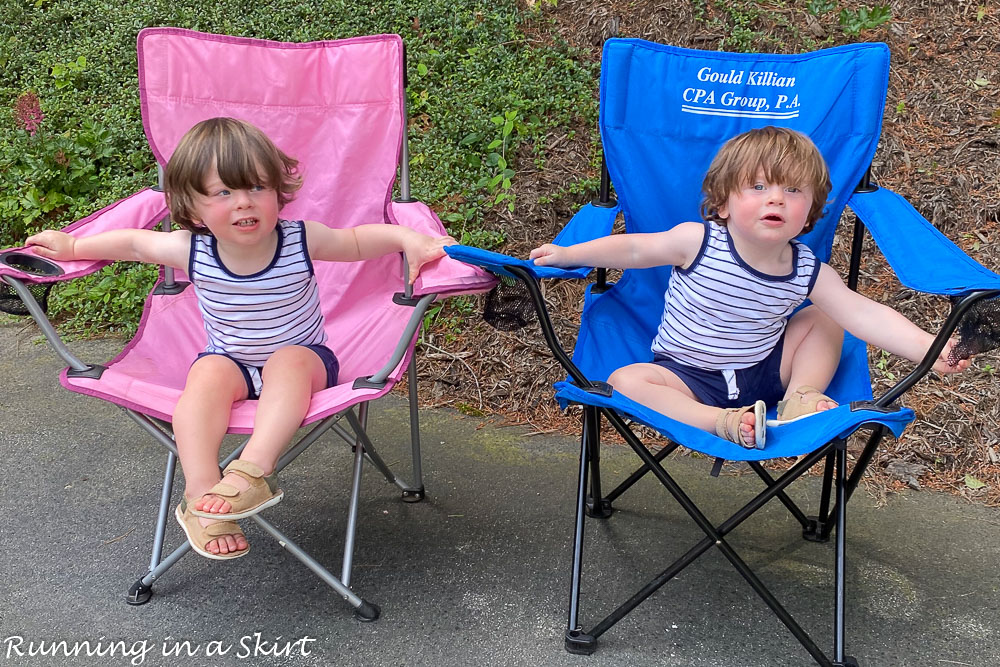 The boys' second 4th of July was memorable for all the wrong reasons. The week before Hunter spiked a high fever (resulting in a test to make sure we didn't have it... we didn't) and a week of sickness. Hunter was inconsolable for the better part of a week and we're still not sure whether he had a virus or it was just the worst teething episode ever.
They were still recovering over the weekend and it was one of those we just got through.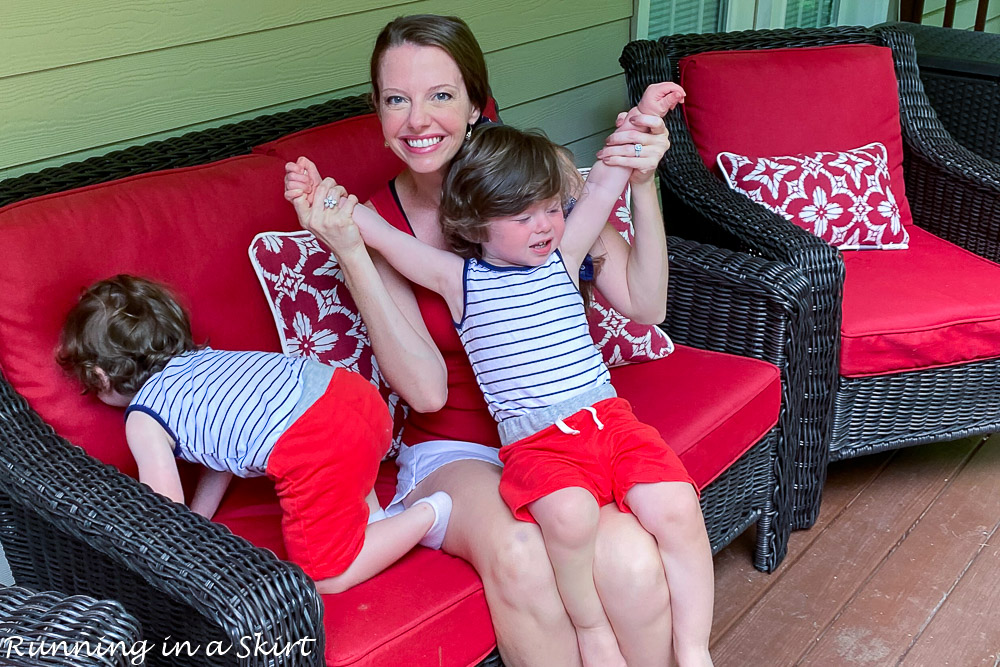 Luckily they bounced back though and returned to their normal cute selves.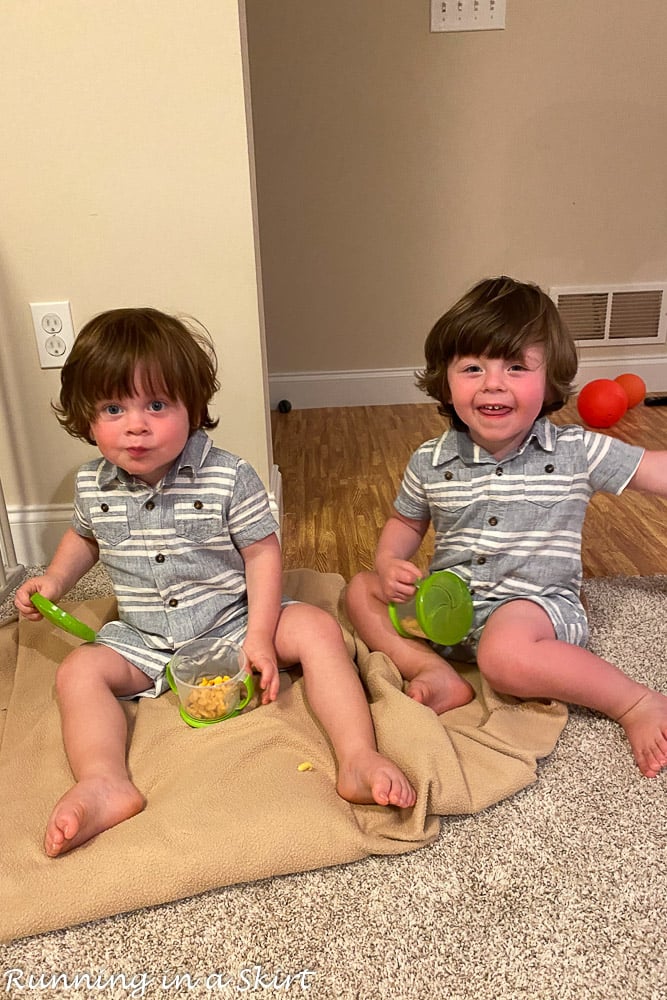 In late July we took the boys to their first creek play afternoon... which was the perfect activity to get them out with no one around.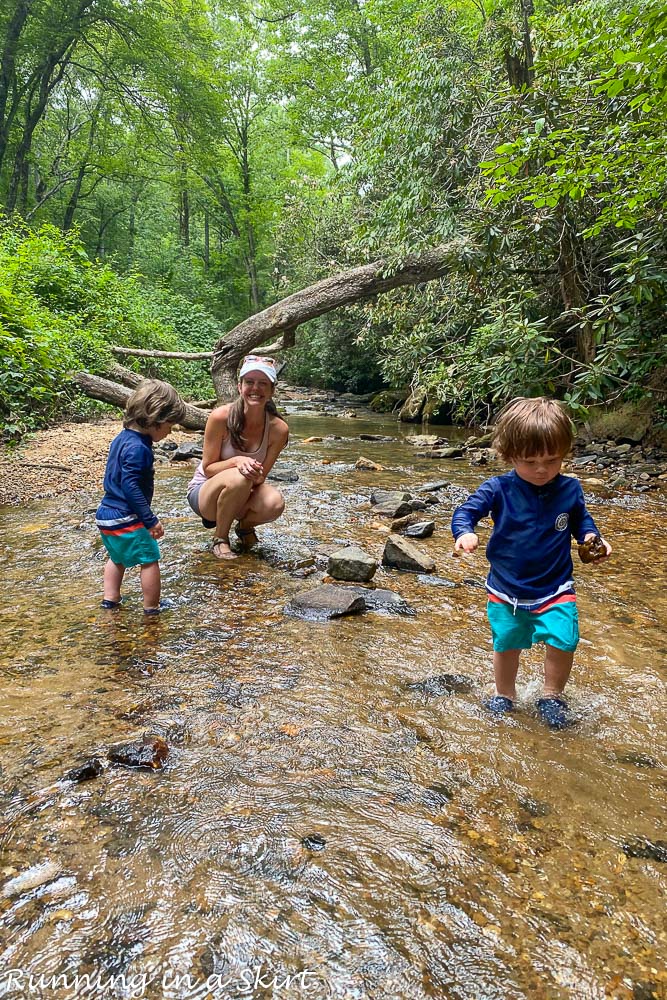 They also got their first big watermelon slices and as expected... it was a hit!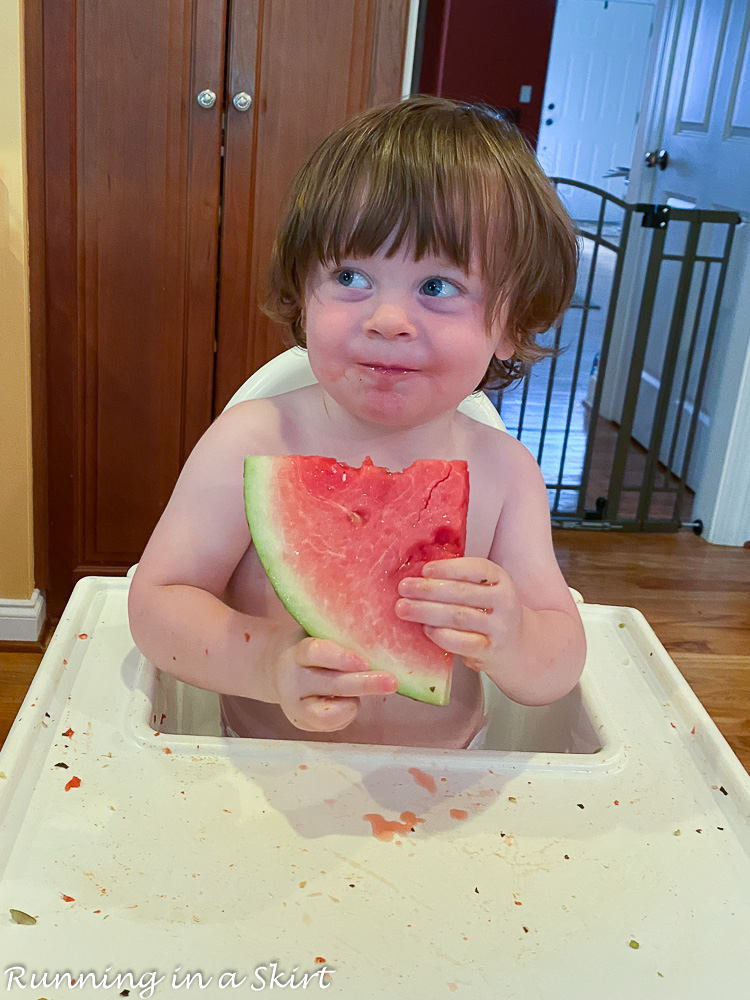 These two love fruit and had so much fun with this.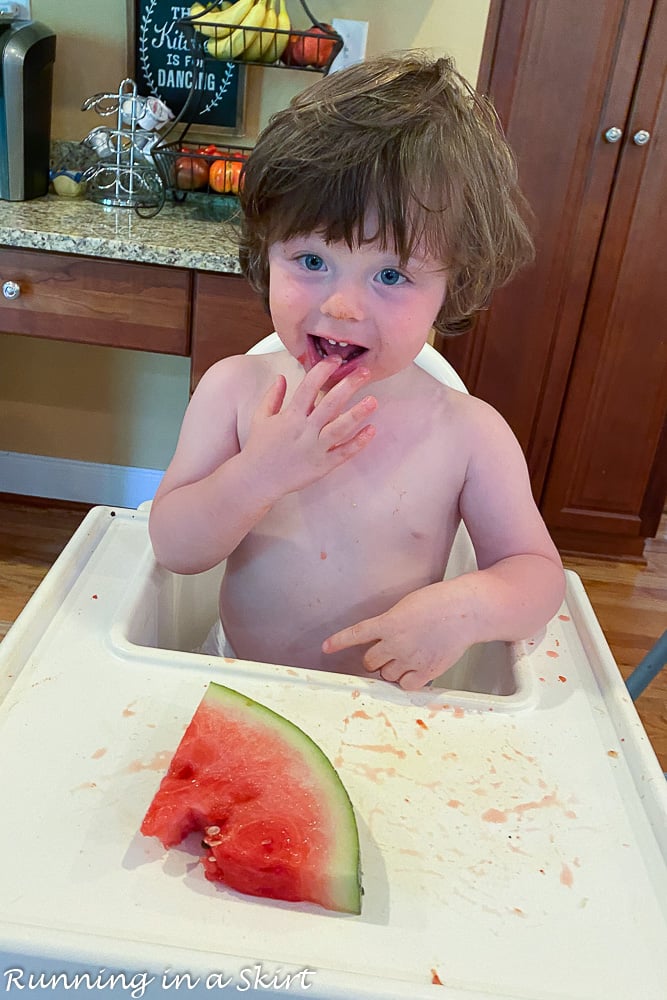 This might not be the summer I imagined for them but I really tried to give them as many experiences as possible without exposing them to germs. It's a crazy world we are living in!
They are both changing so much and continue to fall into their own very distinct personalities so I thought I'd share more about them individually too.
19-21 Month Update
Jackson
Jackson continues to be my ham. He loves to say "cheese!" and I often get photos of him with big grins like this. His smile can light up your day.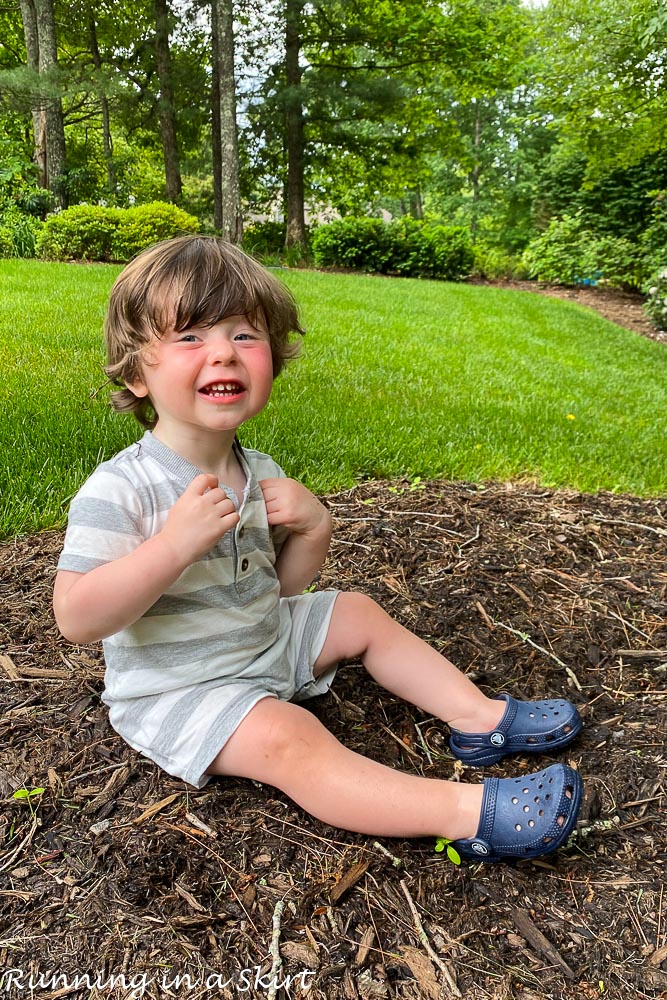 Jackson has a funny laugh and almost cackle that will stop you in your tracks. When Jackson is happy life is a party.
He also can throw quite a tantrum when he doesn't get what he wants. At this point Jackson is the more dominant twin and more likely to take toys from Hunter. We are trying to work through that.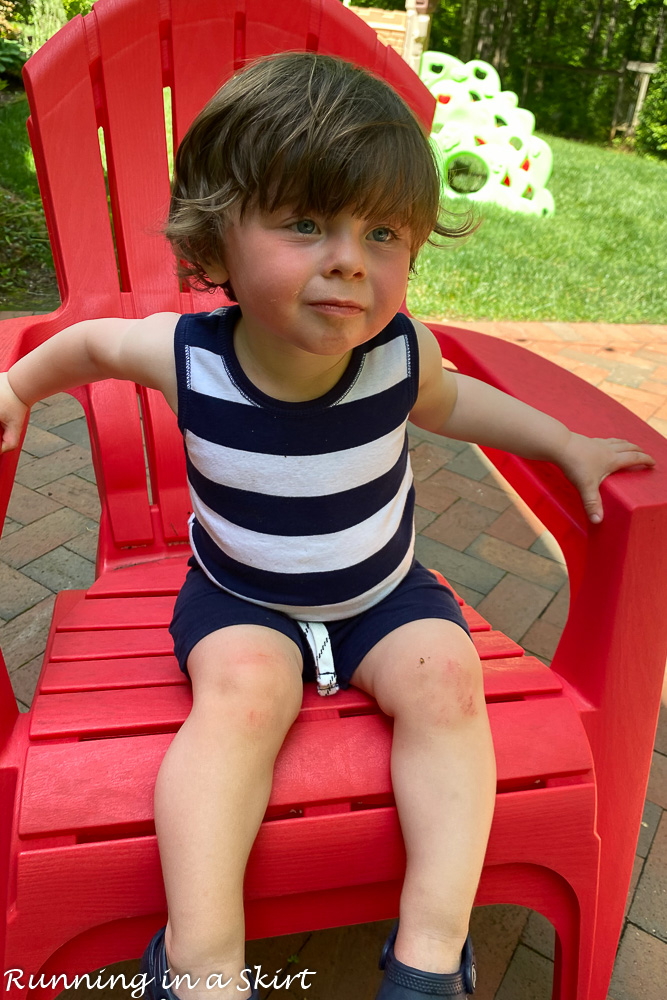 Jackson is smart and is constantly learning new words. He can repeat all sorts of things back to you. We've been working on counting and the alphabet. We still have a ways to go but he'll say a letter or number with you sometimes.
Jackson loves to knock over big toys and drag toys around in the driveway. He'll even take the entire big bucket of toys and move it around. He's also becoming a bit of a helper playing "toys away" and helping me pick up.
He has a bit of mischievous spirit and will run around the yard, get out of my sight, and laugh.
He really likes books too but not as much as Hunter.
Jackson is a great eater and his favorite foods are still quesadilla, pasta, and shrimp. We started giving him salsa with his quesadilla and he will literally drink it out of the small bowl and ask for more.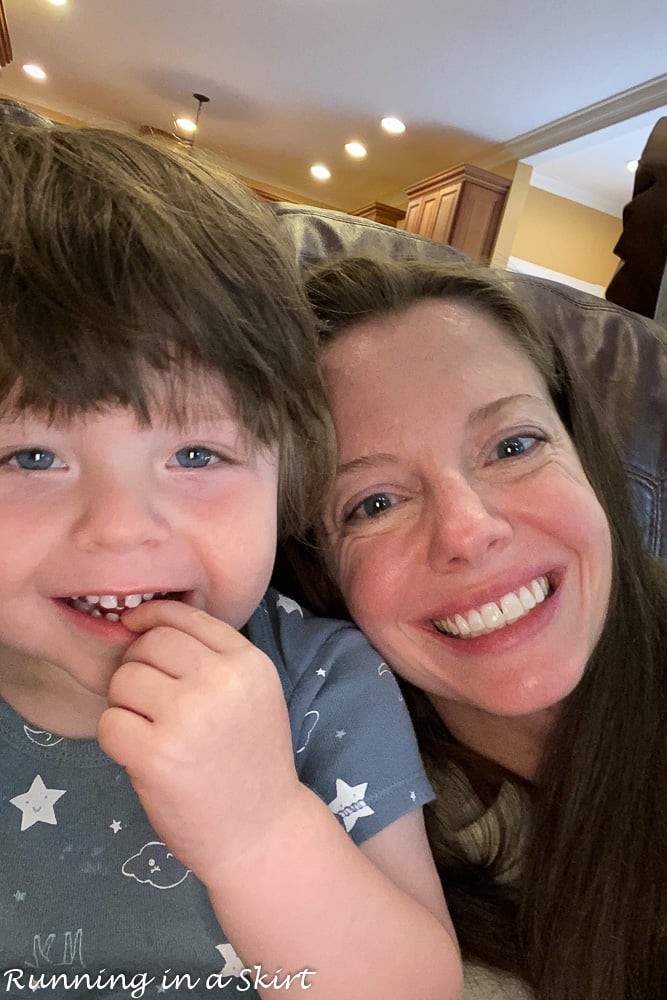 Jackson remains a bit taller than Hunter and outweighs in too. I'm pretty sure he is the reason my back constantly hurts.
I adore this handsome boy and can't believe he's mine!
Growth
Jackson is a big boy! He's 36 inches long and is 31 pounds.
Hunter
Oh, my sweet Hunter. He's such a cuddle bug and is my sensitive boy. He's a little more serious than Jackson but when you get a smile from him the whole world stops.
He's been going through a phase where he wants to be held A LOT... which is hard when you have two but it's also so sweet and I'm trying to not wish it away.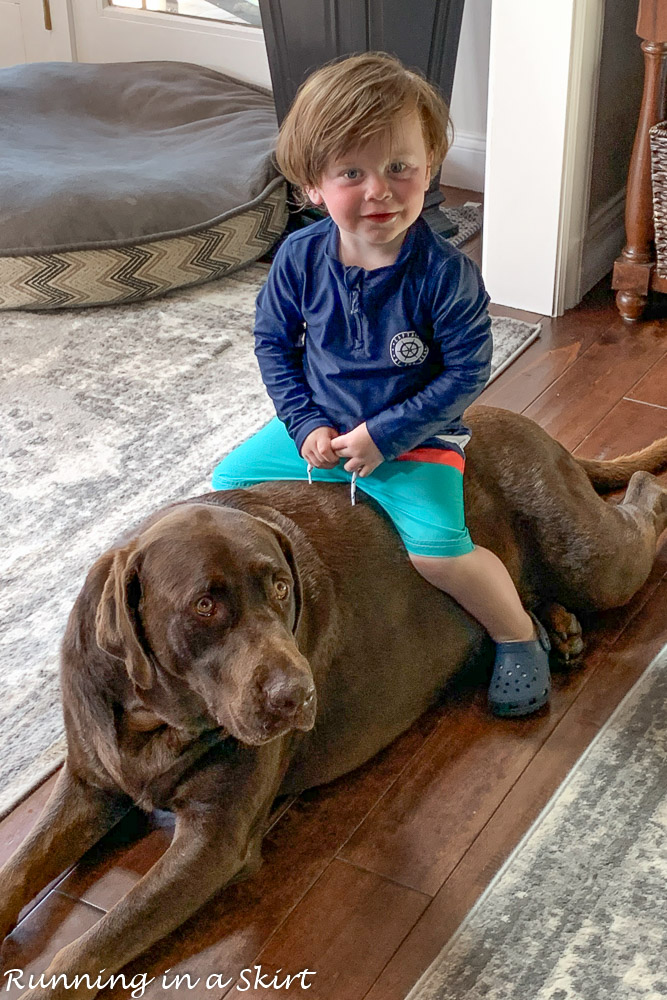 Hunter loves to run! He's also an expert at taking his diaper off and does it and runs all around the house laughing. It's all I can but not laugh along.
He still loves stuffed animals and anything he can cuddle. He's still fascinated by anything that can be pulled apart and put back together again. He also loves to get books for you to read to him.
Hunter is determined and when he wants something he will wear you down until he gets it.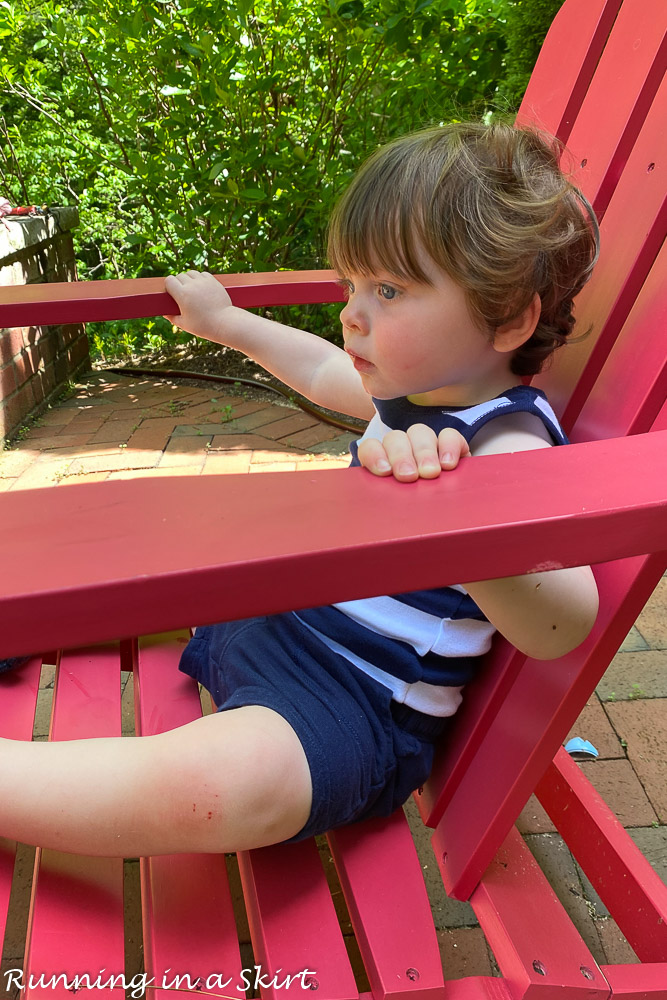 Hunter's vocabulary had been growing so much! He was a little slower to talk but now he has tons of words and seems to pick up something new daily. He loves to say boat, truck, and plane! He can also say "please" when he wants something which totally warms my heart. I'm sure I'm biased, but I feel like he is smart even though he's been a bit quieter.
Hunter's favorite food remains all fruits. His current favorites are berries and peaches.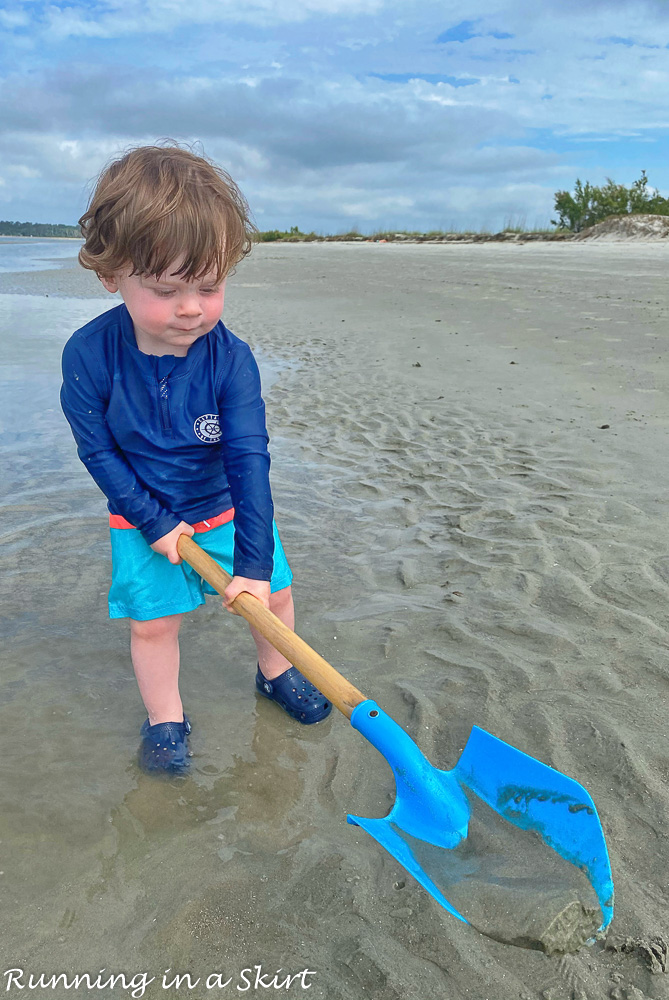 This sweet boy is such a joy and I'm so grateful he's mine.
Growth
Hunter is still a big boy! He's smaller than Jackson but is currently 34 inches and 29 pounds.
Twin Life Details
Schedule
We still live around a pretty strict schedule. It hasn't changed since the last update but here it is!
7 AM – wake up, sippy cup of milk and breakfast
9-9:30 AM – quiet time in the crib
10:00 AM – snack, sippy cup of milk
12 – lunch
12:30-3ish PM – nap
3ish PM – snack, sippy cup of milk
5 PM – dinner
6 PM – sippy cup of milk
6:40 PM – bedtime routine
7 PM – bedtime
Likes
Playing outside
Water Table
Stickers
Slides
Climbing up and down the stairs on the deck.
Balloons
Sticks & Rocks
Power Tool Toys
Watching planes in the sky.
Books - DADA, This is My Dance, Pop Books, Find the Giraffe
Pepa The Pig Cartoon
Dislikes
Car Seats - Jackson definitely has motion sickness.
Teething
When Your Twin Takes Your Toy
Firsts
First Creek Play
First Boat Ride
First Farm Visit
Things I Want to Remember...
When I get a big bear hug from Jackson which is rare.
Hunter snuggles.
How much they loved their watermelon.
How they say "BOAT!" and then "toot, toot!"
How they say "Mama!" ALL the time.
How much Jackson loves salsa.
How sweet it is to read books to them.
This might not have been the world I dreamed of raising my babies in but I'm still trying to hard to give them new experiences and fun things to do. Life may continue to be upside-down well into their second year so we just have to find things we CAN do instead of focusing on what we can't. Raising toddler twins is not for the faint of heart, but even with the hard moments, I'm so grateful to have these cuties in my world.
The next update will be at 2 YEARS!
Have you missed any Hunter and Jackson news? Catch up here…
If you missed any of the pregnancy journey you can catch up here…
This post contains Amazon affiliate links.