Hi everyone,
I once again wanted to thank you all for your love and support concerning our big gender reveal Monday! If you missed it, make sure you head on over and I'll meet you back here when you are done.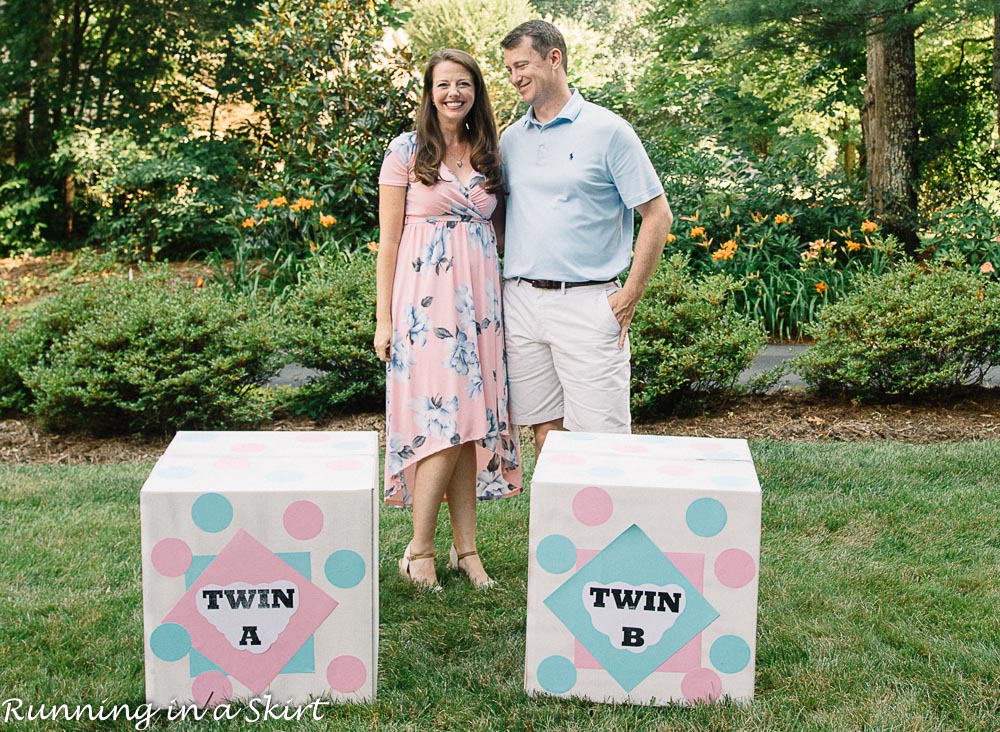 I still can't believe it's over although it is even more fun now to know what they are.
I have always enjoyed reading these pregnancy updates, so I thought I'd write some for you guys. I've decided to do them once a month or so until things start changing more rapidly. This journey has been fascinating so far and I'm sure it's about to get even more interesting!
Twin Pregnancy Week by Week - Weeks 14-18
Bump Watch...
My friends... we HAVE A BUMP! For comparison here's my 13 week, 15 week and 17 week photo.
13 weeks...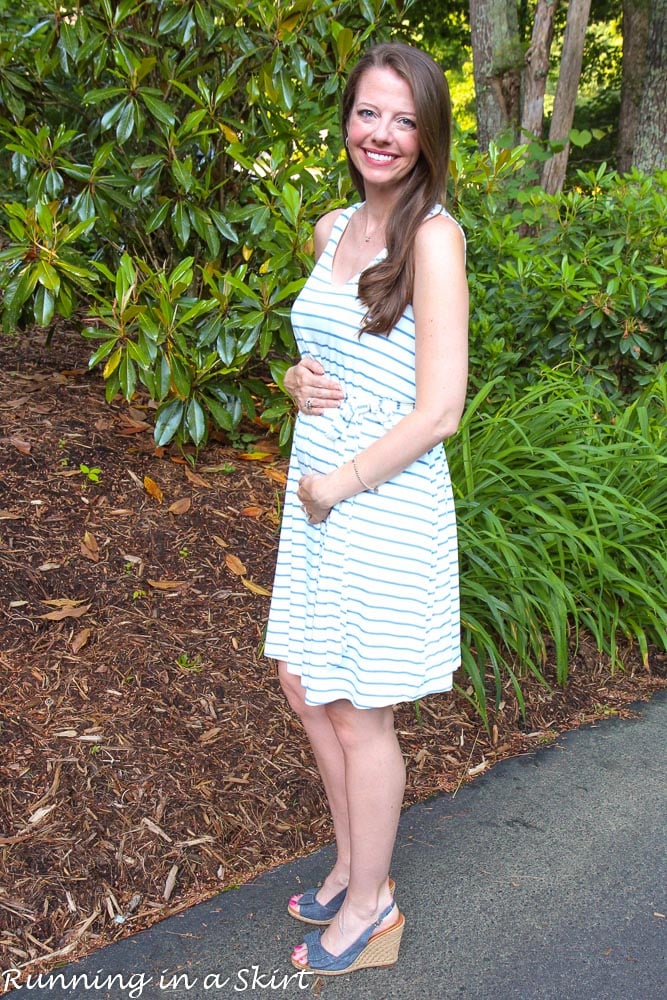 15 weeks...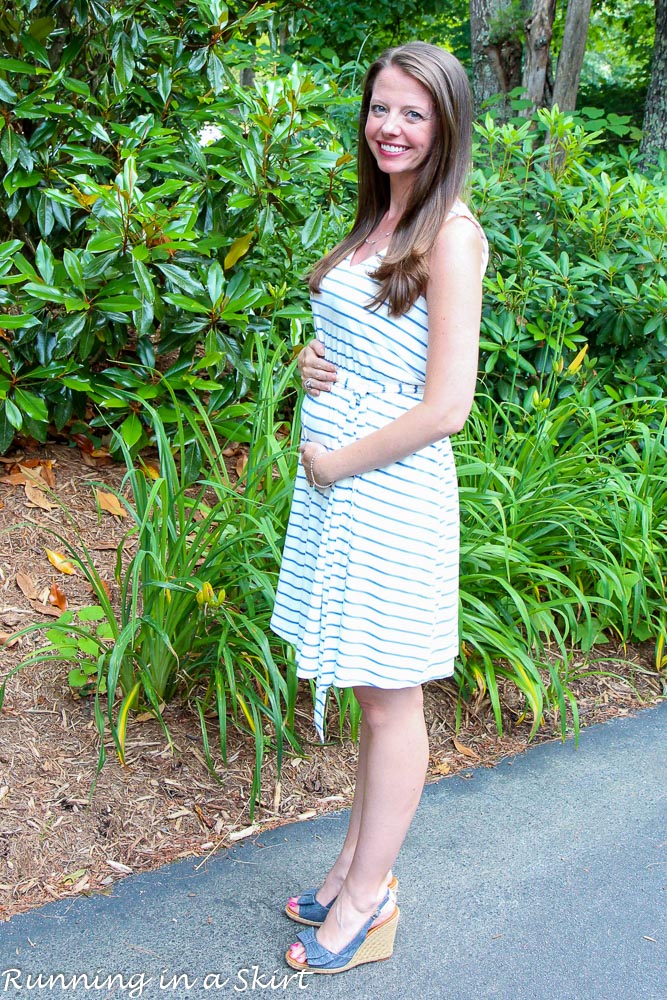 17 weeks...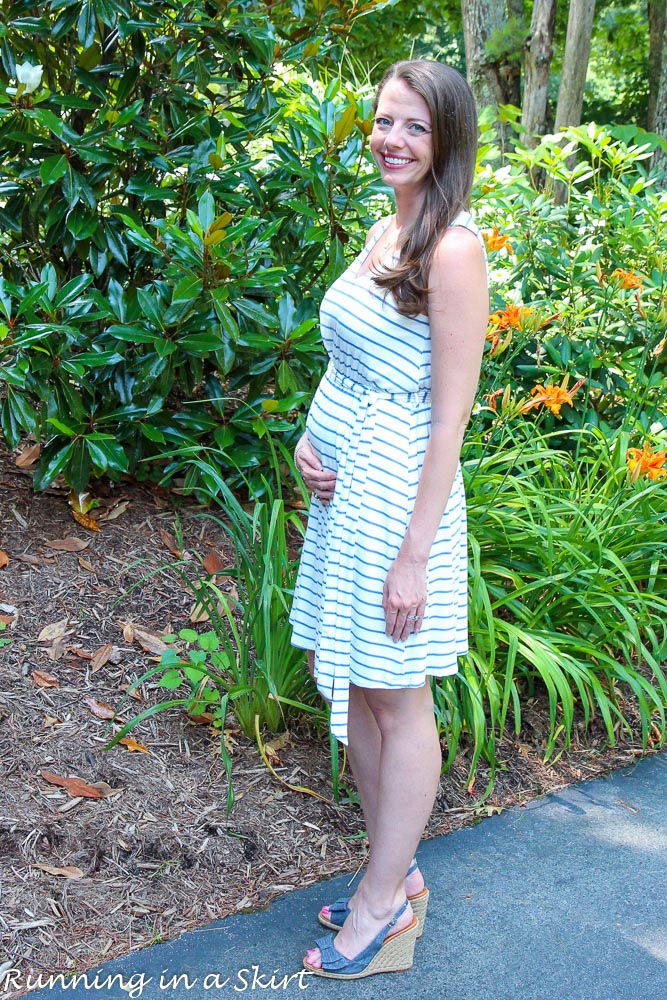 I still feel kind of self-conscious about it because I think it kind of looks like I just ate a lot of cookies instead of being pregnant but every day it's looking more and more like a real bump. I also feel absolutely ridiculous taking these photos but I hope I'll look back and enjoy having them someday.
How I've Been Feeling...
I had a rough go of it between 12 and 15 weeks with bad, nearly debilitating headaches nearly every day. I tweaked my diet to include even more protein, used pregnancy approved essential oils, added a magnesium supplement and drowned myself in water but nothing seemed to help. I kept in contact with my doctor about it and she gave me some suggestions and some medicine as a last resort. The day I was finally going to cave and take the medicine the headache finally broke. I'm still getting a small one here and there but nothing compared to the way it was. I'm currently knocking on wood and praying they don't come back.
At this point, my only two other symptoms are still feeling really tired and getting worn out so easily and heartburn that I can feel in my back.
Not complaining though... just merely documenting. Just grateful to be pregnant.
Doctor's Appointments...
I had two doctors appointments this week. Once with my regular OB and one with our high-risk specialist. The OB visit was pretty short and they gave me some suggestions to help with the heartburn. Our maternal-fetal specialist appointment lasted 2 hours and involved the full anatomy scan. I was super nervous about it and was so glad when the doctor told us the babies looked perfect! We got more photos for our album. I was so relieved!
The entire ultrasound I kept thinking I can't believe those are inside of me though. This whole experience is still so surreal!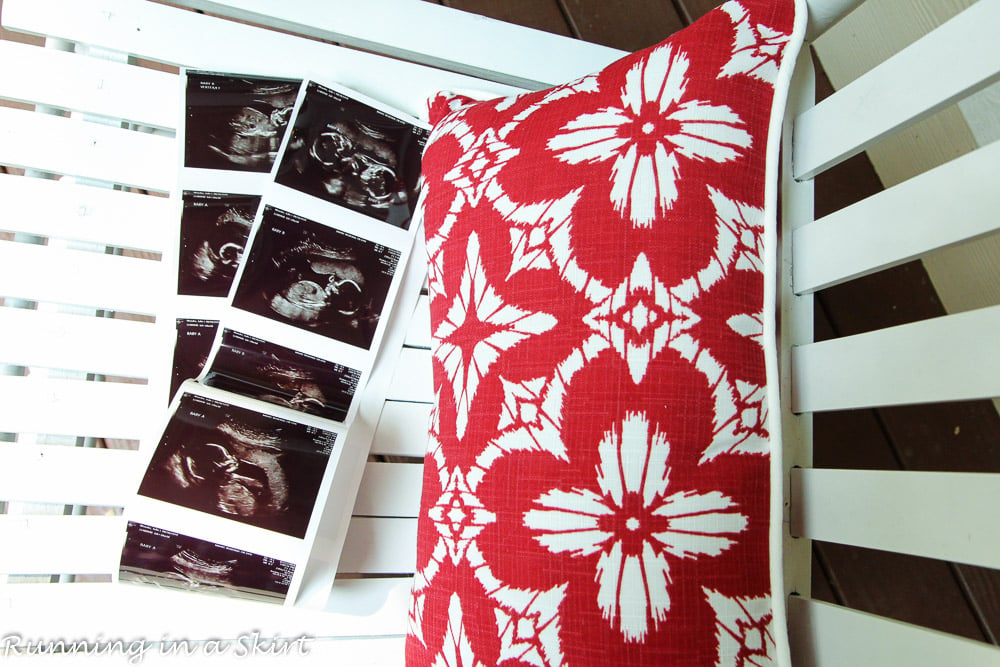 Highlights...
Week 15 we went to the Hammock Coast. The Hubs and I had a lovely time adventuring. I was a little disappointed with how exhausted I got on the trip though. I thought I'd be able to bounce back quicker in the second trimester, but I had to spend some time each day resting. Whatever it takes to grow healthy babies though!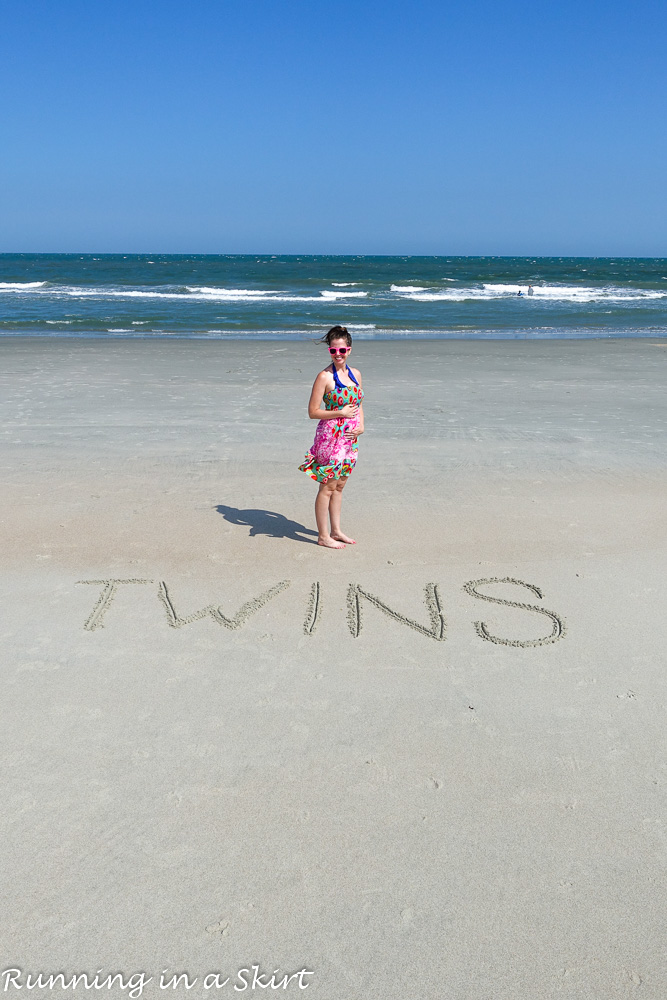 Week 17 we had our gender reveal with the family.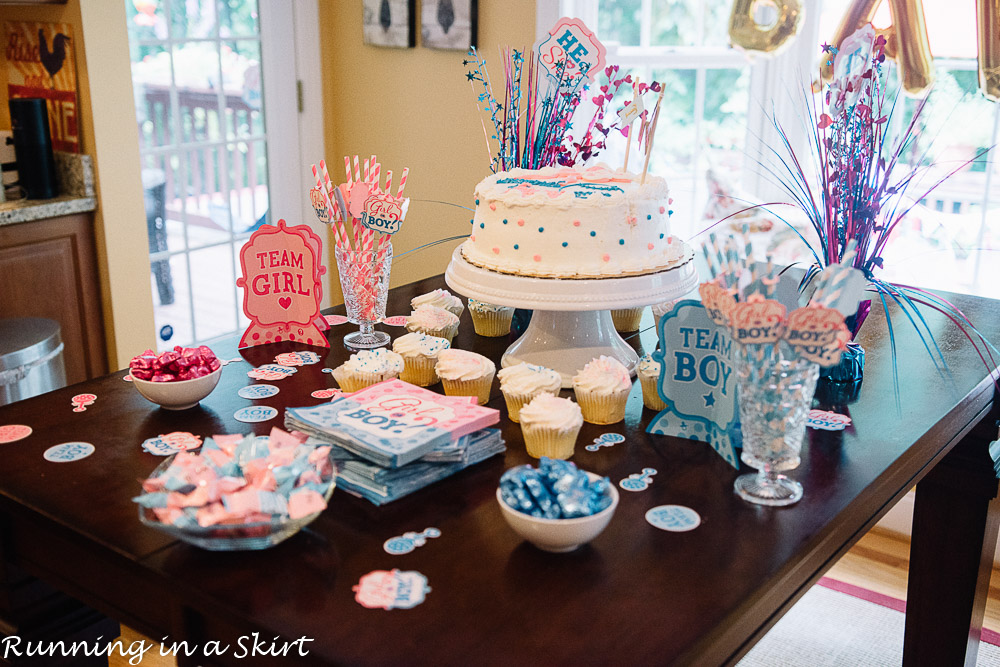 Week 18 the Hubs and I took a trip to Greenville to go to Buy Buy Baby. We spent 3 hours there and left more overwhelmed and confused than when we arrived. I've enlisted the help of some of my friends to help me figure out what we actually need.
Food Aversions or Cravings...
I still don't have any food aversions. The only slight one is liking mayo foods even less than normal. I haven't had strong cravings either other than really wanting sushi. The Hubs and I went last Friday and got a few cooked rolls that weren't exactly the same but helped that craving.
I keep joking my cravings are ALL THE FOOD because I'm still hungry all the time.
Fitness...
I've been able to keep up with my running! I'm running intervals... 4 minutes running and 1 minute walking. I'm super, super slow (barely above a shuffle) but I'm still at it. I've had good days and bad days and imagine I'll have to start adding more walk time in the mix as I get bigger and I'm ok with that. On non-running days I've been walking, light arm weights and doing some yoga. I'm also taking plenty of rest days.
Maternity Clothes...
I finally found some shorts! I ended up getting one non-maternity pair from The Gap outlet. They have elastic around the waist and I just sized up. I also found a cute white maternity pair. Having the shorts allowed me to pair many of my non-maternity tops with them and gave me all sorts of additional clothing options. Before that, I was rotating a few dresses and was already getting bored with them.
I'm finding that I still don't have enough of a bump to fill out some of the more fitted dresses I bought but I'm sure it's coming!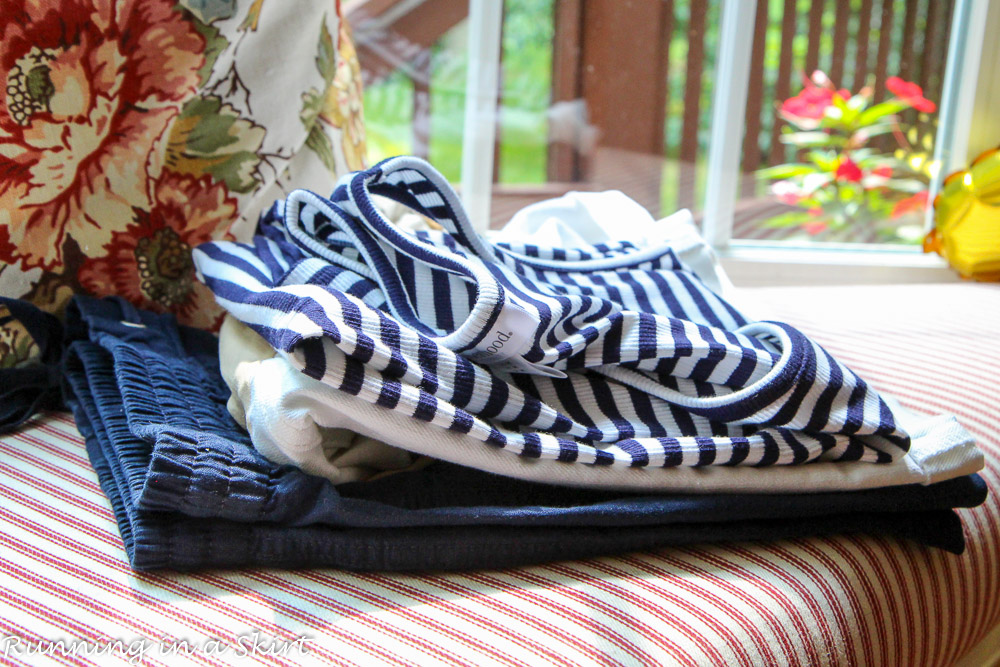 Gender & Names...
Find out the gender HERE. We have a running list of name ideas now that we know the sex but we are just going to think about it for awhile until something feels 100% right. I do want to monogram ALL THE THINGS so I want to pick them in plenty of time to do that.
That about sums it up! I hope you guys enjoy coming along for the crazy twin pregnancy journey. The Hubs and I looked at the calendar for the rest of the summer earlier this week and realized it's filling up fast. We decided that since we had an open weekend we'd take a last minute trip to the beach (Hilton Head!) this weekend so make sure to follow along with my Instagram.
Catch Up Here