Looking for two shorter hikes with epic mountain views? The Devil's Courthouse Hike & Frying Pan Tower Hike make the perfect day trip from Asheville.
Hi guys!
Thank you all for the outpouring of support concerning Monday's big baby news! I'll have my next pregnancy update on Friday.
A few weeks ago the Hubs and I decided to make the most out of pretty mountain summer day and went hiking! Since I was about 12 weeks pregnant at the time, we were looking for shorter hikes that wouldn't be too hard on my body and wouldn't put us super deep into the woods in case I started feeling bad. I did some research and settled on two hikes close together along the Blue Ridge Parkway... Devil's Courthouse Hike and Frying Pan Tower Hike. Our thoughts were we could do the shorter Devil's Courthouse Hike first and see how I felt and if I felt good we could do the Frying Pan Tower Hike. Luckily I felt great and was able to fit in both without a problem!
Turns out these two hikes are a perfect pair for a no-fuss day hiking trip from Asheville! Both are relatively short, relatively easy and pretty close together. The best part about them is the epic views! Since we enjoyed the day so much I thought I'd share our hiking details so you could make a similar trip.
Devil's Courthouse Hike
We left our house late morning and picked up some sandwiches for our trip. I got hungry early (twin pregnancy problems-lol!) and we ended up eating them along the way. We brought some camping chairs with us and sat at one of the overlooks for a lunch with a view. I'd suggest doing the same or eating at the Pisgah Inn.
To get to Devil's Courthouse you head south on the Blue Ridge Parkway towards Mt. Pisgah. It's about 26 miles from the NC Arboretum exit. It took us less than an hour to get there and the drive along the way was gorgeous.
The parking lot is easy to spot and you can see the summit right away. It's the rock formation on the top left of this photo. They say it has a sinister look, which is how the hike got its name... but I'm not so sure I see it.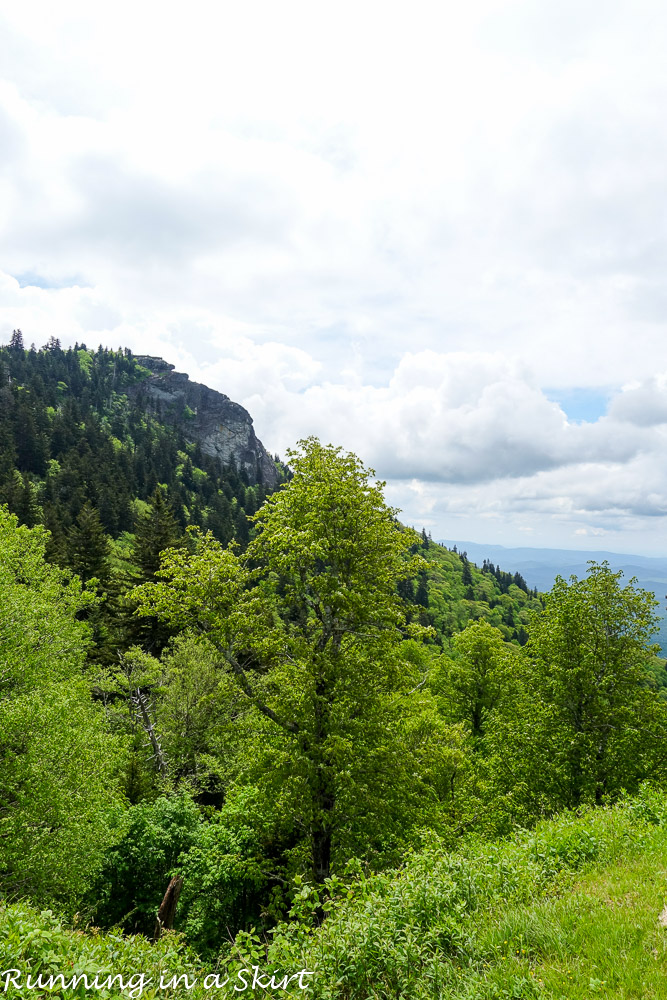 The path actually starts out completely paved. It's a pretty nice incline though, so be prepared for your legs to burn.
More than halfway through the trail turns rocky, but it still very manageable even with Makena.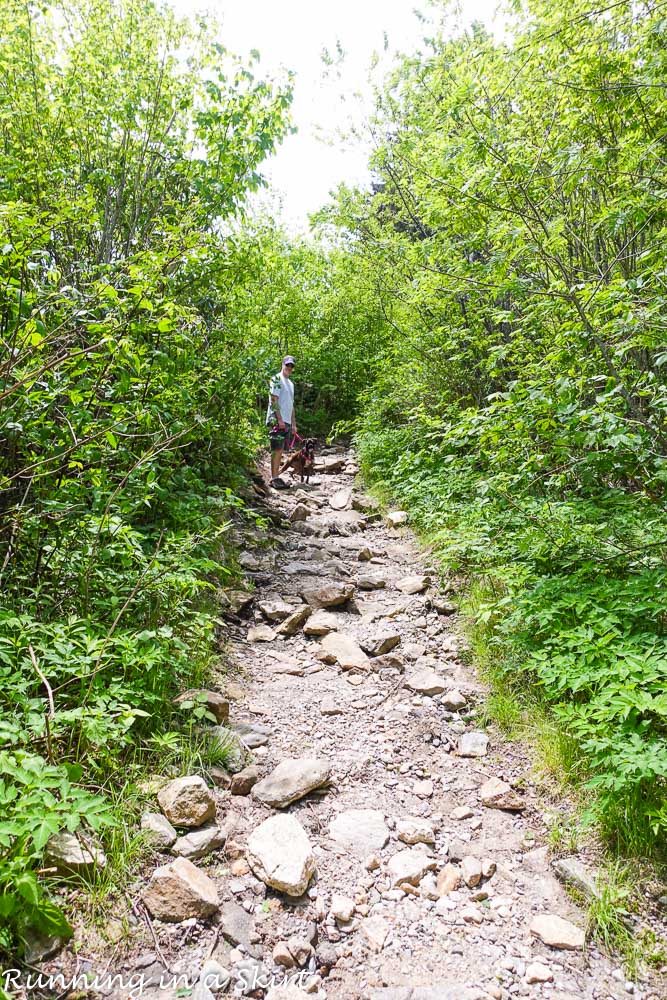 The short but steep trail is only about a half mile and at the top, you are greeted with these views!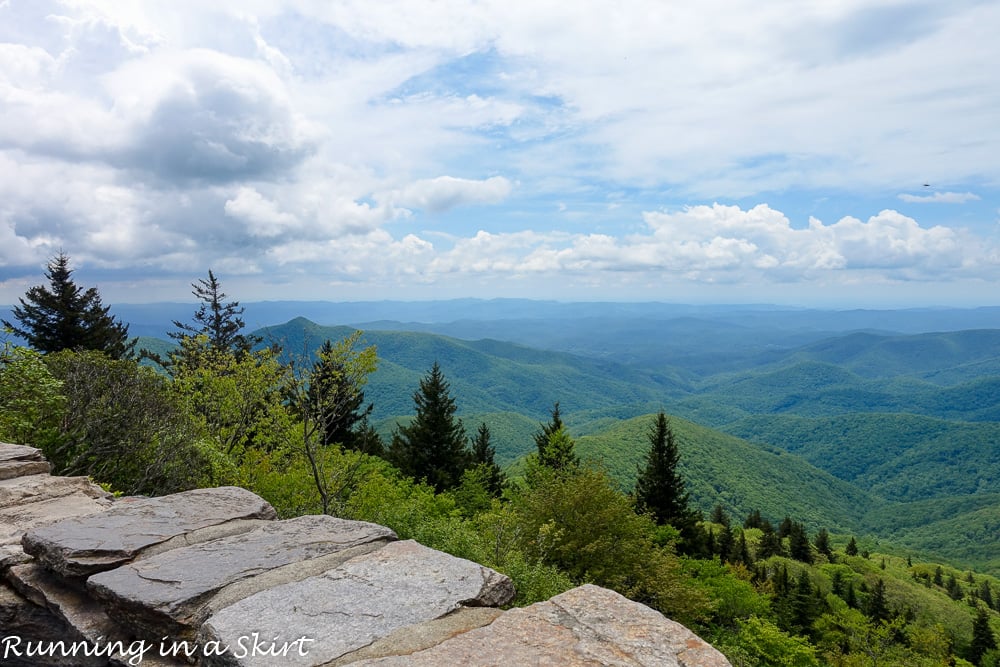 There is a nice protected area at the summit.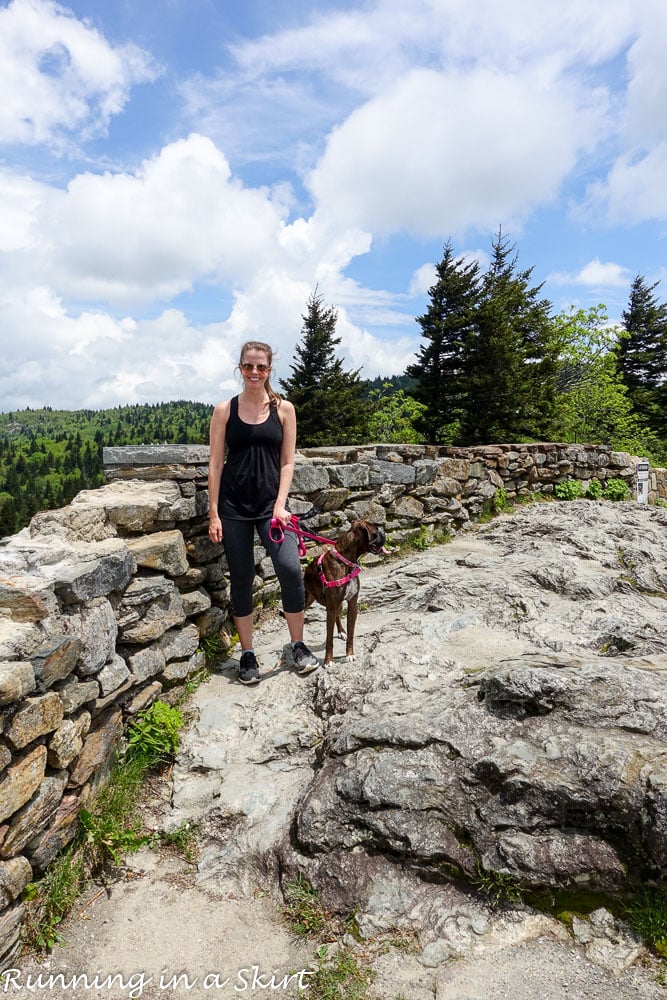 The panoramic views extend for miles and you can actually see North Carolina, South Carolina, Georgia and Tennessee on a clear day.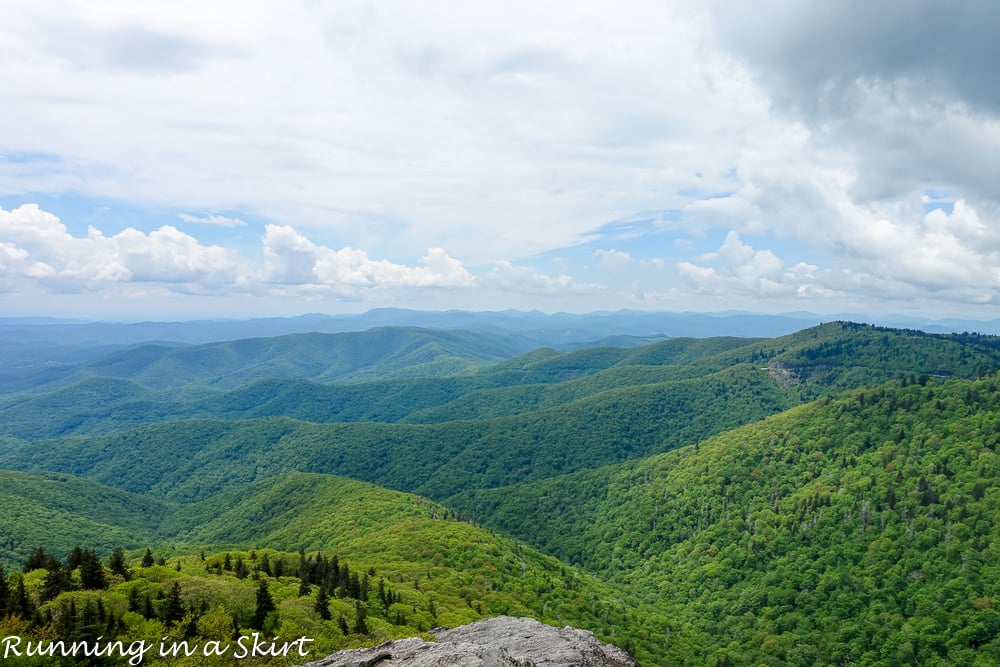 The peak is over 5,750 ft so the air feels wonderful! Just bring a jacket because it could be significantly cooler than Asheville.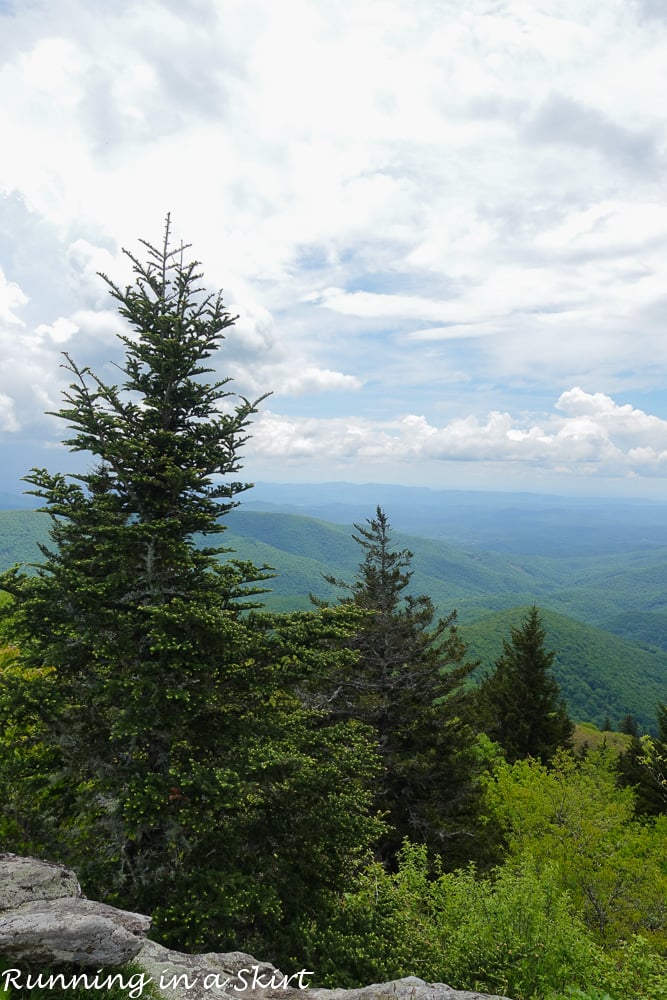 The Devil's Courthouse Hike is only a little more than a mile roundtrip and has a lot of bang for the time invested. It's also a great one for those who may not be up for longer distances... however, it does gain around 600 feet elevation in that short distance.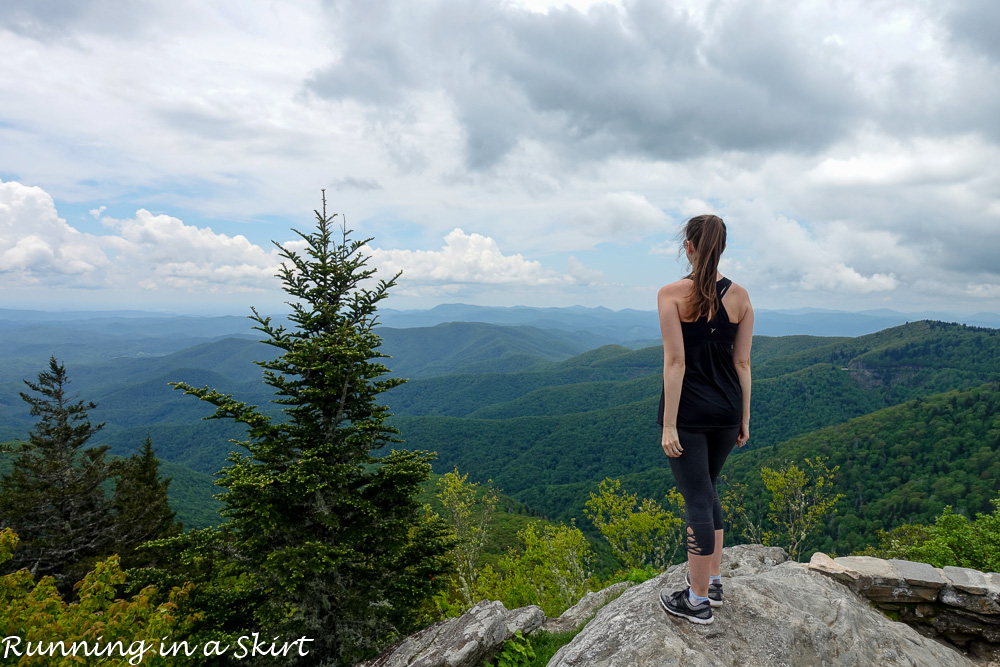 The Hubs and I really enjoyed this hike! I was still feeling good so we started back towards Asheville and stopped at our next location for hike number 2... the Frying Pan Tower Hike.
Frying Pan Tower Hike
The Frying Pan Tower Hike is about 15 minutes down the road, past the Pisgah Inn and closer to Asheville. It's near milepost 409.6 and you will see some parking near Forest Service Road 450. It's a little easier to miss than the Devil's Courthouse Hike so watch for it carefully. On the drive back you can spot the tower from your drive.
This hike starts off with a smoother but continuous incline along a pebbled service road.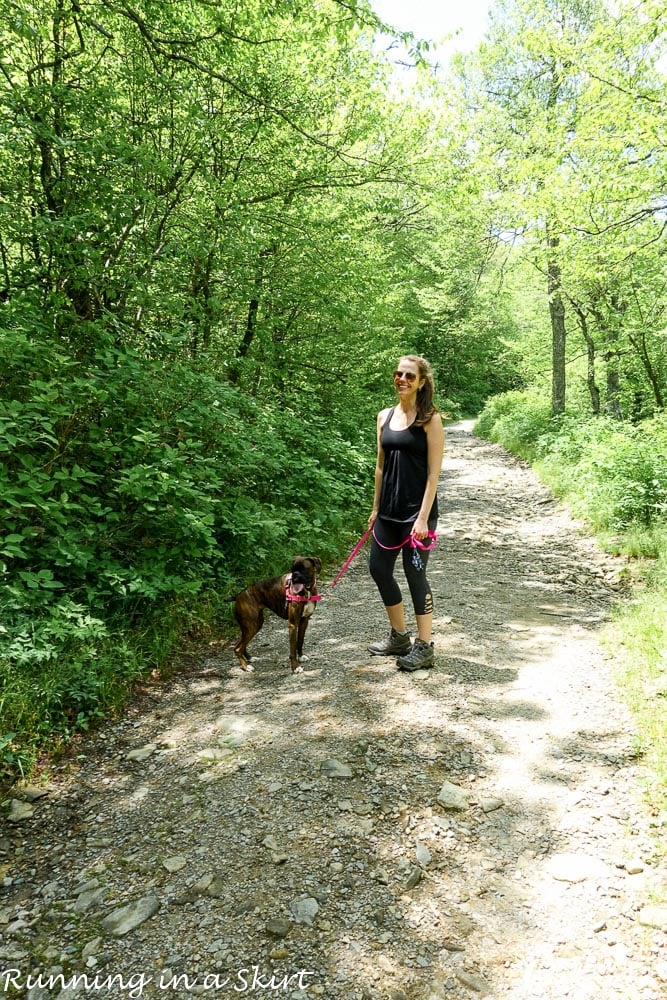 It was easily manageable for all of us including Makena. The Frying Pan Tower Hike is only about .75 miles until you reach the peak.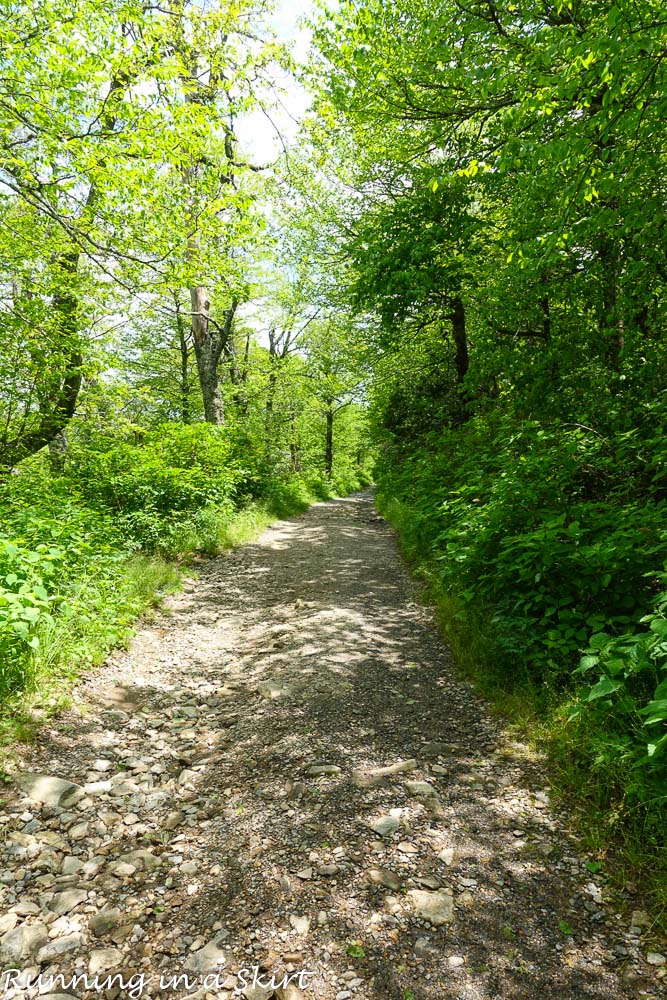 The views from the ground are pretty. There is even a weather service station which I always find interesting.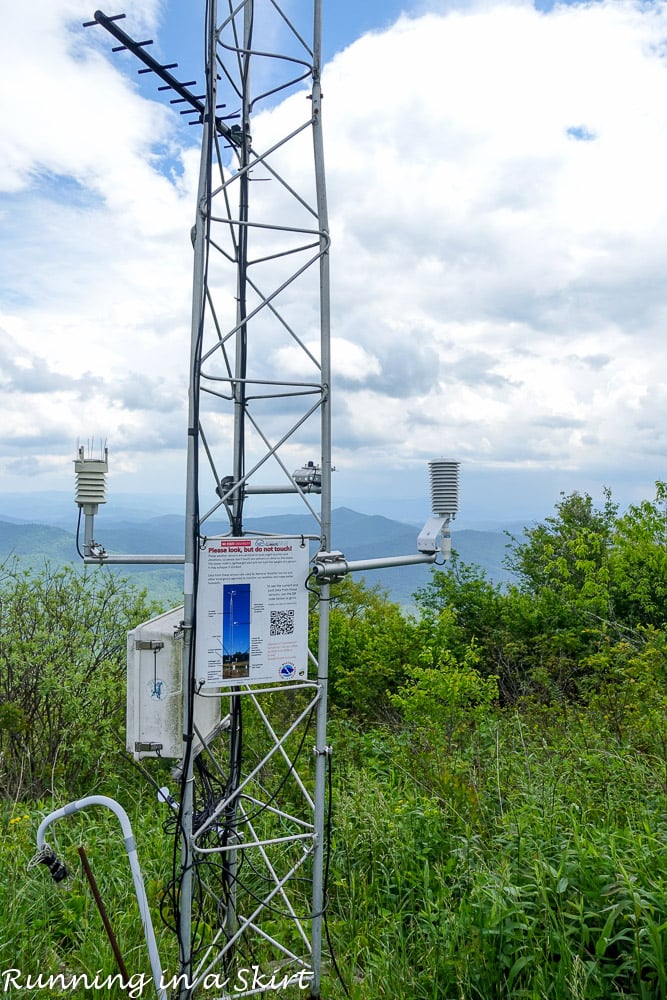 The most spectacular part about this hike though is the 70-foot-tall steel fire lookout tower at the summit. Since we had Makena the Hubs and I took turns climbing it.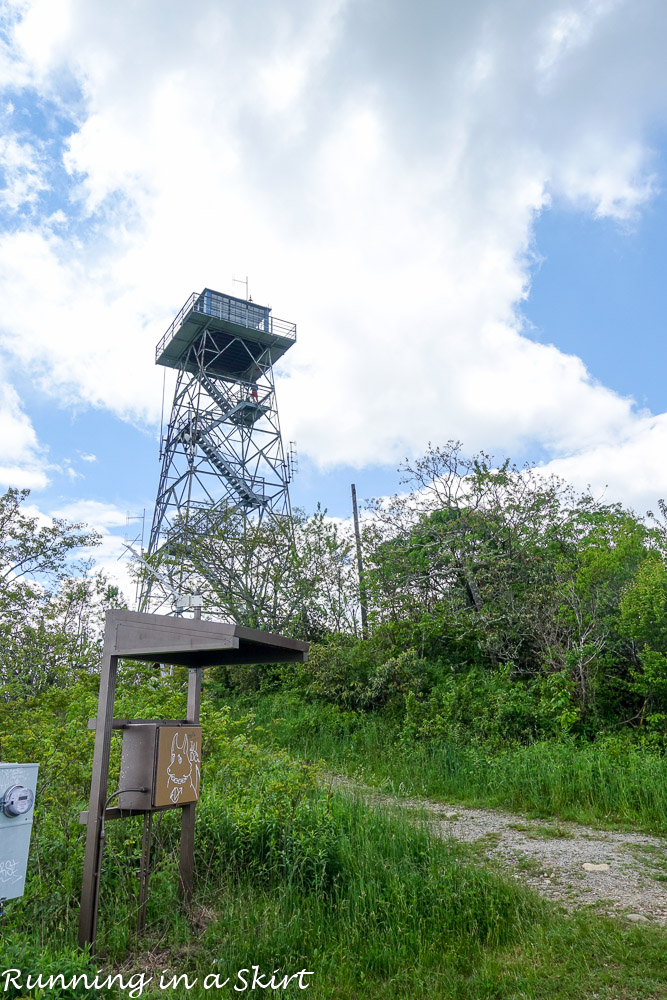 I wasn't expecting to feel scared, but the wind howling through the tower got the best of me since I was by myself! I didn't think I was afraid of heights, but apparently, I'm afraid of old fire lookout towers.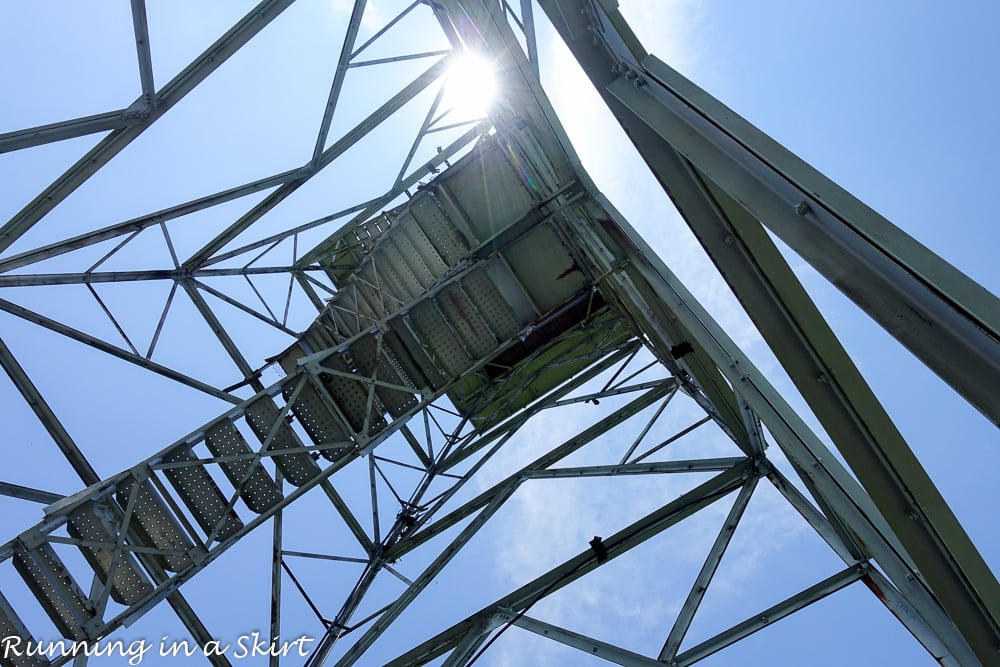 I'm glad I kept going though because the 360 sweeping views from the top were ridiculously beautiful. Even if you are afraid of heights... it's worth it.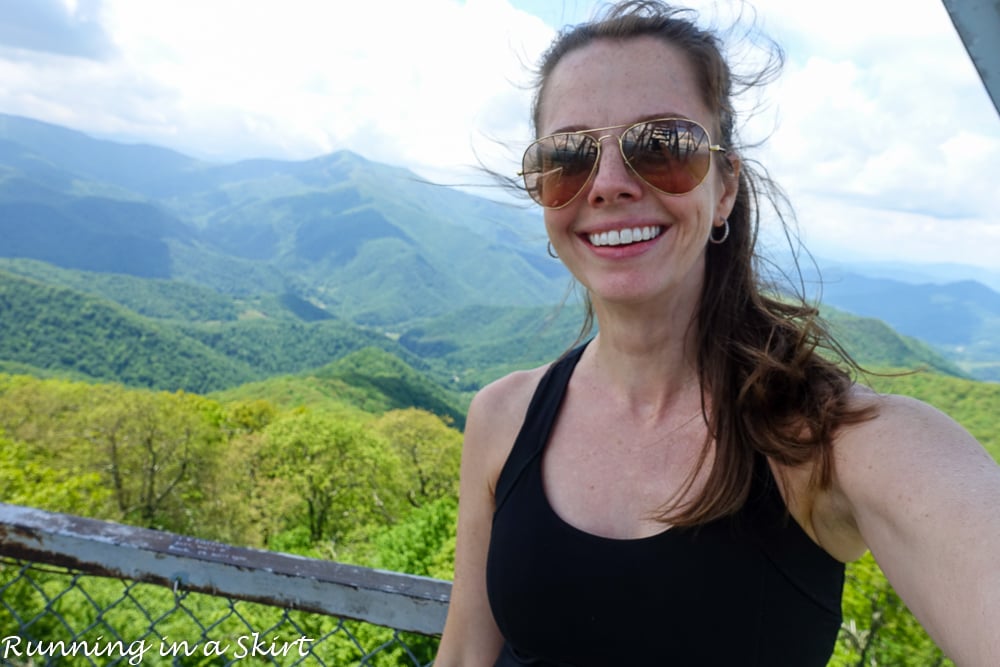 The panoramas included nearby peaks of Looking Glass Rock, Mt. Pisgah AND Cold Mountain.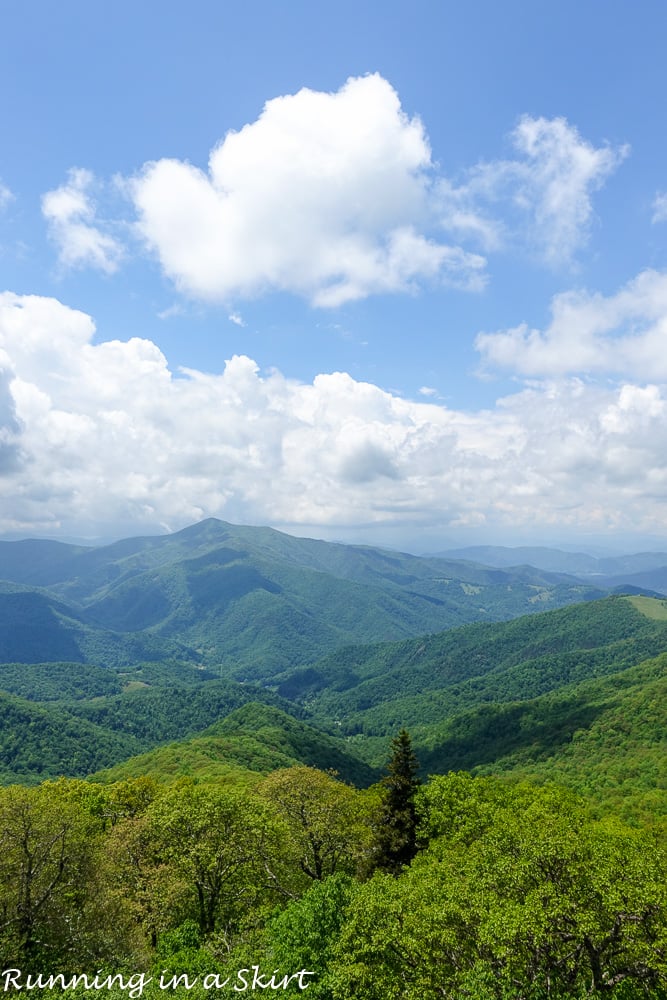 The steel tower is at 5,340 feet so you can only imagine how the wind feels!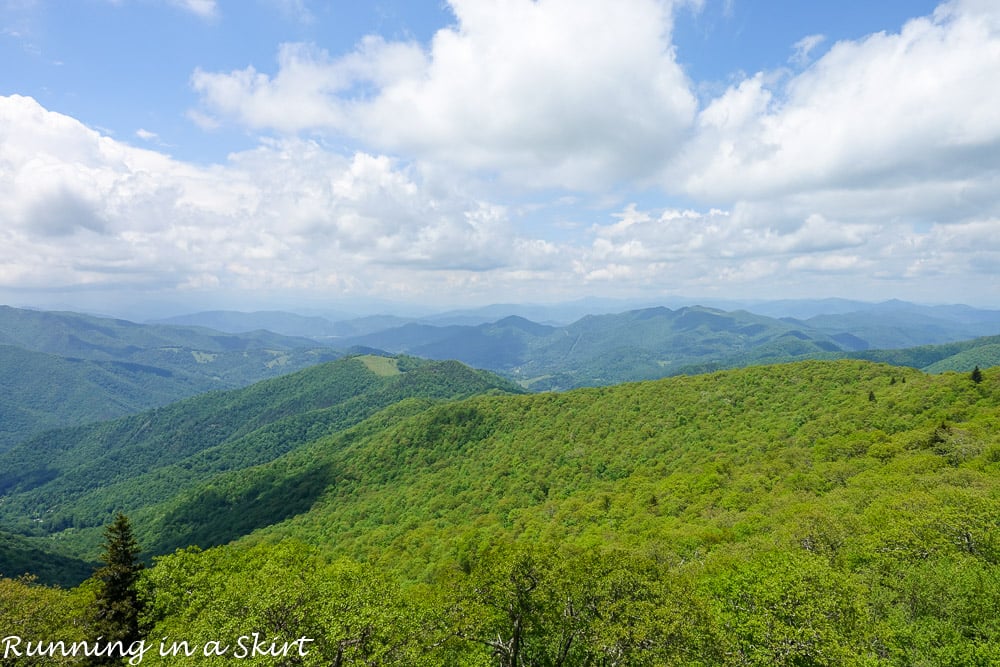 I snapped my few pictures and took my wobbly legs right back down! Even though it spooked me a little, it was still worth it.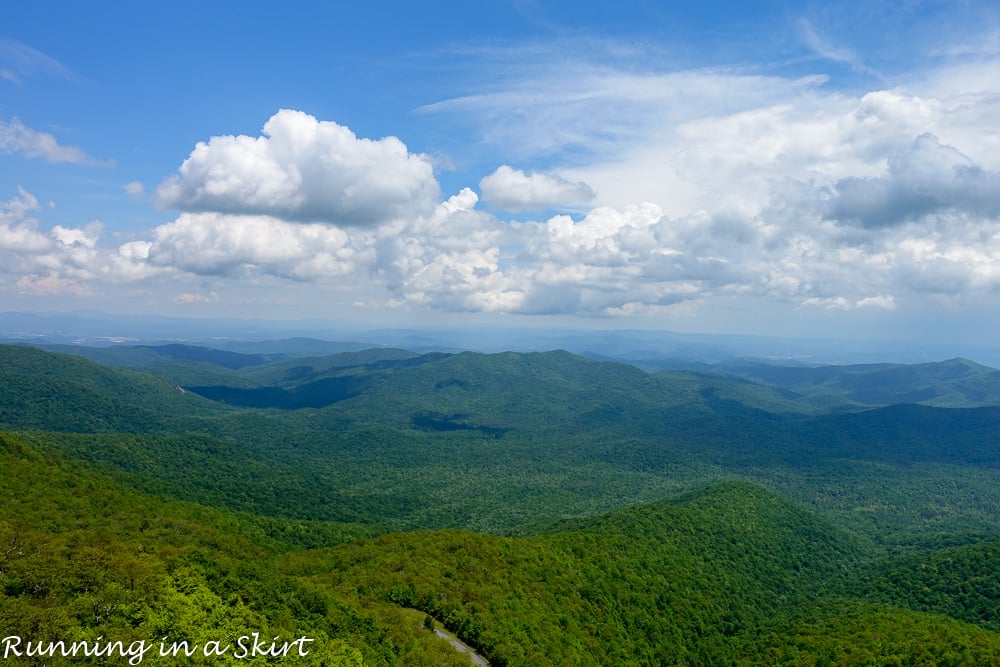 The hike back downhill The Frying Pan Tower Hike was even easier and the entire loop was only a mile and half, making this another great shorter hike from Asheville.
The two hikes combined were about 2.5 miles, which was just enough to get out in the fresh mountain air without feeling like I was overduing it! I highly recogmend this combo for a fun day trip from Asheville.
Directions
The Devil's Courthouse Hike is along the Blue Ridge Parkway at milepost 422.4. You head south on the Blue Ridge Parkway and it's 26 miles from NC 191, which is the NC Arboretum exit. There is a large parking lot. It takes about an hour to get there.
The Frying Pan Tower Hike is also along the Blue Ridge Parkway about 22 miles from Asheville. It's at milepost 409.6. You park at the entrance to Forest Service Road 450 and walk around the gate. It takes about 45 minutes to get there.
Other Nearby Hikes
Want to try these hikes? Pin these for later!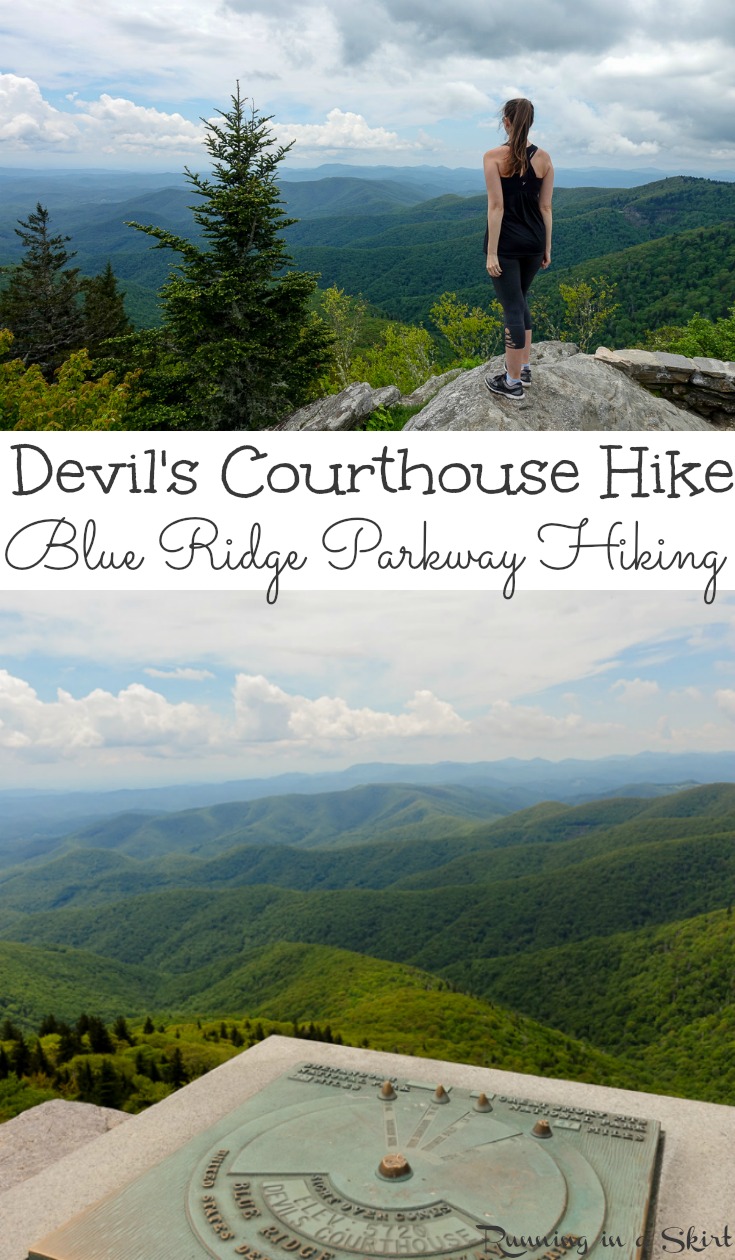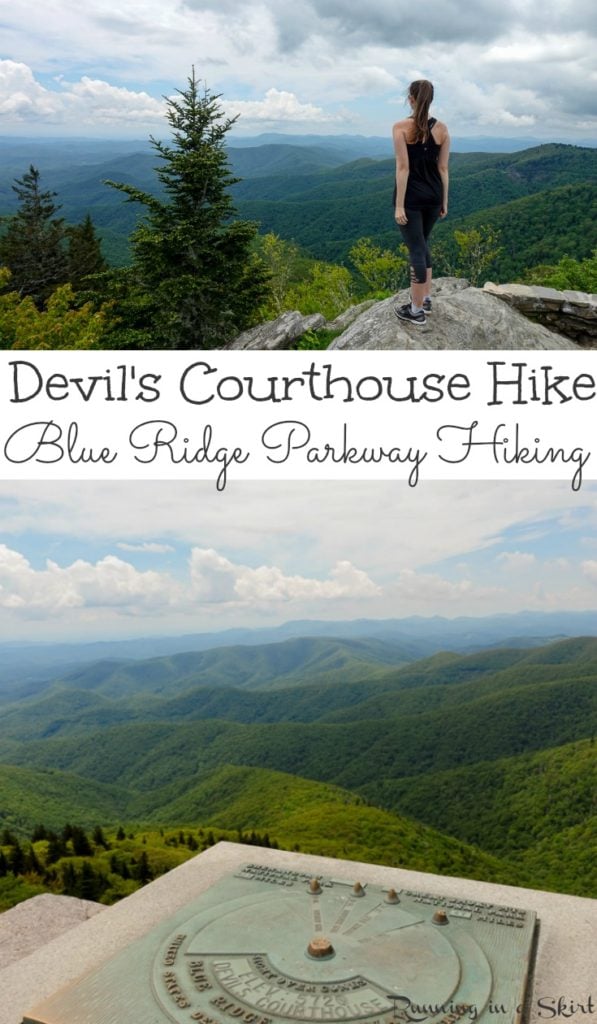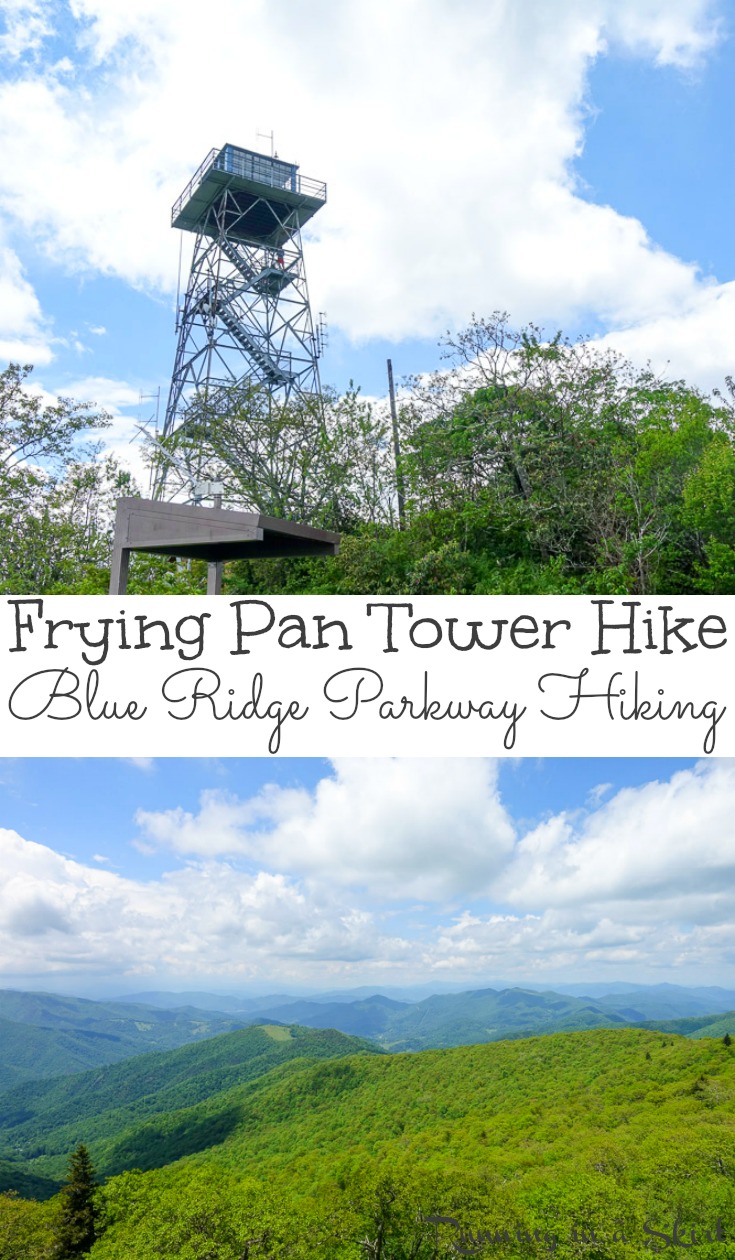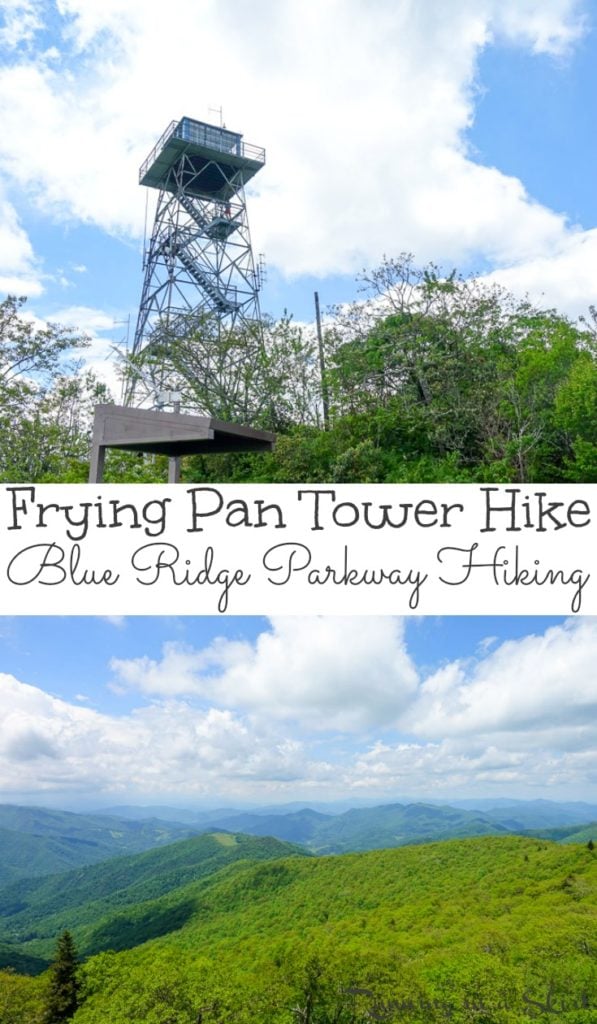 Your turn!
Do you like hikes with views or hikes with waterfalls?