Finding lesser-known hiking spots to Pisgah Forest waterfalls is the perfect way to spend a day! Today we explore Log Hollow Falls!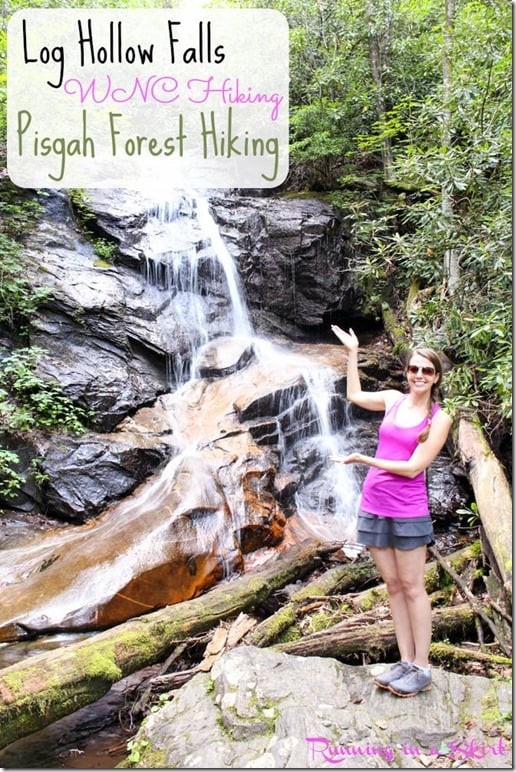 Happy Wednesday friends!
My Dad was back in town this weekend and I couldn't wait to take him on a new Pisgah Forest waterfalls hike that I found!. It's perfect for people with bad knees because it is pretty flat for the mountains!
The hike lets you visit two pretty waterfalls within a 1.5-mile roundtrip walk---> 25-foot Log Hollow Falls and 80-foot cascading Kissing Falls
I'll include more specific directions at the end, but you have to drive through the forest and up a gravel road to get there. I wouldn't take a sports car up there, but most cars would be fine.
The trailhead is just past this sign.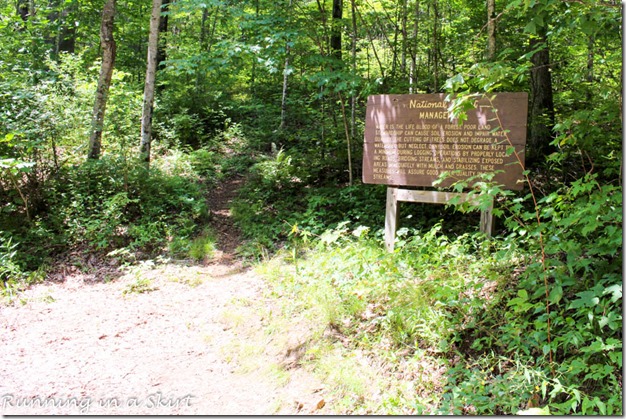 The trail is actually along the gated Forest Service Road 5043. The road is closed to vehicles, so you don't have to worry about traffic.
Check out my two men showing you guys the way to go!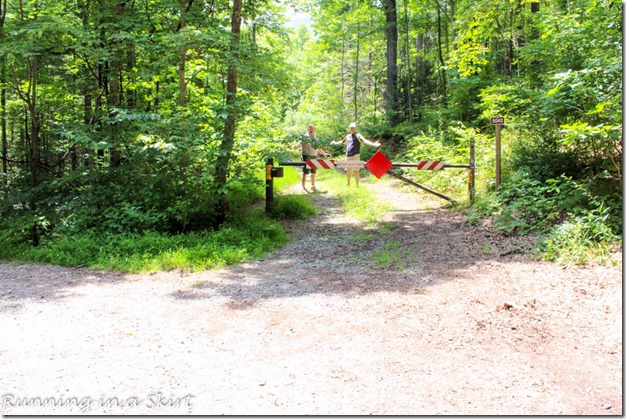 Since it's on an old road, it is a graded path that is relatively easy to walk on. There are really no stair areas, although there are a few gradual inclines. This is one of the worst ones.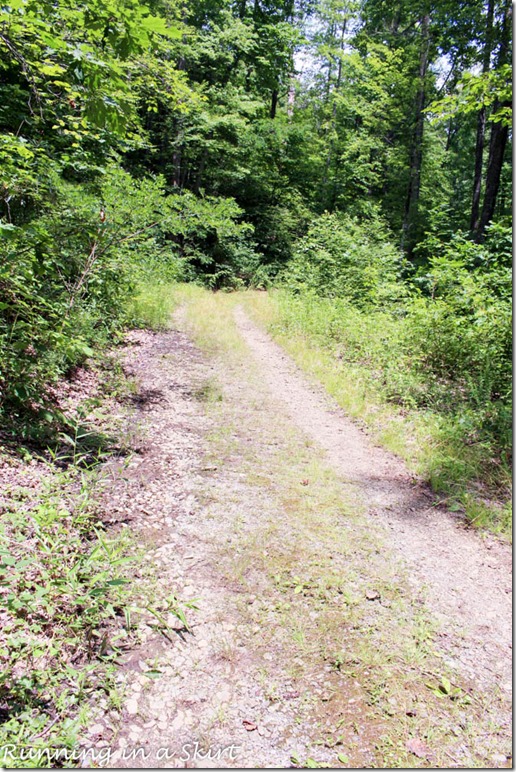 Do take sunscreen though because the trail is not as covered as other hikes in the area.
The path is lined with nearly ripe blackberry bushes. There were just a few perfectly black ones, which we enjoyed. Be very cautious of the poison ivy though.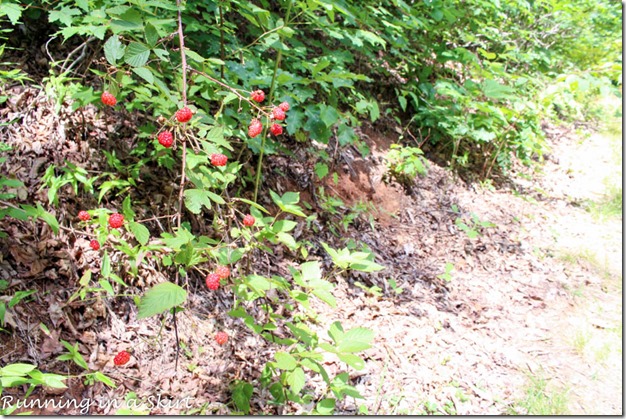 After about a half-mile walk we reached Log Hollow Falls. It is on the right side of the road. There is a small, but the very uneven path to the base of the falls. If you have bad knees, I'd suggest enjoying the views from the road.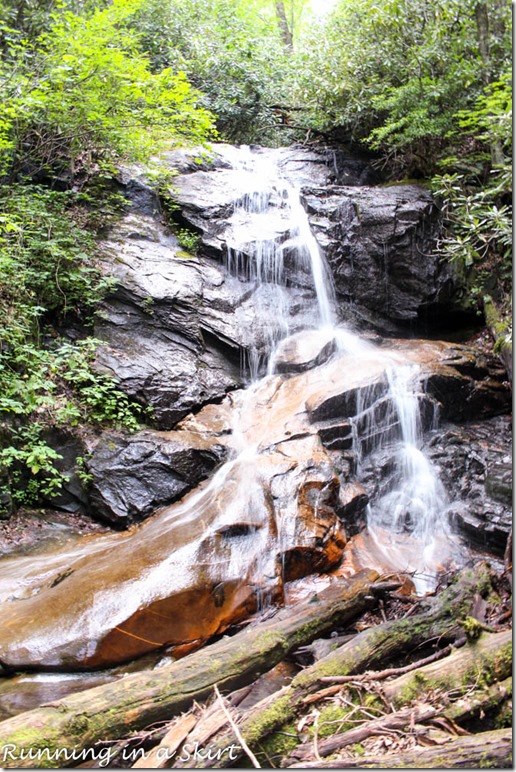 The hubs and I went to get a closer look. The crisp cool mountain water felt great on a hot summer day.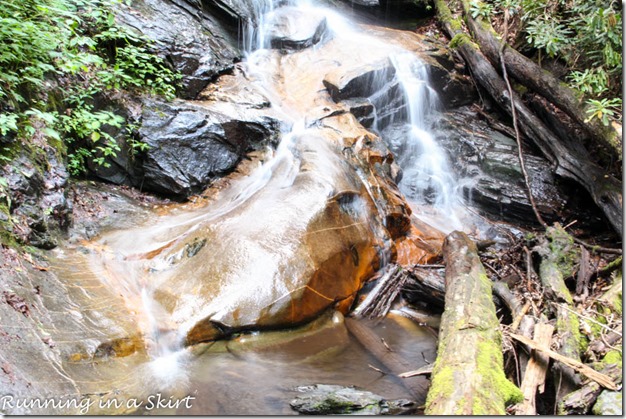 We only saw one other couple at the falls. It was pretty cool to have the place to ourselves!
After spending some time enjoying the sites, the three of us continued onto the next falls. This time of year, Kissing Falls is buried in the leaves, but it still really pretty. I imagine you can see much more when the leaves start falling in the fall and winter.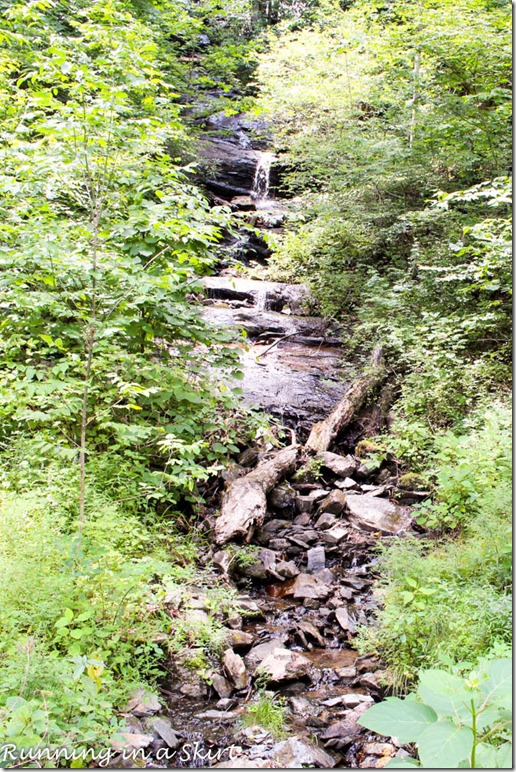 Before we turned around, we posed for a few photo ops!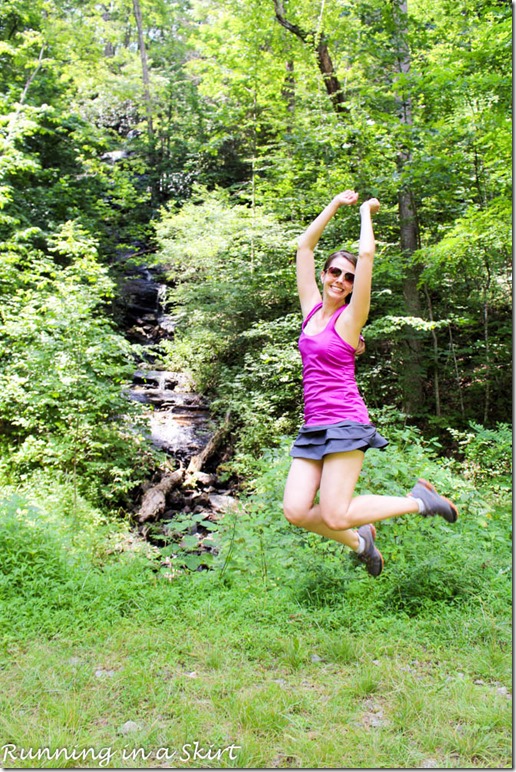 The boys didn't want to play my games, so here is their serious picture…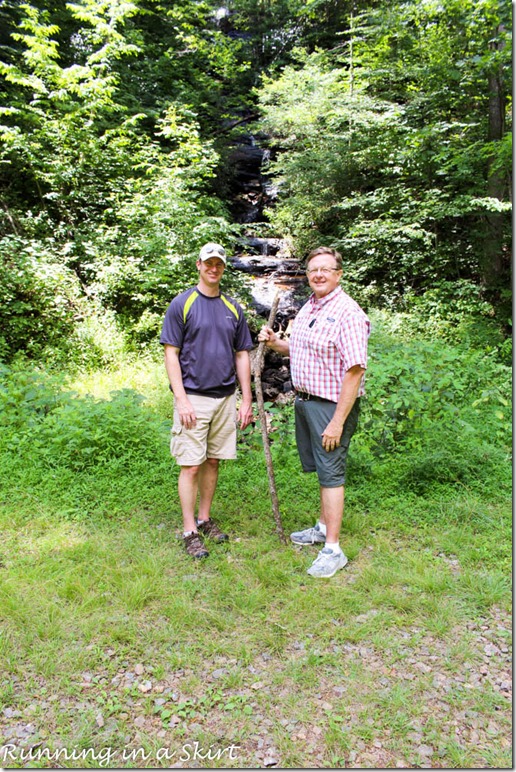 The hike is a comfortable .75 mile back to the car for a total of 1.5 miles! The perfect way to spend an afternoon.
And since we were in the area, we stopped by the Oskar Blues Brewery in Brevard.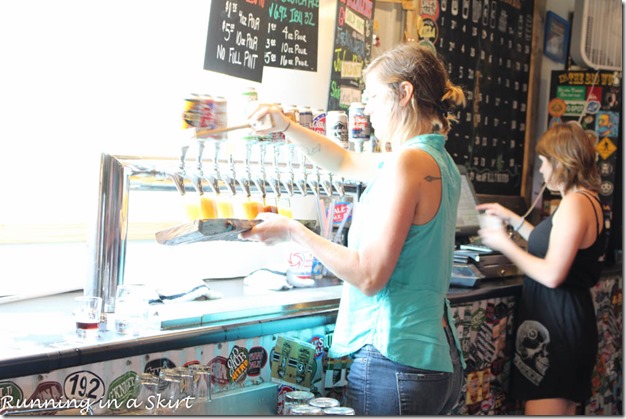 You may remember that I ran their 4 miler this year and last year, but I had never actually been to the brewery to enjoy it.
We picked two of their flights to share and had a great time.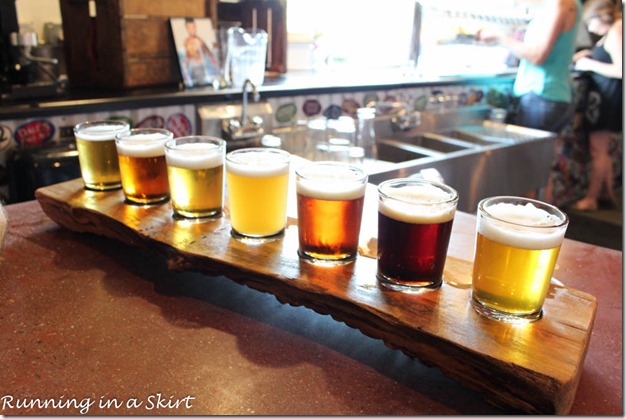 What a great way to spend the day!
Log Hollow Falls Directions
To get to Log Hollow Falls start at the intersection of 64 (heading to Brevard) and 276. Drive North heading towards to the Blue Ridge Parkway. From the Pisgah Forest, stone entrance go 10.5 miles. Turn left on FR 45B and go 1.6 miles until you reach a sharp left turn. At that turn, to the right, you will see the Forest Service Management sign and gated Forest Service Road 5043 (pictured above.)
Log Hollow Falls Additional Tips!
Do be cautious in this area. My friend Marilyn did this hike several days after us and saw a rattlesnake and fresh bear prints at the base of the waterfall! As with any mountain hike, be aware of your surroundings and know you are sharing the forest with all sorts of critters!
Other nearby Pisgah Forest waterfalls hikes--->
Moore Cove Falls (In Pisgah National Forest)
Other nearby hikes--->
NEVER climb or hike to the top of a waterfall. The rocks at the top are slippery and potentially fatal. Every year someone gets seriously injured or killed in this area because they hike/play at the top of the waterfall.
Your turn!
What is your favorite hike?
Do you like to hike?