This recipe has been compensated by Collective Bias, Inc. and its advertiser. As always, all opinions are my own and I only write about products I personally love. Thank you for your support.
#GrillWithATwist #CollectiveBias
Spicy Black Bean Burgers are topped with homemade pimento cheese in this grilling recipe with a twist!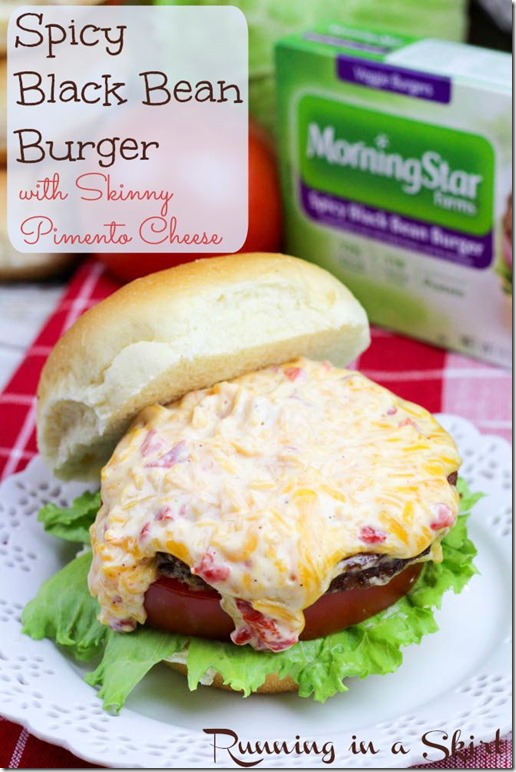 Hi friends!
I've been some form of vegetarian for a long long time. I actually stopped eating most meat in early High School and it just kind of stuck. I technically consider myself a pescatarian now, because I do eat fish and seafood.
But for most meals during the week, I depend on a good ole plant based diet.
As you guys know I'm all about making my own meals from scratch, but sometimes we all get busy and need something quick and delicious.
For years and years I have always kept these MorningStar Farms Spicy Black Bean Burgers in the freezer.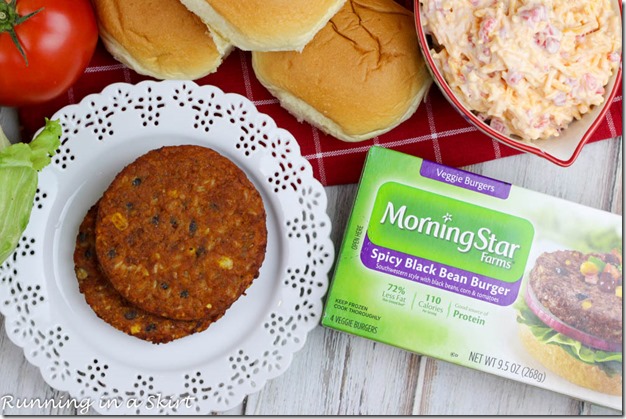 They taste delicious. I break them up in wraps, over salads and even grill them along side the hubs burger. Sometimes the hubs will even skip the red meat to eat them. To be honest with you, I'll even break them out as a veggie cuisine choice when I'm having a quick and casual get together.
They are super easy to pick up at Target in the freezer isle. And while I'm there I can shop for the other party food.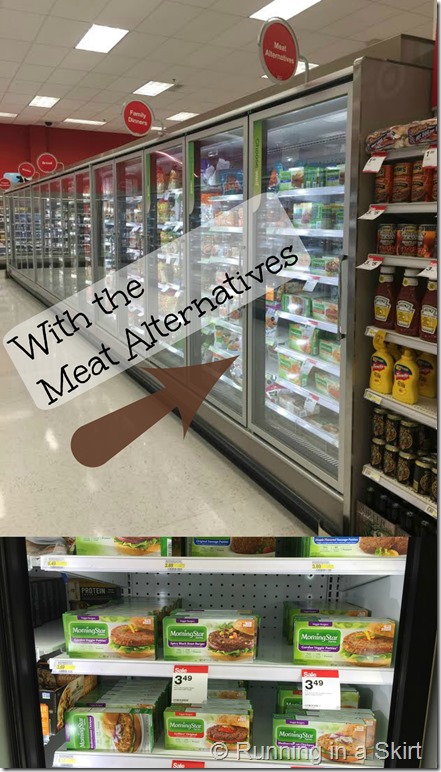 You can actually see the whole pieces of black beans and corn in them, which I love.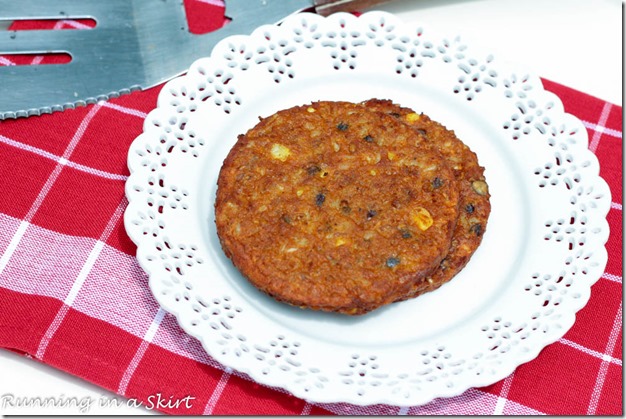 My trick when serving MorningStar Farms Spicy Black Bean Burgers to guests is adding my own homemade flare.
Yup! I'm totally going semi-homemade here.
The small addition of homemade pimento cheese turns these babies into a total southern talking piece. And because I'm whipping this part up from scratch I control the ingredients using 2% cheese and Greek yogurt instead of tons of mayo.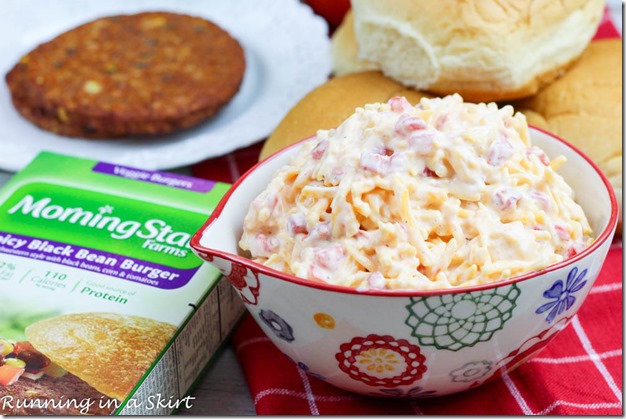 While I am spending the two minutes to stir up the pimento cheese, the hubs take the burgers to the grill.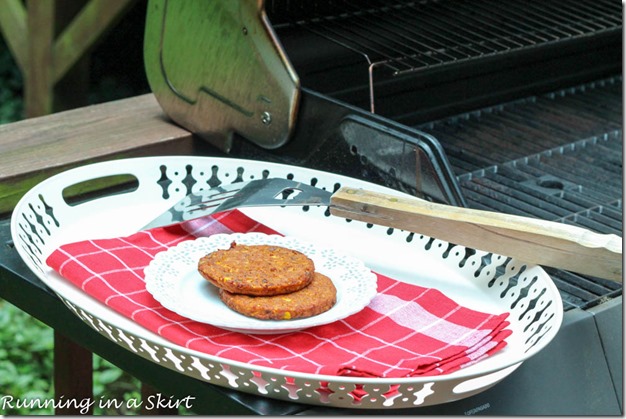 He always follows the package instructions and is careful to not cook them too long. You want them to stay moist. He covers the burgers in a layer of pimento cheese about thirty seconds before they are done. It melts fast!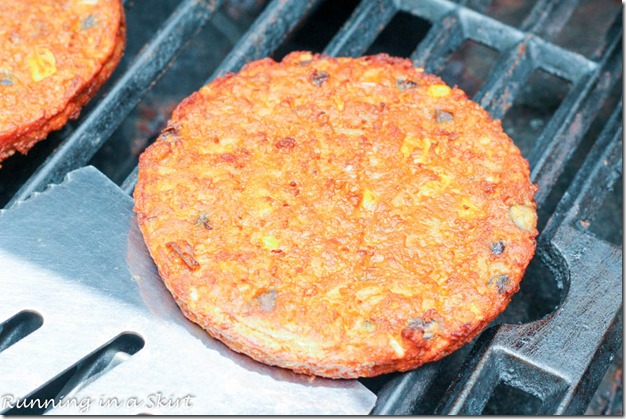 I stack them up high with lettuce, fresh summer tomato and of course my own gooey, melt-y homemade pimento cheese.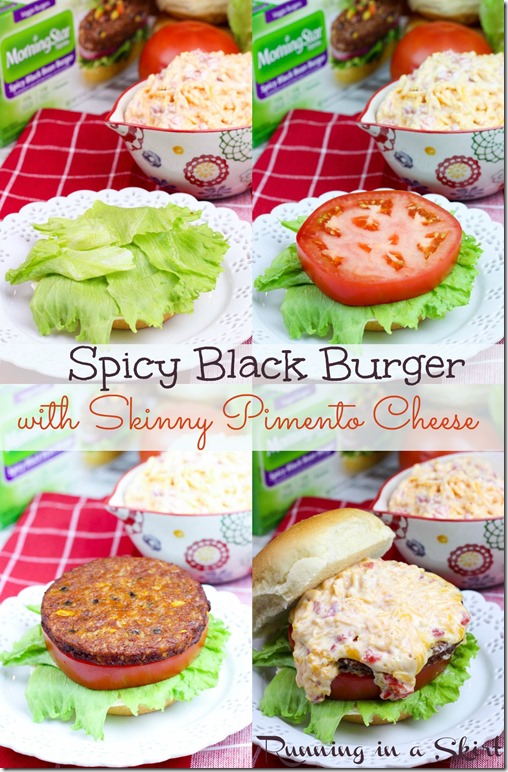 The finished product is something my guests rave about.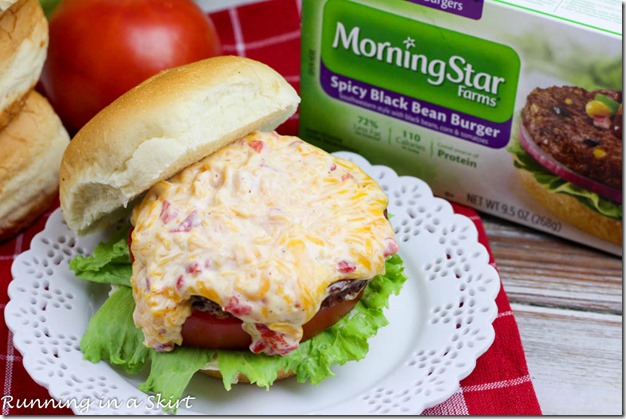 And I can be confident that vegetarian or not, everyone will enjoy this treat.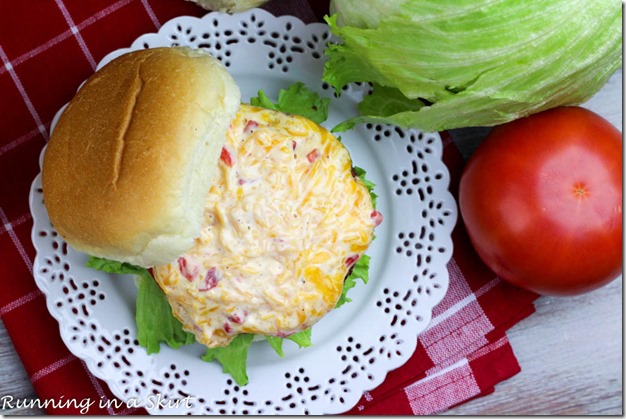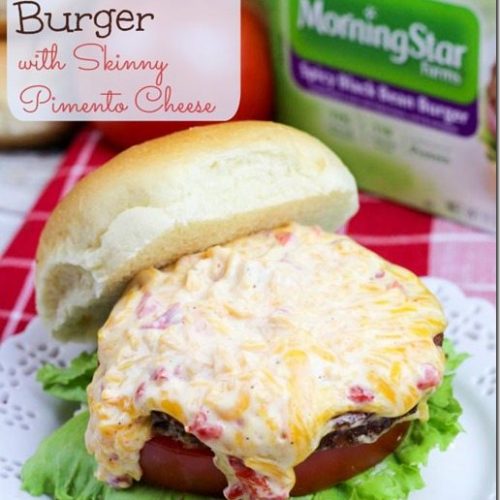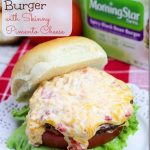 Southern Spicy Black Bean Burger
Add homemade pimento cheese to a MorningStar Farms Spicy Black Bean Burger for a semi-homemade treat!
Ingredients
For Pimento Cheese
2

cups

shredded sharp cheddar cheese

,

use 2% milk

½

cup

plain Greek yogurt

,

use 0%

4

ounce

jar chopped pimentos

,

drained

⅛

teaspoon

salt

⅛

teaspoon

pepper

¼

teaspoon

garlic powder
For the buger
4

MorningStar Farms Spicy Black Bean Burgers

4

burger buns

4

pieces

lettuce or equivalent spinach leaves

1

large tomato

,

cut in 4 slices
Instructions
Heat grill to medium.

In a medium size bowl, stir together all ingredients for the homemade pimento cheese.

Follow instructions on the box to cook the MorningStar Spicy Black Bean Burgers, adding the homemade pimento cheese in the last minute of cooking. You want it to just slightly start to melt. Do not overcook!

Assemble burger with lettuce, tomato and burger!

Serve immediately!
Notes
You can mix together the homemade pimento cheese the night before! It actually gets better if it sits in the fridge for a night.[fusion_builder_container hundred_percent="yes" overflow="visible"][fusion_builder_row][fusion_builder_column type="1_1" background_position="left top" background_color="" border_size="" border_color="" border_style="solid" spacing="yes" background_image="" background_repeat="no-repeat" padding="" margin_top="0px" margin_bottom="0px" class="" id="" animation_type="" animation_speed="0.3" animation_direction="left" hide_on_mobile="no" center_content="no" min_height="none"]
For the highest nutritional value, use whole grain buns and dark green lettuce or spinach!
Nutrition
Calories:
385
kcal
Carbohydrates:
37
g
Protein:
34
g
Fat:
11
g
Saturated Fat:
4
g
Trans Fat:
1
g
Cholesterol:
19
mg
Sodium:
1105
mg
Potassium:
487
mg
Fiber:
5
g
Sugar:
6
g
Vitamin A:
1158
IU
Vitamin C:
32
mg
Calcium:
476
mg
Iron:
4
mg
Now I know not everyone wants to be a full time veg head like me, but even if you eliminate meat out of your diet one day a week, you can improve your health and it is good for our planet. If you've ever considered going meatless for one or more days a week, for any reason, consider taking the "Veg of Allegiance!" Just by signing up you can enter to win prizes! Go HERE for more information.
Thanks for stopping by today! Come back tomorrow for an easy access local hike featuring two really pretty waterfalls.
Your turn!
What's your favorite way to #GrillwithaTwist?