Happy Wednesday friends! Did you have a good St. Patrick's Day?
I spent the day taking Reina back to the vet and getting our kitchen sink fixed. Boo! Far from the partying St. Patrick's days of my "youth," but that's ok 🙂 The Vet said Reina's knee is still not healed, but it is looking better. We are going to try one more round of antibiotics, saline wash and lots of positive thinking. Keep the prayers coming, I really appreciate it!
Instead of a green beer hangover I have a nice new and shiny garbage disposal to show for my efforts. Exciting.... I know...
As I mentioned Monday, I ran the Oskar Blues 4 Miler on Saturday. My intention was to actually run the Shamrock 5K in Asheville earlier in the morning, but I got up at 6AM and it was POURING! I really didn't want to ruin my shoes and get blisters so I decided to wait a few hours and try to go the Oskar Blues Race which started at 11 instead of 8. I looked at the radar and thought it might be dry in Brevard by race time.
I arrived in Brevard at about 10AM and it was still raining buckets! It looked like it was also going to be that kind of a miserable race.
Everyone was hunkered up under a big awning. There was a long line to pick up your race bibs, but I was not registered yet so I got to go to race day registration line, which was empty. I guess no one else in the area woke up wanting to race considering the weather.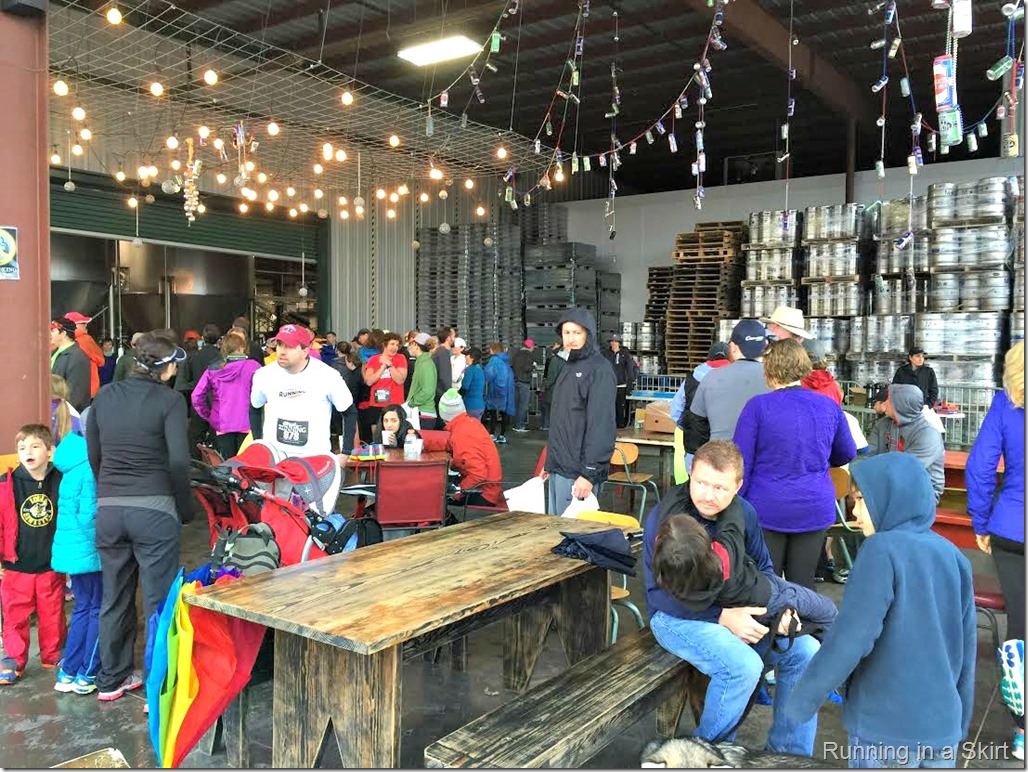 I wore my rain jacket and hat to get my bib and waited in the car to stay warm until about 15 minutes before race time. I decided to leave my phone in the car, just in case my rain predictions were wrong because I didn't want it to get wet. I trusted my forecast enough to leave my rain jacket and hat in the car though because I get hot pretty easy when I run anyway.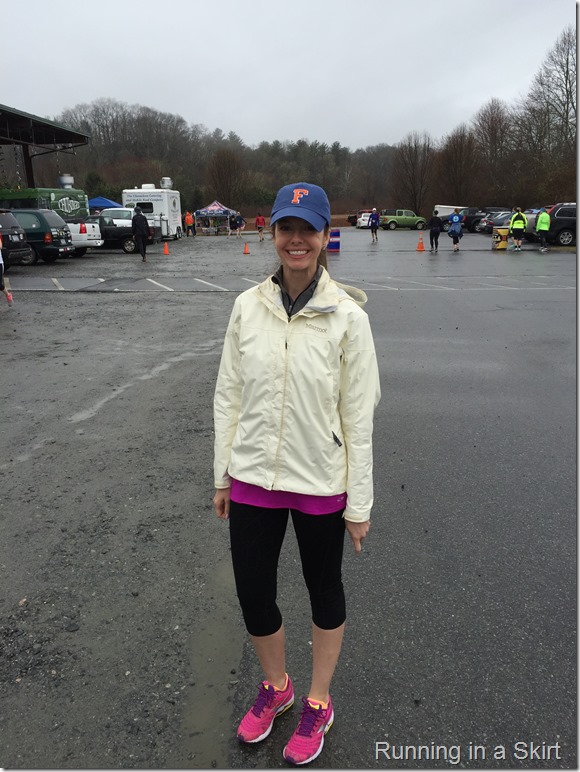 Luckily my weather predicting skillz (yes, skillz) still work and I was right! The race started promptly at 11AM and the rain stopped at about 10:58! It was so nice.
There was a beautiful rendition of the National Anthem and before no time the race started. I honestly didn't know what to expect from my legs. I hadn't raced since my 26:58 5K PR early last summer. I have been running consistently, but I did not train for this particular race and I have not been pushing myself in the same way I was when I hit that time.
Mile 1 was mainly flat to slightly uphill. The crowd pushed out really quickly and I found myself falling back to a comfortable 8:30-9:00 pace for the first quarter mile. I then settled into a near 9:00 pace because I wasn't sure how my legs would hold up. My only goal for the race was to finish strong.
Mile 1: 9:02
Mile 2 I focused on keeping a consistent pace and keeping my breathing regulated. I had a really bad bout of breathing on a run earlier in the week so I was a little afraid of my lungs giving out. The second half of mile two started an uphill climb.
Mile 2: 9:27
Mile 3 started off with a big hill but quickly crest into a gradual downhill fall. I remembered that the rest of the course was pretty easy after that hill, so I was feeling great!
Mile 3: 9:17
By mile 4 I realized I was running pretty good, and that if I kept a constant pace I could finish faster than I did last year! I focused on keeping my leg turnover rate even so my time would be faster. At this point running fast is kind of a mental game for me. I know I have it in me, but I have to stay focused. If I start thinking about ALL THE THINGS, then I slow down.
Mile 4: 9:18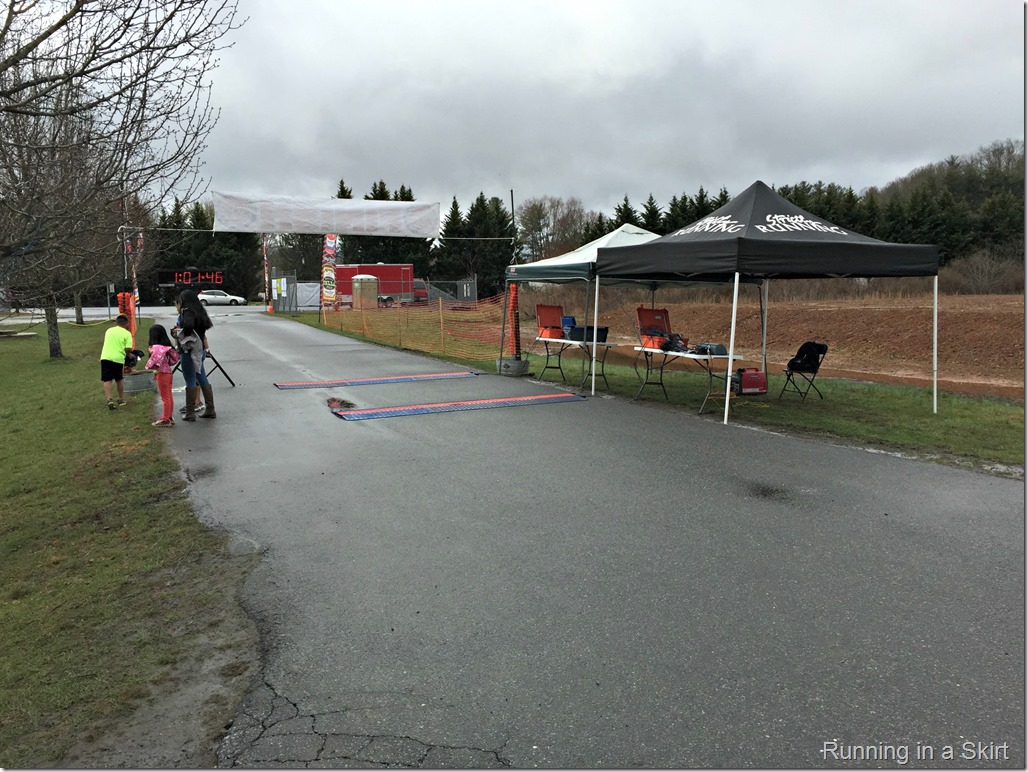 I crossed the finish line at 37:32 (GPS distance 4:06.) According to my watch that is about a 9:15 pace! Last year my GPS time was 37:56 and my official time was 38:08.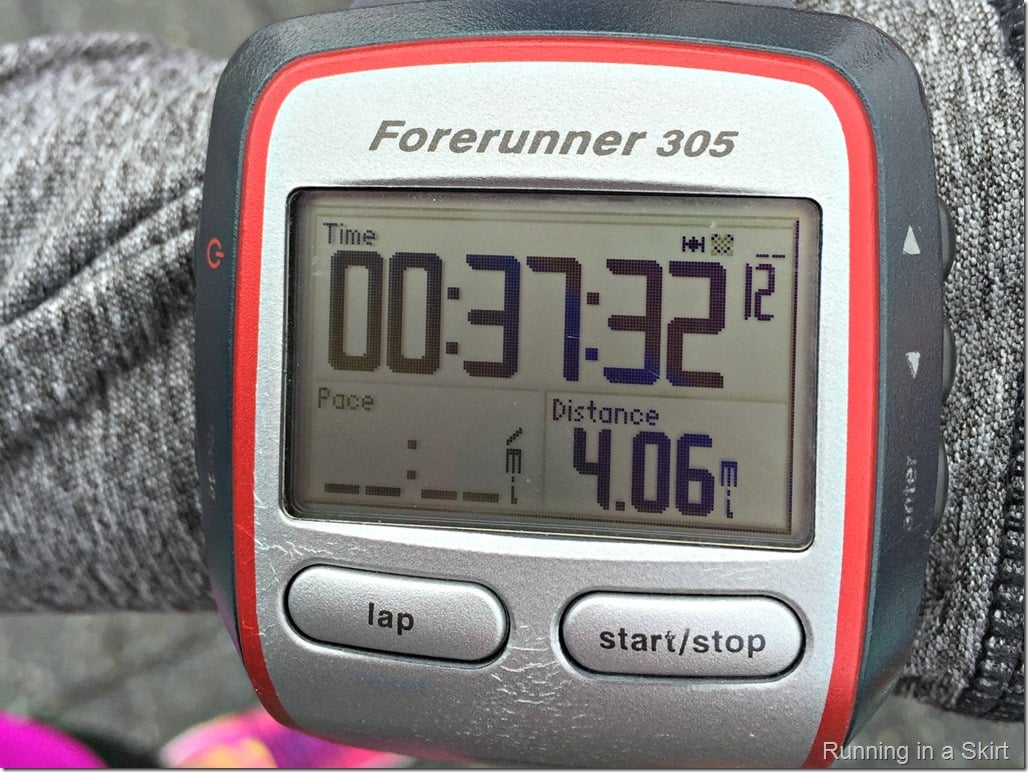 So... I set a 4 miler PR and a race PR for me! I was thrilled! I honestly didn't even know if I would be able to break 40 minutes because I had such a bad run earlier in the week.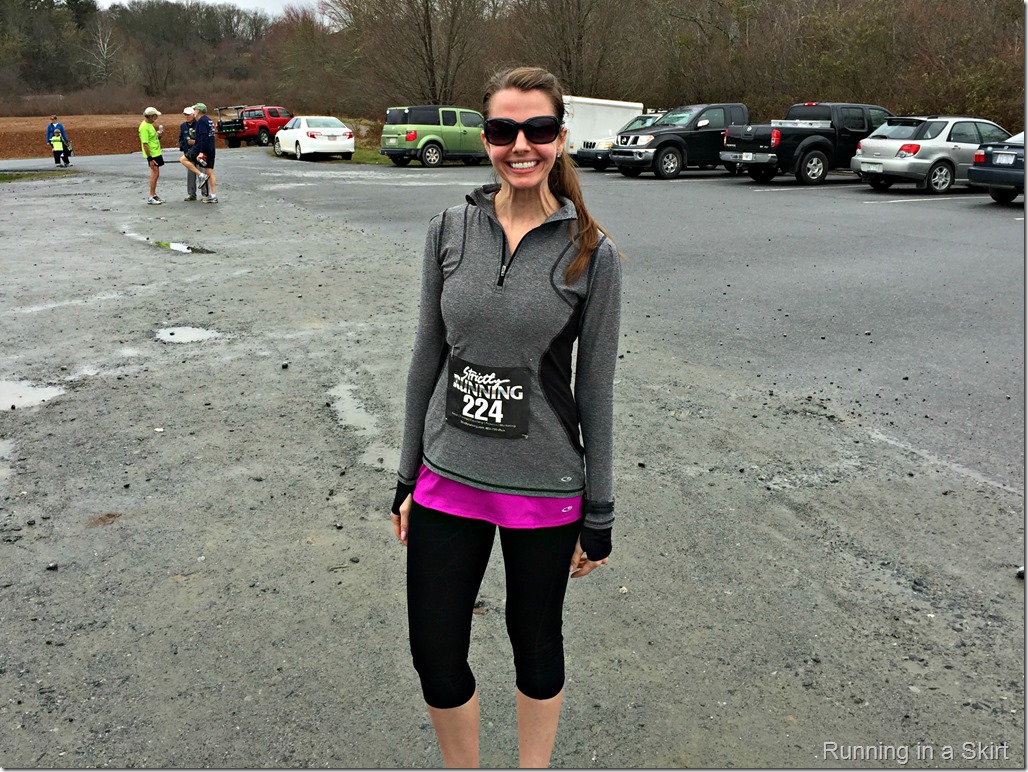 As a finishers treat, everyone gets a can of Oskar Blues beer. The race is actually held at their brewery. I had a bunch of stuff to do during the day and had to drive myself home, so I didn't have one, but it is a nice race perk!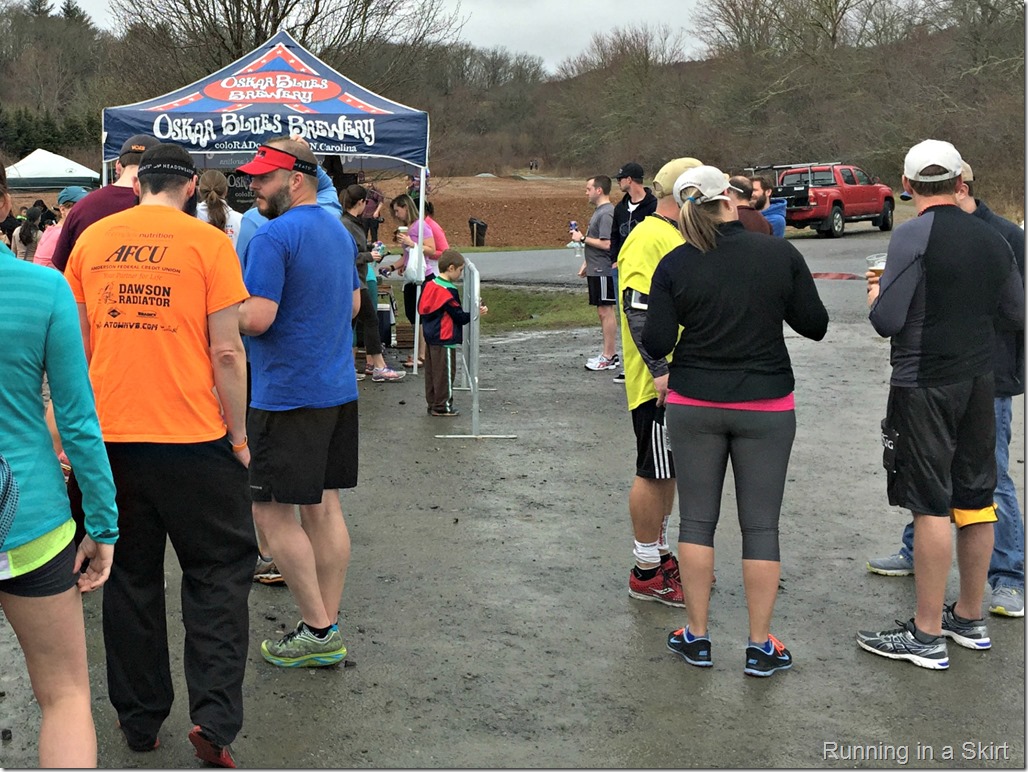 There is also a food truck with yummies to pick from.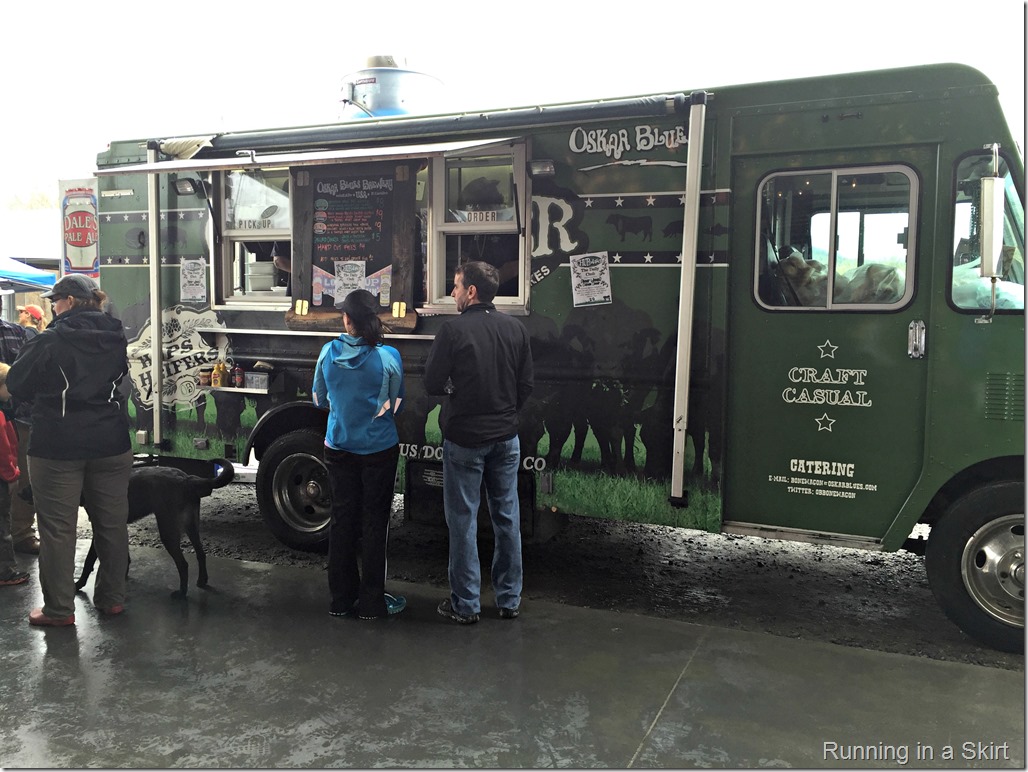 Since it was really a cloudy, muddy and cool day I didn't stick around for long. However last year's race was much more of a party atmosphere. If you are curious, check it out HERE. It was sunny and 70 degrees for the race last year.
Regardless of the weather, I'm glad I got to run Saturday. Racing just feeds my soul and reminds me why I love running so much.
I also think it is very encouraging that I didn't loose all of my speed by taking my running detox. I was running much faster when I set my 5K PR, but I know I can get back there if I want. I ran a faster race this year without trying too terribly hard and I am not burnt out from speed training all the time.
The lesson here is that you can run just to run sometimes, without training or racing and still keep your racing mojo! Muscle memory is a powerful thing.
Good to know.... good to know...
I had a great time at the Oskar Blues 4 Miler and I'm hoping to fit in a few more races during the spring season!
See you tomorrow! I'm so exciting to share another video with you! This time I'm cooking a smoothie with a fragrant twist. It is a totally fresh new idea for spring! See you then.
I'm linking this post with Wild Workout Wednesday and Wow! Workout Wednesdays. Also Jill Conyers for Fitness Friday. Thank you so much ladies for the link up party!
Your turn!
Have you ever run a race without training?
Do you ever run without training for racing? Did you loose your racing mojo?