Running the hills must really be working because I had a great race and set a PR at the Oskar Blues 4 miler Saturday!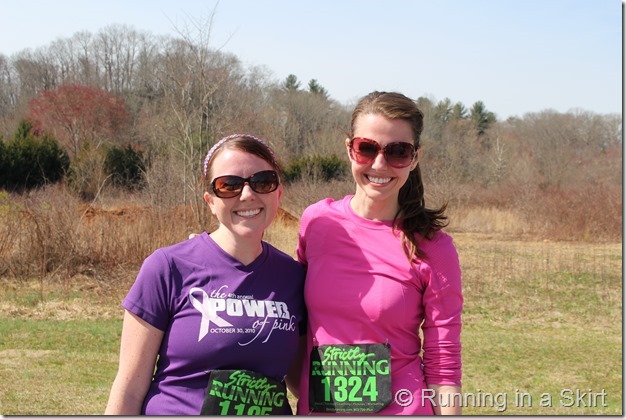 Well…. I've never run a 4 miler before, so any time would have technically been a PR. Details. Details.
It's all about the positive spin my friends! I did run well though, and I will take my time as a victory!
Race Recap
After making a few wrong turns on my way to Brevard, I arrive at Oskar Blues Brewery and quickly park. They have tons of space for the runners close to the start line and someone directing traffic! What a fantastic race day perk.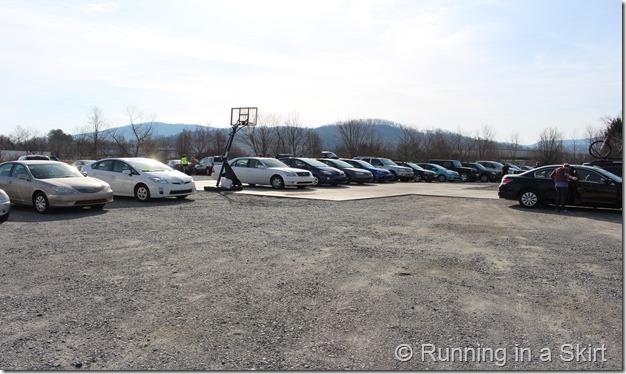 I quickly find fellow Asheville blogger, Jaime from Love, Jaime. We have been going to and blogging about many of the same races for some time, so we decided to actually meet up for this race. She is so sweet! You must check out her blog HERE.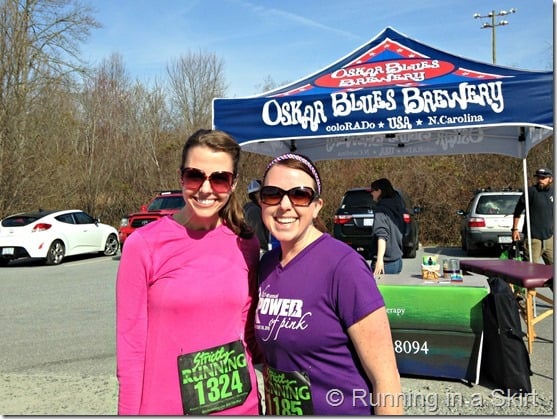 We wait a short time to get our race bibs and spend a few minutes checking out the brewery grounds.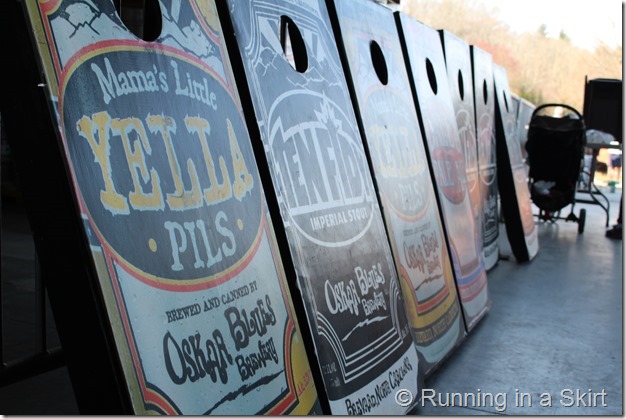 It's a great location for a race because there is plenty of space, a nice covered patio with seats AND clean indoor bathrooms.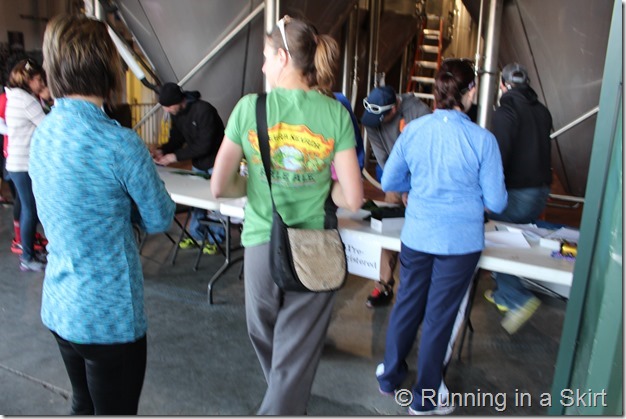 In no time, it's time to line up at the start.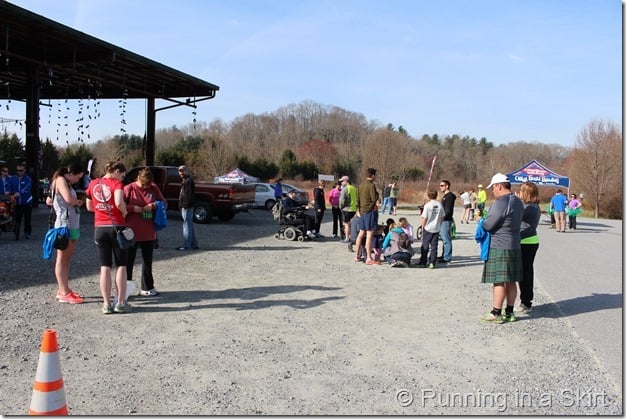 We are a little unclear where exactly to line up, but we find the mob and stand the back. There is a beautiful rendition of the Star-Spangled Banner and then we are off.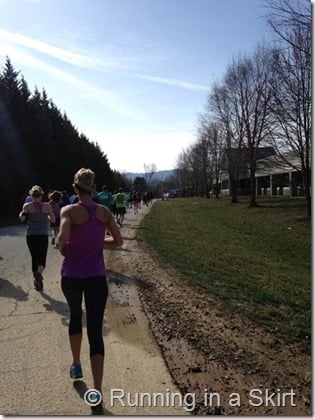 Jaime keeps a good pace to start the race, probably a little faster than I would have gone out on my own, but I decide to go with it. Sometimes I need a little push!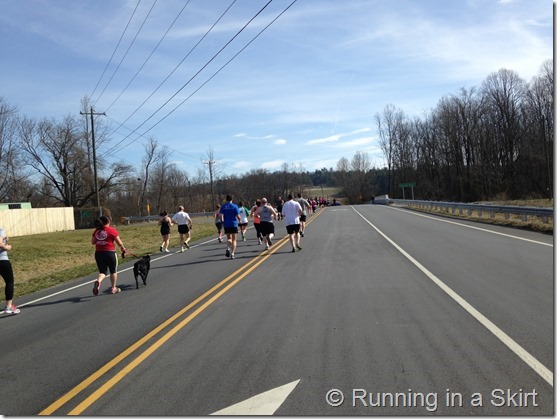 She takes killer iPhone pictures while running and kindly shared them with me. I have never mastered the art of manipulating my phone while running.
Mile 1: 9:07
Mile 2 is a little slower, but still strong. I focus on form and breathing. I am having a good vocal tension day and can breathe so much easier than at the Frostbite. Just before Mile 2 Jaime pulls back her pace just a little and tells me to go on without her. I am feeling strong, so I go with it.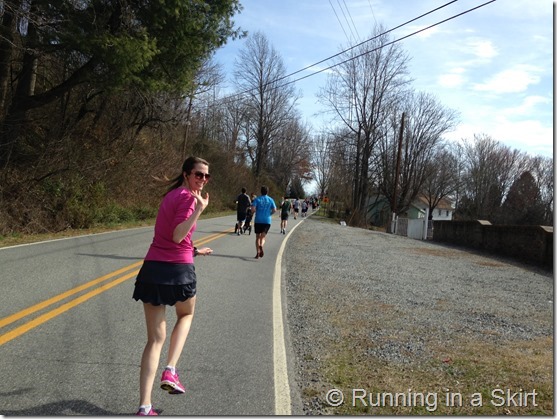 Overall the race is shockingly flat for the mountains, but mid race there are a handful of medium sized hills. I run those hills without too much trouble and I'm so grateful for the hill training I've added to my running routine.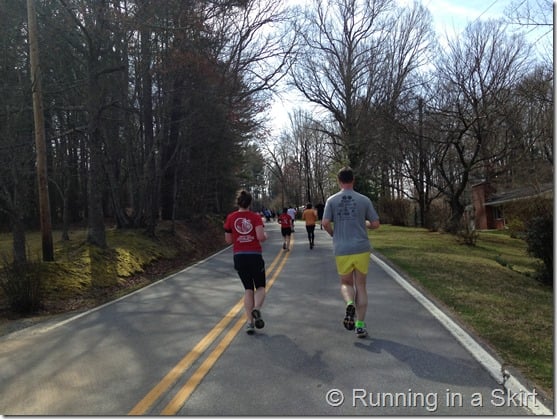 Mile 2: 9:37
Mile 3 starts in the middle of those hills, but quickly takes a turn downhill. I increase my stride to take the downhill faster to make up time.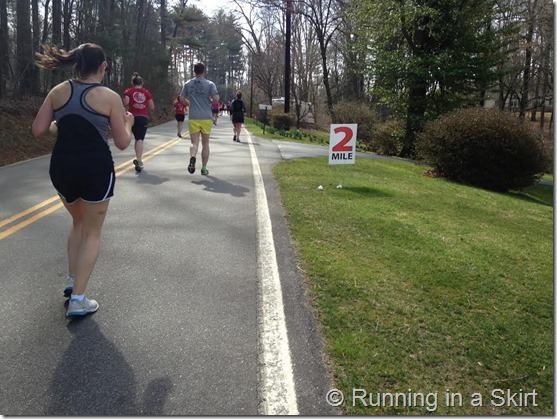 The course takes us around some country roads around Brevard. We see a man fly fishing…
…old machinery shops…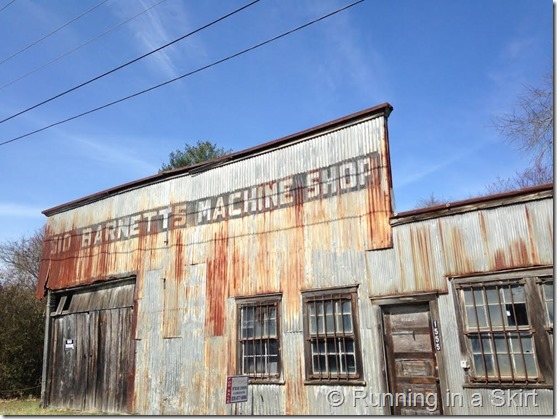 …new churches…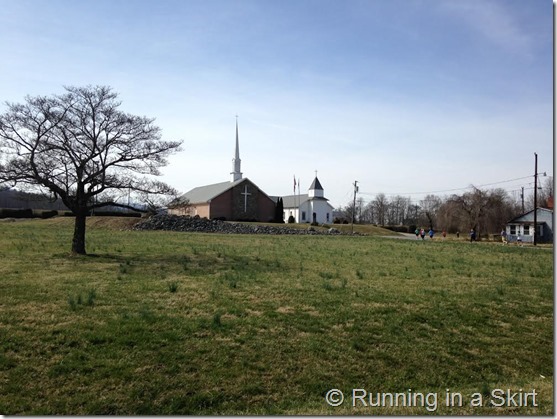 … and signs for farm fresh eggs and horses.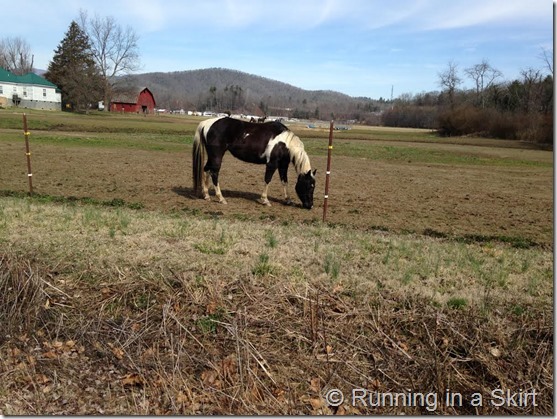 What beautiful country views!
I am feeling great and decide I can maintain my pace for the rest of mile 3, before pushing it more for mile 4.
Mile 3: 9:26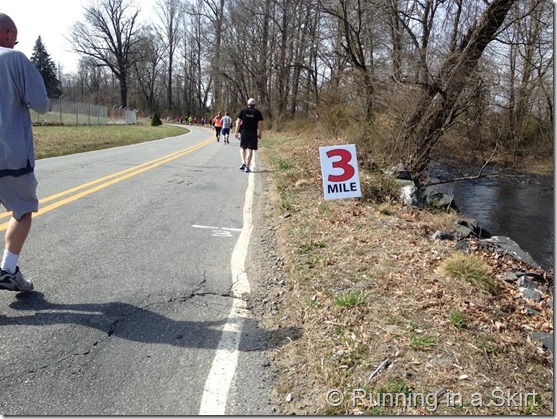 At the last half mile, I pick up my pace and then run as fast as I can for the last half mile.
Before no time, I'm turning back to Oskar Blues. The course is a big loop, so it's easy to see how close you are to the end.
I sprint to the finish and…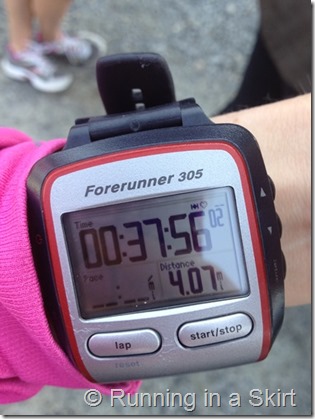 Mile 4: 9:11
Last .07: 8:12!
I finish in 37:56! My GPS watch said the official course is 4.07. I didn't weave much and tried to "run the tangents," but races always seem to be longer than the official length.
Jaime comes in just a very short time after me! She had a great run too.
We wait by the finish line to cheer on a couple friends…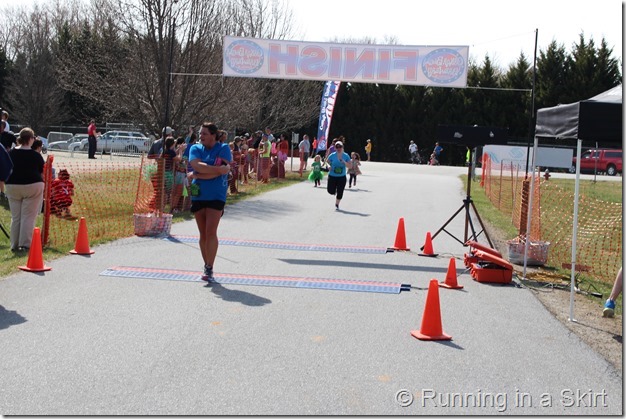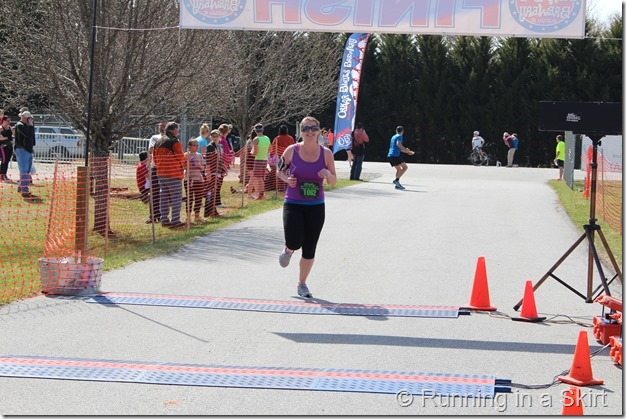 Everyone finishes strong and had a great race.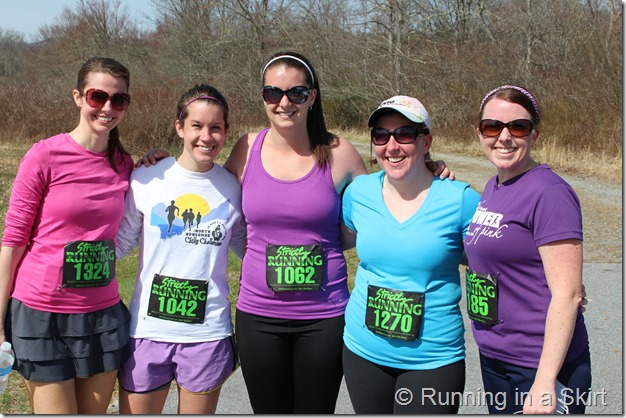 We make our way to the beer line and as a reward get a can of Oskar Blues to take home.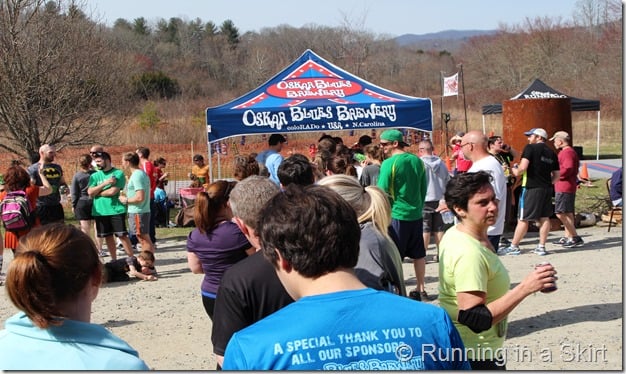 I have a lot I want to do during the day, so drinking at noon, just isn't going to work for me. I take the un-opened can home to the hubs for later (he was working Saturday-boo.) So many people were having a great time though! What a great perk for a race at a brewery. Check out these fun beer can necklaces… very festive.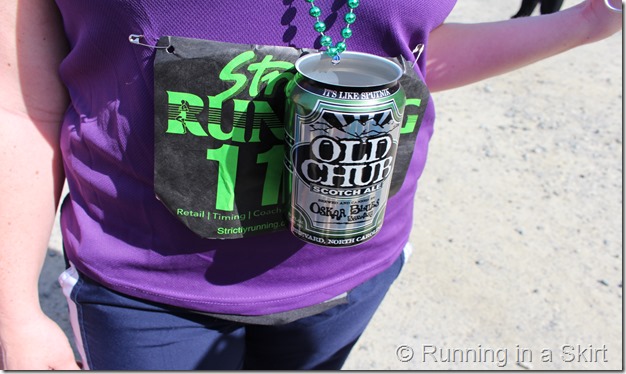 After the race there is music, snacks and awards.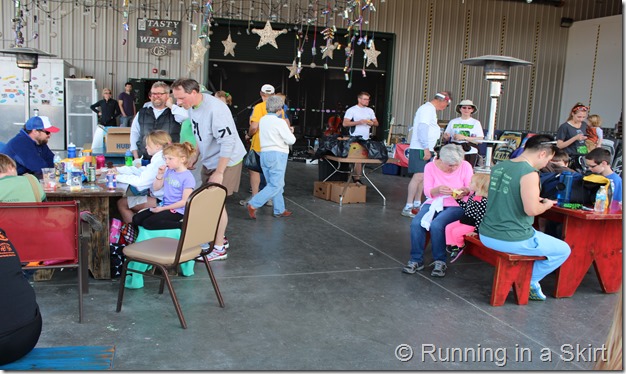 The top finishers are some really fast runners and they get beautiful handmade pottery!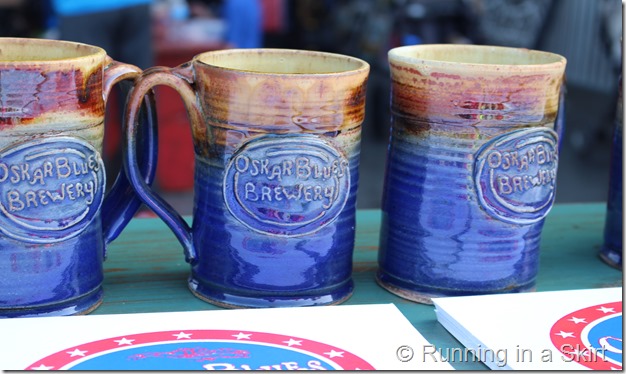 I had such a great time running this really well organized race on a super course. The 4 mile distance is a little more challenging than a 5K, but still feels fast. The mainly flat loop course with just a few mid race hills was a great challenge. The scenery was very pretty and the location of the race is perfect.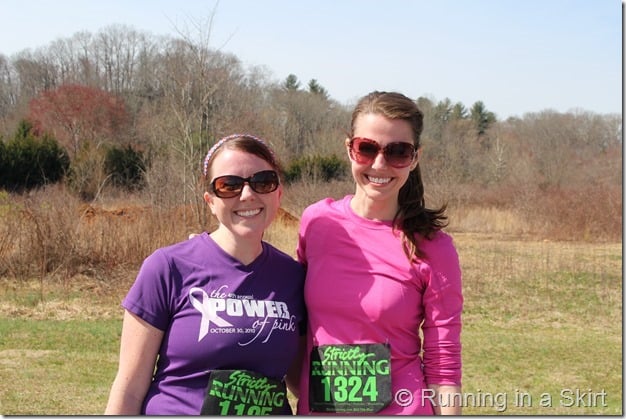 My official time came in at 38:06, but there was not chip timing to start and the start of the race was a little confusing. Either way, I am thrilled with my time because it is a good 1:20 faster than my previous 4 mile training run!
I will add this to my list of favorite races in WNC!
AND! Don't forget to check out Jaime's recap of the race too on Love, Jaime!
QUESTIONS:
Have you ever run a unique distance race?
How did you last race go?
[/fusion_builder_column][/fusion_builder_row][/fusion_builder_container]