Black Balsam hike will take your breath away with jaw dropping views. Black Balsam Knob is easy to get to along the Blue Ridge Parkway and is totally worth your drive for an afternoon of adventure near Asheville.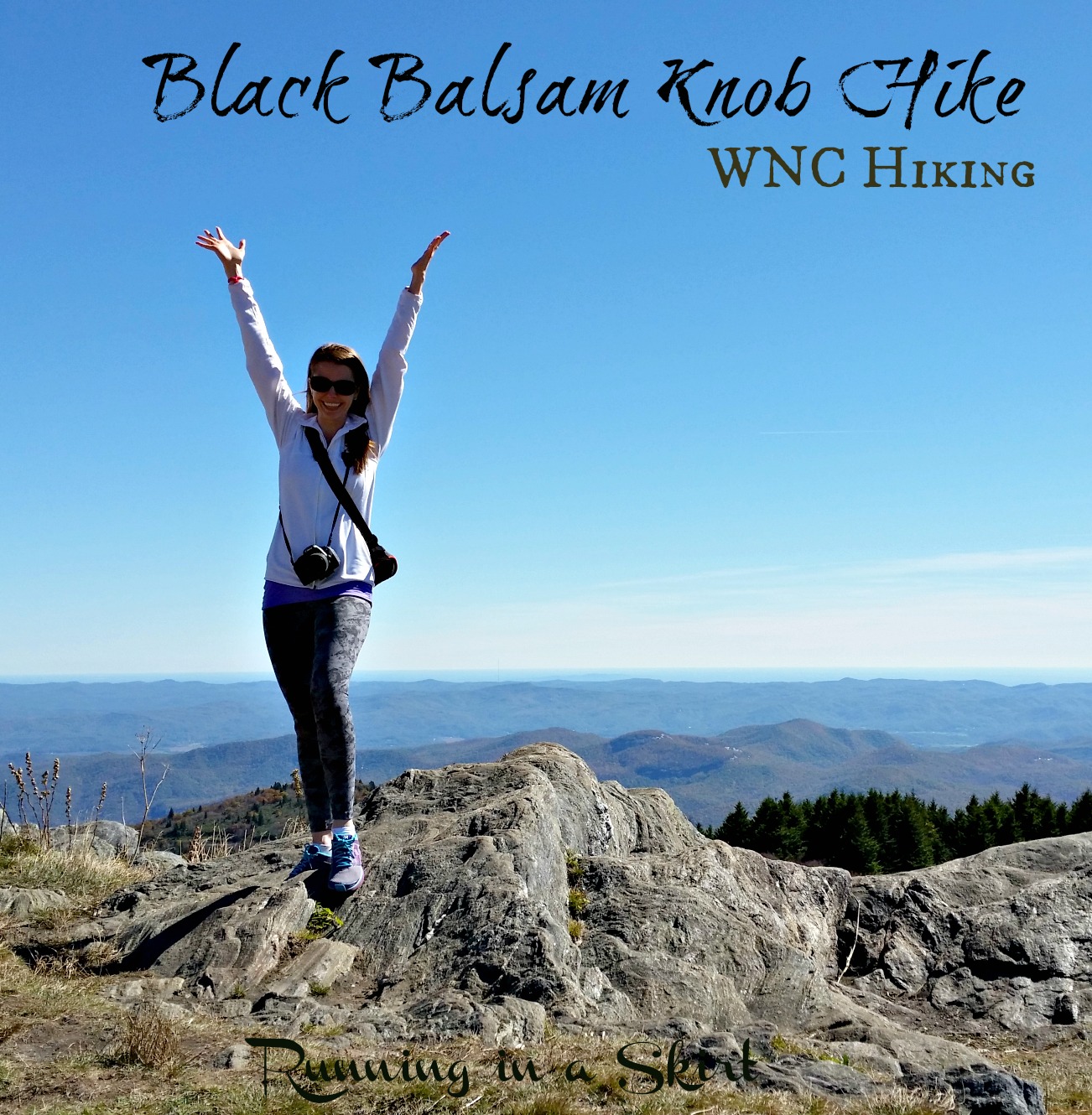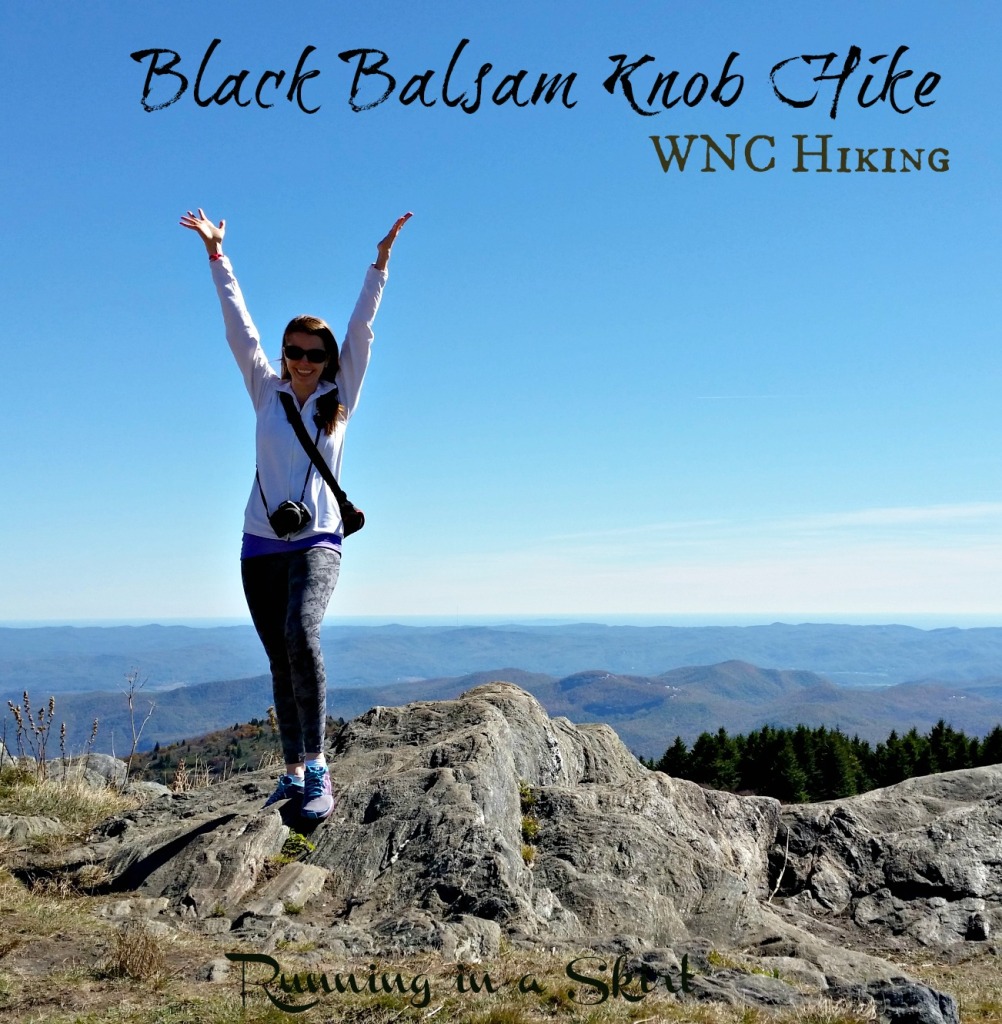 I occasionally get what I call severe wanderlust. I will wake up wanting to go somewhere and do something new and spectacular. It is a hard feeling for me to shake. Luckily I live in a place where there is a never-ending array of hikes and outdoor fun. If you look hard enough there is always an adventure in Western North Carolina.
Sunday I woke up with that familiar feeling and told the hubs… "Let's go on an adventure…" Luckily he is a good sport about my need to GO and he brought up the Black Balsam hike. We had read about Black Balsam Knob online and had wanted to go all summer, but it never worked out. Sunday it finally did!
Black Balsam Knob
We quickly pack lunch and grab our coats (we weren't sure how cold it was going to be at 6,000+ feet) and start driving up the parkway.
The hike is near Blue Ridge Parkway milepost 420.2. We turn off the parkway onto Black Balsam Road to reach a small parking area.
The trail for Black Balsam Knob is part of the Art Loeb Trail and is pretty easy to find. We arrive in about an hour, which is good time considering the parkway is packed with leaf watchers.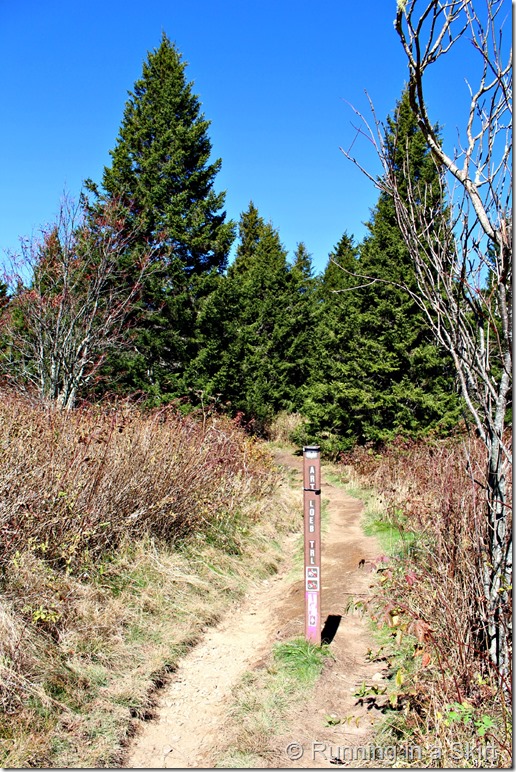 The half mile walk gains about 400 feet in elevation, so we quickly start climbing up.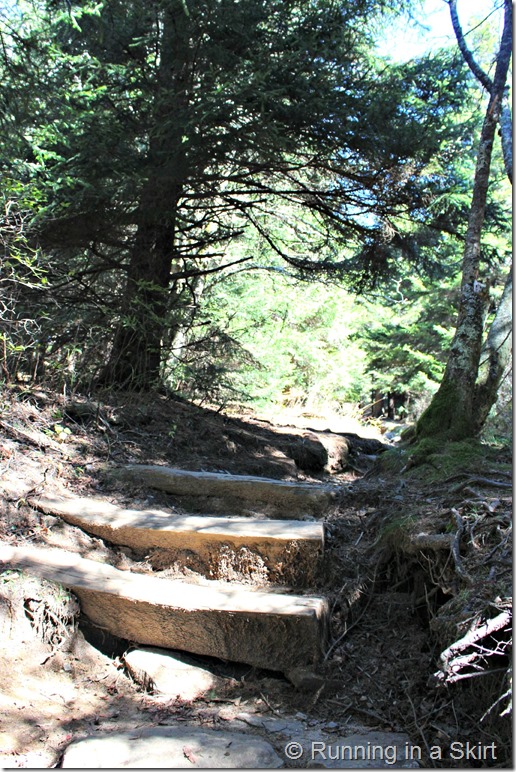 The fall leaves are entirely gone at this elevation and the mountain is very bare. There are spectacular evergreen trees.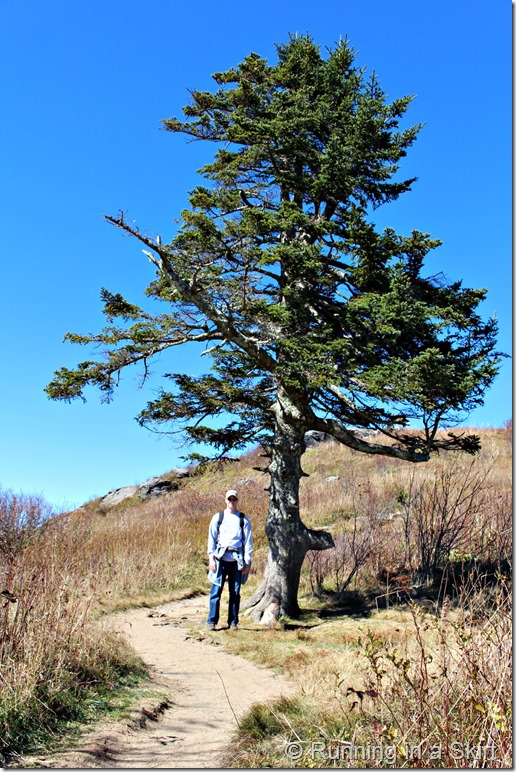 Once we climb the first summit we turn around and see what looks like a Christmas fairytale.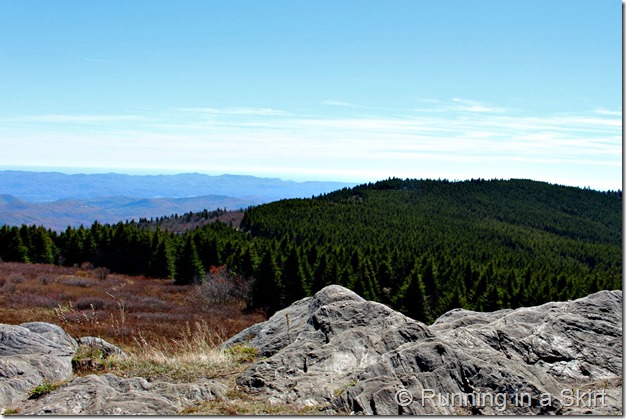 We are blown away by the beauty in such a short hike and are excited to see the rest of the views.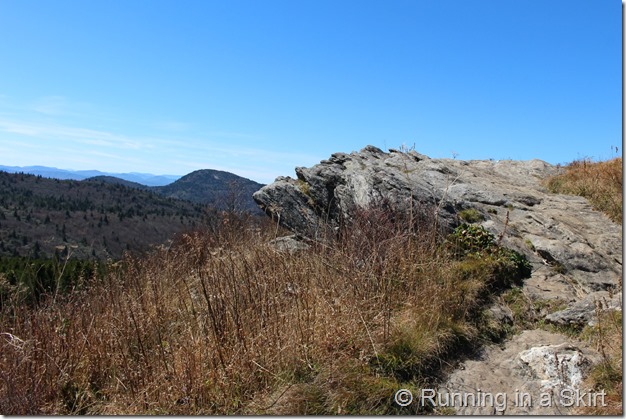 I get this feeling of being so small, which always seems to make all my problems go away. It's a similar feeling that I get at the ocean.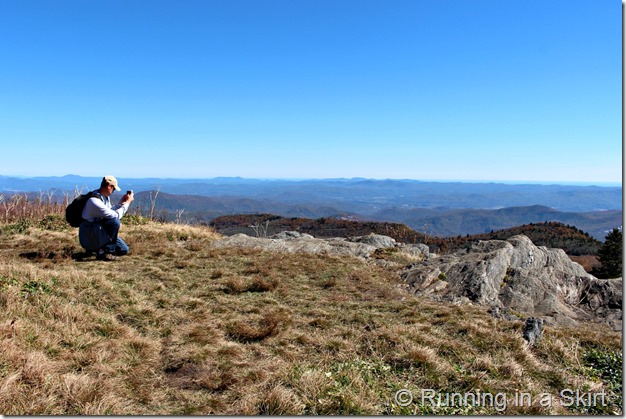 The trial intersects and other trails, but is well marked and easy to follow.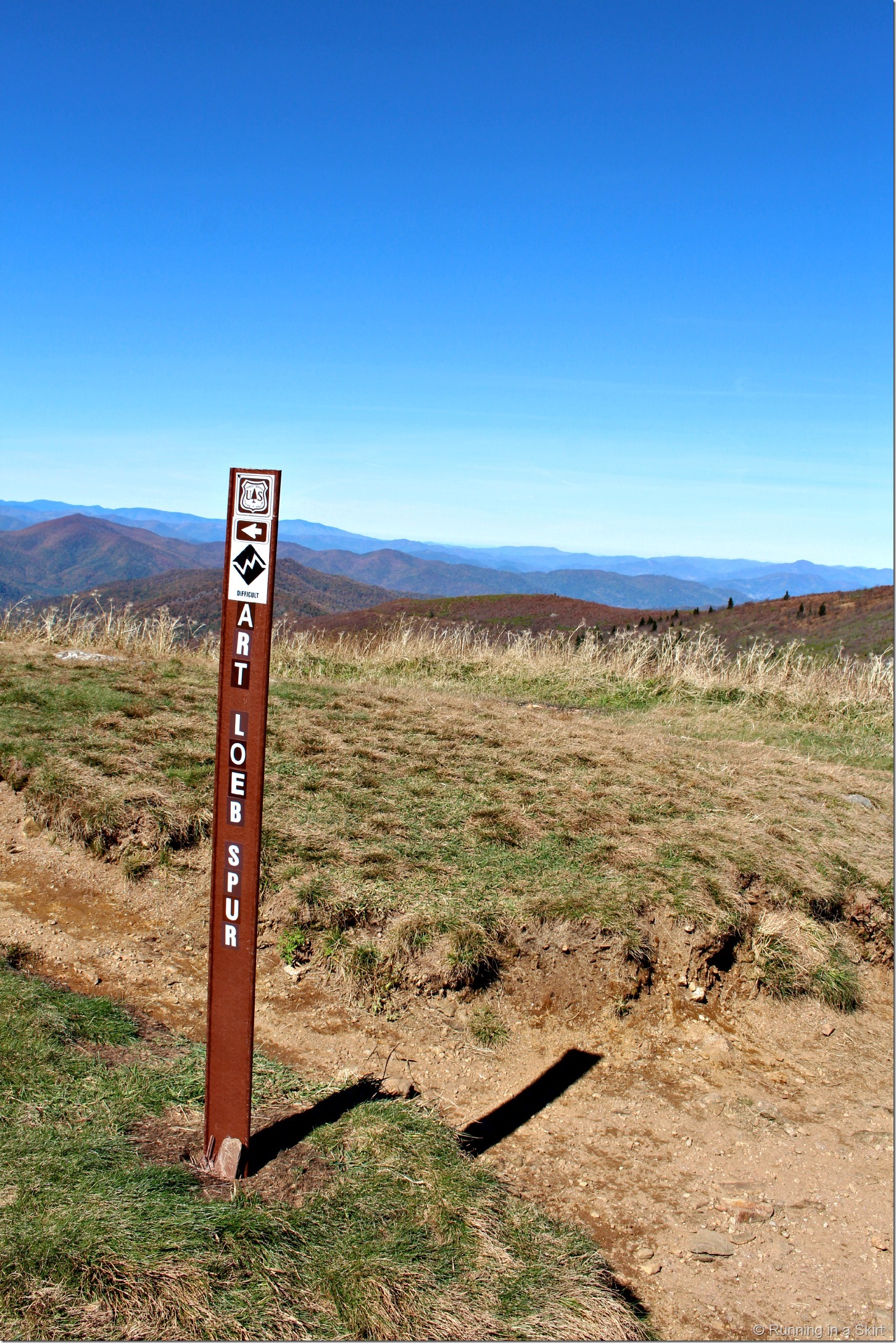 I can not imagine a more beautiful and sunny fall day to do the Black Balsam hike. It is relatively mild with temperatures hovering near 60 degrees. There is not a single cloud in the sky.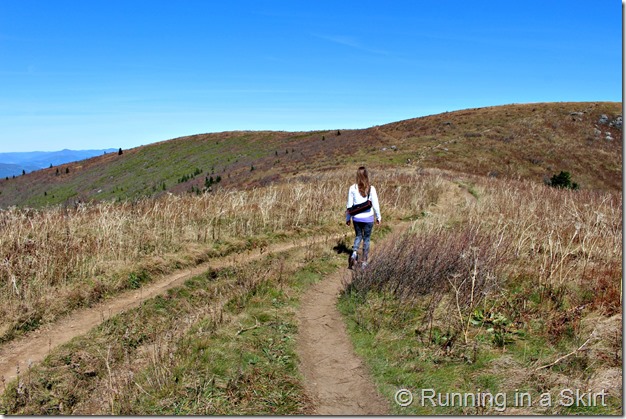 The final climb to the summit is steep, but very manageable.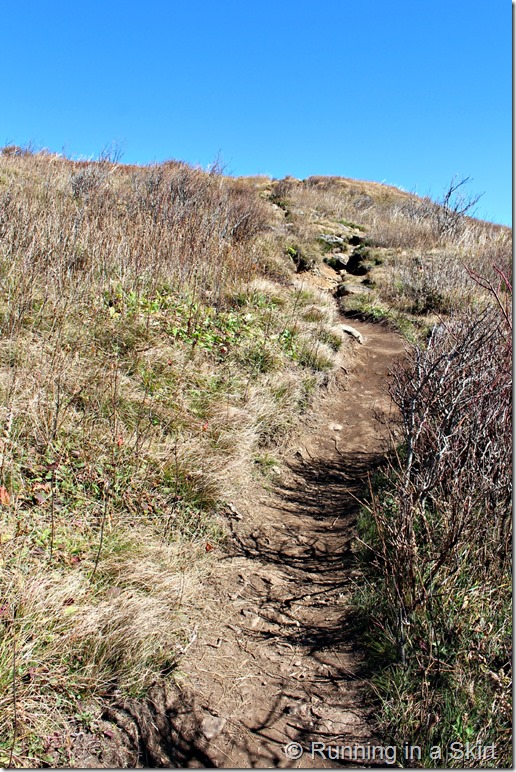 The Black Balsam hike is worth every minute! Look at these views.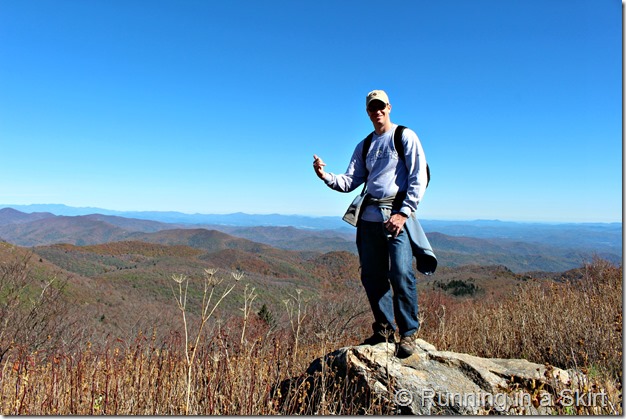 We sit on one of the rocks and enjoy our packed lunches.
I even take pictures with my tripod.
The hubs takes this one with the panoramic setting on my new phone.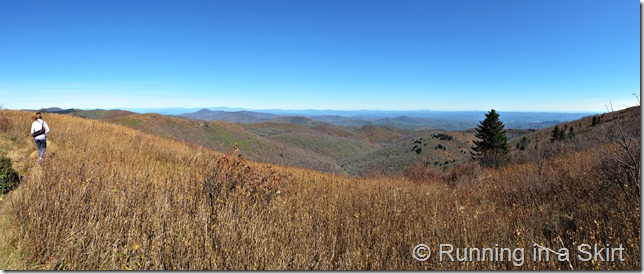 Where else can you feel like you are the queen of the world!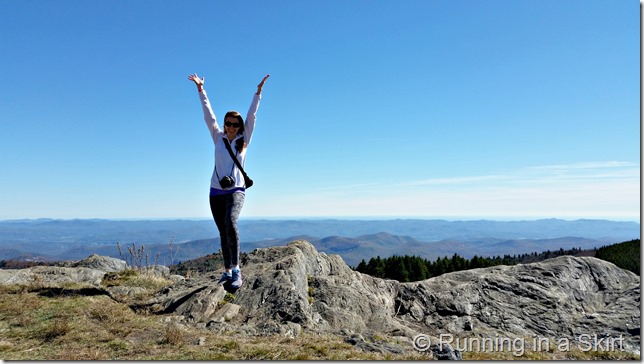 We see more people on mountains nearby so we decide to follow the trail for a bit longer to see the next bald.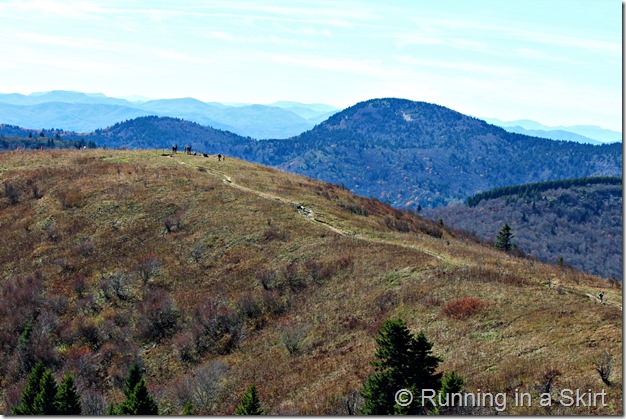 The views are equally amazing no matter where we look.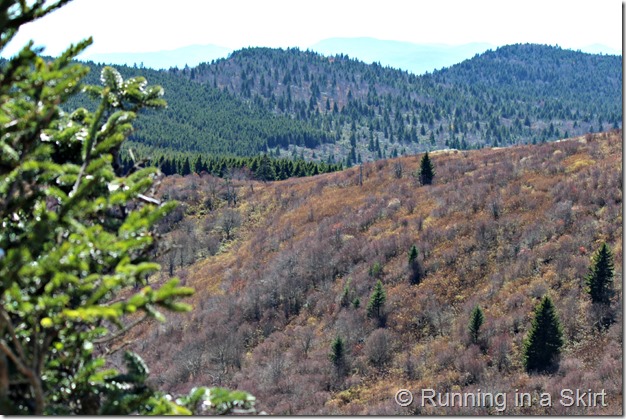 We talk about how perfect Black Balsam would be to watch the sunset. I am a little nervous about the idea of getting back down the mountain in the dark though: I guess I'm not as adventurous I thought.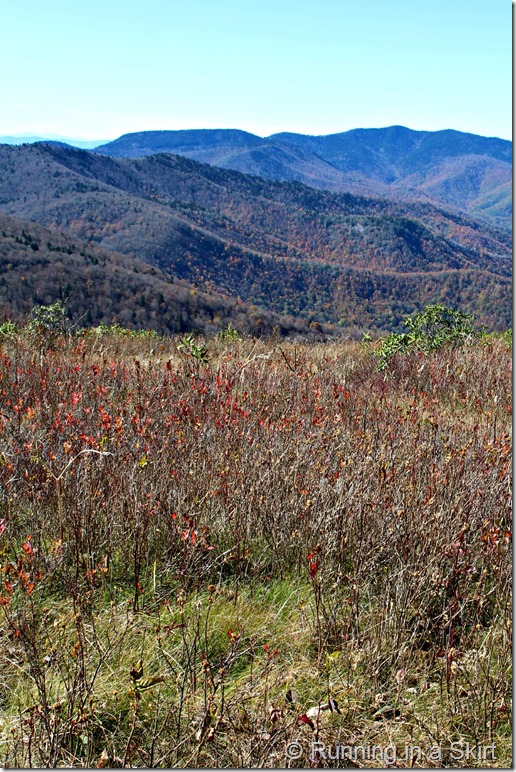 You can see for miles and miles and this is one of the best hikes with a view I have seen in WNC. Black Balsam NC is currently my favorite hike in the area.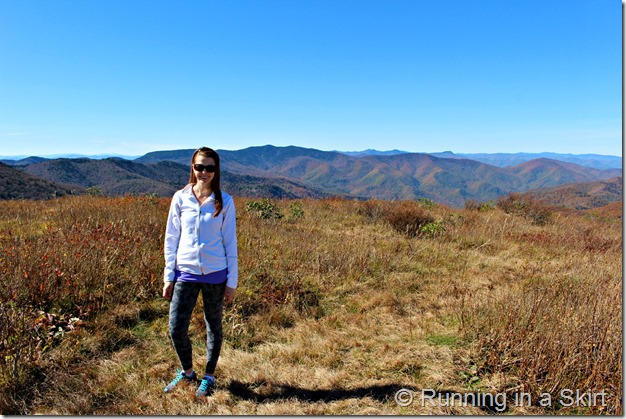 We eventually head back down to our car, but Black Balsam is a fantastic way to spend an afternoon.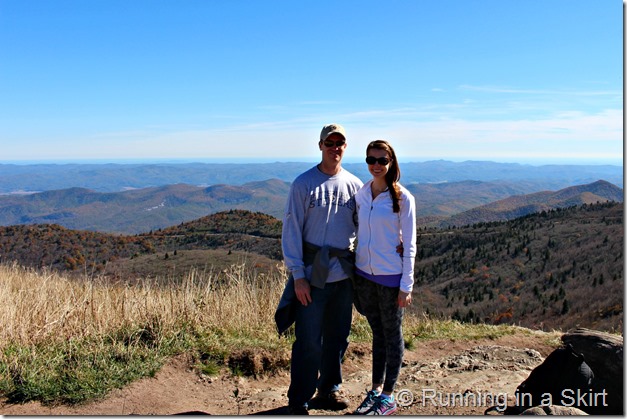 Hopefully, my wanderlust will be kept in check until at least next weekend 🙂
Black Balsam Knob Hike Logistics
The hike is about three miles round-trip, but you could easily extend that by exploring the other nearby balds.
The trial is just off the Blue Ridge Parkway near milepost 420. Look for the Black Balsam sign just south of Graveyard Fields and north of Devil's Courthouse. Drive about 7/10 of a mile down the road and look for the trail on the right. Park along the road (there will most likely be other cars) and look for the Mountains to Sea Trail marker. It is pretty easy to find.
This elevation is often much cooler than Asheville, so bring appropriate clothes.
Your turn!
Do you have wanderlust?
Do you like to hike?