My Dad came to visit last week and we hiked through DuPont State Forest and saw some of the waterfalls featured in the first Hunger Games movie!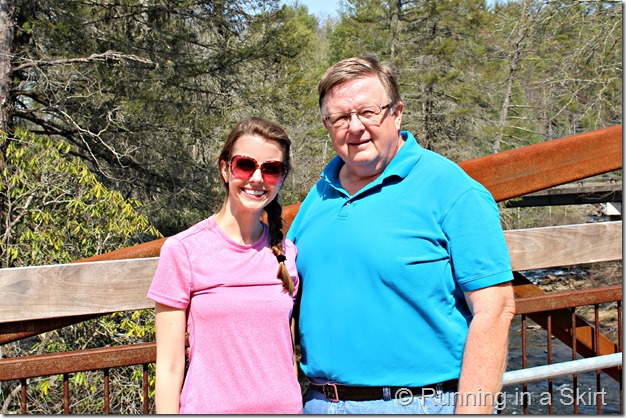 DuPont State Forest has always been one of my favorite places to take visitors because you can see three gorgeous waterfalls (Hooker Falls, Triple Falls & High Falls) in a relatively short hike. The trails are well maintained and it is a great beginner hike.
My Dad never thought he could make the hike to the falls before, so we never even tried. But recently he has taken up walking with a group in Orlando and has started to rack up some miles! With his new athletic prowess, I asked him if he would be interested in trying a mini hike on his visit. He said yes and I was so excited!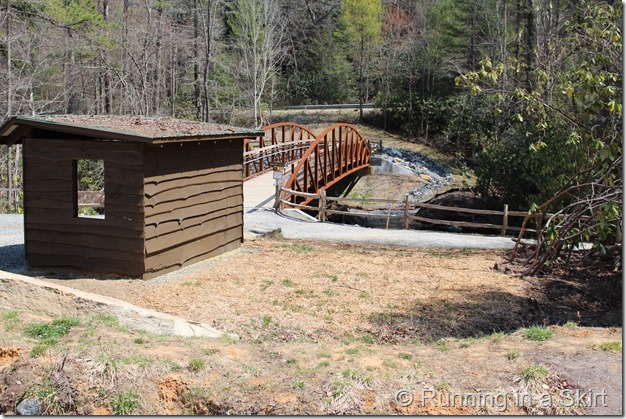 We arrive to DuPont after I got off work and decide to try to make it to at least two of the falls that are within a mile of the parking lot. Two of the falls (Hooker Falls and Triple Falls) are pretty easy to get to, but the third one (High Falls) is just a little steeper of a walk.
Before heading off we scope out the new bridge that connects the High Falls and Hooker Falls parking area. Before you had to walk along a two lane mountain road to get here, so this is so much safer. This area has been getting so much more traffic since they shot the Hunger Games here a few years ago, so it's nice that some improvements were made!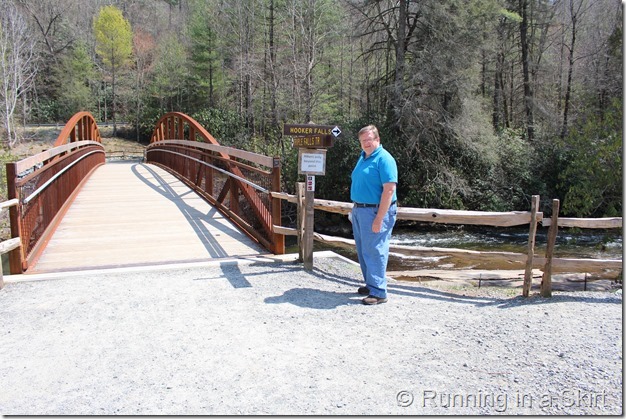 Now, Dad's walking group actually walks at Walt Disney World (one of the perks of living in Orlando!), so he is loving how different this hike through nature is. These mountains are even prettier than Thunder and Space Mountain!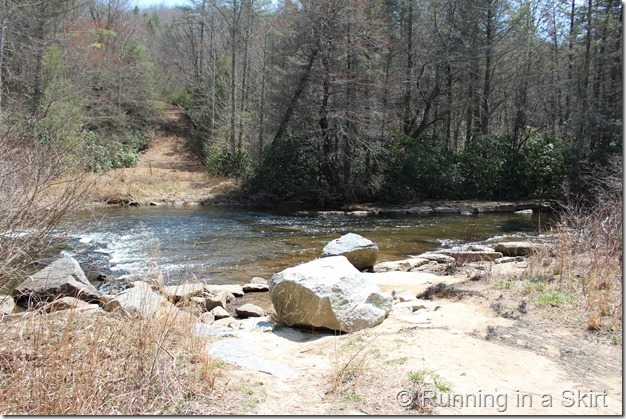 The skies are perfect Carolina blue and the crisp mountain water is crystal clear.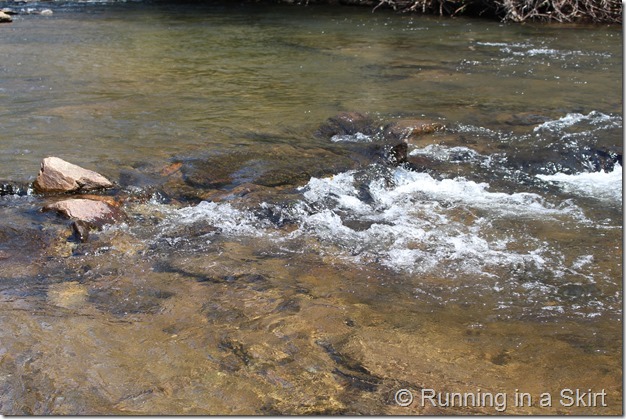 The path is well traveled and well maintained. The short hike is relatively flat and it is an easy walk. I have never done this hike in the spring before all the leaves come out, and I enjoy how different it looks.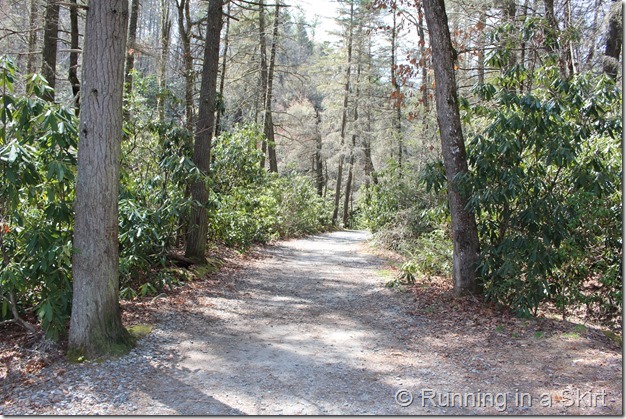 In no time, we hear and see the rushing water.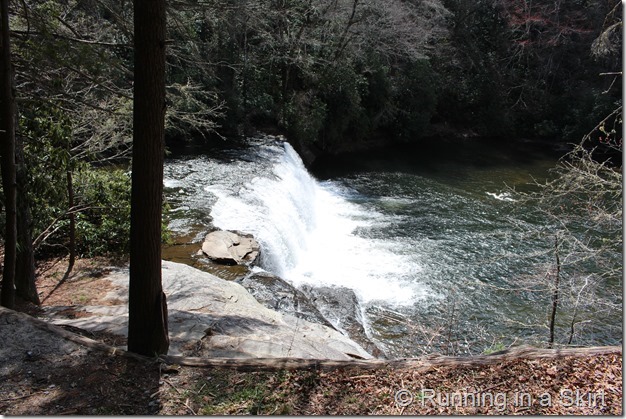 After a quick photo op, Dad says he's feeling good and would like to try to hike to the next waterfall.
We turn around and walk back to the new bridge. Our next stop is Triple Falls, which is a true crowd pleaser! I'm so excited Dad is willing to try the next one.
Along the way I can't get enough of the budding rhododendron. Can you imagine how beautiful these will be in June?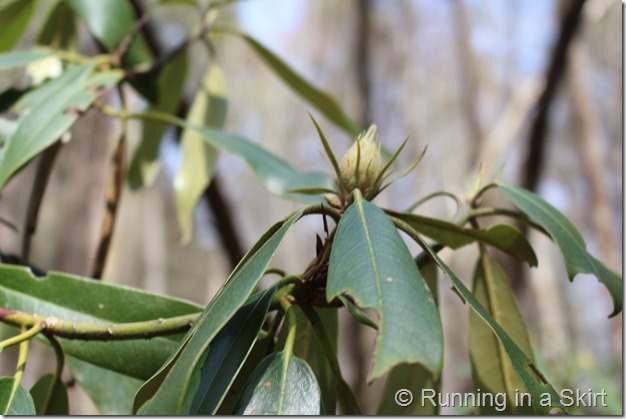 We follow another clear, but busy path along the river.
After walking for a few minutes we see the sign to Triple Falls and an ominous arrow pointing up. I explain to Dad that the next waterfall is harder to reach because of the incline up, but that it's not THAT bad. It's only about four tenths of a mile.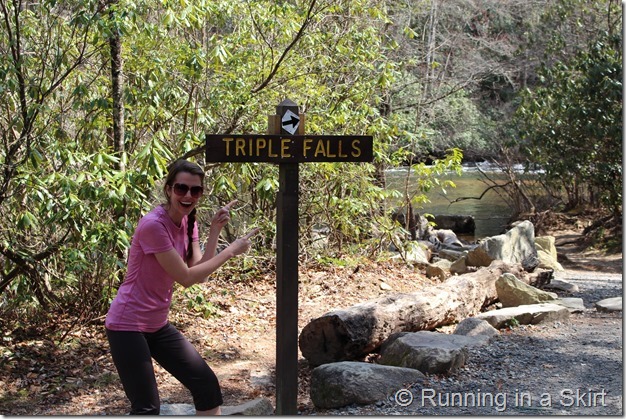 We take our time walking up the hill, taking a few rest breaks along the way. Dad is used to walking on perfectly flat Florida pavement!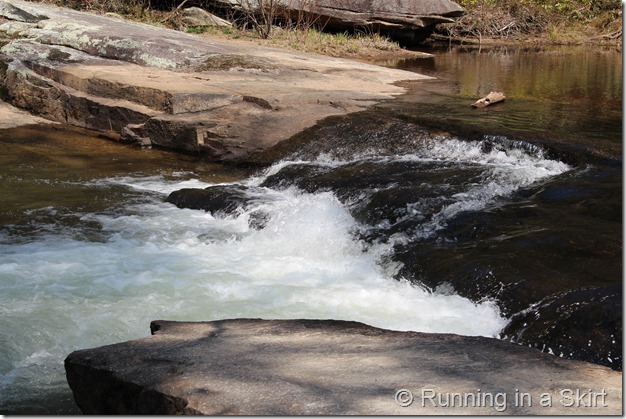 And just as the hill gets really steep, we see this through the trees.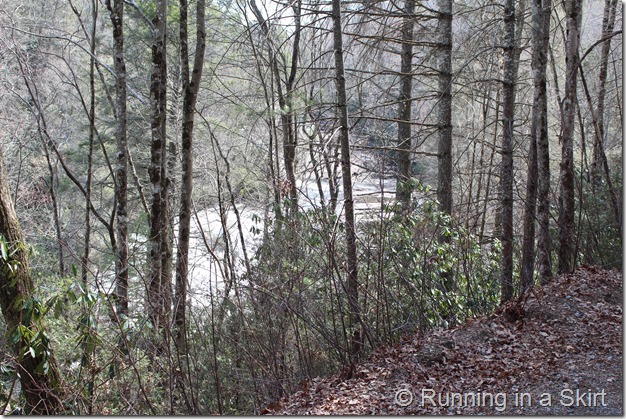 Triple Falls is simply stunning. The short hike has a great pay off with views like this.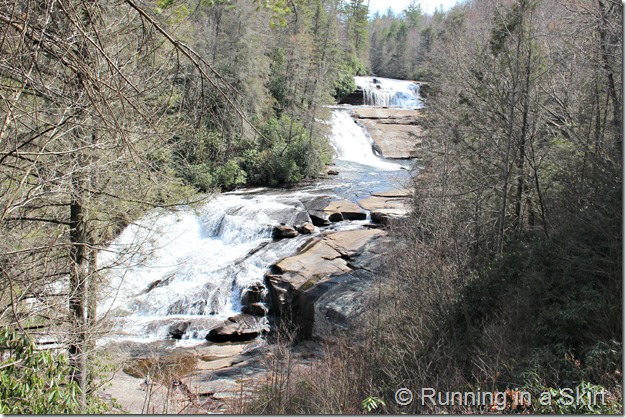 This is one of the areas they used for the Hunger Games.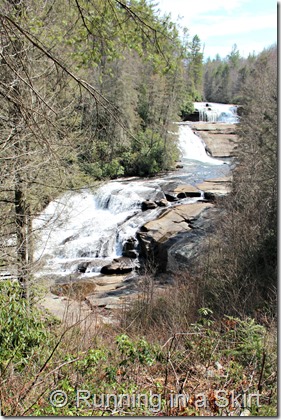 Dad and I pose for some photos and take in the views.
We talk about trying to reach High Falls, but I know the trail gets much rockier and steeper as it goes along so we decide to try another day. I think Dad could really benefit from a hiking stick!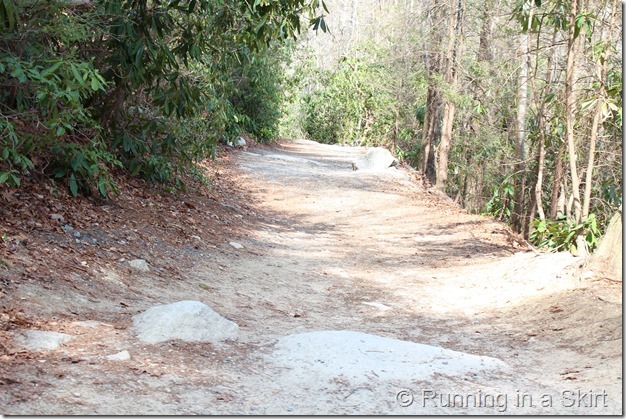 We head back down and back to the parking lot. The hike ends up being about 1.60 miles, which is AWESOME for my Dad!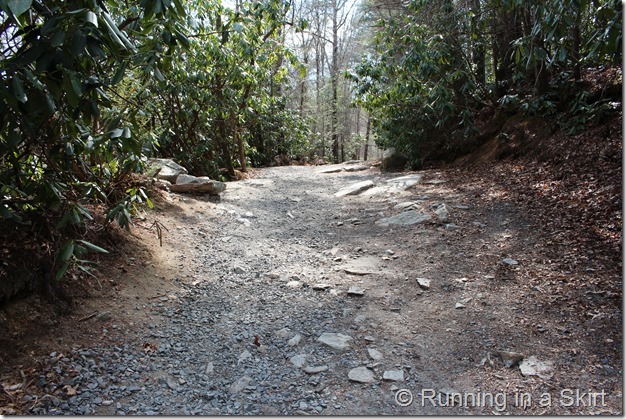 We both had a great afternoon enjoying the beauty of the mountains! I am so proud of my Dad for finishing a hike to TWO waterfalls. I love living in a place that you can see things like this in an afternoon after work! I am so lucky.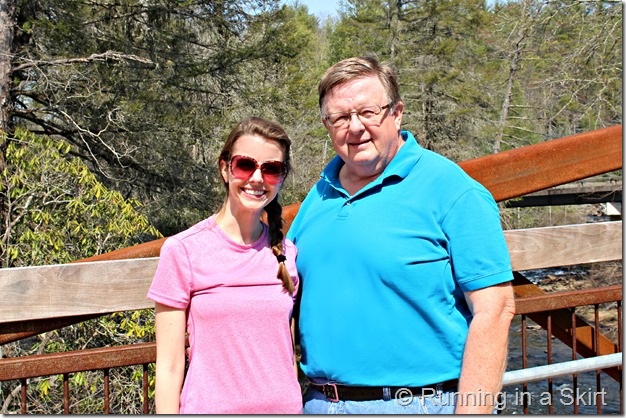 And just one small note on waterfalls…
Safety note: Every year at least one person gets hurt or killed on a Western North Carolina waterfall because they don't respect how dangerous they can be. Please don't climb on the wet rocks or to the top of the falls. Enjoy them from the bottom!!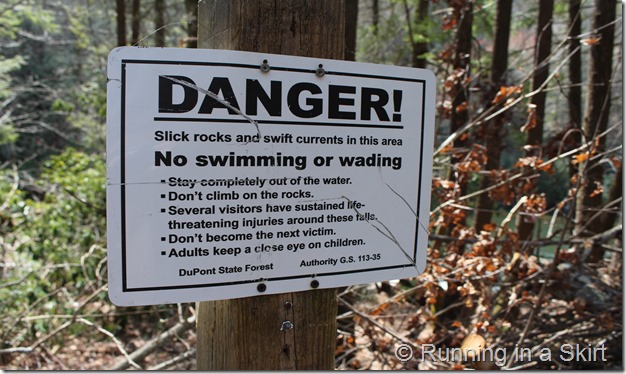 Directions from Downtown Asheville: Head East on I-26 East to exit 40 (Highway 280/Airport Road) toward Brevard. Take a right on 280 and keep driving about 16 miles. You'll drive into Brevard. Turn left at US-64 past the Walmart. Go East on US-64 for 3.7 miles. Turn right on Crab Creek Roast and keep driving about 4.3 miles until you hit Dupont Road. The parking area for Hooker Falls is about 3.1 miles down the road. The parking area for High Falls and Triple Falls is just past that. Parking can get crowded on busy weekend days.