The Conquer a Cove 5K has always been one of my favorite local races, probably because I made this promo for the race several years ago.
http://www.youtube.com/watch?v=NX_LrqpPB2Q
And guess what? Sunday I actually felt like I ran that fast!
It was one of those perfect racing days. The temperatures were hanging just below sixty degrees and there were just enough clouds to keep it cool, without it feeling dreary.
I met Estee and her adorable daughter, Keira, just before the race.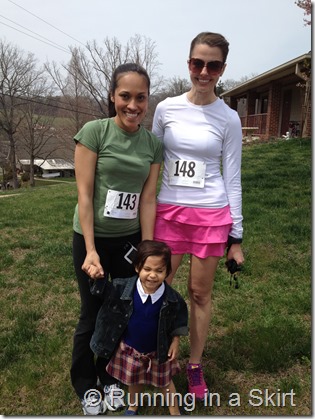 Estee's husband Ryan also came to watch Keira while we ran. I seriously can't get enough of how adorable their little girl is. You can follow their family blog at The Felten Notebook.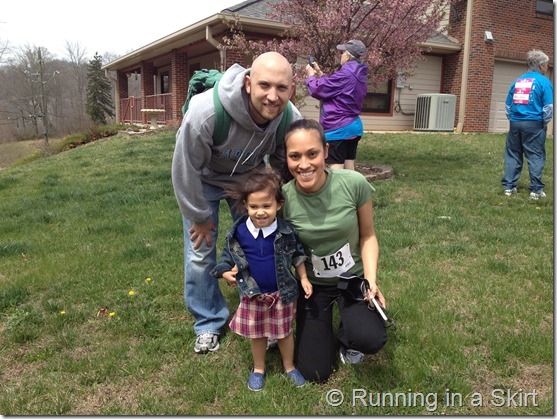 The race is held on the campus of Mount Pisgah Academy and the course is filled with almost constant rolling hills. None of the hills are too bad, but there are lots of them.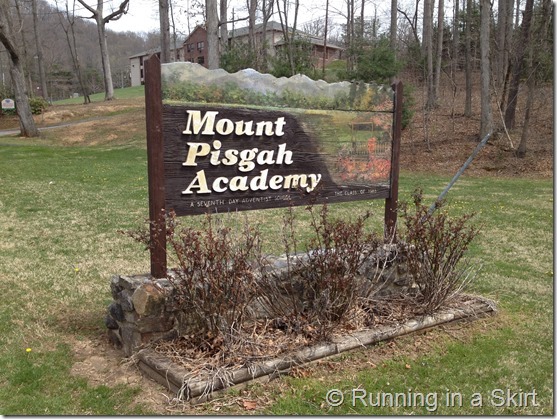 Conquer a Cove supports the Hope Chest for Women, which is local agency that raises money for women with cancer. The fund helps cancer patients pay for all the incidentals you have to buy with a cancer diagnosis, that are not covered by insurance. Many people doing the race run or walk in memory or honor of someone who has battled cancer. The most powerful part of the day is when survivors themselves cross the finish line.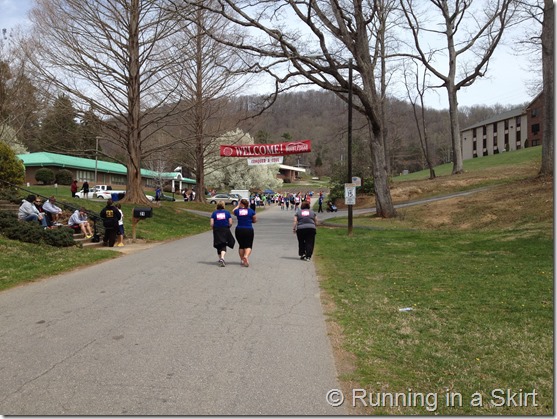 The theme of superhero's resonated with many runners. I especially LOVED these ladies socks! They told me they also make Wonder Woman versions of these, which I obviously MUST look into. Notice the capes!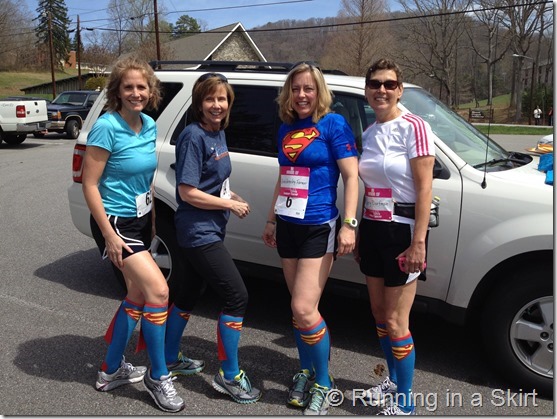 The race starts at the top of a hill, and just before two everyone gathered to start the race.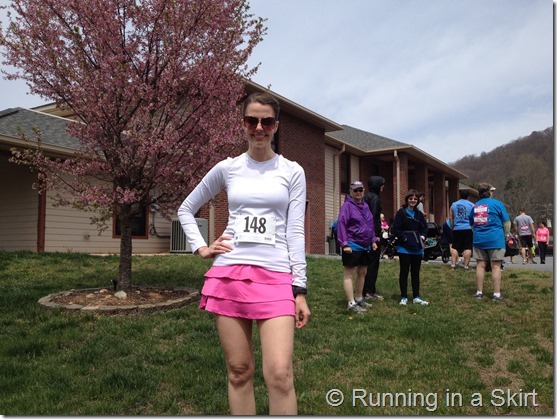 **New running skirt via Marshalls!!! $15!!!**
Organizers asked me to say a few words before the start and introduce cancer survivor Debra Cottem. I wish I would have had a little more time to prepare some thoughts, but I did the best I could! I have so much respect for women that battle through cancer. I am just grateful that I got to play a small role in such an awesome organization.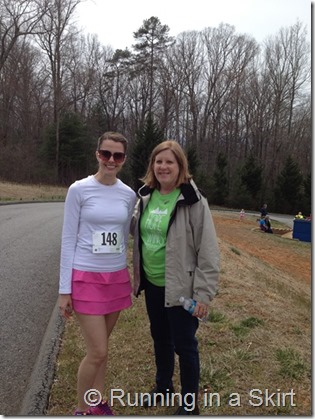 Race organizers gave me just enough time to rejoin the race pack before the gun went off to start the race. I was holding my phone because I typed a few notes into it, but couldn't get it back in it's running holder. I found myself starting to run, while still fiddling with my phone. I couldn't get it in the pouch, so I just ran with it in my hand.
The start of the race went down a hill and onto a grassy field on campus. The course weaved around the field and it was a fun way to see all the runners and walkers at one time. I normally hate running on grass, but I didn't seem to have any trouble Sunday.
Before the race, I wasn't sure if I was going to have a good running day or not. My voice had been bothering me and that normally means I'll have trouble breathing, but in this case I seemed to be breathing fairly well for me.
The course turned off the grass and started to have a more rolling hill feel. I focused on my leg turnover and breathing.
Mile 1- 9:02 (Holla!)
The second mile felt more difficult with more uphill. In fact at one point I believe there was an almost four tenths of a mile uphill stretch. Ouch! I felt my time slipping off, so I focused and pushed my turnover on the uphill's. I am positive that my new hill training helped me keep my time up!
Mile 2- 9:11 (YES!)
The third mile I was still feeling good and was determined to keep my pace. I felt like I was running pretty close to PR pace for me and I didn't want to loose that. I started recognizing the end of the course at about 2.5 miles, so I kept my pace and tried to catch up with a few people in front of me. The last tenth of a mile flattened out, and I felt someone right on my heels, so I sprinted to the finish!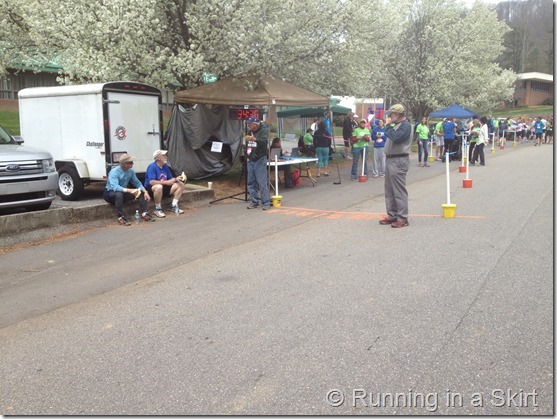 Mile 3- 9:00!!!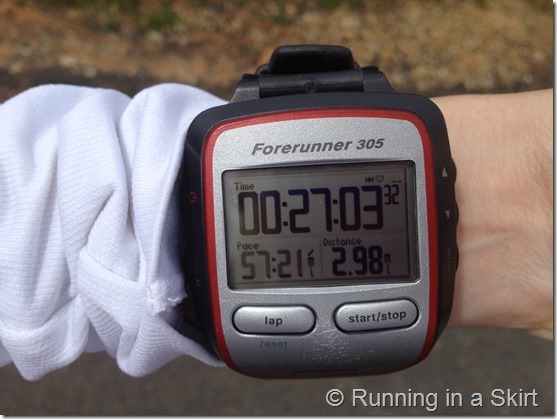 Official time 27:03! Now this time is actually a PR for me, but technically the course was short, so I'm not sure it really counts. My running my rules though… SO PR time!!!! I'm doing a happy dance!!!
The last time I ran this race a few years ago, my time was 28:44, so whether this is technically a PR or not, that alone is a huge improvement.
I walked for a few minutes to cool down and got a bunch of grapes as a post race snack! They had a great table set up with granola bars and lots of fresh fruit.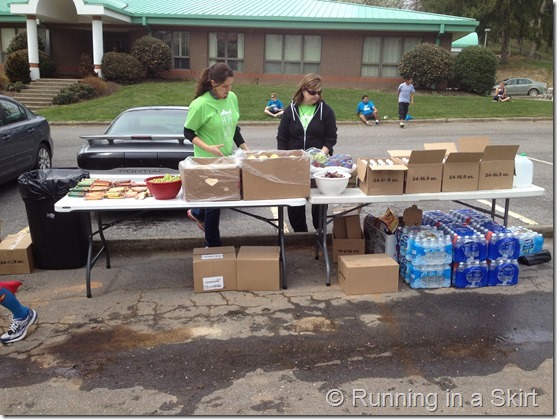 Soon after Estee and another friend Teresa crossed the finish line. Teresa had a strong race and Estee finished the entire 5K without walking, which is a first for her! That is a huge accomplishment! Estee also ran in honor of her Grandmother who SURVIVED cancer 20 years ago, so it was a very proud moment.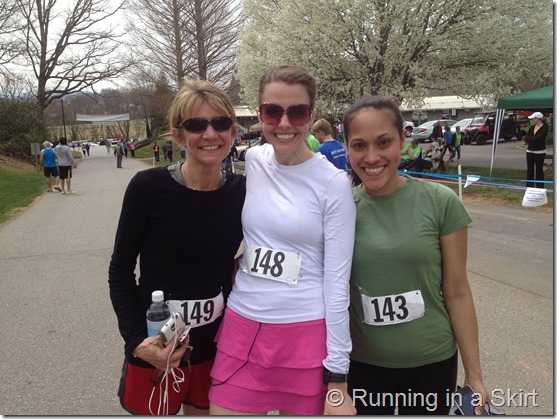 The snacks were just one nice race perk, they also had this awesome blow up bouncy house and slide for the kids.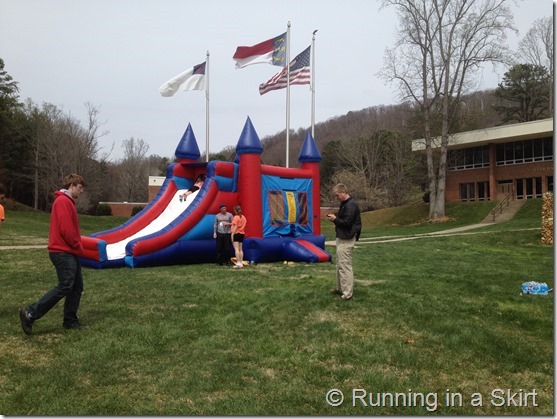 I decided to stick around for awards, which were in this nice gazebo. This really is a beautiful campus.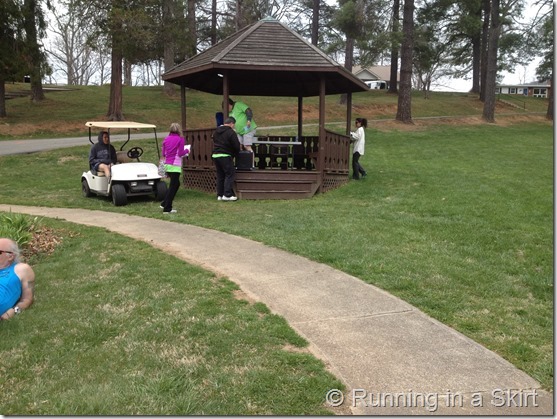 AND…. I'm so glad I decided to stay because I won 2nd place in my age group!!!!!!!!!!!!!!!!!!!!!!!!!!!!!!! (Sorry for the gazillion exclamation points, but that's how excited it was!!)
I was on cloud 9 with a nice new shiny medal to add to my medal hanger! What a great way to end a weekend. Life and running is good, my friends. It is good.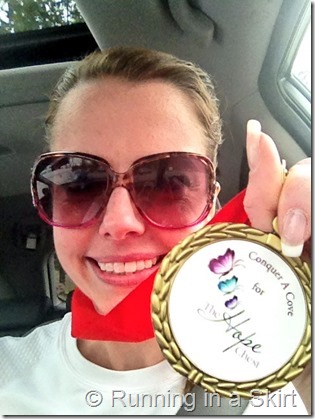 Here's to breaking into 8 something minute miles in the 5K! I'm so close I can taste it.
Your turn?
Have you ever placed in a race?
Any advice to for me to break into 8-something minute miles?
[/fusion_builder_column][/fusion_builder_row][/fusion_builder_container]