April races in the mountains are so beautiful, and Run for the Paws 5K has become somewhat of a tradition for my group of friends.
We are all huge animal lovers and this race supports one of our amazing local rescue groups, Brother Wolf Animal Rescue.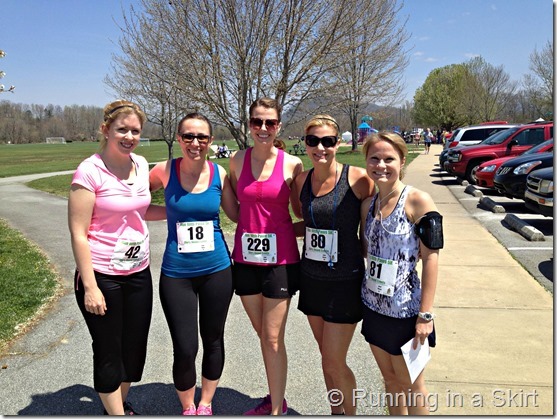 Marilyn, Sara, Holly, Tess and I are so happy to be out in the sunshine!
Oh… and I can't forget about Gizmo and Cody! Sara's dogs came with her hubby Chris. They don't run (It's a dog friendly 5K,) but they do go to the "Waggin Wellness Fair" and got puppy "pawdicures."
heh. heh.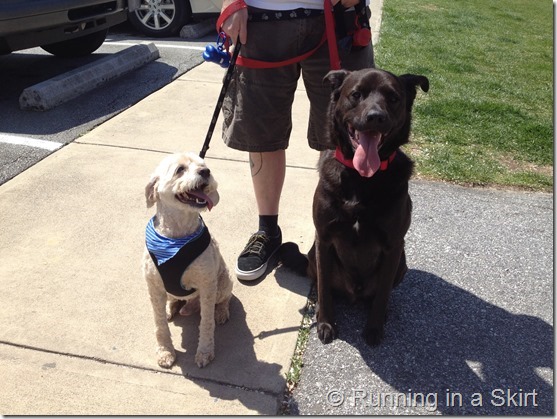 The rest of us leave our dogs (and cats!) at home because they don't do well in big crowds like this. Rhett likes to act like a Doberman and Reina can get scared. Neither of them can run at all. Sigh. High maintenance dogs!
The whole set up this year has really expanded and is so nice! The fair before the race has around a dozen booths with animal related products and groups…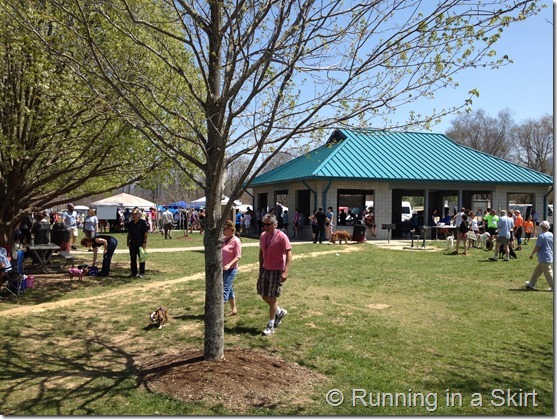 … A band…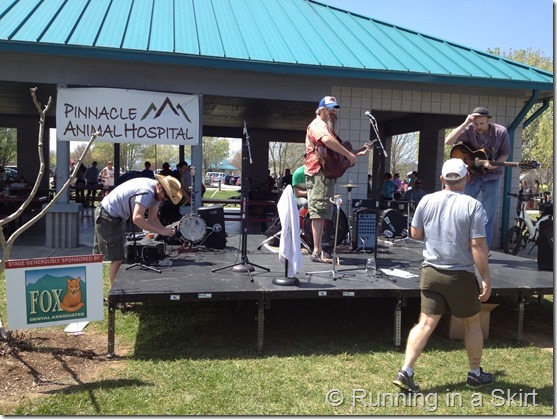 … and PUPPIES!!!!!!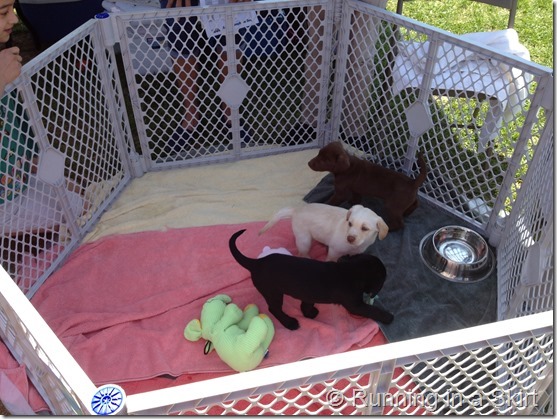 Did someone say puppies??? Do you get why we love this race now?
The race is held at Fletcher park, which is as flat as a pancake for the mountains of Western North Carolina!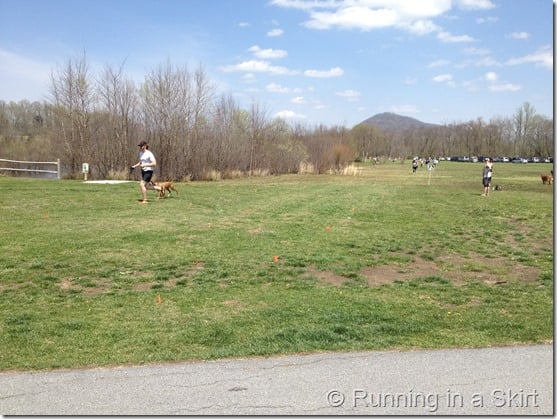 You may remember I ran a great race last weekend at Conquer a Cove (27:03) and was so close to my long term 5K time goal of 26:59. I was pretty excited all week that I could use this flat race to my advantage and finally squeak those last few seconds off my time.
Well, I never imagined it would be a blazing hot (for running) 78 degrees in direct sun with no shade. At all. Really April? I had hardly run in anything warmer than 60 degrees all year.. It takes my body a while to get used to the warmer weather when spring rolls around.
I question whether I should just run with my friends for this race and not even try to get the PR because of the warm weather, or whether I should just try to ignore the heat and go for it.
My desire to hit my goal time wins over, and I decide to go for it.
The gun goes off and I start running through the grass to the sidewalk. The first mile is a big loop around the park. I'm dodging a few dogs and chuckle when one dog stops to relieve himself about a tenth of a mile in. #dog5Kproblems
I'm feeling pretty good and aim to keep my pace just below a 9 minute mile.
Mile 1: 8:52
Mile 2 immediately feels harder. I notice my breathing is strained and I struggle to keep my legs turning over. In the summer, Fletcher Park's greenway path is shaded and I was expecting mile 2 and 3 to be a little cooler. I don't account for the fact that so few leaves have grown in yet this spring, so it was pretty warm with no shade.
As much as I tried, I slow down.
This cat mocks me…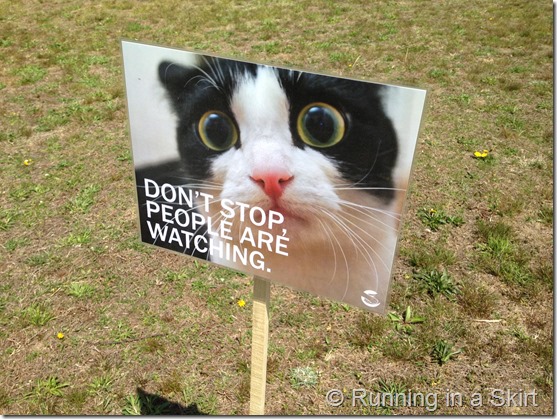 They put funny signs like this all along the course, they were pretty cute, and a really nice touch.
Mile 2: 9:42
Mile 3 I am struggling. I have to push just to keep my time below a 10 minute mile. I seriously consider stopping and waiting for my friends to finish with them. I think the mental game of the race and the heat that I wasn't yet used to gets the best of me.
Mile 3: 9:54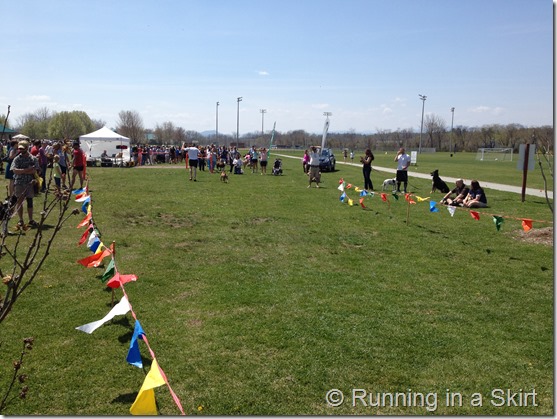 I sprint to the finish and felt a little lightheaded. It's crazy how temperature can effect your running game.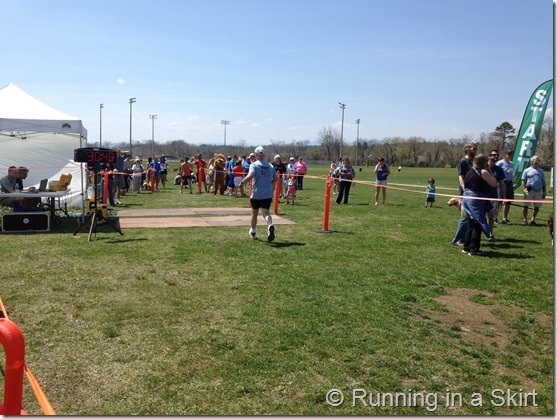 Final time: 29:42, Pace: 9:30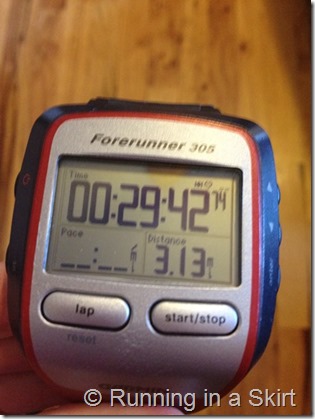 Not a terrible race for me, but not what I was going for at all! I sort of wished that I had just run with my friends. I try not to second guess myself though.
I walk around to the end of the course and wait for my friends. This was Sara's first official 5K and we are all rooting her on for her goal of running the whole race.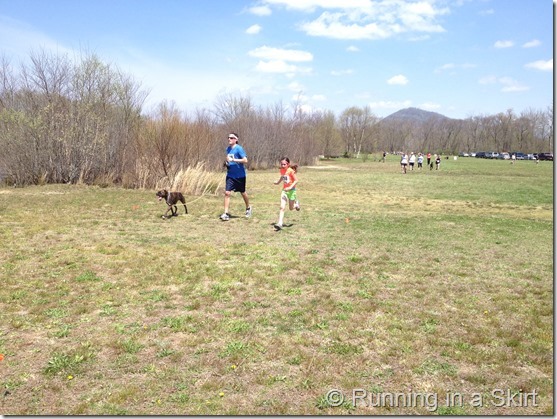 Before no time I see them in the distance and start cheering!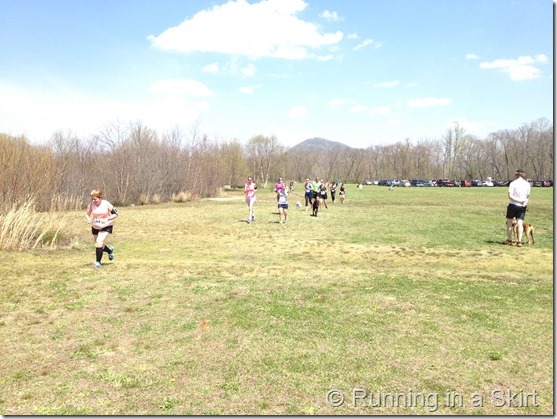 Sara and Holly finish strong! Holly stayed with Sara the whole race and would not let her stop! She is such a great friend!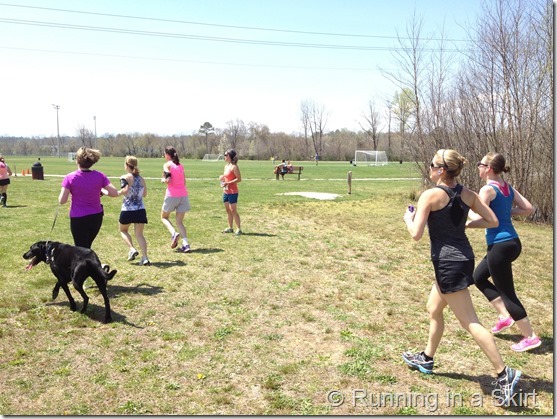 We were all so proud of Sara! Running an entire 5K is an amazing accomplishment.
As a reward we went to gush over the puppies again!
aaaaawwwwwwww…….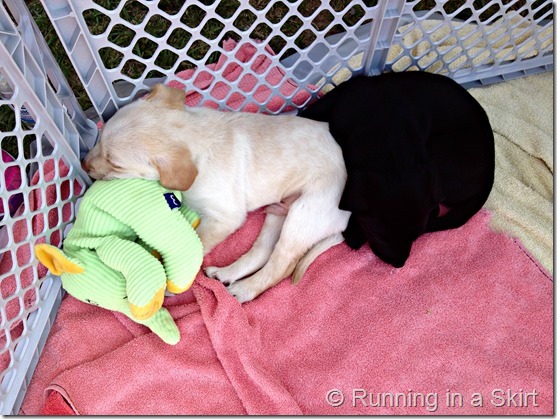 Puppies make everything better.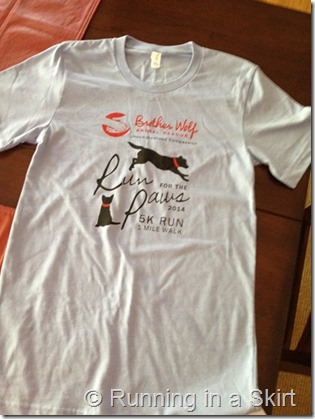 Despite not hitting the time I wanted, I had such a great afternoon at Run for the Paws. This race may not have been my goal race, but sometimes running is about a whole lot more than just the time.
Your turn…
Have you ever made an alternate race goal because of weather conditions not being great for running?
When did you run for first entire 5K?
I didn't run an entire 5K until my 4th race![/fusion_builder_column][/fusion_builder_row][/fusion_builder_container]