Thank you all for your love, support and excitement over Monday's big announcement. I totally underestimated how exciting announcement day would be and offically got nothing done Monday other than reading all your kind notes over the blog and social media. I read them all and they all mean so much. You guys are important to me and I'm so glad the secret is out. There were many moments over the past five years where I doubted I'd ever get to share such amazing news with y'all and it honestly feels beyond surreal to say it out loud. We know our world is about to change and we could not be more happy for our instant family!
I'm planning on sharing pregnancy updates every few weeks to every month depending on how things are going and whether there is anything interesting to share. For today though, I thought I'd get you all caught up to how the last 15 weeks have been going. It is so terribly hard to keep such a big secret and I'm so happy to finally get to share. As I mentioned yesterday our due date is officially December 9th, but our doctors have told us that twin pregnancies don't go past 37 weeks... so we are expecting the babies in November. This photo is at 13 weeks!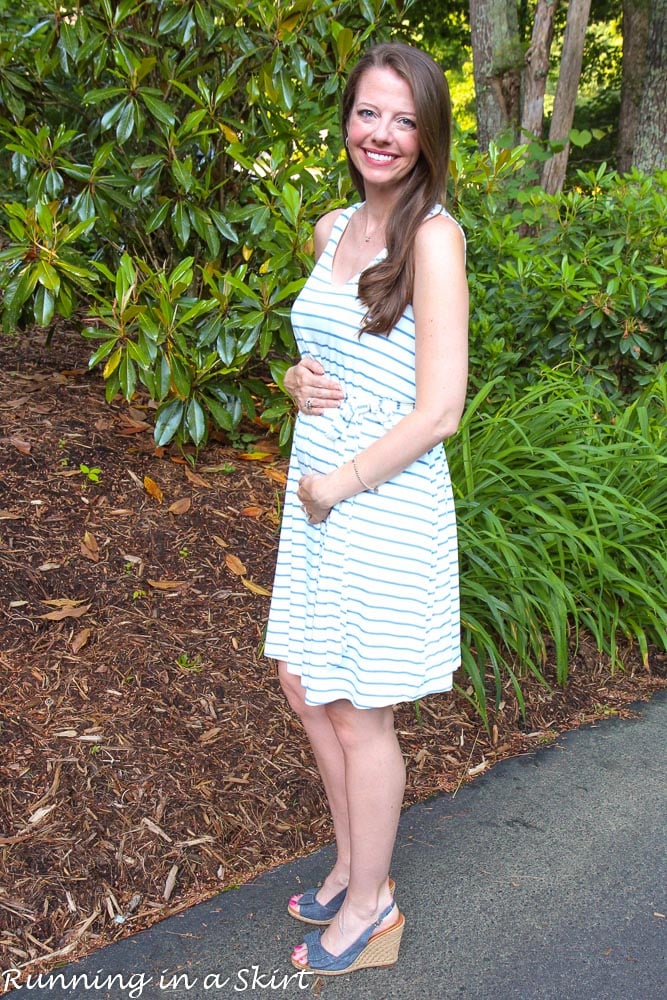 The First Trimester
How I Felt During the First Trimester...
Considering how hard it was for us to get pregnant and the fact that I'm carrying twins, I think I've had a pretty easy pregnancy so far. I've still not felt awesome, but I think it could be a lot worse, so I'm trying to take it in stride.
My biggest and most burdensome symptom has been fatigue. There were many, many days during the first trimester where it took everything I had to get off the couch. I called the Hubs and asked him to bring takeout home for dinner more times than I care to admit because by 5 o'clock the thought of cooking dinner sounded impossible. I've never been so glad to work from home because some days I felt so tired and it was nice to be able to end work early. The exhaustion has been profound. Starting just before 12 weeks I started to get a little more energy back. I still get tired easily, but it's not as bad as it was and I'm hoping it stays that way for awhile.
So far my nausea hasn't been too bad either. I've had a handful of bad days, but for the most part, I've found it goes away if I keep a full stomach. If I get hungry it comes back.
Speaking of a full stomach, I've been SO HUNGRY! I normally am not a snacker but have found myself hungry every three hours like clockwork. If I don't eat I feel nauseous, lightheaded and get a headache... so I eat! It's been kind of crazy how much food and nourishment these twins need.
I've also been dealing with some gnarly headaches just in the last few weeks that seem to keep getting worse and have been trying to figure out how to control them. I've tried more water and more protein, but if anyone has any ideas please send them my way.
How We Told Our Families
We told most of our family over Facetime. We held up one onsie to share the good news about one baby and then said we had more news and brought out the second one. The twins shocked everyone including us!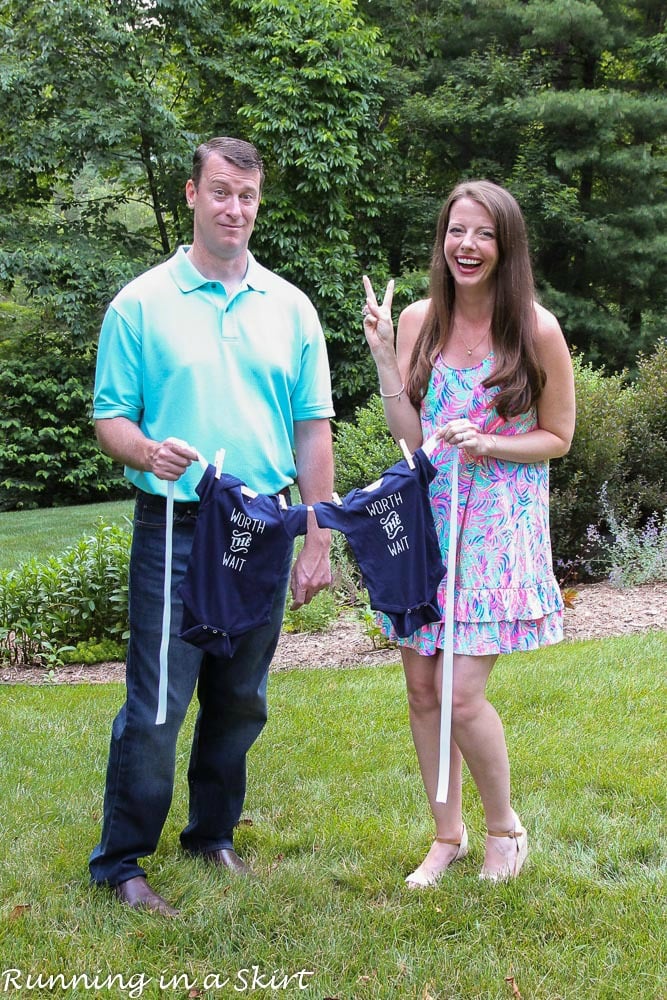 Thoughts on Having Two
I am still in slight disbelief. I've actually ALWAYS had this feeling I'd have twins and have joked about it since we started trying, but after years of failure, I thought I'd be beyond lucky to ever carry one much less two. With that being said though, we feel so special and incredibly blessed that God gave us two. We are very realistic about the challenges ahead for us and know especially in the beginning it will be really hard. We're going to try to take it a day at a time and do the best that we can... giving ourselves grace along the way. Two babies feel like the instant family we didn't think we'd ever have and although we are slightly (or a lot) terrified, we are also over the moon happy. Just thinking about it brings tears to my overly emotional and hormonal eyes!
What Surprised Me the Most in the First Trimester...
Since we had so much trouble getting pregnant, I was on couch rest the first few weeks of the pregnancy. What surprised me is that after that I slowly got cleared to return to doing most of my regular activities! We've even been able to travel, which has been wonderful. (Don't worry, we checked and asked a thousand times to make sure it was ok before we went!) So far the babies have been to Hilton Head, Ohio (for my Grandfather's funeral,) Highlands, Destin, Atlanta and the Hammock Coast!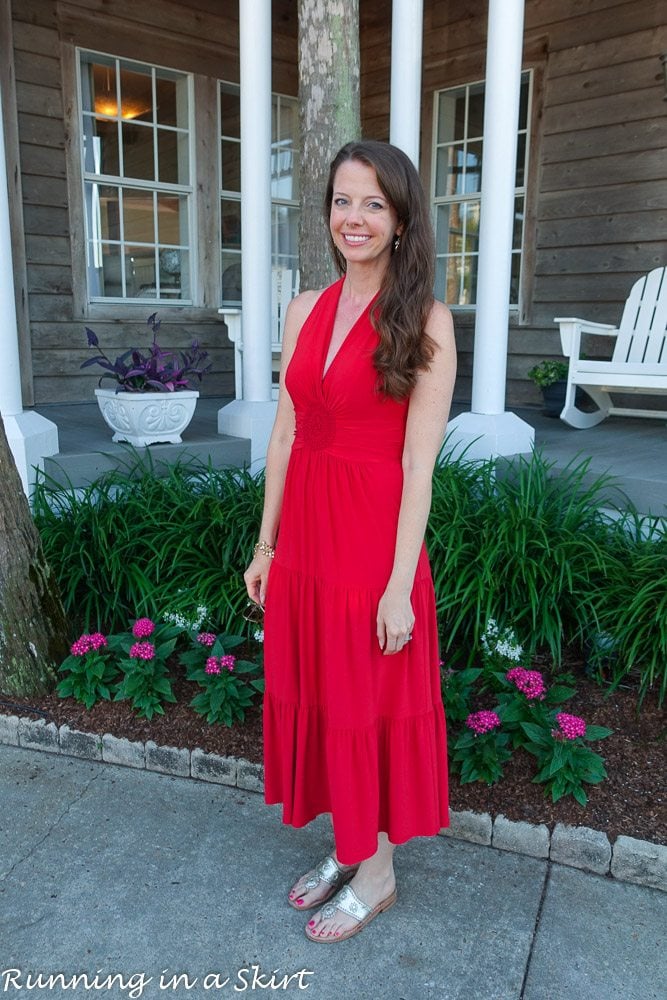 My only trouble has been that I do get some motion sickness, which I'm normally able to cope with but it's been a lot worse in pregnancy. We know our travel is going to slow down a lot until we figure out how to do it with two babies, so it's been nice to fit in some trips.
I've also been surprised at just how hungry I've been! It's been crazy.
Food Cravings or Aversions?
Friends and family keep asking me this question and I joke back that I'm craving ALL THE FOOD. No aversions so far, although carbs sound particularly yummy to me these days. Luckily though I've been able to eat mainly a normal diet... just in higher amounts. The doctors have told me it's so important to gain more weight with twins, so they have a better chance at healthy birth weights.
I'm currently longing for raw sushi tuna, raw oysters and a nice glass of wine. 🙂
Fitness
The doctor had me on couch rest for the first few weeks of pregnancy and then just walking for a few more weeks. At about 9 weeks she cleared me to try to run again. I checked with her probably a dozen times to make sure. I took it super, super slow and ran for only a few minutes at a time. I had no problems, so I increased a little each day. Right now I'm running really slow three times a week with 4-5 minutes running and 1-minute walk intervals for about 30 minutes at a time. I actually feel really good and normal when I run. The doctor encouraged me to keep at it as long as I felt comfortable, so I'm taking it one run at a time and we'll see how it goes! We're seeing a high-risk doctor too and they also gave me the all clear to keep at it as long as it wasn't hurting. I'm fully expecting not to be able to run anywhere near the entire time, so I'm enjoying it while it lasts.
I'm also doing some circuits and yoga. I'm hoping those and walking will become my go-to when running is too hard.
At the same time though, I am really listening to my body and not pushing anything at all. There has been A LOT more rest in my life since the positive test came back.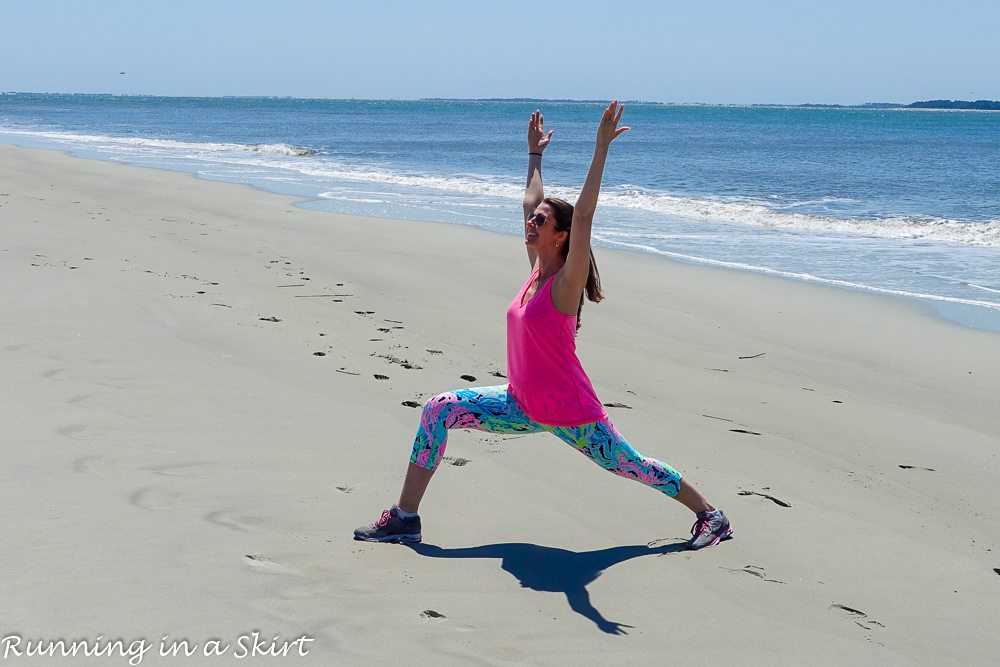 Maternity Clothes?
I bought a few things over Memorial Day because I found some great sales but I'm not at the point I need to wear them yet. I'm still on the lookout for some good shorts and jeans. Right now I'm mainly still wearing my regular dresses. I don't have much of a bump yet, but I have absolutely put on some weight (doctors orders!) and my shorts have already been retired for the season. I tend to gravitate towards less fitted clothes anyway, so many of the dresses still fit.

Will We Find Out the Gender...
YES! Hopefully soon and we'll do a little gender reveal for family, friends and you guys. They could be boy-boy, boy-girl OR girl-girl! I'd love to hear what you think they are.
Any Names?
We've thrown around a few ideas for both boys and girls but it is still very much a work in progress! I suspect it might take awhile for something to click for us.
How Makena's Taking the News
Ohhh Makena! She's always been particularly clingy towards me, so it's hard to tell if she knows something is up or she just loves her Mommy. I think the first 6 months or so of the babies lives will be really hard on her because there is no way she's going to get as much attention as she does now no matter how hard we try. But as the babies grow, I truly believe she's going to love having kids to play with. She's already spent time around our friends and families kids, so we feel pretty good about her being sweet around them. She's still got a lot of wild puppy in her, but she seems to realize when kids are around and she needs to be more gentle. She'll also be a little over 2 by the time the babies arrive, so we hope she will calm down even more.
So that about catches us up! Reguarly scheduled blog fun resumes tomorrow... with some fun baby talk in the mix.
Thank you all for the love and support.