In what seems like simultaneously forever and in a blink of an eye I have one-year-old twins. Their first birthday was yesterday and I'm in disbelief that we are at this moment. Wasn't I just in miserable pain from my pregnancy and counting down the moments until I gave birth? Now I am planning an epic first birthday party weekend with all the family and friends who helped us make it to a year. Life seems all sorts of surreal lately.
These babies give us reason to celebrate every day. They are funny, handsome and so smart. I look forward to seeing what kind of antics they are going to get into each day. These miracle babes bring me infinite joy and are my world.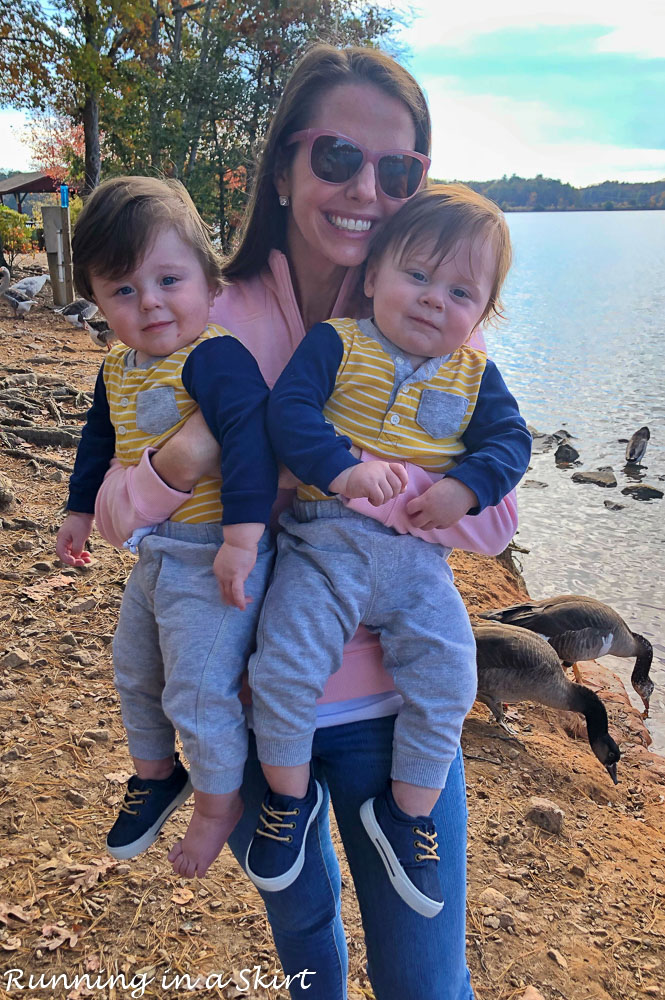 It's crazy to think it all started like this though!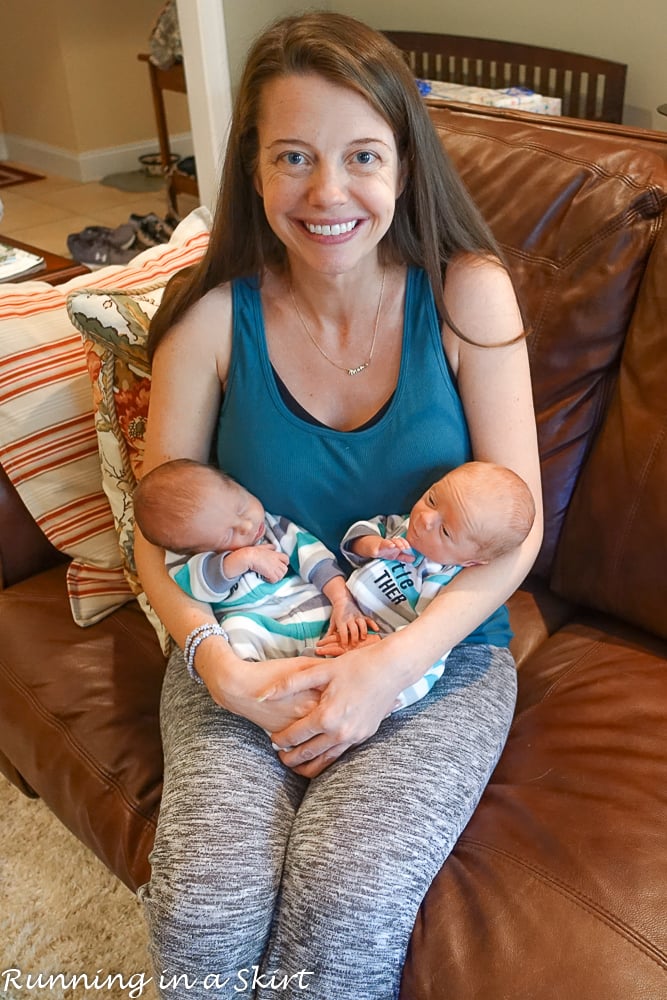 So much has changed in the past year and even in the past two months since my last update.
The boys are looking more and more like toddlers daily. Jackson started walking at 11 months and is just now starting to walk as much as he crawls. Hunter has moved past walking and now runs everywhere.
They are into EVERYTHING and you can't take your eyes off them for a minute or they will get into something. They have both climbed on the couch and Hunter has even taken his diaper off on his own. They play with each AND egg each other on to do things. It's frustrating and so endearing at the same time.
Every time I put them in some sort of regular shirt or sweater instead of a onesie or romper they instantly age months.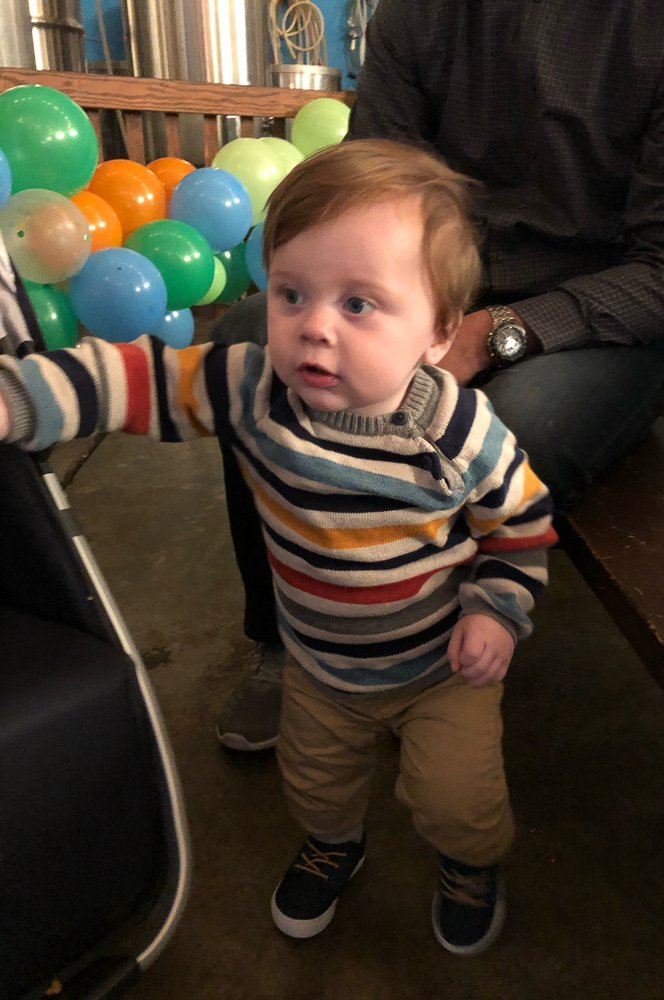 They even got their first haircuts which makes them look older!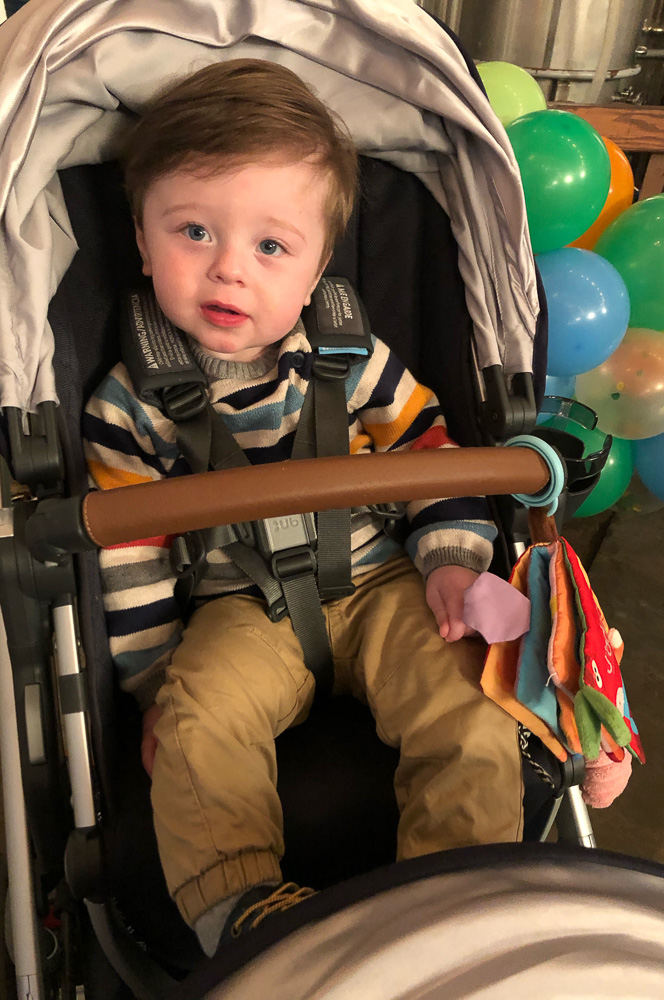 Here they are at 11 months...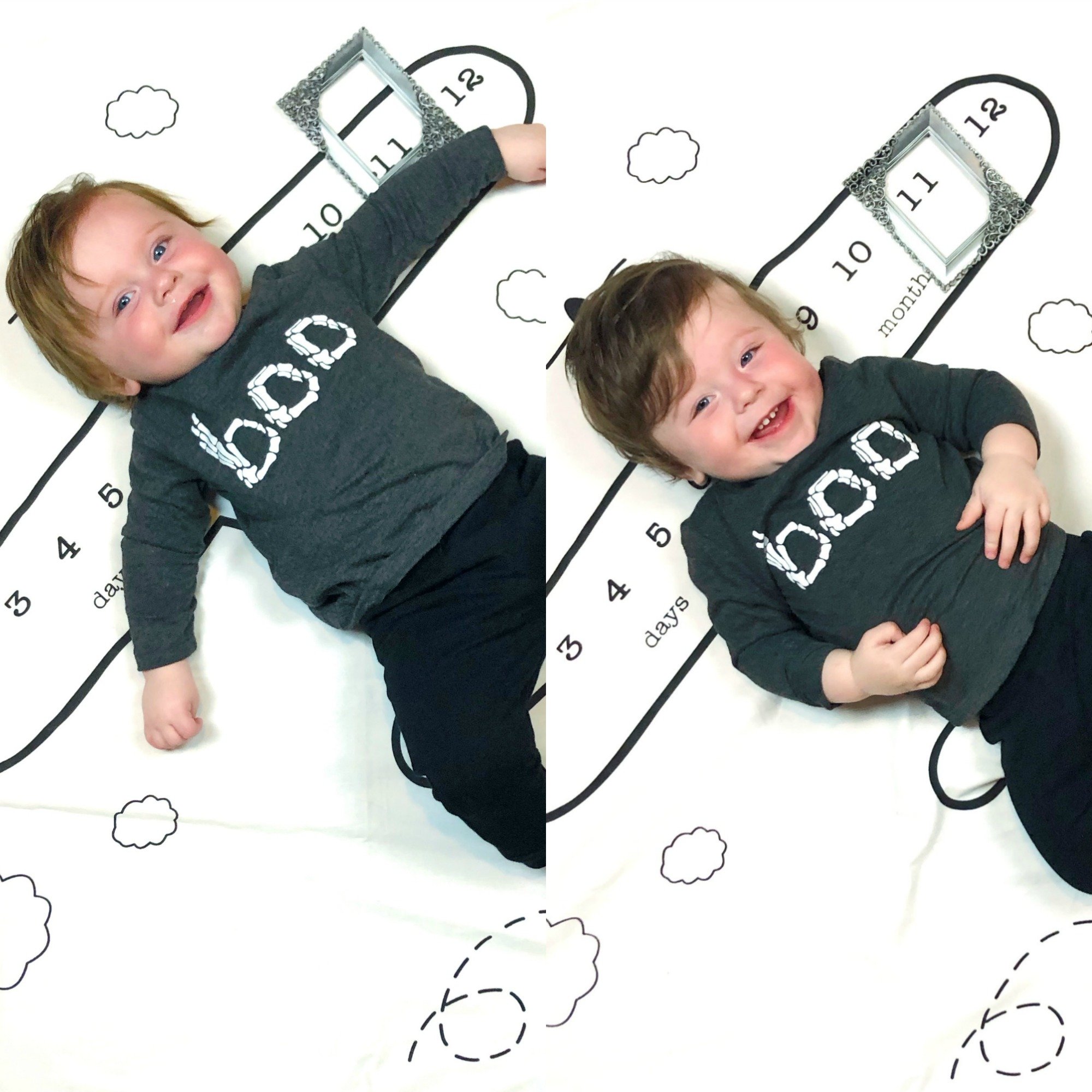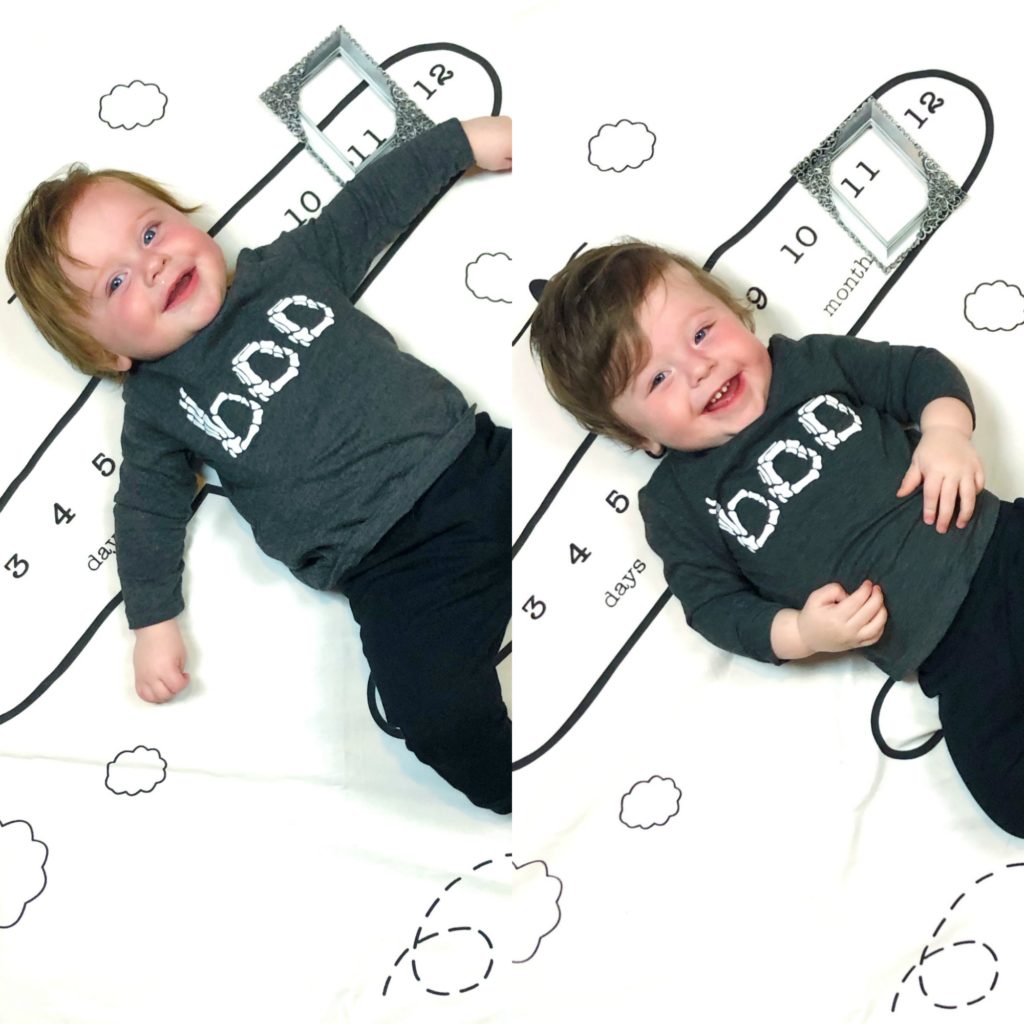 And here they are at 12 months...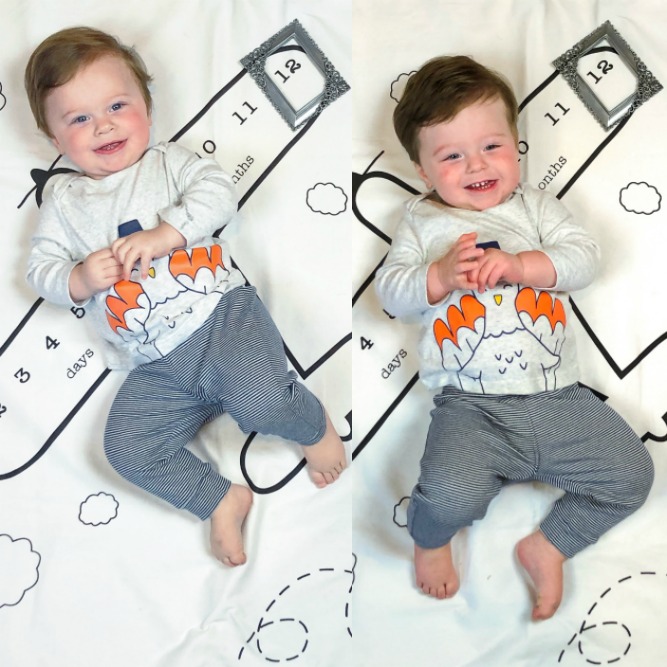 We made so many more magical memories over the past few months starting with another trip to Hilton Head in mid-September. With that flight the boys have been to 6 states, 9 cities and 15 flights in their first year! We took them to Hilton Head three times. 🙂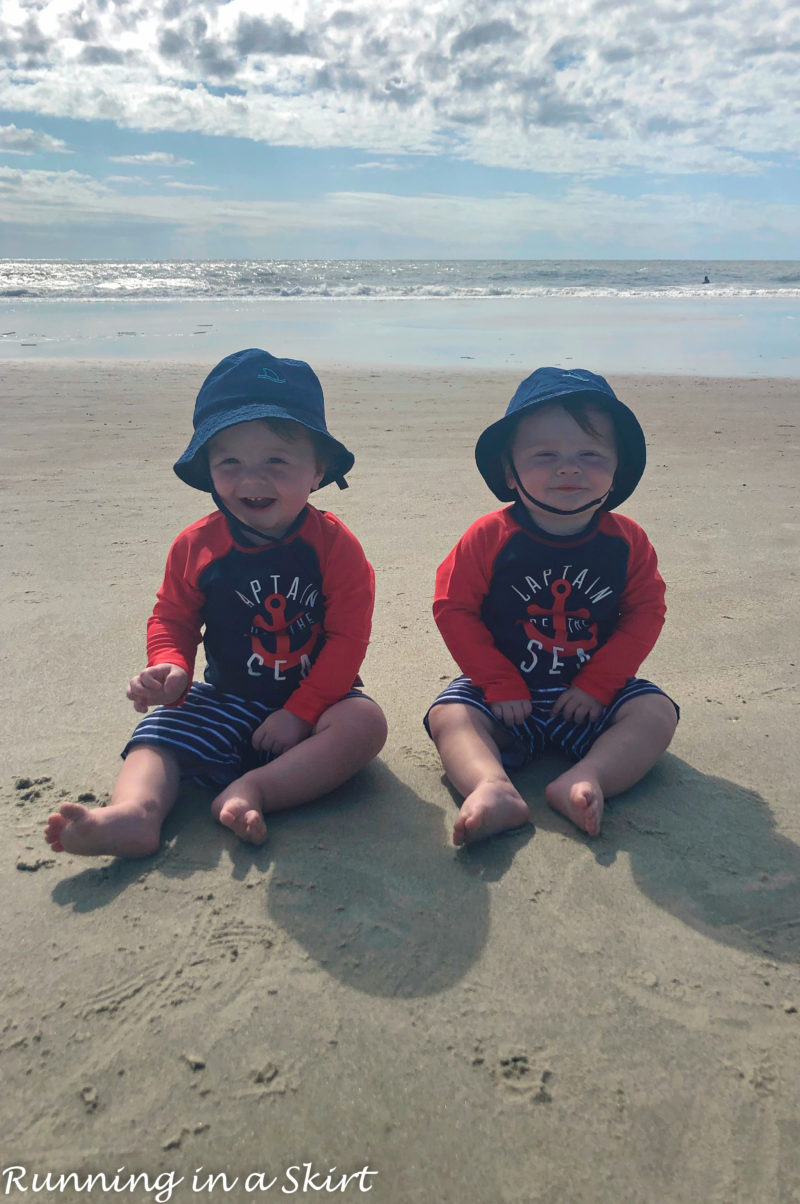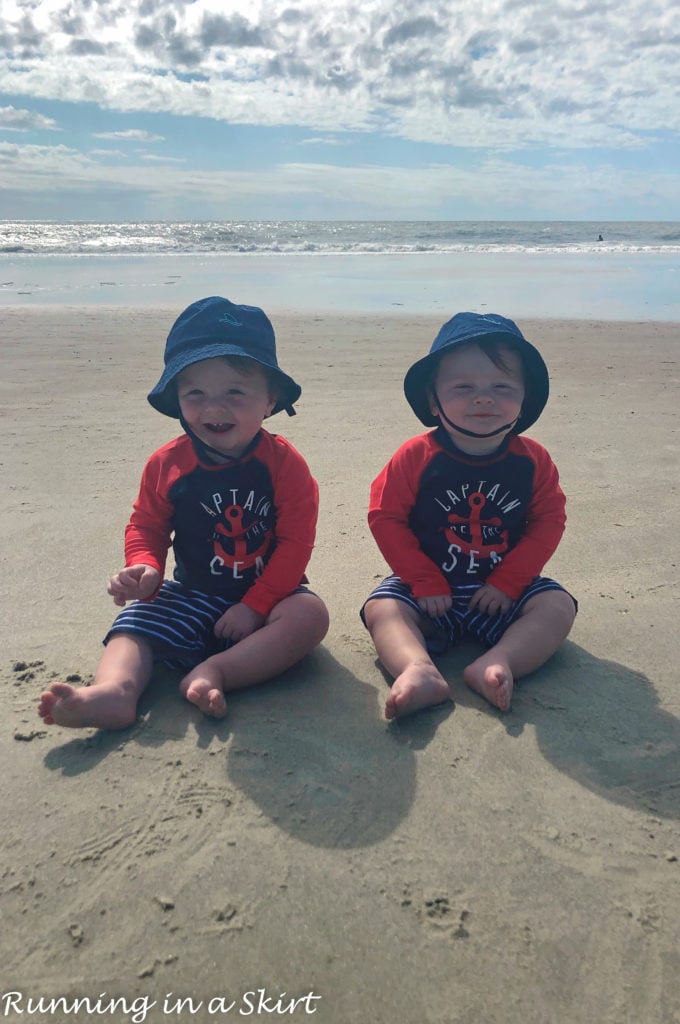 My Brother and SIL Erica met us there and we had a blast.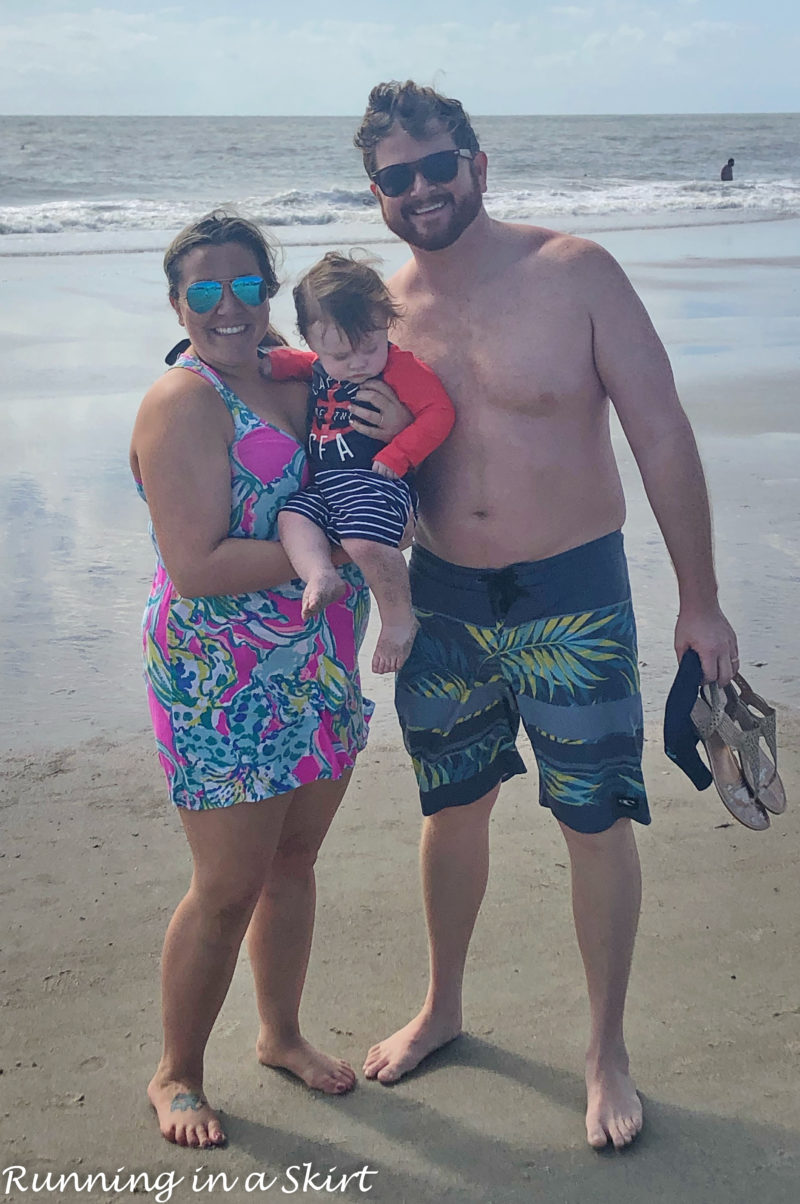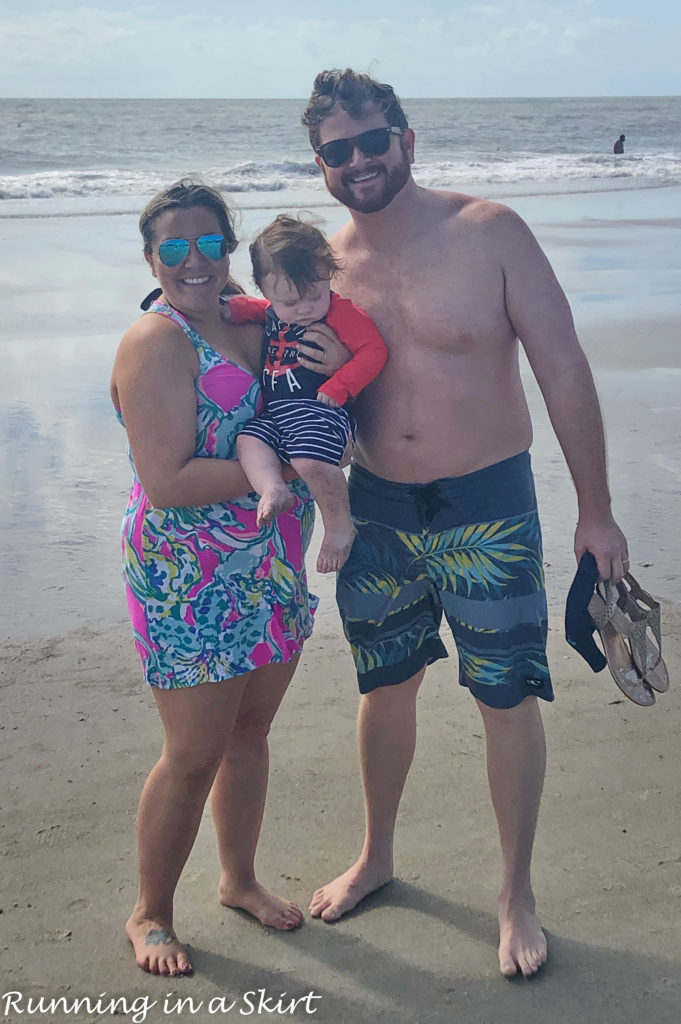 The babies LOVE the beach and were totally in their element.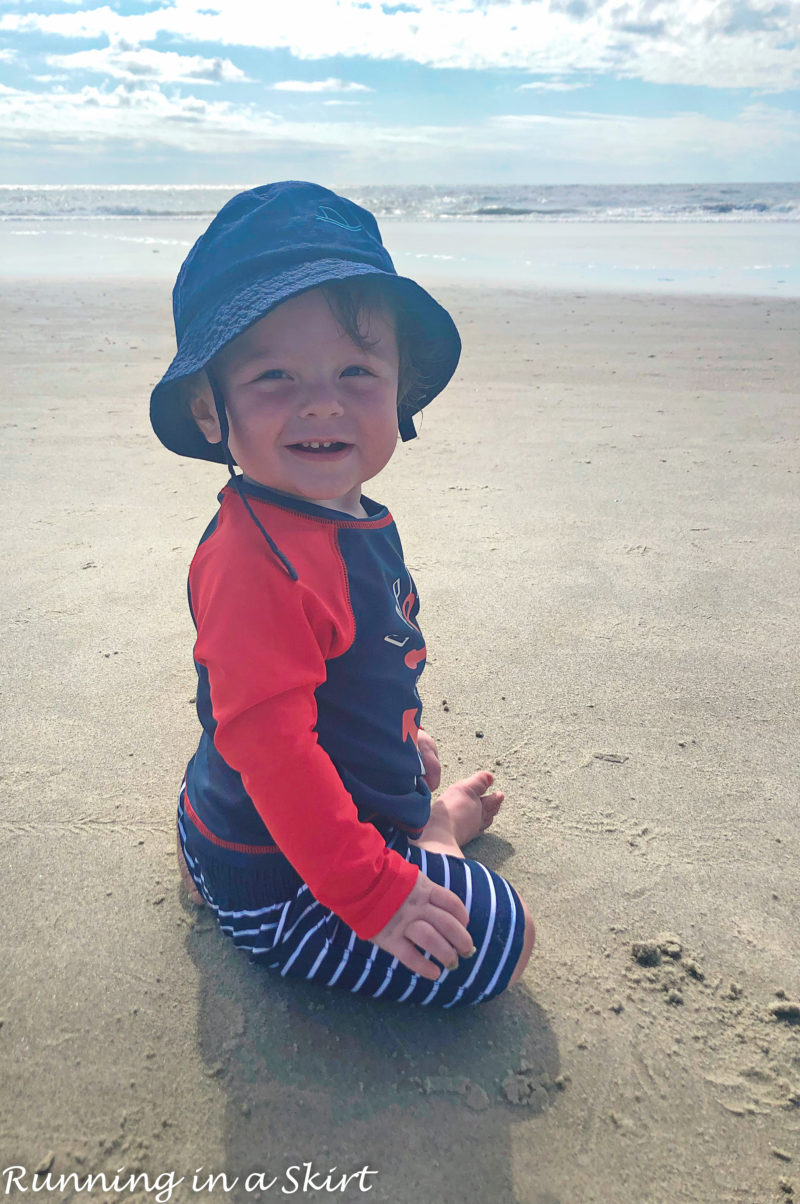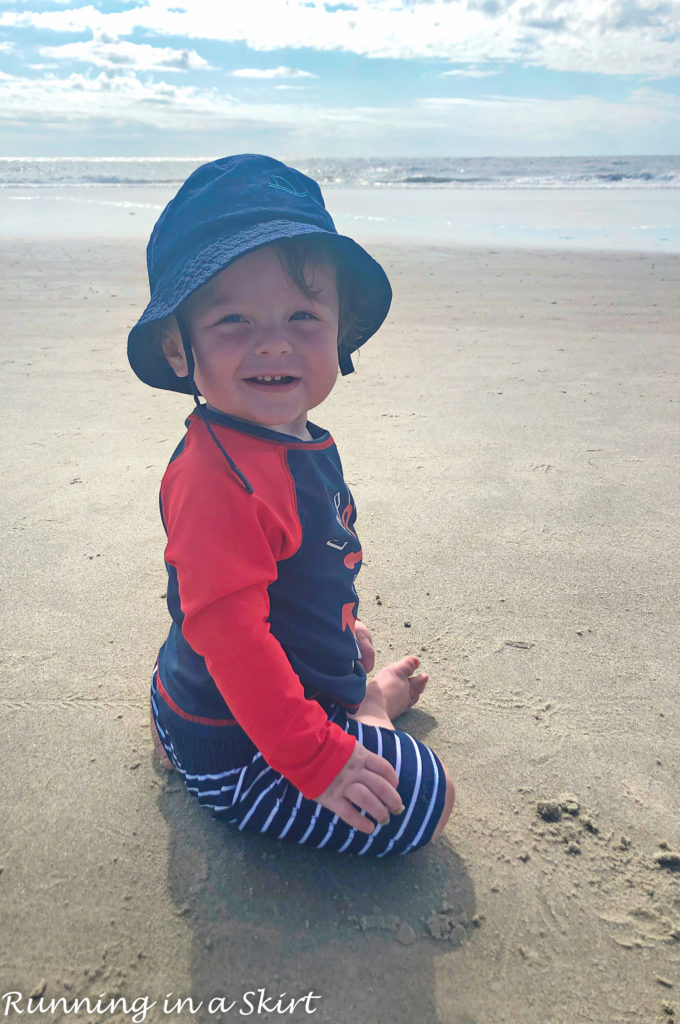 Hunter even walked all over the sand.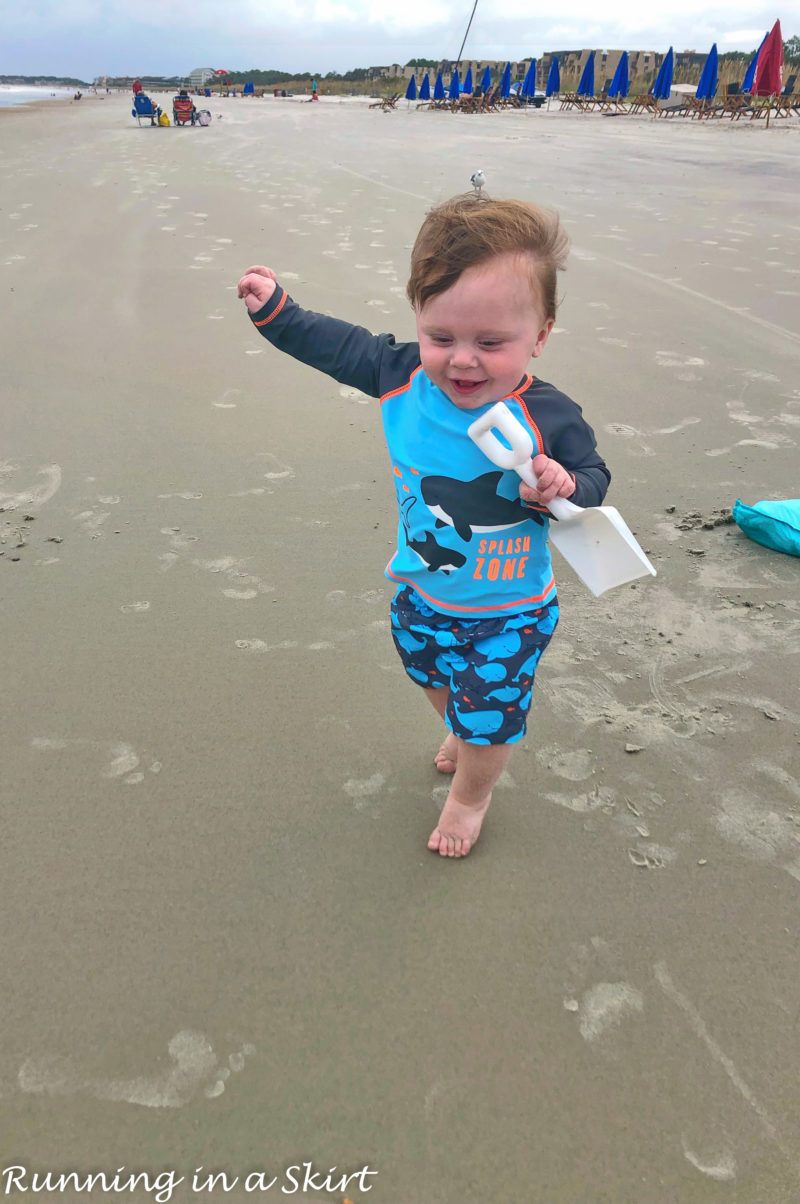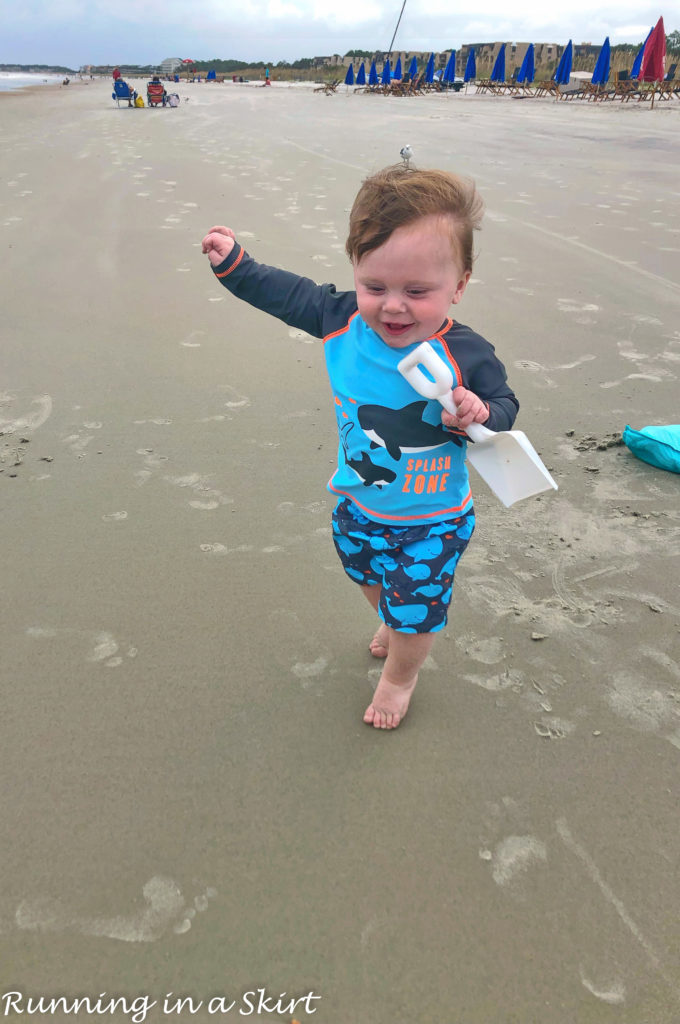 Some of my best memories of the twin's first year were made at the beach and I'm so grateful we were able to go so many times.
Another highlight was riding in a race car shopping buggy for the first time. I will never forget the look of awe when we put them in it.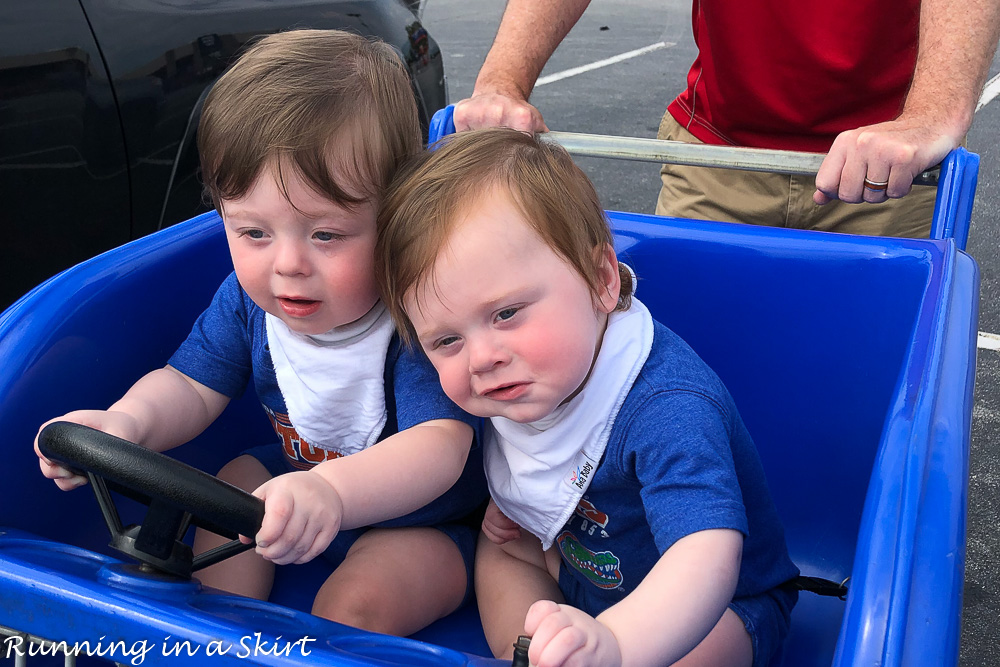 They've also learned some fun tricks like "touchdown," waving bye, high five and clapping.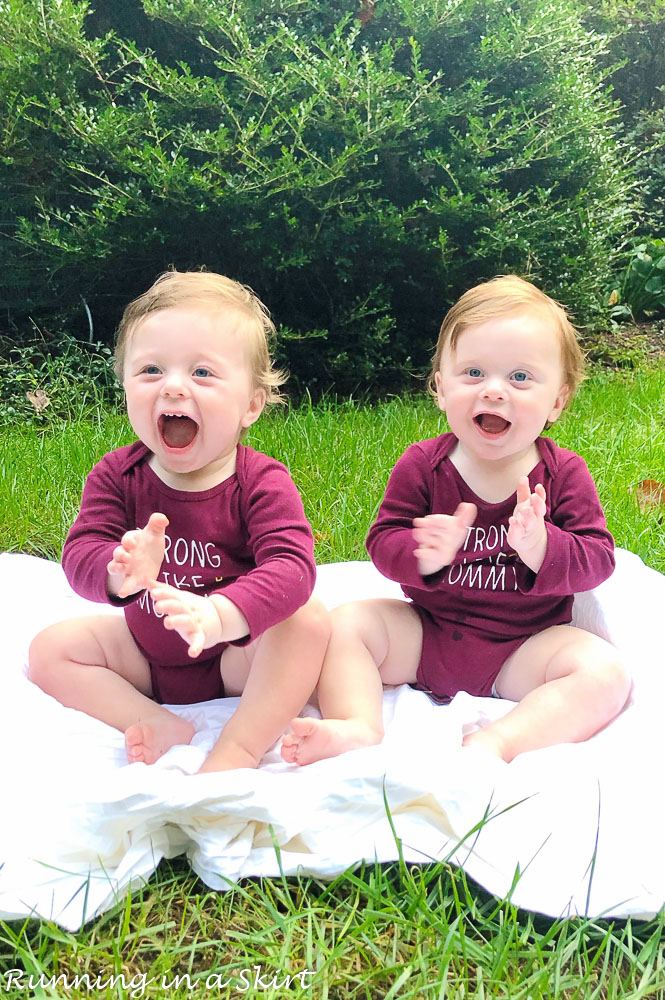 They are eating three meals a day now and I am constantly cleaning up this! Both of them eat well and love their sippy cups with water.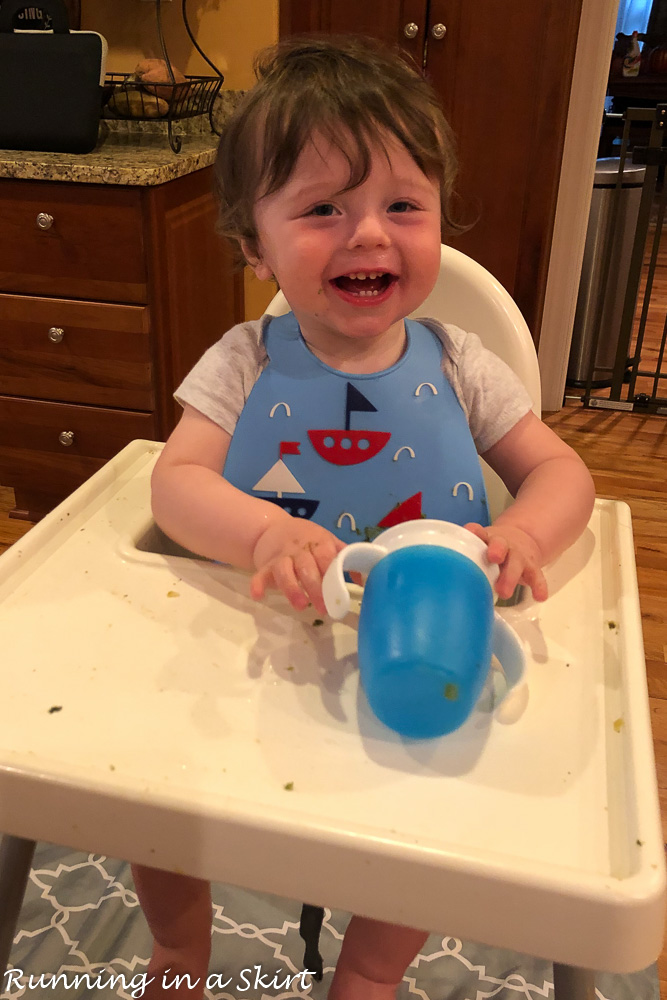 We took the twins to their first pumpkin patch.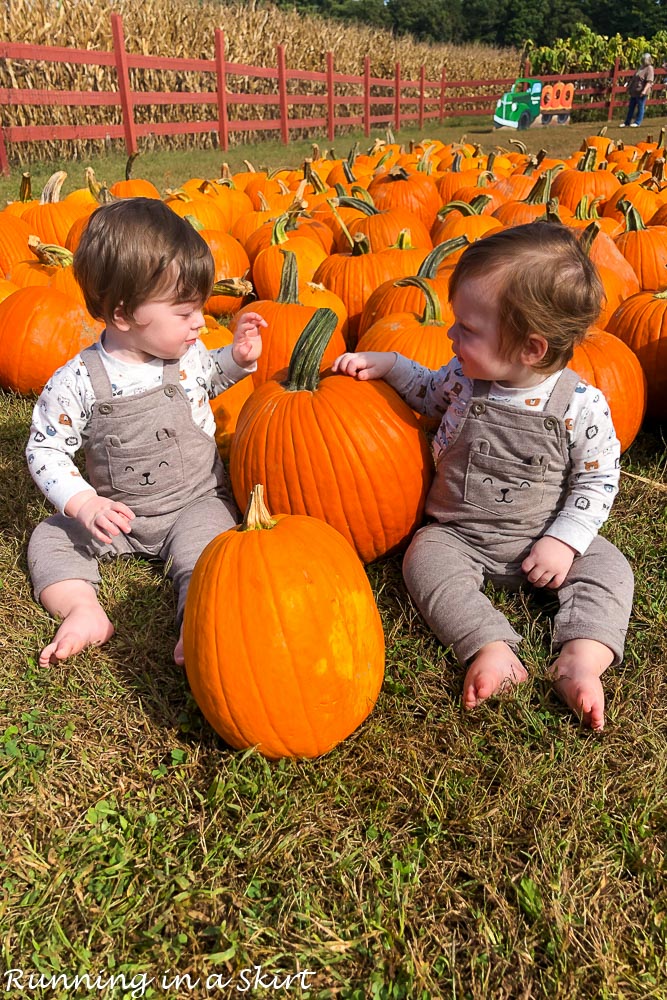 They both looked so cute and were fascinated by the pumpkins.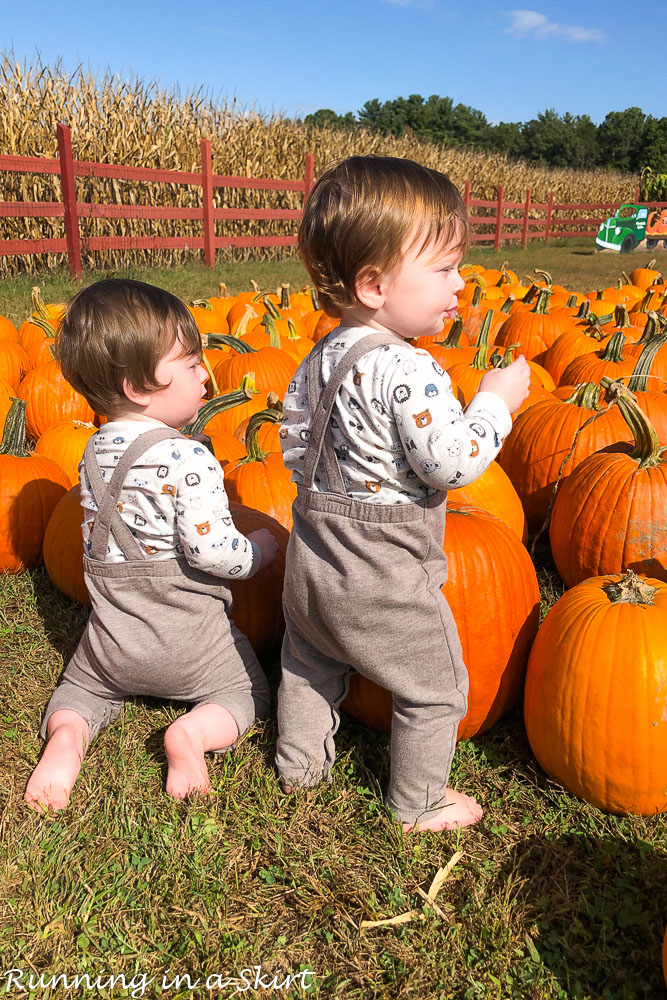 At about 11 months my Dad came to visit and he went to Kindermusik with us.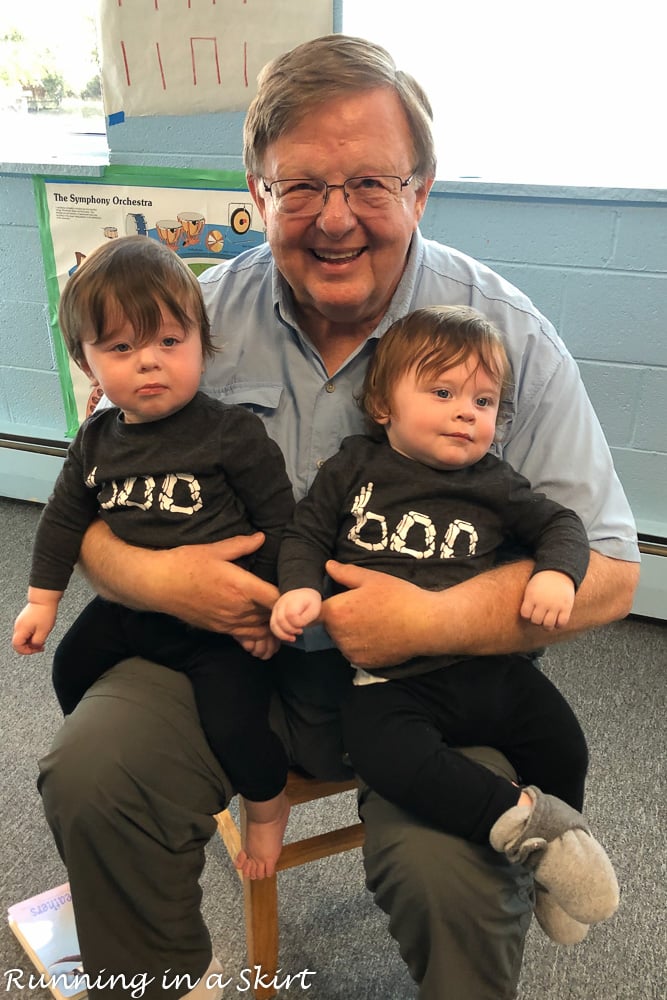 At 11 ½ months, we celebrated their cousin Keegan's birthday with the rest of the Hub's family in Chapin, South Carolina.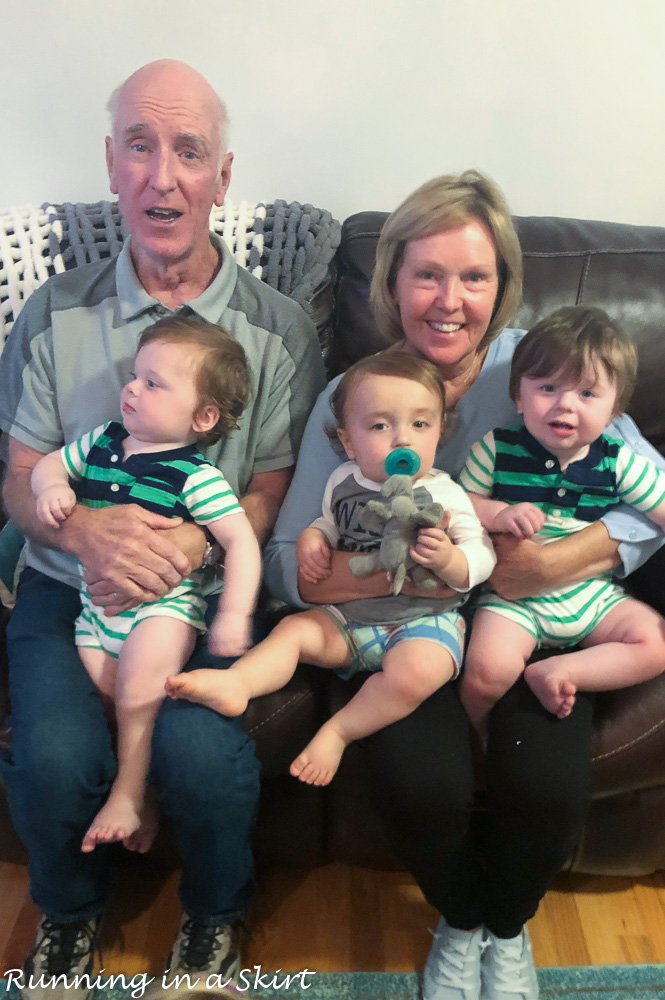 Bobby and Pap came back to visit us in Asheville and we had a fun couple days taking them around town.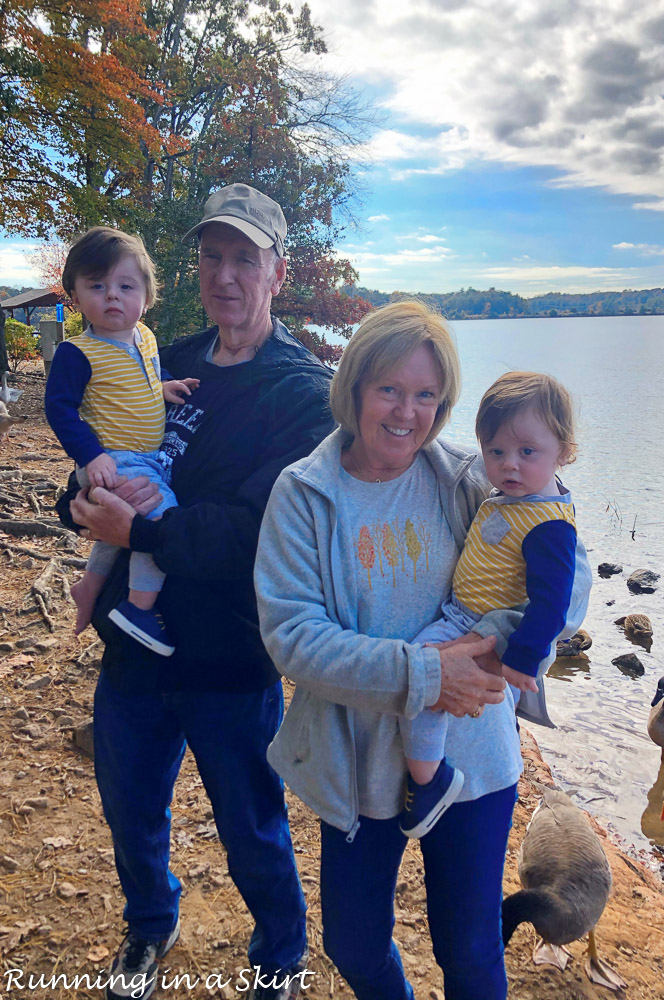 We even went to the park!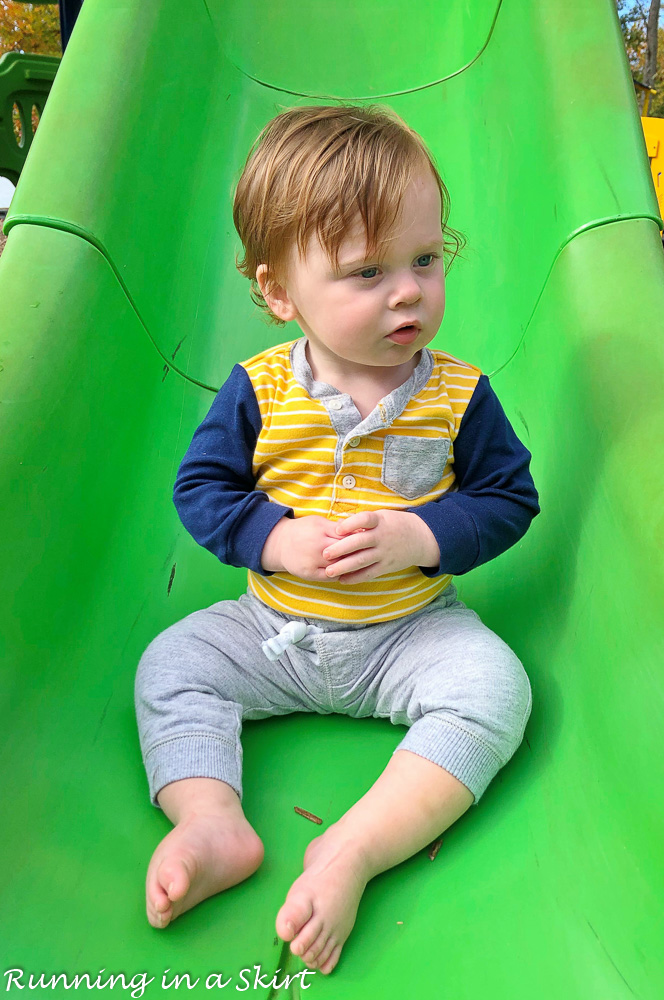 The boys got to go on the swings again too.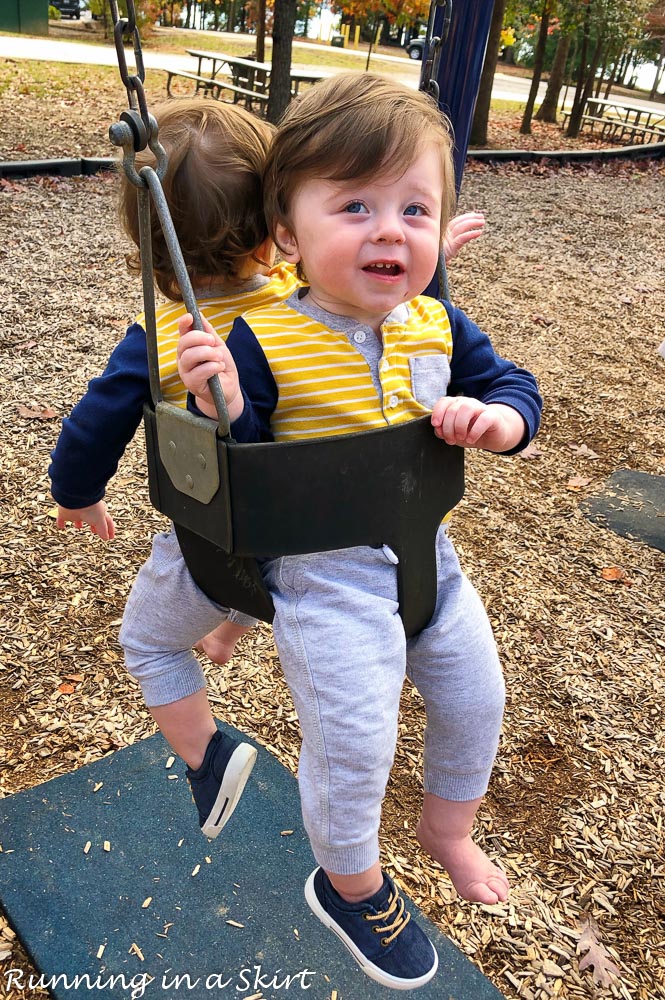 For Halloween, we picked up pumpkins at another local pumpkin patch.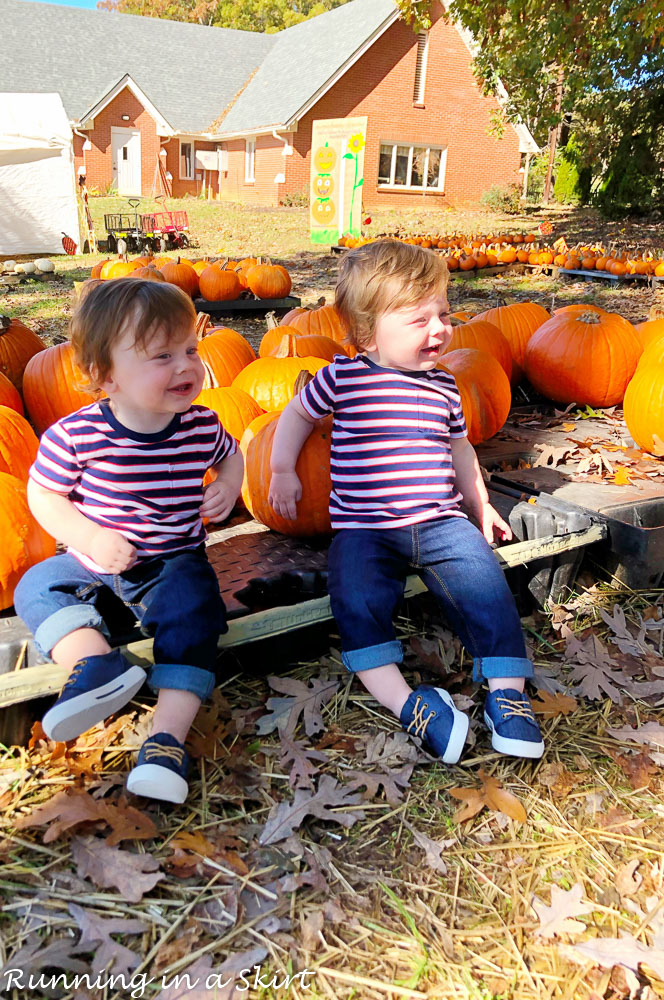 And then the twins dressed up as lions and I was a lion tamer.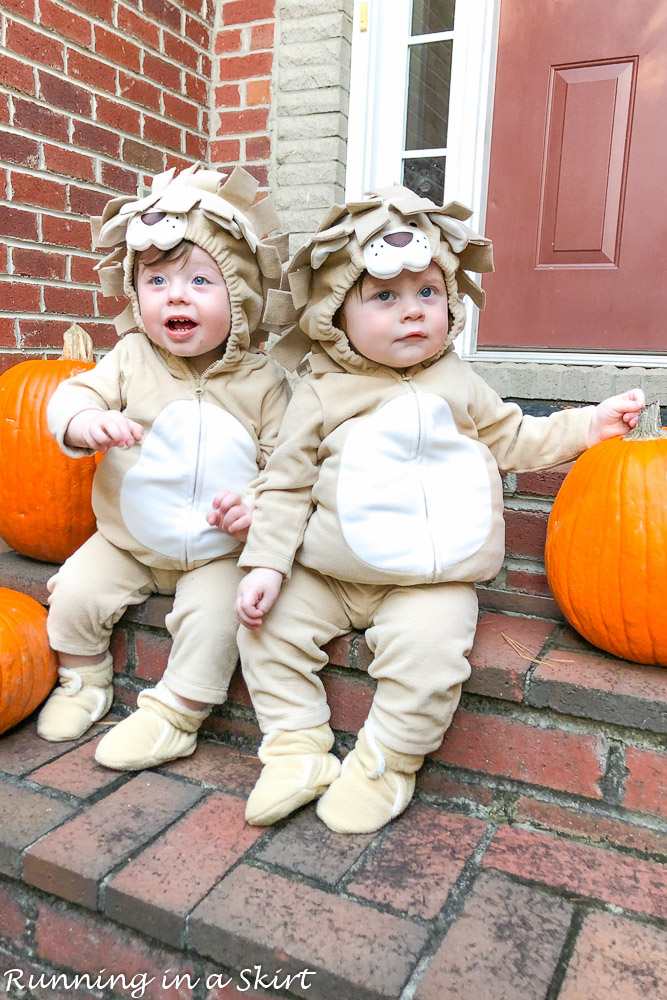 We ended up having such a fun first Halloween and despite a rainy forecast, I'm so glad we got to out for their first Trick or Treating.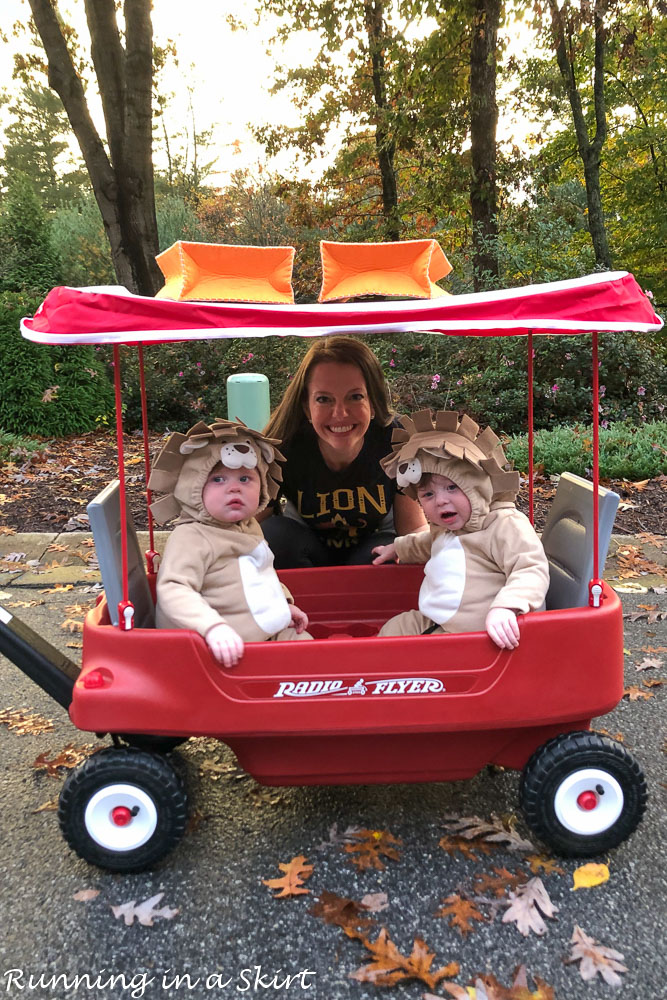 Looking back I am so grateful for all the adventures the twins have had this year. Those early days (especially when both babies were screaming from acid reflux) were so hard and at times getting to this moment with two babies felt downright impossible. But now life is so much fun. The boys are at a magical age where life is funny, sweet and all new. They are still a handful, but watching them is so much more manageable these days. Having twins is one of the biggest joys and blessings of my life. I am one lucky Mama!
Hunter & Jackson: Month 11 & 12
Jackson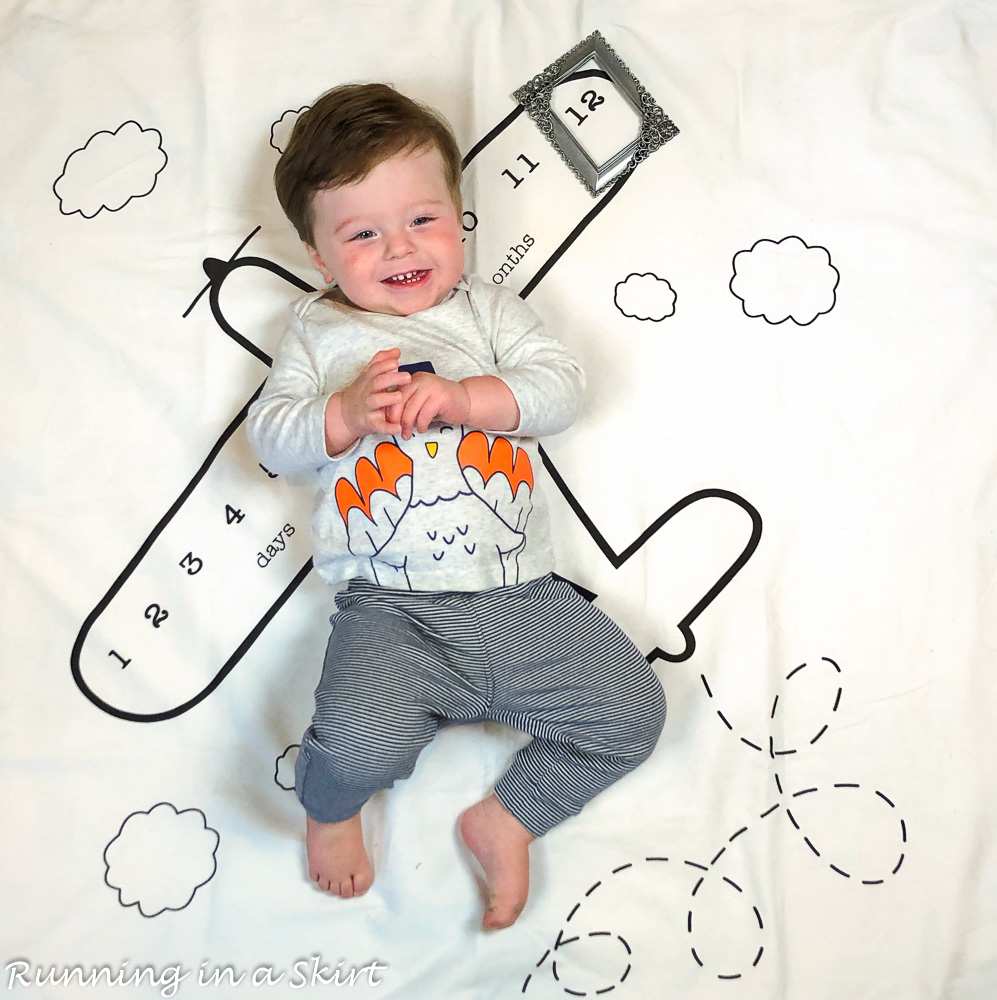 "Baby Jackson" has a smile that can light up a room. He's funny, full of smiles and so handsome. If he can work this smile his whole life... he'll have big things in store for him.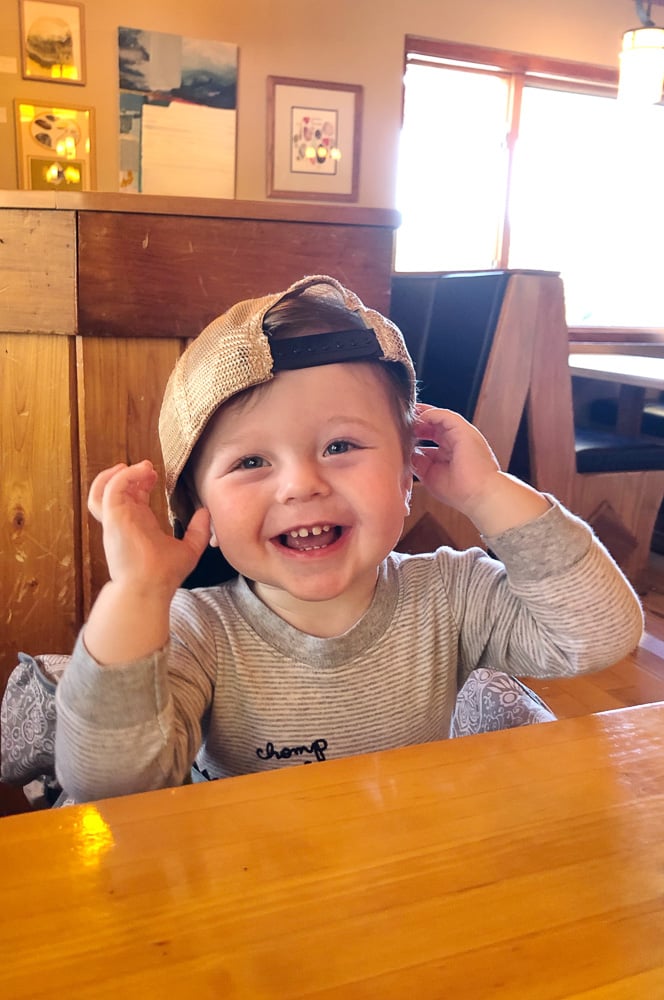 Jackson has changed so much in the past two months including taking his first steps. In the past week, he's started walking as much as crawling and he gets so excited every time he does it. He constantly babbles and has conversations with himself. He's going to be my talker!
He is a special little boy and I can't wait to see him morph into a little toddler. I'm so happy he's mine!
Growth
Jackson is officially our bigger baby weighing OVER 26 pounds and is 32 inches. Jackson is off the charts in height! He has EIGHT teeth that make the perfect little grin.
Hunter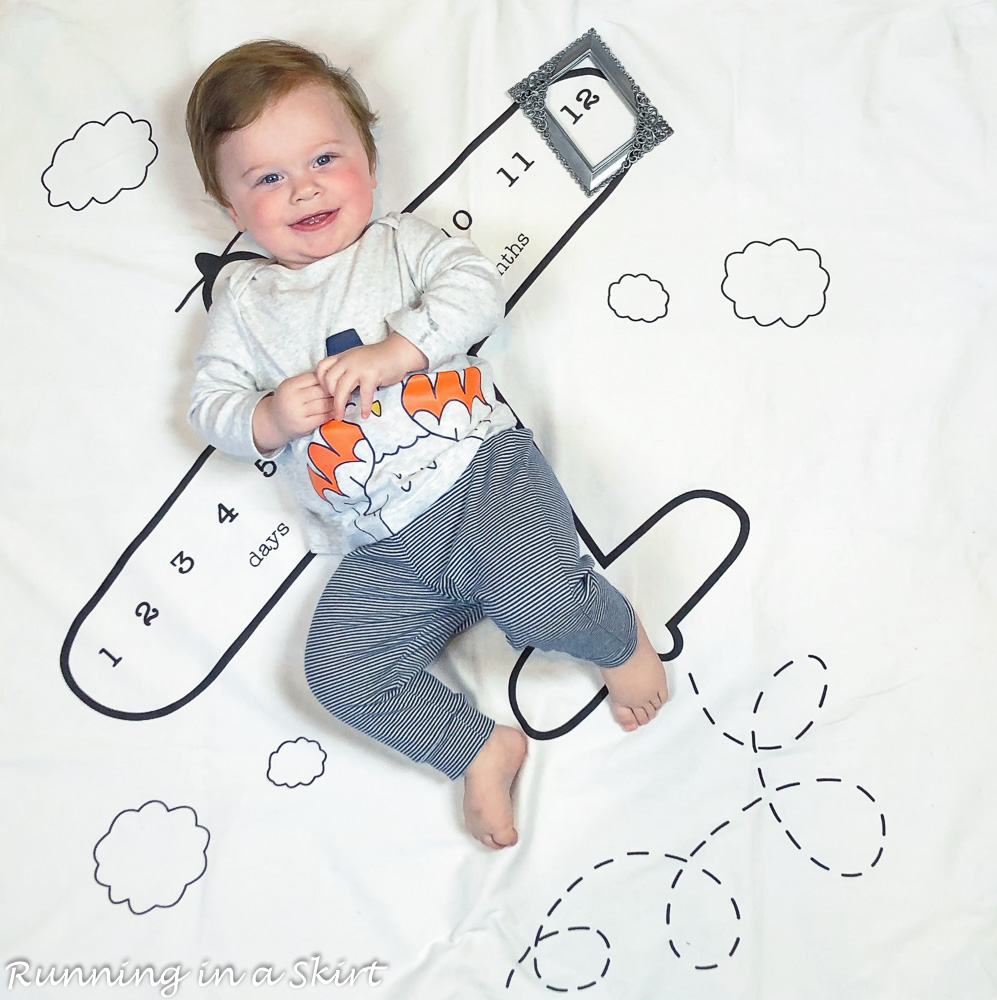 Hunter is something else! He now runs instead of walks and is always into something. I caught him in the toy basket the other day trying to climb the baby gate. He is determined and driven! While those characteristics might be tough now, I really think they will serve him well in life.
He is also handsome and funny. When he does break a smile you feel like you've earned something special.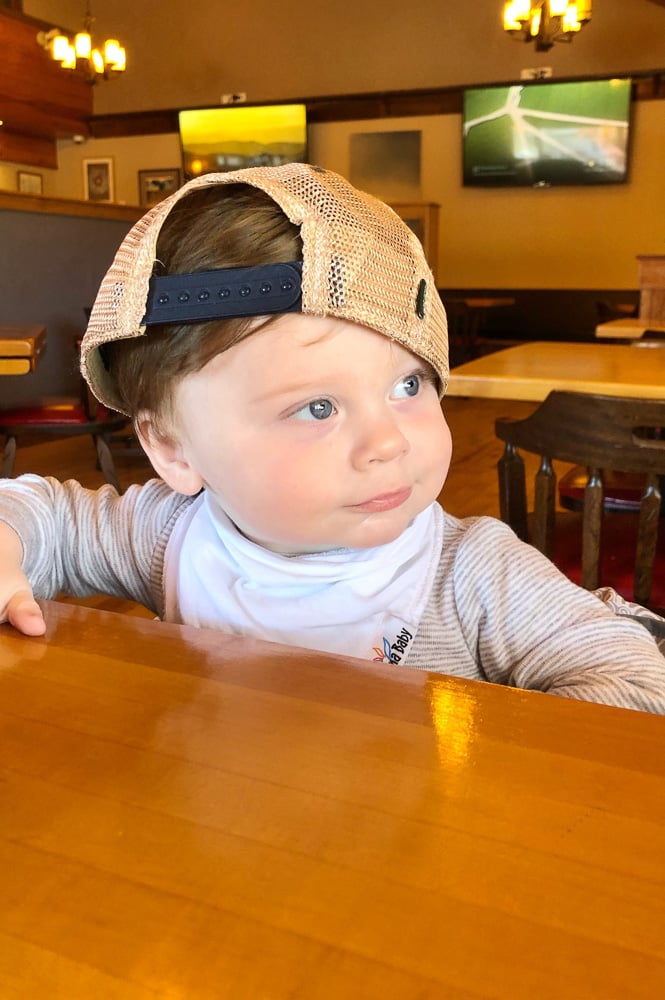 Hunter has grown so much over the past two months and I'm so sad to watch my baby slip away but I'm also so excited about all the fun in store for us. I am beyond lucky this special boy is mine.
Growth
Hunter is also a big boy! He weighs 25 pounds and is 31 inches. He's right at the top of the growth chart for height too. He has six teeth.
Schedule
This schedule is our life and I'm convinced is the only thing that has made taking care of two babies manageable. We do this every day and keeping the routine has helped both us and the babies! We go to our one year doctor's appointment next week and I'm looking forward to finding out how we can transition the twins from formula to milk and eventually dropping some of the bottle feedings.
7 AM – bottle feeding
8:30 AM – solids feeding
9-10ish AM – nap
11 AM – bottle feeding
12ish - solids feeding
1-3ish PM – nap
3 PM – bottle feeding
4 PM – solids feeding
6:30 PM – bottle feeding
7 PM – bedtime
Likes
Puffs
Baby Crackers
Kindermusik
Walking
Running - Hunter
Playing with Makena
Touch and Feel Books
The Beach
Most Food
Dislikes
Car seats - We changed them out of their infant buckets seats to regular car seats and they still don't like them.
The gate shutting in the baby playpen area
Going down for a nap - Jackson
6:20 PM
Firsts
First Steps (Jackson - 49 weeks)
First Pumpkin Patch
First Halloween
First Haircut - 51 weeks
11 & 12 Month Favorites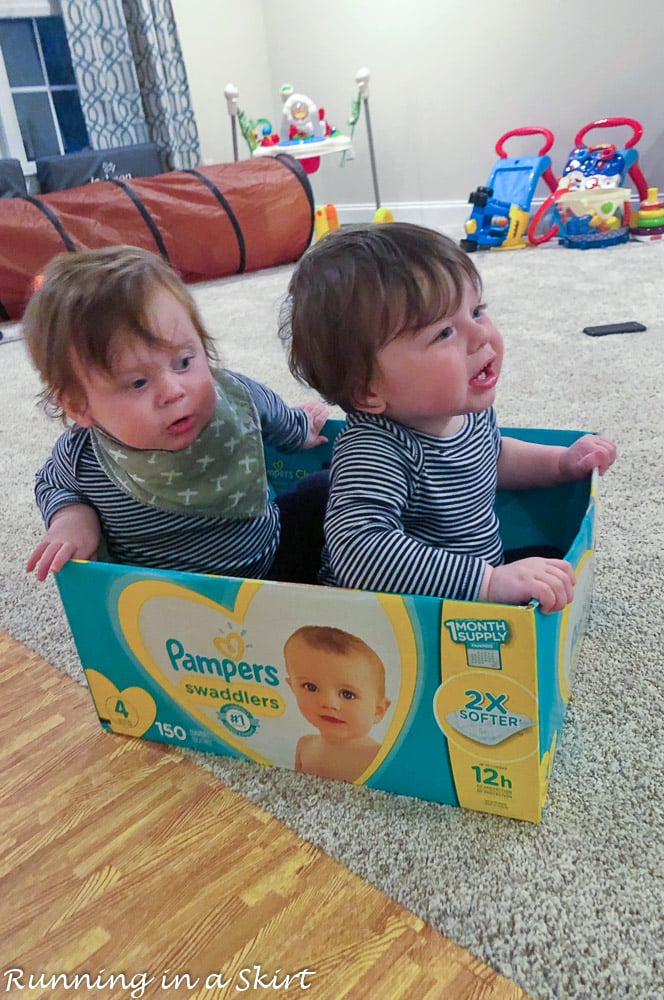 Things I Want to Remember
Hunter walking on the beach for the first time.
The look Jackson had when he took his first steps... almost like he was shocked he did it.
How cute they were in their Halloween costumes.
How they play and wrestle with Makena.
How their wave "bye" is more like a little hand fold. It's so sweet!
Their "TOUCHDOWN!"
I just can't believe we are here. I wished for these babies for so long and now they are turning into these little people who make our family complete. I count my blessings daily!
We have a BIG weekend ahead with the twin's 1st birthday party and their baptism. I've been planning for months but I am hoping to let it all go as it actually starts and actually live in the moment.
I'll be sharing more from our big weekend next week so stay tuned. Thank you to everyone who has cared, read these and shared in this journey with me. It's been one wild ride!
Have you missed any Hunter and Jackson news? Catch up here…
If you missed any of the pregnancy journey you can catch up here…
This post contains Amazon affiliate links.