When it was time to sit down and write this post I went back and looked at the boy's previous updates and once again I am completely surprised at how much they have grown and changed over such a short period of time. The boys are transforming from babies to toddlers daily and it makes me happy and sad at the same time. They now play with each other, make each other laugh and are constantly busy. Both Hunter and Jackson are huge, strong baby boys with their own very different personalities. They are downright FUN these days and I could not love them more.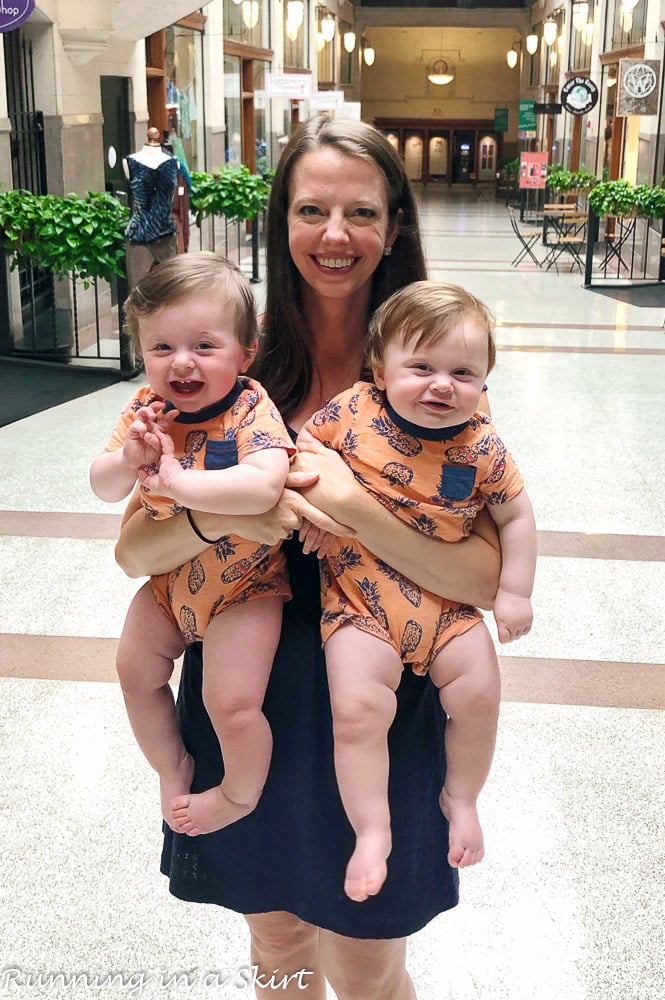 The biggest change over the past two months is we have a walker! Over the past two months, Hunter has taken his first steps at 9 months to fully walking across a room at 10 months. Jackson isn't walking on his own but is cruising holding on to something with ease and running across rooms with his baby walker too.
Here they are at 9 months...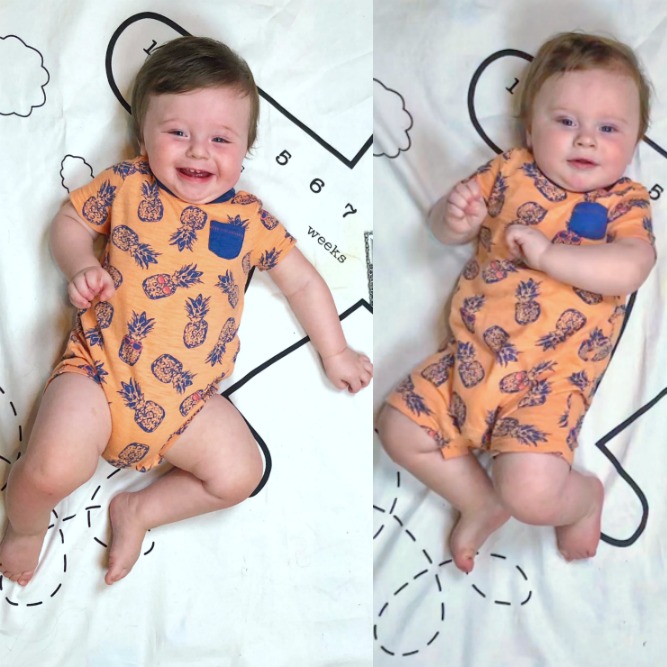 Here they are at 10 months...
It's now impossible to get a photo of them on this photo prop together.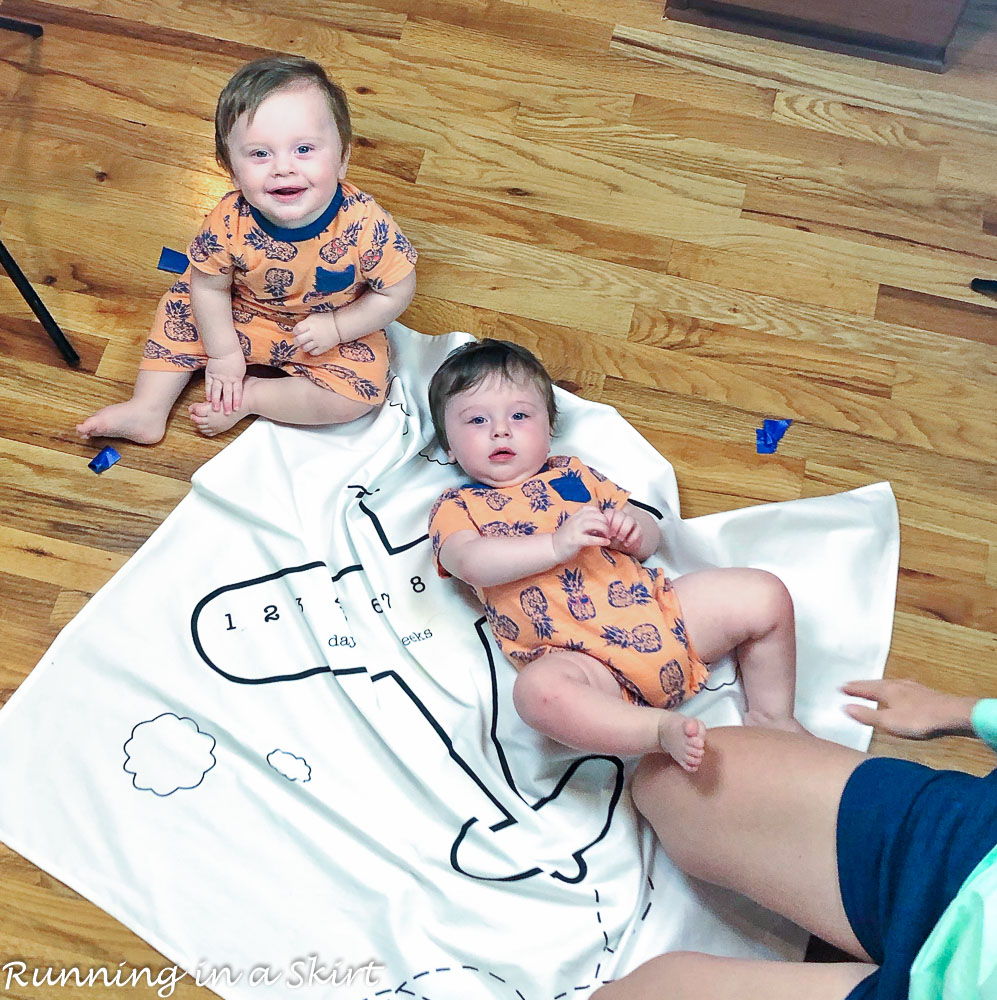 Once again we had a lot of fun and made so many memories over the past two months. Our summer was downright magical and I'm sad it's over.
We continued to get lots of use out of the baby pool Bobby bought them in May.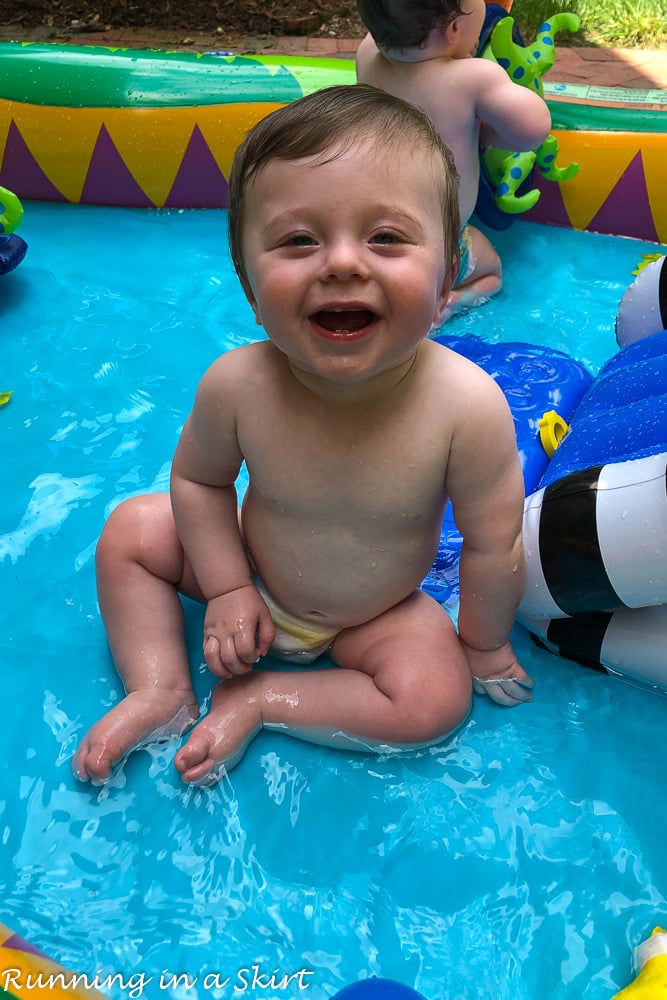 We brought it out almost every weekend we were home and the boys love the water.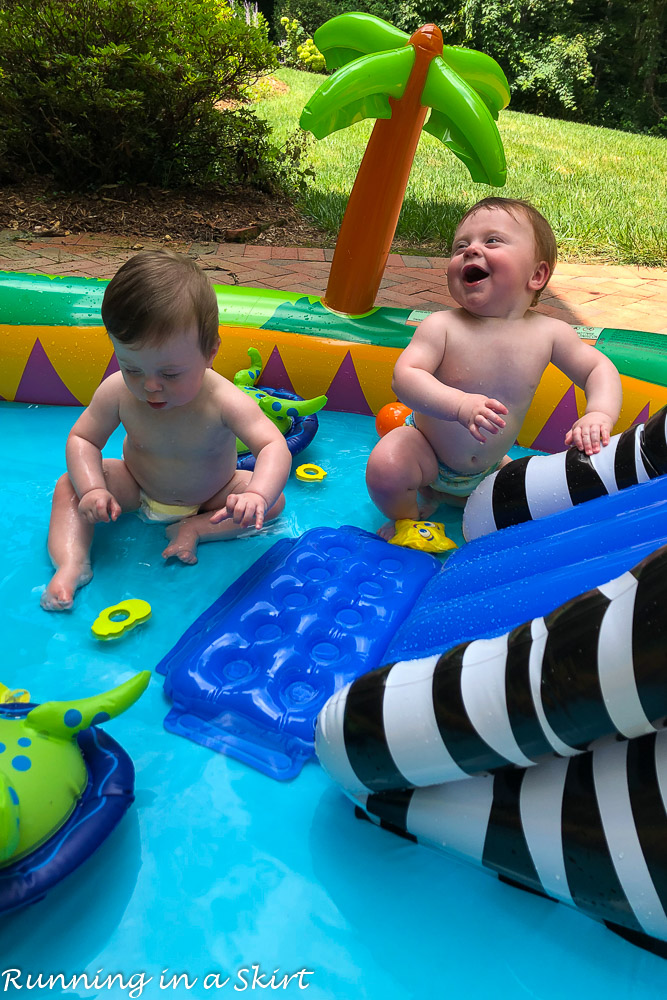 At 36 weeks we took another trip to Dayton, Ohio for my Grandmother to meet the boys for the first time.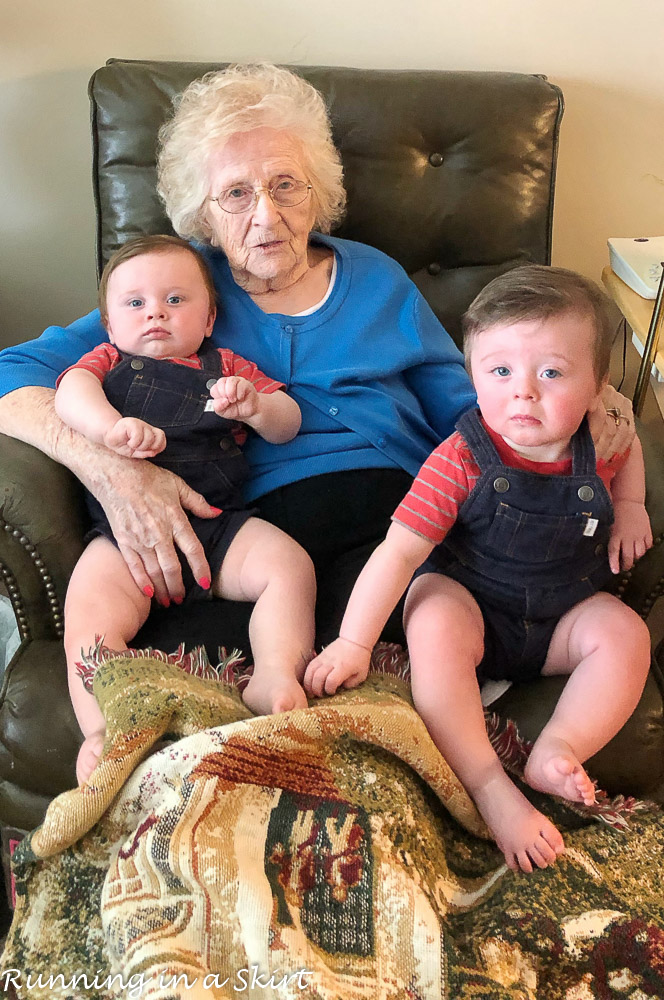 She has developed Alteizmers but the boys brought lots of smiles to her face, so the trip was so nice.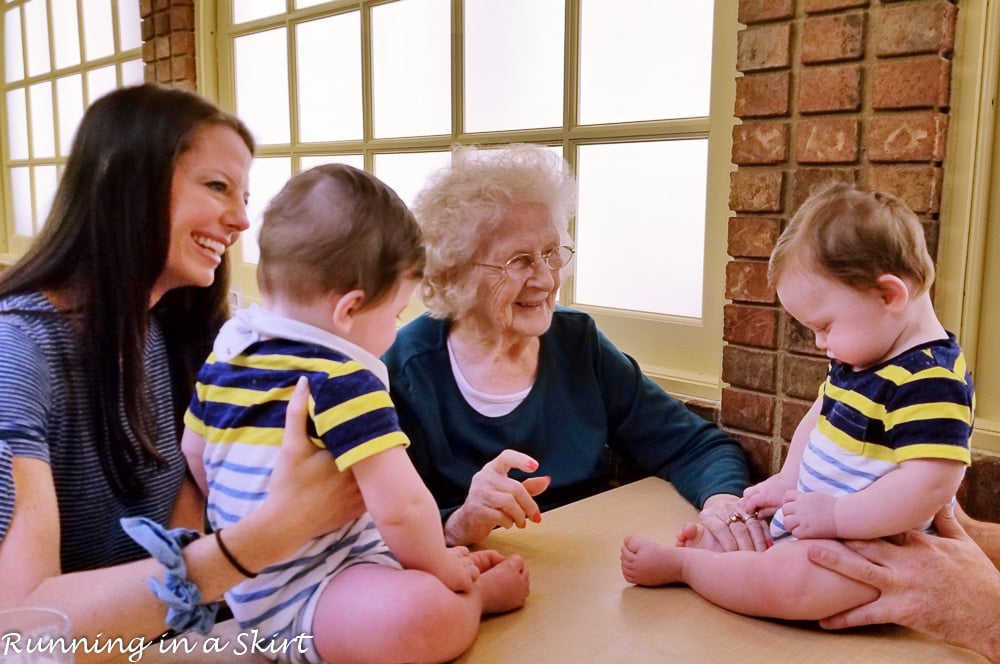 My Dad also traveled from Orlando to Ohio to be there at the same time so it was so nice to see him at the same time too.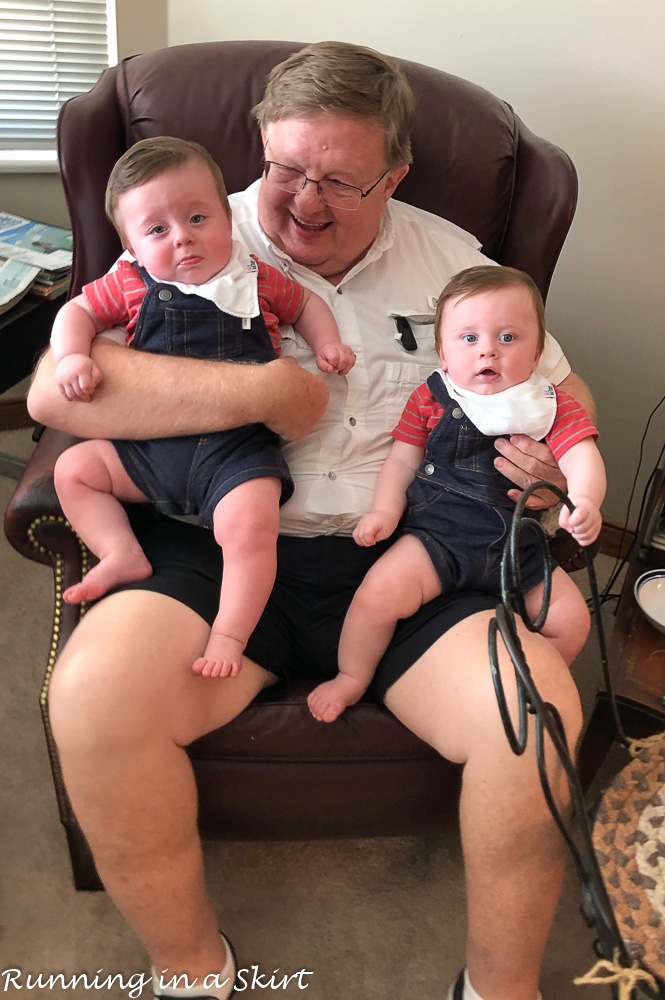 At 37 weeks the boys tried swings for the first time and loved it.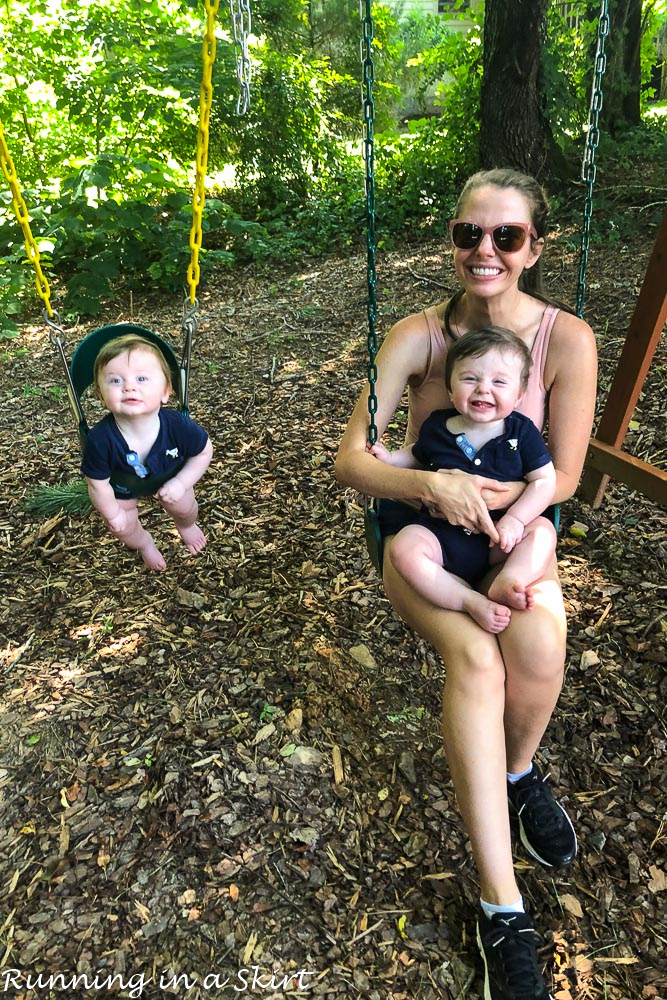 We ended up putting them in one swing together and they thought it was hilarious.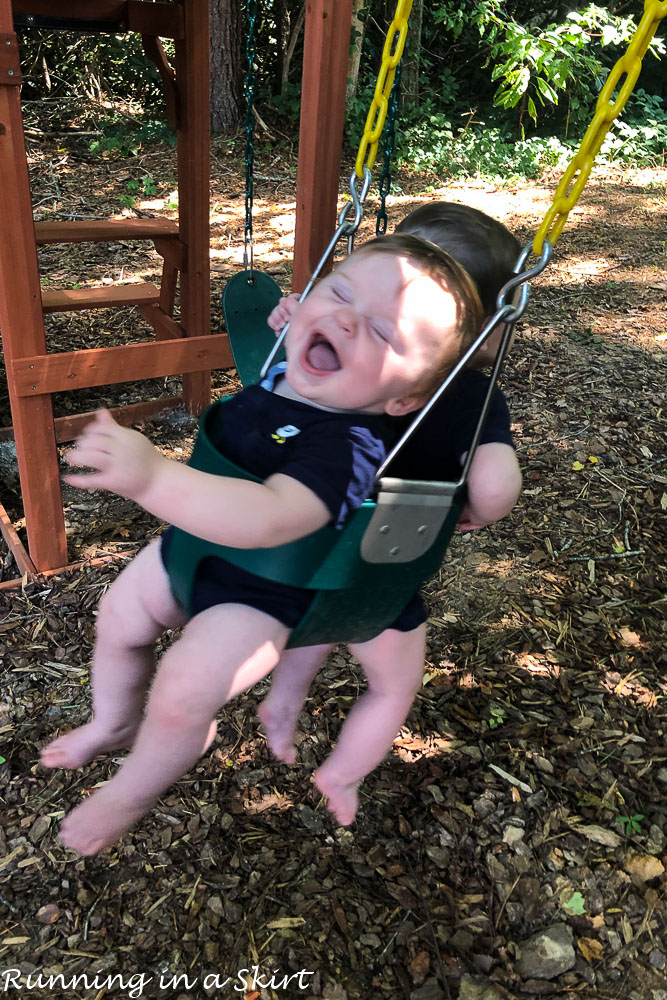 That same weekend we tried eating out with the babies and letting them sit in their own high chairs. So far they have seemed to really enjoy eating out and taking in all the views and people. Since then we've taken them to eat out every week or so and for now, it's working! I'm sure at some point they will not like it but for now, we are grateful they do!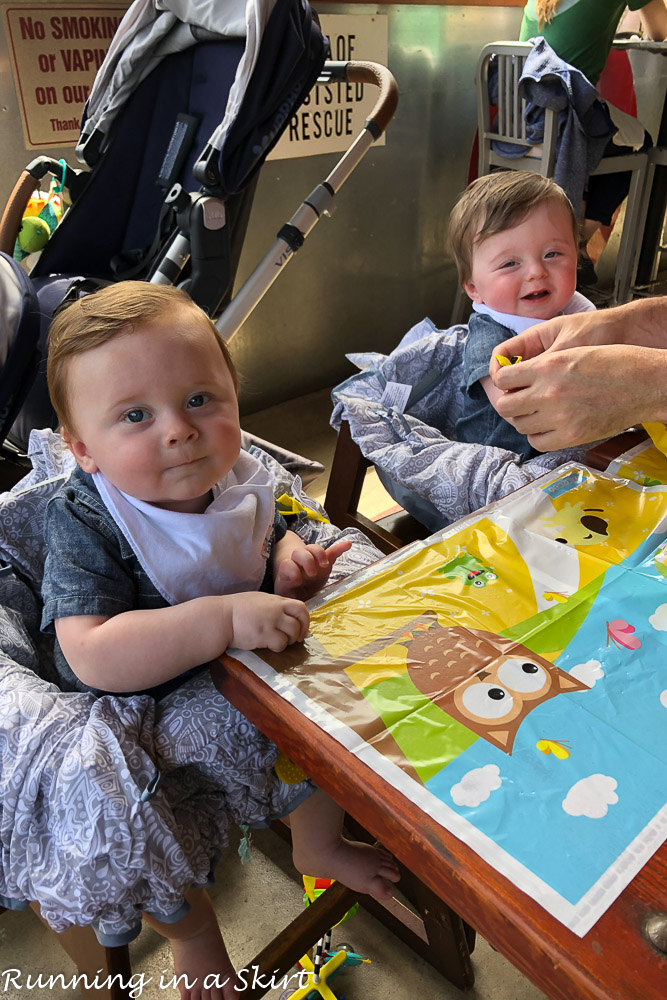 They also got to meet my best friend Sarah and her husband Andrey although I didn't get any photos of them together.
At 39 weeks we flew to Fenwick Beach, Deleware for a weeklong beach trip with the Hubs family. This trip rounded out their 12th and 13th flight, 9th city and 6th state!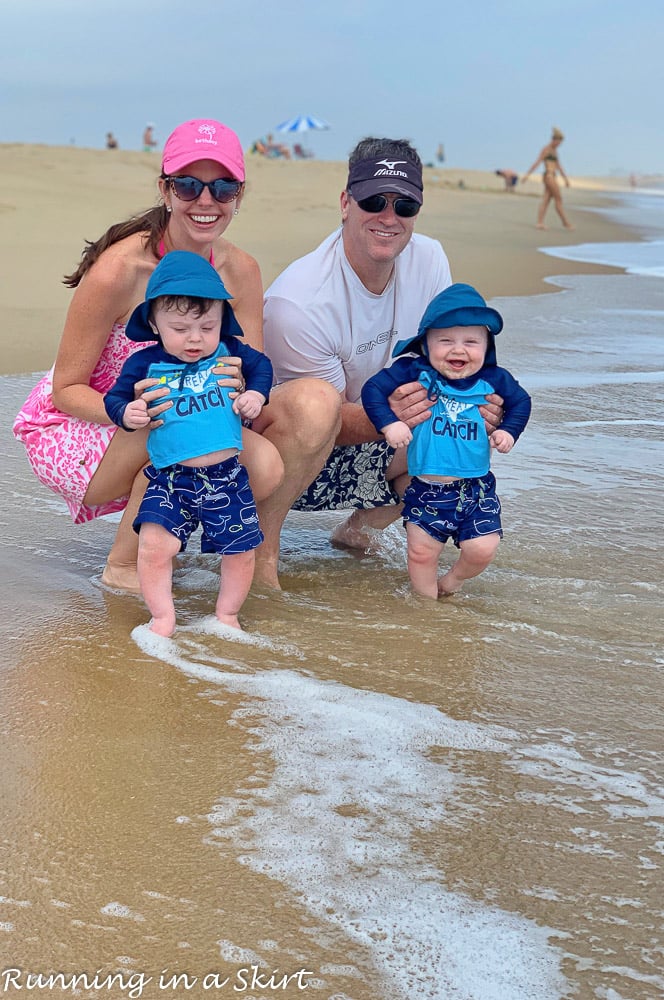 The boys blossomed on this trip and were such hams on the beach. They ate sand, rolled around and had the BEST time.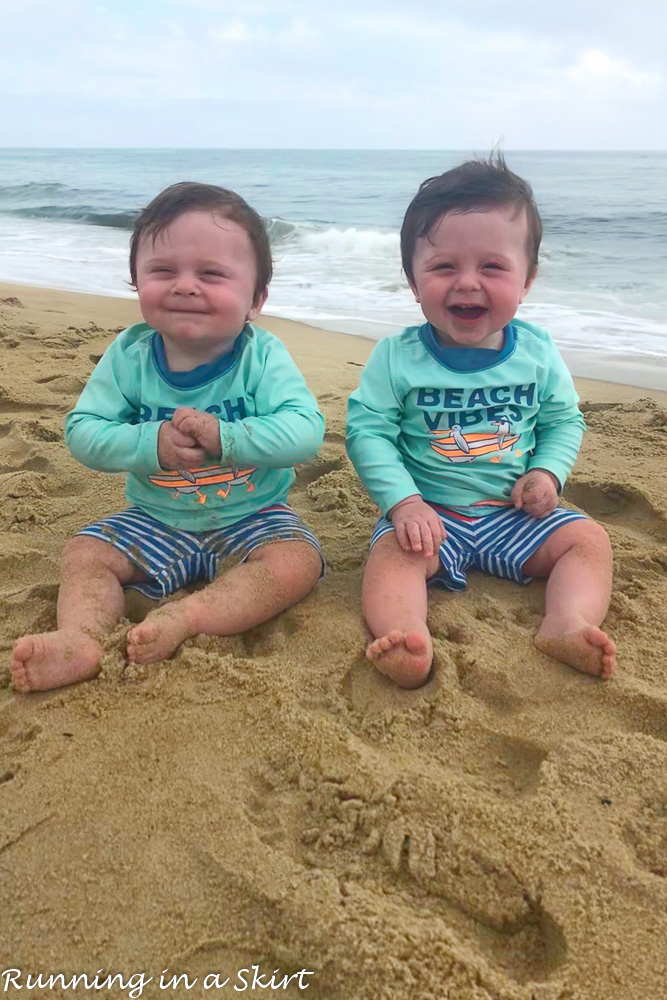 They spent lots of time with all nine of their cousins including Keegan who is two weeks older than them.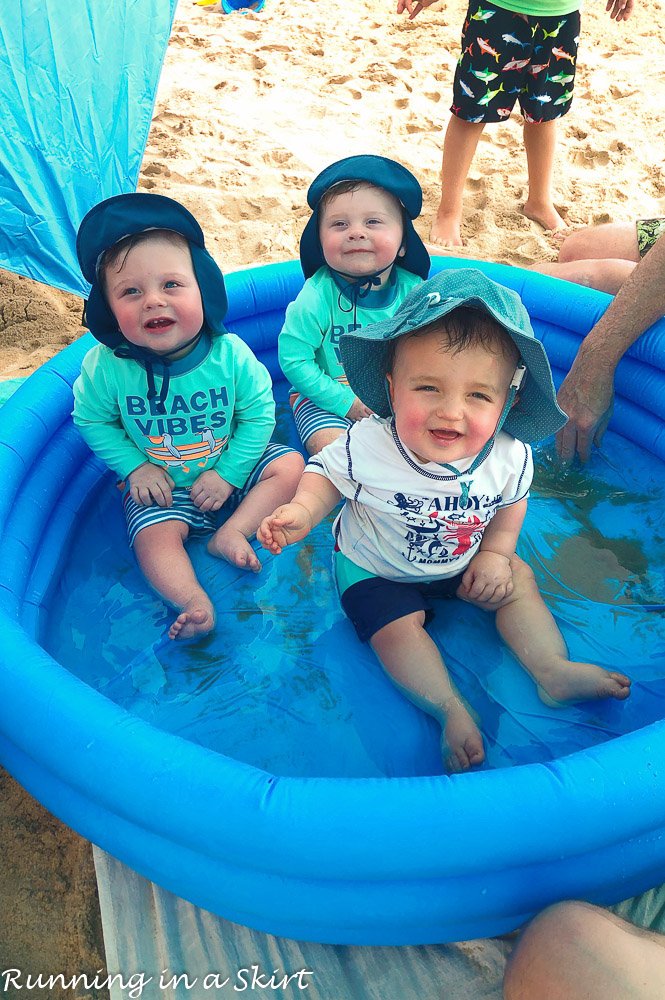 At nine months we started the fall session of Kindermusik.
The boys have grown so much since we started and seem to enjoy the classes more and more each week. We all really look forward to going. It's a workout though because they both crawl in completely different directions and there is only so much I can do to keep them together!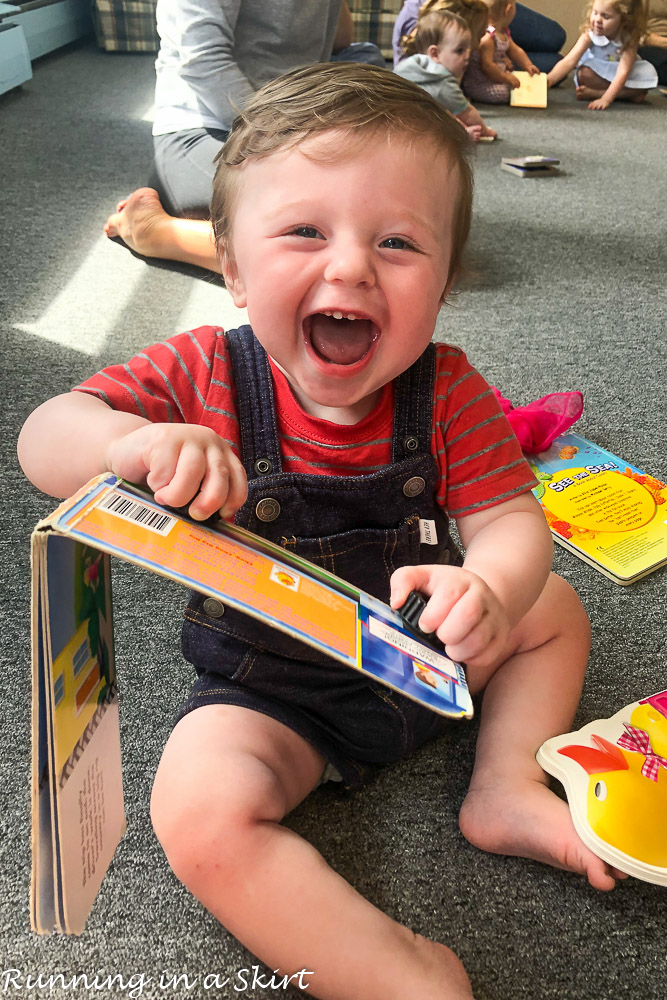 AT 41 weeks we went to a local indoor playground for the first time with our neighbor's boy and we all had an amazing time.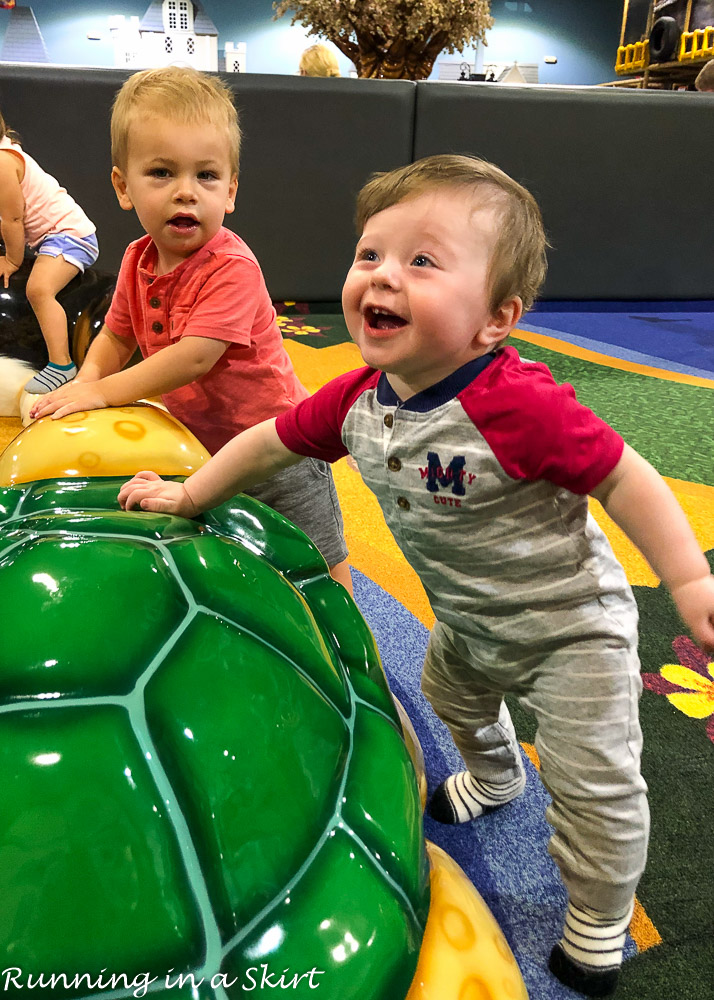 At 43 weeks we kicked off Florida Gators football in style.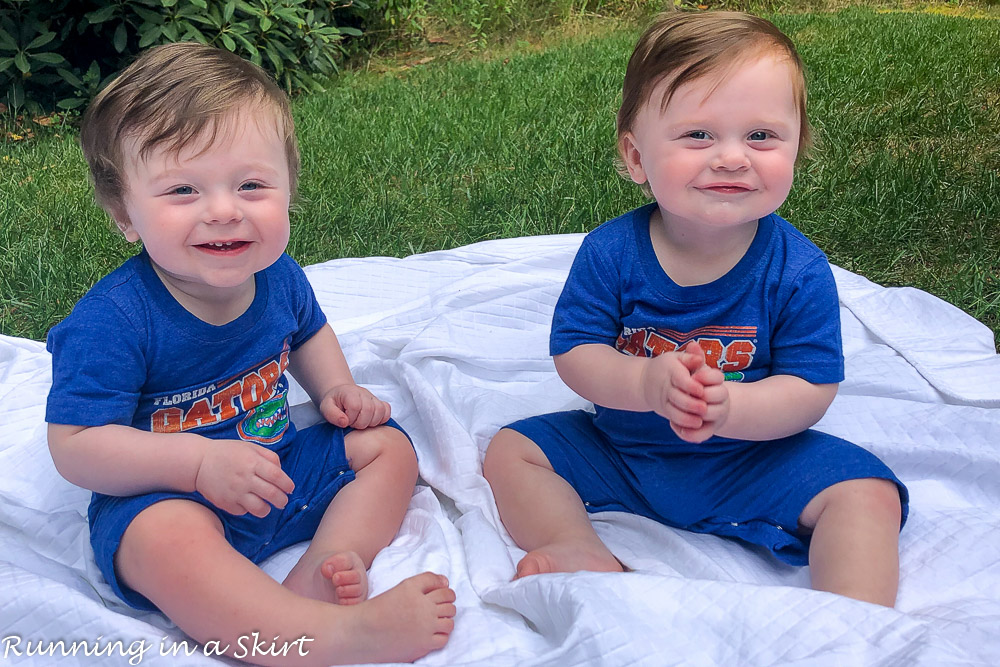 And we rounded off the summer with some last trips to the park!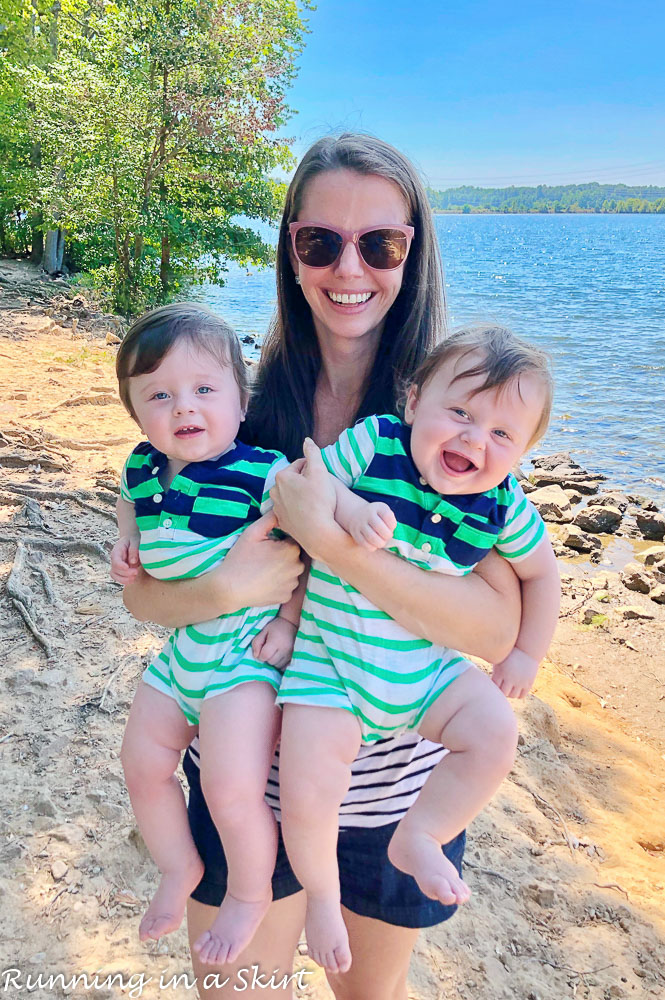 Hunter & Jackson: Month 9 & 10
Jackson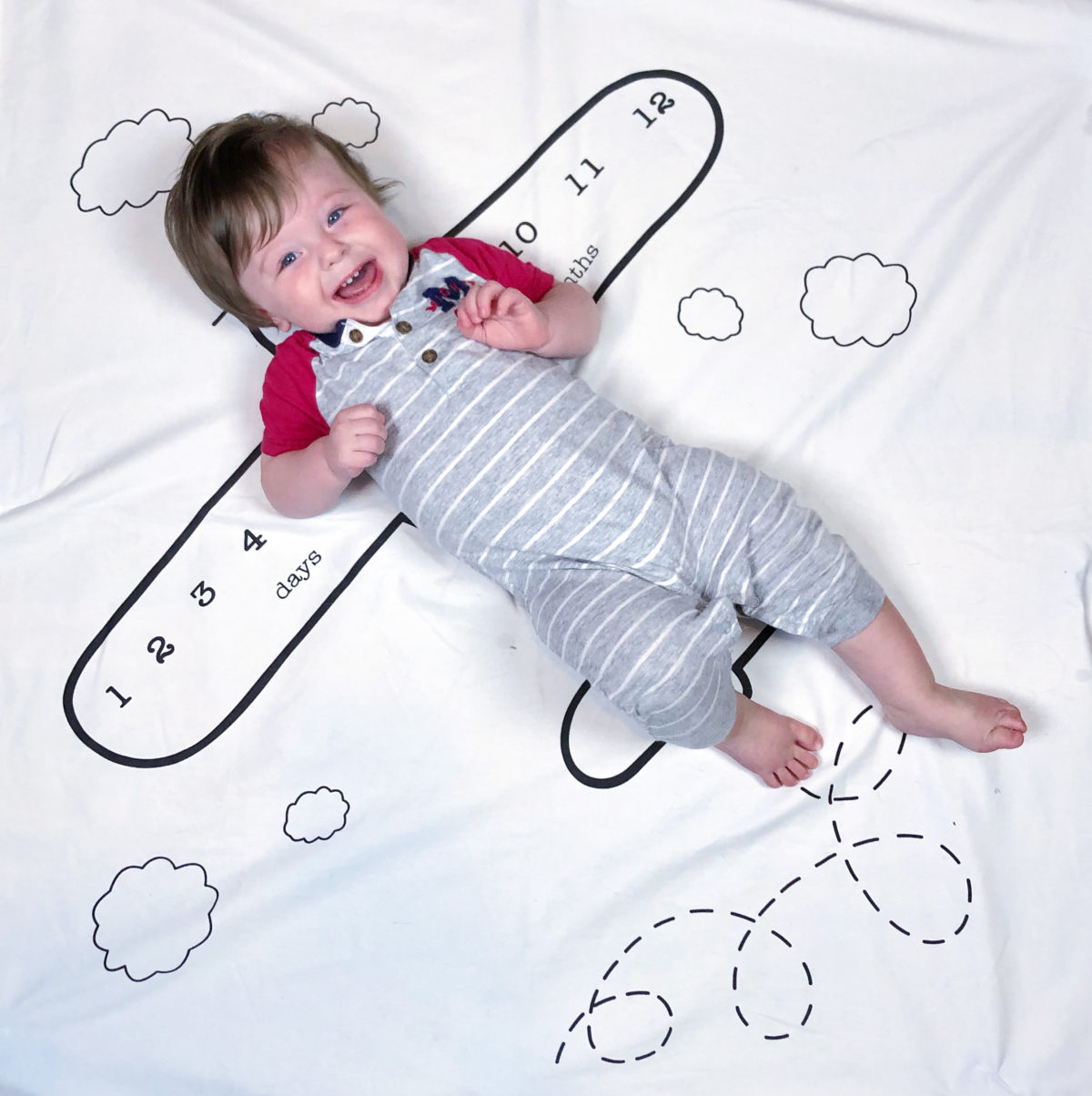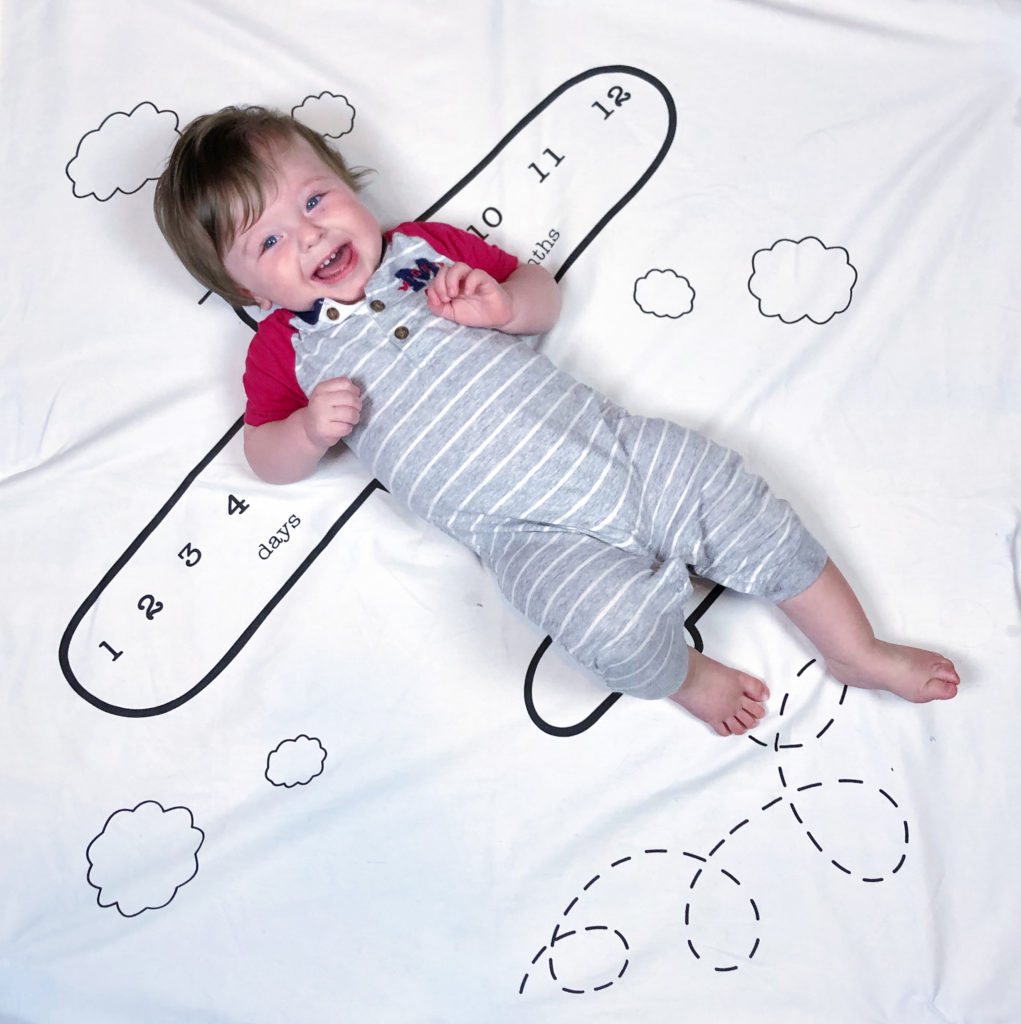 "Baby Jackson" is something else. When he is happy he can literally light up a room with this smile and laugh. He has the sweetest face, biggest smile and we simply adore him.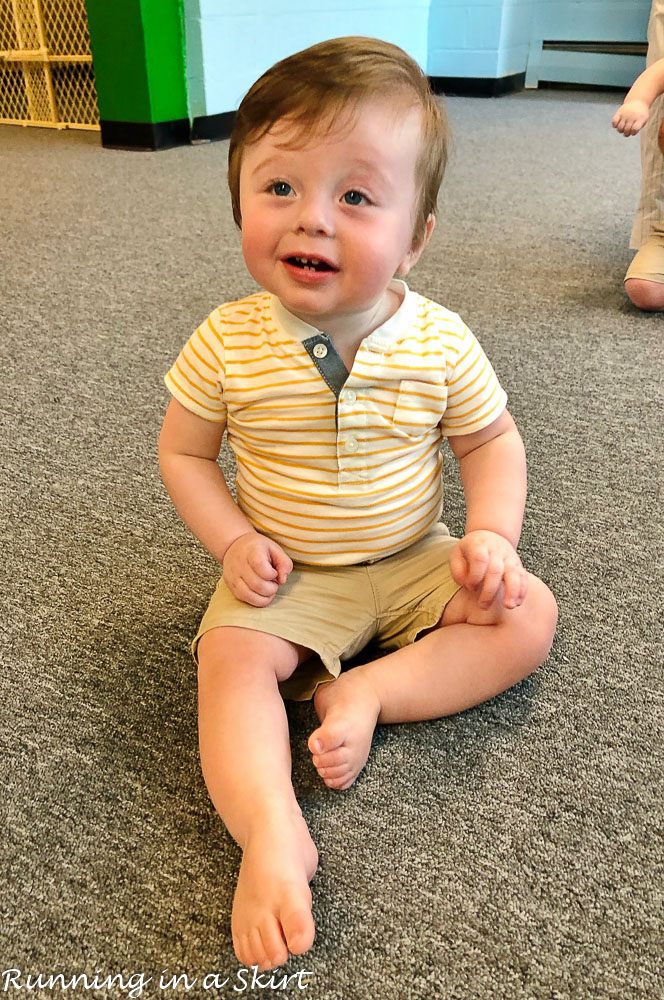 Over the past two months, Jackson has started walking very well with the baby walker and thinks it's so funny to cruise across the room. He still thinks peek-a-boo is hilarious and loves it when you tickle him. He's our little performer and can do "bye bye" and "touchdown" on cue.
In the past few weeks, he's gotten a lot better at going down for bed and naps and it's not as much of a struggle for everyone involved.
Jackson loves to eat and his favorite foods are puffs, peanut butter toast, black beans, sweet potato, and peas.
Jackson is such a fun baby and we're so glad he's ours.
Growth
Jackson is a whopping 24 pounds on our home scale and as of his 9-month appointment was 31 inches. I'm sure he's grown since then too! He's tall, slender and such a cutie! He has six teeth (2 on the bottom and four on the top) and is solidy into 12-month clothing. Everything I'm buying for fall is 18 months.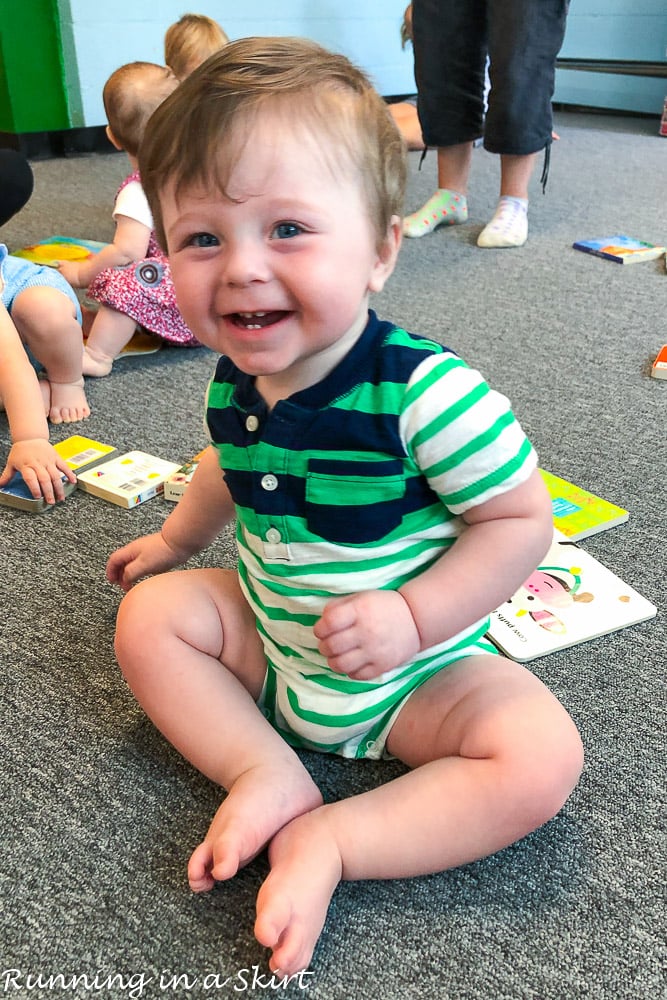 Hunter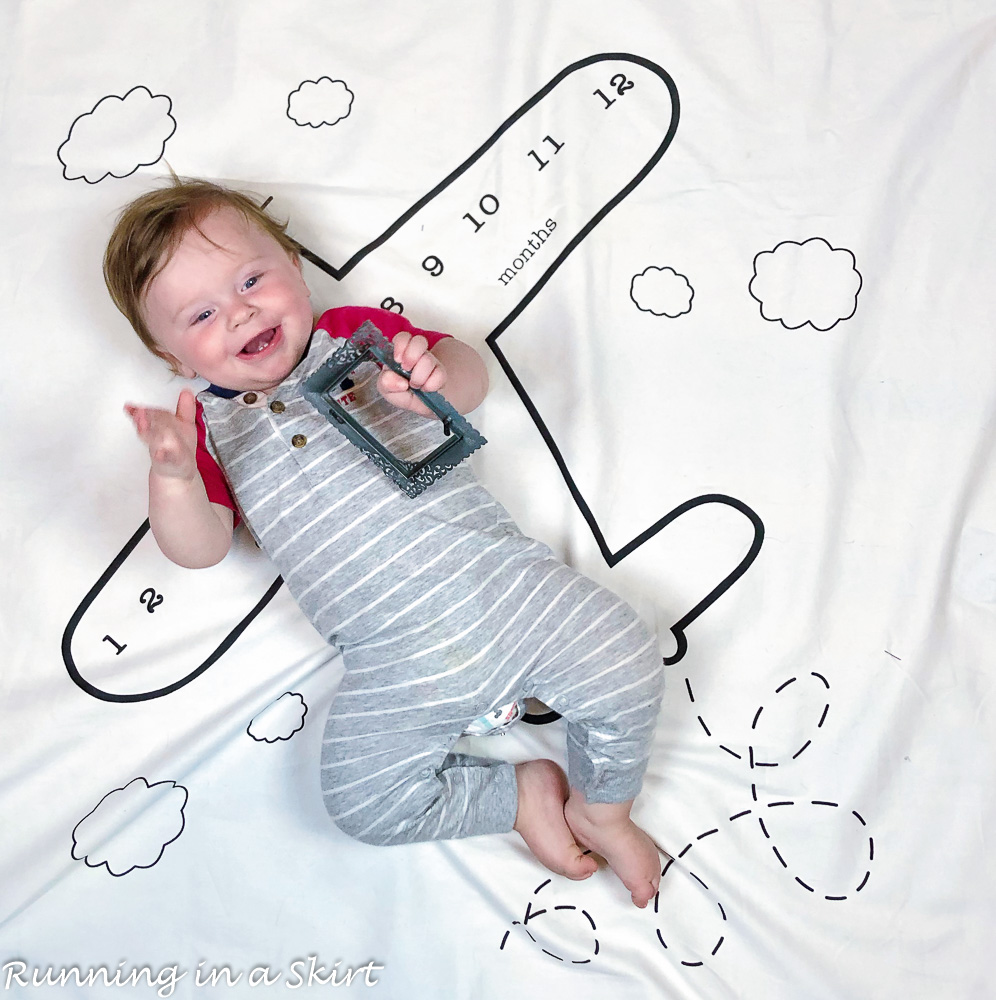 Hunter or "Huntie" is my determined baby with this crazy strength. He took his first steps at 9 months and practiced constantly until he was walking across rooms when we hit 10 months. He tries so hard to master skills and gets frustrated with himself when he struggles. He doesn't realize he's trying to do stuff months ahead of schedule.
He has a belly laugh and thinks Daddy blowing raspberries on his belly is hilarious.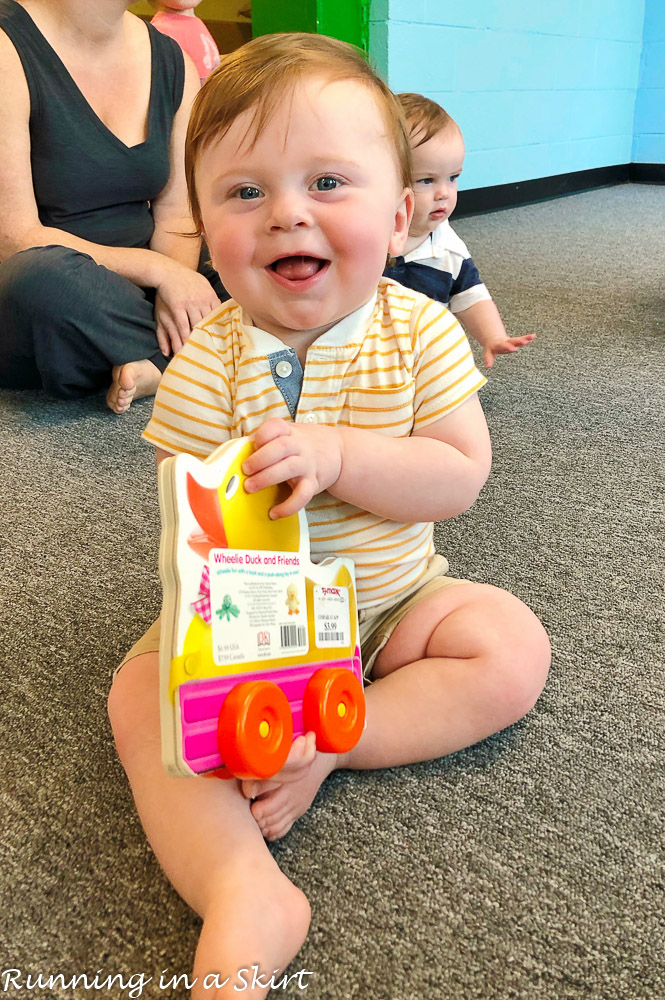 Hunter is also so funny and he loves to play with Makena. He is obsessed with her and luckily she is so good with both babies.
Hunter has turned into a good eater too. He also loves puffs but his favorite real food is anything fruit. He could probably eat a whole package of strawberries if I let him. We usually go into the yard in the evening and pick raspberries from our patch which he devours. I don't want to break it to him that raspberry season isn't going to last forever.
He's generally a good sleeper and napper too.
He is a special kid and we are so glad he's ours.
Growth
Hunter is a big boy too. He was 29 ½ inches at our nine-month appointment and I'm sure has also grown since then. Our home scale is showing he weighs about 23 pounds. Hunter has four teeth! He has two on the bottom and the top two have been SLOWLY coming in for over a month. He is also solidy into 12-month clothing!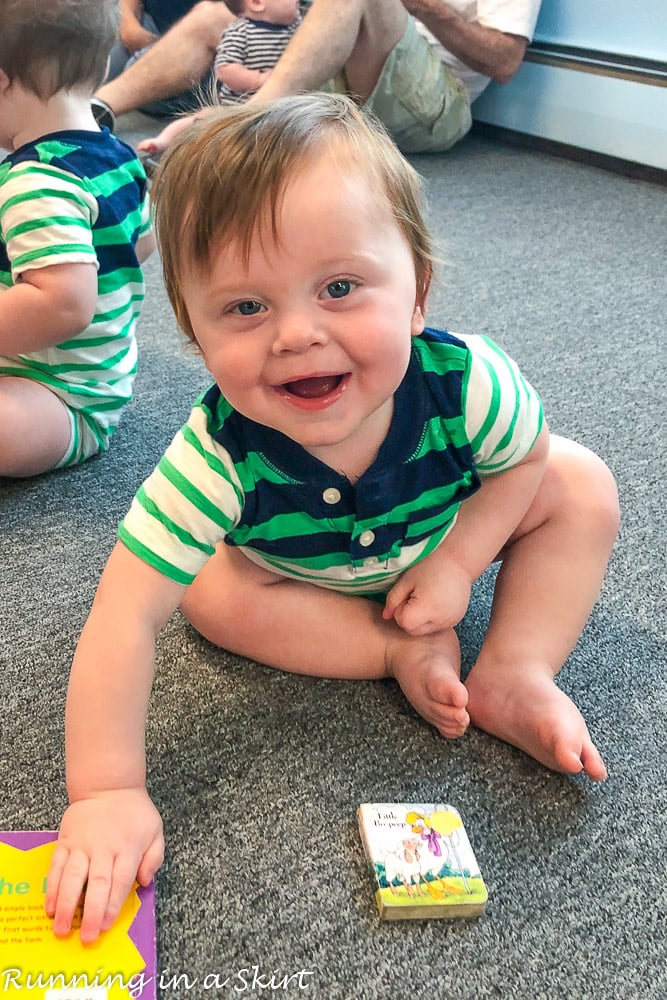 Schedule
Our schedule has become very routine at this point! At our doctor's suggestion we are trying to wean the babies off the acid reflux medicine and in the past few weeks have stopped giving it to them in the morning and haven't had issues yet. We're going to try to stop the evening meds here soon too. Fingers crossed that they don't start hurting again.
7 AM – bottle feeding
8:30 AM – solids feeding
9-10ish AM – nap
11 AM – bottle feeding
1-3ish PM – nap
3 PM – bottle feeding
4 PM – solids feeding
6:30 PM – bottle feeding and acid reflux medicine
7 PM – bedtime
Likes
The Beach & Sand
The Pool
Puffs
Baby Crackers
Peanut Butter Toast
V-Tech Walker
Mommy or Daddy Coming Home
Kindermusik
Baby Shark
Dislikes
Being Hot
Carseats
6:15 PM
Firsts
First Steps (Hunter - 41 weeks)
Walking with Walker
First Time on Swings (37 weeks)
First Time Eating Out in a High Chair (38 weeks)
3 & 4 Month Favorites
Things I Want to Remember
The past few months have been so much work but as time passes all I want to remember is the fun. We seriously made some magical memories that I know we will look back on for the rest of our lives. The babies love to see the world and it's been such an adventure to start taking them out in the world more. I feel like we are all hitting our stride.
The same thing goes with the traveling we've done with them. It has been hard, but we've kind of streamlined the process and now what I remember are these magical moments on the beach and with my Grandmother.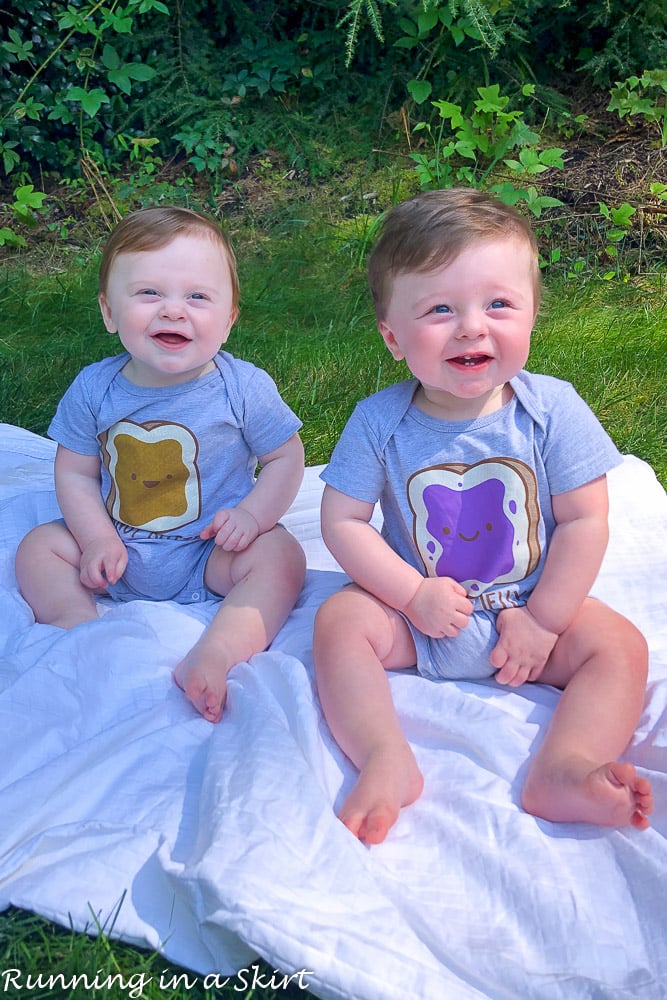 These babies have turned into funny, life-loving hams. They play with each other, are hitting milestones faster than I can accept and are special big babies. I can't wait to see what's in store for the next two months!
Have you missed any Hunter and Jackson news? Catch up here…
If you missed any of the pregnancy journey you can catch up here…