Hello! Hello! I wrapped up my unbelievable series of baby showers this past weekend with a couples luau themed baby shower thrown by one of my best friends and SIL and a smaller cookout for our neighbors.
When I was trying to pick a date for the girl's shower it turned out that my best friend of 30+ years could only travel to Asheville on Labor Day weekend, which just so happened to be the one weekend my SIL Erica could not come. To solve the problem Erica suggested we do a second couples shower so she, my Brother and my Dad could be involved... especially since my Mom is no longer with us. My neighbors also wanted to have some special time to celebrate the twins and insisted on doing another one. It was never my intention to have so many showers, but our friends and family have been so generous. I have burst into tears so many times over how kind and thoughtful our friends and family have been.
Hopefully, I'm not baby showering you out here but these events have been nothing short of magical. I hope you've enjoyed reading about them.
Couples Luau Themed Baby Shower
The days leading up to the couples luau themed baby shower were filled with a lot of questions as Hurricane Florence approached the NC coast. We had family traveling from Charlotte, Columbia, and Florida to attend the shower so everyone was worried about making it to the event and back home again. Plus if the forecast would have been as bad as it looked at points, we were worried about local folks even being able to come in the rain and the wind. Luckily the storm wasn't as bad for our area as expected and nearly everyone was able to make it! We did have to move it indoors though because it was a very soggy night. Luckily the luau theme brought its own sunshine and we all pretended to be in the tropics even for just a few hours!
My pictures all look a little wonky because there was not enough light on such a dreary night.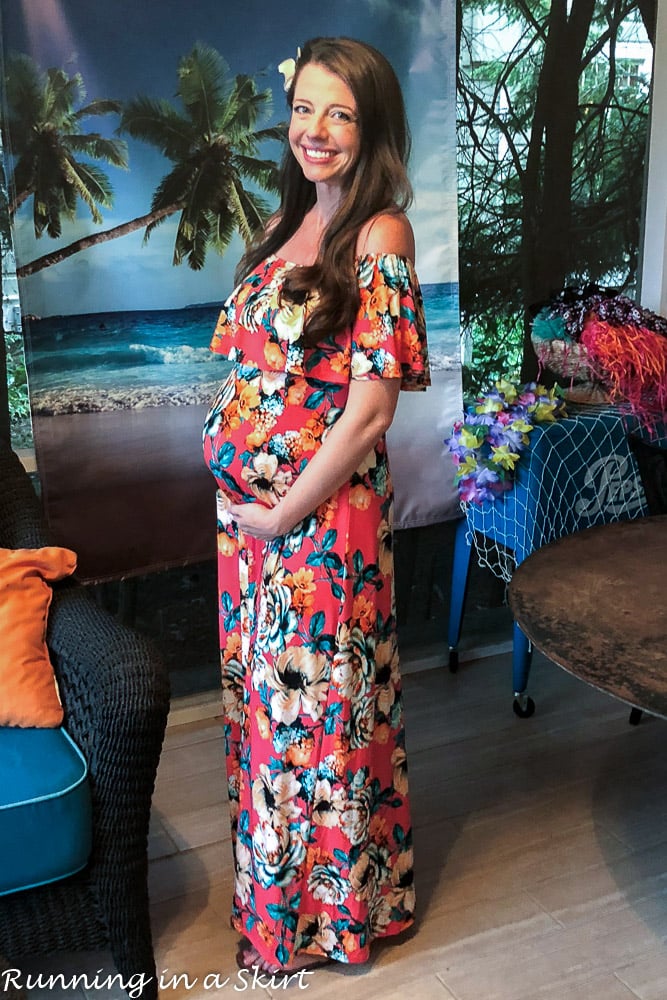 It was so nice to do a couples/coed shower were the Hubs could be involved and it gave us a chance to invite some of our friends who we are friends with together.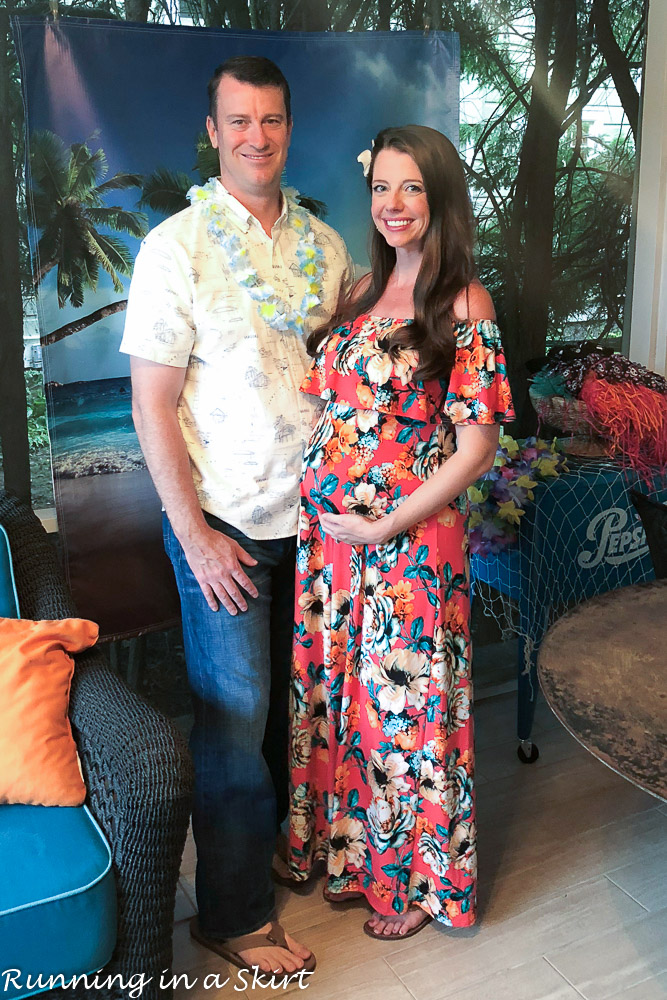 My Brother's wife Erica came from Charlotte with a carload of the most adorable decorations and games.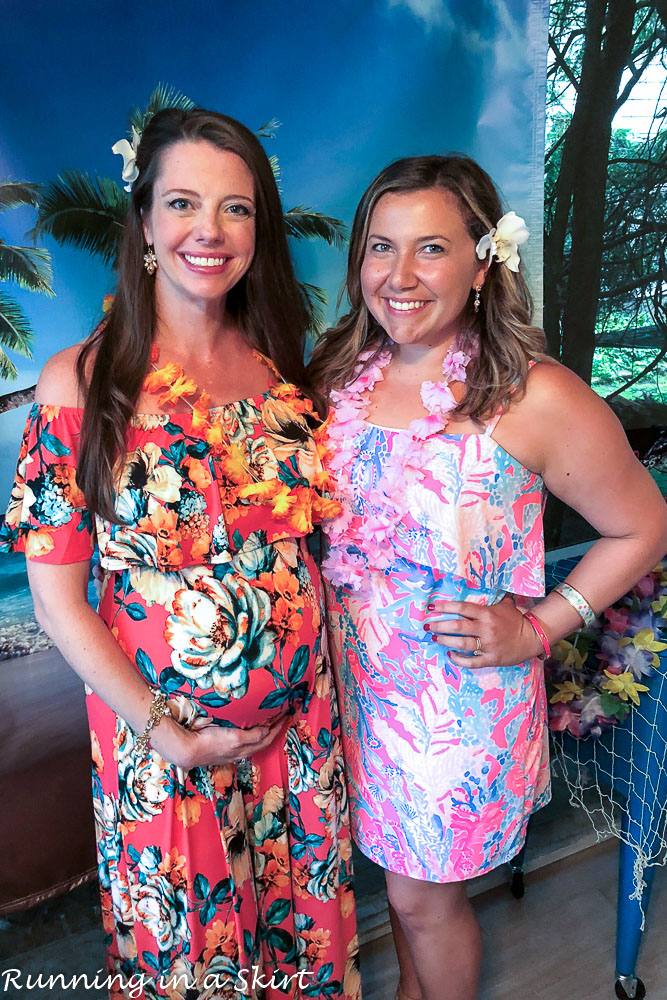 And my good friend Sommer (make sure to check out her food and travel blog, A Spicy Perspective) made all the delicious food and drinks plus hosted at her gorgeous home.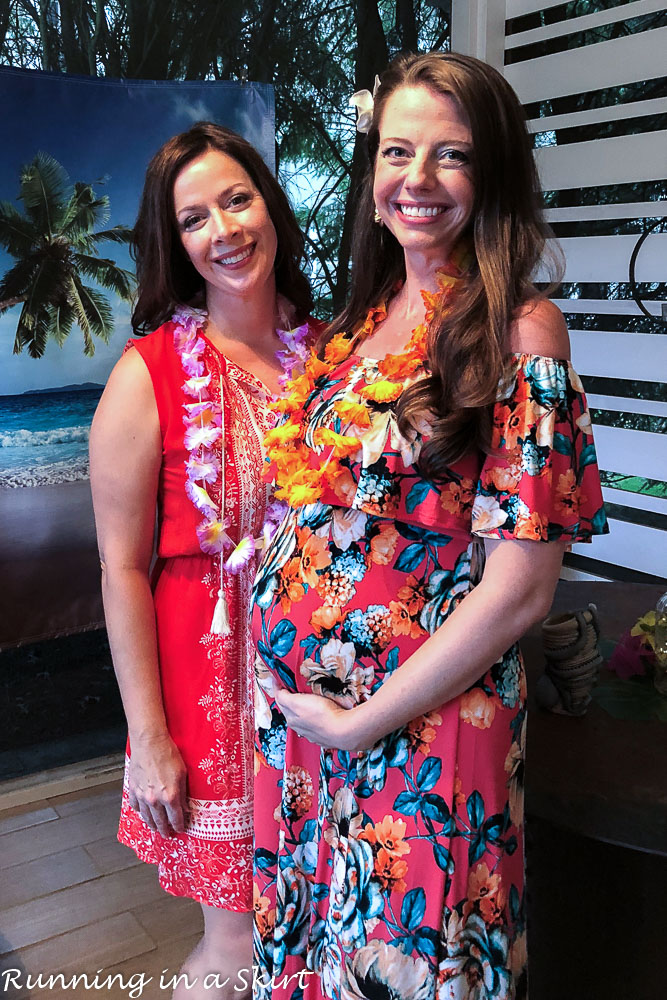 The decor played off a Hawaiian theme and had all sorts of cute pineapples and twin references.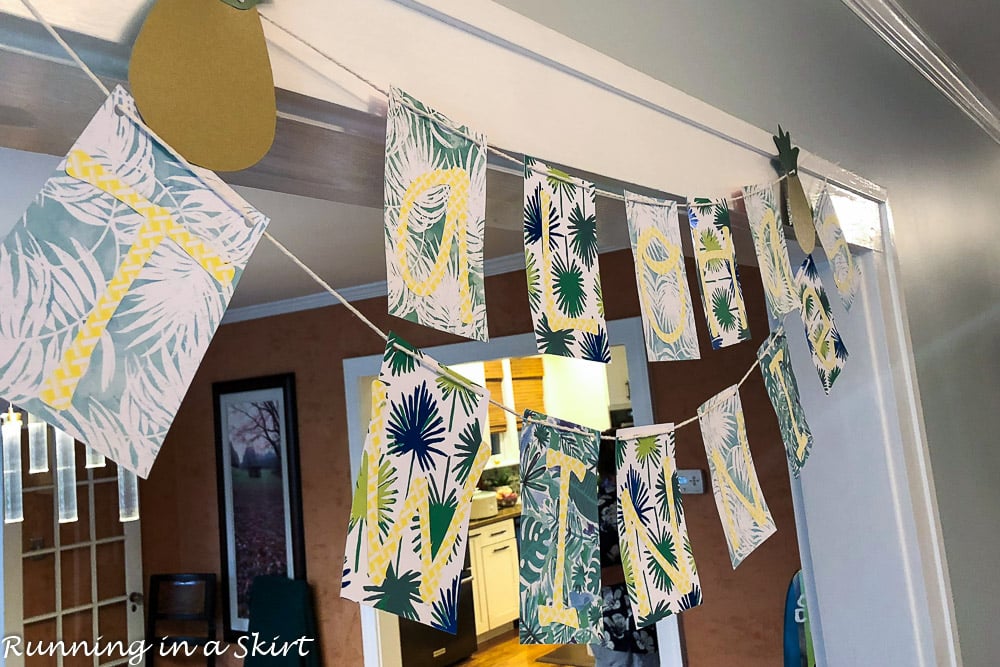 Everyone even got their own lei when they arrived!
The entire house was decked out with so many cute things that brought us to Polynesia without leaving the mountains.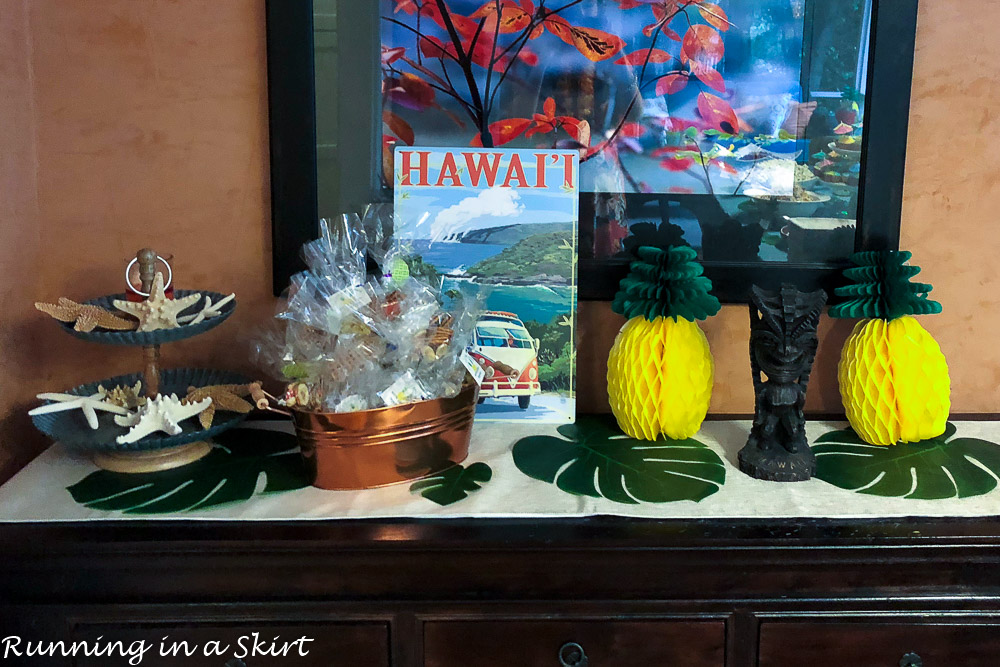 The favors even had cute pineapples on them!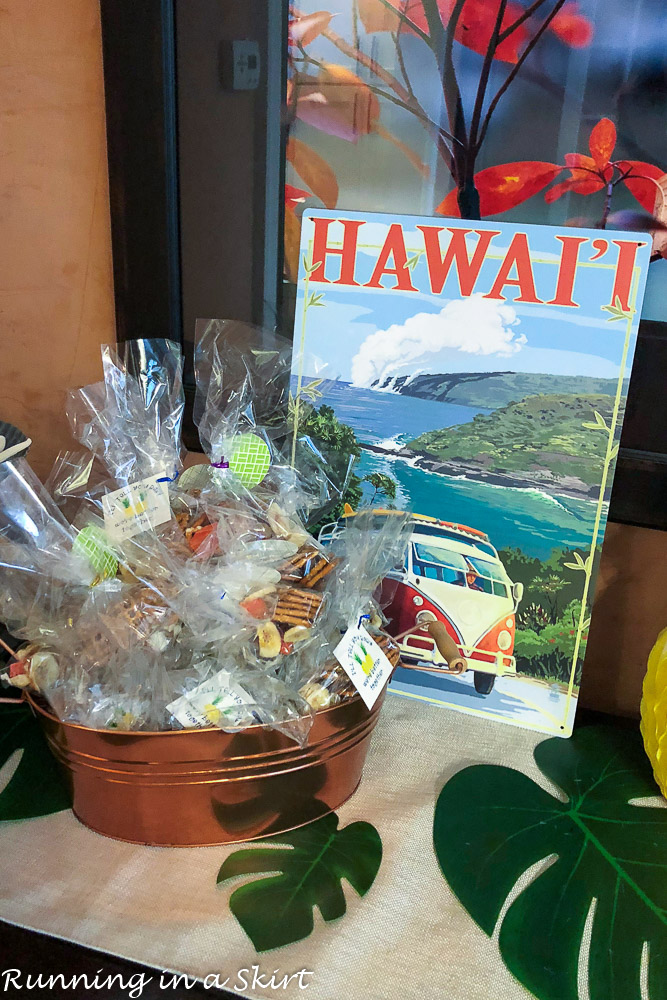 One of the cutest parts of the whole event was the tiki mugs for the drinks! Sommer just happens to collect tiki mugs, which worked out perfectly.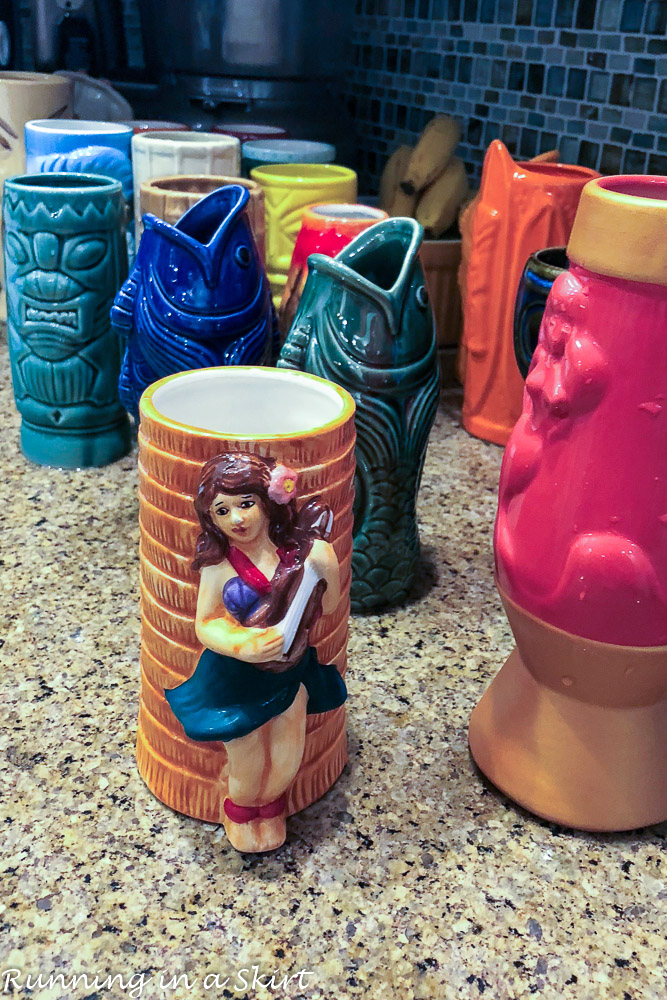 For drinks, there were Blue Hawaiians and non-alcoholic choices for those of us who are very sober these days. 🙂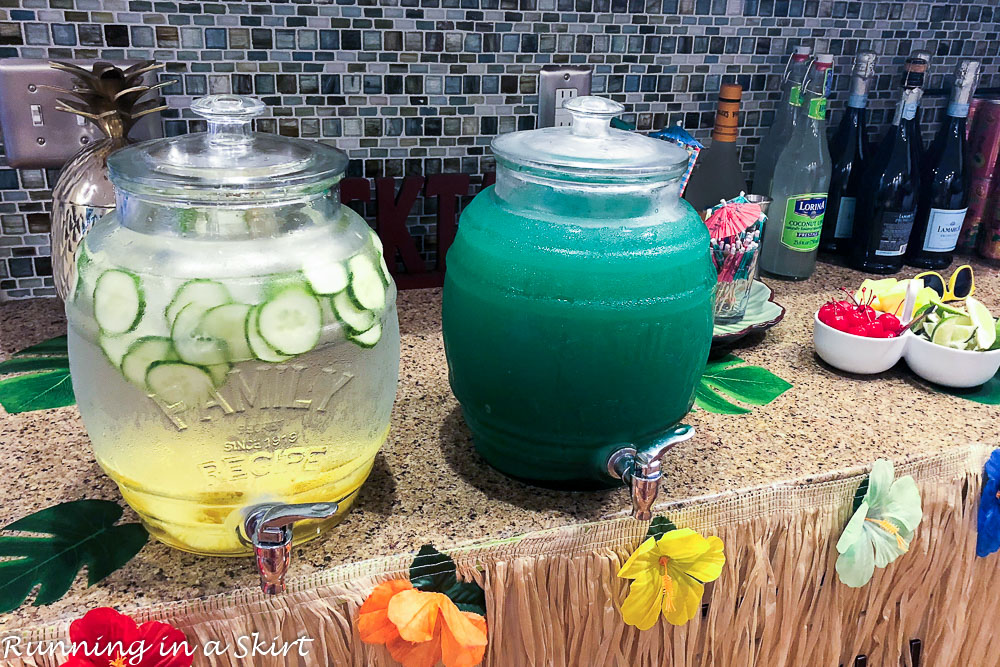 PLUS all the additions to make an adorable tiki drink!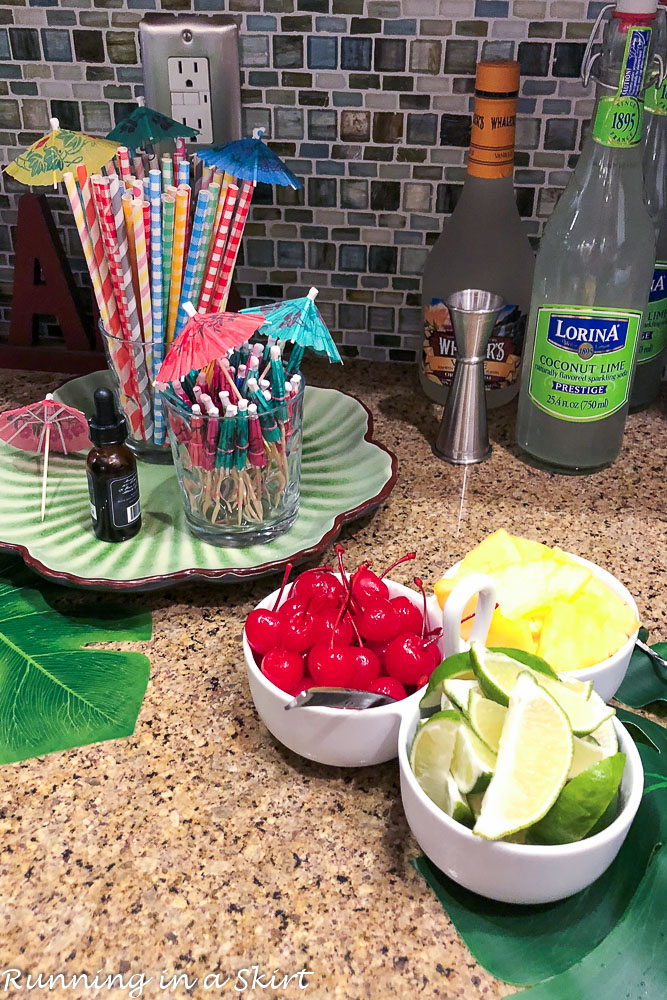 The food was all luau themed and was blissfully good! It literally looked like a table from an authentic luau. Everyone raved about it to me for days.
I loved the whole spread but a few of my favorites were the Hawaiian Sesame Slaw...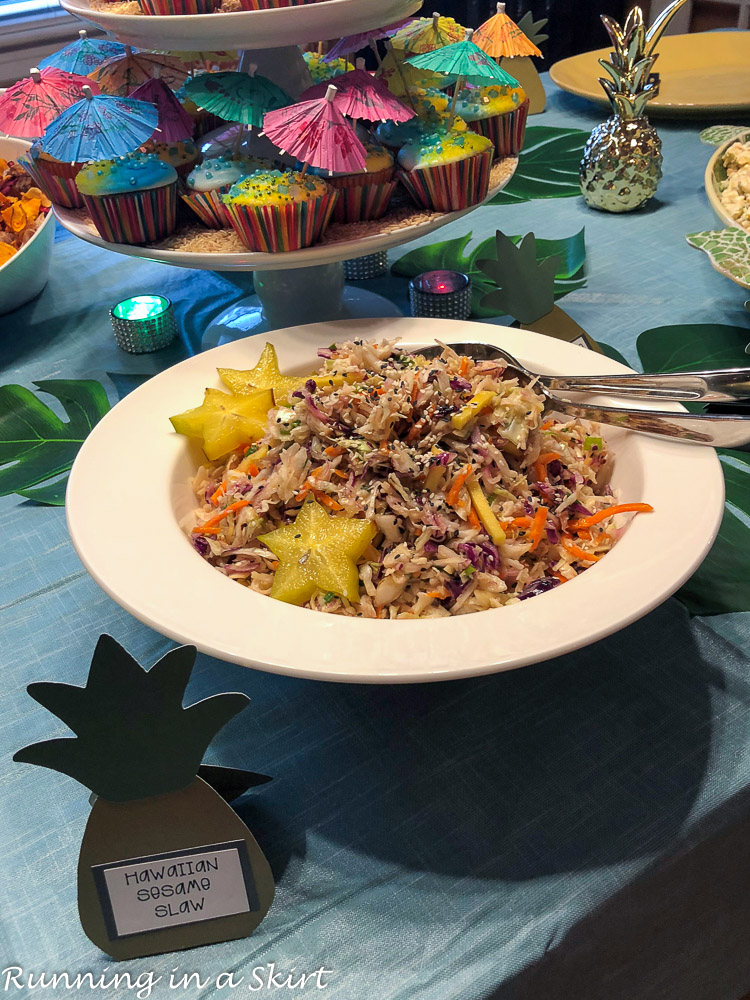 ... Tropical Potato Salad... (complete with a sea turtle serving dish!)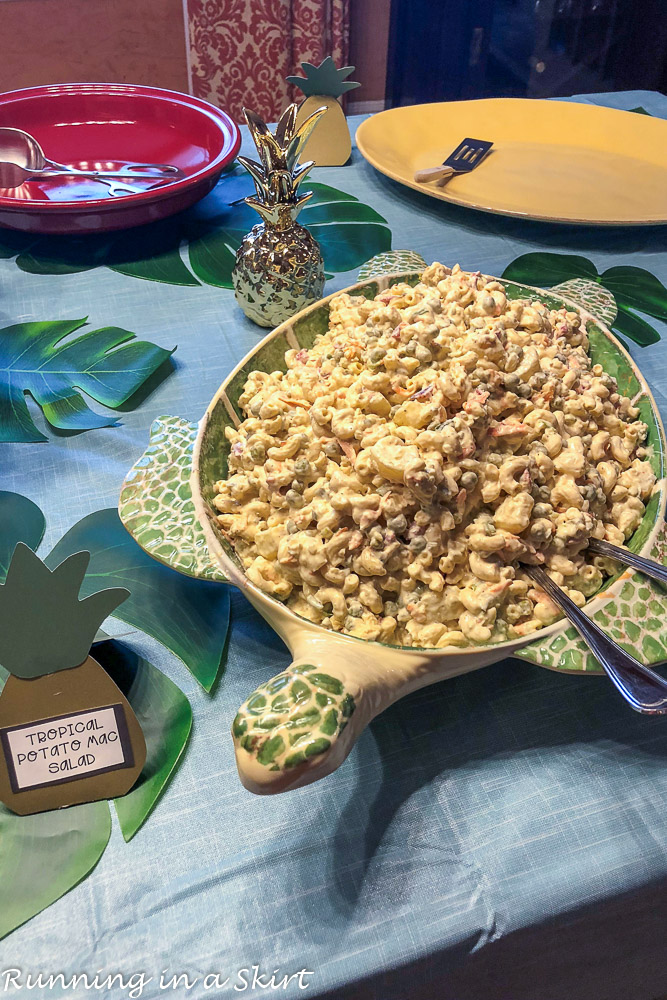 ... and the Huli Huli Salmon.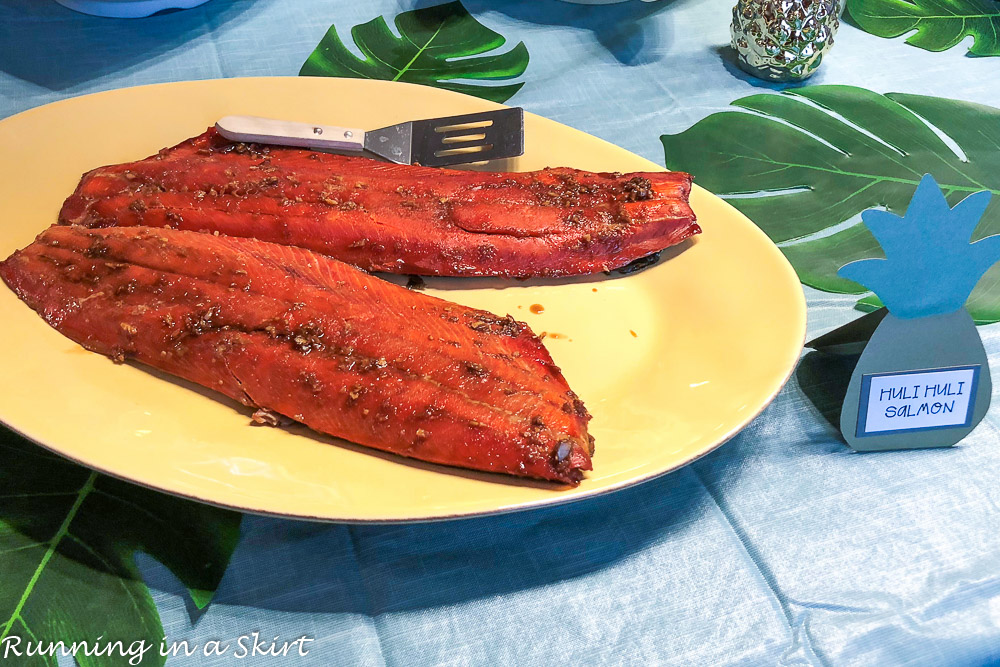 She even had authentic Hawaiian poke. I couldn't eat this batch BUT the Hubs and I make her recipe all the time and this is the BEST! If you love poke, you've got to try it.
Sommer also had luau pork and bread!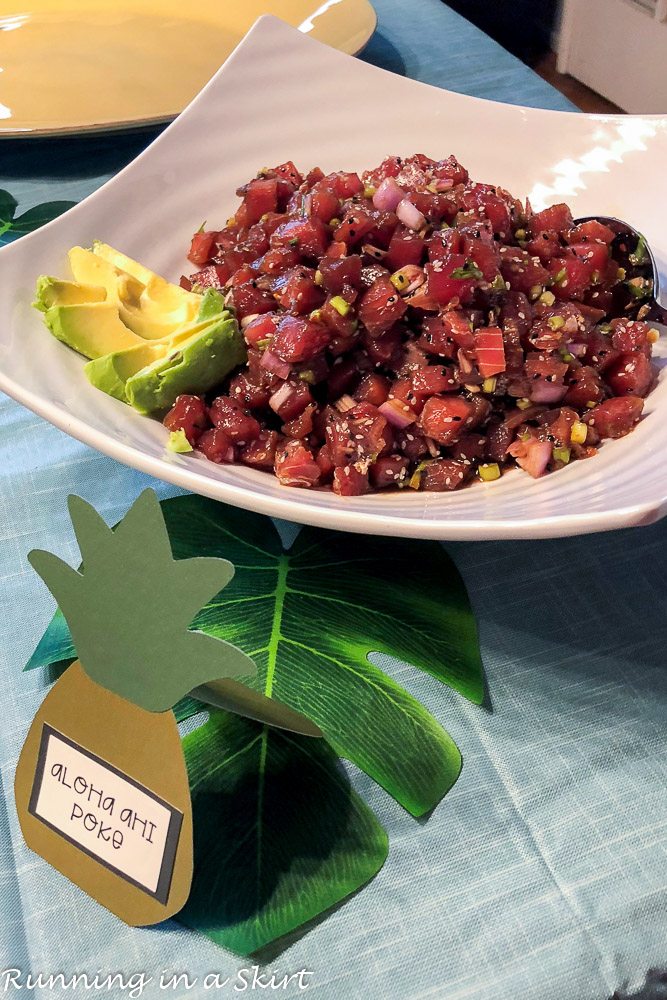 Instead of a cake, she handcrafted these gorgeous guava cupcakes with coconut frosting. She painted the tops to look like the sand and sea with edible sea glass. They were the most delectable things I've eaten and I just can't get over how adorable they are.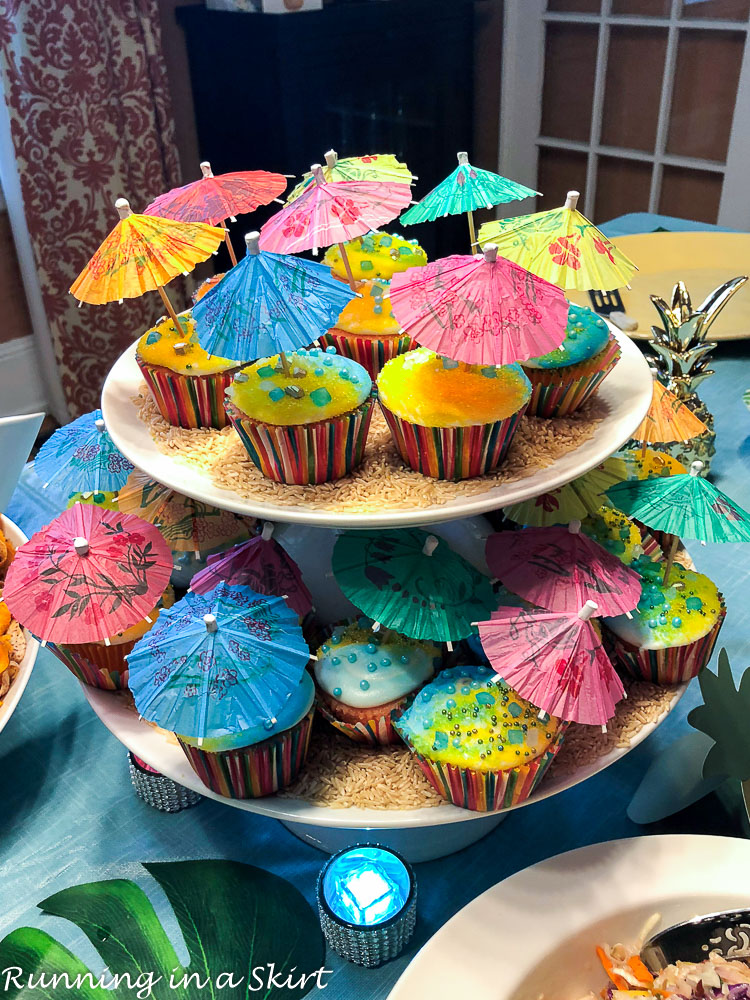 The evening was filled with good conversation with so many of our friends. I loved being able to celebrate the twins and once again I can't believe how much they are already loved. It was also so nice to have a shower that included my immediate family since I only have a Dad and Brother. It was so special to have them there.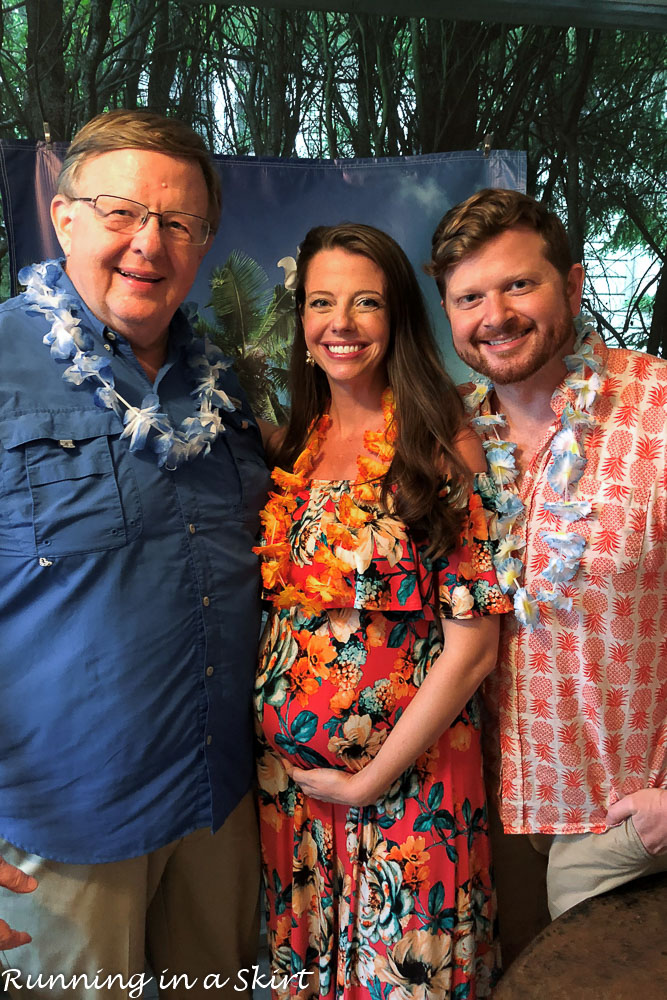 The night felt like something out of a dream and will be one I remember for a lifetime.
Neighborhood Shower
On Sunday night my neighbors planned a cookout for us to once again celebrate the twins! We are really good friends with everyone on our street, so it was really special to be able to have a smaller party that allowed us all to talk and catch up. Unfortunately, it POURED all day Sunday too so our cookout was moved indoors, but we still had a lovely time.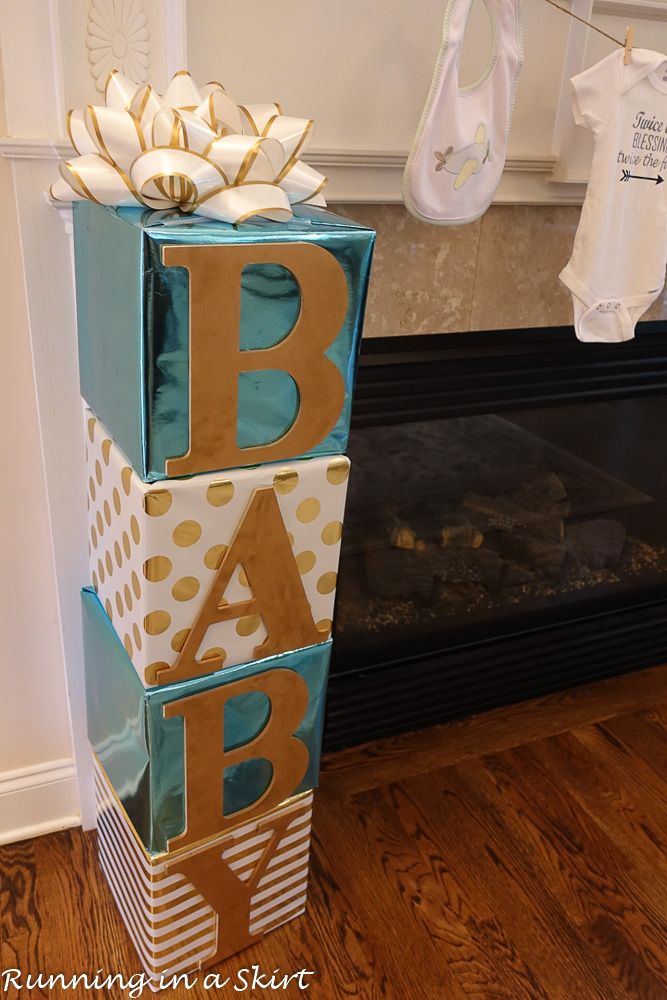 My friend Emily hosted at her house and everyone chipped in and brought delicious food for us to share. She has a gorgeous home that was perfectly decorated for the occasion.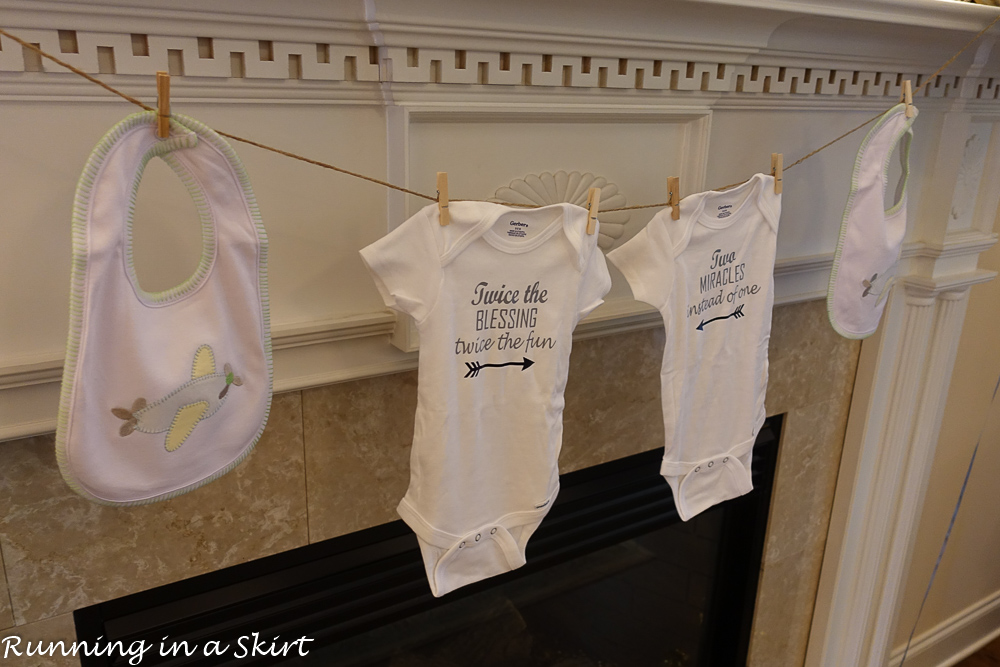 The shower was so lovely and our neighbors were incredibly generous with their gifts and offers to help with the twins with they arrive. I've always wanted to live in a neighborhood with a great community and I have the absolute best one here. I count my blessings to have these ladies in my life!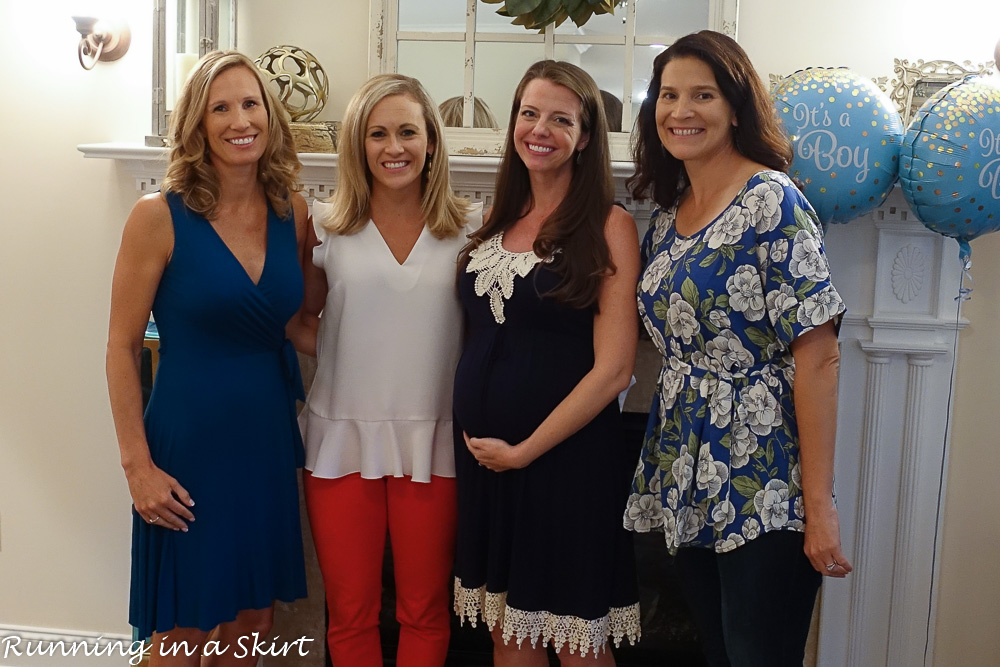 So Blessed
I know I keep saying it, but I have been overwhelmed with how kind and generous our friends and family have been with these showers. The parties have been beyond my wildest dreams and I still can't believe how much time and energy went into them. These twins are so loved and are lucky to have so many people who care. I tear up just thinking about it! I feel like I've waited a lifetime for my own baby shower and WOW did these live up to the hype. I wish I could go back and do them all again.
I hope y'all have a wonderful weekend. I'm off to Hilton Head today so follow along on Instagram!
Catch Up Here