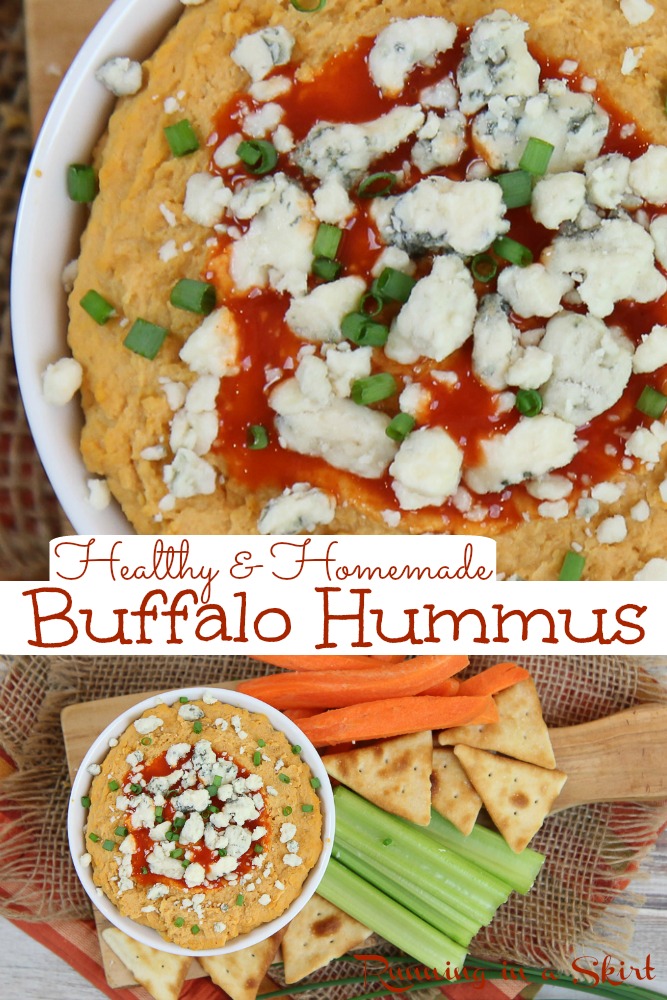 Healthy & Homemade Buffalo Hummus recipe made with only 5 ingredients including creamy chickpeas and Frank's Hot Sauce. A vegan option is included.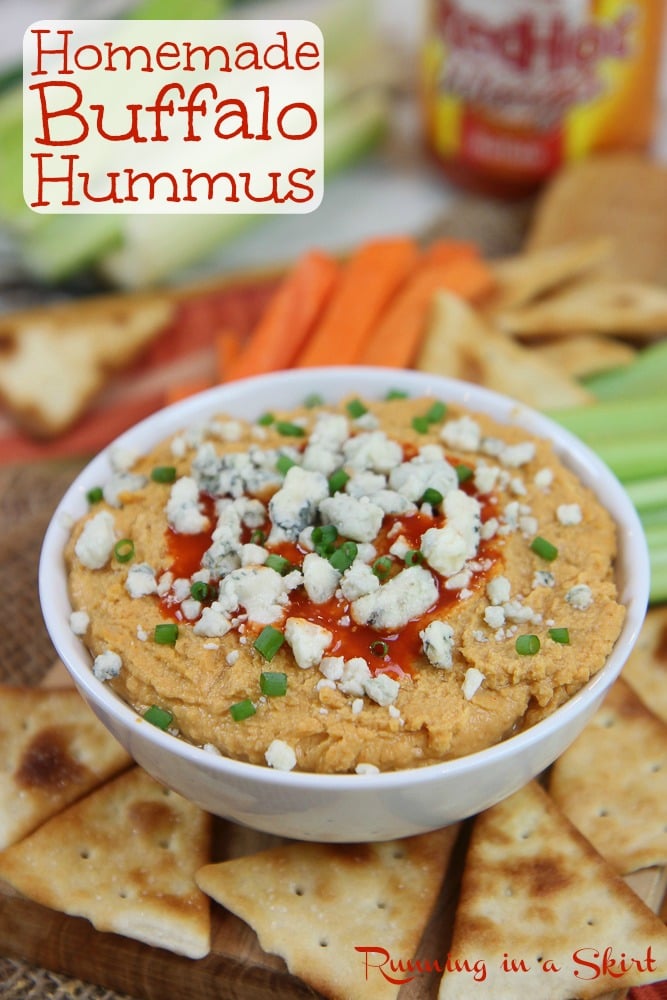 Hummus is so loveable. It's smooth, creamy, and oh so full of flavor. It's crazy versatile making it perfect for a sandwich spread of even a dip. You can make a classic version, a sweet version, or turn it up a notch with my Buffalo Hummus recipe which will totally knock your socks off!
Buffalo Hummus recipe
Buffalo flavored anything is my jam. Even though I don't eat wings, I love the classic hot sauce flavor and will pile it onto just about anything. Over the years I've shared Buffalo Cauliflower, Buffalo Shrimp, and even a Buffalo Chickpea Burger. So it's no surprise I decided to mix my favorite flavor in this Buffalo Hummus recipe.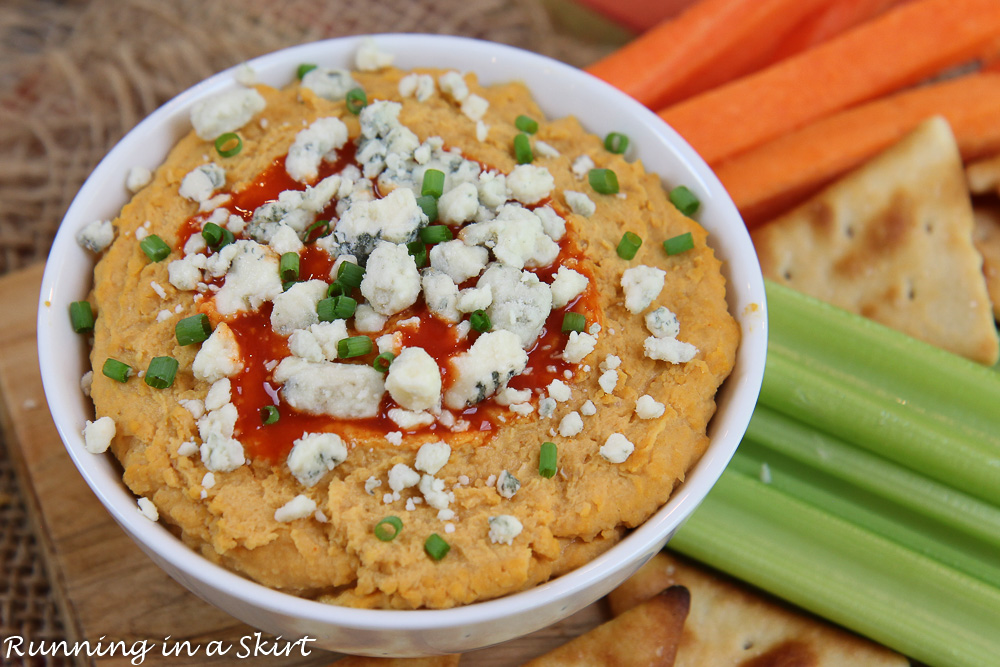 What is Buffalo Style Hummus...
Made with chickpeas, seasonings, and hot sauce Buffalo Style Hummus features creamy hummus kicked up a notch with hot sauce.
This Buffalo Hummus recipe is everything you are looking for in the best hummus recipe... it's creamy, garlicky, and has the added punch of some Frank's Hot Sauce giving it the familiar flavor of your favorite wings. It's perfectly addictive for game day or any day really. I'll be enjoying it with the few football games we'll have this fall.
Making your own homemade hummus is surprisingly simple and here's how you do it! My version takes only 10 minutes with just 5 ingredients.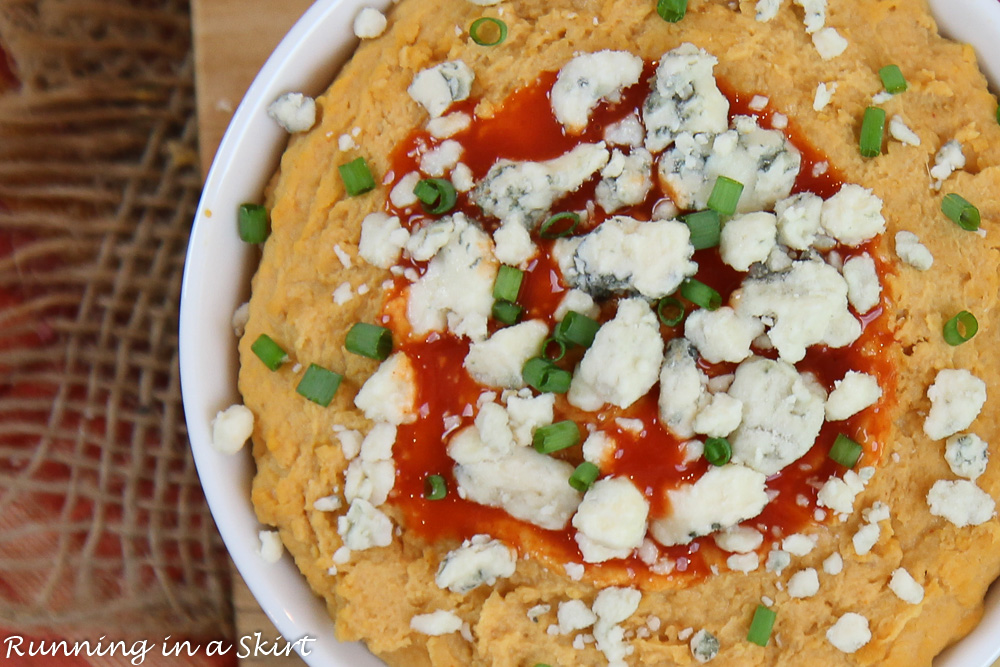 Ingredients in the Hummus:
Chickpeas: Use rinsed and drained canned chickpeas for this recipe.
Minced Garlic: Minced garlic gives the hummus the rich savory flavor you love.
Tahini: Tahini adds that smooth and familiar sesame flavor to hummus.
Frank's Hot Sauce: Get the classic brand for the full-on buffalo flavor.
Olive Oil: Just a touch of olive oil give the hummus a creamier texture.
Water & Salt: You'll want just enough water to thin the Buffalo Hummus out and salt to taste.
What is Tahini?
Tahini is just ground up sesame seeds. It gives hummus that familiar, smooth flavor. Like natural peanut butter, it settles into two layers when you buy it. You'll need to stir it well before using it. If you are having trouble finding it in the store, buy it here.
Buffalo Hummus recipe without Tahini?
While I think this recipe works better with the tahini you can do it without it. If you don't like to have tahini you can easily just omit it from this recipe. The end result will have a little less flavor but still, be good. You'll have to adjust the amount of water you add to get the correct texture. Just add it in small amounts until your recipe is smooth.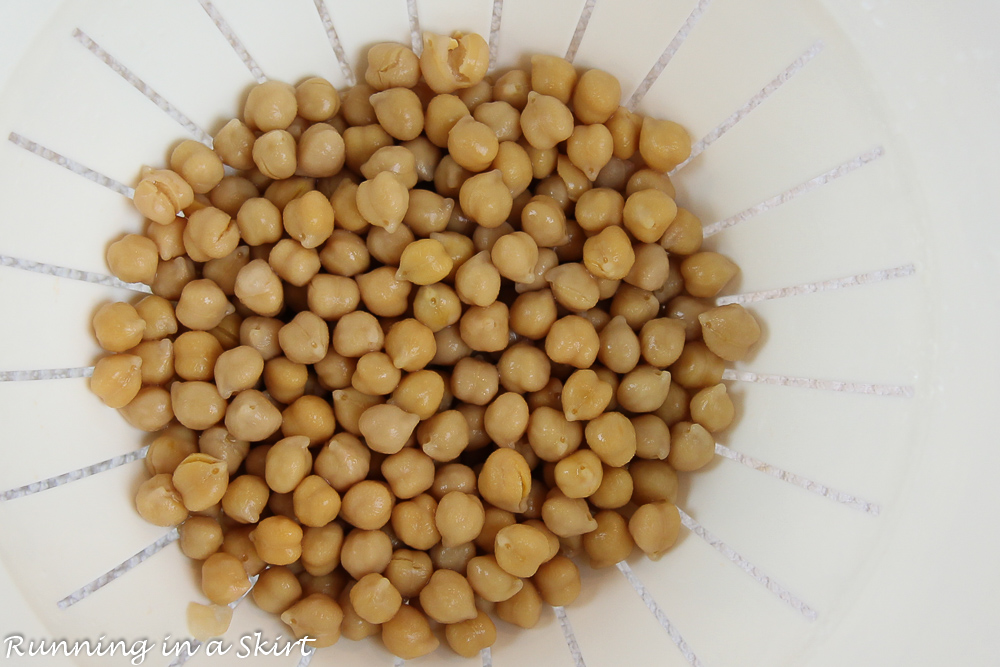 How to Make Buffalo Hummus at Home:
Making Buffalo Hummus at home takes just 10 minutes with any food processor. This one is my favorite.
Rinse and drain the chickpeas.
Add the ingredients except for the water to the food processor and start mixing.
Add the water a small amount at a time until your buffalo hummus recipe reaches a smooth consistency.
What to serve with the hummus...
Serve your hummus with classic carrots and celery or your favorite crackers or chips.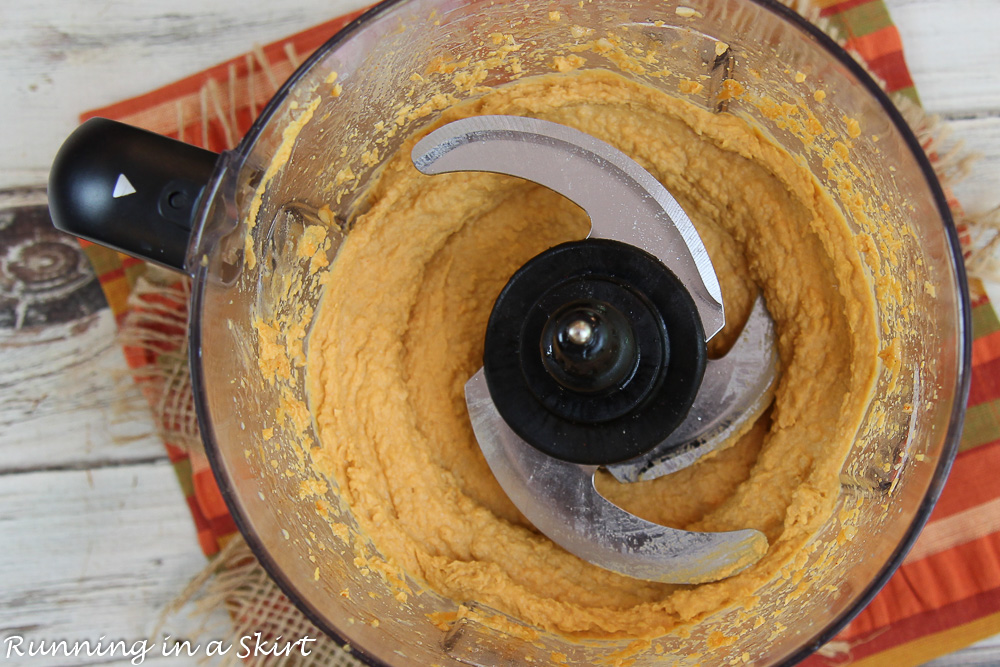 Variations and Pro Tips
Add some lemon to give the Buffalo Hummus a bright flavor.
For a spicier version, add more hot sauce.
Leave the recipe as is OR kick it up even more by topping your Buffalo Hummus with a pretty swirl of hot sauce, blue cheese, AND fresh chives/ green onions.
The recipe as is vegan... the blue cheese on top is not. 🙂
How long does homemade hummus last?
Homemade Hummus like this Buffalo Hummus lasts 4-5 days in the refrigerator. It's doesn't have any preservatives so it doesn't last as long as the packaged kind.
Can you freeze homemade hummus?
Yes! To keep your homemade hummus longer you can freeze it for up to 3 months. To thaw your frozen hummus simply transfer the hummus from the freezer to the refrigerator. It should thaw in about 24 hours.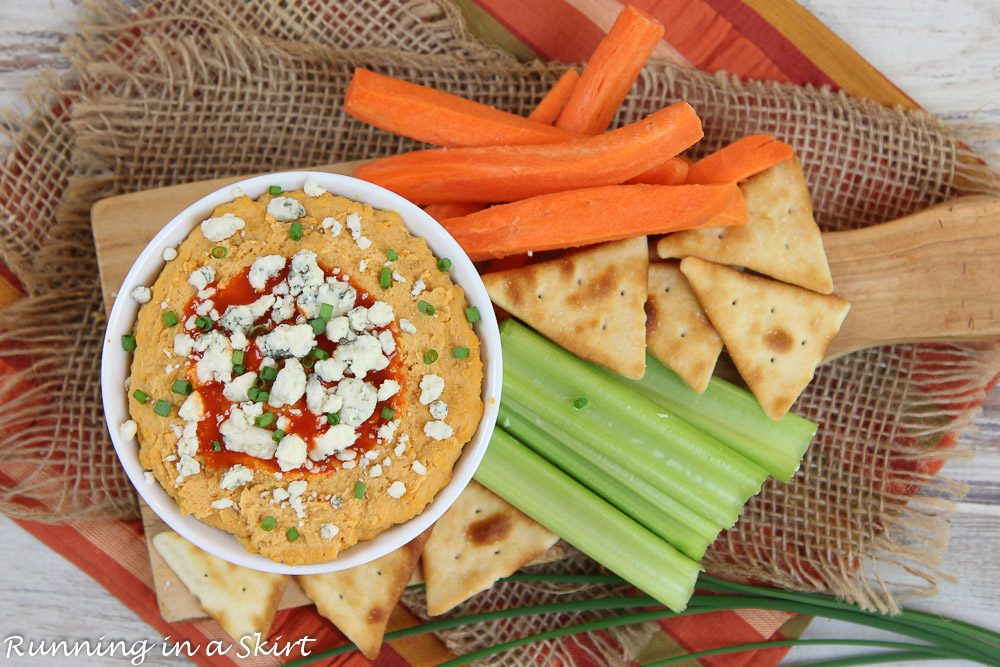 I hope you LOVE this Buffalo Hummus recipe as much as I do. It's addictive and oh so good. Give it a try and let me know what you think.
More Healthy Dips Recipes to Love:
If you make this recipe, I'd love to hear what you think! Leave a comment and a star rating ★ below. Make sure to follow me on Instagram, Pinterest, and Facebook too!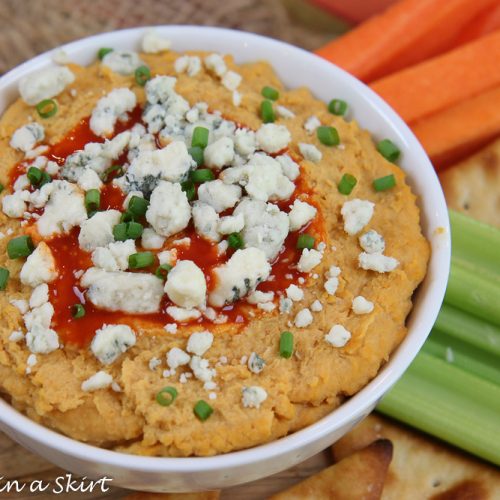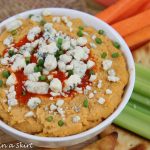 Buffalo Hummus recipe
Healthy & Homemade Buffalo Hummus recipe made with only 5 ingredients including creamy chickpeas and Frank's Hot Sauce. Vegan option included.
Instructions
Put the chickpeas, minced garlic, tahini, hot sauce, olive oil and water in a food processor or high speed blender and mix until smooth. If it's too thick add an addional tablespoon of water.
Notes
Serve this Buffalo Hummus recipe with celery, carrots sticks, and pita chips.
Nutrition
Calories:
222
kcal
Carbohydrates:
19
g
Protein:
8
g
Fat:
14
g
Saturated Fat:
2
g
Sodium:
1071
mg
Potassium:
232
mg
Fiber:
6
g
Sugar:
1
g
Vitamin A:
17
IU
Vitamin C:
1
mg
Calcium:
64
mg
Iron:
2
mg
Pin for later...