This is THE BEST Chickpea Burger recipe! My Buffalo Chickpea Burger recipe is filled with chickpeas, oats, and vegetables and topped with a classic buffalo sauce AND a Blue Cheese Coleslaw for a flavor explosion.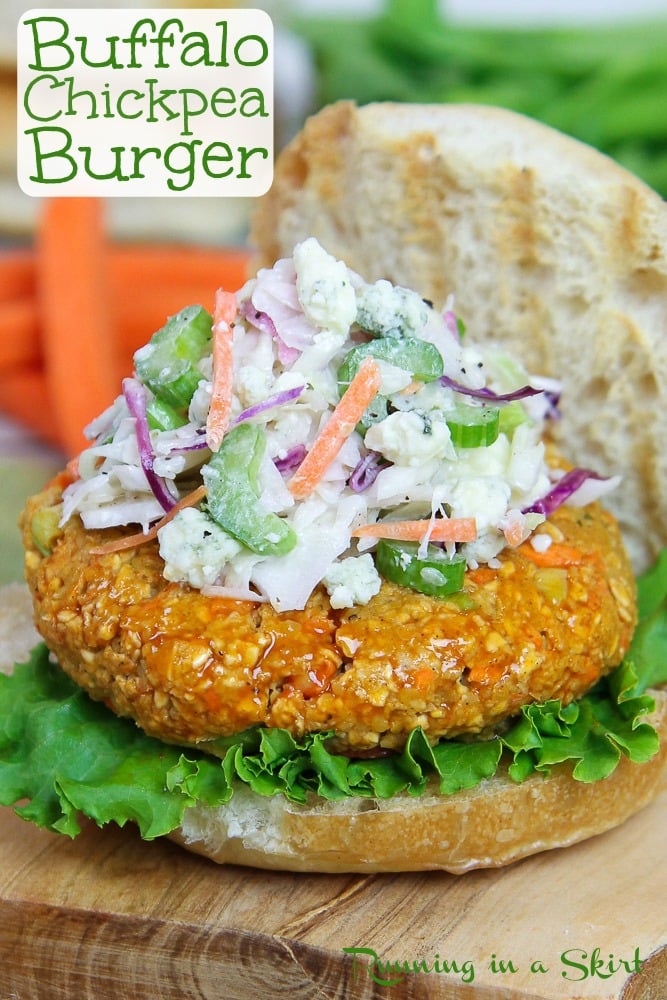 When I first became a vegetarian EONS ago my Mom came home from the store with a frozen package of veggie burgers. I was an opinionated high schooler who had given up meat cold turkey and she was trying her best to keep me happy and fed.
They were these hard, frozen patties that tried to mimic meat flavors and were just not good at all. They honestly tasted like the cardboard box they came in. I lied to my Mom and told her I loved them so she wouldn't keep trying to get me to eat the beef burgers the rest of the family enjoyed. It's a wonder I didn't stop being a vegetarian right then.
Luckily over the years, packaged veggie burgers have come a long way. There are ones I eat and enjoy occasionally (They actually are tasty now!) but when I really want a GOOD burger at home I make my own.
There are so many easy ways to play around with beans and grains to make a delicious and protein-filled patty without the meat. I love making my Homemade Black Bean Burgers with Guacamole but I wanted to mix it up this summer with a fresh new plant-based burger idea. That's where this DELISH Buffalo Chickpea Burger came into play. It's like a Buffalo Chicken Burger but with chickpeas instead of meat. I topped this Chickpea Burger recipe with my own homemade blue cheese coleslaw for an irresistible combination of flavors.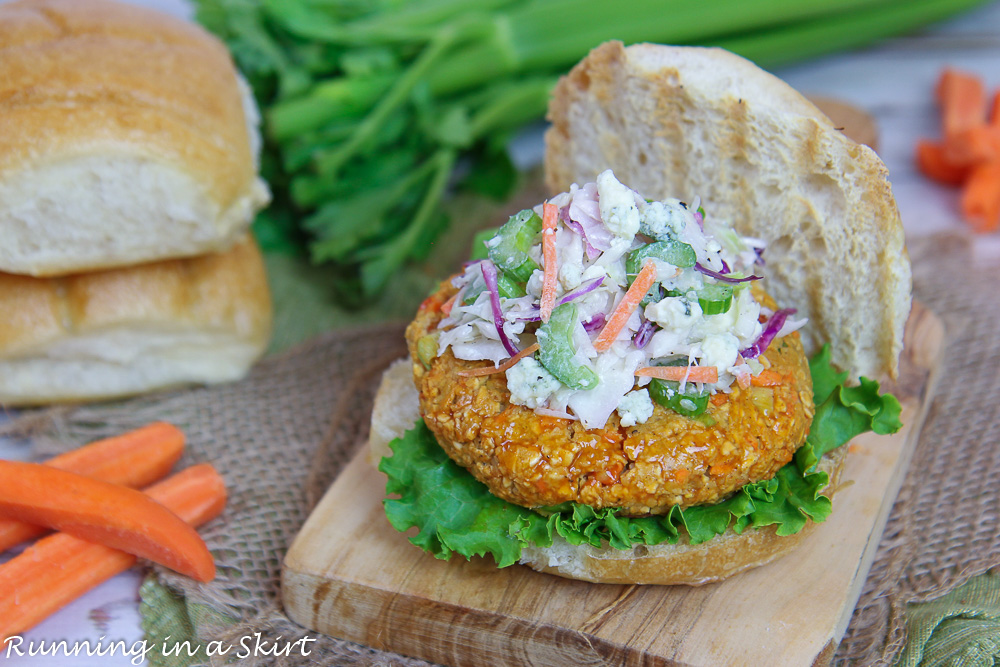 The Best Buffalo Chickpea Burger recipe
I've had a lot of veggie burgers in my day so I consider myself a bit of an expert into what makes a good one. In my opinion, I don't want a burger that takes like beef. I'd rather let the vegetable flavors in the burger shine... whether it's black bean or chickpeas. I also think veggie burgers NEED something special for the toppings. A good sauce, guacamole, or even slaw really makes the burger feel special.
So what makes this THE BEST Chickpea Burger recipe? Chickpeas are actually the perfect base for adding flavors inspired by buffalo wings like carrots, onions, celery, and lots of hot sauce. This patty it'self if loaded with those flavors including classic Frank's Hot Sauce. And if that's not enough, I brush the entire burger with an extra dose of buffalo sauce before serving. And just to get extra dreamy I made a homemade Blue Cheese Cole Slaw complete with bites of carrots, celery, and generous blue cheese sprinkles.
I had you at blue cheese, right?
Can you make a Vegan Buffalo Chickpea Burger recipe?
This recipe can be easily made into a Vegan Buffalo Chickpea Burger. To make these burgers vegan use 2 flax eggs instead of regular eggs. You can mix 2 tablespoons ground flaxseed plus 6 tablespoons of water to make them.
They also actually make VEGAN Blue Cheese Dressing. Just sub that for your favorite regular Blue Cheese Dressing for a vegan type like this. Instead of using the blue cheese crumbles add some extra veggies and seasoning salt.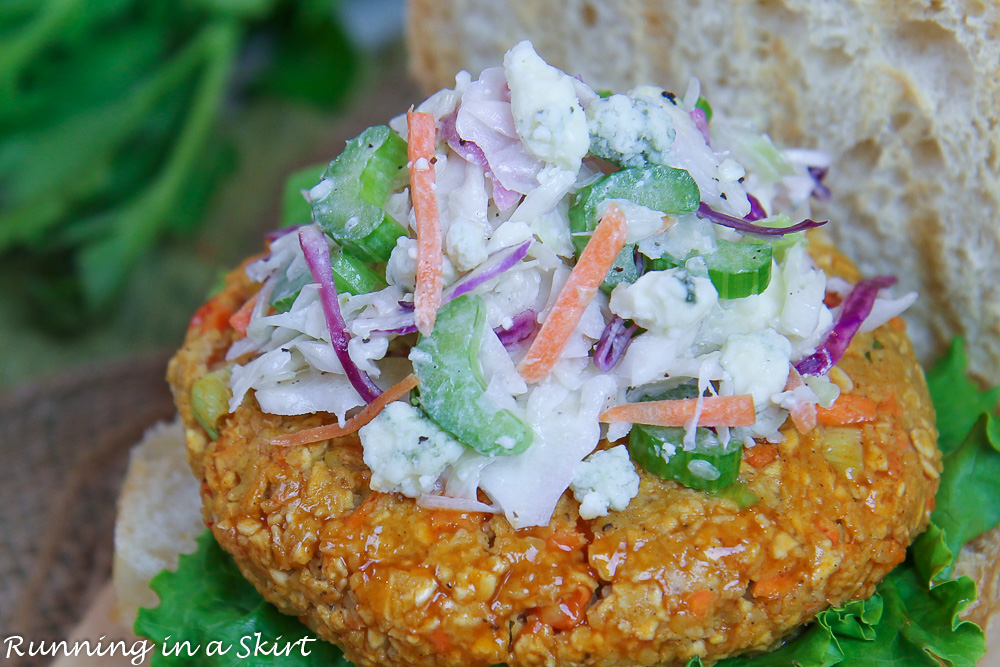 Ingredients in Chickpea Patties for a Burger
These chickpea patties may look like a lot of ingredients, but they are made with lots of pantry staples and come together very quickly.
Ingredients in the Blue Cheese Cole Slaw
This creamy Blue Cheese Cole Slaw is DREAMY! It's the perfect compliment for homemade spicy chickpea burgers.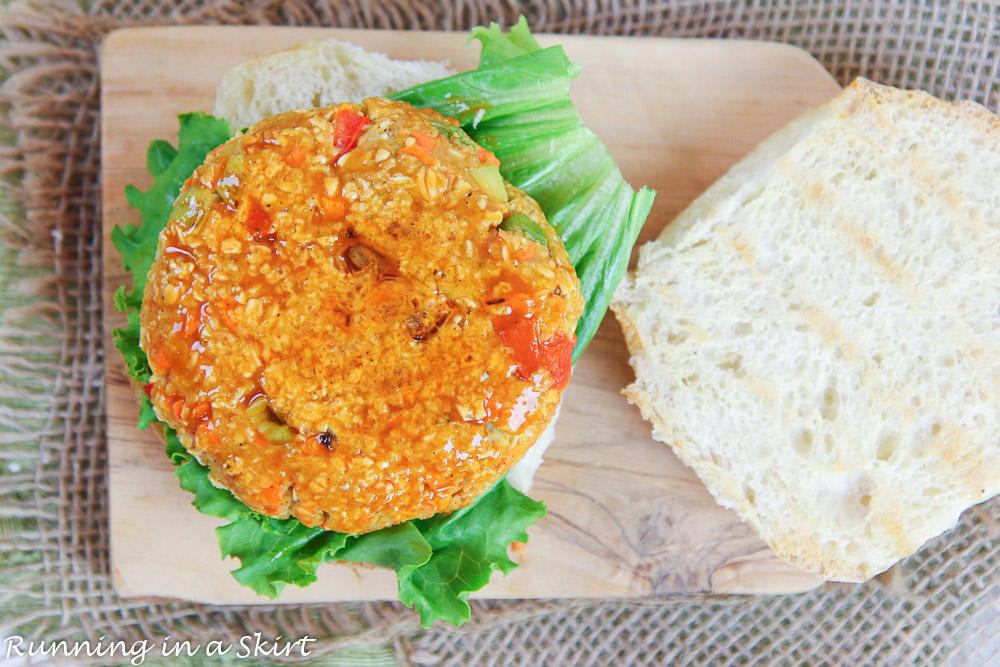 How do you bind chickpea burgers?
It's really simple to make these chickpea burgers! You actually bind them with an egg or flax egg. Here's the rest of the steps.
Chop the chickpea and oats in a food processor. You want them to still have some substance and not to be a paste.
Add the chopped veggies and seasoning to the chickpea mixture. Salt and pepper to taste.
Add the egg and mix well.
Divide the mixture into four balls. With your hands roll the chickpeas and flatten into a burger patty.
Put in the fridge to firm up.
When ready to cook, heat them on both sides in a pan on the stove.
Can you freeze homemade chickpea burgers?
Yes! You can freeze homemade chickpea burgers. After cooking them, pop them in the freezer on a cookie sheet. Once they are hard, transfer them to a freezer bag for easy storage.
To reheat, bake them in the oven at 400 degrees for 15-20 minutes.
Chickpea burgers without a food processor?
Yes! A food processor is the easiest but you can also hand chop the chickpeas and oats. You just want them to get into really fine pieces. You could also use a blender!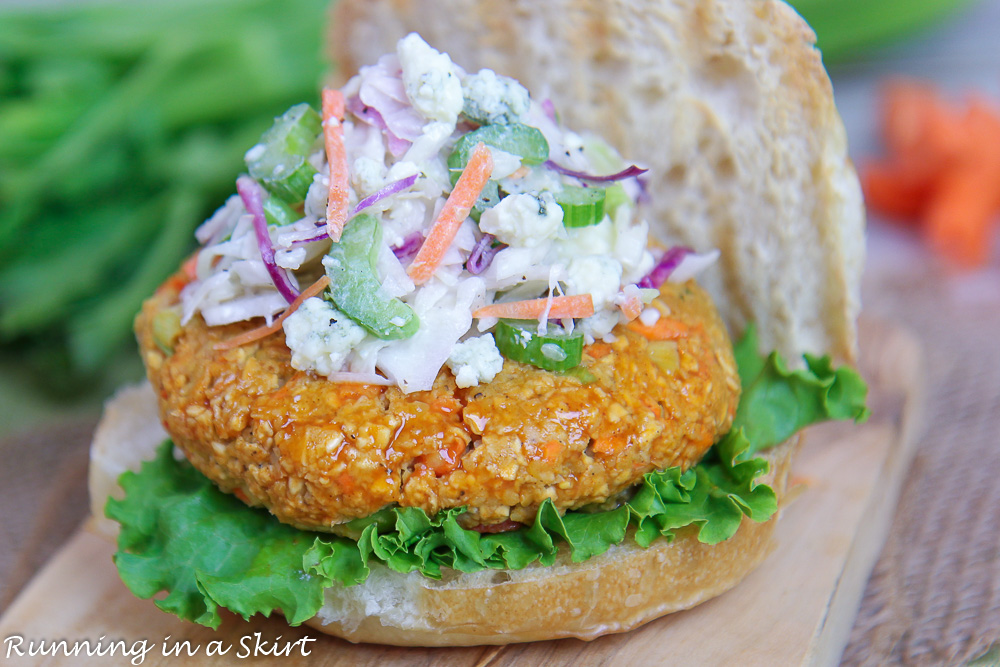 What do I serve with this Healthy Chickpea Burger recipe?
These Buffalo Chickpea Burger is SO much tastier and more inspired than those plain cardboard tasting burgers from my early vegetarian days. I'm so glad vegetarian and vegan options have come so far over the years.
Honestly, though, vegetarian or not these plant-based burgers are a delicious alternative to a traditional burger and will please even the pickiest of eaters. I hope you enjoy them as much as I do.
Love veggie burgers?
If you make this recipe, I'd love to hear what you think! Leave a comment and a star rating ★ below. Make sure to follow me on Instagram, Pinterest, and Facebook too!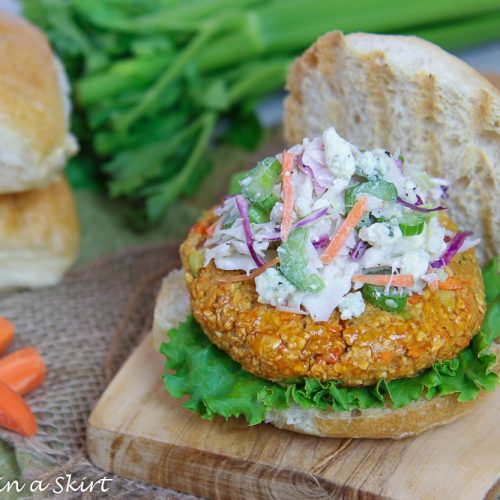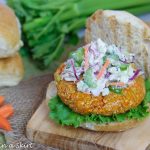 Buffalo Chickpea Burger recipe
This is THE BEST Chickpea Burger recipe! My Buffalo Chickpea Burger recipe is filled with chickpeas, oats and vegetables and topped with a classic buffalo sauce AND a Blue Cheese Coleslaw for a flavor explosion.
Ingredients
For the slaw
2

cups

coleslaw mix

2

tablespoons

celery,

chopped

2

tablespoons

blue cheese crumbles

1

tablespoon

blue cheese dressing
Extras
Buns

Leafy Greens

Extra Blue Cheese Crumbles

Extra Frank's Hot Sauce

Ranch Dressing
Instructions
Add the chickpeas and oatmeal to a food processor. Pulse it a few times to roughly chop the mixture. You want lots of pieces and not a paste. Remove the mixture from the food processor and put it in a medium bowl.

Add the carrots, green onion, red bell pepper, hot sauce, egg and spices to the bowl and mix well.

Divide the mixture into four equal parts. Use your hands to shape the burger into a ball. Then flatten it into a burger. Put the burgers on a pan and pop them in the fridge. Allow to chill for 15-30 minutes or up to overnight.

Make the slaw by tossing the slaw, celery, blue cheese and blue cheese crumbles in a bowl. Store in fridge until ready to use.

To cook the burgers use a skillet at medium heat. Use the olive oil to cook the burgers. They will need 3-5 minutes on each side.

Assemble the burgers by topping the patties with extra hot sauce and putting them on a toasted bun. Pile the slaw on top and add any extra toppings you'd like!
Notes
Serve these burgers with whole wheat buns, extra hot sauce and some bonus blue cheese crumbles.
You can also freeze these burgers by putting them on a baking sheet in the freezer.  Once they are hard, transfer them to a ziplock bag for storage.  To reheat these bake them in the oven at 400 degrees for 15-20 minutes.
Nutrition
Calories:
246
kcal
Carbohydrates:
36
g
Protein:
10
g
Fat:
7
g
Saturated Fat:
2
g
Cholesterol:
44
mg
Sodium:
1236
mg
Potassium:
316
mg
Fiber:
5
g
Sugar:
6
g
Vitamin A:
3165
IU
Vitamin C:
27
mg
Calcium:
106
mg
Iron:
3
mg
Pin for later!