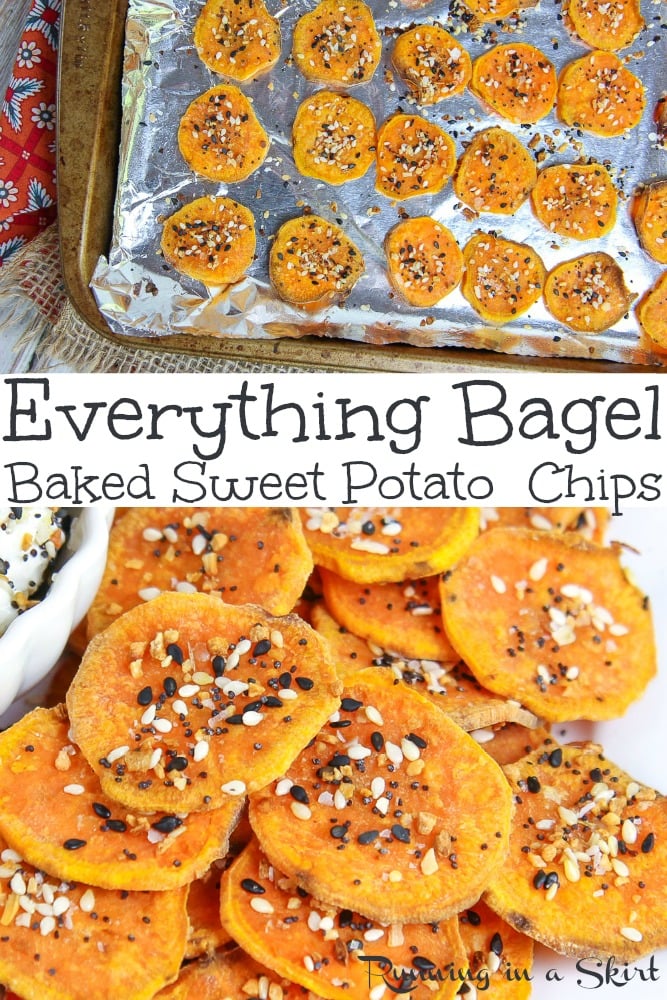 Looking for the perfect way to use your Everything Bagel spice? Try my Everything Bagel Sweet Potato Chips!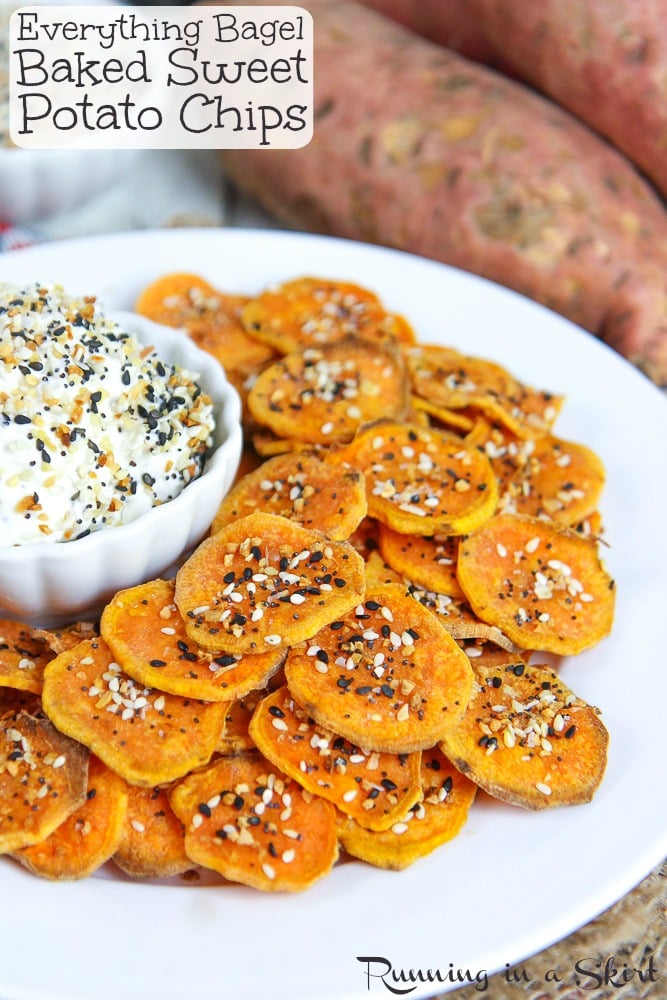 Everything Bagel Chips with Sweet Potatoes
I've been on a bit of an Everything Bagel kick lately! Since I shared the recipe to make your own Everything But the Bagel Seasoning at home, it only seems appropriate to share some recipes using the spice. The Healthy Everything Bagel Dip I shared last week is one of my favorites BUT what can you dunk in the dip that you actually make at home?
How about these Everything Bagel Sweet Potato Chips? They are baked to crispy perfection and are the perfect healthy alternative to regular fried potato chips.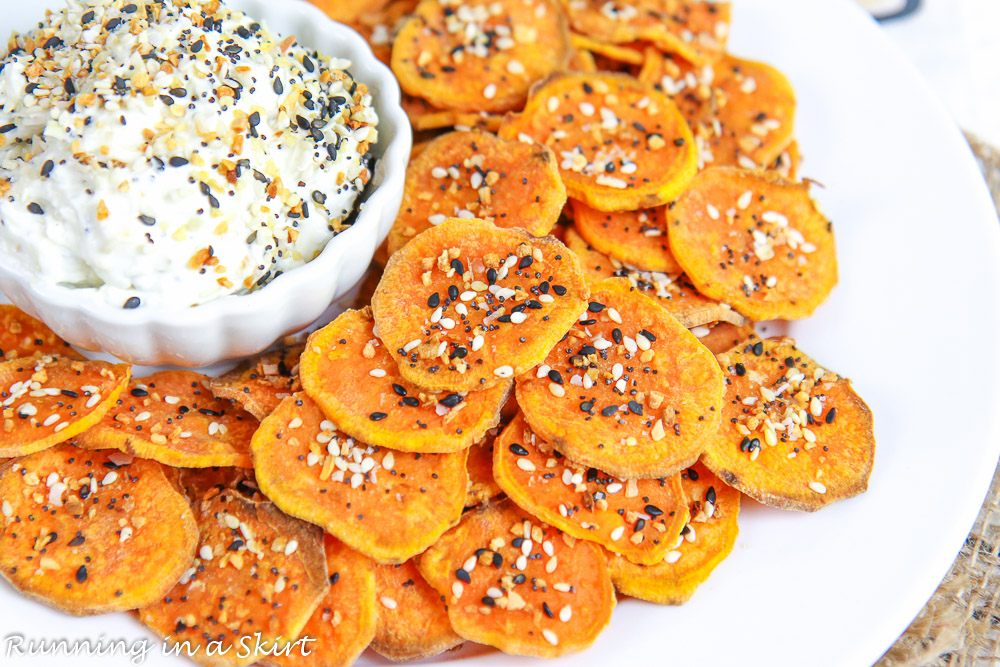 Everything Bagel Sweet Potato Chips
These babies are crispy and OH SO PERFECTLY seasoned with Everything Bagel spice. You can get pre-made at Trader Joe's or ALDI... or of course, make my DIY version from the blog. The combination of garlic, onion, sesame seeds and salt is such a great way to dress these up.
Use a mandolin slicer to get nice and even, super-thin pieces. I've had this one in my kitchen for years and love it.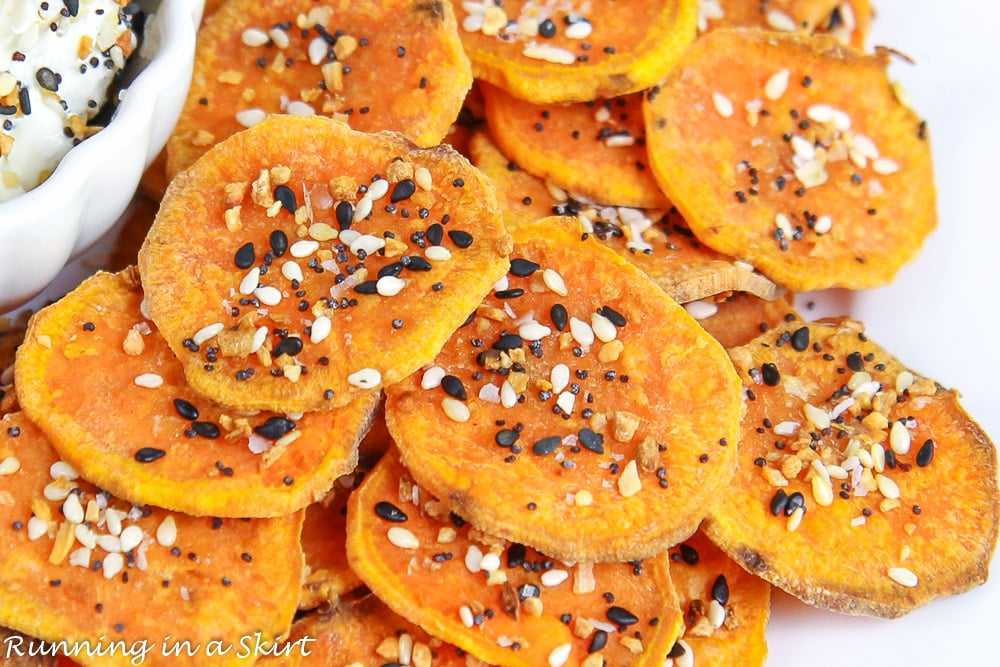 The trick to making these Everything Bagel Sweet Potato Chips crispy is to line them up without touching on your sheet pan. (I use foil for easy cleanup!)
You bake them halfway and then flip them and add the spice to the other side. When the end of the baking time approaches it's important to watch the chips carefully. Pull the ones that are done out so they don't burn and leave the others to continue to crisp up.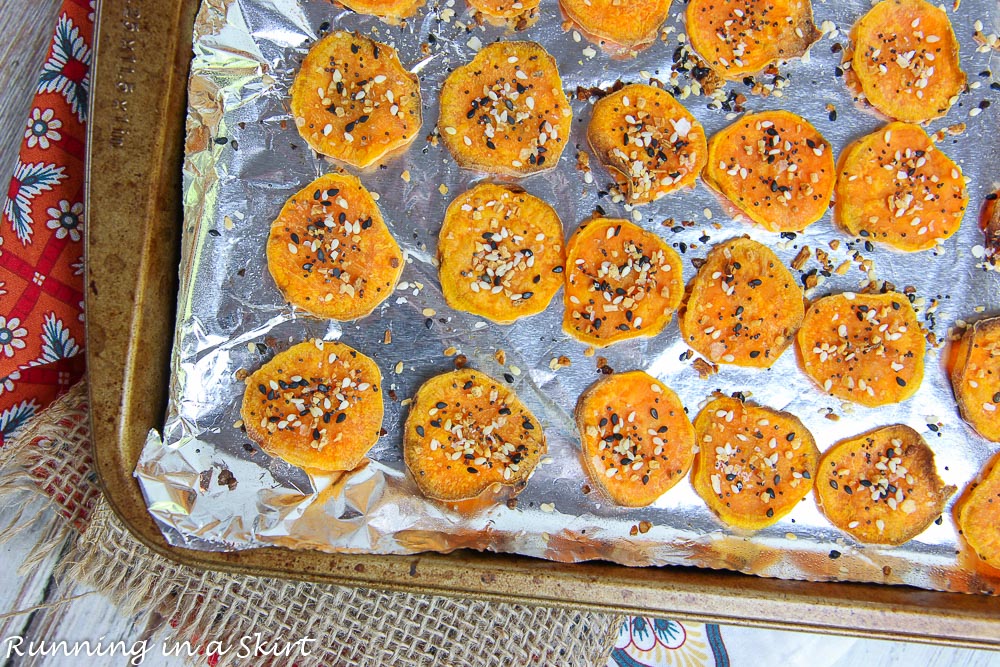 What's in Everything Bagel Sweet Potato Chips?
That's the joy in these chips! Unlike your favorite bagged chips, these are made with only THREE ingredients!
Serve them with your favorite dip or even try my Healthy Everything Bagel Dip that I posted last week. It's made with whipped cream cheese AND greek yogurt for the best flavor while still being a bit lighter.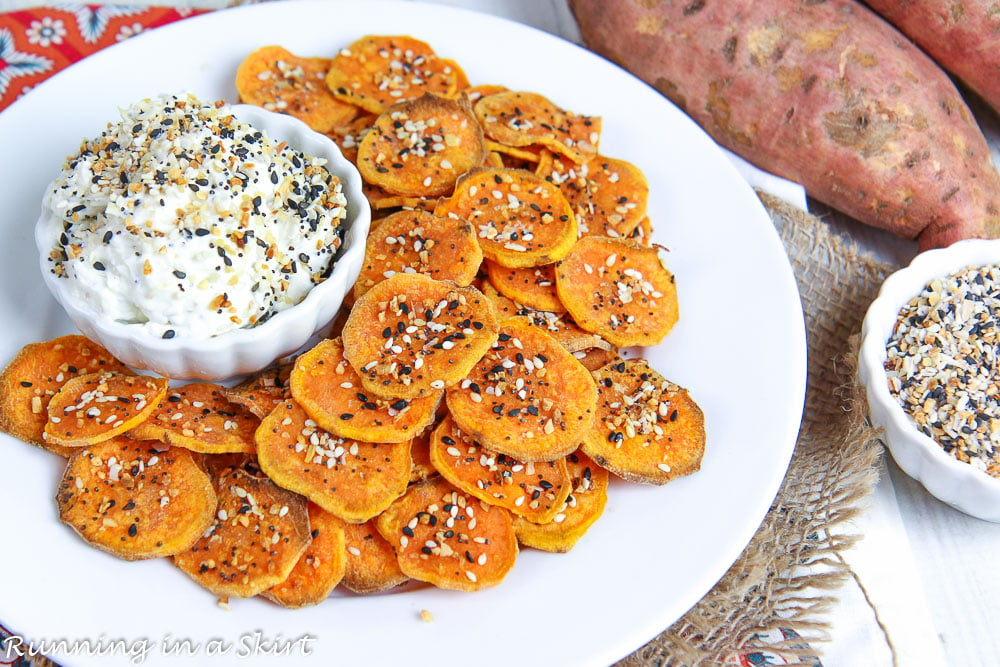 How to make Everything Bagel Sweet Potato Chips
Use a mandolin to slice the potatoes at ⅛ inch.
Toss the potatoes in olive oil.
Line up on a baking sheet.
Put the Everything Bagel Spice on one side of the chips.
Bake.
Flip the chips and add the seasoning to the other side.
Bake but watch for the chips to crisp up. Some chips will most likely finish before others.
That's it! It's a few steps but it's all really easy.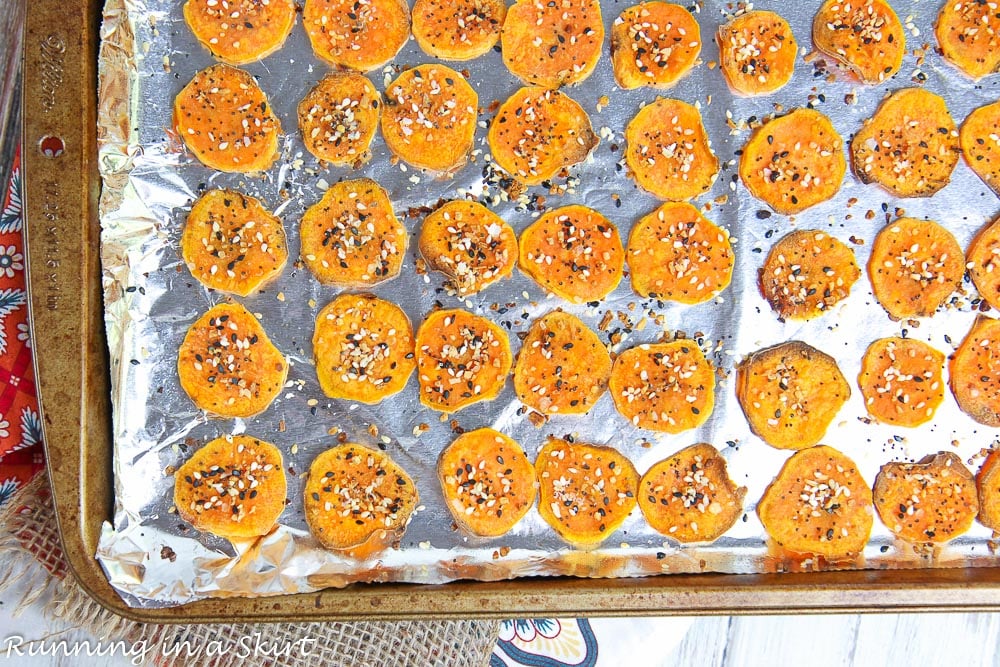 These Everything Bagel Sweet Potato Chips are the perfect combo of sweet veggies and savory seasoning! I really think you are going to love them. Give them a try and let me know what you think.
Also try...
Pin for later!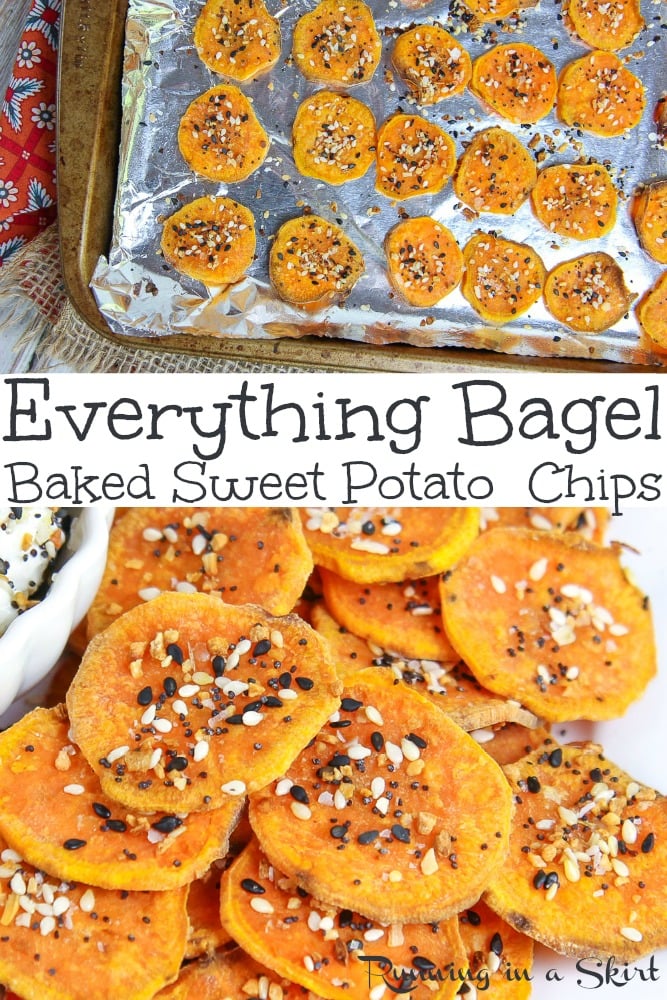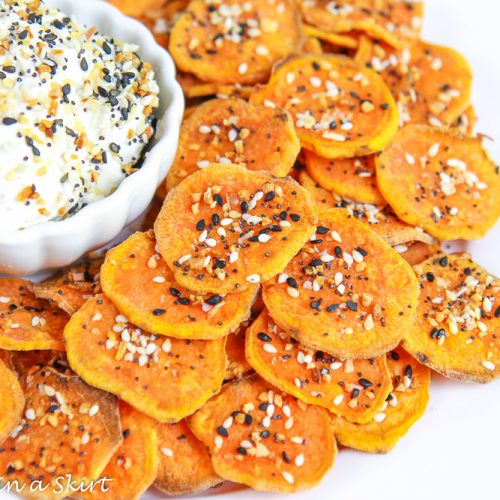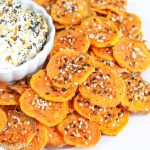 Everything Bagel Sweet Potato Chips
These Everything Bagel Sweet Potato Chips are oven-baked to perfection! Healthy, crispy and satisfying.
Instructions
Preheat the oven to 400 degrees. Line two baking sheets with foil and spray with cooking spray.

Using a mandoline slice your sweet potatoes to ⅛ inch.

Toss the sweet potato slices in the olive oil.

Place on a single layer on the baking sheets. Sprinkle one side with half of the everything bagel seasoning.

Bake for 10 minutes. Remove the pan from the oven and flip the chips. Add seasoning to the other side.

Bake for another 10-15 minutes until the chips turn crisp. Carefully watch the pan because they can burn quickly. *
Notes
Depending on how evening your oven cooks and the size of your chips you may want to pull some of them off the pan as they brown and let the others cook for longer.  Stay near the oven during the last few minutes of cooking to pull them out before they burn!
Nutrition
Calories:
128
kcal
Carbohydrates:
23
g
Protein:
2
g
Fat:
4
g
Saturated Fat:
1
g
Sodium:
653
mg
Potassium:
381
mg
Fiber:
3
g
Sugar:
5
g
Vitamin A:
16031
IU
Vitamin C:
3
mg
Calcium:
34
mg
Iron:
1
mg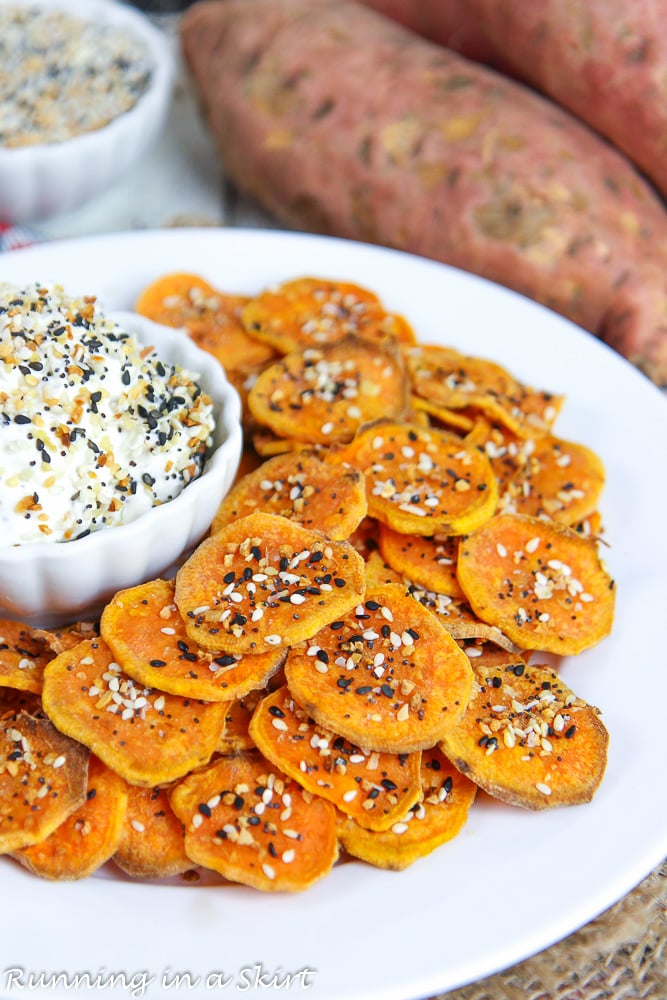 Your turn!
What's your favorite way to eat sweet potato?