Simple Roasted Sweet Potatoes are simply the best! This classic recipe only has 4 ingredients.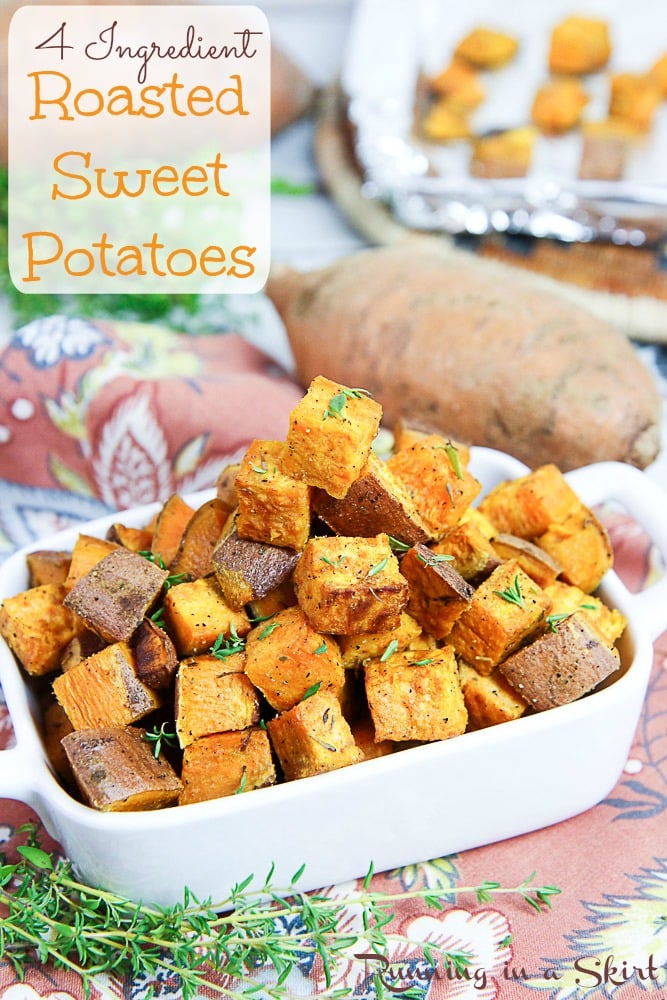 Hello! Hello!
Aren't sweet potatoes just the best? They are so classically FALL... but I honestly love them year-round. I'm not going to lie... spuds make me happy! I can't be the only one, right?
Today I'm sharing a recipe that I make ALL THE TIME. It's 4 Ingredient Simple Roasted Sweet Potatoes.
Taaaa-daaaahhhhh!!!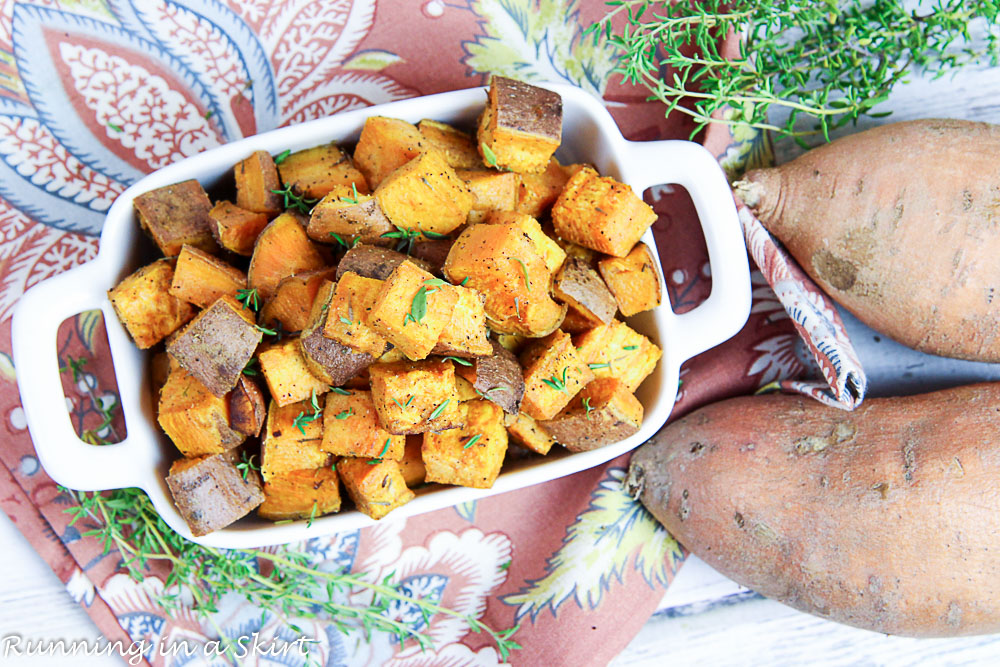 I just want to grab that one off the top!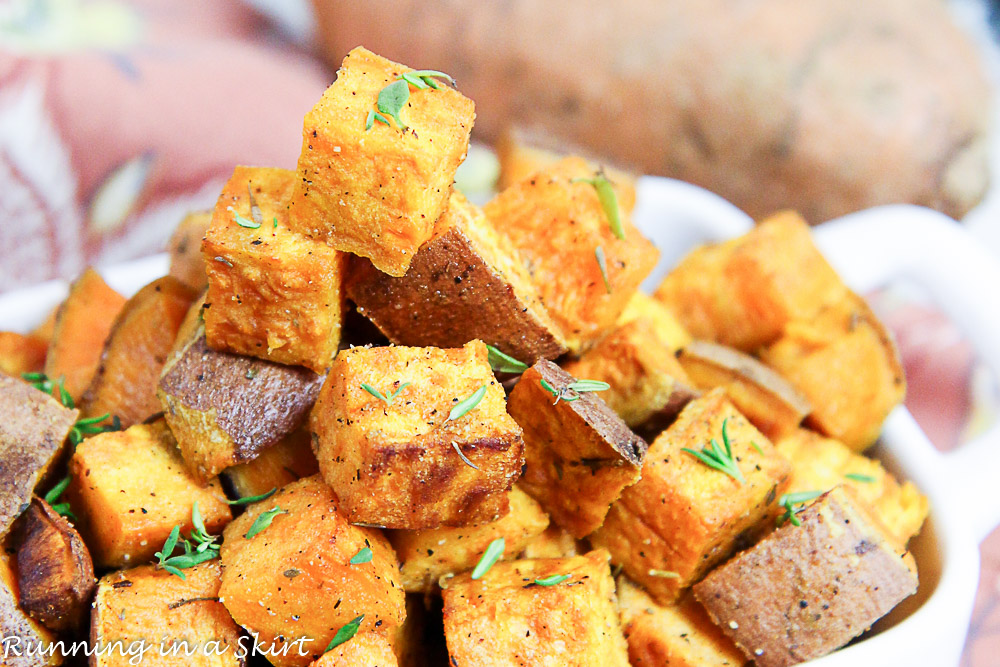 The hardest part about this recipe is cutting the sweet potatoes raw. Invest in a sharp knife and good cutting board. <--- I swear by these! (Amazon Affiliate link!)
I used to think I was too clumsy and not a good enough cook to use the "big kid knives" but now I've learned that it is safer to properly use the right tools than dull knives.
After cutting the simple roasted sweet potatoes you toss them in a touch of olive oil. Coconut oil will also do the trick, but I really enjoy the olive oil flavoring here.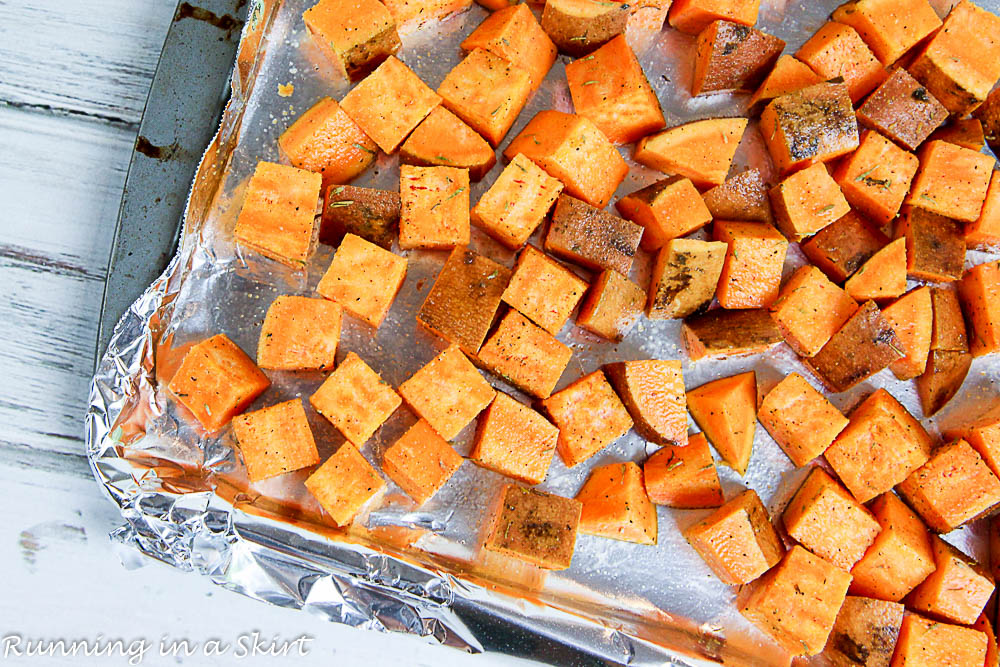 I like to toss this simple version with a touch of thyme. It works well and doesn't overpower the spud. Feel free to change out the herb to your favorite one though.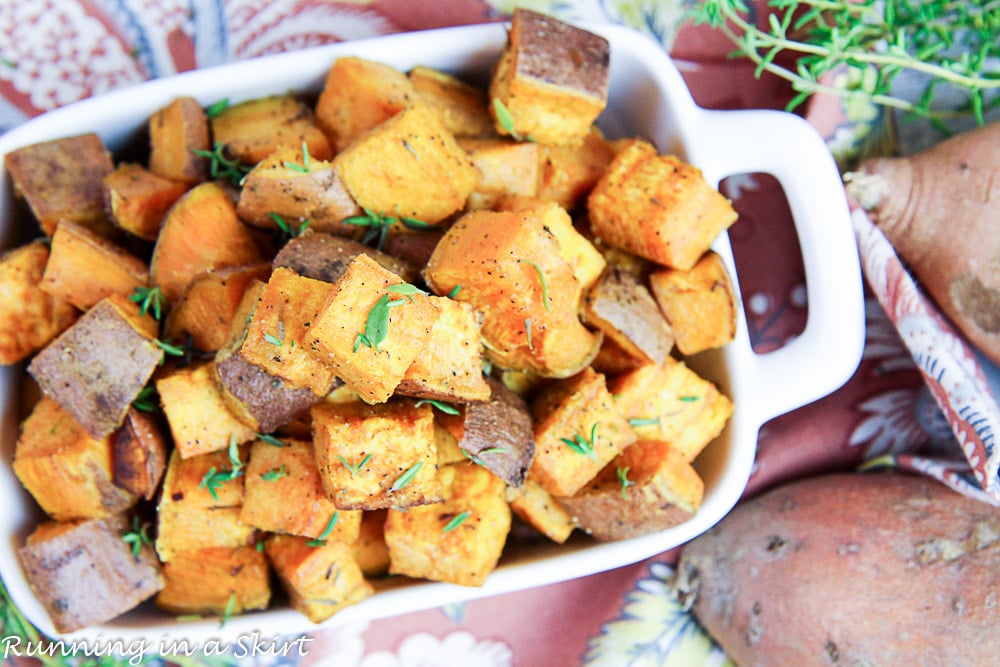 Serve these little bites of simple roasted sweet potatoes goodness as a side dish, as a breakfast potato or even part of a Buddha bowl with this easy kale recipe, avocado and a hearty grain like quinoa or wheat berries.
Who's hungry now??? I AMMMM!!!!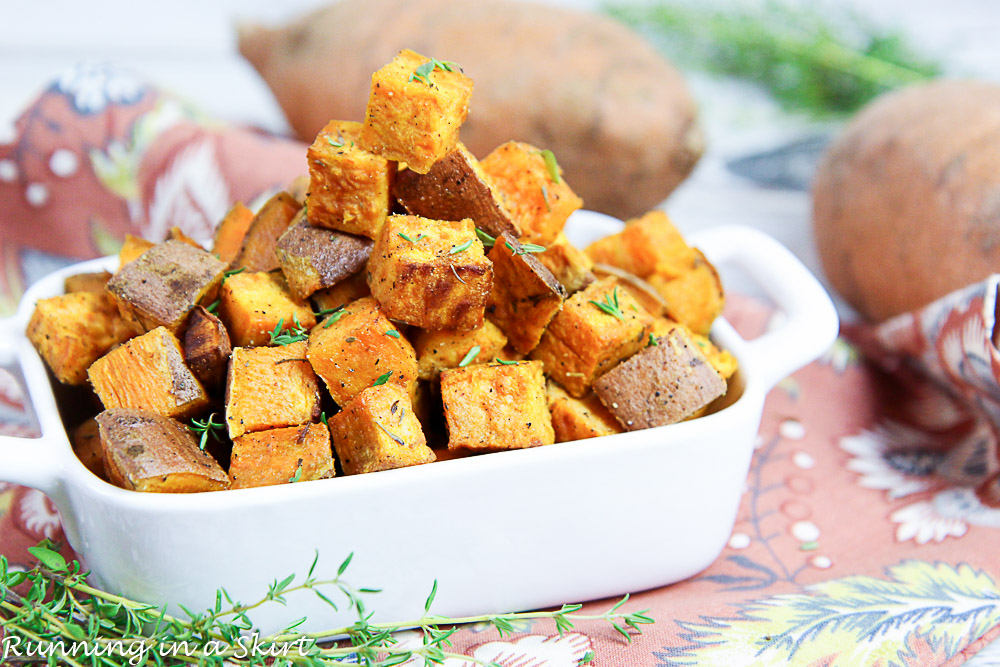 Any way you serve it this a great little recipe to keep in your arsenal of foodie powers! It's one you will come back to again and again.
Enjoy!
Like it? I'd love it if you could pin this to your favorite Pinterest board! Thank you so much for the support.


Want more sweet potatoes?
Healthy Honey Mashed Sweet Potatoes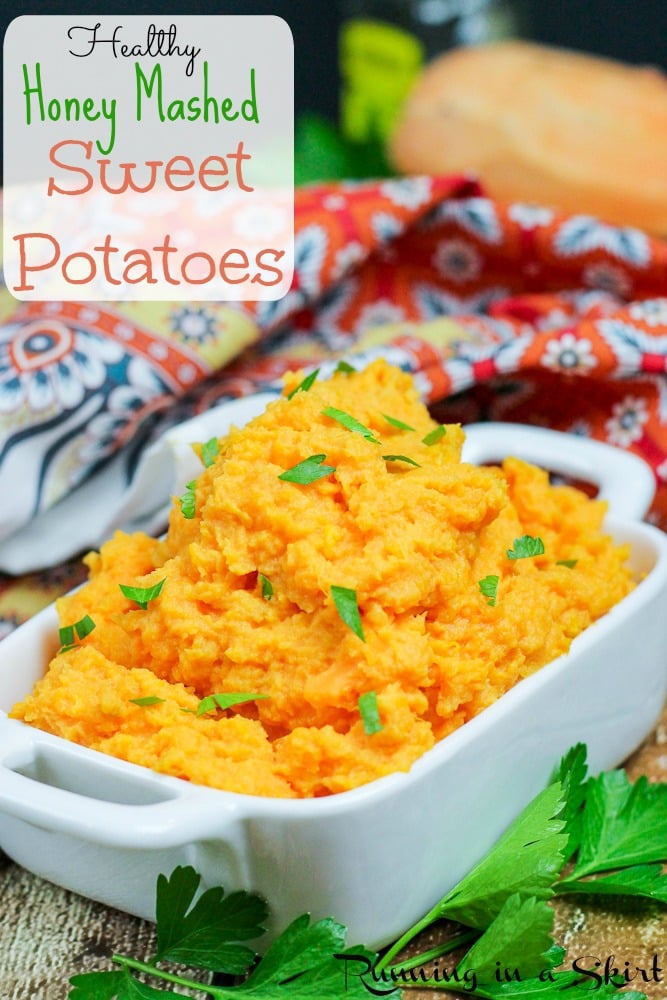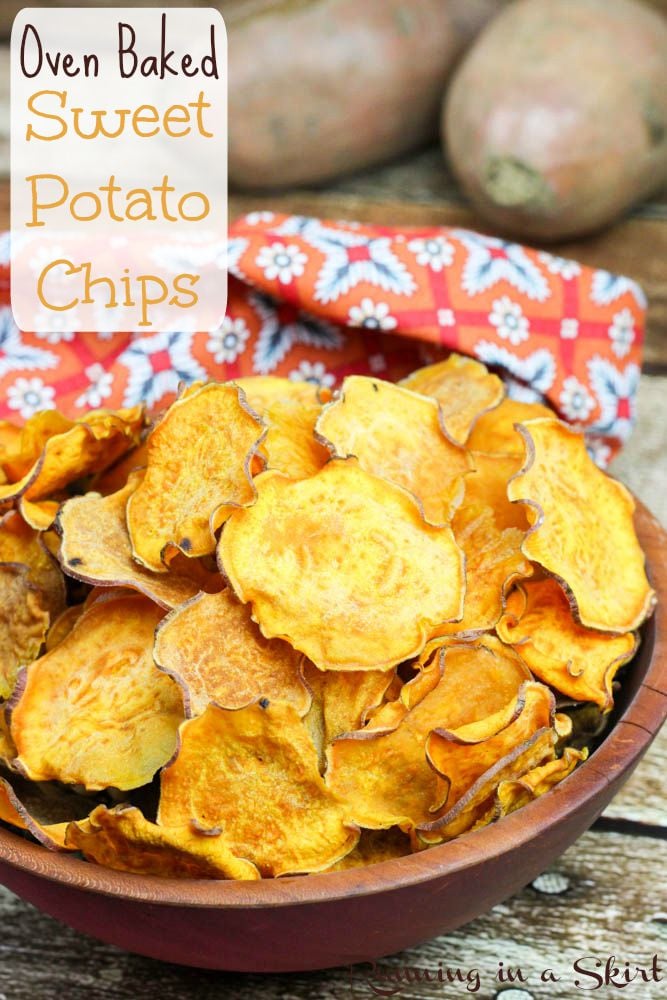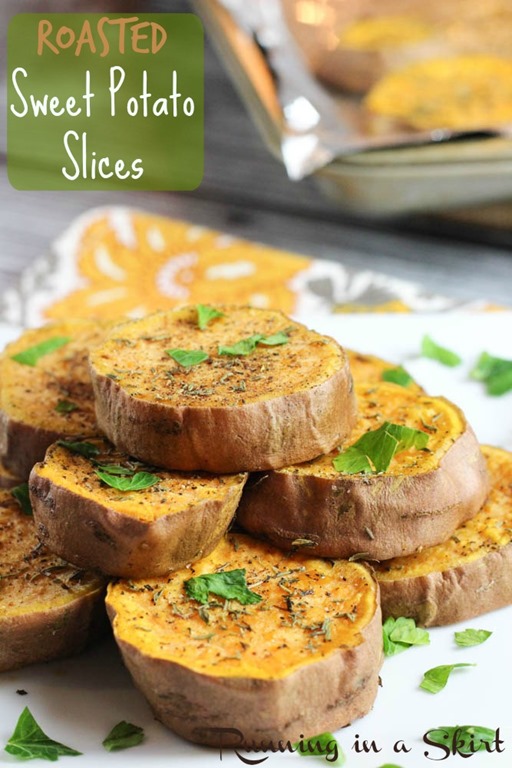 The Best Sweet Potato Casserole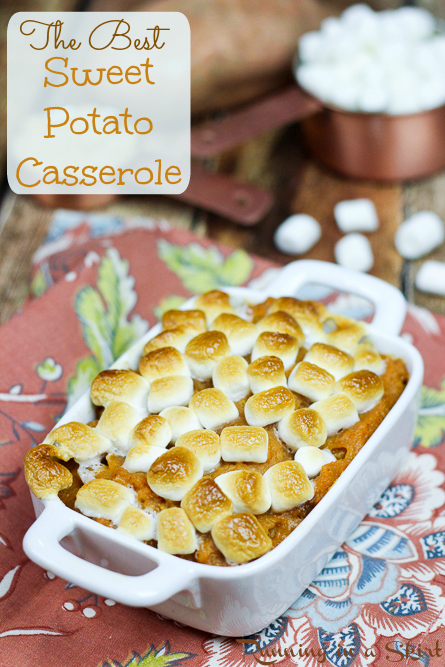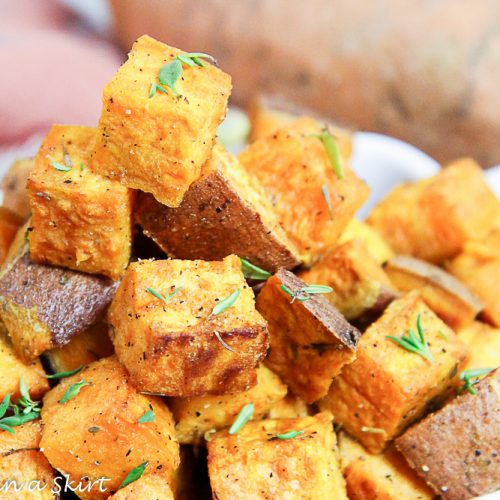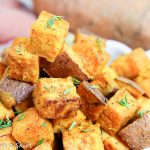 4 Ingredient Simple Roasted Sweet Potatoes
A simple side dish featuring classic fall flavors.
Instructions
Preheat the oven to 400 degrees. Line a cookie sheet with foil and spray with cooking spray.

Toss all the ingredients in a bowl, making sure they are well coated. Pour on the sheet.

Roast for 25-30 minutes until fork tender.
Notes
Serve these Sweet Potato Bites alongside your favorite main dish like fish or chicken or as part of a buddha bowl.
Nutrition
Calories:
130
kcal
Carbohydrates:
23
g
Protein:
2
g
Fat:
4
g
Saturated Fat:
1
g
Sodium:
208
mg
Potassium:
381
mg
Fiber:
3
g
Sugar:
5
g
Vitamin A:
16031
IU
Vitamin C:
3
mg
Calcium:
34
mg
Iron:
1
mg
Thanks for stopping by today! Tomorrow I'm sharing ways personal tips to keep your skin fresh and glowing.
I'm linking up with: Meatless Monday with Sarah and Deborah, Meatless Monday with Annmarie and Rachel, Delicious Dish Tuesday, What's Cookin' Wednesday, Full Plate Thursday with Miz Helen, FoodFriDIY, Foodie Friday, and the Weekend Potluck. Thanks so much ladies for the link up parties!
Your turn!
What dish do you make all the time?
What's your favorite kind of spud?