Aging is hard... but it happens to all of us. Today I'm sharing my thoughts on aging gracefully.
Thanks for Neutrogena for sponsoring this post and allowing me to get personal about my beauty routine with you.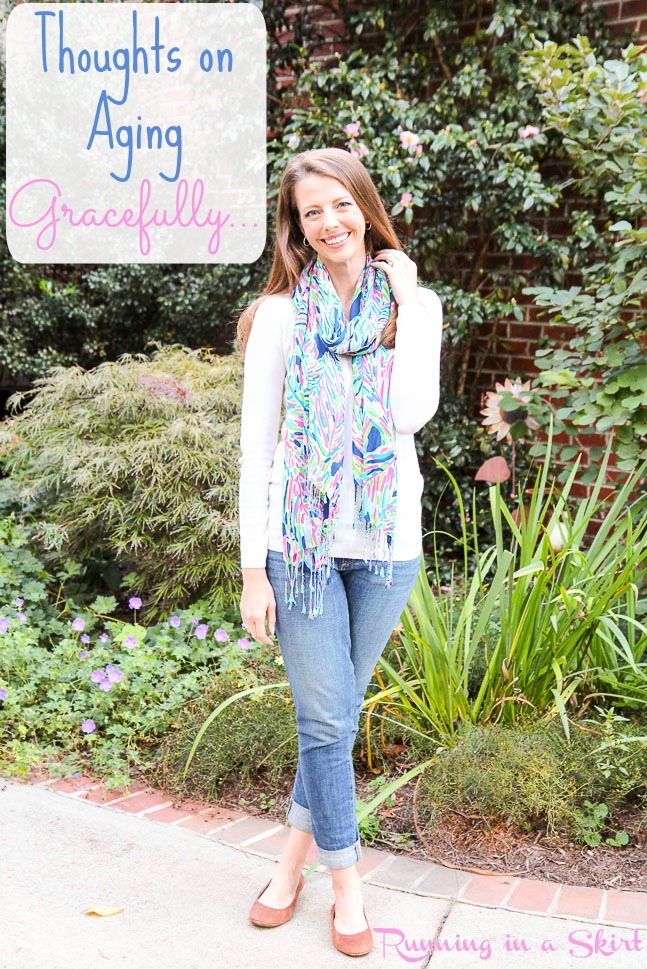 Hi everyone!
I wanted to stray a little of course of the traditional Fashion Friday and talk a little about something that weighs on my mind more than I actually care to admit... aging. Specifically my thoughts on aging gracefully. It's a subject I've touched on a few times as I've talked about getting older and finding lasting beauty. It's crazy how quickly the years pass and one day you wake up worrying about your skin tone, wrinkles and sprouts of gray hair.
I know there are readers of all ages reading this... but at any age it's something most of us women have on our mind in one way or another. You blink and wake up in your 30's it seems. <--- cue the Kenny Chesney song
This might sound crazy, but I feel like one day out of the blue I started noticing my smile lines. It was like they popped up out of nowhere. I remember showing the Hubs like it was some big shocking revelation and he laughed and said they were always there. He proceeded to show me his favorite picture of me at our wedding and pointed them out. I even think they retouched this photo a touch.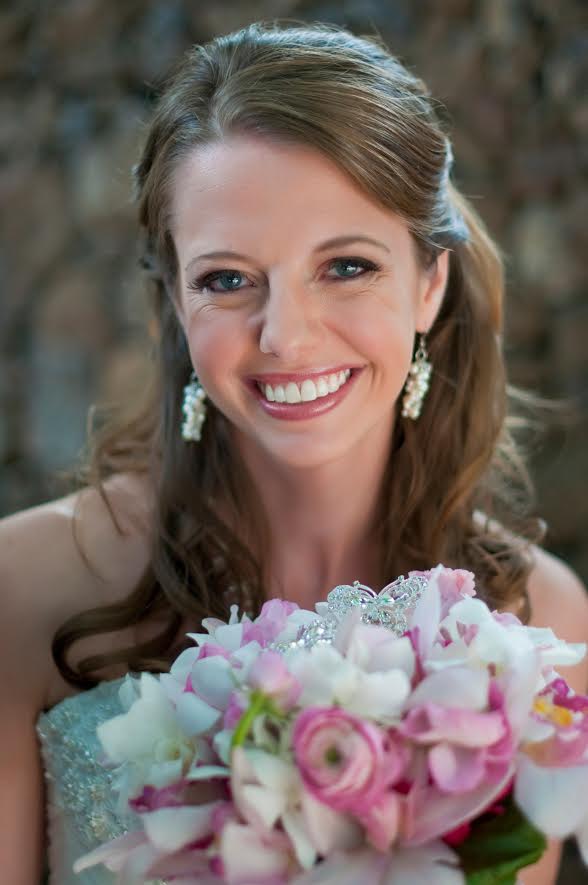 He said he loves them and he wouldn't change them at all. It was probably a good thing he said that because that day I was more than ready to head to the doctor for some needle intervention. It's crazy how something so superficial as wrinkles can cause us so much worry.
My point is that it happens to everyone. As the years continue to tick off, I've started to come to terms with it and realize I am lucky... wrinkles and all. One can only hope that their life has been filled with enough joy to get smile lines and wrinkles. Mine certainly has.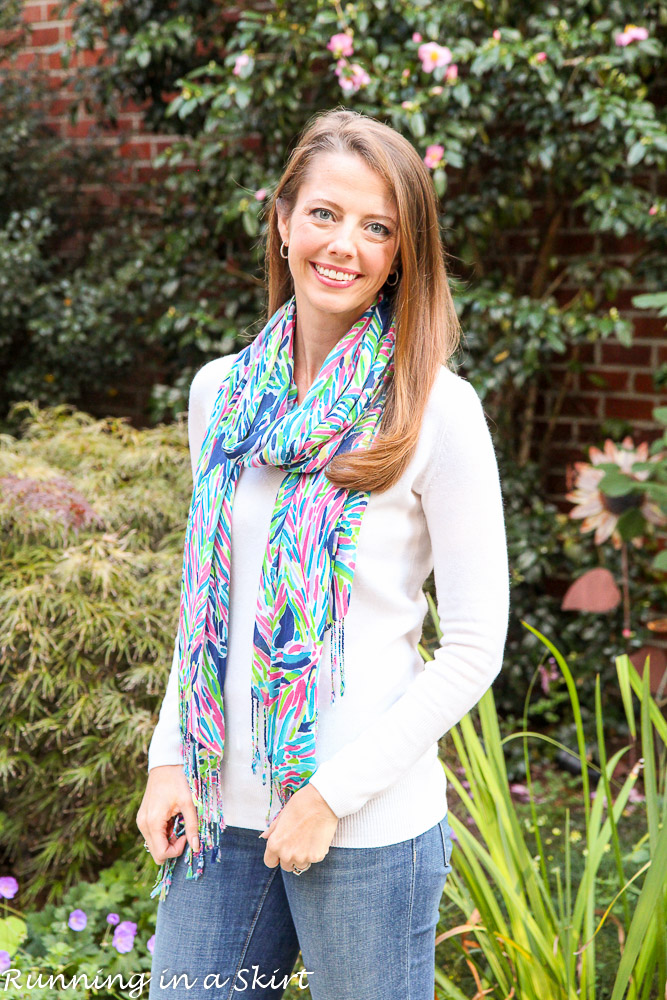 For now, I'm choosing to age gracefully.
(Although I reserve the right to change my mind in the future! I totally believe it's a women's prerogative to age the way she wants! And I am not judging if you choose a different path)
Now, just because I'm aging gracefully that doesn't mean I'm not doing anything at all about my skin and not taking care of it. It just means I'm not at this point using more drastic measures. I have a routine and would love to share it with you!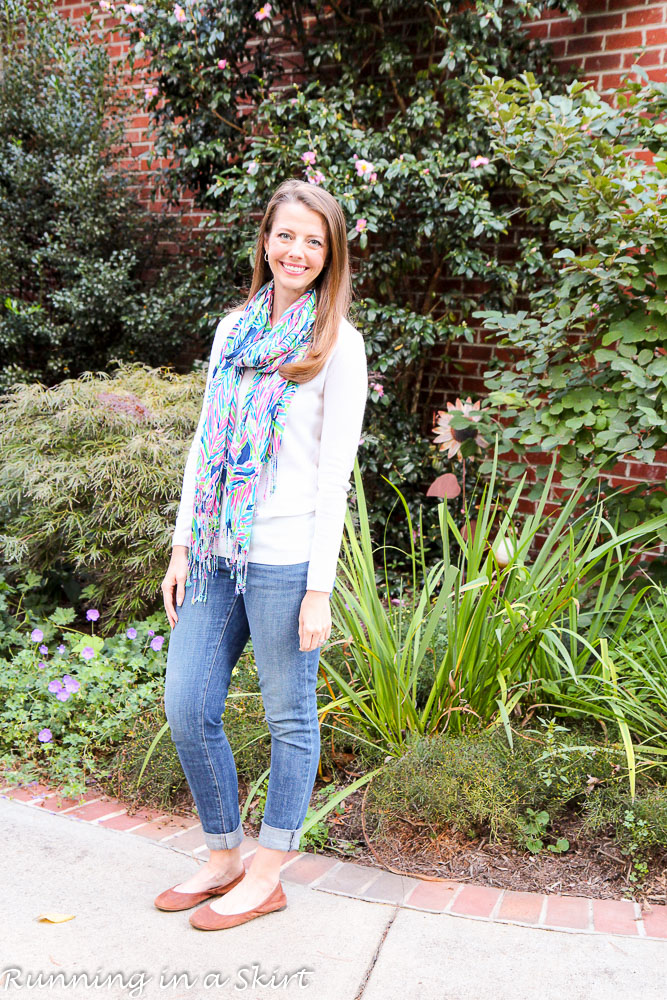 When I had the opportunity to work with Neutrogena on this blog post, they asked me to do a 7 day trail of their infamous Rapid Wrinkle Repair anti-aging skin care line. I had to write them back and say I'd love to share this with my readers BUT I can't do a before and after photos of a trial because I already use these products religiously.
From the moment I picked up Neutrogena Rapid Wrinkle Repair at the store years ago, I've been hooked. I've bought a lot of tubes over the years and these seem to be the only that actually worked.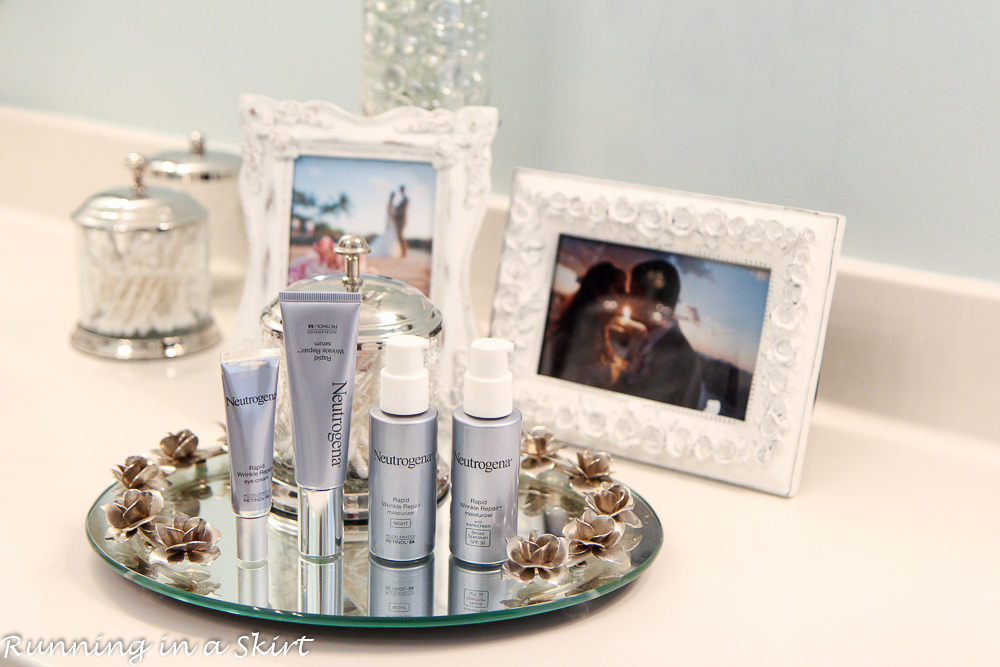 Because of that, Neutrogena Rapid Wrinkle Repair is in my bathroom. I love this line because it includes a good dose of Accelerated Retinol SA, which is the #1 Dermatologist recommended anti-aging ingredient. It helps fight aging by allowing your surface skin to renew more often... therefore looking younger and fresher. Accelerated Retinol SA is better than just Retinol because it is able to penetrate the skins surface even better.
The lines includes Neutrogena Rapid Wrinkle Repair Night Moisturizer which works wonders. If you were to just buy one, I'd get this one. There is also Neutrogena Rapid Wrinkle Repair Moisturizer Broad Spectrum SPF 30, Neutrogena Rapid Wrinkle Repair Serum AND Neutrogena Rapid Wrinkle Repair Eye Cream. You can pick up all of these at CVS!
They are all clinically proven to reduce wrinkles, fine lines, tone and texture. All things I have 100% noticed when using the product. No, this doesn't get those really deep smile lines, but it makes a profound difference in my skins texture, smoothness and fine lines.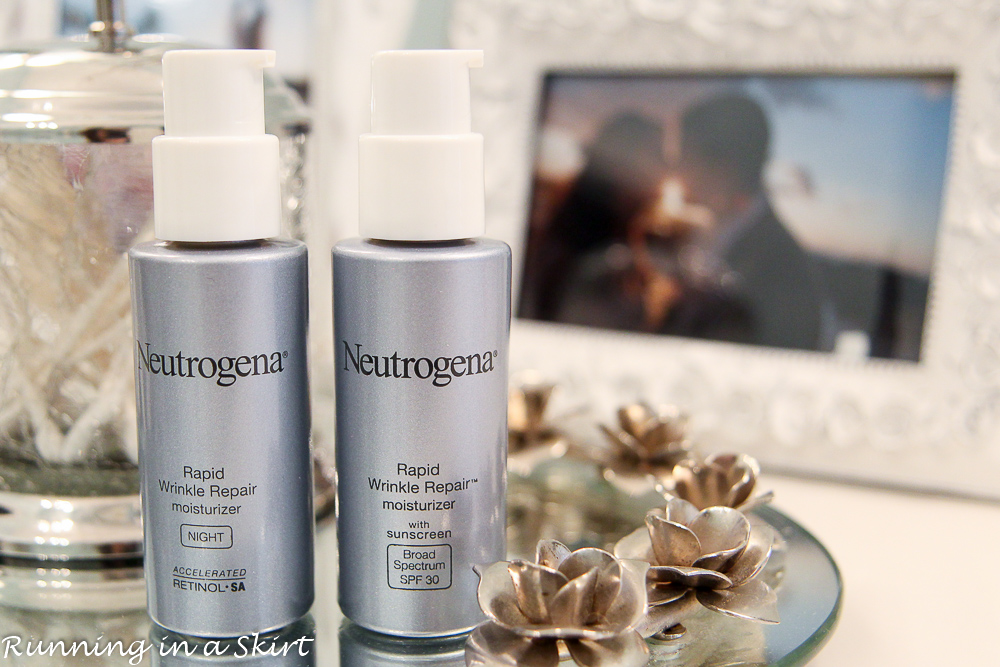 The other anti-aging products I keep close-by are Neutrogena Ultra Sheer Sunscreen. I keep these bottles in my purse, car and travel bags. They are awesome because they feature dermatologist-tested Helioplex Technology. I find them at CVS too!
As we all know, exposure to UVA rays can lead to premature fine lines, deep wrinkles and uneven skin tone. Between running, hiking and being obsessed with the beach I am always in the sun's rays. I know I can't reverse sun damage, but I can prevent more from happening. This stuff works on my fair skin wonderfully.
I love it for day to day wear because it has this really nice water-light texture spreads easily over skin, absorbing instantly for an invisible, weightless feel. It also provides an even, non-shiny finish that works beautifully alone or under makeup and moisturizers. So it doesn't really FEEL like you are wearing a bunch of sunscreen.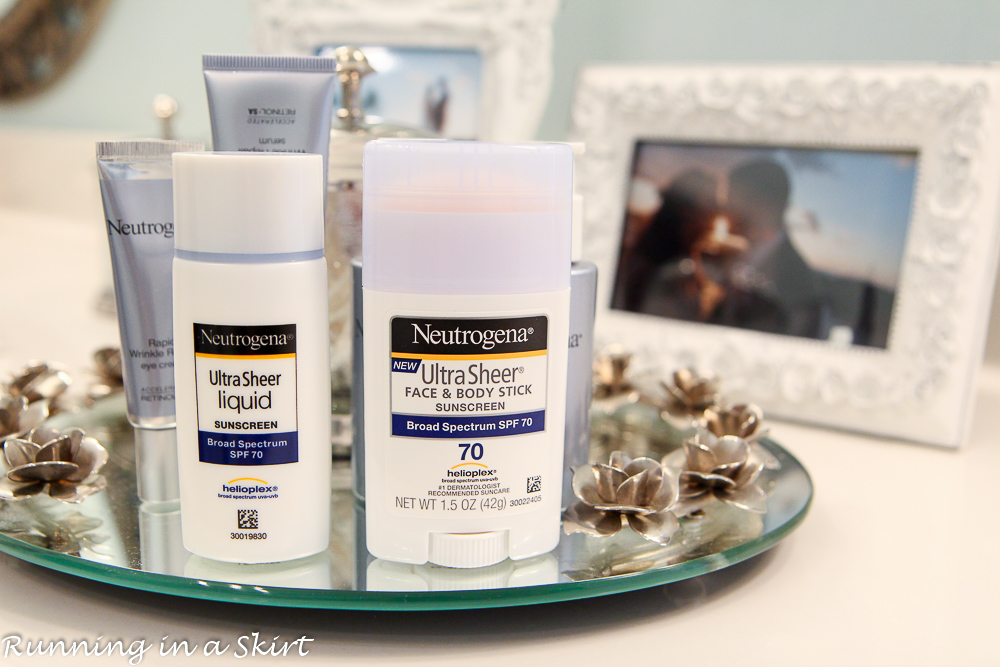 As I mentioned, I believe it's never too early to start using these products. I wish someone had shown me the way a long time ago!
Make sure to keep reading because at the bottom you have the chance to win ALL of the products mentioned in this post!!!! Woo-hooo!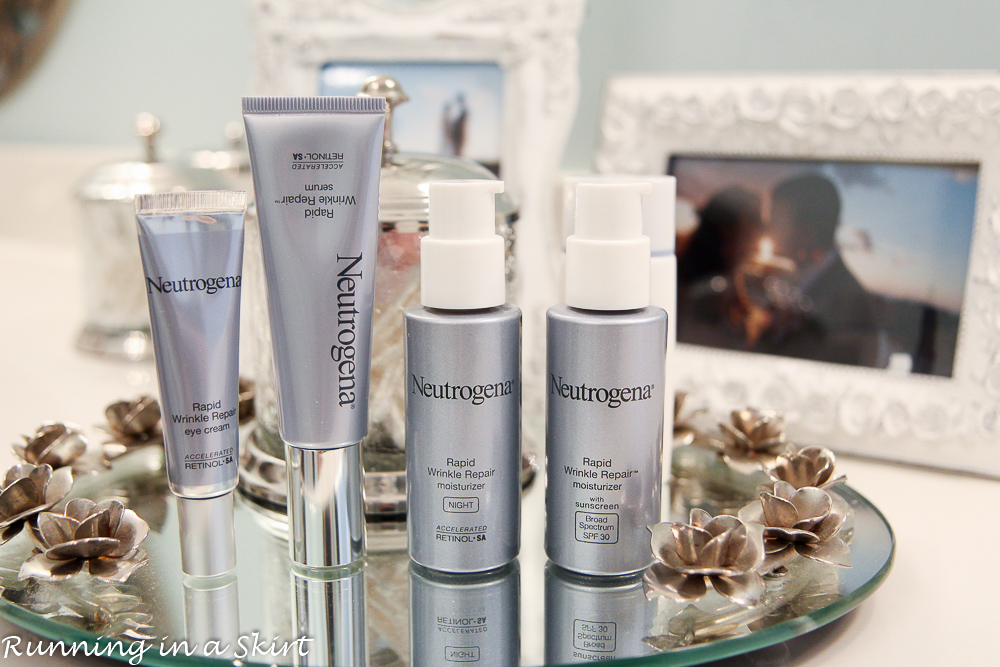 So here's my mug. We'll call this the after shot.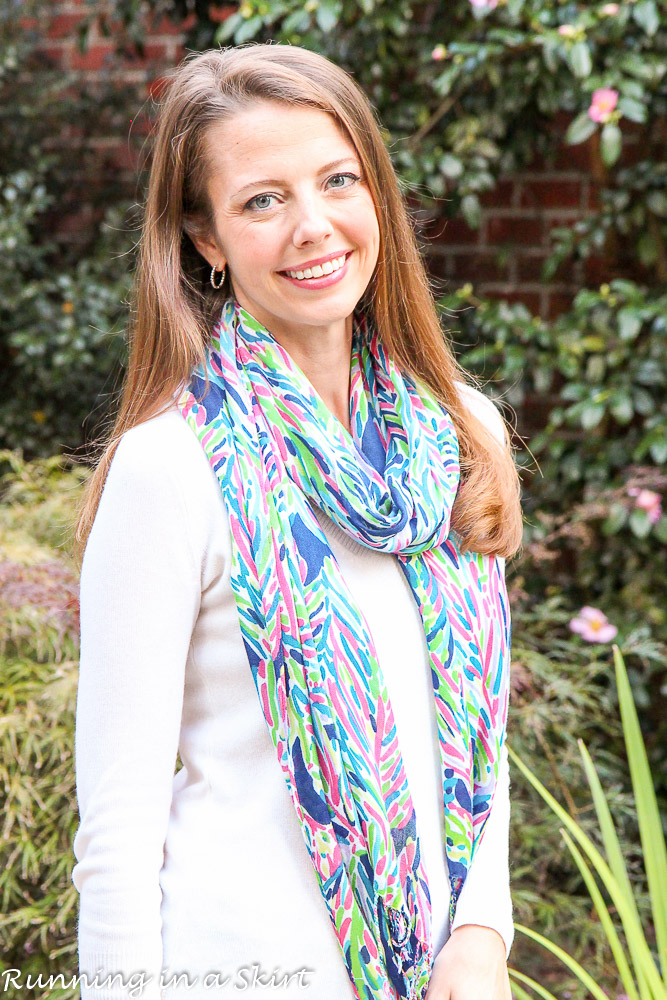 No, it's not the same as a decade ago but I'm ok with that. I've learned a lot along the way and if given the choice I'd wouldn't give back the smile lines for the years and adventures.
One of the most important lessons I've learned... true beauty, grace and wisdom comes from within. Life is good, wrinkles and all.
Like this? I'd love it if you could pin this to your favorite Pinterest board!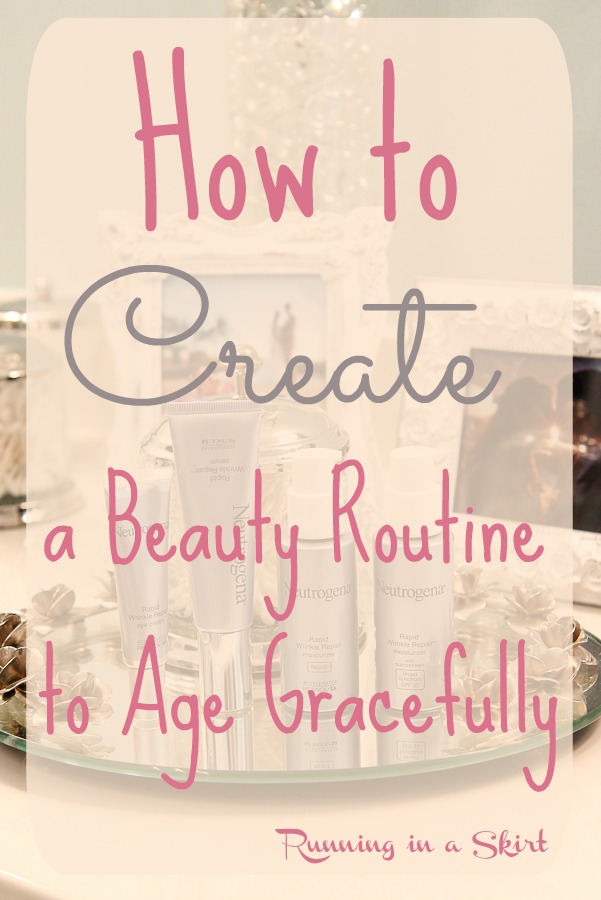 Neutrogena Prize Pack Giveaway
Now here's your chance to win! Enter to win a pack of Neutrogena Rapid Wrinkle Repair & Neutrogena Ultra Sheer Sunscreen goodies valued at $122!
The package includes: Neutrogena Rapid Wrinkle Repair Night Moisturizer, Neutrogena Rapid Wrinkle Repair, Moisturizer Broad Spectrum SPF 30, Neutrogena Rapid Wrinkle Repair Serum, Neutrogena Rapid Wrinkle Repair Eye Cream, Neutrogena Ultra Sheer Liquid Daily Sunscreen Broad Spectrum SPF 70 and Neutrogena Ultra Sheer Face + Body Stick Sunscreen Broad Spectrum SPF 70.
It's basically all the goodies in this post! Follow the instructions below. Good luck!
This is a sponsored post written by me on behalf of Neutrogena.
I'm linking up with: Nicole for the Fit and Fashionable, Jolynne Shane for Fashion Friday, Turning Heads Tuesday and Thinking Out Loud Thursday. Thank you so much for the lovely linkup ladies.
Your turn!
What are you thoughts on aging gracefully?