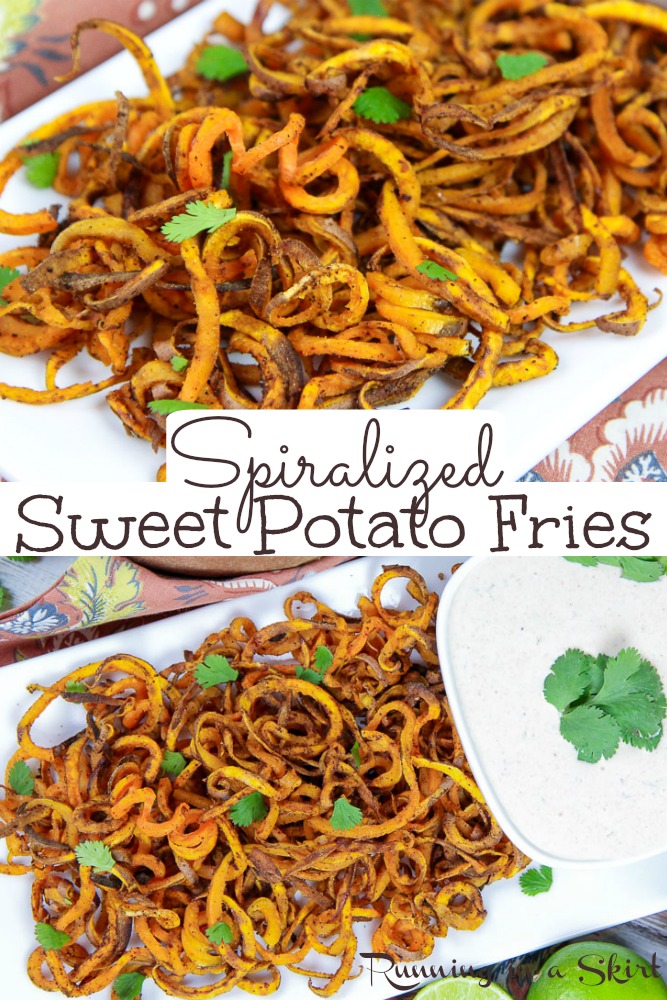 Baked Curly Sweet Potato Fries Recipe: a dream recipe for anyone who loves to spiralize! This Spiralized Sweet Potato Fries recipe is gluten-free, healthy, and crazy easy to make. They are the perfect Sweet Potato Curly Fries.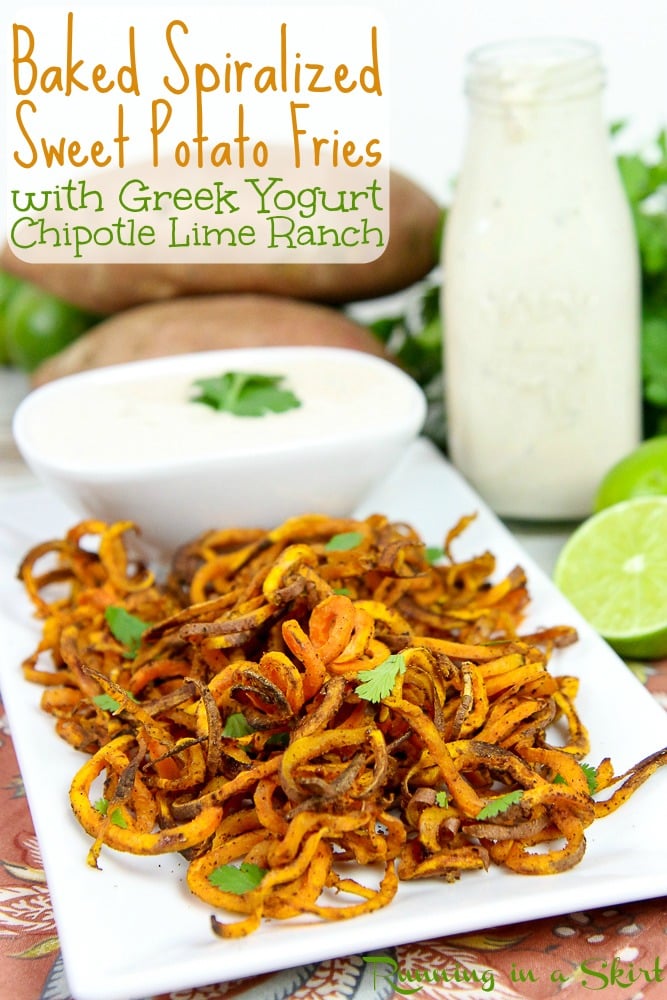 Hello! Hello!
I got my new Sister-in-law the fancy spiralizer attachment for her mixer for a wedding shower present. She sent me some videos of her using it and I immediately got total kitchen gadget envy. I have been using a small hand-held spiralizer for many years and didn't realize how much I was missing out. While the handheld one worked and it was cheap... I immediately wanted an upgrade. I must have not concealed my envy enough because when I opened my Christmas gift from my Brother and Erica there was my own brand new fancy spiralizer. And yes, they are pretty darn amazing.
So in true food blogger style, I jumped up and down and started coming up with new recipe ideas.
Spiralized Sweet Potato Fries
I've got a lot of goodies up my sleeve, but I thought we'd start out first with something simple... this Baked Curly Sweet Potato Fries Recipe. It turned out to be THE BEST Spiralized Sweet Potato Fries especially since I served it with homemade Chipotle Lime Ranch Dip... because... well... WHY NOT!
Let's dive in and make these Sweet Potato Curly Fries.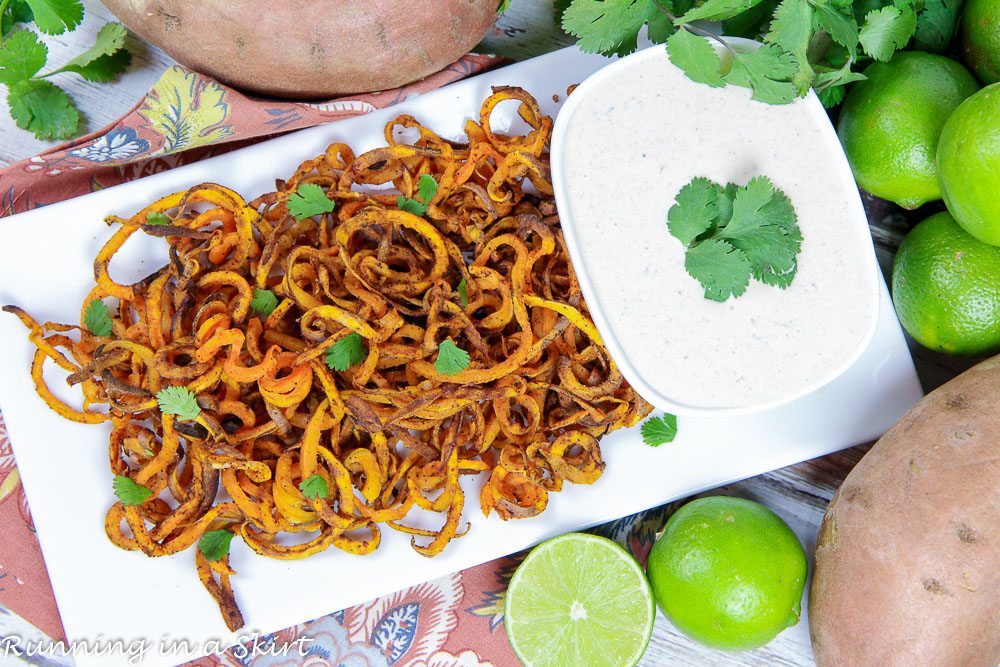 Here's what you need to know about this Baked Curly Sweet Potato Fries recipe...
These Sweet Potato Curly Fries could not be easier! Basically you just spiralize until your heart is happy, breaking up any longer pieces. Next, you toss the sweet potato in olive oil and spices. For this recipe, I used garlic powder and chili powder to match the dip.
If you are feeling extra zesty... squeeze some lime on them when they come out of the oven.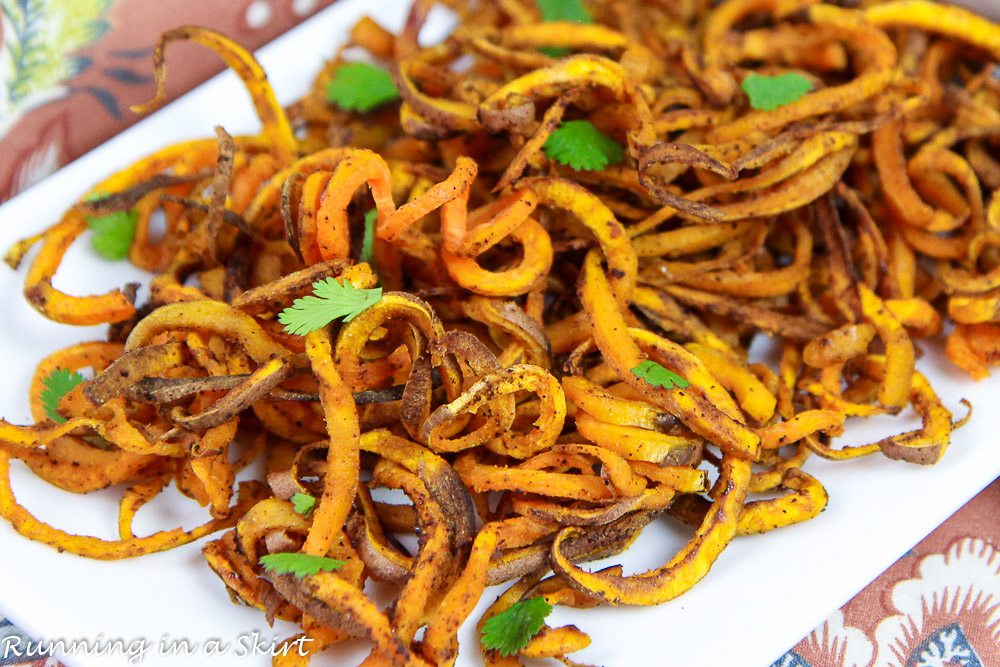 What's in this Baked Curly Sweet Potato Fries Recipe?
There is just a handful of ingredient in this Baked Curly Sweet Potato Fries Recipe.
Sweet Potatoes
Olive Oil
Chili Powder
Garlic Powder
Lime
These are all simple and easy to find! You probably already have them in your pantry.
Sure you could easily dunk these in ketchup, but instead, I serve them up with my Greek Yogurt Chipotle Lime Ranch. The flavors are a perfect foodie match.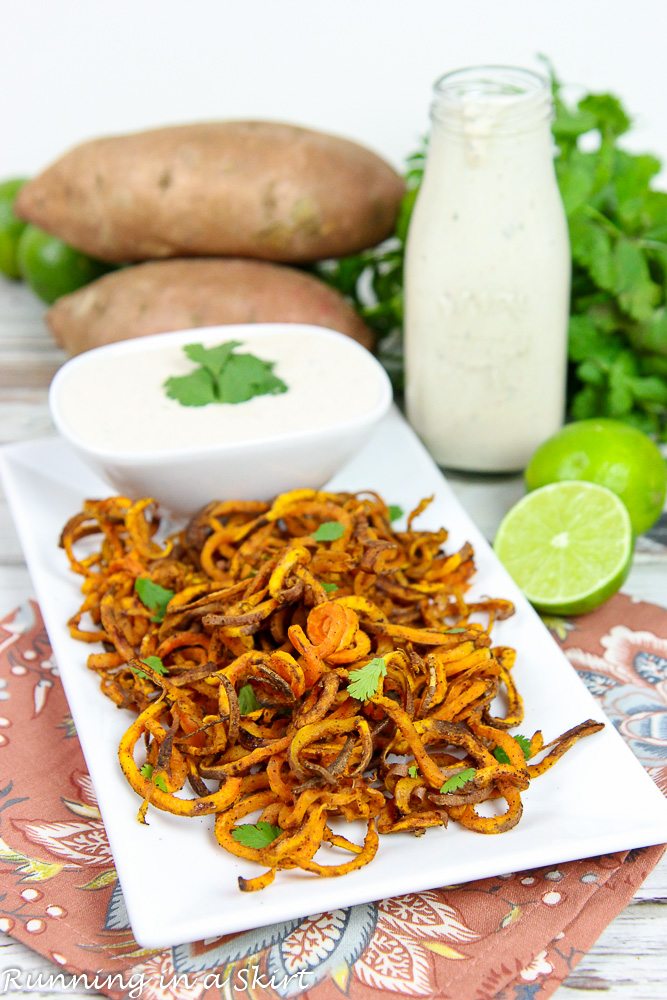 Tips for Cooking Spiralized Sweet Potato Fries
Break any larger spirals into smaller pieces.
Watch the oven when you reach the end of the cooking time. I find it works best to pull them out of the oven and remove any fries that are crispy early... letting the others cook for a few more minutes. Just be careful because they will burn fast!
Serve the fries with your favorite dip or try my Chipotle Lime Greek Yogurt Ranch Dressing or my plain Greek Yogurt Ranch Dressing.
Other than that, these could not be simpler to make and are totally healthy, clean eating, satisfying and guilt-free way to enjoy fries.
This entire plate serves two with only 137 calories making this a satisfying snack or side dish you can feel good eating or serving to your family. It's always packed with potassium, fiber, and vitamins from the colorful sweet potatoes. It's so much better for you than traditional fries.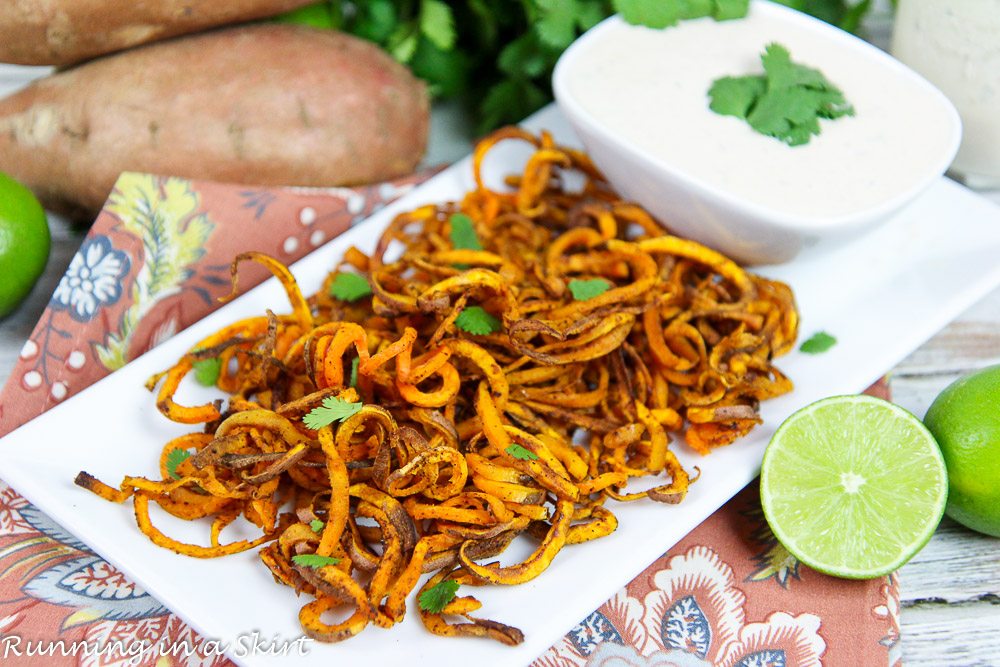 I hope you'll try them and let me know what you think. As always, I'd love to hear your thoughts in the comments!
Also try these healthy snacks...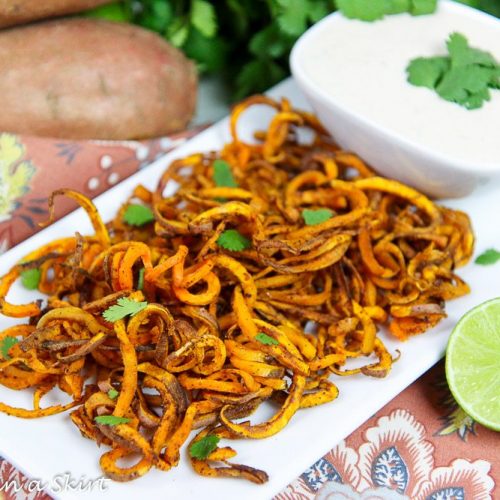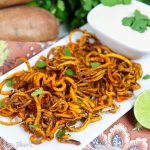 Baked Curly Sweet Potato Fries recipe
These spiralized sweet potatoes are baked to golden perfection!  Dunk in my healthy Greek Yogurt Chipotle Ranch!
Instructions
Preheat the oven to 400 degrees.

Spiralize the sweet potatoes on the medium setting.

Toss all the ingredients together in a bowl.

Bake for 25-30 minutes or until crispy. Near the end of the cooking time watch the pan and pull any fries off that are getting too crispy. You might need to do this a few times to get them cooked evenly.

Optional: Add a squeeze of fresh lime over the fries!

Serve for the Chipolte Lime Ranch for dipping.
Notes
***Find the recipe for Chipotle Lime Ranch here!
The calories listed for these Curly Sweet Potato Fries just include the fries and not the sauce you dip it in.
Nutrition
Calories:
137
kcal
Carbohydrates:
46
g
Protein:
4
g
Fat:
2
g
Saturated Fat:
1
g
Sodium:
141
mg
Potassium:
781
mg
Fiber:
7
g
Sugar:
10
g
Vitamin A:
32359
IU
Vitamin C:
5
mg
Calcium:
68
mg
Iron:
2
mg
Pin for later!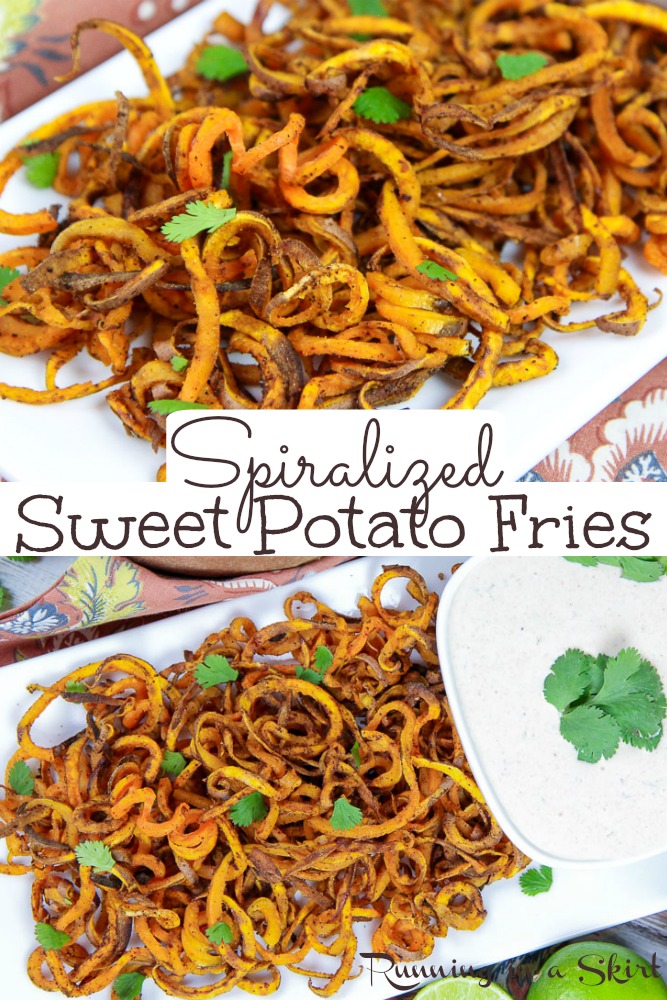 Your turn!
Do you spiralize?
This post contains affiliate links.